Do you want to grow your business? If so, you will need to work on two things: traffic and conversion optimization. In this post, we're going to look at nine things you need to implement so you can grow your traffic and increase your conversions. Depending on your technical expertise, you should be able to complete each of these items in two hours.
Note that we'll be going in the order of conversion optimization and then traffic generation. This way, you don't drive traffic to your website before it's in prime shape to convert them.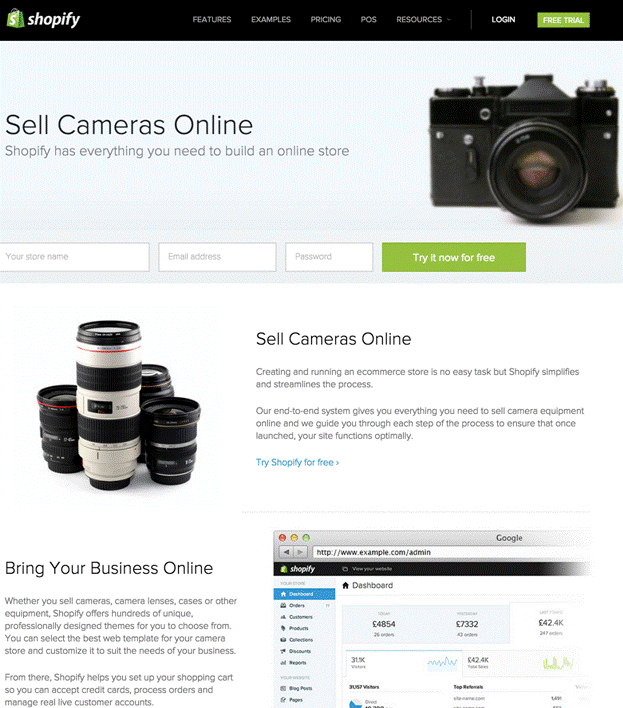 A landing page is simply a page that focuses on one specific goal. Landing pages can focus on selling a product or service, getting people to subscribe to your email list, or getting people to enter and share a contest.
Landing pages help you convert your traffic for two reasons. First, you have the opportunity to drive the right people to your landing pages – the ones most likely to convert.
Second, when people arrive at your landing page, you don't have to worry about them getting lost or distracted. They'll be focused on the one goal you set before them.
If you want to see great examples of landing pages, look no further than those created for Shopify, a popular ecommerce platform. They create landing pages that cater to specific types of customers, such as those selling cameras, clothes, music, and tea.
They are all very similar pages, but each is modified to sell their ecommerce software to a highly targeted audience.
This strategy allows them to create highly specific advertising and marketing campaigns that are more likely to convert than driving traffic to their homepage.
To create great landing pages in under two hours, you'll need either solid web design skills or a great tool like Unbounce, Instapage, and Leadpages. If you do have some design skills, a simple template from sites like ThemeForest will also work.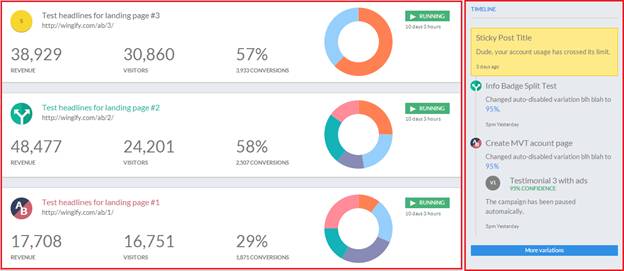 If you have landing pages, you need to have A/B tests. These are tests where you change one thing on a page to see whether that one element leads to a higher conversion rate.
For example, you might change the headline on your landing page and find that the new headline boosts conversions. Or, you might change the primary call to action button to a different color and find that the original color performs best.
A/B tests are generally pretty quick and easy to setup with the right tools. Visual Website Optimizer, Optimizely, and Nelio A/B Testing are three inexpensive tools to try.
Remember to test one thing at a time and not multiple things so you can identify each element that works best.

 Example From When I Work
Calls-to-action are direct instructions you give on what to do next. They are the invitations to leave a comment at the end of a blog post. They are the buttons that invite you to sign up for a free trial of a product. They are anything that gets visitors to do what you want them to do.
Every page on your website, every social profile, every email signature, etc. should have a call to action. The easiest way to implement them is by using action verbs.
For example, instead of saying "Our software does this…", say "Sign up for a free trial of our software to do this…". You can easily squeeze a call to action in the tiniest of spaces, all the way down to your 160 character Twitter bio.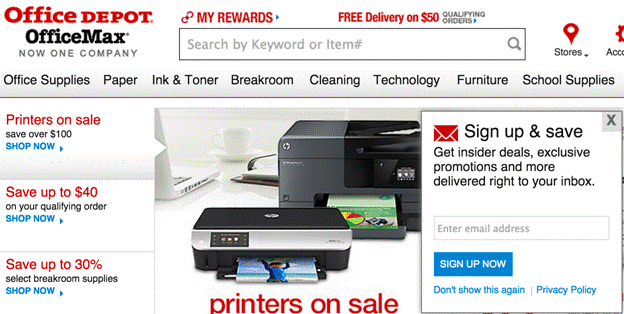 When you can't convert a visitor into a customer, the next best thing is to convert them into an email subscriber.
That way, you have the chance to convert them into a customer down the road. To get visitors on your email list, you will need opt-in forms.
Opt-in forms can and should be placed in multiple areas on your website and blog. These areas include your header, sidebar, end of blog posts, and footer. Additional options for the more bold include slide-in boxes and popups.
There are lots of different tools that can help you display opt-in forms in a variety of ways on your website depending on the platform you use for your website and your budget. SumoMe, OptinMonster, PicReel, and Optimonk are good, affordable options.
If you don't have an email service already, then GetResponse, Constant Contact, and MailChimp are great ones to try.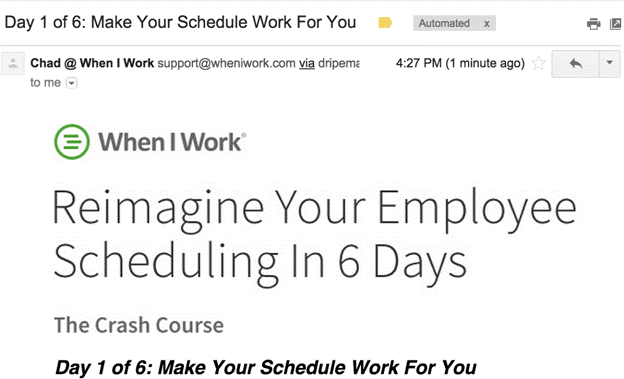 Example From When I Work
Depending on the email service you choose, there are lots of ways to automate your email marketing that can help with conversions. For starters, you can have autoresponder series that take the subscriber through a group of emails that start out as informational and end with a call to action to purchase your product or service.
You can set up triggers so that when a subscriber does something, it triggers an email.
For example, let's say that a subscriber receives your weekly newsletter, and one day they click your call to action for your product but do not buy.
You can have an automated email follow up with them the next day to try to get the sale.
Be sure to research the autoresponder and automation features for your email service. If you haven't already chosen one yet, be sure to find the service that has the automations you need to increase conversions.
On-Site Search
Optimization

It's hard to believe, but you can do some on-site optimization in two hours that can increase the traffic you receive from search engines.  Here's what you'll need to do.
First, you will need to identify your key pages. These are typically your homepage, landing pages, product pages, and service pages.
Second, you will need to identify a one to two keyword phrases for each of your key pages. For example, if you were a bookstore, you would optimize for the following.
* Homepage – books, textbooks, ebooks
* Bargain Books Landing Page – bargain books, discount books, books on sale
* Textbooks Landing Page – textbooks, college textbooks, textbook rentals
The easiest way to find great keyword phrases is via your competitors. Free tools like MozBar can help you analyze your competitor's website to see what keywords they are using.
Third, you will need to optimize your pages for the keywords you discover. Do it by adding the keyword phrase to your page's SEO title, meta description, first and last paragraph of content on the page, and in an image filename and ALT text. If you use WordPress, plugins like Yoast SEO will give you the fields you need for the SEO title and meta description.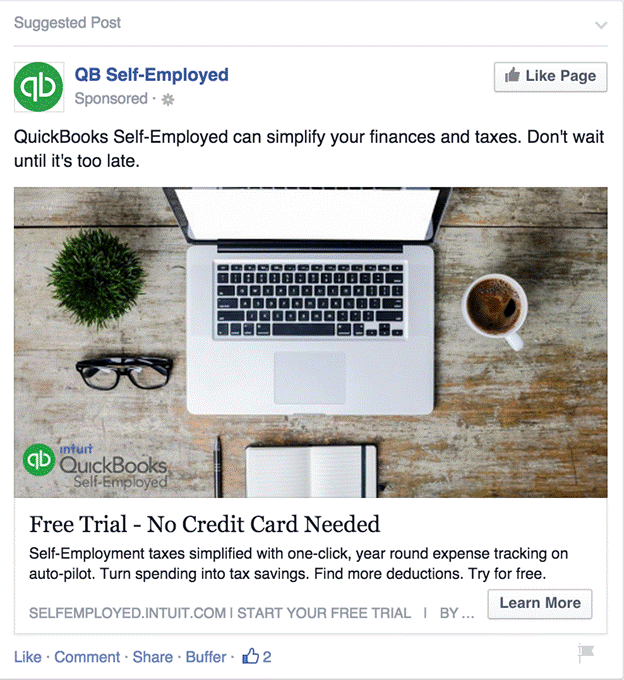 Social advertising is a great way to drive traffic to your website. Why? Because of the advanced ad targeting options social networks have to offer. If you know your target customer well, you will be able to easily create ads that will end up in their Facebook news feed or LinkedIn homepage.
How specific can you get? On Facebook, you can target men in their 30's who are CEOs and like Audi in Los Angeles with an estimated reach of 230 – 510 people. You can target a similar audience by targeting the same demographic in a group for Audi owners and enthusiasts with an estimated reach of less than 1,000 people.
The three keys to success with social ads are targeting your niche as closely as possible, using a strong call to action in your ad copy, and driving the traffic to an appropriate landing page. If you do these three things, you'll have a high rate of social advertising conversions.
Content Promotion
Strategy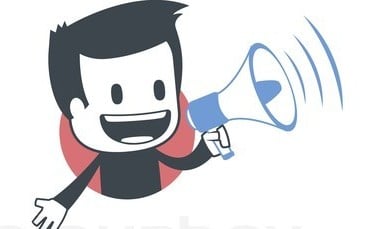 If you are investing in content development (blogs, infographics, videos, presentations, webinars, etc.), then you need to have a content promotion strategy.
This strategy should be a checklist that you go through each time you publish a new piece of content. The goal is to gain the most exposure and thus gain the most traffic for each piece of content you create.
Your content promotion strategy should, at bare minimum, include sharing your content to your email list and all of your social channels – Facebook posts, tweets, pins, LinkedIn shares, etc. You can go further by participating in social media groups, forums, and other networks where you can share your content when it becomes relevant to answer a question.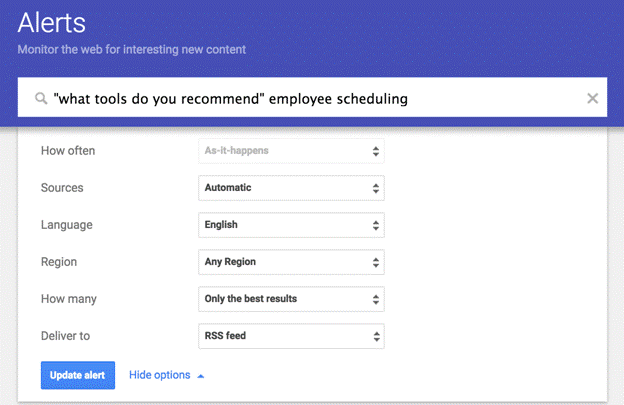 Want to get traffic that wants exactly what you have to offer? Try discussion monitoring. Start by thinking of what people are likely to ask in a forum when they are planning to buy a product or service that you sell. Then use tools like Google Alerts and Twitter search to search for those queries.
Depending on what you have to offer, you may get a ton of different results that need to be fine tuned, or you might get the occasional result that helps you connect with your ideal customer.
In cases where you are responding to a comment on a blog, within a group, on a Q&A network like Yahoo Answers, or on a forum, your answer (and link to your product or service) will get clicked on by future people with the same question.
Sujan Patel is the VP of Marketing at When I Work and author of the book 100 Days of Growth. He's helped companies like Mint, TurboTax, Salesforce, and others land more customers, make more money, and grow their businesses. As the Founder and former CEO of Single Grain, he grew his business from a bootstrapped consulting startup to a multi-million dollar digital marketing agency.
Photo Credit: Unsplash