It goes without saying that printers are virtually indispensable in the corporate world. All-in-one printers, though not nearly as essential as their run-of-the-mill counterparts, are still exceptionally useful devices, able to perform a variety of tasks usually reserved for other machines.
All-in-one printers, though not nearly as essential as their run-of-the-mill counterparts, are still exceptionally useful devices, able to perform a variety of tasks usually reserved for other machines.
For small offices with limited space or budgets, all-in-one printers can be a lifesaver. Combining the role of printer, copier, fax machine, and other office staples, the all-in-one printer is the jack of all trades your startup or small business has been praying for.
That said, all-in-one printers cannot take the place of fax machines, copiers, and other electronic devices in larger offices. Imagine the work buildup if all of your employees had to wait in line to use one single all-in-one printer. It's unfathomable!
That isn't to say, of course, that all-in-one printers don't have a place in larger businesses. If you have to send an urgent fax and your main fax machine is tied up with a major product, an all-in-one printer can be a lifesaver.
No matter whether you work from home, run a startup business in some warehouse or are the CEO of a major corporation, you can benefit in some way from having an all-in-one printer in your home/office.
While there are several key factors to consider before buying an all-in-one printer, many of them are self-explanatory. How much ink does it use? What is the quality of the copies made? Still, here are a few helpful pointers to help you make the right choice.
1. How Inclusive is All-In-One?
An All-in-One printer may not mean the same thing to everyone. While the vast majority of industrial printers will include a scanner, copier, and fax machine, you should always double check before you assume.
2. Color Prints
While most printers are able to print in color with the proper ink cartridges, not all of them have this ability. If color prints are something you require or desire, be sure to double check the model first.
3. Wireless Connectivity
In this age of Bluetooth and smart devices, some printers are outfitted with some wireless protocol or another to print wireless through WiFi connection. This means that you could send files directly from your smartphone or tablet to print. While not a necessary feature, it can be very convenient.
4. Ease of Use
Printers are notoriously finicky machines, and adding other components has the potential to add to the frustration.
Examine the printers closely in your local office retailer before committing. If you don't like the way the printer is designed, don't commit to it.
5. Cost of Ink
As a consumer, you have a wide variety of choices to choose from when it comes to buying ink. Do you buy a designer brand from a lesser-known company? Should you purchase recycled ink or refill the ink cartridges? There are pros and cons to each of these methods, and you should weigh your choices carefully before making a decision.
The Best All-in-One Printers for 2023
| Product | Model | DPI (Color) | Max. Print Speed | Price |
| --- | --- | --- | --- | --- |
| | HP M477fdw | 600 dpi | 28 ppm | |
| | HP Envy 5660 | 1,200 dpi | 14 ppm | |
| | Dell 1265dnf | 1,200 dpi | 29 ppm | |
| | Epson Xp-330 | 1,440 dpi | 9 ppm | |
| | Canon MX492 | 1,200 dpi | 8.8 ppm | |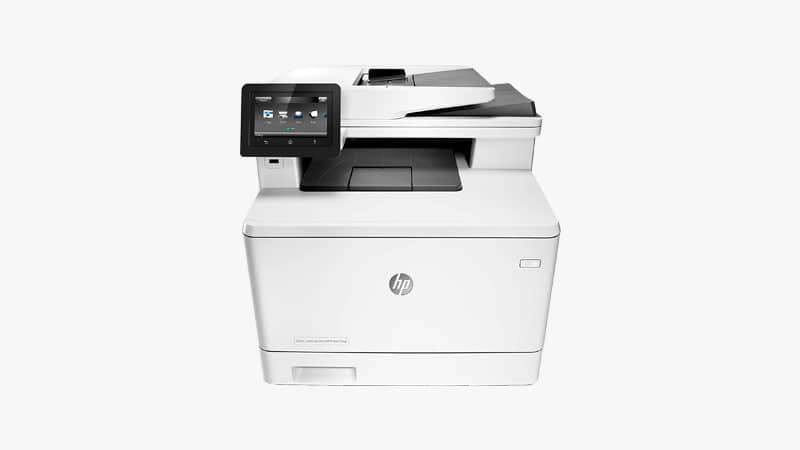 If you want to make the most of your all-in-one printer, you need a printer capable of copying, scanning, and faxing. You need a printer that can print digital files sent from your phone or from cloud storage.
If you're looking for an all-in-one printer capable of all that and more, your best bet is the HP Laserjet Pro M477fdw Wireless All-in-One Color Printer.
Capable of printing up to 28 pages per minute, both color and black ink
Prints and scans at a resolution of 600 to 1200 dots per inch
Comes with one-year warranty and 24/7 web customer support
Able to print Microsoft Word and PowerPoint documents directly from your USB drive
Manage your print jobs and tasks with the built-in touchscreen
Scans digital files directly to email, USB, network folders, and cloud storage with business apps already installed
Best All-in-One Printers Under $50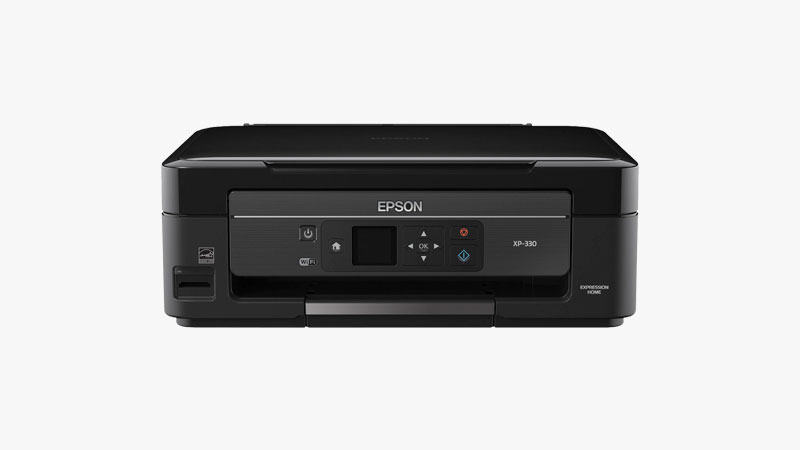 As its name suggests, the Epson Expression Home XP-330 is designed for home or minimal office use. With a maximum paper capacity of 100 sheets at a time, this printer would not make the cut in any type of school, law office, hospital or a variety of other companies.
On the other hand, if you're a contractor who only uses a printer for client invoices or you own a restaurant and use the printer to print off payroll every two weeks, the XP-330 is a perfect choice. Compact and affordable, this color printer doubles as a scanner and triples as a copier, making it a powerful workhorse for a home office.
A 1.44-inch color LCD screen on the front of the scanner lets you see just what you're printing or copying, helping you to ensure your product looks right the first time. The color ink cartridges are fitted individually rather than as a group, making it easier to replace just the color you need, saving quite a bit of money in the process.
The quality of the color prints themselves is quite luxurious. Whether you're printing on standard paper or on glossy matte paper, you'll be pleased with the results.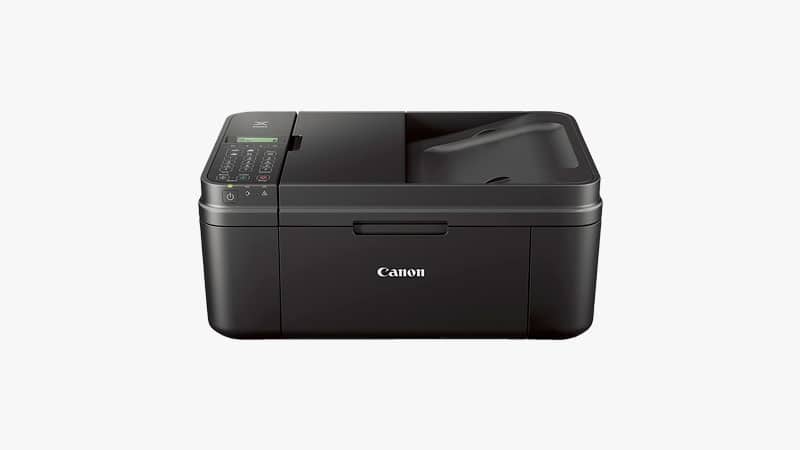 Like the Epson XP-330, the Canon MX492 is another printer best suited for small businesses, contractors or other companies that only require minimal printing and scanning.
With a feeder that holds a mere 20 sheets at a time, there are quite a few differences between this and the XP-330. Another major difference is in the design itself. The XP-330 had a built-in scanner and copier, allowing you to make copies and prints of a physical piece of paper.
The MX492 is different. Although it does function as a copier, it does so by receiving files electronically and then copying them. This is actually quite similar to the XP-330 in a way, only the copies being made are copies of a digital, rather than a physical file.
There is another minor difference between this and the Epson printer, as you can also "Air Print" files by sending them electronically through your phone or tablet. This is similar to how files are transmitted from a computer to a printer, but rather than using a shared network, wireless protocols are used to transmit the files instead.
Best All-in-One Printers Under $100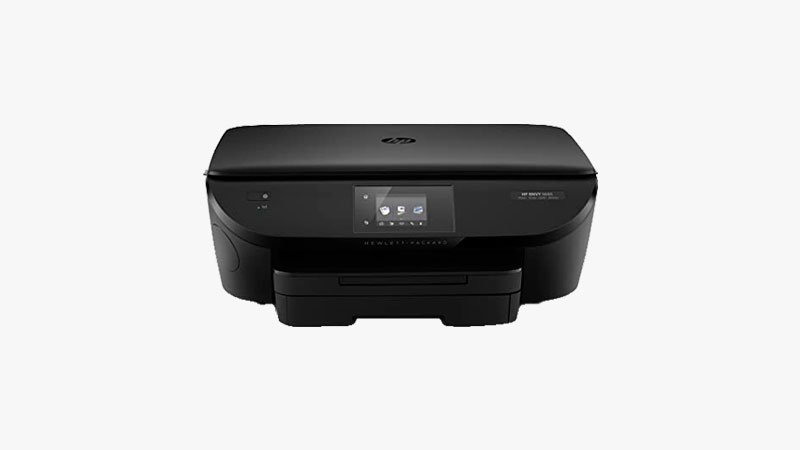 The best way I can describe the HP Envy 5660 is by saying it combines the best traits of both previous printers. It has a standard printer, scanner, and copier just like the Epson, but it also allows information from wireless protocols like the Canon.
There is one significant difference between the HP Envy and the other printers – a touchscreen that allows you to cycle through and prioritize scheduled tasks, as well as access content from the web for copying and printing. The printer has 128 MB of RAM to help it process its tasks, and it has a slot for a memory chip, allowing you to directly insert a microSD card from a camera for printing.
The 5660 can print images in either color or black and white. Unlike some printers, it is programmed to automatically print front and back unless disengaged, saving a considerable amount of paper. The scanner can scan at a resolution of 1200 dots per inch (DPI), producing beautiful, high-definition prints.
Best All-in-One Printers Under $150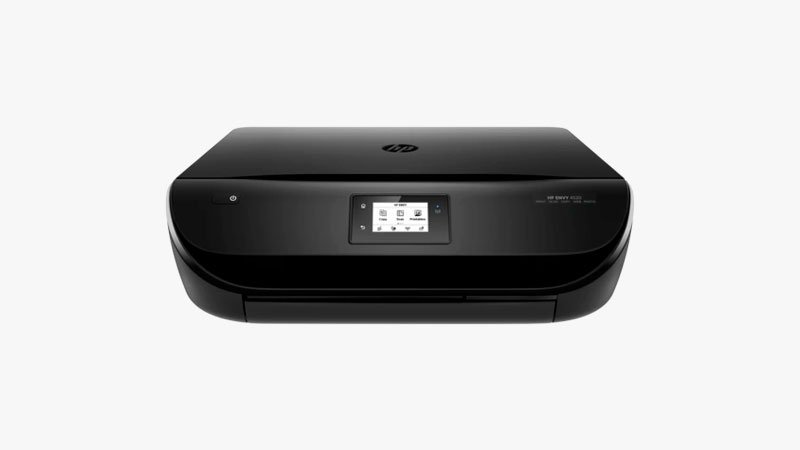 Yet another small office printer, the HP OfficeJet 4650 is the best one yet. In addition to printing, scanning, and copying documents, either from a physical source or a wireless connection, the OfficeJet also comes with another staple of the all-in-one printer: the fax machine.
With print speeds of 9.5 pages per minute (ppm) for black ink and 6.8 ppm for color, the OfficeJet works quickly, saving you valuable time for more important tasks. Another advanced feature is auto duplex printing, which allows you to print on both sides of the page without specifying it first.
There's a lot to like about OfficeJet, but what sets it apart is its ability to send faxes. Whether you need to coordinate with a business associate in another city or just need to send files over to the Department of Labor, having a fax machine can really come in handy.
Best All-in-One Printers Under $300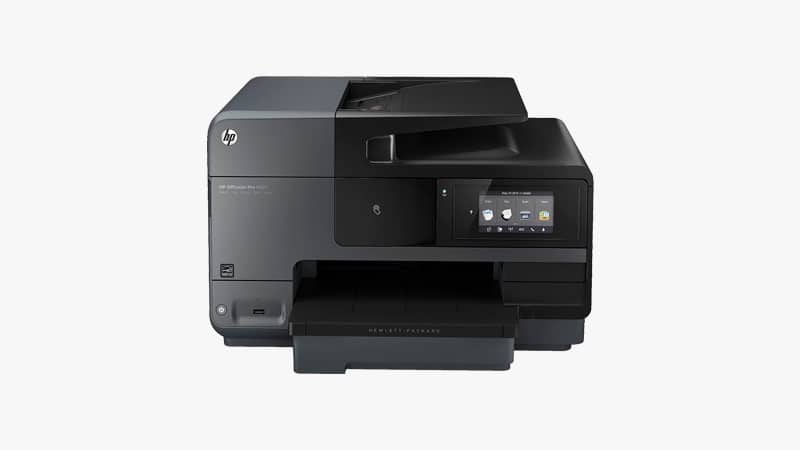 The HP OfficeJet Pro 8620 is a meatier, more powerful version of the 4650. With the 8720, we're starting to cross the line between standard home printers and heavy-duty office printers. Although it may not be powerful enough to fill the needs of a paper-heavy industry like an attorney's office, it's getting close.
Copying, printing, scanning – you name it, you can do it, and do it well. This printer is quite fast, able to put out 21 pages per minute of black ink and 16.5 pages of colored print. It can copy files down to a quarter of their original size or blow them up to up to 400% for larger-than-life images. And at 1200 DPI, the scan resolution of the model is out of this world.
When you couple the impressive performance of the 8620 with its wireless printing capabilities, you're left with a printer that's starting to pull some serious weight in the office. The printer even comes with a touchscreen that allows you not only to manage and schedule tasks but to access apps as well. With a variety of wireless printing options available, this printer will serve you well for years to come.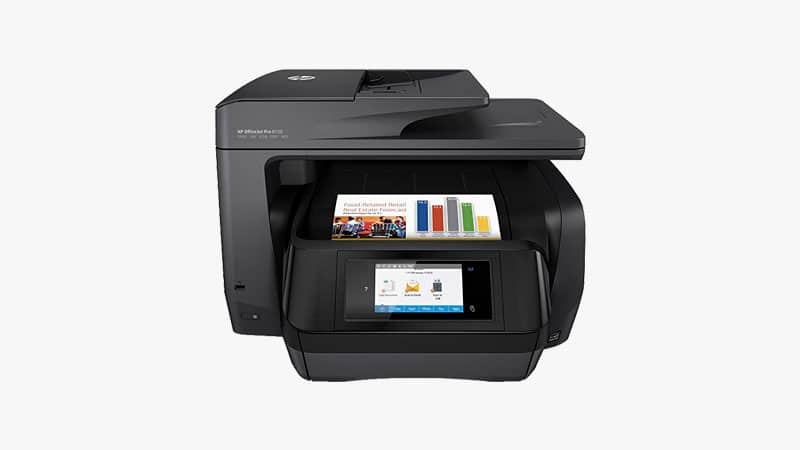 As you might have guessed, the OfficeJet Pro 8720 is the direct descendant of the 8620. Taking advantage of the latest in wireless technologies, the OfficeJet Pro 8720 is one of the finest mid-size all-in-one printers on the market.
The 8720 has advanced its predecessor's abilities in every single arena. Black ink pages now print at 24 ppm, and even color printing has progressed to 20 ppm. Utilizing the HP Print Forward Design, the 8720 uses advanced paper handling for business that requires no trays or extensions, allowing for private and hassle-free input and output.
Another improvement is in the greater variety of paper sizes supported. The 8720 can print everything from three by five inches to 8.5 by 14 inches. Supported styles including letters, legal documents, 4 x 6 and 5 x 7 prints, and No. 10 envelopes. Everything needed to task the paper needs of a growing business is at your disposal with the 8720.
Attractive features found in the 8620 remain. Duplex printing is still available, and the touchscreen is there to guide your tasks and make your paper management easier. Copying still ranges from 25-400%, and scan resolution is still at 1200 DPI.
Plus, thanks to HP's personal support, you can receive technical assistance 24 hours a day, 7 days a week. The 8720 is an excellent all-in-one that sets new standards for excellence.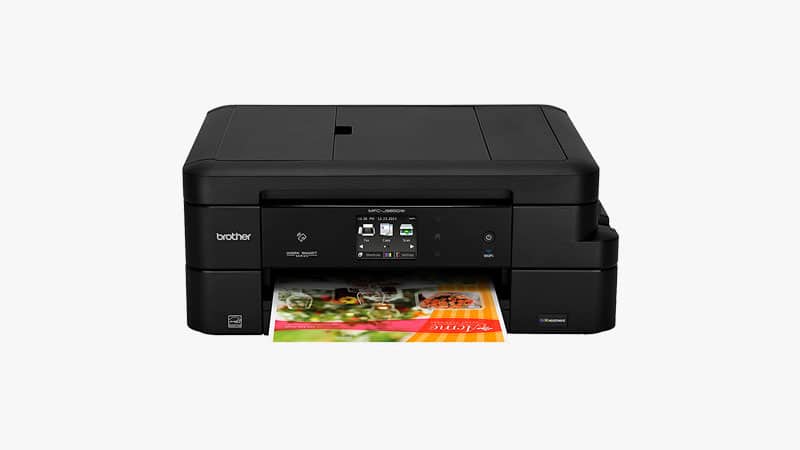 In one sense, the Brother MFC-J985DW is a step back from the performing excellence of the HP 8720. However, that sense is misleading. The MFC-J985DW may be more expensive than the 8620 and 8720 OfficeJets, but there's a very good reason for it.
The Brother MFC-J985DW does not just come with a standard ink cartridge It ships with a pack of 12 ink cartridges, providing enough ink for as many as 7200 pages of black ink and 3600 colored pages. Moreover, the MFC-J985DW can be activated to connect with Amazon Dash Replenishment, which automatically ships more cartridges to you when it detects your supply is getting low.
In addition to enabling an enormous amount of printing, the Inkjet is also perfectly capable of scanning documents. Its wireless connections allow it to copy and print documents from almost any source imaginable. Whether it's your standard network connection, Kindle Fire or your daughter's iPhone, the MFC-J985DW can print any documents sent to it wirelessly.
If you're looking for a heavy-duty office all-in-one, then this Brother will not do. But if you're running a small office with minimal to moderate printing requirements, this is a deal you just can't beat.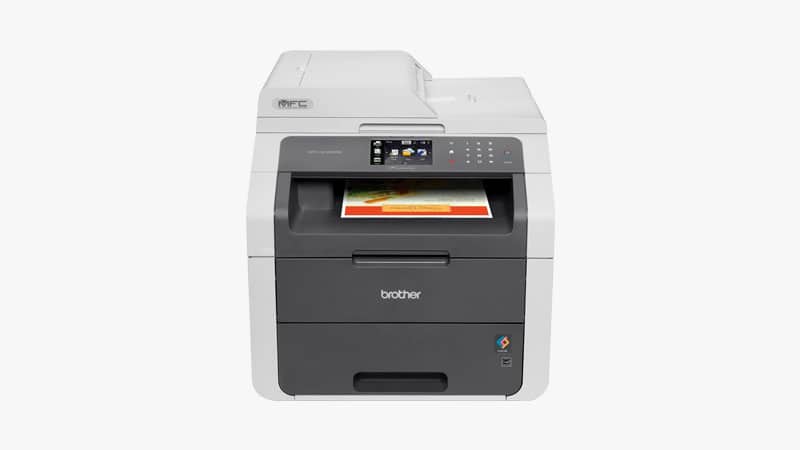 Where the Brother MFC-J985DW was intended for home office and small business use, the MFC-9130CW is more of a serious office workhorse. This oversized printer is not quite as fast as the 8720, but it can hold its own. Although it prints black pages at a slower rate than either the 8620 or 8720, it outperforms the 8620 on color printing. The MFC-9130CW is capable of printing 19 ppm of either color or black ink, quite an accomplishment in itself.
This all-in-one does make up for its somewhat slower printing speeds in one important regard, however. In addition to the standard printer, copier, and scanner, the MFC-9130CW also includes a fax machine, allowing you to instantly submit important documents you need clients and customers to sign.
Another impressive aspect of this printer is its printing and scanning resolutions. It is capable of printing at 600 x 2400 DPI and scanning at 1200 x 2400 DPI, both impressive achievements. It even has a power-saving sleep mode that consumes a mere two watts of power when not in use, making this a very economical all-in-one printer.
Best All-in-One Printers Under $400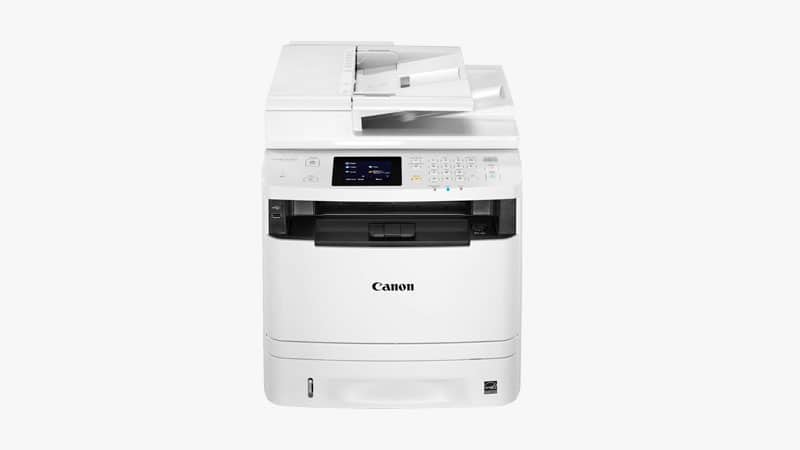 As far as printing speed is concerned, the Canon MF416dw is the fastest all-in-one printer in this list. With printing speeds of 35 ppm, the MF416dw means business. The trays and cassettes on the printer combine to store up to 800 pages at a time, and the printer is rated to handle up to 50,000 pages per month. As an all-in-one printer, it combines a scanner, copier, fax machine, and PC fax.
The Canon MF416dw speaks several different printer languages, including host-based UFR II, PCL6, and Adobe PostScript. It connects directly with Wi-Fi signals, able to print and scan wirelessly with a variety of services, including Canon Print Business, Apple Air Print, Mopria Print service, and Google Cloud Print.
This is an excellent and affordable professional printer capable of printing quickly and working in a high-yield office. It does have one downside, however. The printer is not able to print or copy in color, so if you want or need a printer with color capabilities, this is not the one.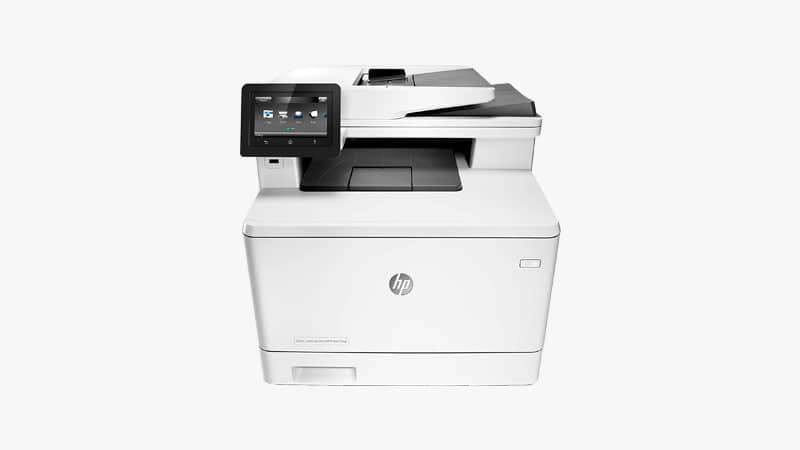 Leave it to HP to produce the ultimate printing workhorse. Their LaserJet Pro MD77fdw offers amazing results, printing both 28 ppm in both color and black and white. Dual-sided printing is naturally slower but still outpaces the competition.
All the usual features are here, including the task-managing touchscreen, the high-resolution scanner, and a convenient fax machine. However, there are more ways to interact with your tech than ever before. Earlier HP models required integrated network or wireless access to print and copy files. The the Laserjet Pro, you can now scan and print files directly from your USB port, and you can send them there as well.
I mentioned at the outset that all-in-one printers aren't really equipped to handle the workload of a large office, and that remains true. However, the LaserJet does have the capabilities to handle smaller task groups. Depending on the individual workload, HP recommends that LaserJet can handle up to ten regular users a day.
If you purchased multiple machines you could very well manage a larger office, provided the required tasks do not vary too consistently. The LaserJet is equipped to handle up to 3500 pages per month.
Best All-in-One Printers Under $600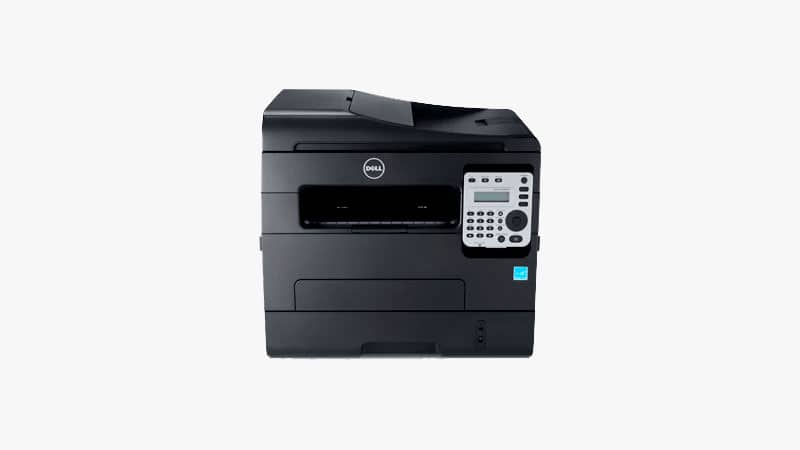 Yet another professional-grade office all-in-one printer, the Dell Computer 1265dnf serves as a printer, scanner, copier, fax machine, and wireless printing network. With the ability to print through its built-in Ethernet, local area network connections or through Bluetooth messages, the 1265dnf is more than capable of handling whatever task you send its way.
In addition to printing up to 29 ppm, the 1265dnf has other features that help keep it at the cutting edge of technology. An eco button allows you to save toner and paper by creating an environmentally-conscious design. A built-in duplexer also allows you to save money and resources.
The fax machine is another impressive aspect of this machine. It is capable of sending secure, paperless faxes using a secure PIN that prevents your personal data from being hacked. You can also use your computer to enable faxes, thereby faxing documents straight from your computer to your client, an impressive use of technology.
Weighing this against the LaserJet, I am at a draw. Each of the printers has its own advantages and disadvantages. For its part, the Dell 1265dnf may be somewhat expensive, but it's worth every penny you invest.
As you probably know, investing in the right printer system will pay you back in dividends. As you prepare to make your final selection, it is my hope that this information has guided you and helped to lead you to the right printer for you and your business.
Photo Credit: Unsplash