📷 Love taking photos but hate editing them afterwards? Check out Luminar AI. As the name suggests, it is a Super-Intelligent AI Photo Editor that will seamlessly integrate in your workflow and make taking photos fun again.
Sometimes you just need to grab your camera gear and go.
You don't have time to load up a large camera backpack.
Or you just don't need one.
Whatever situation you find yourself in, a quality camera bag does more than protect your camera.
It holds your gear and keeps the essential items nearby.
camera backpack
. If you're a professional and want to travel with a large number of lenses, your computer or other hardware, it's best to invest in a camera backpack (check out our camera backpack list!).
But when you just want a few essentials and would rather travel light, the camera bag is a great way to go.
It's less expensive, not as bulky, and you can bring it with you anywhere and everywhere. Plus, there are locations that won't allow you to walk in with a bulky backpack.
Whatever the reason though, before you go out and purchase a camera bag, it's important to know what to look for.
Things to Consider
Camera bags are relatively similar in terms of size. There's only a certain amount of size available until you reach a backpack. As the size comparisons do not alter significantly, you'll want to look at other aspects of the camera bag before investing your money.
But what should you consider exactly?
1. Customization
The camera gear like lens, tripod, or microphone you want to take with you will not only vary person to person, but you may want to switch it up depending on what you're doing and where you're going. Due to this, you need a camera bag you can customize for your given needs.
The best camera bags will let you shift the partitions around within the interior. Now, space will be limited within the camera bag, so you may only have two or three partition options. Even so, having a customizable feature is extremely beneficial.
2. Price
Price can shift around a considerable amount. Some of the best camera bags we have on this list will cost under $75, while others will cost several hundred dollars.
Thankfully, you don't always need to plunk down a large chunk of change just to grab a great camera bag.
So setting on a price you're comfortable with paying and go from there. Chances are, you'll find a bag capable of fulfilling your exact needs.
3. Style
Camera bag styles will change dramatically from one to the next.
Some will look like the camera bags you're probably already picturing in your head. These bags are black, zip open at the top and have a thin shoulder strap.
These are the kinds of camera bags your local electronics store hand out for free with the purchase of a camera.
Other camera bags look more like shoulder messenger bags. These bags help you look a bit less like a touristy photographer and instead fit into the backdrop you're in.
You may even find a bag you like so much you want to use it for other activities.
Whatever your style, there are different options available.
The Best Camera Bags for 2022
Editor's Pick
Your camera bag is a personal purchase. You want a bag that fits your personal style, can hold the gear you want to travel with, all while fitting into a set budget.
For us, we went with the ONA – The Union Street Camera Messenger Bag.
This bag might be the best looking bag (in our opinion) of the bunch. It can hold most of what you'll need, can double as a messenger bag and comes with everything most of us want in a camera bag.
Some of our favorite features include:
Waxed canvas
Leather straps with antique brass buttons
Room for your laptop
Fits camera and up to three lenses
Best Camera Bags Under $50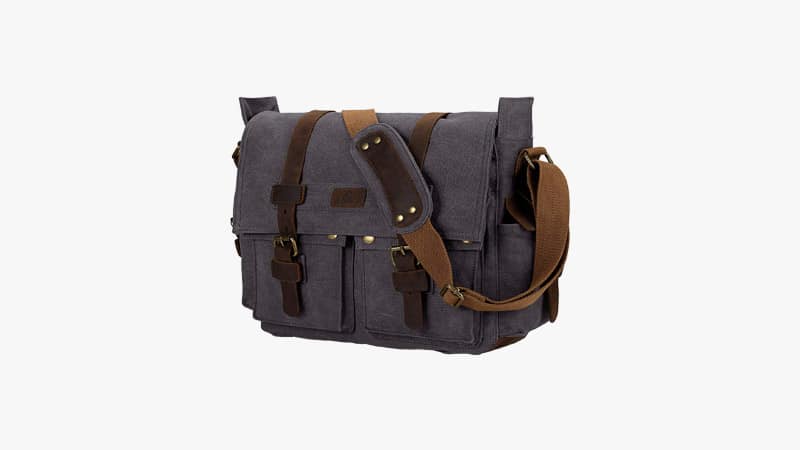 We start right out the gates with an excellent camera bag (especially for the price).
This is a shoulder bag made from durable canvas with excellent leather accept point straps.
The bag has a beaten and worn down look, which for some might be fantastic.
From the look of the bag you'd think it was pretty flimsy and put your valuable camera and lens at risk of damage, but that isn't the case either.
The interior is heavily padded, just as much, if not more so than most other camera bags.
The problem though is the surprising lack of interior real estate. You have room realistically for one camera and another lens (although it can be partitioned off into three chambers, which would only realistically work if you removed the lens from the camera body and traveled like this).
Thankfully, while the interior only has room for one or two lenses, there are a number of great outside pouches.
This way you can always keep lens cleaner, extra batteries, filters or whatever else you might have that's small.
One of the other great perks with this bag is the central padding can be removed, including the partitions, giving you room to slip in a 14-inch laptop and books. This bag really can function as a camera bag and a messenger bag.
Some of the benefits of this camera bag include:
Customizable
Transform from camera bag to messenger bag
Durable and great looking
Comes in several different canvas color options
Bag dimensions are 14.17 inches by 4.72 inches by 12.2 inches
Check Price on Amazon Directly Add to Cart on Amazon
---
Best Camera Bags Under $75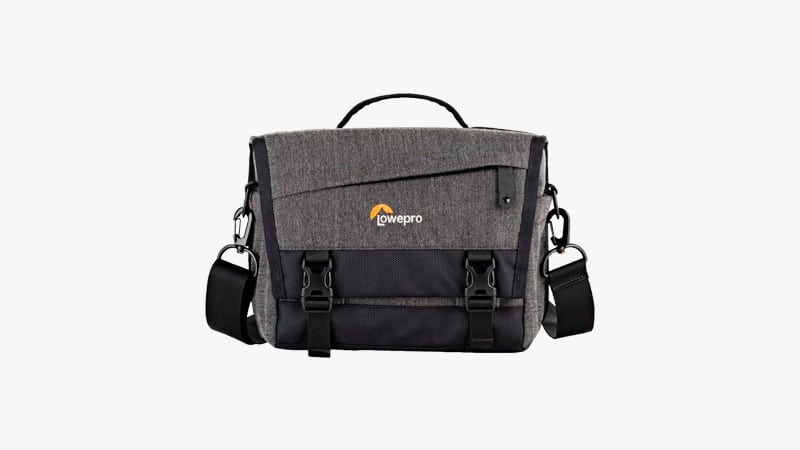 This Lowepro camera bag isn't flashy.
It's just a nice, quality camera bag.
The bag doesn't have as much interior padding as you might like, so it's best to use it in locations where you likely won't accidentally bump into hard options.
However, with the thinner padding comes a smaller profile camera bag.
The interior of the bag is a single opening without the option of additional partitions.
The exterior of the bag does have several zipper pockets available for extra batteries, lens covers or other small items you might want to carry with you.
The bag does feature a shoulder strap and a handle, which is removable. The top pouch cover attaches to the base with large plastic buckles.
Despite the plastic buckle on black canvas, the camera bag still looks of a higher quality.
Some of the benefits of this camera bag include:
Smaller profile for when space is limited
Secure shut with snapping buckles
Large exterior pocket
Shoulder strap and handle
Dimensions are 9.7 inches by 6.1 inches by 3.9 inches
Check Price on Amazon Directly Add to Cart on Amazon
---
Best Camera Bags Under $100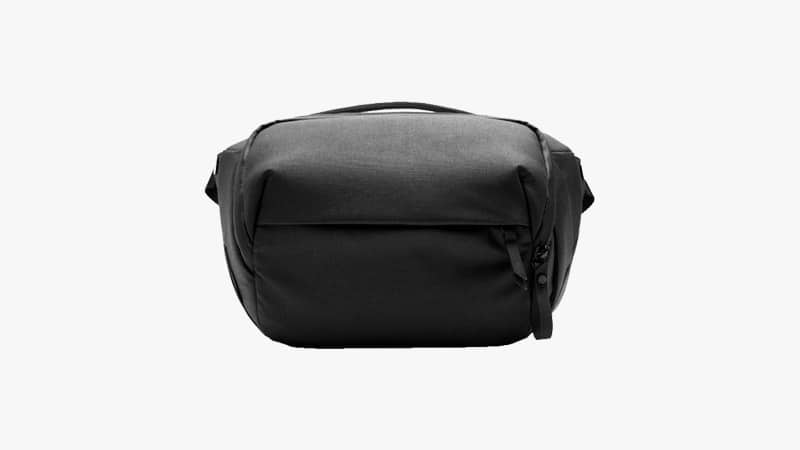 This Peak camera bag packs a considerable amount of punch in such a small profile.
The main compartment zips out to reveal a beautiful, light tan interior that really looks great against the black of your camera. It holds your camera securely in place. With a padded partition to its side, you can then insert the second lens.
The interior does use a "FlexFold" divider so you can customize the interior.
On the front of the bag, which looks more like an oversized pouch than a bag, there is a tablet sleeve that will fit tablets up to 11 inches.
The top zipper lid will fold out and allows for additional storage, with partitioned pockets perfect for holding cell phones, batteries, business cards and anything else of this size.
The camera bag does have a shoulder strap, although it is relatively tight, so the bag will remain closer to under your armpit than hanging down further. This might feel a bit uncomfortable for some.
The company recommends having the bag slung over your back, although this also exposes the bag to anyone behind you (it is easily opened in this position).
The bag also isn't easy to open while in transit. You need to set it down to pull out your camera lens or camera.
Now, with that said, this is a solid camera bag if you're going to be riding a bike and want something that will easily travel with you. You can tighten the shoulder strap and wear it like a fanny pack. So in these cases, the bag will be perfect.
Some of the benefits of this camera bag include:
Fully customizable interior
Room for up to an 11-inch tablet (will not fit 10.5 iPad Pro)
Great for transporting on a bicycle
Dimensions are 12.2 inches by 7.5 inches by 4.3 inches
A surprising amount of storage for the size
Check Price on Amazon Directly Add to Cart on Amazon
---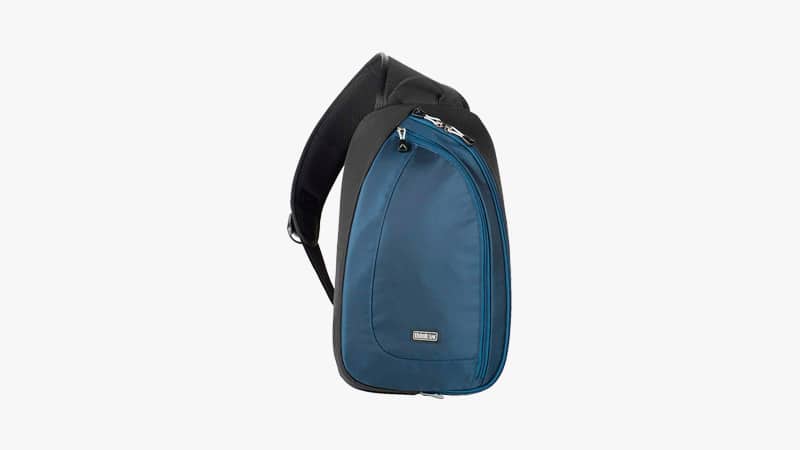 The Think Tank camera bag is one step away from becoming a backpack.
While working like a backpack, it has a single strap instead of two. It also has a handle on the top, should you not want to sling it over your shoulder.
There are several exterior compartments designed for easy access to equipment. There is a dedicated, padded pocket on the bag that will fit tablets up to 10 inches in size (including the bezel, so the tablet screen size needs to be smaller than 10 inches).
The bag is lightweight and easy to travel with, so you can toss this into a larger suitcase without taking up much space.
Customization within the bag is limited, as the bag is designed to be an easy grab and go, without the heavy padding.
While it's flexible and easy to transport, that is also one of the downsides. Thin padding does cover the interior, but it does not provide the thicker, substantial padding you might want. Due to this, the bag is best served for when you want to toss a camera over your shoulder and ride your bike out for a few pictures or if you want something for a museum.
Some of the main benefits of this camera bag include:
Easily rotates on your shoulder for access to camera gear
Dedicated pocket for tablet
Stabilizer strap for added support
Handle and shoulder strap
Dimensions are 17.3 inches by 9.2 inches by 5.4 inches
Check Price on Amazon Directly Add to Cart on Amazon
---
Best Camera Bags under $150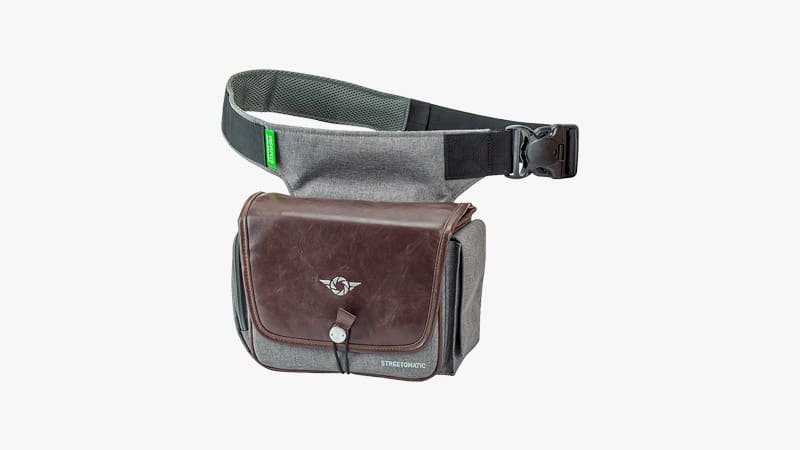 When you want something that just holds your camera but looks cool doing it in the process, consider the STREETOMATIC+.
This is a hip bag that gives you fast access to your camera. Just flip over a strap and pull the top off the camera.
The top of the bag is leather, giving it an almost military appearance. However, the rest of the bag is canvas with a very large belt and buckle combination (we do wish the belt would have been a leather as well, as that really would have upped the visual appeal of the bag). However, the canvas belt is easy to adjust for the perfect fit.
This bag design is great when you want to just wander the streets and snap pictures.
There are times where you don't want a bunch of gear. You just want your camera, you want it close by, but you don't want to hold onto the camera the entire time.
There is a side compartment, which is good for holding batteries.
Other than that, this is a simple canvas and leather camera bag that fits just the camera.
Basically, this is either exactly what you're looking for, or it doesn't meet any of your needs. But if the camera-only bag is what you're interested in, this is a solid option.
Some of the main benefits of this camera bag include:
Easy hip access to your camera
Solid canvas and leather construction
Grab and go design
Adjustable belt strap
Dimensions are 7.87 inches by 5.12 inches by 6.13 inches
Check Price on Amazon Directly Add to Cart on Amazon
---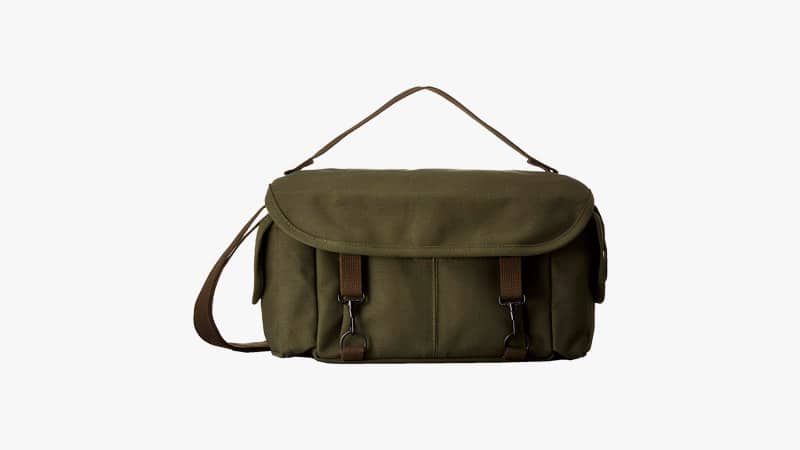 When you want the room of a backpack but would rather have it come in a bag configuration, the Domke F-2 Original is the setup you need to check out.
The bag itself looks like something out of the military. It has a darker, olive green exterior canvas and brown/green handle and shoulder straps.
The interior provides you with the customization features you desire in a camera bag. It can be left completely open, which is great if you have a larger video camera.
Or, you can use a partitioned setup, making it possible to slip in a number of lenses, battery packs, macro tripods and other hardware.
The exterior has side pouches on the narrow ends, plus several open compartments on the front.
When you pull open the top there is a zipper on the underside, giving you more space for additional equipment you might want to pack.
In terms of packable space, you'll be hard pressed to find something better than this camera bag.
In total, it has 12 compartments and pockets, plus a removable four compartment insert.
There is a padded bottom on the base that helps the bag maintain its shape. It is removable, should you want to add additional space or contort the bag for easier packing into a larger suitcase.
Basically, if you want the storage capacity of a camera backpack but would rather have it be a shoulder bag instead, this is the setup for you.
Some of the main benefits of this camera bag include
12 compartments and pockets for excellent storage
A removable padded base for easy packing
Constructed from durable canvas
Dimensions measure 12 inches by 6.5 inches by 9 inches
Customize the interior to meet your needs
Made in the USA
Check Price on Amazon Directly Add to Cart on Amazon
---
Best Camera Bags under $200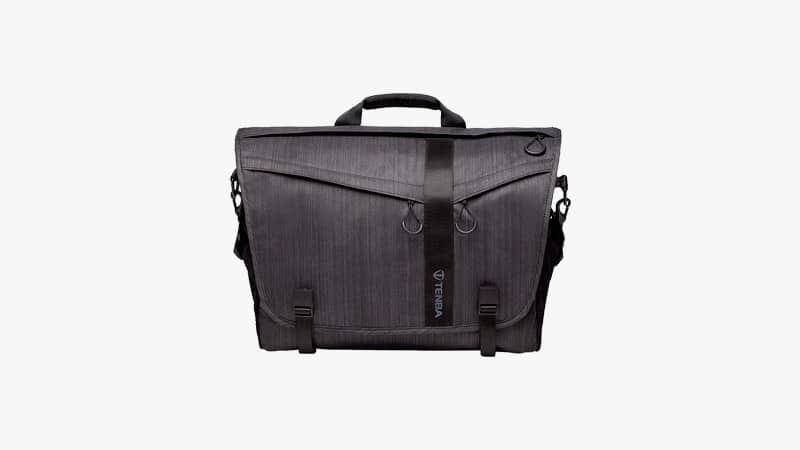 This bag is designed for any kind of weather.
There will be times where you're outside and it starts to rain. The last thing you want is for rain to begin pooling into the camera bag.
The Tenba Messenger DNA bag has a pullout bag that fits around the main bag in order to protect it from the weather. One side of the pull out bag has a heat reflector as well to keep the equipment from overheating if out in the direct sunlight.
There are a number of color options available.
This bag fits both your camera and up to a 15-inch laptop. There is also a secondary compartment for a tablet as well.
It also features a magnetic clip so you can connect attachments directly to the exterior. This way, instead of fumbling around for the right attachment you just need to grab the equipment from the exterior.
Straps on the rear of the bag will fit around the pull-out handle of a roller bag. This way, if your traveling and don't feel like slinging the bag over your shoulder, this is a viable option.
The side pouch compartment is available for storing pens and extra batteries.
There are some partition options for the interior, but not to the extent some might like. Due to the narrow frame of the bag, it is limited in way of customization.
Some of the main benefits of this camera bag include:
Will attach to handle of a roller suitcase
Magnetic lock feature for quick access to attachments
Room for a professional camera and up to 3 lenses.
Laptop and tablet pocket
Dimensions measure at 18 inches by 11 inches by 14 inches
Check Price on Amazon Directly Add to Cart on Amazon
---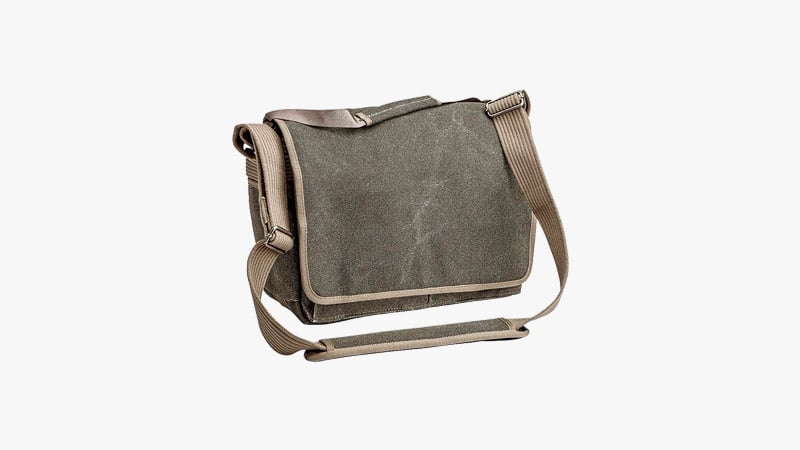 The Think Tank bag is a minimalist design bag designed to look like any ordinary messenger bag.
The soft and form-fitting canvas material looks worn for an added sophistication look. The top flap folds over and secures with a Velcro patch. This makes it easier to open and close.
A rear zippered pocket is on the back side of the bag and will fit up to a 10-inch tablet.
On the interior of the bag, you do have a partition option, although there is only one real option for adding a second compartment in the center. However, the external pockets are of substantial size and can fit anything from an external flash to a full DSLR camera body.
The exterior pockets are not padded though, so keep this in mind when putting gear into the front flaps.
Some of the main benefits of this camera bag include:
Messenger bag appearance for everyday style
Easy open and close bag
Zipper pocket will accommodate up to 10-inch tablet
Dimensions or 15.98 inches by 10.51 inches by 7.01 inches
No fuss, easy to care for material
Check Price on Amazon Directly Add to Cart on Amazon
---
Best Camera Bags Under $250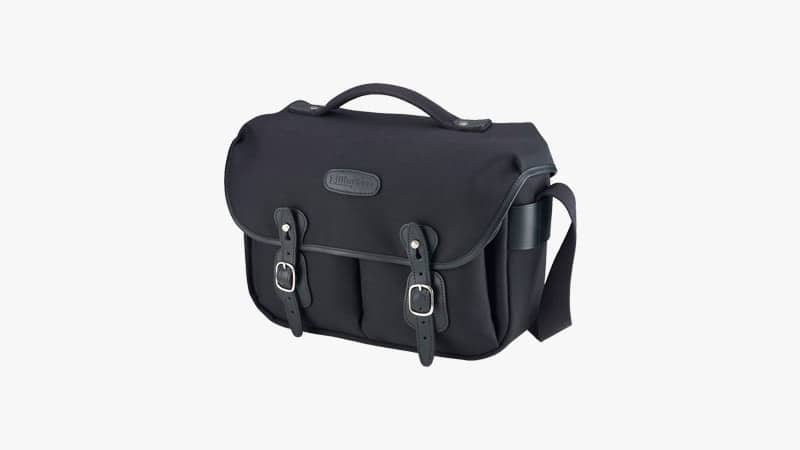 This isn't the biggest camera bag out there.
It isn't the flashiest.
Nor is it the most sophisticated.
But in terms of sheer quality, for what it is, you'll be hard pressed to find anything better.
The camera bag interior is lined with soft yet sturdy padding. This prevents scratches or any kind of damage to your camera.
There is a removable camera insert, so you can either keep up to three partitions within the bag or swap it out to zero for a larger camera, such as a video camera or DSLR with attached telephoto lens.
The front pockets are secured with snapping buttons for access to more batteries, filters or other odds and ends.
There is also a zipper on the body side of the bag for storing your wallet, phone or other items.
Some of the main benefits of this camera bag include:
Durable build
Side zipper compartment
Removable inner camera insert. Can add up to three partitions on the interior
Easy access snapping front pockets
Dimensions of 15.3 inches by 10.2 inches by 4.7 inches
Check Price on Amazon Directly Add to Cart on Amazon
---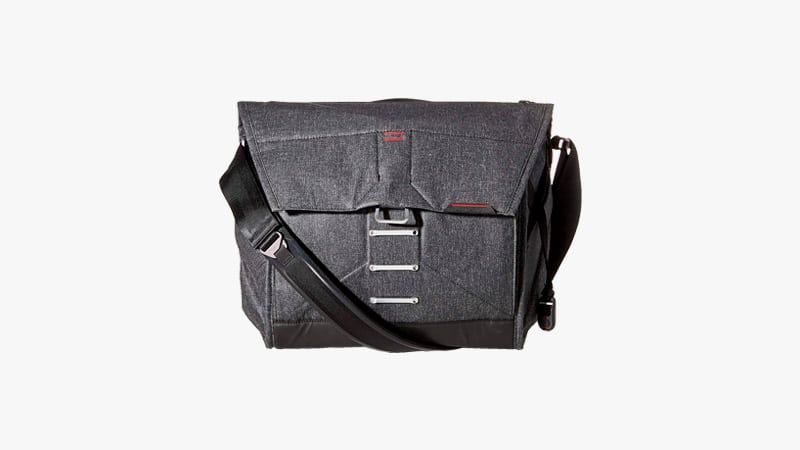 When you want a camera bag designed for the modern age, this is it.
The beautiful color contrast and the construction of the bag is excellent.
On the interior, it features stylish rear padding and three FLEX-FOLD dividers.
There is a built-in tripod carry feature woven directly into the bag and, while it uses a single over the shoulder strap, there is a support strap for retrofitting it into a backpack.
The front face of the bag does go light on padding, which in reality is the area where you'd rather have the padding (instead of the side facing your body).
In terms of looks and general design, this is unique and modern, all at the same time.
Some of the benefits of this camera bag include:
Rear pocket dedicated for up to 15-inch laptop
3 FLEX-FOLD Dividers
Stylish, modern look with minimal construction
Support strap for converting into a backpack
Side strap and handle for easy carrying
Comes in several colors
Dimensions are 16.9 inches by 7.1 inches by 11.8 inches
Check Price on Amazon Directly Add to Cart on Amazon
---
Best Camera Bags Under $300
This camera bag brings it all together.
It is a beautifully crafted bag with premium waxed canvas and leather accents. Within the leather accents, you'll also find antique brass snaps and buckles.
As it uses a durable canvas, it is also water resistant, so there's no need to worry if you're outside and it begins to rain.
While the exterior of the bag is exceptional, it isn't just all looks and no show.
There is a lack of immediate access panels on the exterior, which for some might be a bit of an issue. However, the combination of looks, functionality, and design make this one of the best camera bags you'll find.
On the interior of the bag, you'll find room for a full-sized DSLR and up to three lenses. There's also a dedicated slop for a laptop of up to 15-inches in size.
Some of the main benefits of this camera bag include:
Handcrafted premium waxed canvas
Leather accents with antique brass
Fits up to three lenses and a camera
15-inch laptop slot
Dimensions are 17.1 inches by 11.6 inches by 6.2 inches
Check Price on Amazon Directly Add to Cart on Amazon
---
Best Camera Bags Under $400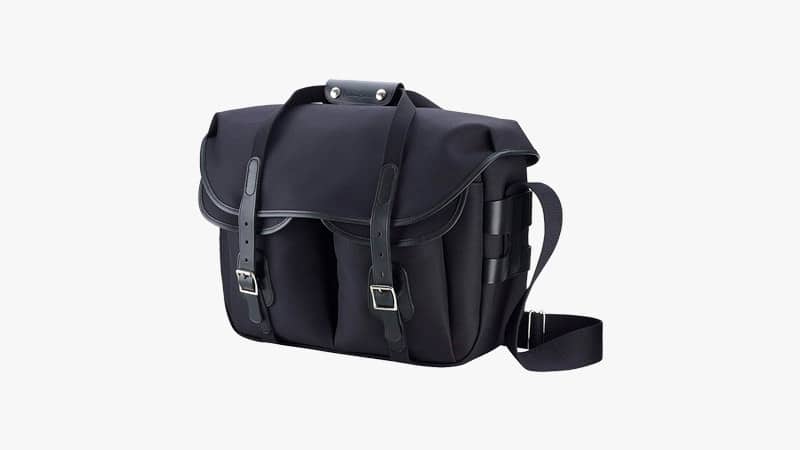 This is a larger version of the medium-sized Billingham Hadley bag earlier on the list.
The larger size of the bag allows for additional storage and larger lenses.
It also uses a padded insert that can be removed and customized before being inserted back into the bag. The insert is fitted with two added partitions, allowing you to adjust the size of these partitions before snapping the insert back into the bag.
There is a dedicated slot for up to a 15-inch laptop.
The bag does have two front-facing pockets for storage and classically designed leather straps for securing your bag.
Some of the benefits of this camera bag include:
Removable insert
Customizable partitions to better fit your needs
Slot for up to a 15-inch laptop
Black canvas with black leather straps
Dimensions are 17.3 inches by 7.1 inches by 12.6 inches
Check Price on Amazon Directly Add to Cart on Amazon
---
Conclusion
Finding the right camera bag for you really comes down to three things:
As you can tell, the camera bags shift significantly in appearance and price. Others are made to hold several lenses and laptops while others are nothing more than a single opening for your camera.
Our Editor's Pick was the ONA – The Union Street Camera Messenger Bag because we liked the quality design and the larger construction to give you the ability to hold more equipment. But you might like the hip-action option of other bags, or one you can easily clip around your back for riding on a bike.
Each of these bags is great. You just need to find what works for your needs.
So which bag did you buy? What do you look for in a camera bag? We'd love to hear from you!
Disclosure: The product recommendations are not sponsored and are chosen by our editorial staff. We may earn an affiliate commission when you purchase an item through our links.
Photo Credit: Unsplash