📷 Love taking photos but hate editing them afterwards? Check out Luminar AI. As the name suggests, it is a Super-Intelligent AI Photo Editor that will seamlessly integrate in your workflow and make taking photos fun again.
Getting the best professional shot when filmmaking or capturing a moment requires more than a traditional video camera, even if you are using one of the best on the market.
Before you make an investment that is right for your filmmaking needs, take a peek at our top 10 picks and reviews of camera cranes and jibs at all price ranges to ensure you make an informed decision you feel confident in.
What is the Difference Between a Camera Crane and Camera Jib?
Cranes and jibs are used as mechanical "arms", allowing for smoother transitions and the movement of cameras while recording a scene or capturing motion without disruption.
Jibs are known for their ability to capture 360 degrees while allowing for smoother panning, tilting, and work both vertically and horizontally.
The terms "crane" and "jib" are often used interchangeably, as a crane is considered an "arm" while a jib is frequently referred to as a "crane" in the movie industry.
In professional settings and movie studios, the biggest difference between the two is that jibs are often smaller than traditional camera cranes, allowing for more flexible movement without disrupting the filming process or causing low-quality output.
While YouTubers are often found to use Sliders and Overhead rigs, a jib is far more fluid and provides additional flexibility not found in traditional Overhead and Slider rigs.
Jibs and cranes allow you to effectively capture shots at varying heights without interruptions with each movement. Using a jib crane is ideal if you want to drastically improve the quality of your shots while getting more involved and in-depth with common techniques used in professional filmmaking.
Things to Consider
Before you enter the market of camera cranes and jibs, there are a few things to consider and keep in mind while shopping for your next investment.
Consider the type of project you are planning to film and whether you are in need of a robust setup (including a traditional crane), or if you are seeking a smaller, more flexible solution such as a jib or a complete travel kit.
Pricing
Pricing widely varies with both cranes and jibs, ranging from less than $100 to more than $1000.
While it may be appealing to invest in a high-quality camera crane or jib setup, research the specs and determine your needs beforehand to avoid overpaying for equipment that does not offer additional qualities or features that you require.
In many instances, camera jibs are much more affordable than Hollywood cranes, and still offer flexibility and smooth controls needed for high-quality filmmaking.
Size
The size of your camera crane jib is paramount when determining a rig that is right for you.
Because all camera crane jibs and solutions are individual, compare the total vertical and horizontal reach while also taking into account the types of shots you are interested in capturing.
Weight Capacity
One of the most important features to research when investing in a camera crane jib or kit is the weight capacity maximum each solution provides.
Calculate the weight of your DSLR camera or camcorder along with additional accessories and equipment you prefer utilizing with individual shots.
While some camera crane jib solutions only support a maximum of 8lbs, there are alternative professional solutions that offer a maximum load of more than 44lbs.
Oftentimes, a camera crane jib that hosts a weight in between 8 and 44lbs is ideal for both portability and pricing.
Portability
Do you plan to travel frequently with your camera crane jib or are you looking for a more solid, robust solution? Portability is extremely important to research if you are seeking a lightweight camera crane jib that is easily movable and offers a quick and simplistic setup.
Many camera cranes and jib solutions available are made of traditional aluminum alloy, although it is possible to find even more lightweight options with cranes and jibs made from a carbon fiber material.
Research the assembly required for each camera crane and jib you are interested in, along with whether the crane is sectioned and easy to disassemble for quick movement and relocation.
While some camera crane jib solutions are tool-less and can be set up within minutes, others (even on the pricier scale) require more time and effort with each individual shoot.
Compare the overall weight of camera crane jibs and whether or not it is possible to break the crane down into movable parts with an included carrying tote or bag when portability is necessary for your work.
The Best Camera Cranes & Jibs for 2022
Editor's Pick
Choosing the very best camera crane jib for us was not an easy task, though we have selected one in particular that provides a wide range of features and advantages while still allowing you to get the most bang for your buck.
A setup we cannot overlook in our review is the ProAm USA DVC210 DSLR Video Camera Jib Crane Tilt Kit.
The ProAm USA DVC210 camera jib crane tilt kit comes with just about everything you need to get started with a professional filmmaking career on your own.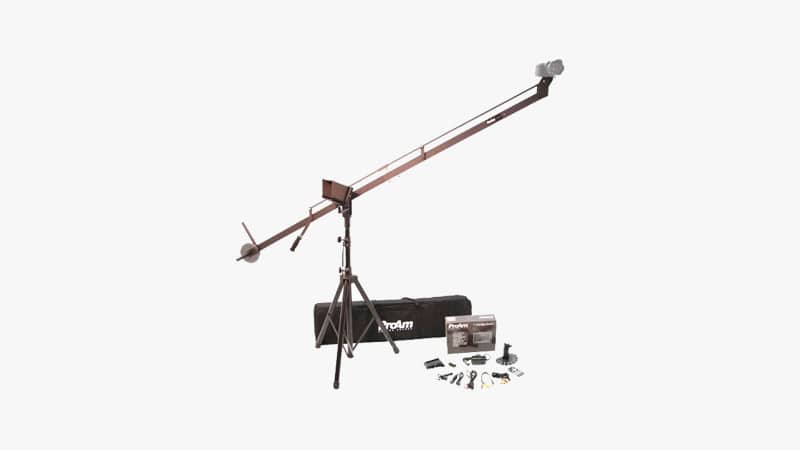 Our favorite features available with the ProAm USA DVC210 DSLR Video Camera Jib Crane Tilt Kit include:
Fully-equipped kit with an LCD monitor, travel case, mini HDMI cable, and Canon batter adapter to help build a fully-robust crane jib solution, regardless of the types of shots you are interested in pursuing
An 8ft stand is included with each kit
Sunshade included for professional shots with proper lighting
The ability to purchase extension kits to extend the maximum 8ft reach to 12ft for more advanced projects with versatile shots
For its price, the ProAm USA DVC210 delivers a high-quality setup with satisfying results.
The ProAm USA DVC210 kit has some of the highest ratings on the Amazon market with reviews from all types of filmmakers and cinematographers, adding to our list of reasons why this kit is an ideal pick!
For professional cinematographers who are seeking a top-notch camera crane jib solution, we cannot recommend the ProAm USA DVC210 DSLR Video Camera Jib Crane Tilt Kit enough (at just under $700).
Best Camera Crane Under $100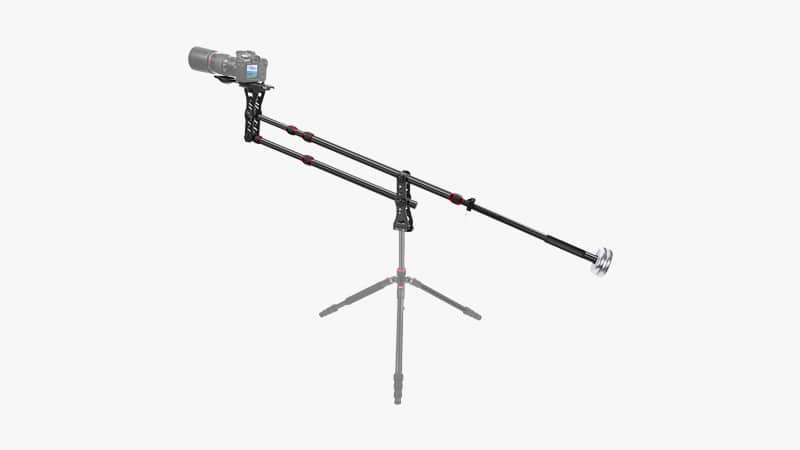 Professional filmmaking on a budget has never been easier to get started in than with the Neewer Aluminum Alloy Jib Arm Camera Crane.
With a low price of $99.89 on Amazon, this jib arm camera crane is well-suited for the amateur or semi-professional filmmaker looking to take their skills to the next level.
The Neewer jib arm camera crane also comes with an included travel case, for ease-of-use when on-the-go, and supports a hefty 8kg/17.6 lbs.
The Neewer Aluminum Alloy Jib Arm Camera Crane includes a multifunctional ball head which works with both DSLR cameras and camcorders (suitable for both 75mm and 100mm hemisphere heads).
This jib arm crane offers total stability due to its magnesium-aluminum alloy material, standard for the market, while also utilizing CAM technology to reinforce strength and high rigidity.
A quick release plate is also included in the price, helping with quick shooting needs and filming without lugging heavy accessories or equipment to complete the job.
Features included with the Neewer Aluminum Alloy Jib Arm Crane:
Pan ball head adding to the crane's versatility, allowing you to mount the jib crane to just about any tripod of your choice. With a pan ball head, enjoy the ability to pan 360 degrees with both vertical and horizontal directional options
Optimal jib arm crane for both camcorder and DSLR recordings. The total length of the crane is 177cm/70″.
The crane supports up to 8kg/17.6lbs, allowing for the use of various camcorders and DSLR cameras with ease.
Ideal for both professional filming and outdoor photography/motion photography.
Check Price on Amazon Directly Add to Cart on Amazon
---
Best Jib Crane Under $200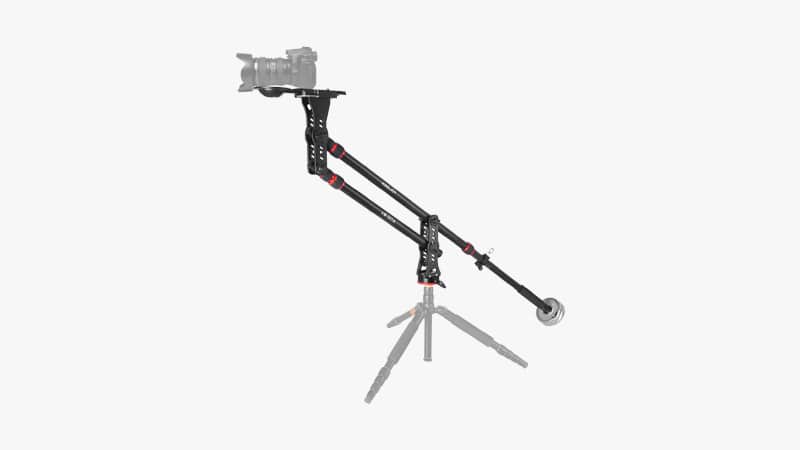 The Papaler Aluminum Camera Mini Jib Crane With Counterweight (VM-301A) is an extremely lightweight solution with strong aluminum alloy material. Grasp the full range of motions when filming using the Papaler Mini Jib Crane, which provides multi-angle lens shots, vertical, and horizontal panning abilities.
This jib crane includes a 360-degree pan ball head along with an optimized user-friendly design, ideal for hot amateur and professional filmmakers.
Using the Papaler Mini Jib Crane is affordable and optimal for feature films, television shows, and even wedding photography as it includes a jib crane arm that swivels with ease and gentle movements.
Features of the VM-301A Papaler Aluminum Camera Mini Jib Crane include:
Extremely durable and strong, allowing for the support of multiple professional cameras, DSLR cameras, and equipment
2x1kg counterweights to help maintain stabilization and balance
Easily mounted using any tripod with a 1/4″ to 3/8″ thread
Supports up to 8kg/17.6lbs
Overall, the Papaler Camera Jib Crane is highly recommended for anyone interested in a versatile, portable setup that provides professional results and high ratings from verified customers.
The Papaler Camera Jib Crane comes with a carrying case for quick on-the-go travel along with a non-slip grip handle for added safety and easy use. When you are sticking to a budget but want a high-quality solution, opt for the Papaler Camera Jib Crane.
Check Price on Amazon Directly Add to Cart on Amazon
---
Best Camera Jib Crane Under $300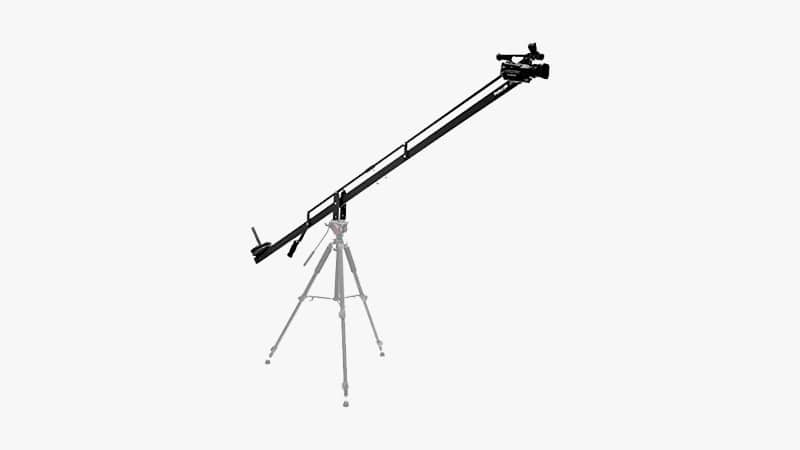 The ProAm USA Orion provides a portable camera jib crane with features that leave professional and amateur filmmakers in awe.
Implement beautiful, dynamic movement shots with the ProAm USA Orion within minutes, as the jib crane itself requires only a few minutes for a full setup. The ProAm comes completely pre-assembled, optimal for filmmakers who prefer a no-tool solution.
The ProAm USA Orion works with both camcorders and DSLR cameras up to 8lbs and offers a vertical reach and lift up to 11 feet, which is less than other more affordable options on the market.
The ProAmUSA Orion DVC200 extends a total of 5 feet from the tripod mount of your choice. Before investing in a ProAm USA Orion, ensure your cameras and recording devices come in at under 8lbs to avoid running into issues during filming.
Features of the ProAm USA Orion DVC200:
Steel tripod for increased strength and maximum stability
Uses 1-inch barbell weights as counterweights (not included with the camera jib crane itself)
Pre-assembled and no tools required to get started with using the camera jib crane
Auto and manual tilting is possible with the Orion DVC200, allowing you to maintain a forward-facing camera while moving the crane up and down for perfect motion shots
Check Price on Amazon Directly Add to Cart on Amazon
---
Best Camera Jib Under $400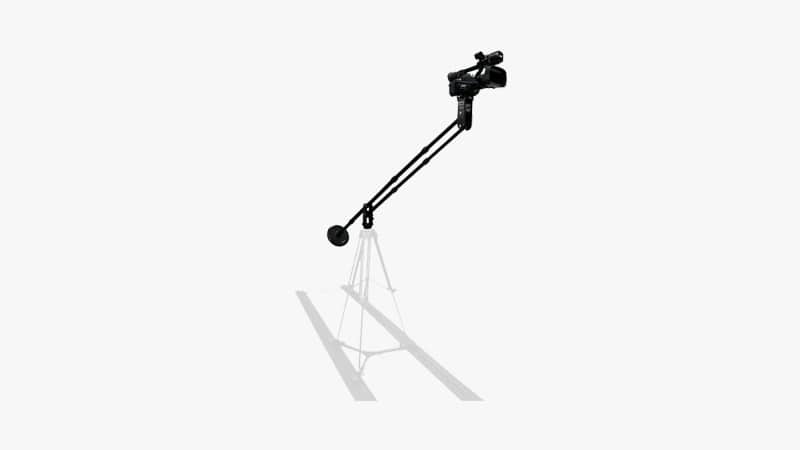 The Varizoom SOLOJIB is a camera jib made from carbon fiber, providing an extremely strong and versatile crane while remaining lighter than traditional aluminum and aluminum alloy camera cranes and jibs typically found on the market.
When you are in search of the lightest camera jib, consider the Varizoom SOLOJIB.
While the Varizoom SOLOJIb is lightweight and easily portable (suitable for one-person shoots and independent filmmakers), it does lack features that even less expensive alternatives provide (such as only allowing for 3/8″ threads, rather than ranging from 1/4″ to 3/8″).
The maximum weight load of the Varizoom SOLOJib falls short of expectations for the price, allowing only 7lbs when fully-loaded.
Additionally, while the Varizoom SOLOJIB has extremely high ratings from customers, they fall short on additional features such as extended height, limiting some film projects that require more reach.
Features of the Varizoom SOLOJIB:
Made from high-quality carbon fiber, providing a strong, yet lightweight solution
Extremely portable jib with a 2-stage telescoping arm
Reach of up to 9.2 feet
Flat base, 75mm, or 65 mm bowl with a 3/8″ stud
Check Price on Amazon Directly Add to Cart on Amazon
---
Best Camera Jib Under $500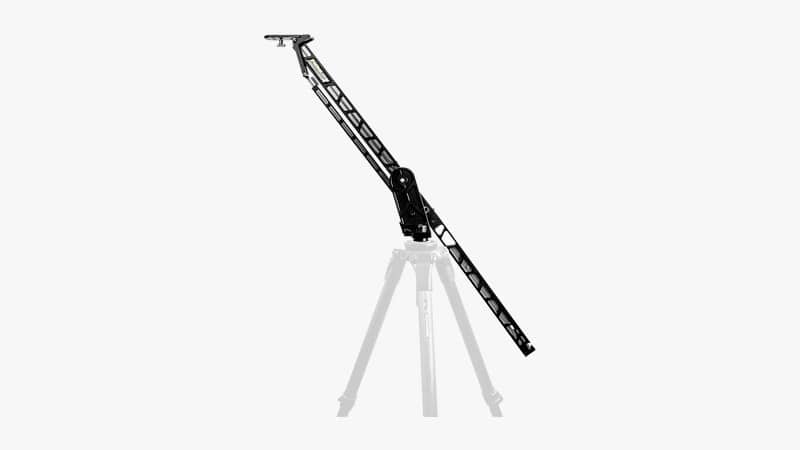 When you are in the market for a lightweight travel jib or camera crane, consider the Kessler Pocket Jib Traveler, coming in at just under $500 on Amazon.
The Kessler Pocket Jib Traveler is ideal for filmmakers who frequently travel and change shots on a whim. Capture quality wedding videos or shoot professional scenes with both horizontal and vertical action using the Pocket Jib Traveler.
Unfortunately, a travel case and additional counterweights that are optimal for the Kessler Pocket Jib Traveler are not included with the original cost of the crane jib, making this choice a more expensive option but a useful one for those seeking true portability.
The Kessler Pocket Jib Traveler is not made of lightweight carbon fiber, but still offers a lightweight and sturdy solution for anyone interested in a portable solution that delivers.
Due to a lack of information regarding its specifications, it is unclear how much the maximum weight load is for the Kessler Pocket Jib Traveler, although it has received high marks from verified purchases on Amazon.
Top Features of the Kessler Pocket Jib Traveler:
No assembly required with this travel jib! The pocket jib traveler folds for travel and storage and only requires a few minutes to completely assemble for quick filming and when changing scenes or shooting locations
The Kessler pocket jib traveler is extremely lightweight, weighing only 5.5lbs in total
The collapsed length of the jib traveler is 27″, with a total assembled length of 72″
Overall, the Kessler Pocket Jib Traveler has a vertical movement of 62.3″, allowing for a wide range of movement when filming smaller projects that do not require extended height capabilities
Check Price on Amazon Directly Add to Cart on Amazon
---
Best Camera Jib Crane Under $700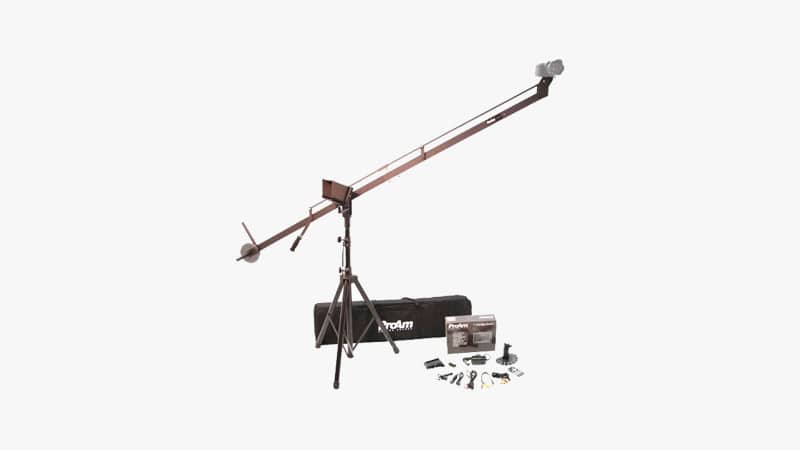 The ProAm USA is one of our favorite choices for filmmakers seeking a complete kit, albeit a bit more on the pricey side, coming in at $699.95 on Amazon.
The kit comes fully-equipped with an 8 ft stand, sunshade, carrying case, and an LCD monitor, providing you with the necessary tools and equipment to shoot movies and motion scenes in little to no time at all. A 10″ mini HDMI to HDMI cord along with a Canon battery adapter plate is also included with this setup.
While the ProAm USA DVC210 tilt kit includes plenty of accessories to get started, it falls short with its limited weight support (10lbs) and is made with traditional aluminum, not lightweight carbon fiber.
The ProAm USA DVC210 also limits vertical height options, only allowing for 8 ft reach, which can eliminate other film projects you take on that require a more versatile solution.
However, the ProAm USA 4ft Camera Crane Extension Kit is also available to purchase separately for those interested in tackling 12-foot shots.
This setup is not as portable or as "easy to use" as others on the market, requiring tools along with time and effort to set up, making quick shots more challenging to capture.
ProAm USA DVC210 Camera Jib Crane Tilt Kit Features Not to Overlook:
LCD monitor included for digital connections and editing on-the-go
Completely tool-less automatic and manual tilt modes
3-axis movements for smooth transitioning
Scratch-resistant powder coating
Check Price on Amazon Directly Add to Cart on Amazon
---
Best Camera Jib Crane Under $1000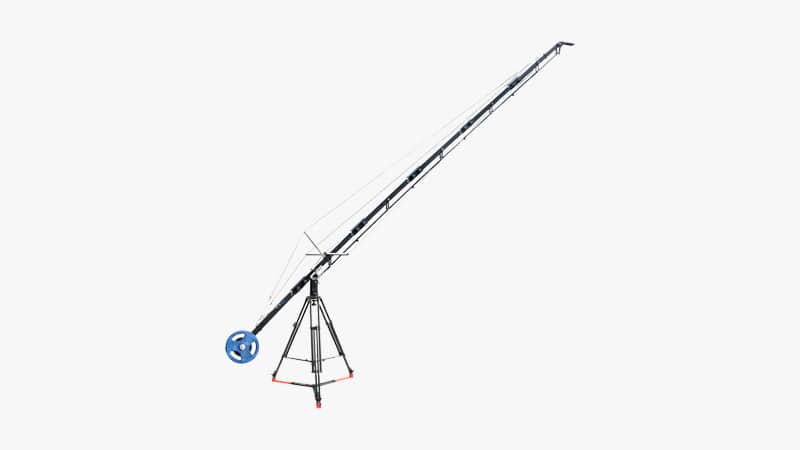 When you are in search of a camera jib crane that supports large DSLR cameras and recording devices, the PROAIM Alphabet Professional Travel Jib Crane may be the right route to take.
One of our favorite aspects of the PROAIM Alphabet Professional Travel Jib Crane is its ability to hold up to 15kg, or 33lbs, breaking the barrier of most cranes and jibs on the current market.
The PROAIM Alphabet kit includes a heavy-duty tripod stand that extends a minimum of 34 inches and a maximum of 60 inches.
Additionally, the jib crane itself extends 21 feet in total, using ribbed aluminum sections, providing 4 times the strength while maintaining a lightweight feel for fast movements.
With this crane jib, enjoy an included storage bag for protection anytime your rig is not in use. Currently, the PROAIM Alphabet Professional Travel Jib Crane is available on Amazon for $959.00, with additional shipping coming in at $44.75.
Notable Features of the PROAIM Alphabet Professional Travel Jib Crane:
Impressive weight support of 15kg/33lbs for a large variety of DSLR cameras and camcorders, optimal for filmmakers with a desire to film a wide range of projects
100% customer satisfaction guarantee is also included with the PROAIM Alphabet Professional Travel Jib Crane, which is extremely important when investing $1000 into your new rig
Large load capacity of 176 lbs, perfect for professional shoots and filmmakers who prefer working with a loaded and full-equipped jib crane
Compatible with the PROAIM Jr. Pan Tilt Head, allowing for even more control over the horizontal and vertical movement of your crane jib
Check Price on Amazon Directly Add to Cart on Amazon
---
Best Camera Jib Under $1500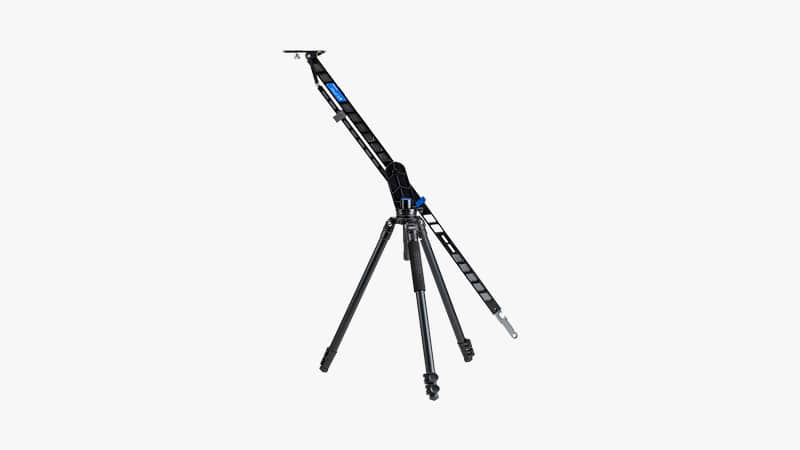 The Benro MoveUp20 Compact Jib comes in at our most expensive pick for current quality camera jibs that are optimal for both amateur and professional cinematographers at approximately $1,088 (plus shipping) from various providers on Amazon.
One of our favorite aspects of the Benro MoveUp20 Compact Jib is its ability to hold camera loads weighing up to 44.1 lbs, one of the most heavy duty options available for those with larger cameras and weighted equipment.
With the Benro MoveUp20 Compact Jib, mount on a 100mm bowl tripod and work with the provided 3/8″-16 1/4″ 20 accessory mounts (providing more freedom and flexibility when choosing the equipment to use for your individual shoots).
The Benro MoveUp 20 Compact Jib is optimal for both studio shooting and location shots as opposed to wedding shots or small scenes that require quick and intense shoots and with a wide movement range
Unfortunately, for the price of the Benro MoveUp 20 kit, you miss out on an included tripod and additional mounting accessories and cables that are available at a much more affordable price range.
Reviews for the Benro MoveUp 20 kit are mixed and extremely limited due to its lack of sales via Amazon. Unless you are interested in implementing a camera jib crane in a professional movie studio, opt for a more affordable alternative that provides increased portability.
Features of the Benro MoveUp20 Compact Jib:
Includes a custom rolling grip case for simple and effective storage
The full range of the Benro MoveUp 20 Compact Jib is 90 inches, providing more working room when you are searching for a versatile jib solution
Easily break down this jib into sectioned parts for easy transport and quick storage
A limited 3-year warranty is available from Benro MoveUp20, which is beneficial when investing more than $1000 on a jib crane setup
Check Price on Amazon Directly Add to Cart on Amazon
---
Conclusion
When shopping for a new camera crane or jib setup, there are plenty of factors to consider regarding your planned use for the crane or jib and the types of cinematography you are interested in pursuing.
What camera crane or jib do you prefer for your filmmaking and motion-intense shots? We'd love to hear more about what works for you and why!
Disclosure: The product recommendations are not sponsored and are chosen by our editorial staff. We may earn an affiliate commission when you purchase an item through our links.
Photo Credit: Unsplash