📷 Love taking photos but hate editing them afterwards? Check out Luminar AI. As the name suggests, it is a Super-Intelligent AI Photo Editor that will seamlessly integrate in your workflow and make taking photos fun again.
Instagram has completely changed the way you take pictures.
With the squared off display, it alters how you crop a photograph.
In many ways, the visual display of Instagram is not natural.
You have two eyes. You have stereo vision. Due to this, you naturally see life in a wider format.
It's why your television and laptop are wider vertically. Because you can take in the entire screen without your eyes scanning back and forth.
Instagram causes you to see in more of a mono visual display. It also brings you intimately closer to your pictures. When looking at photographs on Instagram, everything feels closer because everything is closer. It has to be.
Instagram has also changed the world of social media. Those with hundreds of thousands of followers are seen as "influencers." This allows the power user to market products for the company.
Whatever you use Instagram for, if you're looking to become a power user, or you just want to take the best Instagram pictures possible, you need a proper camera to do it.
For the right Instagram camera though you don't need a giant DSLR. Most of the filters built into Instagram or available through third-party apps already deteriorate the visual quality of the picture anyway. Instead, there are a handful of other features you need to consider when picking the best camera for Instagram.
ISO:
You're going to want to take pictures at night.
Or in clubs.
Or around candlelight.
How does your camera handle it?
In order to take a picture in low light, your camera lens needs to open wider. It also needs to remain open longer. This is why your night pictures are more likely to appear blurred.
Because you moved your camera while the lens was still open.
In the camera world, this is controlled by the ISO. It's able to take in more light in less time.
Back in the day of film cameras, this represented the kind of film. An ISO 100 film would take great quality photographs, but it would need more light. An 800 ISO would perform exceptionally well in low lights but could produce some grain.
If you were to super zoom in you might see a grainy picture. But, again, that's the beauty of Instagram. Megapixels no longer really matter in this world.
Shutter Speed:
This ties in directly with ISO.
Finding the best Instagram camera really is about determining which camera delivers the best lighting quality.
Shutter speed is how quickly the camera lens can shut while letting in more light. This helps keep the picture looking crisper, without distortion or blurriness or pixelation.
It's possible to dive in deep regarding shutter speeds and ISOs and the manual function of a camera.
These are not features you generally need to worry about with an Instagram picture. The camera will auto adjust to your surroundings (although you can go into the control and adjust it on your own, should you choose).
Aperture:
Much like shutter speed and ISO, aperture determines the amount of light entering a camera.
Picture taking is all about controlling light and letting in the amount of desired light.
Modern, digital cameras use sensors to capture the image, whereas film cameras used light-sensitive film.
The aperture adjustment will give you two major benefits.
First is you can increase or decrease the amount of light entering.
Second, you can alter the depth of field.
The depth of field is when a person in the foreground is in focus while the background is out of focus.
When the aperture is "wide open" it allows the most amount of light. It also gives you shallow depth of field where the subject is in focus.
When you close the aperture, you reduce the amount of light. This allows you to focus on something in particular.
Everything else will be out of focus. The more extreme the aperture closure, the more extreme the depth of field.
Of course, when your aperture closes you need to adjust the shutter speed and ISO to compensate.
Again, it's possible to really get into the weeds regarding camera tech and taking pictures here. Your Instagram camera will automatically control all of this.
Just know you have the visual option of depth of field with such a feature.
Instagram compresses pictures, and if you have a camera built within the last several years, it's more than capable of retaining a mono photograph.
The Best Cameras for Travel & Instagram for 2023
| Product | Model | Video Quality | Image Stabilization | Price |
| --- | --- | --- | --- | --- |
| | Sony Alpha a7 III | 4K | Sensor-Shift, 5-Axis | |
| | DJI Phantom 4 PRO | 4K | 3-Axis | |
| | Sony Alpha a6600 | 4K | Sensor-Shift, 5-Axis | |
| | GoPro Hero 8 | 4K | Digital | |
| | Olympus TG-5 | 4K | Optical | |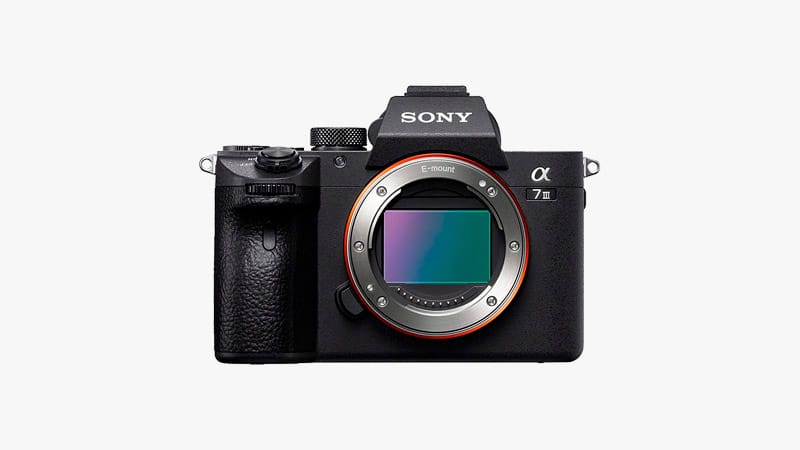 Although it isn't the most powerful camera on the list, the a6500 comes very close – and at a far more comfortable price than the a7 III! The 24.2 megapixel camera is a great selling point, but the truth is that this camera does everything well. It's intuitive and powerful. It takes exhilarating action shots and beautiful stills. It has the most powerful autofocus of any camera I've ever seen.
I could say a lot more, but a picture is worth a thousand words. So instead of rambling on, here is a small sampling of what the a6500 is capable of.
Best Outdoor Instagram Cameras Under $400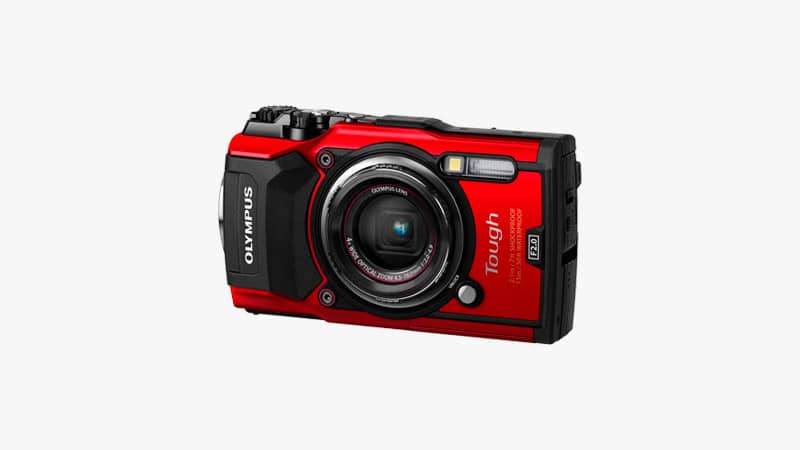 For those who like to shoot outdoors, Olympus TG-5 Waterproof Camera is a perfect choice. It is equipped with a 12 megapixel-high-speed image sensor that makes it excellent for low-light conditions and noise reduction.
This Olympus model has MOV(MPEG 4AVC/H.264) video recording format and can film underwater. The 25-100mm-lens offers a maximum aperture f/2.0, which is pretty fast for this type of action camera.
The TG-5 operates on a dual quad-core processor and lets you see images on a 460k dot LCD monitor. It has a focus range of 3.94 inches (10 centimeters) to infinity.
The TG-5 is shockproof, crush-proof and dust-proof, as well as freeze-proof up to 14 degrees. It also has an anti-fog lens, so you can shoot early morning mist with it.
The 4x optical zoom makes it simple to catch the details on your image, while the 2160p video resolution gives you the videos you only dreamed of in an Instagram outdoor camera.
Best Action Camera for Travel & Instagram Under $400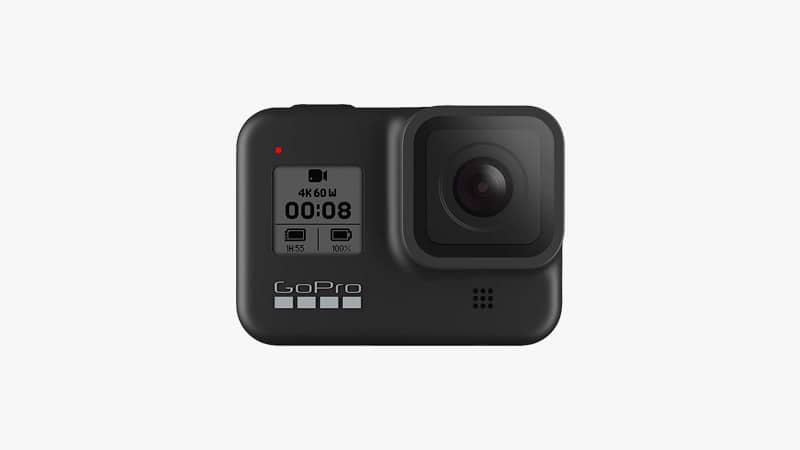 When you want extreme photographs of you doing just about anything, the GoPro HERO8 lineup of cameras is great. The beauty of these cameras is not only the simplicity of it but that they are cameras with excellent features. 
If you're interested in taking your Instagram feed to the next level with you doing anything from surfing, mountain biking, driving a classic car, or anything else, it's all possible with GoPro HERO8 and the add-ons available.
The add-ons for the GoPro is really what makes it the best action camera for travel and Instagram. You can safely secure it to the outside of your car for great camera angles, stick it to your motorcycle helmet, or go shark tank diving with it. These are all things you can't safely do with other cameras.
This camera also takes it up from where previous GoPro cameras have been. First, you can capture in 4K, which is four times the resolution of HD. It even allows you to record at 60 frames per second (traditional movies record at 24 frames per second).
If you are interested in shooting in slow motion, you can record the video 8x slower. Plus, the 12-megapixel camera allows for 1080p live streaming and filming up to 33 feet (10 meters) underwater.
Normally, with Instagram, you would upload images from your phone. The GoPro HERO8, has a Wi-Fi feature, allowing you to transfer the files directly to your phone.
Best Sharp Image Camera for Travel & Instagram Under $500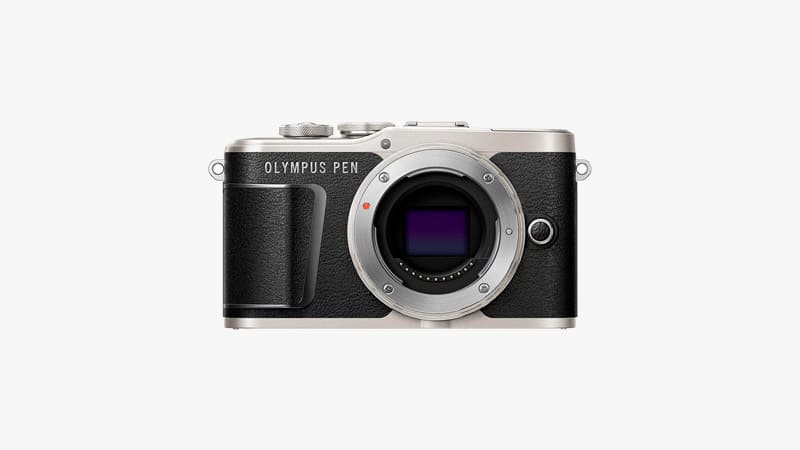 Olympus PEN E-PL9 is the right upgrade from a smartphone camera user to an Instagram star. Especially if you prefer to shoot high-quality images in an attractively designed piece of equipment.
It offers a 16-megapixel camera with a Live MOS sensor and operates on TruePic VIII image processor. Moreover, it has a 3-inch 180-degree flip-down touch screen.
You can film videos in 4K and use the autofocus of 121 points on this camera. The battery life gives you about 350 shots in total.
This sharp image camera might not be easy to grasp at first for newbies, but it offers a variety of manual features that you can master after a while.
Unlike its predecessor, the E-PL8, E-PL9 has a built-in flash and Bluetooth connectivity, as well as Scene Modes. It is extremely lightweight and compact, which is great if you want to take it with you to your next adventure.
Best Smartphone Camera for Travel & Instagram Under $1000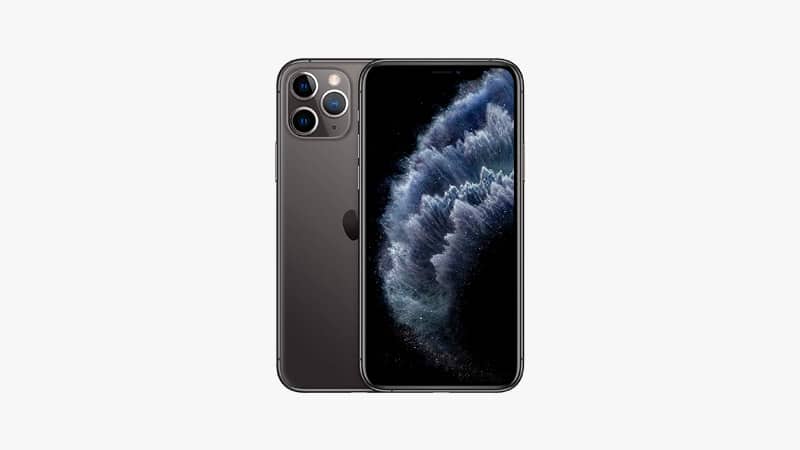 The iPhone 11 Pro is the best device for all those who prefer to take Instagram photos with their smartphones.
This smartphone has an 8-inch Super Retina XDR OLED display. Since it's water and dust resistant (4 meters in the water for up to 30 minutes), you can use it underwater and don't have to worry about it catching dust particles.
Although it has excellent features, what's most interesting about this phone is its camera. It's equipped with a 12-megapixel, a triple-camera system which means it can shoot and film in a telephoto, wide, and ultra-wide angle format.
One of 3 cameras offers a 120-degree view, the second one has the optical image stabilization feature and the third one has f/2.0 aperture.
The camera has a portrait mode, a night mode, a slo-mo option, and a 4K video of up to 60fps. Moreover, you can edit your photo with a variety of new filters available.
Best DSLR Camera for Travel & Instagram Under $1000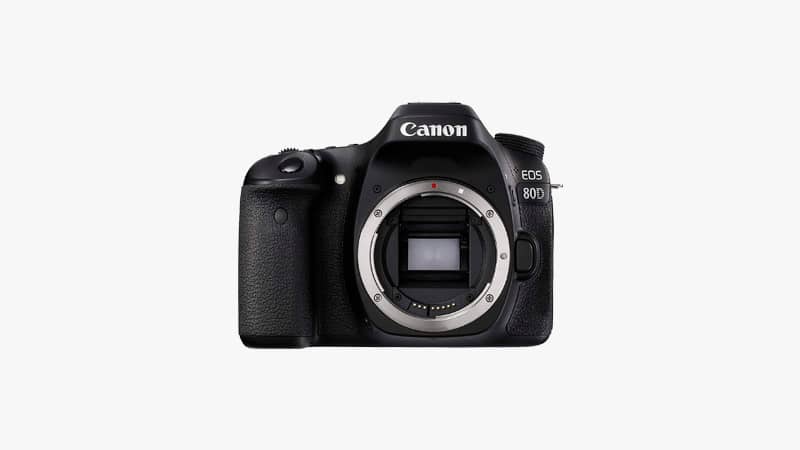 This compact Canon 80D model is on of the best bargains for the money. The 45-point autofocus makes it easier to take great photos by doing a lot of the intelligent thinking for you, bolstered by a stunning 24.2 megapixel camera that looks better than you've ever imagined.
The viewfinder on this camera was one of my favorite features, because the viewfinder covers virtually 100% of what you will see in the image. This offers unprecedented control over your art, because it enables you to see what exactly will – and will not – be present in the shoot. This is backed up by shutter speeds of 1/8000, making it highly unlikely that a fluttering insect or falling leaf will ruin your perfect shot.
The camera also benefits from highly adjustable aperture settings and ISO of up to 16000, making the camera very effective even in low-light scenarios.
What makes this camera so amazing is that for the same price as the base camera, you can also buy the camera with a variety of accessories, including a travel bag, tripod, memory cards and others for no additional cost.
Best Vlogging Camera for Travel & Instagram Under $1200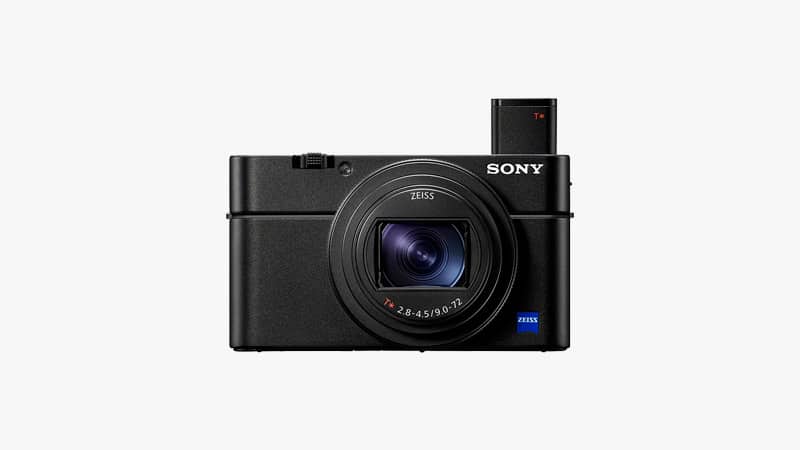 The Sony RX100 VII proves the point-and-shoot camera is not dead. In fact, this point-and-shoot camera is more powerful than a number of DSLR cameras.
It doesn't have a substantially large lens, as it only goes from an F2.8 up to F4.5. It means you won't have much of a shift in depth of field.
But in reality, most digital cameras rely on a digital zoom, which is the worst thing you can do to a picture. Digital zoom only zooms into the pixels, which causes a grainy appearance as an analog lens physically moves the glass. Luckily, this one has an 8.3x optical zoom.
The camera is extremely fast. The autofocus achieves a remarkable 0.02-sec acquisition speed. That's as instant as you're going to get.
This little compact 20.1-megapixel camera can film videos in a 2160p resolution and has a super speed HFR, capturing up to 40x slow-motion videos.
Best Drone for Travel & Instagram Under $1400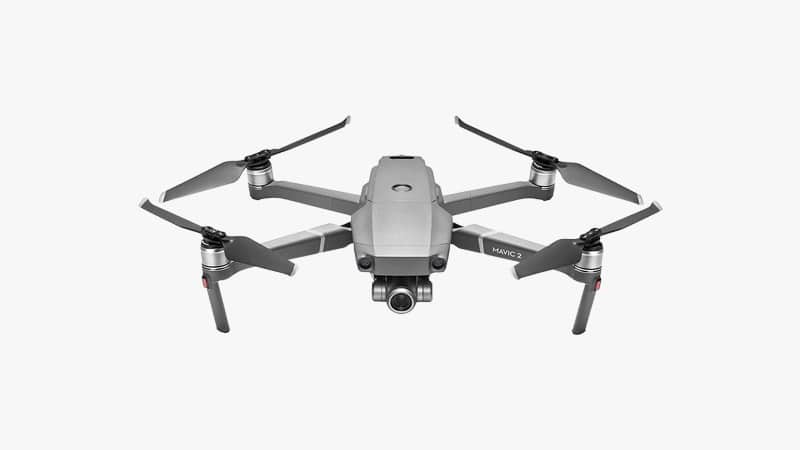 In case you're the one who likes to take photos with a drone, DJI Mavic Pro 2 Zoom is the right tool for you. Drones have become one of the most popular new purchases. I have a friend, in fact, who uses a drone to shoot real estate footage.
While you may not use the DJI Mavic for this purpose, you may find that it takes your photography to a whole new level. Naturally, this drone is not going to offer the same level of photo control as a handheld camera.
However, the drone has 31 minutes of flight time. It can fly up to 44 miles an hour and has omnidirectional obstacle sensing to avoid crashing into objects. So whether you simply want to take a few overhead photos or want to shoot fifteen minutes of aerial footage in stunning 4K resolution, you can accomplish it with the DJI Mavic Pro 2 Zoom.
It also has a 48-megapixel camera and Dolly Zoom, which enables you to zoom in while the drone flies backward.
Best of all, the Mavic is super compact, folding down to the size of a simple water bottle, making it easy to take the drone with you for exciting footage no matter where you are.
Best Quadcopter Drone for Travel & Instagram Under $1600
Just like the Mavic, the DJI Phantom 4 offers a new way to experience photography by providing amazing views and photos impossible with traditional cameras. The camera allows for 12.0 megapixel images or 4K video footage shooting at 30 fps.
The Quadcopter is built with a satellite positioning system and a Vision Positioning System to make it easier to detect obstacles. The satellite positioning GPS allows you to track the drone at all times, and the built-in GPS allows it to autopilot its way back home.
The drone can fly at speeds of up to 45 MPH for nearly half an hour, offering an incredible amount of time to gather footage you could have only ever dreamed of before. DJI also includes amazing software that makes editing your videos easy by adding music, dialogue, text and special effects to your film.
This drone is awesome, and both the photos and the video footage it can take are out of this world.
Best Mirrorless Camera for Travel & Instagram Under $1800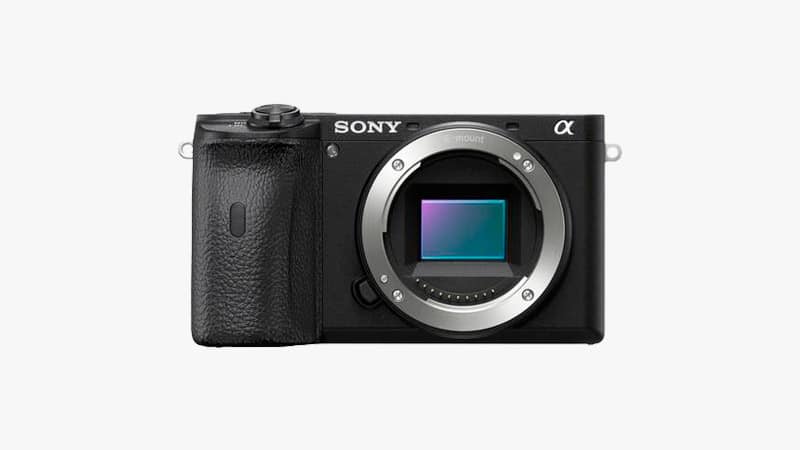 Sony Alpha a6600  is one of the best digital cameras on the market. Don't let its small size fool you, because there is a 24.2-megapixel camera lurking inside that frame. The camera is able to take pictures in a 4K resolution.
The built-in image stabilization compensates for blur more readily than any camera I've ever held. The viewfinder allows for live shooting of up to 8 fps, making it easier to track a moving object such as a butterfly or a gazelle.
Moreover, the a6600 has an option of silent continuous shooting, even in AF-C mode, while the HLG picture profile delivers an instant HDR imaging. Plus, it has a maximum of 810 shots per charge.
The one thing that disappointed me with this camera was the shutter speed. It goes as high as 1/4000 and as low as 30 seconds, both of which are quite good. But I tested other, cheaper cameras with a greater range than that, which is just a little disappointing for the a6600.
Best Mirrorless Camera for Travel & Instagram Under $2000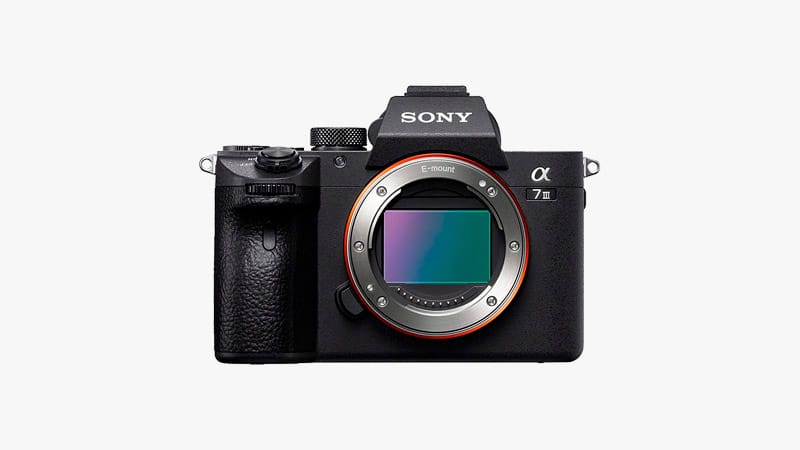 The a7 lineup of Sony cameras took over for its popular Nex camera line. These cameras aim to offer DSLR quality without the mirrors. This gives you a smaller camera with exceptional power.
You will need to manually transfer the files from your camera to a computer before uploading to Instagram, but you will have DSLR level photographs at a lower price, which is well worth the time it takes to upload. You also can capture both JPEG and RAW formats at the same time.
It also allows you to swap out lenses. If you really want to take your picture taking potential to the next level and up your Instagram game without going full-on DSLR, the Sony a7 lineup is where it's at.
The major benefit to the Sony a7 III is its smaller size. It doesn't have all the hefty bulk of the larger DSLR cameras. It also uses smaller lenses so these lenses are typically less expensive. All of this leads to you saving money while having a camera that produces the same heightened quality as the more expensive DSLR hardware.
Do note that the lenses are slightly smaller than your standard Canon or Nikon DSLR lenses. Many of these can be fitted onto the a7 with an adapter, although some features might not work.
Due to this, it's better to go with specially crafted a7 lenses. If you had the Nex cameras those lenses will likely work just fine, although it's best to check compatibility with the camera beforehand.
You don't need to rely on a phone to take your Instagram pictures. While Apple and other phone manufacturers such as Google and Samsung produce quality phones with solid cameras, there are plenty of other options out there.
It really just comes down to what you're interested in, how serious you are about taking your Instagram account to the next level, and how much money you want to put into it.
What kind of camera do you use for Instagram? Do you use your phone or a stand-alone camera? Let us know!
Photo Credit: Unsplash