Creating that perfect Instagram picture is no easy task.
Behind the scenes there are countless attempts to perfect angle, lighting, and what not. What adds to the misery is when that smartphone camera starts showing its limitations.
While you can take decent photos using the 5.1 megapixel cameras built into your smartphone, those cameras simply aren't powerful enough to take truly magnificent pictures which you see on your favorite instagrammers accounts. If you are serious about your photography and want to tatravellingraveling and Instagram photos to the next level, you need to invest in a professional camera.
However, picking out the right camera can be challenging if you don't know what to look for. Moreover, most cameras cost upwards of several hundred dollars. Therefore, you need to know what features you should look for in a camera and how they can help to improve your photographs.
First off, you should know that the only information cameras collect is light. Therefore all cameras, regardless of whether it is built into your phone and housed in an independent chassis, depends on good lighting conditions to take light. There are, of course, settings to work around this. If you want to take high-quality nighttime images, you're going to want a camera with equipment dedicated to making this a reality.
ISO:
When it comes to picking out the right digital camera, there are three factors you should consider. The first is ISO. ISO describes the camera's sensitivity to light. You can raise the ISO on most cameras to produce brighter light for use in low-light settings, but this can produce unattractive distortion and discoloration in inferior cameras.
Aperture:
Aperture describes how wide the opening of the lens is, thereby controlling how much light is allowed in. Aperture is described by an f-scale, with lower numbers indicating a greater aperture and increased light.
Shutter Speed:
Finally, shutter speed describes the length of time your shutter is open to collect light, one of the key elements of action photography. Shutter speeds are measured in fractions of a second, with higher shutter speeds absorbing light for shorter periods of time. Lower shutter speeds allow more light to be collected, which is especially valuable in low-light situations, but they aren't great for capturing bodies in motion.
There are a huge number of additional features that are important to consider with an expensive camera, almost too many to describe. These include auto focus, sensor size, megapixels, lens sharpness, zoom, the LCD viewfinder and more. I will endeavor to describe how each camera balances out all of these features in turn, enabling you to make a smarter, more informed decision. But the list also includes some portable and handy options that deliver spectacular results, ideal for tricky situations.
Best Mirrorless Camera for Instagram – Sony a7 R II – Editor's Pick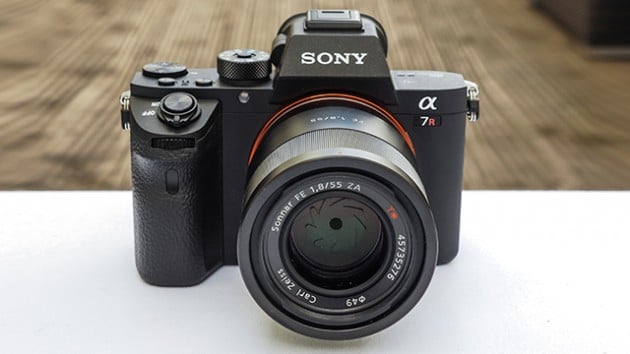 Although it isn't the most powerful camera on the list, the a6500 comes very close – and at a far more comfortable price than the a7 R II! The 24.2 megapixel camera is a great selling point, but the truth is that this camera does everything well. It's intuitive and powerful. It takes exhilarating action shots and beautiful stills. It has the most powerful autofocus of any camera I've ever seen.
I could say a lot more, but a picture is worth a thousand words. So instead of rambling on, here is a small sampling of what the a6500 is capable of.
Check Price on Amazon or Directly Add to Cart on Amazon
.
Best Instagram Cameras Under $400
1. Panasonic LUMIX DMC-GM1


The Panasonic Lumix is a great digital camera ideal for anyone with a modest budget who still wants to take great pictures. Although it is relatively inexpensive, it still offers a number of great features that make it especially attractive to budding photographers who don't want to spend too much on an introductory camera.
This camera is both compact and lightweight, making it easy and convenient to carry around, unlike some cameras of old. Some of the features on the camera are pretty awesome. Let's start with the 16.84 megapixel camera. That captures an amazing level of detail and clarity that far surpasses any cell phone camera.
The camera is also capable of capturing up to 40 minutes of continuous video footage. Although it shouldn't be mistaken for a professional video camera, this can definitely take some interesting footage. You can set the camera to both automatic and intelligent ISO sensitivity, or you can customize it with almost ten different settings to conduct your own lighting experiments.
Check Price on Amazon or Directly Add to Cart on Amazon
.
Best Action Camera for Travel & Instagram Under $400
2. GoPro HERO5 Black


If you're looking for a capable but affordable digital camera, consider the GoPro Hero5. This potent little camera is capable of taking 4K video footage and sports an impressive 12.0 megapixel camera for incredible image depth and clarity.
The GoPro has a number of amazing features. For example, the camera responds to simple voice commands, freeing up your hands to take incredible action shots. Even more impressive, the GoPro is waterproof for up to 33 feet in depth, allowing you to take breathtaking underwater shots without damaging your camera.
Advanced video stabilization allows you to take pictures on the move without a lot of blur or distortion, critical for action-oriented people. A variety of settings allow you to optimize your photos in many ways.
Check Price on Amazon or Directly Add to Cart on Amazon
.
Best Point-and-Shoot Camera for Travel & Instagram Under $400
3. Panasonic LUMIX DMC-GM5KK

Panasonic knows how to make a camera, I'll give them that. Of course, they've had a lot of experience. Their Lumix DMC-GM5KK is another fine example of what a great camera can accomplish. Although similar in many ways to the GM1, it is a superior camera.
You will notice the resolution is the same as the GM1 – 16 megapixels. It also uses the Micro Four Thirds mount and offers a number of ISO settings. There are also a great deal of shutter customization options, providing for endless opportunities for exciting and unique photographs.
The GM5KK is capable of a great variety of shutter speeds. Shutter speeds as high as 1/16000 allow you to capture an imperceptibly small amount of time and capture it on camera, allowing you to witness in a photo what you could never observe with your own eyes. The shutter can also be slowed down to as much as 60 seconds, allowing you to capture in a single image a minute's worth of activities, once again a feat no human eye can capture.
Check Price on Amazon or Directly Add to Cart on Amazon
.
Best Smartphone Camera for Travel & Instagram Under $800
4. Apple iPhone 7 Plus


Everyone knows the iPhone 7 Plus is an amazing phone. What they may not know is that it can take some pretty great pictures too. While the iPhone isn't going to give you the same abilities as a traditional camera, consider why I included it on this list.
The iPhone is insanely popular, and currently leads the smartphone market. It also comes with a very impressive 12 megapixel camera capable of taking 4K resolution video footage. That's pretty serious business for a camera phone.
Here's the thing. You're probably not going to buy the iPhone off of Amazon, although there's certainly no reason why you couldn't. But if you have a new iPhone thanks to a cell phone contract, you already have a pretty great camera.
That said, you don't have the same control over aperture, ISO, shutter speeds and other features you'll find in a proper camera. Nevertheless, take advantage of that 12 megapixel camera and practice your photography. Learn to look for the beauty in nature, the city, your home. Develop an eye for what separates a good photo from a great one. Doing this will help you to get the most out of your new camera when it finally comes time to upgrade.
Check Price on Amazon or Directly Add to Cart on Amazon
.
Best Vlogging Camera for Travel & Instagram Under $1000
5. Sony Cyber-shot DSC-RX100 V


The Sony Cybershot RX100 Mark V is a big step up from earlier cameras on this list, not only in its price tag but in its capabilities. No camera on the market has a better developed autofocus (AF) sensor than the Cybershot. Not only does the Cybershot have the fastest autofocus in the world, it has the most autofocus points on any camera in existence.
The camera resolution is absolutely astounding. Utilizing a 20.1 megapixel camera, your photos have never looked better or more vivid than they do with this model. The camera also has an incredibly fast shutter speed of 1/32000, meaning the camera could theoretically (but not literally) capture 32,000 images in the span of a single second.
The camera allows for 4K video footage to be taken, and 8-megapixel still shots can be extracted from the video footage. In addition, the camera allows for the shooting of images at 24 fps, pretty awesome for a camera that weighs just over half a pound.
Check Price on Amazon or Directly Add to Cart on Amazon
.
Best Drone for Travel & Instagram Under $1000
6. DJI Mavic Pro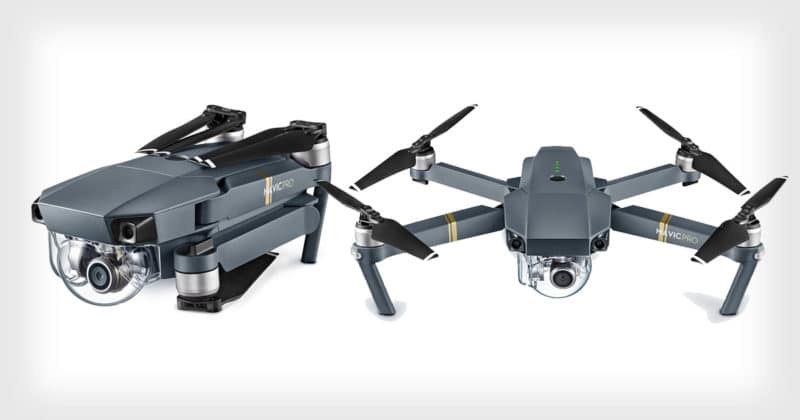 Take exciting aerial photos with the DJI Mavic Pro drone! Drones have become one of the most popular new purchases. I have a friend, in fact, who uses a drone to shoot real estate footage. While you may not use the DJI Mavic for this purpose, you may find that it takes your photography to a whole new level?
Naturally, this drone is not going to offer the same level of photo control as a handheld camera. However, the drone can fly in the air for up to 27 minutes. It can fly up to 40 miles an hour and has a transmission range of over 4 miles.
So whether you simply want to take a few overhead photos or want to shoot fifteen minutes of aerial footage in stunning 4K resolution, you can accomplish it with the DJI Mavic. Best of all, the Mavic is super compact, folding down to the size of a simple water bottle, making it easy to take the drone with you for exciting footage no matter where you are.
Check Price on Amazon or Directly Add to Cart on Amazon
.
Best Quadcopter Drone for Travel & Instagram Under $1500
7. DJI Phantom 4 Quadcopter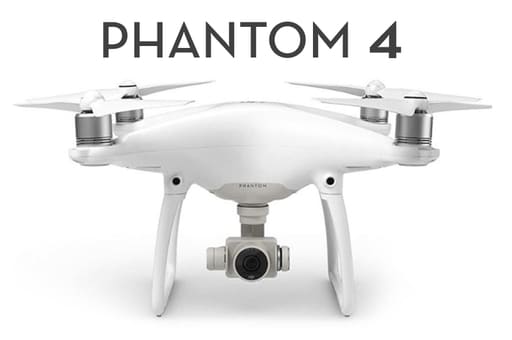 Just like the Mavic, the DJI Phantom 4 offers a new way to experience photography by providing amazing views and photos impossible with traditional cameras. The camera allows for 12.0 megapixel images or 4K video footage shooting at 30 fps.
The Quadcopter is built with a satellite positioning system and a Vision Positioning System to make it easier to detect obstacles. The satellite positioning GPS allows you to track the drone at all times, and the built-in GPS allows it to autopilot its way back home.
The drone can fly at speeds of up to 45 MPH for nearly half an hour, offering an incredible amount of time to gather footage you could have only ever dreamed of before. DJI also includes amazing software that makes editing your videos easy by adding music, dialogue, text and special effects to your film.
This drone is awesome, and both the photos and the video footage it can take are out of this world.
Check Price on Amazon or Directly Add to Cart on Amazon
.
Best DSLR Camera for Travel & Instagram Under $1500
8. Canon EOS 80D


This compact Canon 80D model is on of the best bargains for the money. The 45-point autofocus makes it easier to take great photos by doing a lot of the intelligent thinking for you, bolstered by a stunning 24.2 megapixel camera that looks better than you've ever imagined.
The viewfinder on this camera was one of my favorite features, because the viewfinder covers virtually 100% of what you will see in the image. This offers unprecedented control over your art, because it enables you to see what exactly will – and will not – be present in the shoot. This is backed up by shutter speeds of 1/8000, making it highly unlikely that a fluttering insect or falling leaf will ruin your perfect shot.
The camera also benefits from highly adjustable aperture settings and ISO of up to 16000, making the camera very effective even in low-light scenarios.
What makes this camera so amazing is that for the same price as the base camera, you can also buy the camera with a variety of accessories, including a travel bag, tripod, memory cards and others for no additional cost.
Check Price on Amazon or Directly Add to Cart on Amazon
.
Best Mirrorless Camera for Travel & Instagram Under $1500
9. Sony Alpha a6500


Sony's Alpha a6500 is one of the best digital cameras on the market. Don't let its small size fool you, because there is a 24.2 megapixel camera lurking inside that frame. The camera is able to take pictures at a resolution of 6K. Of course, since there is no technology to support that, the images are sampled down to 4K resolution, but they maintain a greater fidelity to life than smaller cameras support.
The built-in image stabilization compensates for blur more readily than any camera I've ever held. The viewfinder allows for live shooting of up to 8 fps, making it easier to track a moving object such as a butterfly or a gazelle.
The a6500 matches the autofocus capacity of the Cybershot, honing in on a target in just 1/20th of a second! 415 points of focal plane phase detection cover 84% of the total image area, which improves the focus, helping to keep everything in view clearer and sharper than ever before.
The one thing that disappointed me with this camera was the shutter speed. It goes as high as 1/4000 and as low as 30 seconds, both of which are quite good. But I tested other, cheaper cameras with a greater range than that, which is just a little disappointing for the a6500.
Check Price on Amazon or Directly Add to Cart on Amazon
.
Best Mirrorless Camera for Travel & Instagram Under $3000
10. Sony a7R II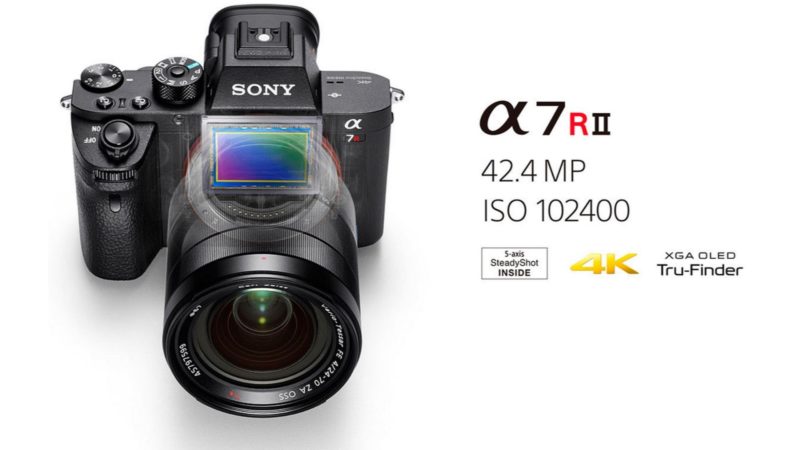 This camera comes at considerable cost. More than twice the price of the a6500, this is not recommended for any but the most consummate professional photographer. Nevertheless, for those serious enough about their art, there can hardly be a better camera.
The a7R II offers a mind-blowing 42.4 megapixel camera sensor. It's difficult to explain the difference in quality without descending into a lot of technical jargon. Suffice it to say that this camera allows 4K video shooting in a super 35mm format with full pixel readout: the sharpest, cleanest, clearest video you've ever seen.
This camera is designed to last a very long time. To be specific, the camera shutter has been rated to a minimum of 500,000 cycles, enough for a lifetime of high-quality photographs. Amazing ISO sensitivity extends up to 102,000, enabling the camera to capture images with practically no available light.
There is a lot more I could say about this camera – its technical specifications, its innovative app interface, the flexible LCD screen – but the truth is I could go on about this camera far longer than I could retain your interest. So let it simply be said that this is the best camera I have ever used. But it's not cheap.
Check Price on Amazon or Directly Add to Cart on Amazon
.
The Verdict
Whether you're working with a modest budget or you can afford to get creative, there is a limitless variety of amazing cameras out there. Although the cameras I reviewed are all great choices, they are by no means your only options. Talk to people, get to know your options. Most of all, refuse to settle for anything less than a camera that truly enables you to connect with the artist inside.