Whether you're flying out to meet with clients or attend a conference, carry-on luggage is definitely an essential. Of course, not all luggage is created equal. A good carry-on bag can make your trip easier with less hassle getting through security, easy access to your laptop to check emails at the gate, and even built-in charging stations to keep your phone charged so you don't miss an important call as you're jetting to your next destination.
On the flip side of this, the carry-on luggage you choose can contribute to many of the top complaints you probably already have about airline travel. A carry-on bag without dedicated laptop protection can come back to bite you if the TSA damages your laptop during screening ahead of a big meeting or you get to the hotel to find your suit crumbled because your luggage was squashed in a trunk or overhead bin.
Your luggage will likely be your traveling companion for many years to come as you pitch your latest startup to overseas investors or attend important annual conferences. Ideally, you want carry-on luggage designed to safely store your business essentials, look sharp, and travel easily without worrying about domestic and international carry-on standards. There are several important questions you should ask yourself before you choose luggage:
How much do you normally carry in terms of volume and weight?
How long is your typical trip?
How often do you travel?
What is the internal organization of the luggage?
How is the luggage secured when it's closed? If it has a zipper system, is it made with metal or plastic teeth? If it uses latches, are they designed to resist bending and breaking?
What is the manufacturer's reputation?
Does the luggage have a warranty?
How sturdy is the wheel-case interface? Wheels mounted to a plastic base, for example, may not withstand repeated bouncing on concrete steps.
Does the luggage have impact resistant and durable outer material?
The Best Carry-On Luggage for 2022
Storage space will likely be high on your list. Most business trips are anywhere from 3 to 5 days and, with the right back, you can fit everything you need in your carry-on to skip the baggage claim and spend more time doing what you do best: making connections and sales. Because carry-on luggage has less capacity than checked bags, it's important to make the most of the space available to you. The configuration of the carry-on bag will also be very important as internal pockets, zippered areas, and dividers can maximize your usable space.
When it comes to outer material, you will need to weigh the pros and cons of each choice. Leather, for example, looks great when it's new, but it doesn't wear well after a few years of use and rain. Ballistic nylon and fabric luggage can be a problem in the rain as well. Many luggage manufacturers now offer high-tech materials that are both flexible and durable. New materials are practically immune to punctures, scuffs, liquid, and other normal damage without increasing the weight of the baggage. These thin materials can also increase the amount of internal usable space.
A final key component are wheels for mobility. How many times have you struggled to get your bag down a narrow plane aisle or wrestle your laptop out of your bag to finish a presentation during the flight? In the past, the two-wheel design was standard, but lightweight materials have introduced four-wheel carry-on luggage with vertical cases that have some advantages. Four-wheel configurations are very easy to move in any direction on a flat surface and maneuver through narrow aisles. You won't find yourself running late for a meeting because you had to drag your bag through the airport and hotel if you choose a bag with quality wheels.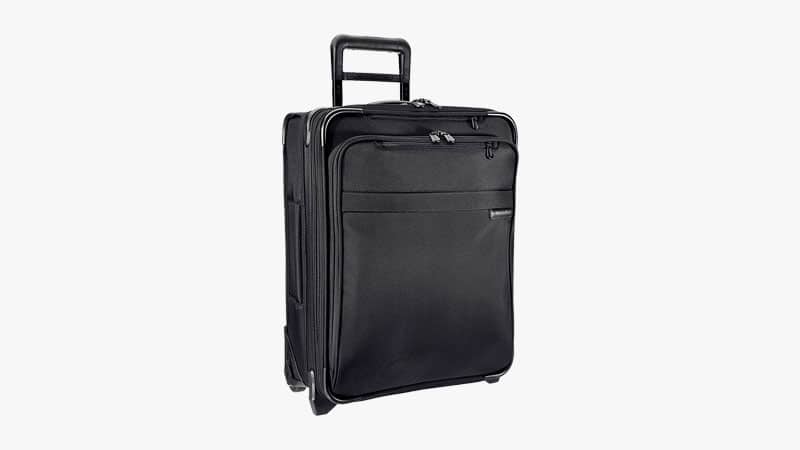 The Briggs & Riley Baseline International carry-on bag features slightly smaller dimensions than the standard domestic version to meet international carry-on guidelines and fit easily into overhead compartments. This is a good choice if you want a single carry-on for domestic and international flights.
The Briggs & Riley Baseline has a short-and-wide wheel configuration for maximum capacity while fitting perfectly in overhead compartments. The most unique aspect of this luggage is the CX technology that allows the bag to expand up to 34% and compress down to the original size.
Briggs & Riley is known for offering one of the best warranties in the luggage industry and is the premium luggage brand out there. This model, and all others, are backed by a lifetime guarantee.
The company offers three repair options if your bag develops problems: you can receive a do-it-yourself repair kit, utilize the company's repair network to send your bag to a local Authorized Repair Center, or send in your bag to Briggs & Riley for direct repairs if your luggage is badly damaged.
Features:
100% nylon with fabric lining
Zipper closure
Expandable case with CX technology expands up to 34% and compresses back to its original size
Large front U-zip pocket
Aluminum telescoping handle with four heights
Speedthru pocket to store items for security checkpoints
9.3 pounds
21″ x 15″ x 9″ with wheels and handle
Check Price on Amazon Directly Add to Cart on Amazon
---
Best Carry-On Luggage Under $50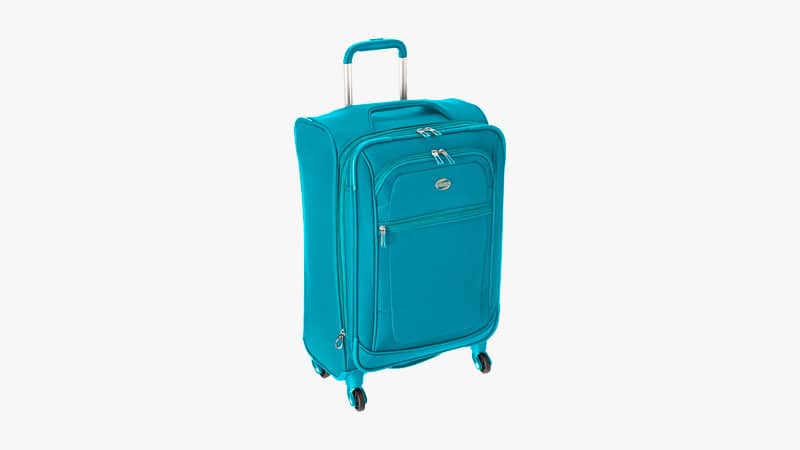 If you have a limited budget but want something durable, the American Tourister iLite Xtreme Spinner 21″ is a good choice. American Tourister, owned by Samsonite, is one of the world's largest luggage brands with a history going back more than 75 years.
This carry-on luggage features a stylish design with four multi-directional airflow Spinner wheels for improved mobility in any direction. The case also expands for extra capacity with co-molded zipper pulls and two large front pockets. The material is polyester with nylon fabric for greater strength and wear properties.
The American Tourister iLite Xtreme Spinner luggage weighs just 7.2 pounds and measures 21.0″ x 14.5″ x 8.0″ to meet most airlines' carry-on standards. Be sure you check with your preferred airline's carry-on limits, though. Airlines measure carry-on bags with the wheels and this bag, with wheels, is 23.5″ tall.
Some airlines, such as American Airlines, have a 22″ limit on carry-on bags. This can make the bag too large for overhead compartments if you use the expandable zipper or you fill the outer pockets. This luggage is designed mostly for clothing and toiletries with no laptop compartment or other business features. The fully lined interior does have a large packing area with two zippered areas on the interior lid.
Features:
Polyester material with nylon lining
Lined interior with matching color
Corrugated pull handle with zipper pulls
Four spinner wheels
Top and side carry handles integrated into the case
Expandable size
Available in 7 colors
21″ by 14.5″ by 8″. Height is 23.5″ with wheels.
Check Price on Amazon Directly Add to Cart on Amazon
---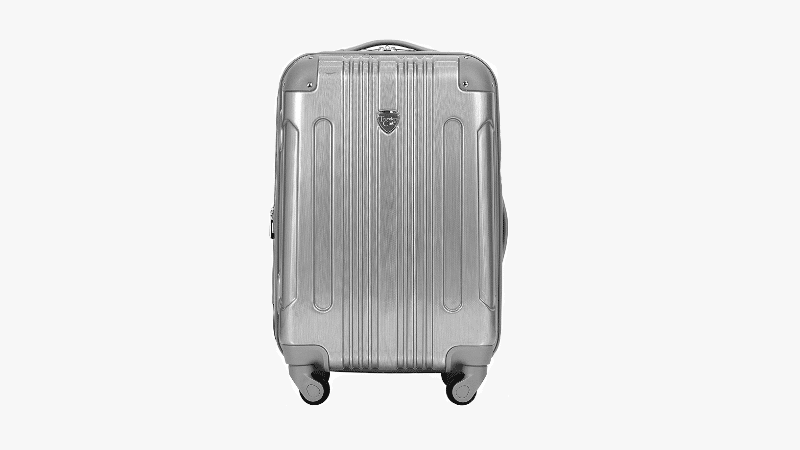 The Travelers Club Polaris Hardside Metallic Spinner Luggage is an affordable and lightweight carry-on bag with wheels that move freely on any surface. It is suitable as an international carry-on, meets several airlines requirements, and is small enough to fit into overhead bins without much force.
This luggage for business allows you to pack a little extra with its expandable feature and the presence of accessory pockets. You can also secure your property and avoid any nightmares of items spilling out of your bag by using the adjustable compression straps to hold them in place. It doesn't have a built-in lock, so you'd have to get one yourself if you deem it necessary.
The Travelers Club Polaris Hardside Metallic Spinner Luggage was not made to hold your gadgets on a business trip, but it gives you a sense of organization with its available interior zippered compartments. You can separate your business attire from casual wear and on your way back home, if you didn't get a chance to do laundry, you can also separate the dirty clothing from the clean ones. It is flexible, sturdy and gives business travelers enough room to pack all the necessities for any short business trip.
Features:
Plastic exterior with matching linen on the inside
Telescoping handle
360° spinning wheel system of four wheels
Accessory pockets and adjustable compression straps
20″ × 9″ × 14″
Check Price on Amazon Directly Add to Cart on Amazon
---
Best Carry-On Luggage Under $100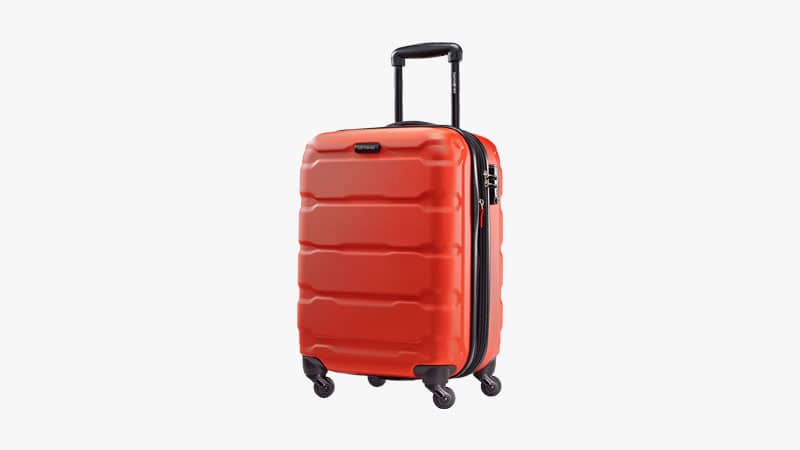 Founded in 1910, Samsonite is one of the most well-known names in luggage and briefcases. The Samsonite Omni PC Hardside Spinner 20″ case is a good choice for a sturdy carry-on bag that will stand the test of time without showing signs of wear.
The Omni PC line was built to withstand even the harshest elements with a scratch-resistant texture and 100% polycarbonate construction for a lightweight bag with heavy-duty protection. The Omni PC Hardside spinner bag has four 360-degree spinner wheels that roll easily through airports and tight plane aisles.
Unlike some hardside cases, the Samsonite Omni PC case does have an expandable design for additional capacity. Even when expanded, the case still meets airline carry-on standards. It also includes side-mounted TSA-approved locks for security. Note that the lock can only be opened by the TSA without a combination; this can cause problems if you attempt to check the bag while traveling internationally.
While this model does have a top handle, it does not have a side carry handle, which is one of the main drawbacks. While the case will fit easily into an overhead compartment, it can be harder to lift without the side handle.
Features:
100% polycarbonate exterior
Micro-diamond texture resists scratches
Four lightweight spinner wheels
Full zipper closure
Full zip interior with cross-straps and divider for organization
Side-mounted TSA lock
Available in five colors
6.8 pounds
19″ x 14.5″ x 9.8″. With wheels, 22″ tall.
Check Price on Amazon Directly Add to Cart on Amazon
---
If you are someone who does not travel often but needs a good carry-on suitcase that is durable and functional, the Travelers Club Chicago Hardside Expandable Spinner Luggage is a brilliant option. It serves well for short business trips and has an expansion zipper to hold a few more items than necessities, so you can easily squeeze in some gifts for your loved ones.
This carry-on luggage was exclusively designed to be lightweight, durable and spacious enough to hold your selected travel items. It has a stylish design and four sturdy spinner wheels for easy mobility, and free-weight rolling, so you won't have to worry about the weight of your packed items dragging you down as you move around. It is compact, can fit into any overhead bin and has been approved for travel on all airlines. That is, you don't have to worry about passing through the baggage claim process when you should be getting ready to close a business deal. It also has an adjustable handle that makes it comfortable to lift and move around for anyone, regardless of height.
The Travelers Club Chicago Hardside Expandable Spinner Luggage is strictly for clothes, shoes, and some personal care materials. It has no special compartment for laptops or similar gadgets. It is a rugged bag, and can resist scratches and scuffs for a long period of time.
Features:
100% ABS hardshell
Expandable for extra packing
Easy lifting with top and side handles
Fully lined interior with accessory pockets
Tie down straps or belts to keep items in place
Available in 9 colors
Four spinner wheels with full mobility for free-weight rolling
20″ × 13″ × 11″
Check Price on Amazon Directly Add to Cart on Amazon
---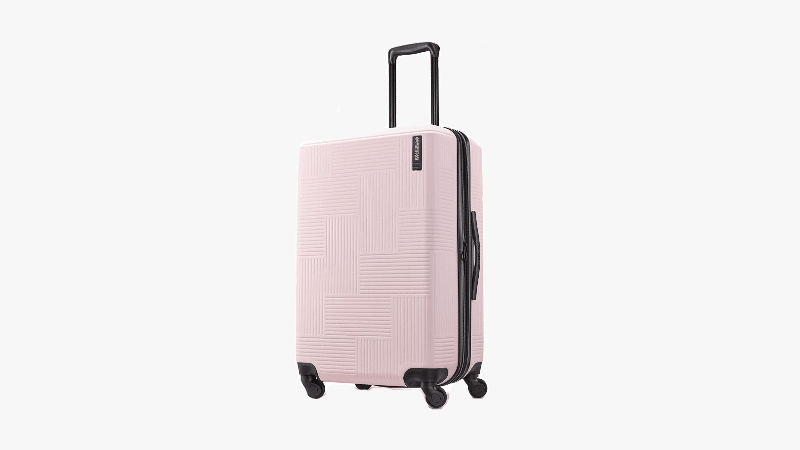 The American Tourister Stratum XLT Expandable Hardside Luggage is an eye-catching carry-on luggage with smooth mobility and organized packing compartments. American Tourister, owned by Samsonite, is one of the world's largest luggage brands with a history of style, high quality and great value going back more than 75 years.
The bag features a polished hardside external surface and various useful interior features that allows you to travel conveniently and in style. The integrated pull handle makes it easy to maneuver by providing exceptional grip.
You can use the American Tourister Stratum XLT on a business trip and as an international carry-on. It can put up with a lot, both internally and externally. It is very durable, expands nicely and has strong zippers that don't lose their tightness after one use. The wheels function properly, rolling smoothly at 360°, and takes the weight of your luggage off your arms. The carry-on luggage fits fine with several airline limits, into any overhead bin, and is also lightweight regardless of its size. The interior has a large packing space segmented into two: one secured by a zipper and the other by a pair of tie down straps.
There is a refund policy for the luggage in case it wasn't up to your expectations. However, there's a low chance you'll be needing it.
Features:
Exterior durable ABS shell
Retractable push-button aluminum handle for comfortable grip.
Top and side carry handles for easy lifting and maneuver
Expandable for extra packing
24″ × 13″ × 15″
Check Price on Amazon Directly Add to Cart on Amazon
---
Best Carry-On Luggage Under $150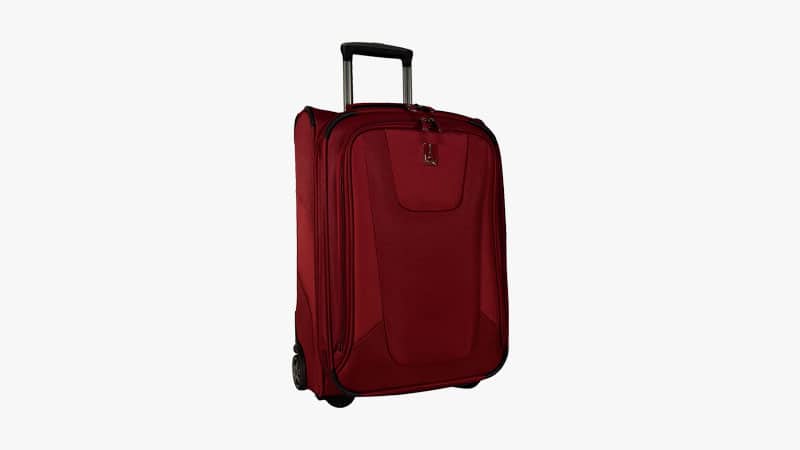 The Maxlite 3 series is Travelpro's lightest line of luggage and includes 4-wheel spinners and two-wheel Rollaboard luggage. The Travelpro Maxlite 3 is small enough to meet even strict airline carry-on standards as long as it isn't filled to capacity using the expandable zipper.
While this model is not designed to protect a laptop, it does offer large storage capacity with organizing pockets inside, an outer zippered compartment, and a ticket pocket. The outer material of the Travelpro Maxlite 3 is flexible yet durable and the zippers are high-quality and won't break down after a few trips.
The telescoping handle can lock into two positions to accommodate people of different heights. Travelpro offers a limited lifetime warranty on this carry-on luggage. If any wheels come off or the handle pops out, for example, you can send the luggage to the repair facility.
Features:
100% polyester material and lining
Zipper closure
Telescoping aluminum handle locks in two positions: 38″ and 42.5″
Honeycomb frame system and EVA foam construction for durability without additional weight
Full-length interior lid pocket with side accessory pocket and hold-down straps
Front pocket with built-in ticket pocket
Built-in skid guards, corner guards, and crash-guard wheel housings guard against damage
Available in four colors
Limited lifetime warranty
21″ x 9″ x 14″
Check Price on Amazon Directly Add to Cart on Amazon
---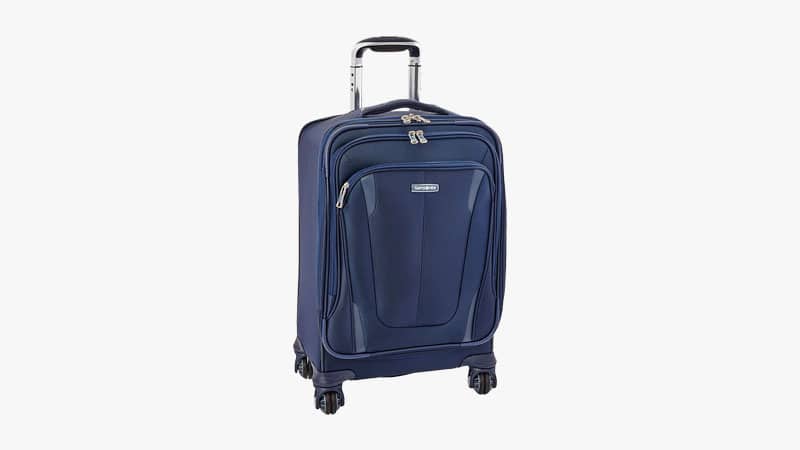 The Samsonite Silhouette Sphere 2 is hard to beat at this price point with a five-star overall rating and business-minded features. The Silhouette Sphere 2 features the new split spherical wheels with each half moving independently for better rolling over smooth and uneven surfaces.
The interior has modesty, WetPak, and mesh pockets as well as a removable tri-fold suiter to protect business attire. The case can expand for extra capacity while still fitting in an overhead compartment.
The Samsonite Silhouette Sphere 2 is actually an update on the predecessor, which was very popular among business travelers. Improvements include a better-quality handle, improved rolling wheels, and more durable materials. The size can easily fit enough clothing for a three-day trip, including a suit.
Features:
4 multi-directional split spherical spinner wheels to roll upright
Interior features WetPak, mesh, and modesty pockets
Tri-fold removable suiter for business attire
Textured TPR-coated, gel-infused push-button locking handle
Travel Sentry combination lock
Rubberized corner protectors
Zipper closure
Integrated side handle
Available in 5 colors
10-year limited warranty
10.5 pounds
Body: 25.25″ x 18″ x 9.5″. Overall height is 27.27″
Check Price on Amazon Directly Add to Cart on Amazon
---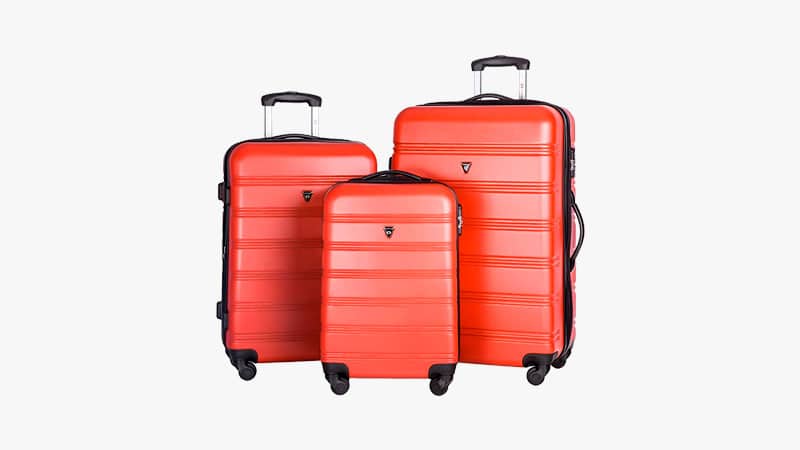 If you're planning to replace your carry-on and checked luggage on a budget, the Travelhouse 3-piece spinner set from Merax is a good choice. The matching set is made from lightweight but durable ABS material and the set measures 20″, 24″, and 28″ tall upright.
The smallest piece is appropriate as a carry-on with all airlines. This set has four multi-directional spinner wheels with a squared design for maximum capacity and expandable capacity. The smallest carry-on luggage is the only piece in the set that does not expand.
Merax Travelhouse luggage is made with sturdy ABS material with a patter4-corner riveted protective shell designed to minimize scratches and wear patterns. Each piece has a durable zipper enclosure backed by a warranty for years of travel.
Features:
Durable, lightweight ABS material
3-piece set stands 20″, 24″, and 28″ upright
Aluminum telescoping handles
4 multi-directional spinner wheels
Squared design with expandable capacity
3-digit combination lock
Fully lined interior with organization pockets
Available in 9 colors
20 inch dimensions: 20″ x 13″ x 9″
24 inch dimensions: 24″ x 16″ x 11″
28 inch dimensions: 28″ x 19″ x 13″
Check Price on Amazon Directly Add to Cart on Amazon
---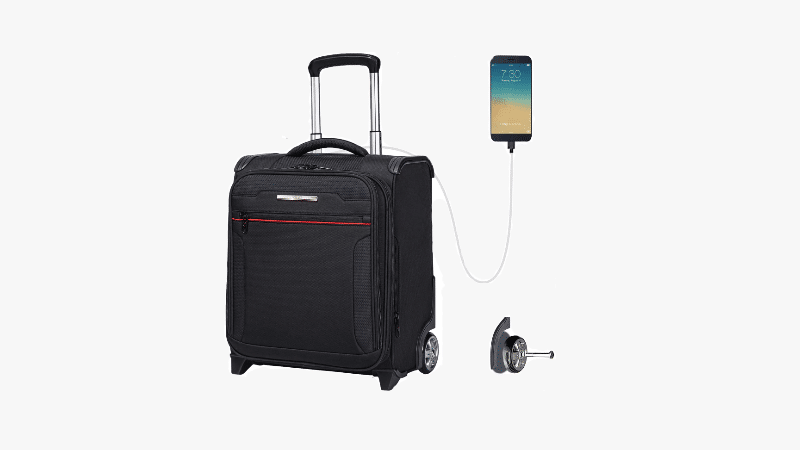 The Weekender Overnight Business Travel Luggage is a portable carry-on that meets any strict airline standards and can even fit under most airline seats. It is large enough to hold all you would need for at least a week.
This carry-on suitcase gives you an opportunity to stay connected throughout your trip with its integrated USB port. For this, you'll need your own portable charger as well as your charging cord. It also has a cotton-padded interior sleeve that holds your laptop or tablet, and other business files or journals. It is ultra lightweight, affordable and of high quality.
The soft side design on the Weekender Overnight Business Travel Luggage makes it durable, flexible and offers a convenient and organized storage space. Its sturdy spinner wheels run smoothly and are easily replaceable, and this increases the longevity of the case.
If you travel frequently and haven't found the right carry-on bag to meet your needs and save you from the stress of baggage claim, you should give this a try.
Features:
Durable polyester fabric that is resistant to tear
Built-in USB port to boost your device
Sturdy wheels with smooth rolling
Compact size that fits airline specifications and overhead bins, even after expanding its size
Several attached accessory packing compartments
Laptop compartment
Extendable handles suitable for all heights of users
18″ × 15″ × 9″ size dimensions with weight of 5.7 pounds
Check Price on Amazon Directly Add to Cart on Amazon
---
Best Carry-On Luggage Under $200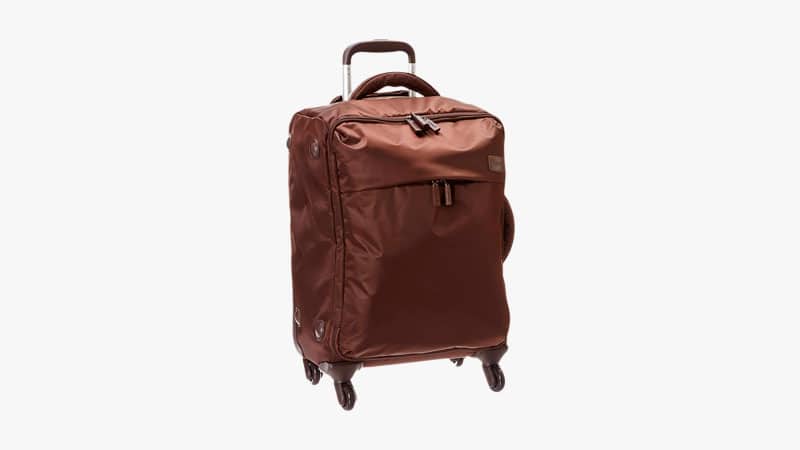 At just under $200, the Lipault offers a compact carry-on with ultra lightweight materials for easy trips through the airport. The Lipault 4-wheeled carry-on is made from heavy-grade nylon and holds up well to common travel perils like scuffs and water. If you want to maximize interior storage space without a lot of features aside from durability, the Lipault 4-Wheeled Spinner is a good choice.
The bag is regulation carry-on size and fits in overhead compartments with easy. Lipault is known for its worry-free warranties so the bag can be replaced without trouble if anything fails.
Features:
100% nylon exterior with nylon lining
Ultra lightweight at 7.2 pounds
Four multi-directional wheels to roll upright
Soft luggage saves space when not fully packed
22″ x 14″ x 8″
Check Price on Amazon Directly Add to Cart on Amazon
---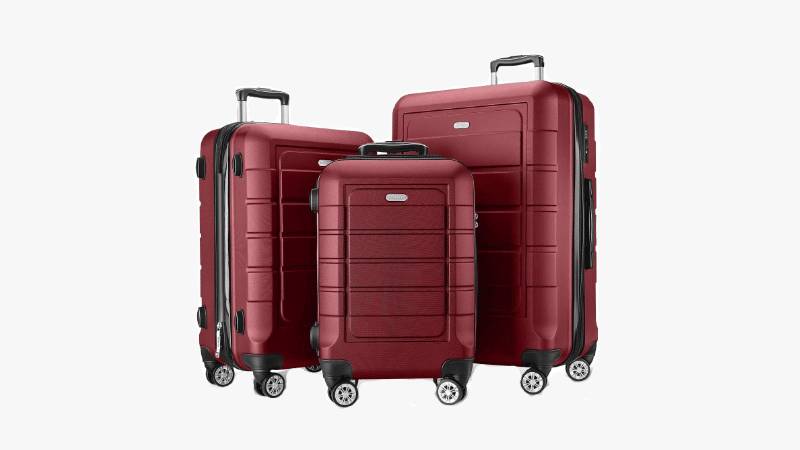 SHOWKOO Luggage sets would serve for any business trip, and international and domestic travels on the road or on air. Unlike other luggage sets that may prioritize the larger sizes, this set has four spinner wheels on all three pieces with individual TSA locks. The smallest size of 20″ is suitable for carry-on and is not expandable while the 24″ and 28″ luggage have more packing space when expanded.
You'll enjoy the lightweight sturdy material, the spacious room for packing, and the smooth and noiseless gliding of the wheels on any floor. The soft and firm grip of the handle enables easy lifting and maneuvering from one location to another. The hardshell exterior maintains your business wears in a wrinkle-free state, and offers protection to your electronic gadgets. It also increases the durability and makes it resistant to blunt force and scratches from any rough handling.
The manufacturer offers a 2 year warranty that ensures that all defects or damages to any of the suitcase are either fixed or replaced with a new luggage, and without additional cost to you. This luggage set is suitable for long-term business travelers and other similar trips.
Features:
High quality PC + ABS hardshell material
Four multi-directional spinner wheels on all three luggage sets
Telescoping aluminum 3-step handle
Full interior divider with zippered pockets
Side mounted TSA locks
Check Price on Amazon Directly Add to Cart on Amazon
---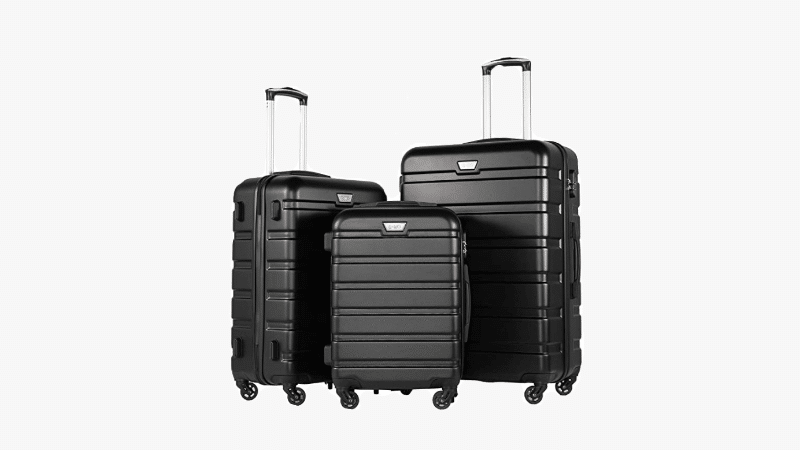 At a little below $200, you can own this stylish 3 piece set suitcase. The COOLIFE luggage was designed with full ABS material which makes it resistant to maximum impact and shock absorbent. The smallest piece suitcase can easily become one of your best carry-on luggage since it meets the 22″ limit set by most airlines.
This Luggage set features a divided interior with a smaller zippered packing compartment and a larger section with elastic belts to secure the items. The handle and the wheels work together to give a seamless and comfortable transition to different locations. The zippers provided are durable and easy to move without getting stuck at any point.
For the COOLIFE luggage, you have a warranty period of 2 years to replace any damaged or defective part of the suitcase or the full product. This 3 or 4-piece suitcase is perfect for you if you embark on a lot of business trips as well as family vacations. You'll realize that there's almost always space to spare after you've packed all necessary materials.
Features:
100% ABS hardshell material with full lining
Available in 12 colors
Available as either a 3-piece set or a 4-piece (Family set)
TSA locks for security
Retractable aluminum trolley grip handle
Lightweight
Four multi-directional silent spinner wheels
20 inch dimensions: 15.5″ × 9.25″ × 22.5″
24 inch dimensions: 18.25″ × 10.25″ × 26.5″
28 inch dimensions: 20.75″ × 11.75″ × 30.25″
Check Price on Amazon Directly Add to Cart on Amazon
---
Best Carry-On Luggage Under $250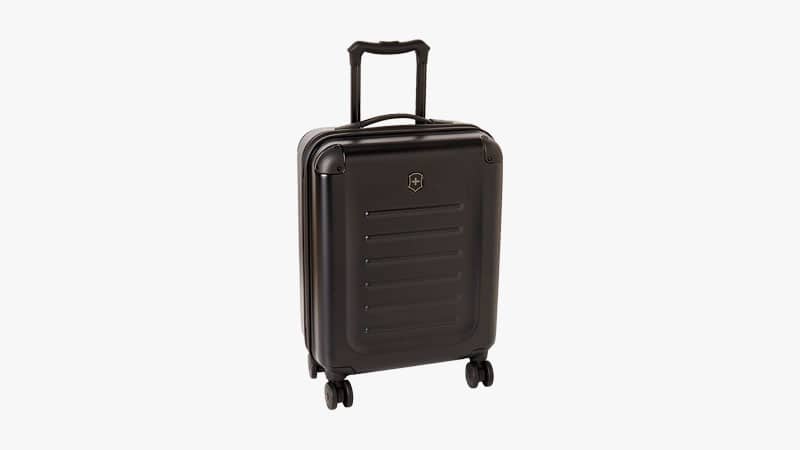 The Spectra collection from Victorinox Swiss Army was designed to be lightweight without sacrificing durability or storage space. The Victorinox Spectra 2.0 carry-on has a hardcase made from 100% Bayer polycarbonate with a scratch-resistant matte finish and corner guards.
This model is a good choice if you want easy access to your items with a quick-access door. The Spectra 2.0 carry-on is made to global carry-on standards so you won't have problems getting your bag onto international flights.
This Spectra 2.0 carry-on has four dual-caster wheels for easy upright rolling and 360-degree maneuvering. The interior has dual Y-shaped compression straps to maximize space.
The global 10-year limited warranty means this carry-on is guaranteed to be free of workmanship and material defects for 10 years. If a defect appears in ten years, the luggage will be repaired or replaced with an equivalent model at no cost.
Features:
100% polycarbonate hard shell
Mesh interior lining with Y-shaped compression straps
Meets domestic and international IATA carry-on regulations
Extremely lightweight at 6.2 pounds
Global 10-year limited warranty
21.7″ x 15″ x 7.9″
Check Price on Amazon Directly Add to Cart on Amazon
---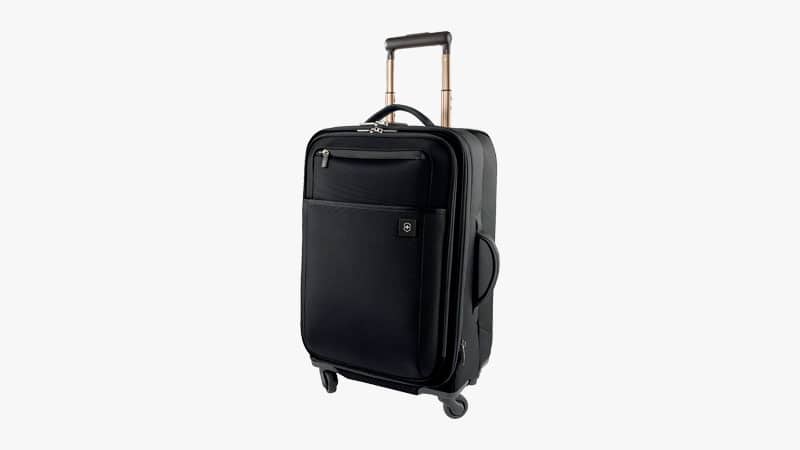 The Victorinox Avolve 2.0 is an all-in-one business carry-on with space for a laptop as well as clothes and other essentials. Unlike the hardcase carry-ons from Swiss Army Victorinox, this carry-on has a padded front pocket that can accommodate a laptop up to 17″. The front pocket makes it easy to remove your laptop for screening while keeping it within easy reach.
The interior of the Avolve 2 has a zippered lid pocket as well as a zippered organizational pocket in the interior with compression straps to save space. The case can expand to add up to 1.5″ additional storage space without making the carry-on too large to fit in an overhead compartment. Like the Victorinox Spectra 2, this model is backed by a global limited 10-year warranty. If a material or workmanship defect is discovered within 10 years, Victorinox will repair or replace your luggage at no cost.
Features:
100% polyester exterior
Zipper closure
Storage area expands up to 1.5″
Interior zippered hanging pocket with zippered mesh pocket and compression straps
Padded front pocket for a laptop up to 17″
Integrated side handle
Available in 3 colors
6.8 pounds
Global limited 10-year warranty
22″ x 13.8″ x 9.8″
Check Price on Amazon Directly Add to Cart on Amazon
---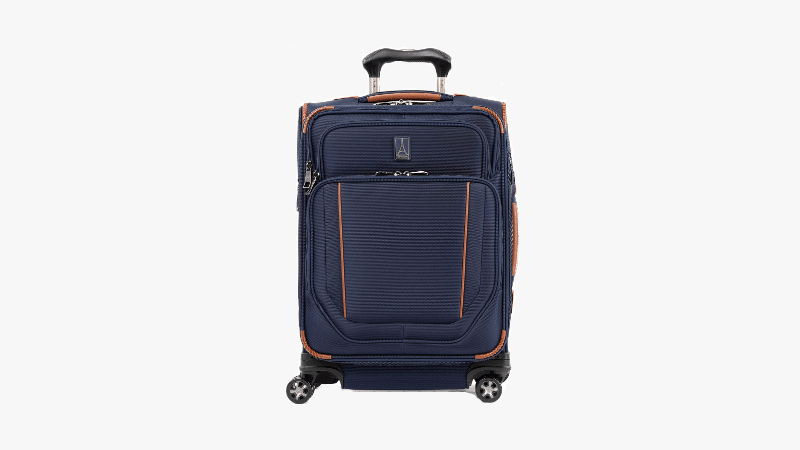 The Travelpro Crew Versapack Softside is versatile, flexible, and able to hold a lot of business travel belongings. It is a luggage for business that exclusively features a built-in USB port and exterior power bank pocket for your convenience in between flights and other unexpected occasions. It also has a padded compartment that secures your laptop in place.
It has a steady grip and the spinner's precision glide system gives you control of the luggage and enables effortless rolling. The heavy-duty protection and skidmark resistance on the wheels increases the longevity of the luggage and maintains the exterior appeal. Its lightweight and sturdy frame makes it a reliable choice for business travelers and for international trips.
The carry-on luggage would meet airline specifications only if you don't use the Supra zippered expandable feature. It has a zip-in garment organizer section and if you think you need more organizational zippered pockets like a laundry organizer, you can purchase them separately from the manufacturer. They can be attached to the interior or front pocket of the luggage.
Travelpro offers a limited lifetime warranty on this carry-on luggage. If any wheels or zippers come off or the handle pops out, for example, you can send the luggage to the repair facility.
Features:
Made of high-density ballistic nylon with DuraGuard coating
Available in 3 colors
Adjustable PowerScope extension handle
Self-aligning magnetic wheels
Top and side handles for easy lifting
21″ × 14.75″ × 10″
Check Price on Amazon Directly Add to Cart on Amazon
---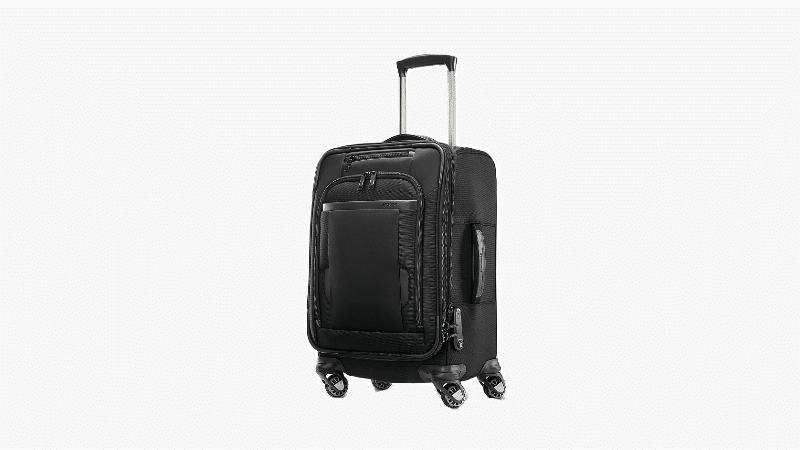 Samsonite pro was designed to keep up with business travelers. It features a collection of modern and sophisticated designs such as USB port for on-the-go charging, RFID protection, tailored styling, and strategic organizational pockets. You won't have to worry about running out of battery life and the interior design ensures that your suits, shirts and pants are wrinkle free when you need them. These features are sure to make a potentially demanding and stressful business trip more enjoyable for any working professional.
The zippers are textured and have a solid grip for easy pull. The smooth and quiet gliding of its wheels plus the firm handle makes movement easy. It also meets the carry-on luggage requirements for almost all airlines.
Samsonite pro is great for overnight business travel. It holds your computer, files and iPad with a charger port. There is plenty of room in the main compartment for toiletries, clothes, and an extra pair of shoes if you like. It is inarguably one of the best carry-on luggage for business travelers.
Features:
100% ballistic nylon with reinforcement and leather touchpoints
Built-in organizational pockets
Built-in wireless charging
RFID pocket to protect sensitive data
TSA approved locks
Contoured grip handles for comfort and easy use
Fully-lined interior with zippered compartments and elastic compression straps
Check Price on Amazon Directly Add to Cart on Amazon
---
Conclusion
That's a wrap guys! We've included the best carry-on luggage out there so pick them up and have safe travels. If you have any other personal favorites, do leave the comment below to share with others in the community :)
Save
Save
Save
Disclosure: The product recommendations are not sponsored and are chosen by our editorial staff. We may earn an affiliate commission when you purchase an item through our links.
Photo Credit: Unsplash