The analog-based telephone still has its place, both in our homes and at workplaces. Home-based broadband connections cannot function without a landline and for businesses, having a telephone number that ties with your geographical location is important.
Having a cordless phone gives the flexibility of being mobile. You know you need a reliable cordless phone for home or the office, but which one is best for your needs?
Cordless home phones today can do everything, it seems. From taking calls using Bluetooth technology to a hands-free conversation with headphone jacks, to working an answering machine when you are away, choosing the right phone requires considering how you plan to use it, and which features you really want to pay for.
The Best Cordless Phones for 2023
| Product | Model | Talk Time | Handsets | Price |
| --- | --- | --- | --- | --- |
| | AT&T CRL82312 | 15 hours | 3 | |
| | AT&T EL52213 2 | 7 hours | 2 | |
| | VTech DS6421-3 | 13 hours | 3 | |
| | VTech VS112-2 | 7 hours | 2 | |
| | Vtech CS6719-2 | 7 hours | 2 | |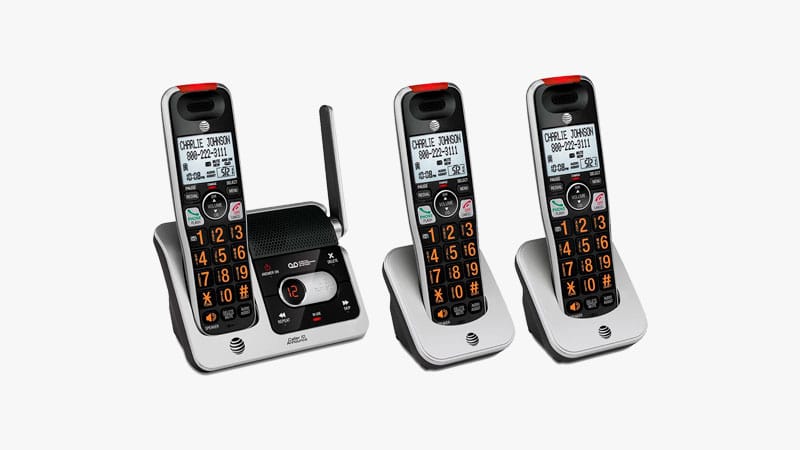 If you are looking for the best cordless phone then make sure to get the AT&T CRL82312 Cordless Phone as this is this popular brand's best phone to date.
Best Cordless Phone Under $20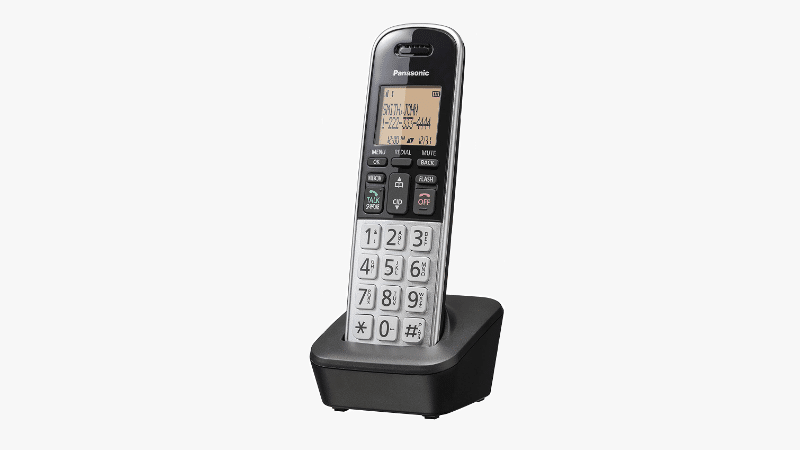 I'd like to start the reviews of the best cordless phones to have for home and office use with the KX-TGB810S – a budget option and one of the best picks for families that want an affordable landline phone, with the majority of its features being as simple as they could be. Reliability and affordability are two of its strongest points, although I should mention that in my research, I've found hundreds of models that can boast about the same things.
The Panasonic KX-TGB810S is a basic, easy-to-use cordless phone. You won't need to go through the hassle of a time-consuming installation process, as it's so easy that little kids could probably do it.
Its sleek design makes it stand out from similarly-priced models aesthetically. Some of its most notable features include the line power mode, a remarkably long battery lifespan, three supported languages, and a variety of built-in functionalities, such as Speakerphone, Call Block, Phonebook, redial, speed dial buttons, and Caller ID.
Given that it needs only two batteries to work, stocking up on replacements shouldn't be too big of a deal; in case of an emergency, finding two replacement AAA batteries is much easier than waiting for the order of 10 product-specific Li-Ion batteries.
It's one of Amazon's Choices in the Landline Phones by Panasonic category, boasting over five hundred positive product reviews.
This particular model supports only one handset; the KX-TGB812S is slightly more expensive and comes equipped with two, so it may be worth checking it out if you want to use two lines at the same time.
In my research, I've struggled to find a landline phone as versatile as KX-TGB810S in this price range. Only a handful of budget options as cheap as KX-TGB810S could even begin to compare to it in the field of performance.
Most models that are worth comparing to the KX-TGB810S are either too bulky or equipped with even simpler features. In my opinion, the fact that this home phone comes equipped with both speed dial buttons and call block list functions atop Caller ID is an advantage in itself, making it a great choice for small companies and people with extremely low budgets.
Features
Sleek, compact design
LCD display
Speakerphone and speed dial function
Phonebook supporting up to 50 numbers
Long battery lifespan
Three supported display languages
One of Amazon's Choices in the Landline Phones by Panasonic category
Conference between outside line and up to 2 cordless handsets
Speakerphone
Best Cordless Phone Under $40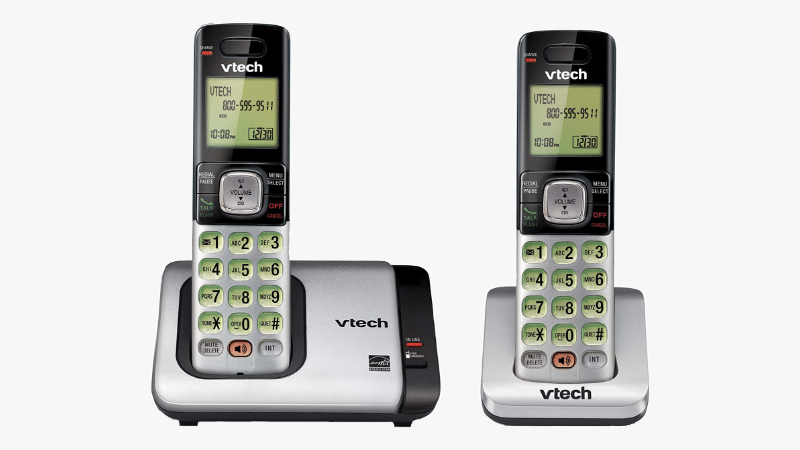 For slightly more than its base model, the Vtech CS6719-2 cordless phone comes with improved benefits and advantages, such as an additional cordless handset for families and home offices, offering benefits of convenience and long-distance coverage on top of the simplified installation process.
As with the base CS6719 model, this cordless phone system can be expanded to up to 5 headsets with CS6709. It also features the same DECT 6.0 technology for superior voice quality. With full-duplex handset speakerphone, you can increase call participation. Both sides of the conversation can speak and be heard without canceling each other out for a more true-to-life conversation.
The CS6719-2 is one of Vtech's most popular cordless phone systems. With two headsets, you can have conference calls with an outside line and both headsets. The interference-free technology means other devices and networks in your home or office will not interrupt your crystal-clear calls, even when you're surrounded by electronics.
The only downside is the Caller ID feature does not provide a time and date for missed calls on the main menu. You will see the calls you have missed, but you will not know if it was an hour ago or the day before.
One of the pros when it comes to the business features of this phone is two-line support. With the Vtech system, you can receive calls from two separate phone numbers with distinct ringers for each line so you know which is ringing. The clear conference calls without interference are also a major selling point with Vtech.
It's also an excellent choice for a family that would like to keep in touch with their relatives from abroad more frequently, as well as for marketing and lead generation companies.
Although cheap, this model offers a variety of good features, great value for the money, and a set of decent features while DECT 6.0 tech is arguably one of its strongest benefits. It's great for practically everyone, from work-at-home employees, to people working in large companies, and everyone in between. This phone offers superb value for the money and is something that would leave any customer happy.
Features
Caller ID and call waiting with incoming call information displayed on the handset.
Expandable to up to 5 handsets
50 name and number Caller ID history
50 phone directory limit
Intercom between handsets
Conference between outside line and up to 2 cordless handsets
Speakerphone
Voicemails with the waiting indicator
Keypad with soft memory keys and illuminated LCD screen
ECO Mode power-conserving technology for the best battery performance
Quiet mode
Available in silver, blue, and red
Best Cordless Phone Under $50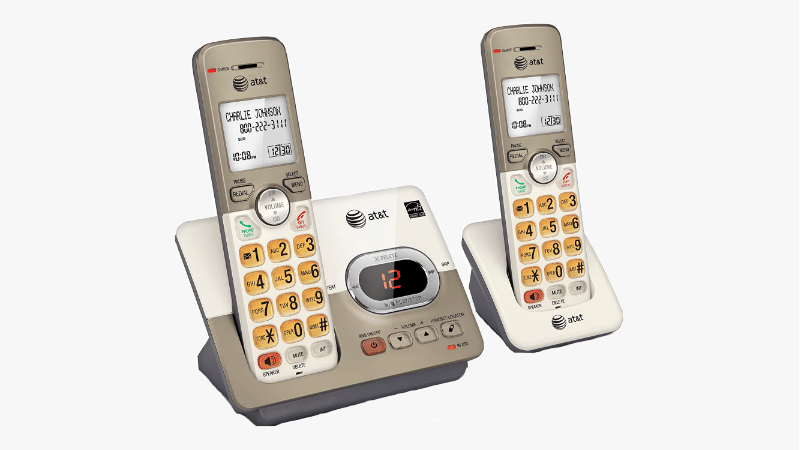 The AT&T EL52213 is another Amazon's Choice product. Although it's on the verge of entering the next price range, it's among the most versatile low-tier landline phones I've had the pleasure of reviewing. It's easily one of the best picks considering its affordability, and offers an amazing bang for your buck.
In terms of aesthetics, AT&T EL52213 has a sleek design and dimensions resembling my previous two picks; however, there are no color variations to choose from aside from the Light Champagne.
One of the core features of this landline phone is the FDX (full-duplex) system. Basically, it enables both parties to enjoy crystal-clear communication; although this is what most buyers assume they would get with any phone, I've realized that plenty of budget landline phones operate on the HDX system (half-duplex).
Unlike Panasonic's budget phones, AT&T EL52213 is powered by Li-Ion batteries, which offer improved battery capacity at the expense of slightly worse performance at low temperatures.
With big, backlit keys and enlarged font prints, typing the correct numbers is a breeze. Furthermore, you'll be able to scan up to 50 entries in the caller history, see missed calls on the charging station's menu, review notifications at the charging station, and locate your handset with a click of a button.
This is a 2-handset landline phone that is expandable up to five, making it perfectly suited for home offices. There are a few drawbacks I should point out, though. The main issue with AT&T EL52213 is that the phone goes to voicemail quite quickly. Additionally, it can only save 7-digit numbers, which excludes area codes.
Overall, AT&T EL52213 is a great pick if you don't feel like spending too much but still want a good phone. It's more versatile than most similarly-priced models.
Features
Caller ID and call waiting with incoming call information displayed on the handset.
Expandable to up to 5 handsets
FDX system
Review notifications at the charging station
Large LCD display
Upgradeable to 5 handsets with a single jack
Latest DECT digital technology
Caller ID with a caller history listing up to 50 contacts
Backlit keys
Best Cordless Phone Under $75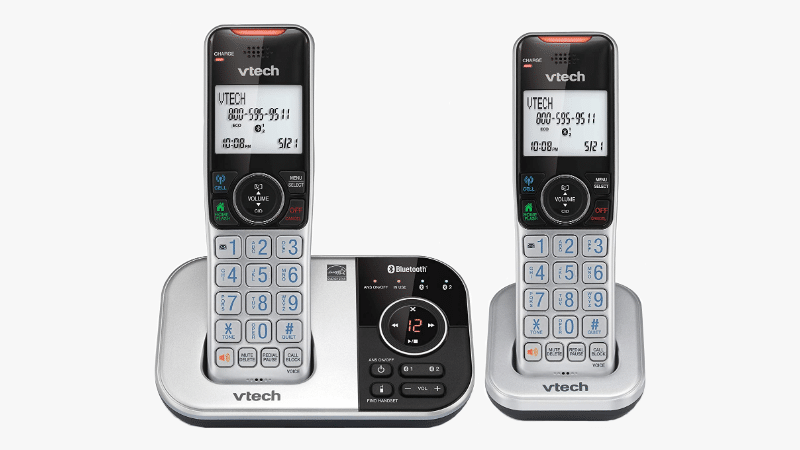 Vtech is among the most popular landline phone manufacturers for good reasons, and the VS112-2 is a true representative of the brand's quality. Gorgeous, practical, and outfitted with a host of highly advanced features, this cordless phone may be the upgrade you've been looking for.
One of the best features of Vtech VS112-2 that is making its first appearance in this guide is the function to filter robocalls and unwanted calls from telemarketers. Basically, you can customize the passphrase to prevent robocalls from annoying you while setting a requirement for all 'human' callers that want to get in touch with you.
Another interesting feature is Bluetooth connectivity. You can connect your mobile phones and handsets, or one of each to your base and use them without ever having to worry about call reception or signal again.
Even if it weren't for these two features, I would still warmly recommend the VS112-2, as even its most basic features are remarkably well-designed. It's also exceptionally easy to set up and use, so that even children can do it.
I'm sure most people will agree when I say that a large, brightly lit display is a big plus for any landline phone, and that's one of the key features of VS112-2. It's slightly more advanced in comparison to models I've reviewed in this guide; most notably, its ID caller functionality shows up to 10-digit numbers, which includes area codes as well.
The speakerphone, as well as a visual ringer, and a cutting-edge charging phone base are some of the best features of this phone. Speaking of which, the base is outfitted with a message counter, as well as LED indicators, showing which Bluetooth device is currently operational.
While researching the market, I've found hundreds of models under $75 that are equipped with relatively similar features. However, VS112-2 does a much better job when it comes to pristine sound quality, hassle-free setup, reliability, and value for the money.
Features
Comes with two handsets, supports up to 4
Smart call block function that can put up to a thousand numbers on a blacklist
Bluetooth connectivity
Long call reception and excellent signal
Backlit 2-inch high-contrast screen
Speakerphone, visual ringer, and DAS system
Long battery lifespan
Best Cordless Phone Under $100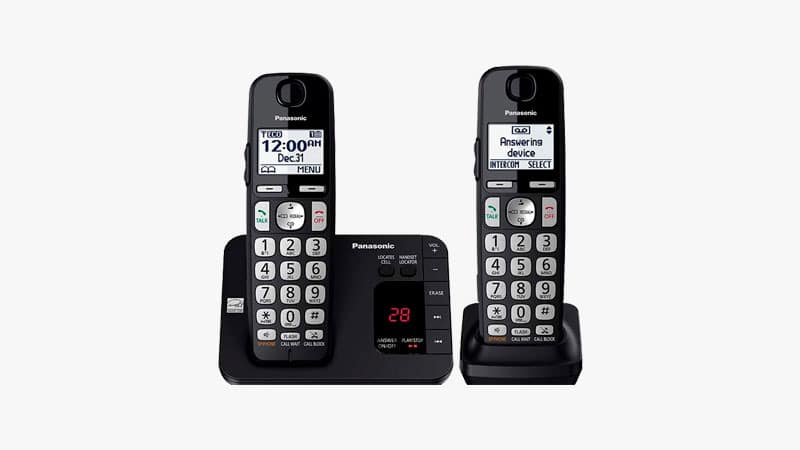 There are quite a few similarities between Panasonic's KX-TGB810S and KX-TGD532W, starting with the design, caller ID, a convenient Phonebook feature, as well as the buttons, just to mention some of the most notable ones.
In terms of versatility, this product leaves its competition in the dust, although its battery lifespan and convenience features are also quite formidable.
However, I wouldn't recommend a phone that looks and does the same job as its more affordable sibling. The differences between these two are even more pronounced, and I would be remiss if I didn't say that KX-TGD532W is a huge upgrade to KX-TGB810S.
Over seven thousand Amazon users agree with me on this one; Panasonic KX-TGD532W is an excellent low-cost landline phone available in multiple color variations and equipped with a host of strong features, such as the one-touch call block list, bilingual caller ID, the quick read function, programmable ringtones, and more.
Hearing aid compatibility is one of the highlight features of Panasonic KX-TGD532W, and I would personally recommend it to anyone using T Coil aid products. It could be an excellent gift for your grandparents, even though it's slightly pricier than a standard mid-tier landline phone.
Unlike cheaper phones, Panasonic's KX-TGD532W features a talking caller ID functionality in two languages, enabling users to switch between English and Spanish.
Some of the pros about this landline phone I need to point out are its versatile base and its built-in functions. Aside from the regular phone charging function, the base also features a message counter and the locator button, which is exceptionally useful for households with children that have a tendency to hide various items while playing.
There were a couple of things I wasn't too thrilled about, though. Namely, the display looks great, but it's probably a bit too small for people with poor eyesight. Though it is an LCD screen, the panel is only 1.6-inch in size.
Additionally, KX-TGD532W requires four batteries, as opposed to KX-TGB810S, which only needs two.
The bottom line is that KX-TGD532W is an excellent phone that boasts a well-rounded set of features, some of which are fairly rare in this price range.
Features
Support for two handsets
Hearing aid compatibility
One-touch call block
Excellent battery lifespan
Phonebook with a 150 contact list limit
Talking bi-lingual caller identification
Phone locator, volume adjustment, and message counter features on the charger base
Ideal for households with children
Programmable ringtones
1.6-inch LCD display panel
Best Cordless Phone Under $150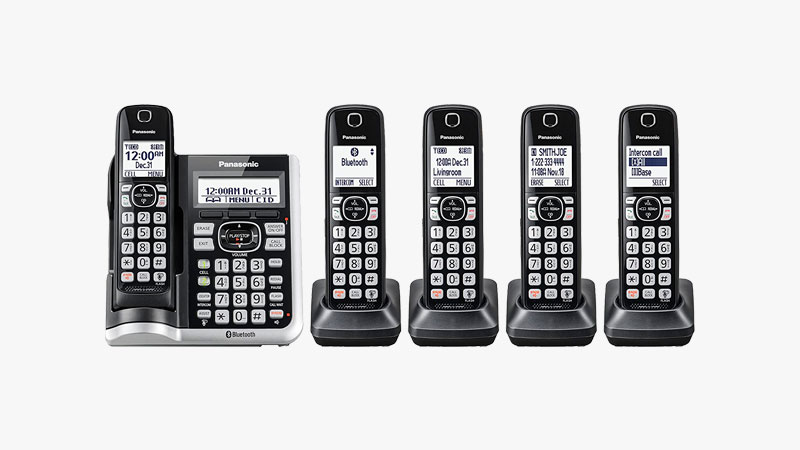 With nearly 7,000 product reviews on Amazon, this is definitely one of Panasonic's most well-liked models – with a 3,000-entry contact list, bilingual caller ID function, and the latest DECT 6.0 technology, I can see why Panasonic KX-TGF575S is as popular as it is among households and marketing companies.
The Panasonic Link2Cell Bluetooth Cordless Phone is the ultimate in cell to cordless technology. This system includes five handsets with a digital answering machine system and the ability to sync your smartphone to your cordless phone with Link2Cell Bluetooth technology. You can easily make and receive mobile phone calls through your Panasonic system with excellent clarity. This system allows you to sync up to two smartphones to add range and power to your office phone system.
This Panasonic cordless system includes Noise Reduction to clearly hear your calls, even with ambient noise. Avoid missed texts with talking ID alerts from your Link2Cell Panasonic handsets. With Talking Text Sender Alert, the phone will announce the name or number of the caller. Moreover, it can connect to Siri, Google Now and S Voice with the Voice Assistant feature and has up to 250 entries to the phone directory.
You can have up to 12 hours of talk time when the power goes out due to the battery backup. This phone system is not lacking in any features you may need, whether you want the ability to store a nearly endless number of contacts in your directory, block calls, or connect your mobile phones with a single press of a button.
In my opinion, the Panasonic Link2Cell Bluetooth Cordless Phone checks all the boxes when it comes to reliability, convenience, and performance. In most cases, these attributes are more important than technical specifications, at which Link2Cell Bluetooth Cordless Phone excels just as much. Although imperfect, it offers plenty of pros that far outweigh its shortcomings.
Features
Cordless phone system with 5 handsets included
Connects to Siri, Google Now, and S Voice
Link2Cell Bluetooth technology can sync up to 2 smartphones
Talking Caller ID
Voice Assistant
USB charging port for cell phone
Text message alert through your cordless handset
Enhanced noise reduction for clearer calls
Battery backup
250 entry phone directory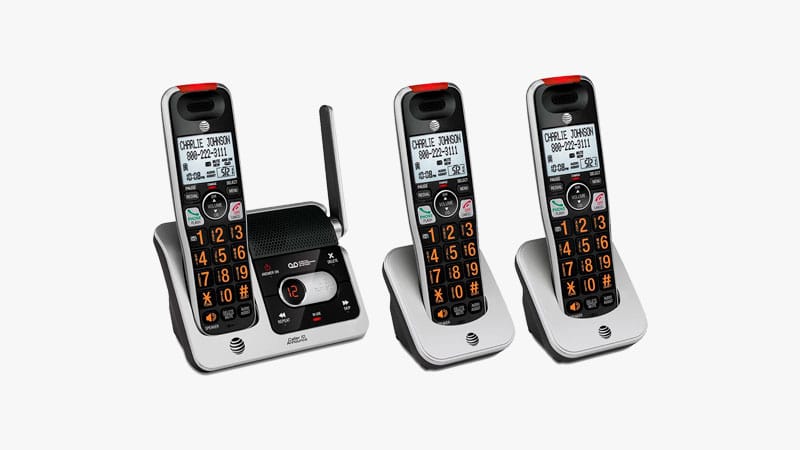 Looking for a reliable cordless system with enough handsets? The AT&T CRL82312 phone answering system is one of the best-rated three handset systems with over 4,500 reviews on Amazon, the majority of which are overwhelmingly positive. It sports an extra-large LCD display panel and extra-large backlight buttons for easy visibility.
The handsets have a heavier feel to them than budget models with an easy-to-use number pad. The system has a visual ringing indicator if your system is silenced and it can be expanded to up to 12 handsets.
This AT&T answering system is actually manufactured by Vtech and it includes DECT 6.0 cordless technology for crystal-clear call quality and better range without interference from nearby devices and electronics. The system works as a desktop phone or it can be mounted to a wall with the included bracket. Volume is completely adjustable and this model is compatible with hearing aids, allowing individuals with hearing issues to comfortably use it.
An important business feature is the ability to conference between an outside line and up to 4 AT&T cordless handsets.
This phone is something that every family with children needs. I'd want to draw your attention to its extra-large display panel, the mute option, and the visual ringing indicator; these are all features that could help your family live more comfortably, and best of all – they're so simple that everyone can use them.
Features
3 handset cordless answering system
Extra-large backlight buttons
Extra-large LCD display
Expandable to up to 12 handsets
Visual ringing indicator
Outstanding call reception and signal
50 name and number phone directory
Quick redial last 10 numbers
Conference between an outside line and up to 4 handsets
Voicemail waiting indicator light
Compatible with hearing aids with adjustable volume
ECO mode to reduce power consumption
4 preset audio profiles and HD audio with an equalizer
Simulated full-duplex handset speakerphone so both parties can speak and be heard at the same time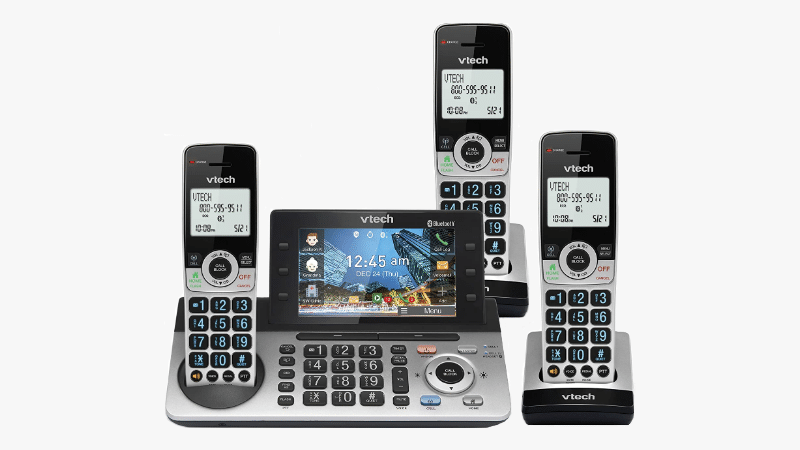 Next up we have VTech's IS8251-3, a top-tier cordless phone system that boasts some of the finest features on the current market.
Starting with the basics; equipped with three handsets and virtual multi-line operation technology, big, remarkably soft keys, and a large display on each handset, as well as the phone base station, it's obvious that this model was designed with convenience in mind.
The VTech IS8251-3 offers a streamlined speed dial function, allowing you to not only reach selected contacts but also call contacts that have messaged you with the press of a button.
Although each handset boasts a fairly large display, the LCD screen on the base itself is 5 inches in diameter and provides superior visibility. It's easier than ever to see who you are calling, who is calling or messaging you, or customize your multi-line system.
I was positively surprised by the versatility of the call history function of VTech's IS8521-3. Given that its memory can store up to 40 minutes of message recordings, you won't need to have trouble with clearing it as frequently.
Features
Virtual dual-line operation system, allowing you to make both cell and landline calls simultaneously
Equipped with 3 cordless handsets, expandable up to 5
Sync up to 2 smartphones with Bluetooth technology to make and receive cell phone calls with your handset
Audible caller name announcer
Up to 40 minutes of recorded messages in the history log
Digital answering machine
Block up to 1,000 unwanted callers
2-inch high-contrast backlight handset display
5-inch charging base display
Best Cordless Phone Under $200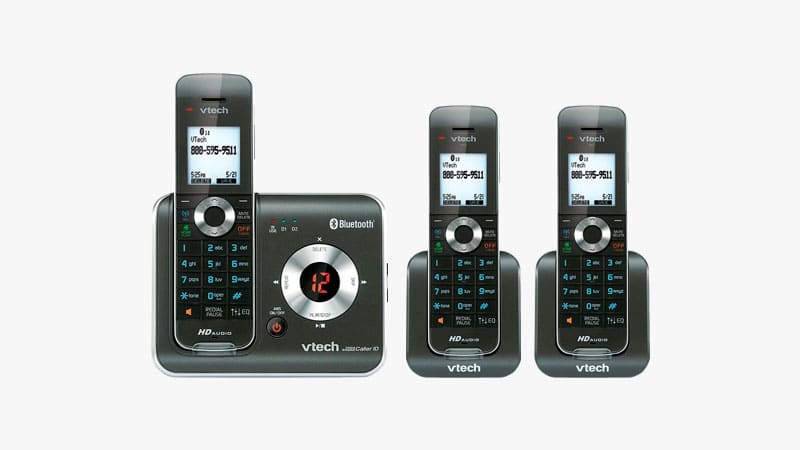 The Vtech DS6421-3 system has been named as one of the best cordless home phones by Consumer Reports and with good reasons. It checks all the boxes in terms of superior versatility, features, and practicality while the only thing I wasn't particularly thrilled about was its price tag.
This system uses advanced DECT 6.0 digital technology to improve range and voice quality with three included cordless handsets and a built-in digital answering machine. It combines landline and cell technology with the ability to connect to cell technology. With the Connect to Cell feature, you can receive and make cell calls from your Vtech handset without searching for your cell phone.
With HD Audio, your calls have clearer and fuller voice quality. All calls are encrypted and digitized for improved security and almost no chance of eavesdropping. The system also includes a Push-to-Talk intercom, conference capabilities to streamline your communication, call transfers, and more.
The digital answering machine can store up to 14 minutes of messages. You can expand the system to up to 12 handsets with a single headset jack. Even though its price tag is a bit steep, it offers incredible value for the money.
Features
3 handset cordless phone system
Built-in digital answering machine with 14 minutes of recording time
Expandable to up to 12 handsets
Interference-free feature cuts out interference from electronics
Make and receive cell and landline calls with Connect to Cell
Caller ID with Voice Announce
HD Audio for improved sound clarity
Push-to-Talk walkie talkie feature
Backlight number pad
Best Cordless Phone Under $500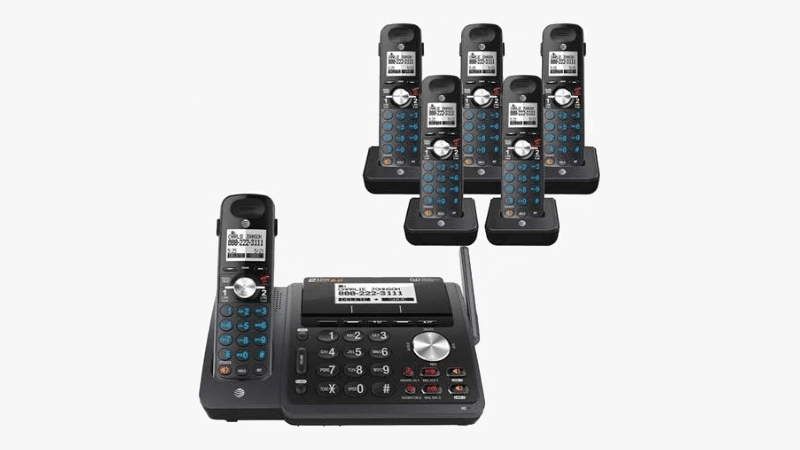 The last model on the list, AT&T's TL88102BK sits atop of the pile of the best cordless phone picks, so feel free to expect a lot from it.
Let's start with the basics, this cordless multi-line system is equipped with five handsets, powered by 12 Alkaline batteries, and is compatible with the latest DECT 6.0 technology.
It includes a digital answering machine that can record up to 14 minutes of audio; the answering machine also features the stamp of time and day, as well as premium call screening functions allowing you to intercept robocalls and decline calls from telemarketers.
Furthermore, the charging station is truly amazing, featuring adjustable screen tilt levels, up to 50 names in the caller ID memory, the intercom function, and much more.
One of the features I've liked the most is the ability to set up 4-way conferencing sessions. Organizing team meetings and projects becomes easier than ever, especially given the fact that AT&T's TL88102BK's performance is interference-free.
Even though its price tag can be slightly intimidating, AT&T's TL88102BK is not just one of the best products on the list – it's the ultimate landline phone for households, home offices, and businesses alike.
Features
Cordless phone system with 5 handsets included, expandable up to 12 handsets
Digital answering machine with 14 minutes of voicemails with time and day stamps, call screening, and intercept function
Link2Cell Bluetooth technology can sync up to 2 smartphones
Dual Caller ID (name and number)
Call screening functions
Redial up to 20 latest entries
Handset intercom function
Buying Guide – How I Picked the Best Best Cordless Phones to have for
Home & Office
A 'good' cordless phone is pretty much every third or fourth model on the market. You'll see dozens of phones that are decently easy to install, sound quite great, and have interesting features, such as a blacklist of up to 200 calls or LED charging indicators.
However, only a handful of cordless phones are worth the buck, especially because the differences that set them apart from 'good' cordless models aren't too easy to discern.
This buying guide was made to help people find the best-value cordless phone products, so let's start from the top:
Pristine Audio Quality
Regardless of where you are in your household, you should be able to get a clear signal with any of the products I've recommended above. Their top-quality antennas and versatile modes of connection enable these phones to provide better sound quality than you're probably accustomed to.
Another important element that contributes to the pristine audio quality of the aforementioned products is the Full Duplex System (FDS), which allows both the caller and the receiver to simultaneously talk without encountering feedback or packet loss.
User-Friendliness
User-friendliness is, in other words, ease of use and ease of setup. Many companies and phone manufacturers are aware that not everyone is tech-savvy enough to install and use every single feature of their phones, and that's precisely what this group of attributes refers to.
Cordless phones are, by default, more user-friendly than their corded counterparts, as you could freely walk around the house without being limited to the length of the cable. However, certain products require hours of draining setup. That's why I made sure to pick the products that were either easy to install or come with instructions that were detailed and easy to follow.
Display Size and Visibility
In certain cases, a poorly visible or petite display can be a deal-breaker, even if the rest of the features are exceptional.
For example, imagine if you bought a phone that could be used at any distance; its memory keys are soft, but poorly illuminated, and you want to call emergency services in nearly pitch-black light conditions. Even if the phone is equipped with dozens of cutting-edge features, it failed to serve one of its basic purposes.
That's why we've picked the phones that are outfitted with a decently sized display and clearly visible keys – not just to make them usable in emergencies, but to cater to your comfort as well.
Hearing Aid Compatibility
Millions of seniors struggle with hearing issues, which makes it hard for them to use regular phones.  In such cases, a person's hearing problems would not only prevent them from using certain functions, but the phone's volume could actually worsen their condition.
Essentially, these phones have special volume controls that are bound within certain amplification limits that won't worsen the condition of hearing-impaired individuals using them; additionally, hearing aid compatible phones are tuned as such to be perfectly audible for people with hearing issues to hear the person on the other end of the line.
DECT-compliant
DECT stands for Digital Enhanced Cordless Telecommunications, and it's the industry standard for cordless telephony. Designed to enable rapid roaming between different networks, DECT systems are comprised of multiple phones bound to a single base.
To differentiate the original DECT from DECT 6.0, the latter refers to the North American variation of digitally enhanced cordless telecommunications. Manufacturers use this to differentiate their products from European DECT-compliant models.
There are a few features to consider when buying a landline phone. Most of them depend on what extras you want the phone to have.
Number of Handsets
One of the first decisions to make is how many handsets you need. Cordless phones can have up to six handsets, which allows you to place the phone in more than one room. This really comes in handy if you have a big home.
Corded or Cordless Base
You should also consider whether you want a corded base. A cordless handset needs power to work from AC or batteries, but a corded handset works without power if it remains connected to a conventional landline or you have battery backup for VoIP service. If your area is prone to power outages, a corded base with battery backup is a good choice.
Other Features
Some of the most popular cordless phone features include a speakerphone, caller ID, an LCD screen on handsets and/or bases to display important information, a headset jack to allow you to chat while you move about the room or look through paperwork for a hands-free conversation, and a two-line support for receiving calls for two phone numbers on the same phone. Some phones give two distinct ringers to let you know which line is ringing. This feature is very handy if you're conferencing with two callers in a three-way conversation.
Another excellent feature that you can find in a cordless phone is auto talk. This feature means your call connects as soon as you lift the handset from the base. Also, there's the battery backup that enables your phone to keep working if you lose power. We won't mention an answering machine because all of the phones come with an integrated one.
That's a wrap guys! I've included the best cordless phones to have for home and office. The right choice for you will depend on your personal use case and budget.
If you have any other personal favorites or have information to share about our top picks, feel free to leave a comment below to share with others in the community.
Photo Credit: Unsplash