When you're on the road, you'd want to take all precautions necessary to have a safe journey and a dashcam is an essential gear for every car.
This is especially the case for people who must drive a great deal every day, whether commuting to and from work or school or for all the errands that you run for your family throughout the week.
While some automobiles will come with a dashboard camera already installed, if you bought a car that does not have this feature already, you can still use this technology by putting in your dashcam.
While most dashcams can do simple recordings, an advanced dashcam can help you in case you ever get in an accident, the sensors will monitor the collision and save recording with GPS information that will not only help deal with police but also when filing a claim.
The problem is, you have little time to do research and make comparisons of the various dashcams in the market. With that in mind, we wanted to present a guide to the best dashcams available in 2020, to help guide you in your decision-making process.
The Best Dash Cams for 2021
Things to Consider
1. Camera Quality
The first thing to consider is the quality of the camera. What use of a camera that records bad footage when you're involved in an accident? Most cameras have from 720p to 4K resolutions. Naturally, it's best to choose the one with a higher resolution to have clearer footage.
2. Mount Options and Battery
How are you going to mount the camera on the windshield or the dash? Most cams come with a suction mount that you attach to the windshield. Some mounts, on the other hand, have an adhesive tape that you glue on to a specific place in the car. One of such mounts are the magnetic mounts that have adhesive and a magnet on the one end and the device and another magnet on the other.
There's usually a cable going from the cam to the car's battery to power it. Some dash cams have a built-in battery, which means they can work after you've parked your car. Before buying a dash cam, make sure to know what mounting options and battery you prefer.
3. Viewing Angle
Moreover, think about whether you want a wide-angle lens to have a better viewing angle. 120 degrees is good but aim at lens with an at least 130-degree-angle to have a wider image and to see more in the footage.
4. Additional Features
You'll also have to look for additional features, such as connectivity options, GPS, night vision option, or whether the cam comes with a memory card. If there's Wi-Fi, you can transfer the footage wirelessly to your device. The GPS location comes in handy to determine where were you when a specific footage was takes. The night vision will help you film in the dark. As for the last feature, you must know that all dash cams use them to store the data.
However, not every model comes with an included memory card, so make sure you know that to be able to purchase it separately.
5. Price
Last, think of the price and what budget you have for your dash cam. Most basic cameras price range from $50 up to $500. The high-end cams are mostly used by professional drivers or those who put driving safety on the top of their priority list.
---
Best Dashcams Under $50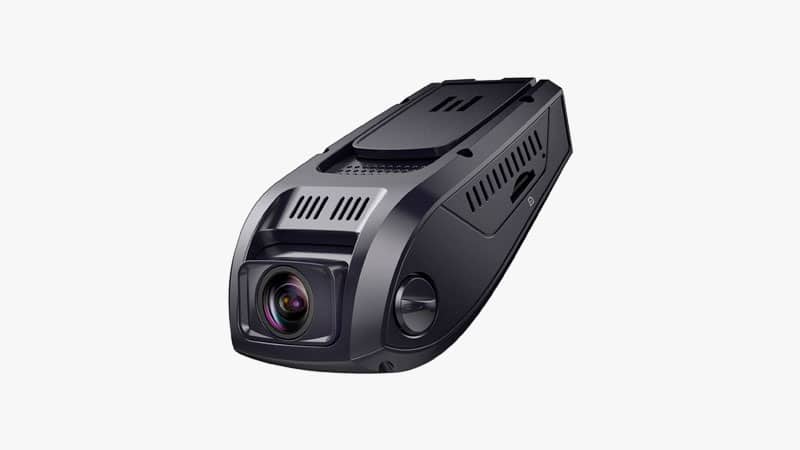 The Pruveeo F5 Dash Cam is known for its sophisticated design, and it is meant to be mounted to your car's windshield, keeping it from being seen by people outside.
An LCD screen of 1.5 inches and a 140-degree glass lens, the device offers full HD 1080p resolution (with 720p being the default mode, as it will allow you to save more footage to memory).
You can enable this dashcam to record in loop mode. While many people will want to record a full audio-visual file from their car's dashcam, this one gives you the option to disable audio recording. It can store up to 32GB on a micro SD card (not included).
Note that the Pruveeo F5 t comes with an app that you can download for use on your Android or Apple smartphone.
The app lets you configure your dashcam, view video footage as well as download high definition video recordings over Wi-Fi, in real time as the footage occurs.
To date, more than 30,000 Pruveeo dashcams have been sold, and the units come with a 12-month replacement warranty and a 12-month warranty for free service if something should go wrong with it during use.
Features:
1080p resolution
Built-in battery for emergency file saving and power cord
3M adhesive mount kit
170-degree viewing angle
1.5-inch LCD screen
Check Price on Amazon Directly Add to Cart on Amazon
---
Best Dashcams Under $100
The Garmin Dash Cam Mini is one of the tiniest cams out there. Still, it's packed with features. It's as big as a car key but can deliver a 1080p image with a 140-dgeree-wide lens.
It requires an 8GB micro-SD card, class-10 or faster. Although it doesn't have an LCD display due to its small size, it has a built-in Wi-Fi and Bluetooth that enable you to upload the footage to your smartphone with the Garmin Drive app that was made with ease of use in mind.
It has only one big button for saved footage and an SD-card slot on the right side. It works with the car's power source with a cable. There are a long and a short power cables included in the package.
Once you set up the low-profile adhesive mount and plug it in the power source, the camera will start recording automatically.
Features:
1080p resolution
Power cable
Low profile adhesive mount with a magnet
140-degree viewing angle
Wi-Fi connectivity
Check Price on Amazon Directly Add to Cart on Amazon
---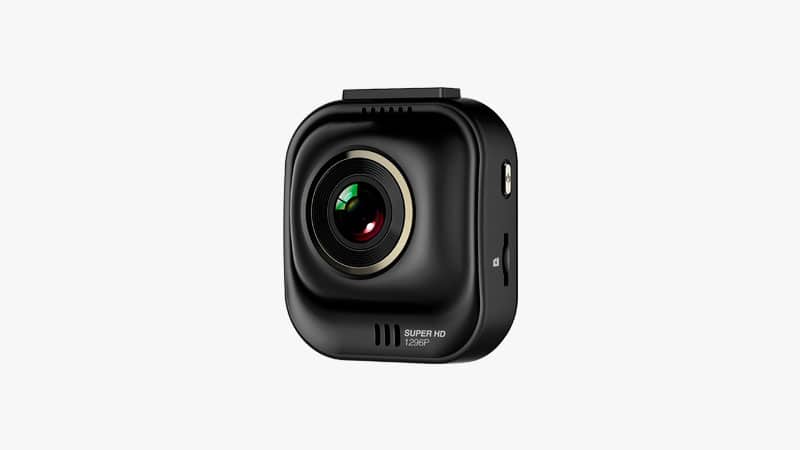 You'll get 160-degree wide-angle video footage from your car when you install the PAPAGO dashcam unit, which is billed by the manufacturer as providing the highest quality video, even if you are driving at night or during bad weather.
While it comes with a free 8GB micro SD memory card to store video recordings, you can amplify this by adding your MicroSD card of up to 64GB. Videos transfer to your smartphone with an included cable, so you won't need to rush off to a computer to copy the files over.
You can start watching them, sharing dashcam footage quickly with your friends and family. Automatic Recording mode will cause the dashcam to record video made in loops that erase once the loop time has reached its conclusion.
Monitor mode shoots a single picture every second to reduce the amount of storage space required, and Motion Detection mode, which activates your dashcam only when the device senses that the car has moved (such as when you exit the driveway on your way to work each morning).
You have an option to install this 2.4-ounce dashcam with an adhesive mount or a suction cup for the windshield, for whichever method is more appropriate for you.
Features:
1296p resolution
Built-in battery and power cable
Suction cup and adhesive mount
160-degree viewing angle
Night vision
Check Price on Amazon Directly Add to Cart on Amazon
---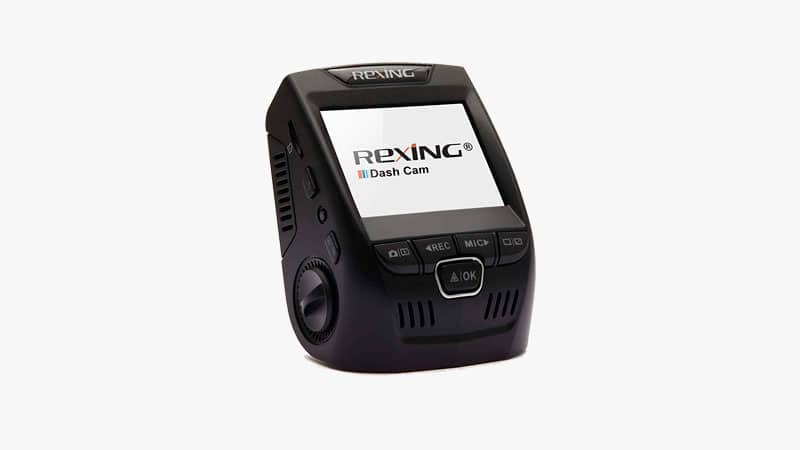 You can expect to get very good video recording quality with this device from Rexing, as it uses 1080p HR resolution, shooting video at the standard rate of 30 frames per second. What's more, the camera was engineered to record in a dynamic range of lighting, to automatically adjust the exposure to give you a more balanced image.
Six layers of glass in the wide angle lens gives you 170-degrees of viewing taking in more of the scenery before you. Many people will appreciate the discreet design of the Rexing dashcam, which keeps it hidden from the casual observer, including criminals looking to cause mischief.
You can record video loops in segments of 3, 5 or 10 minutes. As the recording reaches the end of the programmed time, it will start over. This is similar to black box technology in airplanes that is always recording the latest moments. For even more video options, you can upgrade the Rexing dashcam with a micro SD card as big as 128 GB.
A gravity sensor built into the Rexing V1 dashcam will automatically notice the vehicle has been involved in a collision, it will immediately disable recording and preserve the latest footage captured, locking the video to make sure it stays protected (you might need this footage to show to your lawyer and insurance company, for example).
Features:
2160p resolution
Built-in battery and power cable
3M adhesive mount
170-degree viewing angle
2.4-inch LCD screen
Wi-Fi connectivity
Check Price on Amazon Directly Add to Cart on Amazon
---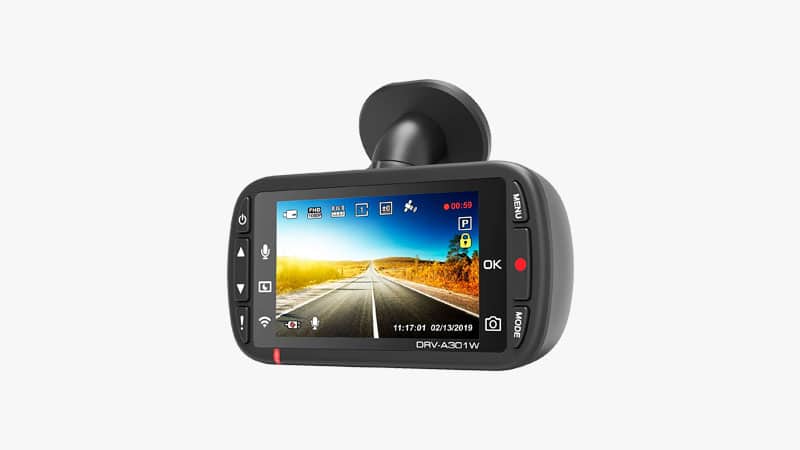 With a powerful wide-angle lens that helps capture more of the road around you, the DRV-A301W dashcam from Kenwood can record pretty clear; it delivers a 1080p footage. You'll see plenty of detail on the device with its 2.7-inch LCD display.  
The cam features a supercapacitor which can withstand extreme temperatures. It protects the hardware from -20 to 176°F, and thus prevents overheating and extends the cam's lifespan. The camera's field of vision can cover three lanes of traffic, and you will not need to worry about cars in your blind spot anymore since the cameras remove that obstacle.  
In the event of an emergency like an accident, the device automatically detects it with its g-sensor, which will automatically lock the video. If you happen to have been recording in loop mode when the Kenwood dash cam detects the car is about to be involved in a crash, it will also stop the looping, so it doesn't record over the accident footage.  
Every time you turn off the car's ignition, the dashcam will automatically save the latest recording contents before it shuts down. It comes with a 16GB SD card to store recorded videos and then later remove the card for playback on a TV or computer at home.  
Mounting this dashcam is simple. You can use either the suction cup or the adhesive mount. The mount is sturdy, so it will keep the dashcam securely in place even when you are driving on the street with bumps or potholes.
Features:
1080p resolution
Battery powered by cigarette lighter power adapter and power cable
Suction cup and adhesive mount
136-degree viewing angle
2.7-inch LCD screen
Wi-Fi connectivity
G-sensor and built-in GPS
Check Price on Amazon Directly Add to Cart on Amazon
---
Best Dashcams Under $200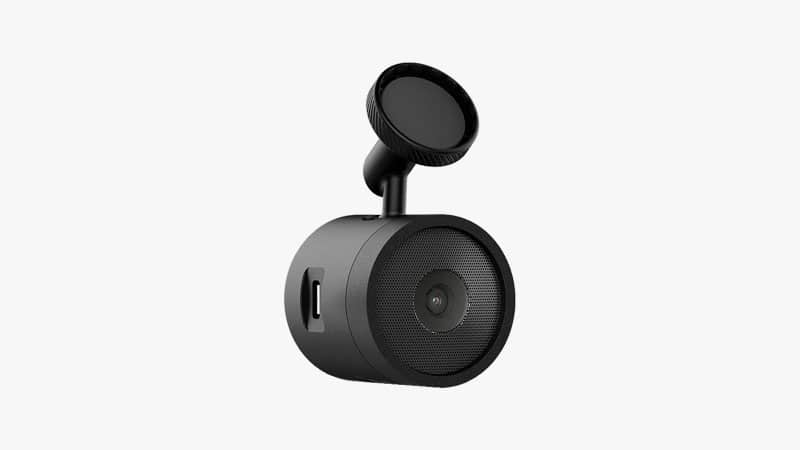 Garmin manufactured its Speak Plus to include an option to get two months of Amazon Music Unlimited Family Plan for those who buy this high-tech dashcam. What this means is that people who already use Amazon's virtual assistant Alexa will be able to utter commands to Alexa via the Garmin device to get turn-by-turn navigation instructions too.
It's like you have a 6.4-ounce onboard assistant who happens to have machine eyes to help you by recording everything from the point of view of the dash. The small device measures 1.5 x 1.5 x1.5 inches. Driver assistance features include forward collision warnings and lane departure warnings. You'll be notified if you are drifting out of your lane, which is very useful in preventing accidents.
Since the Garmin Speak Plus can connect directly to your smartphone via Bluetooth, you can harness this dashcam to do things such as use voice control to access news, music and navigation series.
If you're in an accident, the Garmin Speak Plus dashcam's automatically shot footage is saved following the detection of the collision (vibrations and sudden, jolting motions trigger the device, so you don't have to worry about making a recording during an emergency).
Features:
1080p resolution
Battery powered by Li-Po batteries (not included) and power cable
Suction cup (not included)
170-degree viewing angle
2.7-inch LCD screen
Wi-Fi connectivity
Garmin GPS
Voice Control
Check Price on Amazon Directly Add to Cart on Amazon
---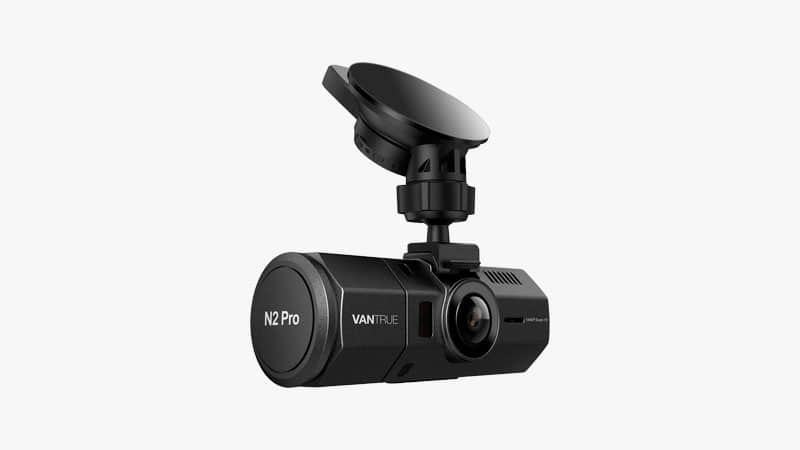 The Vantrue N2 Pro Uber dual dashcam uses the Novatek NT96660 CPU and relies on a Sony Exmore IMX323 sensor inside the camera to capture footage from the front of the road and inside the vehicle.
Front-facing dashcam footage is recorded with a 170-degree wide-angle lens at a 1920x1080p resolution at an eye-popping 60 frames per second for maximum clarity. Footage from the camera inside the cabin comes from a 140-degree lens.
Infrared vision capability adds to the value of this dashcam because it enhances your night driving for a safer experience. The system balances dark and light areas automatically to give you an ideal image even under difficult lighting conditions, so you are more likely to be able to capture fine details such as lettering on a license plate.
When you leave your car parked in a location that seems a bit sketchy, you can feel confident by setting the dashcam to parking mode. It will automatically start recording video whenever it feels motion in front of the vehicle, so you can have a chance to catch vandals and would-be thieves.
The dashcam comes with an 18-month warranty, and the company makes a point of responding to email inquiries from customers within 24 hours.
Features:
1080p resolution
Built-in battery and power cord
Suction cup mount
360-degree viewing angle with front and rear camera
1.5-inch LCD screen
GPS (with separately purchased GPS mount)
Night vision
Check Price on Amazon Directly Add to Cart on Amazon
---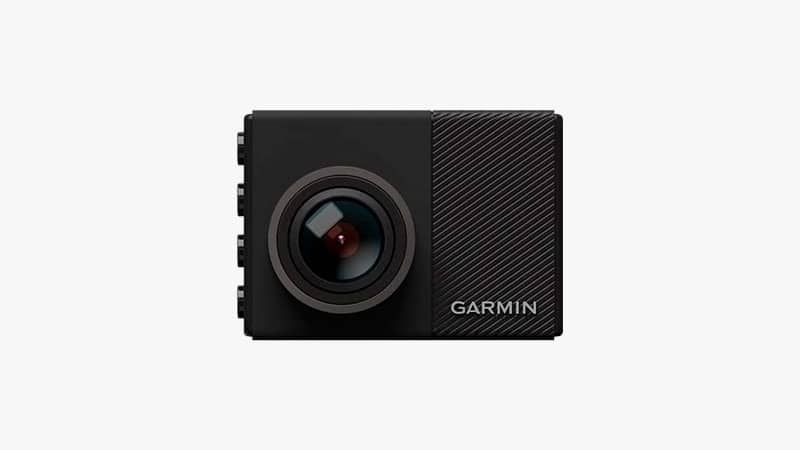 You'll be able to see wide-angle footage with a 180-degree field of view with the Dash Cam 65W from Garmin. This means you will capture more details from the scene, such as vehicles driving by in cross-traffic. The dashcam's 2.1-megapixel camera captures high-resolution 1080p video and is capable of rendering useful images even when lighting conditions are poor.
You will be notified by the system if you are getting too close to the car in front of you (collision warning) as well as if you start drifting out of your lane. With a GPS-enabled automatic recording of footage after an impact (such as when you are in a collision with another vehicle), you can feel secure that video evidence of the incident will be preserved, no matter how chaotic the events are.
You can use voice commands to start or stop recording video while driving, as well as to shoot a still image or if you want to start or stop the alternate time-lapse video option. It will record a video for 30 minutes with its battery, even if your car is not able to supply power after the incident.
Features:
1080p resolution
Built-in battery and power cable
Magnetic mount
180-degree viewing angle
2-inch LCD screen
G-sensor and built-in GPS
Night vision
Check Price on Amazon Directly Add to Cart on Amazon
---
Best Dashcams Under $300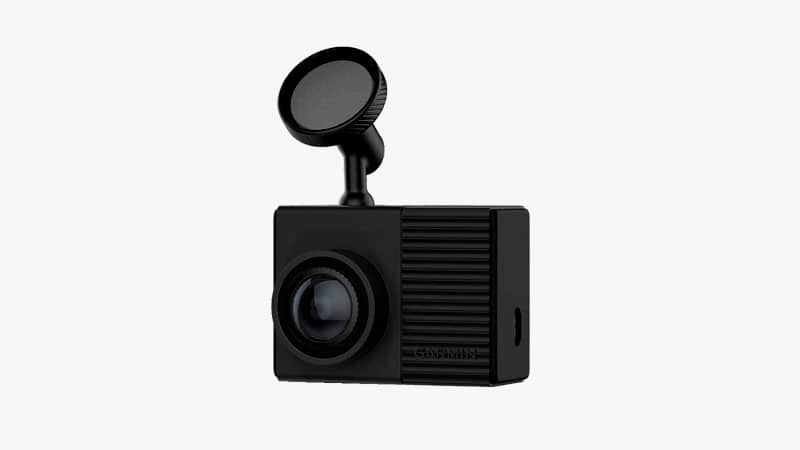 The Dash Cam 66W from Garmin boasts voice control in multiple languages, so you can control it with our voice whether you speak English, French, Italian, German, Spanish, or Swedish. This model also has a wide-angle 180-degree lens to capture as much visual information from the scene as possible. 
If you carry an iPhone or Android smartphone, you'll want to use the Garmin app, which lets you download videos recorded with the Garmin dashcam and then keep track of these clips and view them right on your device.  
To store more videos on the 66W, you can augment the device by inserting a standard Micro SD memory card. You can use it with an 8GB–micro-SD card which is sold separately. 
The camera films the footage in 1440p and uses the Garmin Clarity HDR™ for low light conditions. The magnetic mount serves to keep the bracket stronger so it won't fall off while you're driving, even over roads with terribly uneven surfaces that would dislodge cheaper mounts.  
This dashcam has a shock sensor that will automatically cause it to send alerts. It sends driver alerts, such as forward collision, or lane departure warning.
Features:
1440p resolution
Built-in battery and power cord
Adhesive mount
180-degree viewing angle
Driver alerts
Built-in GPS
Garmin Clarity HDR™
Check Price on Amazon Directly Add to Cart on Amazon
---
Best Dashcams Under $400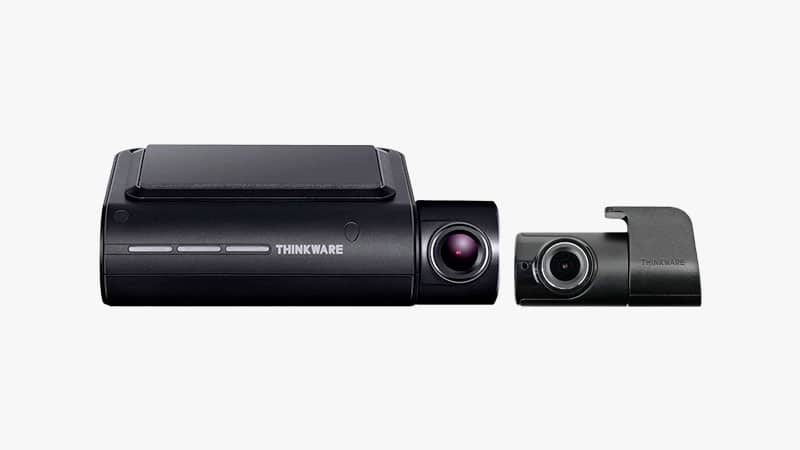 From a sleek, long body, to the 1080p resolution, the Thinkware F800 PRO cam is anything a conscious driver would want. It can record on two different channels simultaneously – the front and the rear camera. 
It comes with a 32GB card, but it supports the cards of up to 128GB and has a built-in Wi-Fi to transfer your data on your smartphone, as well as a GPS to send you red light and speed camera alerts. Even if it is in low light conditions, since the Sony STARVIS CMOS sensor enables you to film when it's darker outside. 
The F800 PRO features Supercapacitor and high temperature cut-off to save the camera from the elements. It is powered by a cigarette lighter adapter or a power cord. 
The Energy Saving Parking reduces power consumption. The dash cam comes with an adhesive windshield mount and extra 3M adhesive, as well as micro-SD card reader, cable mounting clips, and a hardwiring kit.
Features:
1080p resolution
Battery powered by cigarette lighter power adapter and power cable
Magnetic mount
140-degree viewing angle
Sony STARVIS CMOS sensor
Wi-Fi connectivity
Two channels
Check Price on Amazon Directly Add to Cart on Amazon
---
Best Dashcams Under $500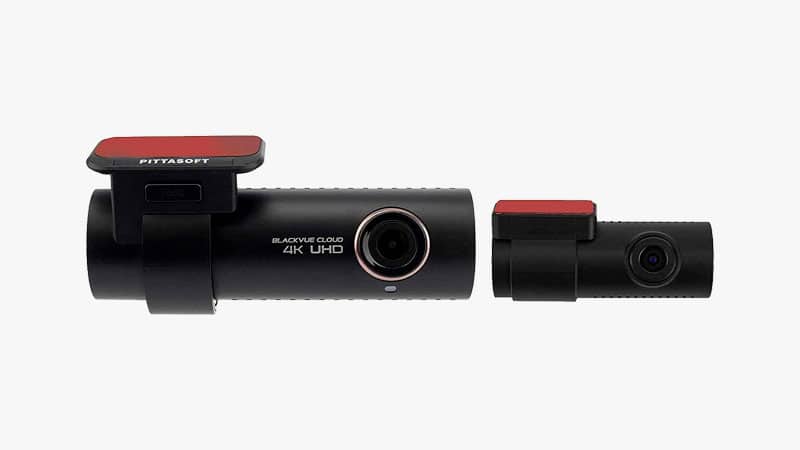 If you need a professional tool for your dashcam video, this is a perfect model for you. The Blackvue DR900S-2CH delivers a 4K, 2-channel footage. It provides you with two cameras, so one is providing footage from the front via the dashboard, while the other camera keeps recording from the rear.  
It has a built-in 2.4/5GHz Wi-Fi G-Sensor and GPS. The package comes with a 16GB micro-SD card. The CMOS Sensor enables you to have clearer footage during the night, while the High Temperature Cutoff saves you from high temperatures during the Summer. 
In the event of an emergency, the g-sensor will note the collision and automatically lock video recordings, saving GPS information along with the video file to help when filing a claim and dealing with the police. 
The DR900S-2CH comes with USB micro-SD card reader, a 12V power adapter, adhesive mounting clips, spare mounting tape, a memory card, and hardwiring kit.
Features:
4K UHD resolution
Battery powered by cigarette lighter power adapter and power cable
Adhesive mount
139-degree viewing angle
CMOS sensor
Wi-Fi connectivity
Two channels
Check Price on Amazon Directly Add to Cart on Amazon
---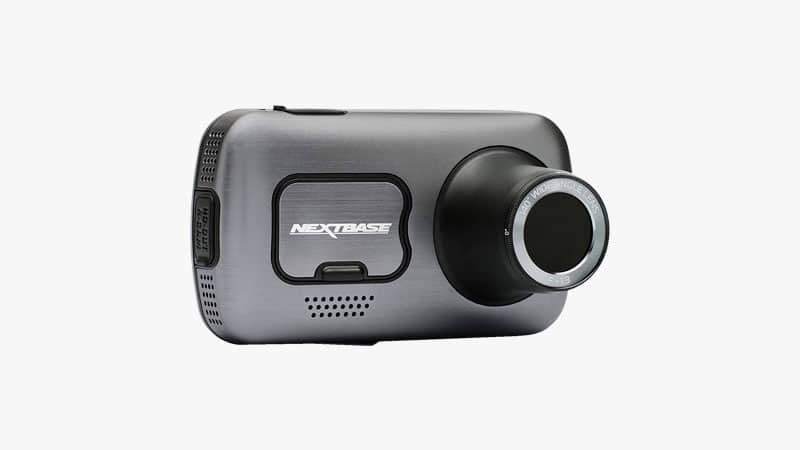 Are you looking for an affordable dashcam that records footage from the front of your vehicle as well as from the back? If so, the Nextbase 622GW dashcam may be just what you've been hoping to find. It records rear and forward footage simultaneously with super high-definition video. You can mount the cameras directly to your front and rear windshields for greater convenience. 
The high-resolution cameras record super in a 4K resolution so you can rest assured that it will pick up details such as the letters and numbers on the license plate of a car that hit your vehicle. The rear cam records at 1080p. 
If your car's power should happen to fail, this 622GW dashcam's built-in battery can continue to record a video. Its G-sensor and Emergency SOS detect automatically when there are signs of a crash or vibrations indicating an accident. When you set it to parking mode, the dashcam will be a watchdog that gives you a sufficient surveillance coverage of your vehicle.  
Video captured with the 622GW can be stored on a micro-SD card (up to 128GB of memory), so you can review the footage later from the comfort of your home or office. The device comes with an 18-month warranty, and the company offers lifetime support to all users.
Features:
4K UHD resolution
Built-in battery and power cable
Click&Go PRO mount
140-degree viewing angle
GPS, G-sensor, Emergency SOS
3-inch IPS touchscreen
Wi-Fi connectivity
Night vision
Voice control
Two channels
Check Price on Amazon Directly Add to Cart on Amazon
---
Conclusion
Not only will a dashcam improve safety when you drive, but it can also make it easier for you to navigate, especially in tricky, tight situations and when you are in an unfamiliar location.
What's more, footage recorded from your dashcam may provide you with some funny videos, if the system happens to be on when something strange happens while you're out on the road.
Plenty of videos are shared on sites like YouTube of crazy events that were captured from an unobtrusive camera built into the car. Who knows? You might wind up sharing your silly dashcam videos yourself, for the world to see.
Disclosure: The product recommendations are not sponsored and are chosen by our editorial staff. We may earn an affiliate commission when you purchase an item through our links.
Photo Credit: Unsplash