Whether you're producing videos for fashion or tech channels, interviews, or even a documentary, the first step is choosing the right lens for your DSLR or mirrorless camera. As a professional photographer with nearly a decade of experience under my belt, I wanted to impart some of my knowledge to fellow photographers and videographers regarding video lenses for Sony DSLR cameras.
The case can be made that lenses, and not the actual camera, accounts for most of what makes a video great as photography and videography are all about optics. The kit lens included with your DSLR is great for beginner photography, but it won't capture your story effectively for professional videos.
Below, I differentiate different types of lenses by the size of their aperture, which is the hole that allows in light as measured by the f-stop. With a wider aperture, more light will come in for a better chance at getting great video indoors in dim lighting. The big trade-off with a wide aperture is you can't focus on as many objects at different distances because the lens has a shallow depth of field. This will keep your subject very clear but the background will become blurry.
Choosing the Right Lens Type
Depending on your videography needs, you may need one or more of the following camera lenses to get the right effect:
Prime lens: A prime lens is a camera lens with a fixed focal length, unlike a zoom lens. A zoom lens can be very convenient but there is a trade-off with larger size and reduced performance. A prime lens offers superior optical performance with a larger aperture and a smaller size.
Wide-angle lens: This type of lens is necessary to capture a large scene, a small scene in a limited space, or to give a sense of presence with a close-to-the-subject perspective.
Video interview lens: A good lens for video interviews has image stabilization and zoom capabilities.
Blurred background lens: Blurred background lenses are often used for Youtube tech videos as they offer excellent focus on a close subject with great focal range and low light performance.
Cine lens: This type of lens is designed specifically to meet the needs of cinema production, including excellent image quality, optical abilities, heavy construction, and the ability to record continuous motion.
Telephoto lens: A telephoto lens has a long focal length with a narrow field of view to produce a magnified image. This type of lens can be used to isolate your subject.
Fisheye lens: This type of camera lens is a wide-angle lens with a field of vision covering up to 180 degrees with a scale that is reduced to warp the edges. A fisheye lens produces a visual distortion that creates a wide panoramic.
What Makes the Best Video Lens for Sony DSLR?
When searching for a camera lens, regardless of type, I recommend paying attention to the following elements:
Size & Weight
The portability and compactness of a lens is important, especially if you're using multiple. You don't want to over-pack your bag, as you'll probably be carrying a lot of other gear, so every ounce matters. I recommend lenses that weigh under one pound.
Lens Coating & Special Elements
Lenses can be coated with various materials to enhance some of their attributes or introduce new abilities, such as Canon's SWC or Super Spectra, or Nikon's SIC (super-integrated) or Crystal Coat. These coatings can increase image sharpness, provide it with better light absorption, or improve its ability to fight distortion or artifacts.
Special elements serve a similar purpose – these features can improve contrast, better the sharpness of your images, negate chromatic aberration, focus a variety of wavelengths in a singular point, and so on.
Image Stabilization
In simple terms, image stabilization is a feature (technology) that helps you avoid image blur. It's an invaluable tool to have, regardless of whether you're into cinematography, wildlife photography, or shooting interviews with your Sony DSLR.
Aperture Quality and Size
I recommend going with wider apertures, as most high-quality lenses are already great at capturing short-distance subjects. With a large and wide aperture, you can easily isolate your subjects from any other element near it, guaranteeing a pristinely clear image.
Auto and Manual Focus
While some of my friends emphasize that they primarily use autofocus, I've found that manual focus has helped me more times than it didn't. Your lens should be able to accommodate both, as there will be cases when your camera's AF will yield blurry pictures, regardless of how great its image stabilization is.
(Optional) Zoom Lock
Zoom lock is remarkably convenient, and I've found it helpful in a myriad of shooting sessions. Simply put, lenses that support this feature allow the user to keep the barrel locked at the desired focal length. You'd be surprised how easy it is to accidentally change focal length, and this feature completely prevents it.
The Best Sony DSLR & Mirrorless Lenses for 2022
Best Prime Lens for Video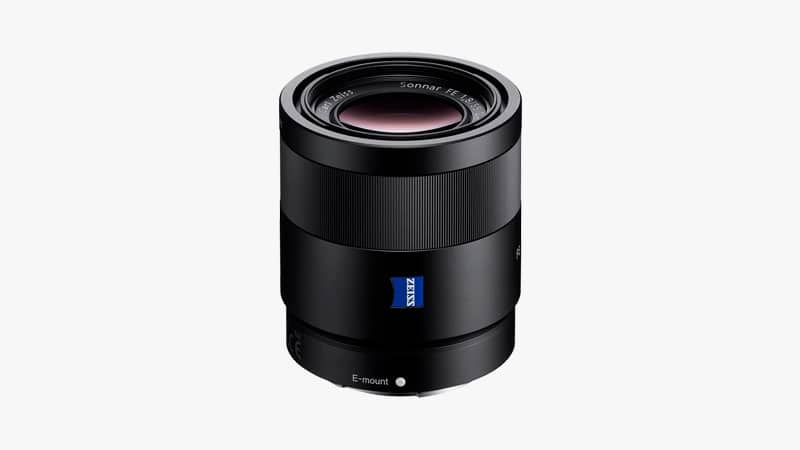 The Sony Sonnar T* FE 55mm from Carl Zeiss offers the best in resolution and contrast with a lens for a full-frame Sony E-mount body. This lens features T* coating for an improved optical design that suppresses internal lens reflections for greater contrast from highlights and deep blacks.
This Sony lens has a large F1.8 maximum aperture for perfect full-frame background fading with extended depth-of-field ability. This lens shoots equally well in bright indoor settings and low-light outdoor environments with internal focusing that is quiet and smooth.
Features:
Fixed lens with E-mount full frame, not zoomable
Minimum focus distance of 19-11/16 inches
55mm focal length
49mm filter diameter
Top-quality optics
Aperture: 22/1.8
Smooth, quiet internal focusing
Dust and moisture-resistant design
Carl Zeiss T* coating reduces internal reflections for better contrast
Circular aperture for smooth, natural background bokeh effect
Here is a video filmed with the Sony Sonnar T* FE 55mm f/1.8 Lens:
---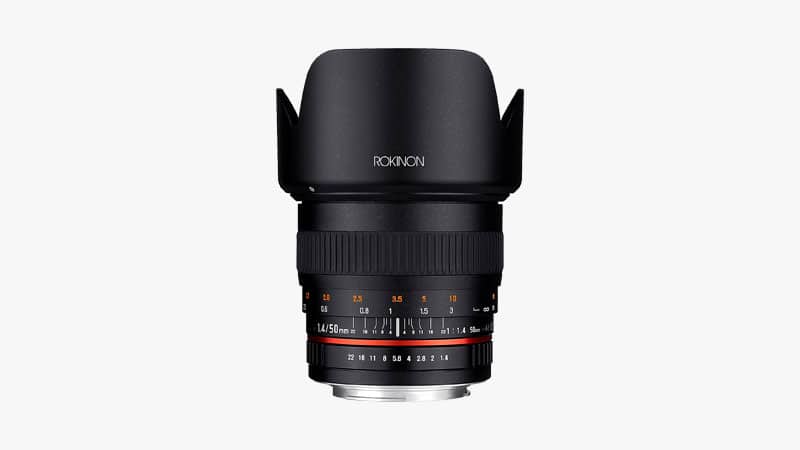 The Rokinon 50mm lens offers a high-performance prime 50mm lens, which is considered the standard focal length for Full-Frame Format to fill the gap between the 35mm and 85mm lenses.
This lens distinguishes itself with top-tier optics and an f/1.4 maximum aperture for lightning-fast shutter speeds, superior low-light shooting, and shallow depth of field control.
This lens is made from APS-C sensors so you will not have cropping of your original frame. You'll notice very easy manual focusing, although autofocusing is convenient in some shooting situations.
While this lens isn't lightweight, it offers clarity and sharpness that's hard to find at this price.
Features:
Fast, high-performance F1.4 aperture
50mm prime lens with Full-Frame Sensor coverage
Ultra Multi-Coating (UMC) for improved light transmission
Internal Focusing design for non-rotating 77mm filter threads
Hybrid aspherical and aspherical lens elements reduce color aberrations
Circular aperture for more natural "bokeh" effect
Rubberized focusing ring for quiet focus control
Here is a video filmed with the Rokinon/Sigma 50mm F1.4 Lens:
Check Price on Amazon Directly Add to Cart on Amazon
---
Best Wide Angle Lens for Video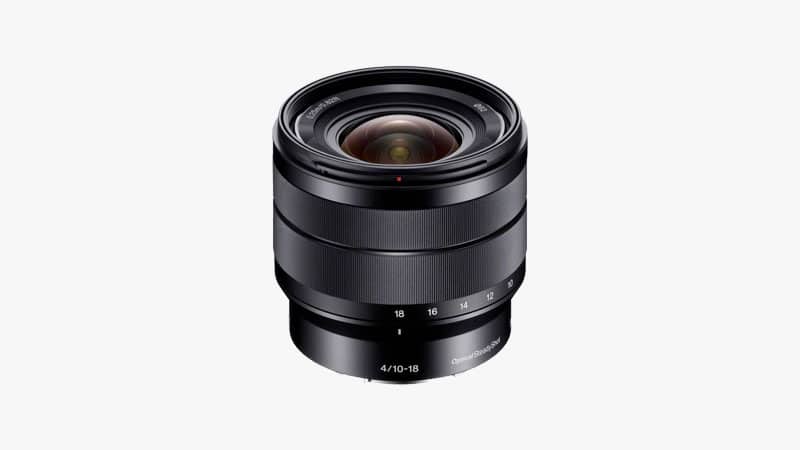 The Sony SEL1018 offers stunning, excellent quality optics, as well as images that emphasize perspective or the ability to film sweeping landscapes with a wider minimum focal length than most wide-angle zoom lenses. This lens features Optical SteadyShot image stabilization technology for crisp images, even at maximum zoom.
The lens-based optical image zoom uses built-in gyro sensors to detect even slight movement with quiet and effective stabilization for high-quality videos. It also boasts aspherical lens elements, ED glass, and a circular aperture to reduce all types of aberrations, ghosting, and flares with a distance encoder to deliver precise flash metering.
Features:
Super wide-angle zoom lens with 10-18mm focal length
Focal length equivalent to 15mm in 35mm cameras
Minimum focus distance of 0.25 meters
Built-in Optical SteadyShot image stabilization
Distance encoder
Extra-low dispersion glass
Circular aperture for smooth, natural defocusing
Aspherical lens elements to reduce aberrations
Here is a video filmed with the Sony 10-18mm Lens:
Check Price on Amazon Directly Add to Cart on Amazon
---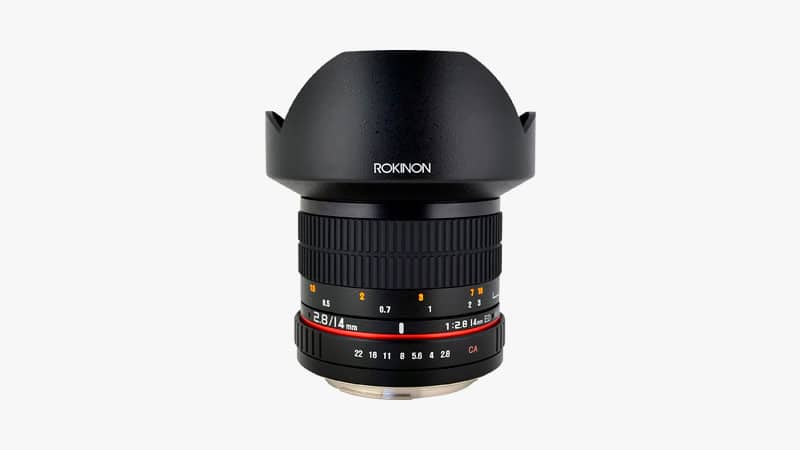 The Rokinon FE14M-S 14mm F2.8 lens is an aspherical wide-angle lens designed for full-frame cameras, although it also works on APS-C sensors. This lens has two ED lenses, one glass aspherical lens, and one hybrid aspherical element to dramatically reduce aberrations and distortions at any focal length.
The Super Multi-Layer coating reduces ghosting and flares in images. This Rokinon lens boasts superb optics and an impressive 114-degree field of view on full-frame cameras. Rokinon has earned a reputation for excellent quality and construction at a fraction of the price of other lenses, and this is the best quality affordable 14mm lens available.
Features:
Ultra wide-angle lens
Minimum focusing distance of 10.8 inches
16 elements in 12 groups
Aperture range: F/2.8 to F/24
Impeccable optics quality
8 diaphragm blades
Reduces distortions, color aberrations, ghosting, and flares
Here is a video filmed with the Rokinon 14mm F2.8 Lens:
Check Price on Amazon Directly Add to Cart on Amazon
---
Best Video Interviews Lens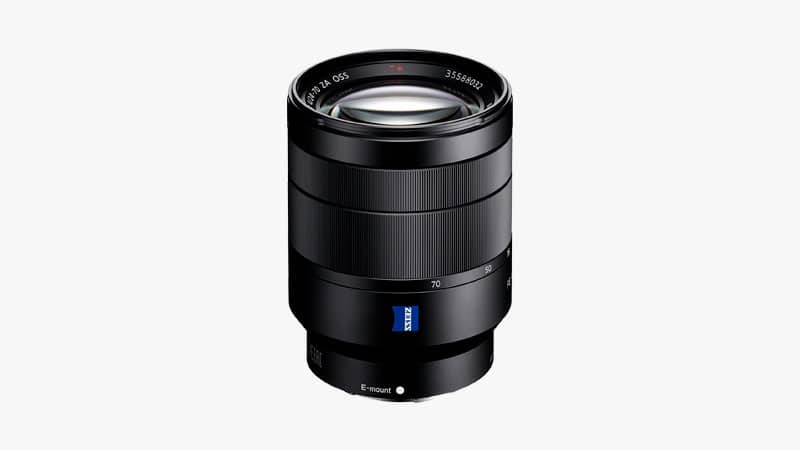 The Vario-Tessar T* FE 24-70mm F4 ZA OSS is a compact and full-frame Carl Zeiss mid-range zoom lens with a focal range of 24mm to 70mm and a constant maximum aperture of F4 for consistent exposures at any focal length. Zeiss lenses have a reputation for quality and reliability and this lens is no exception.
This lens has a unique circular aperture for a "bokeh" blurred background effect without polygonal-shaped defocused points of light and ED glass to reduce chromatic aberrations and poor color quality at longer focal lengths. Despite its advanced technology, this lens is still lightweight and compact for crisp images at any focal length.
Features:
Angle of view of 84 degrees to 34 degrees
Minimum aperture: F22; Maximum aperture: f/4
Focal length of 24mm to 70mm
Circular aperture for more natural defocusing
ED glass improves color quality and reduces chromatic aberrations
Aspherical lens design reduces aberrations and reduces lens weight and size
Lens-based optical image stabilization
Internal focusing
Here is a video filmed with the Sony 24-70mm f/4 Lens:
Check Price on Amazon Directly Add to Cart on Amazon
---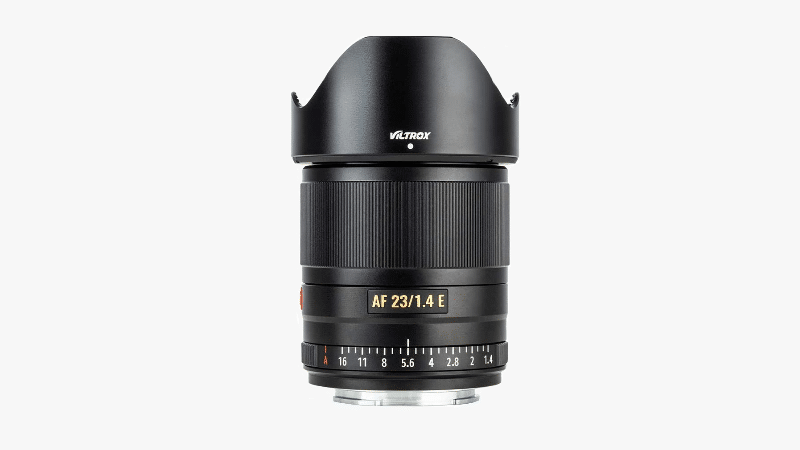 Viltrox may not be as popular as Sigma or Rokinon, but ever since I started equipping my cameras with one of their zoom lenses, my photos have become more vivid and accurate. It's packed with a variety of advanced features and is suitable for practically all shooting interviews and pictures in virtually all light conditions.
I was positively surprised by its nearly soundless autofocus performance, but the reason I'm recommending this one is because of its tremendous image quality and zoom range.
With a large aperture, it excels in situations where you may need to shoot outdoor interviews and is particularly useful for journalist interviewers and wildlife photographers.
With a sturdy frame, a compact size, and a nearly weightless construction, it's one of the lenses that I always carry in my bag. As I imparted in the guide above, I value handling and convenience as much as image quality, so the fact that Viltrox's lens checks all marks makes it tremendously valuable for the price.
Its sharpness-based settings are fairly mediocre, though, and I'm not overly excited about its frame design, but it's an excellent choice for E-mount Sony cameras if you're on a cash-strapped budget.
Speaking of which, Viltrox's 23mm lens is one of the finest models in the entry-level range, capable of going toe to toe with its boutique counterparts in terms of value, image quality, quietness, and autofocus performance.
Features:
Large aperture zoom lens designed for most Sony E-Mount cameras
Viltrox proprietary STM stepping motor
Whisper-quiet and accurate AF performance
Remarkable optics quality
ED, high-refraction index lenses with HD nano multi-layer coating
Weighs under 0,6 pounds
Built-in micro USB port
Check Price on Amazon Directly Add to Cart on Amazon
---
Best Video Lens for Blurred Background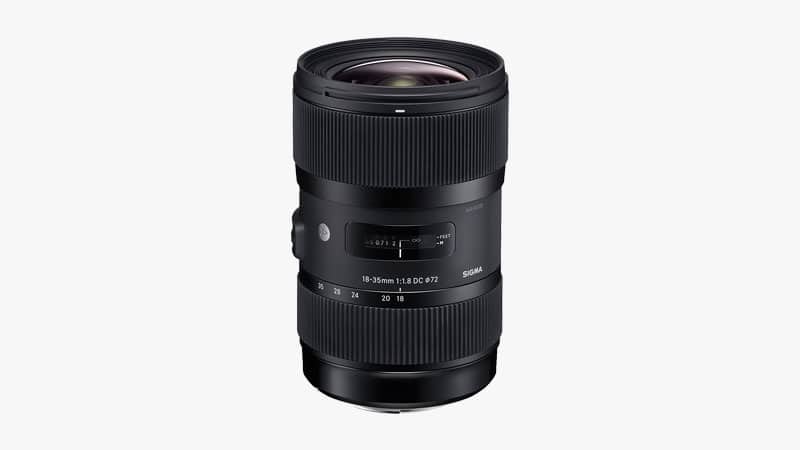 The Sigma 18-35mm is noted for its fast zoom, excellent image quality, and prime-level quality in the fastest zoom available for SLRs. While it has a 28-50mm equivalent range that can limit its performance, the lens has a solid build that isn't too heavy with silent and fast auto-focus.
If you want a wide-ranging zoom, this isn't the lens you need, but it does offer the best image quality you can find with normal zoom. It was also the first wide-angle to standard zoom lens to achieve a large 1.8 aperture.
The 18-35mm 1.8 DC HSM has a wide glass-molded aspherical lens with Special Low Dispersion glass to reduce curvature and aberrations, even at the widest angle. The internal auto zoom and focus improve functionality.
Features:
18-35mm focal length, or 27-52.5mm equivalent on APS-C cameras
F/1.8 maximum aperture; F16 minimum aperture
Ring-type ultrasonic AF motor with full-time manual focusing
72mm filter, ideally suited for large-distance subject capturing
Wide glass-molded aspherical lens with SLD glass to reduce distortion, aberrations, and curvature
Here is a video filmed with the Sigma 18-35mm F/1.8 Lens:
Check Price on Amazon Directly Add to Cart on Amazon
---
Best Cine Lens for Video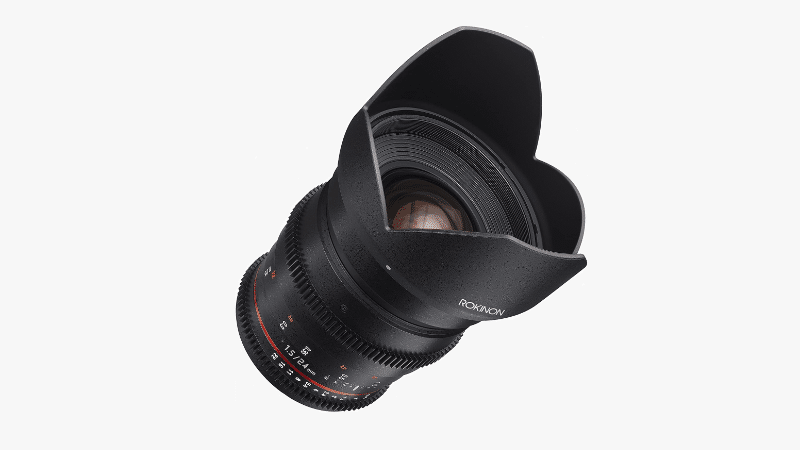 As one of the most versatile lenses on the current market, Rokinon Cine DS DS24M is an excellent choice for photographers, videographers, and enthusiasts that can afford it.
This is a wide-angle, wide-aperture, full-frame lens with internal AF and a non-rotating filter mount, but these are just some of the many benefits it offers. It was designed to nullify flaring, artifacts, and distortion and works phenomenally well in poor light conditions.
With 13 elements packed in 12 groups, two of which are ASP and 4 of which are ED, multi-coating, and full-frame coverage, its optics are leagues beyond its similarly priced peers.
Features:
24mm hybrid aspherical lens
77mm filter size
Approximately 61.8 degrees aOV on APS-C cameras, otherwise 84.1 degrees
MFD measures 9.8 inches, making it an excellent choice for short-distance shots
Unified gear positions, streamlining lens changing tasks
Outstanding sharpness and image quality
Specifically engineered to eliminate distortion, regardless of subject's distance
Circular aperture
Check Price on Amazon Directly Add to Cart on Amazon
---
Best Telephoto Lens for Shooting Video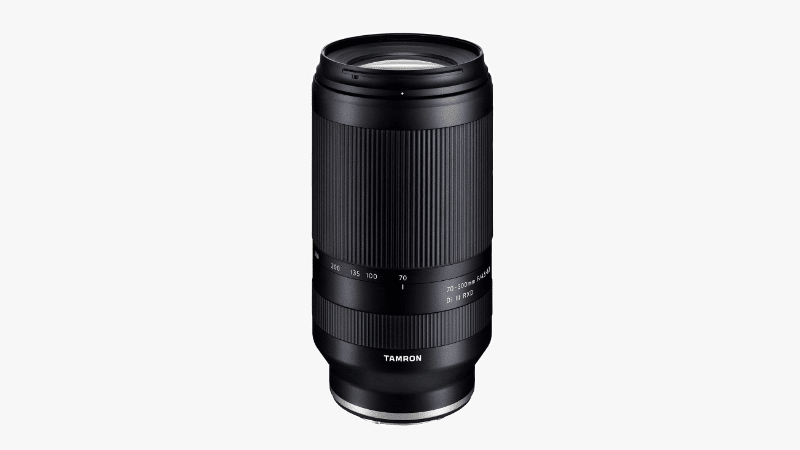 Rightfully dubbed one of the world's smallest and most compact telephoto lenses, Tamron's 70-300mm III RXD is one of my warmest recommendations for people looking for a quality lens.
Aside from being supremely portable and compact, it's also sturdy and perfect for outdoor use due to its weather-resistant construction. It packs 15 elements gathered in ten groups, which nearly completely nullify chromatic aberrations, artifacts, and image distortion.
Furthermore, it boasts exceptional close-range shooting capabilities and a strong internal focus capable of isolating subjects at fairly long ranges. One of the most notable features of this lens is the brilliantly engineered actuator, which allows you to accurately control the motor's rotational angle.
Additionally, its autofocus is nearly soundless and very intuitive to use. It's an excellent choice for beginners, but it can easily cater to the needs of experienced photographers and seasoned videographers.
Features:
70-300 mm Telephoto lens
Maximum diameter 77 mm
Weighs 19.2 ounces
Rapid Extra-silent motor
High-speed AF drive system
Highly resistant to moisture
Features 15 elements in 10 groups
Check Price on Amazon Directly Add to Cart on Amazon
---
Best Fish Eye Lens for Video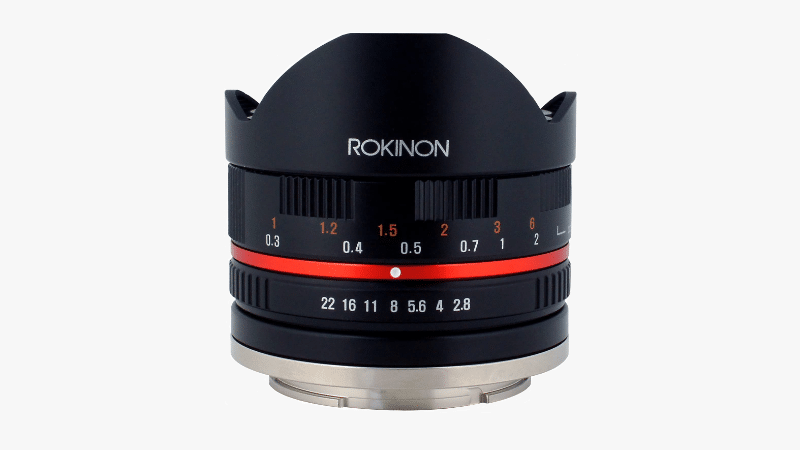 While using any fisheye lens, you'll need to stay on your toes and be very cognizant of your surroundings. I've tried dozens so far, and I can easily declare Rokinon's RK8BK28-E as one of the finest in my arsenal.
The main reason why I fully endorse this one is that it cuts the usual drawbacks of a standard fisheye lens down. It's not overly responsive and not as punishing to 'twitch' shooters – if you're shooting or filming in a fast-paced environment, you won't have to worry about blurry footage, as its internal focus is astoundingly good.
Furthermore, its elements are more than capable of combating pesky distortion and chromatic aberration. However, I wasn't too excited when I found it wasn't zoomable.
Its minimum focusing range is decent, although not exemplary. On the upside, its aperture range is exceptional, and with some practice, you'll be able to film or shoot medium-distance subjects with phenomenal clarity.
Features:
Fixed 8 mm focal length
Aperture range spanning across F2.8-22
Minimum focusing distance measures 12 inches
Features 11 elements spread in 8 groups
180-degree FOV
---
Conclusion
That's a wrap, guys!
We've included all the lenses you could possibly need in your photography journey, so pick them up and have fun.
If you have any other personal favorites, feel free to leave a comment below to share with others in the community.