While blogging and YouTube marketing are the future, a successful marketing campaign requires using video and audio mediums as effectively as possible. Your audience doesn't want to waste time on a smartphone video that clearly shows a low budget and a lack of professionalism.
As advanced as smartphones are becoming, they are still no replacement for a quality DSLR camera with the right lens. Updating to a mirrorless or DSLR camera allows you to swap out various lenses to fit specific needs.
Whether you're producing videos for fashion or tech channels, interviews, or even a documentary, the first step is choosing the right lens for your DSLR camera. The case can be made that lenses, and not the actual camera, accounts for most of what makes a video great as photography and videography are all about optics. The kit lens included with your DSLR is great for beginner photography, but it won't capture your story effectively for professional videos.
When choosing the right lenses for your project, there are two key attributes on which to focus: focal length and aperture. Most lens categories vary in focal length, or how close a subject appears in millimeters. The human eye is equivalent to 30mm to 50mm, whereas a telephoto lens — which brings far away objects up close — may be up to 500m whereas a wide angle lens can be around 10mm.
Sometimes what sets a type of lens apart is a large aperture, which is the hole that allows in light as measured by the f-stop. With a wider aperture, more light will come in for a better chance at getting great video indoors in dim lighting. The big trade-off with a wide aperture is you can't focus on as many objects at different distances because the lens has a shallow depth of field. This will keep your subject very clear but the background will become blurry.
Note: If you are in the market looking for a 4K camera that fits your budget, make sure to check out this review by our friends at MuchNeeded.
Depending on your videography needs, you may need one or more of the following camera lenses to get the right effect:
Prime lens: A prime lens is a camera lens with a fixed focal length, unlike a zoom lens. A zoom lens can be very convenient but there is a trade-off with a larger size and reduced performance. A prime lens offers superior optical performance with a larger aperture and a smaller size.
Wide angle lens: This type of lens is necessary to capture a large scene, a small scene in a limited space, or to give a sense of presence with a close-to-the-subject perspective.
Video interview lens: A good lens for video interviews has image stabilization and zoom capabilities.
Blurred background lens: Blurred background lenses are often used for Youtube tech videos as they offer excellent focus on a close subject with great focal range and low light performance.
Cine lens: This type of lens is designed specifically to meet the needs of cinema production, including excellent image quality, optical abilities, heavy construction, and the ability to record continuous motion.
Telephoto lens: A telephoto lens has a long focal length with a narrow field of view to produce a magnified image. This type of lens can be used to isolate your subject.
Fish eye lens: This type of camera lens is a wide angle lens with a field of vision covering up to 180 degrees with a scale that is reduced to warp the edges. A fish eye lens produces a visual distortion that creates a wide panoramic.
The Best Sony DSLR & Mirrorless Lenses for 2021
Best Prime Lens for Video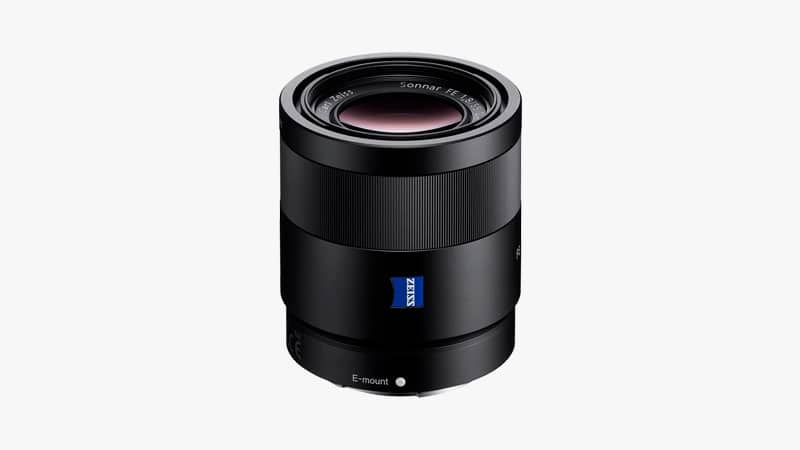 Features:
Fixed lens with E-mount full frame, not zoomable
Minimum focus distance of 19-11/16 inches
55mm focal length
49mm filter diameter
Aperture: 22/1.8
Smooth, quiet internal focusing
Dust and moisture-resistant design
Carl Zeiss T* coating reduces internal reflections for better contrast
Circular aperture for smooth, natural background bokeh effect
The Sony Sonnar T* FE 55mm from Carl Zeiss offers the best in resolution and contrast with a lens for a full-frame Sony E-mount body. This lens features T* coating for an improved optical design that suppresses internal lens reflections for greater contrast from highlights and deep blacks.
This Sony lens has a large F1.8 maximum aperture for perfect full-frame background fading with extended depth-of-field ability. This lens shoots equally well in bright indoor settings as well as low-light outdoor environments with internal focusing that is quiet and smooth.
---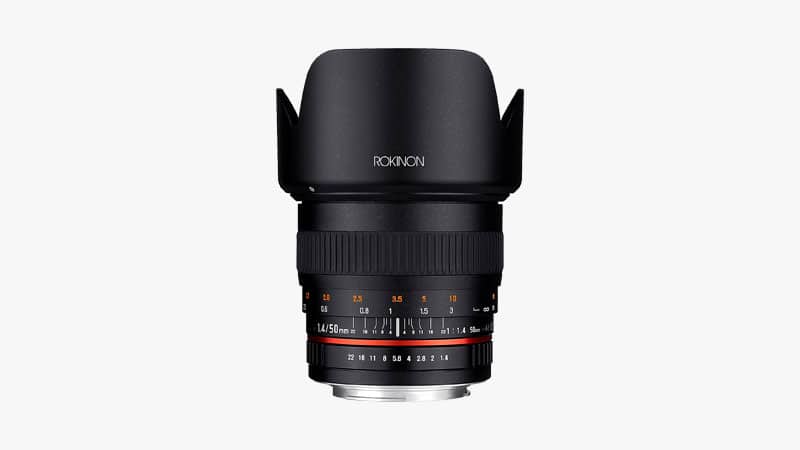 Features:
Fast, high performance F1.4 aperture
50mm prime lens with Full Frame Sensor coverage
Ultra Multi-Coating (UMC) for improved light transmission
Internal Focusing design for non-rotating 77mm filter threads
Hybrid aspherical and aspherical lens elements reduce color aberrations
Circular aperture for more natural "bokeh" effect
Rubberized focusing ring for quiet focus control
The Rokinson 50mm lens offers a high performance prime 50mm lens, which is considered the standard focal length for Full Frame Format to fill the gap between the 35mm and 85mm lenses. This lens distinguishes itself with an extremely fast f/1.4 maximum aperture for lightning fast shutter speeds, superior low-light shooting, and shallow depth of field control.
This lens is made form APS-C sensors so you will not have cropping of you original frame. You'll notice very easy manual focusing, although auto focusing is convenient in some shooting situations.
While this lens isn't lightweight, it offers a clarity and sharpness that's hard to find at this price.
Here is a video filmed with the Rokinon/Sigma 50mm F1.4 Lens:
Check Price on Amazon Directly Add to Cart on Amazon
---
Best Wide Angle Lens for Video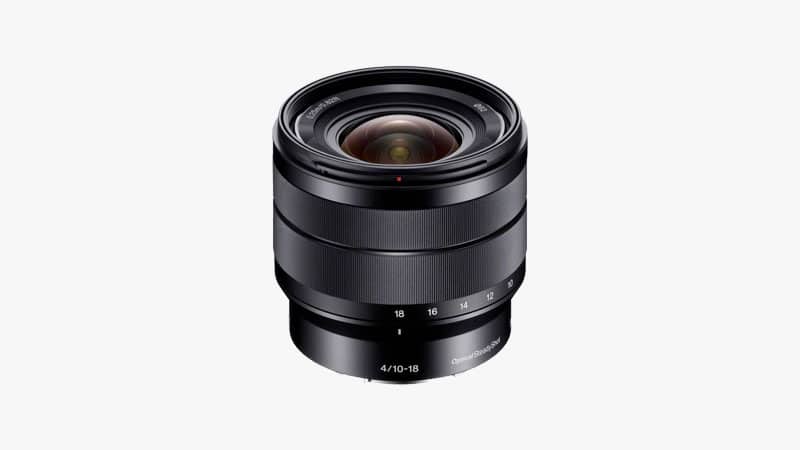 Features:
Super wide angle zoom lens with 10-18mm focal length
Focal length equivalent to 15mm in 35mm cameras
Minimum focus distance of 0.25 meters
Built-in Optical SteadyShot image stabilization
Distance encoder
Extra-low dispersion glass
Circular aperture for smooth, natural defocusing
Aspherical lens elements to reduce aberrations
The Sony SEL1018 offers stunning images that emphasize perspective or the ability to film sweeping landscapes with a wider minimum focal length than most wide angle zoom lenses. This lens features Optical SteadyShot image stabilization technology for crisp images, even at maximum zoom.
The lens-based optical image zoom uses built-in gyro sensors to detect even slight movement with quiet and effective stabilization for high-quality videos. It also boasts aspherical lens elements, ED glass, and a circular aperture to reduce all types of aberrations, ghosting, and flares with a distance encoder to deliver precise flash metering.
Here is a video filmed with the Sony 10-18mm Lens:
Check Price on Amazon Directly Add to Cart on Amazon
---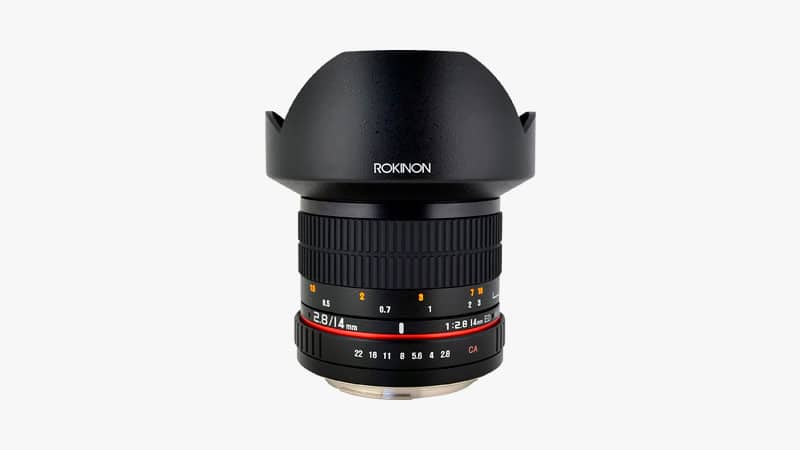 Features:
Ultra wide angle lens
Minimum focusing distance of 10.8 inches
16 elements in 12 groups
Aperture range: F/2.8 to F/24
8 diaphragm blades
Reduces distortions, color aberrations, ghosting, and flares
The Rokinon FE14M-S 14mm F2.8 lens is an aspherical wide angle lens designed for full frame cameras, although it also works on APS-C sensors. This lens has two ED lens, one glass aspherical lens, and one hybrid aspherical element to dramatically reduce aberrations and distortions at any focal length.
The Super Multi-Layer coating reduces ghosting and flares in images. This Rokinson lens boosts an impressive 114-degree field of view on full-frame cameras. Rokinson has earned a reputation for excellent quality and construction at a fraction of the price of other lenses, and this is the best quality affordably priced 14mm lens available.
Here is a video filmed with the Rokinon 14mm F2.8 Lens:
Check Price on Amazon Directly Add to Cart on Amazon
---
Best Video Interviews Lens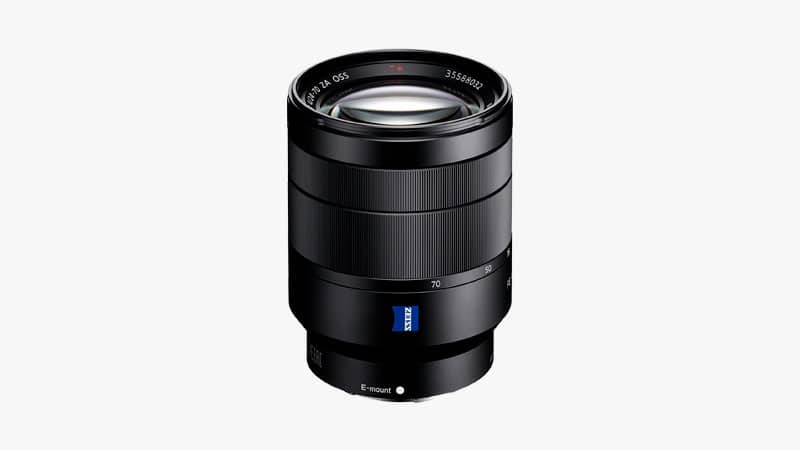 Features:
Angle of view of 84 degrees to 34 degrees
Minimum aperture: F22; Maximum aperture: f/4
Focal length of 24mm to 70mm
Circular aperture for more natural defocusing
ED glass improves color quality and reduces chromatic aberrations
Aspherical lens design reduces aberrations and reduces lens weight and size
Lens-based optical image stabilization
Internal focusing
The Vario-Tessar T* FE 24-70mm F4 ZA OSS is a compact and full-frame Carl Zeiss mid-range zoom lens with a focal range of 24mm to 70mm and a constant maximum aperture of F4 for consistent exposures at any focal length. Zeiss lenses have a reputation for quality and reliability and this lens is no exception.
This lens has a unique circular aperture for a "bokeh" blurred background effect without polygonal-shaped defocused points of light and ED glass to reduce chromatic aberrations and poor color quality at longer focal lengths. Despite its advanced technology, this lens is still lightweight and compact for crisp images at any focal length.
Here is a video filmed with the Sony 24-70mm f/4 Lens:
Check Price on Amazon Directly Add to Cart on Amazon
---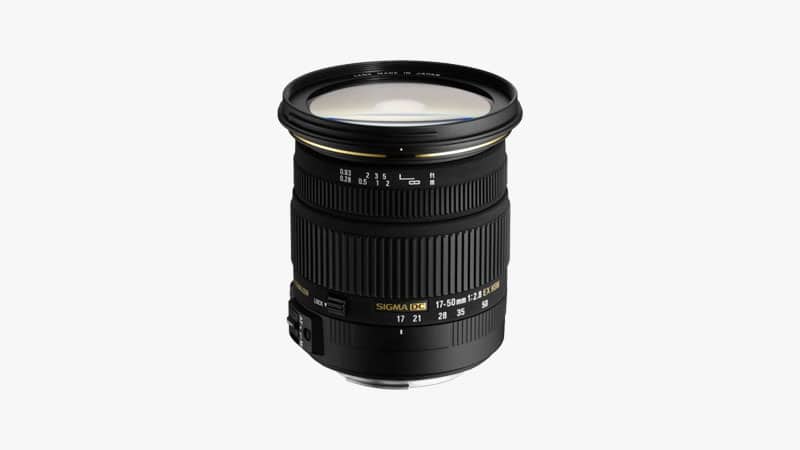 Features:
Large aperture zoom lens optimized for Sony A-mount cameras
Hyper-Sonic Motor (HSM) for quiet high-speed auto focus
OP anti-shake feature for much slower shutter speeds
Sigma FLD glass elements to correct all types of aberrations
Super Multi-Layer coating reduces flare and ghosting
Sigma's popular 17-50mm F2.8 EX DC OS HSM large-aperture standard zoom lens offers a focal length from 17mm wide angle to a large aperture of F2.8 for a full zoom range for many types of filming. This lens features Sigma's revolutionary anti-shake feature for shutter speeds about 4 stops slower than normally possible while the HSM offers fast, quiet auto focusing.
The FLD glass elements in the lens along with two glass mold and one hybrid aspheric lens offers superior correction of many types of aberrations. Sigma also uses a Super Multi-Layer coating to cut back on ghosting and flare in videos.
Sigma's large-aperture standard zoom lens offers excellent performance, even in low light conditions, with a compact and lightweight design.
Here is a video filmed with the Sigma 17-50mm f/2.8 Lens:
Check Price on Amazon Directly Add to Cart on Amazon
---
Best Video Lens for Blurred Background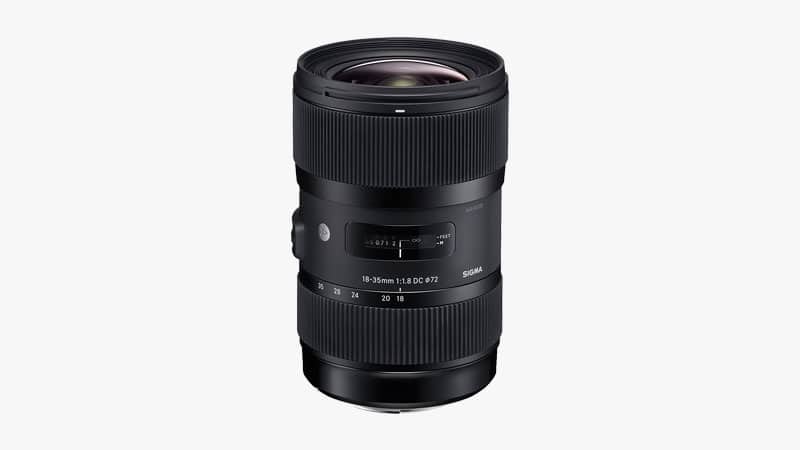 Features:
18-35mm focal length,, or 27-52.5mm equivalent on APS-C cameras
F/1.8 maximum aperture; F16 minimum aperture
Ring-type ultrasonic AF motor with full-time manual focusing
72mm filter
Wide glass molded aspherical lens with SLD glass to reduce aberrations and curvature
The Sigma 18-35mm is noted for its fast zoom, excellent image quality, and prime-level quality in the fastest zoom available for SLRs. While it has a 28-50mm equivalent range that can limit its performance, the lens has a solid build that isn't too heavy with silent and fast auto focus.
If you want a wide-ranging zoom, this isn't the lens you need, but it does offer the best image quality you can find with a normal zoom. It was also the first wide-angle to standard zoom lens to achieve a large 1.8 aperture.
The 18-35mm 1.8 DC HSM has a wide glass molded aspherical lens with Special Low Dispersion glass to reduce curvature and aberrations, even at the widest angle. The internal and auto zoom and focus improve functionality.
Here is a video filmed with the Sigma 18-35mm F/1.8 Lens:
Check Price on Amazon Directly Add to Cart on Amazon
---
Best Cine Lens for Video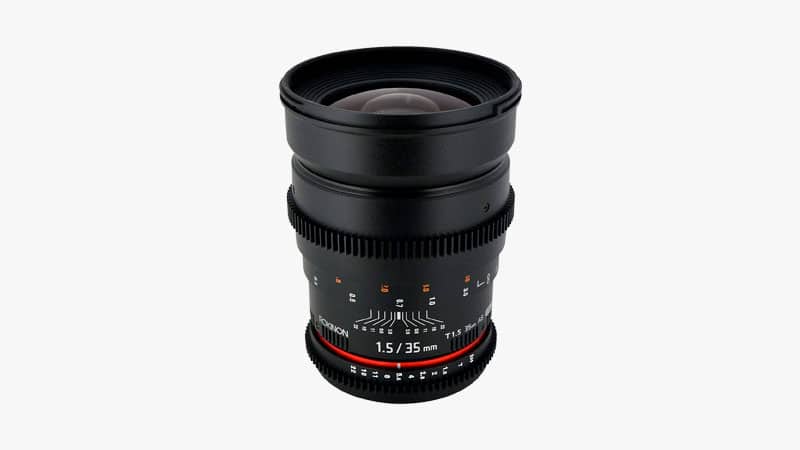 Features:
35mm fixed focal length
t/1.5-22 aperture range
De-clicked aperture to reduce noise for more specific manual settings
Follow focus compatible to focus and use aperture ring without interrupting video shoot
Front and rear lens
Not zoomable
The Rokinon Cine CV35-S 35mm Cine Lens is designed for DSLR videographers and cinematographers with the features that matter in videography. This lens has a de-clicked aperture so you will not have hard clicks when you change apertures. The aperture can be manually set to a specific setting like f/2.8 with follow focus compatibility to focus and use the aperture without interrupting shooting.
The Rokinson Cine lens is one of the most affordable professional cinematography lenses available at under $500 with reviews that favorably compare it to more expenses Zeiss lenses. The lens has absolutely no lens noise and offers excellent footage results in low light settings with no video artifacting. This 35mm lens allows normal distance shooting as well as close-ups with background blur in both modes.
Here is a video filmed with the Rokinon 35mm T1.5 Lens:
Check Price on Amazon Directly Add to Cart on Amazon
---
Best Telephoto Lens for Shooting Video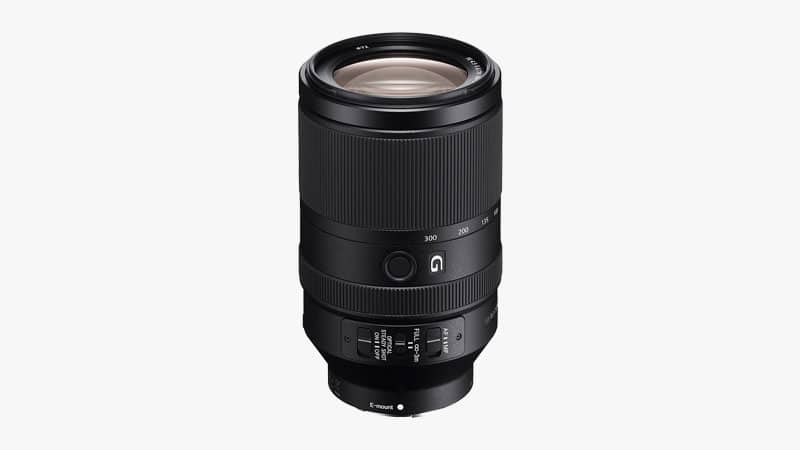 Features:
Full-frame 70-300mm G Series telephoto lens
F4.5-5.6 G telephoto zoom
9-blade circular aperture for smooth background bokeh effect
2x Extra-low Dispersion glass dramatically reduces aberration
Aspherical elements reduce spherical aberration
Nano AR coating
Optical SteadyShot for sharper images even at full telephoto zoom
Close-up focusing less than three feet
Direct control buttons and switches on lens
The Sony FE G Series Telephoto Lens is designed to offer superior telephoto zooming without sacrificing image quality. This lens has state-of-the-art optical design that includes 4 aspherical glass elements to cut back spherical aberration, two ED glass elements and Nano AR coating to suppress distortion and chromatic aberration, and Optical SteadyShot image stabilization for excellent high-resolution videos and stills, even at full telephoto zoom.
Built-in Optical SteadyShot reduces camera shake, especially in low-light, close-up, and telephoto where camera shake can easily reduce image quality. There is an easy on/off switch on the lens itself to control the SteadyShot image stabilization for faster operation.
The exterior of the lens is constructed from a metal barrel with sealed rings and buttons to resist moisture and dust intrusion for the best possible performance even in outdoor conditions. Control features of the lens directly with buttons and switches, including a focus hold button, focus mode switch, Optical SteadyShot switch, zoom lock switch, and focus range limiter.
Here is a video filmed with the Sony FE 70-300mm F4.5-5.6 Lens:
Check Price on Amazon Directly Add to Cart on Amazon
---
Best Fish Eye Lens for Video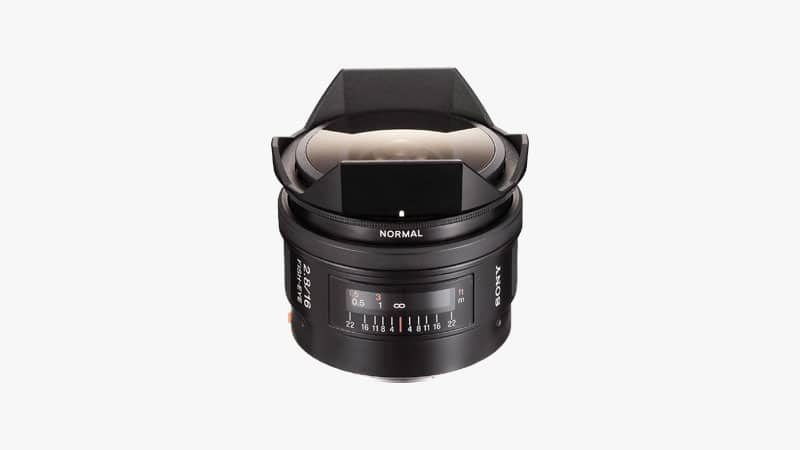 Features:
16mm (35mm equivalent) f2.8 Fisheye Lens
Wide-angle prime lens
Corner-to-corner sharpness
Sharp focus from around 8″ to infinity
Includes 4 built-in filters: A12, B12, 056, and Normal
Quickly rotate dial to select filter
Compatible mountings: Sony/Minolta Alpha
180 degree real angle of view
Aperture: 22/2.8
0.88 pounds
The Sony SAL-16F28 16mm Fisheye Lens offers superior clarity with a unique perspective on events, crowds, and landscapes. This lens has a 180-degree angle of view with extreme corner-to-corner sharpness for very crisp details from just eight inches away. When mounted on a Sony alpha DSLR camera, this lens offers a 110-degree angle of view and 24mm focal length.
As with any fisheye lens, it offers an exaggerated perspective with an interesting visual distortion to bring objects closer to the focal plane. You can easily select one of four built-in filters by rotating the lens dial to choose Normal, 056 to accent Contrast in black-and-white videography, B12 to correct color and eliminate red tones, or A12 to eliminate blue tones.
The Sony SAL-16F28 Fisheye lens features circular aperture to defocus the background for a blurred "bokeh" effect. Unlike standard aperture blades with flat sides that cause polygonal-shaped defocussed light points, this lens has a unique design to keep the aperture circular. It also has Extra-low Dispersion glass to avoid chromic aberration, or low color quality and clarity. The aspherical lens design reduces spherical aberrations while lowering the lens weight and size.
Here is a video filmed with the Sony 16mm f/2.8 Lens:
---
That's a wrap guys! We've included all the lenses you will possibly need so pick them up and have fun. If you have any other personal favorites, do leave the comment below to share with others in the community :)