Back in the day, there was always a pit in your stomach as you returned home from a vacation or a business trip.
Driving those last few miles leading up to your house, you might have been thinking:
"Did I leave the lights on?" "Did anyone break in?" "I hope the garage door wasn't left open this whole time."
That was because back then your choices were either to invest in an expensive home security system (that included a pricey monthly fee) or roll the dice and hope for the best.
Nowadays, thanks to the internet and smartphone technology, we have the ability to achieve some peace of mind through the installation of strategically placed DIY security cameras.
These devices let you check in on your prized possessions using your phone, tablet, or web browser from anywhere.
This way, if anything is amiss, you have the ability to alert a neighbor or the authorities.
Better yet, the newest crop of cameras are wireless, so you don't have to worry about running wires through your walls. Just mount them and point them at what you want to keep tabs on.
This guide will cover 11 of the best wireless indoor home security cameras, ranging from value-priced models to the highest quality and most full-featured.
1. Picture Quality
A primary consideration when purchasing a security camera is picture quality. One user might want to see stunning detail while and low distortion while another may prefer an extremely wide angle and just need high enough quality to identify an intruder. Keep in mind that two cameras with 1080p resolution can offer drastically different picture quality.
2. Data Storage
Some cameras will offer the ability to store your footage in the cloud. This is more convenient, makes data loss less likely, but will often come with a monthly service charge. Other models will offer the ability to store on a local drive such as a USB thumb drive or microSD card. This will likely be the cheaper option, but if the data storage unit is damaged, stolen or lost, your data will be lost too.
3. Access
Depending on your needs, you may prefer to see your video footage on your mobile device, on a web browser, or perhaps both. When making a camera purchase, make sure to see how your footage can be accessed.
4. Compatibility
Some security camera models will integrate with smart home technologies, such as IFTTT, Apple HomeKit, Samsung SmartThings, and Amazon Alexa. Others will function strictly as a stand-alone system.
5. Installation
Most of today's cameras will come with a stand that lets you place it on a shelf or other flat surface. Ideally, the stand will offer the ability to pivot the camera to fine tune the viewing angle. Some models will also offer wall and ceiling mounts. Others will take the form of, for example, a cylinder. These will often look nicer but may limit the directions with which you can point the camera. On the other end of the scale, some cameras can automatically pivot up and down, and side to side, so you can remotely scan an entire room from your phone.
6. Power Source
With regards to power, batteries enable the camera to offer a cleaner look and to be placed practically anywhere in the home. A traditional power cord, on the other hand, will enable you to continuously power the unit without needing to periodically spend money on replacement batteries. The downside will be potentially unsightly wires and the need to place the camera within reach of an outlet.
7. Connectivity
For the most part, a connection through your home WiFi (and sometimes Bluetooth) is standard. However, you may want to maintain the signal in the event a storm strikes and the power goes out while you are away. In these instances, you may opt for a camera that can connect through a cellular network. These, however, tend to be rare in the home category, as none on the following list offer this feature.
8. Night Vision
This will likely be standard on practically any quality home security camera. But definitely, check to make sure it is a capability prior to purchasing. If a camera lacks this feature, chances are it's not actually designed to be used for the purpose of security.
9. Alerts
It's not a security camera if it doesn't let you know when a potential intruder is present. To accomplish this, the camera will require some sort of motion detection (some even offer sound detection as well) and then the ability to send you a message that you may need to take action. This is important to know because if you purchase a wireless home camera that's primarily designed for keeping an eye on your frisky dog when you're not home, you likely won't get the level of security-specific function you need.
10. Additional Considerations
As technology progresses, advanced features such as facial recognition are coming available. Other models, meanwhile, can sound a siren, and perform other functions like measuring temperature, humidity, and air quality. Most security cameras also offer two-way audio, giving you the ability to hear what's going on around the camera, remind your dog to stay off the couch, and tell an intruder to "get out of my house!"
The Best Wireless Indoor Security Cameras for 2023
| Product | Model | Video Resolution | Field of View | Price |
| --- | --- | --- | --- | --- |
| | Canary Pro | 1080 Full HD | 147° | |
| | Amcrest ProHD | 1080 Full HD | 90° | |
| | Lighthouse AI | 1080 Full HD | 112° | |
| | YI 1080P | 1080 Full HD | 112° | |
| | Blink Indoor 1 | 720p HD | 110° | |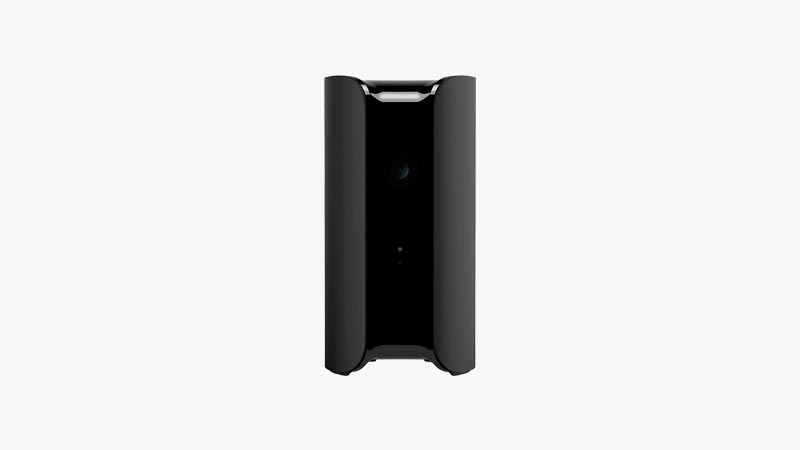 When it comes down to it, peace of mind can often mean more than knowing when someone is stealing your belongings. For example, an air conditioner that stops working when you're out of town can lead to costly mold.
Poor indoor air quality, meanwhile, can lead to illness. And if someone does break in, sounding a 90+ dB siren and automatically alerting the police can help minimize your losses or danger to you and your family.
The Canary does all the things a security camera is supposed to do, plus a whole lot more. For example, its temperature and humidity monitoring can let you know if your HVAC system is operating correctly.
It lets you know if there are high levels of contaminants in the air. It can sound an alarm and call the police in the event of a break in, lets you talk to your dog, and the unit still comes in the middle price range of this list.
Granted, it's not completely perfect. For example, it doesn't score as high on Amazon customer reviews as other models in this list, so definitely read up on potential downsides before making a purchase decision. There is no ability to connect to a phone network perchance your power goes out or your Internet connection is lost.
It's also limited in its mounting options. But it does offer a wide angle lens to capture a full view of your home, two-way talking, encrypted cloud storage and many other features that go well beyond that of a standard home security camera.
Features an HD Camera with 1080p image sensor and motion detection
The 147° wide-angle lens helps capture more of the room
Automatic night vision is standard
Measures temperature and humidity
90+ dB siren to ward off intruders
Air quality measurement lets you know if pollutants including Iso-butane, carbon monoxide, hydrogen, ethanol, and more are out of range
Includes a 100-240v power supply
Connects via 2.4GHz WiFi, wired Ethernet, and Bluetooth Low Energy
Amazon Alexa and Google Assistant compatible for voice control
Best Wireless Indoor Home Security Camera Under $50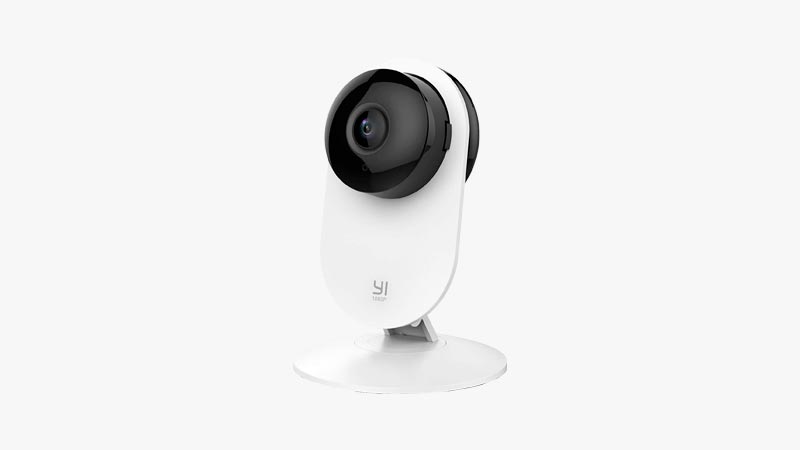 The YI packs a lot of features into its tiny price tag. Highlights include full 1080p resolution at 15 frames per second, motion detection, automatic night vision, and a multifunctional stand.
A big selling point of this product over competing models is that the app supports up to five devices and one week of unlimited cloud storage is free (up to 30 days with paid plans).
The activity alerts include motion detection, plus a unique baby crying feature that allows you to keep tabs on an infant. A lens distortion correction feature helps deliver a more natural looking video.
The app works on both mobiles phones and PCs, plus there is two-way audio allowing you to remotely communicate with people and pets who are near the camera.
Also worth considering is that the YI has thousands of positive customer reviews, with more than 60% of them in the 5-star range.
While there are more sophisticated options on this list, the YI makes a strong case as a value leader. Following is a list of highlights:
1080p Full HD
Night Vision
Motion Detection
Baby Crying Detection
Two-Way Audio
Mobile and PC App
One Week of Free Cloud Storage
MicroSD Card Storage
Lens Distortion Correction
WiFi Connected
Pros
Amazingly feature packed for the price
Cons
The Momentum HD Wireless may be an even better deal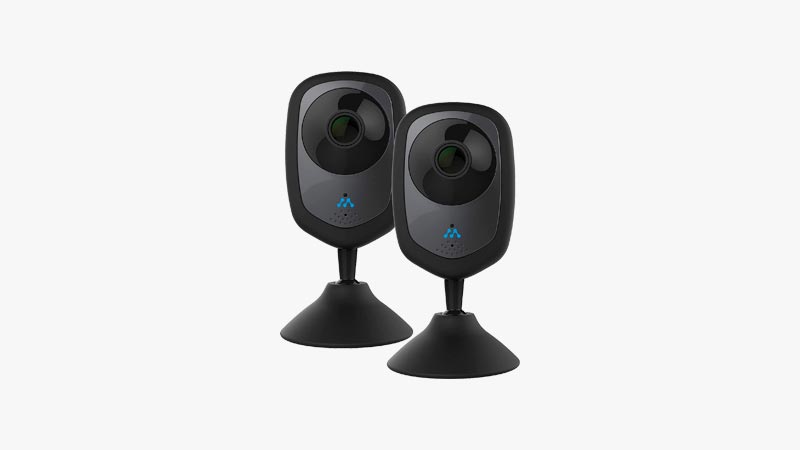 Coming in at $10 less than the YI is the Momentum HD. While the savings comes at the sacrifice of lower resolution (720p vs 1080p), you still get seven days of free storage, the option of storing to up to a 128GB SD card, plus two-way audio, plus compatibility with the NEST system.
The Momentum app supports both iOS and Android platforms and offers a multifunctional stand that will set on a flat surface or mount to a wall. Included power adapter and cable.
Considering the Nest compatibility, the option to store to an SD card, plus a generous cloud storage plans, if you can live with the lower resolution, the Momentum is arguably the better deal. Here are the highlights:
720p Resolution
One Week of Free Cloud Storage
Micro SD Card Storage
Two-Way Audio
Night Vision
Motion and Sound Detection
Live Stream
NEST Compatibility
Notification Alerts
WiFi Connected
Pros
Possibly the best value on this list
Cons
Lower resolution quality than the YI
Best Wireless Indoor Home Security Camera Under $100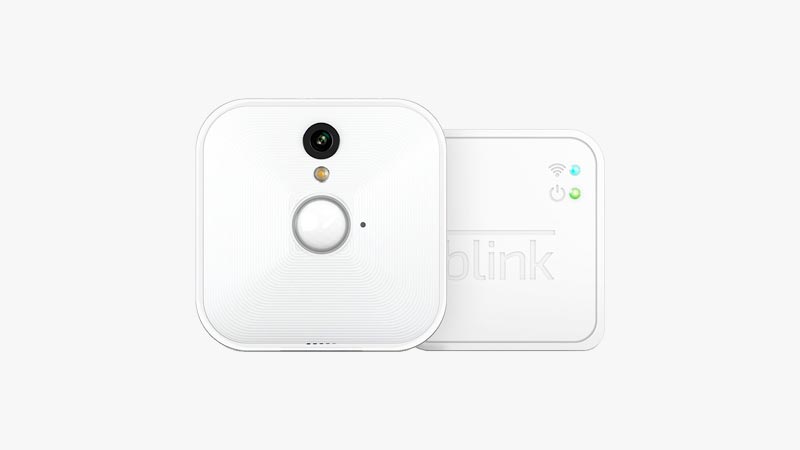 The Blink is designed to shun features in favor of simplicity, value, and convenience. In other words, if you want a camera that's easy to use, doesn't come with an expensive monthly account, has an attractive and minimalist form factor, and doesn't overwhelm you with stuff you don't need, the Blink should probably be on your list.
Probably the Blink's biggest selling point is that there's no monthly subscription fee. As compared to competing products which cost less on the front end but will be more expensive over time, with the Blink, you pay the slightly higher $99 price tag and then you're done.
Another main selling feature is that two AA batteries can power each unit for up to two years and will free you from unsightly cable clutter. Blink also promises a super simple setup (you point your phone at the camera and the app does the rest).
With regard to integration, the Blink is IFTTT and Amazon Echo Alexa smart home compatible, too. Finally, the compact and modern looking form factor will blend in nicely on a shelf, or tuck away in a corner using the included mounting hardware. There is also a weatherproof "XT" model for outdoor use as well.
System highlights are as follows:
720p Resolution
Two-Year Battery Life
Motion Detection
Instant Alerts
Live Streaming
Instant On Feature (when an alert is triggered)
Temperature Sensor
One-Way Audio (built-in microphone)
IFTTT and Amazon Echo Alexa Compatible
Low Light Illumination (for enhanced night vision)
WiFi Connected
Pros
Free cloud storage, smart home compatible
Cons
More expensive on the front end, and fewer features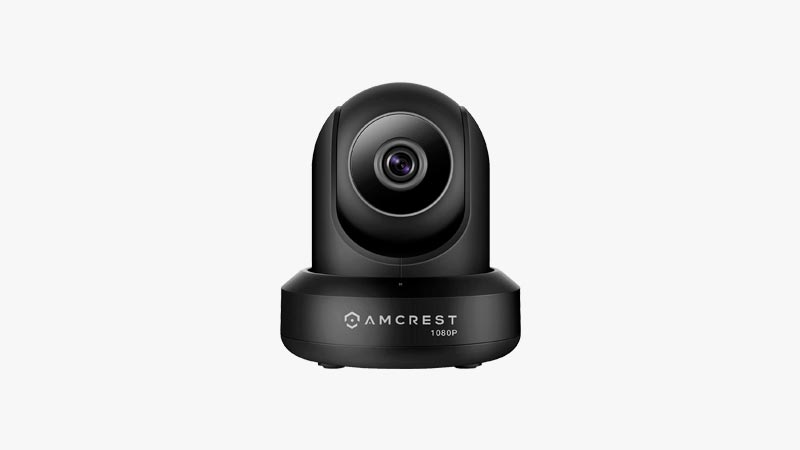 For certain situations, a fixed camera with a wide angle lens may not be enough. You might need the ability to remotely pan, tilt, and zoom the camera to view a wider area or get a good look at something specific.
For these situations, the Amcrest ProHD is the only viable choice on this list.
Feature-wise, the Amcrest is on par with other models in this category, connects to the network via WiFi, and comes with a power adaptor so you don't have to worry about batteries.
The free cloud storage is somewhat lacking in comparison to other competitors, with a maximum of four hours of recorded storage. Live streaming over the cloud is free, and you can choose to store to a MicroSD card instead.
Other highlights include both smartphone and PC compatibility, plus a choice of three colors (black, white, and silver) to complement a variety of decors.
Highlights of the Amcrest are:
1080p Resolution
WiFi Connected
Remote Pan, Tilt, and Zoom
Night Vision
Two-Way Audio
MicroSD Storage
Record and Playback Footage Option
Free Live Streaming
Motion Alerts
Pros
The only camera on this list with pan and tilt
Cons
Not a lot of free cloud storage
Best Wireless Indoor Home Security Camera Under $150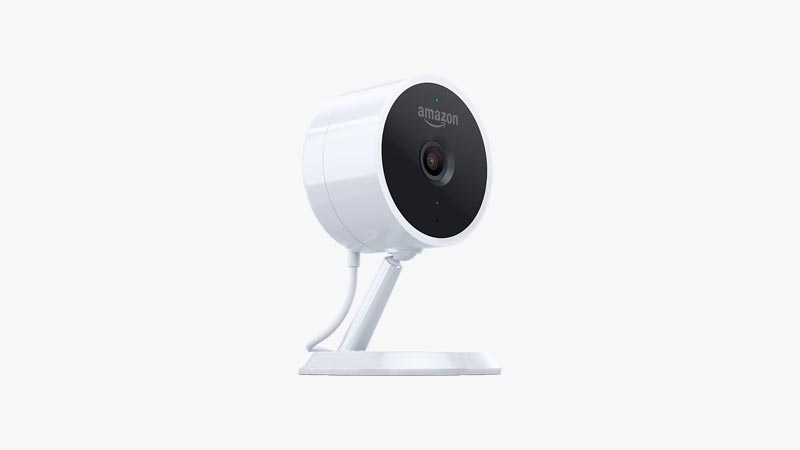 The Cloud Cam looks to be Amazon's answer to the Nest Security Camera, which revolutionized this segment.
What you get over the Nest (in addition to a lower price) is the horsepower behind Amazon's vast technological resources. Specifically, you get Amazon Alexa compatibility. You also enjoy the benefit that (as Amazon puts it) "Cloud Cam is always getting smarter with more advanced alerts, detection, and features." So in other words, with other models in this category, what you buy may be what you get. With the Cloud Cam, there is a chance its feature set will expand over time.
The potential downside of the Cloud Cam is that Amazon seems geared toward making money on their paid subscription. For example, to archive more than one day of data, and get the advanced features like person detection and the ability to link up more than three cameras, you need to purchase a plan that will range from $6.99 to $19.99 per month.
Highlights include:
1080p Resolution
App and Browser Access
Intelligent Alerts
Two-Way Audio
Amazon Echo Alexa Compatibility
One Day of Free Cloud Storage
Optional Person Detection (with paid monthly plan)
Live Streaming
WiFi Connected
Pros
The power of Amazon, a similar capability to the Nest for a lower price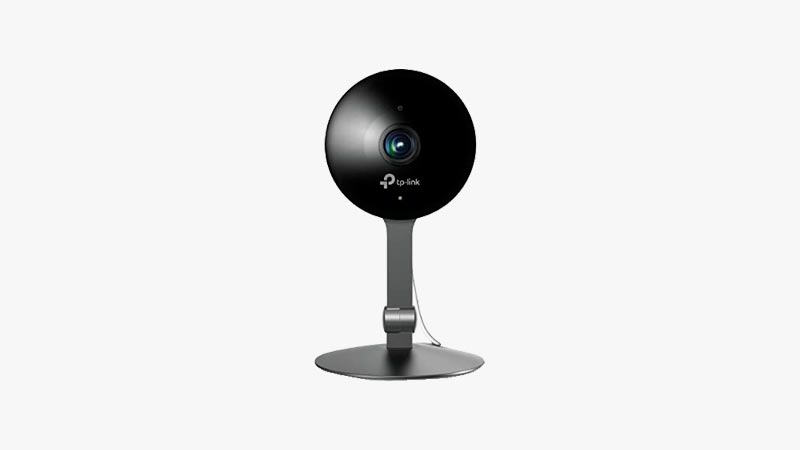 This camera bundle is ideal for those who are also interested in giving would-be burglars the appearance you're still home.
Specifically, the Kasa can be purchased on Amazon bundled with their Smart Plug, which gives you the ability to remotely turn devices on and off using your smartphone or tablet. Or you can use the Smart Plug's "away mode," which can turn lights on and off at pre-programmed intervals.
The camera, meanwhile, is also aimed squarely at competing with the Nest Security Camera, offering a similar form factor and features, but bundling in the smart plug and still saving you almost $30.
Feature highlights include Amazon Alexa and Google Assistant compatibility, plus the ability to stream your video on Echo Show and Fire TV. Highlights are as follows:
1080p Resolution
Motion Detection and Audio Detection
Two-Way Audio
Software Can Manage Up To 36 Cameras
Custom Activity Zones
Two Days of Free Cloud Storage
WiFi Connected
Works with Echo Show and Wire TV
Bundle Includes Smart Plug
Pros
For less than a Nest Cam, you get a smart plug
Cons
Unproven product, based on the comparatively low number of Amazon reviews (but the few reviews it gets are positive)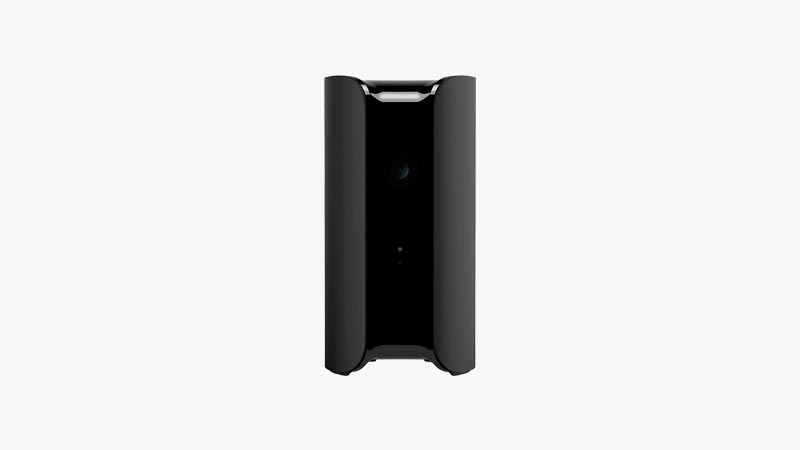 As mentioned earlier in the article, the Canary is our top pick of this bunch.
While still saving $27 over the Nest, you get the ability to also monitor indoor temperature and humidity. In addition, you can see if your air quality is poor by measuring for things like iso-butane, carbon monoxide, hydrogen, ethanol, cigarette smoke, cooking orders, and dust.
As expected, the Canary offers the normal selection of security camera functions, plus a 90+ dB alarm, as well as the widest angle lens among its competitors. Upping the ante, its "person detection" feature comes with their standard free subscription (a feature requiring a paid subscription on the Nest or Amazon Cloud Cam).
The only caveat is that most products on this list average four-star reviews on Amazon. About 50% of the Canary's customer reviews are five-star, but almost 30% are one-star. The primary reason for the angry customers seems to be that some features that were previously free are now part of the paid package. Bear in mind, however, that Canary's current free package is still as good or better than most of the competitions.
Highlights are as follows:
1080p Resolution
One Day of Free Cloud Storage
Person Detection
147° Wide-Angle Lens
90+ dB Siren
Two-Way Audio
Automatic Night Vision
Temperature and Humidity Sensors
Air Quality Sensor
Included Power Supply
WiFi, Wired Ethernet, and Bluetooth Low Energy Connected
Amazon Alexa and Google Assistant Compatible
Pros
Most feature-packed camera on this list
Cons
Unusually high number of negative reviews on Amazon
Best Wireless Indoor Home Security Camera Under $200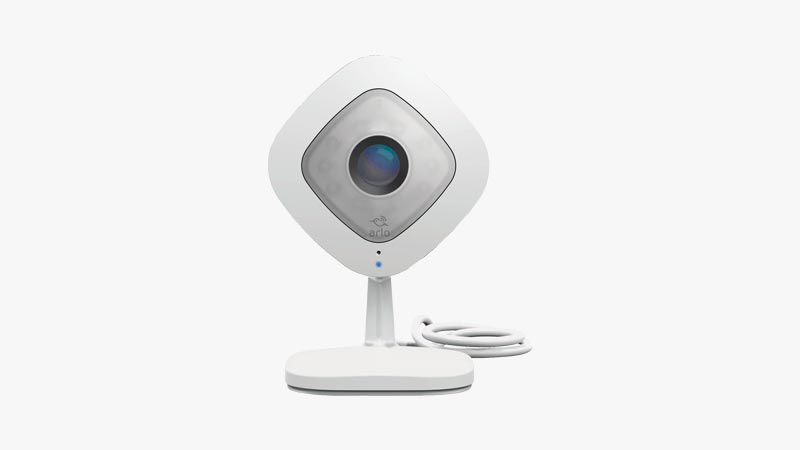 At first glance, the Arlo Q doesn't look to hold any advantages over the Nest, aside from a $10 lower price. And when compared to the Kasa Cam and the Canary, which offer a host of add-on features, it would be easy to pass over.
However, the Arlo Q is your go-to if you're looking integrate with a specific smart home system. Like others on this list, it works with Amazon Alexa, Echo Show, Fire TV, and Google Assistant, but also is compatible with IFTTT, Stringify, and Samsung SmartThings.
Tech bloggers routinely give the Arlo Q high marks over competitors for a segment topping video quality, and also for offering among the most generous free cloud plans, easy setup, and a lot of control over settings such as scheduling and motion detection.
So, while other cameras on this list may deliver more features, the Arlo Q may be the best choice for the core function of performing as a security camera, which arguably is more important.
Here are the highlights:
1080p Resolution
Night Vision
Smart Alerts
Amazon Alexa, Google Assistant, IFTTT, Stringify, and Samsun Smart Things Compatible
Two-Way Audio
One Week of Free Cloud Storage
WiFi Connected
Pros
Well regarded for picture quality, plus offers a generous free cloud package
Cons
Not as feature packed as others in this price range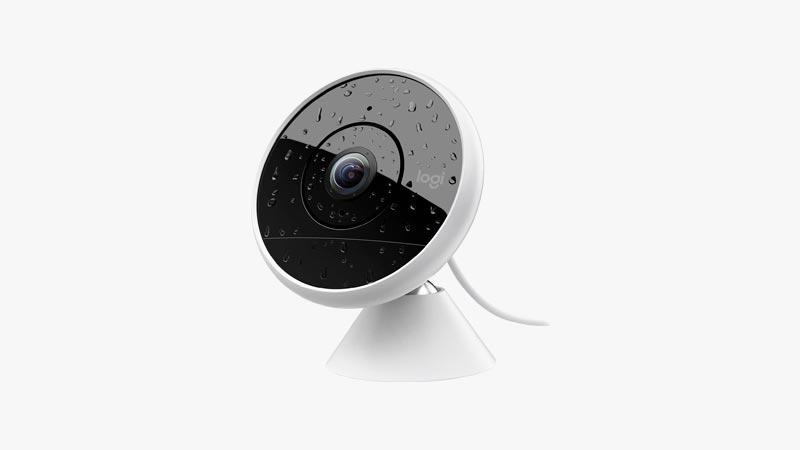 Also offering similar features, form factor, and specs as offerings from Netgear, Nest, TP-Link, and Amazon, Logitech ups the ante by offering a weatherproof housing, plus the extremely wide viewing angle of 180 degrees.
What this means is that you can, in addition to monitoring the interior of your home, keep tabs on your yard, garage, storage shed, and more. In fact, the system allows you to connect an unlimited number of cameras, making the Circle 2 perhaps the best choice for a large property.
Another nifty feature is a variety of mounts, one which can plug directly into an outlet, one that doubles as a rechargeable battery, and another one which creates a wired connection to an outlet. There's also a weatherproof extension cable. In other words, the camera comes as a capsule that you can plug into a variety of backs to perfectly suit your purpose.
If you use Apple's HomeKit, that will also make the Circle 2 worth a look, as will the "advanced motion filtering" which saves you from sifting through hours of footage.
Highlights include:
1080p Resolution
Smart Alerts
Smart Time-Lapse Day Brief
WiFi Connected
180° Lens
One Day of Free Cloud Storage
Two-Way Audio
Weatherproof Housing
Logitech POP, Amazon Alexa, Google Assistant, Apple HomeKit Compatible
Pros
Weatherproof housing, lots of smart home capability, innovative mounting solutions
Cons
A bit pricey compared to competing models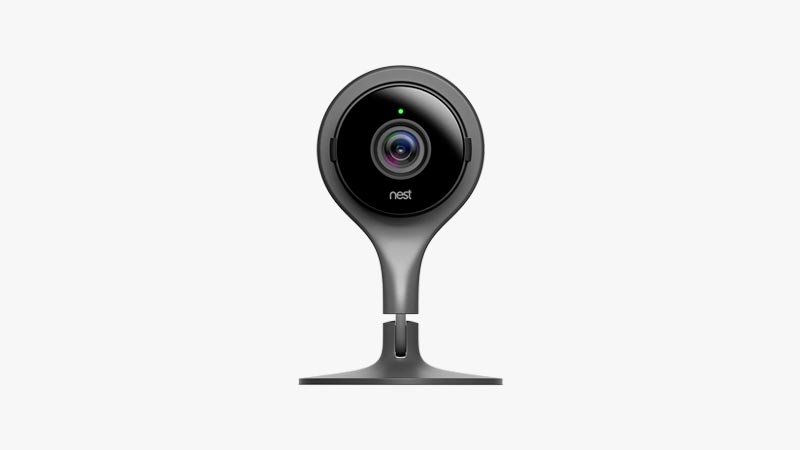 While there are many players in the DIY security camera segment, Nest deserves some credit for largely defining the category.
It's also, naturally, the go-to if you're already using other products on their proprietary smart home platform.
The potential downside is that Nest is interested in you using their platform, not playing nice with other systems you might already be using.
But the upside is that on Amazon, the Nest Cam boasts thousands more customer reviews than anything else on this list. So while you can spend less money, or obtain more features, the Nest Security Camera may be the most proven choice.
Nest features are as follows:
1080p Resolution
130° Lens
Night Vision
Two-Way Audio
Zoom and Enhance Feature
Share Live Video
Home Away/Assist
Nest Aware (to more quickly find events without scrolling)
Nest Compatibility
WiFi Connected
Pros
The industry standard, tons of positive customer reviews
Cons
A bit pricey, not compatible with other platforms
Best Wireless Indoor Home Security Camera Under $300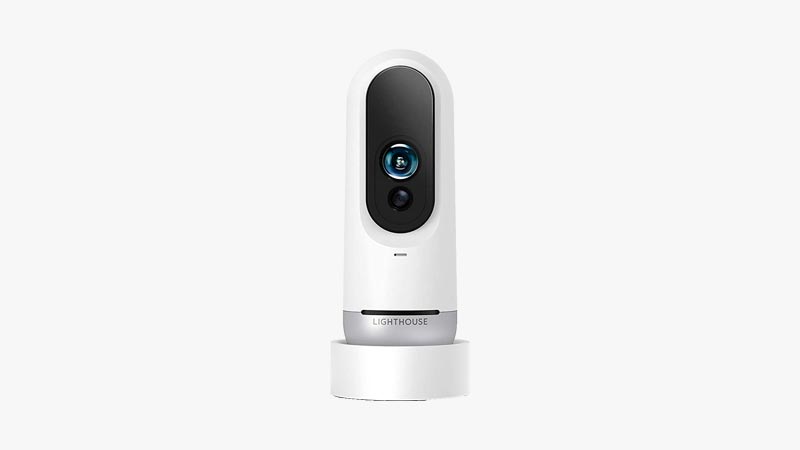 So what does $300 give you that a $150 camera won't? Artificial intelligence.
Having just hit the market, the Lighthouse is somewhat unproven (only 9 Amazon customer reviews at the time this article was written). But if it lives up to its promises (other AI products have seen limited success), it has the potential to revolutionize the category and set the bar as to what a security camera is supposed to do.
In a nutshell, the Lighthouse is designed to recognize faces, people, and pets, and also learn the routines of a normal day. That way, you're not getting false alerts. But then when someone unfamiliar is spotted or something doesn't happen at its normal time (such as a dog walker popping in or an elderly person entering the kitchen at his or her normal breakfast time) you get an alert that is more likely to be meaningful. Conversely, you can also get pinged when something normal happens, like the kids getting home from school.
Its voice command technology gives you the ability to ask the Lighthouse about specific events, such as "did the kids come home from school on time." Perhaps even more convenient, you can ask it to call up a specific segment of video, saving you from time spent scrolling through footage.
Lastly, the option of a $200 lifetime account can cap the amount of money you'll spend on your system in the long run. Here are the highlights:
1080p Resolution
Live Streaming
AI-Driven False Alert Prevention
Two-Way Audio
Built-In Security Siren
Night Vision
Guest Control
People and Pet Recognition
Daily Event Recap
Custom Notifications
WiFi Connected
Pros
Artificial intelligence brings a host of new capabilities
Cons
Expensive and potentially unproven technology
The good news is that there's a wireless indoor home security camera for practically any budget and need. And with artificial intelligence technology coming online, and new features and capabilities constantly being added, the days worrying about your home could be over.
Photo Credit: Unsplash