📷 Love taking photos but hate editing them afterwards? Check out Luminar AI. As the name suggests, it is a Super-Intelligent AI Photo Editor that will seamlessly integrate in your workflow and make taking photos fun again.
If there is one thing more important these days in making a video after a good 4k camera and clear audio, it is the lighting. But with hundreds of video lights out there claiming to be the best one for you, how could you possibly find the right fit?
That's where we come in. Below you'll find a comprehensive list of the best LED video lights in the market to fit any budget.
We've made sure to cover the special features and costs of each product to make it easy for you to find what best suits your creative needs. We've also included a range of video lights from mount-on camera portable LED light to HMI lights to LED Panel Light to LED Tube lights with the goal of helping you cover all your bases when it comes to high-end video production.
But don't go plunging into the recommended lights just yet! First, take a look at the important things to consider when shopping for a light to take your production quality to the next level.
1. Beam Angle
How much area are you hoping to cover with this light? Are you looking to illuminate the whole scene or create more of a spotlight effect? These are the important things to think about when deciding on the appropriate beam angle for your new video light. Wider beam angles will produce light that covers a wide area, while lower-degree beam angles will create a more concentrated stream of light.
2. Light Output
The lights you see behind the scenes on professional movie sets are likely to have a very high light output, but they are also sure to cost a pretty penny and generate a lot of heat. If you are filming in a home studio or relatively confined space, there is no need for lights with very high lux to create the illusion of a professional set. Below we have used lux at 1 meter as a measurement of brightness, where a higher value means brighter light and higher output. It is also worth looking into how compatible your home outlets are with different light outputs to prevent safety risks.
3. Color Temperature
It is crucial to have the ambiance of your content in mind when deciding on a light, as that will help you decide on the right color temperature. Lights in the lower ranges of color temperatures are going to give off a warm, orange hue, while lights on the higher end of the spectrum will produce a sharper, blue hue. Color temperature is what determines the color of your lighting and usually ranges from about 1000K – 10 000K.
4. Noise
Noise is a critical component when buying lights for video content. Nothing is less professional than distractions in the background of your videos. It is thus advisable to steer clear of larger lights that make use of cooling fans. In the case of lights, bigger is not always better.
5. Color Rendering Index (CRI)
CRI is going to be the determining factor in the quality of your lighting setup. You want to look for a cinematography light with a CRI of 90-95 in order to rest assured that your light will produce the same quality as advertised in the product images. This is the specification to look out for to avoid an "Expectation vs. Reality" scenario.
5. Portability
The portability of filming equipment is a relevant concern in many genres of cinematography and video creation, including travel vlogs, movie production, review videos, and much more. If you can already feel your blood start to boil just thinking about fitting a bulky setup into your car boot, you might want to consider some of the sleeker options on the list.
The Best LED Video Lights 2023
| Product | Model | Color Temperature | Lux @ 1m | Price |
| --- | --- | --- | --- | --- |
| | Aputure 120D II | 5500K | 7000 | |
| | Elgato Key Light | 2900K – 7000K | 2500 | |
| | Aputure Amaran 100d | 5500K | 4300 | |
| | Aputure Amaran 200d | 5500K | 8200 | |
| | Aputure Amaran AL-MC | 3200K - 6500K | 100 | |
Best LED Video Lights Under $100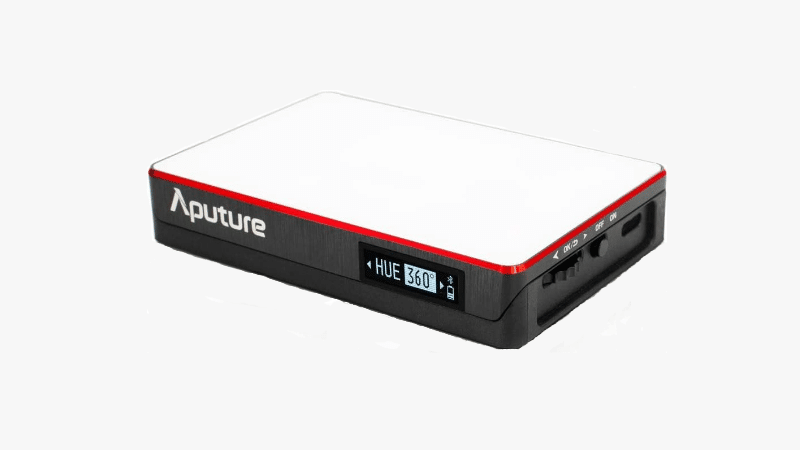 If you're on a tight budget, the Aputure Amaran AL-MC LED video light might be the perfect addition to your filming set. Remember how we were saying that you need to consider your video's ambiance when buying lighting? This compact lighting system has got you covered with fully adjustable color hue, saturation, and intensity, putting full control of video production in your hands.
This inclusive light comes equipped with an array of lighting effects and a CRI of 96+, ensuring that you have the best quality lighting for every occasion.
Its compact size allows for easy transport of multiple lights in one carrier and the built-in Sidus Mesh Technology allows the user to control up to 100 Aputure MC lights at once with the Sidus Link mobile app. The app allows for even more precise control over this lighting gadget.
The MC model prides itself on being Aputure's first light to support PD fast charging, allowing it to fully charge in just over 90 minutes. Its compatibility with USB Type-C chargers and Qi wireless charging tools ensures that you'll never have to scramble to get your light up and running.
While not necessarily ideal as a key light, you can't go wrong with this inclusive model when bringing character and originality to your production background.
Features
3200K – 6500K color temperature
CRI: 96+
100 lux at 1m
Full hue, saturation, and brightness adjustability
9 Lighting Modes
Bi-color functionality
USB Type-C and wireless charging
2hr – 15hr battery life
Mobile app control
Connect >=100 light units
Carrying pouch included
93*61*17mm
Best LED Video Lights Under $200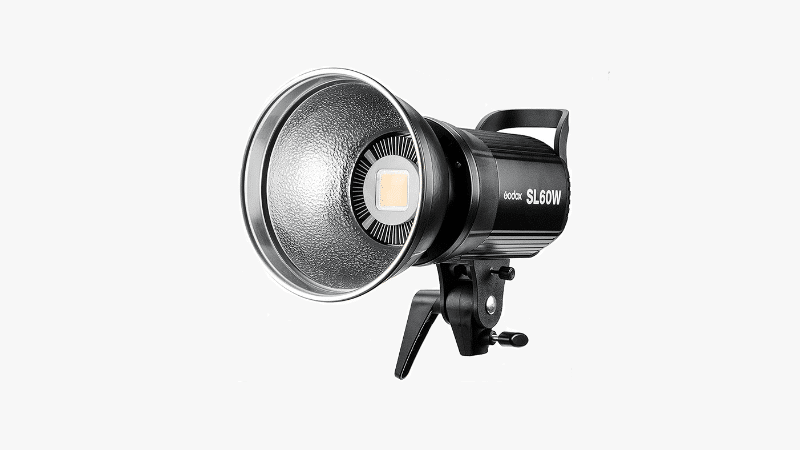 The Godox SL-60W promises to be the light for every occasion. From wedding photos to product videos, this continuous light will help you shoot in every environment.
This model sports a 60W LED bead, providing impressive brightness and, with a CRI of 95+, consistent quality. There is no need to worry about safety risks, however, as the LED bead is encased with a cover to ensure users' safety and comfort.
The SL-60W can be wirelessly adjusted through a controller with an LCD panel for convenience. This sleek device can control your light's brightness and temperature, as well as save your past settings and switch between Celsius and Fahrenheit options.
While this light is certainly ideal for any genre of media creation, it is best kept limited to smaller studios where the light can be nearer to the subject. We would suggest the SL-60W for at-home product shoots or Youtube and streaming content.
It is also worth noting that a softbox will need to be bought separately to soften and spread the light.
Features
5600K color temperature
CRI: 95+
4100 lux at 1m
10% - 100% brightness adjustability
Mobile app, on-board, and remote control
Cooling fan for temperature adjustability
Bowen-style mount compatibility
Cleaning kit included
230*240*140mm not including lamp cover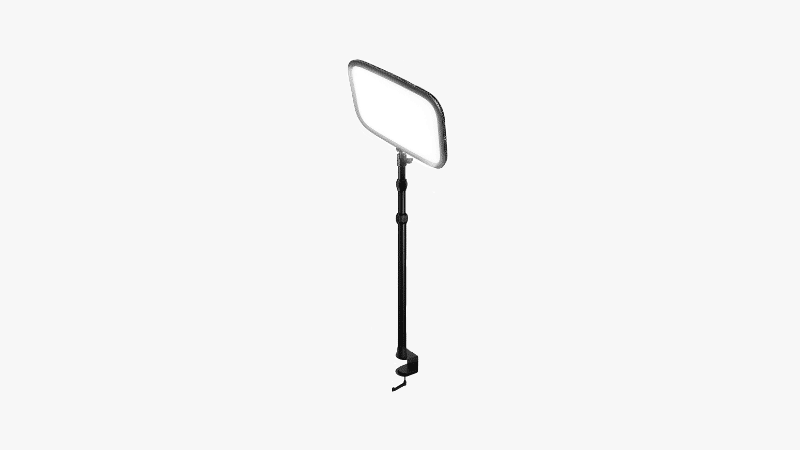 A notably sleek option, the Elgato Key Light is the perfect, budget-friendly light for a professional studio with limited space.
Control your setup virtually using the Key Light app to adjust brightness and hue or make use of the Stream Deck controller that can be used to control a variety of Elgato products. With a color temperature of between 2900K – 7000K, this slim light can emit a wide array of hues to suit every mood.
Its steel frame and opal glass face promise a sturdy, glare-free light that is sure to give your content a boost. The Elgato light also clamps right onto your desk for ease of use during meetings, video shoots, or streams.
But what content is this most suited to? Elgato is a tried and tested brand in the streaming sphere and, thus, this light was made specifically with these creators in mind. This means that the Elgato Key is ideal for illuminating creators, models or actors within a relatively close range without the need for any modifiers. But the diversity doesn't end there – thanks to its clamp-on design, ultra-thin frame, and 90-degree tilt capability, this light is perfect for unboxings and any other on-desk filming.
Features
2900K – 7000K color temperature
CRI: 92+
+- 2500 lux at 1m
Hue and brightness adjustability
Mobile app and wired controller control
Slim design
Steel desk mount included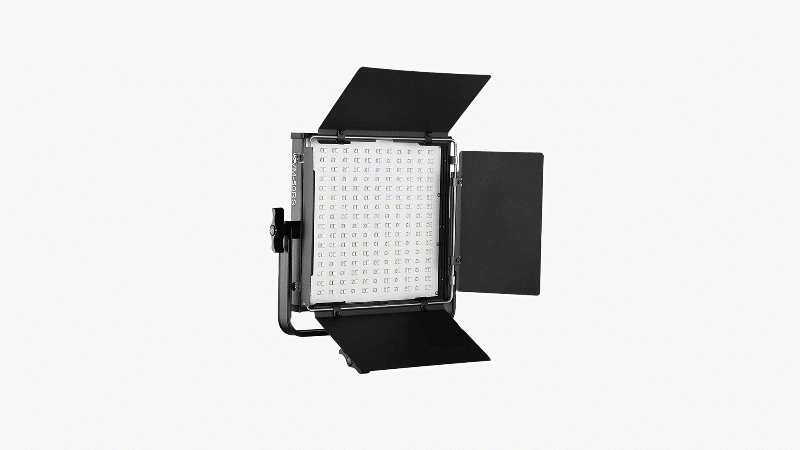 This barn-door style light is sure to make any setup look professional. However, the GVM 50RS RGB Video Light is most definitely not just for aesthetics.
This light comes equipped with a wide variety of color and bi-color choices that can be controlled via its mobile app, GvmEasily. And with a CRI of 97+, you can rest assured that each of those colors are top-notch quality.
The barn-door design aids in personalizing beam angle and minimalizing spill while the surface stripe design ensures thorough heat dissipation.
You can place this light on a stand, on a desk, or even on the floor to ensure your set is perfectly illuminated to your wishes.
The GVM 50RS RGB video light utilizes an AC power adapter for the power supply, but a specialized battery can be purchased separately for wireless use.
If you are working in a larger studio set, this video light might be more suited as a fill light, but it can fill the shoes of a great key light in smaller sets. GVM also vouches for this model's effectiveness in outdoor setups.
Features
3200K – 5600K color temperature
CRI: 97+
1203+ lux at 1m
Full hue, saturation, and brightness adjustability
Bi-color functionality
Mobile app and on-board control
Optional batteries sold separately
384 LED beads
Made from aluminum alloy
Barn-door design
Carrying case and 2 diffuser panels included
Best LED Video Lights Under $300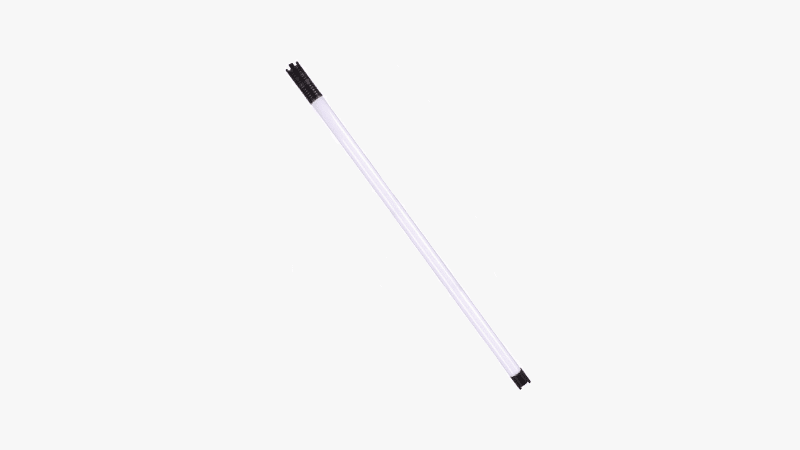 A little different from the other lights you've seen thus far, the Chameleon Handheld Light Tube is a 4 ft tube offering 12 lighting modes and a ton of color options. If you're looking at this wondering, "Isn't this just a lightsaber?", you're not the only one.
This light tube offers an impressive selection of color temperatures, ranging from 2800K – 9990K. The device can also be controlled via a mobile app on which you can connect and control up to 100 of these tubes.
The product comes with a VAC adapter and can be used wirelessly for up to 3 hours, depending on the brightness and mode in use.
You've likely seen lights like these in loads of professional productions from music videos to commercials and that's exactly the impression these lights can create of your content. The unique shape and full-color spectrum could make for some uniquely beautiful and creative backgrounds, while the handheld functionality makes the Chameleon LED light tube a convenient key light option as well.
Features
2800K - 9990K color temperature
CRI: 95
12 light modes
Full color and brightness control
Mobile app and on-board control
VAC adapter
Wired and wireless usage
5hr battery life
Handheld
1196*122*76mm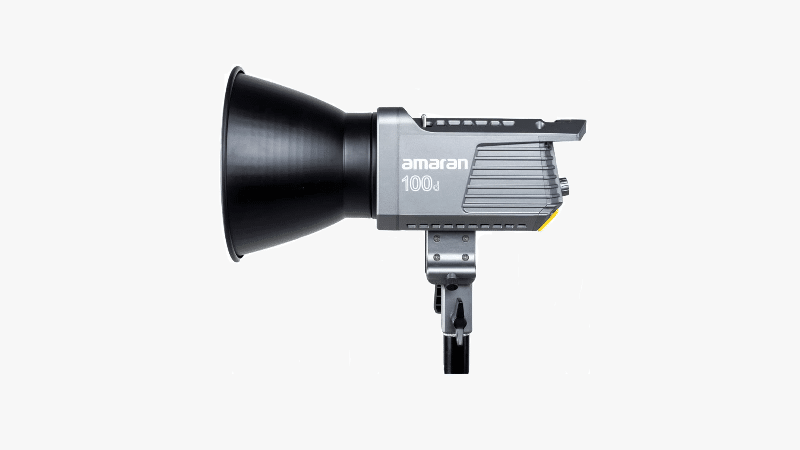 The Aputure Amaran 100d is a versatile daylight cinematography light that will suit nearly every production with its 95+ CRI and 5500K color temperature, providing natural-looking lighting that blends seamlessly into the sunlight for outdoor content.
Similar to the above-mentioned Aputure product, this gadget's light effects and brightness can be controlled remotely via the Sidus Link mobile app using Bluetooth. This light comes with a built-in 100V – 200V power supply, but optional batteries are sold separately for when you're in a pinch.
Aputure also offers a bi-color version of this light called the Amaran 100x for a little bit more if that would better suit your needs.
We would consider the Amaran d-series the line that bridges the gap between professional and at-home lighting and would, thus, recommend the 100d as the fill- or key light for nearly every studio.
An unfortunate feature of all the Aputure products from this point on is that they don't include softboxes to soften and confine light. This can, however, easily be remedied by buying just about any softbox separately and incorporating it into your setup.
Features
5500K color temperature
CRI: 95+
4300 lux at 1m (without reflector)
0% - 100% brightness adjustability
12 light effects
Mobile app and on-board control
Optional batteries sold separately
Bowens mount compatibility
Best LED Video Lights Under $400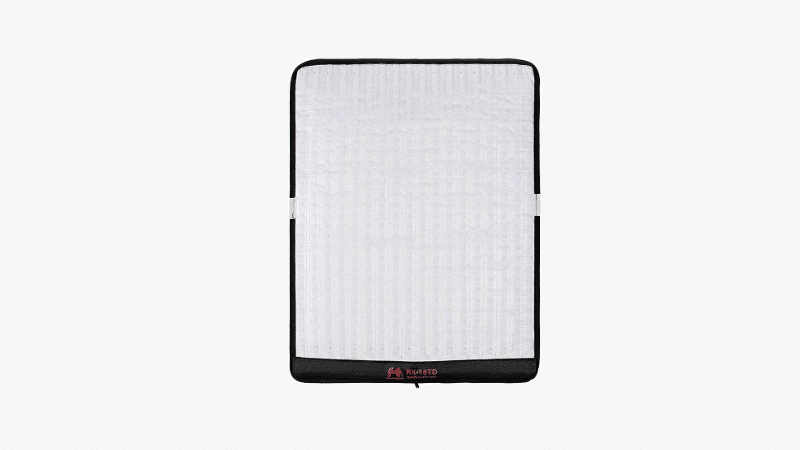 If your budget is in this price range, you are ready to upgrade your studio to include a few more lighting essentials – enter the Falcon Eyes Bi-Color RX-18TD Kit.
his kit includes a flexible LED pad with adhesive backing and two different types of softboxes to shape and direct light to your liking, while also preventing light spill.
The 100W LED light pad has a color temperature of 3000K – 5600K, ensuring warm and cold hues on demand.
With wireless dimming and hue controls, you can connect multiple devices at once to save time. This kit uses an AC adapter power supply, but v-mount batteries can be bought separately.
We would suggest this light for a wide array of functions, as it's perfect for travel and can easily be installed anywhere at any angle. The flexibility and shape of the light introduce the unique possibility to simply roll up your light for easy storage and mobility.
Considering the impressive power output, inclusive kit, and unique design of this model, it is understandable that we are now entering the higher price ranges.
Features
3000K – 5600K color temperature
CRI: 95
3660 lux at 1m
0% - 100% brightness adjustability
Hue control adjustability
Bi-color functionality
On-board control
Optional batteries sold separately
Multi-light connection
504 LEDs
Includes a RX-18OB Extended Softbox, a RX-18SBHC Honeycomb Grid Softbox, and a carrying case
610*460mm
Best LED Video Lights Under $500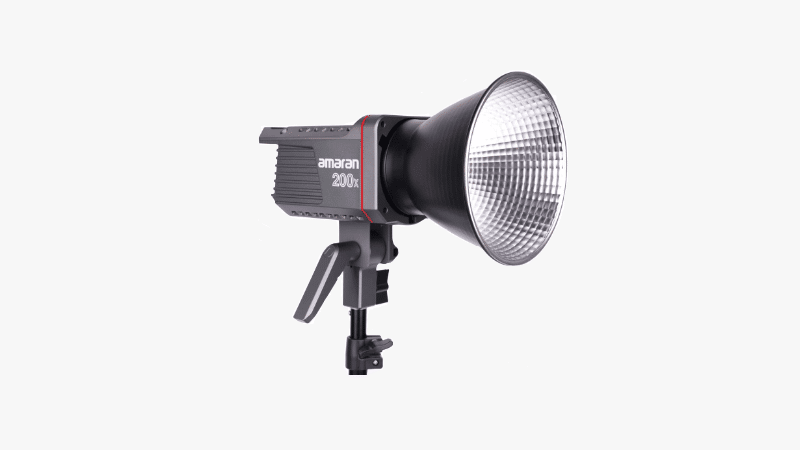 You can probably tell by now that Aputure is changing the game with their cinematography lights and the Amaron 200d LED video light is no different.
The 200d model takes its video light line to the next level by incorporating a more powerful 250W lighting system while retaining the great CRI score and natural color hue of its predecessor.
With full control over the lighting system's 8 modes and brightness from the comfort of your phone screen, this light is sure to make content creation a simple experience.
The Amaron 200d LED video light is also available with bi-color functionality of 2700K – 5600K for a slightly higher price.
Just like the afore-mentioned Aputure d-series light, this light is truly an all-rounder, but it will prove even more effective in large studios due to its increased light output. The only thing to be wary of with this model is the slightly louder cooling fan.
Features
5500K color temperature
CRI: 95+
8200 lux at 1m (without reflector)
0% - 100% brightness adjustability
8 light effects
Mobile app and on-board control
Optional batteries sold separately
25dB cooling fan
Bowens mount compatibility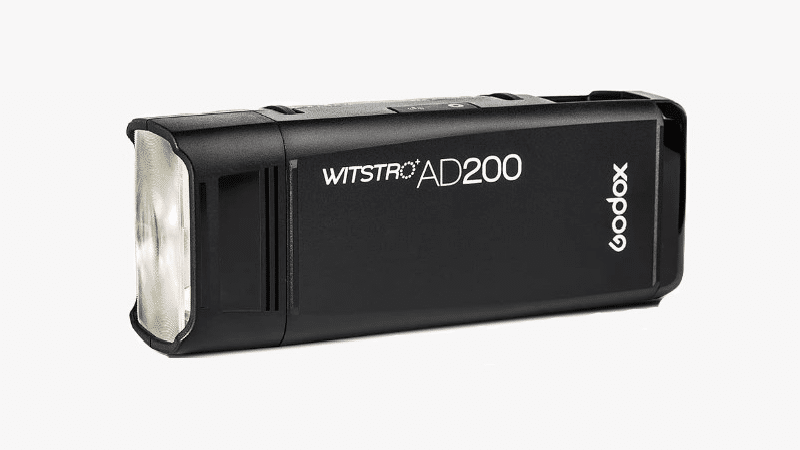 Can you guess what this light is known for? The Godox UL150 Silent LED Video Light prides itself on its elaborate heat dissipation system, meaning you can say goodbye to noisy cooling fans and overheating lights.
The UL150 model is specifically designed to be compatible with most Bowens accessories and includes 8 filters to produce a wide choice of lighting colors, with its base color being a rather bright white due to its 5600K color temperature. All these light controls are app-supported, making it easy to connect and control multiple lights with one controller.
While the UL150 is originally DC-powered, a V-mount battery is optional for on-the-go use.
The fine brightness controls on this device ensure that it can work as a key light or fill light, but the most important factor of this product is the complete silence during low-volume shoots. It is this specialized function along with the top-notch light output and ease of adjustability that puts this light in the higher price ranges and high on videographers' must-have lists.
This Godox product also omits a softbox and, thus, one needs to be purchased separately.
Features
5600K color temperature
CRI: 96
58 000 lux at 1m (with reflector)
0% - 100% brightness adjustability
8 color filters
Mobile app and remote control (remote not included)
Multi-light connection
Optional battery sold separately
Compatible with Bowens accessories
317*218*170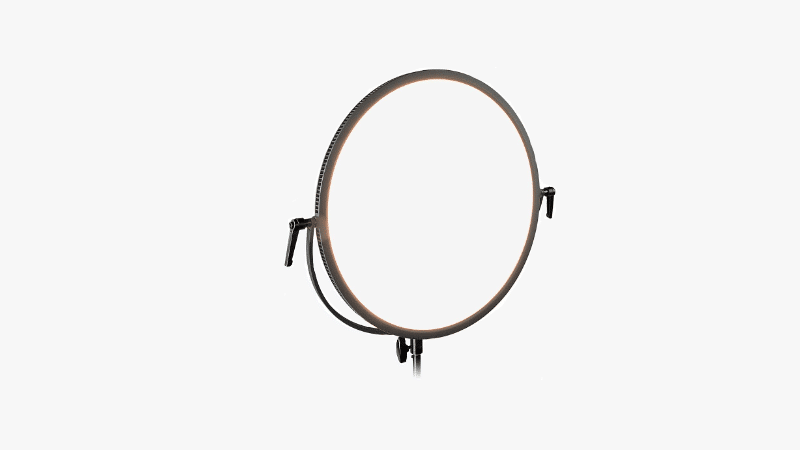 Fotodiox really knocked it out of the park with the FlapJack C-700RSV. From the ultra-sleek design to the inclusive product to the adorable name, this light is sure to be a winner in any filmmaker's books.
What really sets this light apart from the other great choices out there is the impeccable battery life of the included batteries. Depending on your brightness settings, the LED panel can provide up to 5 hours of wireless lighting to make everything run just a little bit smoother during a long day of filming. The conveniently included carrying case with a shoulder sling will also come in handy for location shoots.
This light certainly doesn't need these fancy accessories to make it worth your while though. With bi-color functionality, nearly full brightness control, and color temperatures of 3200K – 5500K, there are sure to be perfect settings for every set.
The FlapJack C-700RSV's appeal is only heightened by its slim, space-friendly design. It beautifully diffuses light without any additional modifiers, making it the perfect key light for filming reflective products.
When considering the size of the Fotodiox Pro FlapJack and the lack of need for additional modifiers, it becomes apparent that this purchase is worth the higher price point.
Features
3200K – 5500K color temperature
200 lux at 1m
10% - 100% brightness control
Hue control
Built-in light effects
Bi-color functionality
On-board control
Optional batteries included
3hr – 5hr battery life
Flexible and mobile
Carrier case included
Diameter: 450mm
Best LED Video Lights Under $800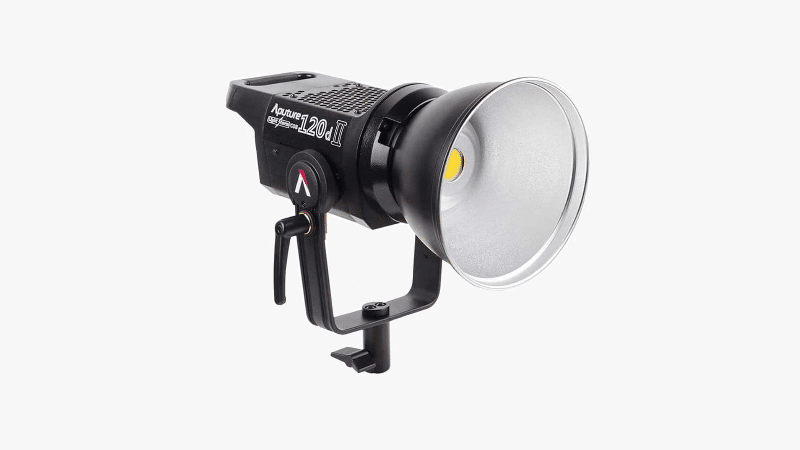 Sure, we may have cautioned against cooling fans and high light output earlier, but don't let that deter you from the wonders of the Aputure 120D II LED Light. This light is the perfect fit for all your heavy-duty lighting needs and even promises a fan with a mere 18dB sound output.
The 120D II is compatible with the Bowens-S mount and is designed to allow 330-degree on-mount rotation for full lighting flexibility. This, of course, also means that this light is compatible with most industry-standard accessories.
The increased power consumption promises greater light output than any model before and with an ideal 5500K color temperature and 95+ CRI, this natural, white light will level up your set and ensure pristine, professional content.
Feel free to make use of the preset light effects or up the originality of your content by programming your own. Along with full brightness adjustability, this allows for full freedom for the control freaks among us.
Not to be forgotten is the 6m power cable that gives you enough room to move it around.
This light is set apart from other Aputure models by its durable, aluminum body build that allows peace of mind while traveling, along with the included case that further solidifies that this light will perform whenever and wherever it is needed. The ultra-silent fan also gives this light quite the advantage.
The 120D II is the light for large video productions.
Features
5500K color temperature
CRI: 96+
7000 lux at 1m (without reflector)
0% - 100% brightness adjustability
Bult-in and programmable light effects
Mobile app and remote control
Connect >=100 lights
Silent built-in fan
330 degrees on-mount rotation
6m power cable
Aircraft-grade aluminum body
Bowens-S mount compatibility
Carrying bag and reflector included
Best LED Video Lights Under $1000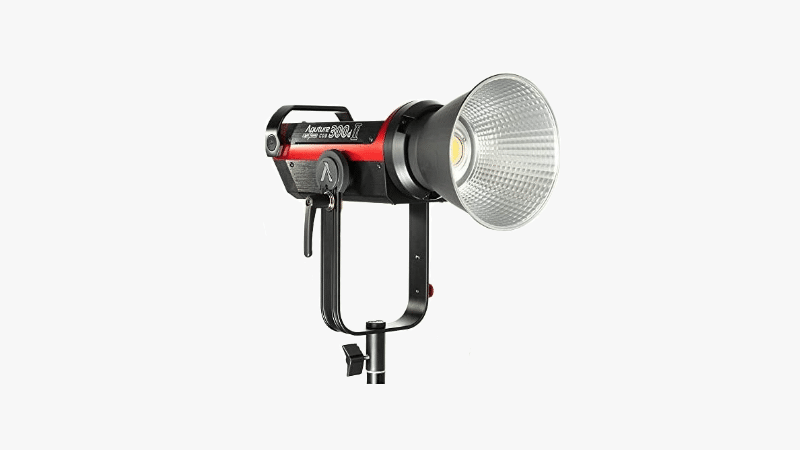 Aputure's 300D II model is a response to the great feedback they received on their original 300D and promises even brighter, more durable, and more portable features than its renowned older sibling.
Just like many of Aputure's professional lighting systems, the 300D is committed to illuminating your content in a natural-looking, non-disruptive fashion through their 5500K color temperature.
Full control of fan speeds, brightness, and light effects is at the tips of your fingers with both the 300D remote controller and full mobile app support. The customization does not end there, however, as the U-frame design allows 360-degree light rotation and remains firmly in the place of your choosing through the handbrake locking yoke.
Yet another improvement that's brought to you by the 300D II model is that your light can now run at half-output with just one battery, meaning that production does not need to come to a halt at the slightest inconvenience.
There is no doubt that any professional videographer will see their content improved and their filming process streamlined with this new model.  With its increased power output and durable design, this light is perfect for large productions.
It is important to keep in mind that this light is most effective at replicating natural light and will, thus, be more suited towards professional work than creative content.
Features
5500K color temperature
CRI: 96+
11 000 lux at 1m (without reflector)
0% - 100% brightness adjustability
8 light effects with new 512DMX lightning effect
Adjustable built-in fan
Mobile app and remote control
100m wireless remote control
6m power supply cable
Aircraft grade aluminum body
Carrying case included
298*216*345mm
Although undeniably a tricky part of content creation, video lighting shouldn't be a dealbreaker.
A good quality light is a long-term investment in the success of your videos and LED lights are the way to go – they tend to last as much as 17 times longer than incandescent bulbs! As shown above, there is truly an LED light to suit every need and budget.
Now that you understand the A-Z of LED video lights, it is time to go light up the world with your professional content.
We would love to hear about your experiences with LED video lights down in the comments.
Photo Credit: Unsplash