As a busy professional you don't always have time to keep track of what's taking place at home.
If you have younger children, you may hire a babysitter.
With older children, you can leave them home alone, but you may still want to know what's going on at the house.
So when you're stuck at work or are on a sales call out of town, what are you to do?
Take advantage of a nanny cam.
A nanny cam is an excellent tool for all kinds of reasons.
It gives you a security camera feed into given rooms. Some of these security cameras may be hidden as well. This way, you know exactly what's going on.
Other times, you may just want a camera so you can keep an eye on your kids, or even your pets if your furry little friends tend to cause trouble while you're away.
But with so many nanny cams out there, which one should you go with?
Here's our selection for the 10 best nanny cams for busy professionals.
Before ordering just any nanny cam, there are a number of features you should keep in mind. Often it comes down to exactly what you want the nanny cam to do. Is it designed to secretly keep an eye on a room, or are you fine with the device being an obvious camera?
Whatever you're looking for, here are a few tips on what to consider while shopping for a nanny cam.
1. Design
The design of the nanny cam will depend on your needs. Should it be a secret or are you fine with it being an obvious camera?
If you want to keep it hidden, there are all kinds of devices that will look inconspicuous while on a bookshelf or mantel.
If you're fine with it looking like a camera do you really want a security camera-like design sitting in the corner, or would you rather have something a bit more friendly in appearance, especially if you want it in your kid's room?
This comes down to a personal preference, but you should have a general idea what you want before you start looking.
2. Price
Whenever you're dealing with video equipment there will always be a rather substantial difference in the price. The more you spend on video equipment, the higher quality and the better sound you'll receive (this isn't 100% the case, but more often than not the more you spend the better the quality).
Thankfully, video has come a long way in recent years, so you can still spend a small amount of money to receive a more than adequate picture.
On our list, you can find products for less than $50 and go all the way up to around $300.
The price doesn't just dictate the quality of the video though. It also affects the size of video camera and how easily hidden it is. Sometimes the nanny cam is hidden within another device so it isn't noticeable. Camouflaging the camera can be tricky, so it might cost more to do so.
Before shopping around, know how much you're comfortable spending.
3. Viewing and Recording Options
Different cameras will have different viewing and recording options. Most modern nanny cams will allow you to watch a live feed of the camera, although some will record directly to an internal microSD card or cloud service for later viewing.
You will need to consider the kind of recording options the camera comes with. Some require you to subscribe to a cloud service. Usually, this is just a few dollars a month, but it is an added, continual expense to keep in mind.
Other cameras allow you to record directly to an internal storage device, and there are some that only kick on the recording when movement is detected.
4. Camera Movement
Most cameras are designed to give you a wide view of a given space. While in live view these cameras will likely allow you to zoom-in via digital zoom.
However, other cameras allow you to move the camera directionally. These cameras are usually not the "hidden" nanny cams but instead are easily identifiable as a security camera.
If you want the ability to move the lens to face different areas of the room this is something you should consider.
The Best Nanny Cams for 2023
| Product | Model | Video Resolution | Field of View | Price |
| --- | --- | --- | --- | --- |
| | Blink Indoor Camera | 720p | 110° | |
| | Canary View Indoor Camera | 1080p | 147° | |
| | Adorbee Lighthouse | 1080p | 112° | |
| | Arlo Smart Home Camera | 720p | 110° | |
| | Littleadd Hidden Spy Camera | 1080p | 78° | |
The right camera for you is a personal choice. It really depends just how "security camera" you want to go with your device. Towards the end of the list, many of the cameras move away from the spy design and into the world of high-end home security cameras.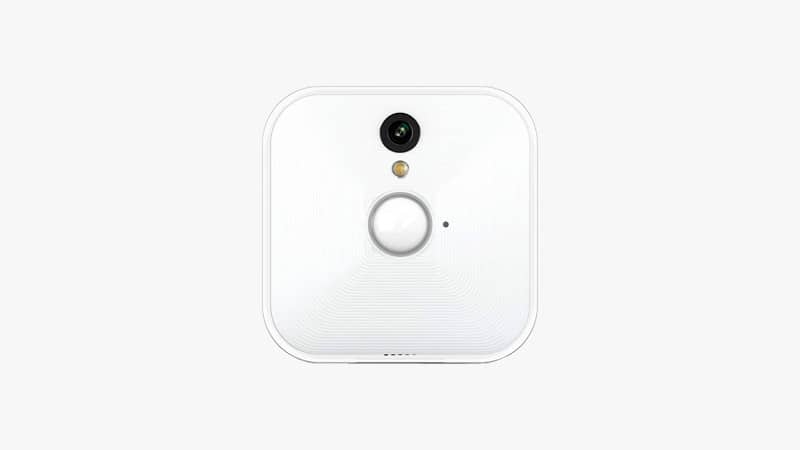 With everything in mind, we decided to go with the Blink Indoor Home Security Camera System as our Editor's Pick for a number of reasons. First, the price tag is great. It also comes with one of the best apps on the market and can be easily linked with other Blink security equipment, not to mention your digital assistant.
We felt it remained in the world of a nanny cam. While we loved some of the added tech features on other cameras, those cameras really moved outside of what a nanny cam is. The features we really liked on the Blink Indoor Home Security Camera System include:
Easy installation
Free cloud service
Top of the link Blink application
Connects to a digital assistant
Best Nanny Cams For Under $50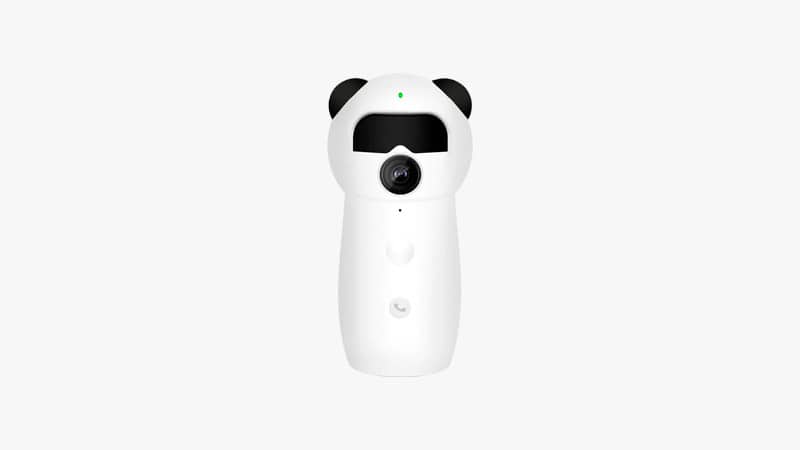 If you're looking for a nanny cam with a great product name this is not it. However, don't just breeze past the name. The product itself is fun looking and packs some solid features for the price.
First, the setup is an obvious camera, but it's not a slap you over the face security cam design. Instead, it looks like a panda toy that might sit naturally on a bookshelf. When you look at the device it's obvious it's a camera, but it doesn't stand out, which makes it a great option.
The camera uses a 120-degree view, which gives you just about a full view of everything taking place in front of it.
The camera connects via Wi-Fi so you can monitor the security footage live. It also has a motion detection feature that automatically sends you notifications or begins recording (you can adjust this in the app's settings).
The camera also has night vision so you can see even when the lights are off.
A great feature with this is you can use an available cloud service, and you can even record to an internal 128 gigabyte SD card.
As a nanny cam, this is a helpful device in that it has a one-touch calling feature. There is a call button near the base of the device, so a babysitter can easily call you and have a direct conversation without needing to pick up the phone.
The nanny cam does need to be connected to a power source as there is no internal battery pack, so keep this in mind.
Some of the best features for this nanny cam include:
Recording to both cloud and SD card
Night vision
Ability to pan and zoom with the app
One-touch calling
A 120-degree lens with 1080p HD video footage
The app works on both Android and iOS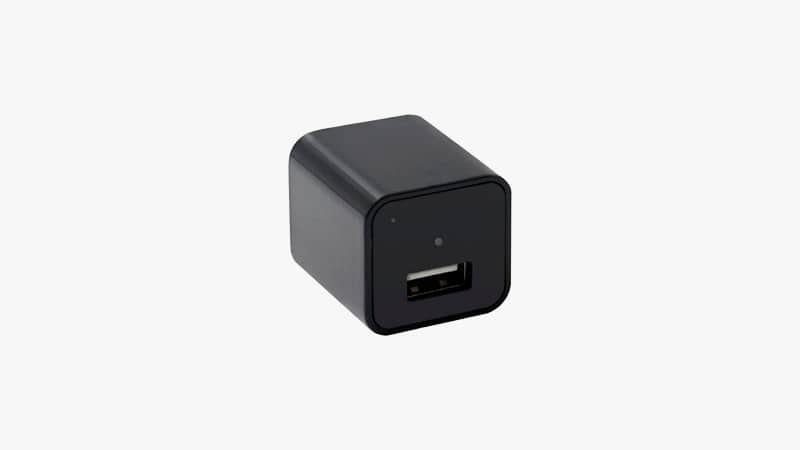 This is the kind of nanny cam you want if you're looking to keep the camera hidden.
The overall design is a power plug that looks like a phone charger. The dot in the charger is a bit noticeable, yet unless someone is plugging their phone into the device they likely will not see it.
The device records at 1080 HD. It also records directly onto an inserted SD card, which slides into the back of the device. Plus, because it already connects to a power outlet there are no noticeable cords.
One of the main benefits with this device is the ability to take it anywhere. If you're away on business and want to make sure the hotel staff isn't going through your stuff you can plug this into a power outlet in your hotel room (although if you're in a hotel where the power shuts off when you're not in the room this device won't work).
The video camera does not record audio, so if you want audio you'll need to go with another camera.
This is not a camera that allows you to view real-time video feeds. It doesn't record to the cloud or do anything like that. Because of this, the camera might not be best if you want to check in with your kids to see what is going on.
However, if you believe something is going on behind your back in the office or at home, using this device is easy and inexpensive. There is also a lifetime guarantee.
Some of the features of this camera you should consider include:
Functions as a cell phone charger
Easy to take with you on the road
Record directly onto an inserted SD card (not included)
Works with any power outlet
Lifetime guarantee
Records at 1080p HD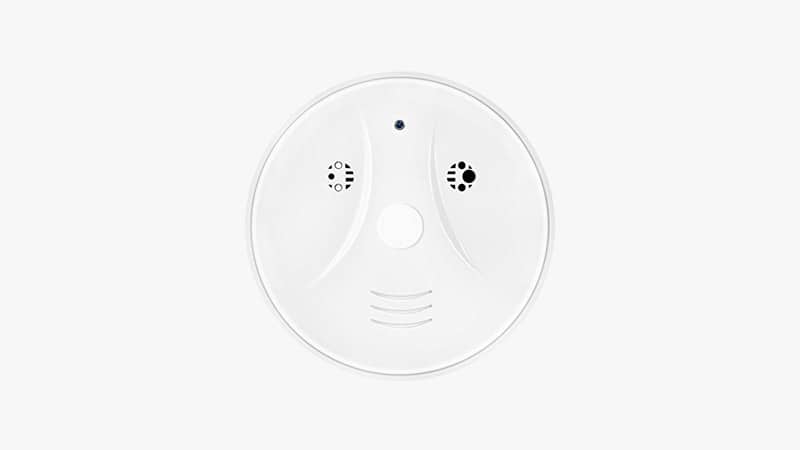 Here is another great camera option when you want to keep it hidden. The camera is built right into a device that looks like a smoke detector.
One disappointing factor with this is it doesn't actually function as a smoke detector, which means you may have two devices attached to the ceiling. If someone is looking for a security camera this may be a giveaway, although it looks right at home so if it's the only device on the ceiling it will look accurate.
This is not a Wi-Fi enabled security camera, so there is no live feed option. It records directly to an inserted SD card. Of course, you should consider whether you really want to continually remove a device from your ceiling in order to check the security footage.
The camera can be set to record continuously for up to 10 hours, or it can record only when it detects movement.
The camera does record from overhead, so this may either improve your visibility or it may prevent you from seeing everything (if you're looking for a nanny cam that records your kids you might want to consider a different angle as you won't be able to see everything if the babysitter is standing over your child).
There is no night vision feature with this.
The camera does come with remote control, so if you're within 15 feet of the device you can activate automatic recording with the press of a button.
Some of the features to consider with this camera include:
Easy installation and looks just like a smoke detector
Records to an SD card and downloads to your computer via USB cable
Different recording settings allows you to change how the camera begins recording (and for how long)
Up to 10 hours of continuous recording footage (up to eight hours of HD)
78-degree field of view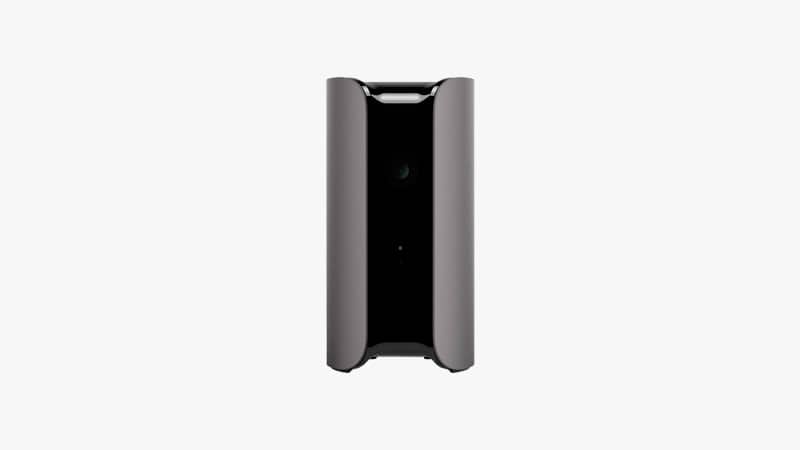 The Canary View Indoor 1080 HD Security Camera comes with a number of great features that the other security cameras have not yet featured.
First, it is a noticeable security camera. While built in a similar cylinder design as an Amazon Alexa speaker, there is a camera feature built in the top, plus it connects to a local power outlet. While it isn't a secret camera, the kind of features you receive still give you some exceptional features.
First, it is Wi-Fi connected, so you can take live looks through the video feed. It also has several record modes, including continuous recording or motion detector activation. The device can even detect ambient light.
You can connect the Canary View Indoor 1080 HD Security Camera with a security one-touch design. This will automatically contact the local police, fire department, or EMT.
Unlike the other security cameras so far, you can link the Canary View Indoor 1080 HD Security Camera up with your digital assistant, including Google Assistant and Amazon Alexa.
The application for the Canary device is excellent as well, working with both Android and iOS devices.
If you're looking for an introduction to home security, this is a great option to go with as it is far less expensive to purchase. It's also an attractively designed setup.
The Canary View Indoor 1080 HD Security Camera does record audio as well so you can hear as well as see what's going on.
An excellent feature of this device is it uses a 147-degree wide-angle lens, which helps you see more than with other cameras. The ability to pan and zoom from your app is also beneficial.
All video is stored for free for 24 hours to a cloud service. If you want to extend the saving time there is a monthly membership option.
Some of the features on the Canary View Indoor 1080 HD Security Camera to consider include:
Digital assistant voice control
Excellent app designed for both iOS and Android
Multiple record modes make it easy to adjust the recording settings
One-touch communication with emergency services
Stores video footage for free on the cloud, membership for extended saving times available as well
147-degree field of view
Person detection
No hub required
Best Nanny Cams For Under $75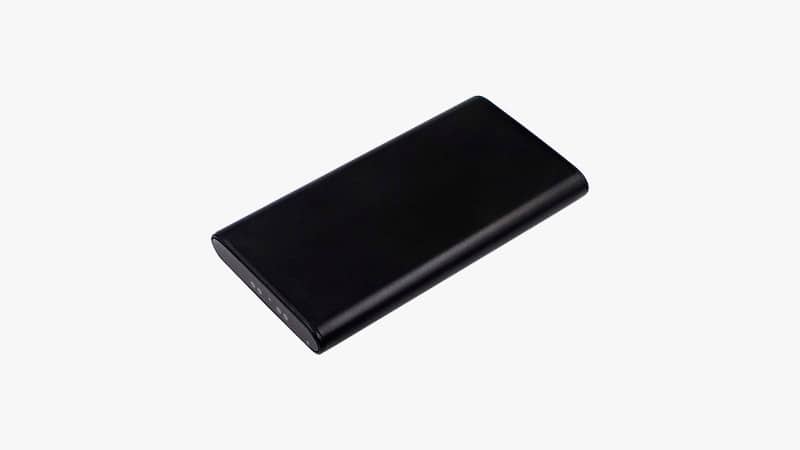 This security camera is designed to look like a power bank you might pick up as an added charge for your cell phone (or even something you'd use with your laptop).
The device is easy to place anywhere, plus it has a low profile thanks to the flat design of the camera equipment.
One of the main selling points of this Whisper HD camera is that it actually functions as a power bank. This way, you can use it not only as a security camera but as a secondary battery charge.
The camera shoots at 1080 HD video and has a 140-degree viewing angle, so you can see just about everything in front of the camera.
There are a number of recording modes, including motion detection.
The Whisper HD camera also has a Wi-Fi feature built in, so you can connect it to your home's wireless Internet and view a live feed of the footage.
Night vision is built into the device so it is possible to always see what is going on in front of the camera.
Video records onto an SD card (not included). There is no cloud service or subscription to use here.
Some of the main features of the Whisper HD camera include:
Wi-Fi connection to allow live view
Records video footage onto SD card
Several recording modes available
Night vision via infrared
Works as a power bank, allowing you to both record footage and charge a mobile device
Record up to 15 hours
140 degree viewing angle ant 1080 HD quality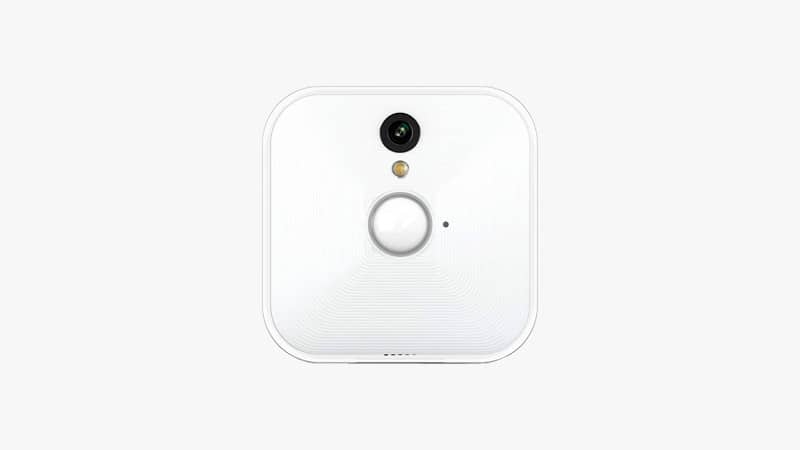 Blink has quickly become a leader in the world of home security systems. The company has a number of excellent camera options, including the Blink Indoor Home Security Camera System.
The device doesn't try to hide the fact that it has a camera, but it is discrete and can be installed on walls so it doesn't stand out as a bulky camera.
One of the best features with this device is it comes with two-year battery life. This way, there's no need to continually swap out batteries or connect it to a power source.
Video is recorded to the cloud with the device. The video footage is stored for free and there is no monthly fee or service contract.
You can control the device with digital assistants such as Amazon Alexa and Google Assistant.
It is easy to install the Blink Indoor Home Security Camera System. You can have it up and running in as little as five minutes.
The Blink mobile application is one of the best on the markets today. With the app, you can access live video feeds and switch between different security camera feeds. You can purchase the Blink Indoor Home Security Camera System in packs, should you want to monitor multiple rooms at the same time (buying in bundles will help cut down the purchase price per unit).
The Blink Indoor Home Security Camera System records video at 720, which is a little bit less than other 1080 HD video feeds. However, the color on the device is far greater, so while you don't have as many lines of resolution, the picture is more accurate.
There are multiple recording modes, including a motion detection option. It also has a 110-degree viewing angle and records audio as well.
This particular model is not waterproof, nor does it have night vision. If you'd like to include these features you can spring for the Blink XT 1 model. This particular model is exactly the same, only for $30 more you can grab a waterproof, night vision version.
Some of the features on the Blink Indoor Home Security Camera System to consider include:
Easy to install and put anywhere in the house
720 HD video camera with a 110 viewing angle
Uses an industry best Blink application
Compatible with digital assistants like Google Assistant and Amazon Alexa
2-year battery life
Waterproof option is available
No monthly subscription for cloud service
Live look-in options
Best Nanny Cams For Under $100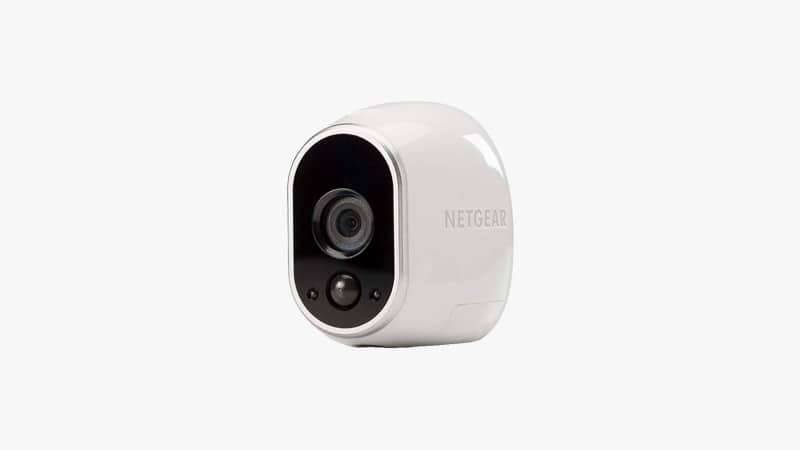 If you already have Arlo home security equipment this is a great addition to your security lineup.
Even if you don't have Arlo just yet, it works as a solid stand-alone option.
The camera is waterproof, so it can be placed outside if you want to move your nanny cam to the exterior (such as the backyard).
The camera does work with Amazon Alexa and Google Assistant. However, you need to purchase the Arlo hub (or another smart hub) to connect it to your digital assistant. This adds another $100 or so to the price tag if you don't yet have one.
The camera provides night vision built into the camera and is wireless, so it can be placed anywhere.
The camera is a motion detection only camera. This means it will only record footage when it detects motion. If you want continual recording this is not the camera for you.
As the camera is Wi-Fi enabled you can use a live look in feature. With the live look in you can program notifications to reach your mobile phone. Should your camera detect a possible break-in you can contact the local authorities.
Camera records at 720 and all recordings are stored on the Arlo cloud system for seven days for free. Your account also supports up to five cameras. You can always upgrade to more cloud storage and longer storage time should you find the need.
Some features of the Arlo camera include:
Waterproof design
Connection with a digital assistant (hub required)
Seven days of secure cloud storage with a system that supports up to five cameras
110-degree field of view
Push notification option to receive an update on your phone should the device detect movement
Best Nanny Cams For Under $150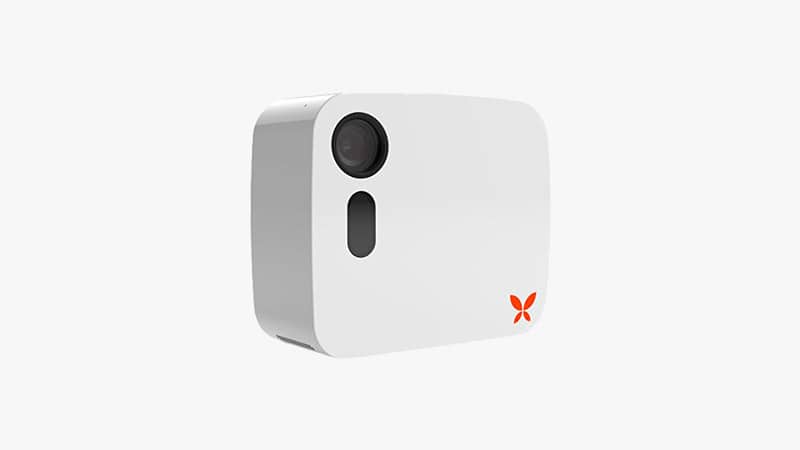 The Ooma Butterfleye Smart Security Camera looks like a GoPro camera but for home security needs.
There is a noticeable camera lens on the corner and a rather pronounced logo in the opposite corner. However, it does its job well and provides you with exceptional footage with a number of features.
The Ooma Butterfleye Smart Security Camera does connect to your home's Wi-Fi signal, so you can stream at any time from a computer or your mobile device.
The device uses an internal power source. What's also great is that if the power goes out the device will still record. With the other WiFi devices if the power fails the cloud storage option will be cut off (rendering the cameras useless). However, with this, there is an internal 16GB storage feature, which makes it a fantastic option if your home is prone to power outages.
All video clips are stored for seven days through a free cloud service.
If you already use Ooma for any home security measures this is a solid addition and will work with the Ooma application. The application along with the camera even has facial recognition software. This way, you can even connect it to other security features like a door lock.
Beyond motion sensor and sound detection, the camera also uses thermal, which improves your ability to monitor what's going on (and receive fewer false alarms).
The two-way audio system makes it possible to communicate with anyone on the other side of the device.
Some of the features on the Ooma Butterfleye Smart Security Camera to consider include:
Recording backup that kicks on should the home power die (and the camera lose connection with the Wi-Fi network)
Facial recognition software built into the camera and mobile application
Works with other Ooma devices
Seven days of free cloud storage
Two-way audio
Best Nanny Cams For Under $200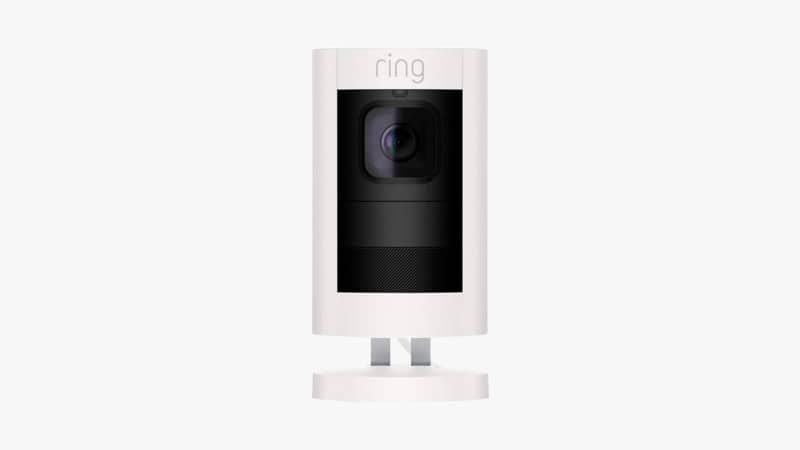 Ring, much like Blink, has become a leader in home smart security equipment. This Ring security camera is easy to place just about anywhere in the house.
It is a wired device so there are no wireless options. This means you will have a wire running somewhere, but depending on how you install it the wire can be easily hidden.
The camera does provide night vision and an audible siren, should someone trip the alarm (or if you activate the alarm from the app).
As the Ring Stick Up Cam connects with the home Wi-Fi it allows for a live feed. The Ring app is one of the best options out there and allows you to control all of your Ring smart devices from one place.
The Ring Stick Up Cam does work with digital assistants like Amazon Alexa, although to use with a digital assistant you do need a video-enabled device for playback.
The Ring Stick Up Cam uses excellent 1080p HD video. It also has two-way audio so you can talk with whoever is on the other side of the video camera (even if this means telling your kids to get back to their school work).
Within the app, you can include custom motion zones which will activate recording whenever something passes the specific zone.
The one thing to keep in mind with Ring is that if you want to record video you'll need to pay a monthly service fee. Ring does come with a 30-day free trial, but after that, you'll need to pay $3 a month.
Some of the features on the Ring Stick Up Cam include:
Compatible with digital assistants
1080p HD video recording
2-way audio
Cloud storage options
Control motion capture zones for improved recording
Can draw power from Ethernet connection
Best Nanny Cams For Under $300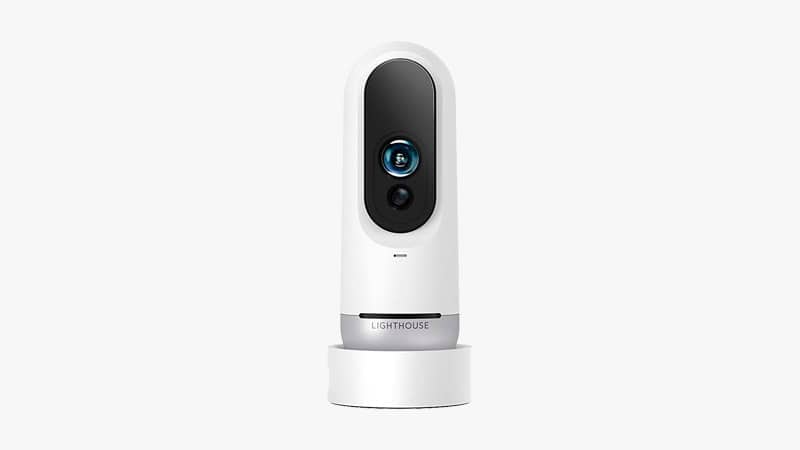 The Lighthouse camera is one of the top performing security cameras on the market. In fact, Gizmodo named it as the top home security camera.
The camera records in full HD features night vision and has a 3D sensor for improved recording and motion capture.
There is a two-way talk feature for when you want to talk with anyone on the other side of the camera. The device also includes a security siren.
In terms of tech features, no other camera can compare. The Lighthouse has facial recognition and you can instantly get to the bottom of what happened inside the house. You can even ask the app if someone was running in the house and it will tell you.
This is great if you have several kids in the house and you want to figure out who did what.
The Lighthouse also works with digital assistants like Google Assistant and Amazon Alexa.
This is one of the few security cameras that has dual-band Wi-Fi support as well, so it can function over your 5GHz network on top of the 2.4GHz.
Some of the features on the Lighthouse include:
Facial recognition software
Ability to ask the software questions based on the facial recognition technology
Excellent 1080 HD video footage
2-way audio
Night vision
Top rated security camera by Gizmodo
There are a number of great nanny cam options out there. The right camera for you really depends on the kind of setup you want and whether you want a nanny cam or a professional security camera.
We went with the Blink Indoor Home Security Camera System as the Editor's Pick because it still fits the definition of a "nanny cam." Some of the other cameras went off in the direction of security cameras and may offer features you just don't need.
However, if you like those extra features (such as the facial recognition technology on the Lighthouse camera), go with what fits your personal needs. What's most important is for you to know your home and your kids are safe while at work.
So what kind of nanny camera are you looking for? Did any of these catch your eye? If you already have a security camera, do you like it and what made you pick that design?
Let us know in the comments!
Photo Credit: Unsplash