I know you'll agree with me when I say this:
Nothing hurts more than losing your data.
We've all been there.
Months and years worth of documents, pictures, and videos vanished in thin air.
The last time it happened to me, I said to myself, never again! That is when I started looking for a NAS (Network Attached Storage) that can backup my data regularly.
If you work in an office or in any number of commercial business settings, having a reliable Network Attached Storage (NAS) in place can be invaluable. Network Attached Storage functions just like independent cloud storage tailor-made for your business or company. It allows you to store all your business files and email correspondence on a massive local network, and it has the capacity to grow and expand to meet ever-more-demanding storage needs.
Network Attached Storage functions just like independent cloud storage tailor-made for your business or company. It allows you to store all your business files and email correspondence on a massive local network, and it has the capacity to grow and expand to meet ever-more-demanding storage needs.
In many ways, a NAS device is like a computer dedicated solely to your PCs' storage, archival, retrieval, and connection. In addition to storing mass amounts of data that can easily be shared between computers tied into your local network, advanced NAS devices are equipped with RAM memory and computer processors. Where large files or large amounts of small files need to be accessed or transferred, the processor helps to speed up the process tremendously.
NAS devices aren't necessarily cheap. A NAS that deals with a lot of multimedia files will cost you at least $500, and that does not include the size of the hard drives, which can cost anywhere from $50-$200. Nevertheless, when compared to the recurring costs associated with a cloud drive, the savings are not insignificant.
Just how much money can you save by using relying on network attached storage?
Well, depending on the service provider, one terabyte of cloud storage costs as much as $25/month. This means that 20 TB of active cloud storage could easily cost your business $500 every month. Even though it can cost several thousand dollars to buy NAS storage and several disk drives, your investment will pay for itself in a matter of months.
If you want to streamline your business operations, network attached storage can help. This guide will provide you with the information you need to buy the right NAS for your business.
Picking the right NAS can be difficult because there is a seemingly endless array of options. If you're familiar with the needs and requirements of network attached storage, you don't need to read this. If you're new to the process, however, the following points will help you make an intelligent, informed decision that will benefit your business.
1. Diskless Drives
Most NAS devices feature diskless drives. This means that the network attached storage device does not come with any storage device. Some low-end models with include a small amount of memory, but these may or may not be upgradeable. This means that you will have to purchase hard drives separately, so be sure to factor that into the cost of your NAS.
2. Processing Power
NAS devices are like personal computers in many ways. One way they are similar is there use of dedicated CPUs, or computer processors. NAS processors are just like computer processors, but they are generally much less powerful. Because network storage does not need to run an operating system or load executable files, much less speed is required.
3. Random Access Memory
Random access memory, or RAM, is another feature NAS shares in common with PCs. RAM determines how quickly the network attached storage is able to call up, or access, data stored in the disk drives. More RAM is always useful, especially if you're using NAS to store and transfer large files.
4. Bay Count
The bay count of a NAS refers to how many disk drives it can store. The maximum storage capacity for any network attached storage depends on two things: the number of bays and the capacity of the hard drive disks.
5. Redundant Array of Independent Disks
If you work in manufacturing or resource management, you are probably familiar with the idea of redundant systems. Redundancy provides a backup in the case of systems failure, like a generator during a power outage. Although redundancy is not always beneficial in manufacturing, redundant disks, or RAID but protects data stored on your network attached storage and speeds up your system.
The Best NAS  (Network Attached Storage) for 2023
| Product | Model | Max. Storage | Processor | Price |
| --- | --- | --- | --- | --- |
| | Netgear ReadyNAS RN524X00 | 40 Tb | 2.2GHz Dual Core | |
| | Western Digital My Cloud | 4 Tb | 1.4GHz Quad Core | |
| | Drobo 5N2 | 64 Tb | 1.6GHz Quad Core | |
| | Western Digital My Cloud EX2 | 16 Tb | 1.3GHz Dual Core | |
| | Asustor AS1002T | 16 Tb | 1.0GHz Dual Core | |
Every business has different storage needs, and there is no single network attached storage that will suit every situation. But if you're looking for a powerful, high-volume network attached storage with a great processor and plenty of room for expansion, then you need the NETGEAR ReadyNAS 524X High Performance 10GbE 4-bay Diskless Network Attached Storage.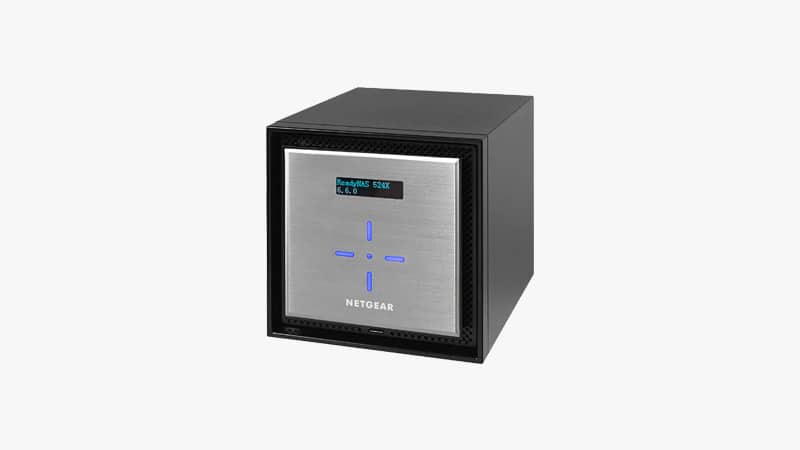 Four bays support up to 40 TB of storage space or 130 TB with expansion bays
Features 2.2 GHz Intel dual-core processor
Comes with 4 GB of

DDR4

RAM
Compatible with RAID 1, 5 and 6
Offers five levels of data protection, including RAID protection
Outfitted with Gigabit and 10 Gigabit Ethernet ports, as well as USB 3.0
Best Network Attached Storage Under $200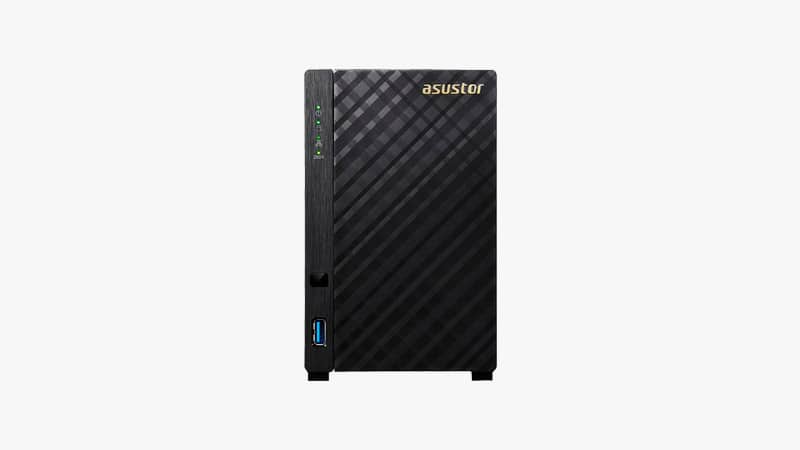 The ASUSTOR-AS1002T is a small but very affordable 2-Bay network attached storage personal cloud device. It is equipped with a 1 GHz dual-core processor, 512 GB of RAM, and two bays capable of holding 4 TB drives. The NAS is cross-platform compatible and will work with all PC, Apple, and Android operating systems.
With two bay drives, you have the option to run your NAS RAID 0 or RAID 1. RAID 0 does not provide redundancy protection and is slower than RAID 1, but RAID 1 only provides half as much storage space, as room is needed for redundancy.
Like WD My Cloud, the ASUSTOR doesn't provide enough storage for large multimedia transfers and large offices. However, entrepreneurs and others with smaller storage needs will likely be satisfied.
Best Network Attached Storage Under $300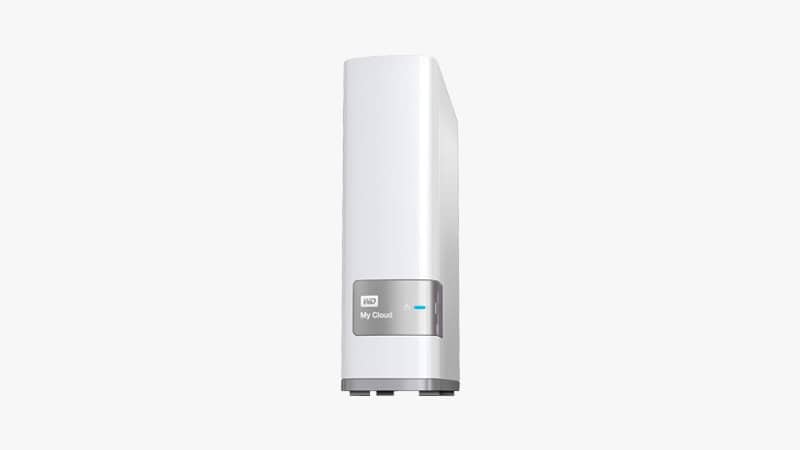 If you'd prefer not to purchase a diskless drive NAS, Western Digital My Cloud Personal Network Attached Storage may be a good option, especially if you work in a law firm or some other job where there aren't a lot of computers sharing the same NAS.
Although we specifically tested the 4 TB My Cloud, it is available in 2 TB, 3 TB, 6 TB, and 8 TB models, as well as single and dual drives, with options available for the dual drive up to 12 TB. Both options have Gigabit ethernet connections and USB 3.0 ports. My Cloud automatically syncs your computer and other networked computers into your personal cloud storage.
Although the dual-drive My Cloud models are somewhat more expensive, they do offer RAID 1 protection. This decreases the total overall storage, however, and larger firms and businesses will likely need a NAS with more data storage capabilities. For a smaller business, however, MY Cloud is an excellent way to obtain an inexpensive NAS system combined with a Mesh network system.

One of the things that I like about Western Digital is that you have a choice between diskless network attached storage or buying models that already have dedicated drives. The WD My Cloud EX2 Ultra leaves you with plenty of customization options, allowing you customized network attached storage without the hassle of setting it up yourself.
The EX2 is outfitted with a 1.3 GHz dual-core processor and 1 GB of memory and can be upgraded from 4 GB to 16 TB of storage. It is easy to sink across all your computers and across My Cloud, and your storage is easy to control with the My Cloud app and software.
The NAS even comes with surveillance software that allows you to monitor security cameras and other protection software, making it easy to keep your business safe and secure. With vast amounts of storage space, you'll have plenty of room to store recorded video files.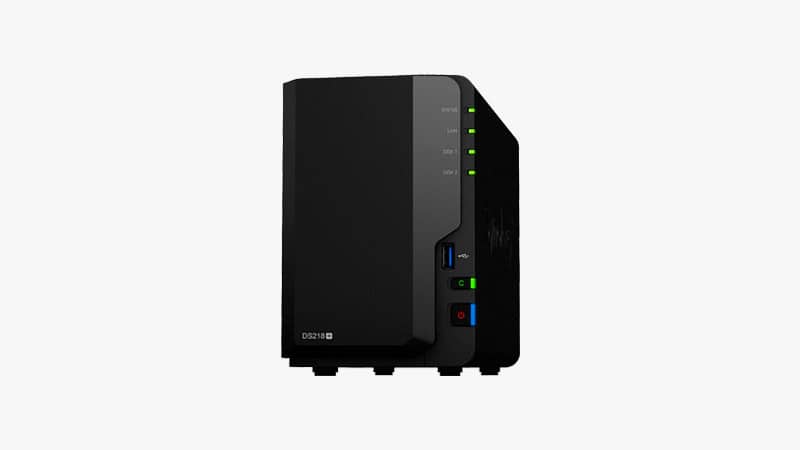 Synology 2 bay NAS DiskStation DS218+ is a NAS storage with a performance of over 113 MB/s in reading and 112 MB/s in writing. It has a 20 TB hard drive, 2 GB of RAM, and an Intel Celeron J3355 Dual-core 2.0 GHz-powered CPU.
The 2 GB of memory on this device is expandable to up to 6 GB, which makes it perfect to centralize all your family photos, documents, and media. The Synology 2 measures 9.14 x 4.25 x 6.5 inches, so it can fit in any home office. Moreover, it has three USB 3.0 ports and a dual-core processor with a transcoding engine and AES-NI encryption acceleration.
This powerful little NAS storage features protection from accidental data loss as well, making your files safe in the case of an emergency.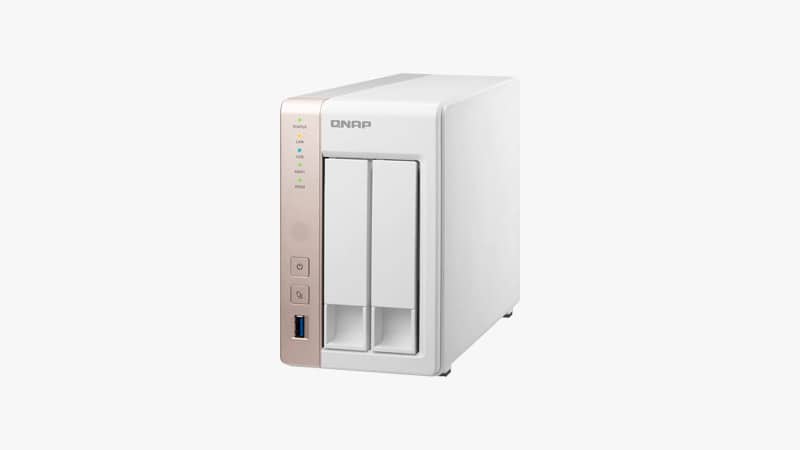 The previous NAS models have all been more or less suited for home use or small commercial endeavors. In one sense, the QNAP TS-251 isn't any different. It only features two bays, which limits your expansion to two individual disks. However, the TS-251 has significantly improved capabilities over previous models, meaning you can do a lot more with this NAS than with less expensive ones.
For one, the processor is much better and faster. Although an Intel Celeron is a low-grade computer processor, it provides more than enough power for a NAS. With a dual-core CPU running at 2.41 GHz, you have the capacity for much faster data transfer and file access. The RAM is also improved over cheaper models. The TS-251 comes with 1 GB of RAM and is upgradeable to up to 8 GB of memory.
You can use the TS-251 for real-time video transcoding, and if you upgrade it to 2 GB of memory, you can run it as a virtual machine, streamlining operations and improving performance. You can run the NAS on RAID 1, and it can be equipped with up to 20 TB of storage (two 10 TB drives).
Best Network Attached Storage Under $400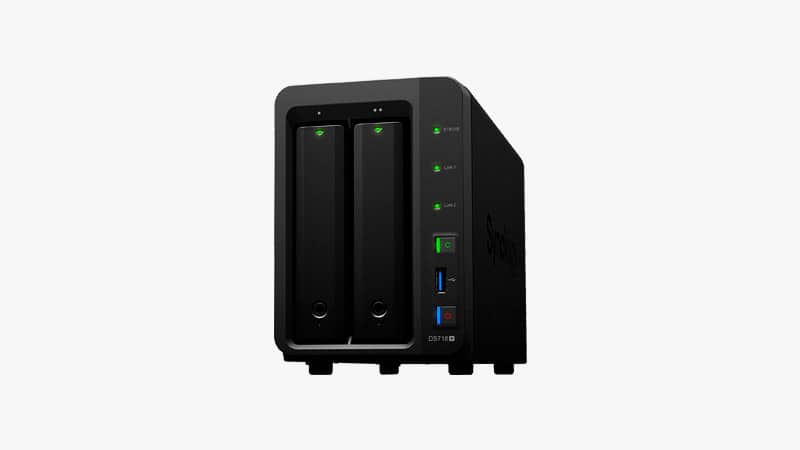 Synology 2 bay NAS DiskStation DS718+ is a perfect diskless two-drive option for all those who are looking for a user-friendly DSM (DiskStation Manager) operating system.
The DiskStation is a whole backup solution, offering a personal cloud server service, a media, as well as an email server. The outer black box measures 6.1 x 4.0 x 9.1 inches. This 1.5 GHz-powered quad-core CPU machine supports Synology Hybrid RAID (SHR), RAID 0, RAID 1, JBOD, and Basic configurations. It comes with 2 GB of memory and can take 2.5- and 3.5-inch drives that have a capacity of up to 12 TB.
This strong NAS storage can accommodate a lot of users. To be precise, up to 2,048 users, as well as 512 shared folders and 256 user groups. It has a convenient copy button when you need a one-touch transfer and a USB 3.0 port. It also offers protection from accidental data loss, so look no further if you need a strong NAS for your home.
Best Network Attached Storage Under $500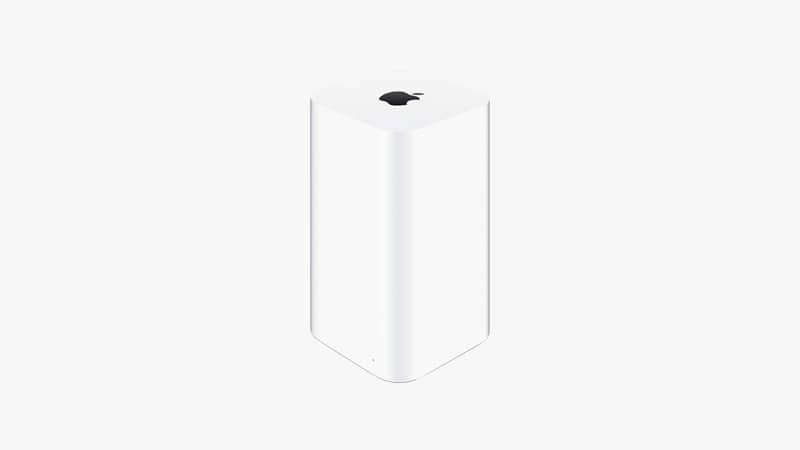 Although most businesses and commercial enterprises use Windows-based computers, there are some people who prefer Apple software and operating systems. If this is you, you may be interested in the Apple Time Capsule.
The Time Capsule is more than just network attached storage. It automatically backs up your information, and with 2 TB of storage, it can hold quite a bit. It syncs with your online cloud storage and it functions as a Wi-Fi base, making it easier to share a wireless printer or hard drive with other computers.
The Time Capsule has some limitations, however. There are no expansion ports, so you're not going to have more than 2 TB of storage. Furthermore, it only works with Apple computers, making this useless for anyone running a Windows PC.
On the other hand, Apple Time Capsules are not expensive and they do not use diskless drives, so you could always purchase more Time Capsules and sync them together to improve your storage space. If you need to back up more than 10 TB of data, however, the Time Capsule is not your best option even with multiple units.
Best Network Attached Storage Under $600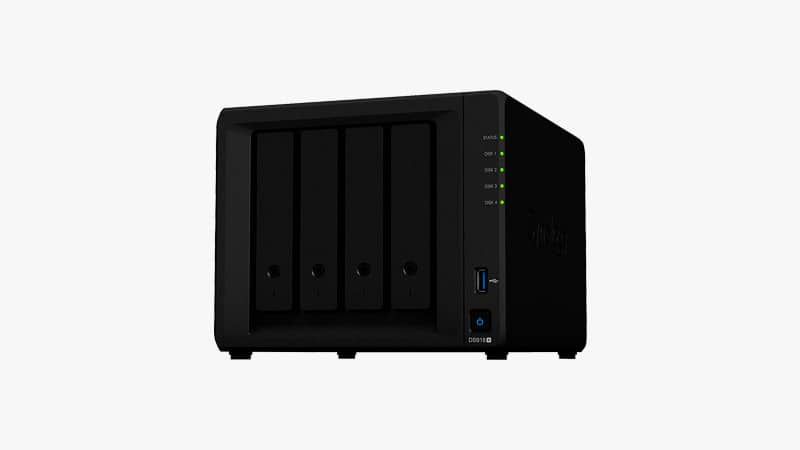 Synology 4 Bay NAS DiskStation DS918+ is another one from Synology that can really come in handy in your home or in your small business office. It has a 4 GB RAM memory, expandable up to 8 GB, and an advanced file system with 65,000 system-wide snapshots for your personal use and 1,024 snapshots per shared folder for the whole team.
The DiskStation DS918+ comes with a quad-core processor with AES-NI hardware encryption engine powered by 1.5 GHz. It measures 8.78 x 7.83 x 6.54 inches and has two USB 3.0 ports, as well as M.2 NVMe SSD slots for cache support.
This storage machine offers excellent performance with over 225 MB/s in sequential reading and 221 MB/s in writing. The same as every Synology NAS, it has protection from accidental data loss. If you're looking for a reliable NAS device that is reliable and has a user-friendly interface, then this is the right choice.
Best Network Attached Storage Under $700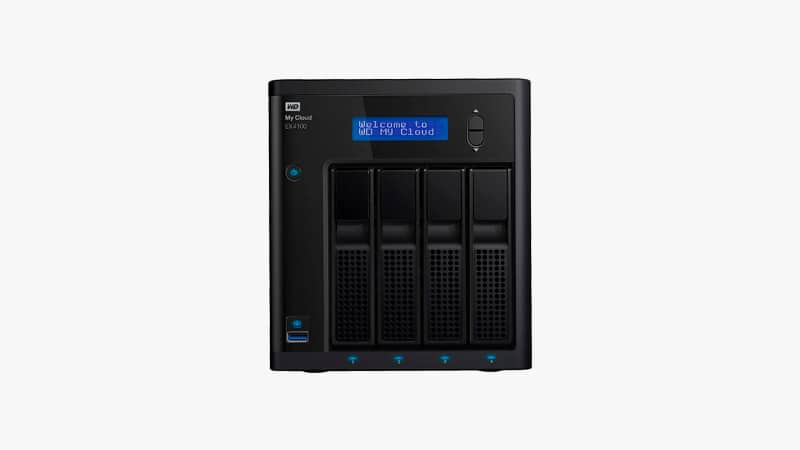 The WD 8 TB My Cloud EX4100 Expert Series uses the same My Cloud app technology as the EX2 but offers significantly improved RAM, processing, and storage space over the previous model. It is built on My Cloud technology, providing you with easy-to-use support for all your cloud and data sharing needs.
As is the case with other Western Digital My Cloud models, you can choose to upgrade the storage disks to 16 and 24 TB models. It features a 1.6 GHz dual-core processor and comes with 2 GB of RAM. It supports RAID 0, RAID 1, RAID 5, and RAID 10, which offers similar parity performance to RAID 5 with faster read and write costs.
The EX4100 is an excellent NAS to use for security surveillance, as My Cloud supports unlimited security camera licenses. With a variety of RAID configurations available, it is a great choice for businesses of all shapes and sizes, as it provides you with a wide assortment of options for protecting and accessing your data.
Best Network Attached Storage Under $1200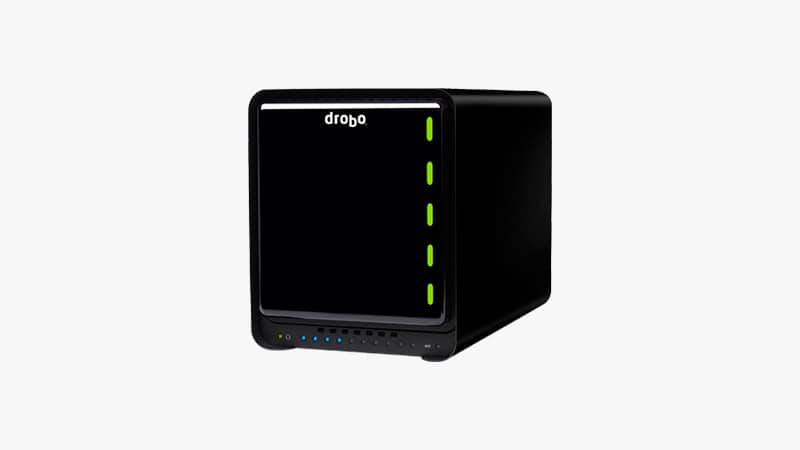 Drobo 5N2: Network Attached Storage is an excellent NAS for small businesses and for home needs. As same as Synology, it has a user-friendly interface.
It comes with the DroboApps and measures 5.9 x 7.3 x 10.3 inches. The Drobo NAS comes with two 1 GB Ethernet ports and the 64 TB filesystem support ensures your photos, documents, emails, music, and other media will be safe. The 5N2 also has a Disaster Recovery solution and operates much faster than the previous Drobo models.
With this NAS you can remotely access your files and they are automatically safe from power outages, as well as a drive failure. As mentioned, 5N2 offers various features, such as myDrobo Platform, DroboPix allowing automatic uploads of mobile photos and videos, and DroboAccess encrypted-end-to-end remote access. Although on the pricey side, it will keep all your data safe and a click away.
Best Network Attached Storage Under $1300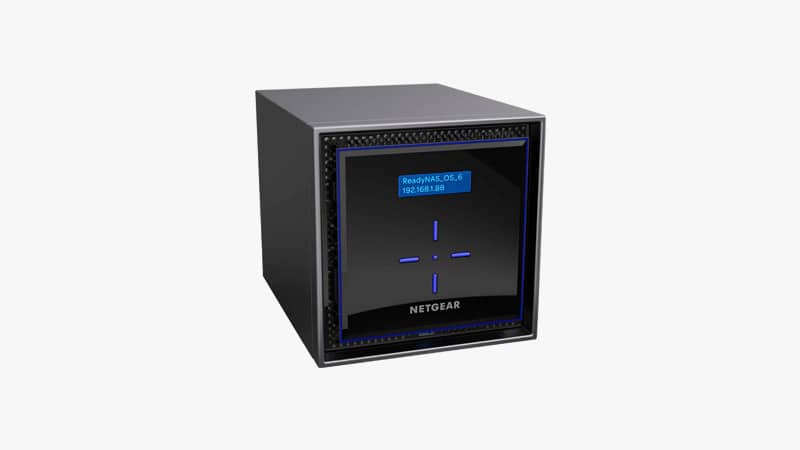 NETGEAR ReadyNAS RN424E2 4-Bay Network Attached Storage is a high-performance storage solution, perfect for any medium-sized office. It can support up to 40 users in a workgroup.
It comes with 5 levels of data protection and its dual-core processor is powered by 1.5GHz. NETGEAR's storage machine has 2 GB of RAM and a capacity of 40 TB file support, which means all of your colleagues can share files easily. It measures 9.4 x 7.3 x 7.6 inches.
It can stream HD on multiple devices and you can fully control it through the NETGEAR Insight app. This device stores data with RAID configuration and has a disaster recovery option to safely store your business documents and media.
Best Network Attached Storage Under $2100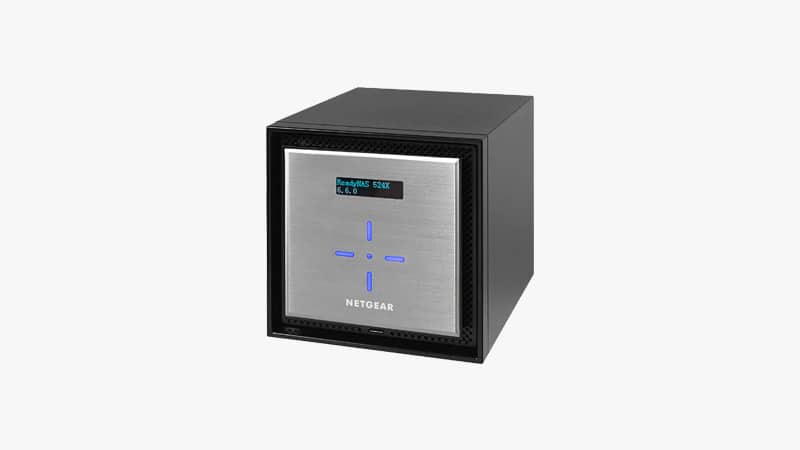 The ReadyNAS 524X High Performance Network Attached Storage is a powerful NAS device with four disk bays ready to support up to 40 TB of storage space. The 524X is powered by a 2.2 GHz dual-core Intel processor and outfitted with 4 GB of the latest DDR4 RAM.
A dedicated NETGEAR app makes managing and coordinating your files easy. The 524X is capable of handling up to 80 computer connections, making it an excellent choice for large businesses with many employees accessing and storing data on a regular basis. The 524X has 10 Gigabit copper Ethernet ports for improved connectivity, offers five levels of data protection, and provides your office with its own secure cloud that can be accessed remotely.
NETGEAR is compatible with Windows, Mac, Linux, and Android operating systems, so no matter what device you're using or what operating system you're running, you can access the information you need.
There are a lot of good reasons to invest in network attached storage. From the convenience of a personal cloud to the long-term money-saving potential, a good network attached storage device could do wonders for your business or office. We're confident that once you have evaluated your needs, you will find an ideal NAS in this list.
Photo Credit: Unsplash