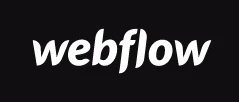 Webflow
Webflow offers the most value for your money. It has a ton of features, easy-to-use templates, and free learning resources with excellent customer support.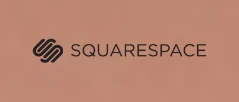 Squarespace
If you're looking for professional templates to customize and call your own, Squarespace offers some of the best ones in the industry.
Best For Beginners (Cheap)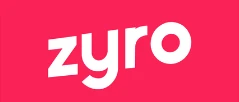 Zyro
We've achieved a 40% uplift in relevant organic traffic since the start of the campaign. We've achieved a 40% uplift in relevant organic traffic since the start of the campaign.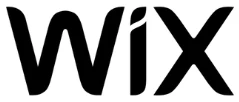 Wix
The best way to increase sales is by integrating advanced eCommerce tools such as POS, cart abandonment, and more. That's exactly what you stand to gain with Wix eCommerce.
Best For Agencies & Saas Platforms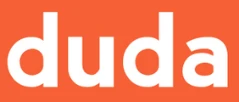 Duda
Growing a business website is now easier than ever. Duda is best-suited for creating business websites without writing a line of code. Whatever your business' needs are, Duda has got your back.
It's possible to launch a brand-new website in just a couple of hours.
In fact, you can do it faster if you leverage AI, thanks to no-code website builders.
This article is the ultimate comparison guide to the best no-code website builders this year and beyond.
If you're in a hurry, start with Squarespace. You'll love the professional templates from Squarespace, which are also mobile-responsive. This is so important in this Mobile-First world.
In this guide, we'll dive into the best website builders that require no coding, the pros and cons, pricing, and address some of the frequently asked questions.
Let's dive in.
What Are The Best No-Code Website
Builders?
Listed below are 7 of the most popular no-code website builders.
We'll dive into the key features, pros and cons, and break down the pricing plans to help you decide which no-code site builder is most suitable for you.
Let's dive right in.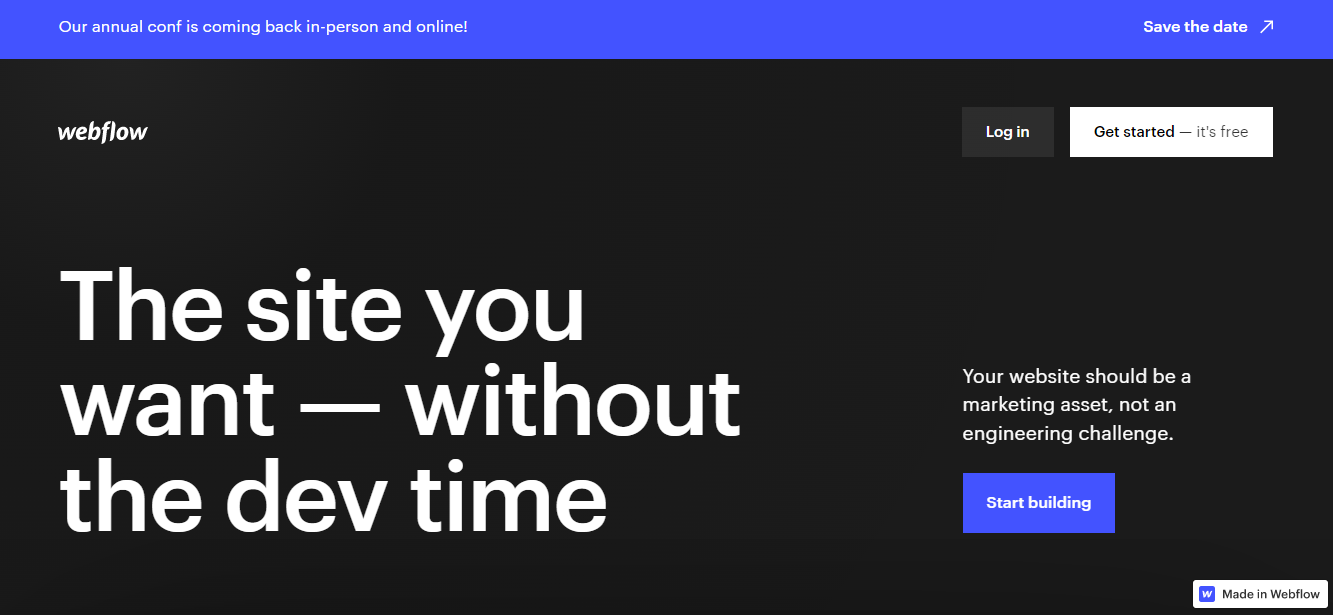 Webflow is a no-code website builder that allows you to design & custom a website in minutes.
Webflow was founded in 2013 by Sergie Magdalin and Bryant Chou. It's based in San Francisco, U.S.A.
There's a ton of mobile-responsive templates, which are highly customizable — and beginners with no web design experience, whatsoever, can quickly find their way around the user-friendly drag-and-drop builder.
Webflow supports 3D CSS transforms, floats, box models, and flexboxes. It also has a visual designer for generating semantic code. Apart from this, you can also create custom transitions.
Webflow powers more than 100,000 websites for both small and large businesses, including Pacific Funds, Zendesk, HelloSign, Rakuten, Dell, AngelList Venture, and HECO. In fact, Lattice saw a 280% increase in organic traffic by switching to Webflow.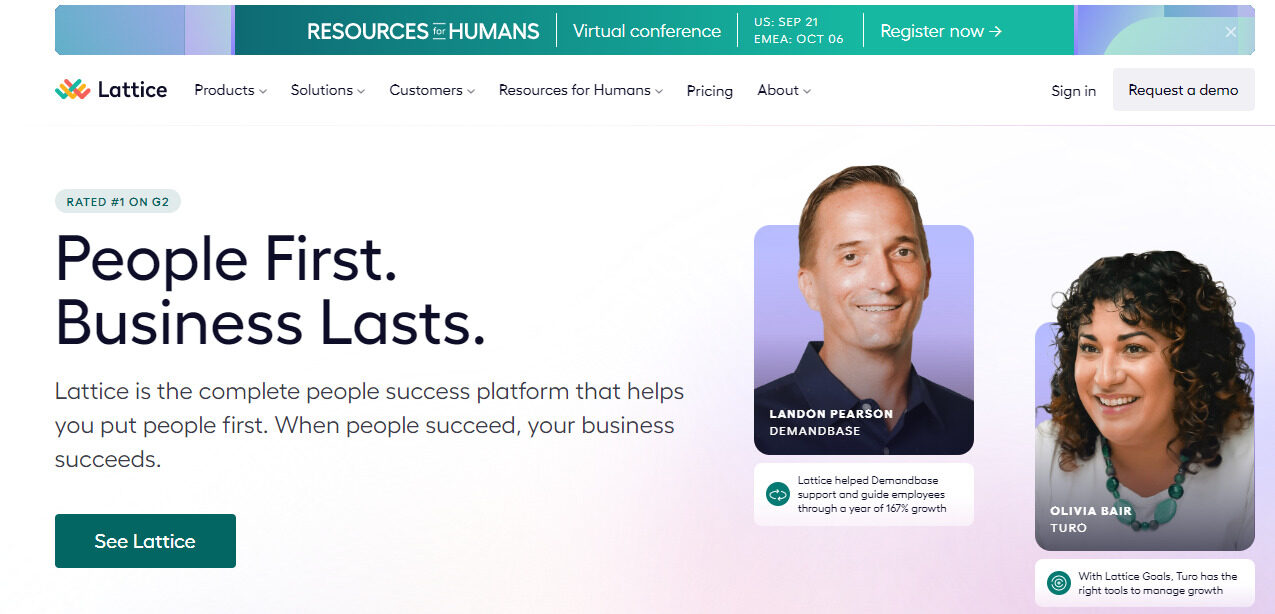 The Webflow platform has two distinct user interfaces that allow you to make changes to content without coding or a developer.
There is no need to hire a developer to edit website content. You can edit any aspect of a website without writing a line of code. 
This CMS is also equipped with powerful web hooks and Zapier integration, which help you connect your CMS with external services and tools. 
Pros
Build your website for free, upgrade when you're ready to scale
Fast and scalable hosting with advanced security
A huge collection of professional templates
Clean and intuitive drag-and-drop builder
400+ free lessons covering layout, typography, interactions, and 3D transformations.
Easily develop engaging CSS interactions animations
Cons
The CMS has limited functions (such as reference fields)
It requires a bit of a learning as the platform is advanced
Webflow Pricing
Webflow has straightforward pricing and plans based on your specific needs. Here's a breakdown of the Site plans:
Starter ($0.00/month): Get a Webflow.io subdomain, 50 CMS items, 1 GB bandwidth, more.
Basic ($15/month): Get the essentials to launch your simple website quickly. Custom domain, 0 CMS items, 50 GB bandwidth, and more.
CMS ($20/month): Start a blog or content-driven websites. Get custom domain, 2,000 CMS items, 200 GB bandwidth, 3 guest editors, etc.
Business ($45/month): Choose this plan when you're ready to scale and build a high-traffic website. All the features of CMS, plus 10,000 CMS items, 400 GB bandwidth, and more.
Enterprise: Contact support for a quote, launch an enterprise-level website with security, compliance, and scalability.
Note: Switch to annual payment schedule and save up to 20% on the total monthly costs.
Best site builder for agencies and SaaS platforms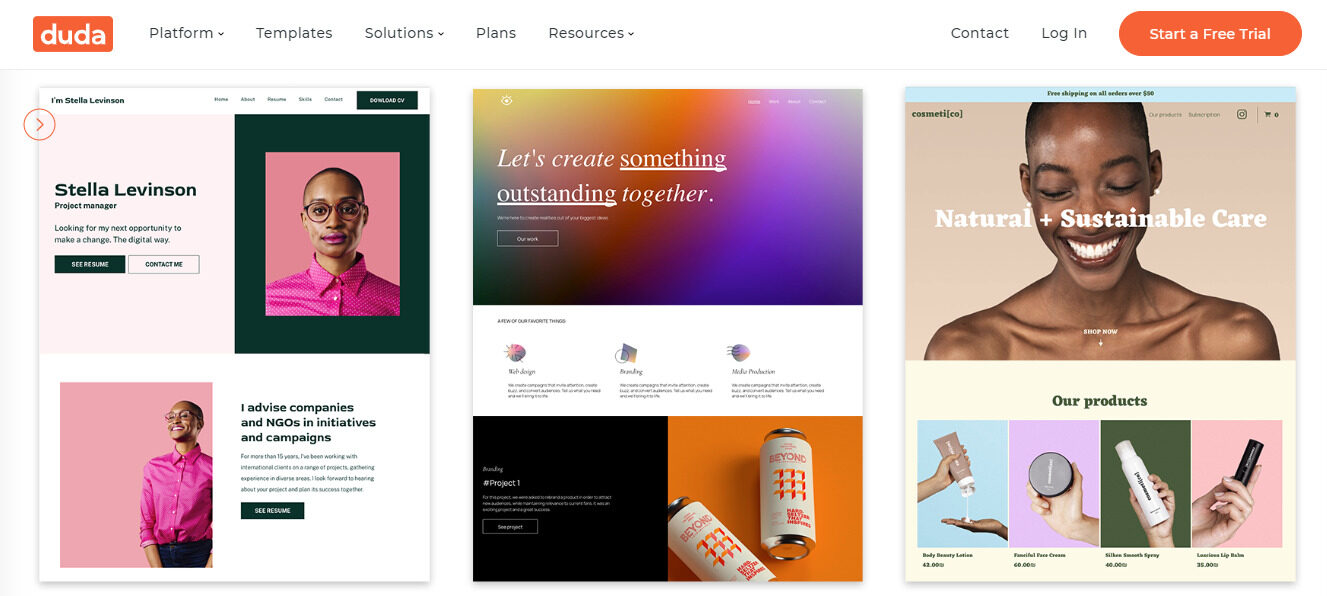 Duda is a stable and dependable no-code website builder.
Since launching in 2010, Duda has hosted 1 million+ websites built by 18,000+ agencies and SaaS platforms. Duda has raised more than $100 million in funding to date, and is headquartered in Palo Alto, California.
You can collaborate with others by sharing specific parts of your website, which will save you a lot of time.
9% of Retail companies and 7% of Hospital & Health Care companies use Duda website builder respectively. Here's the distribution of companies by industry: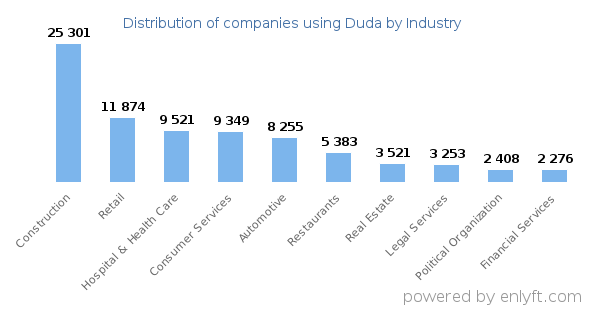 Its drag-and-drop functionality makes it ideal for agencies that are looking to create multiple sites in a short period of time.
It also allows you to add widgets and integrate third-party services. It also lets you backup your website in case of any malfunction.
The Duda no-code website builder has 100s of ready-made templates that you can pick from and customize. You can also create your own templates by importing your own coding or content.
It promises super fast loading speed, which will boost your SEO performance. Its user journey feature allows you to customize the overall experience for your visitors.
Pros
Intuitive tools for creating mobile-ready websites
Rich reporting and powerful traffic analysis
Features a top-tier drag-and-drop editor
Create a backup and restore your site (when it breaks) with ease
Easily engage with your site visitor via emails
The best option for multilingual websites
Create websites that meet Core Web Vitals & PageSpeed requirements.
Build unbreakable websites with 99.9% uptime, 1-click SSL & 24/7 support
Cons
It doesn't let you switch templates easily
No free plan (and paid plans are relatively expensive)
Limited widget store
Duda Pricing
Are you ready to create your website and grow with Duda, here are the plans and affordable pricing options to choose from:
BASIC ($19/month): 1 website, sites hosted on AWS, and email support.
TEAM ($29/month): Everything in BASIC, plus Phone, chat & email support, access to team & client management features, etc.
AGENCY ($59/month): 4 websites & AWS hosting, priority support via phone, chat & email, dynamic pages connected to customer data, and more.
CUSTOM: Create your plan, get custom quotes from the sales team.
Note: You can save up to 25% with the yearly billing.
Best for artists, creatives, and design studios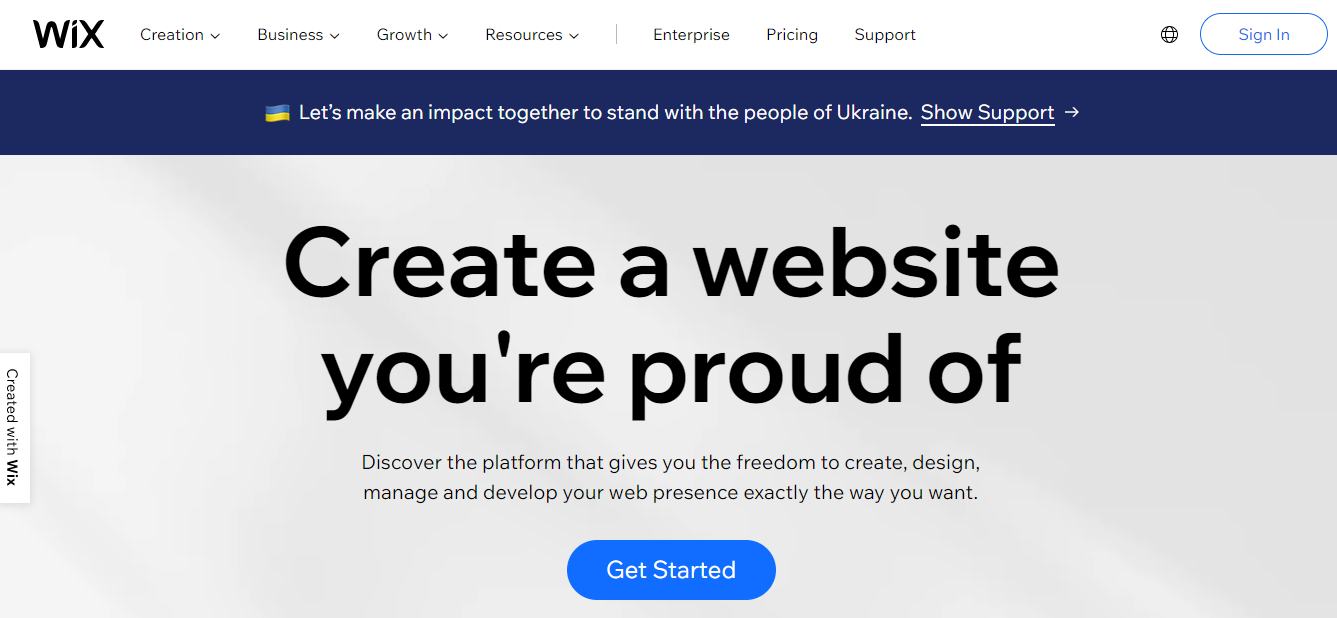 Wix is a free and popular website builder with no-code framework.
On the 5th of October 2006, Wix was launched in Tel Aviv-Yafo, Israel. It has since evolved as a trusted website builder, with easy-to-use features for creating a professional website or online store.
Whether you're promoting a business, showcasing your work as an artist or creator, opening an online store or starting a blog, Wix gives you all the tools you need.
Wix is used predominantly by artists and creators. Some of the popular websites built with Wix include Hannah Jacobs, Karen J Revis, Extra&Ordinary Design, Jen Pierce, and so on.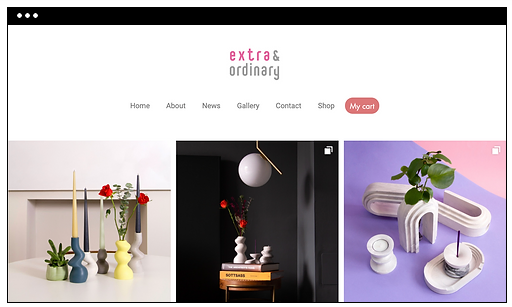 One powerful feature that Wix offers is an online scheduling software. This lets clients book appointments or services and pay online. This is ideal for Med Spa and Salon brands that want clients/patients to book for consultations on their websites.
Choose from 500+ customizable templates covering blog, business, online store, beauty, photography, and education.
The Wix Editor offers total design freedom. You can pick a designer-ready template and customize it accordingly using the drag-and-drop builder. Add video backgrounds, scroll effects, and animation to your website.
If you want a completely hands-off designer, then Wix ADI (Artificial Design Intelligence) is what you need.
Simply answer a few simple questions and Wix ADI will instantly build a stunning and personalized website for you.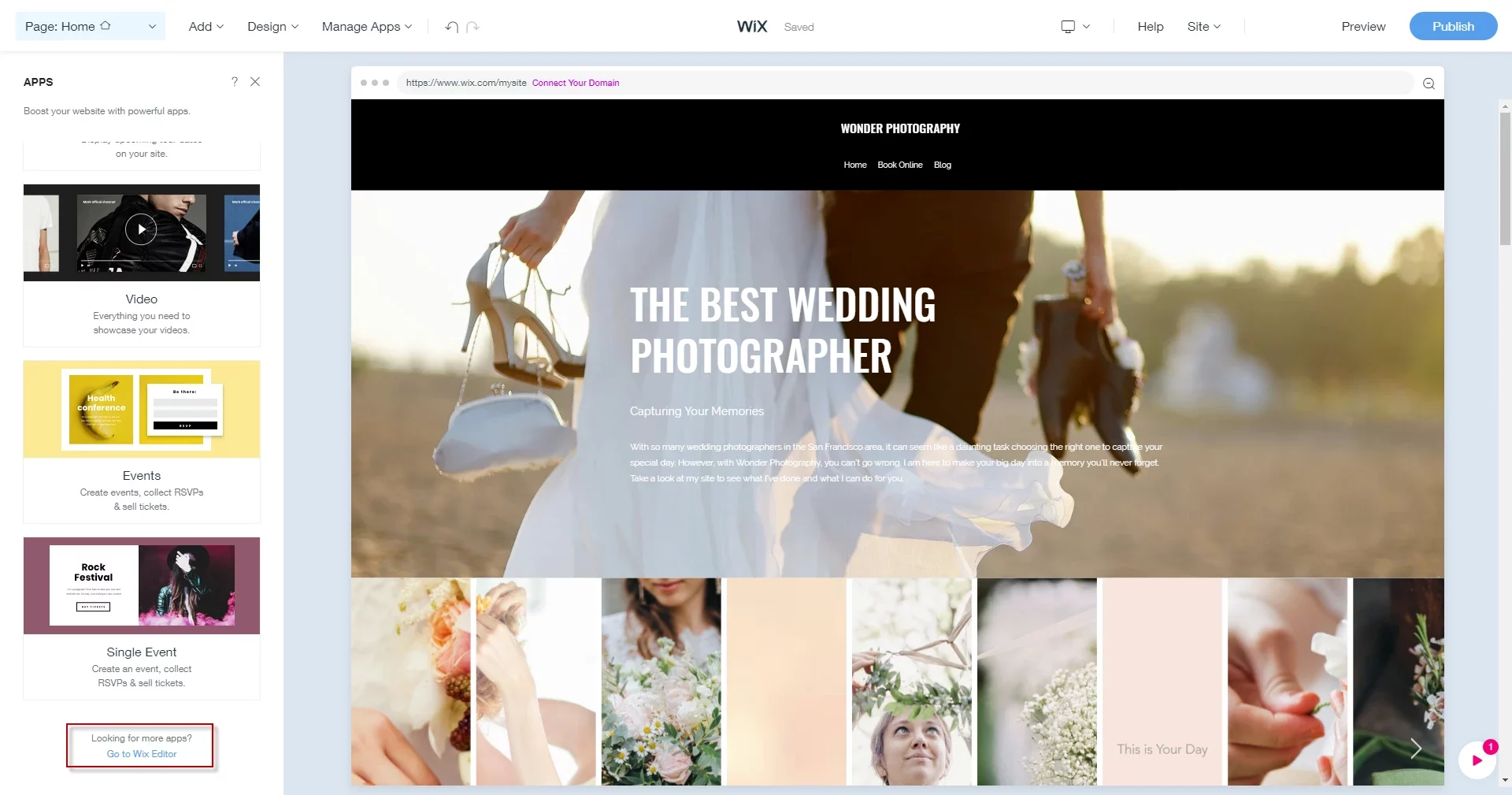 The good part is that you can change the layout, add any features you want (such as a book system or payment option to sell your product), choose a style, and click 'publish' to go live.
It also provides blogging features and effective SEO tools.  
Both services have the potential to provide great websites, but Wix is a better option if you're starting out and want something easier to use.
Pros
500+ customizable templates to choose from
Wix is flexible and easy to use
Switch to the Mobile Editor and edit your website to adapt to mobile screens
Accept bookings online on your website
Add video backgrounds to make your website pop
Manage all your content from integrated databases (for developers only)
Wix ADI lets you generate a professional website in minutes
Easy automate website backup and restore capability
Cons
Wix is a bit pricey compared to Weebly
Switching templates is complicated.
Website speed can be improved on mobile (sometimes, it's slow).
Wix Pricing
While you can get started with Wix at no cost, the premium plans offer a ton of features, top-grade hosting, and more.
Here's a breakdown of the Website Plans:
Connect Domain ($4.50/month): Get started by connecting your domain and creating your website. You get the annoying Wix ads with this plan.
Combo ($8.50/month): Custom domain, free domain for 1 year, remove Wix ads, free SSL certificate, etc.
Unlimited ($12.50/month): Everything in Combo, plus Unlimited bandwidth, 10 GB storage space, 1 hour of video hours, and more.
VIP (24.50): First priority support, plus all the features in Unlimited plan, including 5 hours of video hours, 35 GB of storage, and more.
Best for designers, makers, and agencies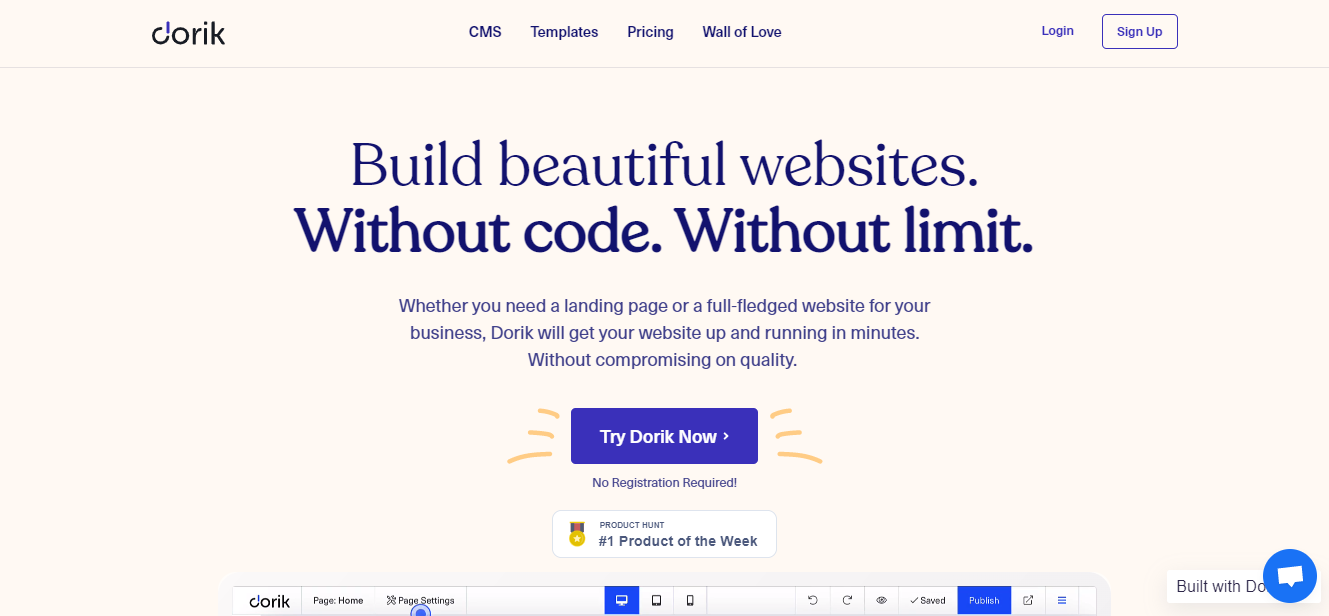 Dorik is a no-code website builder that makes creating your own website a breeze.
Dorik was founded in 2019 and has experienced dramatic growth within a short period. 12,000+ makers, designers, and agencies have used Dorik to create 200,000+ websites in total.
This tool comes with an intuitive drag-and-drop page builder and many features.
In addition to having an intuitive drag-and-drop editor, Dorik offers web hosting, a Global CDN, and Free SSL.
You can choose from three different plans to suit your needs, and you can even start with a free plan.
The interface is friendly for SEO content, so it's easy to add meta tags and optimize for mobile. 
So who uses Dorik? The Wall of Love showcases thousands of happy customers from around the world and what they have to say about the Dorik no-code website builder.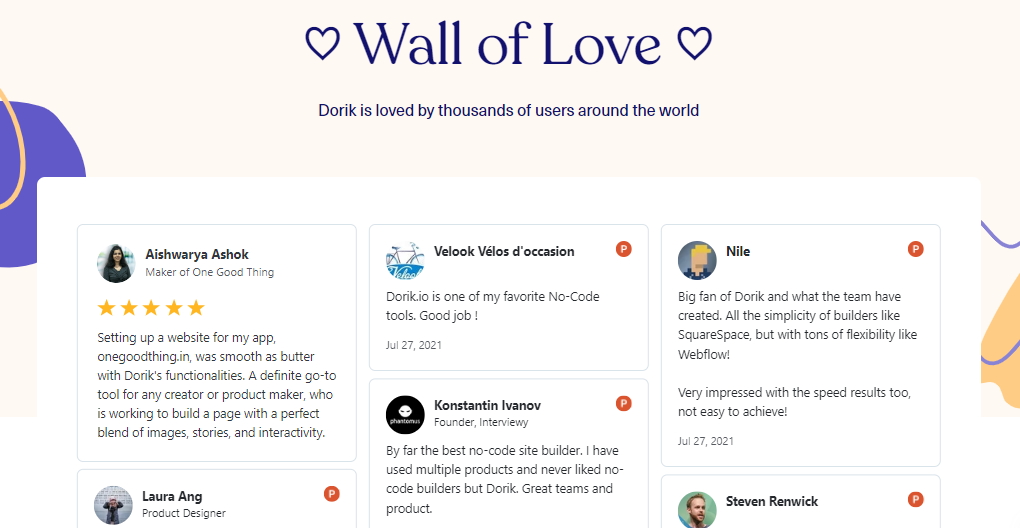 Depending on your requirements, you can create an eCommerce site using Dorik.
Dorik comes with over 25 pre-built templates, 140+ stunning UI blocks, and 20+ elements. This makes it a good option for anyone looking for a no-code website builder.
The site has a password-protection feature, which makes it more secure for visitors. It's also responsive, which is great for mobile users.
It's best for those with small budgets and are not comfortable with complicated code.
Pros
Create stunning, sfast, and high-converting landing pages in minutes
Build dynamic websites and blogs without writing any code
Add paid subscriptions to your website & protect it from non members
Free SSL certificate for all your websites
Easily inject custom HTML, CSS, or JS codes
Seamless integrations with MailChimp, Integromat, and Zapier
Cons
The personal plan is limited to only 100 pages and 1 website
Dorik requires a steep learning curve (Wix is easier to understand)
Dorik Pricing
Dorik offers flexible & affordable pricing. Let's take a look:
FREE ($0/year): 500 members, 25 static pages. This plan is ideal for starters
PERSONAL ($48/year): 1 custom domain, 3000 members, 100 pages, 5 collaborators, white label, and more.
BUSINESS ($132/year): 1 custom domain, 10,000 members (then $5/10K), unlimited pages, unlimited collaborators, and more.
AGENCY ($459/year): 100 custom domains, unlimited pages, unlimited collaborators, membership feature, custom fields & collections, white label, etc.
Best for Artists, Creators, Coaching services, and Portfolio websites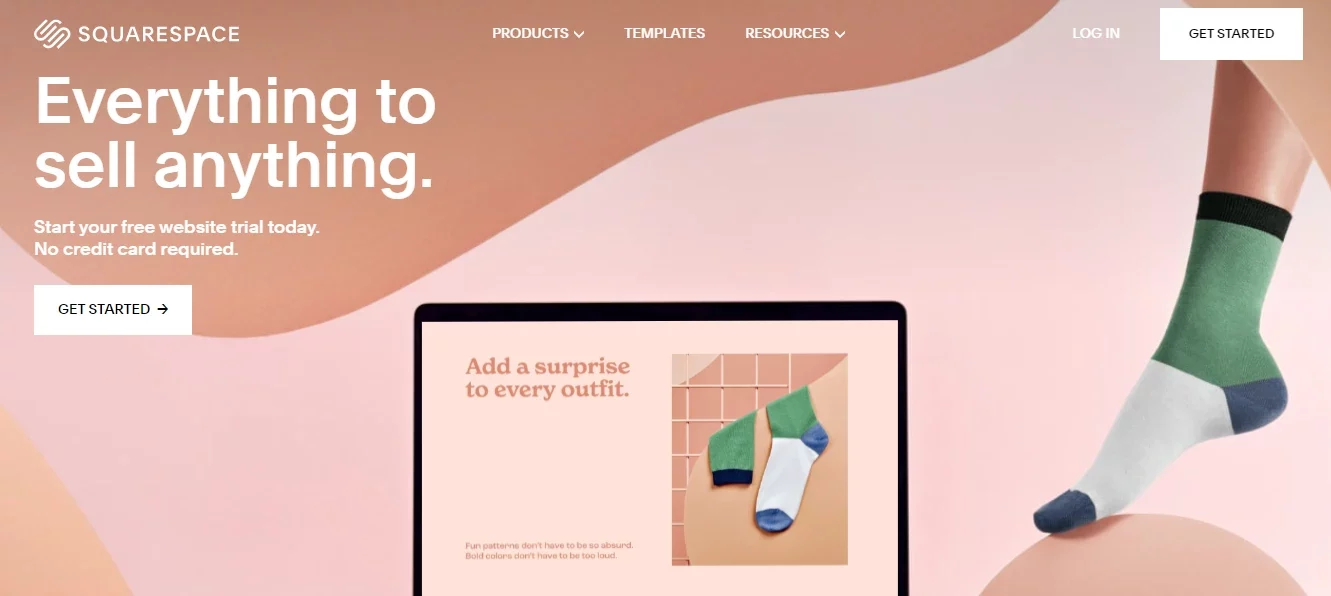 Squarespace is an all-in-one marketing platform that enables you to create a corporate website or blog and start selling online.
In 2004, Anthony Casalena founded Squarespace as a blog hosting service while still attending the University of Maryland, College Park. In 2021, the company recorded a revenue of $784 million and currently has 150 employees.
Since Squarespace purchased Acuity Scheduling, it has made it native to their platform.
When you build a website with Squarespace, you can add scheduling features to help clients book appointments and receive payments directly from your website. Great for Salons and Spas.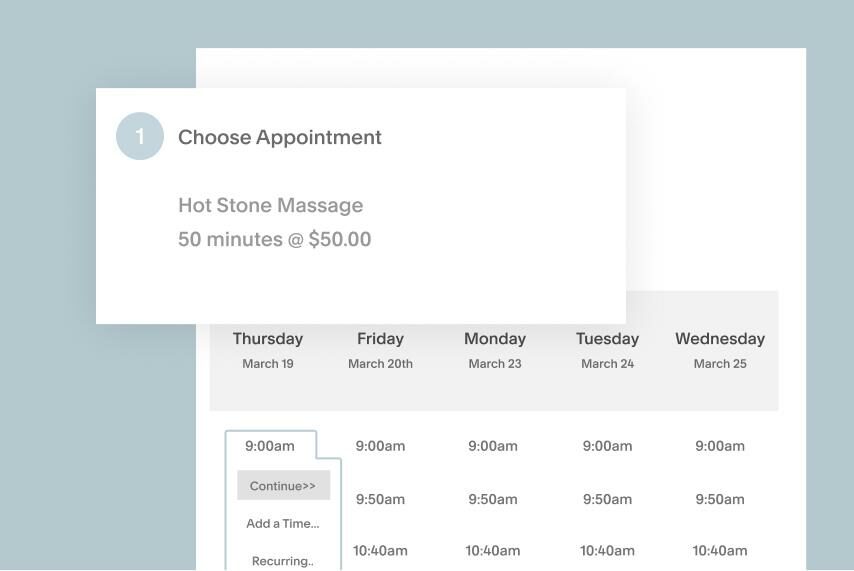 It includes a blogging platform, allowing you to write posts and push them to social media networks like Twitter and Facebook.
Use Squarespace to create a website for your online store, local business, portfolio, blog, restaurant, services, and personal projects.
Squarespace is used across diverse industries and professions. It's used by Sophia Bush (Podcast host), Bembien (Small business owner), Adrienne Requel (Photographer), etc.
The eCommerce feature of Squarespace is similar to Shopify. Its drag and drop interface makes it easy to add and edit content, and you can preview what your store looks like before committing to a monthly payment.
Note: You can transfer a domain and move your website from WordPress, Etsy, Shopify, Joomla, or any other CMS to Squarespace.
Pros
Easy-to-use website builder (get your site up quickly)
Solid and visually-appealing templates
Send email campaigns to re-engage your visitors
Extend the functionality of your site with extensions
Create attractive social media content with the Unfold app
Auto updates so you never have to worry about security issues
The drag-and-drop editor and templates are easy to use
Cons
Customizing the template to suit your needs can be daunting
It doesn't prioritize SEO (WordPress is a better option for search-optimized sites).
Squarespace Pricing
Squarespace allows you to set up your website and only pay for what you really need. You can save up to 35% when you choose to pay annually. However, here are the monthly plans:
Personal ($23/month): Great for getting started, free custom domain, SSL security, 30 minutes of video storage, and more.
Business ($33/month): Everything in the Personal plan, plus unlimited contributors, professional email from Google, premium integrations and blocks, etc.
Commerce ($36/month): Get all the features in Business, plus Point of Sale, Product reviews, Customer accounts, Checkout on your domain, and more.
Commerce ($65/month): All the features listed above, plus abandoned cart recovery, sell subscriptions, advanced shipping, commerce APIs, and more.
Best Site Builder for Beginners & Personal Use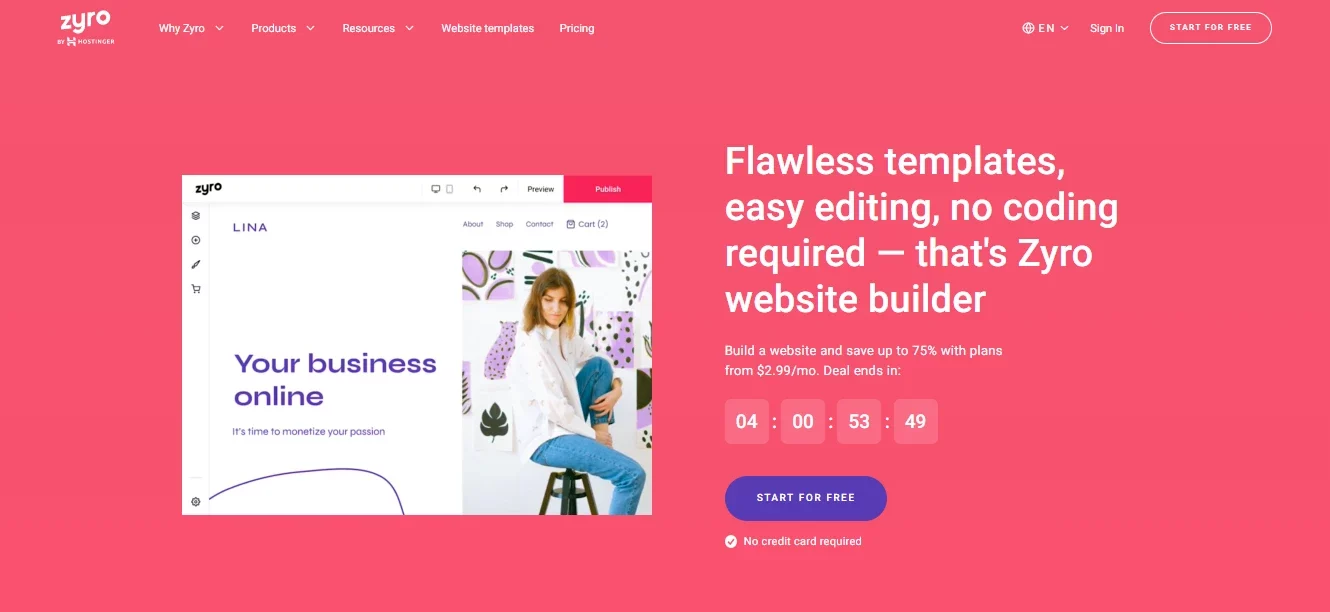 Zyro (by Hostinger) offers easy editing, flawless templates, and no-code framework to help you build a beautiful website.
Zyro was founded in 2019 as Zyro Inc by Giedrius Zakaitis with its headquarters in Kaunas, Lithuania.
With Zyro, you can create a site within minutes. You can drag and drop elements to customize your site.
Whether you're a Chef, a Podcast host, a Painter, an Online creator, an Entrepreneur, a Freelancer, or a Clothing brand, you can use Zyro to power it.
Some of the popular websites built with Zyro are Videocamp.lt, Millawkids.com, Stounson.com, Dailydoodleart.com, and more.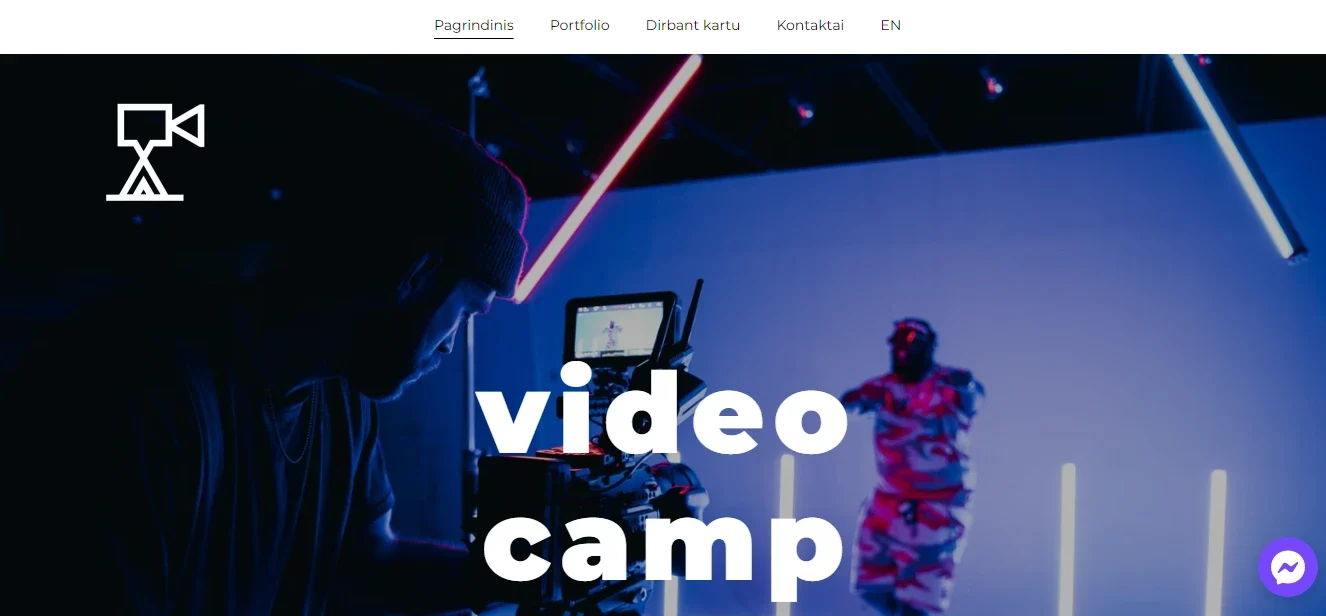 You can even edit and realign elements. Then you can add content. After you're done, you can publish your site on the web.
You can then choose a plan and choose one of 133 responsive templates.
Once you choose a theme, you can customize it later to suit your personal style.
You can even use drag and drop tools to edit the website. Zyro also allows you to embed images into your website.
Pros
Easy to use page builder with helpful grids
It's very cheap (pricing starts at $2.99/month)
Hands-on AI tools to help with content optimization
Get access to a ton of stock free images
Multiple payment processing options
Cons
Customer support doesn't seem to respond on time (it takes hours)
Limited customizability of the templates
Sometimes, it can be buggy
Zyro Pricing
You get a 30-day money-back guarantee with every Zyro pricing. Here's a summary:
Website ($2.99/month): Free domain for 1 year, free email for 3 months, 24/7 customer support, and more.
Business ($3.99/month): Everything in the Website plan, plus 'sell 100+ products on your website.
Advanced Store ($15.99/month): Grow your business with powerful marketing tools, sell up to 2,500 products, Facebook shop, plus every feature in Business.
Best for selling products online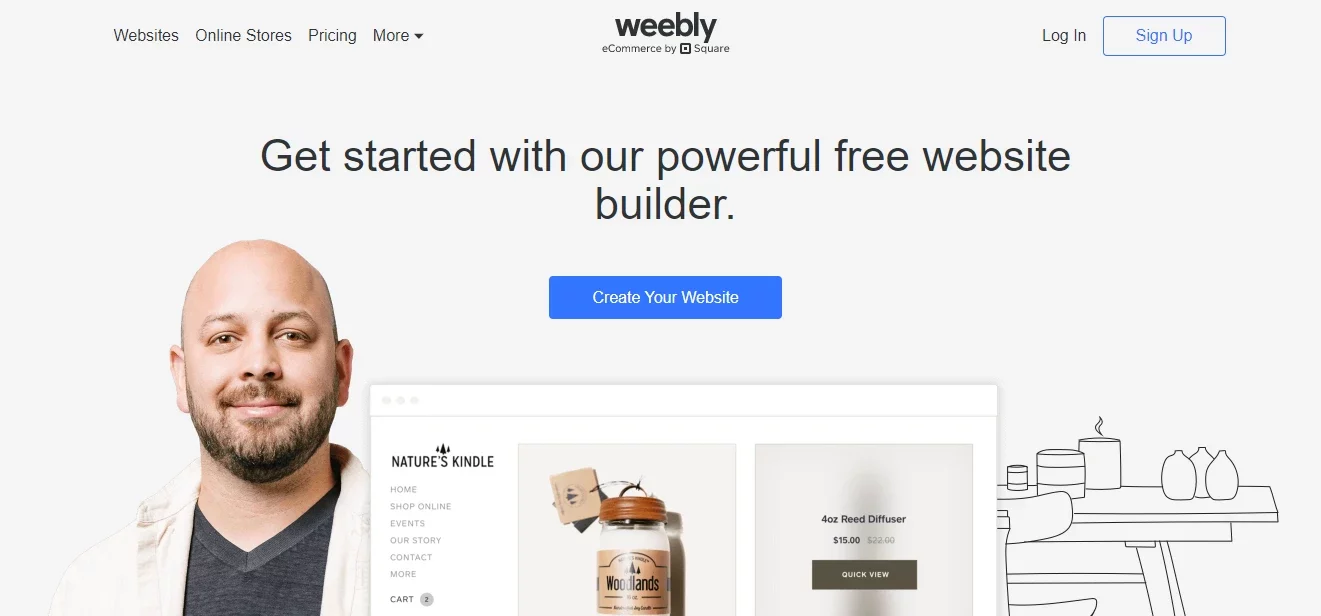 Weebly is a free but powerful website builder that makes it easy for you to create a professional-looking website in just a few minutes.
Weebly was founded in 2007, and currently powers 50 million sites globally. It's based in San Francisco, with offices in Scottsdale, Toronto, and New York.
Weebly is trusted by 40 million+ people worldwide. Some of the popular websites built with Weebly include Mavve Jeans, The Ready Desk, the Potato Parcel, Brentwood Fire Dept, Bad Pickle Tees, and more.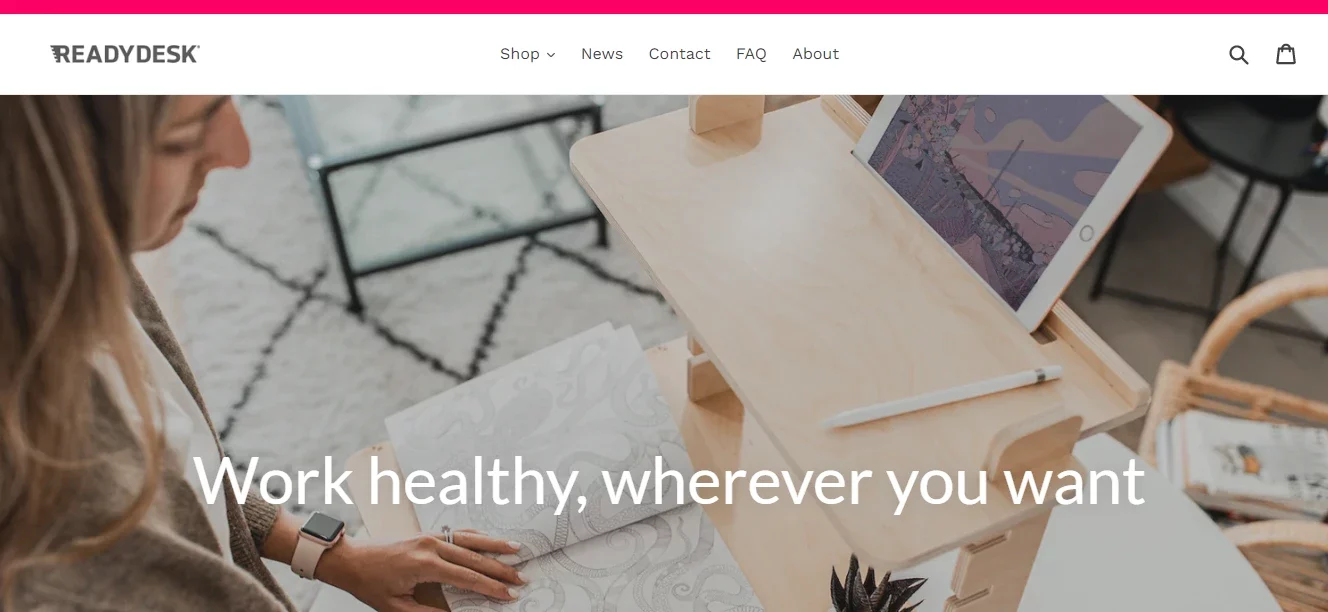 The no-code website builder provides pre-designed templates to make the process easy.
The drag-and-drop editor makes customizing the website a snap. The user interface is also user-friendly.
You can make a website for your own business without any coding experience. 
Weebly provides email and chat support. There's a community forum and blog.
The free plan has a limited number of advanced features, but the quality is higher than most other websites.
And with its low cost, it can grow as your business does.
Weebly is a great option for people who want to create a professional website without having to worry about complex infrastructure.
You can build a website with ease and get it online in no time.
Pros
Build a website without writing codes (it's that simple)
Integrates with third-party apps with ease
Auto-save function so you don't have to lose your progress
It's intuitive and easy to use
SEO settings are quick to update in real time
Cons
The mobile app isn't intuitive enough
Switching a theme often cause issues with your site layout (e.g., items become distorted)
Weebly Pricing
Weebly is free to use but it offers premium plans for Websites and Ecommerce stores. Here's a summary:
Free ($0/month): This is for basic use
Connect ($5/month): Connect a domain,
Pro ($12/month): Ideal plan for groups & organizations
Business ($25/month): For small businesses & stores
Note: Weebly monthly plans are billed annually. So keep that in mind when you sign up.
Best No-Code Website Builder Comparison
Chart (Top 7)
| | | | | | |
| --- | --- | --- | --- | --- | --- |
| | | | | | |
| | | | | | |
| | | | | | |
| | | | | | |
| | | | | | |
| | Ecommerce and professionals | | | | |
| | | | | | |
| | First-timers site builders | From $5/month (billed annually) | | | |
What Are No-Code
Website Builders?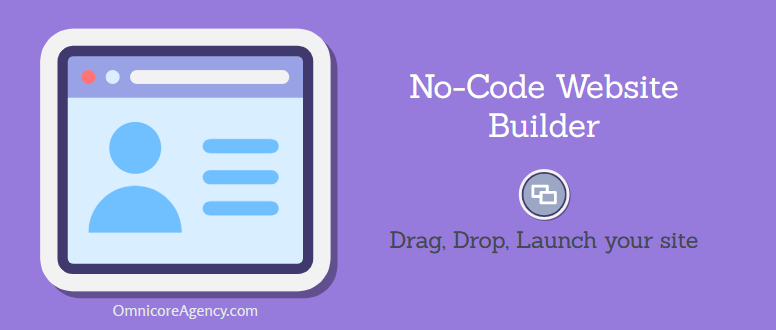 No-code website builders are a popular choice for building a website without any coding knowledge.
By using Zyro, for example, you can create an attractive website without spending a fortune to hire a professional website developer or designer.
According to User Guiding, this growing industry is expected to reach $187 billion by 2030.

However, you must remember that not all no-code website builders are created equally.
Wix and Squarespace, for instance, offer more advanced features (eCommerce capabilities) than other site builders.
Benefits of Using a No-Code Website
Builder
Let's briefly highlight some of the benefits of building your website or blog using one of the no-code site builders reviewed here.
1). Build a website with ease:
No-code website builders allow people with little or no experience with website design to create websites by simply dragging and dropping software elements.
Because of this, no-code tools make website building accessible to non-technical people. No-code is especially useful for small businesses that can't afford a web developer.
These tools let non-technical individuals create beautiful websites with ease.
The drawbacks of these sites include the steep learning curve and lack of a free plan in most of the platforms.
2). No coding is required: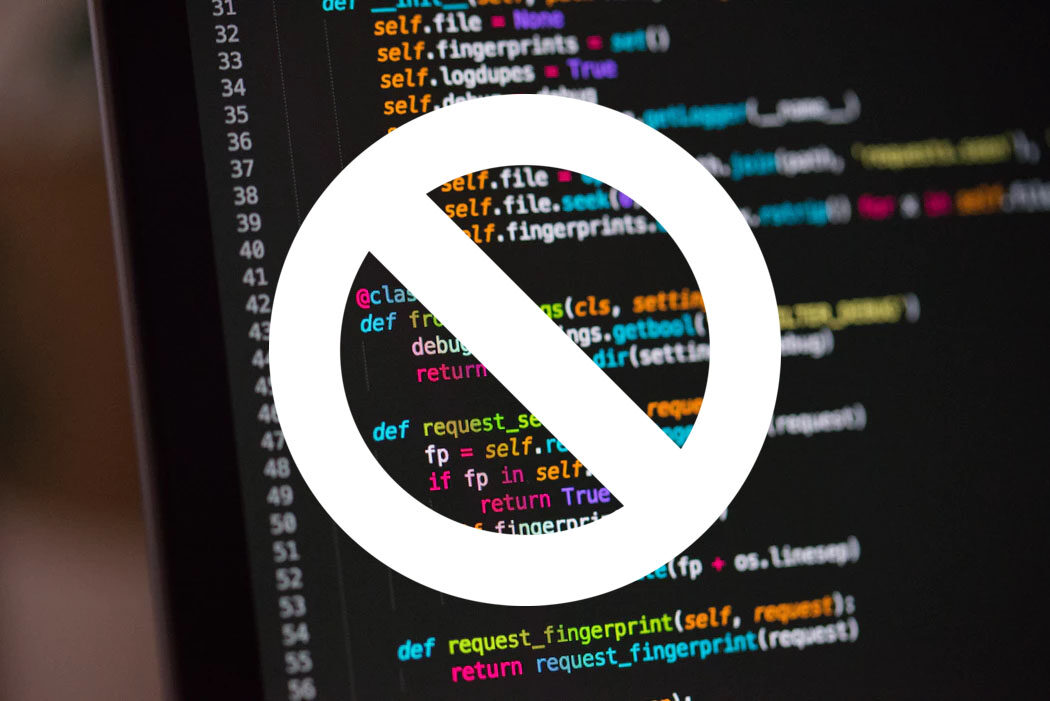 We're living in the "Age of no-code", says Salekh, from The Tech Brook.
No-code website builders eliminate the need for coding.
The drag-and-drop design features in these platforms help website builders cut the time required to create web pages and designs.
Web development is expensive, and technical people charge higher wages than marketing professionals.
No-code solutions eliminate these costly and time-consuming processes.
In addition, no-code platforms make website building easier for beginners and make website creation faster and more affordable.
3). A ton of professional templates: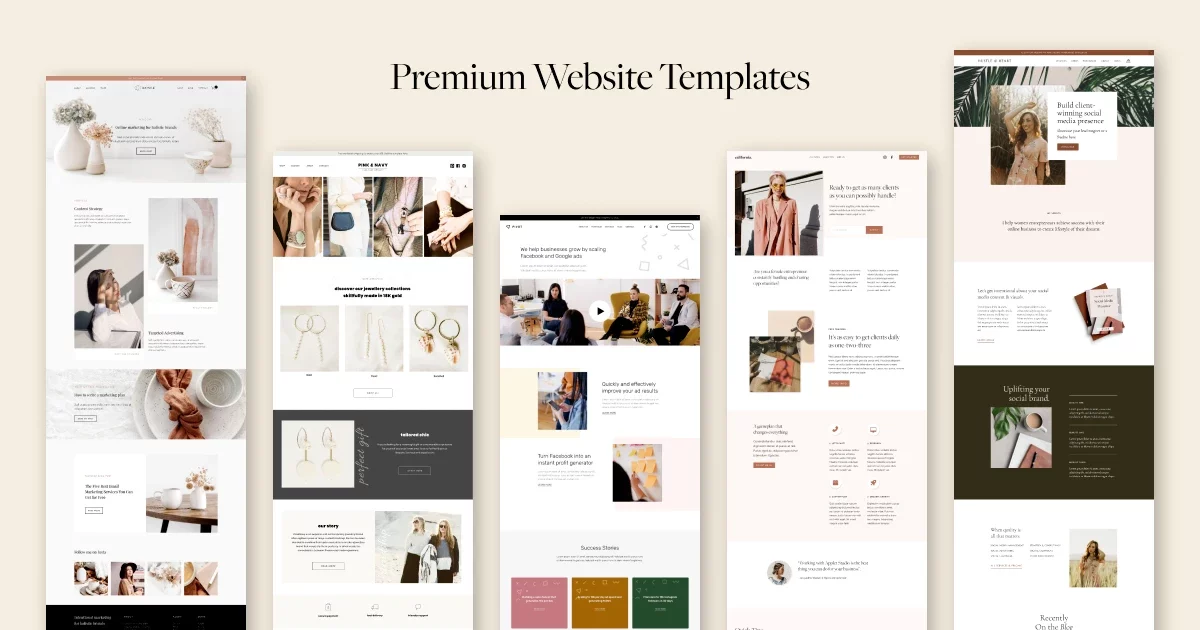 No-code website builders have tons of templates to choose from, making it easy to customize your website without knowing a thing about coding.
These templates provide a great way for people with no coding experience to create a professional-looking website.
Wix, for example, offers many great options, including eCommerce and unlimited storage.
No-Code Website Builder
FAQs
It's time for some Q&As. You may have lots of questions when it comes to no-code website builders and web design in general, let's answer some of them right here.
Can I build a website without coding?
Yes, you can use Wix, Squarespace, Webflow, Duda, or Zyro to create a website from scratch, or pick one of the professional templates to customize. In just 30 minutes, you can create a website without writing a line of code.
Which software is used to design websites without coding?
Squarespace, Duda, and Zyro are my favorite no-code website builders. You can get started for free, then upgrade to a premium plan based on your needs.
Can you build a website without CSS?
Yes, you can create a website without incorporating CSS. If you have a knowledge of HTML, you can design a basic website without adding any CSS snippets. However, CSS (Cascading Style Sheets) are useful for making a dynamic, interactive, and user-friendly website.
Why is web design so hard?
The web is constantly changing. Hence, web design is hard because you have to keep up with the changes, and learning to code takes effort and time. There's no end to the learning quest, it can take years to fully master Python, for example, but there's JavaScript, Ruby on Rails, which are also helpful programming languages to learn.
Best No-Code Website Builder:
Summary
A no-code platform is much easier to use than custom-coding a website. With hundreds of site builders available to you, how do you pick the perfect one?
If you're completely new to this no-code concept, it's recommended to start with Webflow or Squarespace, they both come with clean, simple, and drag-and-drop editors.
Instead of writing code, a no-code website will store underlying data and generate preconfigured elements.
These elements will facilitate actions and provide information in an easy-to-use visual model.
Users can update and modify their website with ease, even if they don't have coding knowledge.
No-code platforms also help prevent content from getting lost and users from being frustrated.
Photo Credit: Unsplash