With the proliferation of cable, satellite, and streaming video services, consumers have more options than ever before for getting high-quality programming, but the prices can be daunting to some individuals.
However, when it comes to getting news and entertainment, there's plenty of video programming available for free over the air.
Not all consumers are interested in the offerings made available through cable and satellite television or streaming services via the Internet (all of which typically require paying a monthly subscription fee).
Major broadcasters such as ABC, CBS NBC, and PBS offer free TV every day of the year with no need to pay a cable company to access these shows.
With so many broadcasters offering free (advertiser-supported) TV, it makes sense to get your shows with an antenna instead of signing up for a service that makes you pay for what anyone with a television can pick up sans charge.
Unfortunately, the signal strength for broadcast television is not uniformly strong. If you happen to live in an area where the TV antennas send out signals that are fairly weak or where natural and man-made features cause interference, you may grow frustrated trying to tune into your favorite shows or when you want to catch breaking local news.
This is why you will want to get an outdoor TV antenna or an Indoor TV antenna. What follows is an overview of the best TV antennas, ranked by price to help you make your purchasing decision.
Note: The Most Outstanding Outdoor TV Antennas Will Pull in Weak Signals From Distant Broadcasting Antennas While Still Giving You Excellent Sound and Image Quality
The Best Outdoor TV Antennas for 2023
| Product | Model | Reception Range | Supported Quality | Price |
| --- | --- | --- | --- | --- |
| | RCA Yagi HD Antenna | 70 miles | 4K | |
| | Sobetter Outdoor Antenna | 150 miles | 1080p HDTV | |
| | Mohu Sky 60 TV Antenna | 75 miles | 1080p HDTV | |
| | 1byone 4K TV Antenna | 200 miles | 4K | |
| | Winegard Air FL6550A | 60 miles | 1080p HDTV | |
1. Safety First!
When installing your new outdoor TV antenna, make sure that it is safe for you to climb up a ladder to mount this on your roof.
2. Don't Be Shy About Asking for Assistance
It's best to have another person to help, such as to stay on the ground and hold the ladder securely for you. If you have any concerns about your ability to install it on your own, you can always arrange for a local handyperson to take care of this task for you.
3. People Who Are in a Hurry
People will want to consider outdoor antennas that are designed to be installed quickly—look for a model whose instructions are clear.
4. Your New Outdoor Antenna Will Give You Hours of Free Programming Every Day
Before you know it, you'll be able to sit on your living room couch and start enjoying all the free TV programming through your new outdoor antenna.
5. Now You Can Cut the Cord
If you've been subscribing to a cable service for Internet access as well as TV, see about keeping internet access and canceling the paid TV option if you no longer need it.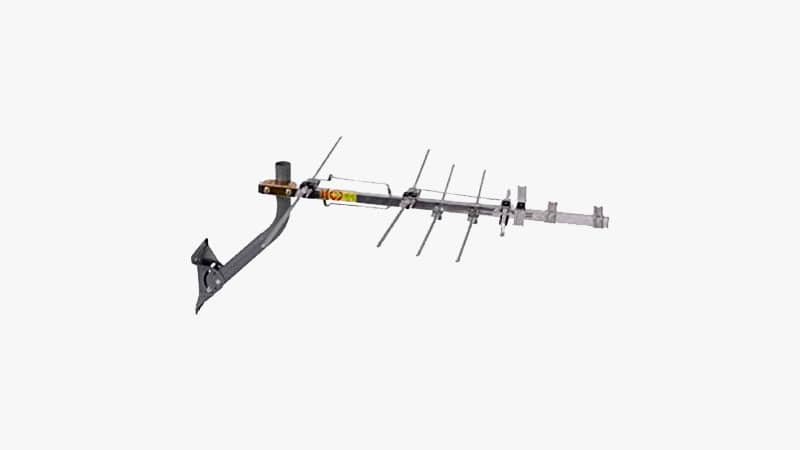 You have to admire the RCA Compact Outdoor Yagi HDTV Antenna with 70 Mile Range. For TV fans who can't wait to start watching their favorite programs, this unit is an ideal pick because it's so quick and easy to install, thanks to the pre-assembled design elements.
With support for high definition video up to 1080i HDTV and pretty strong signal pickup, it's an outdoor antenna suitable for anyone looking for better quality sound and imagery at a reasonable price.
Features
Resolution: 4K, 8K, 1080 HDTV

 

70-mile range 

RCA Signal Finder app

Weatherproof

 
Best Outdoor TV Antennas Under $30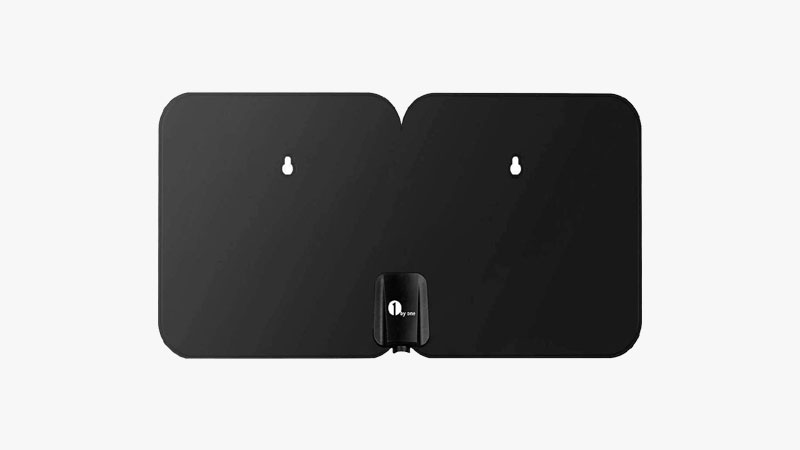 An ideal selection for those on a budget, the outdoor 1byone 4K Double Panel HDTV Antenna will let you pull in all the local HDTV channels with ease. After you hook up the antenna to your television set with a coaxial cable, it begins scanning for all available stations in your area.
The 26-feet long RG6U coaxial cable provides exquisite resolution in ultra-HD 4K and full HD (1080p). The paper-thin antenna has two panels to catch more signals. It Is waterproof and sunshine resistant.
One feature of note with this antenna is the signal booster for picking up signals from as far away as 200 miles. Since it was designed to stand up to the elements, even under rough weather, you can count on this outdoor antenna to give you many years of reliable service.
Features
Resolution: ultra-HD 4K and full HD (1080p)
200-mile range
26-feet-long cable
Waterproof and sunshine resistant
Best Outdoor TV Antennas Under $50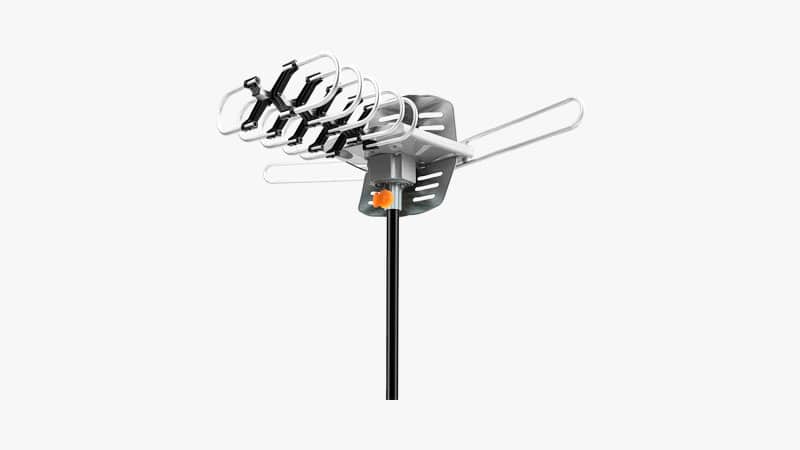 Made with what the manufacturer bills as premium materials, the Sobetter Amplified Outdoor 150 Mile Range Digital TV Antenna picks up VHF signals from 40 to 300MHz and UHF signals that range from 470-890MHz.
There is complete HDTV support (for shows that provide higher resolution programming), for picking up shows broadcast in 720p, 1080i, and 1080p. This antenna comes with a convenient wireless remote control, which is an option not found on less expensive antennas.
If you live in a remote or rural location where signal strength for TV shows has been an issue for you and your family, you'll appreciate that this Sobetter Amplified Outdoor antenna is capable of picking up signals from 150 miles away. This should be sufficient range for most people, even those residing in the boondocks.
Features
Resolution: 720p, 1080i, and 1080p
150-mile range
32.8-feet-long cable
Wireless remote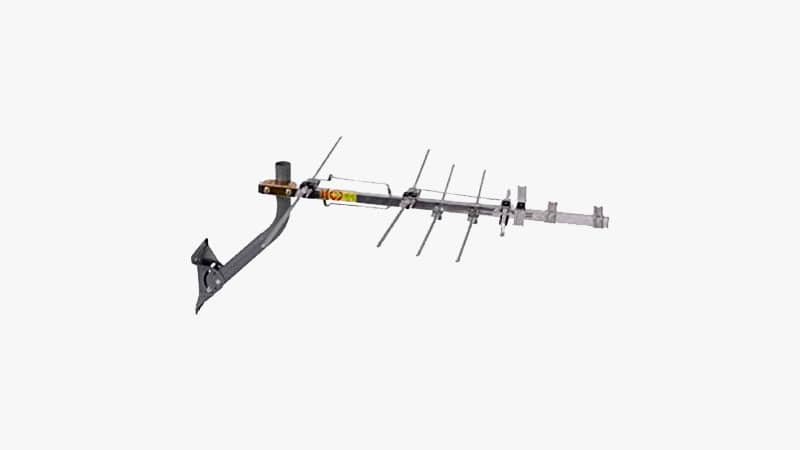 One thing I really like about this outdoor antenna made by RCA is how easy it is to install. Its pre-assembled design includes elements that just snap in place to lock onto the antenna and the UHF reflector (to give you a stronger signal for ultra high frequency programming broadcasts) easily unfolds and also locks down during installation.
You'll want to consider RCA's model because it offers support for programming in resolution as high as 1080i HDTV.
This gives you the best quality image and sound with free shows broadcast over the air, and signal reception should be good for picking up shows from as far as 70 miles away from the programmer's TV towers. It comes with mounting hardware, a mast, and a transformer (75-ohm) for placement outdoors on the roof of your home.
I appreciate that RCA designs and manufactures all of its outdoor antennas here in the USA. Antennas built by RCA will meet or exceed performance and quality standards from the Consumer Electronics Association. Indeed, the antenna gives me excellent picture and sound quality on all of the channels I've tried so far.
Features
Resolution: 4K, 8K, 1080 HDTV
70-mile range
RCA Signal Finder app
Weatherproof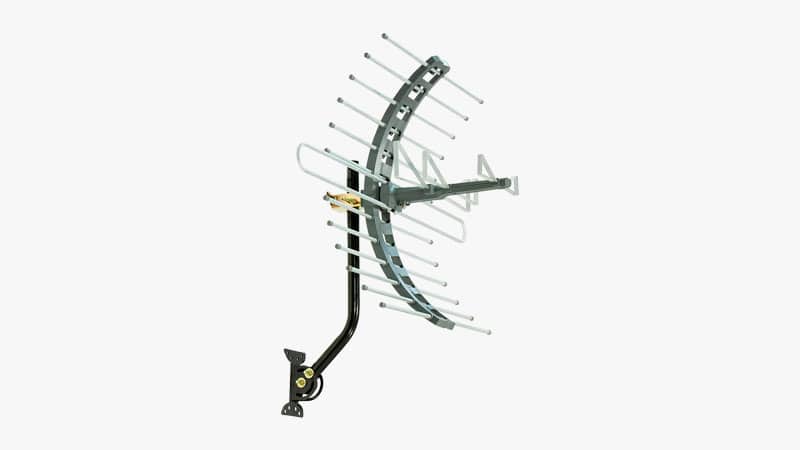 If your TV viewing habits include UHF shows, this is an antenna worth considering. It picks up all stations in the VHF and UHF frequencies with superior reception in the 1080p and 4K resolutions. The antenna length on this budget antenna is 20.5 inches. Keep in mind that you'll need to provide your own cable when setting this up on the top of your home.
The GE Pro Outdoor TV Antenna can detect broadcast television signals from 70 miles away (signal strength always is subject to local environmental factors and weather, of course). A mountain range or even a group of skyscrapers can interfere with signals, unfortunately.
Still, you should be able to receive signals clearly even if they are distant because you can aim the antenna to precisely fine-tune what part of the sky it's getting TV signals from.
Features
Resolution: 1080p, 4K
70-mile range
RCA Signal Finder app
Weatherproof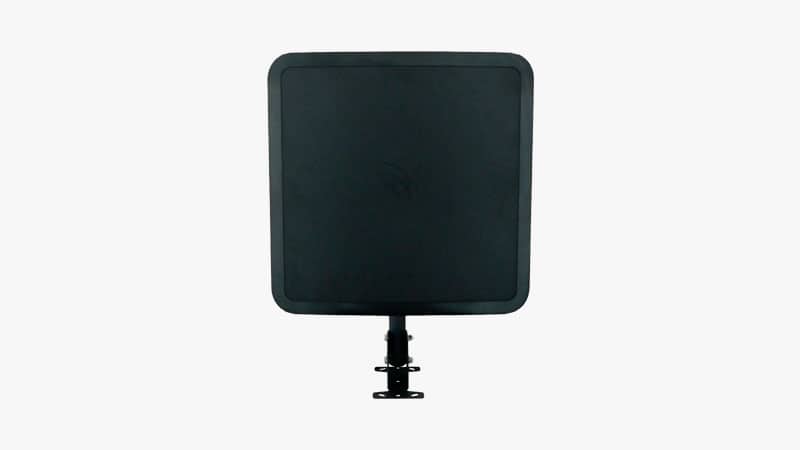 For a higher quality TV viewing experience, the Winegard FlatWave Air FL6550A may be just what you were looking for in a moderately priced outdoor antenna because it features the newest technology with an ultra low noise split band digital amplifier to deliver a signal to rival that from cable TV.
This equipment was designed to be a compact alternative to the bulkier outdoor TV antennas on the market today. Developed by designers and assemblers in the U.S., you can feel pride in buying a system built by local workers instead of distant foreigners with little connection to American consumers.
A FlatWave antenna gives you access to a range of free HDTV programming from stations broadcasting signals in UHF and VHF from as far as 60 miles from your home. In addition to news, weather, live sporting events, sitcoms, and dramas, you'll be able to enjoy movie channels thanks to multi-cast channels now broadcasting in the free frequency domains.
With the power antenna connected, you can anticipate getting the best range. But even if you don't plug that component in, viewers can count on getting signals from about 35 miles away.
Made by Winegard Company, this antenna weighs 2.92 pounds, indicating its small size, which will not look obtrusive when mounted on your roof. No USB connection is required. You can connect it to your TV using a standard coax cable, just like what you would use to get standard cable television signals when you were paying for that service.
Features
Resolution: 1080p, 4K, 8K
60-mile range
Flex mount system
Weatherproof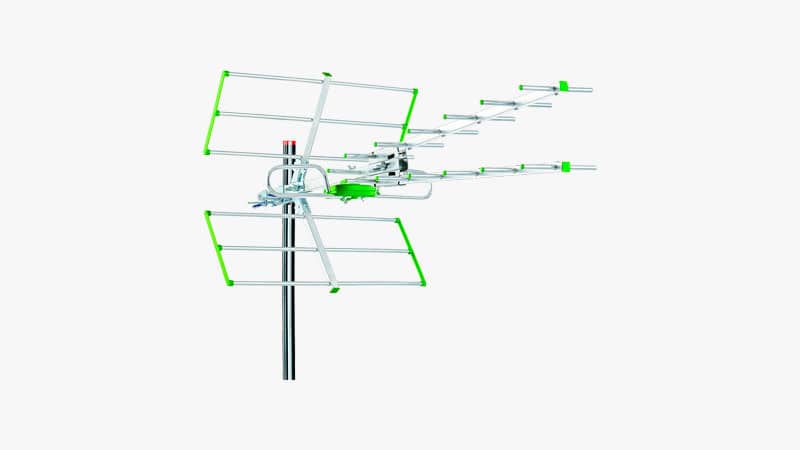 People who live in really remote areas or in locations where it is just harder to pull in broadcast TV signals in the UHF and VHF ranges need as much reception power as they can get. This is where the Tree New Bee Outdoor Remote Controlled HDTV UHF VHF Antenna can come in handy.
It is capable of receiving signals from as distant as 150 miles away. Tree New Bee designs its antennas with what it calls "pure vertex" technology, which shields your TV channels from interference being generated by other devices in your home, such as kitchen appliances, cell phone signals, and FM radio signals will be eliminated.
This outdoor antenna has a 40-foot RG6 cable and you can attach it to your roof with plenty of room to extend the cable for a convenient connection to your television set.
If you recall the early days of rooftop antennas, where you would have to climb up on top of your roof to change the orientation of the antenna, you'll be glad to know that this modern, state-of-the-art outdoor camera works with remote control.
It can be manipulated for complete 360-degree motorized rotation, ensuring that you will always be able to aim the Tree New Bee antenna in the best line of sight to pick up broadcast signals, even from very far away.
Features
Resolution: 720p, 1080i, 1080p
150-mile range
Infrared remote control
Weatherproof
Best Outdoor TV Antennas Under $75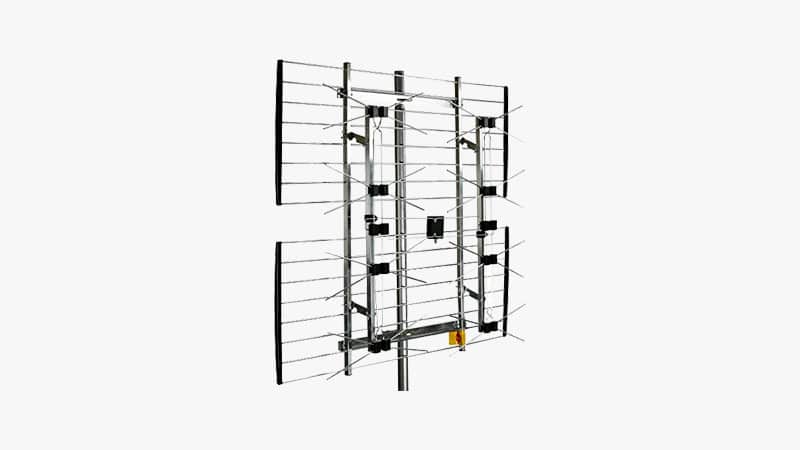 The CM-4228HD 8-bay HD outdoor antenna from Channel Master picks up standard UHF and VHF signals as well as FM radio. While it weighs 10 pounds, I was struck by how small and thin this antenna is, with a two-foot turning radius.
It is 41 inches by 5.5 inches by 33 inches and comes in gray, meaning it will not stand out to your neighbors when you attach it to a discreet location on the roof of your home.
Those who do not want to pay monthly cable fees but who still want to make sure that they are getting excellent images and sounds will want to try out this antenna.
PBS, the Weather Channel, food cooking programs, shows for kids, sports, documentaries and a range of daily sitcoms and dramas will be appearing on your TV set for free after you install this easy to use outdoor antenna.
Features
Resolution: 1080i
80-mile range
Integrated boom mount
Weatherproof
Best Outdoor TV Antennas Under $150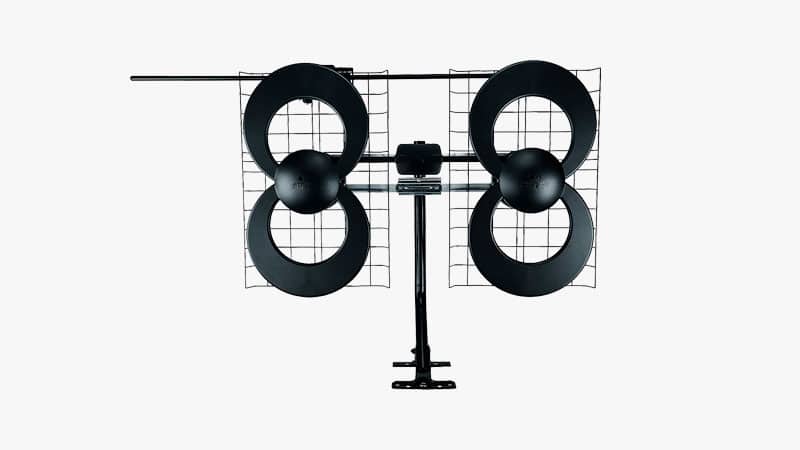 The high quality of design, parts, and manufacturing process involved in making the ClearStream 4V outdoor antenna should be worth the price for this rooftop mounted unit from Antennas Direct.
Weighing just 6 pounds and measuring 21.4 inches by 5.1 inches by 12.2 inches, it comes with dedicated UHF and VHF elements (multi-directional too), for a system that should give you the best possible performance even in areas where reception is fairly low quality.
This is why the ClearStream 4V antenna comes with a lifetime warranty on its parts. Billing the success of its antenna as relying on patented technology, the ClearStream should be able to pull in signals for your TV from broadcast towers as distant as 70 miles from your dwelling.
The patent has to do with ClearStream's loop design for its antenna. The shape of the loop helps the antenna pick up a bigger range of TV broadcast frequencies and the angle of beam it can accommodate means you do not need to rotate the antenna to tune in different broadcasters.
In addition, the included reflector serves to boost the power of your antenna to boost the range even further. Whether you live in the suburbs or a more rural setting, this is an antenna that will help you see broadcast signals even when obstacles such as heavy foliage or even dense roofing materials can prevent optimum signal reception.
Features
Resolution: 1080p, 4K
70-mile range
12-feet-long cable
Weatherproof
Best Outdoor TV Antennas Under $200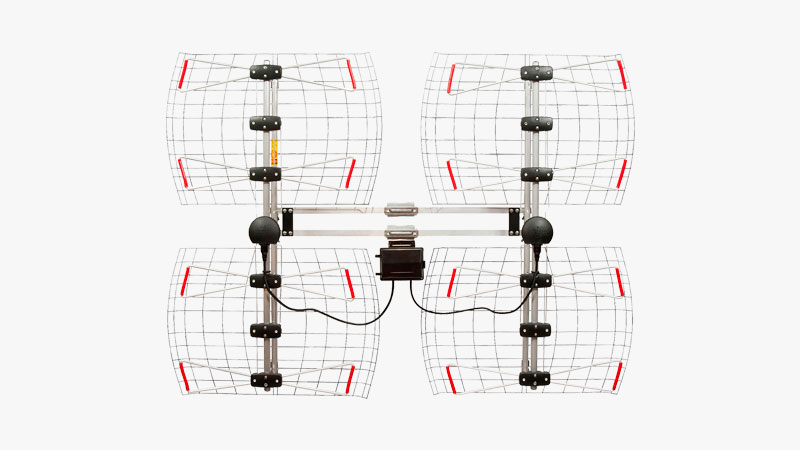 I had to check out the 8 Element Bowtie HDTV Antenna from Antennas Direct because the manufacturer notes that it is the most powerful antenna in its class, capable of picking up signals from 70 miles away. It's essentially 4 antennas in one.
A bowtie antenna's shape gives it multi-directional elements to pick up a better quality signal even when it comes from a remote television broadcast antenna, which is common in rural and remote locations and even in some suburban areas.
It's a 30-inch-tall antenna with a 1.6-inch diameter in a powder-coated steel tube. Its base is configured to be very versatile, letting it pivot for vertical, flat or angled use, whichever is the best positioning for your location. In addition to the 4-part DB8e antenna, you will get mounting hardware and an adjustable mast clasp that can withstand all types of bad weather conditions, giving you a lower total cost of ownership since it won't degreed under the elements.
Also, the manufacturer still provides a lifetime warranty on all the parts. The antenna mount has a 90-day warranty on its parts and comes with all-weather lag bolts and sealing tape, making it a simple installation job. You can send a signal from this outdoor antenna to all the TV sets inside your home, with the signal being routed through standard coaxial cable.
Features
Resolution: 1080p, 4K
70-mile range
Lifetime warranty on parts
Weatherproof
Best Outdoor TV Antennas Under $300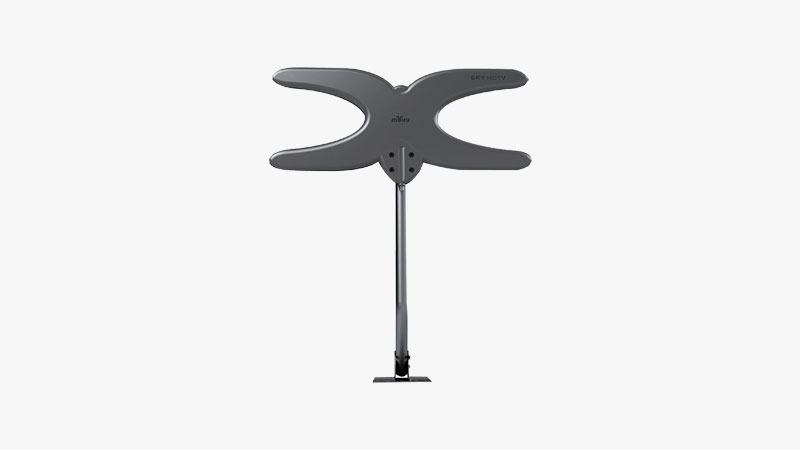 You'll never pay for broadcast TV again, now that you can cut the cord from your cable TV or satellite TV provider, thanks to the Mohu Sky 60 antenna designed for mounting outside your home. Mohu's engineers have tested the Sky 60 antenna to show that it can receive television signals from as far away as 75 miles.
Mohu employs what it bills as "CleanPeak Filter" technology to eliminate interference and noise from smartphone signals and broadcast FM radio stations to give you a signal that is as clear as possible. TV broadcast in 1080HD will look flawless on your set when you pull it from the sky with this Mohu Sky antenna.
It weighs just 3 pounds, so you won't get worn out just lugging it up the ladder when affixing it to the roof. Unlike other brands that require some amount of adjustment of the position of their antenna to get the highest quality signal, the Mohu Sky 60 features a multidirectional antenna.
Of course, if you live in an area with geographic features that interfere with TV broadcast signals, such as mountains, you may still need to make some small adjustments in terms of where you place the antenna the first time. But after that, your family should be able to enjoy crisp video and crystal clear audio throughout the house, thanks to the Mohu antenna.
Features
Resolution: 1080p
75-mile range
30-feet-long cable
Weatherproof
It's clear that you can save yourself a great deal of money if you ditch cable or satellite TV and instead rely on your new outdoor TV antenna to pull in all the free signals that broadcasters provide each and every day.
While you won't be able to pick up paid programming or special pay-per-view events with just an antenna, you will have the satisfaction that comes from knowing you aren't wasting money on something that is available free of charge, so long as you have the proper equipment.
Photo Credit: Unsplash