Portable generators are perfect for everything from tailgate season to outdoor construction projects, but which one is right for you?
With so many generators on the market today, you may have no clue what the right generator for your personal needs is. That's why we've scoured the portable generator market and sifted through countless reviews to bring you this list of only the best portable generators out there.
No matter your budget or use case, you'll find something for you in this article.
The Best Portable Generators for 2022
| | | | | |
| --- | --- | --- | --- | --- |
| | | | | |
| | Champion Power Equipment 76533 | | | |
| | Jackery Portable Power Station Explorer 1000 | | | |
| | Sportsman Gasoline Powered Generator | | | |
| | Allpowers Portable Power Station 700W | | | |
| | Ryobi 150-Watt Powered Inverter Generator | | | |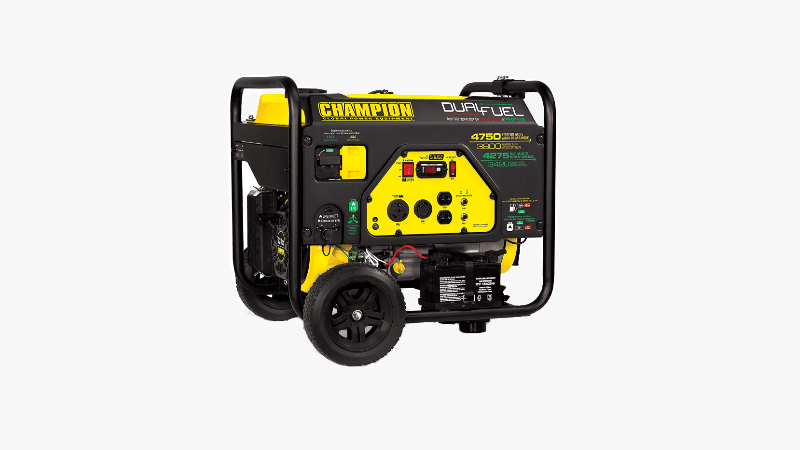 The Champion Power 76533 is perfect for powering up your home as well as your work site. The generator is portable, packaged in a durable steel frame, and has a folding handle and strong tires for easy maneuvering and transportation.
The 76533 model includes a volt guard to protect your appliances from power surges and potential damage. It also features a cold start technology, meaning its functionality won't be affected by cold weather.
With a 3.4-gallon fuel tank and over 10 hours of runtime either on propane or gas, it will conveniently power as many as 2 refrigerators, 2 freezers, a TV, heating, indoor lamps, and a coffee maker, all with power to spare.
Anyone can start up this generator, thanks to the electric start feature. It is easy to assemble but at 68 decibels, might be a little noisy depending on how close it is to you. Aside from the noise, there's no reason not to give this dual fuel generator a chance to power your needs.
Some of the features on the Champion power 76533 include:
9-10 hours of runtime on a full tank of propane and gas (dual fuel)
122 pounds
4-gallon fuel tank
One 120V 30A RV outlet, one 120V 30A locking outlet, and two 120V 20A household outlets
Electric start and recoil start
4-stroke engine
68 decibels
Check Price on Amazon Directly Add to Cart on Amazon
---
Best Portable Generators Under $200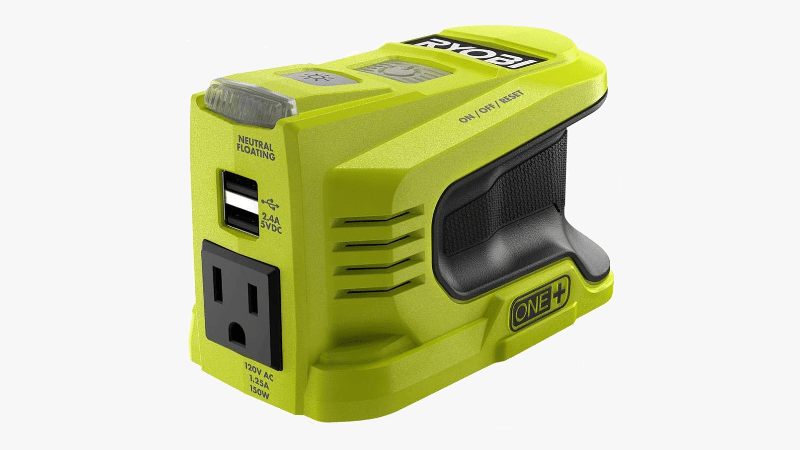 Let's open up the reviews of the best portable generators with one of the finest low-end models from Ryobi's catalog. Ryobi is among the more popular RV generator brands, and you can find a variety of exquisite models on its menu – from rechargeable batteries, to hardware parts, to top-shelf generator models.
This particular model has over 500 positive reviews from satisfied Amazon customers, and one of the reasons why its rating is so high is that it's outstandingly affordable.
In terms of dimensions, you could easily pack it along with your luggage. It's barely over 5 inches in length while its weight is approximately 14.4 ounces.
However, it's not the most versatile product on today's list. It packs a single 120V ac port and a single 2.4A port. On the brighter side, it is battery-powered and is an excellent choice for green-minded people. You can be at peace knowing that you won't pollute the environment, although the same results could be achieved with a bigger, better-rounded generator working on natural gas.
When all things are taken into account, there are numerous pros and merely a couple of drawbacks to Ryobi's 150w generator. Its fuel tank capacity isn't the strongest, but it's easy to use, and quick to recharge, although it's certainly not well-suited for everyday use. Personally, I wouldn't be content with its level of versatility, but then again, it's so small that it wouldn't hurt having it on the shelf with your camping supplies.
Some of the Ryobi 150-watt powered inverter generator features to consider include:
Weighs around 14.4 ounces
Compact design, could fit with any luggage
Easy to carry and store
125V AC and 5V DC outlets
Among the cheapest RV generators
Check Price on Amazon Directly Add to Cart on Amazon
---
Best Portable Generators Under $300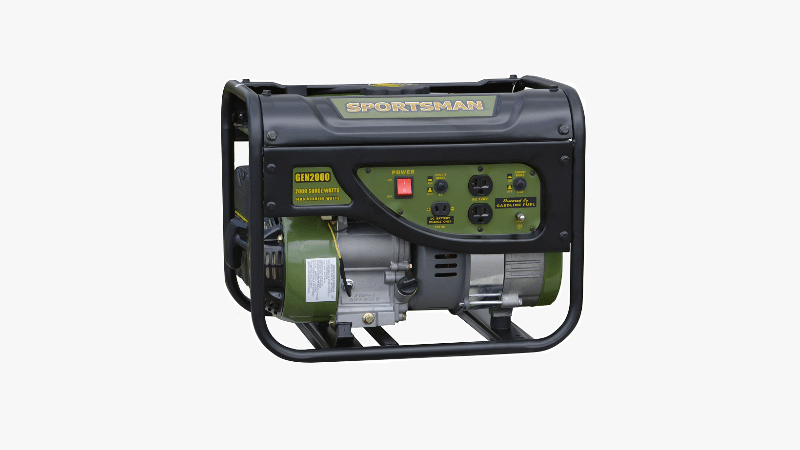 The Sportsman GEN 2000 is a medium-sized, compact, and reasonably quiet portable generator. It can power common household appliances and, due to its size, is perfect for camping and tailgate parties.
It is also useful for getting work done on-site and saving the day when there are power outages. This model will run some heavy appliances like refrigerators and deep freezers as long as you're ready to fuel it consistently.
If you're in the market for a portable generator to run electrical appliances like toasters, microwaves, coffee makers, and ovens, then you should try out the Sportsman GEN 2000.
It is easy to carry, easy to start, and can be used to power up your cabin during short and long visits. It's probably one of the most compact RV generators in the price range too.
Some of the features to consider on the Sportsman GEN 2000 include:
9-hour runtime on a full tank at 50% load
53 pounds
2-gallon fuel tank
12 volts DC outlet for battery charging
Less than 65 decibels
Check Price on Amazon Directly Add to Cart on Amazon
---
Best Portable Generators Under $400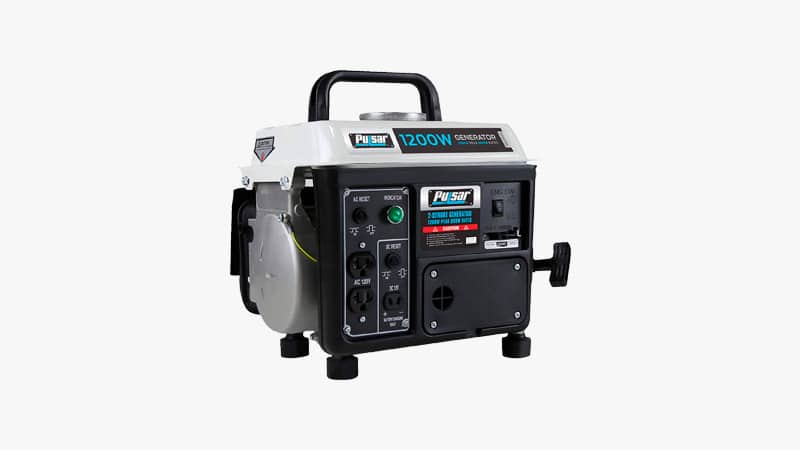 When it comes to power while you're outside, the Pulsar 1,200W Portable Gas-Powered Generator is a solid introduction to the world of generators.
It features a 1.1-gallon fuel tank that will provide up to five hours of continuous operation (at half load).
The
Pulsar 1,200W Portable Gas-Powered Generator
comes with two 120V outlets and one 12V DC output. This makes the generator good when you want some electricity during a cookout but don't need anything massive drawing power.
Some of the features of the Pulsar 1,200W Portable Gas-Powered Generator to consider include:
2.2 HP 2 Stroke Engine
Gas-powered generator
Weighs 35 pounds (empty)
1.1-gallon fuel tank
2 120V outlets and 1 12V outlet
Uses a recoil start
Check Price on Amazon Directly Add to Cart on Amazon
---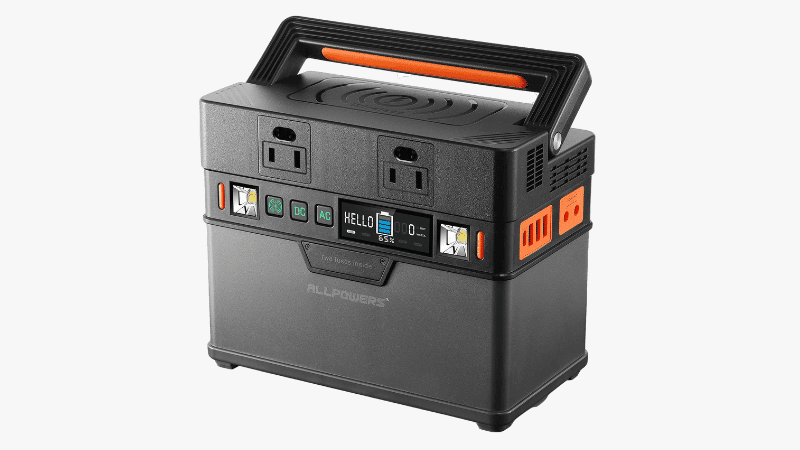 Next up we have a 300-watt portable power station from Allpowers, which is another one of the most popular RV generator brands on the list. It's a great seller for a myriad of different reasons, including its compact size, decent strength, awesome fuel tank capacity, and good reliability.
Whether you want to charge your cell phones, TV, or radio while on the road, you can power up to nine devices simultaneously with Allpowers' portable power station. In comparison to Ryobi's 150W generator, this model is twice as strong and incomparably more versatile. Compared to our next entry, Pulsar's gas-powered generator, however, it's noticeably weaker and fairly similar in terms of well-roundedness.
This generator is very easy to use. It sports a clearly visible control panel with brightly lit icons that make it exceptionally useful at nighttime. Speaking of which, it packs a built-in lamp that could illuminate a smaller area during emergencies.
Fast charging is one of its most obvious pros. Namely, it needs the bare minimum of 1.5 hours to charge up to 80%, although it needs twice as much time to fully charge. In terms of battery life, the company states that you won't need to replace it for a decade.
Connectivity-wise, you'll get to use two DC ports, a car port, and two types of USB ports onboard – three USB A, and a single USB C port. It's petite enough to be kept in a kitchen as a power station for up to nine household appliances, but it really excels when used on the road by camping workers, groups of fishermen, and college students preparing for a party.
I'd feel content with this one in my camping inventory, even though it's a bit weaker than average. However, its reliability and well-roundedness are spot on, and as a result, it's one of the best-selling Allpowers power stations.
Some of the features of the Allpowers Portable Power Station 300W to consider include:
Weighs 11.68 pounds
Up to ten years of battery life
Compact design
Equipped with a cigarette lighter and built-in lamp
Easy to read control panel with illuminated icons
Streamlined fuel gauge
Features a carport, two types of USB ports, and two DC outlets (5V and 12V)
Check Price on Amazon Directly Add to Cart on Amazon
---
Best Portable Generators Under $500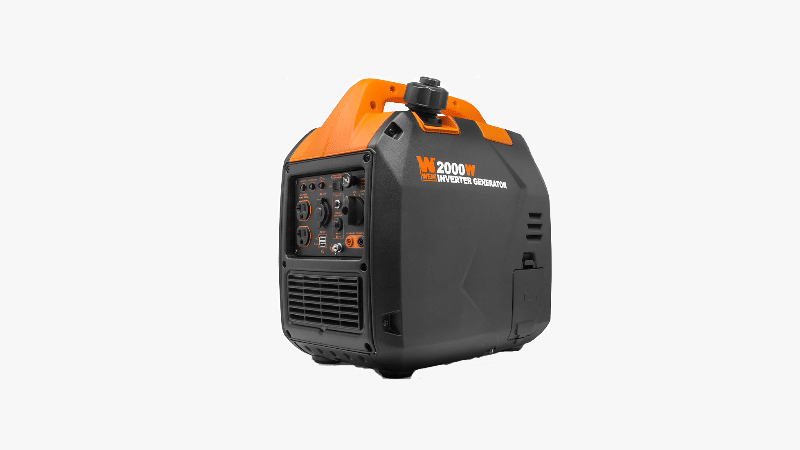 At only 39 pounds, WEN 56203i is an extremely quiet and portable inverter generator that serves your electrical home appliances as well as your gadgets. It can function as an emergency electricity source and can power up your camping trips and other fun outings to provide adequate lighting.
You can prolong the life of the WEN 56203i generator by taking advantage of the fuel shut-off feature, which helps utilize the remaining fuel in the carburetor before shutting off automatically. The fuel management system is supported by the eco-mode switch which adjusts the consumption of fuel automatically. It is also easy to carry and move around.
This generator was designed with you in mind. Everything has been put in place to ensure the highest possible working efficiency.
Some of the unique features of WEN 56203i are:
More than 10 hours of runtime on a full tank at 25% load
39 pounds
Two 120V outlet, one 12V output and two 5V USB cord.
1-gallon fuel tank
4-stroke engine
51 decibels
Check Price on Amazon Directly Add to Cart on Amazon
---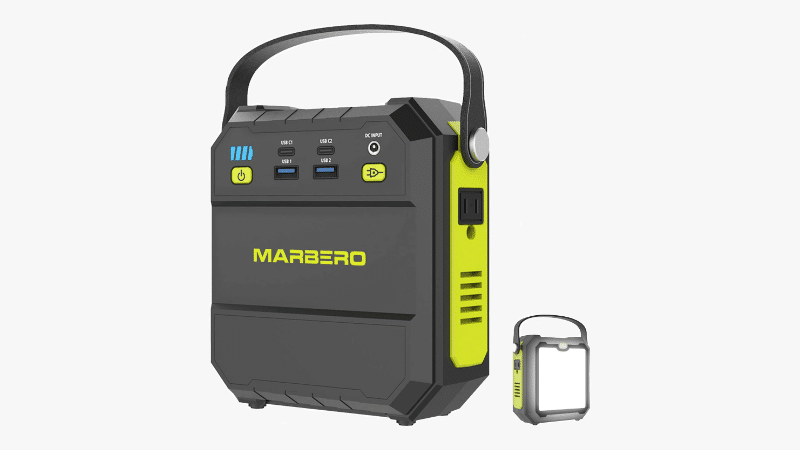 If you're on the market searching for a super-portable generator, look no further than Marbero's Power Station. With a remarkably slim and lightweight design, it's both the smallest and lightest model on the list so far.
What makes this model special is its versatility when it comes to charging. Namely, you'll have three recharging types at your disposal, including solar-powered, via car adapter, or by regular wall outlets. I should point out that solar panels for solar charging aren't included in the bundle, though.
Apart from that, there's also the SOS mode, which allows you to use the 562-lumen night light feature to illuminate the area around the power station. Bright icons on the display panel made me count it among the most convenient power stations, even though the competition in this field is pretty stiff.
It packs four USB ports, a single AC output, and a single DC input, meaning that its performance is quite good when it comes to versatile connectivity options.
There are also certain parts of this generator that I didn't like as much. It's made from relatively flimsy plastic materials, so you should take extra care when handling it outdoors. If you intend to use it at home, Marbero's power station is an excellent pick, as it could fit in your kitchen, you could place it in your garage, and pretty much anywhere on your lawn.
I'm a person that values safety above all else, especially when it comes to low-cost generators such as this one. However, safety isn't an issue with Marbero's power station, as it's a battery-powered generator.
Taking all of these elements into account, I'd label Marbero's power station as one of the essential purchases every camper should make. It isn't perfect, but it's still pretty great considering the price.
Some of the features to consider on the Marbero Portable Power Station include:
Battery-powered, features solar charging capabilities
2.2 pounds
80 watts of power
4 USB slots, 1 DC receptacle
Check Price on Amazon Directly Add to Cart on Amazon
---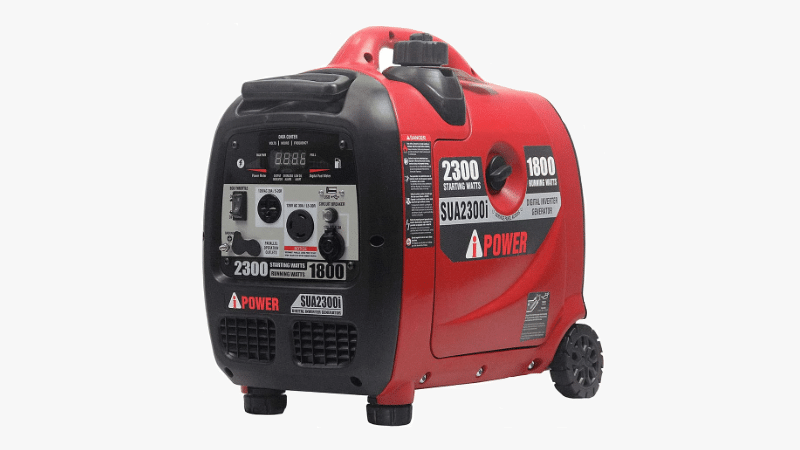 Among all the inverter generators I found in my research, none stand out like this A-iPower model. Aesthetically, it resembles Honda's inverter generators, but specs-wise, its performance is slightly lower. The silver lining here is that you don't have to pay as much.
Let's start with its dimensions. A-iPower's 2300-watt inverter generator measures 22 by 13.9 by 20.8 inches and weighs roughly 50.7 pounds. It's heavier than some of the other models in this article, but it's not super-heavy and has a built-in carry handle for easier transportation.
As far as wattages are of concern, its running wattage is 1,800 watts (2,300 at its peak), and it features a 1.1-gallon fuel reservoir. It's equipped with a digital oil sensor, as well as a low-oil auto-shutdown feature, which prevents engine damage when the fuel levels are dangerously low.
In terms of raw performance and specs, this is probably one of the best inverter generators in the price range.
If you're the kind of person that values simplicity over complex features, and practicality over brute strength, you're probably going to love A-iPower's 2300-watt inverter generator.
Some of the features on the A-iPower 2300-watt Inverter Generator to consider include:
1.1-gallon fuel tank
Integrated telescopic handle and easy-rolling wheels for simpler transportation
Weighs 50.7 pounds
Built-in mobility kit
Whisper-quiet method of operation
2,300 peak wattage, 1,800 running watts
Check Price on Amazon Directly Add to Cart on Amazon
---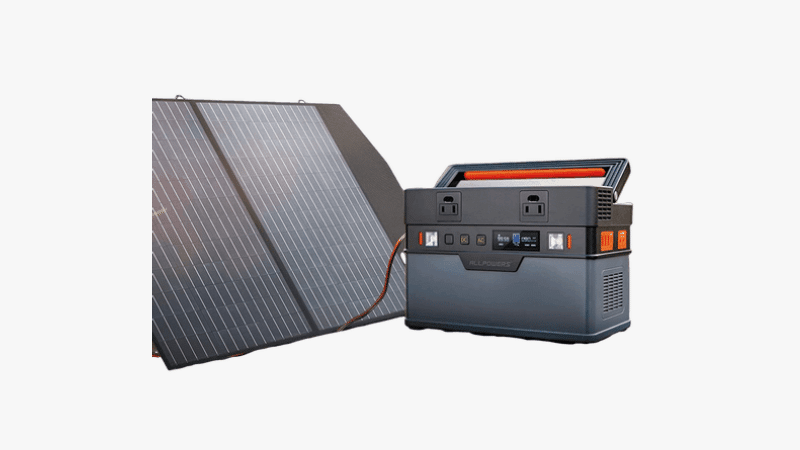 When it comes to reliable generator brands, Allpowers embodies the values any company should – its products are well-built, dependable, and well worth the price. We've already seen a glimpse of this with one of their power stations earlier in this article, and now I wanted to share another one of their models with you.
The Allpowers Portable Power Station 500W is the 'middle child' in the series, boasting a set of features that is identical to its 300-watt counterpart, aside from wattages, obviously.
The control panel, brightly lit buttons and icons, connectivity sockets, and even the design of this model are the same as the Allpowers Portable Power Station 300W.
There are a few key differences that mostly revolve around size and weight. The dimensions of this power station measure 10.4 inches by 5.5 inches by 7 inches while its weight is approximately 11.69 pounds.
Some of the most important benefits this power station generator has to offer include the ultra-fast charging capability, suitability for use during nighttime and in poorly lit environments, and an exemplary level of durability.
Another new feature of Allpowers Portable Power Station is a new application that the company released a while ago. This model can be accessed remotely with Bluetooth, unlike its slightly weaker sibling.
These are just some of the variety of reasons why this model is one of Allpower's best sellers. Due to its outstanding durability, you can use it every day, and pretty much anywhere – in your home office, in your garage, while camping, or at a party. You can charge numerous cell phones, fans, TVs, radios, and batteries at the same time with consistent results – it requires very little maintenance to offer great performance for years.
Some of the Allpowers Portable Power Station 500W features to keep in mind include:
Battery-powered station
11.69 pounds
Four USB ports, two DC ports, and a Cigarette outlet
Compatible with Allpowers app and Bluetooth for remote operation
High level of durability
Improved battery management system
Check Price on Amazon Directly Add to Cart on Amazon
---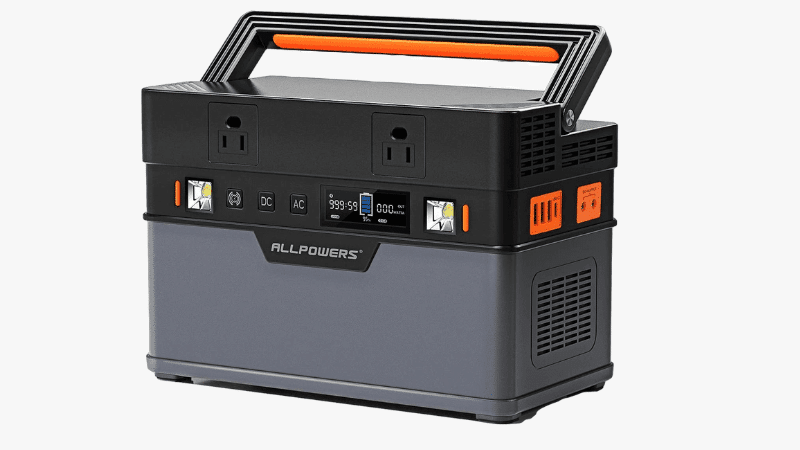 For the sake of variety, I wanted to introduce you to another model from the catalog of Allpowers power stations. This one offers 700 watts of power and, surprisingly enough, it's as compact and light as the previous model we've just covered.
This power station is equipped with a rechargeable battery that can last up to ten years; it needs three hours to get its complete strength back while it needs only 1.5 hours to charge back to 80%, just like the previous two Allpowers power stations.
I was somewhat disappointed that the 700-watt version didn't have any additional outlets and receptacles. However, I assume that Allpowers is one of those brands that wants to keep their designs familiar rather than add new features with every new release. If you owned any model from the Allpowers catalog but felt like it lacked raw power, upgrading to this one will feel pretty natural.
Four USB ports, two DC ports, as well as Bluetooth connectivity, are something that will help you every day, regardless of the situation you want to use this generator in.
In comparison to the 500-watt Allpowers station, this model is identical in terms of weight and size as well. With 11.69 pounds of weight and dimensions that measure 10.4 by 5.5 by 7 inches, it's the same box as far as design is concerned.
Some of the highlights of the Allpowers Power Station 700W include:
Battery powered
The bats can survive a decade of use
Approximately 5 hours of continuous operation while operating at half capacity
Weighs 11.69 pounds
Digital oil sensor
Four USB ports, two AC outputs, two DC outputs
700 watts of power, 1,400 peak watts
Check Price on Amazon Directly Add to Cart on Amazon
---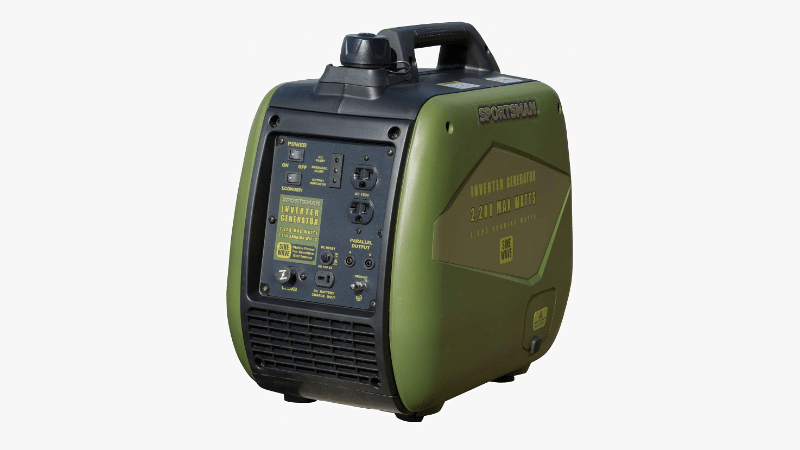 This model features three LED indicators that alert you when the inverter is low on fuel, overloaded, or if some of the outputs are faulty. Speaking of outputs, you'll be able to power cell phones, electric lamps, and other devices with two AC 120V slots, as well as one DC socket.
Equipped with a 4-stroke engine and boasting 2,200 watts of strength, Sportsman gas-powered inverter is both strong and dependable. It weighs around 50 pounds, which may sound like a lot in comparison to other models on our top portable generators lists, but that's quite close to the average weight of a 2 KW generator. It also features a built-in handle, which you can use to conveniently move it around.
If you already have one Sportsman generator, you probably already know that this model is parallel-ready. This means that you can double up on power by connecting two Sportsman inverters.
It's important to take noise levels into account when using generators, especially if you plan to keep it running at home throughout the whole night. One of the best parts about the Sportsman 2,200-watt digital inverter generator is that its noise rating is just above 54 decibels when it's operating at full capacity. Under normal circumstances, it's as quiet as the noises you'd make in a casual conversation.
Among the best tips I can give you about the Sportsman is to use its Economy mode when it's low on fuel. It's located at the front panel and it essentially forces the engine to prioritize fuel efficiency over brute strength.
All things taken into account, this may be a simple inverter, but it does the job, and then some. Sportsman is a world-renowned company, and this model is probably one of the best-selling items.
Some of the features to note about the Sportsman 2,200-Watt Gasoline Powered Recoil Start digital inverter generator include:
2,200 watts of power
54 decibels of noise when operating at full capacity
1-gallon fuel tank
Weighs 50 pounds
Equipped with a 4-stroke engine
Two AC 120V sockets
Economy mode
Parallel-ready, allowing you to double the power output with another Sportsman
Check Price on Amazon Directly Add to Cart on Amazon
---
Best Portable Generators Under $600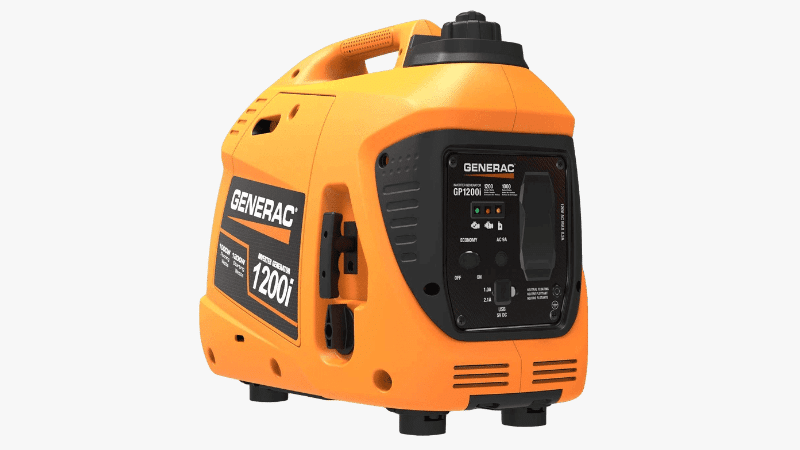 I'd call Generac one of the most impactful companies in the generator industry mainly because of the GP1200i inverter. In my opinion, this model could be labeled Generac's flagship, as it offers a remarkable level of performance while coming at a highly approachable price tag.
The GP1200i is both light and compact – the two elements most of the tips in the buying guide revolve around. Its dimensions measure 18.5 by 10.2 by 15.7 inches, and its weight is approximately 36.3 pounds.
In terms of power, this model boasts 1,200 watts; while I've seen quite a few products that are stronger while being at lower price points, this wattage is still pretty decent for a generator under $600.
There are quite a few details to cover when it comes to its other features. First and foremost, I'd like to mention the Economy mode again; this feature adjusts the speed of GP1200i, making its already-silent operation even quieter while preserving fuel.
The advanced LED indicators are essentially lights in different colors for easier differentiation. They shine fairly brightly, allowing you to clearly see which indicator is on, even in pitch-black conditions.
In terms of outlets, GP1200i features a single 5V DC slot, a USB port, and one AC 9A slot. Again, it's not the most versatile of products on my lists, but it does a great job for the buck.
Some of the features to consider on the Generac GP1200i 1,200 Watt Portable Inverter Generator include:
36,3 pounds
Exceptionally quiet operation
One 120V 30A RV outlet, one 120V 30A locking outlet, and two 120V 20A household outlets
Economy mode
Built-in carry handle
TruePower technology
Check Price on Amazon Directly Add to Cart on Amazon
---
Best Portable Generators Under $700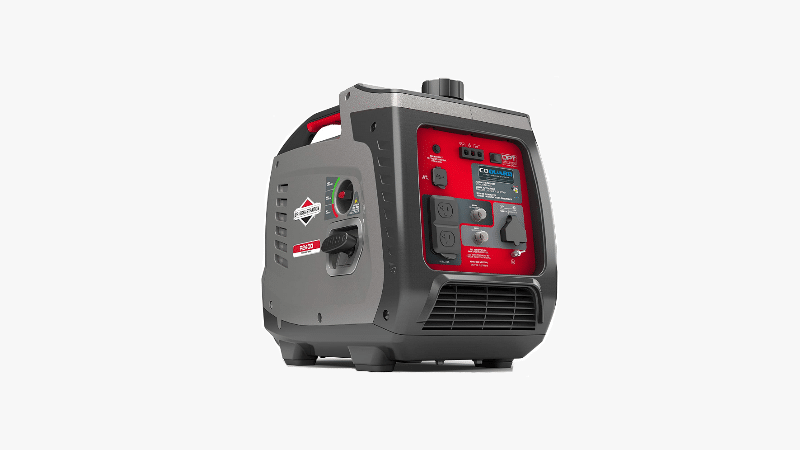 The Briggs & Stratton P2400 PowerSmart will be your best friend during camping trips and other outdoor adventures. Its lightweight design ensures that you can take it wherever you go.
Thanks to its inverter technology, this generator is perfectly safe for smaller electronics like phones, laptops, and gaming systems and even includes USB ports for charging. But more importantly, it is also safe for you due to its CO Gaurd technology that shuts down the device as soon as harmful levels of carbon monoxide are detected.
The generator is enclosed in a protective shell that also reduces noise to 58 decibels, ensuring that you and your family can use all your electronics without bothering fellow campers.
I would recommend the P2400 PowerSmart as a great solution to your electrical travel needs, but this generator can also come in handy during power outages at home.
Features of this model include:
8-hour runtime on a full tank
50 pounds
1-gallon fuel tank
Two 230V 16A standard power outlets, two USB outlets, and one 5A DC charging outlet.
58 decibels
4-stroke engine
Check Price on Amazon Directly Add to Cart on Amazon
---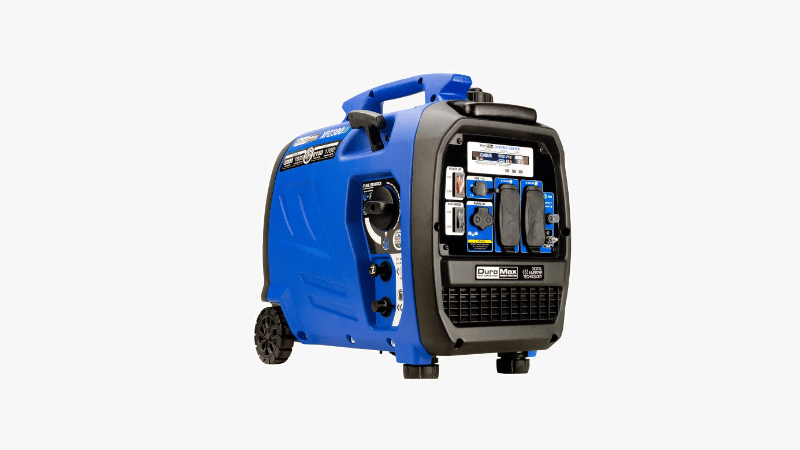 The DuroMax XP2300iH is a hybrid portable inverter generator with a digital control center featuring an LCD display that allows you to monitor gas levels, runtime in hours, voltage output, and load level. It also has an automatic shut-off system for when the oil level is low. This is great for longevity.
It is suitable for camping, tailgating parties, or site work. This is a dual fuel generator that gives you the choice to run either on gas or propane and the generator has economic fuel consumption.
With the DuroMax XP2300iH, you have two 120V standard power outlets and two USB outlets. It also has a minimal noise level of only 52 decibels which is a little quieter than most window air conditioners. If you're looking for a light and quiet generator that offers standard 120V options, then this might be a good fit for you.
Some of the features you'll get to enjoy from DuroMax XP2300iH include:
6-8 hours of runtime on a full tank
58 pounds
Two 120V 20A standard power outlets, one USB A outlet, and one USB C outlet.
52 decibels
Telescoping handle
Check Price on Amazon Directly Add to Cart on Amazon
---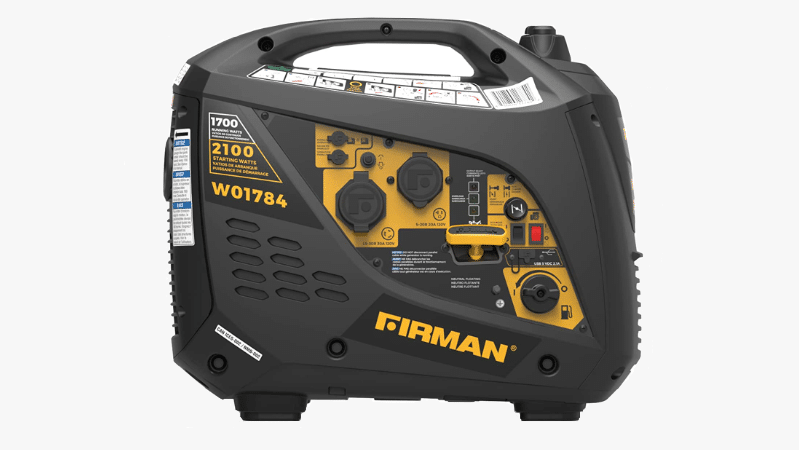 With up to nine hours of continuous runtime, Firman's W01784 is nearly twice as good when compared to some of the best models on the list so far.
Equipped with a robust engine, this generator delivers clean energy to your devices. The engine is the Max Pro 80 CC Firman engine, and its efficiency is augmented by the Phoenix Fat Head Block feature.
The package includes parallel cables, which you can use to connect Firman's W01784 to other Firman generator products. With this convenient function, you can essentially transform your average tailgating party into a full-blown barbecue quite easily.
There's a variety of outlets that Firman's W01784 supports, including one 120V 20A slot, one 30R RV-ready slot, and a USB port.
One of the things I liked the most about Firman's W01784 is its ultra-quiet performance. Firman's proprietary Whisper muffler ensures that the W01784 never goes above 59 decibels.
As far as size and weight are of concern, Firman's W01784 measures 21.7 by 18.3 by 15 inches and weighs 45.9 pounds. I've covered smaller inverters, and I've certainly reviewed lighter ones, but this model performs just fine considering that it has a carry handle and a remarkably small body.
When we take all of these benefits into account, it becomes apparent that this inverter is deserving of being one of Firman's best-sellers.
Some of the features of the Firman W01784 include:
9 hours of runtime on a full tank
45.9 pounds
Economy mode
Firman's Whisper muffler
One 120V 20A slot, one 30R RV-ready slot, and a USB port
Check Price on Amazon Directly Add to Cart on Amazon
---
Best Portable Generators Under $1,000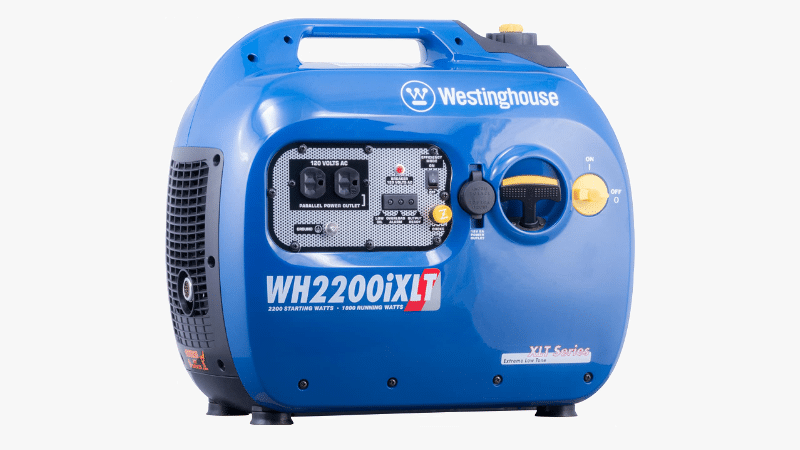 Next up is one of Amazon's Choices in the Outdoor Generators category, the Westinghouse WH2200iXLT.
There are plenty of reasons why this is one of my favorite picks, including its super-compact size, tremendous power, and whisper-quiet operation.
Let's start with the basics. The dimensions of Westinghouse WH2200iXLT measure 20.3 by 12.5 by 17.8 inches, and it weighs 46.3 pounds. It's several pounds lighter in comparison to a standard 2,000-watt generator while also being much smaller in size.
It's equipped with a 4-stroke engine that boasts 1,800 rated and 2,200 peak watts, and it's a perfect fit for any scenario – whether you need an emergency inverter to keep your entire house powered during a blackout or if you're searching for a compact generator for your tailgating parties, look no further than Westinghouse WH2200iXLT.
This generator is supplied with a 1.3-gallon gas reservoir that offers a whopping thirteen hours of continuous runtime. If you toggle the Eco mode on, you could add a couple of extra hours to that number.
As a parallel-capable generator, you can wire Westinghouse WH2200iXLT to any Westinghouse generator and double, triple, or even quadruple the power output of your inverters.
The only thing that I wasn't particularly enthused about is the fact that Westinghouse WH2200iXLT consumes a ton of oil to start. Although maintenance of this generator isn't the simplest of processes, it's definitely one of the finest models on the current market.
Some features on the Westinghouse WH2200iXLT Super Quiet Portable Inverter Generator include:
13-hour runtime
Economy mode for extra hours added to the clock
1.3-gallon gas tank
Parallel-ready inverter
4-stroke engine
Runs at 52 dB
46.3 pounds
Check Price on Amazon Directly Add to Cart on Amazon
---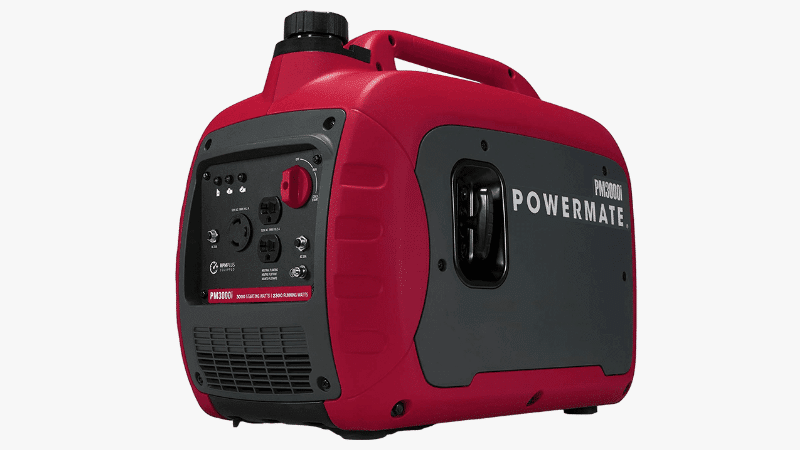 Powermate's PM series is among the most diverse ones I've come across in my research, as it's comprised of fourteen unique models. On today's menu, we have PM3000i, a 3,000-watt gas-powered inverter generator that reshaped the landscape of this industry.
The RPM Plus technology caught my attention; this feature automates the engine's rotation speed based on the current load capacity, optimizing both fuel consumption and noise level as these parameters change.
With one simple knob, you can affect three of the most important features of the Powermate PM3000i P0080601 Gas Inverter Generator – the power on, run, and choke.
On the brighter side, it offers 3,000 starting watts and 2,300 running watts, making it a heavy-duty inverter that's well-suited for powering multiple more demanding devices at the same time.
I should point out that Powermate PM3000i P0080601 Gas Inverter Generator is heavier and slightly larger than most generators I've seen so far. Its dimensions measure 22.2 inches by 13.3 inches by 18.4 inches while its weight is 59.5 pounds.
This inverter generator is supplied with a 1.06-gallon reservoir that offers roughly 5.8 hours of continuous runtime while operating at 25% capacity.
Some of the features of the Powermate PM3000i P0080601 Gas Inverter Generator include:
58.9 pounds
3000 starting watts and 2200 running watts
Gas-powered
Two 120V AC outlets
Automatic RPM and noise level adjustments
Check Price on Amazon Directly Add to Cart on Amazon
---
Best Portable Generators Under $1,500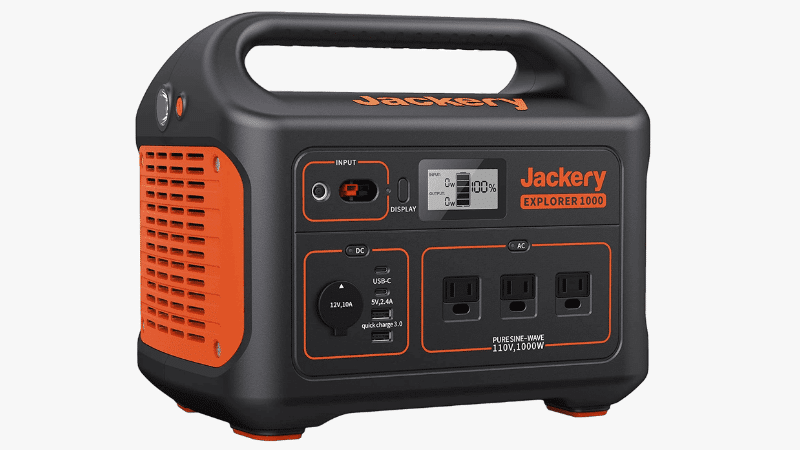 Jackery is better known for its solar generators than for its power stations, but owners of the Explorer 1000 would beg to differ.
This power station is equipped with a large backlit display, four USB ports, three 110V sine-wave AC ports, and a single 12V/10A socket, making it one of the most versatile stations on the list when it comes to connectivity.
Given that Jackery specializes in solar-powered technology, Explorer 1000, just like all Jackery power stations, is compatible with all Jackery power panels. On top of having the potential to be solar-powered, it can also be recharged through a normal outlet or car outlet.
The Explorer 1000 features 1,000 clean watts, meaning that it isn't best suited for heavy-duty electronics. It does an amazing job at providing electrical energy to smaller devices, such as phones, drones, laptops, bulbs, mini-fridges, TVs, or coffee makers, but it's generally not the best choice for RV drivers.
Virtually noiseless and absolutely petite, the Explorer 1000 measures 13.1 by 9.2 by 11.1 inches and weighs 22 pounds.
You may be surprised to hear that the Explorer 1000 is actually the strongest in the series. It's roughly four times stronger than the miniature Explorer 240 while eclipsing both Explorer 300 and 500 (named after their wattage).
At the end of the day, Jackery's Explorer 1000 is a great choice for work-from-home employees, content creators that use tons of lighting gadgets, and pretty much all people that could make do with one thousand watts.
Some of the features to consider on the Jackery Portable Power Station Explorer 1000 include:
Weighs just 22 pounds
Between 13 and 17 hours when supplying low-powered devices with energy
Compatible with SolarSaga solar panels
Solar-powered recharge, but can also be charged with a car outlet or a wall outlet
Check Price on Amazon Directly Add to Cart on Amazon
---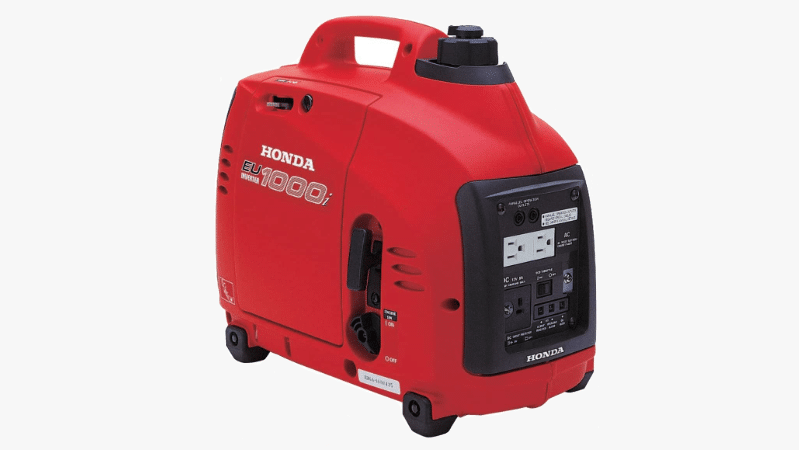 The heavily acclaimed Honda EU1000i Inverter Generator is next on the list. It's a popular generator of choice for numerous Amazon shoppers due to the fact that it's lightweight, decently strong, and offers nearly unparalleled reliability.
In terms of dimensions, the EU1000i measures 19.5 inches by 15.9 inches by 11 inches, and its weight is 32.8 pounds. That means that it's decently smaller and lighter than most portable inverters, aside from the miniature ones I've covered at the very beginning of the article.
One of the most notable benefits of using Honda's EU1000i is its outstanding fuel efficiency. It consumes the least amount of fuel possible and offers up to 8 hours of continuous use when working at 25% capacity.
Its 53 dBA rating is remarkable; only a handful of models in this guide could boast about such a feat. As far as wattage, EU1000i rocks 1,000 startup watts, and 900 running watts.
Some of the top features the Honda EU1000i inverter generator offers include:
8-hour runtime on a full tank at 25% load
Weighs 32.8 pounds
53 decibels noise rating
0.6-gallon fuel tank
Check Price on Amazon Directly Add to Cart on Amazon
---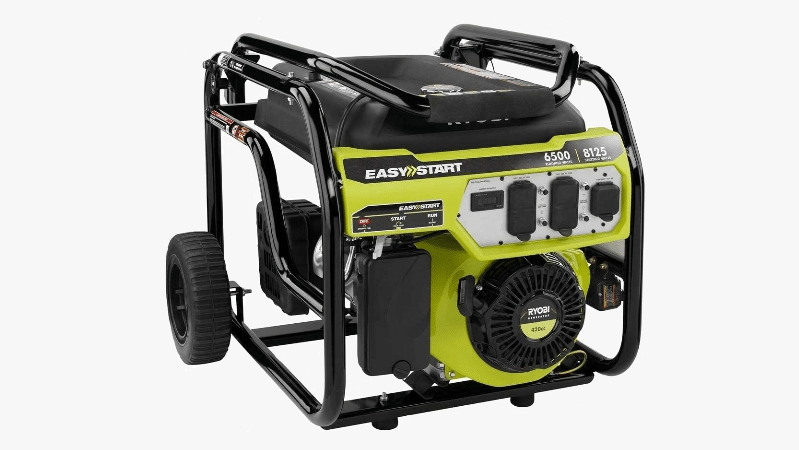 Although Ryobi's Portable Generator does have 'portable' in its name, it's the bulkiest and heaviest model on the list so far. However, it offers incomparably more strength, making it an obvious choice for heavy-duty powering tasks.
It runs on gasoline and boasts a 6-gallon tank that can efficiently endure up to 10 hours of use. The automatic shutoff feature and oil sensor were introduced to ensure top safety. Given that both features are fully automated, you don't have to actively do anything aside from refilling the tank once it runs out.
Now, what truly separates this model from the rest of the generators on the list is 8,125 startup watts, as well as a 6,500 running wattage. It's an absolute powerhouse that could easily help you power industrial machinery up, although buying it for something as simple as a weekend camping trip may be a bit overkill.
It's bulky, as I mentioned, though that's probably a huge understatement. Ryobi's Portable Generator weighs 205 pounds, but it does feature a set of all-terrain wheels and handles on top of its sturdy frame.
Some of the great features of the Ryobi Portable Generator include:
6-gallon Gasoline tank
Estimated runtime of 10 hours
Large control panel and display
8,125 startup watts, 6,500 running
Weighs 205 pounds
Check Price on Amazon Directly Add to Cart on Amazon
---
Best Portable Generators Under $2000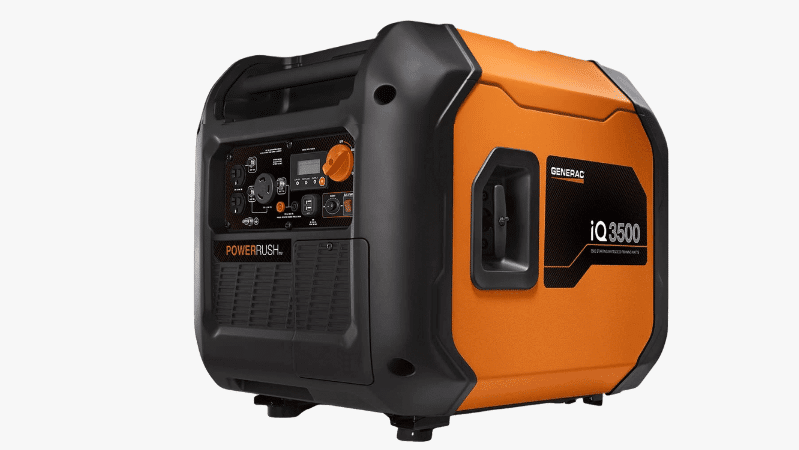 Generac's iQ3500 is probably the ultimate portable generator under $2,000, as it offers an excellent balance between power, compactness, and convenience.
Although it may be twice as heavy as your average inverter generator, 109.1 pounds to be precise, it's actually fairly compact when it comes to its dimensions, which measure 23.7 inches by 18 inches by 21.7 inches.
This inverter boasts 3,500 startup watts of clean energy, and its whisper-quiet performance ensures that its immense strength isn't too much of a nuisance to your neighbors and housemates. Furthermore, it rocks the exquisite Power Rush feature, which allows it to gain a surge of power; you can use this feature to bypass the startup wattage requirements of high-powered electronics.
Its digital LCD display is remarkably well-designed. The buttons and letters are fairly visible, and all of the icons and features are self-explanatory. Should you need more info, either visit Generac's website or check the instructions.
Although I would say it's well worth the buck, many people searching for a 3,000-watt inverter can't afford Generac's iQ3500. Plus, it may be too heavy to haul from place to place. Be it as it may, I'm sure many people could put its super-strength and versatility to good use.
Some of the features on the Generac iQ3500 include:
Nearly noiseless operation
PowerRush feature for a surge of wattage
Weighs 109.1 pounds
Sturdy construction
Built-in carry handle
Check Price on Amazon Directly Add to Cart on Amazon
---
The W03382 inverter is a gasoline-powered portable generator made by Firman. It resembles the Generac iQ3500 in more ways than one, but there are also a few key differences that made me include both in the review.
Let's start with the similarities. Both Generac iQ3500 and Firman boast an outstanding level of strength – the former offers 3,500 watts while the latter offers 3,300 watts. Their weight is also quite similar; Firman's W03382 weighs 103 pounds while Generac's iQ3500 weighs 109.1 pounds.
The main difference between the two is that Firman's W03382 is parallel-ready. Having any other Firman generator in your home means that you can wire it up to the W03382 and gain access to a nearly unlimited amount of energy.
Many reviewers pointed out that they weren't particularly thrilled about the design of the W03382. Namely, it does feature a pair of easy-rolling wheels, but it's still too heavy for comfort.
Some of the features of Firman's W03382 you may want to take into consideration include:
Electric start
Weighs 103 pounds
Robust frame
3,300 running watts, 3,650 starting watts
Parallel-ready
Check Price on Amazon Directly Add to Cart on Amazon
---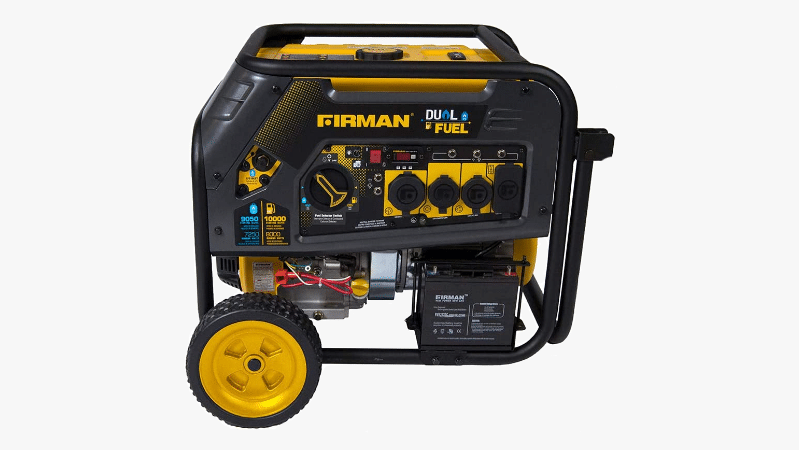 If you don't mind paying top dollar for a top-shelf portable generator, by all means, look no further than the H08051 dual fuel generator.
It's almost large enough to not be considered compact and heavy enough to even further reinforce that statement. The dimensions of Firman's H08061 portable generator measure 32 inches by 29 inches by 28 inches, and it weighs 225 pounds.
Featuring four enclosed and protected DC and AC sockets, you can use it with anything you want; from cell phones to industrial machines.
As its name implies, it has a dual fuel mechanism, allowing you to use different types of fuel to keep it working. With a combined capacity of 8 gallons, the tanks offer up to 12 hours of runtime. Despite being massive and heavy, its sturdy all-terrain wheels allow for easier transport.
The real selling point for this semi-portable generator, however, is the impressive 8,000 running watts (10,000-watt peak) this machine provides. It is also impressively quiet compared to other generators in the same ballpark.
Some of the top features of the Firman H08061 Generator include:
Four AC receptacles
Dual Fuel mechanism
8,000 running watts
8-gallon fuel tank
Approximately 12 hours of continuous runtime
Check Price on Amazon Directly Add to Cart on Amazon
---
How I Picked the Best Portable Generator
There's a range of unique generators on the market, and picking the right one requires you to know what you're after. The subjective needs and preferences are different for everyone, but there are quite a few factors that apply to everyone, including:
Power
In this article, we've discussed a range of different products that could be labeled 'weak', 'strong', and everything in between. A 'strong' portable generator isn't immediately superior to all products with lower wattages – it simply means that it could power devices that consume more power.
It's important to make a distinction between startup and running watts. The former relates to the wattage required to power the device while running wattage is consumed continuously.
As a general rule of thumb, if you need to power or charge plenty of low-powered devices (such as light bulbs, lamps, fans, portable AC units, or cell phones), you don't need a 3,000-watt generator. On another hand, if you are running an RV and need to power the engine, the HVAC system, and numerous other high-powered devices, you can't do it with a 500-watt generator.
Reputable Manufacturers
Only a couple dozen brands are actual manufacturers while hundreds are retailing or drop shipping portable generators. These products are quite expensive to make, so many brands would rather buy pre-made ones from well-known manufacturers and sell them at a markup.
That's why it's important to search for generators that are manufactured by a reputable company – the details about who made it aren't as important.
You won't have peace of mind if you get a generator from a shady merchant on any online marketplace; vendors that don't offer guarantees may or may not be hiding a physical flaw in their products, which could be a serious safety issue when it comes to generators.
Brands with official websites that offer products with plenty of reviews posted by verified customers, however, typically offer customer support, better shipping terms, and a variety of maintenance supplies and parts that you might want to add to the cart to keep your generator polished and functional for extended periods.
Price & Budget
There's a world of differences between a $200 generator and a $2,000 inverter. While most people won't sweat about the details regarding their budget generator, purchases involving thousands of dollars are serious investments.
On the other hand, do you really need an industrial-grade generator that costs a small fortune? I wanted to cater to the needs of casual campers, as well as people working from home that offer digital services, who require strong, reliable, and durable generators to power their electronic devices, which is why I included so many products that span across a wide spectrum of price point categories.
Intended Use
Are you searching for a small generator to charge a few cell phones while tailgating, or do you need a compact inverter that would sit on your lawn to keep your night lights on throughout the night?
The intended use of a generator is tightly related to its size and weight. For instance, small and lightweight models are better suited for outdoor use, especially for camping and vacations where you simply couldn't spare too much space and don't want to be encumbered by a heavier one.
A 50-pound inverter could still pass the test of compactness if it had easy-rolling wheels and a built-in handle. Keep these details in mind when making future purchases.
Things to Consider
Whether you're new to the world of portable generators or you have some basic experience with the equipment, there are a handful of specifics you'll need to keep in mind when shopping around for the right portable generator.
With so many options out there it's easy to feel overwhelmed, but that's why I want to give you the features to consider and what to look out for.
Price
Prices can vary drastically when it comes to portable generators. Typically, the price point will affect the amount of energy the generator produces and the length of time it will last (although this isn't always the case, just a general guideline).
You can pick up a portable generator for under $200, or you can spend well over $1,500 on one. With such a wide price spectrum, unless you know what to look for and what will satisfy your needs, you may not have a clue what to go with. You don't want to buy an inexpensive generator only to find it doesn't power the equipment you want to run, and at the same time, you don't want to overpay for a generator that offers more power than you'll ever need.
So as you go over the other points of importance make sure to keep in mind the price and what you can afford.
Energy Source
Every generator has an energy source. Many generators will use regular gasoline (the same gasoline you purchase at a fuel pump). However, others might run off of diesel, while a handful will use propane. Diesel fuel costs more than regular gasoline, yet it often burns longer and gives you more energy per gallon. Of course, if you've been around diesel engines before you know it creates a unique odor. It also requires additional maintenance to keep it running.
Whatever you end up going with, it's important to keep in mind how the generator creates the energy.
Power Production
The amount of power a portable generator produces (and the length of time it can output the electrical current) is important. You may want a portable generator to work with an electric grill or television at a tailgate. Or you may want it to power large lighting rigs and construction equipment. The amount of power the generator creates is critical.
You should have a basic idea as to what you want to use with the generator. Do you want to use it to power some basic handheld electronics, or do you want it for a specific job? Keep all of this in mind when you're looking for the right generator.
Size
Lastly, keep in mind the size and the weight. If you are on your own and you want a portable generator, you may want to go with something smaller that you can carry alone. However, if you're working with a team and have a vehicle capable of moving it, something larger may be just right.
After all, you probably don't want to buy a 75-pound generator pre-fill-up and not have the ability to move it (or the vehicle to secure it in).
Conclusion
You really can't go wrong with any of these generators. Whether you want something perfect for emergencies, something you can take with you on outdoor hiking trips, or extremely powerful generators designed for epic tailgates, there's something for you.
Did any of these portable generators catch your eye? What did you like about them? And what is something you look out for in portable generators?
Let me know in the comments! Your fellow shoppers would love to learn from your experience!
Disclosure: The product recommendations are not sponsored and are chosen by our editorial staff. We may earn an affiliate commission when you purchase an item through our links.
Photo Credit: Unsplash