In this article, you will find portable projectors of all prices, designs, and capabilities. This means we have the best portable projector for you!
We have spent hours sifting through the best of the best to narrow down your shopping choices to the portable projectors below.
Cut short your mini projector hunt and trust us to do all the work for you. All you need to do is scan our product info and feature lists and you'll be on your way to improved movie nights and streamlined business presentations.
A portable projector will unfortunately never match up to the latest HD televisions like stationary projectors can, but there are a few things to consider to make sure you get the right portable projector to suit your needs.
1. Price
Of course, just like any other electronic device, you need to keep the price in mind. For an entry-level portable projector, you can spend less than $100.
It's actually amazing the picture quality you can now get for such a small investment, as just a decade ago you couldn't purchase a 13-inch standard-definition tube TV for less than $100.
In general, for a quality portable projector, you'll spend anywhere from under $100 to around $600. Anything more than that and you're moving away from the world of portable projectors and into stationary projectors. Whatever price range you decide on, keep in mind the potential price shifts over time.
2. Picture Quality
When looking at the picture quality of a portable projector there are two features you'll want to keep in mind. First is the general resolution.
The projected resolution is a bit different than the resolution on an actual screen. With a screen, there are physical lines of information. Projectors make use of light, so there are no "lines."
However, most projector manufacturers will give an equivalent resolution so it's easier to understand what quality you'll be getting.
Beyond resolution, you should also consider color ratio. This is really what makes the picture pop, as the visual quality of a projector improves with increased color possibilities.
3. Brightness
This can be an extension of the image quality, but consider the brightness of the portable projector. The brighter the projector, the easier it is to produce a picture in less than perfectly dark conditions.
Brightness is measured in lumens, with higher lumens promising a solid light output.
4. Portability
A projector might be marketed as portable, but is it really portable? Some companies slap the name onto a product to make up for their cheap build quality.
But just because you want a portable projector does not mean you need something that's cheaply produced.
A portable projector will be designed to easily carried within a briefcase or backpack. If you're flying across the world and you need to bring presentation tools with you, you need a projector that will fit into the carry-on.
This means the projector is small and yet durable at the same time. So when looking into available portable projectors, always keep in mind just how portable and soundly built the device is.
5. Connections
The kind of connectors the portable projector should have will largely depend on what you wish to connect it to. Chances are, you'll want an HDMI port, as this is the default connector for most modern technology.
However, you may also want to connect images through VGA, USB, or even the older RCA composite connectors. When shopping for a portable projector, always know what you're looking to pair with it and go from there.
The Best Portable Projectors for 2023
| Product | Model | Resolution | Brightness | Price |
| --- | --- | --- | --- | --- |
| | Anker Nebula Capsule | 480p FWVGA | 100 Lumens | |
| | ViewSonic M1 | 480p FWVGA | 250 Lumens | |
| | Epson PowerLite 1781W | 720p | 3,200 Lumens | |
| | Epson VS250 | 480p | 3,200 Lumens | |
| | AuKing Mini Projector | 1080p Full HD | 2.600 Lumens | |
The right projector really depends on how you want to use it. Do you want something with near home-projector quality only in a slightly smaller frame? Perhaps you want something that is sturdy, can go anywhere, and is a means to endless entertainment opportunities without breaking the bank.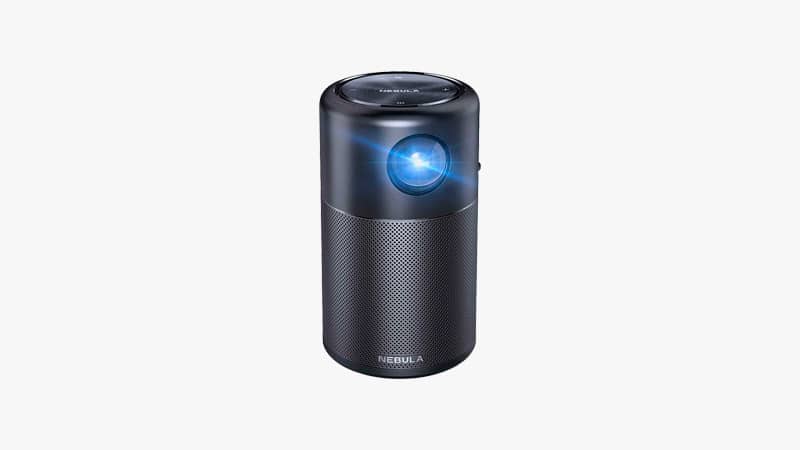 With everything in mind, we decided to go with the Nebula Capsule by Anker. Now, the portable projector isn't perfect. Its native resolution is only 854 by 480 (standard definition) and the brightness is 100 lumens, which is on the low end. However, we believe the pros far exceed the cons and make it a great projector for when you want something that is ready at a moment's notice.
First, it comes with Android 7.1 installed, which gives you access to a number of apps, ranging from Netflix to YouTube. This way, you don't need to have any other mobile devices with you. As long as you have a Wi-Fi connection you can use it to watch your favorite content.
The system also has a 360-degree 5W speaker, so everyone can hear the audio playback. Some of the other features on the Nebula Capsule by Anker that we like to include:
4-hours playback
Screen mirroring
Comes in multiple colors
About the size of a soda can
Best Portable Projectors Under $100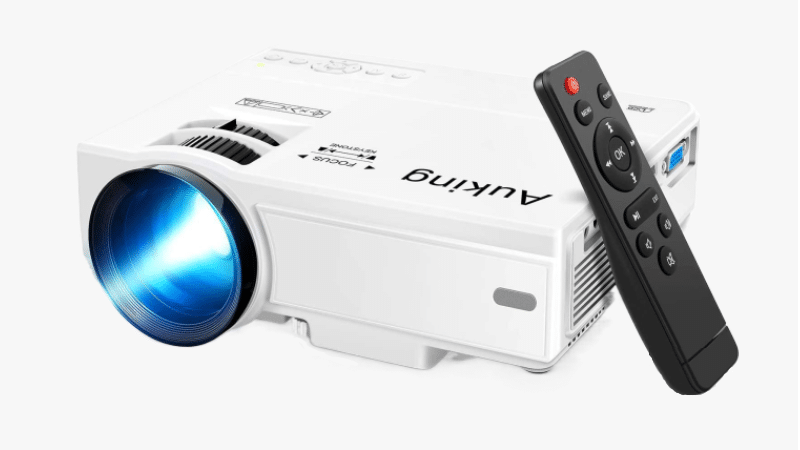 Getting value without breaking the bank; is what the AuKing Mini Projector represents.
It is a 1080p equivalent tiny projector that can connect to laptops and smartphones, thanks to the HDMI, VGA, AV, and USB connectors. This makes it perfect for enjoying movies, business presentations, and games with high visual requirements.
The built-in speakers are loud enough to reach everyone in a large room. If you feel like you need even more sound quality, you can easily connect it to an external speaker.
The AuKing might not fit into your pocket but it's still very easy to move around without discomfort. It is easy to use and adjust to suit your viewing needs with the keystone corrections and focus wheel features.
A contrast ratio of 2 000:1 complemented with over 7 000 lumens is a good bargain for the price and more than you'll get with most mini projectors.
While all projectors produce a brighter picture in darker environments, the AuKing's increased lumen output makes it one of the only devices on our list that could be used as an outdoor projector.
Some of the features you'll find on the AuKings Mini Projector include:
2 000:1 contrast ratio
7 500 lumens
VGA, USB, HDMI, and AV connectors
2.87 pounds
55 000 hours LED lamp life
Best Portable Projectors Under $200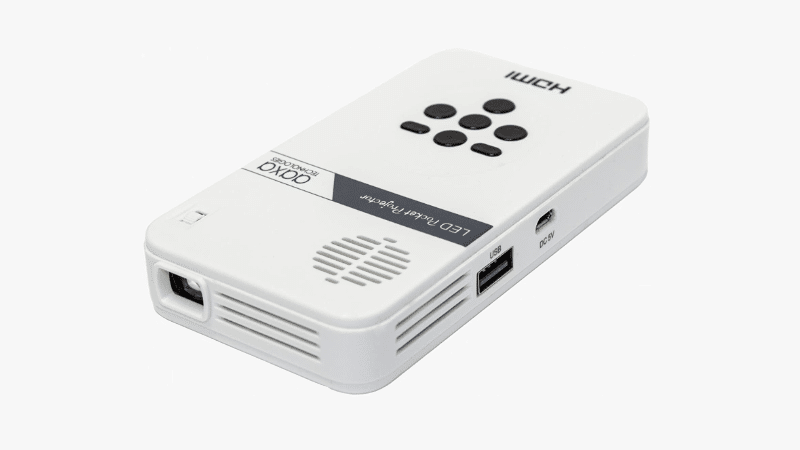 If you're on the hunt for a light projector that fits into your palm, the AAXA K-201-01 Pico Micro Video Projector is the way to go.
It is a true pocket projector, with a size as small as most cell phones. You can carry it anywhere and make a presentation anytime.
This mobile device is perfect for presentations, movies, and watching tutorial videos in a low-light room. The darker the room, the higher the image quality. As long as you're not on the hunt for pixels, you won't find any on your display.
AAXA KP-101-01 Projector has mini-HDMI, 3.5mm Aux, micro SD, and USB readers. With these connectors also comes high compatibility with different media formats such as pictures, videos, and games.
Keep in mind that you will need extra cords to make this projector compatible with your cellphone and laptop.
That said, this projector should not be compared to larger projectors in terms of image quality or sound. This is comfortable to use, versatile, and very compact. If small size is at the top of your must-have list, take a very good look at this projector.
Some of the features to look out for in the AAXA K-201-01 Pico Micro Video Projector include:
Weighs under 7 ounces
Display resolution of 1280×720 (HD 720p)
25 lumens of ambient light
Built-in speakers
80 minutes battery life
Up to 60 inches projected image
Contrast ratio of 1 000:1
Best Portable Projectors Under $300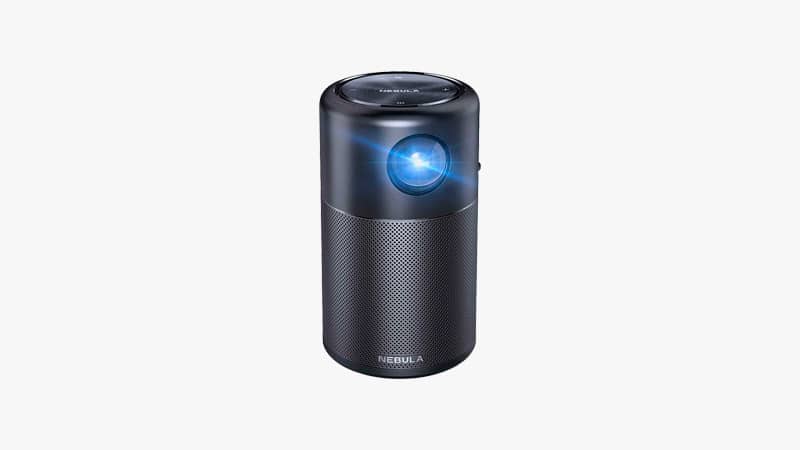 By increasing the price range for your portable mini projector, you'll drastically boost the features that come along with it. This is apparent with the Nebula Capsule by Anker, as you'll land some truly impressive specifications.
The Nebula Capsule by Anker itself is designed much like the tower Amazon Alexa speakers. It is a cylinder construction so it's simple to place onto just about any surface.
The projector has Android 7.1 natively installed on the device, so with a Wi-Fi connection, you can stream content from Netflix, HBO Go, YouTube, and other streaming services without connecting any device.
The Nebula Capsule by Anker has 100 lumens, which isn't the greatest number in the world, but for the size of the projector bulb, you'll be hard-pressed to find something better.
The Nebula Capsule by Anker features up to four hours of playback time, which is perfect for movie nights. It can also produce a picture of up to 100 inches.
The entire base of the Nebula Capsule is one large Bluetooth speaker so no matter what direction you're sitting around the projector, you'll have clear audio.
In fact, you can use the Nebula Capsule by Anker as a stand-alone Bluetooth speaker with 30 hours of music playback time.
The resolution is adequate at best at 854 by 480, so keep that in mind if you're shopping around for an HD projector.
Some of the features you'll find on the Nebula Capsule by Anker include:
Weighs 15 ounces
About the size of a soda can
4-hour playback time
HDMI, USB, Wi-Fi, screen mirroring, and Bluetooth connective features
Runs Android 7.1
Official Amazon Choice selection
Can be used as a Bluetooth speaker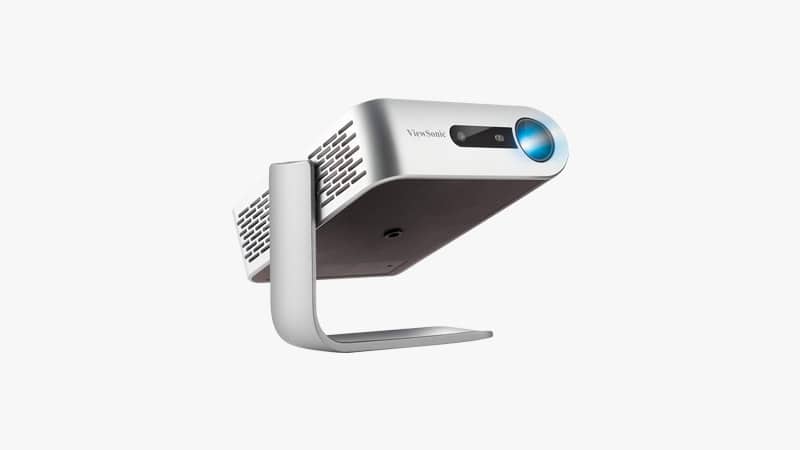 If you want the combination of both power and portability, the ViewSonic M1 Portable Projector may be the kind of projector to invest in.
The device has a built-in swivel base, which makes it easy to place on any object and adjust the projection angle. This is great if you want to project the visual up or down, based on your needs.
The compact projector only produces a resolution of 854 by 480, which is the standard definition. Ideally, for something around $400, you'd get HD, but you're paying for other features and not necessarily resolution quality.
There are dual built-in Harman Kardon speakers to give you solid audio without connecting secondary audio devices.
One of the best features of the ViewSonic M1 Portable Projector is its six-hour battery life. You can also charge the device with the USB type-C connection as you use it.
The ViewSonic M1 Portable Projector comes with a controller, projector case, and a USB type-C cable so you have everything you need ready to go.
Some of the features you should check out regarding the ViewSonic M1 Portable Projector include:
Connections including HDMI, USB type-A and type-C, plus microSD card slot
30 000 hours of operational life, which is about 10 000 more than most other projectors in the category
6-hour battery life
Available 16 GB of internal storage, which allows you to store media locally
360-degree projector stand
250 lumens for solid brightness in a device of its size
Dual Harman Kardon speakers
1.52 pounds
Best Portable Projectors Under $500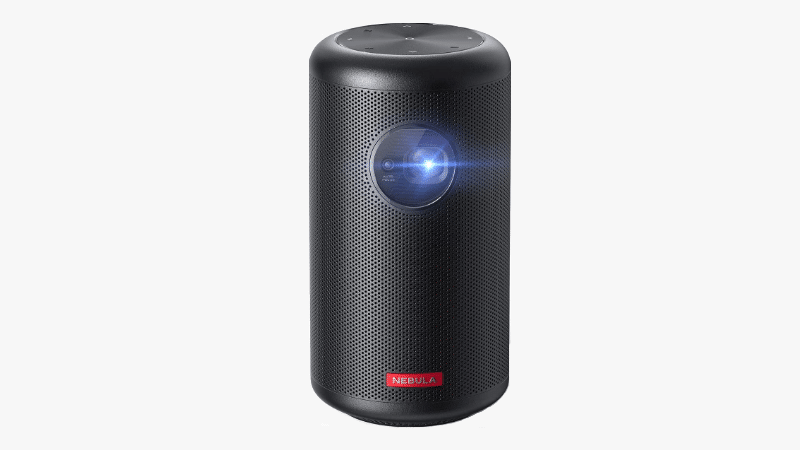 Capsule Max. At just 17 ounces, you'll be getting high-definition images, heightened audio immersion, and eye protection.
It creates 200 lumens of brightness which is great for image quality and sharpness. The autofocus technology and short response time after connection are some of the best features of this portable projector.
The NEBULA can throw a viewing size of up to 100 inches. The built-in battery lasts up to 4 hours which is enough time for a long movie at home or for any business presentations.
It supports multiple video and audio formats which means that your media options are unlimited with this projector.
The Anker NEBULA Capsule Max provides Bluetooth, Wi-Fi, HDMI, and USB connectivity options.
It also has an operating system of Android 8.1 and a download app manager which means you can easily download Netflix or YouTube and stream videos as you wish.
Some of the features to note about the Anker NEBULA Capsule Max include:
Native 720p HD resolution
200 lumens brightness
Weighs 17 ounces
Stereo sound built-in speaker
30 000 hours LED lamp life
4-hour battery life
HDMI, Wi-Fi, USB, Bluetooth, and screen mirroring connectivity.
Best Portable Projectors Under $600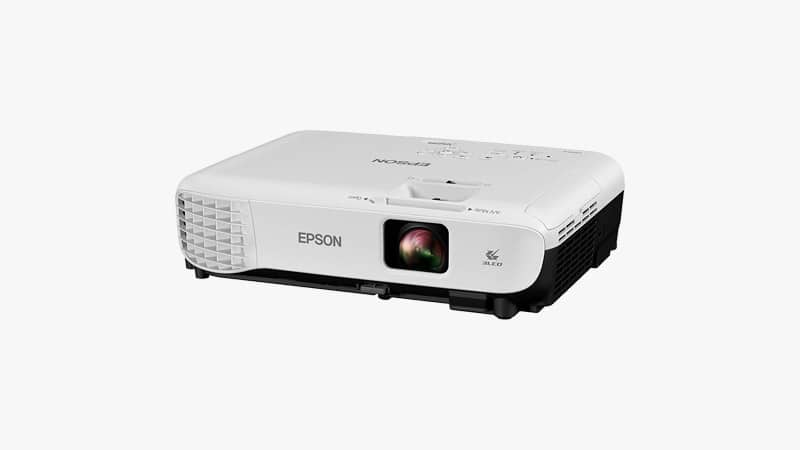 The Epson VS250 SVGA 3 is basically a smaller version of a regular projector. It isn't the most durable due to this, but it does provide you with superior picture quality.
In fact, the Epson VS250 SVGA 3 produces 3,200 lumens of brightness. That's pretty high compared to the other projectors discussed, which have a lumen brightness below 300 except for the AuKing Mini Projector.
This means the projector is great even in ambient light.
The picture quality isn't up to HD standards though, as it is 800 by 600. This is slightly more than standard definition, but not up to minimum HD specs.
Basically, this is a projector you'll want for the office when you want a visible picture at any time of the day but it doesn't require extreme resolution.
You can produce up to 120 inches of projection with this device. It also comes with a remote control, giving you more playback control if you're not sitting right next to the projector.
A solid feature of the Epson VS250 SVGA 3 is the number of connection options you'll find. It does have an HDMI connection port, but it also has RCA composite video (plus the audio connection if you wish to play audio through the internal speaker). There is a USB A and B, plus a D-sub 15-pin connector. Basically, if you need to connect a device to the Epson VS250 SVGA 3, it will have the right connectors for it.
Some of the features of the Epson VS250 SVGA 3 include:
HDMI, USB, D-sub, RCA connectors
Extremely bright 3 200 lumens, making it perfect for projecting even in daylight
Remote control
Up to 120-inch projection
Official Amazon's Choice selection
Resolution of 800 by 600
15 000:1 contrast ratio
5.3 pounds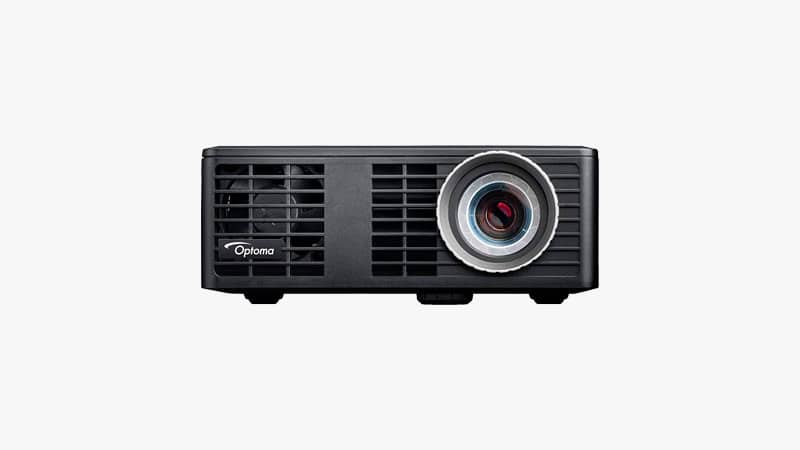 You're getting to the point where you should begin to expect higher-end specs for the price point. This holds true with the Optoma ML750.
This projector is smaller, so it's designed for travel, but it isn't a pocket projector. It will take up some space in your carry-on if you plan on traveling with it.
This projector does produce 700 lumens, which is excellent for the size, and will work in rooms where sunlight is present.
The Optoma ML750 is only slightly larger than your hand, so you'll have a solid design in a compact body. It features an HDMI port, a USB port, and a microSD card slot.
The contrast ratio is one of the highest on the list at 10 000:1, while the video quality is 1280 by 800 (1280 by 720 is the low end of HD, so you are technically experiencing a level of high definition).
Some of the features on the Optoma ML750 you should consider include:
Some of the features on the Optoma ML750 you should consider include:1280 by 800 resolution
10 000:1 contrast ratio
20 000 lamp life
700 lumens brightness
HDMI, USB, and microSD card reader
Throw distance of 1.8 feet to 10.6 feet
The produced image size of 17 inches to 100 inches
Weighs just 0.8 pounds
Best Portable Projectors Under $700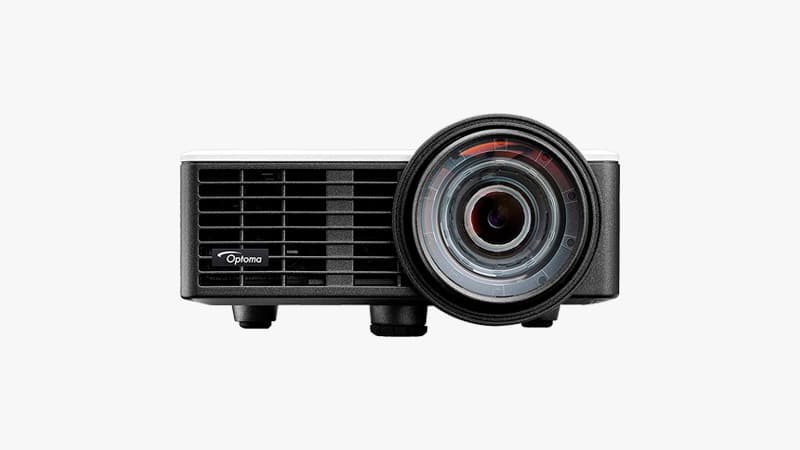 The Optoma ML750ST is similar to the regular Optoma ML750, only it comes with a handful of spec improvements, all while maintaining the excellent design size.
With the Optoma ML750ST, you'll have a microSD card slot, USB connection, HDMI port, and a headphone jack.
The "ST" within the title references "Short Throw", which means it is made for a shorter projector throwing distance. This way, you can be closer to the projection surface when using the device.
The 700 lumens is towards the top of its class, plus you receive a 20 000:1 contrast ratio, giving you excellent depth and color. This is twice the contrast ratio of the standard 750.
The short throw design allows you to be within 1.4 feet of the surface, yet you can project up to 199.9 inches in size.
Like the other design, the resolution is 1280 by 800, although the doubling of the contrast ratio will give you substantially better picture quality. Some of the features on the Optoma ML750ST to consider include:
A weight of just 0.88 pounds
20 000:1 contrast ratio
700 lumens image brightness
microSD, USB, and HDMI connections
Headphone out jack
Extremely portable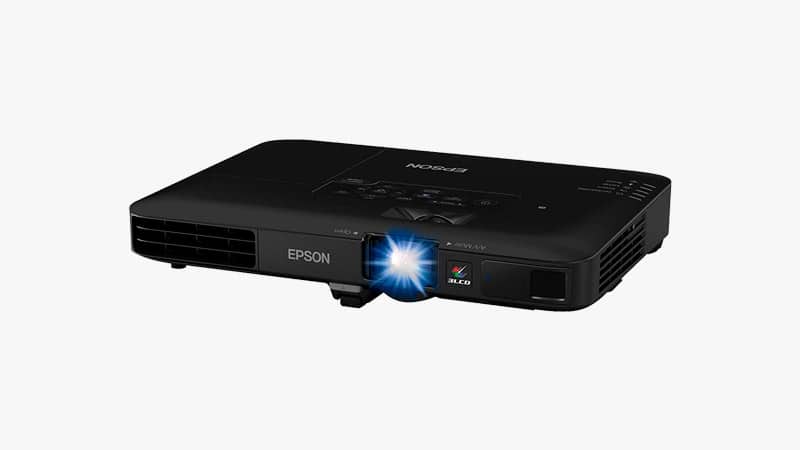 The Epson PowerLite 1781W is one of the larger portable projectors on this list. In fact, it may be the biggest tiny projector we've covered. However, it can still fit into any backpack and your briefcase or carry-on.
So while it is larger, it packs a punch for the size and offers specs you'd expect from traditional projectors.
This is because the Epson PowerLite 1781W is able to produce an incredible 3 200 lumens. This makes it a great projector when you need to put on a presentation in a fully lit room.
The Epson PowerLite 1781W has a resolution of 1280 by 800 and comes with a number of connection ports. This includes a VGA computer monitor port, an HDMI port, and a USB type-A and a USB type-B connection.
There is also an RCA composite video connection, although you will need to plug the audio into a speaker system if you want sound.
The Epson PowerLite 1781W is on the heavier side when compared to the other projectors, weighing in at four pounds.
Ultimately, you're buying this kind of projector if you want something that can perform in fully lit rooms yet is still small enough to fit into a travel bag.
For the quality output and relative portability, we believe this projector is well worth the high price tag.
Some of the features on the Epson PowerLite 1781W you'll want to consider include:
3 200 lumens of brightness
Weighs in at four pounds
1280 by 800 resolution (HD)
Comes with a controller, USB cable, power cord and soft carrying case
Compatible with a number of devices, including smartphones, tablets, computers, gaming consoles, Chromecast, Amazon Fire TV, Blu Ray/DVD players, satellite/cable boxes, Apple TV, Roku, and digital cameras
Available connections include an HDMI port (also supports MHL connectivity), VGA computer port, video RCA composite port, USB type-A connection, and USB type-B connection, plus an audio out 3.5mm headphone jack
Best Portable Projectors Under $900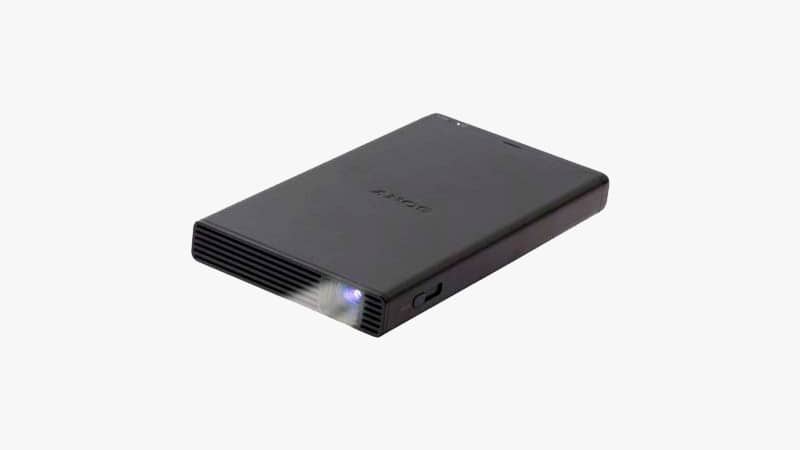 Another great mobile device, the Sony Portable Pico Projector is designed to be rugged. So if you need to travel with your projector, this is a desirable option.
This product creates 105 lumens, which isn't great, but for the size, it's understandable as bulbs can only produce so much light at this reduced size. The projector can throw a viewing size of up to 120 inches, which is decent.
The built-in battery lasts up to two hours, which should be enough for any business presentations and meetings.
There is a micro tripod attachment on the base of the projector, so you can connect the Sony Portable Pico Projector to any smaller tripods.
The projector does have an HDMI input, but this is the only connectable option. The built-in speaker does produce some audio, but you'd be better off connecting a secondary pair of headphones or a speaker to the source device.
Some of the features of the Sony Portable Pico Projector you should keep in mind include:
Some of the features of the Sony Portable Pico Projector you should keep in mind include: Resolution of 854 by 480 (SD)
4 000:1 contrast ratio
HDMI input
105 lumens brightness
Weighs 9.88 ounces
2-hour battery life
Official Amazon's Choice
The right portable projector comes down to your unique use case and travel needs.
Whether you want something that's sleek and easy to slip into a pocket or something a bit larger, brighter, and with improved visual quality, there are a plethora of options for you.
Which projector caught your eye? What is important to you when it comes to portable projectors? If you have a projector, which model do you have?
Let us know in the comments! Your fellow shoppers would love to get your input as well.
Photo Credit: Unsplash