If you're in a hurry, check out our Editor's Pick: APC Network UPS.
Your electrical devices are under a constant threat of damage caused by power outages. Whether from unfavorable weather conditions or building-related hazards like faulty electrical wiring, an uninterruptible power supply (UPS) offers the perfect solution to protect you and your business.
In the curated list below, you'll find our picks or the best UPS devices that are ideal for homes, server rooms, and workplaces. We have scoured the market to find only the best options that guarantee data protection, cooling and protection of hardware components, automatic voltage regulation, network system backups and continuous power distribution.
This means you don't have to waste time sorting through the endless and confusing variety of UPS devices on the market, giving you more time to focus on expanding your personal projects and business ventures.
But before you start shopping for the best rackmount UPS, check out our list of the things you need to consider while deciding on what device is best for you.
You might be wondering how you're supposed to know which UPS is right for you. The right rackmount UPS will vary by individual and use case so, before going through this list of the best rackmount uninterruptible power supply devices, check out some of the factors you should consider.
1. Number of outlets
The number of power outlets varies in rackmount uninterruptible power supply devices. Before you make a decision, consider your current electronic devices and projected future devices.
This requires you to consider all the items you have and might one day need to ensure the perfect workspace, no matter your power situation.
2. Power requirement
You can estimate the amount of wattage you'll need based on the number and type of equipment you intend to connect to your UPS. Check the specification of all the equipment, sum it up and then choose a rackmount UPS with a power supply that exceeds that number.
Pay attention to the power units on each machine when you're calculating. Some rackmount UPS are rated in only volt amps or watts, while others provide both. If your conversion rate is wrong, you may end up with a UPS that won't serve your purpose.
3. Backup runtime
The backup runtime of a rackmount UPS refers to how long it can supply power to your devices when the main power is off. This often depends on the number of connected devices and the capacity of the battery. So when you are choosing the best UPS for you, pick something that can run long enough to ensure you have time to securely save your work and switch to an alternative power supply.
Our Picks: Best Rackmount UPS
| Product | Model | Number of outlets | Runtime | Price |
| --- | --- | --- | --- | --- |
| | SMX2000RMLV2UNC | 7 | 10 minutes on full load (1800W) | |
| | PR750RT2U | 8 | 7.5 minutes on full load (750W) | |
| | SRT5KRMXLT | 15 | 3.5 minutes on full load (4.8kW) | |
| | Tripp SMART1500LCD | 8 | 4.4 minutes on full load (900W) | |
| | OR1000LCDRM1U | 7 | 11 minutes on full load (2700W) | |
Editor's Pick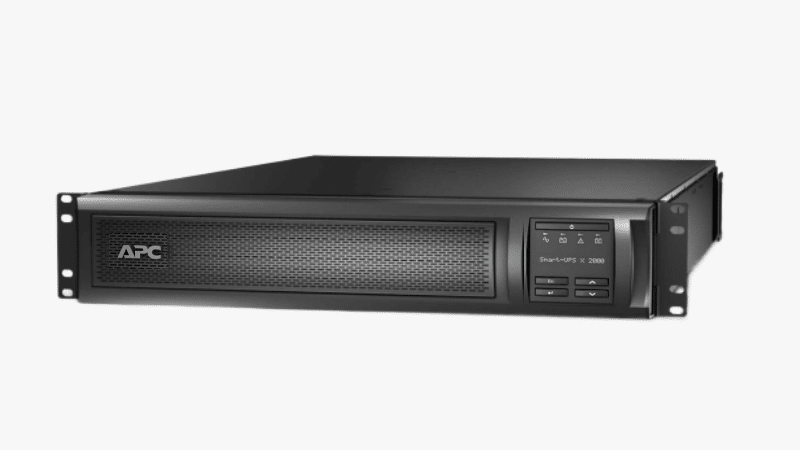 If you're in a hurry, check out the editor's choice, the APC Network UPS. It has the longest backup runtime compared to other rackmount uninterruptible power supply devices on this list.
With 10 minutes to spare and without the slightest flicker on your devices as the power source changes, you can secure all your business data and protect your devices from expensive damage.
The APC Network UPS is a literal powerhouse for up to 7 high-energy electronics, so as long as you don't need more outlets, you're good to go.
Best Rackmount UPS Under $300
1. Tripp Lite Smart1500LCD 1500VA Rackmount UPS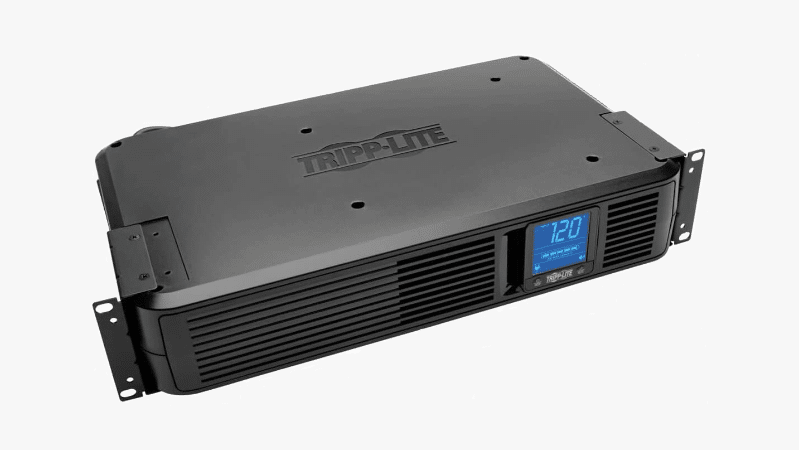 Whether you're looking to back up your desktops, laptops, inkjet printers, scanners, game consoles, media players, wireless routers, or small servers, the Tripp Lite 1500VA Rackmount UPS is a good option. Some of the notable benefits of this Tripp Lite model includes eight electrical outlets, an automatic voltage regulation system (AVR) and an efficiency rating of 98%.
The UPS has an LCD display with adjustable brightness that keeps you updated on the current power status of your primary power source as well as the battery power status of the UPS itself so you'll know how much time you have.
It has a recyclable battery that supplies up to 900 Watts. If all the power outlets are occupied, the UPS will give you about four minutes to save all your data and shutdown your systems. It can last as long as 25 minutes on minimum load.
An added bonus is the alarm system that informs you when it's about to go off so you're not caught off guard. The automatic voltage regulation system protects all your sensitive devices from power spikes or other fluctuations and all the electrical outlets have built-in surge protectors.
Tripp has a reputation as a lifelong provider of reliable products with the best customer service and a 3-year warranty backed with $250k insurance. Whether you're preparing for a blackout or a brownout, the Tripp Lite Smart 1500LCD rackmount UPS is the ultimate budget-friendly data protector.
Features:
1500VA/900 Watts
8 power outlets
4 minutes runtime at full load
8 minutes runtime at half load
Weighs 29 pounds
Best Rackmount UPS Under $500
2. APC Smart Rackmount UPS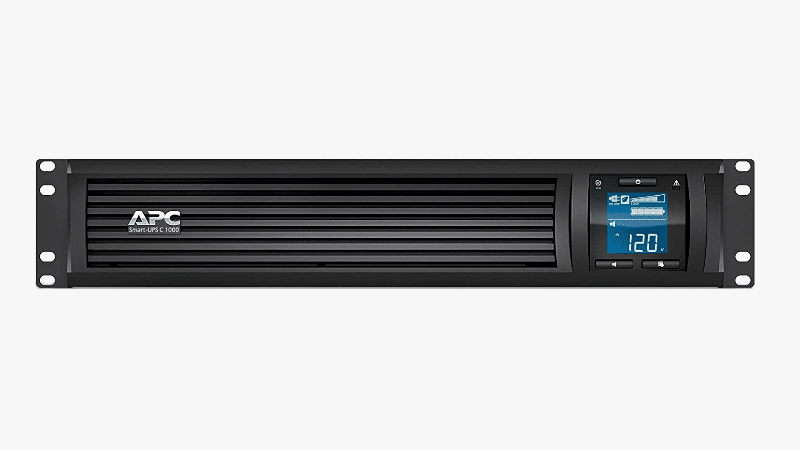 APC Smart rackmount UPS is the first cloud-enabled UPS on our list, which allows you to monitor the status of your UPS from any secure web portal with any internet connected device. It is ideal for small, large or medium business enterprises who want complete network power management. The uninterruptible power supply is easy to set up and connect to the SmartConnect system. It is compatible with major remote monitoring and management platforms.
It has an automatic voltage regulation system that keeps the power running at a consistent 120 volts for regulation and device protection. The LCD display coupled with the SmartConnect app gives notifications on the system's operational status with clear recommended prompts to follow. This contributes to its accessibility and convenience to help protect your devices from harmful power conditions, spikes and surges.
The APC Smart Rackmount UPS runs at a very low sound level and produces a good sine wave signal that is safe for your devices. If efficiency and quietness is a priority for you, especially if it's expected to serve in a studio, check out this APC UPS model. It is suitable for computers and routers and allows you enough time to save your progress and shut down appropriately.
Features:
1000VA/600W pure sine wave
6 power outlets
Runtime of 1 hour and 4 minutes on 100W load
Weighs 45.7 pounds
3. CyberPower PR750RT2U Smart App Rackmount UPS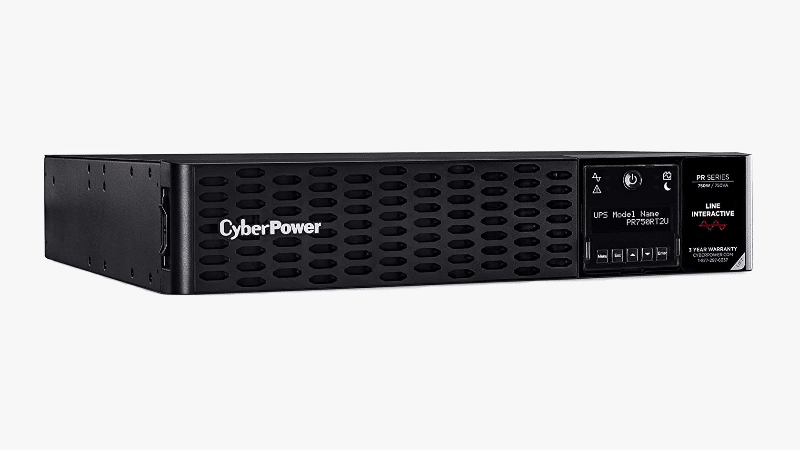 The CyberPower PR750RT2U UPS has an automatic voltage regulation system and a multifunction LCD display to monitor the battery status, since the runtime depends on the amount of power needed by each connected system. For remote monitoring, the PowerPanel Business software provides complete network power management.
Even a brief power outage can cause data loss or hardware damage. All eight outlets of the CyberPower PR750RT2U have battery backup power and surge protection. So, be rest assured that your data and hardware are fully protected from all electricity-related damage.
This UPS system provides rackmount battery backups power to keep your devices running during short outages and provides enough runtime to properly shut down electronics during extended outages. It is highly compatible with network devices, corporate servers, workstations, and telecom services.
The output power on this UPS is low compared to other options on this list, so do not run laser printers, paper shredders, copiers, space heaters or other large and power-draining electrical devices on it. It also has an audible alarm that alerts you when it's running low on juice, so you don't have to worry about the abrupt shutdown of your devices.
If you're using the CyberPower PR750RT2U UPS on a full load, unless you have a backup generator that comes on within a few minutes, your topmost priority after a power outage should be to save all working data and shut down your systems.
Features:
750VA/750W
8 power outlets
Weighs 43.2 pounds
19 minutes runtime at half load
5 minutes runtime at full load
Best Rackmount UPS Under $1000
4. CyberPower OR1000LCDRM1U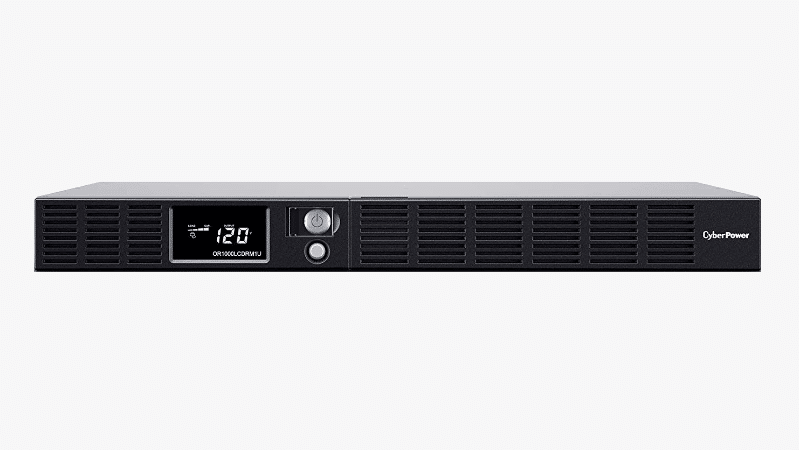 The CyberPower OR1000LCDRM1U has six outlets for rackmount battery backups out of which four have both battery backup and surge protection capacity while the other two have only surge protection. Whether it's used for protecting work servers, telecom installations, or network devices, this UPS has a lot to offer.
The interactive and user-friendly LCD screen provides runtime in minutes, battery status, and power conditions. This takes care of alerting users to potential problems before they can affect critical equipment and cause costly damage.
Like most rackmount UPS devices, it also has an automatic voltage regulation that protects against power fluctuations without switching to battery which in turn extends the battery power. You can ensure that you have enough time to safely shut down your devices and avoid consequences for your business.
You can monitor the CyberPower OR1000LCDRM1U using the PowerPanel Business dashboard after installing a remote network card.
Features:
1000VA/600W power output
6 power outlets
13 minutes runtime at half capacity
3 minutes runtime at full capacity
Weighs 33.7 pounds
Best Rackmount UPS Under $1500
5. Tripp Lite 1350W Line Interactive Rackmount UPS

This is a 2U rackmount UPS with eight electrical outlets and a 10-foot power cord. The Tripp Lite 1350W Line interactive UPS has an illuminated and interactive LCD for access to navigation keys to alter settings and control the operation.
The LCD shows a variety of helpful data, including input and output voltage, output load percentage, output load wattage, power status, battery power status, automatic voltage regulation status, battery power capacity, estimated backup runtime remaining and daily power consumption.
You can extend the expected and very short 4.9 minutes runtime at full load by connecting external battery packs. You can also add or replace batteries without turning off the UPS. This UPS system generates pure sine wave power for superior compatibility with equipment of varying sensitivity and power requirement. With the noise filtering technology, it can shield your equipment from destructive unstable voltages and electromagnetic line noise.
The advanced automatic voltage regulation on the device enables it to correct power sags (brownouts) and surges (overvoltages). It has USB ports to connect devices and a network card slot for remote access and network management. At 1350 Watts, it can power routers, desktops, servers, network switches and firewalls.
The Tripp Lite 1350W Line interactive UPS has an environmentally conscious design that saves energy, reduces its carbon footprint, reduces operational and maintenance costs, and produces less heat.
Features:
1500VA/1350W line interactive sine wave output
8 power outlets
14 minutes runtime at half load
9 minutes runtime at full load
Weighs 43.4 pounds
6. APC Smart Lithium Ion UPS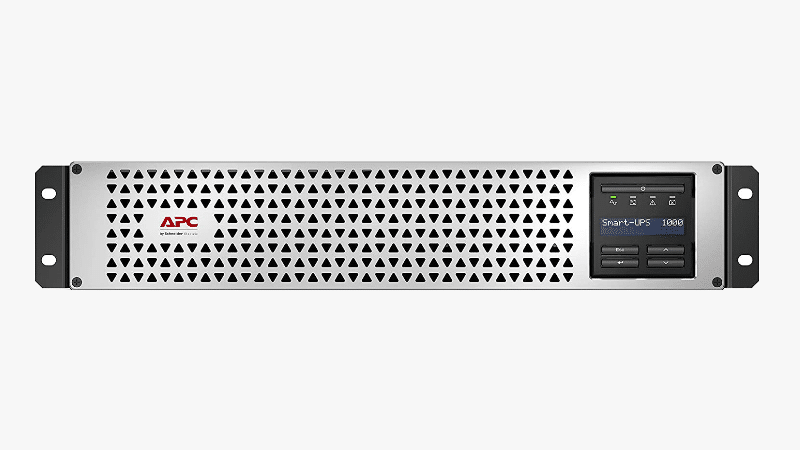 With up to 96% efficiency, the APC Smart Lithium Ion UPS reduces utility and cooling costs without compromising the performance of your electronics. It works with network management cards and a cloud-enabled service, SmartConnect App, that allows remote and easy monitoring. These features provide automatic notifications, firmware updates, and advanced support services.
The LCD display has an intuitive interface that measures energy use and displays the efficiency level of the UPS. The UPS is ideal for servers, point-of-sale, routers, network switches, hubs and other network devices.
The integrated intelligent battery management system performs different functions in the UPS. It prolongs battery life by regulating the generated voltage according to battery temperature. It performs periodic tests to confirm battery power efficiency, detects malfunctions, and warns you early enough to get a replacement. It also protects all connected devices from surges, lightning, spikes, and other power-related disturbances.
If you've ever considered having a reliable business monitoring system, the APC SmartConnect Lithium Ion UPS can make that a reality for you.
Features:
1000VA/800W pure sine wave output
6 power outlets
19 minutes runtime at half load
8 minutes runtime at full load
Weighs 36 pounds
7. APC Network UPS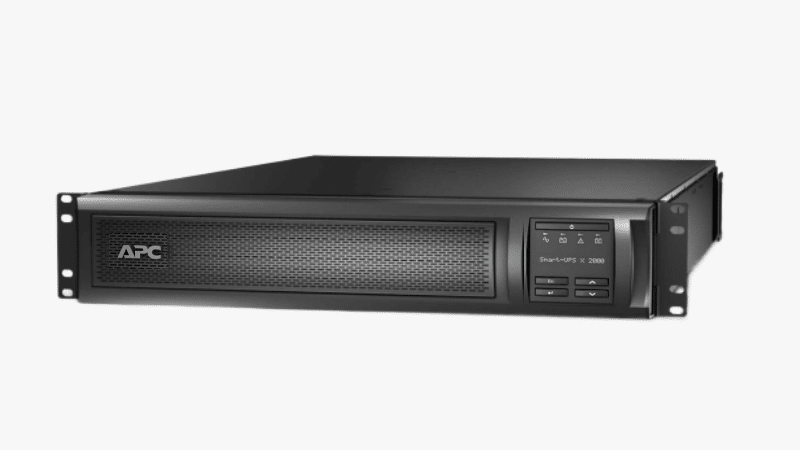 If you're looking to invest in a high-end, high-value rackmount UPS, consider this model designed by APC. The feature that stands out in this device is its backup runtime. Compared to other products and APC models that barely provide five minutes of runtime on full load, the APC Network UPS gives you 10 full minutes to use your devices after a power outage.
Another incredible benefit is that your devices won't be fazed by the change in power source as the UPS takes over from brownouts and outages. It runs at a noise level of 55 decibels which is comparable to having conversations at home.
If you're energy conscious, it will please you to know that the APC Network UPS has an energy meter that informs you of the kilowatt usage in real time. It accepts the attachment of external battery packs and automatically adjusts the available runtime to continue its service. It has all the other great features like automatic shutdown, battery failure alerts, intelligent battery power management and remote management.
For someone with a business that works on a lot of servers and data at a time, you'll need more than a few minutes to ensure that all your work is saved before shutting down. The APC Network UPS will give you that time and a lot more.
Features:
2000VA/1800W pure sine wave battery backup
7 power outlets
10 minutes 56 seconds runtime on full capacity
27 minutes 37 seconds runtime on half capacity
Weighs 107 pounds
Best Rackmount UPS Under $2000
8. APC SRT5KRMXLT On-Line Double Conversion UPS

For a reliable rackmount UPS that can support multiple high-energy devices at a time, consider the APC SRT5KRMXLT Double conversion rackmount UPS. This device prepares you for damaging surges and disruptive electromagnetic noise. With a total of 15 power outlets, this UPS can be connected to work servers, routers, desktops, and network devices.
This rackmount UPS has an LCD display and LED status indicators that display modes of operation, system parameters, alarms, and power status. The double conversion technology provides voltage and frequency regulation as well as zero transfer time to the battery backup power supply during power changes.
With this UPS, you can avoid expensive damage to your IT equipment, protect your data, and save time with remote network accessibility. The embedded Powerchute software allows for easy control and monitoring, and energy management. The pure sine wave output is highly compatible with a variety of equipment and lowers the cost of maintenance and operation on a long-term basis.
The APC SRT5KRMXLT Double conversion rackmount UPS maintains battery performance and life using precision temperature compensated charging. It also performs automatic self-tests to monitor battery health and give timely alerts of battery replacement.
Features:
5000VA/4800W
15 power outlets
10 minutes and 41 seconds runtime at half capacity
3 minutes and 27 seconds runtime at full capacity
Weighs 123 pounds
9. CyberPower OL3000RTXL2U Smart UPS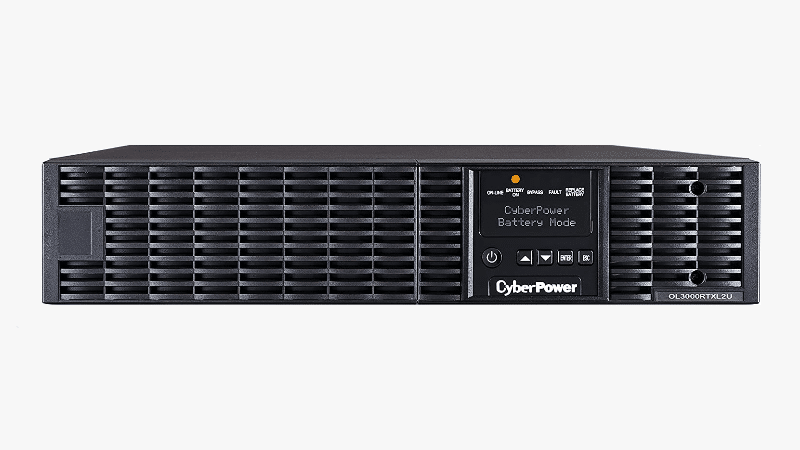 There are various UPS models by CyberPower, but the CyberPower OL3000RTXL2U stands out for a lot of reasons. The UPS has seven outlets out of which 1 has both battery backup and surge protection. It can hold up to 10 optional extended battery modules for extended runtimes and has a 10-foot power cord for connectivity.
The LCD control panel displays status data and can configure operation settings from a distance of about 10 feet. It also allows the configuration of IP address settings when a remote management card is installed.
The UPS is designed for high-end system components, corporate servers, lab equipment, and other sensitive electronic devices but also works for storage appliances, network devices and telecom systems. It uses PowerPanel business management system software to control and monitor its operation.
The CyberPower OL3000RTXL2U has a generator mode which means it can be used in conjunction with a generator. The fast charge technology, double-conversion topology, and energy-saving green power technology greatly reduce electrical costs and provide consistent and clean power. The noise on this UPS might be a bit unbearable if you're in the market for a super-quiet device.
Features:
3000VA/2700W
7 power outlets
11 minutes runtime at half load
5 minutes runtime at full load
Weighs 68.2 pounds
A rackmount UPS is necessary to give you just enough time to calmly and securely save your data and properly shut down your devices to prevent harm.
If you work with a lot of data and have several rackmounted devices running your business, a rackmount UPS is an investment you don't want to overlook.
Save your devices, routers, and servers from abrupt interruption and power shock by getting a rackmount UPS.
Which of the above devices are you going to give a shot? Why is a UPS crucial to you? Do you have any suggestions of UPS that aren't on our list?
Let us and your fellow shoppers know in the comments below.
Photo Credit: Unsplash