If you're serious about a home theater or gaming, you need a short throw projector.
A short throw projector will typically produce a brighter, more vibrant picture than the projectors that are not listed as "short throw".
However, in the world of projectors, you may feel a bit out of your element.
That's where we come in. We have spent countless hours sifting through the short throw projectors on the market to ensure we find only the best the industry has to offer.
Below you will find the perfect short throw projector for your budget and use case without any of the hassle of looking through Amazon reviews and model specifications.
The Best Short Throw Projectors for 2023
| Product | Model | Resolution | Brightness | Price |
| --- | --- | --- | --- | --- |
| | Epson LS100 | 1080p Full HD | 4,000 lumens | |
| | JMGO U2 4K TriChroma | 4K UHD | 2,400 lumens | |
| | Samsung LSP9TFAXZA | 4K UHD | 2,800 lumens | |
| | Optoma GT5600 | 1080p Full HD | 3,600 lumens | |
| | BenQ HT215OST | 1080p Full HD | 2,200 lumens | |
As you scroll through the different projectors, you'll find the prices shift from under $1,500 to around $7,000. That's a pretty big price jump. However, when it comes to visual technology, there often is a sizable leap as well.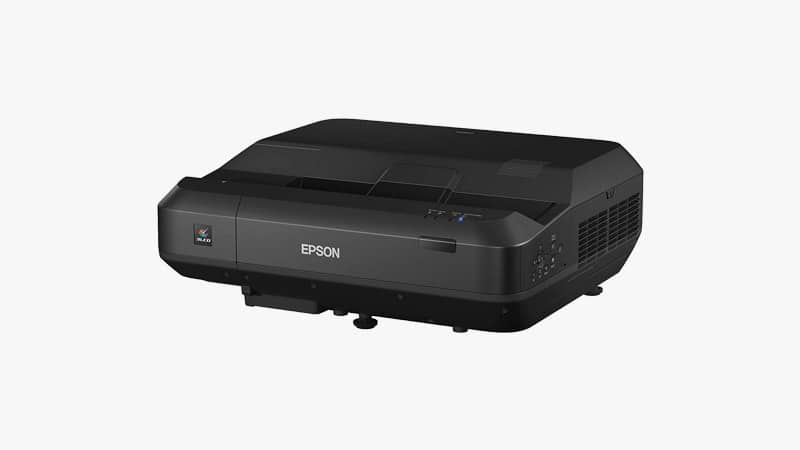 When selecting our Editor's Pick, we try to keep in mind both the specs customers like you are interested in and the value a product offers.
For our short throw projector Editor's Pick, we went with the Epson Home Cinema LS100, which is right in the middle of the price spectrum. We found this projector gives you the best picture quality for the lowest price.
Now, if you're looking at resolution alone you might see that it is a 1080 HD equivalent, while there are other projectors on the list that are 4K Ultra HD. So why would we give the title of Editor's Pick to something with a lower perceived resolution?
The contrast ratio.
There's nothing else on this list that comes close to what the LS100's contrast ratio is able to provide. At 2.5 million to 1, you'll see detail in darks and shadows like you've never seen before, even if you've watched the same Blu-ray dozens of times.
In fact, if you were to compare an HD video with a 2.5 million to 1 contrast ratio to a 4K Ultra HD screen with a 200,000 to 1 contrast ratio, you'd swear the lower resolution video was better. That's because you see more detail. It doesn't matter the resolution if the "pixels" are all the same shade.
Of course, there are plenty of other features on the Epson Home Cinema LS100 that we like. Some of these include:
4,000 lumens of brightness
1080 HD resolution
Included remote
A number of connection ports including 3 HDMI and 3 USB
Wireless screen sharing
Projects up to 120-inch display
Best Short Throw Projectors Under $1,000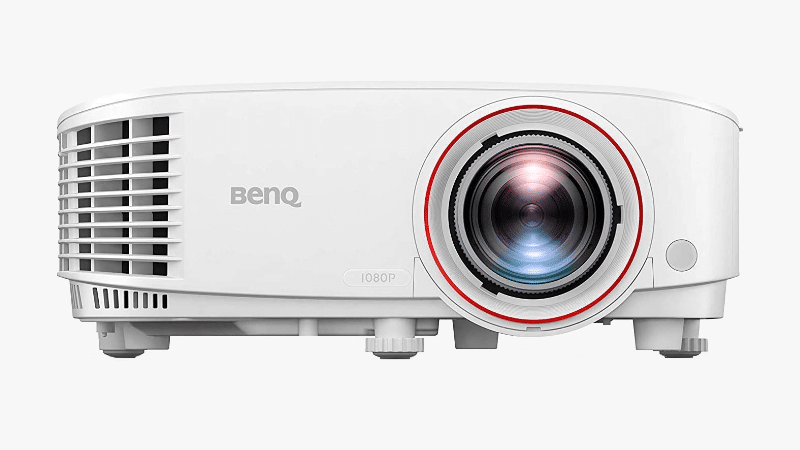 BenQ TH671ST is a reliable short-throw projector for gaming with an intense, low input lag action. However, it's not just for gaming. The projector offers unparalleled picture quality for its price range with its HD 1080p resolution which is on the higher end of the quality spectrum.
The projector emits 3000 lumens which means it will be fairly functional in broad daylight. Its 709 color accuracy and high contrast ratio make it the ultimate choice for an immersive cinematic experience from the comfort of your home.
The low input lag and a refresh rate that matches the output of Xbox One X & PS4 Pro make your gaming experience excessively dynamic and a whole lot more fun. You can also project a 100-inch screen from just five feet away, giving you free reign over your space.
For what it's worth, BenQ TH671ST will give you a chance to wow your family and friends with its incredible high-ground gaming feature, color vibrancy, and lack of motion blur.
Some of the features on the BenQ TH671ST to consider include:
Full HD 1080p Resolution
709 color accuracy
3000 ANSI lumens
Ultra-fast low input lag
Flexible connectivity; supports most media players, PCs, Macs, gaming consoles, etc.
Best Short Throw Projectors Under $1,500
If you happen to have a little more moving room in your budget, you may want to invest in slightly better specs than our previous category has to offer.
This product certainly offers a bang for your buck. The Optoma GT5600 Ultra Short Throw gives you a number of great specs for the price.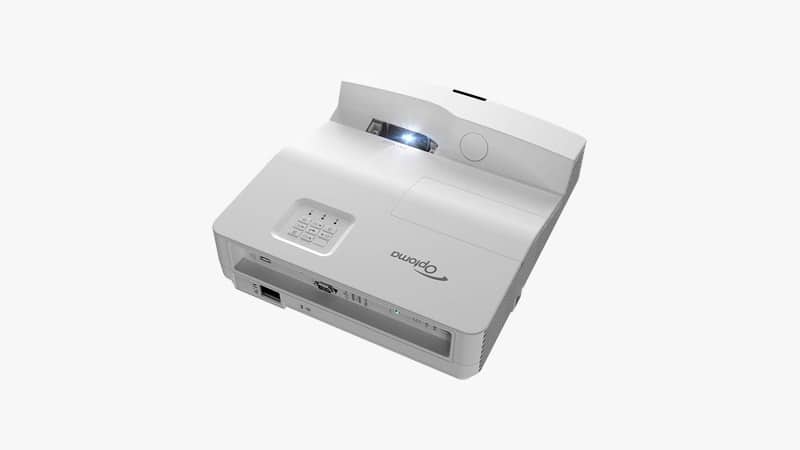 With 3,600 lumens, you'll have a projector you can use to play your favorite games, even when the windows are open.
It also has a very solid 20,000:1 contrast ratio, which gives you exceptional picture quality for your home entertainment of choice.
There are a number of connection inputs on the Optoma GT5600 Ultra Short Throw so you can hook up your favorite gaming system or any other entertainment source. There is HDMI support but also USB and screen mirroring (which you can do from not only a computer but also your favorite iOS and Android device).
The Optoma GT5600 Ultra Short Throw gives you a 1080 HD equivalent resolution and can produce a projected image of up to 100 inches. It does have a built-in 16-watt speaker, although typically we recommend connecting your device to a secondary audio system.
Some features on the Optoma GT5600 Ultra Short Throw to consider include:
3,600 lumens
20,000:1 contrast ratio
80 to 100-inch projection size
HDMI, USB, and other cable connections
16 Watt speaker
1920 by 1200 native resolution for HD picture quality
Best Short Throw Projectors Under $2,000
The following list includes some top-tier specs that you just cannot miss out on at this end of the price spectrum.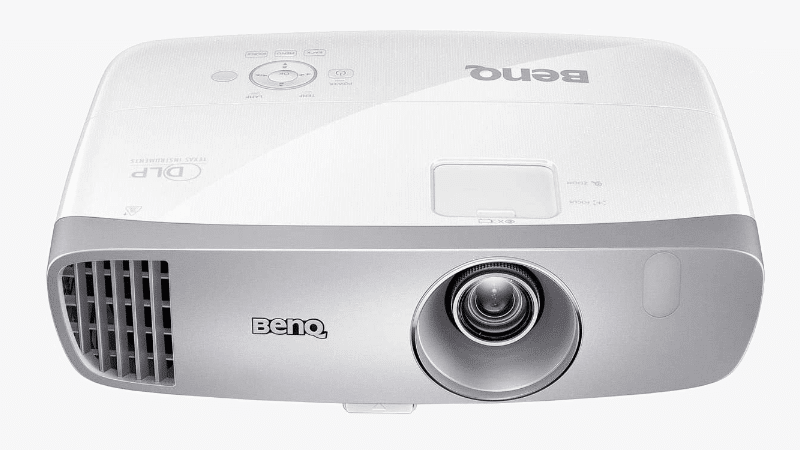 When paying for something with a price tag under $2,000, cinephiles can expect a full home theatre experience.  If you're on a budget and want something a bit stronger than your average entry-level projector, the BenQ HT215OST 1080p home theater projector may just be perfect for you.
In my research, I've found plenty of similarly-priced models, although the majority of them lacked versatile connectivity options, presented issues with installation, or didn't offer such a variety of features.  BenQ HT215OST checks all the boxes and offers an amazing home theatre experience at a fairly low price, considering that more than half of the models on the list are at least twice as expensive.
Let's start from the top. With 2,200 lumens and high native resolution, you can use the BenQ HT215OST in pretty much any environment. It offers vivid visuals in both poorly lit and extraordinarily bright rooms, which is one of the first reasons why so many people praised it in their reviews on Amazon.
Its 1.15 to 1.5 throw ratio is formidable, and its bulb lifetime is up to 7,000 hours (depending on the mode you are using). Just like all BenQ short throw gaming projectors in this series, its native resolution is 1080p.
In my research of BenQ models, I've noticed that HT2050A has a slightly lower lumens count, but it offers a superior throw ratio in comparison to some of its siblings, such as MH535FHD (3600 lumens, but inferior zoom), and TH671ST (3000 lumens, but comes at a steeper price tag).
In terms of connectivity options and sources,  you can wire up this home entertainment system to a screen using an HDMI cable. I also liked the built-in speaker setup; although there's just one 10W speaker, its sound quality is pretty great.
There are a couple of downsides to this unit, though. It comes with a dependable ceiling mount, but it can't throw an image below the center lens. In other words, you may have trouble focusing the image on higher resolutions, or if you didn't affix it at the right angles.
Additionally, just like most budget-level short throw projectors, you may experience the rainbow effect from time to time. It doesn't have any problems projecting blacks and whites, but you may occasionally see blue, green, or red lines.
In my opinion, it's still one of the best low-cost short throw projector models for simple viewing purposes. It may not be ideal for game consoles, but it has everything movie viewers and enthusiasts may need.
Some of the features to consider on the BenQ HT215OST 1080p home theater projector include:
HDMI connectivity
2,200 lumens
1080p native resolution
Up to 300 inches projection size
Bulb life up to 7,000 hours
Built-in 10w speaker setup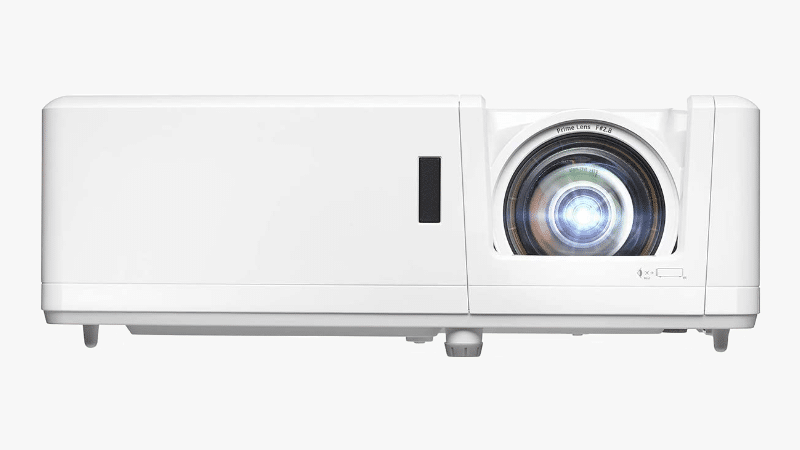 Optoma's GT109HDR is a marvelous projector unit with a short throw ratio, outstanding sound quality, and more importantly, terrific visuals, making it a great choice for cinephiles who can't afford a boutique model.
This is one of the cheapest 4K projector units in this guide that offers simple installation, 4,000 lumens, a range of different connectivity options, and exquisite HDR10 technology.
The 4,000 lumens count ensures that any viewer can enjoy a pleasurable home theater experience, even with all the lights on. This makes Optoma's GT109HDR especially well-suited for use with game consoles, as even the brightest RGB lights won't interfere with image quality.
The Optoma GT109HDR is powered by the DuraCore laser light source, which offers a bulb lifetime of approximately 30,000 hours. Its IPX6 dust-proof resistance rating reduces the need for frequent maintenance while delivering consistent visuals.
What separates Optoma's GT109HDR from most $2,000 short throw projector products is the HDR10 compatibility. Whites and blacks can be experienced at a significantly deeper level, ensuring that you can have a vivid home theater experience in 4K.
Its contrast ratio is superb; the 300,000:1 ratio basically means that all of the images and videos it projects are much sharper and more life-like. With this model, you'll be able to enjoy more detailed HD content.
Among other notable pros, I would like to count versatile connectivity options. This unit supports 4K and 1080 HDRP inputs, both HDMI 1.4 and 2.0 inputs, and also features two audio inputs, a microphone port, and a USB-A port.
It wouldn't be as affordable if it was perfect, though, so I would like to point out a few drawbacks that you may want to keep in mind. There aren't any physical image tweaking options, so you can't really change the image output. Fine-tuning the focus is a bit harder because of this, but it's possible with experience.
Another thing you may not be so thrilled about is the sensitivity of the manual focus. It's too sharp for convenience, so again, you will probably need a bit of time to get accustomed to it.
When we take all of these considerations into account, Optoma's GT109HDR is an excellent short throw projector for the price. It's great for projecting presentations in smaller meeting rooms or conference rooms, enjoying music videos and funny clips at home parties, and pretty much everything in between. It's possibly the cheapest 4K projector you can find on the internet.
Some of the main features of Optoma's GT109HDR short throw laser home theater projector include:
300,000:1 contrast ratio
4,200 lumens
Supports 4K and 1080 HDR input via HDMI 2.0, HDMI 1.4, and VGA
Short throw distance makes it ideal for use in conference rooms and smaller-sized meeting rooms
Laser light source life of roughly 30,000 hours
3D Content support
Compatible with HDR10 technologies
DuraCore Laser Light source
Excellent audio quality
Best Short Throw Projectors Under $3,000
We have now come to the mid-range on the low-to-high projector price spectrum. With $3000, you can bag an incredible short-throw projector with features that offer a bang for your buck.
Here's what you must keep an eye out for.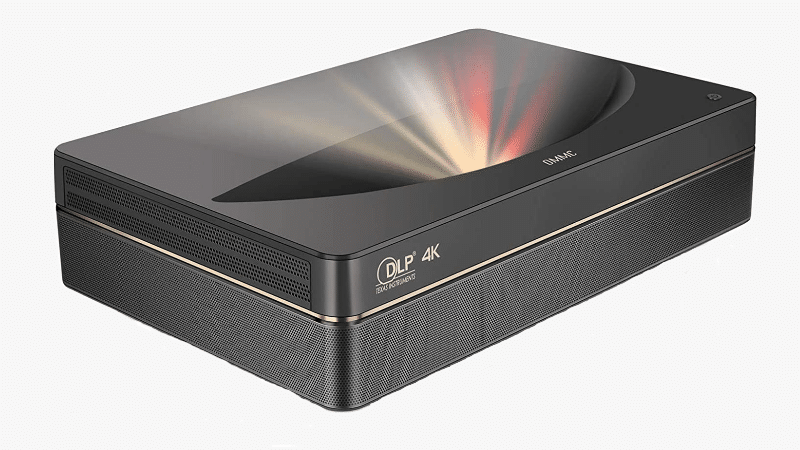 OMMC's 4K UHD laser TV home theater is an ultra short throw projector unit that boasts breathtaking visuals, an excellent level of portability, and a variety of advanced features – but what really takes the cake is the Dolby speaker setup it comes supplied with.
Basically, if you are looking for a short throw projector that would deliver the full package, meaning top video and audio experience, you may as well start with OMMC's UHD laser TV home theater projector model.
In terms of specs, its contrast ratio is 150,000: 1 while its lumen count is 2,500. If you're more into watching your favorite movies and shows in pitch-black conditions, OMMC's projector excels in this field.
The OMMC UHD projector boasts advanced DLP display technologies and features a remarkably strong laser source that requires very little maintenance; Bluetooth functionality is present, but there are other connectivity options at your disposal, such as HDMI, USB, and VGA.
In my research of short throw projectors under $3,000, I found that the vast majority of products had decent speaker systems that offered good audio quality. OMMC's model excels in this field of performance, as it packs two built-in Hi-Fi speakers while supporting Dolby Surround Sound technologies.
I'd like to mention a couple of other pros, such as its sleek design with a small footprint. If you are someone who values portability, OMMC's 4K UHD home theater unit is the way to go; its dimensions measure 24.8 inches by 18.7 inches by 14.7 inches.
There aren't many drawbacks to this model other than the poor functionality of the remote controller. Some consumers have reported that the buttons sometimes do not register the commands; in my case, that's only a slight inconvenience, as I rarely pause, forward, or rewind the content when I sit in front of the screen. For others, however, this may be a deal-breaker.
Despite this drawback, there are a couple of other pros I'd like to point out. The rapid system start-up is absolutely fantastic, and to top it off, the visuals on the main menu look great.
Overall, OMMC's 4K UHD home theater unit offers excellent value for the buck; from top-shelf features to stunning visuals to compactness, I warmly recommend giving it a shot if you're looking for a more versatile short throw projector.
Some of the features on the ViewSonic LS810 to consider include:
2,500 lumens
150,000:1 contrast ratio
Supports 4K resolution
An assortment of connections, including HDMI, USB, VGA, and Bluetooth
Make the most of the streaming services you've subscribed to with OMMC projector's wireless convenience
Two 10W speakers and Dolby Surround Sound technology
Laser light sources that require minimal maintenance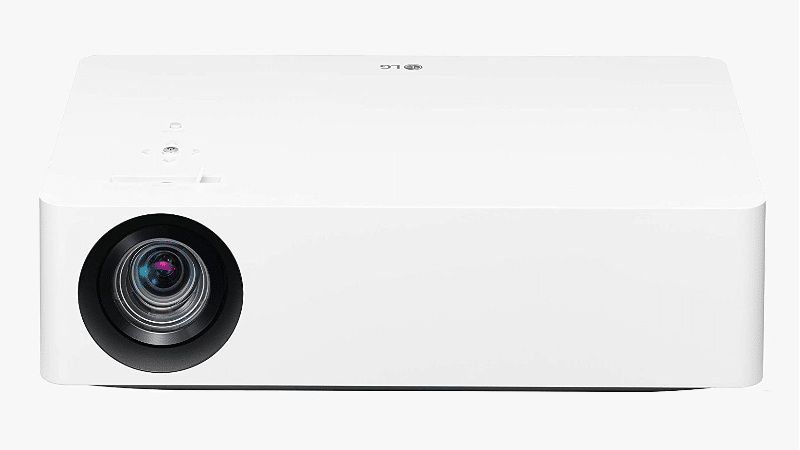 LG may be the most popular brand on the internet when it comes to electronics and appliances, and HU70LA DLP is a true representative of the company's quality. This is a 4K UHD projector with a short throw ratio, voice assistant support, compatibility with most streaming services, and plenty of other exquisite features.
One of the first pros I'd like to talk about is the LG ThinQ AI; given that this projector is compatible with both Google Assistant and Amazon Alexa, you can issue smart commands to your HU70LA DLP projector without a remote controller.
LG's proprietary CineBeam 4K LED technology is powering the HU70LA DLP short throw projector, delivering powerful visuals with life-like clarity. In comparison to some of its siblings in the same series, the HU70LA DLP comes with a refined zooming functionality and the heavily acclaimed Remote Focus feature.
Unlike most wired projectors, the Miracast functionality enables viewers to project content from smartphones, tablets, laptops, and pretty much any Bluetooth-compatible device.
What separates HU70LA DLP from some of the earlier picks we've reviewed so far is the TruMotion technology. This video processing tech offers a different mode of frame generation, making videos and clips feel more fluid and natural.
The improved HDR tech now features dynamic tone mapping, enriching the blacks, whites, and all the shades on the color spectrum, making each pixel look authentic. In terms of color accuracy, this projector is virtually unparalleled in its price range.
HU70LA DLP offers a superior level of portability in comparison to most picks in this guide. Its dimensions measure 8.3 inches by 12.4 inches by 3.7 inches, and it weighs approximately 7.10 pounds. In the case of connectivity, it supports Bluetooth, USB, and HDMI connections.
It's almost a perfect short throw distance projector, and I would've labeled it as such if it had a higher lumen count. It sports 1,500 lumens, which makes it more functional in low-light or dark environments.
Some of the main features of the LG HU70LA DLP to consider include:
1,500 lumens
100,000:1 contrast ratio
Incredible laser light source
Included remote control
HDMI, USB, and Bluetooth Connectivity
Compatible with tablets, smartphones, laptops, gaming consoles,
Compatible with most streaming services
4K resolution
Can project videos and images on screens up to 140-inch wide
TruMotion and Miracast technologies
Voice assistant support
Weighs 7.10 pounds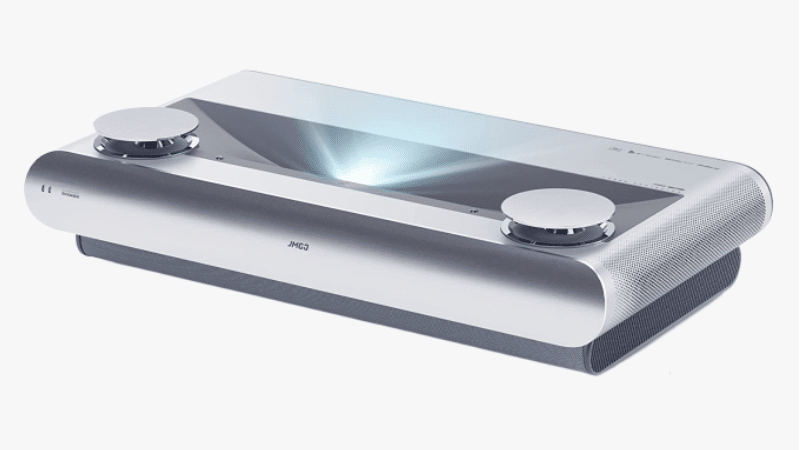 I recommend JMGO's U2 to enthused movie viewers who are looking for a highly customizable home theater system. If you're looking for performance, value, and consistent quality, you'll get the full package with the U2 4K TriChroma ultra short throw laser projector.
The TriChroma laser projection technology is the main highlight of this model, presenting an ultra short throw distance of 9.44 inches. With this unit, you'll be able to feast your eyes on some of the most vivid media projections that you could get for the money.
Although it sports 2,400 lumens, what I really found interesting is that JMGO's U2 is compatible with HLG, HDR, and HDR 10; seamlessly switching between different technologies depending on ambient lighting. This unit is suitable for use in broad daylight, total darkness, and everything in between.
The 4K support is standard functionality for top-shelf short throw projectors, so what separates JMGO's U2 from its similarly priced siblings is the outstanding package of MEMC technologies (motion estimation and compensation). No matter how fast the objects are, the ability to support 4K with an amazing framerate is what makes U2 so special.
In terms of audio quality, U2 sports two built-in speakers, and two tweeter speakers, all four of which support Dolby Audio tech. For your convenience, JMGO ensures that you can connect U2 to pretty much any device, as its supported connectivity modes include HDMI, optical, LAN, and USB.
I'm still on the fence about whether the lack of remote control is an issue or one of its strongest pros. You can essentially access all of its features remotely by downloading the JMGO application, which is basically a remote in itself, but you won't need to buy batteries or worry about maintenance.
Without a single negative review, it would be fair to say that the majority of consumers who bought U2 are at least content with this model. It can be argued that it's a bit expensive for convenience, but it's well worth every cent.
After careful consideration of all of these factors, it shouldn't come as a surprise that JMGO's U2 is one of my top picks for today. Strong, dependable, and one of the most versatile short throw projectors on the current market, this unit delivers on the promise of quality without fail.
Some of the features on the JMGO U2 to consider include:
2,400 lumens
9.44-inch throw distance
1,000:1 image contrast ratio
Remote controller functionalities available in the JMGO mobile app
4K image resolution
16W Dynaudio speaker system
HDMI, LAN, and USB connectivity modes
Viewing size of 100 inches
Weighs 24 pounds
Best Short Throw Projectors Under $4,000
When getting to the more expensive end of the price spectrum, you may expect some incredibly advanced specs and projection features. Several short-throw projectors come with capabilities that do justice to the price range.
When looking for a short projector under $4000, keep an eye out for the following.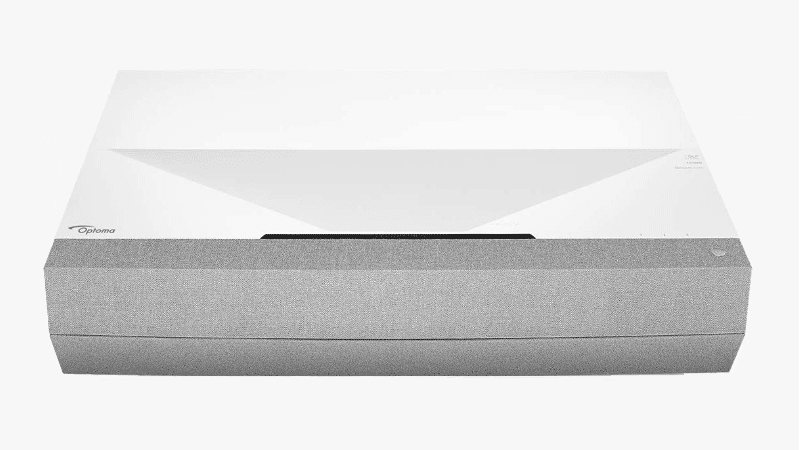 Optoma CinemaX P2 Ultra Short Throw is another cool laser projector on the list to take your home theater experience up a notch. The technology comes with an impressive range of features that make it a great investment for the money.
You can enjoy an incredible, high-quality motion picture experience with Optoma CinemaX P2's 2,000,000:1 contrast ratio, 4K ultra-HD, and it's super cool HDR10 technology.
The six-segment color wheel brings both vibrancy and color accuracy to your home theater, upping the wow factor. You can now reproduce the gaming pictures, movies, and TV images the way they were originally envisioned.
With the projector's outstanding laser light source, a staggering 30,000 hours of light source life, and a decent scope of 3,000 lumens, you're in for a real treat of outstanding imagery in your living room. The laser light and 4K HDR with enabled lights-on viewing make it a superior alternative to other regular projectors.
Not to forget the projector's ultra short throw that will allow you to project a 120-inch image only a few inches away from the projector itself. This convenient spacing makes it a favorite for those looking for flexible spacing for a huge screen.
You can also set up the image easily using Optoma CinemaX P2's SmartFIT app which allows users convenient place and play options. There's also an advanced auto geometry correction system for hassle-free image alignment and auto-focus ensuring a quick and smooth setup.
Some of the features on Optoma CinemaX P2 to consider include:
Voice assistance compatibility
IFTTT SUPPORT and seamless connectivity
2,000,000:1 contrast ratio
4K Ultra HD
Six-segment color wheel
3000 lumens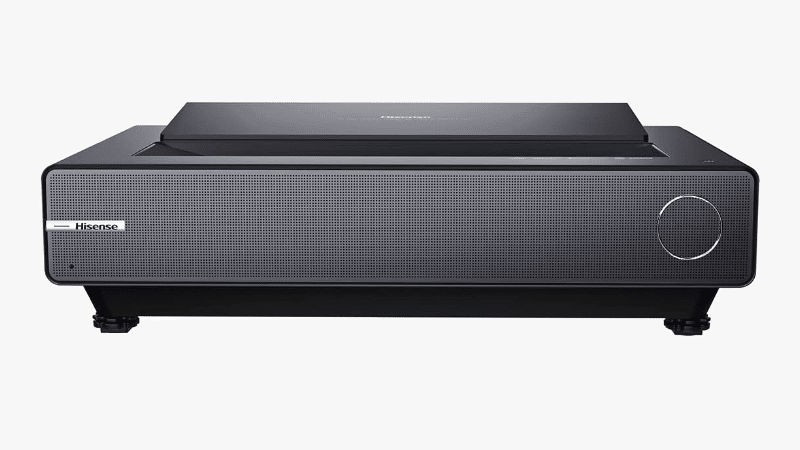 Cinephiles, gamers, and movie enthusiasts searching for top-tier short throw projectors, I warmly recommend you to check out PX1 PRO if you value superb performance, the convenience of easy setup, and a customizable home theater experience.
This model is equipped with TriChroma laser technology, delivering brilliant visuals with fidelity and consistency. Supporting 4K image resolution, it can project your favorite shows and movies on screens as large as 130 inches.
The filmmaker mode, eARC support for exceptional quality audio, as well as various integrations with smart home devices, are just some of the reasons why Hisense's PX1 Pro is one of the most versatile picks in this guide.
Having 2,200 lumens, it's fairly suited for both bright and dim-lighted conditions, although it shines the 'brightest' in dark rooms.
While connectivity is often an issue for short throw projectors, that's not the case with Hisense PX1 Pro. It supports Bluetooth, Ethernet, HDMI, USB, and Wi-Fi connectivity options, making it one of the best-rounded models in the price range.
As far as portability is concerned, the PX1 Pro is fairly compact, but not among the lightest movie and gaming projectors out there. Its dimensions measure 20.5 inches by 12.8 inches by 6.3 inches while weighing about 20.30 pounds, which is pretty much standard for something the size of PX1 Pro.
Some of the features on the Hisense PX1 Pro to consider include:
2,200 lumens of brightness
1,000,000:1 image contrast ratio
Wi-Fi, USB, Bluetooth, Ethernet, and HDMI connectivity options
4K image resolution
Viewing size of up to 130 inches
Weighs 20.30 lbs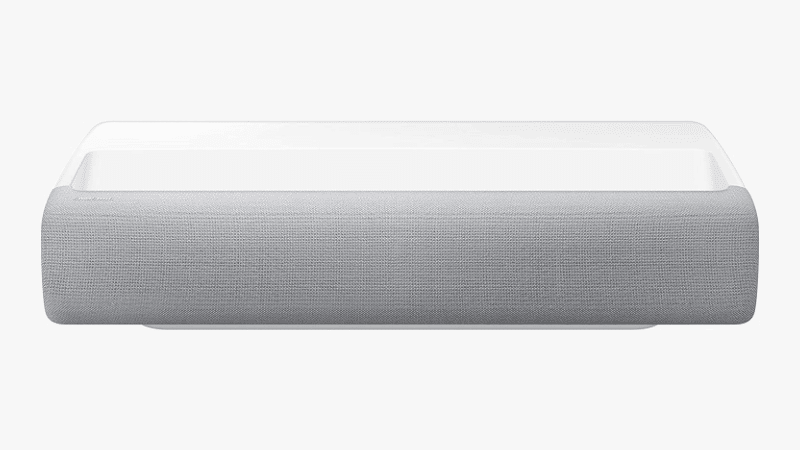 Samsung Short Throw Projector is the premier projector with a 120-inch image size and 4K HD ultra-bright laser projection. This model offers high to cutting-edge laser technology ensuring a cinematic picture experience. With 2200 lumens, you get a decent picture quality during daylight.
The UST projector also boasts other cool features. Its ultra short throw and compact minimal design mean that you can easily align your images and display them on the wall within inches of the projector.
The projector prides itself on its crystal clear colors and images that blend seamlessly into the spaces.
With built-in Alexa, Google Assistant, and Bixby's voice, you get multiple voice assistants that easily let you control the specs. The projector also comes with a 2.2-channel sound system. The powerful subwoofer and 30W speakers can easily drown your home theatre in the bass.
Wow your friends by upgrading your gaming features with the projector's game enhancer that automatically adjusts settings to your games.
Some of the features on the Samsung Short Throw Projector to consider include:
4K HD Ultra Bright Laser
Smart TV powered by Tizen
Ultra short throw
2 channel sound system
4K resolution with 2200 lumens
30W speakers
Power cable
Best Short Throw Projectors Under $6,000
While $6000 may be a staggering amount to invest in a short-throw projector, the specs you get in return may just make it worth your while. You can also use the following projectors for businesses, high-end meetings, conferences, and special occasions.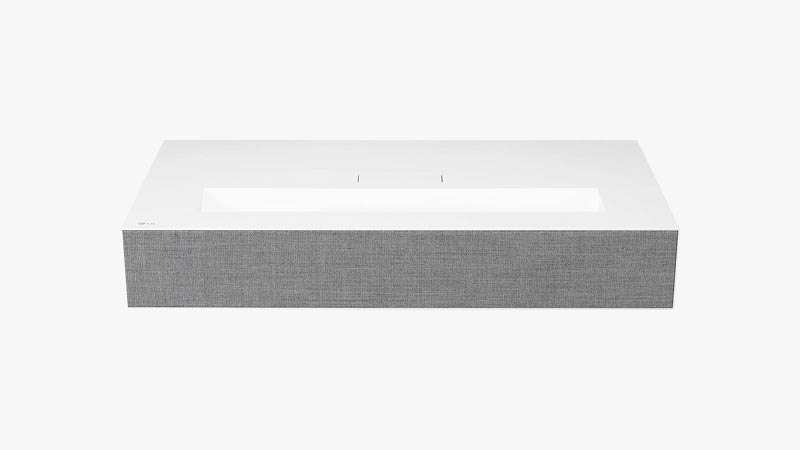 The LG HU85LA is great for home movie theaters and business occasions and stuns in the area of projection ratio.
If you place this projector just 2.2 inches away from the projection screen, you can have a 90-inch viewing size. If you put it further away, it can have a maximum projected screen size of 120 inches.
The brightness of the LG is 2,700 lumens, which may be a bit mid-tier for the top-tier price range. The lamp life is 20,000 hours, which means you will likely never need a replacement.
The HU85LA has a 4K resolution, it is HDR10-compatible, has an extremely wide color coverage, and has up to 12-bit color processing color reproduction since it uses 3Ch Laser technology.
It also has a built-in Alexa voice control, LG ThinQ AI, and Google Assistant and comes with a remote control. Also, it has powerful built-in speakers that create a cinema-like experience
Some of the features on the Optoma HGHU85LA to consider include:
2,700 lumens of brightness
2,000,000:1 image contrast ratio
Works with Alexa voice control, LG ThinQ AI, and Google Assistant
HDR10-compatible
4K image resolution
Maximum viewing size of 120 inches
Weighs 27 pounds
Best Short Throw Projectors Under $11,000
We have finally arrived at the priciest point on today's cost spectrum featuring the best short throw projectors in the industry.
A short throw projector under $11,000 should come with pretty slick features that do not compromise on the audio/video quality, offer convenient built-in capabilities, and make setting up your home or office theatre a breeze.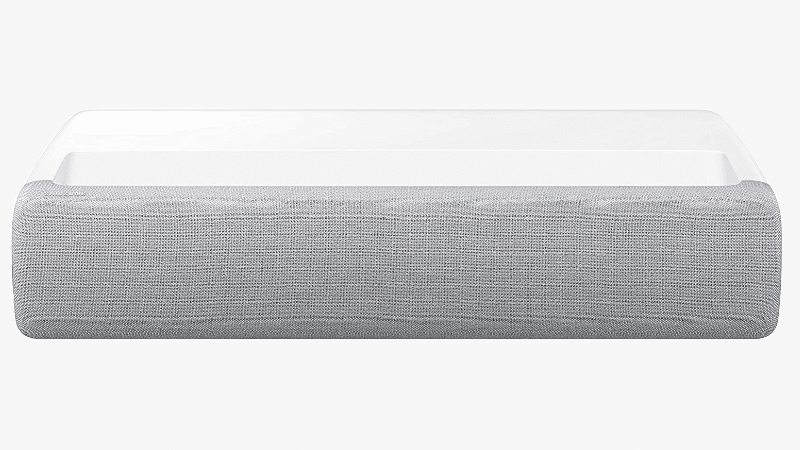 As the most expensive model in this guide, Samsung The Premiere is the cream of the crop; the ultimate, strongest, and most versatile of the short-throw projectors is made by a reputable brand, designed for use with high-end smart TVs and gaming consoles, and is equipped with the most advanced cutting-edge features that can be found in the industry.
The Premiere doesn't look like a boutique short throw projector. Its minimalistic design befits budget picks more, but as a result of how it was built, it is remarkably portable and easy to install. Its dimensions measure 14.4 inches by 21.7 inches by 5 inches, and it weighs approximately 25.35 pounds.
Packed with an ultra HD processor, The Premiere redefined the term 'vivid visuals', breaking the boundaries between the real and digital worlds with 4K video technology.
While many top-shelf projectors are compatible with voice assistant software, The Premiere supports multiple, including Amazon Alexa, Bixby, and Google Assistant.
Specs-wise, it packs a 2,000,000:1 contrast ratio and 2,800 lumens. In my research, I haven't found too many products that could match its contrast capabilities, although I wasn't overly thrilled with The Premiere's lumen count.
As far as audio quality is concerned, this model is equipped with a 4.2 channel system comprised of 40-watt speakers. They're not only strong, but their sound is also remarkably clear and you can easily spot the details you otherwise couldn't. Sadly, its connectivity options are limited to HDMI.
Obviously, the main issue with The Premiere is its hefty price tag. It's safe to say that not many people can afford such an investment, but if you're searching for the best of the best, look no further than Samsung's Premiere.
Some of the features on the Samsung The Premiere to consider include:
2,800 lumens of brightness
HDMI connectivity
Works with Amazon Alexa, Bixby Voice Assistant, and Google Assistant
HDR10-compatible
4K image resolution
4.2. two-channel audio system
Contrast ratio 2,000,000:1
Weighs 25.4 pounds
How We Picked the Best Short Throw
Projectors
There are hundreds, if not thousands of different short throw projectors on the market. You may like a couple of models for their looks, brightness (lumens), or the fancy modes and effects they are supplied with. There are less obvious but equally, if not more important factors that you may want to consider when choosing your short throw projector, including:
Display Technology
The type of display technology a projector supports has a huge impact on its performance. LED projectors are generally the most sought-after, as they eliminate the so-called 'Rainbow effect', which is basically visible traces of different colors that could potentially ruin your experience in certain lighting conditions.
DLP display technology can be considered somewhat dated and is most likely to present issues with Rainbow effects, as well as small smudges or blurry pixels when the image is moving.
Throw Ratio
We are focused on short throw projectors today, but the throw ratio is different for each product. Some models are barely deserving of the title (typically budget ones) while others that are popularly called 'ultra short throw projectors' are in a league on their own in terms of performance.
The shorter the throw is, the more detailed and vivid the visuals become. However, you'll sacrifice the convenience of positioning by going with ultra short throw ratio projectors. Sometimes it can be better to buy a model with an inferior throw ratio for the sake of a more flexible installation.
Easy Installation
Speaking of installation, if you aren't too experienced with setting up ceiling mounts at correct angles, you should probably avoid models that are too complicated to set up. Certain models come with detailed instructions, and others are supplied with basic guides, but in most cases, these instructions are made for people with minimal technical skills.
Good Contrast Ratio
The contrast ratio describes the two extremes of the color spectrum – the deepest black, and the brightest white. The higher the contrast ratio is, the more pronounced these extremes will be on your screen when the projector throws the image.
Size, Weight, and Portability
The dimensions are fairly important for all projectors, regardless of whether you'll mount them on a ceiling or plan to place them on a piece of furniture. In terms of portability, models that weigh around 20 pounds (or less) can be considered portable. If you'd take my advice, don't write off projectors that weigh more; certain models offer exemplary performance that could easily compensate for the lack of portability.
As we mentioned, short throw projectors are not exactly the same in terms of specs for your television. Because you're dealing with a single bulb of light versus small pixels of a display, there are different variables to consider with a projector.
To help you out with what to look for when buying a short throw projector, make sure to keep these different points of interest in mind.
1. Brightness
Have you ever been in a room with a projector running but you just can't make out the dull image? Ambient light can distort the projector's image unless the projector is especially bright.
If you are buying a projector for a windowless theater room, the amount of light produced isn't as important, although it still plays a role in the quality of your picture (even with televisions, a brighter TV often produces a more vibrant picture).
Brightness is measured in lumens on a projector. Basically, the larger the number, the brighter the projector. For a home theater projector, you want the lumens to be at least 2,000, if not more.
2. "Resolution"
To make it easier for a consumer to understand, most projectors have a resolution listed.
However, the resolution is a bit different on a projector than it is on a physical screen. With a physical screen, you actually have pixels and lines, so you can measure the exact number of lines of resolution.
With a projector, it's a bulb, so you don't have these pixels (which is great as you won't have dots burning out on the screen). However, to make it easier to quantify, you'll see the equivalent resolution. This way, it's easier to compare projector "resolution" with that of a television. Anything with a 1080p projector or 4K HDR is a good bargain.
3. Contrast Ratio
A low contrast ratio will result in a muddied appearance. This is where mid-tones start to look like shadows or highlights. You can still tell what's going on but it just looks bland on the screen. A higher contrast ratio ensures improved picture quality.
When shopping for the best throw projectors, you want a contrast ratio that is well into the tens of thousands (if not higher).
4. Inputs
If you're using a projector for your home theater system, chances are, you only need an HDMI cable connection. This will likely run from your audio receiver. However, there might be times when you want a different kind of cable connection. Perhaps you'd like to connect directly from a computer or a monitor.
With the inputs, it is more of a personal needs preference. So make sure to know what you need with your current hardware and compare this accordingly.
5. Price
Projectors can become pretty pricey if you're not careful. You can easily spend the same, if not more on a projector than a large television. However, we've identified the best short throw projectors that cover a wide price range, beginning at under $1 500 and moving up to around $11 000.
You'll see noticeable differences between the low and high ends, but before you start shopping for such a projector just make sure you know how much you're comfortable with spending. It's easy to be wowed by some of the tech specs on these more expensive devices, although we do promise even the projectors on the lower end of the price spectrum to have some solid features to consider.
FAQ About Best Short Throw
Projectors
While we hope our list of the best short throw projectors has nudged you closer to deciding on the right pick within your price range, here are some quick facts about these projectors too.
Are short-throw projectors any good?
Short throw projectors are a great alternative to HD TVs when it comes to cinematic picture experience from the comfort of your home. Their closer proximity to the screen reduces the shadows and glare from the light source ensuring high-end video quality.
Do short throw projectors need a special screen?
Yes. A short-throw projector does require some sort of a screen. The most commonly used screen is the UST. These are special screens that throw the image straight back into the room without letting any ambient light wash out the image.
How do I choose a short throw projector?
When choosing a short throw projector, you must look for the projector that comes with the best specs within your price range. Some of these specs include brightness (lumens), video quality, resolution, image size, contrast ratios, and inputs.
Are short throw projectors better than regular ones?
Typically, the shorter throw of the projector screen implies that the projector is close to the screen that is displaying the images. This usually results in increased brightness and color accuracy.
What are the advantages of short throw projectors?
Short throw projectors usually offer better video quality and flexible spacing setups. Many also feature built-in sound channels and voice assistance. The shorter, brighter images on the screen make it the perfect choice for a cinematic or gaming experience.
Does a short throw projector work with a ceiling mount?
It's possible to mount the short throw projector on the ceiling, but this placement is neither intended nor recommended. The results will either be poor video quality or a really difficult setup owing to the lack of proper hardware.
There is no shortage of available projectors on the market. If you don't have a ton of room to throw your image, or if you don't want a bulky projector hanging from the ceiling, you should consider a short throw projector.
Many of the projectors on this list can throw an image just inches from the projector lens. And as you can tell, you'll find varying projectors at all kinds of price points. If you just want a basic projector that's easy to set up, you'll find plenty of those. Or if you want projectors with improved display specs, that's available to you as well.
We went with the Epson Home Cinema LS100 as the Editor's Pick because we believe it offers the best bang for your buck. In terms of price, it's right in the middle, and while it doesn't produce 4K Ultra HD level resolution, the contrast ratio is a mind-blowing 2.5 million to 1. You'll pick up more details in shadows and dark areas of an image than you ever have before with any other entertainment setup.
Photo Credit: Unsplash