In the last few years, smart devices have been gaining popularity.
Smart devices are electronic devices equipped with wireless protocols that allow them to be controlled and activated by voice command, or more commonly, through mobile app technology that can be accessed through a smartphone or tablet.
There are several wireless protocols in existence. Bluetooth is one of the most widely used, but Wi-Fi and 3G are also common wireless protocols.
With the increasing prevalence of smart technology, it soon became desirable to create an easy means of connecting all these various devices. Thus, the smart hub was born.
Although smart hubs are a relatively new technology that has only been around for a couple of years, their abilities and performance are constantly growing and changing, and their practical use will only keep expanding.
Because they are such a recent innovation, it is interesting to learn about the benefits of deploying a smart hub in your firm, business, office. Smart hubs are able to connect with all of your advanced smart devices via Bluetooth and other connections, allowing you ton of control over a vast array of functions and access a variety of information simply and effectively.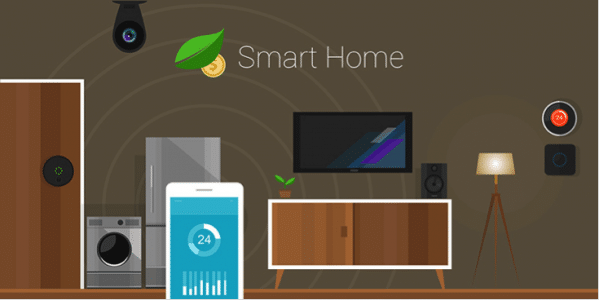 Although all smart hubs perform more or less the same function, connecting your wireless smart devices and tying them into a simple user interface, they do not all work the same way, on the same level or with the same availability of features. Smart hubs do much more than simply connect your smart technology together. They connect you with music streaming services, provide traffic reports and some of them can even be used to order food.
Smart hubs are commonly employed in the home, but as time wears on they are likely to become increasingly valuable for businesses as well.
If you're looking to get ahead of the times, this guide will help you understand the benefits and features of the seven leading smart hubs on the market.
Things to Consider
It is important to weigh a number of considerations before purchasing a smart hub. What wireless protocols is it compatible with? What about operating systems? Does it operate on voice command, or do you have to control it through an app? Here are five important factors to consider as you weigh the benefits of each model.
1. Voice Control
Although many smart hubs have the ability to respond directly to voice commands, not all of them have this feature and require you to manage all of your connected devices through an app. If you want the ability to use voice commands, make sure the smart hub has that capability.
2. Wireless Protocols
There are a number of different ways to smart devices are connected to each other, and not all smart hubs are able to interact with all of these protocols. Before you invest in a smart hub, make sure it is compatible with the products you use. It may be wise to plan ahead.
3. Adaptability
Some smart hubs have a wider range of uses than others. While some smart hubs are mainly used for managing various electric devices, such as lights, thermostats, and other technologies, other allow you to control your music, listen to the news, turn on your television and a host of other features.
4. Operating System Compatibility
While most smart hubs are compatible with iOS and Android smartphones, not all of them are compatible with Windows phones. If you use a Windows smartphone or tablet, be sure to check compatibility requirements first.
5. Ethernet Required
Some smart hubs have to connect directly to your cable modem or router via Ethernet cable in order to work. Others simply need a WiFi connection. In cases where the hub has to be connected directly to the modem, be sure it's placed in a convenient room of your house.
The Best Smart Home Hub for 2021
Editor's Pick: Samsung 3rd Gen. SmartThings Hub
If you ever look for a Smart Home Hub that is affordable but can handle a variety of functions, as well as connect to other Smart Hubs then Samsung SmartThings Hub is the right choice.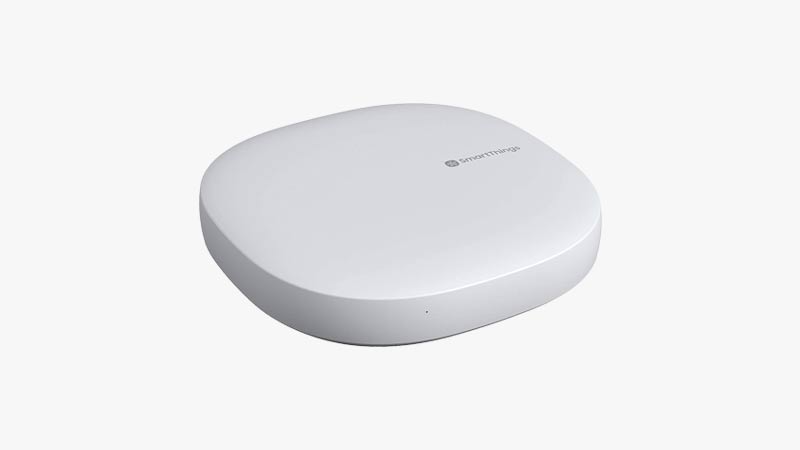 Not only it controls numerous devices, but you can activate it with your voice and control it from the app in your smartphone wherever you are.
Works with Alexa and Google Assistant
Lets you control devices in your house
Helps you create schedules
Links multiple devices in your home
Easy to use
You can pair it with Harmony Hub
Check Price on Amazon Directly Add to Cart on Amazon
---
Best Smart Hubs Under $100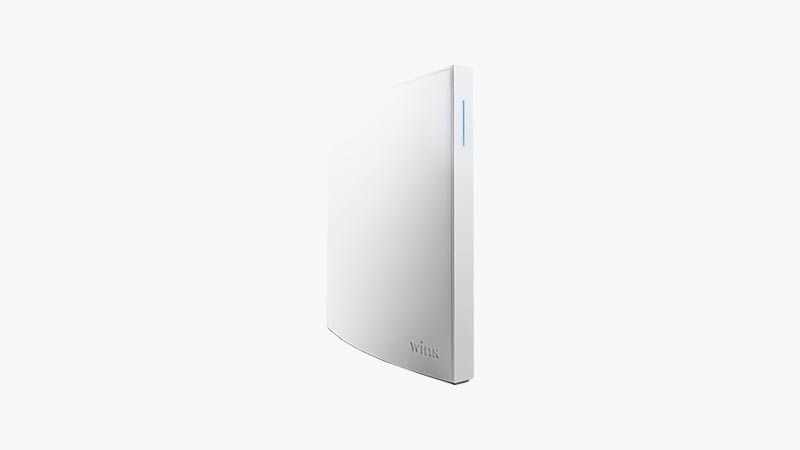 The Wink Hub 2 works with Amazon Alexa, and voice commands can be activated from the Wink Hub app that allows you to monitor and control all of your smart devices.
Wink Hub connects directly to your modem or router via Ethernet, creating a stronger Wi-Fi connection. Also, what's great about the Wink app is that it allows you to automate the devices in your home, monitor them anywhere and schedule certain devices to turn on and off at specific times.
The Wink Hub 2 supports Bluetooth LE technology, Kidde and Lutron Clear Connect protocols, and Z-Wave, and ZigBee devices, while you add voice control to it by pairing it with Google Assistant and Google Home-enabled devices, Alexa, Alexa-enabled devices, and Apple smartphones and tablets. It means you can use it with Amazon Echo and activate Spotify with your voice while you're cooking if Amazon Echo is in your kitchen.
It allows you to stay up to date with what's going on in your home while in the office or while traveling. You can unlock your doors when the kids get home from school and set them to auto-lock afterward, so they don't forget. You can program your sprinklers to water the lawn at certain times or be instantly apprised if the smoke detector goes off.
Note that you won't be able to control your devices and listen to music if you have one Alexa account connected to Wink and another Alexa account connected to music services. You'll have to switch accounts to control either of them.
Check Price on Amazon Directly Add to Cart on Amazon
---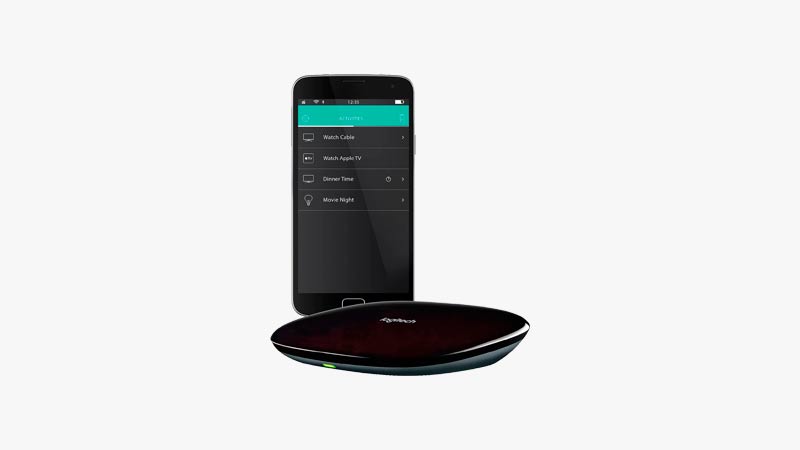 The Harmony Hub from Logitech is far and away from the least powerful smart hub on this list. Not surprisingly, it's also my least favorite.
Although Harmony has several excellent features working to its advantage it simply doesn't have the versatility to be a truly great device since you need additional tools to make third-party devices work. Still, for those who don't have a lot of smart devices and don't expect much, it is an excellent choice.
The design and ambition of the Harmony Hub are not so much that of a smart hub controlling your home, but as a powerful universal remote to streamline your entertainment. The hub can connect with up to eight devices, and sequences can be programmed into the device to automate your entertainment.
What I do really like about the Harmony Hub is that it is compatible with virtually all operating systems, including Windows, and you can access it by using your personal desktop or laptop rather than with a smartphone. For whatever reason, a lot of smart hubs are not compatible with Windows operating systems, so it's nice to find one that does work.
What's more, you can program a wide variety of sequences, all of which can be controlled via smartphone, on your Mac and PC or by compatibility with Amazon Alexa. 
The major limitation I noticed is not that the Harmony can only connect with eight devices but that it really isn't equipped to handle the automation of an entire house. While the presence of Alexa ostensibly opens more horizons, it's connection limitations prevent it from reaching its full potential.
So, as same as the previous smart home hub, this one works with Alexa, Alexa-enabled devices, as well as with Google Assistant and Google Home-enabled devices. The latter is possible if you have Logitech Harmony Elite, the remote control for Logitech Harmony Hub. If you integrate it, you can turn on your favorite TV show using your voice.
Check Price on Amazon Directly Add to Cart on Amazon
---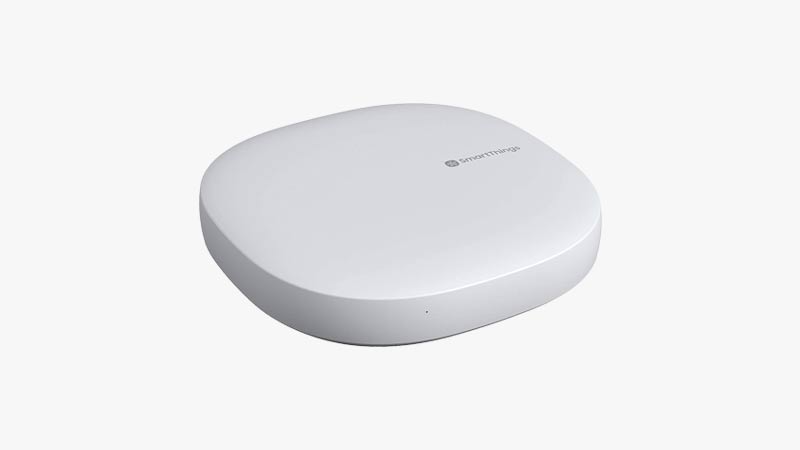 Samsung SmartThings is one of the most popular Smart Home Hubs on the market – and for good reason. SmartThings 3 is probably the most comprehensive hub designed especially for managing and monitoring all of your smart devices.
SmartThings works with Alexa to accept voice commands, it can be used to perform all the functions Alexa enables. For example, you can control playlists from a variety of music providers, create shopping lists, order take-out, check the weather and any other number of useful features.
Except for integrating it with Alexa and Alexa-enabled devices, the SmartThings works with Google Assistant and Google Home-enabled devices. It can be an intermediary between the device you want to control remotely and voice control (Alexa-enabled devices) in case the device isn't compatible with Alexa.
Also, you can pair your Harmony Hub with SmartThings and have complete control over the devices linked to both hubs.
There are three main things you can do with SmartThings. The first is control. You can turn your lights off, set your dishwasher and lock your home all at the push of a button. 
Second, you can create schedules and routines all built around the habits of you and your family (or business).
Third, you can link multiple devices to work simultaneously or you can set devices to turn on or off when activity is detected. For example, your kids get home from school, so the lights automatically turn on and the door locks behind them.
Check Price on Amazon Directly Add to Cart on Amazon
---
Best Smart Hubs Under $150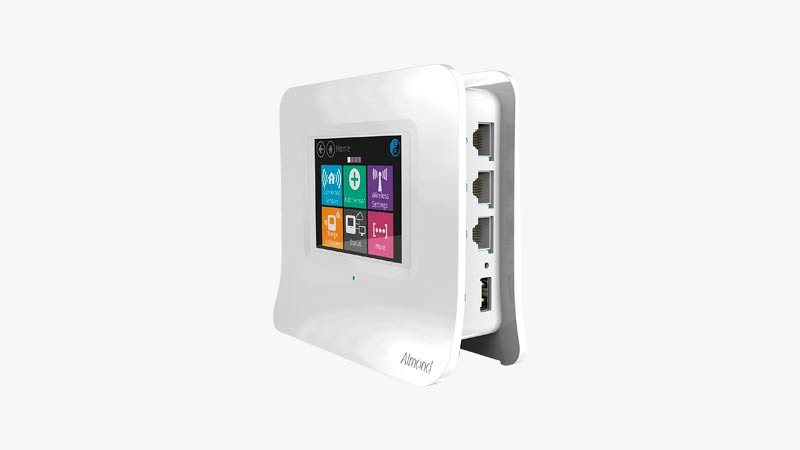 Another smart home hub on this list comes from Securifi. The Almond 3 looks like a wireless dual-band router and it primarily does just that – connects your whole home to the internet. If you already have a router, make sure to turn off either the router or Almond 3 if you want to avoid network issues.
It covers 1,300 square feet, which is excellent for big homes and converts your home into a smart home, as well. The Almond 3 uses ZigBee technology to turn on and off the lights in your house, window sensors, or thermostats, as well as any other smart device with the Almond 3 app.
When you turn it on, there's the Dashboard, where you can access the status of your smart home devices. It can connect to Mac and PC. The most important is knowing what you can control with this device. So, the Almond 3 can control devices through Wi-Fi, Z-Wave, and ZigBee, as same as Samsung SmartThings does. 

However, it can't connect to Z-Wave if you don't have the Z-Wave dongle. Moreover, if you want to control Kidde or Lutron Clear Connect protocols, you'll have to integrate the Almond 3 with Wink Hub 2 smart home system.
This device works with a variety of third-party devices, such as, for example, Nest Protect smoke alarm. Plus, you can control devices, switch Modes and enable Scenes with Alexa.
Check Price on Amazon Directly Add to Cart on Amazon
---
Best Smart Hubs Under $200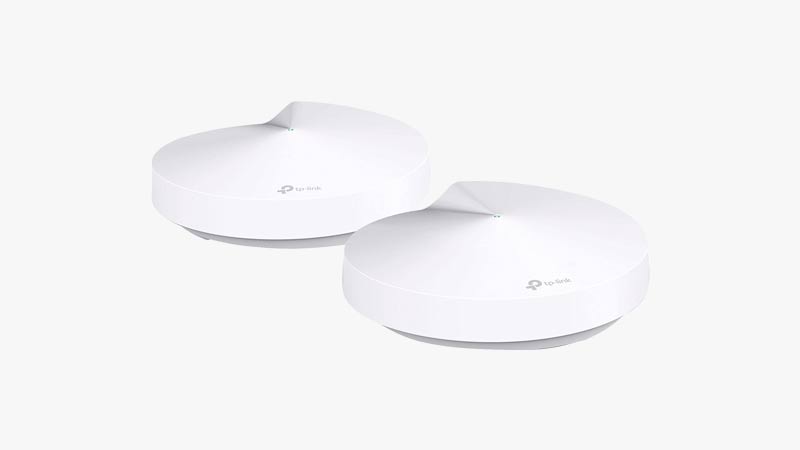 The first one on the list is TP-Link Smart Hub. The same as the previous one, this smart hub works to give you the WiFi coverage of your entire home.
In fact, it has 4 functions. First, the two units can cover up to 4,500 square feet of your house. Next, it works with 3 high-speed wireless bands to deliver a stable connection. Third, it keeps your devices safe with encryption and HomeCare protection antivirus service. Last, it doubles as a smart home system, with which you can control your smart home devices through an app.
The latter is of interest to us, so let's begin. The TP-Link Smart Hub connects to your Bluetooth, Wi-Fi, and ZigBee smart devices so you can have complete control over your internet and smart devices in your home.
It consists of 2 Deco M9 Plus units that you can place on different spots in the house or apartment. You can pair it with Alexa to control the internet features, but you can use IFTTT as well to pair one smart device with another device or service. For instance, you can make an applet to turn on the light in your kitchen when the Uber driver arrives at your place.

Moreover, you can control thermostats, entry sensors, door locks, and any other smart device or hub compatible with TP-Link Smart Hub, such as Samsung SmartThings, Securifi, TP-Link Kasa, Nest, GE, Sengled, OSRAM, Centralite, Kwikset, Cree, Gunilamp, BeON, and more brands.
However, this hub doesn't support Z-Wave devices, so you'll have to avoid linking those to TP-Link. Also, you can't connect it to Google Assistant at this time.
Check Price on Amazon Directly Add to Cart on Amazon
---
Conclusion
Now that you checked all of the mentioned Smart Home Hubs, it will probably take a few days for all the information to sink in. However, if you still find it difficult to decide which hub is the best for your home, go to our editor's pick once more. Samsung SmartThings Hub is one of the most versatile hubs in the market and the variety of its functions can surely meet all your smart home needs.