Do you remember a time before the "smart" house craze?
Before every piece of technology was referred to as "smart" or "dumb"?
One of the very first "smart" devices to come out and make any kind of impact was the thermostat.
It didn't just allow the thermostat to be programmed. It allowed it to learn and connect to the Internet.
The smart thermostat really helped launch the new smart craze, and now just about every appliance you purchase can have a smart feature or can be controlled by a digital assistant. While some "smart" devices don't add much or improve your life drastically, smart thermostats help you save money and improve your comfort level.
You'll have to pay extra for it over a "dumb" thermostat, but in the long run, you'll save money, and you'll usher your home into the next generation.
But before you go out and pick up a smart thermostat, here's everything you need to keep in mind to ensure you get a good one (plus our top 10 favorite smart thermostats).
Things to Consider
Of all the smart devices you can invest in, the smart thermostat will be one you use the most often (especially if you live in a location where the weather changes wildly from day to day). Any smart thermostat will give improved control over what you have now.
With that said, there are a few specifics you'll want to keep in mind when shopping around for a new smart thermostat.
1. Digital Assistant Control
Every smart thermostat worth buying will come with a programmable application for your smartphone. This way you can control the features of your home's HVAC system from your phone.
However, does pulling out your phone to adjust the temperature really save you that much time when you're already at home? If you're in a big home than yes, probably. But if you're in a smaller house you might save a second or two.
That's where the digital assistant comes in. Instead of fumbling for your phone you can call out the temperature you want to change or any other features you want to adjust. This is great if you're in the kitchen cooking or just don't have your phone on you.
With digital assistant integration, you can control your smart thermostat from Amazon Alexa, Google Assistant and Apple HomeKit. Amazon Alexa natively has more available devices available (as it shops through Amazon that makes sense although most Google controlled devices have better search features), but you shouldn't have trouble finding Google Assistant controlled equipment either. Apple HomeKit is a bit more of a struggle, as Apple lags significantly behind in the world of smart assistant integration.
If you already have a digital assistant you'll want to consider which one works with the hardware you already have. If you don't, now is a great time to invest as it will improve your control over the smart thermostat without using your hands.
2. Price
The price tag for your new smart thermostat is going to range, often drastically. You can find entry level smart thermostats beginning around the $100 mark and top of the line options pushing well over $300.
Usually, the more money you pay the additional features and custom options you'll have. This isn't always the cast, but typically you'll find you do have more control over your thermostat. More control means not only improved ease of use but the ability to save more money by adjusting the thermostat when you're not at home.
Ultimately, the main purpose of the new smart thermostat isn't just to make your life easier. It's to help you save money.
3. Interface
The interface of a smart thermostat is a helpful feature that you may not consider when first shopping for a thermostat (if this is your first smart thermostat). This is because you've never had to think of one before. There are some entry-level thermostats that work similar to what you're familiar with. Others are more touchscreen heavy and, while there might be a learning curve, are generally more user-friendly.
Ultimately the interface is up to you as what works for you may not work for the next person. However, you should feel comfortable and fully confident in using the device. We recommend at least looking at how the interface functions on the product listing. If possible, stop by your local home improvement store to fiddle with it as well (chances are you'll find it for a better price through Amazon, but at least you can get some valuable hands-on experience to see whether you how it works).
The Best Smart Thermostats for 2020
We really came down to the Nest and the ecobee4 for the top smart thermostat to go with. Each of the devices is excellent, built to last, look great and use exceptional applications. However, right out of the box and ready to go we decided to go with the ecobee4. While you can't go wrong with the Nest and there will be those who like that design and look better, we found the user interface on the ecobee4 to be comprehensive and yet super easy to use. The device has apps for not just tablets and smartphones, but also for smartwatches as well.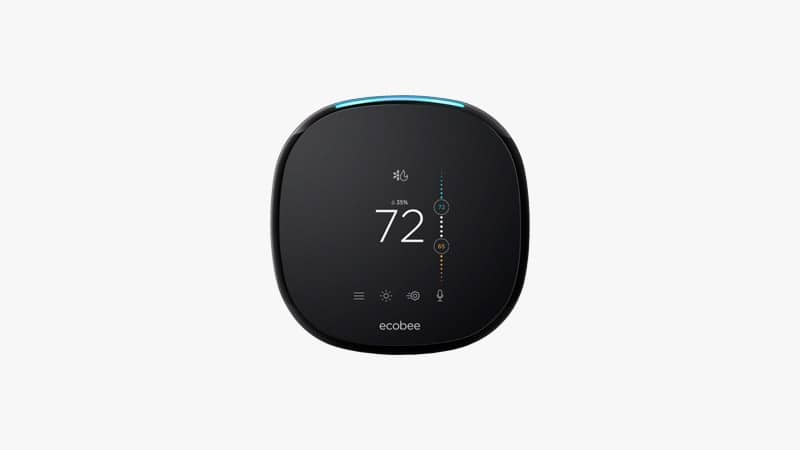 Some of the highlights for the ecobee4 include:
Works with every imaginable digital assistant
Amazon Alexa is built right into the device
Room sensor comes with the thermostat
C-wire adapter is packaged as well
The best user interface on a home smart thermostat
Easy to install and setup is easier than most out there
Best Smart Thermostat Under $100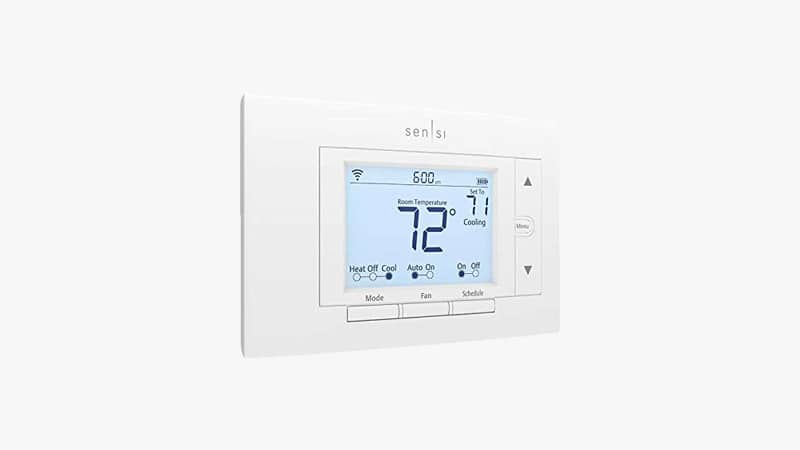 The Emerson Sensi Wi-Fi Thermostat is a great entry into the world of smart thermostats. If you're looking for a thermostat that has more of a classic programmable feel but with smart features, this is the way to go.
It also has a price point that's next to impossible to beat. Amazon lists it as an official "Amazon's Choice" thermostat because of the combination of features and price point.
The Emerson Sensi Wi-Fi Thermostat works with all digital assistants as well. So whether you have Amazon Alexa, Google Assistant or Apple's HomeKit, you will have instant voice control. If you don't have a digital assistant this makes a good opportunity to invest in one. Both Google and Amazon have digital assistant speakers that are often on sale for less than $30.
The Energy Star certified thermostat states you'll cut around 23 percent off of your home's energy bill and it's possible to install the system in around 30 minutes. There is a step-by-step instructional video that walks you through the process.
You will need a common wire (c-wire) for installation. If your current HVAC thermostat does not have a c-wire there is an available Emerson Thermostat Common Wire Kit available, although you'll need to purchase this.
The Emerson Sensi Wi-Fi Thermostat does need batteries to run. It is one of the few options that does require batteries, and as it is connecting to the Wi-Fi network in your home you'll need to change the batteries a bit more frequently, but still, for the price, it's hard to beat what you get with this configuration.
Some of the highlights of the Emerson Sensi Wi-Fi Thermostat include:
Compatible with all major digital assistant services
App available for both iOS and Android devices
Easy to install and works with most home systems
Great price at under $100
Official Amazon's Choice Wi-Fi thermostat
Classic thermostat design, making it easy to learn and move from a programmable thermostat
Check Price on Amazon Directly Add to Cart on Amazon
---
Best Smart Thermostat Under $150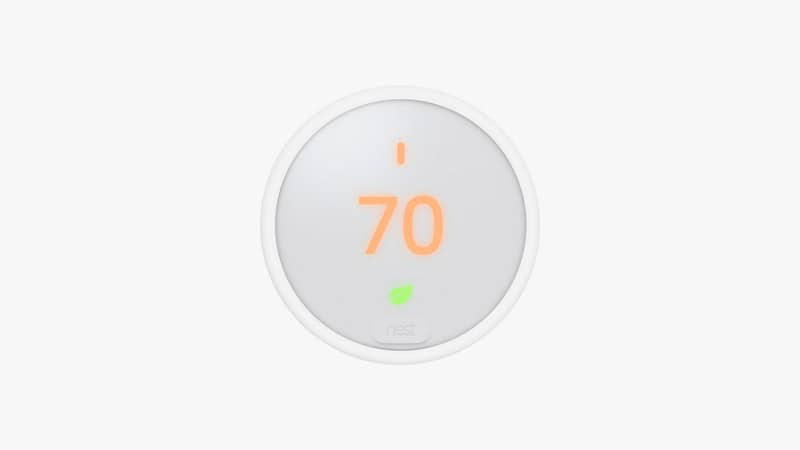 If you're looking for a great looking smart thermostat that has a clean look and offers you a great entry into the world of modern thermostats this is the perfect option to take advantage of.
The thermostat is from Nest, which is one of the top manufacturers of smart thermostats and home appliances (like smoke detectors). This version is a stripped down variation of the popular Nest thermostat.
The thermostat uses a twist dial around the circular design. There isn't much in the way of flash with this thermostat, so if you want something that's bright with a brilliant touchscreen this isn't the device for you. However, it's easy to use and much of the adjustment features are performed through the application.
While this Nest thermostat can be controlled from your tablet, laptop or another smart device there is no digital assistant control, although you can gain this feature by using one of the other smart thermostats designed by Nest.
In terms of simplicity, it's hard to find anything simpler to use than this. You program it through the phone and you change the temp through the dial ring.
Some of the features for this
Nest thermostat
to consider includes:
Easy design and interface control
Simple programming through Nest application that is available on both iOS and Android devices
Clean look
Monitor energy usage and adjust accordingly through the app
Check Price on Amazon Directly Add to Cart on Amazon
---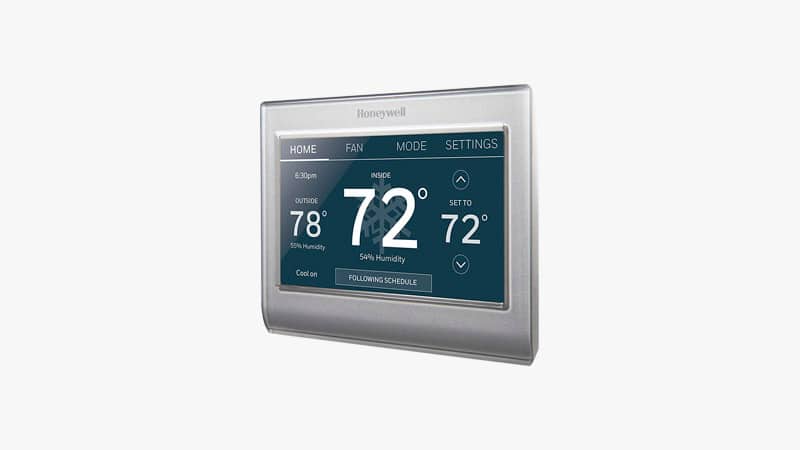 This is a major step up from the standard programmable thermostat. It is a touchscreen offering that offers you a larger screen so you can always see not only the temperature and humidity inside but outside as well.
There are different color backdrops so you can alter it to fit your needs as well. It might not be as vibrant as some of the other options, but when you want an easy to read thermostat, this is a great option to go with.
The Honeywell Wi-Fi Smart Color thermostat works with both Amazon Alexa and Google Home. If you currently run something other than Amazon Alexa (such as Google Home or Apple HomeKit) you should always check further with the manufacturer specifics of a smart thermostat (should you find another option other than what we recommend). Amazon doesn't always highlight the other digital assistants as it wants to highlight its own equipment.
If you currently run heat pumps with an electric baseboard of 120 to 240 volts this Honeywell Wi-Fi Smart Color thermostat will not work with it, so keep this in mind when shopping around. There are some secondary HVAC devices, such as thermal pumps, that are not always compatible.
This Honeywell Wi-Fi Smart Color thermostat does come with a number of reminders and notices that automatically appear on your smartphone, including when you need to change the air filter, if you have a humidifier pad needs replacing, or if the current temperature inside the house is reaching a dangerously high or low point.
Some highlights of the Honeywell Wi-Fi Smart Color thermostat include:
Do not need batteries to work (does require c-wire)
Works with both Google Home and Amazon Alexa
Colorful backdrops to fit your color design needs
Large screen for easy visibility
The interface is easy to use with plenty of information on the front display screen
Official Amazon's Choice recipient
Check Price on Amazon Directly Add to Cart on Amazon
---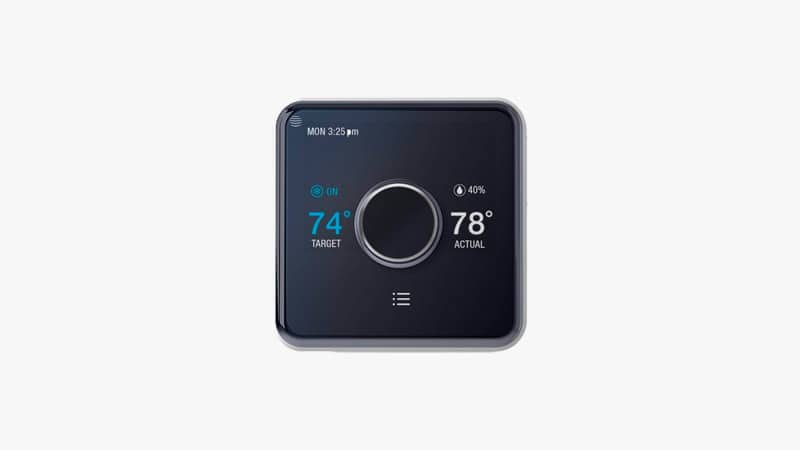 If you currently use any other Hive smart technology this is a fantastic addition. You will need the Hive Hub to fully integrate one of the digital assistants it works with (both Google Home and Amazon Alexa). However, you can install a smart lock and doorbell along with the thermostat. This way, you only have a single hub to worry about.
If you already have the hub you won't need to purchase a second one. If you don't yet have a Hive hub you will need to purchase one. This adds to the cost of the thermostat, so if you don't have one already you'll push the cost up over $200.
The design of the Hive Smart Home Thermostat is both beautiful and sleek. There is an easy to use control knob in the middle and a glossy black display around it. The knob does protrude a good half inch out of the thermostat, so if you have a tight hallway it can stick out a bit awkwardly at times, but in general, it is a fine looking design.
The Hive Smart Home Thermostat allows you to program up to six daily heating and cooling schedules. You can also adjust these from your phone.
You do need a c-wire installed on your current system. If you don't have a c-wire you'll need to purchase an adapter (the provided installation instructions will highlight how to determine if you have a c-wire and how to perform the installation).
The on-device display is a bit limited. Most of your controlling will take place on the phone. If you're looking for a device that you can perform on-device control adjustments on this may not be the way to go.
Some of the Hive Smart Home Thermostat features you should keep in mind include:
Works With Both Google Home and Amazon Alexa
Easily programmed from your phone
Stylish design with easy to use knob
Does not require batteries
Easy to install
Official Amazon's Choice recipient
Check Price on Amazon Directly Add to Cart on Amazon
---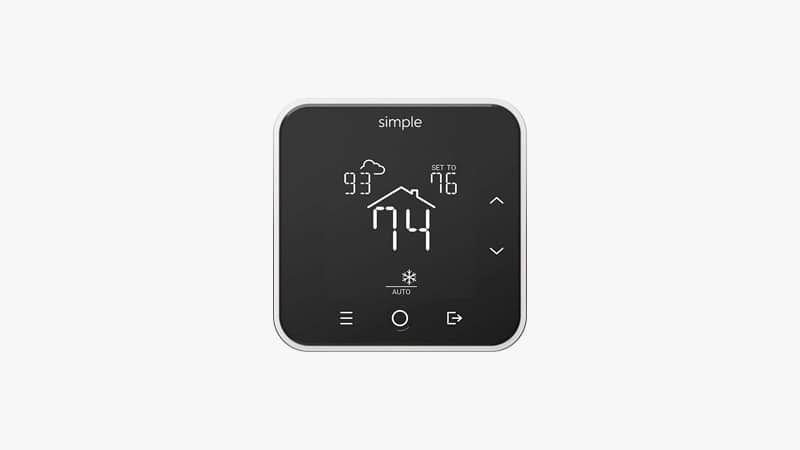 The name says it all. The design of The Simple Thermostat is clean and simple. It doesn't have a colorful screen or fancy interface. It's clean, easy to use, and displays the information you need and nothing else.
The screen is a black digital display with white information. You can swap the black display out for a white display with black numerals, so whatever works best for you. It also comes with a c-wire kit, so if your house doesn't have this kind of a feature you won't need to purchase an adapter.
The Simple Thermostat is Energy Star certified. It also allows you to adjust the temperature with an installed application on your mobile device. The on-screen controls are a bit simplistic, so much of your HVAC control will take place on the mobile phone.
It is Alexa compatible, and you don't need batteries or a hub to use it, so it's ready to go right out of the box, no secondary devices or features required. However, the thermostat does not work with Google Assistant, so if you run Google you currently are not able to control the function.
If you're looking for a simple and clean thermostat, The Simple Thermostat is a nice place to start.
Some of the features you'll find on The Simple Thermostat include:
Easy to control interface
A simple application that gives most of the device control
Works with Amazon Alexa
Easy to read from across the room thanks to the large numerical display
Comes with a c-wiring adapter so you don't need to buy any secondary accessories or adapters
No need for a hub
Check Price on Amazon Directly Add to Cart on Amazon
---
Best Smart Thermostat Under $200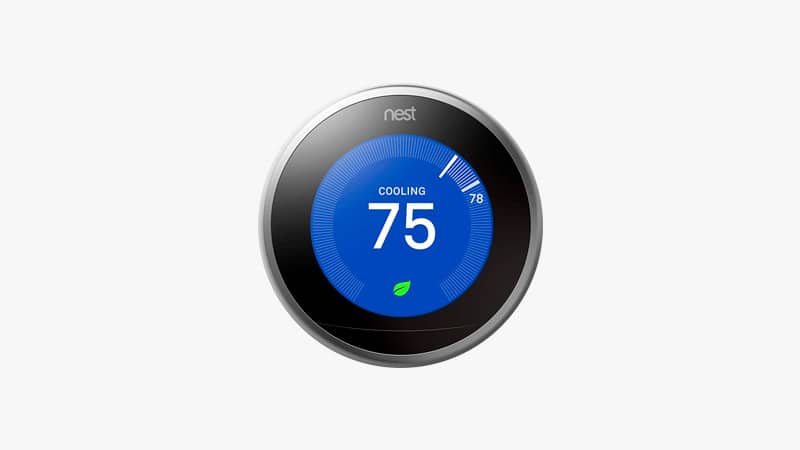 This is the smart thermostat that started it all. It has a beautiful display and uses premium material. The ring around the circular design is comfortable to use and feels sturdy in your hand, plus the touchscreen is easy to use.
The Nest Learning Thermostat works with both Amazon Alexa and Google Assistant, so you can voice control your thermostat. The Nest app is also one of the best applications out there.
There are a number of color designs available on the Nest. While you can adjust the display color (it also adjusts in color depending on if you're heating or cooling the home) you can opt for a different ring around the edge of the thermostat. This includes black, copper, stainless steel, and white.
The interface on the Nest gives you all the control features you might want on the device. However, you need to perform most of the selection and swiping between settings with the circular knob, so it can take longer than you might like.
The thermostat has a number of detection features. It can pick up movement around the thermostat. So not only can it learn how you like the temperature and adjust accordingly but if it detects nobody is in the home it will alter the temperature to help you save money.
There are a number of additional Nest appliances you can utilize along with the thermostat. This includes temperature readers used in different rooms of the house. This way, depending on the HVAC system you have, you can better control individual rooms.
This was the very first thermostat to receive an Energy Star certification ad it will help you cut your heating bills by up to 12 percent and your cooling bills by up to 15 percent.
Some of the features on the Nest Learning Thermostat include:
No batteries required
Beautiful and vibrant display that is both simple and elegant at the same time
Easy to control
Learns how you like the temperature and can detect when nobody is in the house to adjust the temperature accordingly
Works with both Google Assistant and Amazon Alexa
Energy Star Certified
Works on both 2.4GHz and 5GHz for superior wireless performance
#1 Bestseller smart thermostat on Amazon
Check Price on Amazon Directly Add to Cart on Amazon
---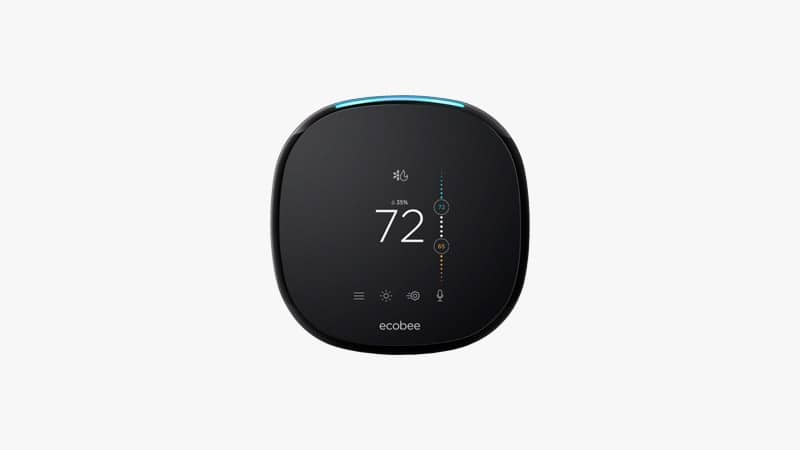 The ecobee has come up to be direct competition for Nest as one of the most purchased thermostats currently available. The design is more rectangular but with curved edges, which gives it a very nice, clean look to it.
The black backdrop and digital touchscreen are also one of the best options out there. It's also the most widely accepted smart thermostat in terms of digital assistants. Not only does it worth with Google Assistant and Amazon Alexa, but Apple HomeKit and secondary services like SmartThings and Microsoft Cortana. Basically, if you have any kind of voice-activated assistant it will worth with this.
If you don't have any smart digital assistants you'll have one built in, as this comes with built-in Amazon Alexa.
The ecobee also has individual room monitors. This particular design comes with one, which sends information to the thermostat so you can more accurately control the temperature in a given room (your HVAC system needs to support this particular feature).
The application options available are also second to none. Not only can you use it on Android and native iOS devices, but there is an app for the Apple Watch.
This thermostat comes with a c-wire adapter kit so you don't need to make any secondary purchases. The only downside is this thermostat only works on a 2.4GHz Wi-Fi signal. You likely have this signal in your home, but the 5 GHz signal offers the best wireless Internet strength.
Some of the main features of this smart thermostat include:
Supports all digital assistant services
Comes with an additional room sensor
Built in Amazon Alexa
Beautiful touchscreen display
Apps for both smartwatches and smartphones/tablets
C-wire adapter kit comes with the thermostat
Check Price on Amazon Directly Add to Cart on Amazon
---
Best Smart Thermostat Under $250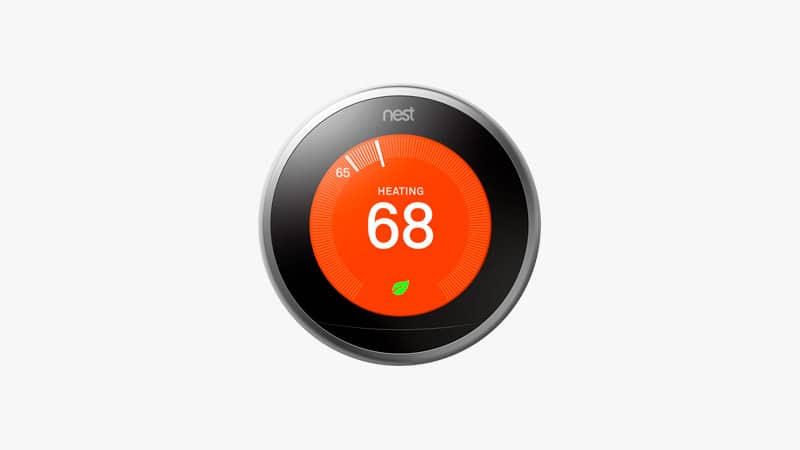 The Professional is the regular Nest on steroids. It takes all the features you love about the standard option and kicks it up a notch.
This Nest monitors your entire schedule and builds the heating and cooling around you. It can detect how the number of people inside a room affects it and adjusts the heat accordingly. It also gives you tips on how to save money, including when you should turn the HVAC up or down a degree that will end up saving you on each energy bill.
There are additional control features on top of the basic model, although the overall design is the same. The main difference is really within the programming under the hood.
The downside to this is there is no c-wire adapter, so you'll need to either pick one up or pay for a professional to come out and install the equipment for you.
The Nest smart thermostats are the highest user review rated thermostats on Amazon (although Amazon won't give these products the "Amazon Choice" title because it is owned by Google and the two companies are battling it out for smart technology supremacy). Despite being owned by Google, Nest does work with both Google Assistant and Amazon Alexa.
Some of the features to consider with the Professional version of the Nest include:
Same beautiful design and look of the original Nest
One of the highest users rated smart Thermostats on Amazon
Will cut down your energy bills with money saving tips
Works with Amazon Alexa and Google Home
Check Price on Amazon Directly Add to Cart on Amazon
---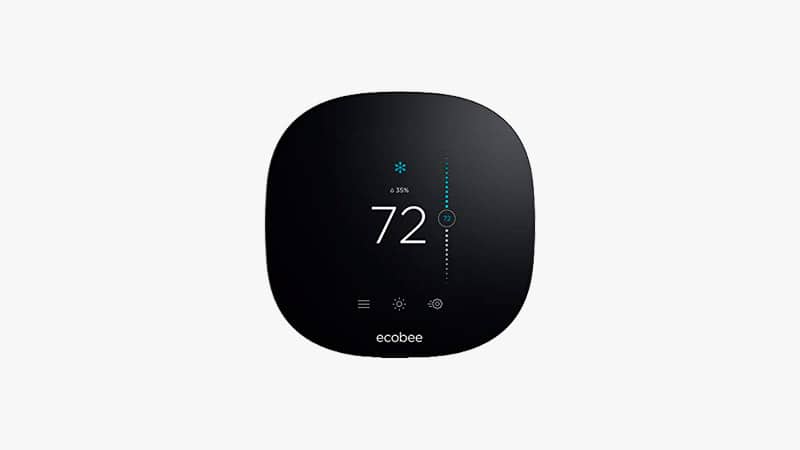 The ecobee3, much like the other models out by ecobee, give you some of the best design features out there. It's also probably the best smart thermostat in terms of user interface.
While not as bright and vibrant as the Nest, the control features are next to none. Each smart device it connects with via its ecobee3 app give you exceptional control features as well. You can turn a tablet at home into a control hub with all the weather and temperature information you'll need to have a comfortable home.
Ecobee says it will lower your annual energy bills by up to 23 percent and it works with both Alexa and Google Home (although it doesn't work with the same range as the ecobee4).
Some of the features on this smart thermostat to consider include:
Top of the line user interface
Works with Amazon Alexa and Google Home
The slender design looks great in any room or household
Comes with a room sensor
Touchscreen for improved control
Check Price on Amazon Directly Add to Cart on Amazon
---
Best Smart Thermostat Under $300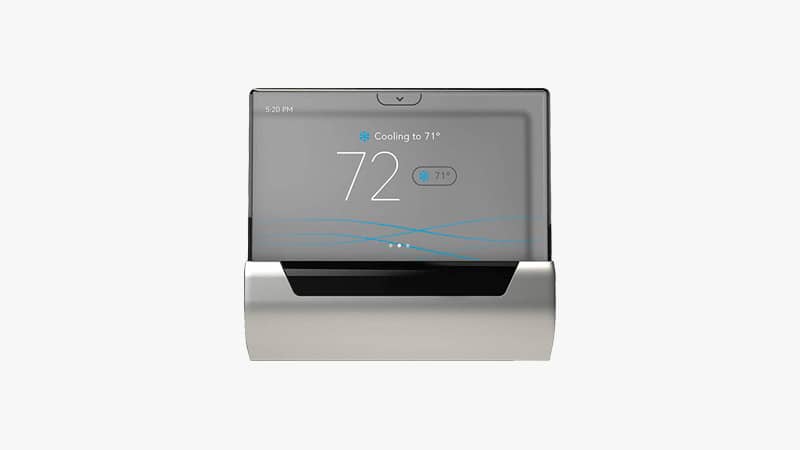 This is a pretty interested smart thermostat in that the control panel does not sit flush into the wall. Instead, it sits on a small shelf, as if a plate on display. And in fact, the touchscreen thermostat is a see-through display. The see-through display gives it plenty of wow factor.
Of course, if you're not careful, it is easier to break (especially if you have kids running around).
The Glas Smart Thermostat monitors indoor air quality, so if you have airborne allergies, this is an exceptional thermostat to take advantage of as it does this better than any other thermostat.
This thermostat is built natively with Microsoft Cortana, although you can use it with Alexa and Google Home.
You can also sync several of the thermostats with a single app, giving you control over different rooms or locations from a single application without needing to sign into different accounts.
Some of the highlight features of the Glas Smart Thermostat include:
Provided c-wire adapter
Works with Microsoft Cortana, Alexa, and Google Home
Unique display unlike any other thermostat out there
Air quality monitor, which is good for allergies or if you live in an area with air problems (such as from smog or local wildfires)
Check Price on Amazon Directly Add to Cart on Amazon
---
Conclusion
The right smart thermostat for you isn't always going to be the right smart thermostat for your neighbor. Most of these devices are great, depending on what you're looking for. This was also one of our tightest editor's choice selections as well, but the ecobee4 just stands out with its features and what you get right in the box.
If you like the Nest design better, by all means, go with that. We almost went with the Nest as it's such a great design and its room monitoring functions and learning capability are top of the line. However, it's the c-wire adapter and room monitors that come with the ecobee4 that put it over the top. Plus, as it works with every single digital assistant there's everything to love and nothing to hate about this device.
What smart thermostat did you decide to go with? What tipped you in that particular direction? And what smart digital assistant are you looking to pair everything up with?
Let us know in the comments. We'd love to hear from you!