Sitting too much does not only increase the risk of cardiovascular diseases and other health problems such as diabetes but also study say it may cause death even if we exercise.
According to the World Health Organization, physical inactivity has been ranked as the fourth leading cause of death among people in the world. It's either you sit when you drive, when you watch TV, when you work at an office, or when you eat.
In 2013, a study showed that an average of ten heartbeats per minute caused by using a standing desk is equal to an additional fifty calories burnt per hour.
According to the Mayo Clinic, prolonged and uninterrupted sedentary causes a slower metabolism rate with a greater metabolic risk which is even associated with type 2 diabetes and heart disease.
Sitting for long hours straight is not highly recommended so professional physicians and health practitioners advise you to stand and walk for a little longer to let your blood circulate well.
However, this will take much time from your work, causing more delays and overtime problems. The best solution for this is to have a standing desk in the office or in your home office setup so you can still work while you are standing.

Why do you need a standing desk? It's simple. You need more energy when you work and standing will keep your blood circulation and mind more active. When you are physically inactive, you tend to feel sleepy. Standing will make you more productive and help you accomplish more work than expected.
More often than not, people always complain about back pain, muscle cramps, and numbing. But sources say standing desks will help you maintain your good posture and core strength. It will lessen the pain you feel in your back and tailbone unlike sitting all day.
Additionally, due to the extra energy acquired, standing at your desk while working enables you to grab a responsibility or shove off any danger at a quicker pace. On the other hand, prolonged standing has also its own sets of risks and disadvantages.
While 44 percent of people, especially women have a higher problem with varicose veins, feet or leg soreness, it also affects the birth weight of expecting mothers. This is the reason why we recommend you don't stand all the time and have included a height adjustable sit-stand desk and pair it with an ergonomic office chair for your desk setup.
Below we've included some factors to consider before making the purchase:
Before you go and buy a standing desk, there are a few crucial considerations. Even if it looks like a no-brainer, you can go wrong with your buy. Let's go through the things you have to consider before deciding which stand-up desk is the right choice for you.
Size
The size of the standing desk matters the most. If you're picking the desks for your employers and you have a relatively small office space, make sure that the desks will fit into the space. In case your employers are illustrators or designers, the working area should be as big as possible.  So, take that into consideration before you decide which one you will buy.
Height range
How tall you or your employers are? Keep in mind that the height range is different for each standing desk. Some have adjustable height ranges, while others have only two or three positions. Make sure that the computer screen is high enough to be at the same level as your eyes.
Electric or manual
The standing desk position can change either manually or with the help of electricity. The electric ones usually have a button which you must press to lower or up the desk. The downside to them is that you must plug them into an outlet and have electricity.
Manual standing desks, on the other hand, have different kinds of cranks to put the table into a higher position.
Reliability
Check if the standing desk is reliable enough to last you at least a few years. Some of the more expensive desks are an investment, so make sure you're not spending a lot on sub-par quality.
Price
There are many high-quality desks from under $100 up to $750. Each of them looks different and has different features. It's up to you to decide which one best suits your needs and the needs of your business.
The Best Standing Desks for 2023
| Product | Model | Height Range | Lift Mechanism | Price |
| --- | --- | --- | --- | --- |
| | Autonomous SmartDesk 2 | 25.4" - 51" | Electric | |
| | ApexDesk Elite 71 | 29" - 48" | Electric | |
| | Autonomous L-Shaped | 28.5" - 47.5" | Electric | |
| | S Stand Up Crank Desk | 29" - 43" | Electric/Manual | |
| | S Stand Up Electric Desk | 28" - 53.6" | Electric | |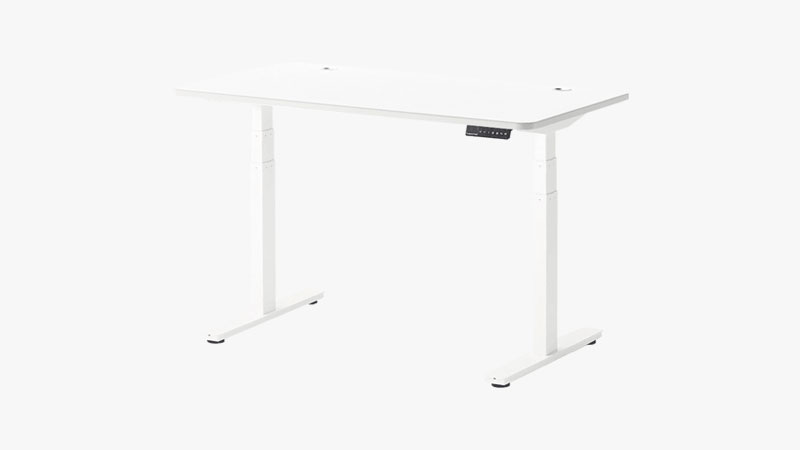 Considering you're not tight on your budget, think about the SmartDesk 2 Premium by Autonomous. It is an adjustable, quality standing desk that enables you to work according to your desired position.
Certified by ANSI/BIFMA, UL, Autonomous ensures the safety of the user as an integrated motor system secures the desired height in place. The desk is sturdy and devised to halt any unnecessary movements. Its noise level is only 45 dB when operating, so it won't disturb your work when you move it up or down.
It has a height range from 25.4 inches to 51 inches without the top and it lifts from the lowest to the highest position in 20 seconds.
While you worry about adjusting, the SmartDesk 2 Premium assures easy operation with the dual motor system that can lift up to 300 pounds. Mounting an accessory to the desk can also be an obvious task you can easily attach and detach it as you customize your own workstation.

Now you can sit and work and/or stand and work while not worrying about health issues. Overall, the quality is assured as the materials used are top-notch. The desk is made of MDF wood or bamboo and it has SPCC steel legs. You can use it for years to come.
Features
Height ranges from 25.4 inches to 51 inches without the top.
Noise level of only 45 dB.
Dual motor system that can lift up to 300 pounds.
Made of high-quality materials.
If you are looking for a standing desk that will fit in your budget, here are our picks for the 10 best Sit-Stand Desks for your workspace that will make you productive and healthy.

Best Standing Desk Under $100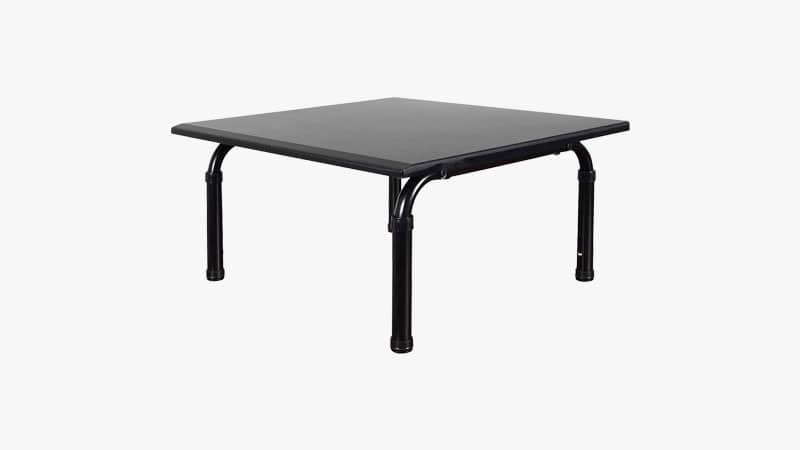 The 24" desk has been substantiated as an effective workplace primarily designed for your desktop providing space for your screen monitor, keyboard, mouse, etc. With 24 inches width, 22 inches depth, and 11.5 to 16.5 inches length, this standing desk does not require so much time and effort for the assembly. Its portability and easy access make it quite the catch.
As you adjust the height per one inch of accretions, snap buttons serve as the adjustment knobs. You can also use the space below where the adjustment was made and increase your productivity level while you finish your work. As the price suggests, it is not only a budget-friendly but it is also proven for its quality standard and the amount of its effectiveness.
Features
This 24 inches height standing desk allows you to easily adjust the desk by one inch degree to six distinct heights.

It can hold a total weight of up to 35 lbs. with the total item weight of 16.5 lbs.
Best Standing Desk Under $300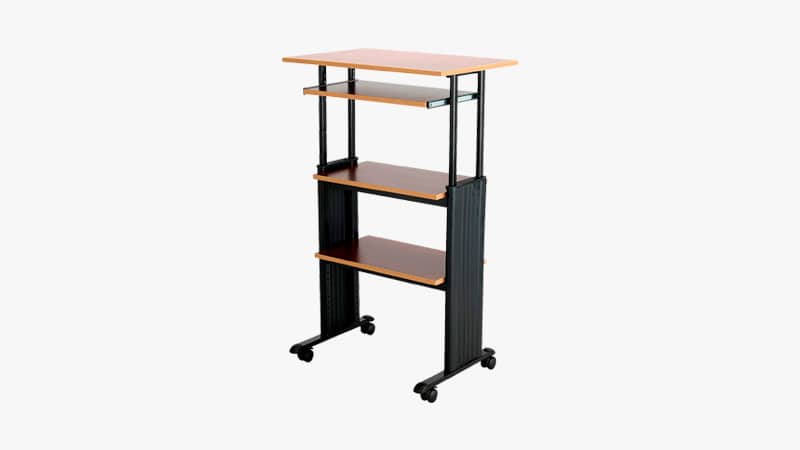 From 35 inches to 49 inches height adjustment, the Muv Adjustable Height Stand Up Desk is also comprised of melamine laminate superficial and shelf. Three fourths of this lamination assures durability. The side panels are effectively designed and constructed to hold and conceal the computer cables at hand.
You can use the two shelves provided to keep your things tidy and organized. The third shelf could be for your keyboard or you could always draw back beneath the work surface if you decide not to use it. Furthermore, the standing desk provides four casters and two locking brakes for its mobility. Although this design may require some time for its assembly, it assures durability and improvement in your productivity.
Features
Designed side panels are provided for the organization and concealment of your computer cables.
Available in a cherry color, the frames are steel and the shelves are made out of compressed wood.
It can hold up to 100 lbs on the main shelf for desktops; the keyboard shelf weight capacity is 25 lbs; and the  middle and bottom shelves can hold a total weight of 50 lbs each.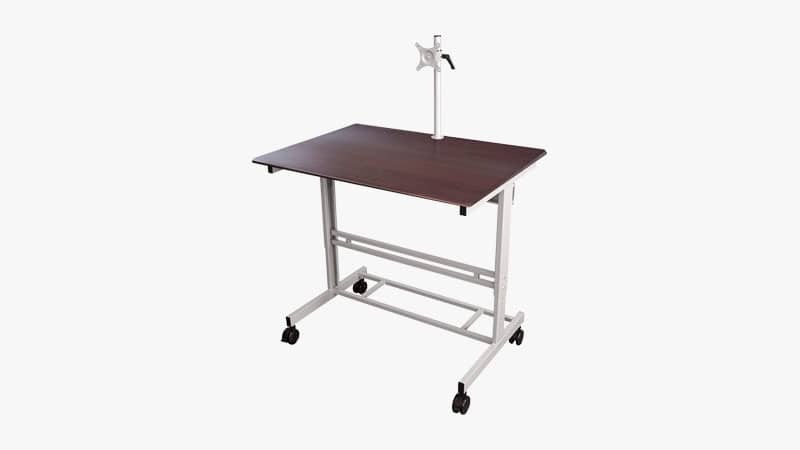 With the surface specs of 39.25 inches width, 28.5 inches depth, and 28.75 to 42.75 inches height, this mobile adjustable-height standing desk is also known for its sturdy frame with silver gray powder coat paint. It also provides a larger shelf that you can use for further activities or mount accessories.
Adjustable one-inch accretion and monitor mounts make it more effective and useful for your workloads. You can tilt, swivel, and adjust the monitor mount to your desired height. This desk can also be easily moved to any part of the room with the help of the three inches furniture small wheels and two locking brakes.
Features
It is designed with dark walnut laminated shelves and silver coated steel frame.

The monitor mount can be tilted, swiveled, and adjusted but it can't be moved closer to the user.
Best Standing Desk Under $500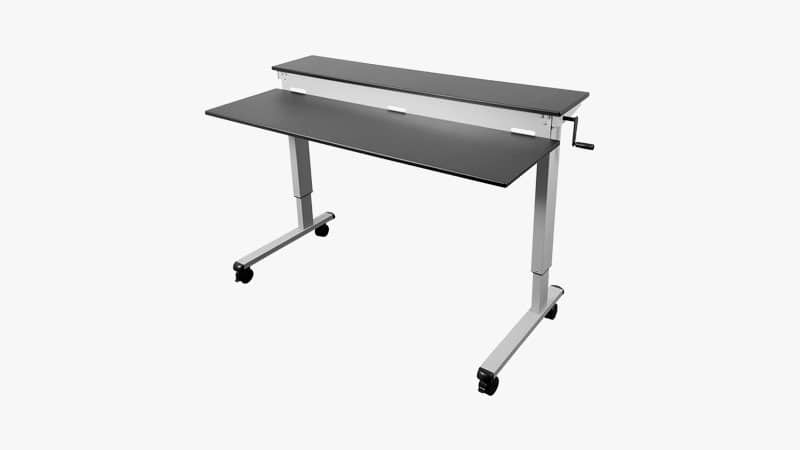 While you worry about you're your health, this 60-inch crank adjustable standing desk provides new specs for customers either for sitting or standing. Now, you can adjust your work table from 28.9 inches to 42.6 inches on its lower layer to 33.5 inches to 47.3 inches on the upper layer.
It also consists of two shelves designed for your monitor screens on the upper surface and the keyboard and mouse on the lower surface. The crank adjustable height standing desk is known for this "two-tiered" shelf system for a solitary working space. Now, you don't need to worry about its frames as it is painted with a silver gray powder coat. Hence, this may take you years to keep using it.
Features
The crank is designed with black shelves and heavy duty silver steel frame.

It smoothly lifts and lowers with the use of the crank adjustment, now available in an electric adjustable model.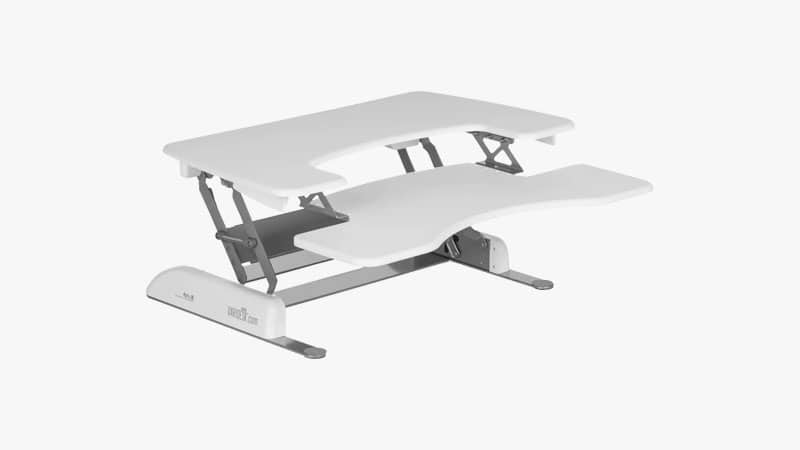 Perfect for multiple-monitor users, Pro Plus 36 is patterned with a larger working space suited for two monitors in place and a different shelf for the keyboard and mouse. Varidesk boasts off its own patented spring-loaded elevating system which easily rises up to 35 lbs. within three seconds. With this, you can easily focus on your work as you sit and stand without losing your concentration.
Because the manufacturer cares about its customers, the height can be adjusted to 11 distinct positions. The sturdiness and stability are still maintained even when totally adjusted. And good news for you, the product comes assembled and installed once you take it off the box. Try working using this design and help yourself boost your health as you work calmly and productively.
Features
You can work even with two monitors on the desktop shelf.

Aside from the spring-assisted lifting system for the height adjustment, pro plus 36 also boasts off its lifting keyboard deck.

Easily set-up and it can hold a total weight of 35 lbs.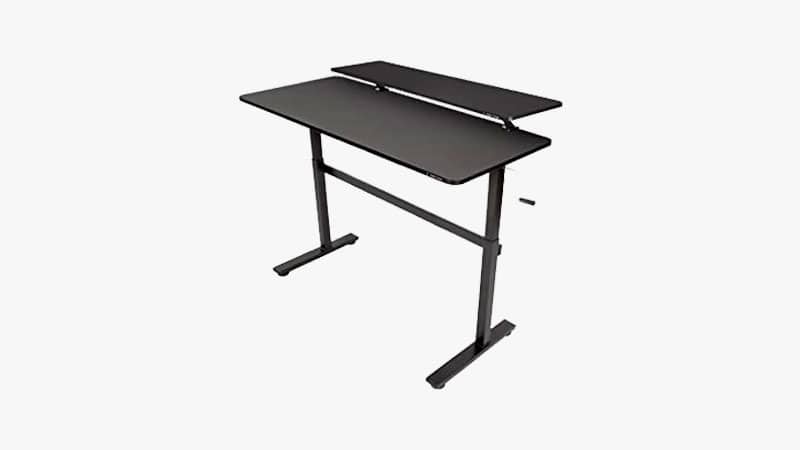 Sometimes, it takes you so much time to organize your things leading you into office work troubles and a messy workplace. But now, these things will be easier with the ergonomic standing desk customized with integrated easy-turn cranks on both sides that adjust the desk to your height.
Not all standing desks have an additional level for screens. This model, however, is different.
The Stand Steady Tranzendesk is designed for the convenience of the customers as it boasts off worry-free output. It consists of an adjustment system which makes the positioning a lot simpler. This mechanism enables you to set the table anywhere from 27.5 inches to 46 inches, which means that it's perfect for anyone who's up to 6'4" tall.
There's a bonus clamp-on shelf on the desk that lets you put the monitor on to better align with your eyes. It has nine square feet of desktop space. It has room for three monitors, as well as your other work hardware.
The minimalist black steel frame and the engineered wood desk with a matte finish and round corners will make working fun again.
Features
Height ranges from 27.5 inches to 46 inches.
Has easy-turn cranks on both sides.
There's a bonus clamp-on shelf on the desk.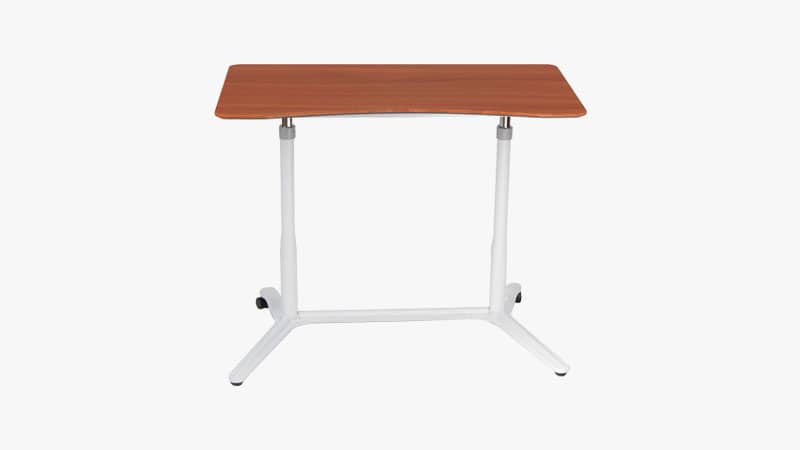 Unlike the Mobile Adjustable-Height Stand-Up Desk, Sierra Height Adjustable Desk is about two inches shorter. The width is 37.5 inches with a depth of 20.5 inches and a height of 29.25 inches to 41.25 inches. The adjustment knobs are designed on both sides of the lever so that you can perfectly suit yourself with your intended height.
While you worry about a rusty frame and skid work desk, Calico Designs showcases a powder coat painted steel frame and non-skid rubber base. Hence, durability and good mounting are guaranteed. Furthermore, just like the former product, this desk could also be easily transported from one room to another. Two casters are designed for mobility with a lock to make it firm.
Features
It is available in black and silver, and cherry and white colors but the information provided above is for the cherry and white sierra height adjustable desk.
It holds a total weight of up to 39 lbs.
Best Standing Desk Under $750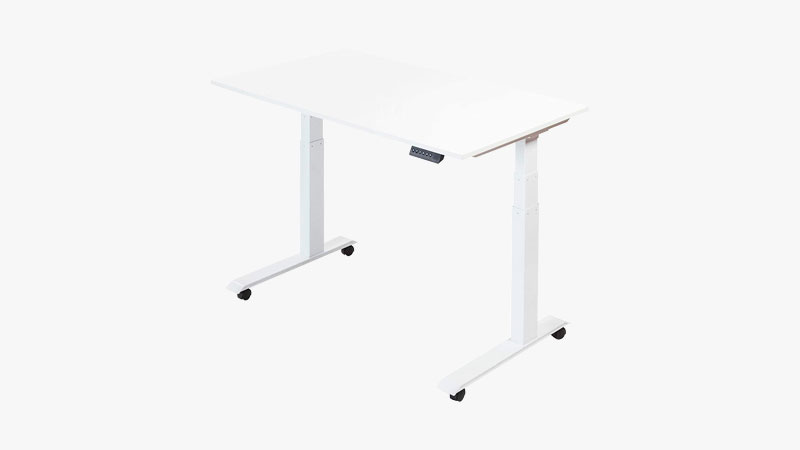 Designed best for its electric operated push buttons, this electric stand-up desk suits its name perfectly as it works best with its automatic adjustment mechanism. The electric buttons enable the desk to rapidly adjust from a sitting to a standing position within 20 seconds. With regards to its height, expect a range from 29.5 inches to 45.25 inches adjustment. Using this innovative standing desk, the company offers free basic information with a 15-foot three outlet power cable.
Furthermore, the electric standing desk provides easy access to its mobility. Having three-inch furniture casters and two locking brakes, desk locks are also designed to secure the stability of the shelves.
Enjoy working with a larger space, improve your health with the adjustable system, and reduce your time manually adjusting with the electric push buttons. What else are you looking for? Well, the standing desk also comes in plenty of genuine colors to suffice your style. Furthermore, heavy duty steel furnished with powder coat paint assures you for long-term use.
Features
It is available with a gloss white desktop and white frame.
The maximum weight capacity is 154 lbs.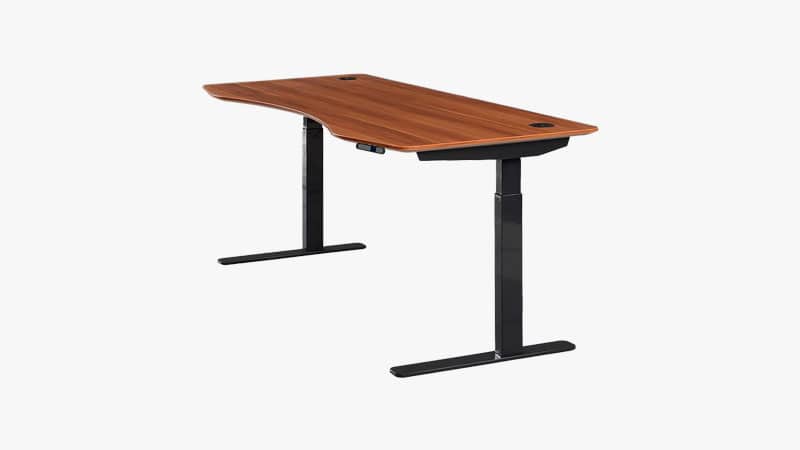 From 24 inches to 50 inches, the ApexDesk standing desk is designed with three-stage dual motors with 235 lbs. load capacity and a two-button controller. This makes it easier to adjust the height to 1.3 inches per second. While the lower frame is made up of a piece of center beam, the standing desk is more stable compared to other desks with crossbars.
The 'under frame' is ensured with a heavy-duty quality frame. Additionally, you can comfortably extend your leg as it does not have a crossbar and offers flexibility.
The ApexDesk guarantees the quality of the electric height adjustable standing desk. While most desks are manufactured with low-grade particle boards, the product is made up of scratch-resistant high-pressure laminated MDF (Medium Density Fiberboard). However, it will take you less than thirty minutes to assemble this thing. Be patient.
Features
It is available with a red apple laminated MDF desktop and silver steel frames.

The Medium Density Fiberboard (MDF) protects the desk from scratches and high-pressures.

For additional stability, the underframe is made up with one piece center beam.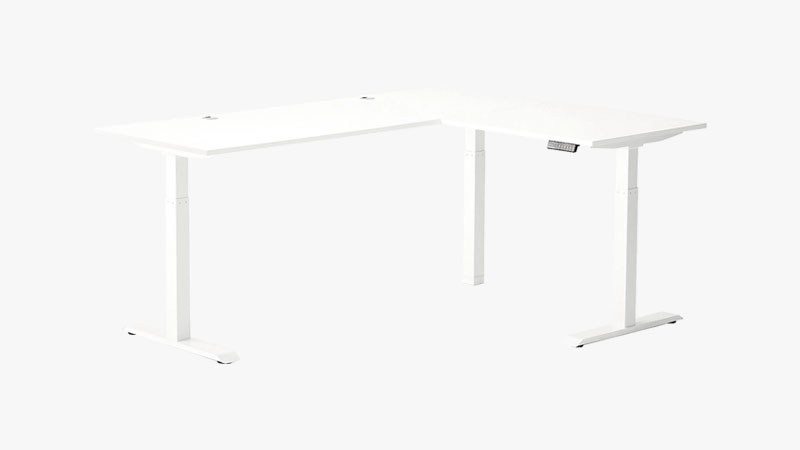 The L-Shaped SmartDesk from Autonomous is ANSI/BIFMA, and UL-certified desk that is in the "L" shape which is quite rare in the world of standing desks. This convenient desk is the perfect addition to your office corner. The solid SPCC steel frame and the triple motor system hold up to 330 pounds and it is designed with a push button that controls the height adjustment with a lifting speed of 2.3 inches per second.
You can adjust it from 28.5 inches to 47.5 inches (without the top.). What's more, you don't have to worry about manually adjusting the desk because you can continue working while the desk rapidly and quietly adjusts upon the push of a button.
This stand-up desk has an MDF woodworking area that measures 77 inches in length from one side and 29 inches from the other. Aside from the high-quality materials used in production, the product ensures a spindle drive mechanism and smooth movement performance.
However, to start it working, you must plug it into any 110-240V outlet. It's as quiet as our editor's pick, so the 45 dB won't disturb you while you're working.
Features
Height ranges from 28.5 inches to 47.5 inches without the top.
Noise level of only 45 dB.
Triple motor system that can lift up to 330 pounds.
Made of high-quality material.
Working for a very long hour is stressful and working in front of a computer behind a lousy work desk is even more stressful. If you value your work and health, it's more practical to invest in a good standing desk that does not require much of your time, effort, and money. The list above may give you some ideas and information to help you out before purchasing the right standing desk for you.
Tell us what you think and what among the standing desks suits you best. Sharing this might also help out some of your friends out there.
Photo Credit: Unsplash