Unlike the usual desktop computers, laptops are usually used for its portability and aside from its portability, there are no other major distinctions.
Both have external devices like displays, hard drives, and plug in ports. But have you ever experienced having quite some time installing a new device on your computer? Like it is usually a simple task but it often takes so much of your time.
Although using your laptop as a mobile device is a simple task, plugging and unplugging devices is time-consuming. Now, some major companies like Apple and Intel designed a premium, fast-speed connector option.
These connectors provide the necessary bandwidth and speed with huge, fast hard drives, high resolution monitors, or even external graphic cards.
Laptop docks enable you to plug in multiple devices into the dock. Using a cable or two, you can now connect the laptop to the dock. That's how it usually works every time. But with the thunderbolt docks, you don't need to connect multiple cables.
Thunderbolt docks are useful for iMac, Mac Pro, Mac mini, and MacBook Air users. Thunderbolt 2 docks have made its way through the market in last few years and with its improved accessories and specs, it makes it easier for Mac users to connect devices.
Thunderbolt docks have taken off with distinct variations on similar basic idea, leveraging a single cable to interconnect a lot of Thunderbolt, USB, and/or audio/video accessories to a Mac.
Now, MacBook users can easily return home and connect these from an external monitor and speakers to external hard drives and card readers. Mac Pro, iMac and Mac mini users are also allowed to connect devices built with connectors not provided on the machine.
Most of the products were tested by the Macworld Lab with the performance or any anomalies related to it. But before purchasing, you need to consider these important factors:
Ports

. Look for a dock that suits the ports of your device. Just because a dock has multiple ports does not mean it provides a better service especially if the port is not useful for you.

Flexibility

. Usually, docks with two Thunderbolt ports are recommended as it is more flexible. A daisy chain of devices is based on the number of the docks' Thunderbolt ports.

Thunderbolt specifications

. Other uses the Thunderbolt 1 which is a lot cheaper but others prefer the Thunderbolt 2 which is twice faster than the first one. But either way, it makes your laptop much easier to use.
Best Thunderbolt 2 Dock
Belkin Thunderbolt 2 Express HD Dock provides a fast and easy transfer of files twice the speed of the former Thunderbolt. The transmission works at 20 Gbps which allows you to interconnect up to eight devices with the use of the cable.
Dual displays allow you to connect two more monitors to your laptop as you keep your workspace organized and streamlining your setup. But take note that at least one display should have Thunderbolt or Thunderbolt 2 technology-ready.
If not, you can use either Mini Displayport or HDMI.
The dock also supports 4K cinema resolution per display. With its sleek, slim, and inconspicuous features, it won't consume so much space on your desk. Various ports includes three USB 3 ports, two Thunderbolt 2 ports, HDMI, Ethernet, audio out port, and a separate port for the audio port for the microphone.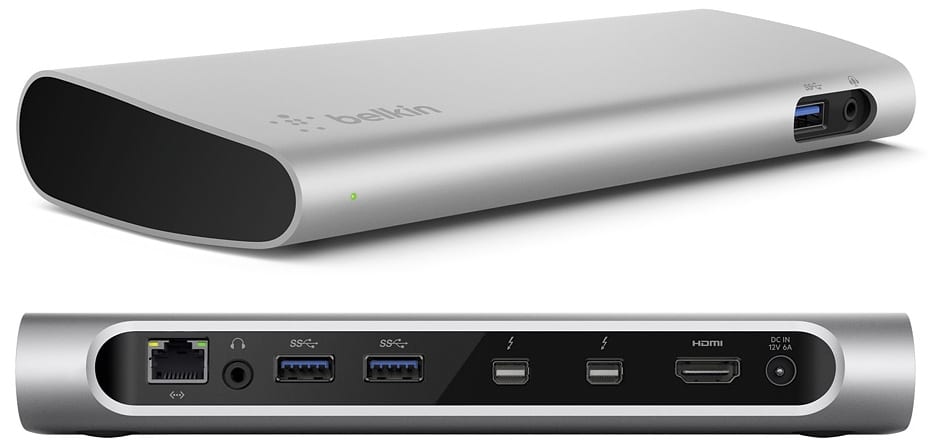 If more ports are needed, you can add up to four additional Thunderbolt devices by daisy chaining them. Customize your setup to meet your needs and connect your laptop with the included cable to begin working.
With the Thunderbolt 2 Express Dock HD, you won't worry connecting multiple cables from your laptop to a monitor, keyboard, mouse, or printer with a 3.3-foot cable.
This dock also allows you to daisy chain up to four more Thunderbolt devices which totals to five. Its compatibility with Mac and PC makes your work less hassle. However, you should be working on with at least a Mac OS X v10.9, or at least a Windows 7. And in order for the 4K cinema resolution to work best, update your device to Mac OS X to v10.10.
Twice as fast as the lightning, the Thunderbolt 2 Express HD Dock allows you to connect and work easier and quicker.

With the surface measurements of 6.85 height, 11.34 width and 4.5 inches depth, the dock weighs 3.33 lbs. with aluminium brushed body.

It allows you to connect a second monitor or TV which you can work on with a 4K cinema display resolution on one of the displays.
Top 7 Best Thunderbolt 2 Docks 

For an additional flexibility to your computer, the OWC Thunderbolt 2 Dock comprises of five USB 3.0 ports with two side-facing, supreme USB 3.0 ports. It supports up to 4K resolutions via HDMI 1.4b that can work with your HDMI cable display, TV or projector.
You don't have to worry about having an Ethernet port because the dock provides a no configuration high-speed Gigabit Ethernet port. A separate port is also designed for the microphone or any line-in audio source.
The OWC Thunderbolt 2 Dock assures an incredible performance and awesome connectivity. Streamlining any workflow is more convenient and flexible as you are allowed to interconnect up to five USB 3.0 devices, Gigabit Ethernet, FireWire device, HDMI, audio in and audio out.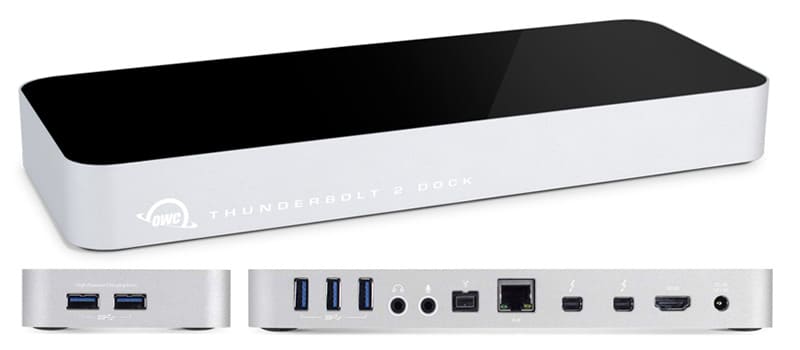 You can daisy chain up to five Thunderbolt devices and connect up to ten devices with an amazing 20 Gbps. However, the utilization of the ultimate display setup must be configured first for a better workflow. The OWC Thunderbolt 2 Docks allows you to connect a VGA, DVI or Displayport monitor and make use of either the ultra HD 4K display and two high definition displays or one 4K display and another high definition display.
The dock includes a high-powered USB 3.0 ports sustaining up to 1.5 amps providing power which you can use for charging your gadgets like iPhone, iPad, tablets, smartphones and other USB-charged devices. It also gives power to bus-powered hard drives, SSDs, or optical drives. When adding USB 3.0 to an older Mac, you can either upgrade your Gigabit Ethernet to a newer MacBook Pro or backward with your latest FireWire 800 as the dock maintains your connection.
The OWC provides a two-year limited warranty.

The OWC Thunderbolt 2 Docks weighs 2.3 lbs. with a one meter black cable.

It supports USB 3.0 devices, Gigabit Ethernet, FireWire devices, HDMI, dual Thunderbolt 2, and 4K support.
Check price on Amazon or Add to Cart on Amazon
Elgato Thunderbolt 2 Dock allows you to interconnect and daisy chain up to four more Thunderbolt devices to your MacBook or Ultrabook with its two Thunderbolt 2 ports. Using the built-in HDMI, you can connect one display with up to 4K resolution or you can just connect with your Thunderbolt connector.
The second display supports the Elgato Thunderbolt 2 Dock and HDMI using your Thunderbolt monitor. The dock assures you a high-speed connection with its added SuperSpeed USB 3.0 ports and a power of up to 1.5A.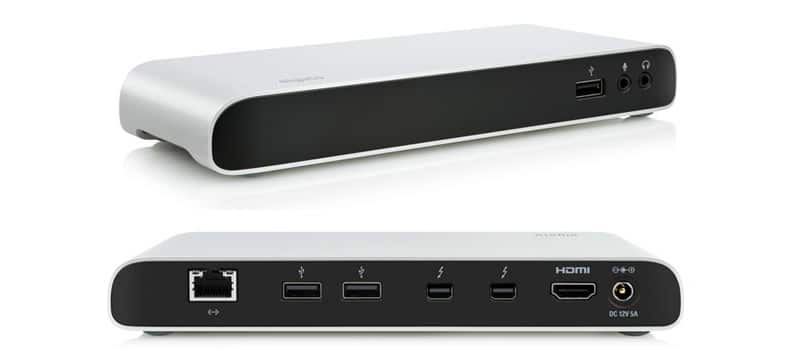 The dock is designed with three USB 3.0 ports with high-power device supports that allow you to connect iPad, SuperDrive and many more. The stand-alone USB charger keeps your device charging even if you don't connect your computer.
A port for the microphone input and amplified audio output are designed separately for you to enjoy clearer conference calls. Additionally, the dock has software that accessibly ejects all of the storage devices at the same time enabling you to leave it with no hassle. Elgato Thunderbolt 2 dock assures you an escalated wired network performance with its built-in Gigabit Ethernet port.
It supports dual display with up to 4K resolution and designed with three additional SuperSpeed USB 3.0 ports.

With its simple, low-profile design, you can organize you workspace even if your notebook is unplugged.

You can just download and install the free Elgato Thunderbolt Dock Utility to allow the high-power USB support on your Mac.

The high-speed connection is guaranteed with the full performance of Gigabit Ethernet as you transfer your files without interrupted connections.
Check price on Amazon or Add to Cart on Amazon
The newly improved CalDigit Thunderbolt Station 2 is known to be the original Thunderbolt Station. The connectivity and specifications were improved to meet the quality standard with a new level of connectivity and streamlining. A single Thunderbolt cable allows you to connect to the modern streamlined devices.
The improvement includes an awesome functionality hosting new features which allows the creation of the ultimate Thunderbolt device. With its total compatibility to the 4K workflow, you can now work on with an amazing performance.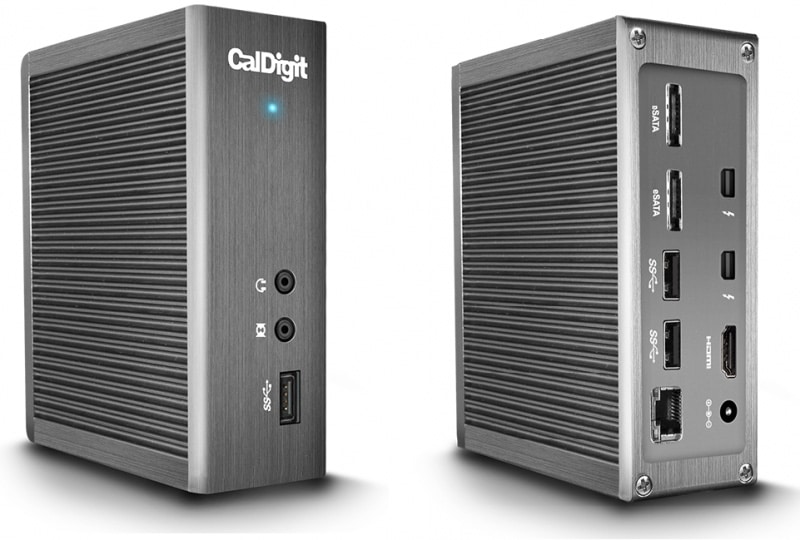 The Thunderbolt 2 technology is designed with three USB 3.0 ports, two eSATA ports, a Gigabit Ethernet port, dual 3.5mm audio input and output ports, and a HDMI port. You don't have to worry with multiple connections as it allows you to connect everything using a single Thunderbolt cable and daisy chain up to five devices.
It enables you to transfer your files faster than the original. For the display output, you can access one HDMI port and for the wired network access, you can use one Gigabit Ethernet port. This dock uses a small workspace and it is compatible in charging your devices even if you are offline.
The Thunderbolt 2 technology assures a faster performance with its 4K workflow.

Unlike the other docks, the CalDigit Thunderbolt Station 2 comes with two eSATA ports, three USB 3.0 ports, one Gigabit Ethernet port, two 3.5mm audio ports and a HDMI port.
Check price on Amazon or Add to Cart on Amazon
Aside from Macbook, IOGEAR Thunderbolt 2 Docking Station supports a connection from your computer to an Ultrabook or any other Thunderbolt 2 enabled devices. The GTD720 is designed with three USB 3.0 ports, a Gigabit Ethernet port, a HDMI port, and two Thunderbolt 2 ports.
The Gigabit Ethernet port can access a wired network connection while you can daisy chain using the two Thunderbolt 2 ports. As it functions up to 20 Gbps with an extended speed bandwidth, it assures high-speed connection when transferring your files. This is four times faster than the USB 3.0, forty times faster than USB 2.0 and 25 times faster than the FireWire 800.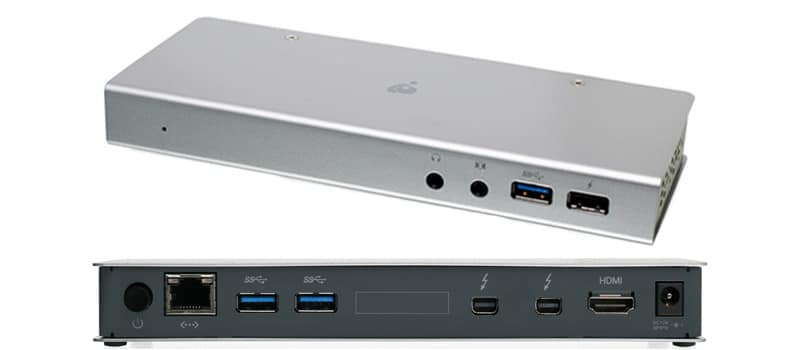 This dock allows you to connect multiple devices in a single cable keeping your connection easier than ever. The 4K (UHD) also allows you to watch and transfer full HD videos as clear as possible maintaining the speed of your file transfer. The GTD720 supports dual displays for HDMI and Thunderbolt display monitors and allows you to connect up to eight devices straight to the dock.
Daisy chaining a total of five Thunderbolt devices is also allowed. Like the other docks, this dock allows you to charge your gadgets even if your desktop is shut down or offline through the front-facing USB port. Additionally, a separate 5.1 audio in and audio out ports are provided with editing and playback qualities.
The 20Gbps transfer speed is only compatible to the systems with Thunderbolt 2 technology.

Its slim and unobtrusive design saves some space in your work desk while you connect up to 10 devices dual displays included.

The Thunderbolt port is backwards compatible with the Mini DisplayPort if you system is not Thunderbolt 2 technology-ready; it is either for HDMI or Mini DisplayPort but you cannot use both.
Check price on Amazon or Add to Cart on Amazon
Although it has not provided so much information, the Akitio Thunder 2 Dock weighs up to 2.170 lbs. and measures 3.5 inches. With its 6.2 inches by 3.8 inches depth by 0.7 inches height product dimensions, the dock includes 1x USB 3 and 1x eSATA ports. It also comes with 3-feet protected external eSATA Cable M/M (eSATA 3).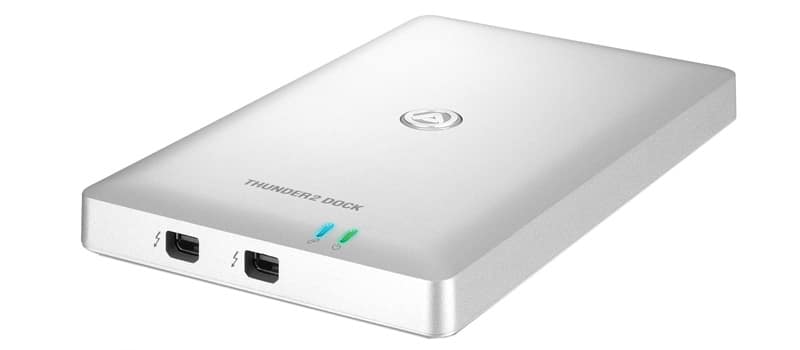 The product weighs 2.170 lbs. and measures 3.5 inches.

It supports 1x USB 3 and 1x eSATA ports with a 3-feet eSATA Cable.
Check price on Amazon or Add to Cart on Amazon
Unlike some of the docking stations, StarTech Thunderbolt 2 4K Dock enables you to connect multiple devices at once with its vast expansion of more connection ports. It allows you to connect with all Thunderbolt ready devices like Macbook Pro with Retina or HP ZBook 17 G2 and 15 G2 into a heavy-duty 4K workflow. With its speed of up to 20 Gbps, the TB2DOCK4KDHC allows you to transfer files on a fast pace without interrupted connections and bandwidth logjam.
It combines two 10 Gbps paths that delivers speed twice as fast as the Thunderbolt 1 and four times faster than the USB 3.0. The dock is designed with 4Kx2K HDMI or mDP, one USB 3.0 fast-charge and sync, three USB 3.0, eSATA, SPDIF, and Gigabit Ethernet that permits you to connect up to eleven devices from your computer to your MacBook or laptop.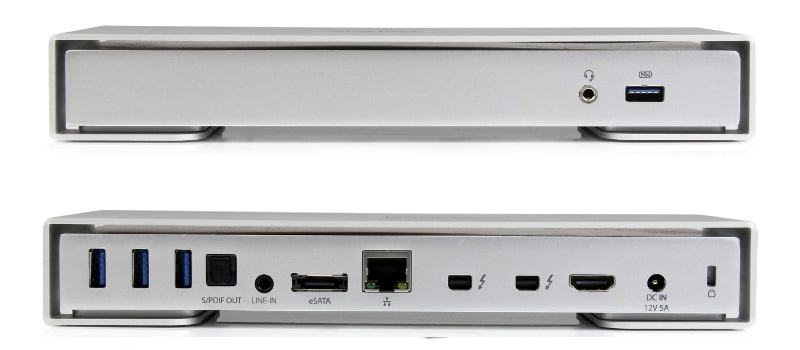 It assures an incomparable, efficient and reliable high-speed performance as you work on your output and transfer your files. With the 4K cinema resolution (3840 x 2160p), videos becomes crystal clear and the images appear in a high-quality resolution. This is the main purpose of the dock as it was developed with the original Display Technology Discover 4K Ultra HD. However, you can take advantage of the 4K display with your HDMI, DisplayPort or Thunderbolt monitor and it can work on a single display.
As you work in a higher speed, the dock allows you to connect and daisy chain multiple devices, charge your handheld devices without your laptop connected, and even leave your major peripherals connected to the dock. In order to hinder connection limitations, add several important ports to your MacBook Pro or MacBook Air like multiple storage accessories through eSATA and USB 3.0 central ports.
The TB2DOCK4KDHC is ideal for detailed graphics and perfect for designers, animators and video-related activities.

It has an SPDIF port that supports 5.2 digital optical audio qualities but the 5.1 audio does not work on Mac OS.

It allows you to daisy chain up to six Thunderbolt devices; guaranteed with a two-year warranty and free lifetime technical assistance; made up of an aluminium outer frame and matte silver sandblast paint.

It comprises of 1x front port USB Battery Charging Specs 1.2 compliant, and 3x rear ports which totals to 4x USB 3.0 downstream ports.

The dock also has Gigabit Ethernet RJ45 Port which supports Wake-on-LAN (WOL).
Check price on Amazon or Add to Cart on Amazon
With its 3 full speed USB 3.0 ports 5 Gbps support, the Kanex Thundebolt 2 Express Dock can accessibly connect up to eight devices from your desktop to your MacBook. It has a 4K/HD dual display that is compatible to your HD Display and a HDMI 1.4b spec with resolutions up to 4Kx2K at 30Hz.
The dock is designed with two Thunderbolt 2 ports with one connected to your desktop and the other to be used to backup your files using the high-speed Thunderbolt hard drive.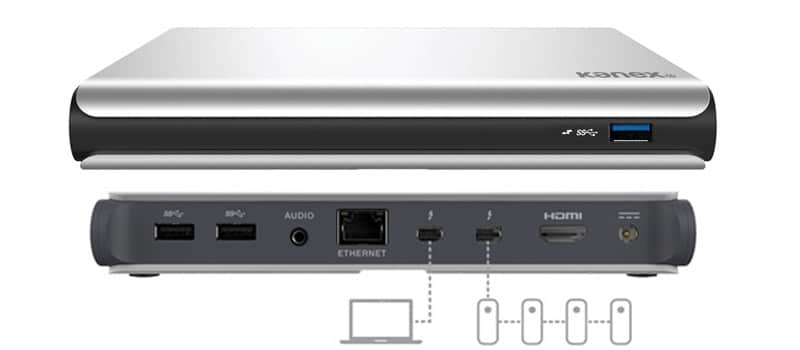 The KTD20 allows you to connect and extend several USB accessories with up to 3-added SuperSpeed USB 3.0 ports and daisy chain in order for you to connect to another Thunderbolt device. It also support a dependable wired network connection through the Gigabit Ethernet port. With this dock, you can easily plug your devices and go on through your desired connections. Like the previous docks, the KTD20 has a separate USB port for 1.5Amp fast charger for your smartphones and gadgets.
It also includes an auxiliary audio in and out combo port. Its speed transfer is twice as fast as the Thunderbolt 1 with an estimate of 20 Gigabits per second, four times faster than USB 3.0 that allows you to back up and watch full-length HD movies in a minute.
Daisy chaining is supported up to four Thunderbolt-ready devices to your Mac maintaining its outstanding performance.

Designed with a sleek and slim aluminium body, it can save so much space on your work desk and you can use as a portable charger for your iPhone, and other smartphones with its USB 3.0 front port.

The package comes with the black 3ft/1m Thunderbolt cable included and power supply. It is compatible with all Thunderbolt-ready Macs and computers.
Check price on Amazon or Add to Cart on Amazon
Verdict
Before purchasing a Thunderbolt Dock, you must consider what dock and port you need. The listed Thunderbolts above are guaranteed to be the best Thunderbolt Docks; you just have to compare the best one according to your taste. Whether it's budget-friendly or unobtrusive, the quality and speed must also compensate the standard of the product for a long time use.