If you're in a hurry, check out our Editor's Pick: CalDigit TS3 Plus.
The rise of ultrabooks i.e. thin and light laptops meant only one thing.
Be ready to say goodbye to legacy ports.
USB-A, VGA, HDMI, and in some cases even SD Card slots are being removed from professional-grade laptops and replaced by USB-C and Thunderbolt 3 ports.
Manufacturers are looking to produce sleek and stylish looking laptops to attract new buyers, and the only way to do is by removing ports that take up a lot of space.
Also, one of the reasons why these ports are being removed is because they don't handle data transfer as efficiently as new ports, and they're limited when it comes to multiple connections and charging.
So, if you are someone who owns any of the latest Macbooks or Windows-based Ultrabooks that is equipped with the Thunderbolt 3 port, a Thunderbolt dock can help you connect several peripherals.
From dual 4K Display monitors to NAS Storage to printers and audio interface all from a single cable.
These useful connectors also provide the necessary bandwidth and speed for all connected devices.
USB-C versus
Thunderbolt 3
Both USB-C and TB3-based docks feature a USB-C connector, although they differ in other important areas.
The main difference being that Thunderbolt 3 can supports higher data-transfer speeds (up to 40GBps) in comparison to USB-C (Up to 10GBps), facilitating it in both directions simultaneously through a single cable.
Such docks also enable simultaneous transfer of data, output video, charging, and daisy-chaining of other TB gadgets, all via only one cable.
Having one cable has its advantages, such as removing the clutter associated with several different cables taking up space on your desk.
However, this also means that one connector does several different things, so it's best to consult the device's manual before connecting anything to avoid poor performance because you plugged the wrong connector into the wrong port.
There's also the device limitation part. In other words, only more recent devices, like newer Macs or higher-end Windows computers, have included the support for Thunderbolt 3.
Therefore, if your host device doesn't have Thunderbolt 3, you might want to skip this guide and look for a USB-C Dock only.
There are a few characteristics you should pay attention to when choosing your ideal Thunderbolt 3 docking station. 
First of all, there need to be at least two Thunderbolt 3 ports to support relevant devices.
Second, it has to provide a lot of power. Most of our recommendations house 85W of charging power, while those weaker have other advantages to make up for it. 
Third, it should have a lot of ports, at least if you're not looking for a solution to take with you on vacation or a business trip, as more ports equal larger size.
Finally, it's important to have high transmission speeds to facilitate easy operations.
There are other features that might factor in your decision, such as pricing, size, material, types of additional ports, supported devices, cable length, if the host cable can be removed, and so on.
That said, all these points are mere suggestions. In the end, it all comes down to your own requirements and preferences, so picking out the right docking station will depend exclusively on that. We hope this article has put you on the right track.
If you are looking to purchase one of these handy gadgets, here are a few of our suggestions:
The Best Thunderbolt 3 Docks for 2023
| Product | Model | Ports | Power | Price |
| --- | --- | --- | --- | --- |
| | CalDigit TS3 Plus | 15 Ports | 87 Watts | |
| | CalDigit USB-C Pro Dock | 10 Ports | 85 Watts | |
| | OWC Thunderbolt 3 Dock | 14 Ports | 85 Watts | |
| | Kensington SD5000T | 10 Ports | 85 Watts | |
| | Cable Matters Aluminum Dock | 8 Ports | 60 Watts | |
Editor's Pick: CalDigit TS3 Plus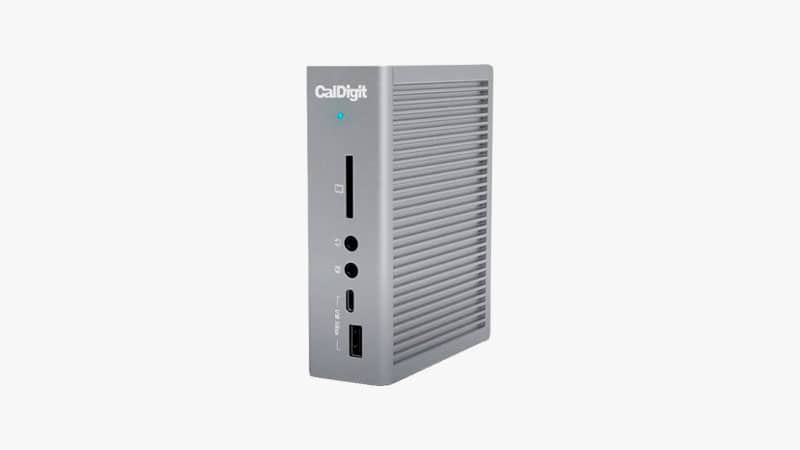 At a glance:
High transfer speeds

Lots of ports and small size
CalDigit TS3 Plus Docking Station features up to 87W of power, while its additional Thunderbolt 3 port adds up to 15W more. You can choose between a single 2.3-inch (0.7m) and a 6.6-foot (2m) cable to connect it.
It covers plenty of ports – five USB-A 3.1, two USB-C 3.1, DisplayPort 1.2, a digital optical audio port, S/PDIF, an SD card reader, audio in/out jacks, Gigabit Ethernet, and two Thunderbolt 3 ports (one connecting the host device). 
Both USB-A and USB-C ports provide transfer speeds up to 5Gbps, while the DisplayPort allows you to attach dual 4K monitors at 60Hz or a single 5K 60Hz display. Connecting six additional devices is possible via daisy-chaining (connecting several devices together in a linear series).
The dock itself is very small and light, weighing slightly over one pound, while its two sets of feet allow you to place it vertically or horizontally. It is encased in a strong aluminium chassis, with a one-year warranty providing peace of mind, just in case.
Under $150
1. IOGEAR GTD300 Travel Dock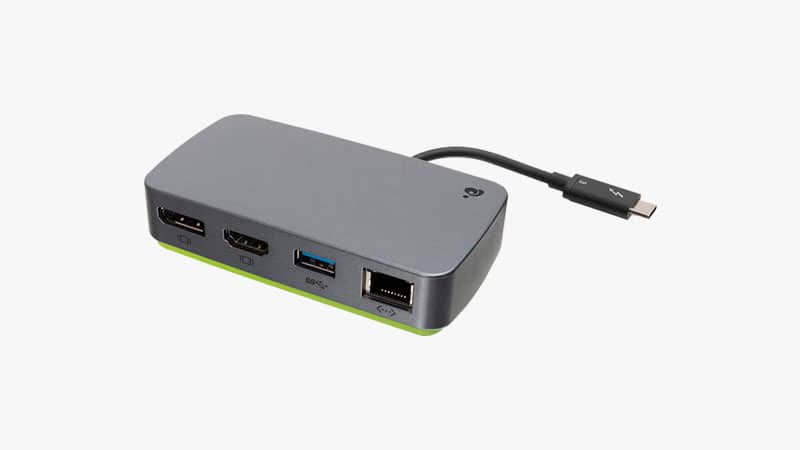 At a glance:
Tiny and practical

Inexpensive
One of the smallest docking stations on the market, IOGEAR GTD300, isn't only cheap but also ideal for when you need connectivity on-the-go. It has only four ports but that's why it doesn't take up a lot of space or cost much.
The ports include one USB-A port with speeds up to 5 Gbps, Thunderbolt 3 port with bandwidth support of up to 40Gbps, Gigabit Ethernet, and a single 5K or dual 4K displays (HDMI and DisplayPort).
IOGEAR GTD300's focus on taking up as little space as possible is exaggerated by its practical hideaway cable compartment (the cable is non-removable). Moreover, the chassis is made of plastic, making it lighter than most of the competition. On the whole, it's a perfect travel-and-work companion.
Under $250
2. Thunderbolt 3 Dock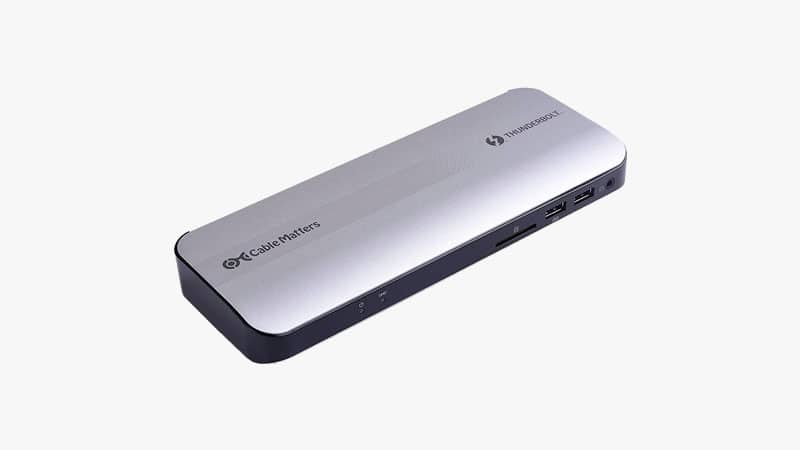 At a glance:
Versatile selection of ports

Fair rates
Here you won't find as much power as seen in some of the competition (only 60W), but Cable Matters' Thunderbolt 3 docking station outperforms in other important areas – low price, solid number and selection of ports, strong material (aluminum), and more. 
Status LEDs on the front inform you if the power and connection are in order, while most of the ports are located on its rear to keep annoying cables out of the way as much as possible. Ports include HDMI 2.0, UHS-I-SD card reader, five USB-A 3.0 (up to 5Gbps), two Thunderbolt 3 ports (one for the host device), 3.5mm audio jack (headset/microphone), and Gigabit Ethernet. 
The dock supports the attachment of dual 4K displays or a single 5K display through the Thunderbolt 3 port, both at a 60Hz refresh rate. There's also a 1.5-foot (45.72cm) Thunderbolt 3 cable supporting 40Gbps bandwidth.
3. StarTech Dual 4K Monitor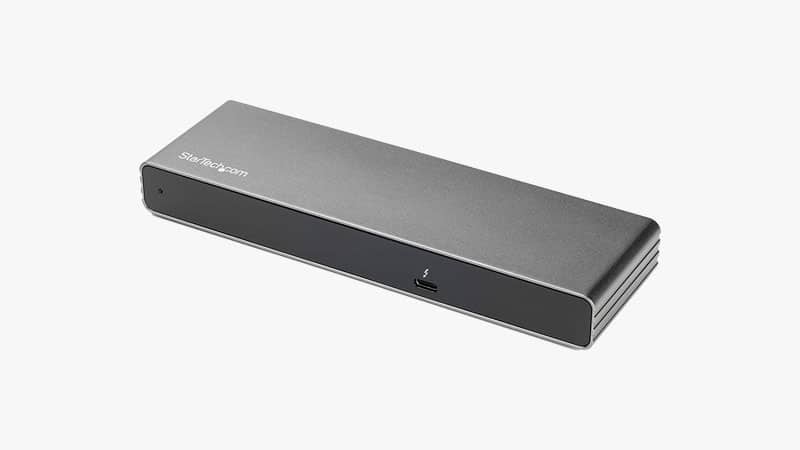 At a glance:
More than enough ports and connectors

Wide choice of models for different needs
The price of StarTech's dual 4K docking station isn't low but is accompanied by a solid set of features plus a three-year warranty. It provides up to 85W of power delivery and offers plenty of other useful advantages. 
Depending on the model, these include up to five USB-A 3.0, one or two USB-C, Direct DisplayPort, one or two 3.5mm audio in and out ports, as well as Gigabit Ethernet with PXE and WoL support. You're also getting one or two Thunderbolt 3 ports and a built-in SD card reader that adds storage usually unavailable with most docks.
One of the products (optimized for laptops) even comes with a K-Slot lock. The company makes it immediately clear that the dock supports dual 4K displays with up to a 60Hz refresh rate, with a Thunderbolt 3 port facilitating 40Gbps of bandwidth through a single cable, up to 27.6 inches (0.7m) in length (most of its models run up to 19.7 inches/0.5m, though).
4. OWC 14-Port

Thunderbolt 3 Dock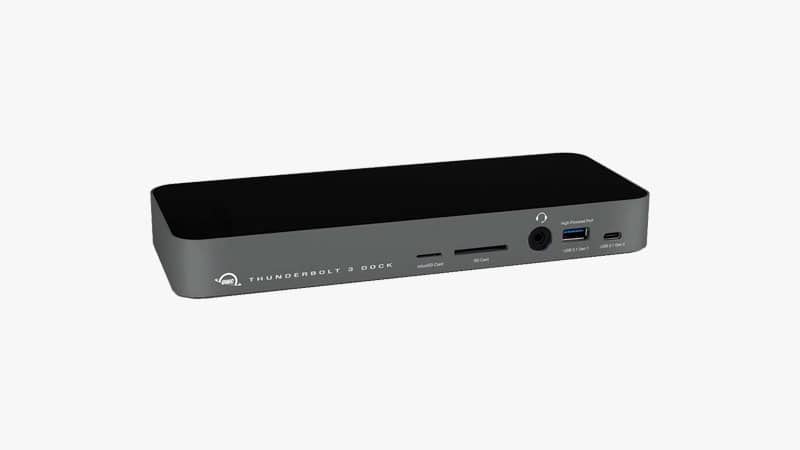 At a glance:
Vast selection of ports

Has microSD reader
Taking pride in its 14 ports (quite a number in this business), OWC's Thunderbolt 3 dock's connectivity list covers front SD and microSD slots, a socket for headphones, speakers, and microphones, Gigabit Ethernet port, and Mini DisplayPort.
Let's not forget two high-powered USB Type-A ports with up to 5Gpbs speed and up to 7.5W power to additional devices (five USB 3.1 Gen 1 in total and one USB 3.1 Gen 2), two Thunderbolt 3 ports, S/PDIF out port, and a 180W power port (20V, 9A). As usual, you'll be able to connect two 4K or a single 5K display.
The docking station itself takes up a lot of desk space and has a bulky external power supply but supports quite a bit of power – 85W charging for the host device, plus the 180W maximum load for the entire dock. The product is covered by a two-year warranty.
Under $300
5. HP Thunderbolt G2 Docking Station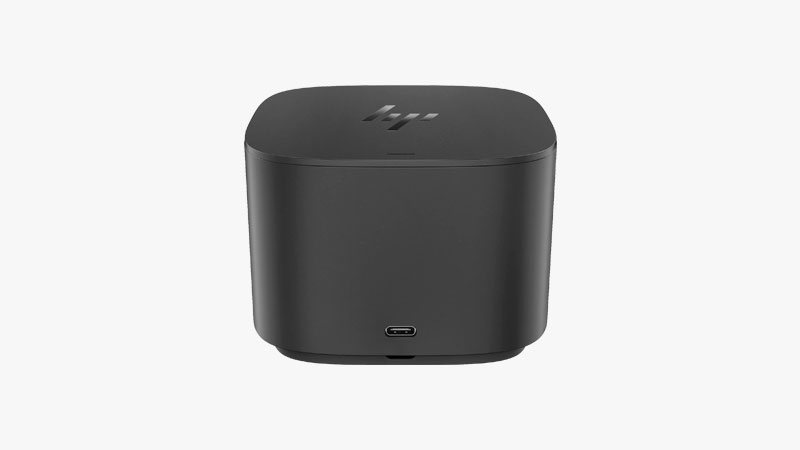 At a glance:
100W of charging power

Budget-friendly
At first glance, HP Thunderbolt G2 looks like a small black rounded cube. However, this unusual design hides awesome power and handy features. 
It provides 100W of charging power delivery, three USB-A 3.0 ports, three USB-C, two DisplayPort connectors, VGA, RJ45 Ethernet, Thunderbolt 3 port, and a 3.5mm audio jack. It also comes with a detachable speaker module, making it ideal for conference calls. 
The two DisplayPort connectors allow you to attach two 4K displays simultaneously at a 60Hz refresh rate, without having to rely on your Thunderbolt 3 port. And that's not all. This attractive docking station will also give you support for PXE boot, Wake-on-LAN (WoL), as well as MAC address passthrough for easy remote management.
6. CalDigit USB-C Pro Dock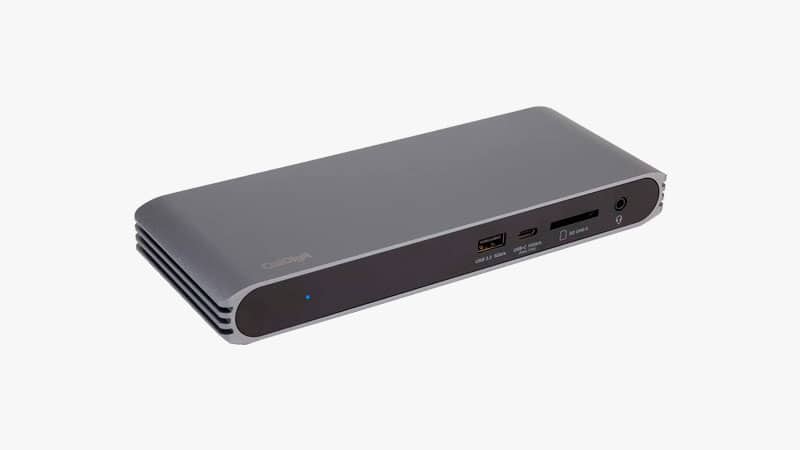 At a glance:
Superior compatibility

Provides a lot of power
A budget-friendlier version of TS3 Plus, CalDigit's USB-C Pro Dock has most of its superior cousin's features, including the 85W charging power and lots of ports. Opting for this product will get you access to three USB-A 3.2, one USB-C 3.2, Ethernet, UHS-II SD card slot, 3.5mm audio, Thunderbolt 3 port, and two DisplayPort 1.2 outputs – a fair amount for its low price.
The main advantage of USB-C Pro is its compatibility. Namely, thanks to its USB-C support, it allows you to connect computers that don't have the Thunderbolt 3 capability. The USB-C port also allows you to connect dual FHD displays or a single 4K monitor with up to 30Hz refresh rate. Furthermore, the Thunderbolt 3 port can handle dual 4K displays at 60Hz.
CalDigit's USB-C Pro Dock is protected by a sturdy aluminium chassis and its host cable is removable. That said, its dimensions are slightly larger than the TS3 Plus but, considering its features and price, it's surely something that can be overlooked.
Under $350
7. Kensington SD5000T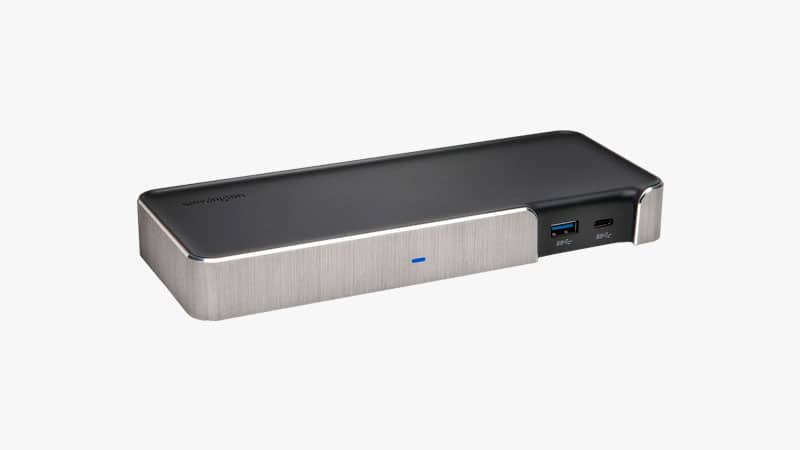 At a glance:
K-Slot protection

Supports VESA mounting
Best suited for MacBook Pro and MacBook Air 2018 with Retina Display, Kensington SD5000T Thunderbolt 3 docking station doesn't have as many ports as some, but it makes up for it with sheer power and superior security. Namely, it provides 85W of power and features a Kensington Lock slot (K-slot) on its back, aimed at protecting the dock from theft.
In terms of connectivity, users get access to two USB-A 3.0 ports, one USB-C with up to 15W of power, Gigabit Ethernet, two Thunderbolt 3 ports, a DisplayPort plug, as well as audio in/out ports. The front USB-A 3.0 features the super fast-charging 2.1A charging port. Thanks to the full-size DisplayPort and Thunderbolt 3 port, the dock supports 4K Ultra HD on two monitors at the same time. 
Users can also separately purchase a VESA mounting plate, allowing them to attach the dock to the back of any VESA-compatible monitor, reducing its footprint mounting to zero. The gadget itself has one of the longest warranty periods in the industry – up to three years after the purchase.
Before purchasing a Thunderbolt 3 Dock, you must look if your laptop supports it. The listed Thunderbolts above are guaranteed to be the best Thunderbolt 3 Docks. The final purchase might come down to your budget or personal preference of the type of ports you need.
Photo Credit: Unsplash