Looking for the best travel tripod?
📷 Love taking photos but hate editing them afterwards? Check out Luminar AI. As the name suggests, it is a Super-Intelligent AI Photo Editor that will seamlessly integrate in your workflow and make taking photos fun again.
Below you will find the perfect travel tripod for YOUR budget and needs. Yes, we promise.
This means that the search is over and your journey can begin, as you will soon find the ideal tripod to accompany you on your trips, no matter your photography needs.
But before you find your new travel buddy, check out the important things to consider while shopping for a travel tripod.
Things to Consider
To the amateur photographer, a tripod is a tripod. To the professional, it's one of the most important tools and not all tripods are made equal. No matter what level of photographer you are, a few key differences will set your travel tripod apart from the pack.
1. Light But Durable
You want something light yet durable. That's probably the most important element in searching for any travel tripod. It can't weigh you down.
If you look out your hotel window and see something amazing going on, you can risk missing the moment because you need to drag the 80-pound tripod out from the bedroom.
With that said, you also need something durable. Oftentimes light also means cheap. It won't do you much good if the tripod is made from plastic and snaps halfway through the trip.
If you're riding a bike and it falls from your backpack, will it survive? If the answer is no, it's probably not a good travel tripod.
Some of the durability factors will depend on what you're going to do. The ruggedness level will change depending on if you're entering a church in Paris or hiking through a national park in Australia. So keep all of that in mind.
2. Your Camera (Weight)
What kind of camera are you using and, probably more importantly, what kind of lenses are you taking? If you're using your digital SLR with the lens that came with it, most travel tripods will work.
However, once you start adding on larger, heavier lenses, you need a tripod capable of holding up the weight without tipping over.
As you already know, the lens itself may be more expensive than the camera, so you need a tripod capable of supporting the weight of your equipment.
Take note of the weight of everything. So if you plan on recording a video and have a microphone, know the weight of your microphone and anything else you have attached to it.
3. Height
How tall does the tripod get? Your desired height is a bit of a personal preference and how you like to take photographs.
This is also where you might want to invest in two travel tripods. There are great tripods designed to give you low angle support while others offer you a higher up option as well.
When looking at height though, consider the physical tripod height, and not the added height you receive when cranking up the central point of the tripod up.
In many tripods, the mounting head attachment can be raised anywhere from a few extra inches to well over a foot by cranking the middle post up.
Yes, this gives you added height, but it puts you at risk of tipping over. It effectively transforms the tripod into a monopod, and if you have a heavy camera, or are on an uneven surface, the chance of it tipping over is higher. Kind of like balancing an apple on your head while walking down the street. Sure, you have great balance, but any sudden gusts of wind may push the apple over. So when considering the height of your tripod, look at the height prior to any mounting point lifts.
4. Price
The price of a quality tripod fluctuates heavily. With the combination of light and durability, it requires very specific building materials.
In some ways, it's easier to construct a heavier tripod for studio use than it is a lighter tripod built to last for travel purposes.
The exact price for a quality travel tripod will vary though. For basic, quality travel tripods, it is possible to pick one up for far less than $100. Yet it's also possible to spend more than $400.
It all comes down to what you intend to do with the tripod, where you plan on going, how rugged you want it to be, and what kind of camera weight you need it to support.
The Best Travel Tripods for 2022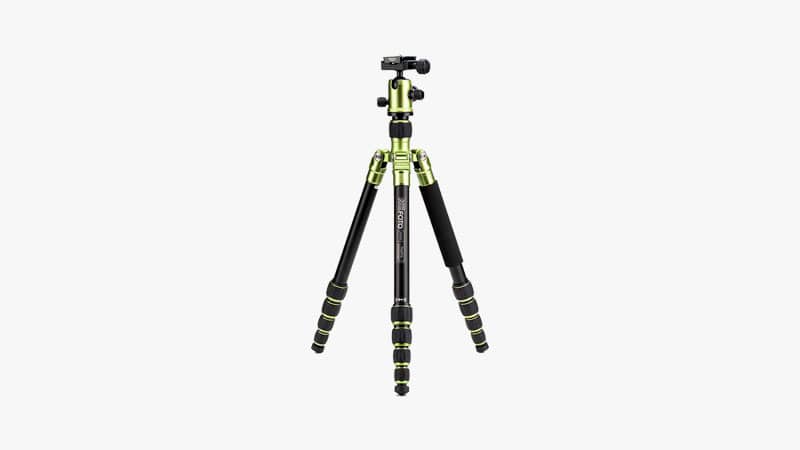 For our editor's pick, we tried to select the best travel tripod that was durable, provided the most features, and offered a desirable spectrum in shooting height.
We picked the MeFOTO Classic Aluminum Roadtrip Travel Tripod/Monopod Kit as it is a durable body, designed to last while out on the road.
Check Price on Amazon Directly Add to Cart on Amazon
---
Best Travel Tripod Under $25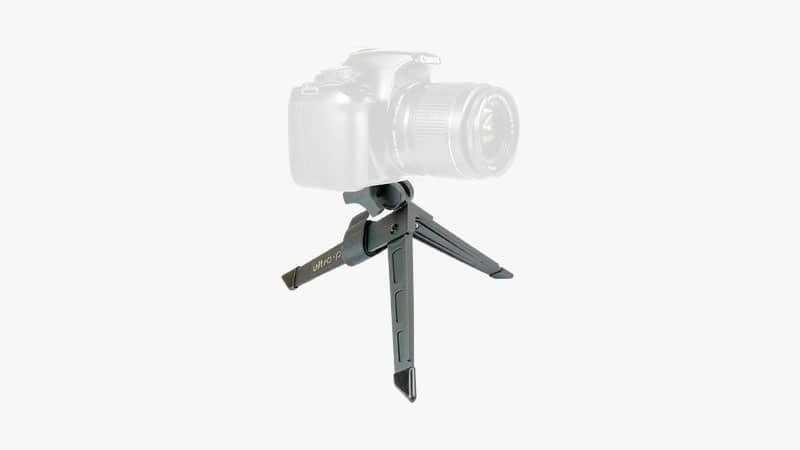 For any travel photographer, it's a good idea to invest in two tripods: a small, lightweight tripod and a regular sized one. The regular sized tripod isn't able to provide balance for those lower-level shots, which is why the PEDCO UltraPod II Lightweight Camera is designed specifically for those close to the ground pictures.
The fold-out legs are easy to adjust and the vinyl footing helps prevent the camera from slipping. There is also a Velcro cinch strap that can help secure the tripod to posts. The camera itself boasts the ability to support any DSLR or 35mm SLR camera with larger lenses.
When used on the ground that's likely, although you probably should shy away from heavier lens mounts while using the Velcro cinch strap. In these instances, it's better to use the larger sized tripod. The "maximum safe load" is six pounds. If you're doing any kind of elevated photography with this tripod, we'd keep the load substantially less than that.
The tripod boasts of a "unique ball and socket camera mount." The word "unique" is not generally desirable when it comes to camera mounts. This generally means it's odd, hard to use or difficult to find replacement parts (of course, at this price it's cheaper to just buy a new tripod).
Just make sure to test out the mount before you're out in the field. This way you know how to set the tripod up before that once-in-a-lifetime photographic moment takes place and the "unique" mount prevents you from getting everything set up in time. It is one of the lighter tripods out there though at just four ounces.
It's easy to slip into a backpack and forget about it until you're somewhere, you know you want a low-angle shot and remember you have the perfect tripod packed away for it.
Features:
Non-Slip vinyl feet fit
Removable D-ring VELCRO cinch strap
Ball and Socket Camera Mount
6-pound maximum safe load
Check Price on Amazon Directly Add to Cart on Amazon
---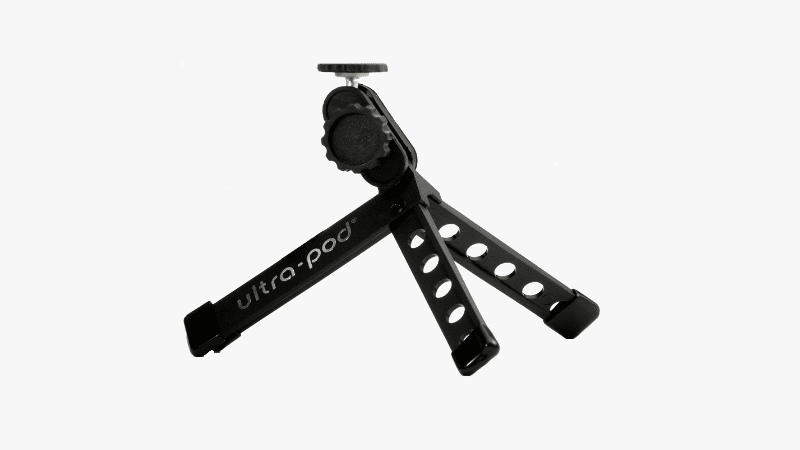 Portable. Affordable. Flexible. These are the three major characteristics of the Pedco UltraPod lightweight travel tripod. It is a super convenient travel tripod that can fit into just about any camera bag.
At 4 inches and weighing only 0.09 pounds, this camera tripod can follow you virtually anywhere and you wouldn't even know it's in your luggage. This travel tripod is made of an aluminum body and vinyl feet that enable it to hold up to 3 pounds. It is suitable for small optical devices like digital cameras and mobile phones.
This tripod also has a durable 12-inch Velcro strap – a unique feature that gives it the flexibility to function in different scenarios. You can wrap the strap around your bicycle/motorcycle handles, car mirrors, tree branches, and anything else your creativity allows. With the Pedco UltraPod, there'll be no such thing as a "tough-to-capture" subject in your vocabulary.
At the top of the travel tripod is a ball and joint for steady camera mounting. The tripod head also pivots smoothly so you can firmly attach your device and change angles as you like. It functions well on tabletops, smooth surfaces and shaky surfaces too, thanks to that Velcro strap.
Note that this lightweight travel tripod will not work with a large DSLR camera. Anything above its capacity will put both the camera and the tripod at risk. As long as you don't test its limits, you'll be using this travel tripod for a long time.
For a vlogger or a photographer that goes backpacking for inspiration and original shots, this travel tripod will be a handy asset to your gear.
If you're looking for the most portable, high quality, and well-designed tabletop tripod out there, congratulations! You just found it. This mini tripod is an essential piece of camera gear that everyone can afford to own.
Features:
Fold-out leg sections with non-slip vinyl feet
Removable Velcro strap for attachment
Built-in ball head
Fiberglass nylon with aluminum components
Tripod weight of 0.09 pounds
Check Price on Amazon Directly Add to Cart on Amazon
---
Best Travel Tripod Under $50

Are you just starting out in photography? Or trying to create a fun video with your smartphone and need something to hold it steady? The Amazon Basics 60-inch lightweight travel tripod can, and will, help you achieve the perfect shot.
The Amazon Basics tripod, despite its name, is anything but basic. It is a flexible, lightweight tripod, weighing only 3 pounds. It is highly compatible with digital cameras, video cameras, still cameras, and smartphones. This is a folded length travel tripod with a minimum height of 25 inches and a maximum height of 60 inches when extended. It is also easy to set up, and all of this makes it convenient for the road. There's a fine elevation adjustment with a smooth gear system that enables it to extend up to chin level.
Amazon Basics camera tripod allows camera movement in different directions and at different angles. There are two bubble levels which help to confirm the accuracy of your setup and a quick release plate to tighten down your device before you take some shots.
It is a very sturdy tripod with a lot of screws to loosen and tighten your camera setup as you move around and adjust for better shots. You can use this lightweight travel tripod to shoot videos in your home office or studio and it can also go out with you for hikes or on longer trips. The tripod leg extensions pull out nicely and have feet that keep it steady, even on slippery surfaces. There's also a hook at the bottom where you can hang your camera bag for added support and stability.
Now, the Amazon Basics might not serve the needs of a professional, but it's one of the best lightweight travel tripods for beginners, especially at such an affordable rate. It is a decent choice for an additional/supporting travel tripod that you use for short outdoor photo and video shoots instead of a heavier product.
Features:
Aluminum tripod frame with some plastic parts
Handle for easy maneuverability
Adjustable legs and rubber feet
Quick-release mounting plates
Tripod weight of 3 pounds
Maximum load weight of 6 pounds
Carrying case with shoulder strap
Check Price on Amazon Directly Add to Cart on Amazon
---

At only 2.9 pounds, the JOILCAN travel tripod can hold a lot of weight, including your DSLR camera. It has a reliable locking system that supports your camera throughout the shoot without wobbling. Rotation in this travel tripod is enabled, so it can move in multiple directions and you'll have the opportunity to take unique shots of your subject.
Its standout feature is its extended height – up to 74 inches, which is well above 6 feet. Considering how adjustable the travel tripod is, you'll have a smooth release for higher level shooting angles. It is a lightweight product that is easy to strap to camera bags, easy to set up, suitable for outdoor shooting, and will not wear you out no matter how long you carry it around. There's one bubble level that helps ensure that your camera is in a straight position, so your images don't come out looking off.
This travel tripod supports phones, cameras, camcorders, and tablets. It comes with a carrying bag that makes it easier to move around. You can use it for personal and professional shots, and still produce high-quality images.
At this price, it does a good job of supporting cameras. It is very stable, durable, and highly adjustable.
Features:
ABS resin, aluminum legs, and rubber feet
Carrying bag with shoulder strap
4 leg sections with locking clips
Weighs only 2.9 pounds with a maximum load capacity of 13 pounds
Quick release plate with high compatibility
Maximum height of 74.8 inches
Minimum height of 21.5 inches
Check Price on Amazon Directly Add to Cart on Amazon
---
Best Travel Tripod Under $100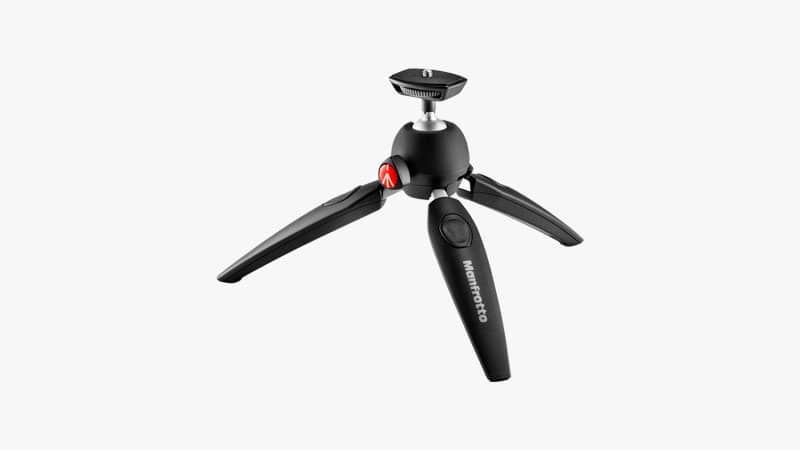 The Manfrotto Pixi Evo 2 offers a sleek look that folds up conveniently and will fit into any camera bag. It has adjustable legs and the swivel head on top allows for adjustable angles.
With cameras featuring adjustable heads, it's generally a good idea to not put too much weight on the head for extended periods of time. This, eventually, will wear down the locking mechanism within the tripod, which can prevent it from remaining locked in place later down the road. The price is a bit high for a mini tripod, but it uses quality materials and is substantially more durable than most other mini tripods, so the extra money goes into a quality build.
The head is able to support up to 5.5 pounds, which is suitable for most entry-level digital SLR cameras. It isn't able to hold up the larger cameras with heavier lenses, but for most general equipment it's a solid design and a handy tripod to take with you wherever you go.
Features:
Aluminum construction
Fixed built-in ball head
Tilts up to 90 degrees
Adjustable legs
Supports equipment up to 5.5 pounds
Check Price on Amazon Directly Add to Cart on Amazon
---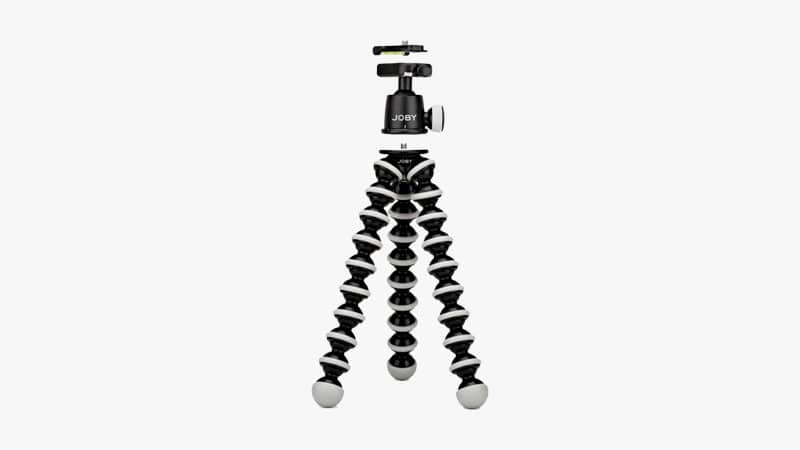 The Joby Gorillapod has become a standard Youtuber/vlogger go-to travel tripod used by the likes of stars like Case Neistat and Lost LeBlanc. This flexible tripod design has become increasingly popular in recent years thanks to its ability to not only provide a stable base but to wrap around anything from signs to tree branches.
These kinds of tripods provide you with a world of placement potential. However, it's important to heavily research these kinds of tripods – even more so than regular tripods. The last thing you want is to hang your camera upside down on a branch and have the tripod give way.
The Joby GorillaPod SLR Zoom is an excellent tripod for the price and design. The flexible joints make it easy to move and adjust to nearly any size or shape. If you're interested in capturing visuals with interesting perspectives, this is the kind of travel tripod for you.
The beauty of travelling is that you don't know exactly what you'll experience. This tripod is designed to accommodate these kinds of situations. It's constructed with Japanese medical-grade ABS plastic, German TPE, and stainless steel.
This particular model weighs in at just 0.42 pounds and is able to support camera equipment up to 6.6 pounds. It uses a 1/4 inch-20 standard tripod mount and comes with a 3/8 inch adapter as well. At a support weight of 6.6 pounds, the tripod is able to support a digital SLR, zoom lens and external flash at the same time.
Features:
42-pound tripod weight
Standard tripod mount plus 3/8″ adapter
Stainless steel, TPE, and ABS plastic construction
Hold equipment up to 6.6 pounds
Total of 24 leg joints for optimal placement and secure grip
360-degree panning
Check Price on Amazon Directly Add to Cart on Amazon
---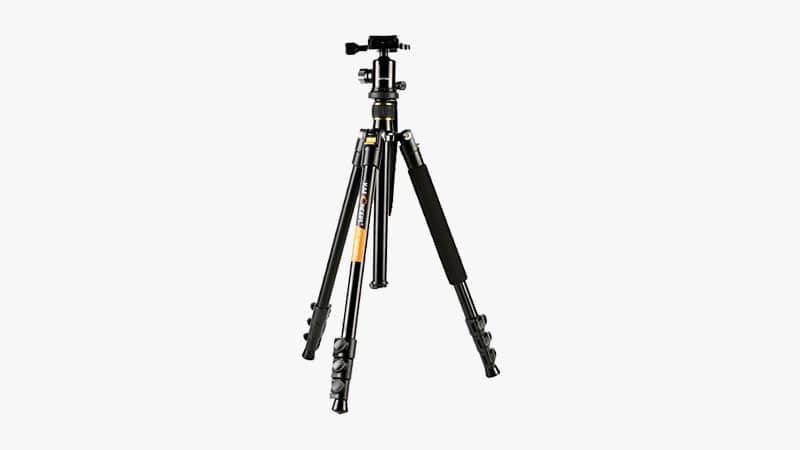 This is the first "full-size" tripod design on the list. Constructed with a lightweight aluminum body, it is easy to carry without feeling cheap or flimsy.
The K&F offers a 360-degree panorama ball head and quick release plate, which is great for when you want to quickly remove your camera from the tripod without dealing with screws or just lugging the entire tripod around. The weight of the tripod itself is 2.99 pounds. When fully compressed, the tripod measures 18.1 inches.
Depending on the kind of backpack setup you have for travel, this may be small enough to fit. If not, it's easily attached to the side of your camera (even with the aluminum body, we recommend having it secured in a tripod case to prevent any unnecessary scratches or damage to connecting screws).
The tripod provides up to 52.4 inches in height (prior to using the elevated monopod). With the central monopod fully engaged, the total shooting height is 62 inches. The minimum height for shooting is 16 inches. Each leg is controlled individually and there are no locking pads or plates that connect the legs to each other.
Each leg height is controlled using three locking levers, which are constructed of plastic. These plastic locks are generally the weakest link of most travel tripods. While still a solid material, it's important to protect these locking points when not in use (which is why using the provided tripod bag, when unable to fit into a backpack, is recommended).
The camera can hold up to 22.04 pounds. However, if you're intending on using a telephoto lens, the manufacturing company does recommend investing in an added tripod mount ring. This is sound advice when using a telephoto lens on any tripod, let alone this design.
Features:
Aluminum body design
Shooting heights of 16 to 61 inches
Supports camera equipment of up to 22.04 pounds
Levelling bubble
Quick release plate
360-degree panoramic
Included carrying bag
Stretchable hook to hang counterbalance weights near the base of the tripod, allowing for greater support when fully extended.
Check Price on Amazon Directly Add to Cart on Amazon
---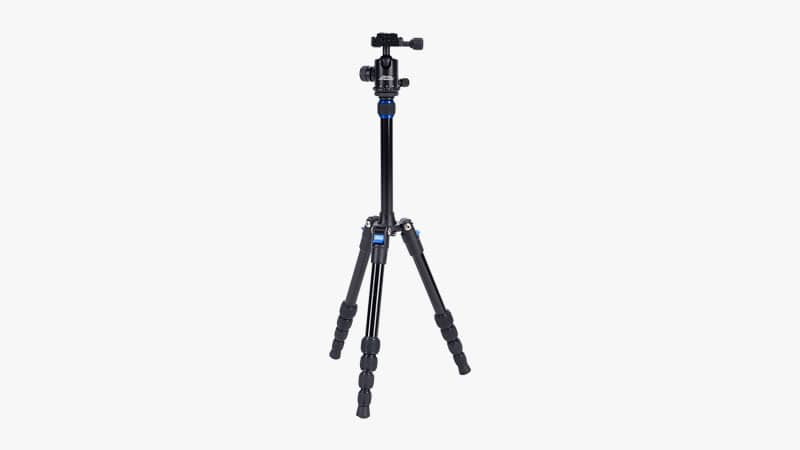 This full tripod weighs in at 2.6 pounds, which is a fantastic weight for a travel tripod. When comparing tripods, this particular design will go up against the K&F design. The K&F tripod does cost a little over $50, but there are some features making it the realistic choice of this camera price category.
The Davis & Sanford tripod does provide five individual sections within the legs, so it offers additional adjustment features. It also allows for a supported height of as low as 12 inches. The maximum height for this tripod is 53 inches. However, much of this comes with an elevated central monopod design.
The dual-head design makes it easier to adjust the camera placement. It uses an Acra-Swiss compatible release plate, so you can easily mount and remove your camera when necessary. The tripod itself folds down into a compact height of 12.5 inches, which is excellent when fitting into a backpack.
Most packs, even when not specifically designed for camera gear, will fit this tripod. This is one of the major selling points for this particular design. It is small, light, easy to travel with, and does provide you with adequate shooting height. The maximum load capacity for this tripod is 10 pounds, which is substantially less than the 22 pounds of the K&F design.
When the legs are fully extended it can look flimsy. It also doesn't have a control handle for panning. If you like taking multi-shot exposures and need a camera capable of a smooth pivot, this isn't the tripod for you. However, if you want a basic tripod that will hold your DSLR and standard lens, it's a fine tripod for the price.
Features:
Included carrying case
Weighs in at just over 2 pounds
Folds down to 12.5 inches
Maximum load weight is 10 pounds
Mounting height between 12 and 53 inches
5 section legs for greater adjustability
Check Price on Amazon Directly Add to Cart on Amazon
---
Best Travel Tripod Under $150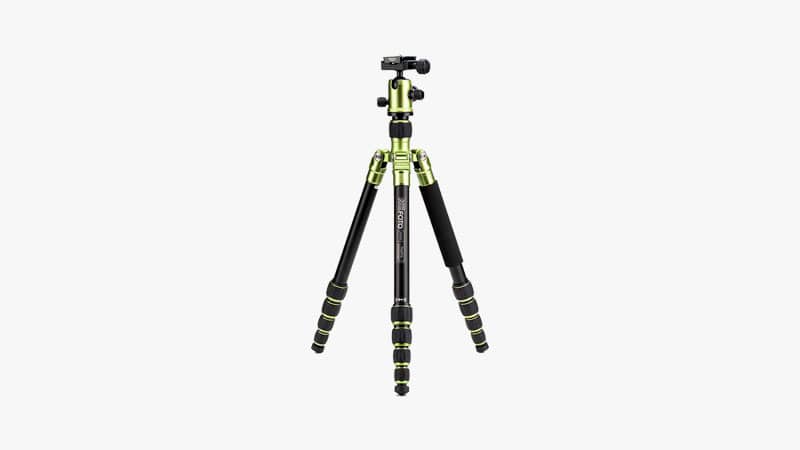 This tripod is directly marketing toward the avid traveller and road tripper who needs a compact, heavy-duty device. So at least it knows its demographic. It's always a plus when a company makes equipment specifically for your needs.
This particular model comes in two different material styles. There is this offering, which is an aluminum body, and then there is a carbon fiber design. If you want a tripod that's light and nearly indestructible, go with carbon fiber (it's also twice the price though, so keep that in mind).
The MeFOTO Classic comes in over a dozen colors, so if you're tired of the standard gray or black look, there are color options (which also makes it easier to spot if you're in a tourist spot and a number of tripods are scattered around your shooting location).
The tripod uses a 360-degree panning head. With the built-in graduated panning scale, it is easier to stay steady while rotating. Legs on this tripod can be snapped into place at two different angles. This gives you finer control over where you're setting up, which is a plus when shooting on uneven surfaces, such as in the woods.
At the bottom of the center column, there is a spring loaded recessed hook. This way, it stays out of the way when unnecessary, yet when you need counter-weight near the base of the tripod (such as when fully engaging the monopod) the hook springs out.
This travel tripod is able to hold a max load of 17.6 pounds, which is good for just about anything you might travel with. It has a maximum height, with the legs extended, of 61.6 inches. If you pull out the monopod and use on its own it has a maximum height of 64 inches. The folding height and minimum photo height are both 15.4 inches.
Features:
Tripod weight of 4.6 pounds
Minimum height of 15.4 inches with maximum tripod shooting height of 61.6 inches
Aluminum body construction
Spring-loaded central column hook
Bubble level
Acra-Swiss style quick release
Carrying case
8 available colors
Max load of 17.6 pounds
Check Price on Amazon Directly Add to Cart on Amazon
---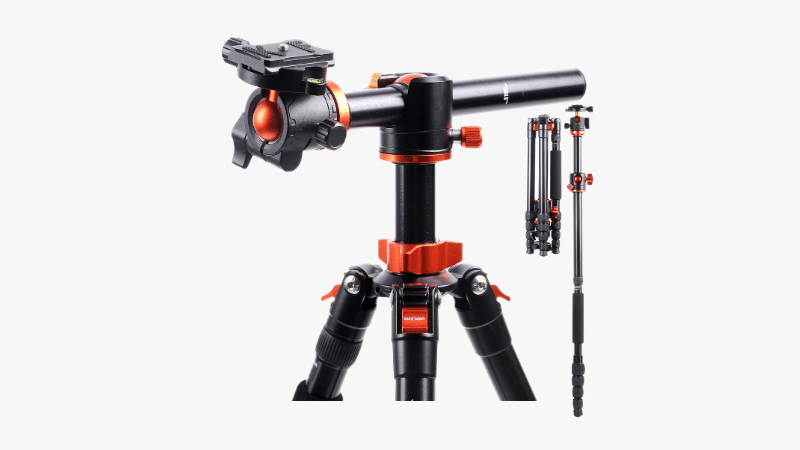 Budding photographers, this one's mostly for you. It has a folded length of 16.9 inches and a tripod weight of 3.9 pounds. The K&F Concept travel tripod offers 360-degree rotation of the central axis which gives you enough flexibility to take shots from low and high angles.
The tripod ball head, which also has a 360-degree rotation, improves the activity range of your camera. This means that if you're exploring macro photography or other special kinds of photography, this travel tripod will give you a memorable experience.
The travel tripod can get as tall as 67 inches. You can detach this travel tripod from the leg sections and convert it into a monopod. This is especially handy for high and low angle tilt shooting, as well as overhead shots. It is also perfect for capturing images of subjects in motion.
K&F TM2515T1 is easy to carry around, thanks to its lightweight and the comfortable included carrying bag. It is flexible, versatile, and remarkably strong and sturdy.
If you're a nature or street photographer, or you're into portrait shoots, you'll be getting a pretty good deal with this travel tripod. It is convenient for hiking and adventures, and the flexibility on the tripod will keep you satisfied throughout your shoots.
Features:
Aluminum alloy
Adjustable height to 67″
360-degree rotation of the central column and metal ball head
Detachable monopod
5 sections leg
Maximum load capacity of 22 pounds
Weighs 3.9 pounds
Minimum height of 16.9 inches
Maximum height of 67 inches
Check Price on Amazon Directly Add to Cart on Amazon
---

The SIRUI Classic travel tripod is an easy to adjust and easy to use travel tripod. It has column legs with twist locks that enable you to adjust the height from 14 inches to 55 inches. The center column on the tripod head can be reversed for low angle and ground-level shooting.
It weighs less than 4 pounds, making it a lightweight travel tripod suitable for outdoor shooting. Whether you're travelling long distances or taking a hike, it'll fit easily into your camera bag, backpack or carry-on, without feeling like extra load. It has stabilizing hooks and foam rubber handles for balance and easy handling.
The powerful ball head, quick release plate, and ability to be used as a monopod gives it a high level of flexibility that any professional photographer would love. You can also choose to move around with only the monopod, meaning less load and more flexibility. Not to worry, once detached, the monopod has a hand strap for easy movement.
The travel tripod features highly extendable legs in height and width. This accounts for its ability to carry as much as 17 pounds of camera load without faltering. It is perfect for camcorders, still cameras, and mirrorless cameras.
If you're looking for a compact and inclusive travel tripod, this SIRUI Classic travel tripod will do it for you. It is of very high quality, has a solid build, and would be totally worth the money.
Features:
Weighs 3.26 pounds
5 section legs
Made of lightweight aluminum material
Ball head tripod
Maximum load capacity of 17 pounds
Convertible to a monopod
Interchangeable mounting screw
Minimum height of 14 inches
Maximum height of 55.1 inches
Check Price on Amazon Directly Add to Cart on Amazon
---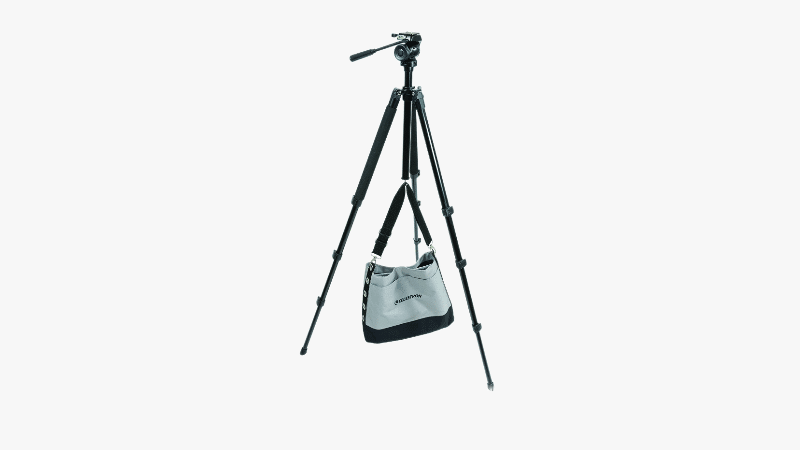 This is one of the best lightweight travel tripods for anyone into astronomical photography. This lightweight travel tripod is compatible with binoculars, telescopes, and digital cameras. It is a sturdy tripod that can be adjusted from 18.9 inches to 70.5 inches for convenience. No matter your height, you'll still enjoy planetary spotting and other stargazing activities with this travel tripod.
It features a fluid pan head with quick release plate, 4 section legs that can be set to different angles for flexibility and unique shots, and a retractable hook for more balanced anchoring, if necessary. This travel tripod kit contains a case with shoulder straps for comfortable carrying.
Celestron 82050 is a stable yet lightweight travel tripod that is easy to set up and operate. The adjustment knobs require minimal twisting and have a firm grip on your device. As much as your observation needs are likely to change, you can easily adjust the height of the travel tripod and the direction of your scope or binoculars accordingly. This travel tripod will function well on both smooth and bumpy surfaces, thanks to the sturdy legs and feet.
It is an excellent tripod with only one downside – it might not support some binoculars and scopes because of its load capacity of 9 pounds. Apart from this slight drawback, it is a well-made, lightweight travel tripod with controls that respond accurately.
This travel tripod is a winner on so many levels. If it falls within your budget, don't hesitate to add it to your gear.
Features:
Aluminum tripod
Weighs 3.94 pounds
Load capacity up to 9 pounds
Minimum height of 18.9 inches
Maximum height of 70.5 inches
Check Price on Amazon Directly Add to Cart on Amazon
---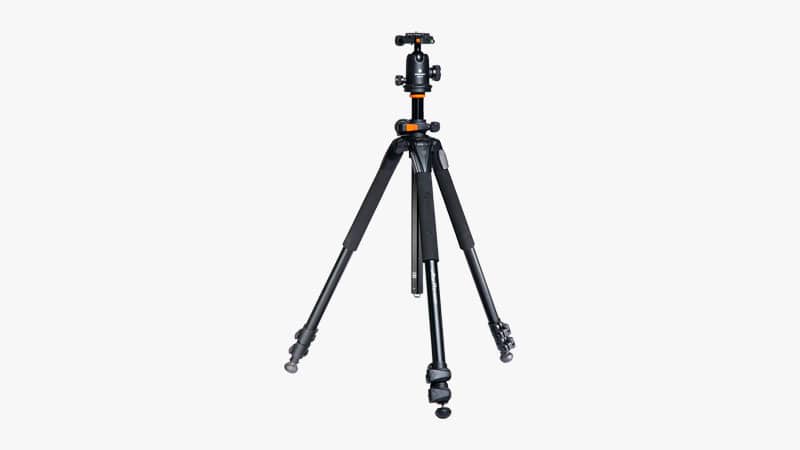 The key feature of the Vanguard Alta Pro tripod kit is the ability for the legs to adjust not just in height but in angle. The aluminum alloy legs can be adjusted to 25, 50 and 80 degrees, which allows for even greater angle options.
It is a bit heavier than the previous tripods on the list, tipping the scale at 5.38 pounds. It also folds down to 28.125 inches. This is, by all means, closer to a "full-size" tripod than most other options. If you're interested in a compact, fit in your backpack tripod, this is not it.
However, for its size, it's still light and the adjustable leg angles make it a desirable option. It uses a quick shoe QS-39 and anti-shock ring, so if you're in an area that might shake (such as near traffic or a train), this helps keep your camera steady. There is also a counter-weight hook at the base, which helps secure up to 15.4 pounds on the mount.
This tripod is a bit of a transformer. The main center column can be removed and used as a horizontal brace. This way, you can have a macro height of 10 3/8 inches. This is something you're not going to find on other tripods. So, if you're able to pack a slightly larger tripod, the features on this tripod are exceptional.
Features:
10 3/8-inch macro height and 68 1/8-inch max extended height
Max load of 15.4 pounds
Weighs 5.38 pounds
Bubble level
Aluminum alloy construction (carbon fiber option available for a higher price tag)
Counterweight hook
Check Price on Amazon Directly Add to Cart on Amazon
---
Best Travel Tripod Under $250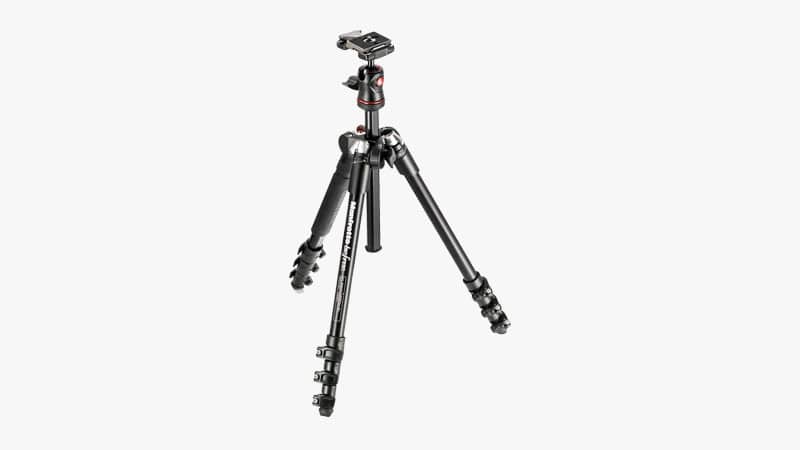 Here is another tripod designed specifically for travel. The aluminum body helps keep it light at just 3.1 pounds. It folds down to 15.7 inches, which is a few inches larger than some of the other "full-size" travel tripods on the list, but still small enough to prevent it from becoming too bulky.
The tripod can support up to 8.8 pounds and features a quick-release head. Each leg is fully adjustable with three head snaps.
However, it doesn't have any stabilizing features for capturing panoramic stills or video. So, if you're looking for a tripod to aid you with this, the MeFOTO Classic is the better option.
Features:
3.1-pound design and 15.7-inch body make it light and easy to travel with
Max weight up to 8.8 pounds
Max mount height is 56 inches with minimum mount height of 13.4 inches
Bubble level
Check Price on Amazon Directly Add to Cart on Amazon
---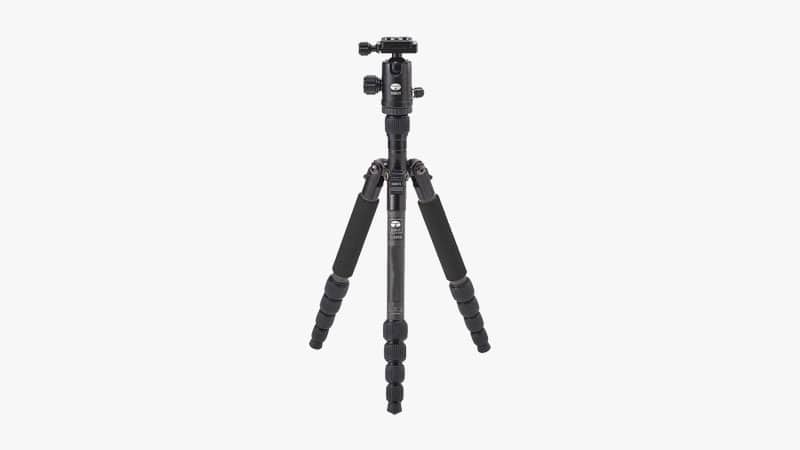 If you're going to be moving around in rugged locations and want to make sure you have a tripod that can withstand just about anything, the Sirui is the tripod for you. It may not have all the bells and whistles of our other options, but it's designed to last.
First, it uses a carbon fiber body. In terms of lightweight and durability, you're not going to get anything better. It also ditches the plastic head snaps on the legs and uses metal locking rings. These last longer and are less likely to break. The last thing you want to deal with on the road is a plastic head that breaks off. While these can be replaced, the tripod becomes useless without all plastic heads. Due to this, anything using metal locking rings is worth the investment. It also weighs only 1.94 pounds.
The minimum capture height is 4.1 inches and the maximum is 45.5 inches. It also has a folded item height of 13.39 inches, so you really can fit it just about anywhere. The maximum height isn't all that impressive – at less than four feet max, this isn't the tripod for you if you're a taller individual and would rather avoid bending over to take a picture.
However, with a macro height of 4.1 inches, it is impressive. Plus, the fold height makes it possible to put it anywhere (even into some purses). So, while not the tallest tripods, it is one of the most compact.
Features:
Carbon fiber construction
Metal tightening rings instead of plastic snaps
1.94-pound weight and 13.39-inch height
4.1-inch macro height and 45.5-inch max height
Check Price on Amazon Directly Add to Cart on Amazon
---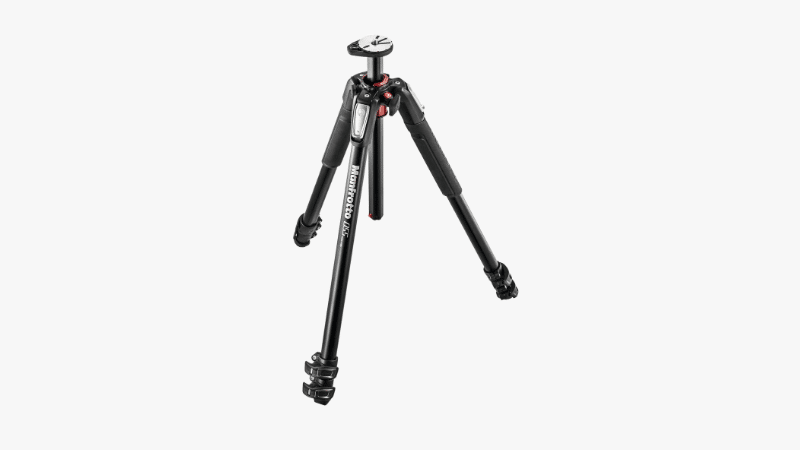 This Manfrotto aluminum tripod is a little bit on the heavier side compared to others. It weighs over 5 pounds, which might be too much for backpacking or hiking shots. But if you own a car, a motorcycle, or have plans to only walk a short distance, then this will serve you perfectly.
Manfrotto 055 has a powerful locking system which translates to stability and rigidity. The adjustable height makes it versatile and suitable for taking multiple shots at different levels. The bubble level feature serves for higher precision and easily solves the problem of blurry images.
With this travel tripod, you'll be getting an opportunity to own your own portable mobile photo studio. It has an easy link connector feature that enables you to attach a few accessories like an LED light or a reflector – an undeniable ticket to unlimited creativity for professionals. Just imagine what you can create with a few tweaks to the lighting around you.
This travel tripod is impressive, to say the least. The quick power lock feature means you can easily extend the folded tripod legs whenever you need. The central column of the tripod head can be extended in any direction and placed at any angle you desire.
If your gear contains heavy cameras and lenses, you have nothing to worry about with Manfrotto 055. It is rugged, solid, and sturdy enough to handle your equipment, and is easily one of the best travel tripods that fit into the heavy-duty category.
As a professional photographer or videographer, you'll be getting the results that you paid for: creativity, stability and optimum quality. As long as you're not going hiking on a mountain, this will be the best tripod to spend your money on. Your heavy-duty gear will be in safe legs.
Features:
Ergonomic design with aluminum material
Weighs 5.5 pounds
Load capacity up to 19.8 pounds
3 section legs with thick rubber grip
Maximum height of 66.9 inches
Minimum height of 3.54 inches
Check Price on Amazon Directly Add to Cart on Amazon
---
Best Travel Tripod Under $300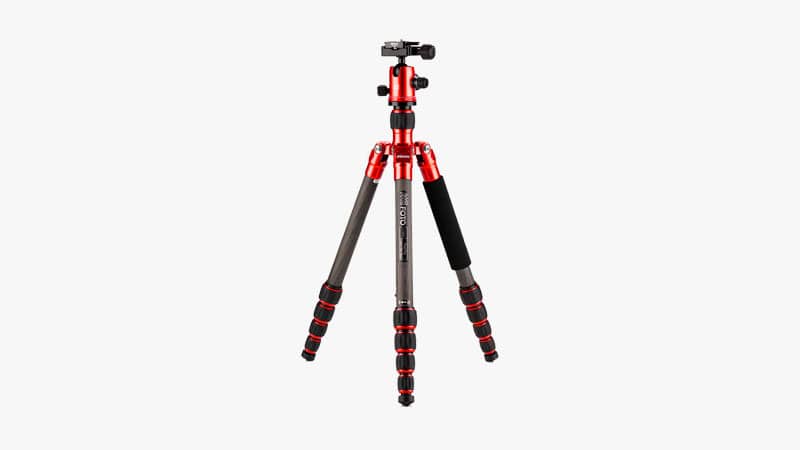 This is the carbon fiber version (as mentioned earlier) of the MeFOTO aluminum variation. It offers all of the same features as the MeFOTO aluminum model, only it is made from carbon fiber. It also weighs less at 3.1, which shaves 1.5 pounds off of the product. It is slightly smaller with a folding height of 15.4 inches instead of 16.1.
However, other than these two differences, the product itself offers the same design benefits. The spring-loaded central column hook is a handy feature, allowing you to attach counter-balance weight to the tripod in order to improve stability. While travelling, this may simply be your camera backpack. Whatever you use it for, the hook is an often overlooked yet extremely beneficial tool to have included.
The max load weight of over 17 pounds is another highlight as it's one of the highest on the list. The combination of lightweight carbon fiber and the hefty 17-pound max hold weight allows you to put just about any camera configuration onto the tripod.
The max tripod shooting height of 61.6 inches is especially impressive. When you want a high angle shot this is optimal as it is over 5 feet tall. This is also a nice feature to have if you are taller and are tired of bending over in order to look through cameras placed on shorter tripods. The last thing you want when travelling is to deal with a sore back from leaning over short tripods.
Features:
Minimum height of 15.4 inches with maximum tripod shooting height of 61.6 inches
Spring-loaded central column hook
Bubble level
Acra-Swiss style quick release
Carrying case
8 available colors
Max load of 17.6 pounds
Check Price on Amazon Directly Add to Cart on Amazon
---
Best Travel Tripod Under $400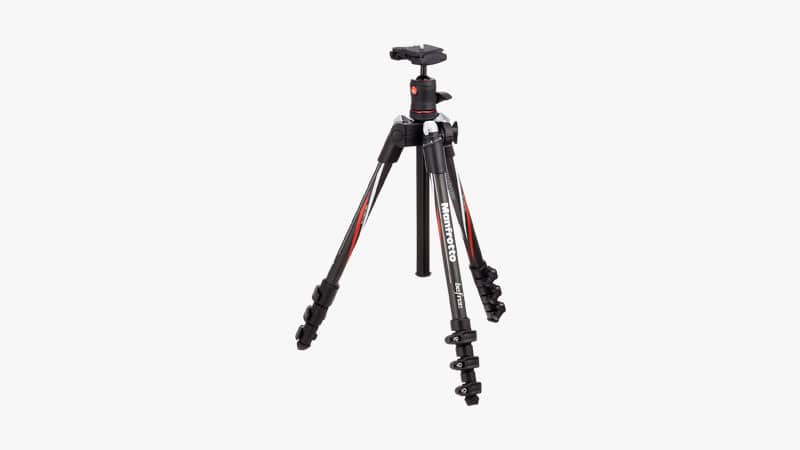 The carbon fiber Manfrotto tripod comes with a sporty black and red design. It has three locking joints for each leg, although each uses a plastic face instead of a secure metal screw. The load capacity is also down from two of the previous designs at 8.8 pounds. While enough to hold any DSLR, it's not going to support heftier camera rigs.
So, if you add larger lenses, microphones and other gear, you'll likely want to look for a different tripod that supports more weight. This is a durable, quality tripod, but there are other options available with better features and lower price points. It does have a quick release head, so you can move from tripod to handheld easily.
Most of the price for this tripod goes into the carbon fiber material. This helps keep it lightweight so it'll never weigh you down. The overall design of the tripod is esthetically pleasing. While most tripods are built for function, this tripod does have more of a desirable physical appearance.
If you would like to do shoots in style, this is the tripod you should consider.
Features:
8.8-pound load capacity
Maximum height of 56.7 inches
Quick release heads
Carbon fiber build material
Sporty design
Check Price on Amazon Directly Add to Cart on Amazon
---
Conclusion
When it comes to selecting the right travel tripod, much of it comes down to your personal preference, what you're looking to do and how much you're interested in spending. Each of these different tripods offers solid features and would perform well out on the road with you.
After going through each product, features, price and durability, in our opinion the top travel tripod is the MeFOTO Classic Aluminum Roadtrip Travel Tripod/Monopod Kit. This tripod offers a bevy of features, is built to last, small enough to fit into most backpacks, and will stand the test of time.
It also has features more expensive tripods are unable to match. Whichever tripod on this list, you can't go wrong with any. Which travel tripod did you buy? We'd love to hear from you and your personal experiences using it in the field!
---
Frequently asked questions
What is a monopod?
Monopods use a single pole (as opposed to three poles like a tripod) to support precision instruments like cameras, telescopes, and binoculars.
What is the best tripod for beginners?
We recommend the Amazon Basics 60-inch lightweight tripod for any beginner travellers trying to capture every moment. It is an inexpensive, lightweight, and extendable tripod that functions well on difficult terrains and will support most entry-level shooting devices.
How do you travel with a tripod?
A number of tripods on our list come with an included carrying case for easy transport, but many travel tripods can simply slip into your backpack. There's also no need to be worried if you're travelling by plane, as most airlines will even allow you to keep a tripod in your carry-on luggage, provided that t doesn't have any sharp edges.
Is a travel tripod worth it?
While we would suggest a regular tripod in your arsenal, we can ensure that you will capture some truly unique experiences thanks to a travel tripod. Having an easy to move tripod on hand will motivate any passionate photographer to push the limits of their craft.
Disclosure: The product recommendations are not sponsored and are chosen by our editorial staff. We may earn an affiliate commission when you purchase an item through our links.
Photo Credit: Unsplash