A webcam is often considered to be a nice-to-have add-on, a useful piece of tech that allows you to talk to family, friends, and loved ones hundreds or thousands of miles away. What many people don't realize is that webcams have a very potent practical application in the workplace these days.
As work from home is becoming a norm, individuals need to invest in high-quality home office setup products like webcams for professional use, be it client meetings or company Zoom calls.
Furthermore, with the rise of infopreneurs who launch their own courses, it has become imminent to pair the best in class webcams with best webinar platforms to deliver the best experience to the viewers.
However, before you take a plunge below are some things you should consider before buying the right web or conference cam that suits your requirements.
Things to Consider
It's all well and good to ruminate on the importance of buying a quality webcam, but if you're reading this guide you're probably already looking for help anyway. Below are five things to remember when shopping for a webcam. Not all items on this list will apply to everyone, but most of them are universal.
1. Recording Quality
Recording quality is hands-down the most important thing to look for in a webcam. If you're rocking an old webcam with 480p, it's time to throw it in the trash and invest in HD. There's no guarantee your viewer's internet connections will be good enough to watch your streams in high-definition, but that's no reason not to give it your best. Besides, we recommend getting WiFi mesh network system for fast internet anyway.
2. Recording vs. Streaming
There is a very fine line between recording a file to be uploaded later and streaming video chats in real-time. Just because a camera can record in 1080p, that doesn't mean it can stream at that resolution. Whether you live stream on twitch or video chat with Japanese clients, this is an important distinction to remember.
3. Microphone Quality
This is another important quality for any user. That said, vloggers and streamers may have more control over their environment than someone at the office. If you work in an office that frequently sees a lot of background noise, make sure your microphone has good noise reduction technology built-in.
4. Zoom Quality
Whether intentionally or accidentally, zooming in can have a major effect on the quality of your video footage, webinar or conference call. If you do expect to zoom in a lot, it helps to have a camera with a good auto-focus to keep things from getting too blurry.
5. Field of View
Whether your YouTube audience appreciates panoramic footage or you need to capture multiple people in a single frame for a video conference, a wide field of view is very important. This isn't going to be a major concern for everyone, of course, but it's worth bearing in mind.
The Best Webcams and Conference Cameras for 2022
Editor's Pick
For our editor's pick, we tried to find the most advanced, well-rounded camera on the market. WE picked the Logitech C930e Webcam – it utilizes 1080P technology and it is competitively priced.

Features
1080p HD video resolution

90-degree field of view 

4x digital zoom 

RightLight 2 Technology for a sharp video even in low-light conditions

Uvc H.264 Encoding for a smooth video stream
Your system requirements for this webcam are Windows 7, Windows 8, or Windows 10, macOS X 10.7 or higher, Chrome OS Version 29.0.1547.70 and higher, 2 GB RAM or more and enough hard drive space for recorded videos.
Check Price on Amazon Directly Add to Cart on Amazon
---
Best Web Camera Under $50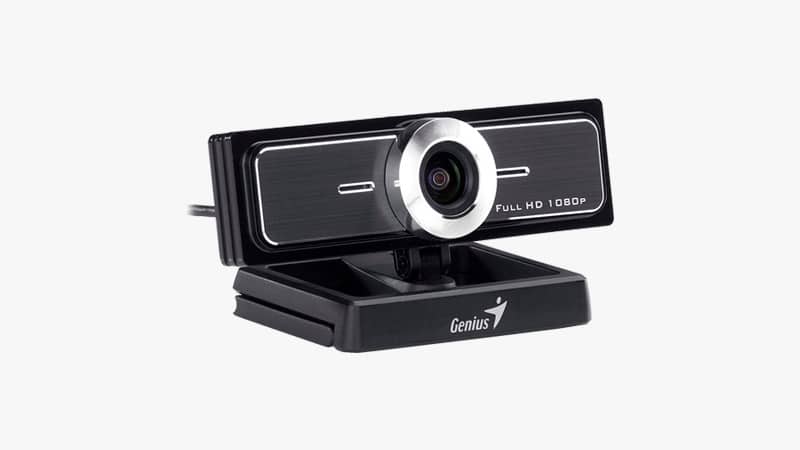 If you have a big team and you frequently have conference calls, Genius WideCam F100 Conference Webcam is the perfect webcam that can suit all your needs.
The Genius webcam has an ultra-wide-angle lens. That means that the video stretches up to 120 degrees. Since it is a much wider angle than the regular webcam, you and your team don't have to crowd around during an online meeting as you would with any other camera.
WideCam F100 has a built-in stereo microphone that comes in handy during video conferences. Plus, the high-quality lens produces a better image during streaming. The F100 also comes with a USB extension cable that's up to 5 feet (3 meters) long.
It offers a 1080p Full HD recording of up to 30fps, which gives you an excellent image with both close-up interviews and conference calls with multiple people. 
Genius WideCam F100 works with minimum computer features: Intel Core2 1.8GHz or above, 512 MB of RAM or above, and 200 MB of hard drive space.
Note: Some of our readers reported that it's difficult to set up manual focus on F100 and the camera itself doesn't live up to the 1080p format when you're in a conference room and a few meters away.
Check Price on Amazon Directly Add to Cart on Amazon
---
Best Web Camera Under $100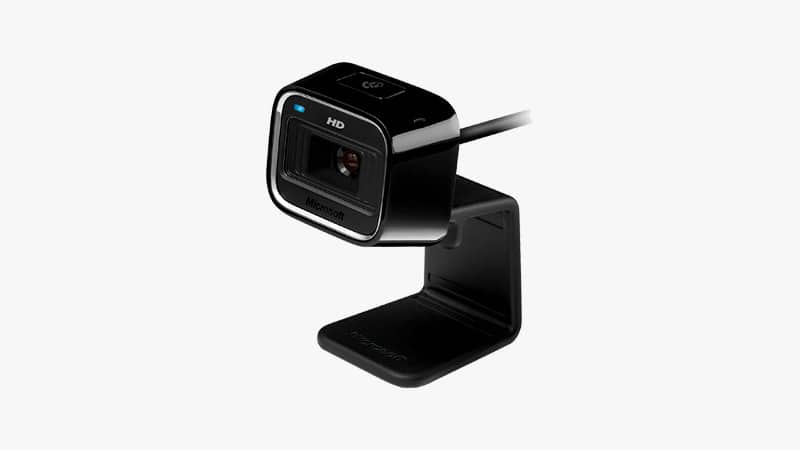 Microsoft LifeCam HD-5000 is a little upgrade on the HD-3000 cam but still on the inexpensive side and good enough to support video interviews and conference calls.
LifeCam HD-5000 has a 720p video resolution for recording and streaming at 30 fps. As said, it's an upgraded version of 3000 in that it features the same TrueColor Technology but with face tracking. It can automatically control your video exposure for bright and colorful video.
Also, it has an incorporated image stabilizer, whereas the 3000 lacks this. LifeCam HD-5000 automatically sharpens your images with Auto Focus, and the 16:9 widescreen format gives you an extremely cinematic feel, whether you stream from your desktop or notebook PC.
For the 720p to work, your computer needs to have the following specs: Intel Dual-Core 3.0 GHz or higher, 2 GB of RAM, 1.5 GB of hard drive space.
Note: Some of our readers reported that this particular model has a shaky mounting.
Check Price on Amazon Directly Add to Cart on Amazon
---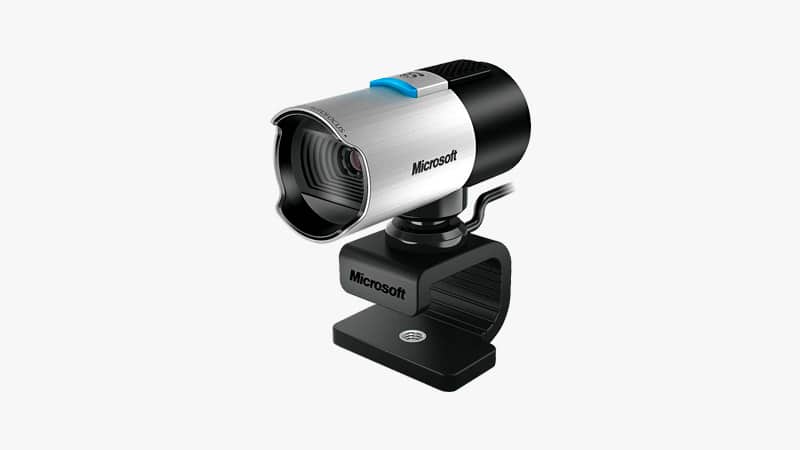 With the Microsoft LifeCam Studio for Business we're getting into serious business. The last two webcams were most suited for bloggers or casual use, but the Studio steps it up with some serious power and performance critical to giving you an edge in your all your professional pursuits. Built with a cast aluminum body, this LifeCam is built to last.
To start, the LifeCam Studio dispenses with the traditional webcam design for something sharp and in focus, a webcam that screams professional. It is outfitted with a powerful 1080p Full-Definition camera with advanced precision optics for clear auto-focusing and sharp images, and TrueColor Technology offers bright, vivid colors every time.
A high-fidelity microphone cancels out white noise while providing crisp, clear audio during conference calls which are streaming at 720p. Best of all, the LifeCam Studio is optimized for Microsoft Lync, an enterprise-ready unified communications platform. With Lync software, you will be able to broadcast at high definition, and you'll be sure to make an impression on everyone you talk to.
Check Price on Amazon Directly Add to Cart on Amazon
---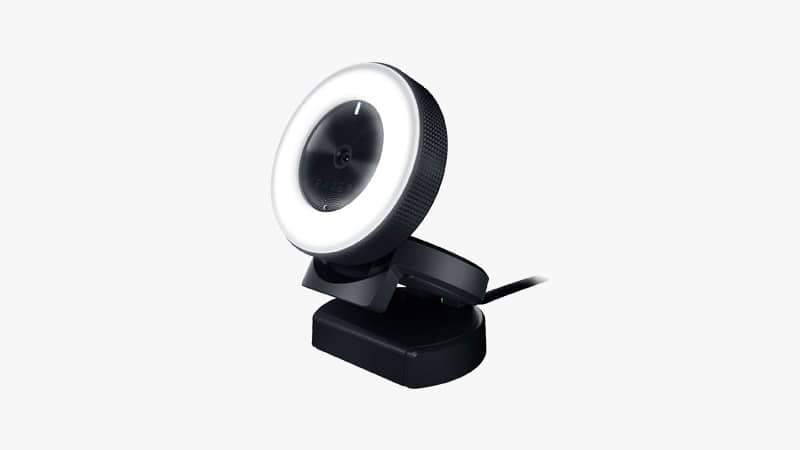 For those who would like to move up on the feature ladder, Razer Kiyo Streaming Webcam is an excellent option. It's equipped with features that help you have a better image quality than the one on your built-in computer camera.
This webcam supports video and audio recording in 720p, 60 fps, and 1080p 30 fps. It has a built-in 5600K daylight-balanced ring light that's placed around the camera.
With it, you don't need additional lighting equipment. Moreover, Razer Kiyo has a reduced graininess and enhances details on videos in darker environments.
It is suitable for gaming since it can stream at 60 fps and has a microphone sensitivity of 38dB. You can also fold it and move it out of the way when not using it.
Note: Some of our readers report that the Razer Kiyo image is quite grainy for a medium-priced camera. Also, the ring light sometimes randomly turns off.
Check Price on Amazon Directly Add to Cart on Amazon
---
Best Web Camera Under $200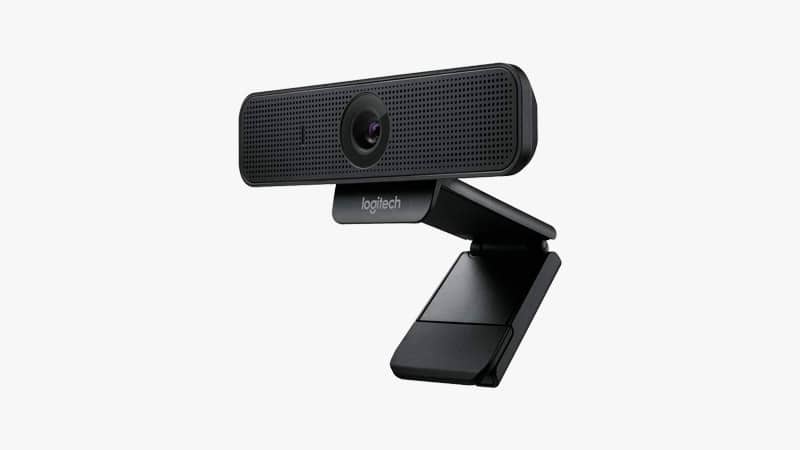 With the Logitech C925e Webcam, Logitech has produced a business-worthy webcam that, while lacking the professional appearance of the Microsoft Studio, provides business professionals with a truly powerful web camera. Optimized for Microsoft Lync, this Webcam is ready for action.
1080p video allows you to record, stream and conference all at HD resolutions, providing you have the necessary software. With built-in auto-focus and advanced lighting correction technology, you've never looked better. H.246 video compression makes uploads go more quickly, ideal for those who need to send in video progress reports in a timely fashion.
Even more impressive is the wide scope of the camera. With a 78 degree view, you can capture more than ever before, allowing you to watch your own footage in real widescreen. Dual stereo microphones work with omni-directional senses to pick up your voice even if you step away from the screen for a minute.
If you want a powerful, effective business-grade web camera, it doesn't get much better than this.
Check Price on Amazon Directly Add to Cart on Amazon
---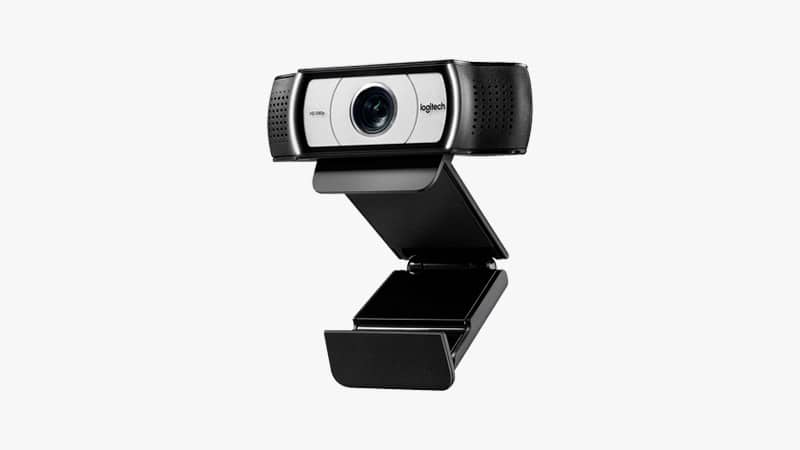 After a certain point, it gets hard to imagine how Logitech will continue to add advancements, refinements and improvements to their cameras, but they always seem to manage somehow. Their Logitech C930e Webcam is no exception.
The C930e comes with everything you'd expect from a Logitech webcam at this price: Business-grade 1080p recording and streaming at 30 frames per second, UVC H.264 Encoding to limit bandwidth usage and compatibility with the latest Skype and Microsoft Lync software.
So what's different this time? Once again, the scope of the camera is improved. With 90 degrees radius of viewing, the C930e can even be used for multi-person video conferences. The C930e is an excellent web camera, and you're not likely to be disappointed.
Your system requirements for this webcam are Windows 7, Windows 8, or Windows 10, macOS X 10.7 or higher, Chrome OS Version 29.0.1547.70 and higher, 2 GB RAM or more and enough hard drive space for recorded videos.
Check Price on Amazon Directly Add to Cart on Amazon
---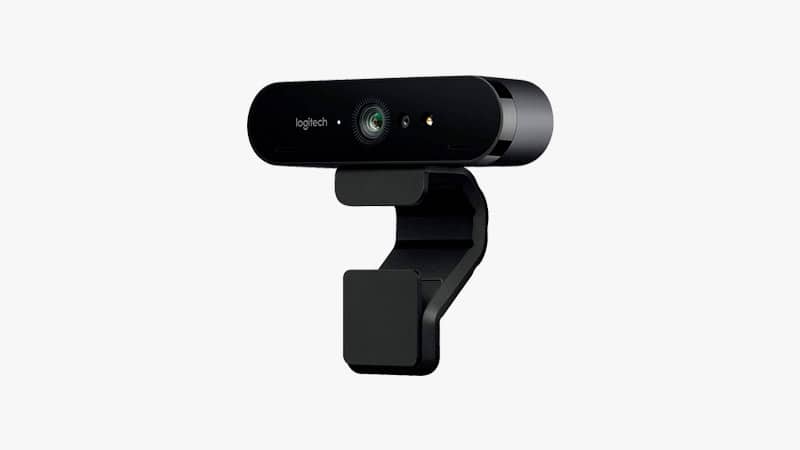 There was only one place webcam design could go: the realm of 4K resolution. The latest in video technology, 4K is taking the multimedia by storm. The Logitech C930e Webcam is the natural extension in the quest for the ultimate webcam.
In addition to 4K recording, the BRIO can also record/stream at 1080p and 720p as well. Logitech's new RightLight 3 with HDR (High Dynamic Range) technology helps you to look better than ever before. Whether it's brightening up a dim room or clearing up the glare from your monitor, RightLight 3 ensures you look your best at all times.
That's not all BRIO can do. Thanks to infrared technology, BRIO is capable of advanced facial recognition, allowing you to protect your computer login with the safest password of all – your face. 5X digital zoom allows you to close in for precision shots, and three angle options – 65, 78 and 90 degrees – give you control over how much of your surroundings you reveal.
In every single respect, the Logitech BRIO is a clear and marked improvement over less expensive webcams. It's price and performance will be overkill for some people, but for those who make a living off of showing their face on a camera, it's worth it.
Check Price on Amazon Directly Add to Cart on Amazon
---
Best Web Camera Under $250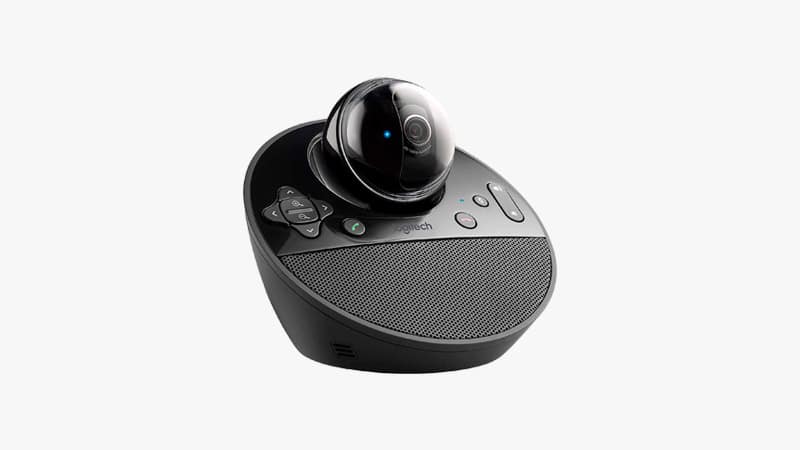 A few of the webcams in this list have afforded 90-degree angles, allowing for minimal group conferencing. The Logitech Conference Cam BCC950 Video Conference Webcam seeks to offer a better solution. Since it's difficult to operate a webcam in the middle of a conference, the BCC950 comes with a remote controller that allows you to adjust audio input levels, as well as tilt the camera to focus in on individual speakers.
This 1080p resolution conference camera has an extended camera head that can tilt around 180 degrees, providing everyone with an opportunity to be seen. Moreover, it comes with speakerphone audio, facilitating small group conferences by picking up voices without them being in close proximity to the camera.
With options for 78-degree as well as 180-degree visibility, the BCC950 is flexible, and the duplex speakerphone combines with a noise-cancelling microphone to provide much-needed clarity to a busy conference call. The mic has omni-directional pickup sensors, as well as echo cancellation, minimizing distraction vibrations.
The BCC950 has been optimized for Skype, Microsoft Lync and several other video streaming software products, making the BCC950 ideal for businesses the world over. There is no better conference camera for the price.
Check Price on Amazon Directly Add to Cart on Amazon
---
Best Web Camera Under $400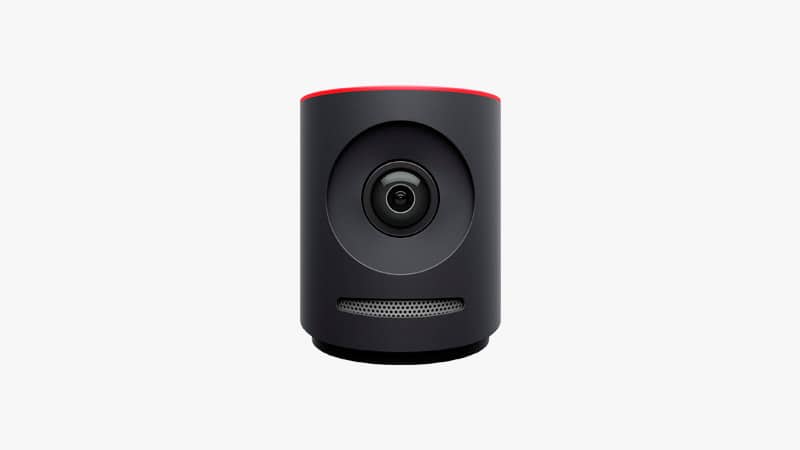 Mevo Plus is an intelligent little camera. It can stream to Vimeo, Twitter, Livestream, Facebook, Periscope, and YouTube in an HD resolution of 1080p, which is perfect for all your conferences.
You can connect it to your smartphone to control it and it's suitable for Androids and iOS operating systems. The 2×2 MIMO antennas ensure an extremely fast data passage, as well as a wider range.
A 150-degree lens will give you a wider field, while the 12 MP CMOS sensor will let you record videos in 4K. This camera comes with a built-in microphone and a port where you can plug in additional audio. 
The maximum streaming resolution on Facebook is 720p. This portable 2.5-inch event camera can improve your conference call quality as well as record the moments that matter to you with ease.
Check Price on Amazon Directly Add to Cart on Amazon
---
Best Web Camera Under $500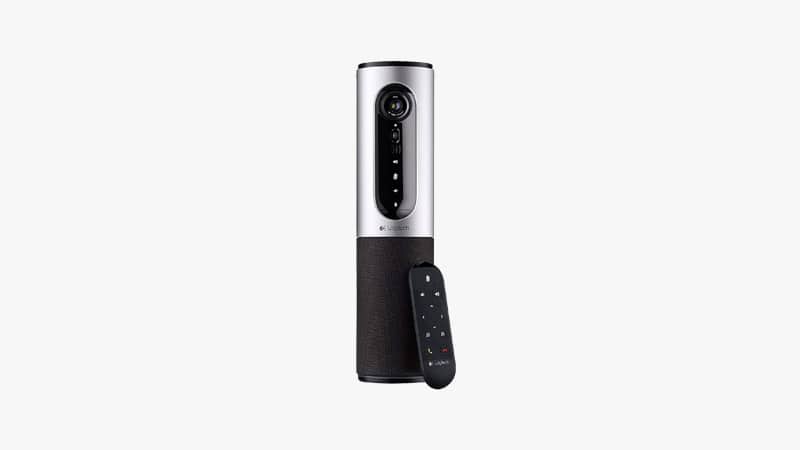 I like this webcam. It has a modern, sleek design, and it is fittingly dignified for a workplace setting. Unfortunately, Logitech did not outfit the Logitech ConferenceCam Connect Video Conference Webcam with the ability to rotate it's camera head. While it is still suitable for small-group video conference projects, it is slightly more limited than the BCC950, even for all its superior technology.
The 1080p camera comes with autofocus as well as digital panning, tilting and zooming,. It also comes with a remote control, making it easier to adjust the camera's settings while working in a group. Perhaps the best feature of the camera is its 360-degree microphones, allowing it to pick up and record voices no matter where they may be sitting in relation to the camera.
The other thing I really like about this camera is its ability to project images onto a widescreen display, allowing you to share thoughts, ideas and projects more easily. In addition to its USB port, it is also outfitted with BlueTooth and NFC mobile device pairings, allowing you to connect with multiple devices.
There really is a lot to like about this camera. That said, the price is a little steep, and it could have done with another feature or two to help sell me on that additional cost.
Check Price on Amazon Directly Add to Cart on Amazon
---
For those who would like to move up a bit on the quality ladder, Huddly GO is an excellent choice.
This little camera might be on the pricier side, but you can use it in meeting rooms, with laptops, and for regular streaming needs. Plus, it has an ultra-wide-angle lens with 150-degree FOV and an HD zoom of up to 4x, meaning all your team members can fit into the video on conference calls.
It supports videos in 720p with 30 fps and has a 3D noise reduction feature, as well as low-latency video processing and automatic white balance and color correction.
Huddly GO supports various apps, such as Skype, Google Hangouts, Zoom, BlueJeans, and WebEx. What's more, it has a 180-degree Auto-flip feature for installing the camera upside-down.
It works both on Windows and macOS. When you install the latest camera software, Huddly supports both USB 2 and USB 3.
Check Price on Amazon Directly Add to Cart on Amazon
---
Best Web Camera Under $1000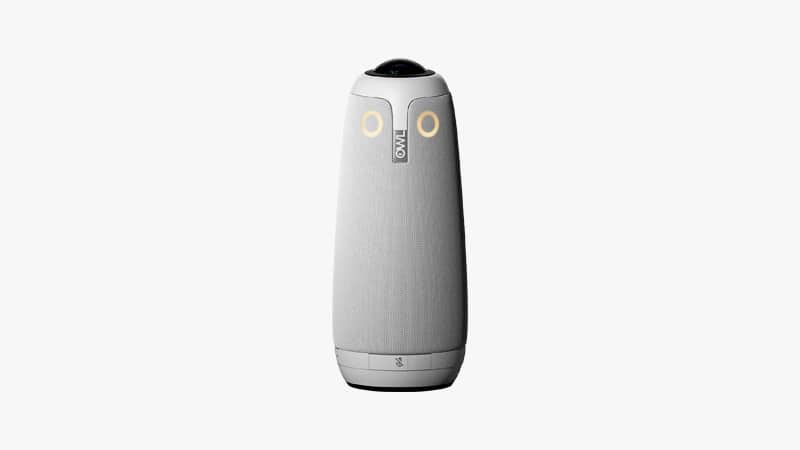 Another one from the conference cameras, Meeting Owl Pro offers every possible feature you would like to imagine in a high-quality meeting cam.
It is a 1080p resolution and 360-degree camera that has the option of automatic focus to people who start to speak. The camera and the microphone work together; There are 8 smart microphones that equalize the volume and can detect anyone speaking in the 18-foot radius.
Another excellent feature is that the Meeting Owl Pro works without installs or downloads. You can set it up in minutes after plugging it into the power outlet and connecting the USB.
This conference camera is suitable for mid-sized and large conference room meetings, satellite offices, classrooms, as well as design reviews and stand-ups.
Note: The resolution deteriorates when you zoom and it doesn't reach the full 1080p potential.
Check Price on Amazon Directly Add to Cart on Amazon
---
Best Web Camera Under $1200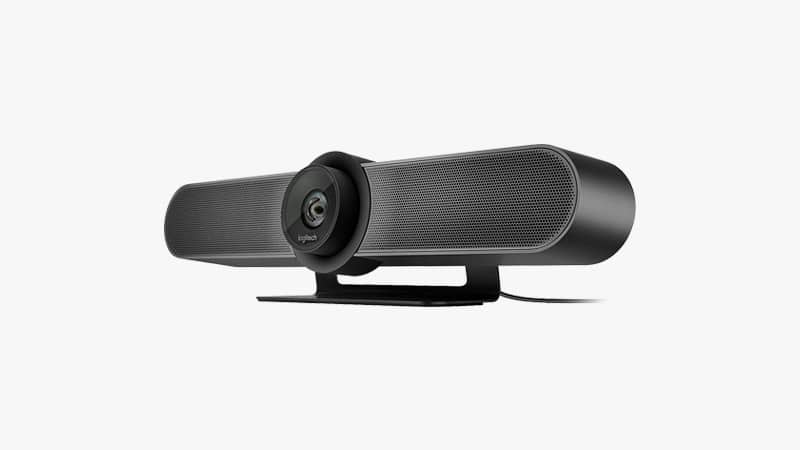 I'm going to be totally honest. Trying to sell you on a web camera that costs almost $1100 is no easy task. The Logitech 960-001201 is easily the most advanced web camera I've ever seen. I'm just not entirely convinced it's worth it's asking price. Ultimately, though, my job isn't to tell you what to buy, but inform you of your options. And for those who have the capital to spend, this is certainly an excellent choice.
The only other true conference cam in this list is the BCC950. Unfortunately, that camera has a somewhat flimsy neck and is not equipped to handle 4K video resolution. The 960-001201 is, and it can stream in 1080p and 720p as well.
The camera also boasts an impressive 120 degree field of view, able to capture a wide arc perfect for a conference table. Also helpful is the extended audio system. The camera's three microphones can extend as much as 8 to 14 feet out from the camera, able to pick up the voices of those furthest away from the picture.
Thanks to its intuitive design, the 960-001201 is also able to act as a speakerphone, and with its ability to connect with Bluetooth-enabled devices, this is a perfect feature.
For all the admirable features present in this camera, it still costs over $1000. You'll have to decide for yourself whether its worth taking the leap, but for what its worth, the camera performs admirably.
Check Price on Amazon Directly Add to Cart on Amazon
---
Conclusion
There are a lot of different cameras on this list, and some of them vary in price by hundreds of dollars. I can't speak for every individual's needs, but if you want the latest in webcam technology, I still recommend the Logitech BRIO. It provides 4K resolution, and it still remains affordable. You can't go wrong there.
Disclosure: The product recommendations are not sponsored and are chosen by our editorial staff. We may earn an affiliate commission when you purchase an item through our links.
Photo Credit: Unsplash