Good internet access is important for many people these days. However, it's not enough for most people simply to have a fast cable service or a great modem.
If you want to get the most out of your internet, you need an excellent router.
There are definitely some situations where the modem is more important than the internet.
Especially for those who enjoy online gaming, you will find superior internet performance by connecting your modem directly to your computer or console.
But if you need to connect more than one system to your internet connection, such as a television, tablet or laptop, or if you want to access WiFi capabilities, you need a router.
You see, there are two types of hardware that bring internet connectivity to your home: modems and routers.
Modems connect directly with the internet cable from outside and are responsible for bringing internet into the home. Without a modem, there is no internet signal for a router to latch onto, and they are useless.
Although routers depend on the modem to work, they are a more sophisticated piece of hardware. The router modifies your internet protocols (IP), and in doing so allows your internet signal to be broadcast wirelessly to any number of devices.
As you can see, wireless routers are very important for your work from home setup to its full online potential. However, not all wireless routers are made equal.
This guide will direct you towards the best wireless routers on the market. We've done extensive research and testing so you can make an easy, well-informed decision.
The Best Wi-Fi Routers for 2023
| Product | Model | Wi-Fi Speed | CPU Processor | Price |
| --- | --- | --- | --- | --- |
| | Eero Home WiFi System | 100 Mbps | Quad Core | |
| | Netgear Nighthawk X6 | 3,200 Mbps | Dual Core | |
| | Netgear Nighthawk X10 | 7,200 Mbps | Quad Core | |
| | TP-Link Archer C7 | 1,750 Mbps | Single Core | |
| | Netgear AC1750 | 1,750 Mbps | Dual Core | |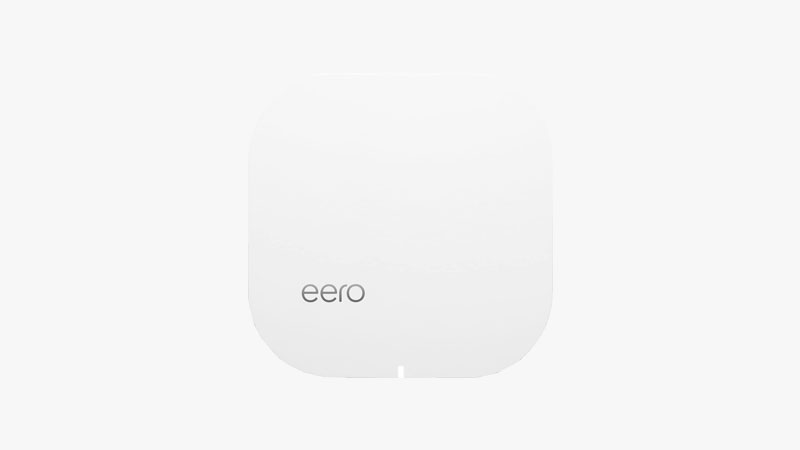 If you really want to get the most out of your cable modem and improve the WiFi in your home, you need to shake things up. That's why we recommend the eero Home WiFi System. eero takes the old notions of what a wireless router is supposed to be and turns it on its head, dramatically improving WiFi signals in your home in the process. How does it do it?
Wireless internet signals are not very good at passing through walls or climbing stairs. So in larger homes, and particularly two-story homes, a single wireless router just isn't very good at transmitting good WiFi reception all over the home.
eero changes the way wireless signals are transmitted. The eero WiFi system ships with three individual eeros. One of them connects directly to your cable modem, just like any other router.
Once you have your eero router set up, you can seek out areas where your internet signal is weak and place another eero there. All you have to do is plug them into your power outlet, and they instantly mesh together, boosting your signal!

As far as routers go, this is definitely a lot more expensive than you're used to paying. But if you're tired of poor internet reception in your home, this is the way to fix it.
Best WiFi Routers Under $100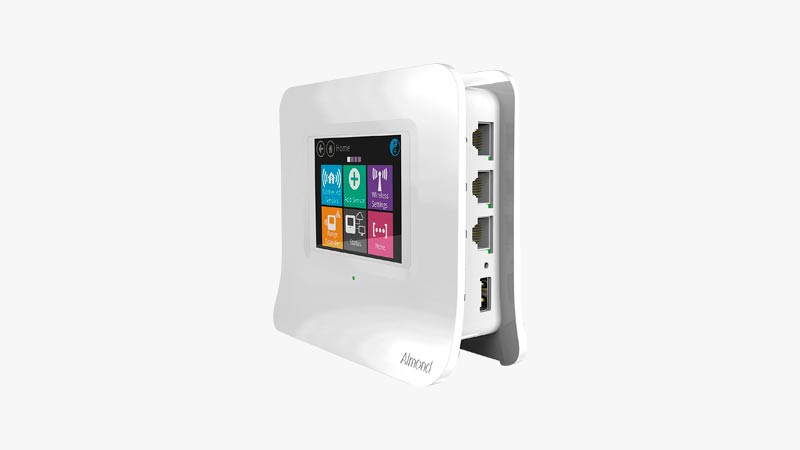 It's no secret that you're not going to get the best performance out of a cheap router. It's just as true that you can spend too much on a fancy router that you don't really need.
If you're looking for a basic router that does what it's meant to do without all the bells and whistles, then you'll love the Securifi Almond.
One of the things we love about this router is that it's really easy to set up. Many routers require you to install new software onto your computer, and it can all boil down to a major hassle in the end.
Securifi does away with all of that with a touchscreen display that allows you to install the system in as little as three minutes, without having to set it up on your PC or Mac.

While this router is easy to set up and very affordable, it only transmits at 300 Mbps, which may not be sufficient if you're streaming multiple movies at a time or playing online video games. But for casual users, this is a great and affordable wireless router.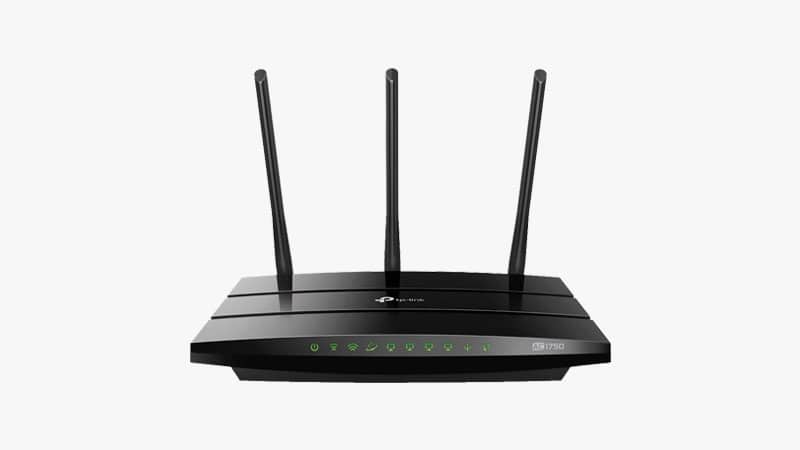 TP-Link has gone and made a pretty good router for a very reasonable price. Their Archer C7 offers 1750 Gbps of bandwidth, running dual frequencies at 2.4 GHz and 5.0 GHz.
More bandwidth means better reach around the house and faster internet connections for all of your internet needs.
The C7 is a pretty cool looking router, and it features three antennas for better signal reception. Those antennas also give it a space-age look. In addition to a slick appearance, there are many slick features we really appreciate.
For example, TP-Link has made it easy to control the bandwidth used by individual devices connected to the router.
For example, if your student is using the internet to do research for a history essay, they're not going to be using much data.
If, at the time time, you are in your office uploading data for your employer, you're going to need more of that valuable bandwidth.
TP-Link gives you unprecedented access to your internet protocols (IP) so that you can dictate how much bandwidth is directed to each device.

The other thing we liked is that there are many connection ports. Four Gigabit Ethernet cables and two USB ports make it easier to keep everyone connected and to share data.
The on-board processor helps to prioritize internet tasks, improving your internet experience even further.
This is a very capable wireless router, and for the average internet user, this may be all you need.
Best WiFi Routers Under $200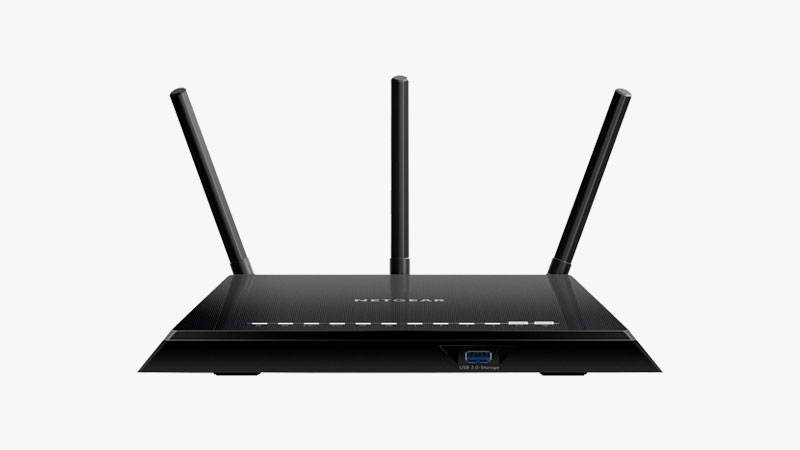 The NetGear AC1750 is a very capable mid-range wireless router that does a lot of things right. Like the TP-Link C7, it offers 1750 Gbps of speed, split into 450 Mbps 2.4 GHz and 1300 Mbps 5.0 GHz bandwidth.
It even resembles the C7 physically, with three antennae to offer better wireless reception.
One of the things that sets NetGear apart from other wireless routers is there intuitive, user-friendly Genie App.
Not only does it make installation super easy, but you can also use it to monitor and control your router and internet access.
Those control options are another thing that stands out. For example, you can enable parental controls that block harmful or inappropriate IPs so your children can't access questionable content.
It also provides secure guest access for your friends so you don't have to give out your password. NetGear also provides WPA/WPA2 security, the highest standard in WiFi security.

Four Gigabit Ethernet cables and two USB ports – including one USB 3.0 – help to round out this router. It provides fast internet and has a really good range.
However, we didn't really notice any difference in performance between this and the C7, so if you're on a budget, it's hard to recommend this router over it.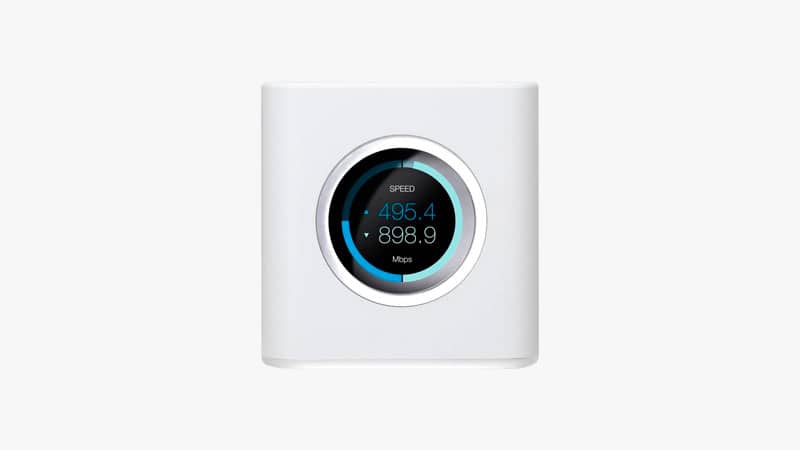 The first thing you'll notice about AmpliFi HD Home Wi-Fi Router is that it doesn't look like a router. If anything, it resembles Apple hardware. It's a small white cube with a round, digital face on one side.
The AmpliFi works on the same principle as the eero we reviewed for the Editor's Pick. It uses mesh WiFi technology to enhance wireless coverage around your home. And it's fast. Really, really fast.
The AmpliFi Router offers a maximum speed of 5.25 Gbps. That's roughly three times faster than your average wireless router. That's pretty dang good!
The LCD touchscreen allows you to monitor and control the bandwidth of your dual receivers simply and easily. It doesn't skimp on Ethernet ports either, with 4 LAN ports and one WAN for a total of five.
However, this router is lacking in a couple of key areas. It only has one USB port, which is pretty disappointing because, with the wireless speeds, it could have doubled as a NAS very well.

The other downside is that you have to have a smartphone to install it. For those like me who don't have a smartphone for their personal use, this is a pretty serious drawback.
I prefer old school computer software, and not having an option for that holds this back from being the perfect router.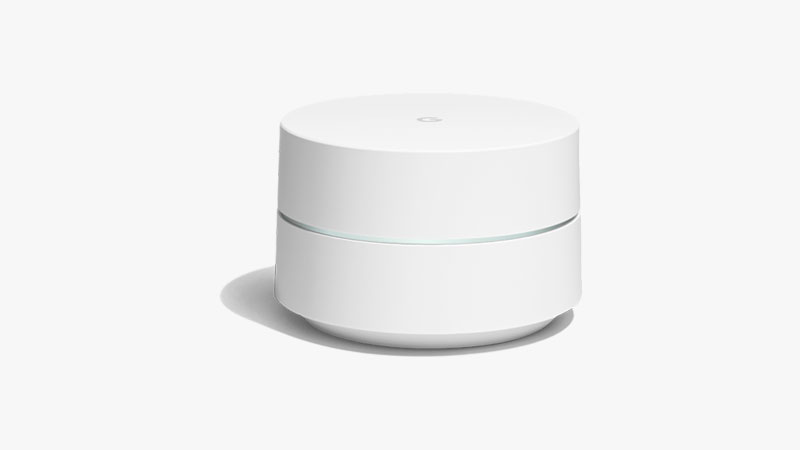 Here we have yet another high-tech wireless mesh router, this time from one of the biggest companies in the world. The Google WiFi System again bucks the cosmetic trends established in the world of wireless routers.
Instead of a cube like the AmpliFi, Google opted for a more rounded, spherical design that also resembles the work of Apple.
Like the AmpliFi and eero, these mesh routers work together to spread WiFi around the home.
However, the speeds provided are much slower than the AmpliFi, and in fact, aren't even as fast as the C7. Google offers two bands of connection, but they only combine for 1200 Gbps, which doesn't seem very fast for the price of the router.
Google does know technology, and Network Assist makes it easier to latch onto the least busy bandwidth, which helps each connected device to get the most out of the connection.
Installation is done by app and is very easy. Since it's Google, you can also use an app on a Chromebook, if you have one.

We went ahead and tested them in a large home with two floors, and they covered the area better than a traditional router is generally capable of doing.
But for an apartment, condominium, or smaller home, there really isn't a big advantage to using this router because of the price.
Best WiFi Routers Under $300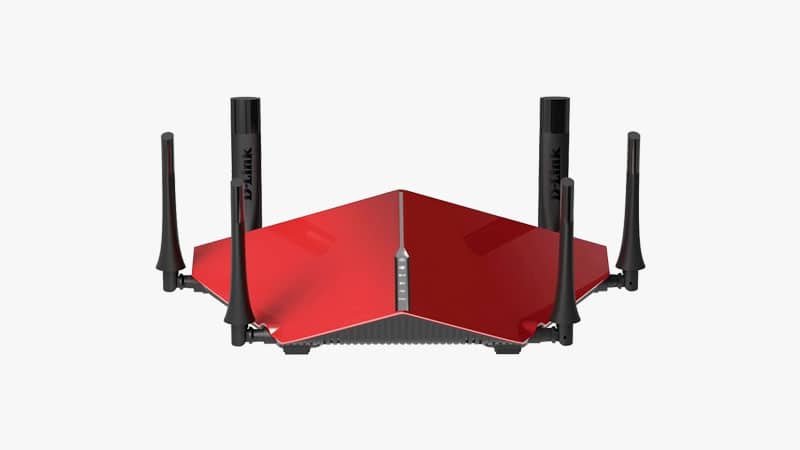 The AC3200 D-Link is a return to the more traditional router compared to the last two. And it is a beast of a router. The first thing you notice taking it out of the box is its awesome symmetrical design.
It uses six different antennas for superior beamforming and performance, helping bring your wireless signal across the home.
Many routers offer dual beamforming, but the AC3200 offers triple beamforming for an even more reliable performance.
One band runs at 600 Mbps at 2.4 GHz, and two 5.0 GHz bands offer speeds of 1300 Mbps.
Most routers have just a single-core processor, but the AC3200 uses a dual-core processor for superior data management and streaming.
AC SmartConnect technology guides you towards the best band for superior performance, and SmartBeam allows you to monitor all your connected devices and see how they're performing.

The thing that makes it stand out is that this is a Tri-band WiFi router system.  Check out the video above for an explanation.
There are many other things going on with this router that really make it an exceptional piece of hardware. It's a little expensive, but you definitely get what you pay for!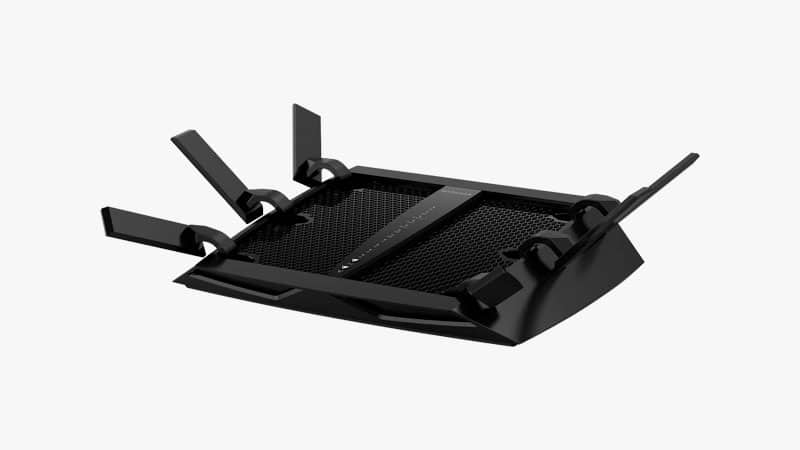 The Nighthawk X6 is another sexy, powerful router that offers incredible speeds and range. As the name indicates, the Nighthawk features six beamforming antennas that offer amazing speeds, reliability, and connection throughout the home.
Like the last router, the Nighthawk X6 combines or 3.2 Gbps of blinding fast WiFi internet, taking your gaming to the next level or allowing for simultaneous movie streams with minimal buffering.
The dual-core processor works to ensure the best possible internet performance no matter what.
Like other high-end routers, it features Smart Connecting software that automatically pairs you with the best band for your internet activities.
Like other NetGear routers, it comes with the NetGear Genie app, which makes setting up and managing your router and IP really easy.

The Nighthawk is a pretty amazing router. It offers a very fast performance, and while it is expensive, it's not likely to break the bank.
Best WiFi Routers Under $400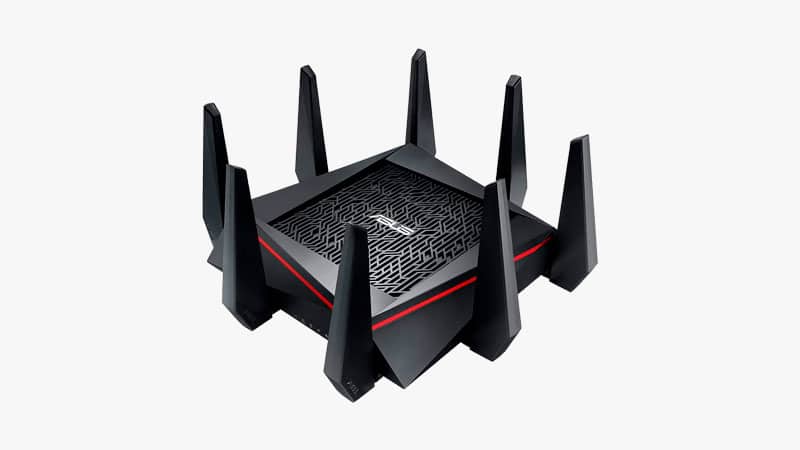 These routers keep getting more and more amazing. The ASUS RT-AC5300 almost resembles a small city – an impressive count of eight antennas offers up to 5.3 Gbps of ultra-fast WiFi and coverage of up to 5,000 square feet – an impressive feat by any means.
Like other high-end routers we've reviewed, the RT-5300 is a tri-band router, streaming data one 2.4 GHz and two 5.0 GHz bandwidths.
It is powered by a 1.4 GHz dual-core processor and has 512 MB of RAM, unusual for a router. What that means is that this router can process much data, which leads to unequaled internet performance in the home.
There are a ton of powerful features and capabilities present in this router, such as game acceleration, which prioritizes your data streaming to facilitate improved gaming.
MU-MIMO coverage means that several devices can be connected simultaneously without decreasing the speed for the connected devices, so you don't have to worry about prioritizing data.

All the usual connections are there as well, including two USB ports and 5 Gigabit Ethernet connections.
In addition to app support, the router also comes with a CD for computer installation, something I definitely appreciated. A two-year warranty is icing on the cake, and invaluable for a major investment.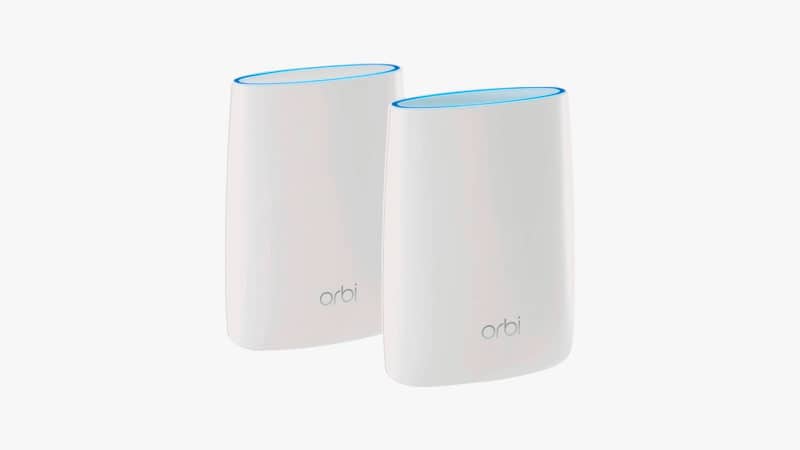 With the Orbi Home WiFi (produced by NetGear), we return to the world of mesh routers and range extenders.
As we've come to expect with this new wireless technology, they offer a new, modern aesthetic that helps the satellite to blend in with its surroundings.
Don't let their size fool you. Packed inside that cylindrical body is a tri-band wireless system beaming at up to 3 Gbps!
Even more impressive is the area covered. One router and one satellite can effectively cover an area of up to 4,000 square feet!
NetGear builds upon their considerable experience to create a wireless mesh experience that is simply fantastic.
Intuitive apps make installation easy, and the satellite can be conveniently placed anywhere in the house, transforming even the hardest-to-reach areas into WiFi hotspots.

The Orbi Home WiFi system isn't cheap, but you definitely get what you pay for.
Best WiFi Routers Under $500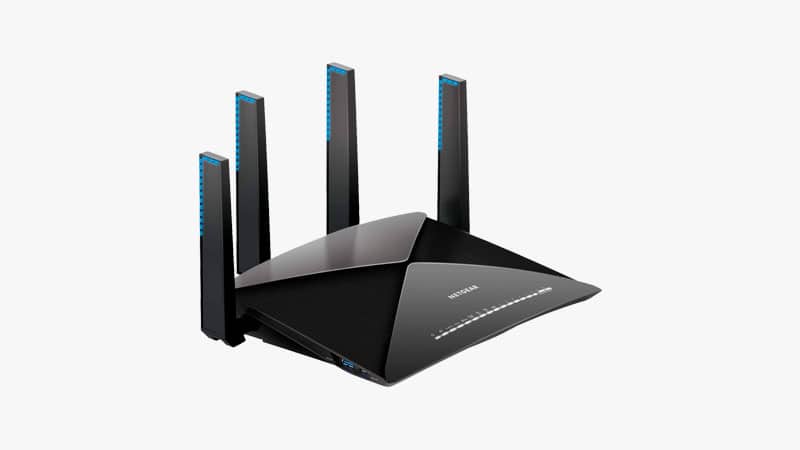 I know that looks aren't everything where wireless routers are concerned, but I couldn't help but be a little disappointed at the appearance of the Nighthawk X10. As cool as the X6 looked, I hoped this would be even better.
Fortunately, appearances can be deceiving, because when it comes to performance, the X10 smokes the competition. Let's start with the wireless streaming.
I don't know of a single router that can compete. The X10 uses four beamforming antennas to broadcast four streams: two 2.4 GHz frequencies at 800 Mbps and two 5.0 GHz at 1733 Mbps.
Insanely fast internet isn't the only thing going for the X10 either. It's powered by a 1.7 GHz quad-core processor.
That's right – a CPU powerful enough to run a computer is backing this router, which offers streamlined information processing as we've never witnessed in a router before.
This router optimizes streaming and gaming like you've never seen before.
Smart technology balances out your WiFi connections, ensuring everyone has the optimal band for their usage.
PLEX makes it easy to organize all your media collections, allowing you to share all your music and movies across your home network. And the router is tied into Amazon Cloud, giving you plenty of virtual storage for all your files.

If you're looking for the best WiFi router for 4K streaming and gaming, or for multi-tasking many demanding processes, this is hands-down the best router on the market.
If you're looking for the best overall internet coverage, you're best bet is to go with eero or one of the other mesh WiFi providers such as AmpliFi.
If you're looking for a serious gaming router, something like the X6 or the X10 is your best bet. If all you need is a simple, functional router, you can't go wrong with the TP-Link C7. Sometimes, less is more after all.
Photo Credit: Unsplash