In this article, you'll discover the 6 most-effective digital marketing strategies to attract more chiropractic patients.
These strategies have helped our Chiropractic clients generate more than $100,000 per month in new patients.
Speak with a digital marketing specialist and we'll answer all your questions.
The U.S. chiropractic market size is valued at $19.5 billion in 2023. It's projected to grow at a CAGR of 4.32% over the forecast period.
Whether you're just getting started with your practice or you're a high-volume practice, you need a proven short and long-term strategy that keeps sending patients and clients your way.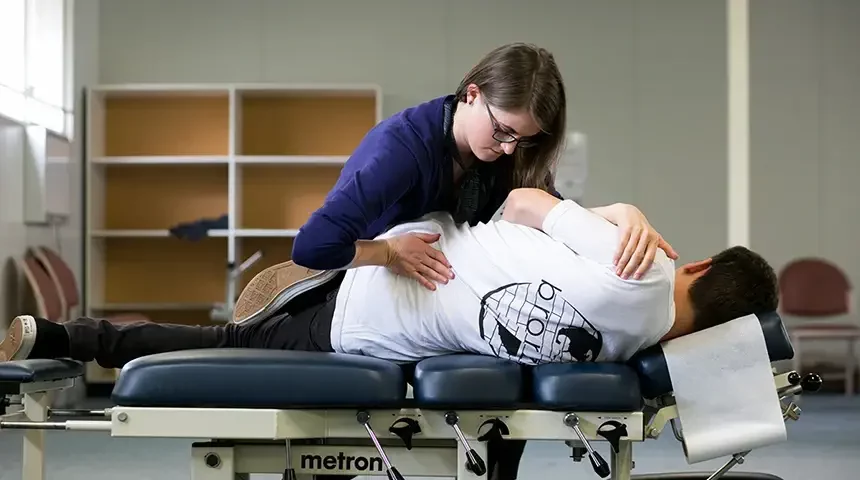 Your short-term Chiropractic marketing approach may involve offering discounts and upgrades to both new and existing patients.
A long-term approach would include developing a winning content marketing plan, deciding on what videos to create, as well as running Google Ads.
This year, make up your mind to finally grow your Chiropractic. You have to believe it's possible — because it is.
What is Chiropractic
Marketing?
Chiropractic marketing is a set of tactics that chiropractors can use to attract new patients. It can be done in many ways, including word-of-mouth referrals, social media, and local SEO.
How to Attract More Patients to Your
Chiropractic
1. Get Patients Through Local
SEO
Local SEO or Local Search Engine Optimization is the process of optimizing your website to show up locally in your city when patients or clients search for:
Best chiropractors near me
Chiropractic near me
Best chiropractic in TX
Chiropractic center near me
Chiropractors in LA
Best chiropractic clinic
Chiropractic doctors in Uk
And so on.
The truth is that your ideal patients are not far-away from where you are. It's time to aim your marketing locally.
To get more chiropractic patients, you will need to focus on getting your practice website to appear in local search results.
Visit Google My Business page to get listed on Google in your city. Sign up with your Google email address.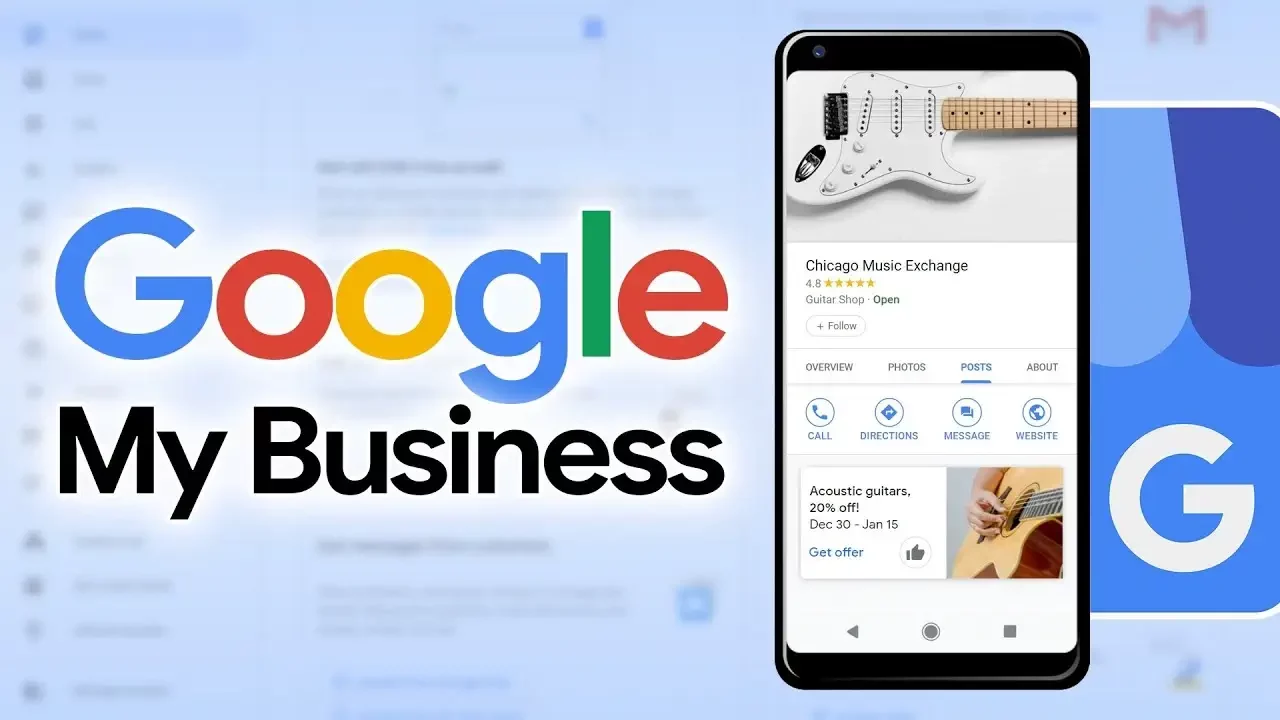 Then follow these easy steps to claim & verify your business page.
This is done through a variety of methods, including optimizing your Google My Business profile, using a consistent NAP (Name, Address, Phone number) on your profile and across the web, as well as generating a handful of online reviews.
Here's a good example of NAP for Comfort Rehab & Chiropractic Center:
Comfort Rehab & Chiropractic Center
Cedar Hill, TX, United States
+1 4694542177
https://comfortrehab.com
When your Google My Business profile is well-optimized, then your practice will be shown in Google's map pack.
Here's the map pack local listing for "best Chiropractic in TX":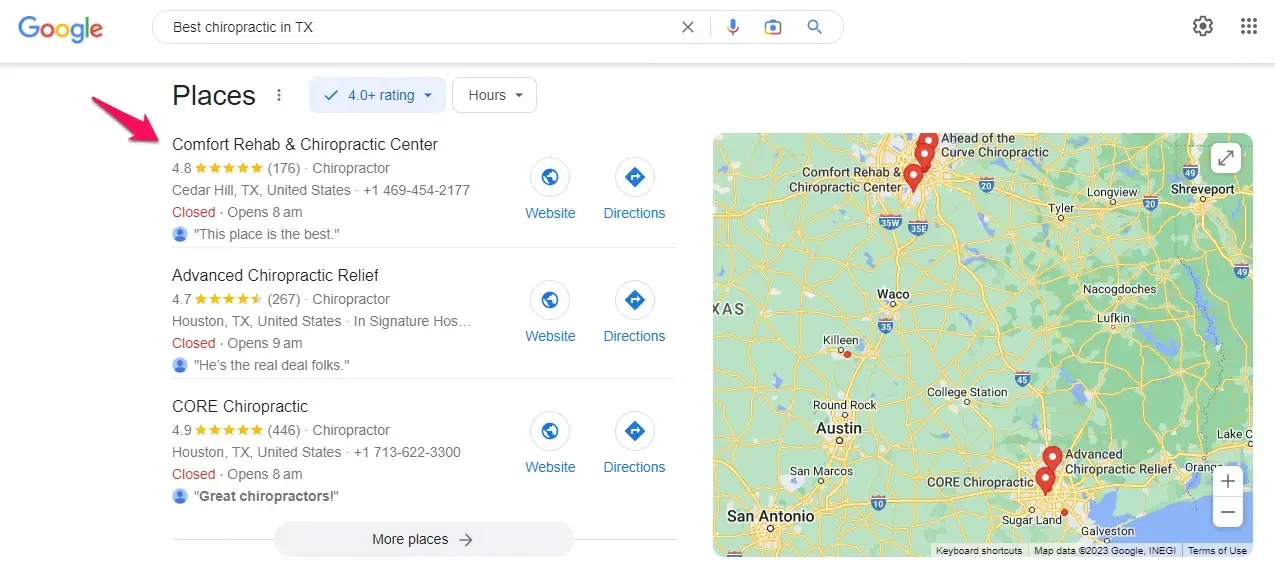 In addition to optimizing your GMB, you should also make sure your website loads within 3 seconds and is mobile-friendly.
This helps users stay on your site longer and increases your chance of attracting new patients.
2. Leverage Content Marketing and
SEO
Content marketing is another important way to improve your local SEO performance and get more targeted leads.
Creating high-quality blog posts is a great way to generate organic traffic and build credibility.
Using different forms of content, such as videos, podcasts, and animations can also be a helpful way to engage potential patients.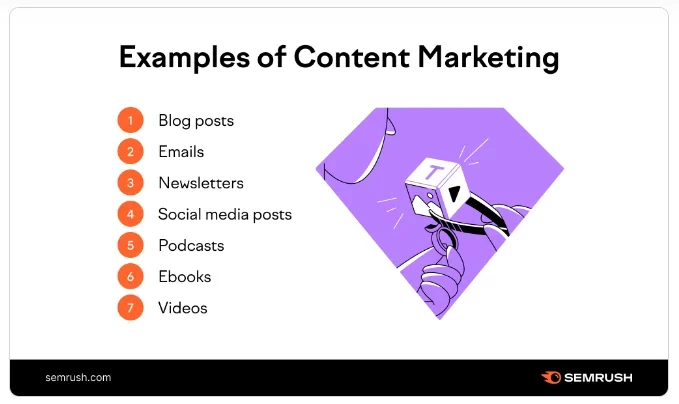 Source: Semrush
Ensure that your website is properly optimized for SEO, including having relevant keywords in the title and meta description.
This will help search engines understand what your page is about and rank it higher in organic search results.
To improve your chiropractic local SEO, it's important to generate online reviews from current and former patients.
74% of consumers say that positive reviews make them trust a local business more.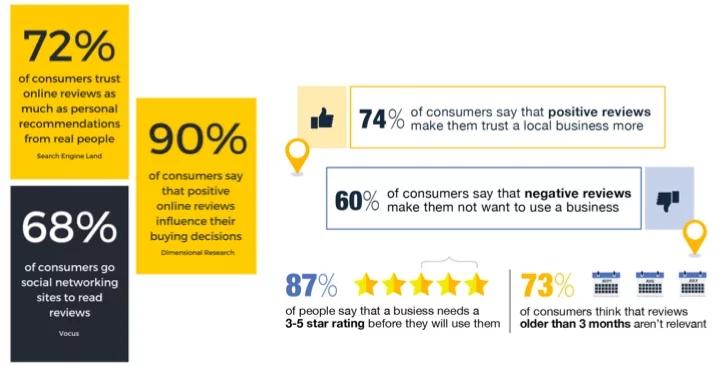 Source: Markgrowth.com
Encourage your patients to leave positive reviews about your chiropractic practice on popular review sites like Yelp, Google, and Bing.
These reviews can influence prospective patients' decisions to visit your chiropractor's office.
A 2020 Local Consumer Review Survey found that 87% of consumers will choose to visit a business with multiple positive reviews.
3. Generate Chiropractic Patients via Google Search
Ads
If you want to generate more chiropractic patients, using Google Search Ads is a great option.
These pay-per-click advertisements allow you to appear in Google's top search results for targeted keywords related to your practice. For example:
Best Chiropractic doctor near me
Chiropractic Clinic in Texas
Best chiropractors near me
Etc.
The best part is that you only pay when someone actually clicks on your ad! Here's an example of a Google search ad: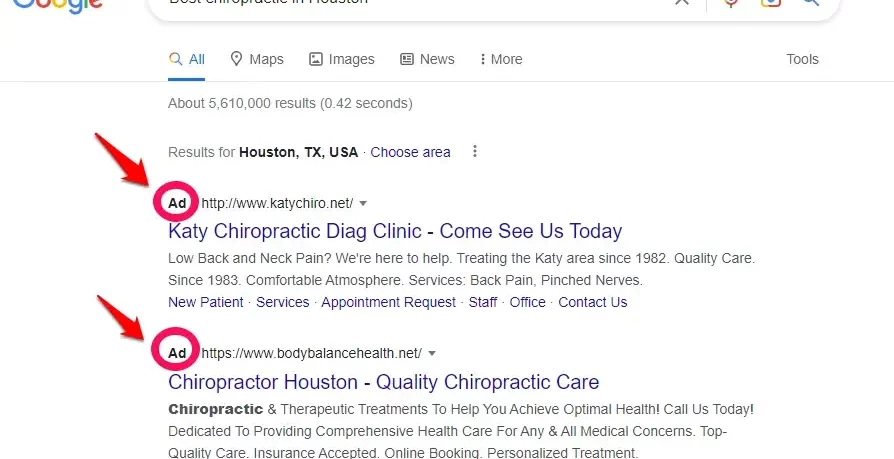 The cost will depend on how much competition there is for the keywords you want to target, but you can typically expect to spend between $10 – $50 per day or about $0.2 per click.
Use the Google Keywords Planner tool to find your most relevant keywords.
Simply enter your main keyword (e.g., Best chiropractor), then hit on the 'Get results' button: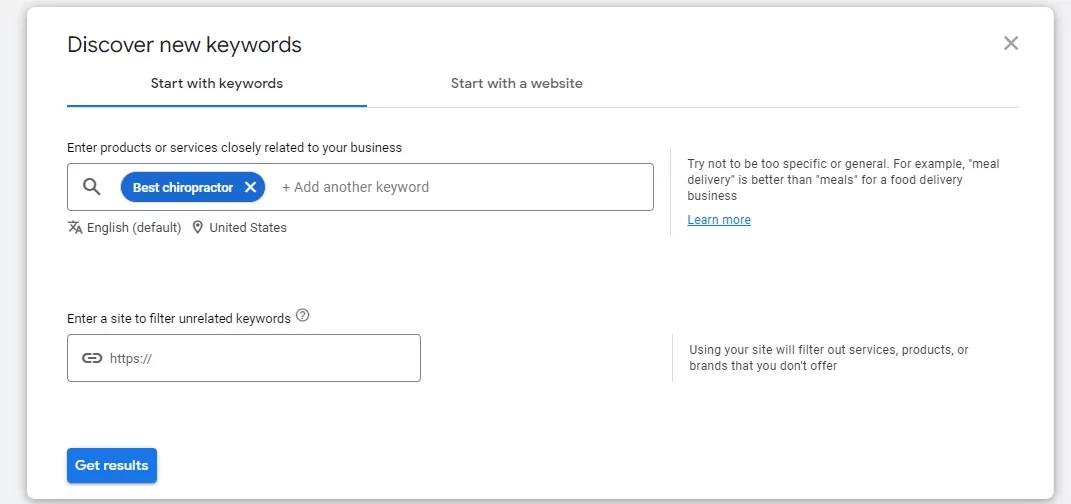 Next, pick your favorite keywords to target in your ads.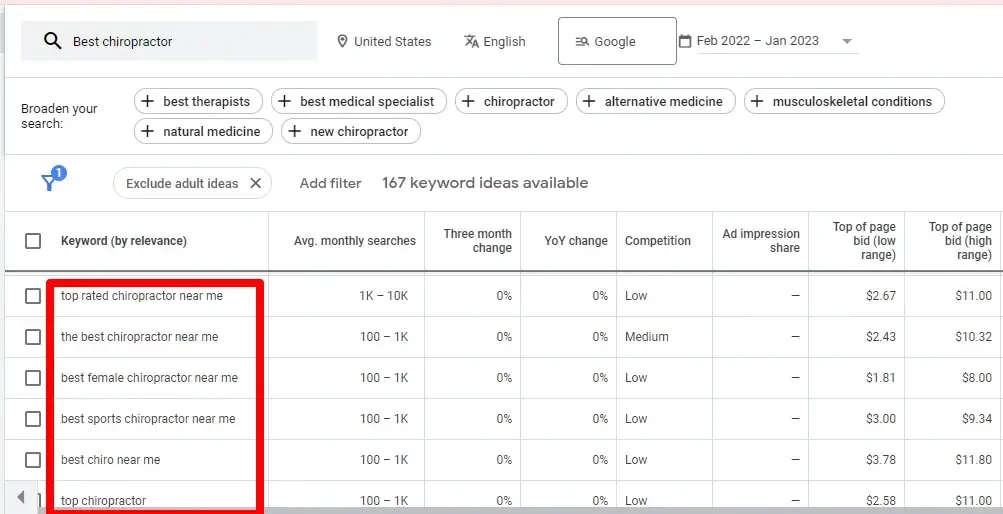 Once you've decided on the keywords you'll be targeting, you'll need to create a Google Ad Campaign. During this process, you'll have the opportunity to write compelling ad headlines and descriptions that reflect what your target patients are searching for.
This will help ensure your ad is relevant to the person who is looking for your service. It will also increase the likelihood that they will click on your ad.
For most chiropractors, the goal is to receive phone calls and increase appointment bookings on the website. So make sure your landing page is optimized to boost these conversions.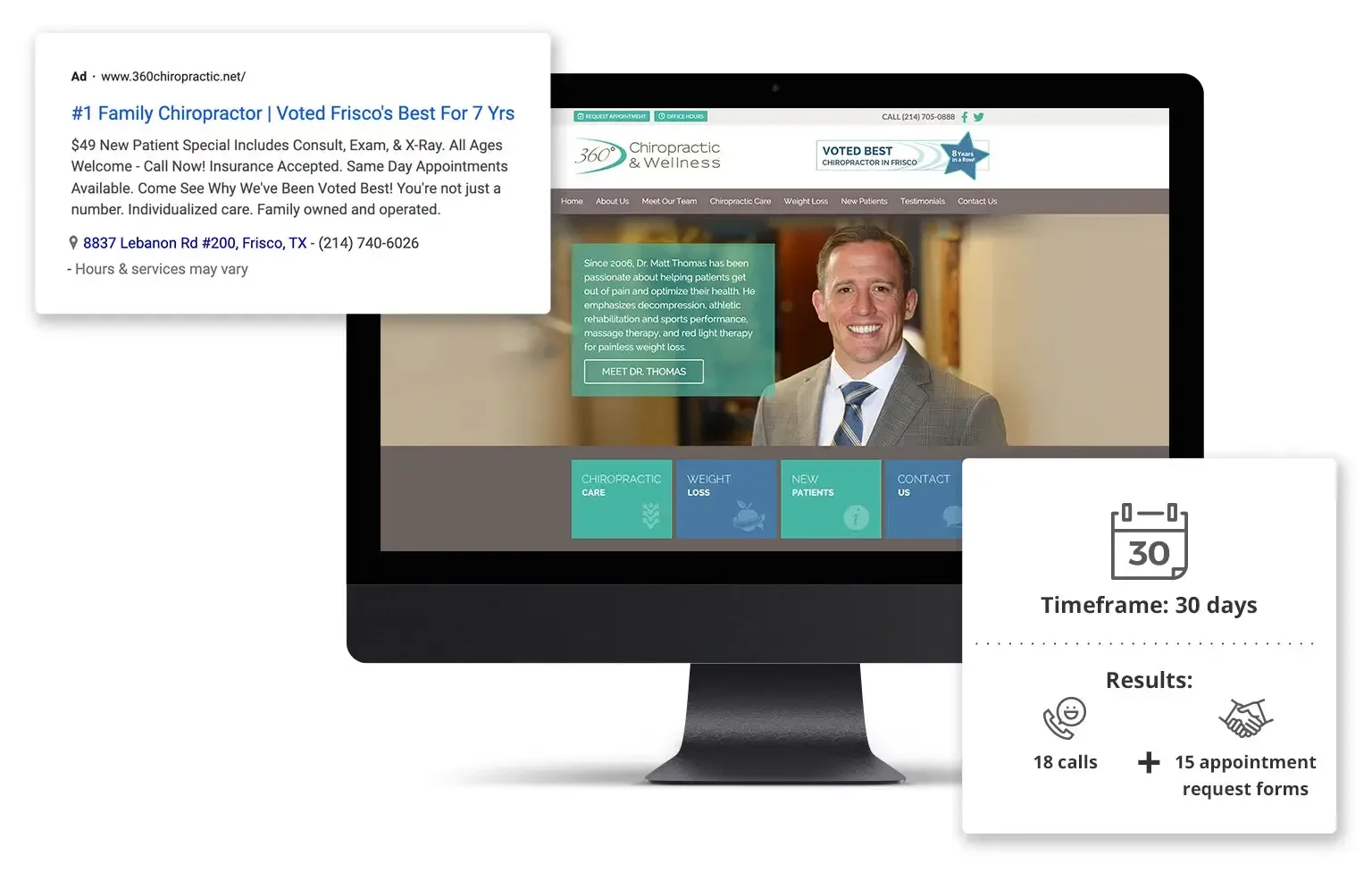 You'll also need to set up conversion tracking. This will let you know how many leads generated through Google ads led to a patient conversion.
This number can be very important to your overall success with Google Ads.
Include a call to action and a call button in your ad.
These will help you get patients to call your clinic directly. They will also provide you with valuable information that can be used to improve your advertising campaigns in the future.
4. Get Clients Through Video Content
Marketing
There are many ways to get more chiropractic patients, but one of the most effective is through video content marketing.
With this strategy, you can reach a wider audience via YouTube and Instagram, and increase your brand's authority in the search engines (especially Google).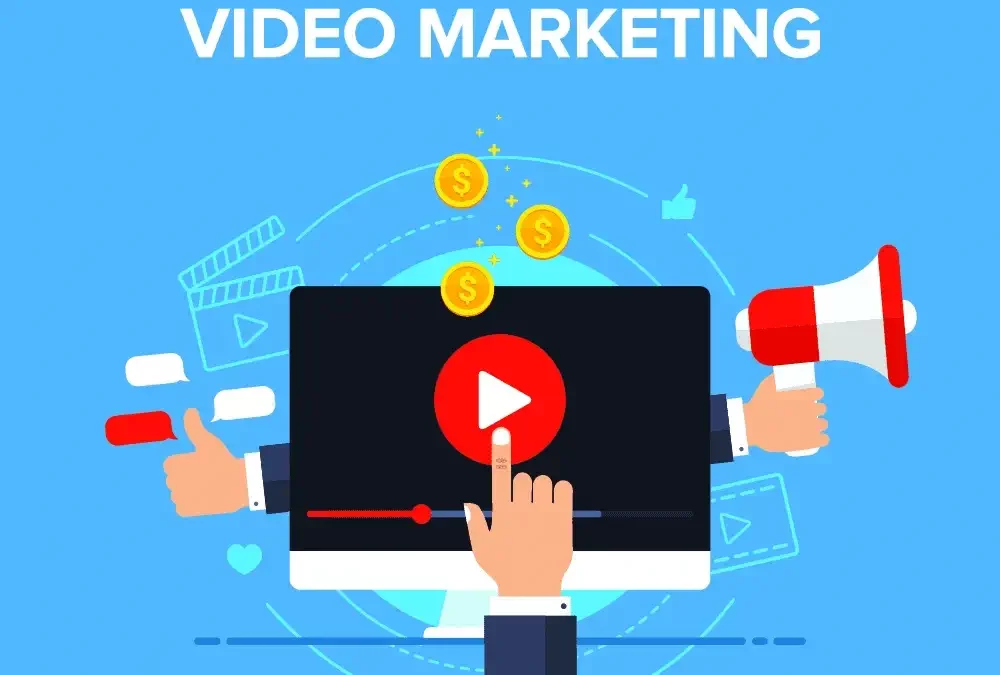 Creating video content that helps people solve their problems or answer their questions is a great way to position yourself as an expert in your industry.
This will encourage prospective patients to trust your brand and become your next clients.
To promote your videos, use a variety of tools — including YouTube, Instagram, and Facebook, and also embed the video in your email newsletters.
Video is an increasingly popular way to market your business. YouTube viewers watch over 1 billion hours of video on the platform every day.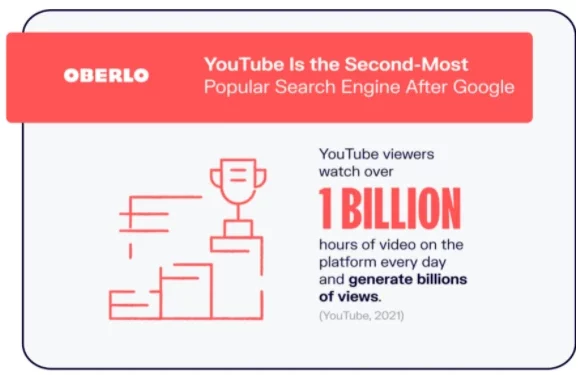 Source: Wevideo.com
Using videos on your website and social media will boost your SEO and help you build trust with prospective patients.
Videos that show you performing a chiropractic adjustment or debunking common myths about chiropractic treatment can be an effective way to attract potential patients.
It will also help you build a reputation as an experienced and professional chiropractor.
Patient video testimonials are another useful tool for attracting new clients. You may even repurpose the videos as images for your Instagram and Twitter.
Here's an example from Aware Chiropractic: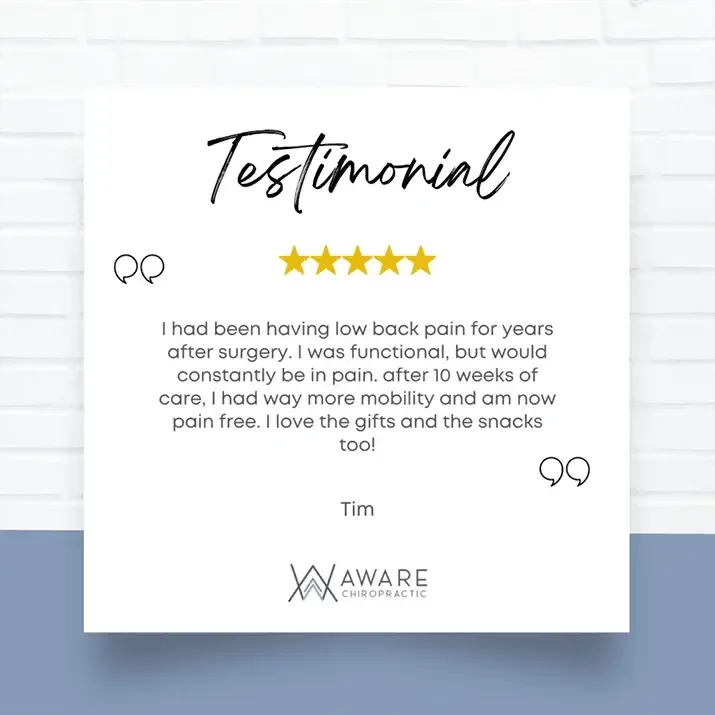 5. Leverage Facebook Lead
Ads
Facebook Ads offers the most-efficient way to get leads, patients, and clients for your Chiropractic.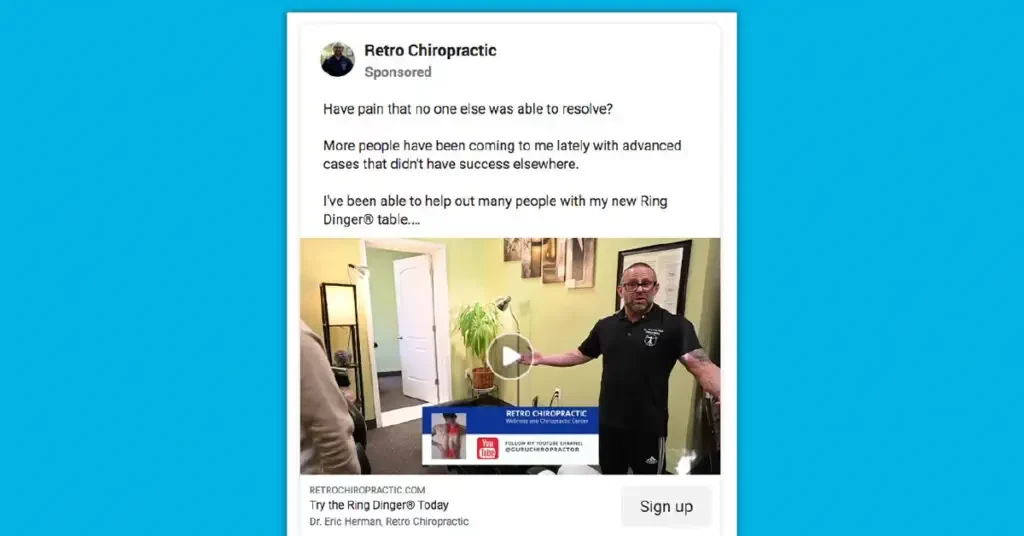 It lets you capture potential patients' details without them having to leave the social media platform.
They also reduce bounce rates from form fields, which means more leads for you.
Getting started with Facebook Lead Ads is easy.
Simply visit the Facebook Ads Manager and set your budget, then choose your ad type and campaign objective. Here's a helpful guide: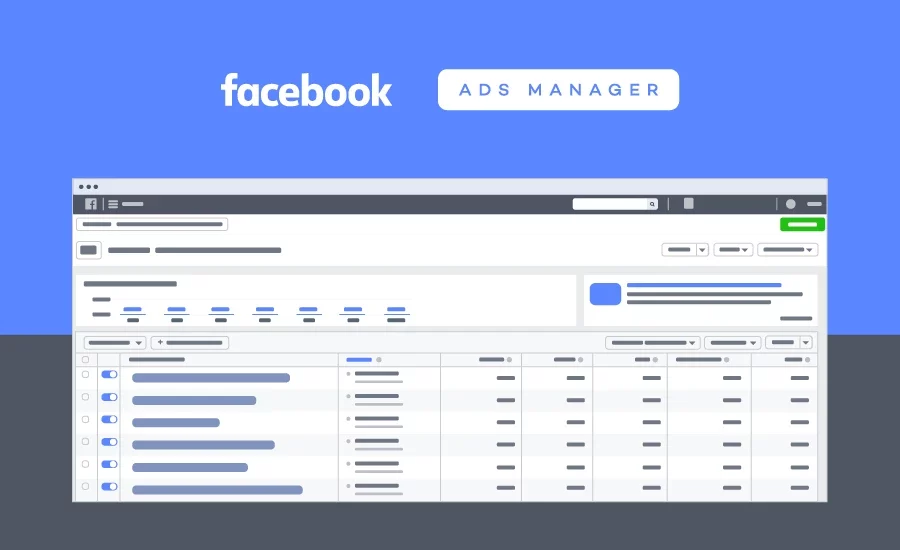 Source: Strikesocial.com
Once your Facebook lead ad is ready, it will be displayed in news feeds and messengers on Facebook.
When a user clicks on it, they will be taken to your lead form, which will prompt them to submit their contact information, demographic data, and more.
This information will help you target the right audience and increase your chances of converting those visitors into new patients.
You can even use these leads to launch a referral program or encourage patients to share their experiences with others.
Dynamic Facebook Lead Ads lets you create ad variations to suit the needs of your specific audience.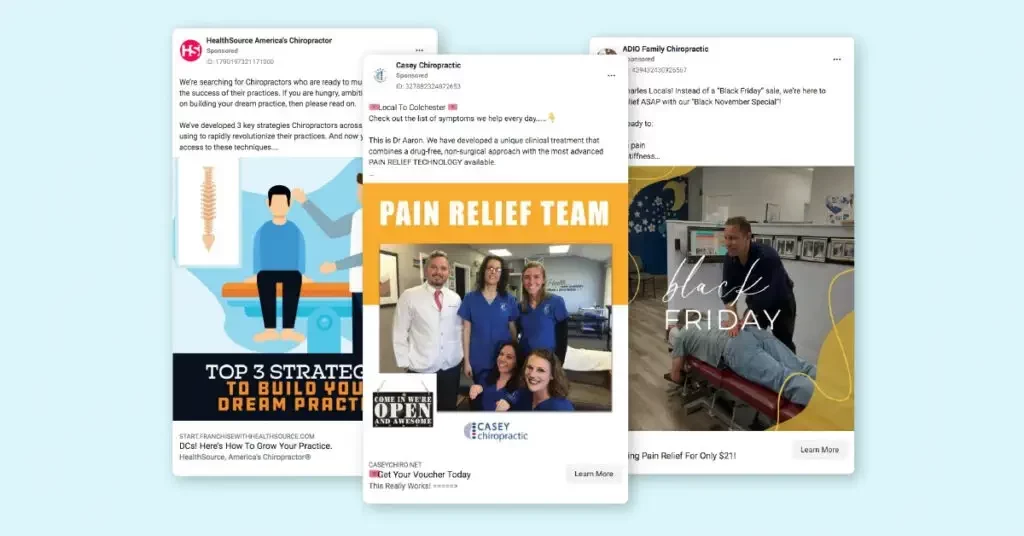 They can be personalized based on factors like age, gender, interests, and location.
This allows you to create ads that enhance your leads' quality and boost sales.
You can get the most out of your Facebook Lead Ads by using a combination of tools and integrations to automate the process and respond to leads in real time.
These include a Webhook that sends leads directly to your email or phone, and Zapier, which connects your practice's Facebook page with an email or text message system to follow up.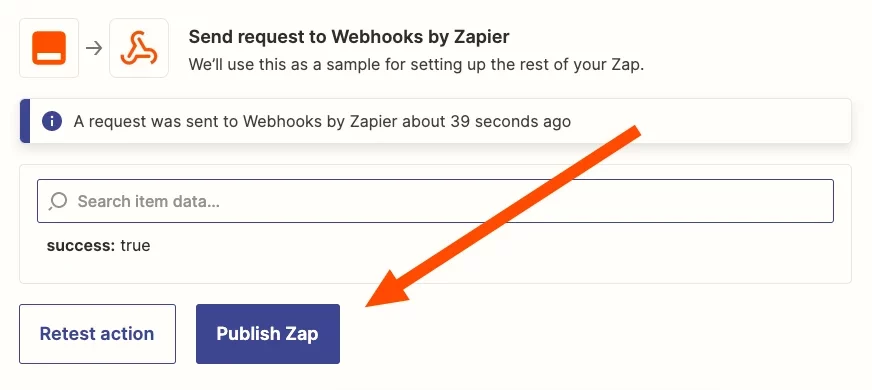 6. Launch Patient Referral
Programs
Did you know that your happy patients can become your ambassadors?
You can reward them for telling others about your Chiropractic treatments.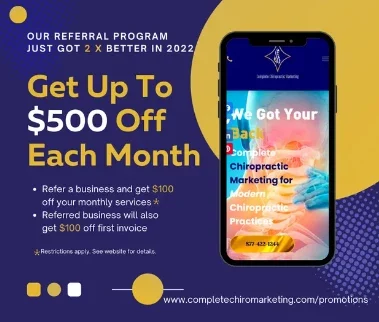 One of the best ways to do this is by implementing a referral program.
These programs are designed to reward existing clients for referring their friends and family to your practice.
Patient referral programs let Chiropractors acquire new patients without the cost of traditional marketing.
Many practices use incentives like gift cards, discounts on future services, or entries into a raffle to motivate patients to refer friends and family members to the practice.
Business-like cards also work well. This card can include the name of the person to be referred to and your practice contact information.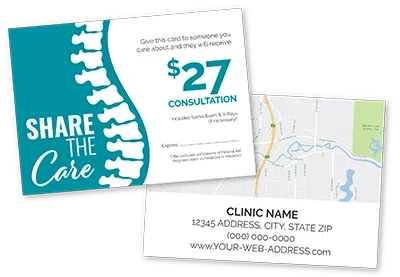 This will allow patients to hand the card to a friend or family member and get credit for referring them to your practice.
However, these types of referral programs can go wrong if not implemented properly.
Whether it's in the form of a program or not, it's important to create an efficient patient referral process that ensures patients are happy with their experience and are excited to share it.
A patient referral program should also be a collaborative effort between the staff and patients.

It is best to devise a documented plan and assign a staff member to be accountable for the success or failure of the program.
Once you have a clear idea of how you will implement your patient referral program, it is time to start spreading the word about it.
This can be done through email, social media, and other online channels.
Above all, make sure you are targeting the right demographics with your referral programs.
Promoting chiropractic online is important for many reasons.
Not only is it essential for increasing patient volume, but it's also a viable way to educate patients about musculoskeletal health.
While all the strategies above are highly-effective, a strong SEO and mobile-responsive website are the BEST way to attract potential clients.
This makes it simpler for them to locate you, book an appointment, and leave a review on Google or Yelp.
Make sure you stay abreast of the internet's constantly evolving landscape if you want your business to remain relevant.
A professional digital marketing firm can help enhance your online presence, drawing in more customers and increasing revenue!