It's no longer enough to have a Chiropractic website that sits and collects dust every day. "Are you getting leads and increasing revenue?" This is the ultimate question.
We'll share the 7 must-have features to add to your website if you want to captivate your patients' minds and persuade visitors (i.e., potential patients) to fill out your booking form.
The huge interest in Chiropractic treatments and care has created new avenues for physicians, chiropractors, and doctors to grow their practices.

In fact, our Digital Marketing Agency for Chiropractors has seen an increased demand for past few years as competition is getting fierce and practice owners need to invest in their website as well as marketing to keep growing.
Everything begins with a well-designed website!
Investing in a custom web design (like below) has become more crucial than ever before.
The competition is getting stiffer and only Chiropractors with optimized websites will thrive.
Congratulations if you already have an existing website. A new design concept or refresh can make a world of difference to either getting consistent leads and patients or losing potential leads to your competitors.
1. Appointment Booking & Scheduling
System
You want to convert as many visitors to your Chiropractic website to patients. That's the primary goal of starting a website in the first place.
So make it super-easy for visitors to book consultations or schedule a call/visit directly on your website.
Your website may not look the best, but if you communicate your USP (Unique Selling Point) well, people would be excited to book free appointments or schedule a call/visit to your practice.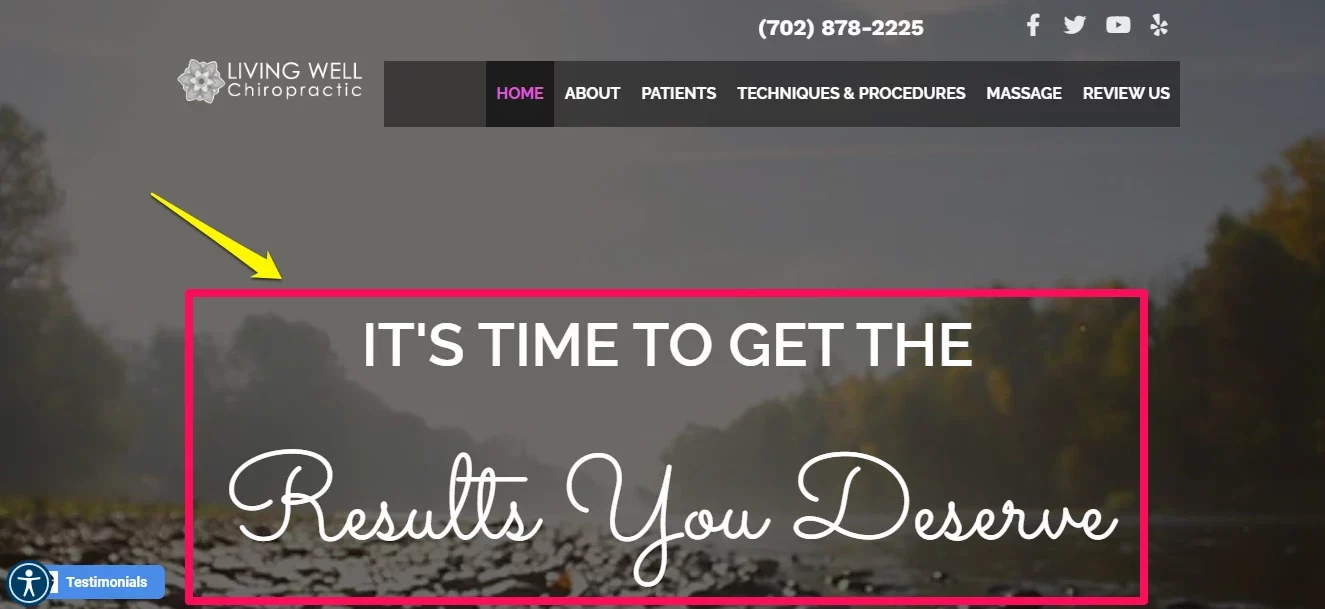 An appointment and scheduling system will act as your funnel to bring casual website visitors to get acquainted with your medical services.
Use simple web forms with a few form fields — don't overwhelm your audience with too many form fields. The East Bay Chiro Office only requests 6 important info in its form fields, which isn't too overwhelming.
Ideally, be upfront with the cost of the initial visit so that potential patients know what they can expect for the price.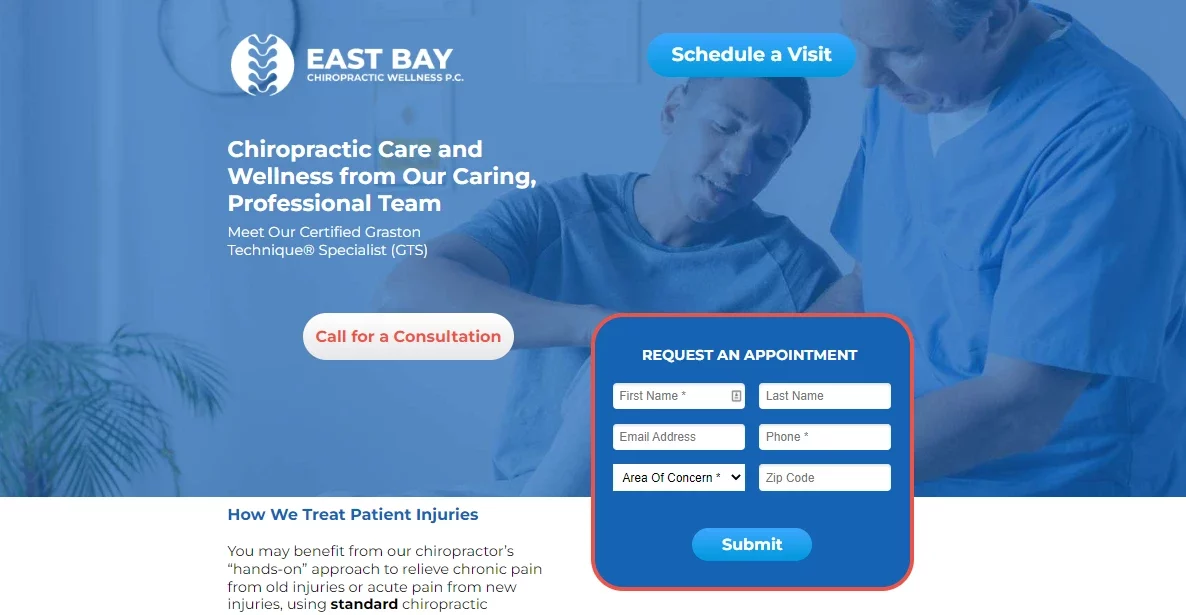 Source: Eastbaychiropracticoffice.com
The Joint Chiropractic uses a simple web form for appointment booking with an initial visit cost ($29) that covers consultation, exam, and adjustment: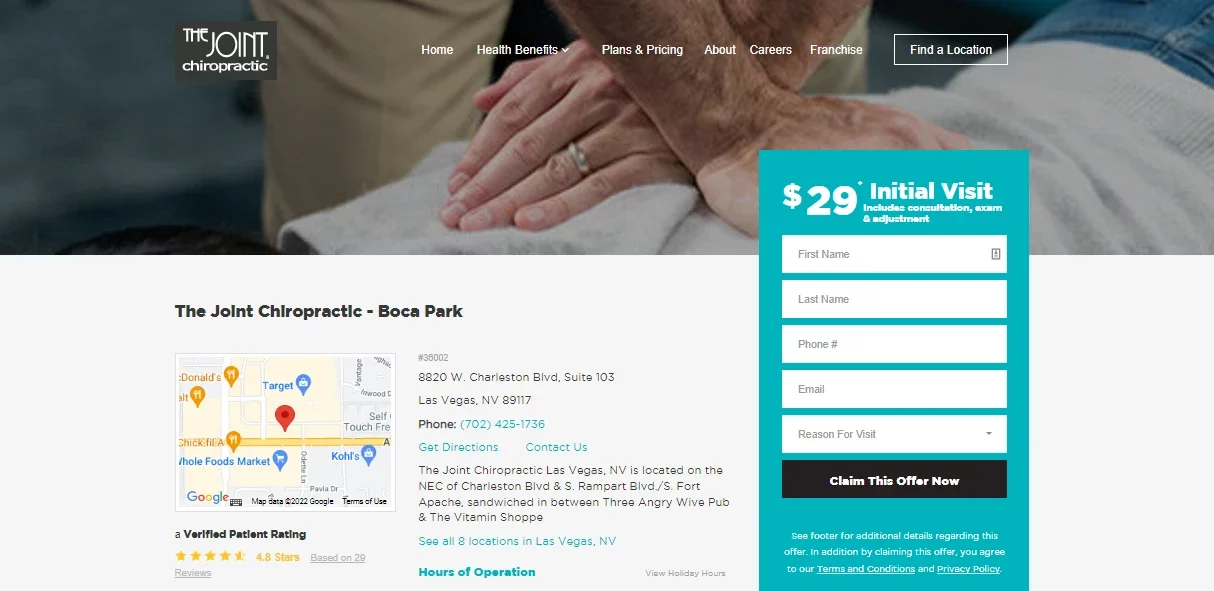 Source: Thejoint.com
There are several plugins you can use to quickly integrate a booking & scheduling form on your website if you're a WordPress user.
If you use Squarespace, Wix, or any other drag-and-drop visual website builder for your website, then you already have access to tools you can use to add online booking forms to your Chiropractic website.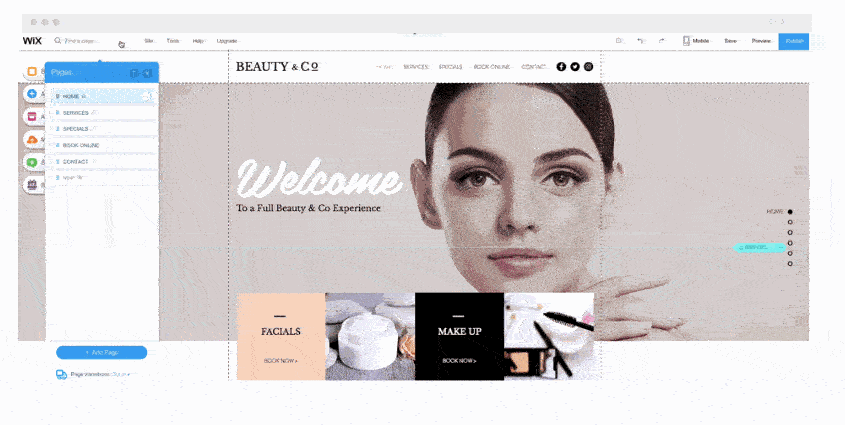 Source: Wix
With this booking form, potential patients can easily select a preferred time slot, fill out their contact information, and could request their insurance information on the spot.
Once you collect these contact details from your website visitors (who have indicated an interest in your Chiropractic treatments), then you can seamlessly parse the patient information into a CRM or email marketing tool (like GetResponse, HubSpot, or Keap) to begin nurturing and building relationships with them.
2. Accurate Contact and Location
Information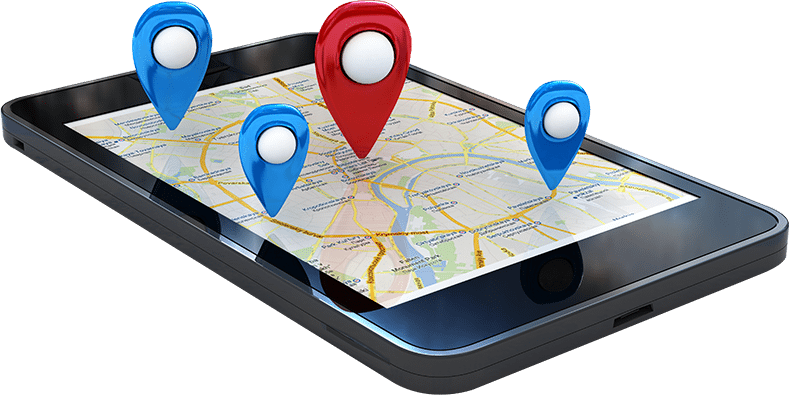 Is your contact and location information clearly shown on your Chiropractic website?
This is a must-have feature to boost conversions. Make sure your location and contact information is accurate, visible, and frequently updated.
Your phone number should be added to your website header and footer. If possible, use an interactive map to direct new patients who want to visit your center. 
Living Well Chiropractic demonstrates a good example of how to visibly show contact address and location information. Plus, it also displays social media icons so that users can follow and enjoy their content.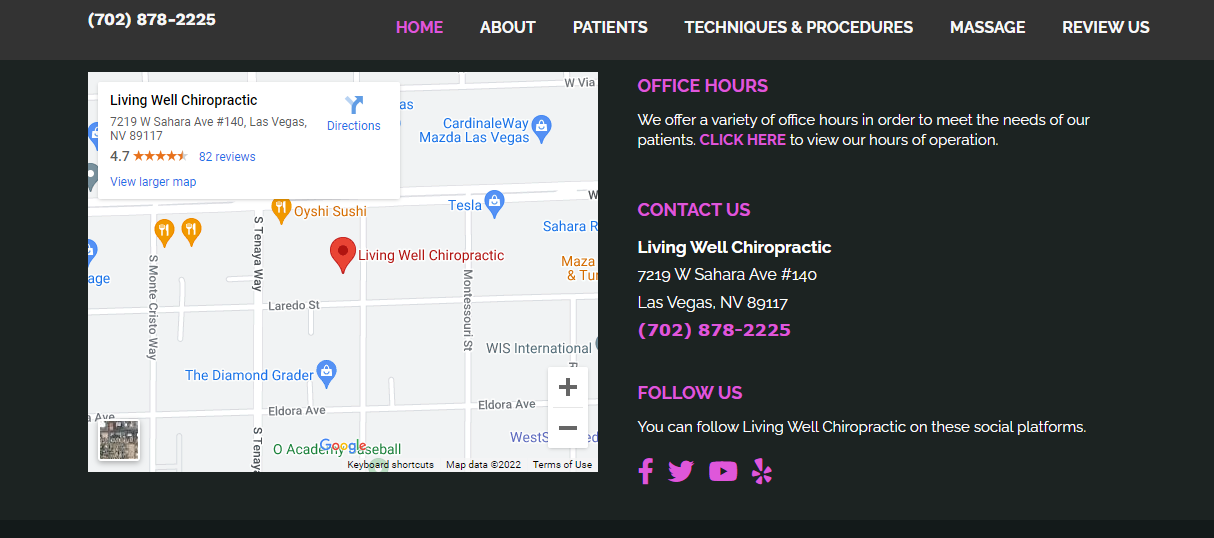 Source: Lwchiropractic.com
If you have multiple locations, make sure you add individual location addresses, contact numbers, and hours, to your website and incorporate a map as well to guide people.
Make changes to your Chiropractic website whenever you move your office to another location or there's a change of any sort.
Your new and existing patients deserve complete transparency from your practice.
Your contact information should be easily accessible once people land on your website.
3. Adopt Mobile-First
Design

Your ideal patients and clients are mobile, it's crucial to be where they are.
Reaching them via their smartphones and tablets is the beginning of a great experience they enjoy with your practice.
We're living in a Mobile-First world. This means that you should optimize your marketing efforts — starting with your Chiropractic website — with mobile users in mind.
Start with mobile 'first' then consider desktop users.
Source: Wellnesshotspot.com
When you design websites with mobile users & mobile browsers in mind, you're indirectly optimizing your pages for desktop users as well.
The goal is to optimize your texts, images, and videos for a small mobile screen. Make them responsive to adapt to any screen size.
If your website looks great on iPhone 12, for example, you bet it'll look amazing on wider desktop and laptop screens.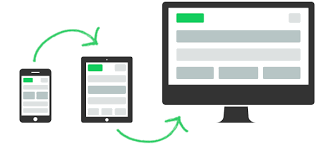 Mobile-first design is all about putting mobile users first. Speed and design matters — so use plenty of white spaces (or negative space) on your website to avoid clutter.
Keep your website clean and easy to navigate. And be sure it's insanely fast!
At Omnicore, we design mobile-friendly websites for Chiropractors. Contact us today to discuss your web design needs today.
4. A Resourceful 'About Us'
Page
The 'About Us' page is almost an afterthought for most Chiropractors. But it shouldn't be.
According to Michael Keena from Shopify, "This all-important page may go by different labels — About, Mission, Mission — but the goal is always the same:
A page that gives the business a chance to say "This is Who We Are".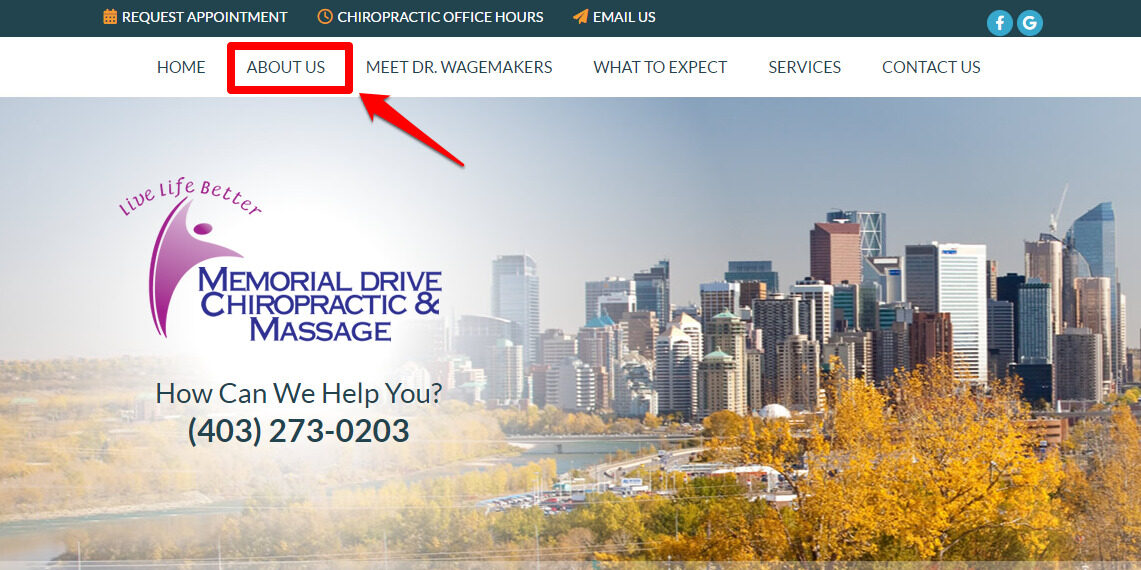 Potential patients can get a better understanding of who you are, what your Chiropractic can do for them, and your amazing story — all from the 'About' page.
Connect and build rapport with new leads and patients.
Natural Way Chiropractic has a beautiful about page that communicates the story behind the business, when it was established, specific Chiro treatments, and the doctors.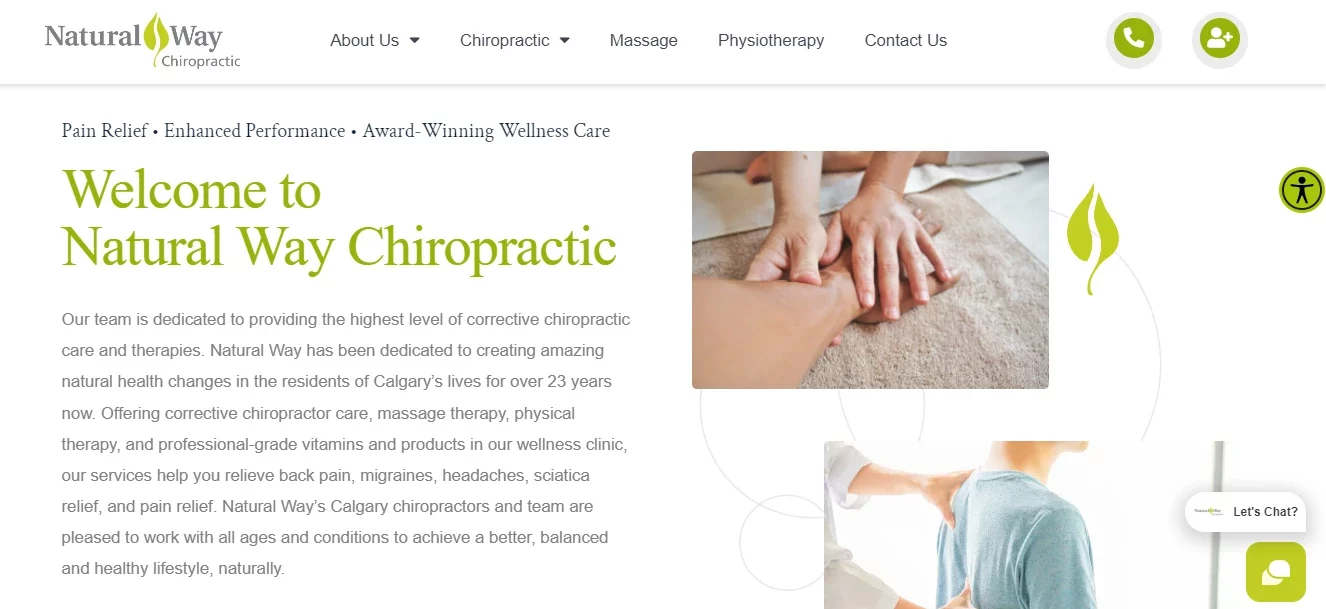 Source: Naturalwaychiro.ca
When crafting your 'About' page, make it relatable and relevant. Address the Ws when writing your copy. In other words, address the who, when, what, where, and why.
Use some visuals and personal photos to show that you're a real person and your team is relatable as well. We'll cover humanizing your team members next.
5. Humanize Your Team
Members
Some Chiropractors' websites included the doctors, physicians, and professional teams within the 'About' page.
But modern website design calls for "Relevance." This means that you should prioritize your team members and dedicate a page or section of your website just for them, like so:
When people are looking to visit a Chiropractic center or engage with one virtually, they always want to know how professional, qualified and experienced the team is.
Your team members are also a form of social proof for your Chiropractic business. So introduce your team members -- starting with the doctors.
But don't just highlight their professional backgrounds and achievements, humanize the experience by briefly talking about their families and even kids.
This will make their bio relatable — and patients/clients will feel at home when booking free consultations or filling out an appointment form on your website.
Chiropractic Center for Health has a dedicated page on its website for the professional team and their specialties. You can 'click to learn more about each Chiropractor: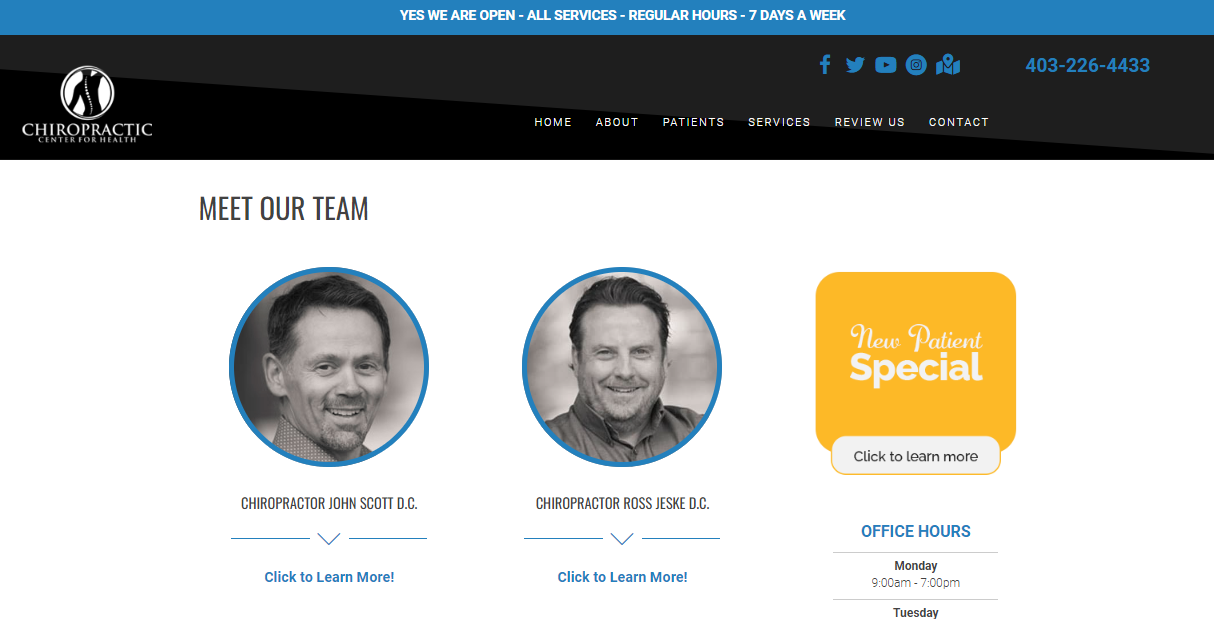 Source: Myspinedocs.com
It's important to use real photos of your team members.
Sadly, we still see a lot of Chiropractors that use stock photos or fake photos to highlight their team-member group pictures.
This is far from being an authentic marketing strategy. Your website visitors and potential patients can tell a mile away when they see a stock photo of a well-dress team.
To further humanize your team and show authenticity, you can take a photo of your team members wearing brand T-Shirts or have a branded backdrop theme of your business name.
Here's a good example from Health for Life Chiropractic: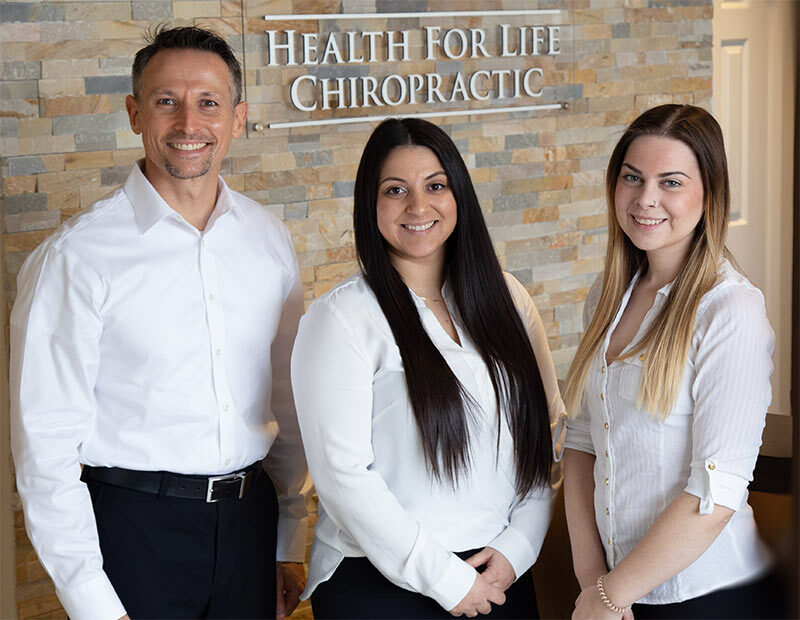 Source: Hflchiro.net
Patients seeking Chiropractic treatments and care are already in some form of pain (e.g., joint or lower back pain), and you don't want to add to it.
Make the pictures of your team members convincing by making them as authentic as possible.
6. Clear and Simple Website
Navigation

Source: Rootsfamilychiro.com
A website that's difficult to navigate is frustrating, to say the least.
A must-have feature or requirement for a successful Chiropractic website is clear and simple website navigation.
When people land on your website, they should quickly find their way around.
From the About page to the Team to the Services to the Contacts, and any other page — it should take just a few clicks of the mouse to get to where they want to be.
Use a clean and modern navigational style. 
Use the 3-click rule, as stipulated by Nielsen Norman Group, when designing your website or instructing a web design agency.
The 3-click rule states that no matter the page your visitors land, they should be able to navigate to any other page in 1 to 3 clicks.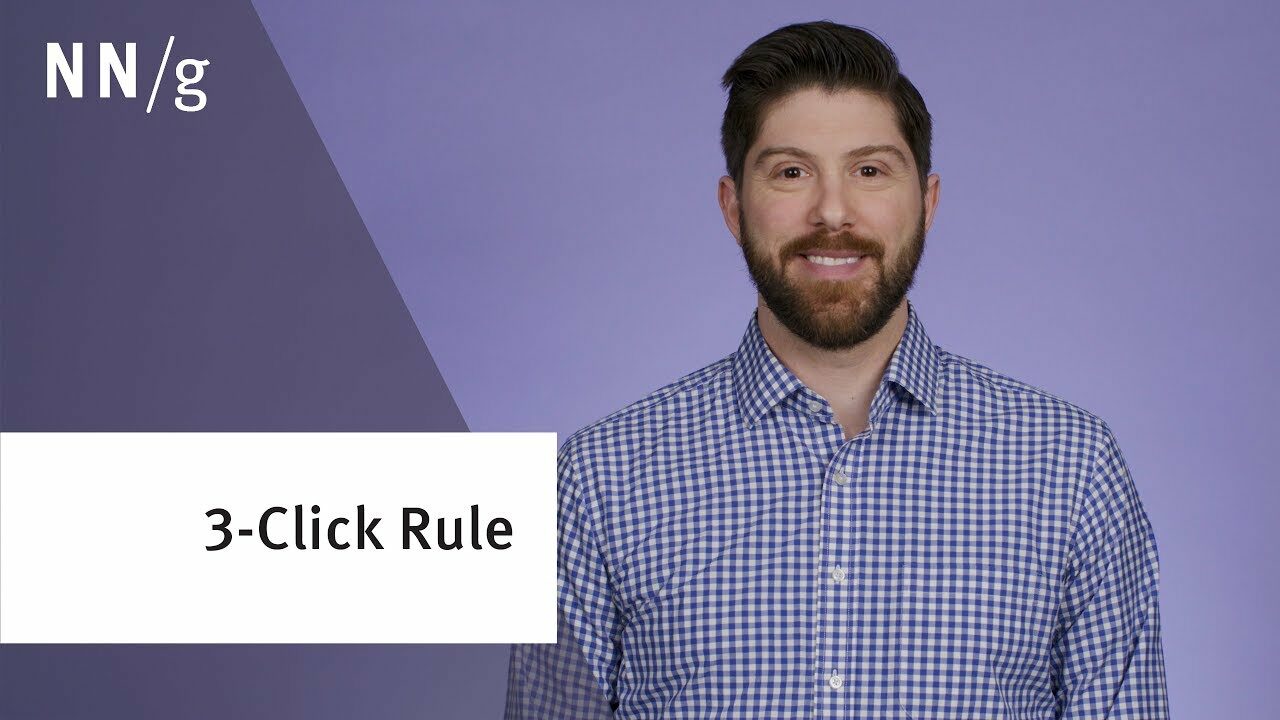 Source: NNgroup
You'll be wrong to assume that all your website visitors will come from the homepage.
Some can discover you from reviews they read online through your testimonials page, while other people may find you after reading a blog post that ranked on Google.
When it comes to the number of items to include in your navigational menu, there's no standard rule.
Just allow plenty of white spaces and use 3 to 7 menu options just like Dr. Eshanov Chiropractic's example: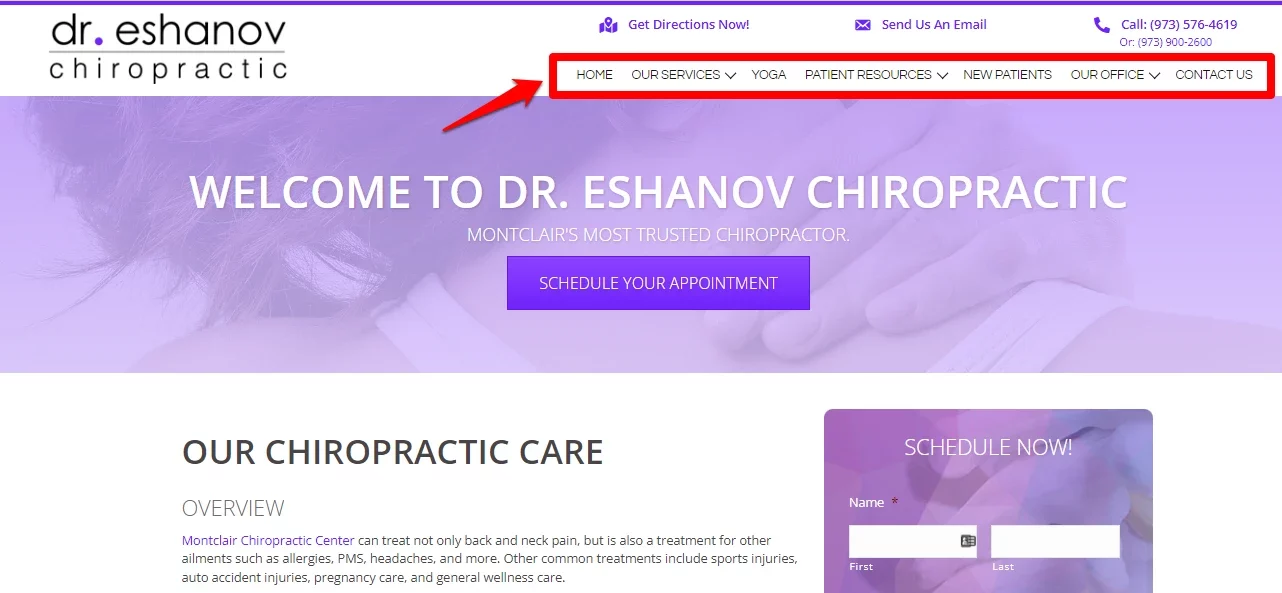 Source: Montclairchiropracticcenter.com
If you have other pages or categories you 'wish' were included in the menu options but ignored in a bid to boost conversions on key items, you can add them as secondary items in the drop-down menu.
Or simply integrate a Search function to enable patients to search and find any page or information on your website.
7. Add A Blog to Your Chiropractic
Website
Blogging is the best way to get organic traffic and leads from search engines. So this might be the perfect time to add or integrate a blog to your Chiropractic website.
There's no other way to get rewarded for creating helpful and high-quality content.
Manhattan Gonstead Chiropractic has a blog that offers helpful articles regularly in magazine format: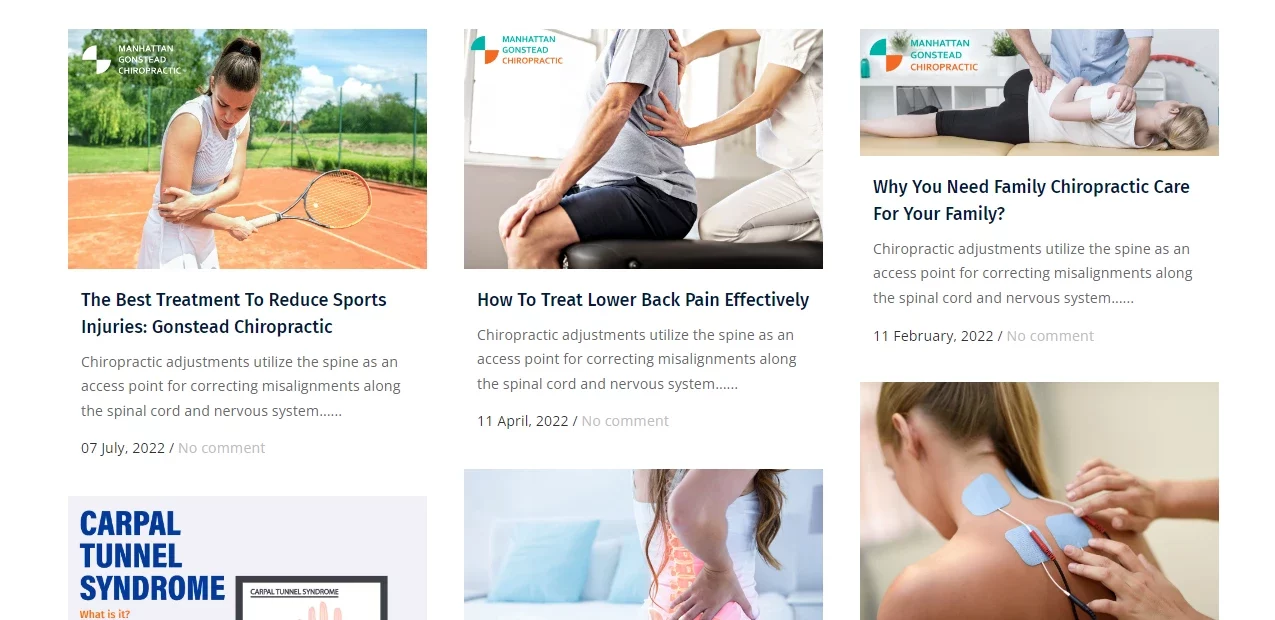 Source: Imyourchiropractor.com
Through blogging, you can establish your authority, answer specific questions related to Chiropractic or the specific services you offer, or create evergreen resources that will help patients out whenever they land on your website.
Does blogging get you leads? Yes, it does. According to HubSpot, companies that blog regularly generate 88% more leads than companies that do not blog.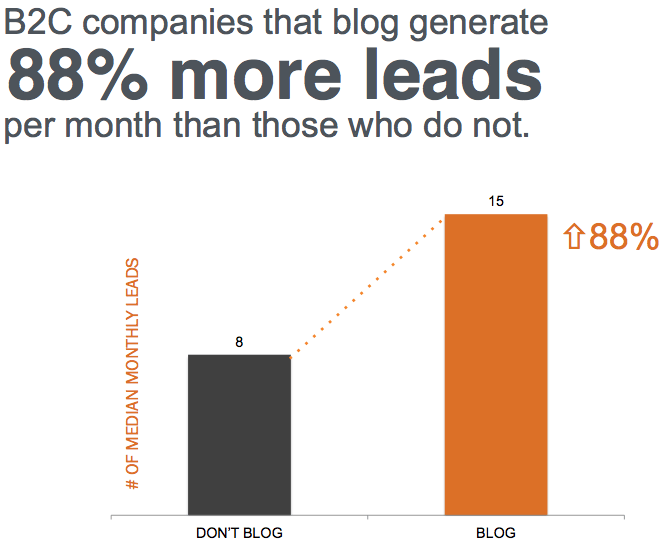 Source: Hubspot
You can easily install a WordPress.org CMS on your existing website to get all the blogging tools and plugins you'll ever need.
If you don't want to continually spend money on Google Ads, Instagram Lead Ads, or other forms of Pay-Per-Click Advertising, you need to take blogging seriously.
Find relevant keywords that your target audience is searching for and start creating content to address the 'intent' of such keywords.
San Ramon Urgent Care & Clinic has one of the best blogs in the industry. It ranks for Back pain and Fatigue, and other relevant keywords.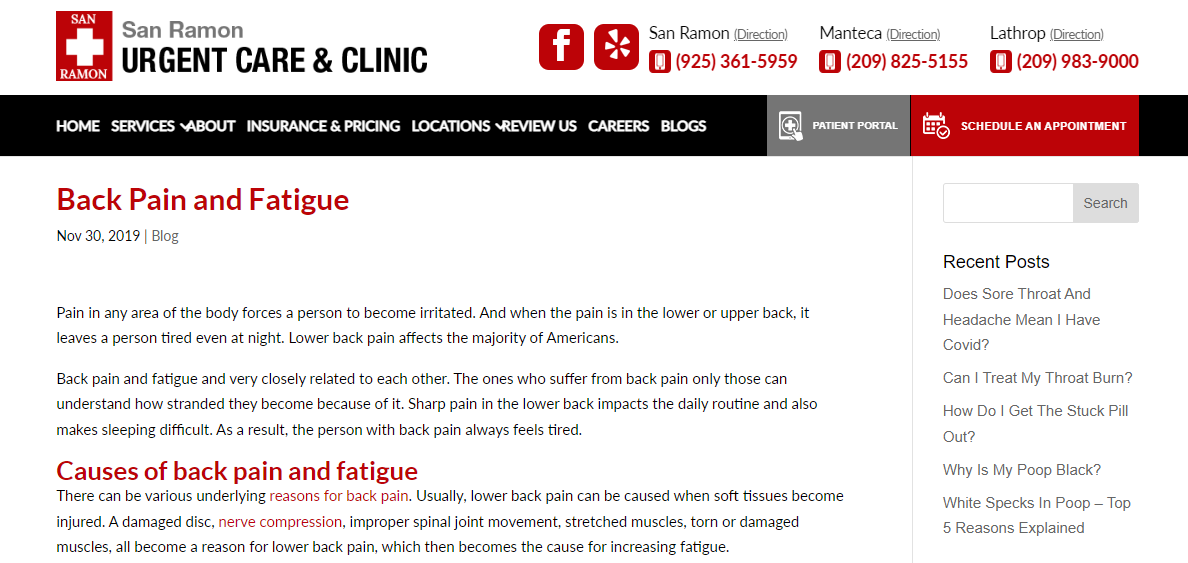 Source: Sanramonurgentcare.com
You can do a lot more with your blog other than creating written posts. Consider videos, podcasts, images, eBooks, and other types of content that you can share with your readers.
You can also embed videos of your procedures or treatments, share case studies and testimonials, and even add "before" and "after" photos of your patients to your written posts.
Above all, always add a call-to-action (CTA) link or button to your online booking page or web form.
After all, when readers are happy with your post, the next necessary step could be to request a free consultation or schedule a visit to your center.
Are you ready to add a blog to your Chiropractice website? We can help you. Contact Omnicore to get a custom quote or book a free Strategy Session to discuss your specific web design & marketing needs.
The right website can transform your Chiropractic business and start sending you an influx of leads and patients.
Getting leads from your website should be normal because it's with some of your competitors.
If you're not used to this 'experience,' then it's time to rethink your strategy because your Chiropractic website is a goldmine and has great potential to grow your revenue.
Let the examples of Chiropractic websites we shared in this article inspire you to create your today or redesign your existing website.
For professional Chiropractic web design and marketing questions, speak with a team member at Omnicore today.
Photo Credit: Unsplash