Fertility clinics are constantly looking for ways to attract new patients and increase their visibility in a crowded marketplace.
The fertility industry has seen significant growth in recent years, with more and more couples and individuals seeking fertility treatments to start or grow their families.
According to this report, the global fertility services market is projected to reach $161.846 million by 2030, with a compound annual growth rate of 13.4% from 2015.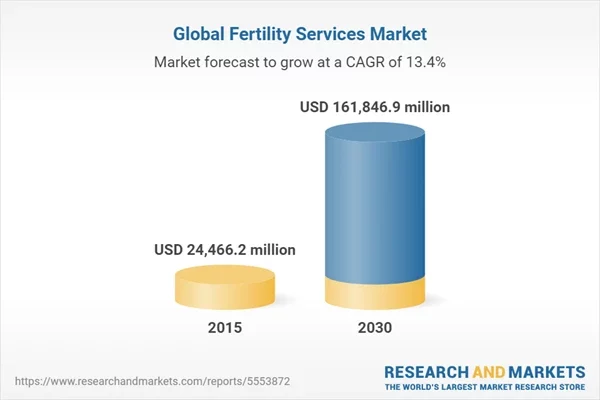 As the demand for fertility services continues to rise, clinics must find new and effective ways to attract patients and stand out from the competition.
This is where digital marketing comes in.
With the majority of patients now using the internet to research healthcare providers and treatments, having a strong online presence is crucial for any fertility clinic looking to grow its patient base.
What is Fertility Clinic Digital
Marketing ?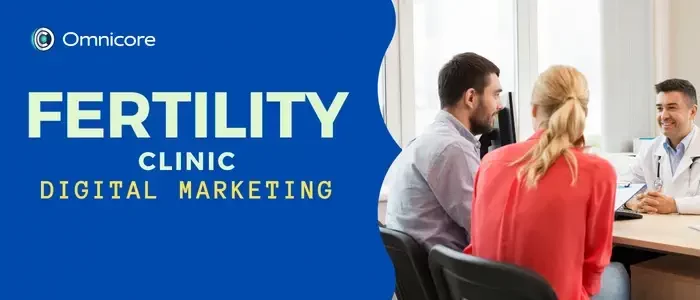 Fertility clinic digital marketing is the practice of promoting fertility clinic services online through various digital channels, such as search engines, social media, email, and messaging apps.
With the right marketing techniques, fertility clinics to reach potential patients online, educate potential patients, and encourage them to take action, such as booking an appointment.
Here are 5 marketing strategies to get consistent leads for your fertility clinic:
1. Use Pay-Per-Click (PPC) Advertising to Attract
Patients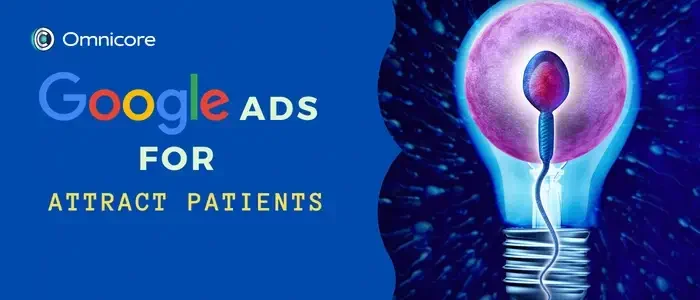 Pay-per-click (PPC) advertising is a digital marketing technique that involves placing ads on search engines, social media, or other websites and paying only when someone clicks on the ad.
The most popular PPC platform is Google Ads. When you advertise on Google ads, your ads will show up on Google search results, and on display networks (other websites).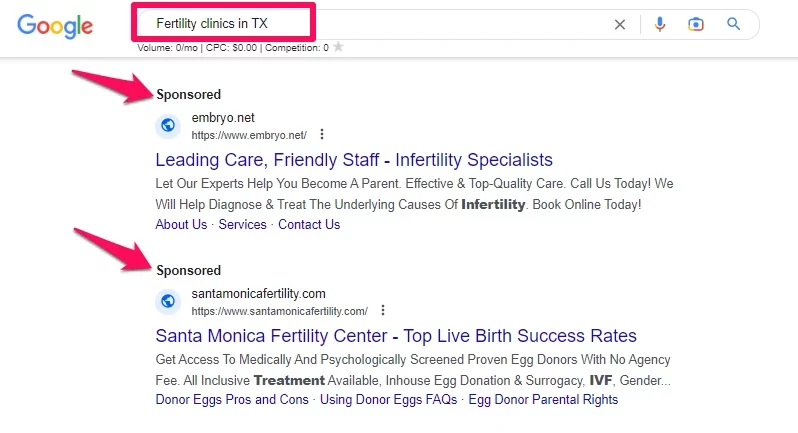 To maximize your Google advertising budget (which could range from $3 to $10/day), choose "Search Networks" only when setting up your ads.
With display networks, your ads will only appear to potential patients searching for your services in their area.
To get started with Google ads, here are 3 easy steps to take:
Identify your target audience and keywords: Begin by identifying the keywords and phrases that potential patients use when searching for fertility clinics. Use Google Keyword Planner to find and pick the most relevant keywords for your clinic.
Create compelling ad copy: Your ad copy should be attention-grabbing and relevant to the search query. Use persuasive language and highlight the unique benefits of your fertility clinic.
Set a budget and bid on keywords: Set a budget for your PPC campaign and bid on the keywords you have identified. Monitor your campaign regularly and adjust your bids and budget as needed.
The Fertility Clinic Conceptions Reproductive Associates of Colorado used PPC advertising to reach potential patients.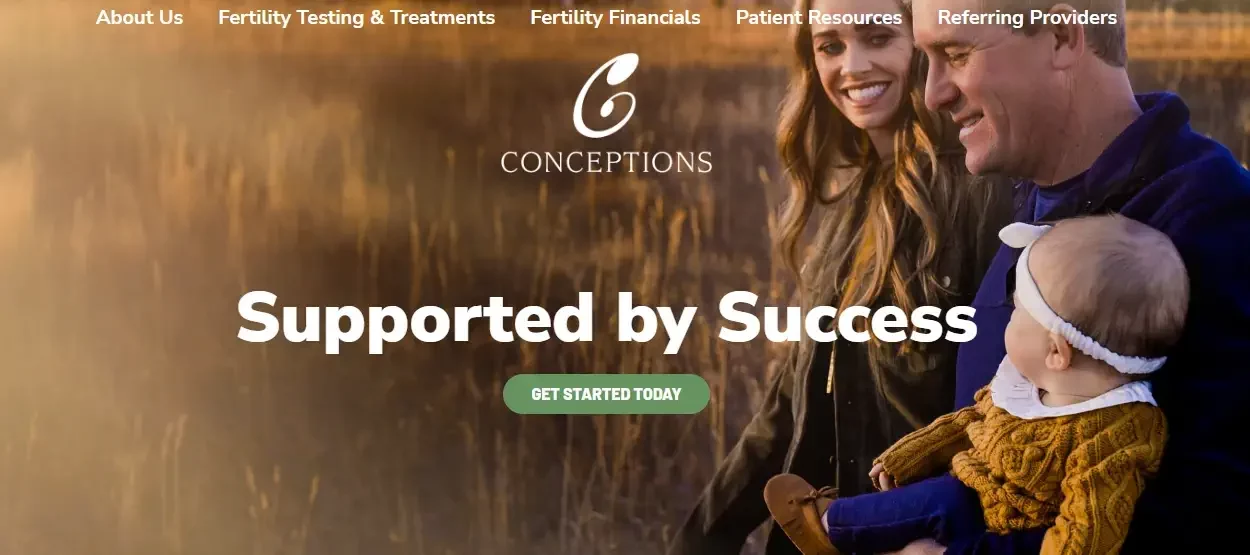 Source: Conceptionsrepro.com
The clinic targeted keywords such as "fertility clinic in Colorado" and "IVF clinic near me" and saw a 40% increase in website traffic and a 30% increase in patient inquiries.
2. Leverage Social Media Marketing to Attract Fertility
Patients
Fertility clinics are embracing social media and using it to attract new patients.
When it comes to social media marketing, your clinic can tap into the huge audience that visits Facebook, Instagram, Twitter, YouTube, and TikTok to promote your fertility clinic.
They provide exposure, traffic, and leads for your practice.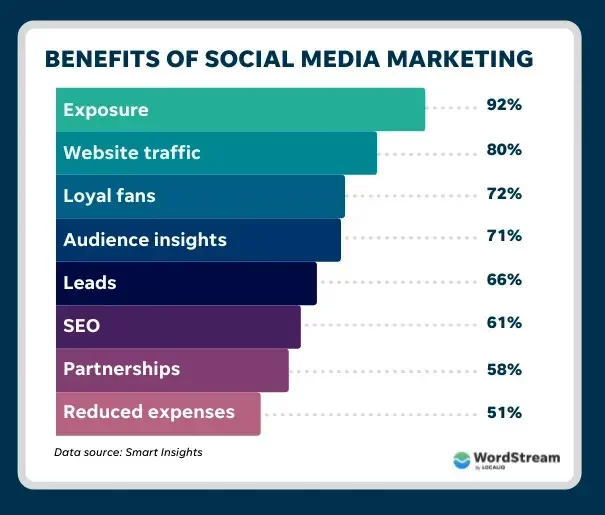 These social media platforms are free to use, but you have to be consistent and invest adequate time to see results.
You need a solid strategy to win at social media marketing. And for that to happen, there are 3 key steps you need to take. Here they are:
i). Choose the right platforms: Identify the social media platforms where your potential patients are most active.
For example, if your target audience is primarily women aged 25 – 44, Facebook and Instagram are likely to be the best platforms to focus on.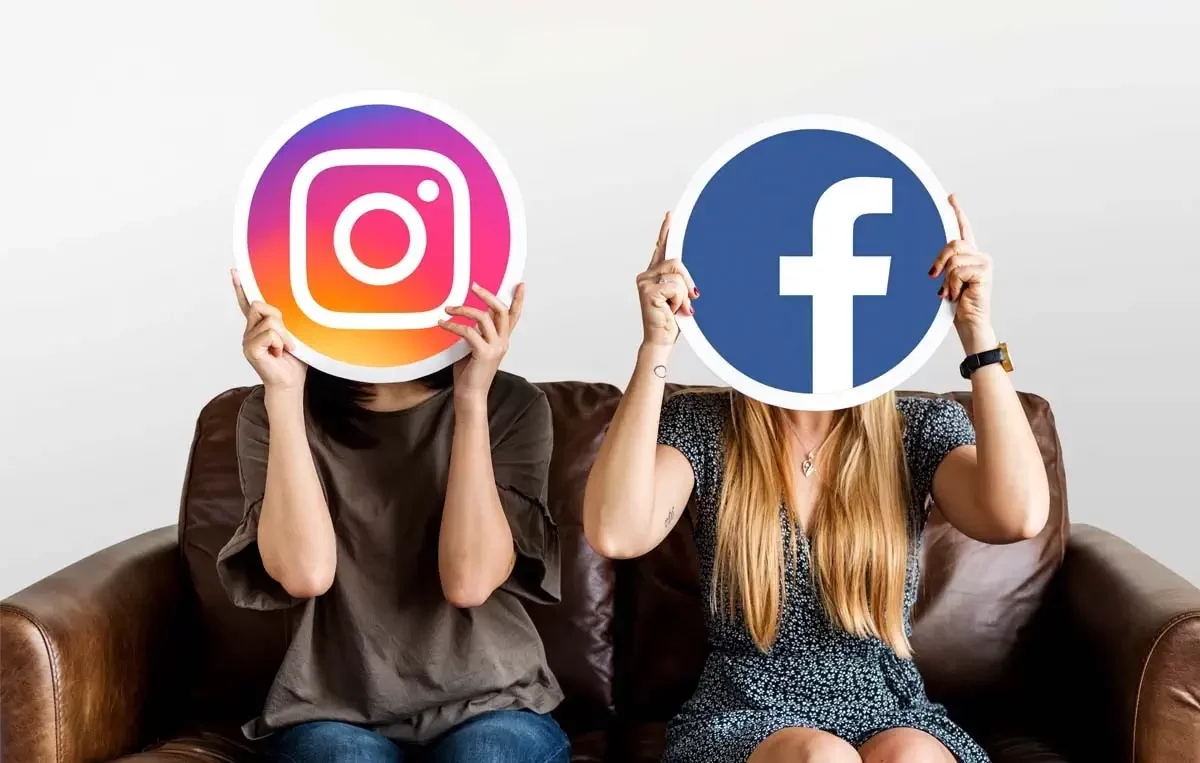 ii). Create engaging content: Start to create content that educates, entertains, or inspires your potential patients. Use a mix of text, images, and videos to keep your audience engaged.
iii). Engage with your audience: Respond to comments, messages, and reviews promptly and professionally. Encourage patient reviews and testimonials to build trust and credibility.
The CCRM Fertility Clinic used social media marketing to increase patient engagement.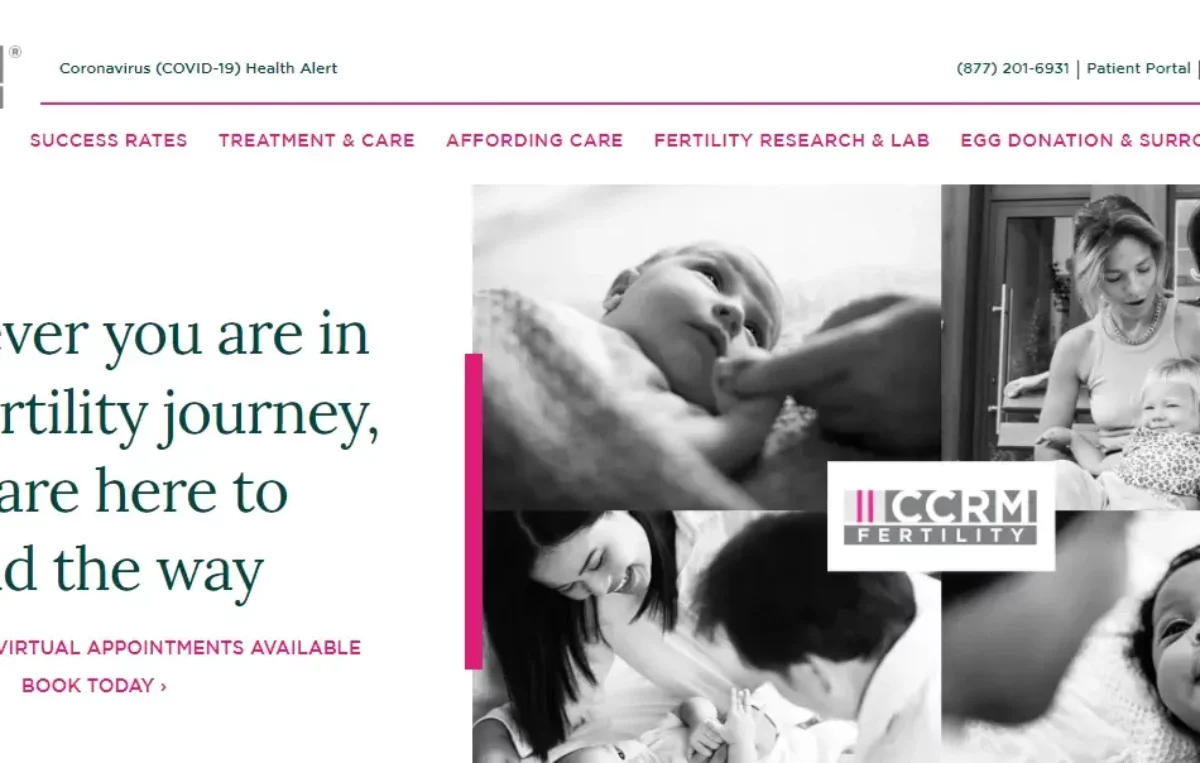 They created a Facebook group for patients to share their experiences and connect with each other, which led to a 20% increase in patient retention and referrals.
Note: Unlike people who search Google for products to buy, users on Facebook and Instagram mostly want free information.
So the most effective way to engage and convince them to visit your website or page is to offer free virtual consultations.
3. Get Fertility Patients Through Local
SEO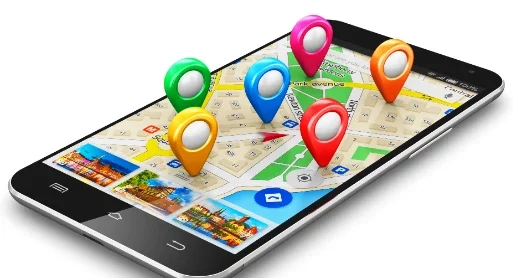 Local search engine optimization (SEO) is the practice of optimizing your fertility clinic's website and online listings to appear in organic search results and maps (i.e., Places).
Here's an example: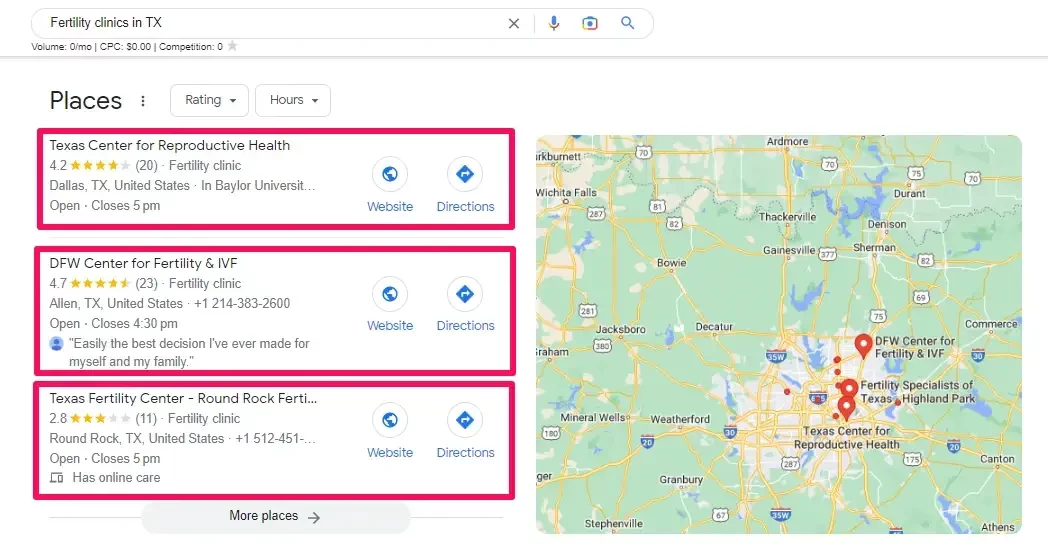 Truly, local SEO is the most powerful digital marketing technique to generate leads and encourage potential patients that your clinic is nearby.
87% of consumers used Google to evaluate local businesses in 2022.
So how do you optimize your fertility clinic's website to rank in local search results for keywords that include "near me", "your city", "your state", etc.?
Here's exactly how to optimize your website for local SEO:
i). Claim and optimize your Google My Business listing: Google My Business is a free tool that allows businesses to manage their online presence on Google.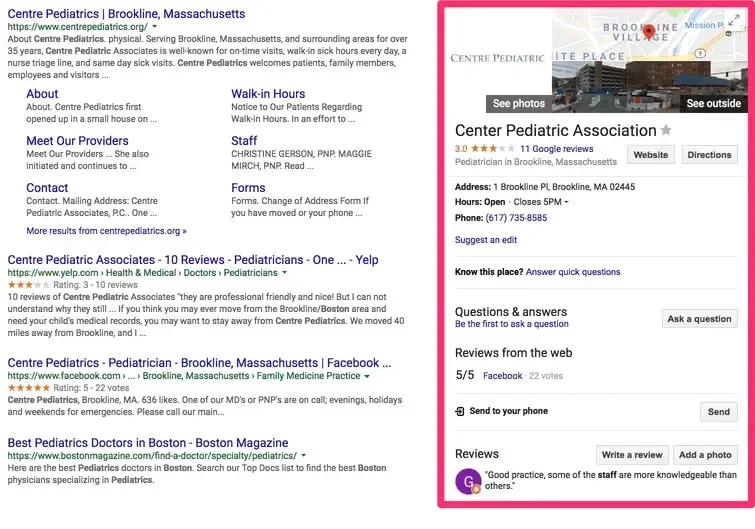 Claim and verify your listing and optimize it with accurate and up-to-date information.
ii). Optimize your website for local search: Include your clinic's name, address, and phone number (NAP) on your website and in your meta tags.
Here's an example of a NAP:
Aspire Houston Fertility Institute,
6400 Fannin St Suite 2000
Phone: +1 713-730-2229
Website: https://hfi-ivf.com
In addition, use local keywords (such as fertility clinic near me, IVF clinics in Denver, best fertility clinics in NY, etc.) in your content and blog posts.
iii). Build local citations: A citation is a mention of your clinic's NAP on other websites, such as directories.
Pro tip: When building local citations, make sure you use the same NAP (clinic's name, address, and phone number) exactly as it appears. Don't re-order your NAP in any way.
The fertility clinic Shady Grove Fertility used local SEO to increase visibility in local search results.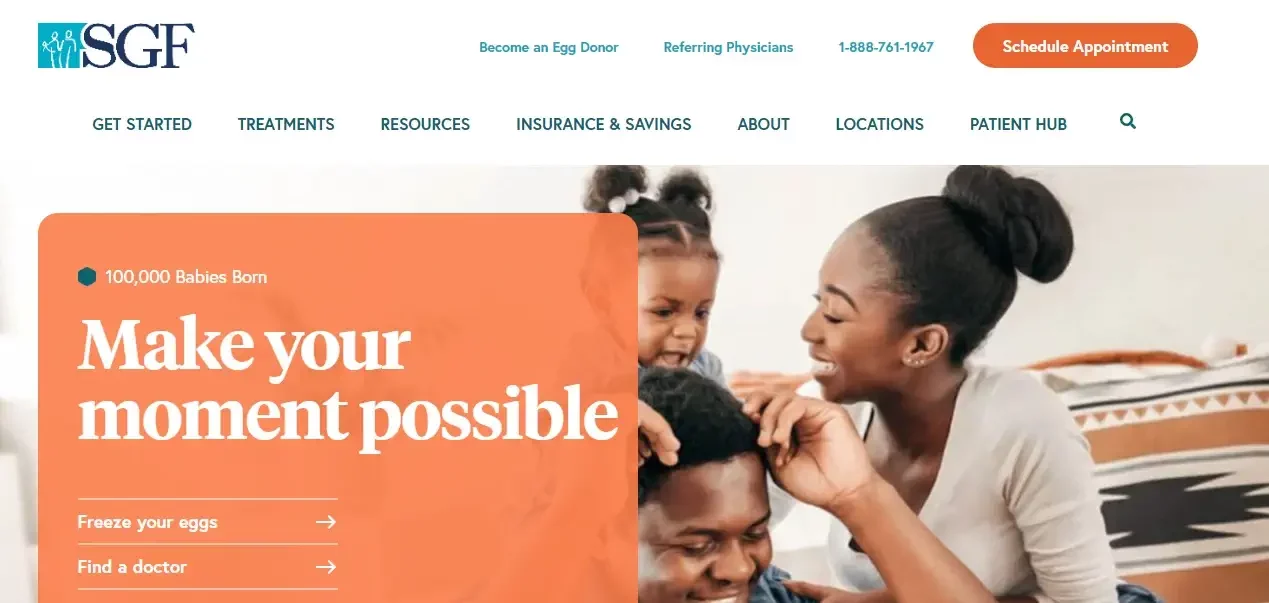 Source: Shady Grove Fertility
They optimized their website with local keywords and claimed and optimized their Google My Business listing.
This led to a boost in website traffic and a 15% increase in patient inquiries.
4. Engage New Patients Through SMS
Marketing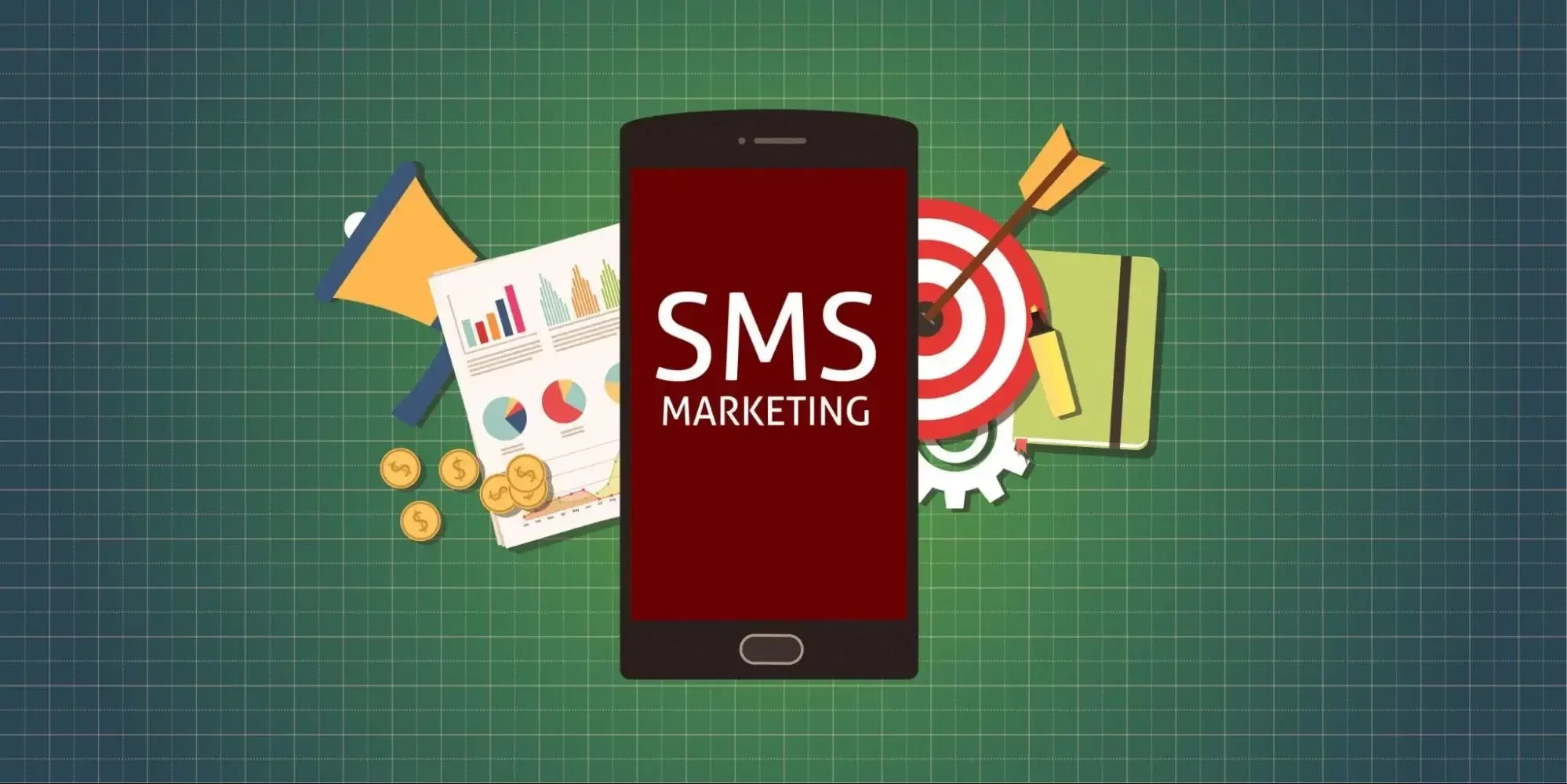 It's time to start reaching your target audience wherever they are.
This is the 'mobile' age, and the quickest way to promote your fertility treatments and services is to engage potential patients through SMS marketing.
Unlike paid advertising, the benefits of SMS marketing are enormous, and the open rates can be as high as 98%.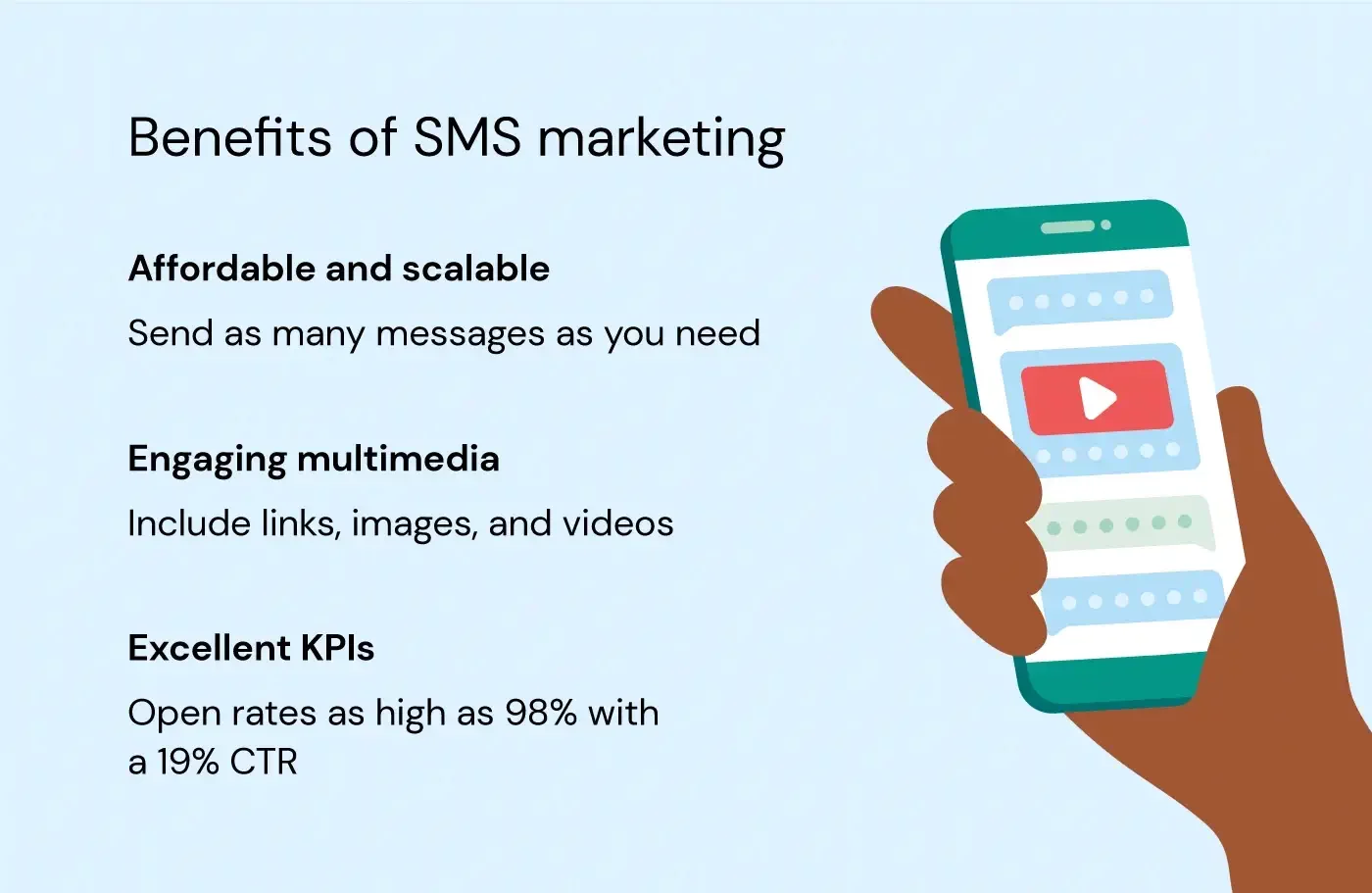 Source: Sinch.com
Don't know where to begin with SMS marketing? Here are the simple steps that can produce great results:
i). Obtain consent: Before sending text messages, obtain consent from your patients. You can do this through a sign-up form on your website, in person at your clinic, or through a text message opt-in campaign.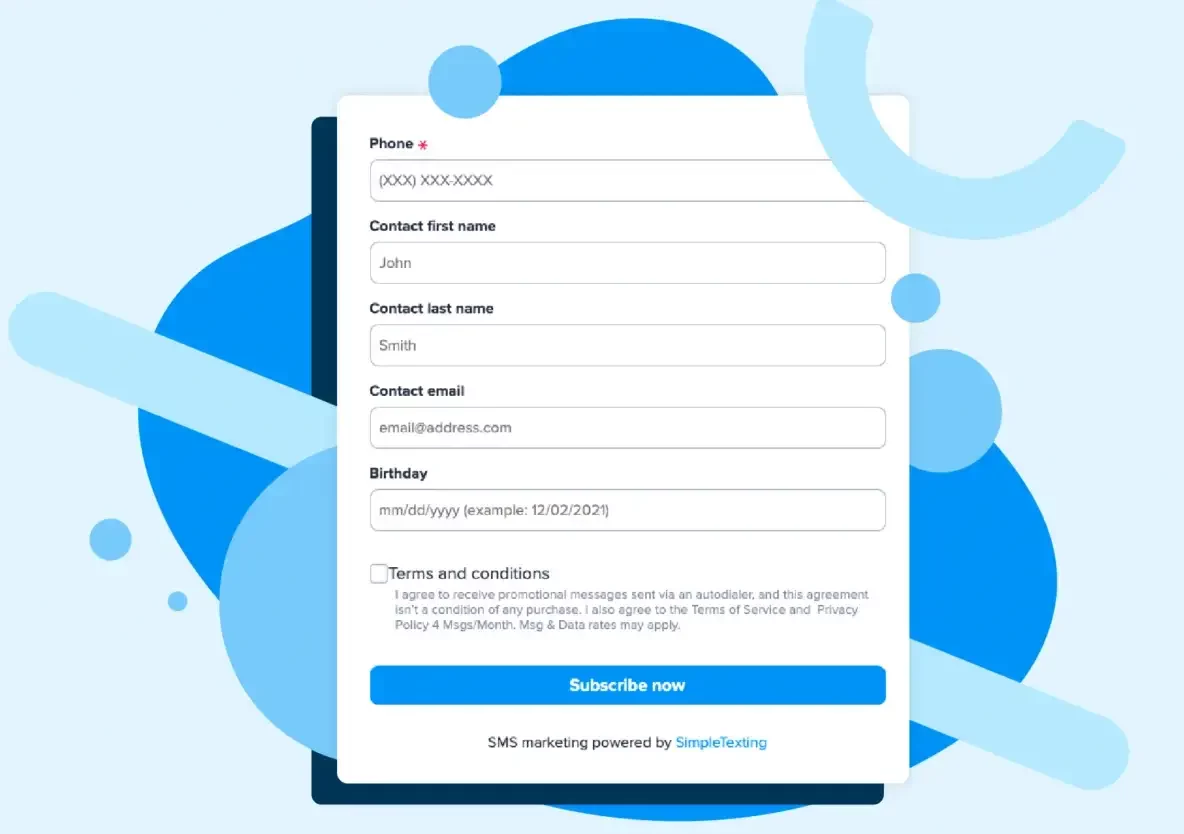 ii). Segment your audience: Segment your patients based on their interests, location, and other relevant factors.
This will allow you to send targeted and personalized messages that are more likely to be effective.
iii). Use a clear call-to-action: Include a clear call-to-action in your messages, such as "Book an appointment now", "Learn more about our services" or "Schedule now."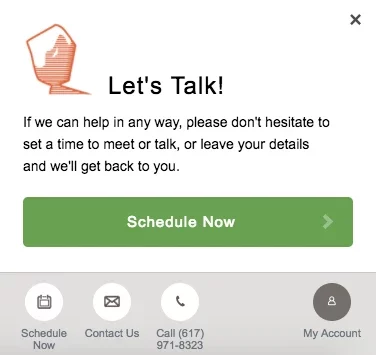 The fertility clinic Boston IVF used SMS marketing to increase patient engagement.
They sent personalized appointment reminders and follow-up messages after appointments, which led to a 20% increase in appointment attendance and a 10% increase in patient referrals.
5. Attract New Fertility Patients Through Patient Referral
Marketing
Patient referral marketing is the practice of incentivizing your existing patients to refer new patients to your fertility clinic.
Referrals are the most trusted method for increasing patient volume in any healthcare practice.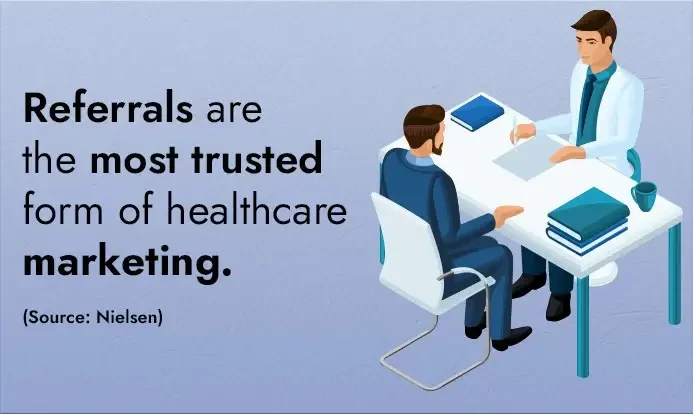 Source: Nielsen.com
The earlier you begin to engage and reward your happy patients, the more inspired they will be in sending new patients to your clinic.
This striking data throws more light on the power of patient referral programs.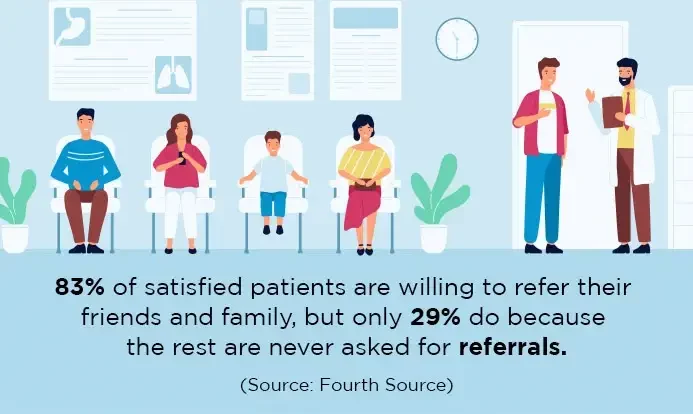 Here's exactly how to get started with patient referral marketing:
i). Offer incentives: Offer your existing patients an incentive, such as a discount on services or a referral bonus, for referring new patients to your clinic.
Here's a great incentive from the Guinea Savannah Medical Center: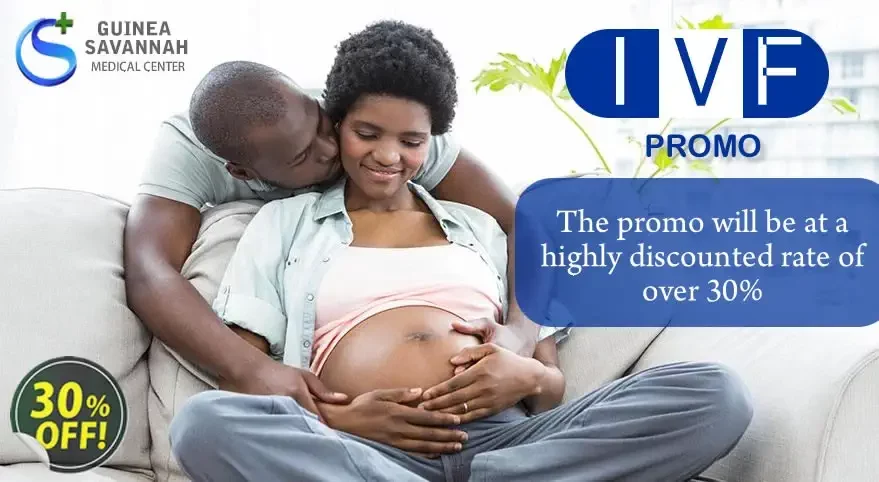 ii). Promote your referral program: Promote your referral program on your website, social media, and in your clinic.
Make it easy for patients to refer others by providing a referral link or printable referral cards.
iii). Track and reward referrals: Keep track of referrals and reward patients who refer new patients to your clinic. This will encourage them to continue referring others.
The fertility clinic RMA of New York used patient referral marketing to increase patient acquisition.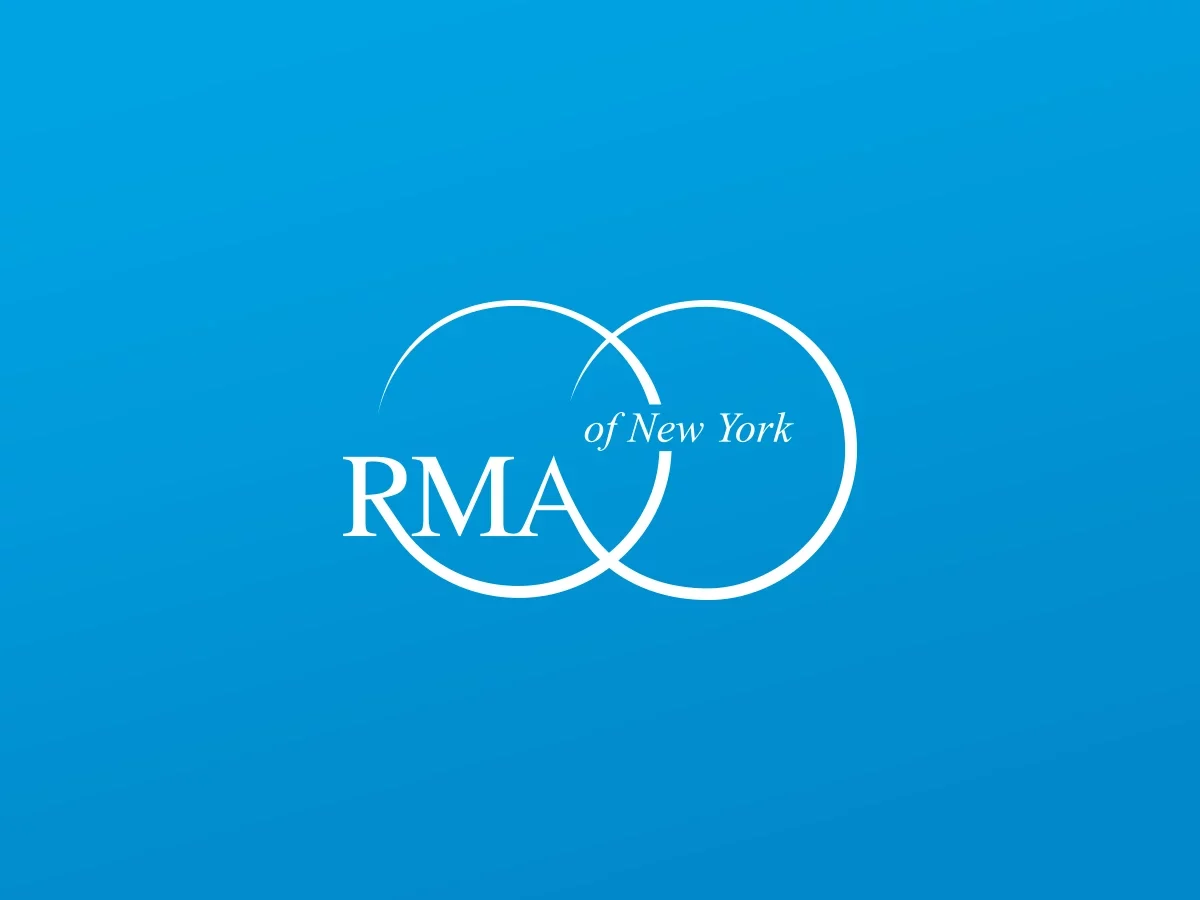 They offered a referral bonus of $500 for each new patient referred, which led to a 30% increase in patient referrals and a boost in new patient acquisition.
Using Digital Marketing for Fertility Clinic Patient Acquisition:
Pros & Cons
Pros
Digital marketing allows fertility clinics to target their ideal audience and reach potential patients.
Digital marketing is measurable, allowing clinics to track their return on investment (ROI) and make data-driven decisions.
Digital marketing can be cost-effective, with options such as social media marketing and email marketing requiring minimal investment.
Cons
Digital marketing can be competitive, with many other fertility clinics vying for the same online advertising space and targeting the same audience.
Digital marketing requires continuous effort and investment, as algorithms and trends constantly evolve.
Some patients may still prefer traditional marketing channels, such as print advertisements or referral-based marketing.
Fertility clinic digital marketing offers numerous opportunities for clinics to attract new patients and grow their practice.
By using a combination of strategies — such as pay-per-click advertising, social media marketing, local SEO, SMS marketing, patient referral marketing, and content marketing and blogging, fertility clinics can reach their ideal audience and stand out from the competition.
Keep in mind that digital marketing requires continuous effort and investment, and your fertility clinic should be prepared to adapt and evolve its strategies as algorithms and trends change.