Email tracking is nothing new. Most of your favorite eCommerce stores track the emails they send to you. They know when you open their email, click a link within the email, or take any other action related to their email.
According to Ever Contact, an email intelligence company, about 99% of bulk emails such as newsletters are tracked.
It's hard, if not impossible, to track emails manually. Fortunately, there are so many email tracking software platforms that integrate with Gmail to manage your bulk emails. GMass, Boomerang, and MailTag are some of the best email tracking software tools. But are these the best email tracking services for 2022?
What Is The Best Email Tracking
Software of 2022?
We have listed and explained the best email tracking software tools you can use in 2022, with the pros & cons: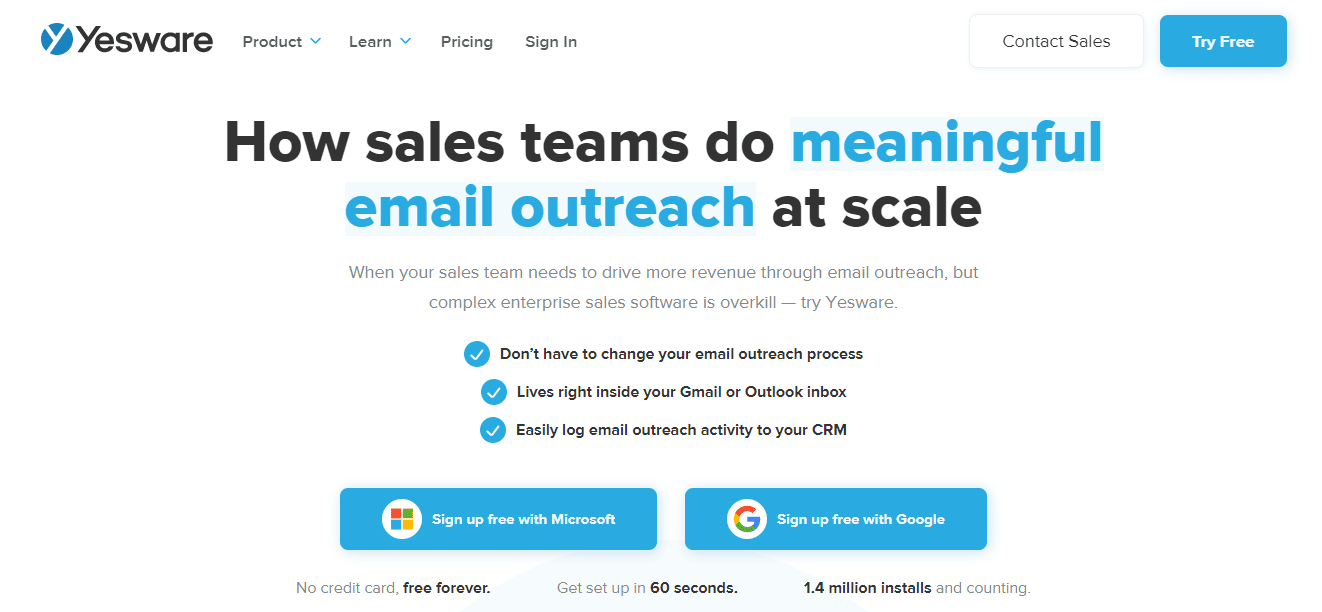 Yesware is an email tracking tool for sales teams. It's easy to use Yesware via Gmail or Outlook inbox, and you can quickly log email outreach activity to your CRM software.
Not only can you see when messages are sent and opened with Yesware, but you can also find out if they have links or attachments.
While the basic feature of Yesware isn't that great, it's more than enough for small businesses.
Yesware helps your sales team identify prospects who are likely to convert into customers.
It tracks who opens messages and clicks on links, allowing you to send customized emails over time.
You can create and save customized templates and use rich text and links. You can also track the performance of your sales team with this email tracking software.
Yesware lets you view upcoming tasks and integrate with other apps, such as Salesforce and LinkedIn, so you don't have to manually enter data.
Pros
Quickly write and schedule emails
It provides helpful insights on the best-performing subject lines
It's easy to create and consolidate templates for specific campaigns
Easily share templates with specific groups
The mail merge tool is intuitive
Cons
Email opens tracking could use some improvement
It lacks direct dials from the email inbox
It's not seamless to use on mobile phones
Yesware Pricing
Yesware offers 5 flexible pricing plans to help you choose what's best for you:
Free Forever ($0/seat/month): Ideal plan for getting started, features include email support, basic email open tracking, meeting scheduler, and so on.
Pro ($19/seat/month): Get everything in the Free plan, plus unlimited email open tracking, personal activity reports, unlimited email link tracking, etc.
Premium ($45/seat/month): All the features in Pro, plus unlimited teams, team reporting, shared templates & campaigns, remove Yesware branding, etc.
Enterprise ($85/seat/month): Get all the features in Premium, plus Salesforce Inbox Sidebar, Salesforce Calendar Sync, and more.
Custom Plan: Get a custom quote from the sales team.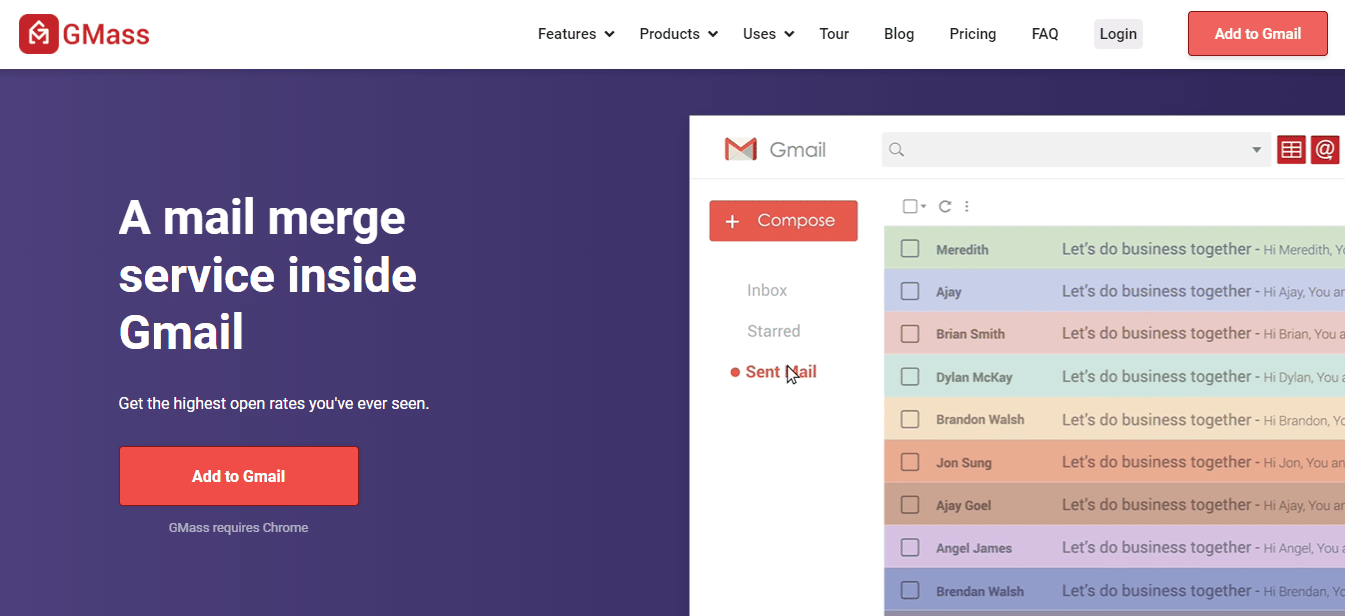 GMass is a mail merge service inside Gmail.
It lets you send mass emails on a person-by-person basis. You can set up automated follow-ups so that you can increase engagement with your emails.
It will also allow you to track different metrics, such as open rates, click-through rates, and bounce rates.
Once you've sent an email campaign, GMass will automatically generate a campaign report.
GMass is available through both free and paid plans and it can be installed within Gmail, making it easy to track your email marketing campaigns.
GMass is also great for email marketers who want to automate the process of sending promotional emails.
Its main functions are to help you schedule emails and manage your autoresponders, all without needing to worry about the technology or programming.
Pros
Plugs seamlessly into Gmail
Better email deliverability with custom tracking domains
Prevents you from emailing the same email recipients twice with 'suppress' lists
Easily reuse your best-performing emails via new campaigns
New features are always introduced and existing features improved
Cons
Some tools have a steep learning curve
Campaign reporting isn't visually appealing
GMass Pricing
GMass offers plans for Individuals and Teams. Here are the Individual plans:
Standard ($19.95/month): Basic campaigns, mail merge personalization, conditional content, etc.
Premium ($29.95/month): Get all the features in Standard, plus sequences and follow-ups, API access, and A/B testing.
Enterprise ($49.95/month): All the features in Premium, plus high priority support and hundreds of other features.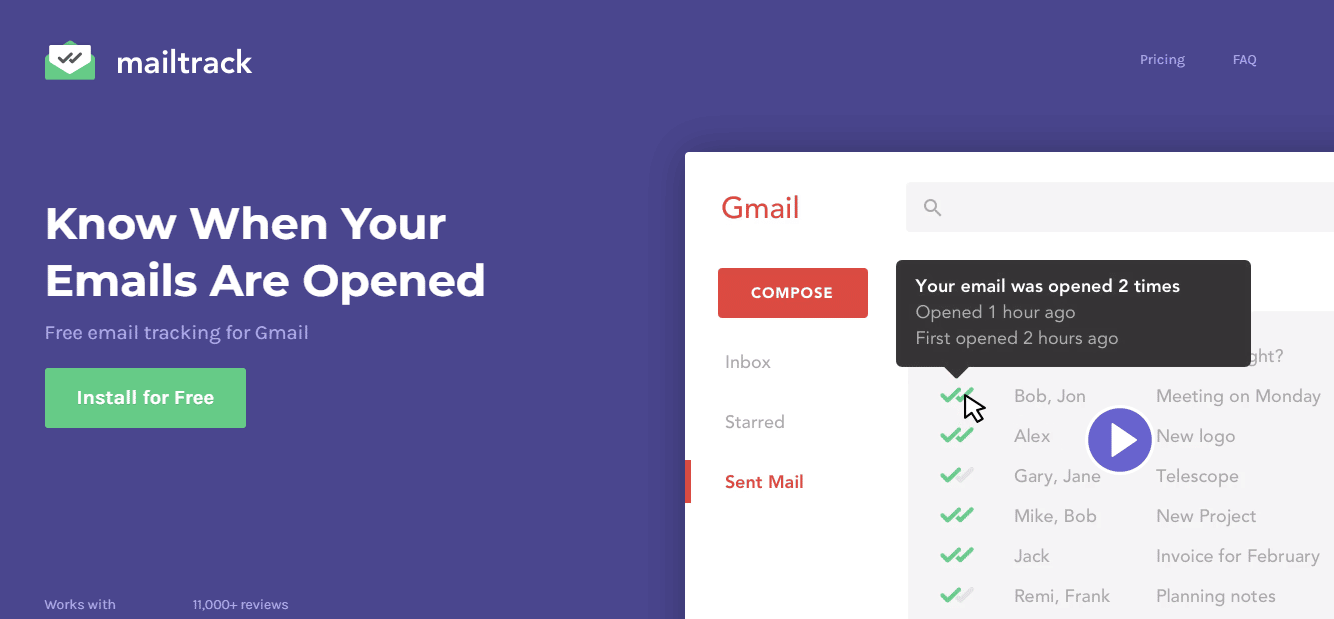 Mailtrack is an email tracking software for Gmail that sends notifications every time an email that you track is opened.
This tool uses tracking pixels instead of the outdated read receipts offered by Outlook.
Outlook's read receipts are notoriously unreliable. Mailtrack is an ideal choice for Gmail users who want to see who has opened their emails.
It's easy to use. You can simply compose a new email and click the two green check marks to turn off tracking.
For a low price, Mailtrack provides all the features of a standalone email tracking software, including a monitor reply feature and an incoming tracked email indicator.
Moreover, it allows you to schedule meetings and track their success.
You can even integrate Salesforce with this tool and snooze emails to keep track of prospects.
This tool also allows you to set reminders and insert external images. If you're on a budget, this program is an excellent choice.
Pros
Easy to use, great for beginners
Data is safe and secure
Send bulk emails with ease
Lets you see if someone forwarded your email
Get notified when emails aren't opened at all
Get notifications if emails are from an old conversation
Cons
There's no undo option
Recipient sees the "Tracked by Maltrack" branding in email footer
Limited features in the free version
Customer support could be improved
Mailtrack Pricing
Here are the 3 pricing plans for Mailtrack:
Free ($0/month): Unlimited tracking, email alerts, daily report, etc.
Pro ($1.99/user/month): No Mailtrack signature, link tracking, full tracking history, etc.
Advanced ($4.99/user/month): All Pro features, group emails individually tracked, and more.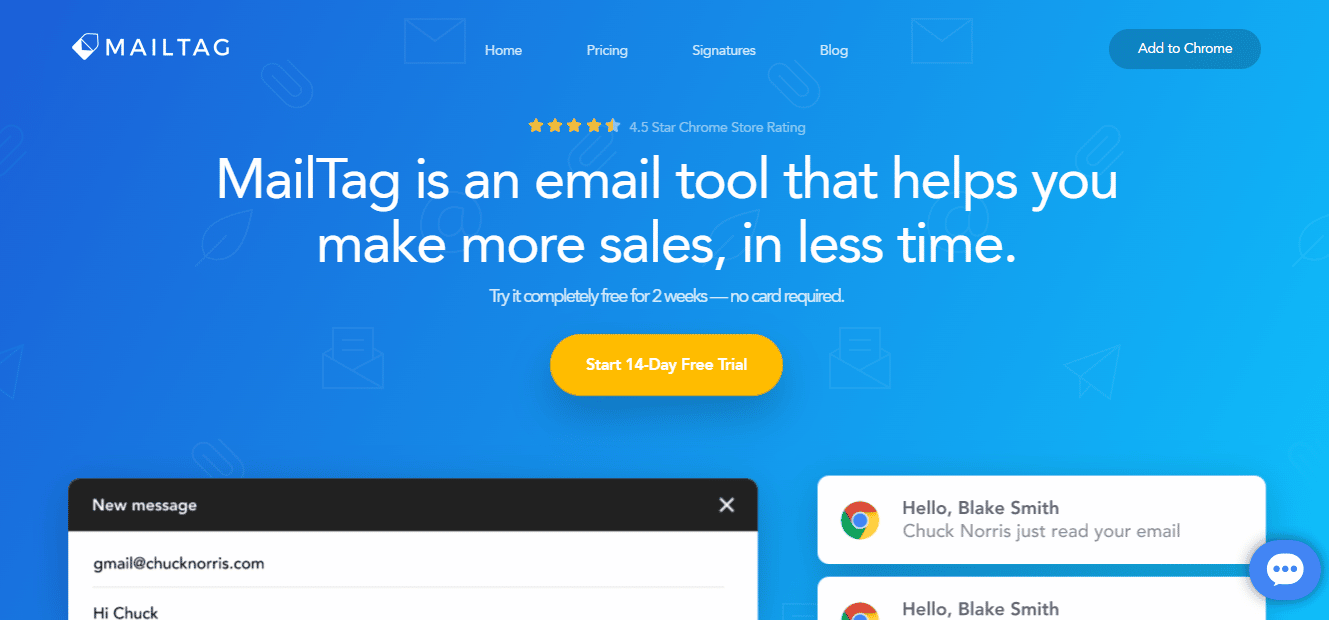 MailTag email tracking software allows you to track emails, schedule follow-ups, and share data with your team.
You can export important data into Google Sheets and use native mobile apps to monitor your email campaign.
In addition to tracking email opens and link clicks, MailTag provides detailed information about how your messages are being received and acted upon.
You can improve your open rates and increase your sales using this software.
MailTag's analytics will help you know if you're sending unnecessary emails.
This way, you can see the most important parts of your email campaign and focus on increasing sales.
MailTag also lets you use the platform to track all emails sent by your team.
Pros
A clean user interface, beginner-friendly
The email tracking feature works great
Get real-time notifications anytime your target opens your email
Simple and easy to use
Cons
It's a bit expensive compared to some competitors
Lacks mail merge features
MailTag Pricing
MailTag is priced at $12.99 per user, per month. You can save 30% when you switch to an annual payment schedule.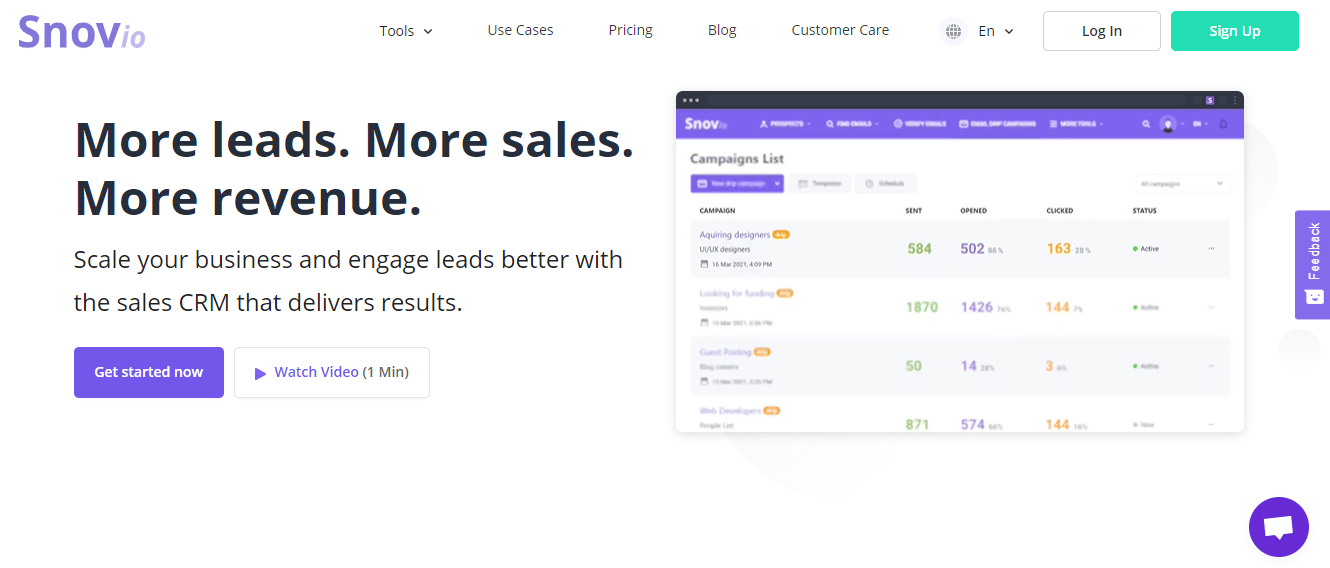 Snov is email tracking software with powerful sales automation features. Not only does it keep track of opens and clicks on your emails, but it also displays labels in Gmail.
As you can see, it's not hard to keep track of who's opening your emails and which of them is making the most money.
For salespeople, Snov has a database of companies you can search by location, industry, or position.
And since you can track incoming and outgoing emails without spending a dime, it's an ideal tool for people who need to keep track of all their emails.
When your emails are sent, you'll know exactly how well they performed.
The software uses an invisible tracking pixel that recipients won't see.
Pros
An excellent tool for the sales team (e.g., to lookup emails)
The support team is responsive
The free version offers unlimited searches on LinkedIn
It comes with a ton of features, including CRM tools
Cons
It's a bit difficult to deal with drips
Managing the contacts could be easier
Snov.io Pricing
Snov.io offers several pricing plans. Monthly pricing begins at $39 to $738/month.
Note: When you buy an annual plan, you get 12 months worth of value at the price of 10 months. So you're getting 2 months free.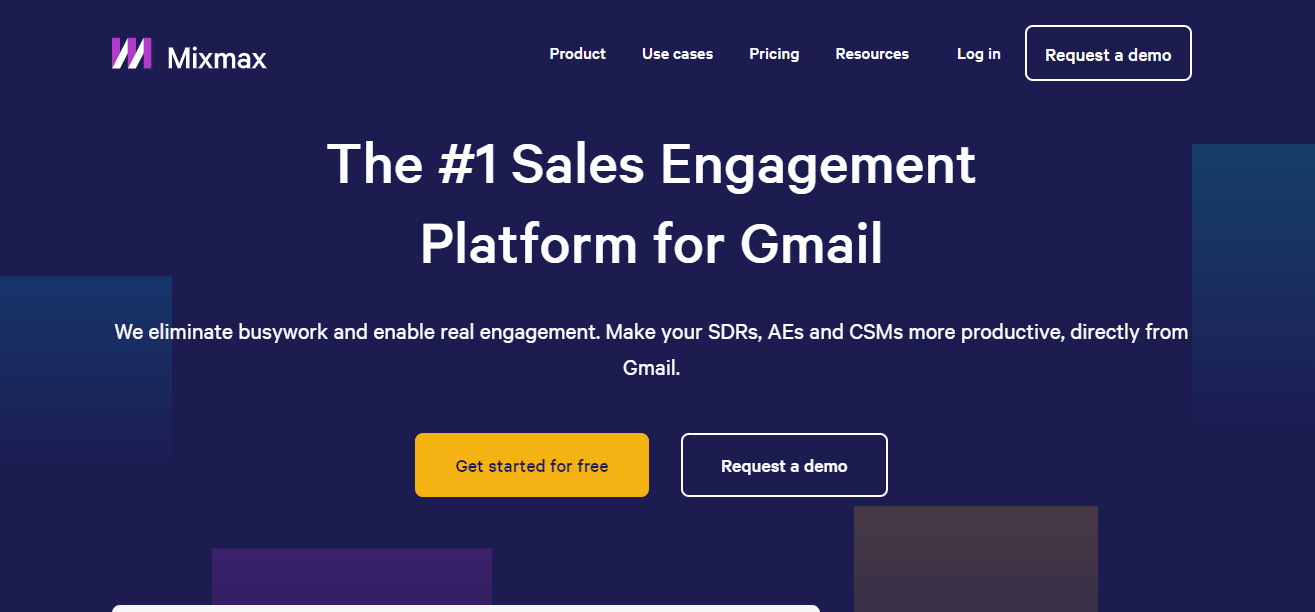 Mixmax is a sales engagement platform for Gmail. It has email tracking features that let you track how often your emails are opened by recipients.
This feature displays a pop-up window when the recipient opens your emails. The software is free to use but offers advanced features in its paid plans.
You can use Mixmax to schedule and send messages to your contacts. You can also automate your campaigns with email sequences and email templates.
You can even use machine learning to deliver emails at the best times of the day based on when your prospects are engaging with your emails.
You can also view detailed metrics of your email campaigns, such as how many emails were opened in a given month and whether they were forwarded.
Mixmax can help you personalize your outreach by automating the appointment-setting process.
Pros
Keeps you on top of your inbox with a reminder feature
It acts as a natural extension to Salesforce and LinkedIn
Easily create automated multi-touch sequences
Professional email templates
Notifies you instantly when a recipient opens/clicks an email
Cons
Sometimes, the sidebar fails to load the options
Lacks the option to preview the template before sending it
Mixmax Pricing
Let's breakdown the pricing of Mixmax:
Free Plan ($0/user/month): Getting started? Use this basic tool set to your benefit.
Starter ($12/user/month): Get email productivity tools
SMB ($29/user/month): Email campaign tools and calendaring for teams.
Growth ($65/user/month): Sales automation for growing teams
Enterprise: Get custom pricing from the sales team.
Note: You get 25% off on annual plans.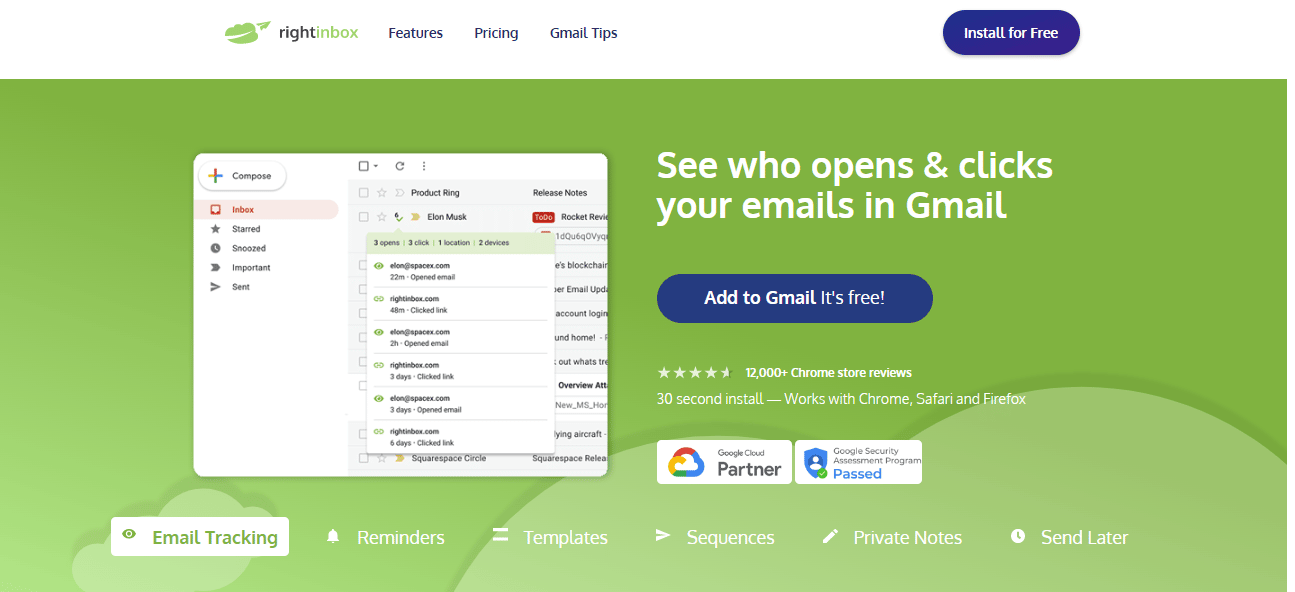 Right Inbox is an all-in-one email tracking software. With this tool, you can see who opens & clicks your emails in Gmail.
In addition to email tracking, this software lets you use custom email templates and multiple signatures.
These features make it easy to create a powerful email strategy and make your business stand out. 
This email tracking software pairs templates with your follow-up emails to help you track each one. It also shows you whether your recipients opened your emails.
Then, you can schedule your follow-ups to send them at specific times. You can also cancel your follow-ups if you don't receive a reply.
The best part is that the software pairs these templates with your sequences. You can also save your favorite follow-up emails as templates.
Pros
It's intuitive and keeps getting better
It works great with Gmail
Detailed reports
Easy to use for outreach
Cons
Sometimes, it could be buggy
No mail merge features (yet)
Right Inbox Pricing
Right Inbox pricing starts at $7.95 per month or $5.75 per month billed annually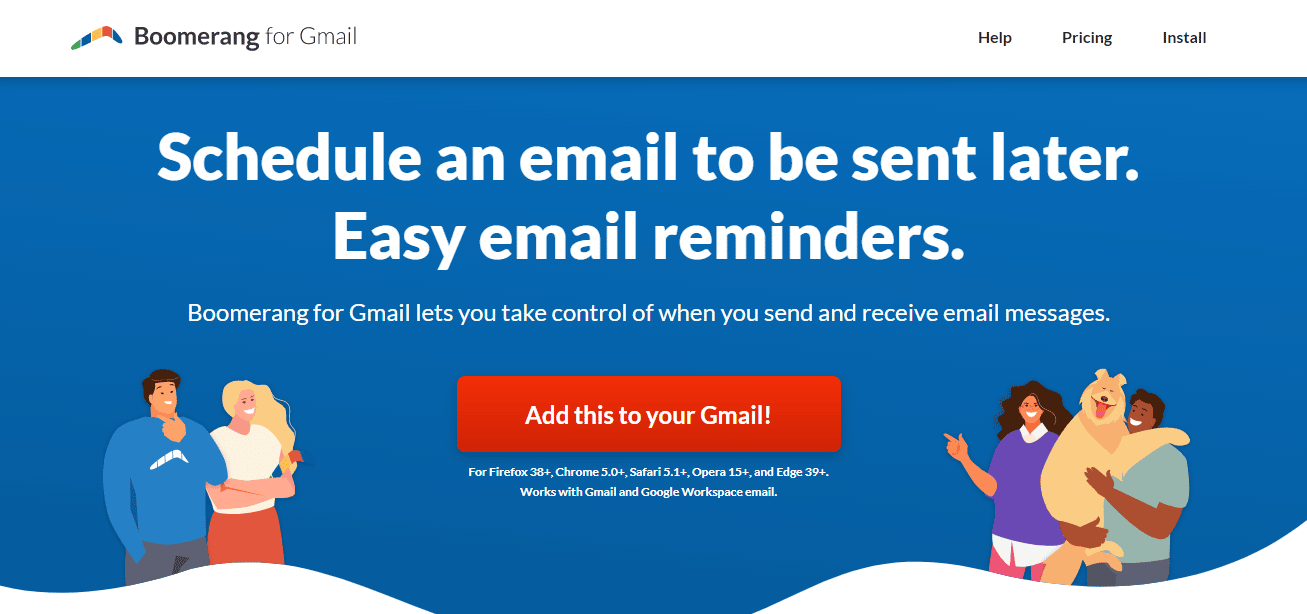 Boomerang for Gmail is an email tracking service. It allows you to schedule an email to be sent later, and you can set email reminders as well.
Boomerang works in Gmail's compose window. It lets you track every email opened and provides details on each click, read receipt, and more.
You can also see who opened your message, which will give you an idea of how effective your marketing efforts are.
Boomerang is compatible with most email clients, including Microsoft Outlook, Gmail, and Yahoo, and it works with most businesses.
The Boomerang email tracking software allows you to keep track of important messages and keep your inbox clutter-free.
It works with any email, so you can archive or delete it and come back to it later.
You can even mark messages as unread or star them to see them at the top of your message list.
You can also add notes to the email to keep track of the things you want to do later on.
Pros
Easy to use, helps you to keep your emails organized
Keeping to deadlines is easier with this tool
The "Pause" feature for batch processing emails is beneficial
Assign timely notifications for emails with ease
Cons
Sometimes, you may experience delays when using Boomerang
Most of the advanced features are only accessible with the paid plans
Scheduling emails is a bit complicated (it could be simpler)
Boomerang for Gmail Pricing
Boomerang for Gmail comes with a free 30-day trial. However, here are the paid plans:
Basic ($0.00/month): 10 credits per month, Boomerang reminders, and more.
Personal ($4.95/month billed annually): Unlimited credits for sending messages, Inbox Pause, and so on.
Pro ($14.98/month billed annually): Everything in Personal, plus click tracking, respondable, etc.
Premium ($49.98/month billed annually): Get unlimited message credits, Gmail & G Suite supported accounts, and more.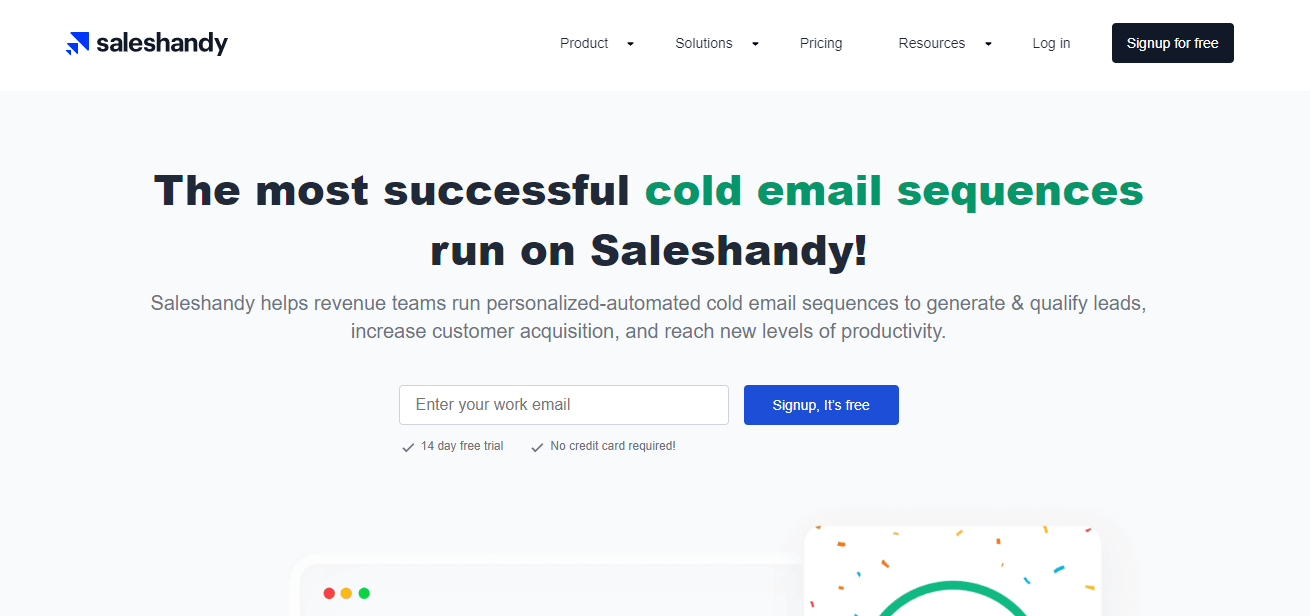 SalesHandy offers email tracking for Gmail, Outlook, and Office 365. You can also install the software on Android devices.
The email tracking tool allows you to personalize your campaigns and integrates with G Suite and Gmail.
SalesHandy also offers integration with Office 365 and Outlook.
In addition to email tracking, SalesHandy lets you automate email follow-up and mail merge campaigns from Gmail. It also allows you to track email metrics such as open rates, bounces, and delays.
The easy-to-use features of SalesHandy can help you pinpoint the most promising leads and maximize your chances of closing the sale.
Whether you're sending out emails to prospects or potential customers, your sales team will benefit from this feature.
Pros
You can create templates easily
Easy staging features
Auto follow-up for your emails
The email drip campaign execution is quick and easy to use
Customization fields allow users control over customization
Cons
Lacks the option to auto-convert Excel files to CSV
Screen sharing and live presentation could be easier
SalesHandy Pricing
SalesHandy offers different pricing for Cold Emailing and Email Tracking. Here's a breakdown of the email tracking plans:
Free Forever ($0.00/month): Email scheduling, unlimited email open tracking, and Gmail integration.
Regular ($12/user/month): Full engagement tracking, unlimited email templates, Gmail and Outlook integration, basic mail merge, etc.
Plus ($27/user/month): Everything in Regular, plus advanced mail merge, Gmail and Outlook integration, team email reporting, and more.
Note: You'll save up to 14% on the total monthly costs if you pay annually.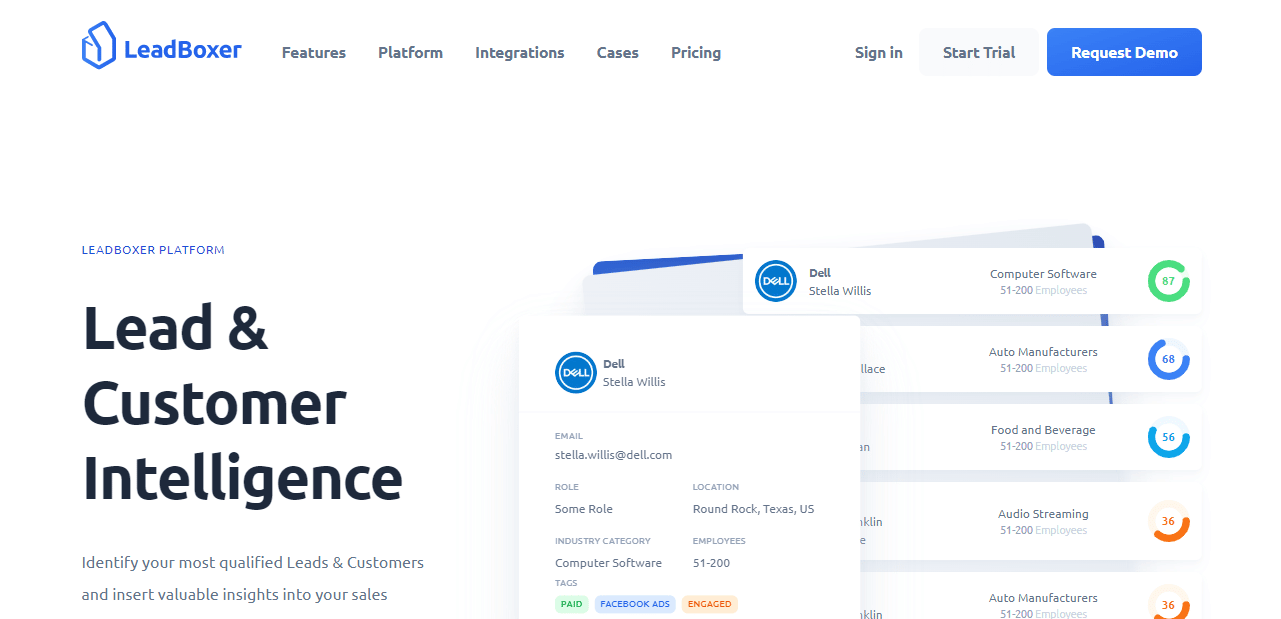 LeadBoxer is a lead and customer intelligence platform.
It offers an email tracking service for salespeople, which lets you identify your most qualified leads and customers.
If you're sending emails to a large list of contacts, LeadBoxer's email tracking software offers features that allow you to automate campaigns.
You can schedule emails to be sent at certain times, such as when prospects are most likely to engage with your content.
In addition to email tracking, you can track link clicks and email engagement. You can even integrate your sales calls with your email tracking software.
Once you've set up a marketing automation campaign, you'll be able to track how many people clicked on each link.
Pros
Clean and user-friendly interface
Easy to set up and use
Easily integrates with Zapier to facilitate syncing leads with your CRM
It's affordable compared to other similar tools on the market
Easy to define lead scoring parameters
Cons
Limited functionality (e.g., lacks keystroke recording)
The reporting analytics could be richer and more visual
LeadBoxes Pricing
LeadBoxes has 2 plans with flexible pricing options, namely:
Basic (€195/month billed annually): Best suited for small businesses, get unlimited leads/contacts, segments, lead score, and more.
Premium (€495/month billed annually): Larger organizations will benefit from this premium plan. It offers everything in Basic, plus prioritized technical support, custom dashboarding, 250,000 events, 20 user/email clients, and more.
What Is Email Tracking
Software?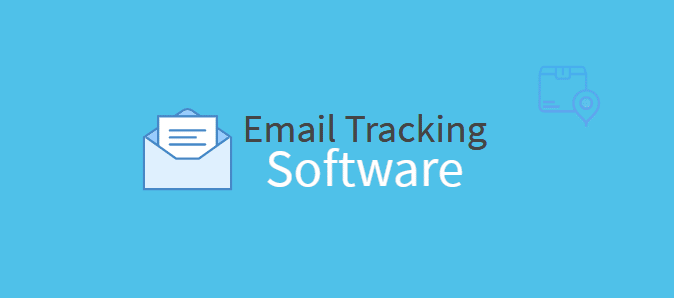 Email tracking software lets you track sent emails so that you can use the data/insights to inform business decisions.
A good email tracking tool can track email open rates, when the emails were clicked, locations, CTR on links, and actions on the attached documents.
Email Tracking Software:
FAQs
Here are answers to some of the frequently asked questions (FAQs) about email tracking software:
What is the best email tracking service?
GMass is the best email tracking service. It lets you use mail merge in Gmail with Google Sheets, send cold emails with sequences that maximize responses, personalize emails, track email opens, clicks, and replies, and maximizes the deliverability.
What is the best free email tracker?
Mailtrap.io is the best free email tracker. You can analyze email content for a spam score, validate HTML/CS, and automate test flows with flexible API.
How can I track email activity?
Start by establishing guidelines on what metrics or KPIs you want to track. Next, install either GMass, Boomerang, Mailtrack, or Right Inbox. Use any of these tools when composing an email, so that you can track sent emails.
Is Mailtrack legal?
Yes, Mailtrack is an email tracking software platform from a legitimate company. It offers a free trial and the paid plans are affordable.
Best Email Tracking Software:
Summary
You'll find a lot of email tracking software platforms out there. I hope this review has given you a direction as to what tool to pick.
Make sure you choose an email tracker based on key features you 'truly' need, pricing, and the pros and cons.
Here are my recommendations for top video editing software.
GMass: Best email tracking extension for Gmail
Boomerang: Best for ease of use
MailTag: Best email tool for a sales team
Photo Credit: Unsplash