So you've decided not to put all your eggs in one basket.
That's a good call.
Relying on one or a couple of marketing tactics like paid ads, word of mouth, and so on isn't ideal. You need multiple marketing channels so you don't stay stuck if any of them fails to drive revenue.
That's where SEO comes in.
According to Statista, 32% of marketers say SEO is one of the best marketing channels that drive the highest ROI.
And how do marketers achieve their ROI from SEO?
They rank their websites and content high on search engines that bring in visitors that convert into customers.
You can achieve the same once you hire the right SEO company.
Hiring the right SEO company is a surefire way of transforming your website into an automated lead generation machine. However, you must consider many factors before hiring an SEO company.
In this post, we'll take a deep dive into:
Factors you must consider before hiring an SEO company,
Questions to ask your potential SEO agency,
The costs and benefits of hiring an SEO company,
Plus, why you should hire an SEO company.
Let's get to it.
Why Should I Hire an
SEO Company?
a. You don't know anything
about SEO
You shouldn't implement SEO if you have no clue what you're doing. SEO can become a hot mess if you miss the mark.
Wrong keywords, poor URLs, unindexed pages, and so on are some of the basic issues you could run into.
Spending hundreds of hours and dollars to optimize your website and content is a waste of time and resources in this scenario. In the end, all you'll be doing is hit and miss.
Furthermore, technical SEO is a grey area in SEO that requires an in-depth learning curve.
If you don't understand it, you might make notable errors that prevent search engines from returning your website to users.
For instance, Google considers a website that isn't properly indexed as nonexistent. This means that content on this website won't be crawled by Google bots, hence, an interested audience won't see the website and its contents.
Another technical SEO issue is improper redirects. Failing to handle these correctly could result in a dip in revenue.
You don't want all that.  That's why hiring an SEO company is essential. Your preferred company should have a dedicated team watching out for manual actions, bad backlinks, security vulnerabilities, and black hat attacks. All these will help you maintain your website rankings.
b. You write content that barely
produces results
Creating valuable content that will drive traffic, engage your potential customers and ultimately convert them demands a lot more than putting blog ideas together.
Understanding the search intent of your audience is the first step. This entails knowing your audience's thoughts, what they want, and the right content angle that solves their problems.
This is the only way you create insightful, relevant, trustworthy, and valuable content that positions your brand as an authority on a subject.
You can't do all these? It's not a problem.
Hiring the right SEO company is the alternative. An SEO company will help you create a strategic content plan that targets search queries used by your audience.
Outsourcing your SEO campaign also gives you access to content strategists who'll create an action plan for your messaging and priority content distribution channels.
SEO has many aspects. Keyword research, on-page SEO, image optimization, technical SEO, cluster content creation, off-page SEO, and so on. Each area includes a robust list of tasks, tools, and know-how to guarantee success.
If you have a long list of clients you serve, adding SEO to your to-do list won't be ideal, especially if you're new to SEO. SEO specialists do SEO as a full-time job.
Therefore, handling every nitty-gritty of SEO means you will deny yourself enough time to attend to what matters to your business, like client attraction.
d. You dislike costly
experiments
So I get it.
Maybe you know a thing or two about SEO. But there's an aspect you aren't sure of.
What's the chance of success if you try what you don't know? That could be costly.
And the expense isn't just your time and effort. There's also the need to buy SEO tools that require monthly or yearly subscriptions.
For instance, Ahrefs SEO tool costs $99 per month, and SEMrush costs $119.95. These are the cheapest plans. Add other tools to the mix, and the expenses keep piling up.
Alternatively, hiring an SEO Company helps you take these costs off your plate.
e. You want proven SEO professionals to power your
content engine
 Content is everything. There's no SEO without content and vice versa. Both work hand in hand.
It's easy to believe that you only need to focus on basic technical SEO to fix errors in your website. This does not mean that technical SEO fixes aren't important, but doing that alone will not generate organic leads.
Creating content with the right and latest strategies could increase your website's visibility and drive more traffic. Hiring the right SEO company allows you to leverage many professionals with expertise in powering your content engine.
f. Shield your website from Google
updates
SEO is an ever-evolving industry with search engines like Google and Bing constantly updating their search algorithms. The result? New guidelines may cause loss and gains in traffic and organic rankings. According to Backlinko, Google uses over 200 factors to rank websites. So it's a struggle to keep tabs on these rapidly evolving factors. That's why it's so easy to become unaware that you might be doing something wrong.
The best SEO companies monitor SEO news and updates to keep up with algorithm updates and their impact on search results. They also monitor your site's health, check if an algorithm update has hit you, and take steps to fix your site when needed.
Now that you know why you should hire an SEO company, what exactly should you look for when hiring one.
12 Questions to Ask Before Hiring an
SEO Marketing Agency
1. What does SEO success mean
to you?
A successful SEO partnership means more than just researching keywords, creating content, and achieving a few milestones. Since SEO is an ongoing investment, the right SEO agency should be hyper-focused on what's best for you.
When you ask about their definition of SEO success, you should expect replies like how they'll first build an SEO strategy that's tailored to your business.
Why? Because every business is different and requires a unique approach for maximum success.
Success could mean reaching your business KPIs and goals month after month. It could also mean using the company's systems for tracking leads and ROI generated from your SEO campaign.
That said, your ideal SEO agency could also speak of its failures and successes in the past. Sometimes, failures could result from adamant clients who won't allow the company to do what they believe is best.
And lastly, SEO success also means handling your objections from the get-go. A good SEO company will prioritize the need for customers to feel secure about working with them. So expect that. If you get a reply that isn't adequate, consider evaluating other SEO companies.
2. How do you conduct
keyword research?
A top SEO company should be comfortable speaking about its processes, including keyword research. Now there's no right and wrong answer to doing keyword research. Generally, the SEO company will start by:
Understanding your services.
Identify the keywords users enter into search engines to find your services.
Find the questions that your audience ask on different platforms.
If you've written some content, the SEO company should mention that they will access your search console data to unlock long-tail keyword opportunities. That's important because you want to cover much ground for the keywords you already rank for.
What if you're a new business? The approach could be to study your competitors, find their top-ranking content, and use SEO tools to discover keywords your competitors missed. And all keywords are not the same. While some have excellent business potential, others don't, even with a higher search volume.
Active listening at this point is what you need. How the company reps communicate what they do will help you know if they have their skin in the game and grasp what they are talking about.
The bottom line is, you should hire an SEO company that is ready to go all the way by communicating their keyword research approach in clear terms. 
3. Do you provide monthly
reporting?
You need to hire an SEO company that's transparent in everything they do. Hence, your ideal SEO firm should provide detailed monthly reports and follow-up communication. This helps you understand the progress of your SEO campaign.
You can also ask for a sample report they send out to clients. This helps you understand the report to expect every month. Excellent SEO companies should include metrics such as organic traffic improvements and backlink count in their reports.
Quality SEO reports should also have:
Highlights of search engine rankings for high-priority keywords
Traffic improvements for keywords on page 2 and beyond of SERPs
Organic search performance, like dips in clicks, impressions, CTR, and why these happened
The next steps for the clients and the SEO company based on the report
Beyond that, the SEO company should connect reported metrics to how they impact your business revenue.
4. Which aspects of SEO do
 you handle?
Every SEO company won't cover the broad expanse of SEO. However, knowing what's covered and what's not ensures you work with an agency that provides the services you need.
Asides from that, you want to know the steps they take to deliver each SEO service they offer.
Do they conduct general SEO and local SEO audits? Ask what steps they take during the audit.
Do they do technical SEO? Ask them what you should expect from this service.
Do they do local SEO? Ask them what you should expect.
How about off-page and on-page SEO? Inquire and get clear on the deliverables.
5. How long will it take for me to see
SEO results?
SEO doesn't produce success overnight. So it's important to realize that SEO is a long-term game, and you might need anywhere from 3 to 6 months to begin seeing tangible results. Still, it's possible to begin seeing short-term results from the onset, but they are rare. If you have a big budget, results could start coming in quickly. The question now is, "What's a big budget?"
A big budget depends on the results you want to achieve.
For instance, Ahrefs estimates that the average cost of buying a backlink from a website is $361.44 (excluding labor and outreach costs). So if one of your goals is building a ton of backlinks, you'll need at least $10,000 per month to cater to around 20 links per month while the rest of your budget goes to content and other SEO activities.
Your backlink budget will also depend on what your competitors are doing. If they have many links, you'll need lots of links to rank above their positions on search. If they have a small number of links, that means you can pump a lot of your budget into content creation.
Now, regardless of how your SEO strategy plays out, you should be wary of SEO companies that promise you a lot. If they promise to deliver mind-blowing results quickly, confirm their words by checking out case studies of previous clients.
6. Do you have testimonials on public platforms like
Trustpilot, etc.?
You should work with a company that people talk about. This is even more important when you intend to spend a lot on your SEO campaign. And you don't need to see many reviews. Just a couple of reviews on public platforms is fine. An SEO company doing a decent job should have testimonials on either Facebook, Yelp, Trustpilot, or Google My Business.
Check their average ratings and read some of their positive and negative reviews. You must check out a few negative reviews, especially if the brand has been operating for a long time. Doing this helps you understand how the company responds to negative feedback. After all, you want to work with a company that gracefully accepts feedback if you're unhappy with their deliverances, right? But then, a high number of negative reviews is a red flag. So stay clear of such SEO companies.
7. How do you build
backlinks?
One of the most crucial factors for search ranking is the quality and quantity of websites linked to yours. If an SEO company does not do link building for any reason, I'll say you should walk. Backlinks are important to search engines. Even with numerous algorithm updates, they are still a top factor for ranking websites and content.
If your SEO company states that they offer link building, you should also ask how they achieve that.
Ask them how they conduct link outreach.
Do they use their email address or require one of your company email addresses?
How do they find new link building opportunities? Do they use tools like Ahrefs, and so on? Do they prioritize a particular anchor text or go for a bunch of unrelated anchors? Get every detail before committing to a contract.
How do they evaluate websites before requesting a link? Do they check the website spam score? Are they sure the links will still be live after a year?
How do they report on link acquisition?
And finally, can they show you a report of links they've built for previous clients?
Some SEO companies won't reply to all of these questions because of Nondisclosure agreements. However, you need to get enough details that'll convince you that they are the right firm for you. You also want to avoid firms that operate a network of sites that can link to you (PBNs or private blog networks). Such strategies are known as black hat SEO and can lead to Google penalties. 
8. What SEO tools
do you use?
Many SEO tools serve different purposes. So you should expect a reply to this question in no particular order. While it's best to know the different tools available, the SEO company should have reasons for using them. Here are some tools used by top SEO companies.
Keyword research tools: Ahrefs, SEMrush, Ubersuggest, Answer The Public, Keywordtool.io, Google Keyword Planner, Google Trends, AlsoAsked.com, Keyworddit, Google Search Console.
Link building tools: Ahrefs' Backlink Checker, Moz, Google Alerts, Pitchbox, Scraper, Help a Reporter (HARO).
Technical SEO tools: Google Search Console, Screaming Frog, Sitebulb, Cloudflare, Google PageSpeed Insights, Smush, Robots.txt Generator.
Rank tracking tools: Ahrefs, Ubersuggest, Local Search Results Checker, Mobile SERP Test.
SEO Analytics tools: Google Analytics, Keyword Hero, Google Data Studio.
Local SEO tools: Google My Business, Whitespark's Google Business Review Link Generator, Whitespark Local Citation Finder, Whitespark Citation tool.
9. How do you stay updated on trends in the
SEO industry?
SEO is constantly evolving. Therefore, you want to hire an SEO company that pays attention to changes in the industry. Ask them to provide a brief overview of the biggest algorithm changes in the industry in the last few years.
There was the Google Panda update in 2011, Penguin update in 2012, Hummingbird in 2013, RankBrain in 2015, and BERT in 2019, and more.
Now you don't want to make this look like you're interviewing the company for a job. So a quick overview from them and the update's impact is in line. You want a company that constantly checks out Google search central on a basic level.
You could also ask for insights on what's happening in the SEO industry. The best SEO companies usually watch forums, Facebook groups, and SEO-oriented communities to remain updated.
10. What do you need from us
to be effective?
A reputable SEO company will likely not answer this question on the spot. Rather, they'll respond with a few preliminary questions and send a long list of questions afterwards.
Here are some questions you should expect:
Tell us about your audience. Where do they live? What's their age range? And so on
What are your goals for this project?
Tell us about your acceptable KPIs for this project.
What marketing channels have you previously used? Tell us about those that worked and failed (if any)
We need access to your Google Analytics and Search Console accounts. Please grant us access.
These are only a few questions, and you should expect a lot more. Again, if an SEO company asks less than these questions, our best advice is for you to walk.
11. What's your approach to SEO content writing?
Do you use SMEs?
The internet is flooded with excessively similar content. You need to stand out from the sea of "sameness" online to differentiate your business. That's why you need SMEs (subject matter experts).
SMEs are people who know the in and out of your industry. If you operate a restaurant, a subject matter expert will be someone in the food business. An SME will be in the medical field if you're a doctor. The same goes for a lawyer; the SME should be legal field.
If your SEO company is willing to take the extra step of getting SMEs to contribute to your content, that'll be a gamechanger. In fact, that's your dream SEO agency.
Why?
Because subject matter experts add a ton of credibility to your content. Search engines like Google take credibility seriously. Plus, this credibility will attract backlinks to your content and make the content rank high in search.
12. Where do you source your
writers?
As I said, there is no SEO without content and vice versa. This makes the writers handling your content important. SEO companies can hire in-house writers or find freelance writers from various writing platforms. Assuming the SEO company doesn't have in-house writers, ensure they aren't using writers from content mills.
While there could be a few excellent writers on these platforms, a test by Codeless showed that these writers weren't exceptional.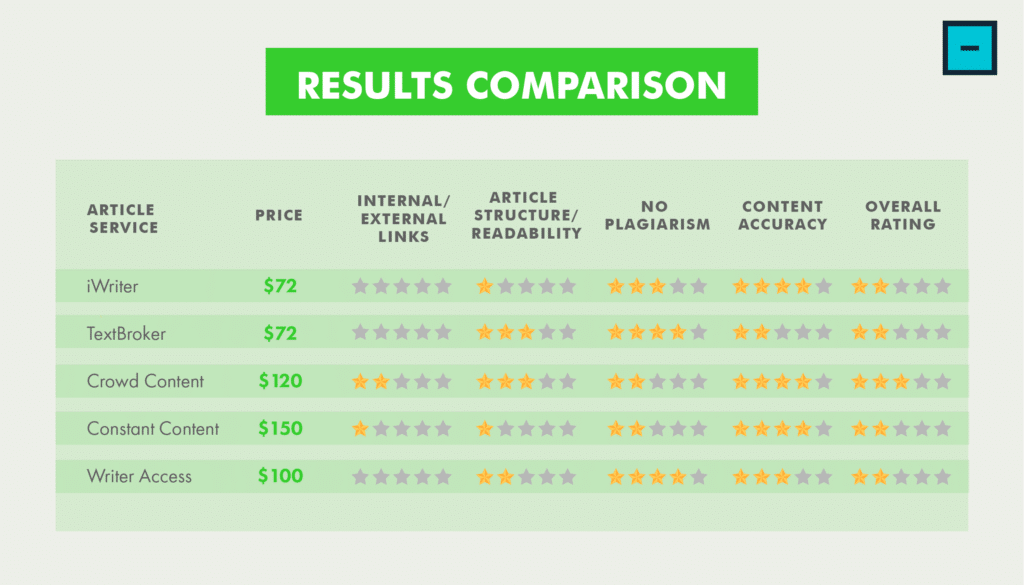 So, where should your SEO company source writers?
Good question.
They can get writers from LinkedIn, SEO slack groups, SEO networks, and professional job boards.
You now know why and how to question an SEO Company.
Now what?
Evaluate more than one SEO company.
While we provide SEO services at Omnicore and would love you to work with us, checking out more than one SEO company is certainly the best call.
Assessing multiple companies helps you understand their processes before concluding on the SEO company to work with.
And that's it.
Want us to boost your revenue with proven SEO strategies? Get in touch.
What's the cost of hiring a professional SEO company?
The cost of SEO services depends on what's included or the project's scope. However, there are many more factors at play. The SEO company's experience, location, and pricing model also influence the service cost. Your business size, how tough your competitors are, and your business goals are also important. Generally, SEO projects cost about $500 – $30,000 per month, with hourly consultants charging $80 to $200 per hour.
How much ROI can I expect from SEO?
Measuring your SEO ROI helps you determine the impact of SEO on your business. Generally, you can measure your SEO's ROI with this basic formula:
(Gain from the investment – cost of investment) / cost of investment.
Cost of investment refers to the expenses on SEO. Gain from the investment would refer to the sales you make from organic visitors. If you don't make sales directly from your website, consider counting the number of leads generated (via SEO) that convert to sales.
Next, calculate the average value of sales from those leads.
Finally, you determine the value of those leads by multiplying the number of leads that convert by the average value of each sale. This becomes your gain from the investment.
SEO ROI varies among businesses. However, you can get a 14.6% conversion rate of organic visitors, according to MonsterInsights. 
Is SEO a continuous or a one-off investment?
SEO is usually not a one-off process. And because the results take a while to show, it's better to start small, so you can evaluate what's working and what's not. This will give you some time also to make some profit from your investment.
Photo Credit: Unsplash