Hosting is one of the most important features of a website. And people rarely give it the attention it deserves.
No matter how well-designed your website is, or how it is chocked full of great content, having an unreliable host is bad news.
Since your WordPress hosting provides a foundation on which your business can grow online, it could shape the overall user experience of your website.
For us, performance, reliability, and features were the most important factors in the equation and this is where Kinsta leaves other hosting service providers behind.
Disclosure:  This article contains affiliate links, by clicking on links on this page and by making a purchase, we will earn an affiliate income at no cost to you. We have been a customer of all these services reviewed below and our recommendations come from our years of testing the product and service. We are independently owned and the opinions expressed here are our own.
Kinsta is a Cloud Platform that offers Application, Database, and premium managed WordPress Hosting for everyone who's obsessing over performance.
Their cloud-based hosting architecture is built on Google Cloud's premium tier network and next-gen compute-optimized (C2) virtual machines.
Kinsta has been focusing on premium WordPress hosting solutions for over 10 years now. It was founded by a long-time WordPress developer Mark Gevalda in 2013. They've recently launched new hosting solutions for applications and databases and are constantly evolving to offer industry-leading tools and services for companies and developers.
It is one of the many WordPress hosts that has come into the industry with features that promise to solve the common challenges website owners and developers face: downtime because of peak traffic, high load time, security risks, and others.
Having used other hosting providers like SiteGround or WPEngine, we feel Kinsta delivers on this promise.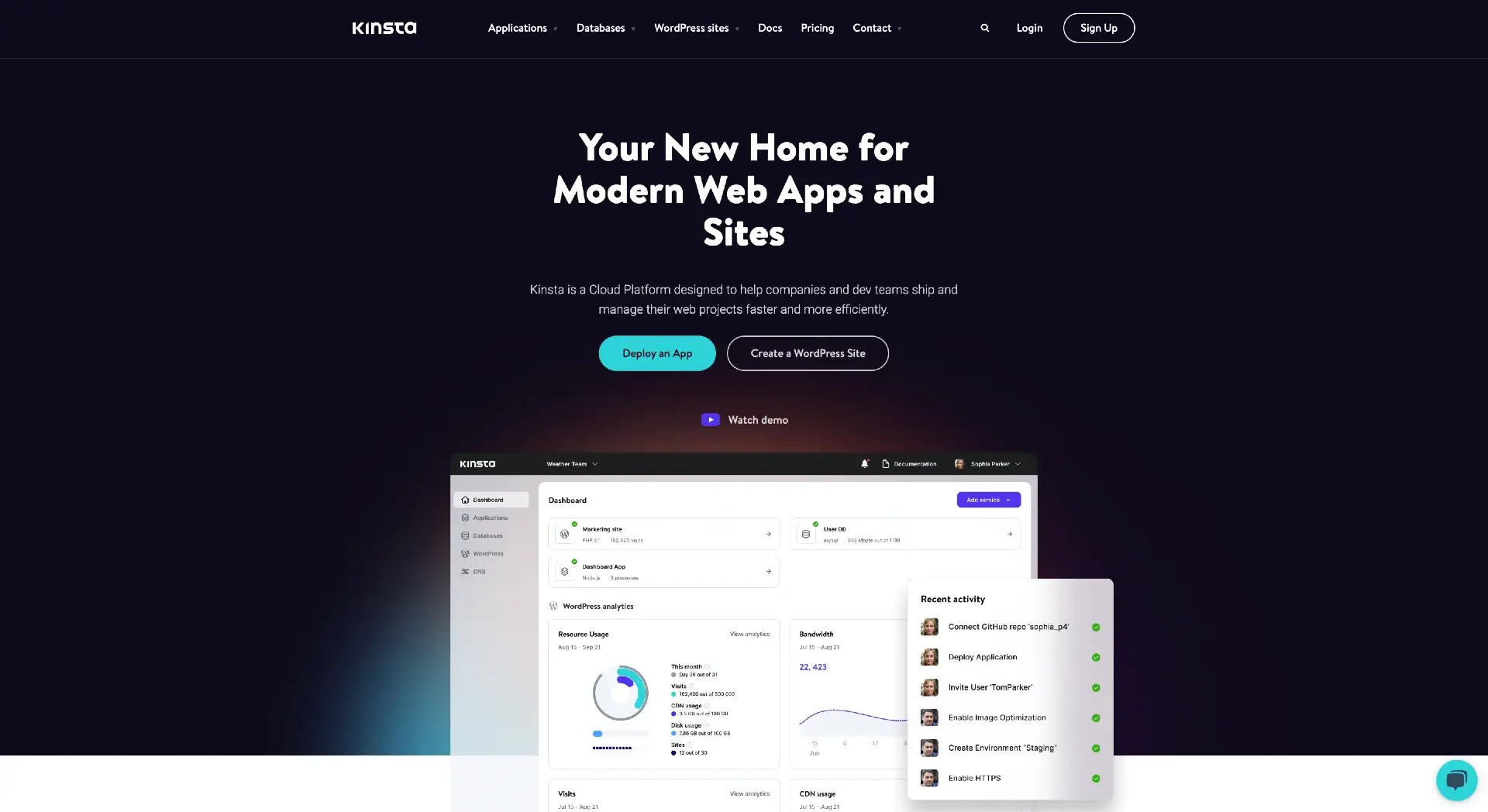 Check out this review to get to know more about Kinsta's managed WordPress and why it is our hosting of choice.
How Kinsta's WordPress Hosting Works?
Kinsta uses the Google Cloud Platform and compute-optimized (C2) VMs to host websites. One of the reasons is that Google has 35+ global data centers and the infrastructure is designed to minimize distance and hops, resulting in fast and secure transport of your data.
The primary benefit of hosting on the cloud is that it allows rapid deployment of computing resources, high speed, high performance, and reliability.
On VPS or a dedicated server, your website is on a single server. If anything happens (which usually does sooner or later) to the server, your website goes down until the situation is resolved. 
However, your website is quickly moved to another server if such a situation occurs on cloud hosting. It allows your site to stay up no matter what.
Kinsta's managed WordPress hosting features are powered by enterprise-level Cloudflare integration that are available on all plans. These include premium features like DDoS protection, free CDN with 275+ PoPs, automatic SSL certificates, wildcard support, edge caching, and more.
When you sign up for WordPress hosting, Kinsta navigates you to do one of the following steps:
Migrate your existing site 

Create a completely new site
If you want to migrate your site, you'll need to click on the option "Request a Migration" and fill out the form about your current web hosting.
After you've completed the form, the software will take care of everything else.
Second, if you want to create a new site, you have to go to User Panel > Sites > Add Site. The software will ask you a few basic questions after which you can implement your new web hosting.
Performance is one of the top three features you would expect web hosting to have. The other two are reliability and pricing. But let's first review what's included in the performance of Kinsta WordPress hosting.
1. Uptime
Kinsta checks the uptime performance of your website every 2 minutes. This means they check your website for approximately 720 times daily. It is remarkable and means that even if your website happens to be down, the situation can be resolved quickly. 
They also scan for malware and use two powerful firewalls: GCP's IP-based protection firewall and Cloudflare's enterprise-level firewall to prevent attacks. Your site is totally private and secure due to the isolated software containers with software resources like Linux, NGINX, PHP, MySQL. And in situations when your website is down because it has been hacked, Kinsta's team takes the necessary actions to make sure that your website is up in no time. All these without charging extra for the service.
Kinsta offers you one of the best uptime for any host you can use. This is a necessity for such a premium host. In fact, Kinsta is so confident of this that they guarantee you 99.9% uptime. This is something you want to see if you're using this host.
2. Speed
Today, most pages weigh 2mb or even 20mb due to many elements like images and videos. That's quite a lot of stress for most of the traditional managed WordPress hosting that exists today. You could have a page loading in 7 seconds or 10 or more. At a time when an increase in page load time could affect your conversions negatively, this is bad news.
But not with Kinsta as your host. Kinsta makes your website run as fast as possible making it run faster than 90% of websites online no matter how heavy your website is.
Due to their solid infrastructure built on extremely powerful servers and features like edge caching, 35+ data centers, CDN with 275+ PoPs, you can count that your site will run at top speed.
When Brian Jackson migrated his website from WPEngine to Kinsta, its load time decreased from 1.01s to 679ms.
Before the migration:



After migrating to Kinsta:



There are many tools today you can use to test your page speed. These tools include Google PageSpeed Insights, Pingdom, GTmetrix, KeyCDN, etc.
You can use Google PageSpeed Insights to test the speed of your website. On the PageSpeed Insights page, enter your website URL in the form and click on the 'Analyze' button.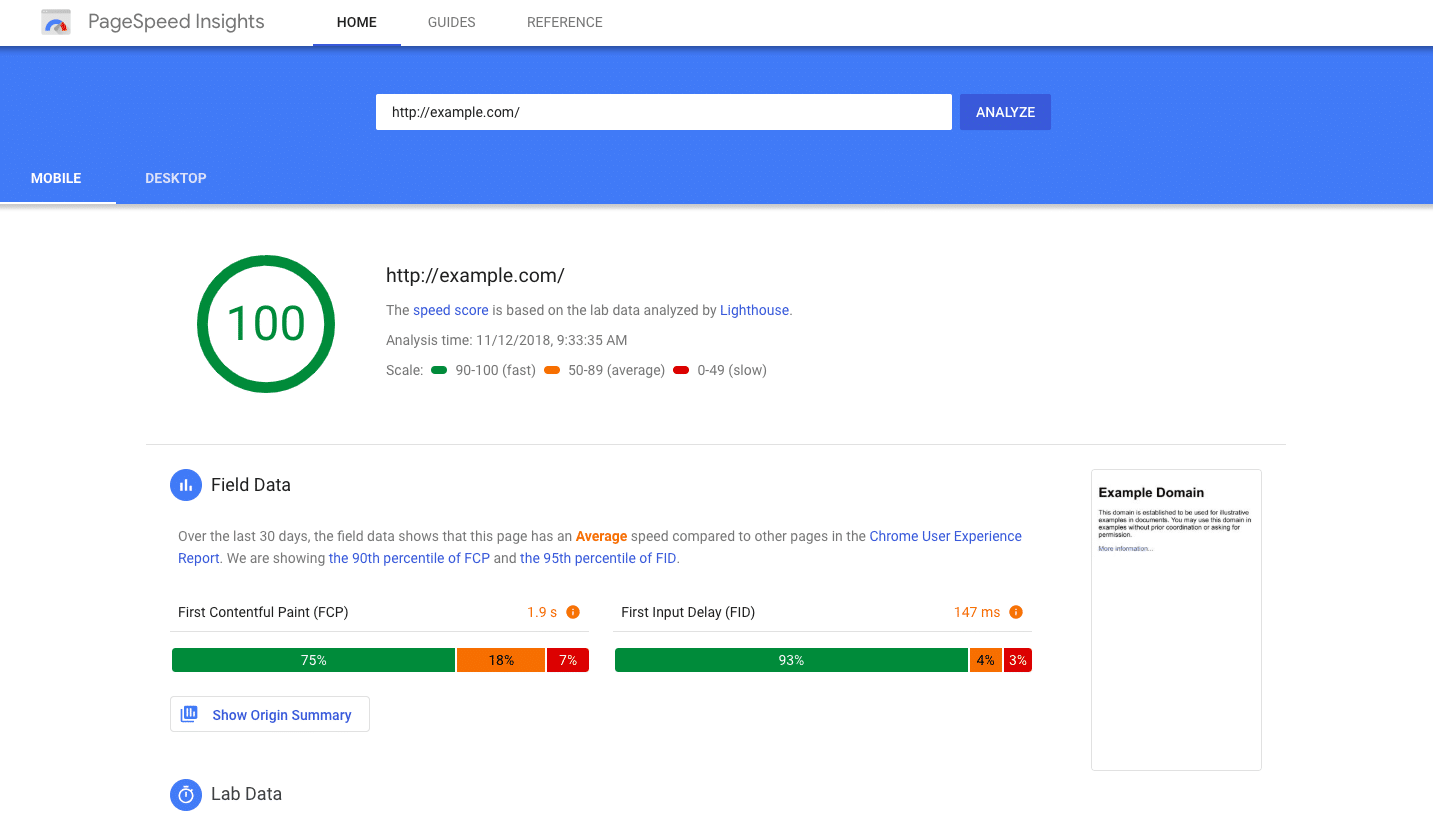 It will analyze your page and give you a PageSpeed score. The score ranges between 0 and 100 where 0 is the worst score and 100 is the best.
Google also provides recommendations on what to do to improve your page speed.
Note that Google uses page speed as one of its ranking factors.
Another tool you can use is Pingdom. This is one of the most popular tools to check the page speed of your website and it's free. To check your page speed, enter the URL of your website, location of your test, and click on the 'Start Test' button.
Pingdom gives you options to pick out of 5 locations. The location you pick should be close to where your website is hosted.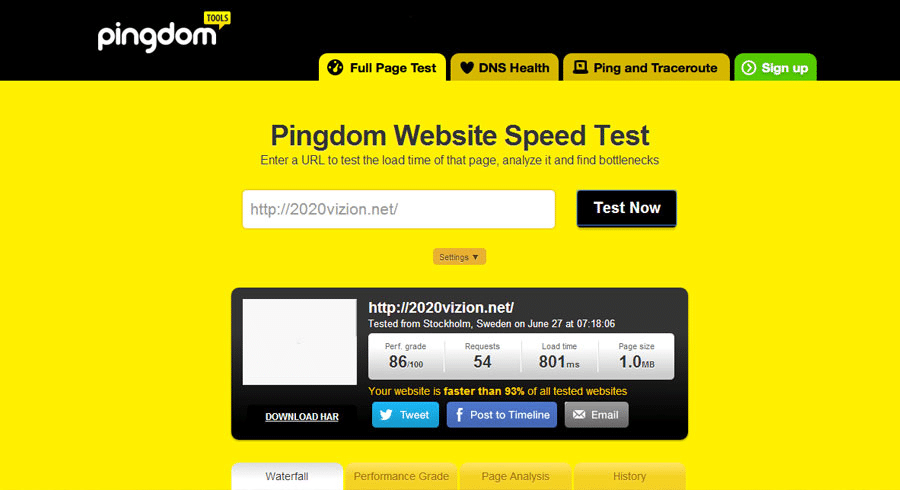 Below is an example of a summary result of a Pingdom test. This gives you details like performance grade, load time, page size, number of requests, faster than, and tested from.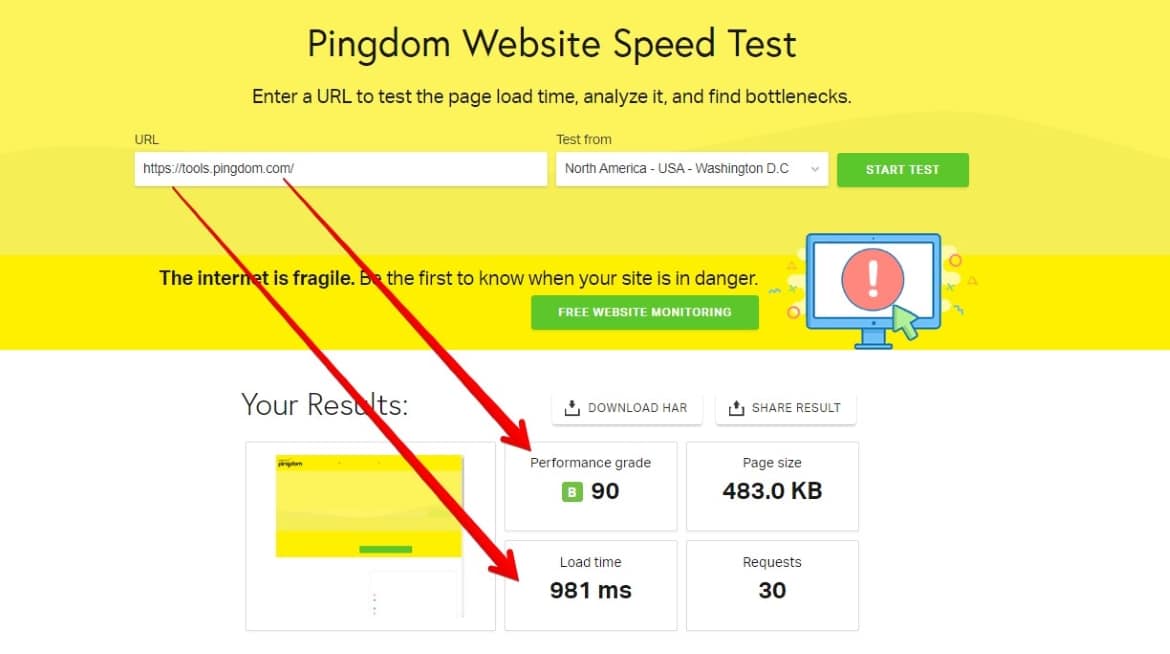 You can also get more details on the performance insights of your website. This will give you scores on different aspects of your website performance. You can improve on aspects where you have low scores to improve your website speed.



Another popular tool you can use to test your website speed is the GTmetrix. One advantage GTmetrix has over Pingdom is that it supports HTTP/2. To perform a test on GTmetrix, enter your website URL, and click on the 'Test your site' button.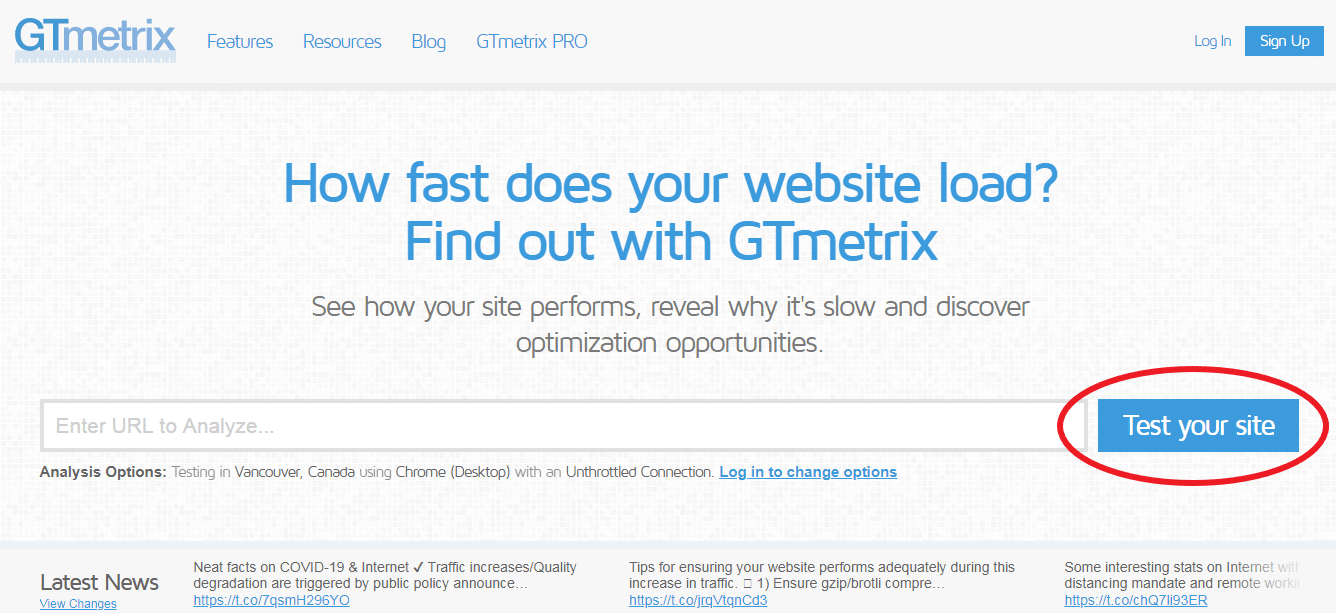 This is the basic version of the test tool which is free. If you have an account, you can specify the location of a place close to where your website is hosted as this makes your results more accurate. 
You can also choose the browser you're using for the test.
The result shows you details like PageSpeed score, YSlow score, fully loaded time, total page size, and the number of requests.


3. Ease of Use
Kinsta uses a dashboard that is different from your normal Cpanel. With the MyKinsta, the platform has made some changes to the Kinsta dashboard to improve the ease of use.


On the Kinsta dashboard, you can view most of the details like your site, the number of unique visits, bandwidth usage, data transfer, billing invoices, and you can see new content from the Kinsta blog.


Kinsta is made fully responsive — which means you can access your control panel on your smartphone.



The screenshot below shows the dashboard on your control panel for 'Sites.' This is where you have the records of all the websites, applications and databases you're hosting on Kinsta.
You have details like the name of your website, location, number of visitors, bandwidth usage, and disk usage. The last option is 'Manage' which allows you to get more details about your WordPress website and make changes when necessary.
When you click on 'Manage' on a particular site, it leads to a sidebar that contains sections like Info, domains, backups, tools, plugins, and logs.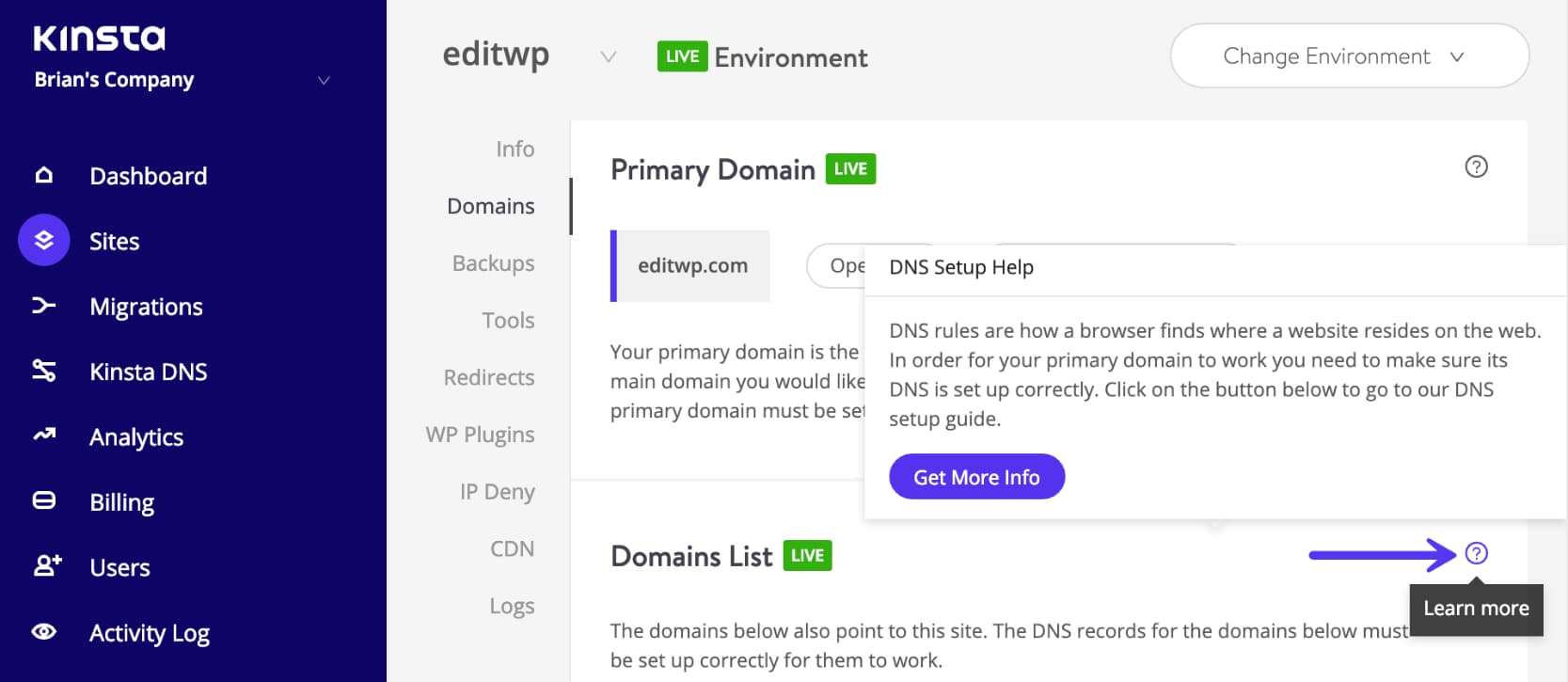 Info shows you details of your website like IP address, data center location, SFTP username and password, SSH connection details, database access details, and an option to delete a site. In the Info section, you can also select the staging environment at the top right corner.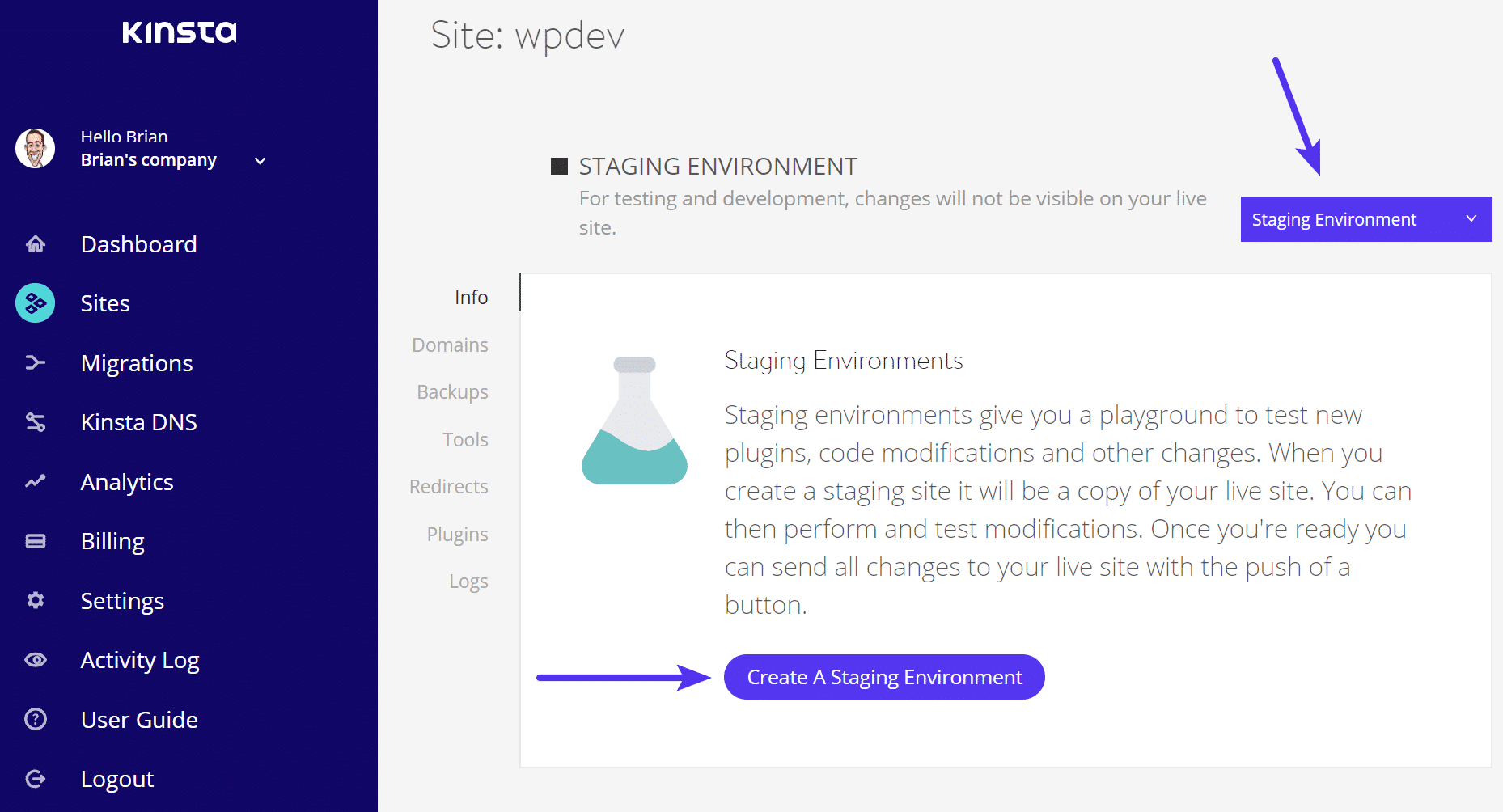 Under domains, you can add your primary domain and additional domains.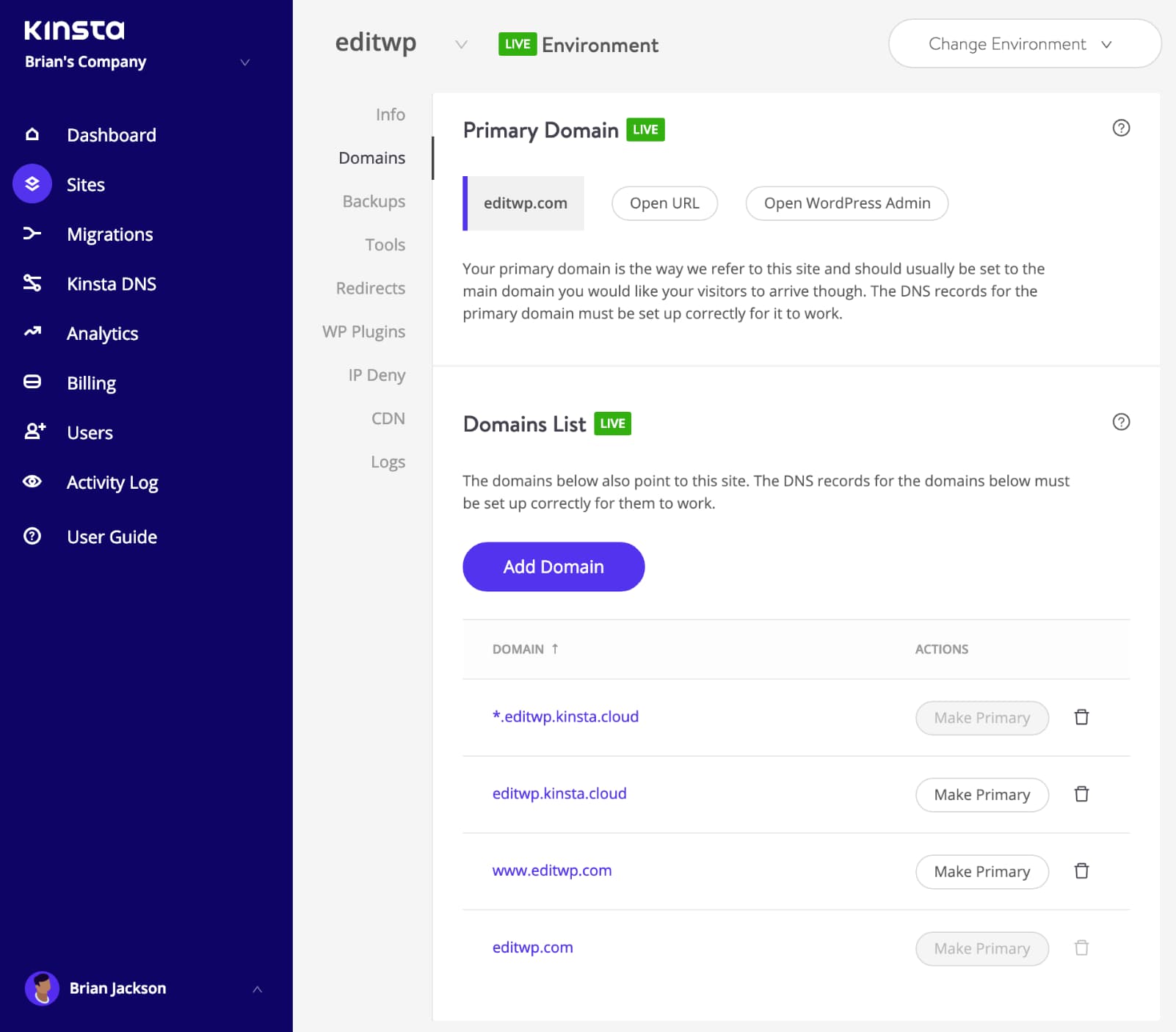 You also have backups that Kinsta creates automatically every day. You can restore any of the previous backups, or restore to staging if you want to view or make changes in the staging environment. You can also create a manual backup if you want to do that.
In the Tools section, you can clear your WordPress site's cache, enable your SSL certificate, change between PHP engines, restart PHPenable the early hints feature, enable the site preview tool, monitor new relic, and much more.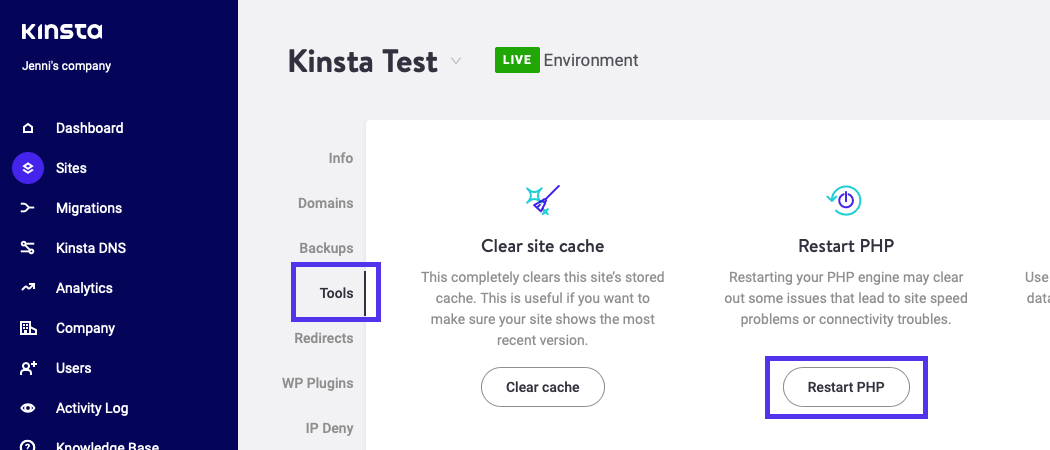 In the Themes and Plugins section, you can view all the plugins and themes you have installed on your website. You can also see the inactivated or activated ones and also those that have updates available.
Moreover, users can perform different updates with the newest Plugin and Theme Management.
The new feature enables users to:
See the plugins and themes that are installed on a WordPress site and their Active or Inactive status
Gather data about the latest version of each theme or plugin
Perform multiple types of updates of installed plugins (individual, selected, and bulk) and themes with the click of a button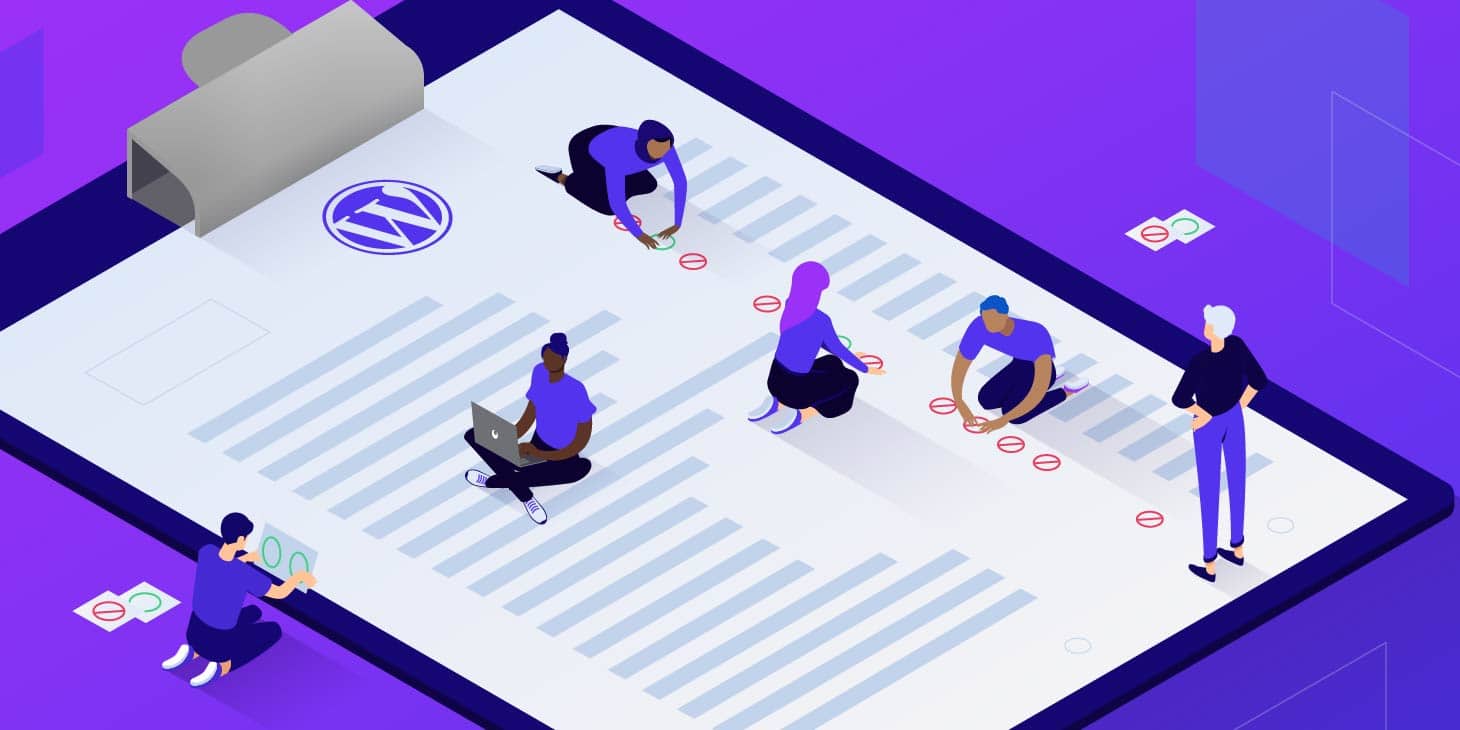 Your log section makes it easy to detect debugging. This section includes error.log, kinsta-cache-perf.log, and access.log files.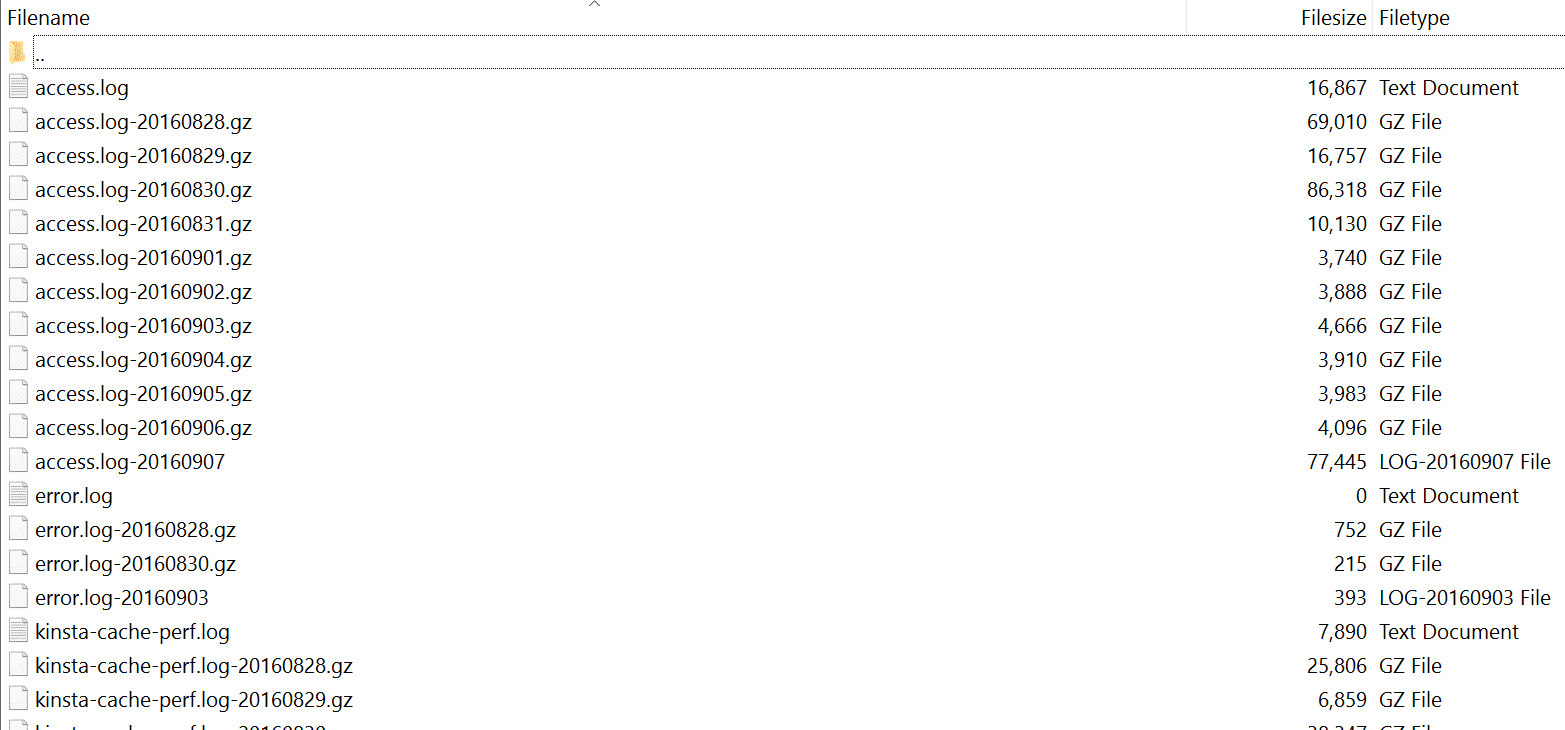 You can move your website from one host to another through the 'Migrations' tab. There are various ways you can migrate your website to Kinsta which are explained later in this review.
One way is to have support staff do it for you. For every plan, there is a provision for premium migration(s) and unlimited basic migrations from any host. You can start your migration on the migrations page.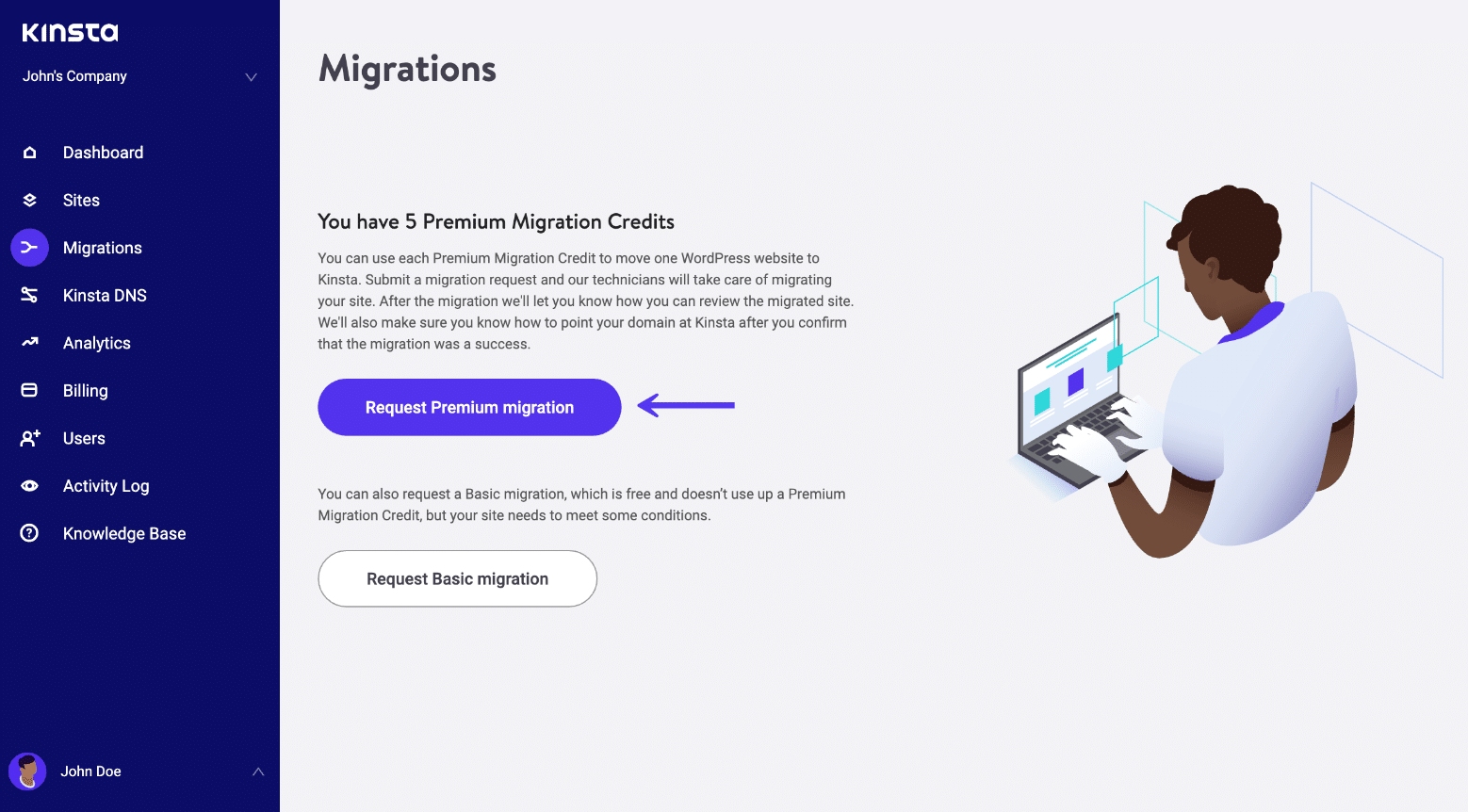 Kinsta DNS allows you to use the premium DNS services with Amazon Route 53. This allows you to create nameservers for your domain. Kinsta supports A, AAAA, CNAME, MX, SPF, TXT,CAA, DKIM, and SRV records.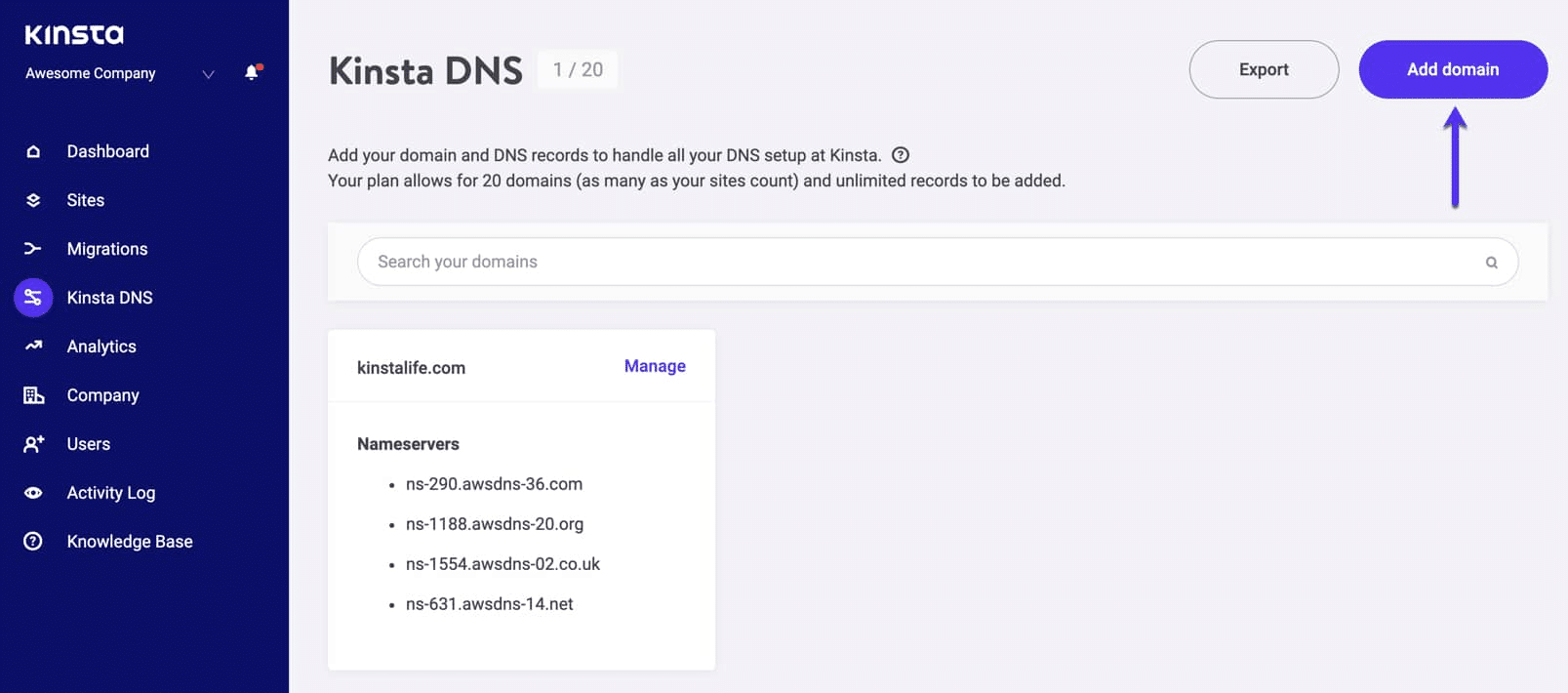 In the 'Analytics' section, you can view data like resource usage, performance monitoring, visitor analysis, response analysis, cache analysis, geo analysis, and security metrics.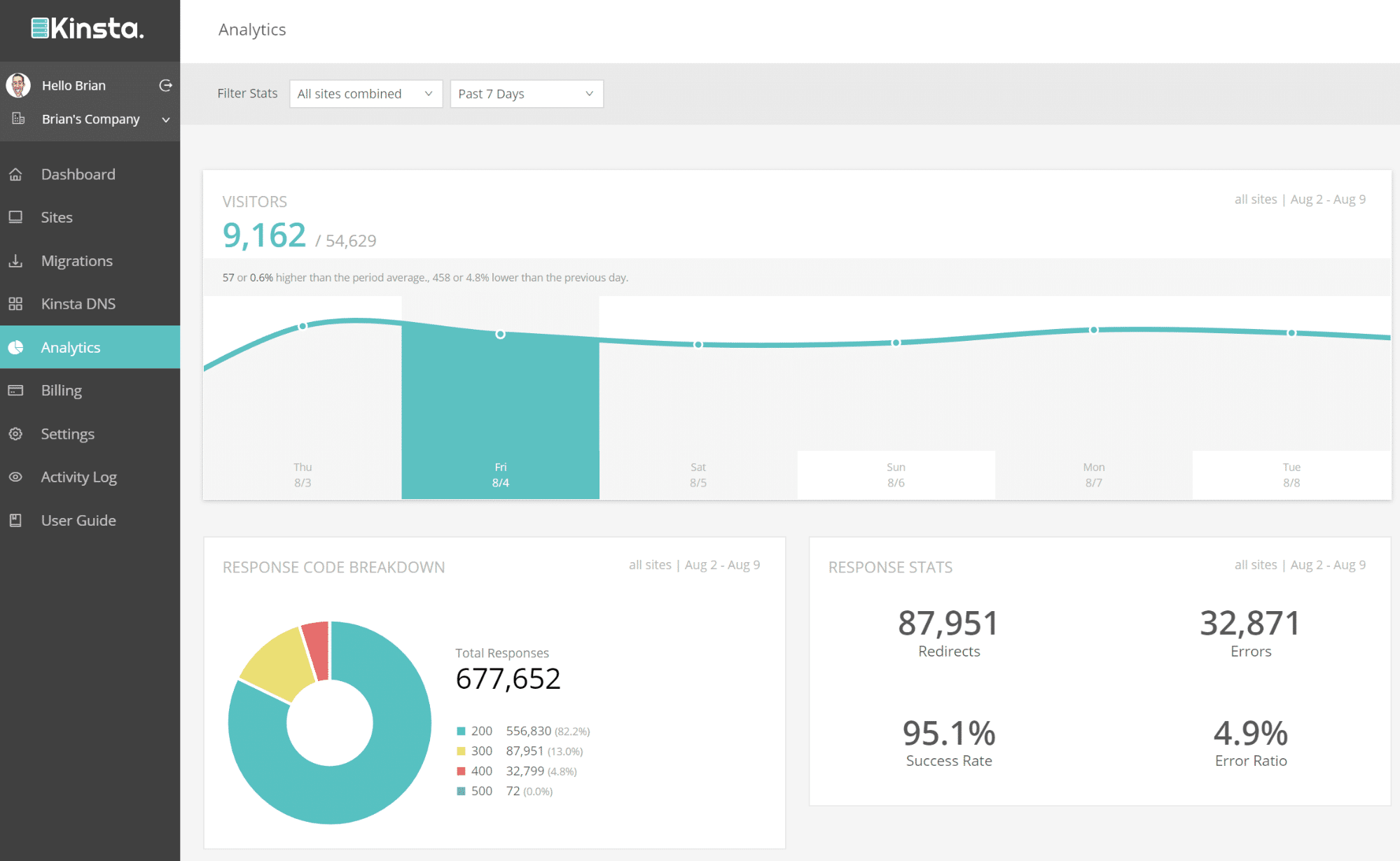 The activity log shows you the actions that have been taken in your account for the last 6 months.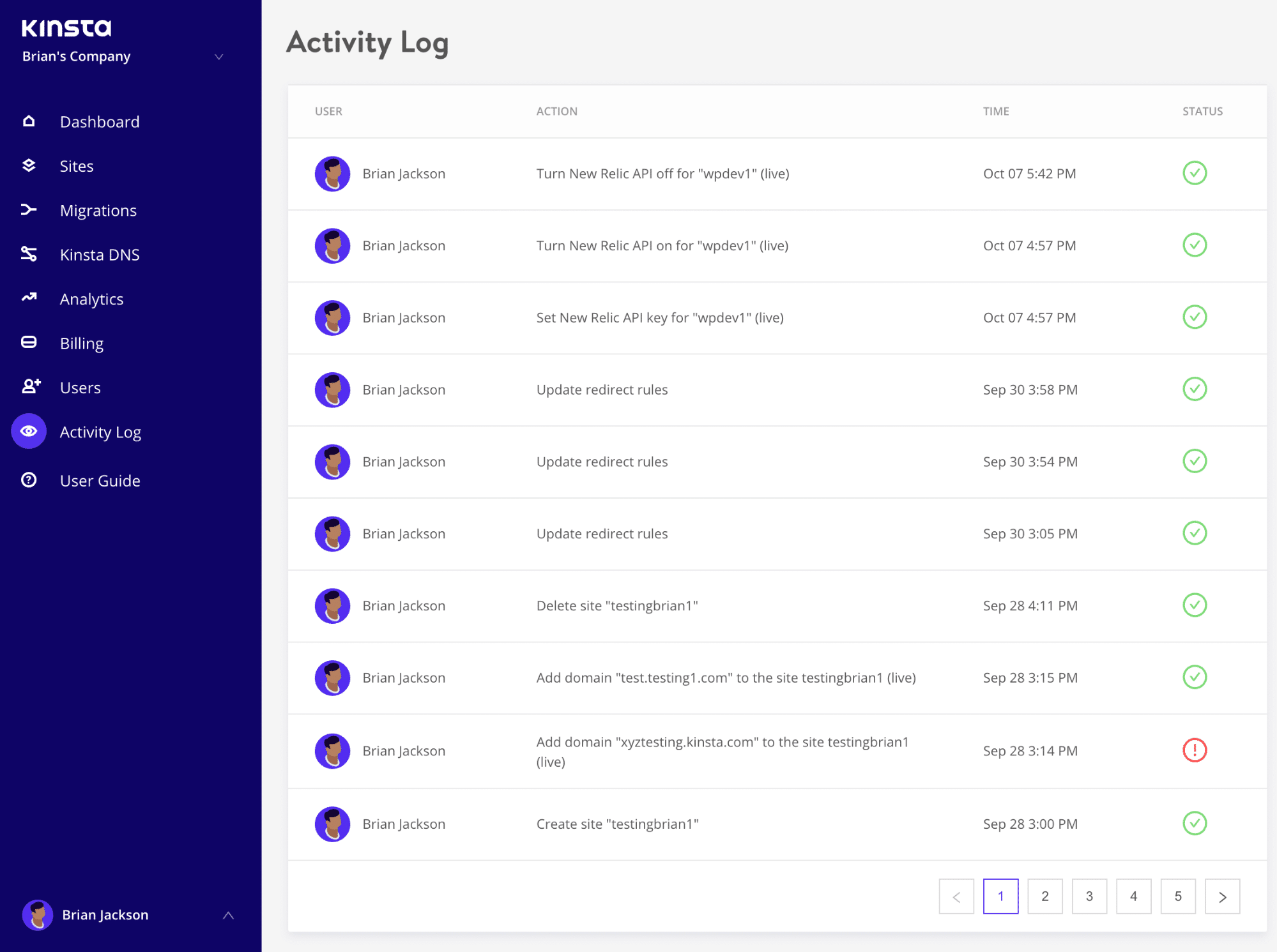 4. Kinsta has a staging environment
With Kinsta staging environment, you can make changes to your website on a separate server without any change to your main website. On this staging platform, you can see how each change you make will affect your website before you implement it.
Before, if you liked the result of your changes, you could've made it permanent on your website. If you didn't, you would've discarded it, which was the "all or nothing" principle.
The latest feature Kinsta released, called Selective Push, will give you even more control of what goes from staging to live. Now you can:
Push files only
Push database only
Push everything
If you're in need of more resource-intensive site testing or development, you can use their premium staging environment add-on which gives you 5 additional premium environments with 12 CPUs, 8 GB of Memory, and the ability to turn on Kinsta's CDN and perform speed tests.
5. It uses LXD container technology
The LXD container technology on Kinsta allows accounts and each site to be isolated but also has automatic scalability. This means that no site shares resources with another site.
This is to improve the security of websites compared to hosts using shared, VPS, and dedicated servers.
In case of a hacking event or malicious attempt on your website, this also means that only the hacked website is affected.
In many cases in the past, hacking of a single website has affected many websites on the same server or host. With LXD, this can't happen in Kinsta.
6. Kinsta has a better capability for traffic spikes
In times when one of your posts goes viral or you're running a promotion on your website, Kinsta gives it the capability to cope with the extra traffic without pulling your website down.
With the use of LXD technology, scaling CPUs, and PHP workers, they make sure that your website is running without a hitch even with a spike in traffic. 
They were able to do this for DARTDrones when they appeared on Shark Tank and got a huge spike in traffic.
7. It uses Nginx
Nginx is one of the most popular open-source web servers online. Although it is less popular as Apache overall, it is far more popular among websites with high traffic.
This server powers websites like Google, Microsoft, Netflix, Facebook, Twitter, Apple, etc. and Nginx powers 21.37% of the 10,000 most popular sites online.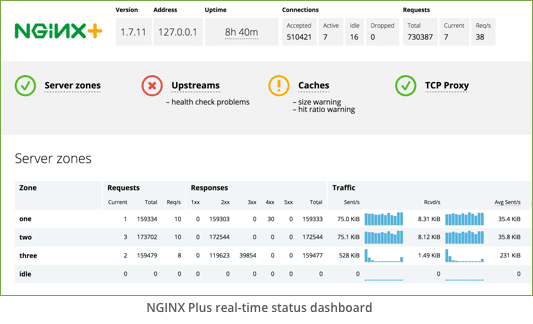 Kinsta uses Nginx to provide a robust infrastructure for high-traffic websites that are hosted on its platform. It also offers premium DNS powered by Amazon Route53 service that makes your site faster and more secure. This helps your site withstand a DNS based DDOS attack.
8. There's CDN integration
You have a size of free CDN available to you when you register with Kinsta. But sometimes, this could be insufficient if you're operating a big website. 
That is why Kinsta Kinsta's CDN is powered by Cloudflare.
You can choose any of their plans that correspond with the size of the bandwidth you want for your website.

Kinsta CDN is powered by Cloudflare and comes with HTTP/3 support, primary domain support, code minification, image optimization and has over 275+ points of presence worldwide.
9. Kinsta gives you the choice of data center
To improve speed, Kinsta allows you to choose any of 35+ data centers in the regional deployment mode in Google Cloud. Through this, you can pick a data center that is close to most of your audience to increase the speed of your website when they visit.
10. Developer options
If you want access to developer options, you have them on Kinsta. You can also add other users if someone else is the developer.
You have access to the SSH which is a secure way to access your Linux command line. The command line gives you more control than you can have with the graphical interface. Apart from SSH, you can use command-line tools like Git and WP-CLI.
Kinsta also supports secure-SSH tunneling into databases stored in Google Cloud. This means developers can use clients like HeidiSQL and Sequel Pro on this platform.
You can use WP-CLI to update the features of your website through the command line. For instance, you can perform operations like installing a new theme. This gives you many options to update your website.
Due to issues with original PHP code, you can now use the later versions PHP 8, PHP 8.1. 
PHP 8.1 is the latest version. It helps to render websites faster than previous versions of PHP, in fact, almost twice as fast.
To provide more security for your website, you can use Github with Kinsta managed WordPress hosting. When you get a freelance developer on your website, they don't have to gain access to your server details as this is risky. 
You can give your developer access to your Github repository. 
This means they can have access to your codes and work on it. They can also submit the edited code through pull requests on the Github system. To do this, you can create a repository on your Github account. You're given a command line by Github.
Additionally, they introduced Application Hosting and Database Hosting which allows developers to deploy code more efficiently and host and run everything in one place.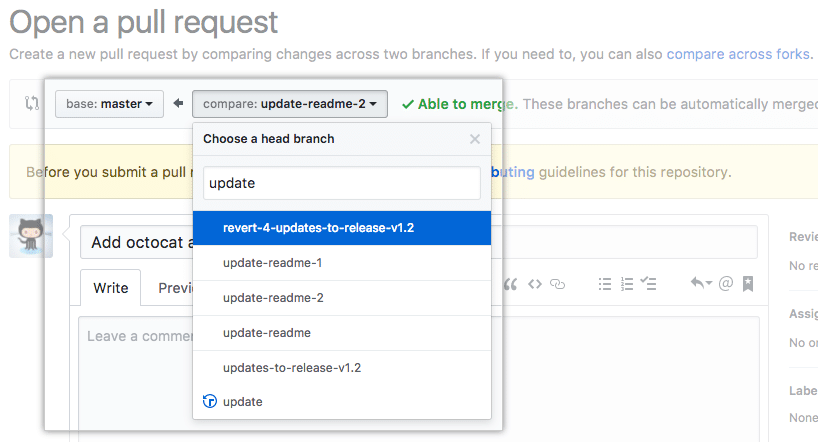 11. Free migration
Due to the complexity of moving your site from one host to another, your provider could expect you to migrate your website yourself, or you may have to pay a freelance WP engine expert to do that for you.
Kinsta offers at least one free premium site migration on any plan you choose, plus unlimited free migrations from any host.
on any plan you choose. You just have to provide some important details about your website and the Kinsta staff will do it.
They can also assign a temporary domain to your website. This helps you to go to the website and check that everything is in order before you point your website's DNS to Kinsta nameservers.
12. WooCommerce hosting
Woocommerce is one of the most popular ecommerce platforms on WordPress and online generally. And for ecommerce platforms, time is money. Increase in load time leads to a decrease in conversions.
Also, customers could abandon carts when your website is wasting too much time. Kinsta provides a platform for ecommerce websites that make their website fast and able to withstand traffic spikes.
📊 Results from Hosting Survey Data About
Kinsta
According to Codeinwp.com's WordPress hosting survey, Kinsta was one of the top three managed WordPress hosting services a WordPress pro would recommend.
Although Kinsta hosting didn't get a ton of votes, most of them were extremely positive. The survey showed that a staggering 98.6% of respondents would recommend this WordPress hosting platform to others.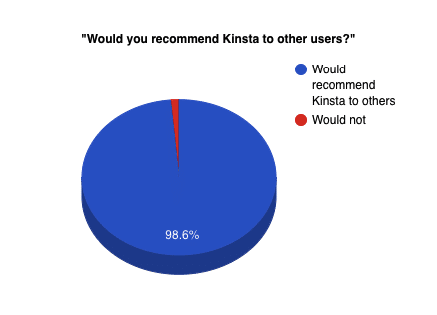 💰 Kinsta Plans and
Pricing
As I've mentioned earlier, Kinsta is not the cheapest you can find out there. Being cheap is not one of their unique selling points.
Initially, their cheapest plan used to cost $100 per month.
But now, it has a new pricing structure. You can now register for a plan as low as $35 per month. The main differentiators between the different Kinsta plans are:
Number of WordPress installs.

The number of visits you have per month.

SSD storage space.

Size of free CDN.

The number of free white glove migrations.
Kinsta plans are listed below with their features:
Kinsta Starter plan goes for $35 per month. It comes with the following features:
1 WordPress install

25,000 monthly visits

10 GB SSD storage

100 free CDN

1 free white glove migration and unlimited basic migrations

Google Cloud Platform and enterprise-level Cloudflare integration

35 global locations

Automatic daily backups

Manual backup points

14 days Backup retention

+ 24/7/365 expert support

Staging area

PHP 8+ support

Free SSL certificates with wildcard support

2 PHP workers per site

White-labeled cache plugin

+ Enterprise-Level Firewall DDoS Protection
+ Edge Caching
+Built-in Application Performance Monitoring (APM) Tool
+ Multi-user environment
Pro plan is the next plan to Starter and it goes for $70 per month. Its features include everything in the Starter plan plus additional features.
There are 4 types of Business plans, which range from $115 up to $450 and include every feature from the Pro plan plus more features.
The Enterprise 1 and Enterprise 4 plans cost $675 and $1650 per month and they are meant for big-scale businesses. They have every feature from the previous plans plus more. 
Kinsta keeps your site up when you exceed your plan allowance but you'll pay overage charges. You'll pay $1 for every 1,000 visits that you exceed your plan's maximum visitors count. If you use beyond the free CDN bandwidth provided for your account, you'll pay $0.1/GB for the size extended beyond your plan.
We do not do that by default. Usually, it's when a customer has reached out to us regarding their overages, or if their overage is excessive.
Kinsta already filters out bot visits:
How Kinsta Counts Visits
For any of the plans above the annual cost is equivalent to a 10-month payment. You get to save the cost for 2 months if you pay for Kinsta for a whole year.
But if you're just starting out on the platform, you may decide to pay monthly until you're convinced of the offer you're getting from the company.
Kinsta doesn't offer free trials but they refund the unused portion of your payment if you cancel your subscription within the first month. Plus they offer a 30-day money-back guarantee in case you change your mind.
Kinsta support team offers 24/7 service to customers and multilingual support in selected hours for French, Italian, Portuguese, and Spanish. They offer support through email and chat. Kinsta live chat tool, Intercom, is accessible from any part of the website. It also stores chat transcripts that you can make reference to later.
Kinsta support staff are WordPress experts and can solve most problems you have on your website in a few minutes. You can contact support team from anywhere on the website with the chat button at the bottom right corner of your screen. They have a great response time as they reply to your message a few minutes after you contact them in most cases.
Moreover the Kinsta website offers a Knowledge Base that provides information about the most important actions you want to take on the platform and questions you might have.
The short answer is – Yes.
Whatever point of comparison you use, Kinsta is one of the best-managed WordPress hosts you can find online. If you're just starting out, shared hosting may be enough for you.
But when you start getting high traffic and this traffic leads to money for your business, you may need to make reliability much more important than saving money on your hosts.
If you have a website with heavy traffic, or you operate an ecommerce store, Kinsta gives you the security you need to protect your website against hacking. Your website is also robust to withstand any spike in traffic.
In cases where your site crashing could cost thousands of dollars, then you can prevent these by paying a couple hundred dollars for Kinsta hosting.