What We Like About
 LeadPages?
It has many features for building your landing pages

. You can add a countdown timer to an offer on your landing page, publish your page as a Facebook page, have exit popups to convert visitors about to leave your website, sort proven templates according to their average conversion rate.

It has a large collection of templates of about 500 and about 200 are free

. If you lack coding skills and want to build a landing page, then you'll find many options among the templates provided. You'll also find templates that have been used by influencers on the internet and their average conversion rate.

You have access to Leadlinks and Leaddigits

. With Leadlink, you can insert a link in your broadcast emails that will automatically subscribe to people who click it to an email list you have created. Leaddigits is especially useful when you're at a location where people may not be able to visit your website. Well, they can send a text message to a specified number and they'll be subscribed to your email list.

You can perform A/B tests

. You can test elements like headlines, templates, background images, call to action button, opt-in forms, etc.

Leadpages offer a 30-day free trial

. You can use Leadpages for 30 days just to see if it's the right software for you.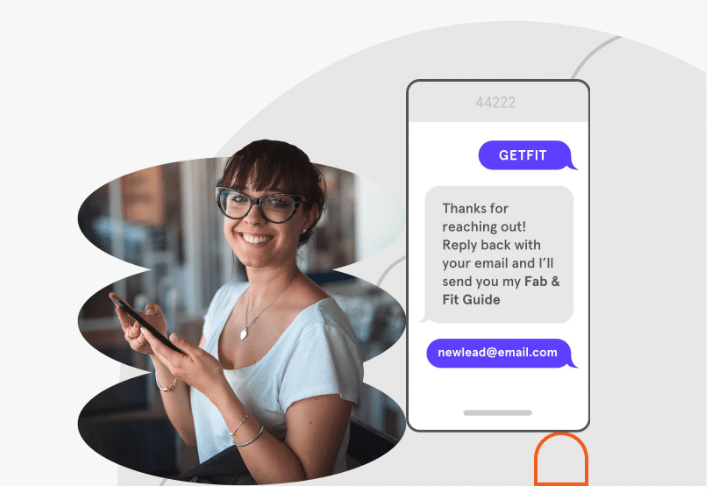 The free templates have poor designs

. If you want a great template for your landing page, you'll have to buy one of the really good ones.
Your business needs a landing page. Because you need leads to survive and meet your business targets.
According to Seth Godin, "Landing pages are the new direct marketing, and everyone with a website is a direct marketer."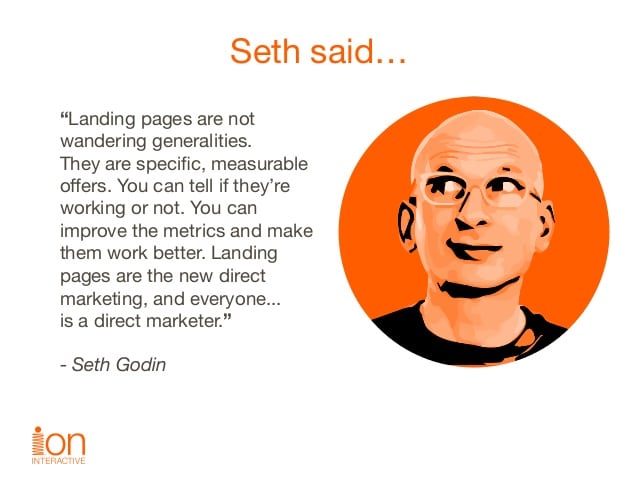 And landing pages have proven to be one of the most effective ways of capturing leads for businesses.
However, most businesses are not utilizing this opportunity. Not because they don't create landing pages. But because they create boring landing pages.
Their visitors would probably sleep off before they can even be converted. Or worse, they create landing pages with cluttered and uninspiring designs.
Creating good-looking landing pages is worthwhile for your business. And the more landing pages you build, the more results you'll likely get.
Research shows that companies that increase their number of landing pages from 10 to 15 get 55% more leads. Also, businesses with over 40 landing pages got 12 times more leads than those with 1-5 landing pages.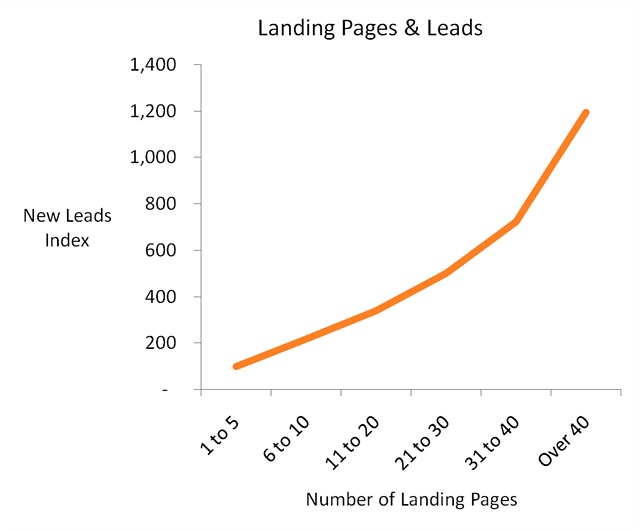 If landing pages have proven to be so effective and vital to business, why are businesses still having problems with theirs?
Because creating compelling landing pages is hard. Especially if you have to write a lot of code to create it. It's easy to miss something and create something uninspiring.
In fact, a survey by Wishpond showed that the average conversion rate of B2B landing pages is 13.28% while that of B2C is 9.87%.
It doesn't have to be hard forever though. Now, you don't even need to be a programmer to create a landing page. That's how easy things have become.
With landing page builders today, you can create an effective one within minutes. One of the most popular landing page builders today is LeadPages.
Related Post: GoHighLevel Review 2023
LeadPages is a powerful all-in-one small business software that enables you high-converting opt-in forms and landing pages for capturing leads and winning over your customers. 
LeadPages integrates with your digital marketing tools: from Facebook ads to product creation to ecommerce.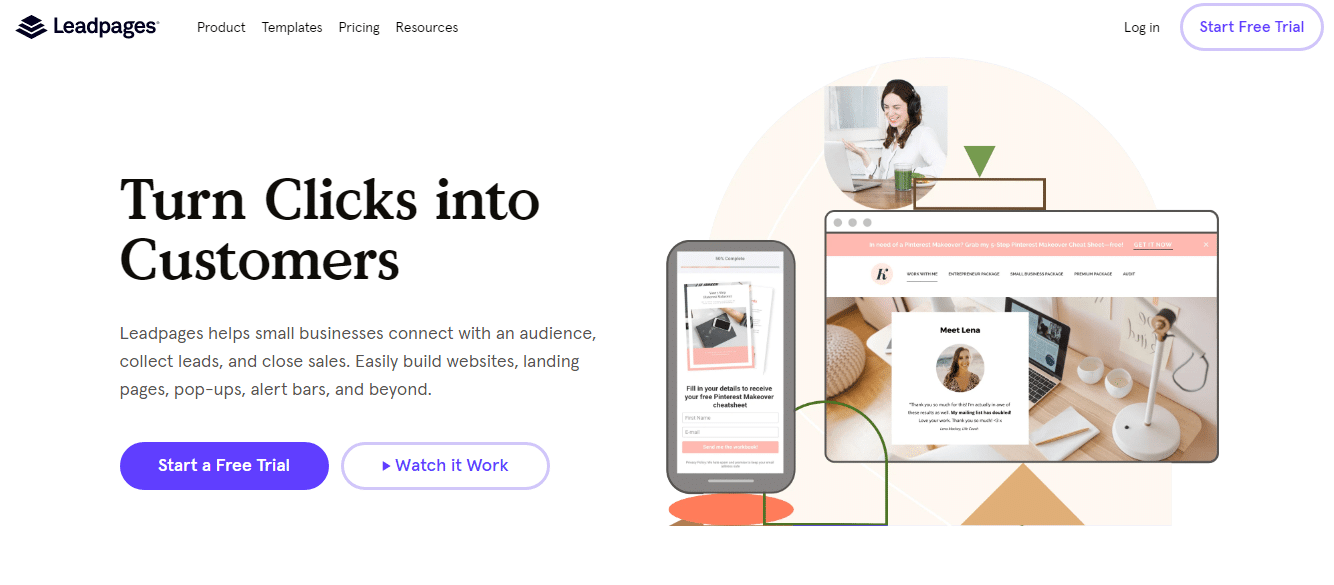 With LeadPages, small businesses can achieve big growths irrespective of the level of competition in their industry.
What are you waiting for? Start building landing pages that attract visitors, and most importantly, convert them.
It takes the guesswork out of building a page as you can use templates of pages that have been proven to have high conversions. You can also test different variations of your page. Which business with a website wouldn't want that today?
Brief History of LeadPages
LeadPages was founded in 2012 by Clay Collins, Tracy Simmons, and Simon Payne. Now, they have over 100 staff members who work together to make sure people can capture more leads for their businesses.
In this guide, I'll be going through the nook and cranny of this tool to tell you what you need to know about building your landing page. By the end of this guide, you'll be able to decide if this is the right tool for your business.
How to use LeadPages
It's used to build landing pages through its standard and drag and drop editor.
There are over 160 landing page templates and more are added. Most of these templates are free but you'll also find paid templates that range from $7 to $39.
If you find a paid template that suits your taste more than any other, you can buy it. And if you're a designer who can design an attractive landing page, this could be an opportunity to make some money.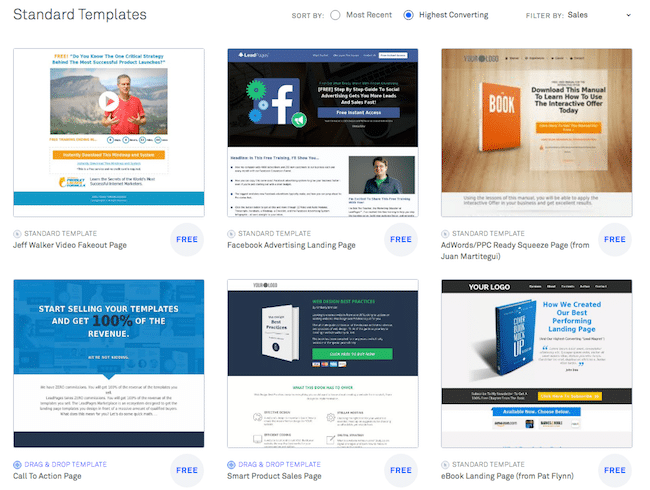 If you're building a landing page, the main aim is to gather as many leads as possible and hopefully turn most of them into customers. In this regard, the conversion rate of your landing page is vital to your business.
Are there templates that have proven to convert more in the past? LeadPages allow you to pick templates based on conversion rates. They have also included templates that have worked for popular bloggers like Pat Flynn, Jeff Walker, etc. in the past.
You can use two options in the editor: The standard editor and the drag and drop editor.
The drag and drop editor is easier to use and you can edit the page elements to your taste.
Building campaign-specific landing pages
What are the landing pages you can use for your business based on their functions?
Splash page/Welcome gate

:

this is the landing page that is usually on the homepage of your website. You can use this page to tell users more about your website and also capture their emails as they visit your website for the first time.

Squeeze page

:

this landing page is used to 'squeeze' information from visitors. You can include details about your business or a particular product, testimonials, or case studies in a bid to capture their emails and generate valuable leads for your business.

Sales page

:

you can pitch your products and services to visitors on this page. Although this is not common for first-time visitors, if you're an authority in your industry who has a reputation for providing value in the past, you can use such a page.

Event Registration page

:

do you have an upcoming event that you feel is vital to any visitor to your website? You can use a landing page to register your visitors for this event. 
Through this, you also capture them as leads.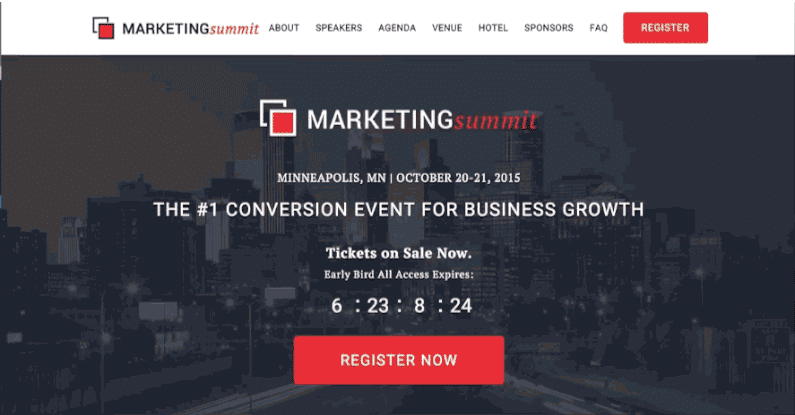 Factors to consider when building a landing page
Before you start building your landing page you must consider these factors:
The purpose of your landing page:

why are you creating your landing page. Is it solely for lead generation or to get visitors more familiar with your website? Or to get them to register for your upcoming event?

Landing page copy:

even with a captivating design, you need content on your landing page to convince visitors that you're offering enough value for them to release their email address or other information you request for. You must have a compelling copy before you start to design your page.

Images:

this could be the image for the background and/or the image in your copy. It is important to break your text with images on your copy as this engages visitors better.

Video:

If you want to use video on your landing page, you should have it ready for building your page. Video increases engagement and using it could increase your conversion rate by as much as 86%.

Email service provider:

You must have your email marketing software in place before you build your landing page. Because LeadPages doesn't keep your leads for you. Your leads should be transferred to a capable email service provider so that they can enter your sales funnel.
Without further ado, how do you design your landing page on LeadPages?
Log in to your LeadPages account. When you get to your account, you see all the tabs including LeadPages, LeadBoxes, LeadLinks, LeadDigits, and templates. Navigate to the templates to create your landing page.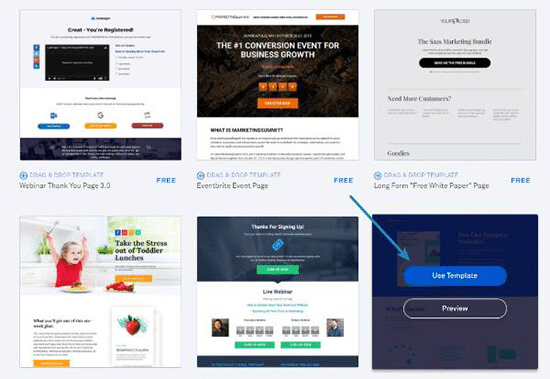 Select your template. For instance, the template here has provision for a video. You can pick a template according to the content on your landing page and your industry.
Use the drag and drop builder as this is easier. Name your page.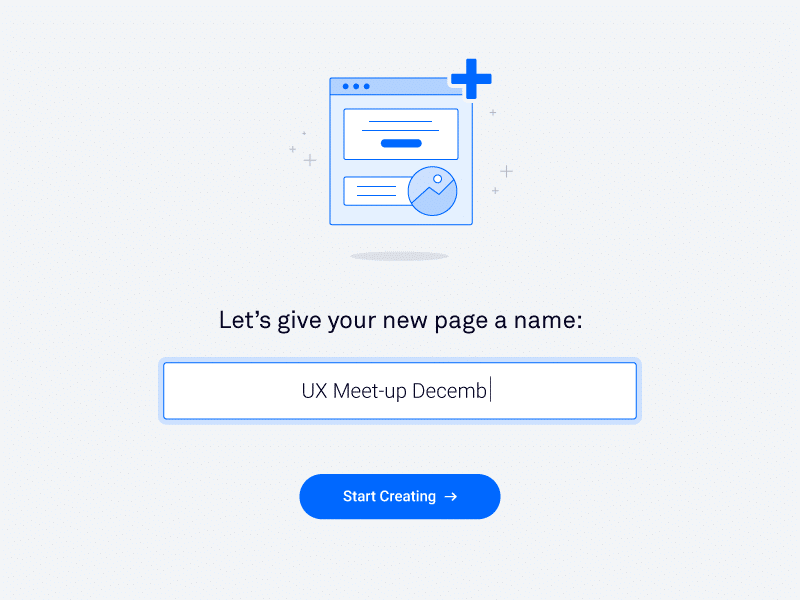 Now your template is loaded. You can edit the elements on the page to suit your taste. You can remove the ones you don't want and you can add elements you need to the template.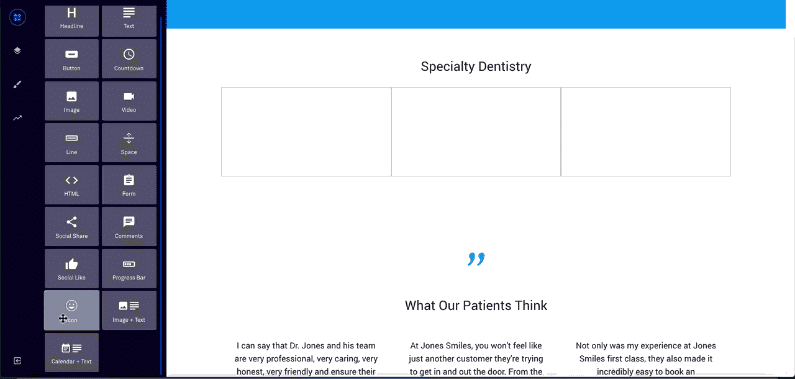 Edit the header logo and change the words in the header button to your needs.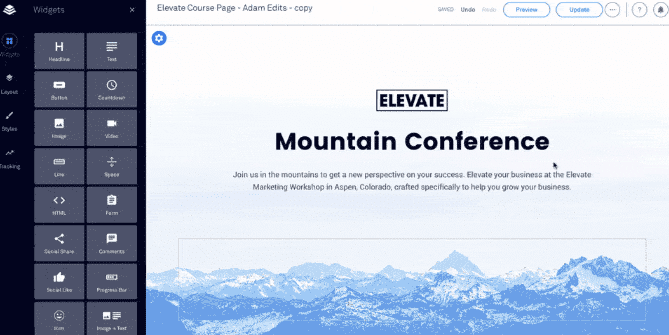 You can edit the social share buttons to suit the color of your page or leave their colors as they are. This depends on you.
Paste your content in the header and the subheader. This is your page title and the introductory text. You can choose a color that fits your page.
Note that you have this structure because of this particular template. For another template, you could just paste your content and insert your image and your call to action button. But here you also have to embed your video. You can host your video on Wistia or YouTube and embed the code in the space provided.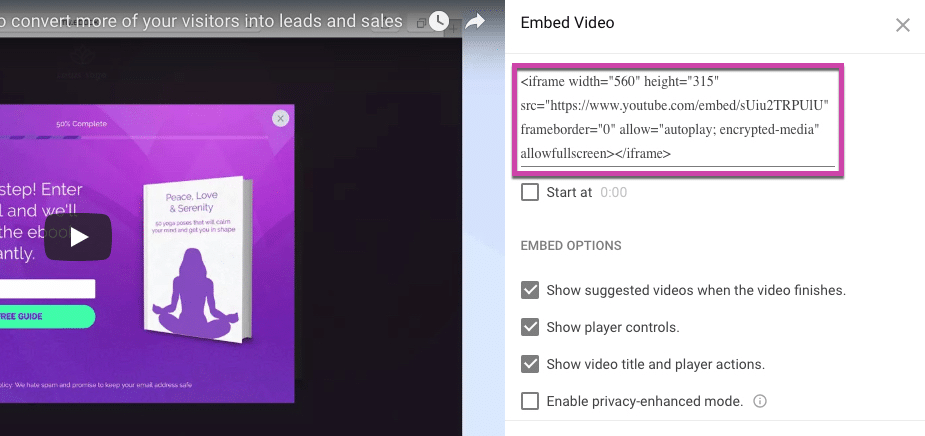 After the video widget, you can edit the call to action. In this case, the call to action is "Get your invitation."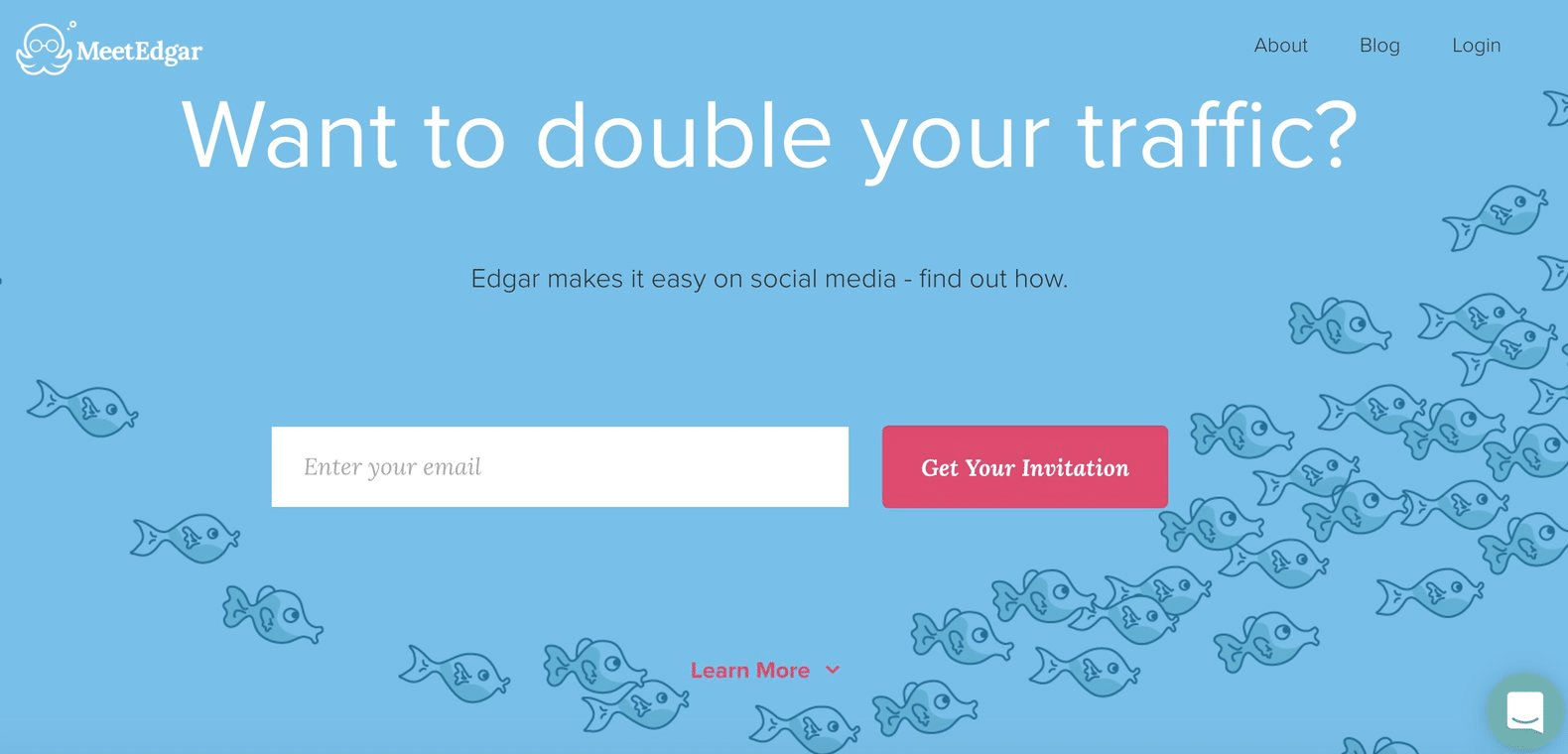 After the call to action button, you can paste more written content in the paragraph widget to explain what's in the video.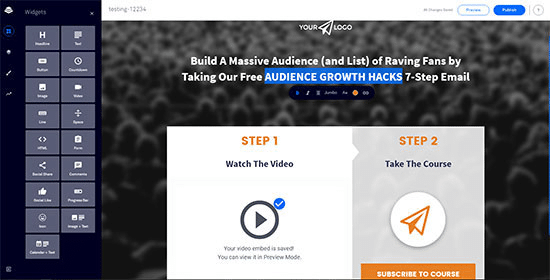 You can also change the background color and the text to suit the theme of your page.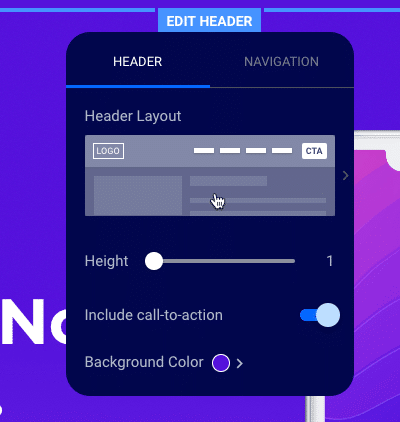 Add images after the text to show the visitors more about your product. You can adjust the image as you deem fit. It can be on one side of the page or fill the whole page.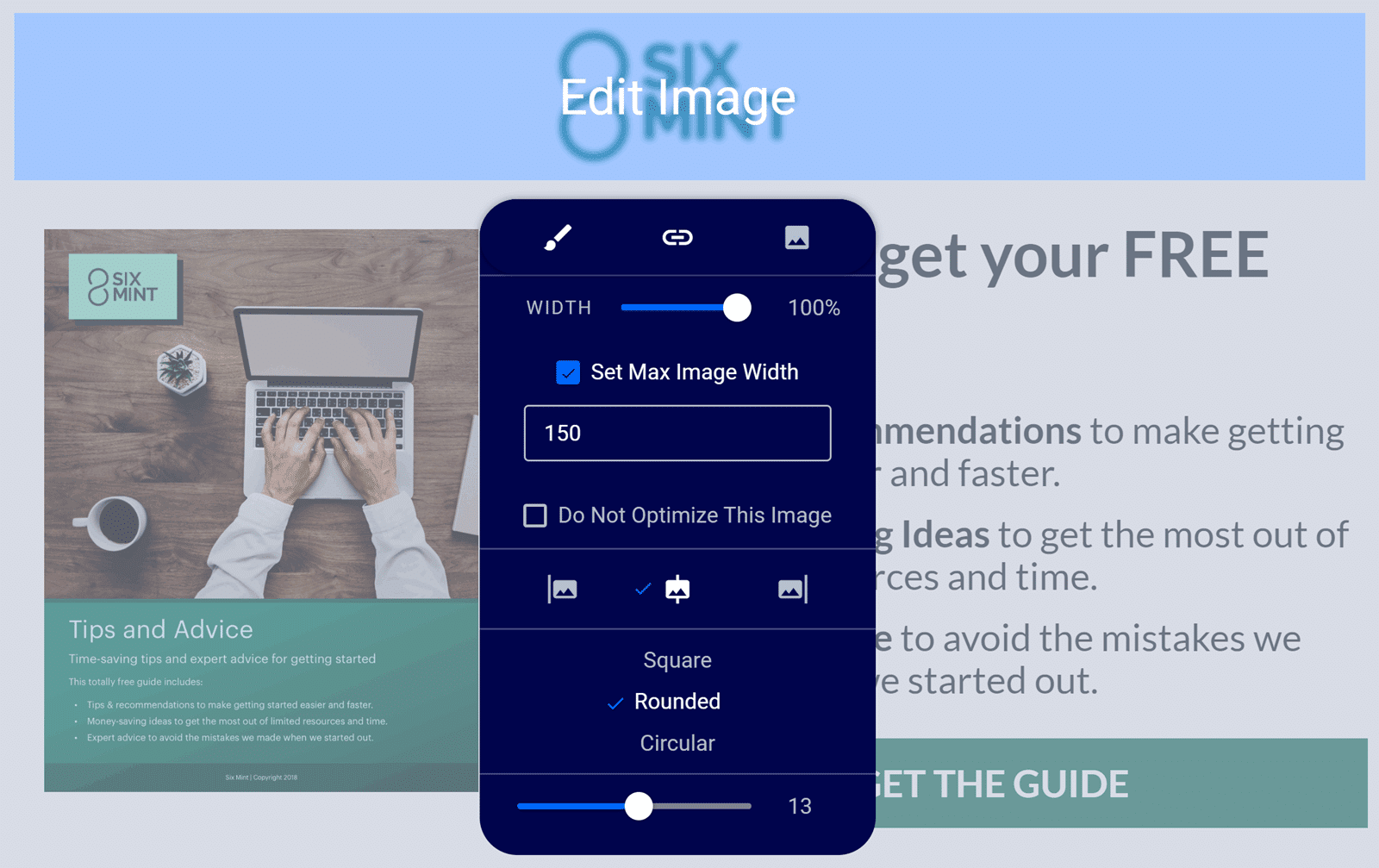 In the footer, you can edit the text or delete it altogether. You can also edit the social share buttons.
If you have left the first set of social share buttons as they are, you can leave the social share buttons here to make them uniform.  
You can save your page after this. In another way, you can still edit this page further. For instance, you can add another headline, content and a call to action button. 
But since there's no provision for that, you have to expand the widget section and include the elements you want on the page.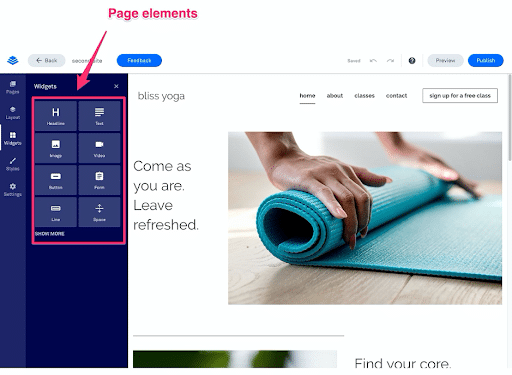 The drag and drop editor gives you a lot of flexibility regarding what you can do on your page. No matter what template you choose, you can remove and add any element you wish to make your page better.
Depending on how creative you are with the tool, you can change as many things as you want in a template. So much that your landing page ends up being unique and looks like no other one.
You can adjust your paragraph to fit the earlier paragraph on the page.
When you're through with this, you check the LeadBox that your call to action button will trigger. This is where visitors enter their details. You must make sure that the color schemes on your landing page match that on your LeadBox.
The color of the call to action button on your landing page must match that on your Leadbox. Make sure you connect all the call to action buttons on your page to the Leadbox.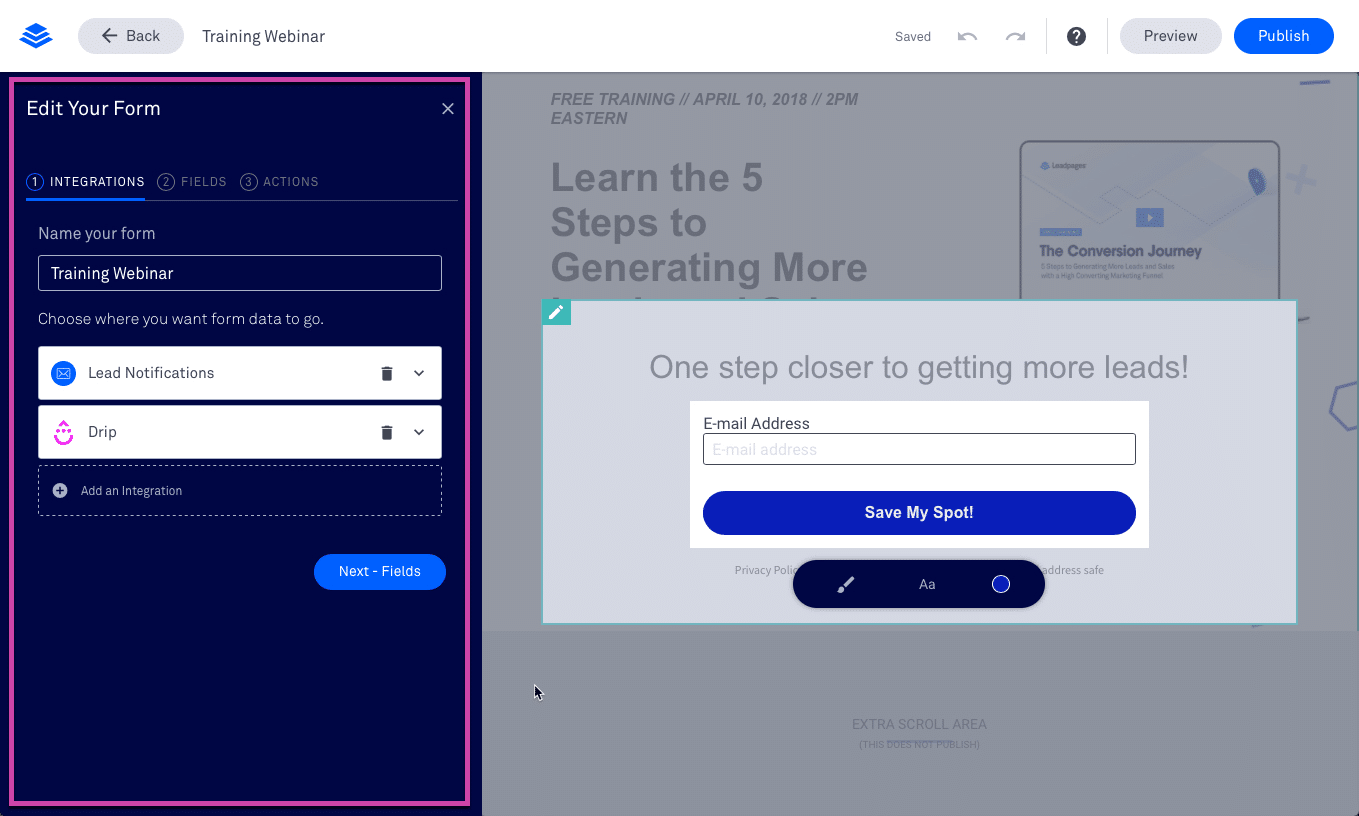 When you're done with the adjustment of the design in your LeadBox, you also have to check if your landing page is connected to your email service provider.
If you have not done that, you navigate to the integrations to connect to your email service provider. In this case, there's already an integration to MailChimp.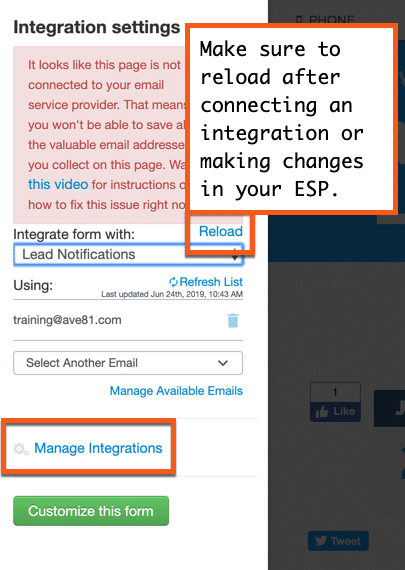 Select the email list you want subscribers from this page to be added to.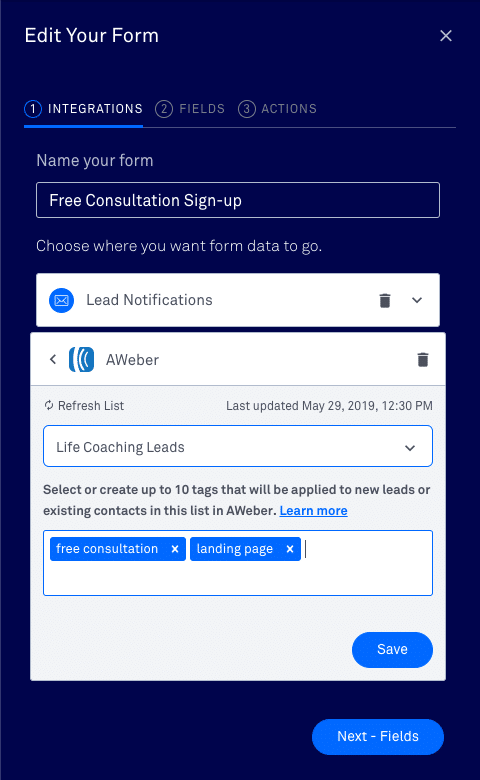 Insert the address of your landing page. It can be a page on your website or even the homepage where people land on. If you don't have a website, you can also create your landing page with a link that you can share with people.
One disadvantage here is that the link will be a LeadPages link and that may look unprofessional.
When you're done with this, click on the 'publish' button to publish your landing page.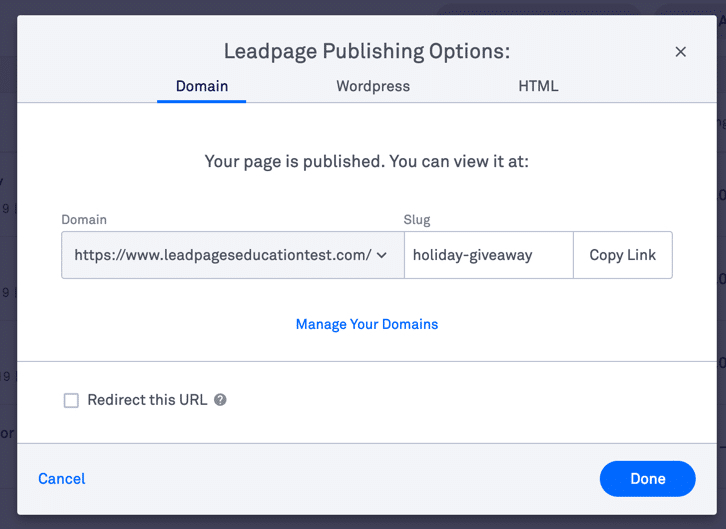 After this, you can check your live page to see how it looks on your website.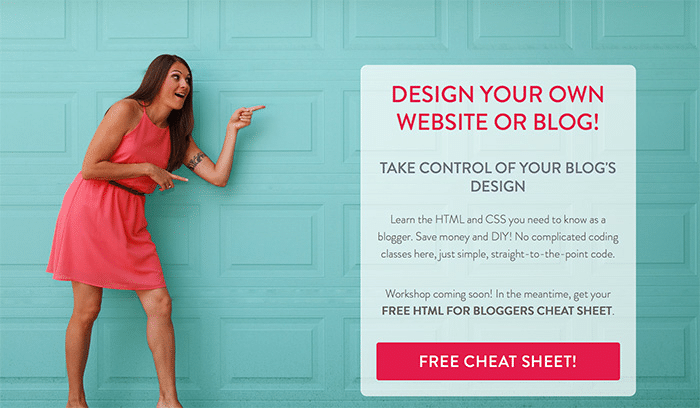 You can now generate more leads using LeadPages.
What are the best practices for your landing pages?
To give your landing page the best chance of capturing as many leads as possible, there are some practices you need to follow:
a). Use clear language to make your offer: the content on your landing page is supposed to make your offer clear to any visitor. Using too many technical terms here could confuse your visitors and make you lose many leads.
b). Focus on the Benefits, before the features: No one cares about the features of your product, they only want to know what that product will help them achieve.
If you're talking about a pen, you should tell them how it will make writing their homework and exams easier. After that, you can talk about the pen having a beautiful case.
c). Have a simple design: The design of your page shouldn't try to cram as many pictures and colors on the page as possible. A simple and clean design should be your aim when building your landing page.
d). Have a responsive design: Many people are browsing today on their smartphones. In fact, more than half of searches on Google are now done on mobile. Having a landing page for desktop alone means you're neglecting about half of your visitors. Which is bad for business.
e). Have a clear call to action: when visitors get to your landing and consume your compelling content, they may be convinced by your offer. But you still have to tell them what to do to claim your offer. This is where a call to action comes in.
Mostly for landing pages, your call to action is usually for visitors to enter their email address. Are you offering an ebook or a video or discount for your products or access to great and exclusive content on your website?
Tell them to enter their details to claim your offer. Your call to action could depend on the content you're sending to your visitors. 
For instance, if you're sending an ebook, your call to action could be 'claim your ebook now' or 'send me the ebook now.'
Nancy Juetten, with a clear call to action to receive the lead magnet on her landing page, was able to increase conversion rates to a massive 81%.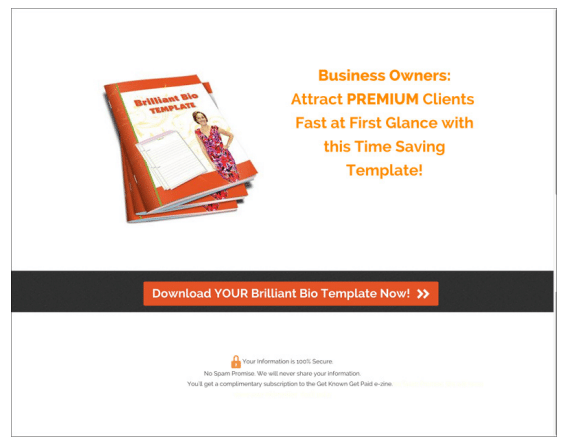 LeadBoxes and how
they work
This feature helps to show popups on your website to capture leads. You can customize your LeadBoxes the way you customize your LeadPages.
You'll also be able to set different triggers for your LeadBoxes popup. Your trigger could be:
A link

A button on your landing page

An image

Number of pages viewed on your website

Exit intent
How to build LeadBoxes
To create a Leadbox, navigate to any clickable widget on your page. When you click on the widget, you see many options.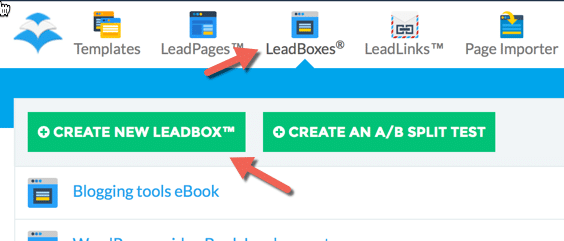 Click on the chain link icon. When you click on it, it gives you 3 options to link to a)an external URL, b) another Leadpage, c)a Leadbox.
Click on the Leadbox option. This will bring up a small box. Here you can choose a Leadbox if you already have one designed. If you have none, click on the 'Create New Leadbox.'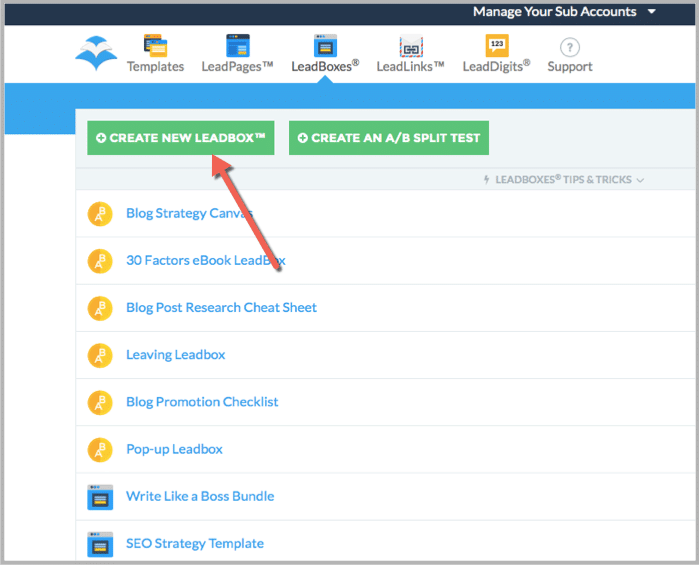 This brings up your Leadbox with the default headline and form widgets. You can change your Leadbox's layout, style, analytics settings, etc. just like you can do with your page builder.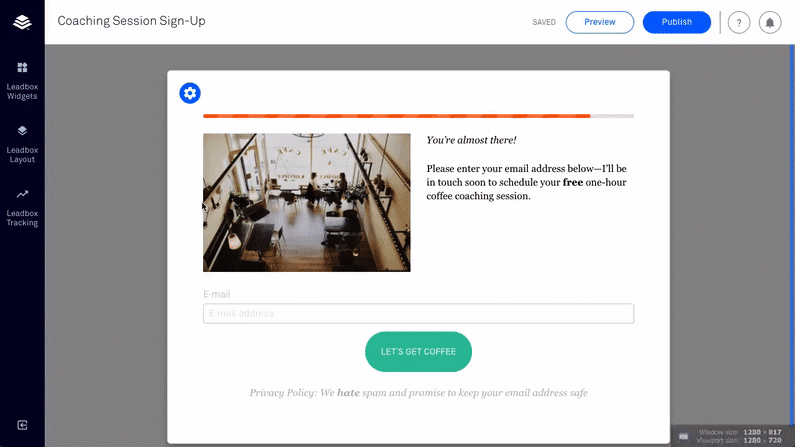 You can add more widgets to your Leadbox as you deem fit. You can edit the headline by changing the words and other things like the font size and font color.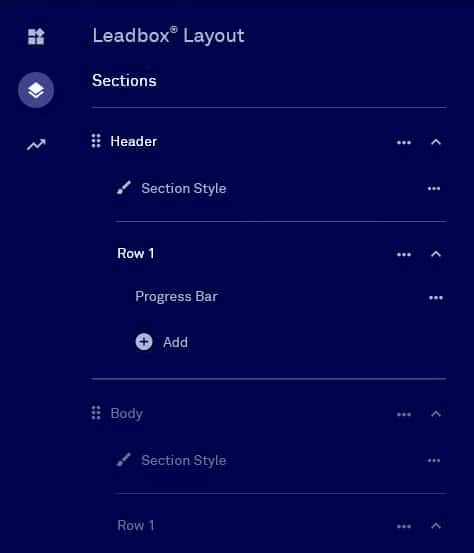 Apart from this, you can change the name of a field on your form.
You can also rearrange the fields. Although this may not be needed if you're using a single field or if you're using two fields that have name and email.
Another feature you have is the ability to adjust the text, color, and style of the call to action button. You can adjust this to have a similar theme with your landing page.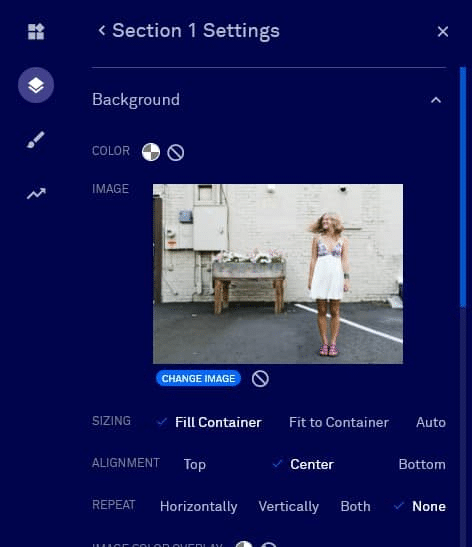 When you're through with editing, name your Leadbox for easy identification. To name your Leadbox, click on 'Leadbox Tracking' at the sidebar. You see a form with 'Leadbox Name' above it.
Enter the name of your Leadbox and click Save at the top right corner.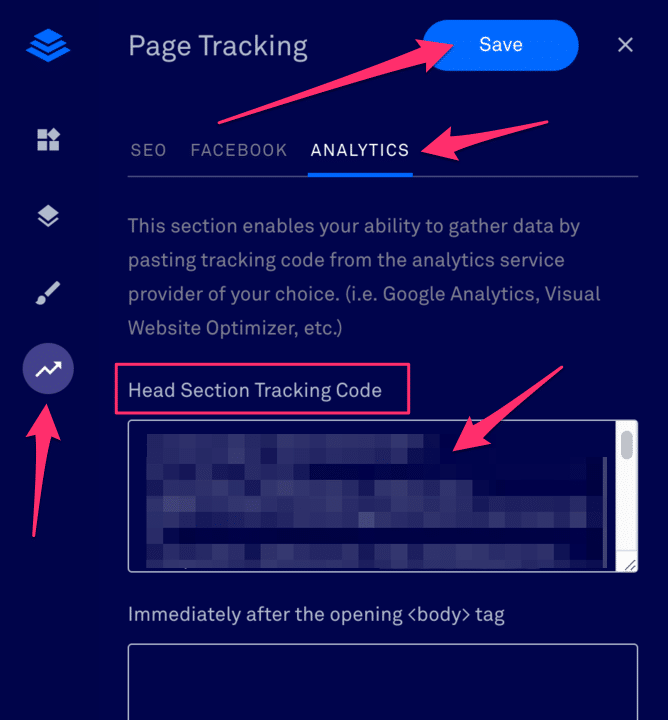 When you're through with that, preview your page and click on the link to see how your Leadbox will appear.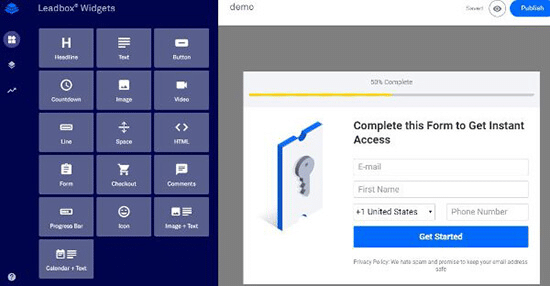 If you're satisfied with this, you can save your page. If not, you can make more adjustments to the Leadbox.
Other options you have with your LeadBoxes is that they can also serve as one-step opt-in forms. 
Traditionally, your Leadbox will be triggered when you click a button on your landing page. 
LeadBoxes can also be used as a popup or exit form. While making your Leadbox, you can choose the plain text link and provide the address.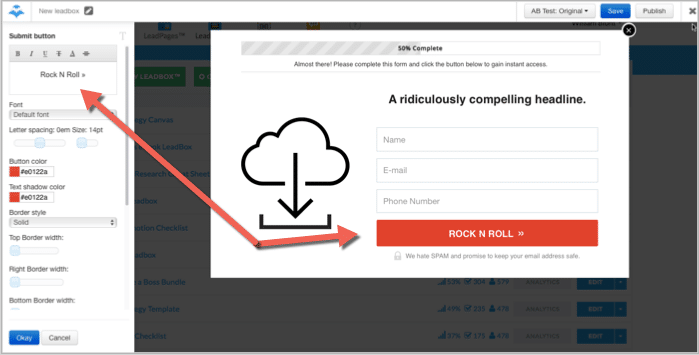 You can also choose a popup or an exit Leadbox. Under the popup Leadbox, you can either set the time before popup or how many pages viewed. The exit Leadbox shows up when a visitor is about to leave your website.
One other advantage of LeadBoxes is that you can use it on any other page on your website apart from your landing page. For instance, with the use of a Leadbox connected to a link on a Brian Dean's popular post, he increased the conversion rate of that page by 785%.
Most times, it's difficult to get people to sign up to your list. Because people want ease and may not sign up to your list if they have to go through stress. You can minimize stress for your potential leads.
And even better, they can sign up to your list without even accessing the Internet. Yes, you read it right.
This is one of the features that come with LeadPages. People can subscribe to your list through text messages on their phones. You have your LeadDigits number where your potential leads can send their text messages to.
You would have set a trigger message like say 'Free Report.' This prompts a text message that asks them to enter their email. When they do this and send to the number, they're automatically added to your list.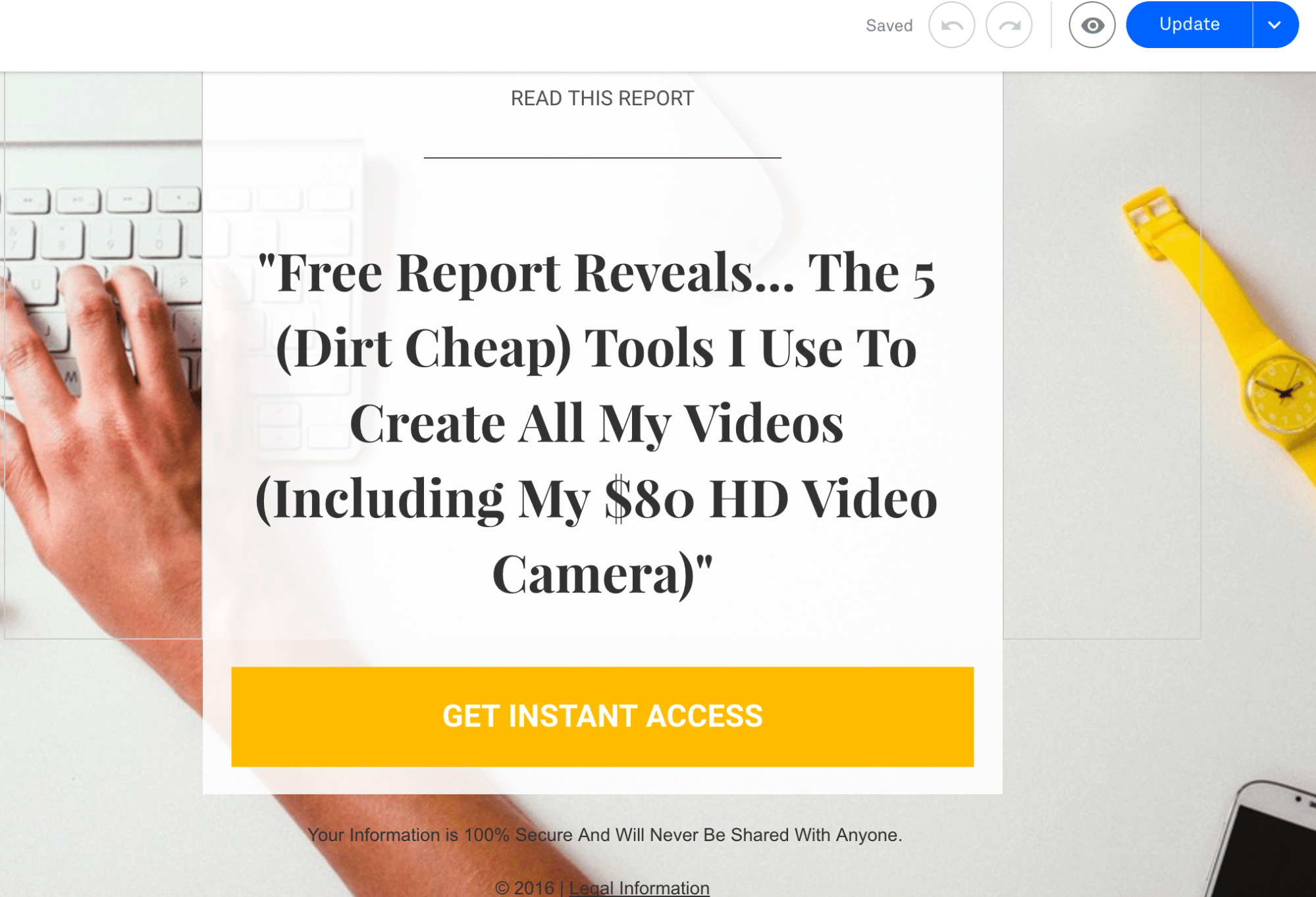 How to set up LeadDigits on LeadPages
To create a Leaddigit, navigate to the Leaddigits tab in your LeadPages dashboard. Click on 'Create New Leaddigit.'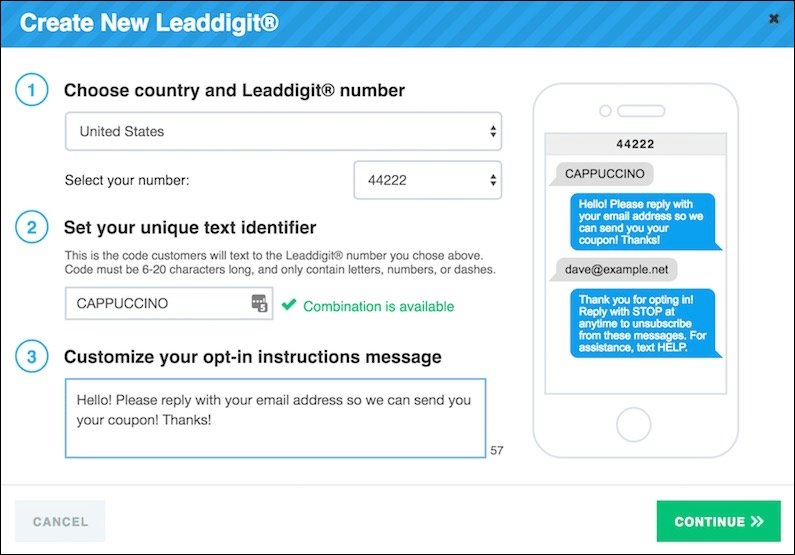 Then choose your country and LeadDigits number. Note that this service is only available in the United States, Canada, the United Kingdom, and Australia.
Set your unique text identifier. This is the text message that users will send to your number to trigger the sequence. 
The next step is to customize your opt-in instruction message. This is the message that is sent back as a reply to the unique text identifier. This message also instructs users on what to do to get the value you're promising.
The next step is where you'll select the actions that each opt-in will trigger. The first checkbox is to send you a notification once there's an opt-in. You'll supply the email to send the notifications to.
The next checkbox is to add the customer's email to your email list. Here you select integrations to pick your email service provider. After that, you select the email list that the subscriber will be added to.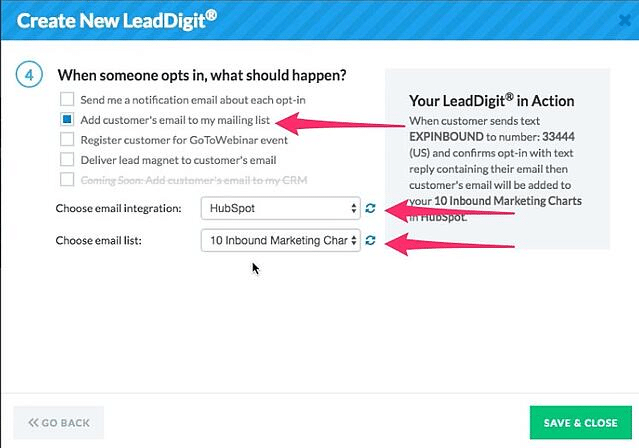 The last option is to register the subscribers for a webinar. When you click this check box, you can then choose the webinar they'll be registered to.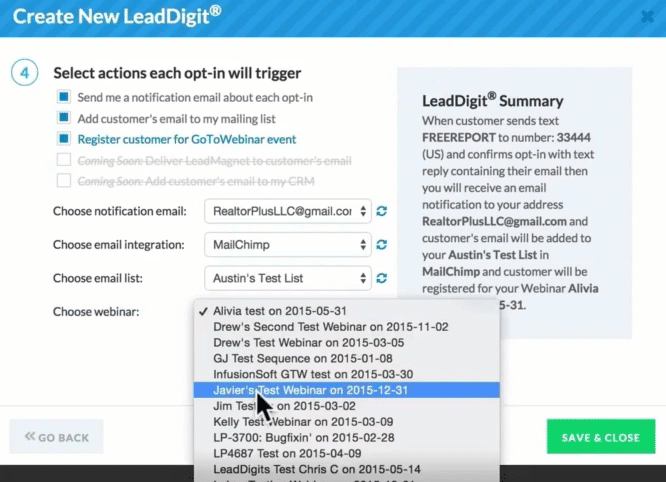 There are other options underneath that are coming soon. I guess we'll have to wait for those options. After this, click on the 'Save and Close' button. People can now start testing your LeadDigits.
Under your LeadDigits tab, you see the list of the LeadDigits you've created. You can edit your Leaddigit here and also view the number of opt-ins through the number.
LeadLinks helps you to subscribe readers to a new list for an event or product without them having to fill in their emails. However, you need to know that LeadLinks only work when you send it through an email service provider.

This is because the Leadlink, when clicked, captures information of the user for their email service provider. Thus, if sent as an ordinary email, Leadlink will be unable to capture lead details.
How to create LeadLinks
Note: You need to be a pro Leadpages user to have access to LeadLinks.
To create a Leadlink, click on the LeadLinks tab on your dashboard. On the LeadLinks tab, click on the 'Create New Leadlink' button.

After this, choose your integration from the left panel. This is where you choose the email service provider and the particular list that your leads will be sent to. Note that you can't send your leads to AWeber or 1ShoppingCart at this time. This is due to their individual terms of service.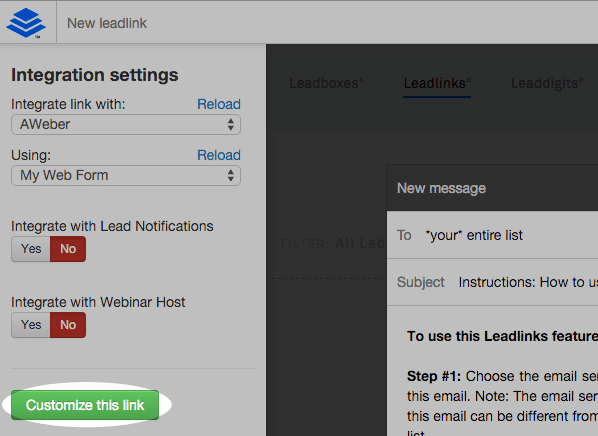 You'll be asked to enter your 'thank you' page URL. This could be a page you have designed on LeadPages or your website. You can also use the LeadPages' default thank you page.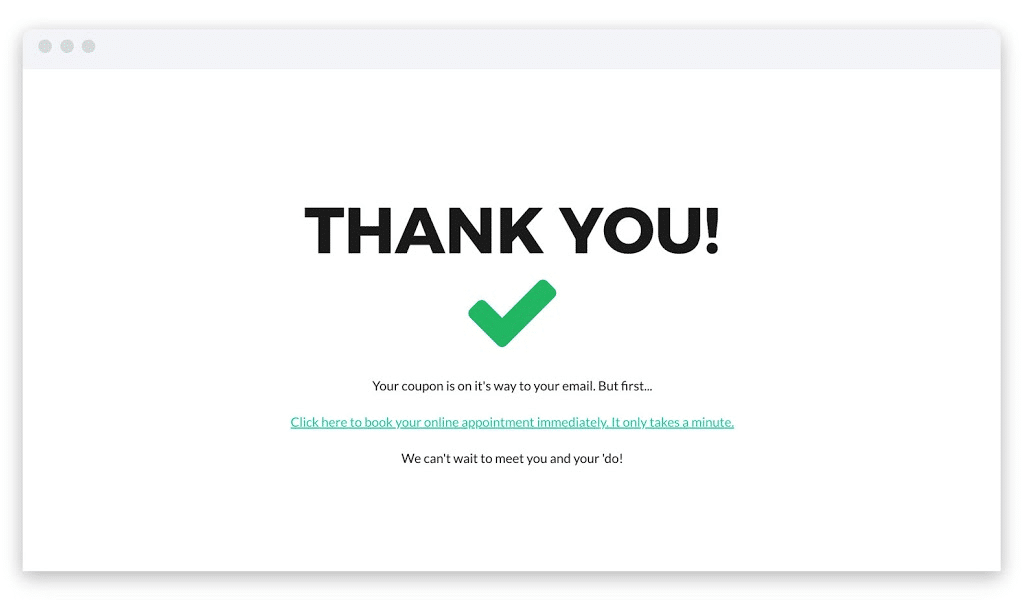 Click on the 'Okay' button to confirm. Name your Leadlink and save.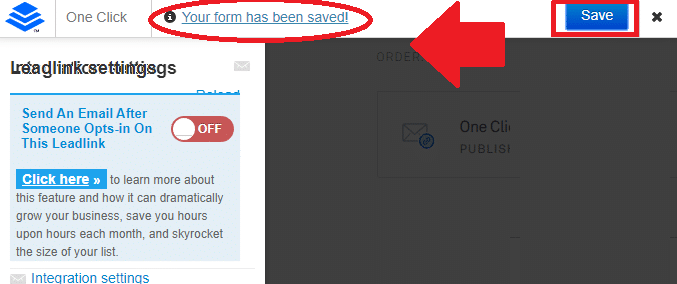 The next step is to select the email provider that will send your link. Note that the email provider you selected earlier doesn't have to be the one you'll select here. 
For instance, you can use MailChimp to send the link while the list will be built on ConvertKit.
Copy your Leadlink and paste it into a message that will be sent from the email provider you selected from the previous step.
To see how your Leadlink will work, it's necessary to perform a test before sending it to your large list. In your test, it's advisable that you opt-in with an email address that's not on your target list.
How to do A/B Split testing on
LeadPages
A/B testing allows you to compare the performance of two variations of a page. This helps you to know the version with the higher performance and the loser. Most people are currently not taking the opportunity of testing.
In fact, only 52% of companies and agencies test their landing pages to improve conversions.
A/B split testing is a relatively new feature in LeadPages. But a vital feature nonetheless.
Tests help you to know whether what you're doing is right or if there's a point for improvement.
In business, there is always a need for continual testing. This applies to your landing pages likewise.
LeadPages allows you to do this without having to integrate with a third-party app. LeadPages also provides analytics so that you can view the stats of the two pages.
There are many things you can test on LeadPages. These include:
Headlines

Two different templates

Background images

Background and button colors

Copy styles

Call to action button copy

Long-form page vs short-form page

Different kind of opt-in forms

Different sales videos

Different kind of social proof

Different offers
It is important to perform continual tests on your landing page. Barack Obama's campaign team was able to raise an additional $60 million through testing on his campaign website. And that was in 2007 when he was still relatively unknown. That is how powerful testing can be.
How to build an A/B test
To create a new test, go to the Leadpages tab on your dashboard. In the Leadpages tab, there are 'Pages' and 'Split Test' tabs. Go to Split Tests and click on 'Create New Split Test.'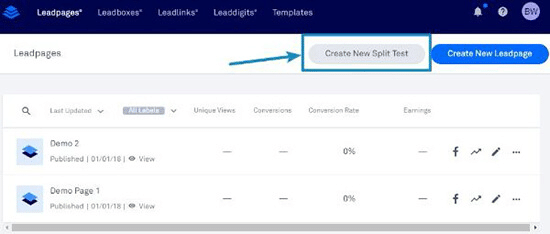 Choose the control page that you want to see improve.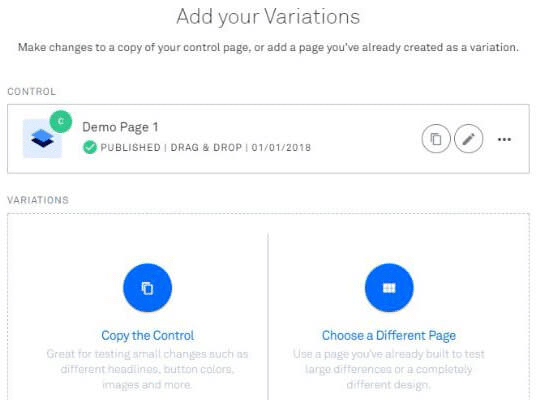 Add a variation. You can copy your control and edit the element you want to test or create a new page. Although creating a new page is not advisable as you may end up having more variations than you need.
If your page has a lot of traffic, you may test more than one variation. Normally, the two variations of a split test should have the same amount of traffic.
But if you're risk averse (which is normal since you don't know how the test page will perform), you can specify the percentage of traffic that will be directed to each page.
You can now start your test and watch the performance of your two pages.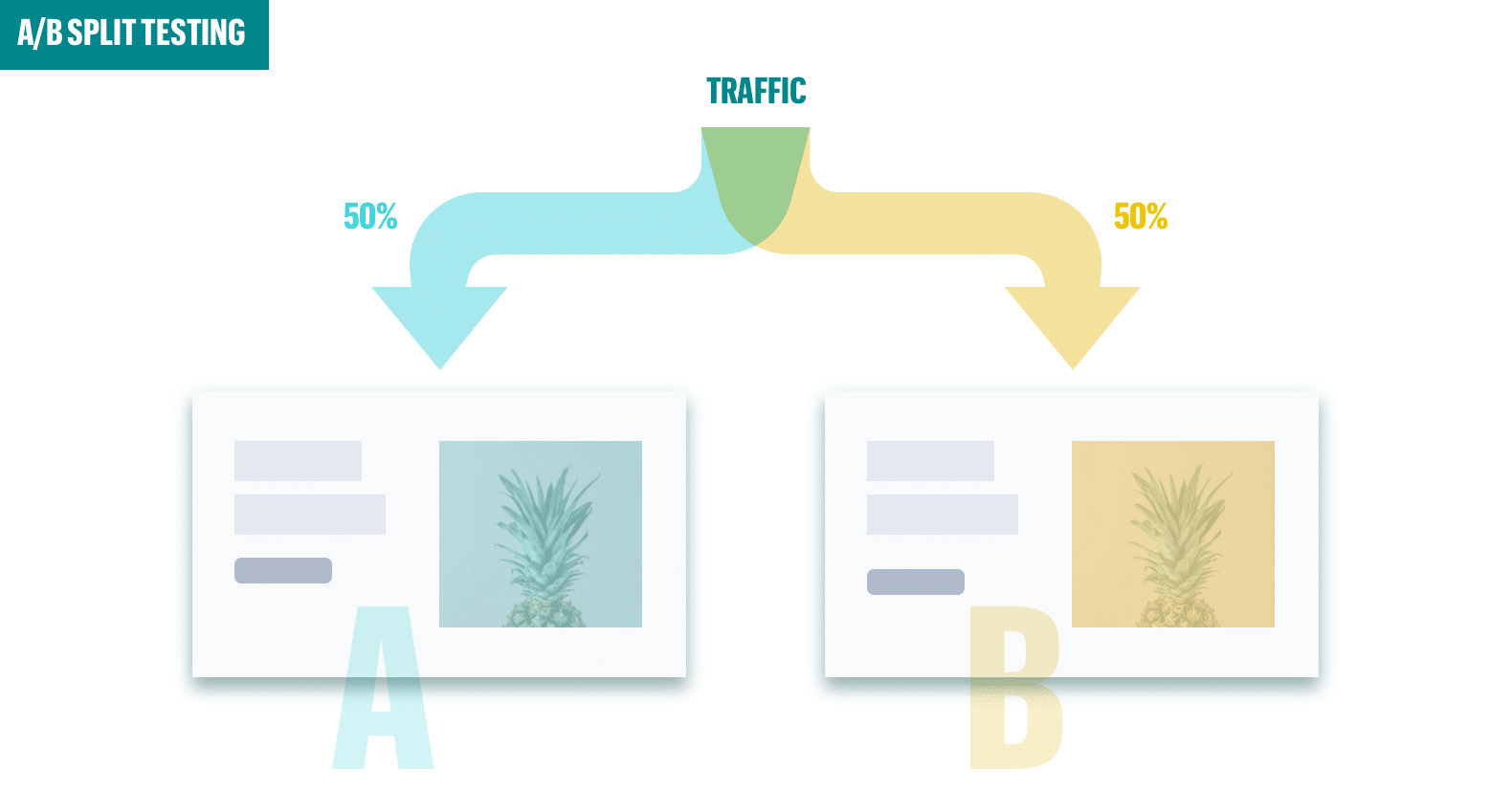 Note that the A/B test feature is only available for the Pro and Advanced plans.
What are the factors to consider when performing an A/B split test?
i). Test a single change: when you're performing a split test, make sure there's only a single difference between the control and the test page. It could be the background image or call to action or any other thing you want to test. 
But it should be kept to a single change.
This way, it is easy to track where the results are coming from. If you change 2 or 3 or more elements in a test page, then how do you know what's causing the real difference? It's vital to keep it to a single change to track your results better.
ii). Let it run for a while: when you're performing an A/B test, your results become more reliable the longer it runs. When a test runs only for a short time, it's difficult to determine whether there was a real change or it was only a matter of chance.
Let your test run as long as possible before you can make your conclusion.
iii). Test page with the highest traffic: when you're testing a change, you can't know its effect if nobody is visiting the page. A page that has a high traffic gives you enough results to make a conclusion.
iv). Test ideas: performing tests should not be done in isolation. You shouldn't only be testing that page. You're probably testing a single page technically, but its results should give you an insight into other parts of your business or other pages.
For instance, asking a question like 'how does a formal tone perform versus informal tone for content on your landing pages?' can lead you to perform a test on a page.
Your results will either show that your present practice is right or wrong. If it's wrong, then this result will affect your content on other landing pages on your website.
Using the Checkout
feature
LeadPages can now deliver digital products like ebooks, video courses, tickets, etc. And you can get paid through Stripe integration.
This makes the delivery of your products easier and you can get your payment easily. You can have a Checkout page on your landing page and also your Leadboxes. This feature is only available to Pro and Advanced plan users.
How to use a checkout
While designing your page, navigate to the widgets tab. Click on the checkout widget and drag to your page.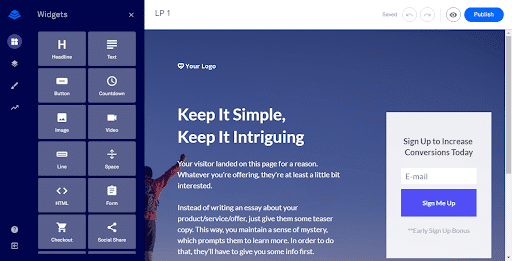 This displays a form where your subscribers can fill in their details to make payments.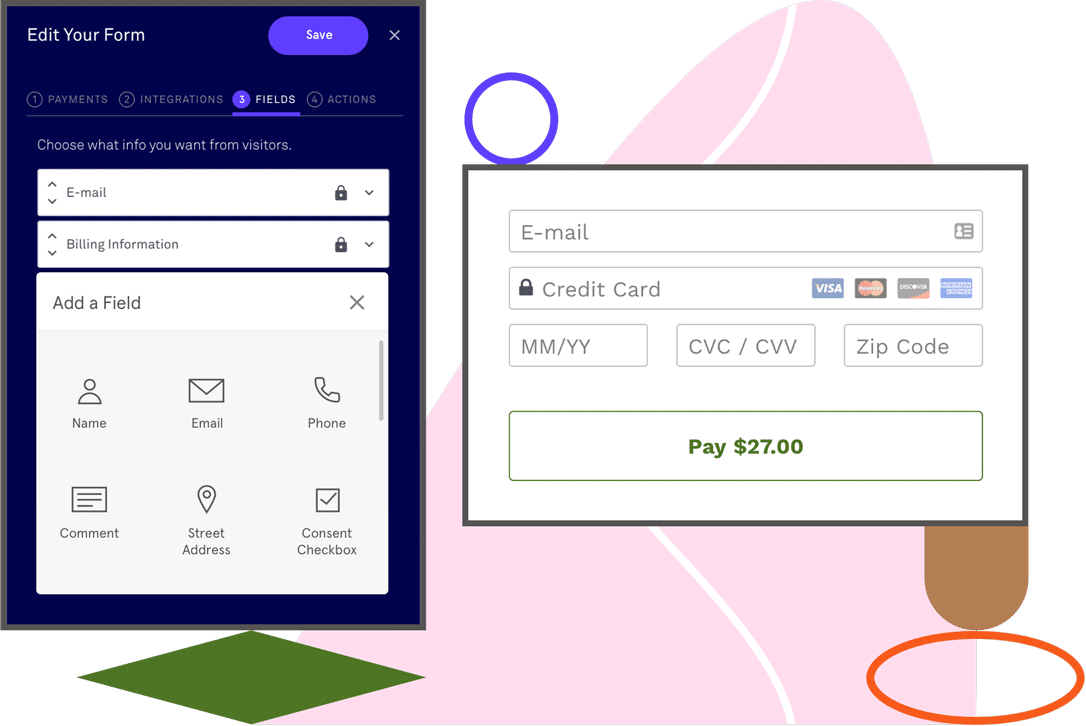 This can also be done on the Leadbox.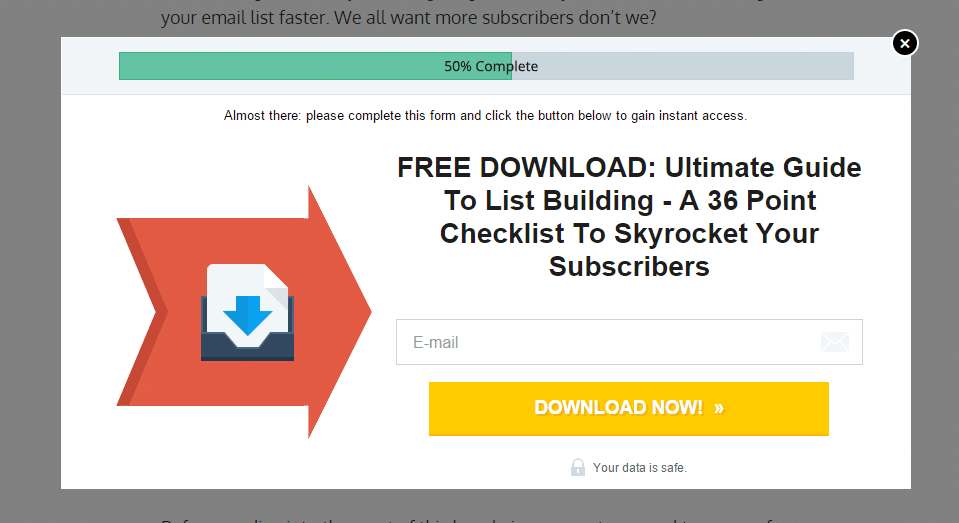 You should note that you should limit the number of fields to be filled to as few as possible. Having to fill many fields before buying your product could put some customers off and push them to buy elsewhere.
For most checkouts, the details required are email, payment details, and ZIP code.
This tool helps you to build Facebook ad pages that look similar to your landing pages. This forms similarity in your visitor's view and makes your designs consistent.
How to use it
When you publish a landing page, there is an option to create a Facebook Ad.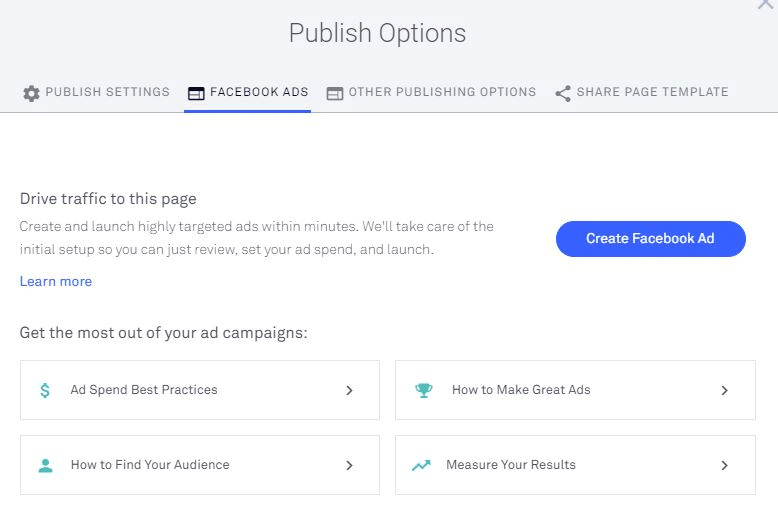 If you click on the option, it pulls the image or video, copy, etc. from your landing page. You can edit the elements and see how it will appear as an ad.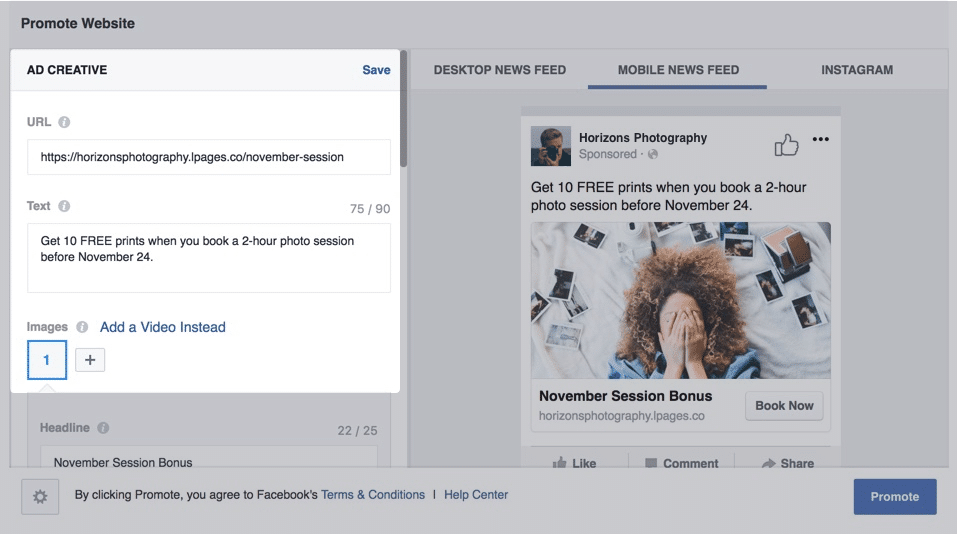 Analytics
LeadPages Analytics provides you with important metrics like total views, unique views, conversions, and conversion rate to be able to track the performance of your pages.
These data are available for both Leadpages and Leadboxes.
The total view is the number of times your page is viewed.
Note that a page may have a different number of views compared to a Leadbox that is connected to a button on the page. This is because a view is only counted for the Leadbox when it is triggered.
'Unique views' is the number of visitors who visit the page. For instance, if 40 users view a page 60 times (with some viewing more than once), the unique view is still 40.
'Conversions' is the number of people who fill in their details into the Leadbox and submit. The Conversion rate is the ratio of conversions to the number of unique views.
How to check analytics
To check analytics of a page or Leadbox, go to the Leadpages or Leadboxes. Beside each page or box, you'll see 3 numbers which are the unique views, opt-ins, and conversion rate respectively.
If you want to view a graph, you'll see it beside the numbers. You can select any of the 4 metrics to view their graphs.
You can adjust the timeline of your graph by either changing the reported date range or the time interval displayed.
You can select monthly, weekly, daily, or even hourly views for your graph. You can choose hourly analytics for the past 7 days while you can choose daily for the past 90 days.
LeadPages' Landing
Page Grader
LeadPages provides you with this tool to rate your page in comparison to all the pages that have been built on the platform. This compares your page based on the conversion data that LeadPages has from landing pages.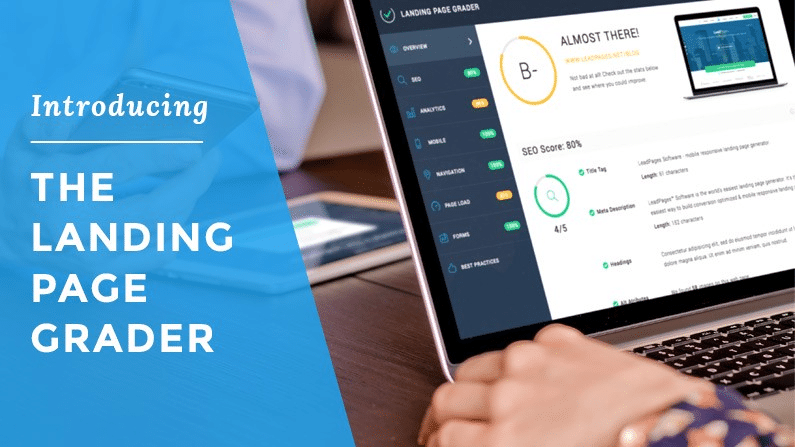 This gives you details like responsive score, analytics score, navigation score, landing page SEO score, page load score, and form score before giving you a total score for your page.
How to use
To use the landing page grader, the details you need include:
The URL of your landing page

If your page has opt-in forms

What opt-in forms link to
Integrations
Leadpages help you to collect leads but you need other software solutions in different stages of turning your leads to customers or serving your current customers. This page builder has other tools connected with it that you can use together.
Some of the tools include:
1. Email marketing software: this is the most vital integration that must be present in any landing page builder. Email service providers integrated with Leadpages are ActiveCampaign, AWeber, Constant Contact, ConvertKit, Drip, Emma, GetResponse, iContact, and MailChimp.
2. Website: in most cases, you need a website to publish your landing page. Leadpages can be published on the biggest platform for websites, WordPress.
3. Marketing Automation: after capturing leads, there are steps involved in following up until they become qualified leads. Marketing automation platforms help with this. The ones integrated into Leadpages are Zapier, HubSpot, Marketo, and Ontraport.
4. Customer Relationship Management (CRM): the CRM software packages integrated to Leadpages are Infusionsoft and Salesforce.
5. Digital Advertising: Facebook Ads is the digital advertising platform officially integrated with Leadpages.
6. Webinar: you can organize your webinar and deliver it to subscribers through Leadpages. GoToWebinar and WebinarJam are two platforms that are integrated to deliver this feature.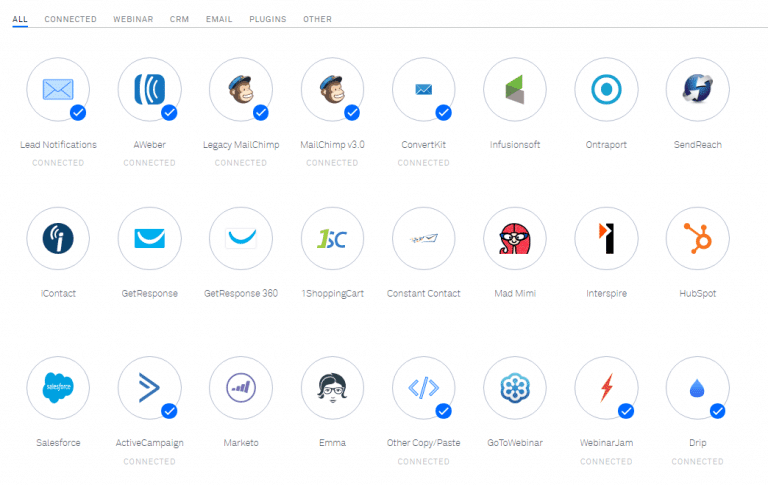 Sell Digital Products and Accept Payment
on LeadPages
With Leadpages, you can now sell your digital products and set up a payment platform for your buyers. This can be done through the Stripe integration.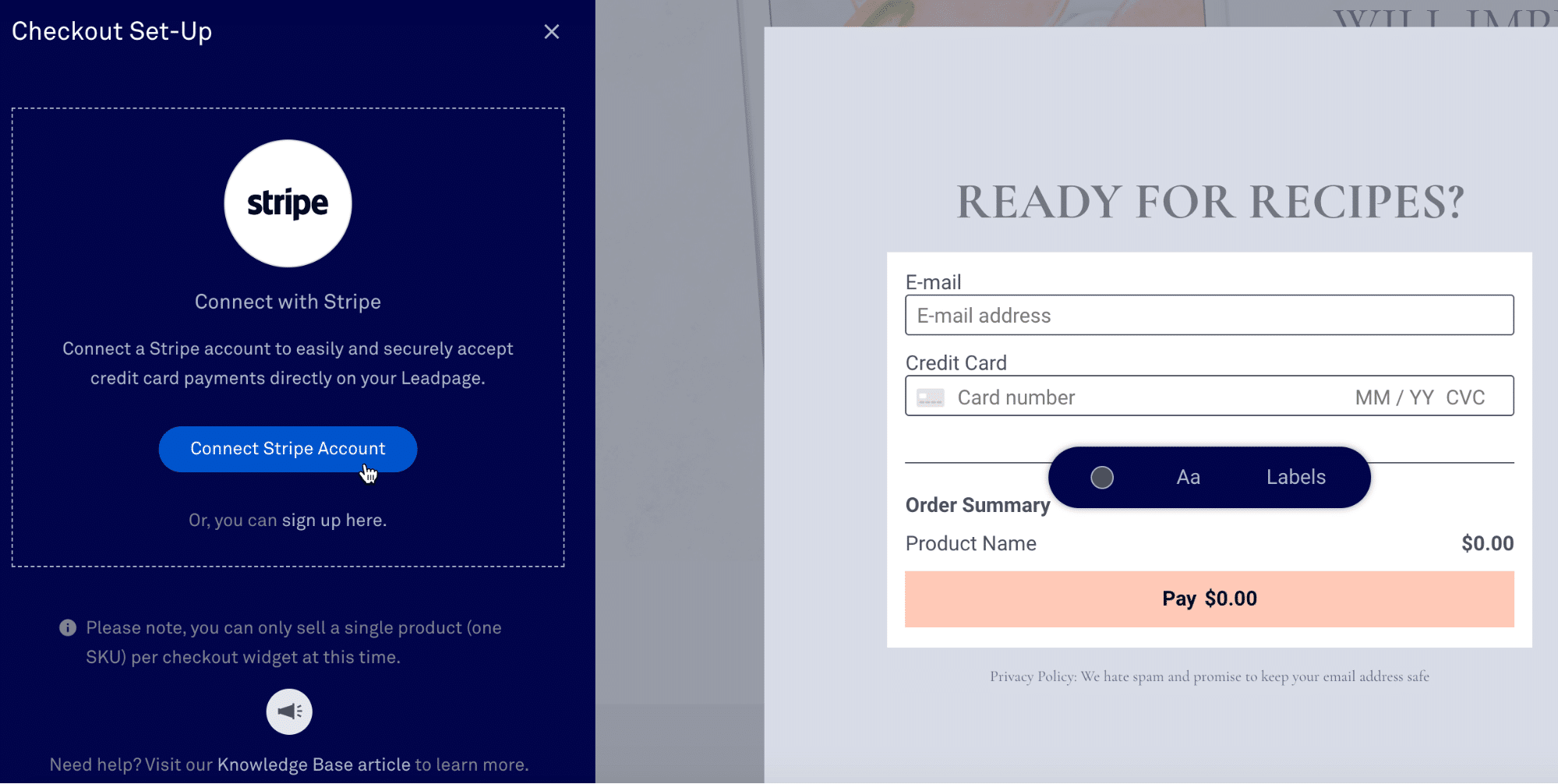 Analytics
You can connect your Leadpages account with Google Analytics to get more statistics about the performance of your landing pages.
Note that there are some software packages not included here that can still work with Leadpages. There are many tools that are compatible with Leadpages and can work through a third-party integration.
The tools mentioned here are the ones officially integrated. You'll find these tools in your Leadpages dashboard.
Access Integrations
To access integrations on Leadpages, navigate to your account icon at the top right corner and click on it.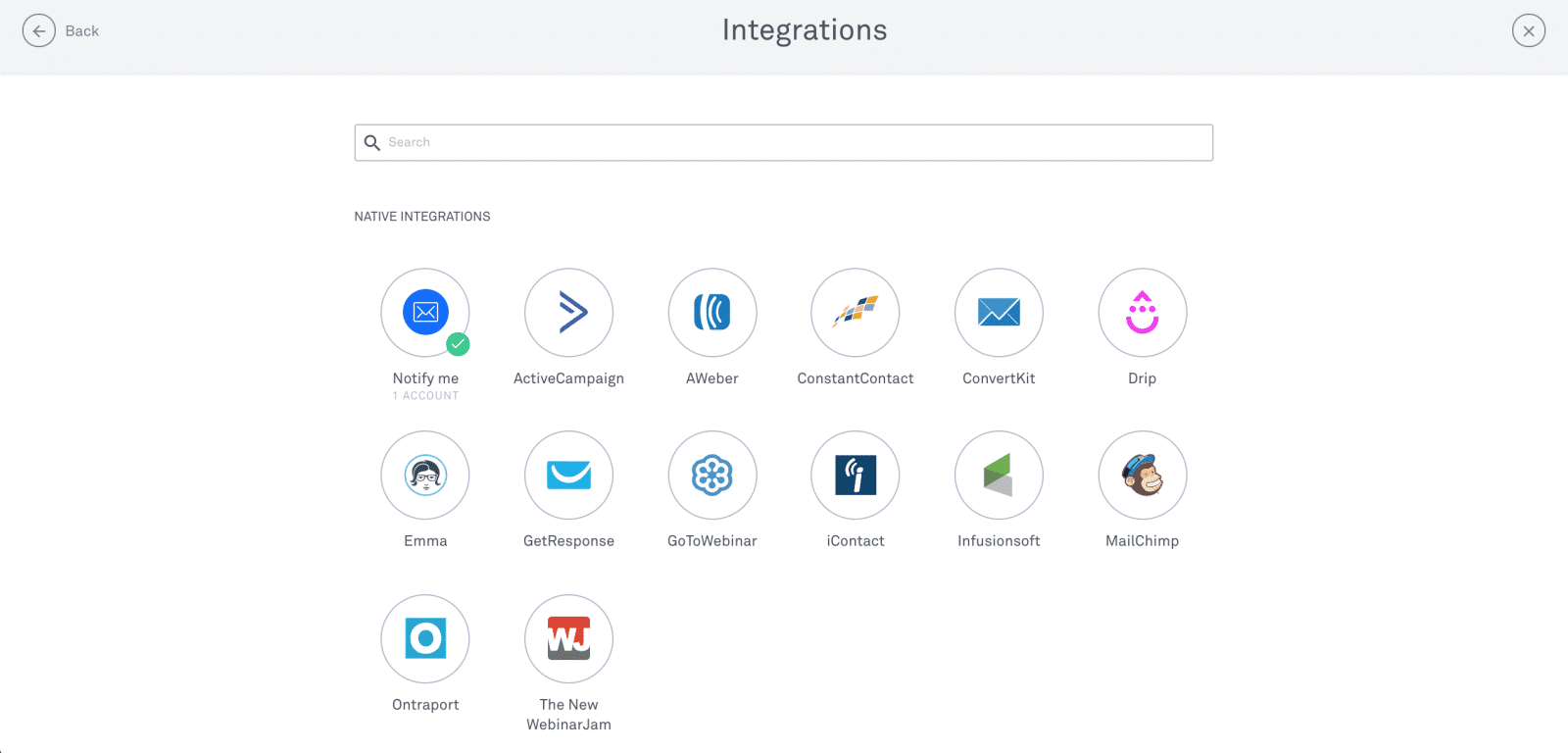 This will show you a drop down of options. Click on 'Integrations' and it will give you access to the integrations page.
You can also connect to integrations while designing a page. Go to the sidebar and click 'Add Integrations.'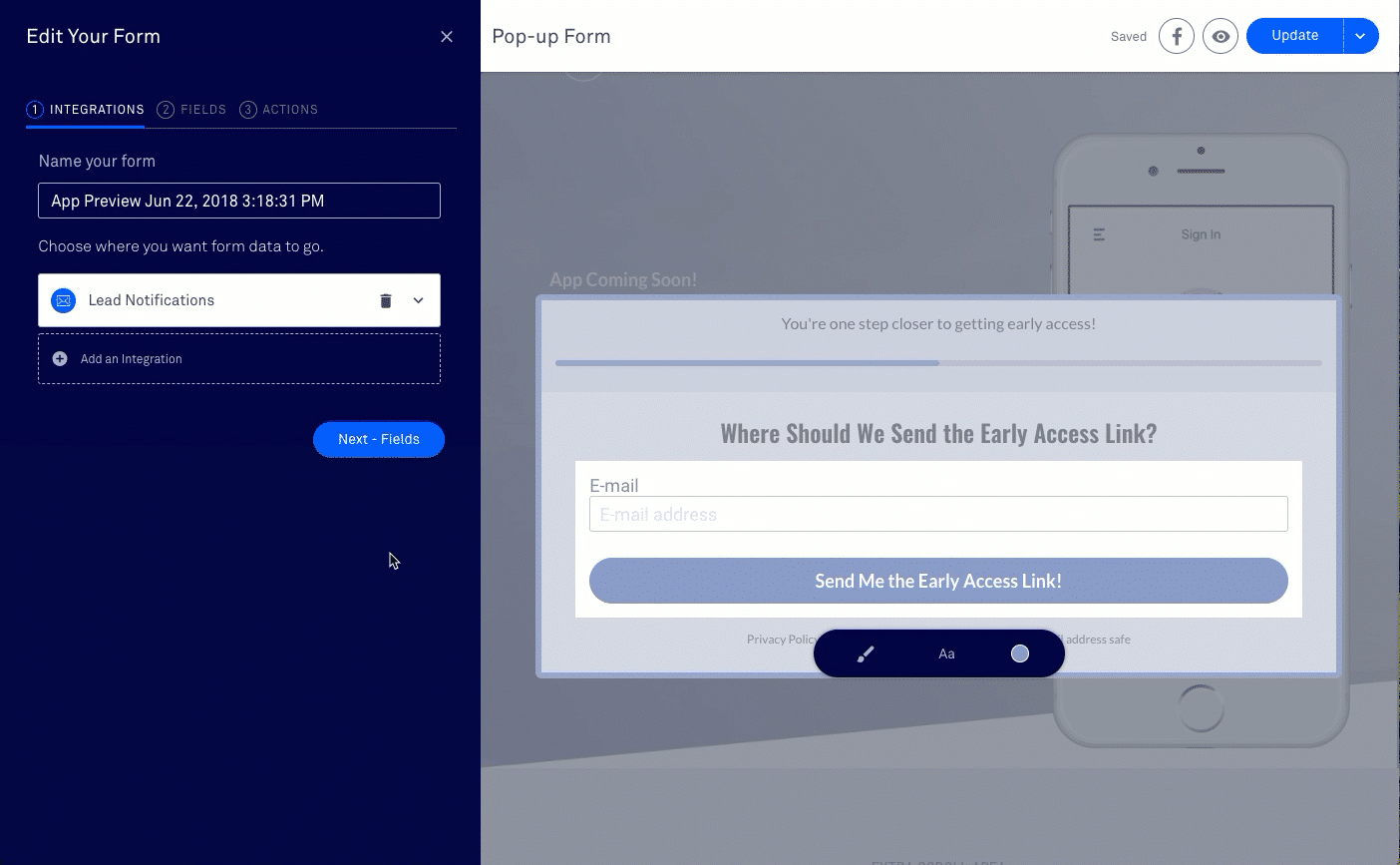 You'll see the integrations you have already connected to your account.
If you click 'More Services', it brings up the integrations available.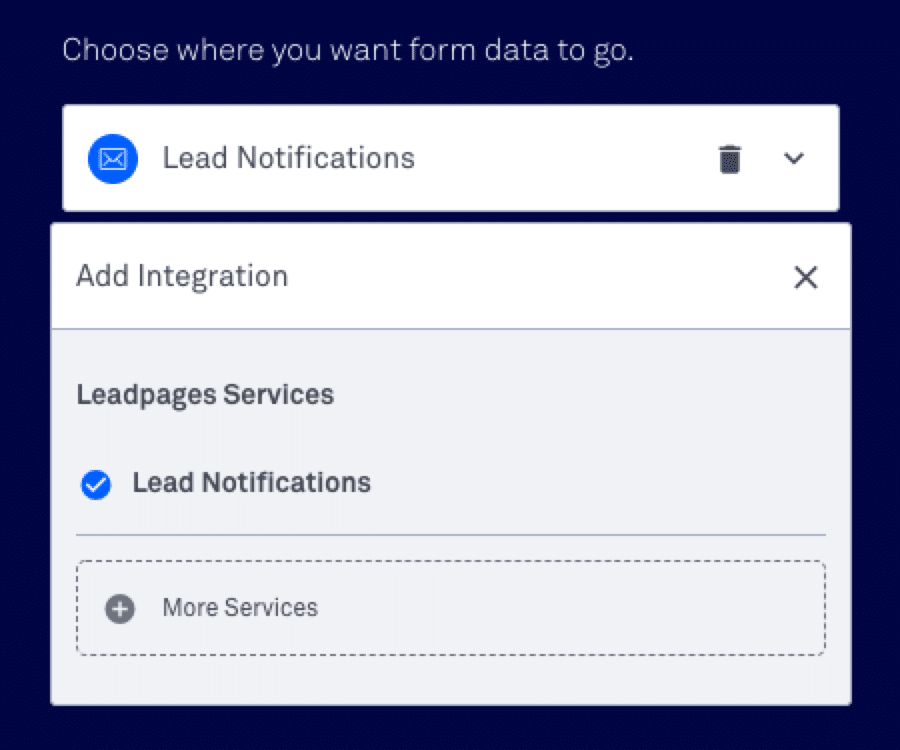 Pros of LeadPages over other landing
page builders
LeadPages has integrations with most of the email marketing software packages online. This is important as the leads you capture has to be transferred to an email software. 
LeadPages only capture your leads and it transfers them directly to your email software.
It has many templates. There are many great choices you can make to build the best landing page possible for your website.
These large numbers of templates also cater to different industries which means you'll find something related to your industry if that's what you're looking for.
It is easy to use. How many people can try coding a landing page for their website? Only a few. And those few will go through a lot of stress and may even end up messing up something on their website.
LeadPages eliminates this stress while making your conversions easier. In about 10 minutes, you can build a landing page for your business and start getting leads.
Apart from ease of use, LeadPages helps to host events like webinars through its integrations. You can also embed a Google Hangouts broadcast in Leadpages.
You want your landing page to be beautiful and be able to capture leads no matter what device your visitors are using.
The landing pages you build on LeadPages are responsive and you can see how it will be viewed on various types of device.
It has a Facebook Ad builder which allows you to build Facebook Ad pages that have similar themes to your landing page.
It's a bit expensive for small businesses or individuals who are just starting their websites. It's possible they want to capture leads with the target of getting their first customers.
The investment is a bit high when you consider other things that have to be in place. And the funny (or not so funny) thing is that features like LeadDigits, LeadLinks, A/B testing, etc are absent in their Standard plan.
Although you can see how your landing page looks on other devices like smartphones, you can't edit it under that view. Your editing will have to be done on the desktop view.
LeadPages Plans and
Prices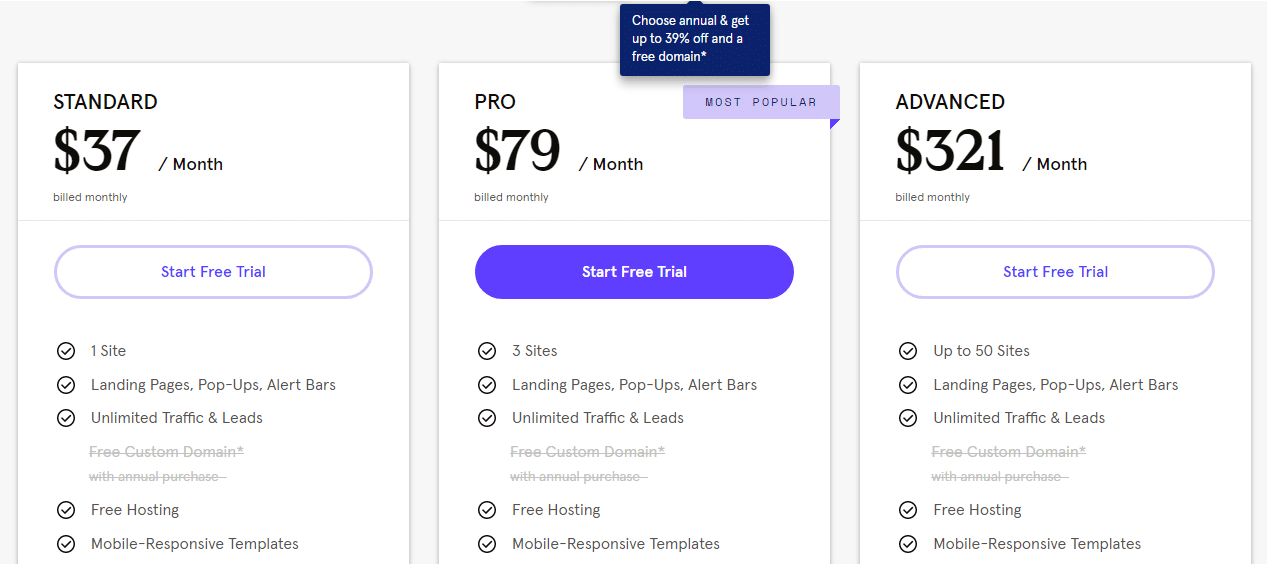 There are 3 plans in LeadPages:
The Standard plan which goes for $37 per month if you're paying monthly, $25 if you're paying annually and $17 if you're paying for 2 years. Its features include:
Unlimited Mobile-Responsive Pages

Unlimited Traffic and Leads

Drive Traffic Facebook Ads

160+ Free Templates

Works with 40+ Tools & Platforms

$100 Google AdWords Credit

Weekly Q & A Coaching Calls

Email Support
Pro plan which goes for $79 per month if you pay monthly, $48 if you pay annually and $42 if you pay for 2 years. Its features include:
Everything in Standard plan

Take Payments with Checkout

Unlimited Leadboxes Popup Forms

Chat Support

A/B Split Testing

Leadlinks 1-Click Signup Links

Special Discounts with Partner Companies
The Advanced plan which goes for $199 per month if you pay annually and $159 if you pay for 2 years. It's not available for the monthly payments. Its features include:
Everything in Pro Plan

Phone Support

Advanced Integrations with Hubspot, Marketo, and Salesforce/Pardot

5 Free Leadpages Sub-Accounts

50 Extra Leaddigits Text-Messaging Campaigns

1-on-1 Quick Start Call

Free Leadpages Virtual Workshops
You can either pay monthly or annually. It needs to be said though that paying annually will save you 39% compared to monthly payments.
If you need to have a feel of the software and what it can do before you pay for it, you can have a 14-day free trial.
Install LeadPages WordPress
Plugin
The LeadPages plugin helps you to access some of LeadPages features while on your WordPress dashboard. This is beneficial if you have to insert a Leadbox or a feature you want.
What are the steps to install the plugin?
Navigate to the account icon at the top right corner of your LeadPages dashboard and click on it. This gives you many options. One of the options is integrations.
Click on it. Inside integrations, you'll see tabs. Click on the 'plugins' tab.
Click on the LeadPages WordPress plugin. Download the plugin.
The next step is to log in to your WordPress dashboard and click on plugins. Navigate to add new and click on it. Select upload plugin and upload the file you downloaded earlier.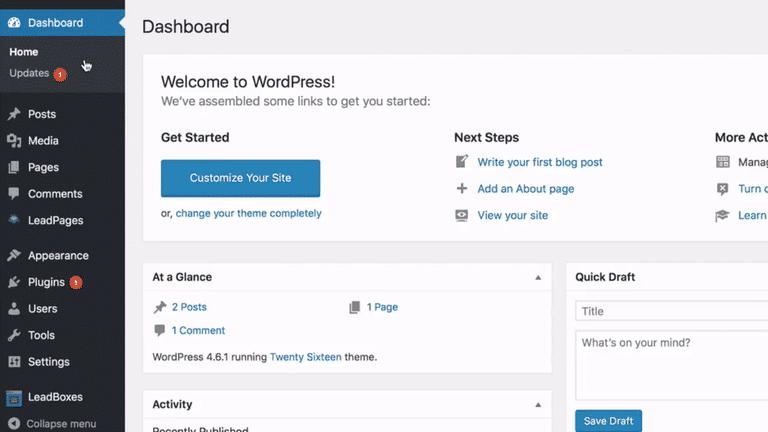 Select 'Install Now.'
Select the 'Activate Plugin' button to finish your installation. Now you have LeadPages and LeadBoxes at the sidebar of your WordPress dashboard.
You can now click the LeadPages tab to log in to your LeadPages account.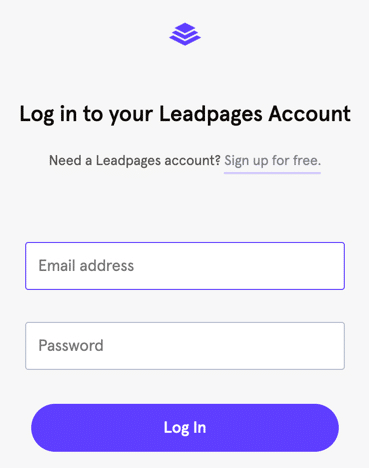 When you're through with this, you can add a page inside your WordPress dashboard. There are 4 types of pages you can add from WordPress:
Normal page: this is a normal landing page where you direct traffic to from social media or other types of campaigns.
Homepage: this is the page that will be accessible at your root domain. If you're designing your homepage with LeadPages, you must choose a template that has a navigation bar as your former homepage is overwritten by LeadPages.
Welcome Gate: this appears to anybody who is visiting your website for the first time no matter which page they are visiting. This could be an opportunity to capture them as leads on their first visit.
404 page: this page displays when a user enters a broken link or a wrong URL on your domain. Instead of seeing such users navigate away from your site, this 404 page could give them more options of other pages to visit on your site.
You can create any of these pages from your WordPress dashboard. For instance, let's say you want to create a homepage.
Navigate to 'Leadpages > Add New.'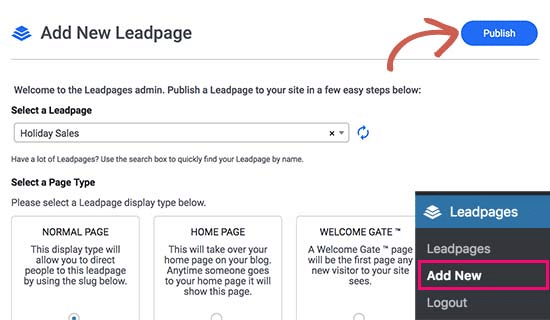 You'll see the 4 types of pages you can publish. But before that, you have to select a page you have designed. Then you select which type of page you want it to be.
After that, click on 'Publish' to apply the page to your website.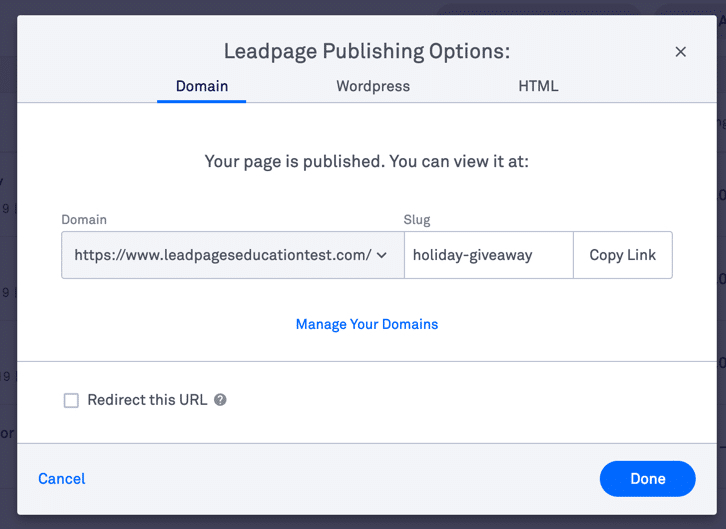 You can also update a page from your dashboard. To update a page, click on Leadpages. Then select the checkbox of any page you'll like to update.
Click on 'edit' from bulk actions and apply. Select the action you want to take and click update when you're done.
To delete a page, go to the 'published' tab and move the page to trash. If you want to delete permanently, go to the Trash tab and select the post.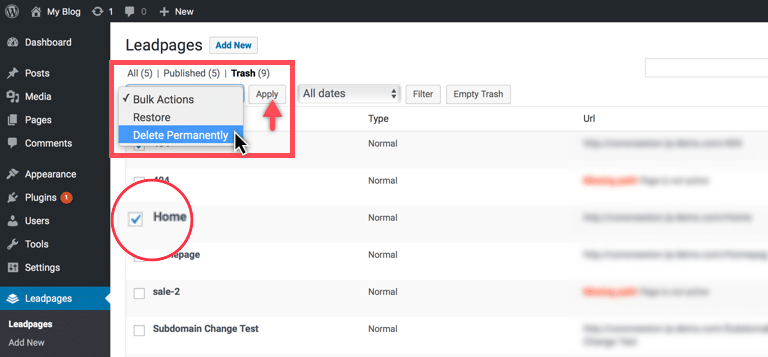 From the bulk actions, select 'delete permanently.' You can also empty trash to delete all the pages there.
Note that the plugin only works on WordPress.org sites and not WordPress.com.
To contact Leadpages customer support, log in to your dashboard and click the '?' button.
They offer customer support through 4 means:
Email support: you can contact support by sending an email that will be replied within 24 hours. When sending email, you should include details like the name of your page or opt-in form, how you've published it, any specific error message you've received, and your account email address (if you're not sending from your dashboard).
Chat Support: you can send a message to customer service through chat. This is available between 9:00 am and 5:00 pm Central time on Mondays to Fridays. The chat support is only available for Pro and Advanced plans.
Phone support: this is available between 9:00 am and 5:00 pm Central time on Mondays to Fridays. This is only available to the Advanced plan. If you're a subscriber to this plan, you'll see the toll-free number on the support screen on your dashboard.
Resources: Leadpages also has the knowledge base where content on how to use the features of the platform are available. Most of the questions you can have are answered here.
1. LeadPages vs Instapage
There are some similarities between Leadpages and Instapage as both are robust tools for creating landing pages:
They both have WordPress plugin which means you can customize your pages while in the WordPress dashboard.
They both support A/B tests for your landing pages.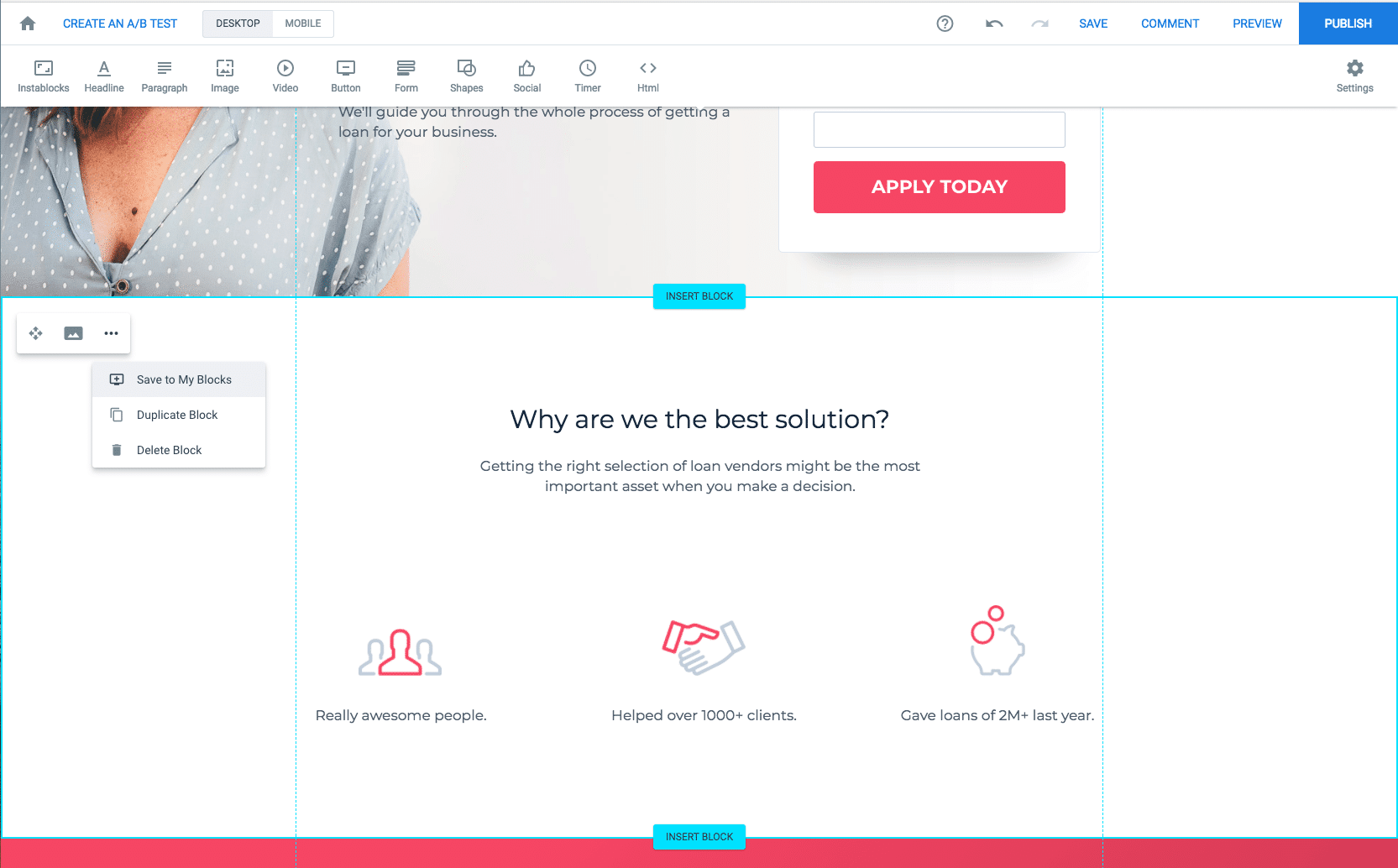 They both allow you to integrate with third-party analytics apps to get more statistics about your page.
They both allow you to create Facebook ads that match the design of your landing pages.
They both provide an unlimited number of views for your landing pages.
The Leadpages page builder is easier to use as anybody without design experience can build an effective page with the drag and drop editor within minutes. While the Instapage page builder is also easy to use with its own drag and drop editor, it's not as easy to use as that of Leadpages.
If you're a design novice who just wants a landing page, then you'll find a template you can customize in a matter of minutes.
However, if you're a professional designer, you may enjoy more customization that comes with Instapage as you can write custom HTML, CSS, or JavaScript for your page.
Even though both tools allow you to view the mobile version of your page, Instapage allows you to edit the mobile version. Instapage also has a heat map which gives you insight on how your visitors navigate your site and where they spend the most time.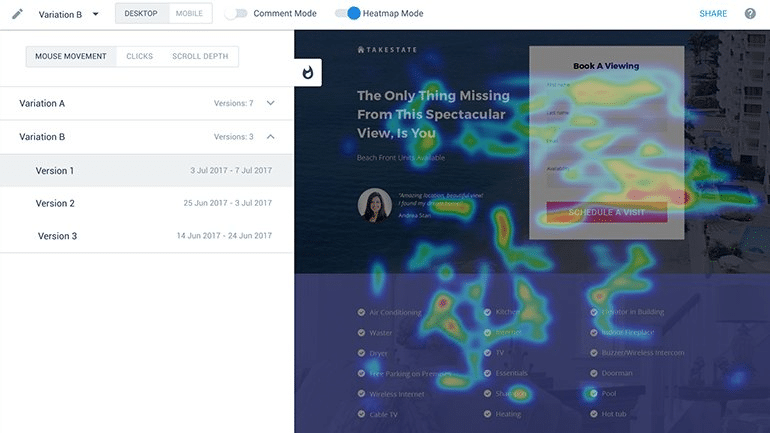 One thing you should also note is that due to the heavy elements on an Instapage page, it may be a bit slower than a Leadpages page.
Leadpages is cheaper than Instapage. Leadpages' Standard plan goes for a price of $25 per month, the Pro plan for $49 per month and the Advanced plan for $199. 
Instapage's Core plan goes for $69 per month if you pay annually, its Optimizer plan for $99 per month and its Team & Agency plan for $179 per month.
It needs to be said though that split testing and some vital features are absent in the basic plan for Leadpages and Instapage.
2. LeadPages vs Unbounce
There are similarities between the two platforms which include:
use drag and drop editor

A/B tests

Support popups

Integrates with WordPress

Offer mobile-responsive design
The first difference I'll like to note between Leadpages and Unbounce is that Unbounce has a cap for the number of landing pages you can build.
For the Essential plan, which is priced at $79 per month if you pay annually, it is capped at 75 published landing pages and 8 popups.
For the Premium plan which goes for $159 per month if you pay annually, you can have 150 published landing pages and 16 popups. 
The Enterprise plan goes for $399+ monthly and you can have over 375 published landing pages and over 40 pop-ups.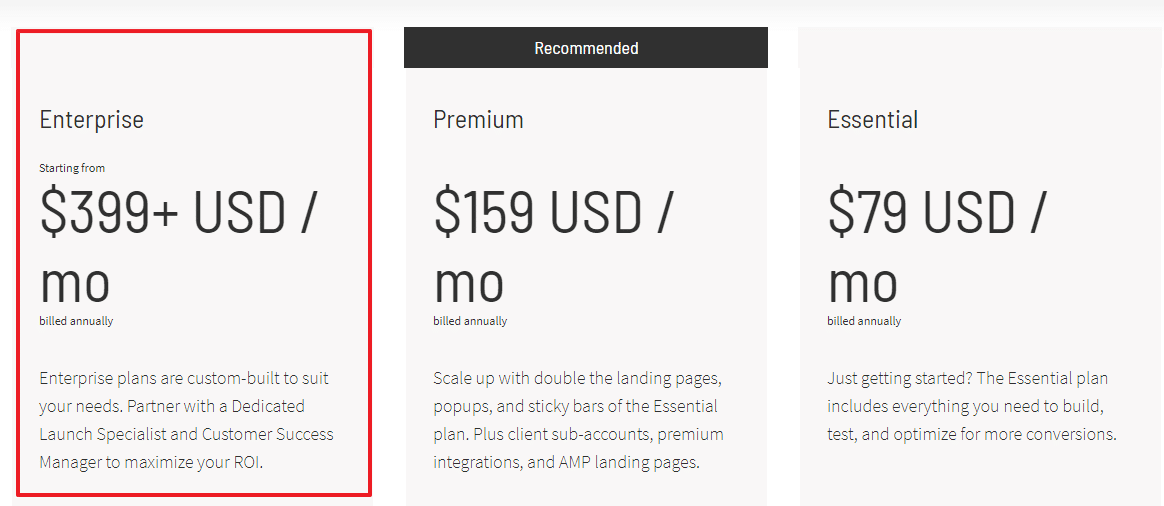 Unbounce has the dynamic text replacement feature which changes related keywords on your page to the keywords searched by the visitors. This is good especially if you're using PPC Campaigns to direct traffic to your landing page.
This is still absent on Leadpages.
The Unbounce landing page builder is a bit more difficult to navigate that LeadPages.
You can't design Facebook ads in Unbounce, unlike Leadpages. This could remove the ease of making Facebook ads that Leadpages afford.
3. LeadPages Vs. ClickFunnels
ClickFunnels is a more complex tool than Leadpages because it offers much more than building landing pages. You can build a whole sales funnel with ClickFunnels.
However, I'm comparing their abilities to make landing pages here.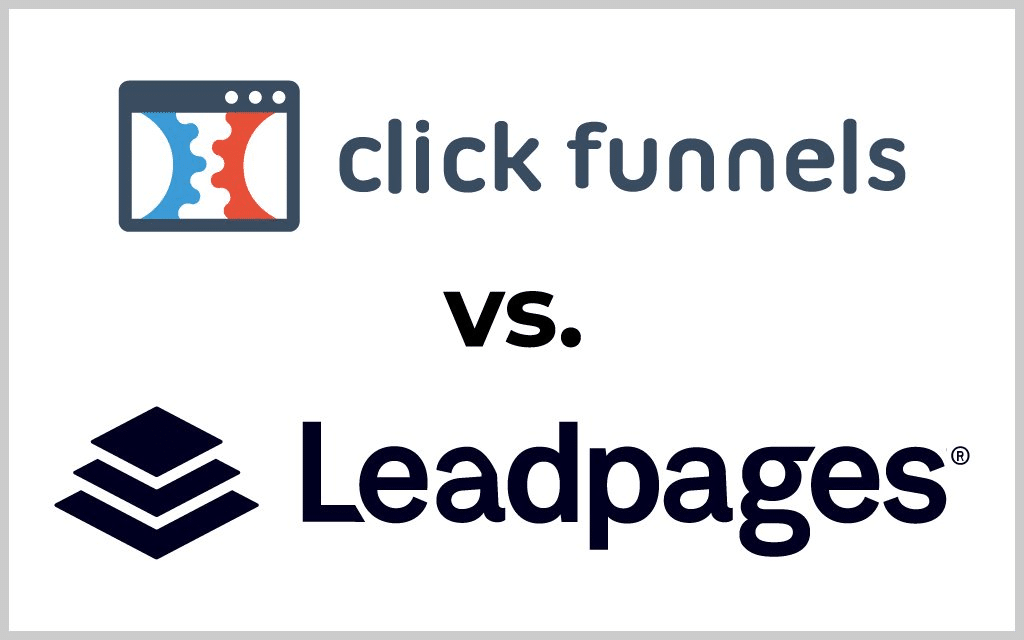 ClickFunnels has two plans: its Basic plan which costs $97 per month and the Etison Suite which costs $297. For the basic plan, you're limited to 100 landing pages and 20,000 visitors.
Leadpages gives you more options for the landing pages though. For instance, it has more templates than ClickFunnels and also allows you to sort them by conversion rates.
Leadpages landing page builder is also easier to use. ClickFunnels gives you more options for customization though. Both tools provide A/B testing for your landing pages.
4. LeadPages Vs. GetResponse
GetResponse is an email service provider that also offers you the ability to make landing pages for capturing leads. How does GetResponse Landing Page Builder compare to Leadpages'?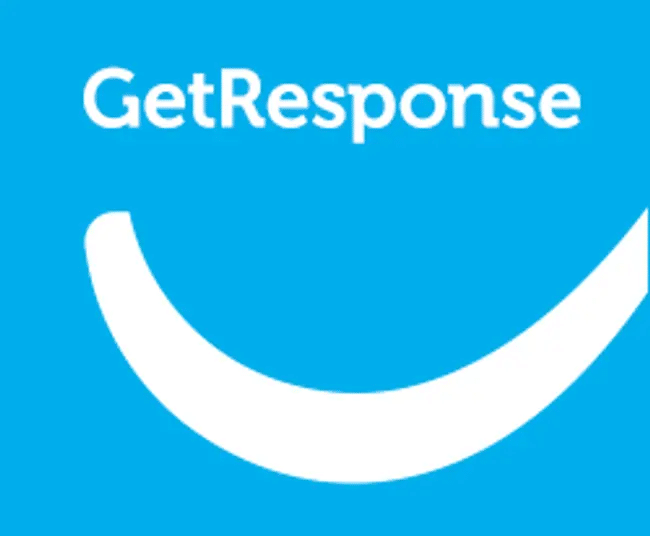 GetResponse offers A/B testing for your landing pages as you can set variations to test.
5. LeadPages Vs. Thrive Architect
Thrive Architect is a WordPress plugin. It was formerly called Thrive Content Builder. Thrive Architect incorporates ThriveLeads as part of its package.
Thrive Architect allows you to have mobile-responsive pages. But not only that, you can also edit the page for mobile and tablet views.
One other advantage you have with Thrive Architect is that if you ever decide to uninstall the plugin, all the pages you have built with the tool will still remain.
Thrive Architect is a cheaper option than Leadpages. Its pricing is based on the number of licenses. For 1 license, you pay $67, $97 for 5 licenses and $147 for 15 licenses. For all the license packs, you have the full feature set, unlimited updates and 1 year of support.
Thrive Architect allows you to build your page from scratch on its editor and ThriveLeads offer many options for your opt-in forms.
ThriveLeads offers multiple types of opt-in forms which include popups, slide-ins, floating bars, widget forms and in-content forms. It also offers Full-screen forms and fully editable form designs.
For those who use Thrive Themes on WordPress, they can have the Thrive Architect and ThriveLeads at no extra cost.
Choosing a landing page builder is a vital decision for your business. Although it may not require the highest financial investment, it requires a lot of thought before you settle on one.
What are the things your business needs from a landing page builder? Is it ease of use or beautiful templates or industry-related templates or high conversion templates? Or all these and more?
Leadpages has made a great case as a landing page building tool when you consider its features, ease of use, and value for money.
But what if all these look fuzzy and abstract and you're still finding it difficult to make a choice? You can grab the 14-day free trial for any of the 3 plans you think may be suitable for your business.
Photo Credit: Unsplash