We'll help you find out what's keeping you from rising to the top and getting found online with our World Class Audit.
Your website is the backbone of your business but does it perform the way it should be? The audit is an essential component of every SEO strategy because it demystifies your site's performance in the search engines.
Our world class team of experts (developers, search engine optimization specialists and conversion experts)  will objectively analyze and evaluate your website to find out what is working for you and what needs to be fixed to give you necessary steps to achieve your goals.
Once your site has been evaluated, you'll know why your site ranks where it does, and more importantly, you'll know how to improve those rankings and generate more revenue.
The SEO Audit is being offered for limited time  at $149 to help you kick start your digital marketing campaign with our in-depth SEO Audit.
On-Page Analysis
XML Sitemap, Robots.txt & Search Engine Crawler Accessibility
Site Architecture
Site Load Performance
Usability Analysis
Backlink Profile Analysis
Susceptibility to Search Engine Updates (e.g., Panda, Penguin, etc.)
and more
Please note that this is not an automated application process. We actually put time and effort into what we offer and decide who is best fit for this service as we're careful about who we work for.
That being said, we hope you will understand that if we don't feel we can help you because, we'll respectfully decline and let you know.
But, you won't know unless you try. So please do submit the form on the right.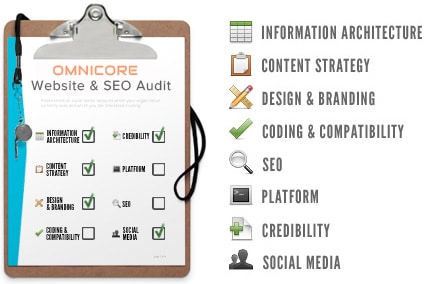 Fill out the form below to receive receipt for your SEO Audit.