Link Whisper saves you time. With this powerful WordPress plugin, you'll no longer spend hours manually adding internal links to your pages or posts. You can interlink your posts and pages automatically!
This is the ultimate review of Link Whisper, the all-powerful WordPress plugin that automates your internal linking efforts. So, why pay attention to internal links?
There are many benefits to building internal links. These links help boost page authority and improve usability.
Internal links help Google find more pages on your website. They also help show Google which pages are most important on your website.
Internal links can significantly boost your site's ranking on Google. Ninja Outreach leveraged the power of internal linking to dramatically boost organic traffic by 40%.


If your internal pages are accessible, then Google will be more likely to include them in their search index and organic results.
That's why you need Link Whisper to simplify the rigorous manual process of finding pages with no links (orphaned pages), and then automating the linking process.
Related Post: GoHighLevel Review 2023
Common Problems with Internal
Link Building Practices
Most bloggers and site owners frown at internal link building because it's a complex and boring task.
There's absolutely no way to automate the process of interlinking your old and new posts/pages, and vice versa.
It's an excruciating "manual" process if you attempt to do it yourself.
Before the launch of Link Whisper (which has been around for a few years now), you had to use Google "site" query to find orphaned pages on your site and then manually link to them.
For example, if I'm looking for pages on my website to link to with the keyword "local SEO," I'd go to Google and search:
Site:https://omnicoreagency.com/ "LOCAL SEO"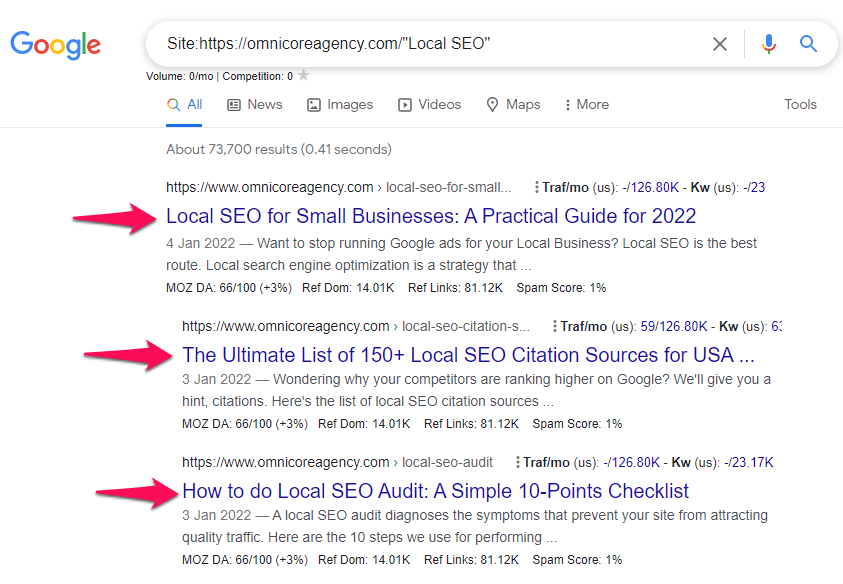 As you can see, these are all pages that I can link to from my new post, or add a link to my new post to. Either way, I have to repeat this manual process 10X to get 10 internal links.
Imagine that you have just 100 pages on your site that have no links pointing to or from them – it can take 10 – 30 days of intense work to interlink all of these pages.
Due to the complexity of internal linking, many bloggers and site owners feel discouraged and ignore it altogether.
But if you ignore internal link building, you'll miss out on a lot of opportunities to improve your rankings.
The best SEO practices begin on-page (content, user experience, and internal links). Once these are nailed, getting links from external sources will be easier and more rewarding.
There has to be a better and easier way to do internal linking than the process described above, right?
What is Link Whisper and What
Does it Do?
Link Whisper is a WordPress plugin that uses AI to find internal linking opportunities for you.
Once activated, this plugin will automatically find pages on your website that you should link to and from. It's that simple!
No more Google searches, no more manual internal link building.
Link Whisper: Key Features
Here are some of the key features of Link Whisper. We'll dive into the features and how they can help you maximize your internal linking efforts.
Automatic link suggestions as you write your post
Easily find and add internal links to old posts
See which pages have little or no links pointing to them
Build internal links to any page with any keyword of your choice
In-depth link reporting shows you everything you need to optimize your website
Fix broken (or 404 pages) links by removing or editing them within Link Whisper
Get traffic data from Google Search Console: Invaluable data for adjusting target keywords and internal links
Connect multiple websites and get link suggestions automatically
Link Whisper is compatible with nearly all WordPress editors (or page builders) and WordPress themes
Now, let's dive deeper into some of the key features and how they work:
Automatic Link Suggestions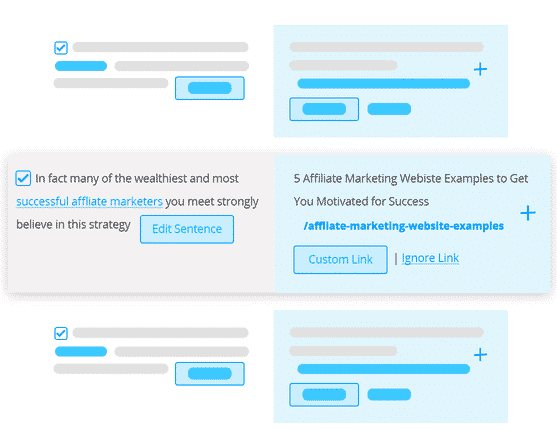 Just like some of the most popular WP plugins (such as Grammarly), Link Whisper will automatically suggest relevant pages to link to.
What's really exciting about this is that suggestions will pop up as you write, format, or edit your content, saving you the much-needed time to focus on other tasks and activities.
Unlike self-proclaimed 'automated' programs that rely on pre-defined mechanisms, Link Whisper's automatic link suggestions are powered by artificial intelligence, which is continuously analyzing your web pages and the relevance of existing content, changing the suggestions as your website's content is updated (when you add, change, or remove content from pages).
The suggestions will pop out in boxes right next to the paragraphs and lines where the program suggests you should add the links.
By clicking on the link, it will automatically be added to the best keyword. You can edit the sentence, add a custom link, or ignore the suggestion with the corresponding buttons.
Ignore Link URLs Permanently
We have already mentioned that Link Whisper lets you ignore certain links.
However, it's easy to imagine a scenario where a certain link will repeatedly pop up despite being ignored dozens of times.
This is especially true for certain websites that deal with highly specific products (that can contain several keywords in their name).
This can potentially 'fool' the AI into believing that you are utilizing a keyword-heavy linking strategy and that you want to link certain pages more often than usual.
The ability to ignore certain URLs permanently was purposefully provided to avoid this.
You can go to the Link Whisper "Settings" panel and paste the links you do not want to pop up as suggestions into the "Posts to be Ignored" box.
After confirming the action, Link Whisper will no longer suggest these links for that particular post again. This can be repeated for any page as many times as you like.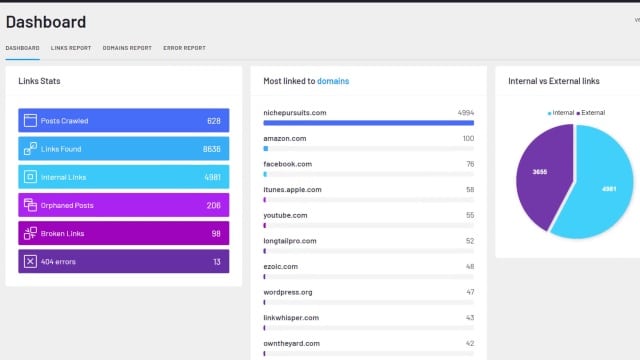 SEO Link Optimization of Orphaned Content
The term "orphaned content" relates to content that sits "alone" on the website without any links from other posts and pages.
This content is typically found by visitors that were specifically searching for it, knowing beforehand it existed.
However, the bulk of your website's organic traffic will be comprised of visitors that aren't fully aware of every page on the site and would probably explore whatever you've put on your landing pages first.
Regardless of what linking strategies you implement, orphaned content is almost always discovered last.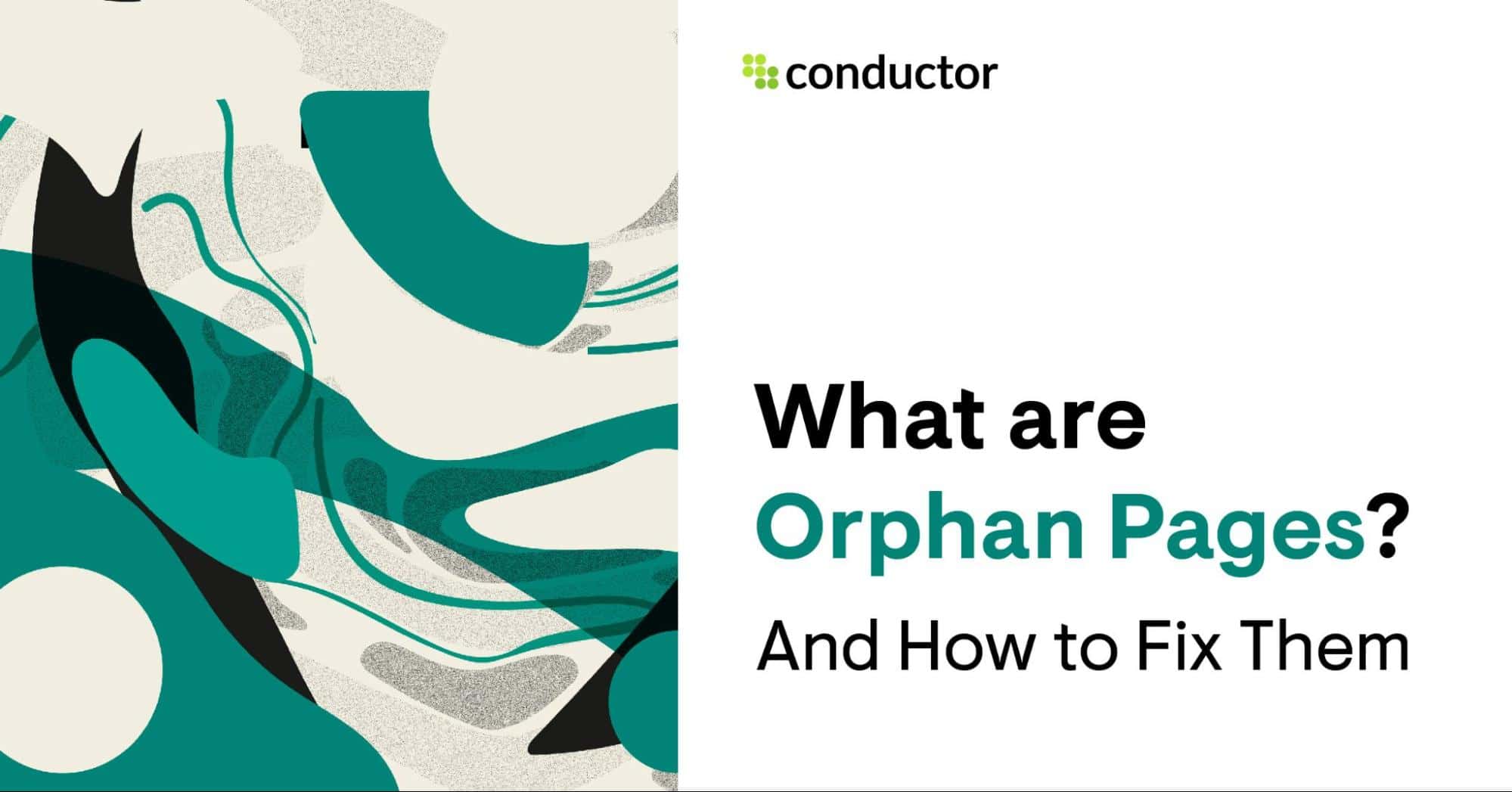 The problem with orphaned content is that website owners sometimes don't know that such pages exist.
It's easy to make a mistake and overlook or forget to add links to a page or two if your website has hundreds.
To help you with this issue, Link Whisper not only allows you to seamlessly find content with a small number (or none whatsoever) of links, but you'll also have the ability to add new links to those pages at the click of a button.
When using this feature, you will see a box with details about your orphaned content (date when last modified, title, and such).  By pressing the "Add" button, you can decide how many links you want to augment your orphaned content with.
Keyword-based Linking with Auto-Linking Feature
It can be argued that the 'Auto-Linking' feature is the most useful one in Link Whisper's arsenal.
In simple terms, it reinforces the accuracy of links by allowing you to pull links from the URL you select based on the keywords you provide.
This is a fully-automated feature, which means that this plugin will immediately and continuously pull links from selected URLs to the target page.
Thorough Reports on Links, Domains, and Errors
Link Reporting is a thorough built-in analysis tool that will provide you with all the necessary data regarding your content, pages, and links.
The metrics Link Reporting searches for include:
Posts Crawled
Links Found
Internal Links
Orphaned Posts
Broken Links
404 Errors
The report on Links Stats can be found on the Link Whisper dashboard, appearing as a self-updating pie chart of internal vs. external links expressed in percentages.
Within the same window, you will find Links Report, Domains Report, and Error Report sections.
The Links Report scans inbound and outbound internal links, as well as outbound external links.
This provides you with accurate details regarding the date of publication, title, and number of links across each of the three aforementioned categories.
The Domains Report is also remarkably useful, telling you the frequency and location of outbound links.
The Error Report is arguably even more valuable, as it allows you to find broken links and those plagued by the dreaded '404 Error – not found' code in seconds.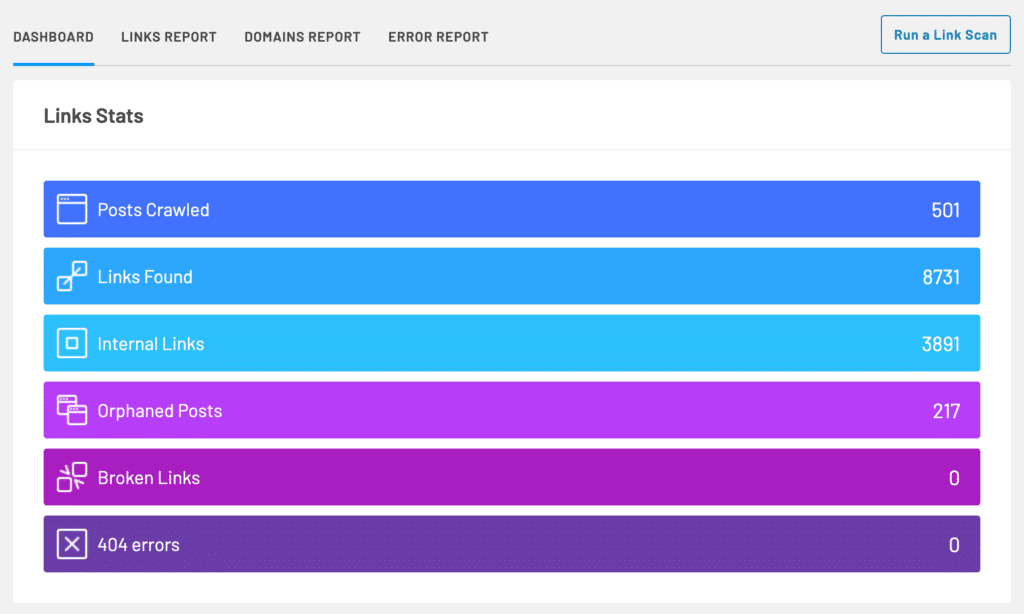 A Tool for Editing and Removing Broken Links and
Error 404 Pages
As we have already established, Link Whisper gives a detailed overview of all link groups that can be checked via the dashboard windows.
However, this information would be pretty much useless if you only knew that you had problematic links on your website.
Having broken links and 404 Error pages on your website can have numerous negative consequences. It makes for an overall negative user experience.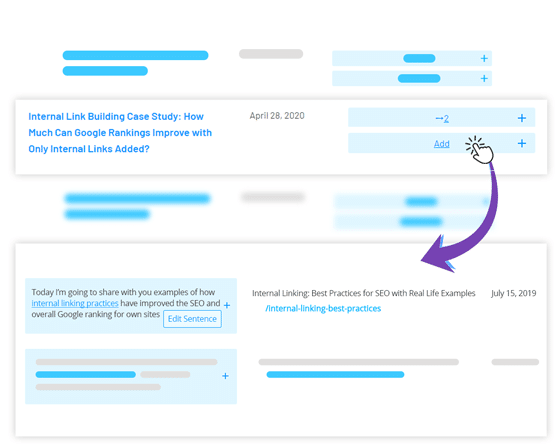 Site visitors tend to assume that if one link is broken, the other ones may be as well.
Consequently, your website's authority and reputation are at stake if this issue is neglected.
Fortunately, Link Whisper allows you to quickly locate, edit, and remove any broken links and 404 error pages.
Scrape Big Data from Google Search Console
Google Search Console allows website owners to monitor and resolve numerous issues, such as slow page loading times, local server issues, and a variety of security-based problems.
As a standalone program, Google Search Console has a fairly steep learning curve, especially given the fact that it's constantly being updated.
It requires months, or even years of experience to utilize it properly, and a substantial amount of dedication to keep track of all the changes and patches.
Link Whisper comes to the rescue again, enabling WordPress users to access valuable traffic data from Google Search Console.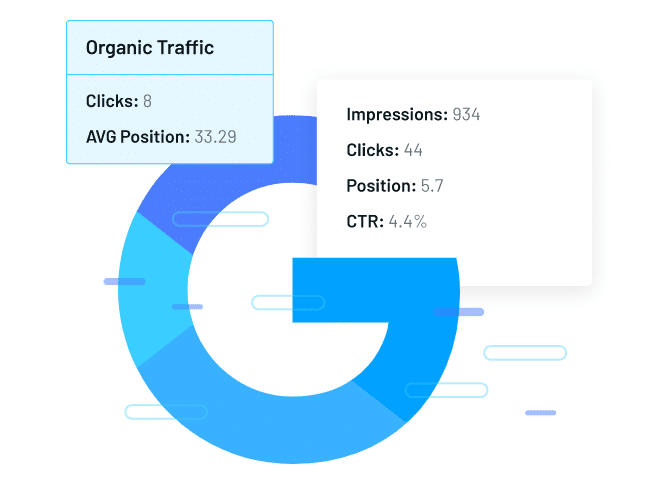 Enabling this analytics tool is optional, which means that the efficiency and performance of your Link Whisper plugin won't drop if you don't toggle it on.
Now, onto the reasons why you still should.
When enabled, the GSC traffic data analysis setting enables website users to check stats regarding organic traffic, the average Google Ranking position, the number of impressions, clicks, average CTR, and most importantly, keyword data.
With the information provided by this setting, you can change your approach to your link-building strategies, optimize your pages more efficiently, and ultimately improve traffic on both your entire website and individual pages.
URL Changer
The main purpose of Link Whisper is to allow users to streamline their internal link-building process.
Even if we completely neglected the fact that this plugin also boasts some powerful analytics tools and a myriad of other convenient features, it still comes with a handy URL Changer feature.
The URL Changer was designed to help you change both individual URLs and groups across your website.
This feature automatically scans the website for target URLs and applies the corresponding changes with the click of a button.
Changing hundreds of your internal links with URL Changer is especially important for 'migrating' websites, or in other words, website owners who have decided to create a more modern, up-to-date website from scratch or use a different domain altogether.
Build Internal Links from Sister Websites
Another remarkably important element of Link Whisper is the fact that it allows you to 'sync' other websites you own, after which the program will adjust its suggestions and include links from them as well.
This is another feature that speaks volumes about Link Whisper's scalability.
You don't need to immediately use it – whenever you expand your business and build more websites, you won't have to worry about the interlinking process.
You can leave it to Link Whisper to do it for you.
WordPress Plugin Design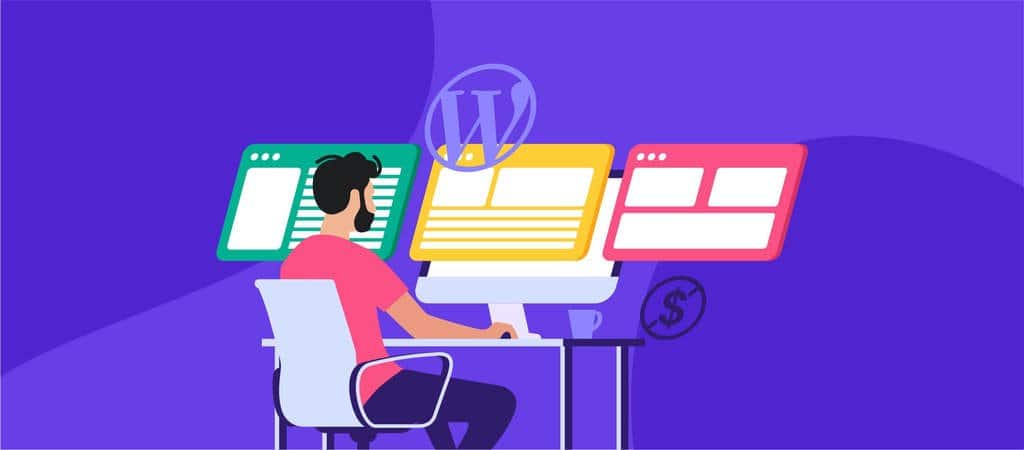 The WordPress ecosystem is massive. There are lots of themes, plugins, and a community of passionate users. About 455 million websites were powered by WordPress in 2021.
Link Whisper is contributing immensely to the WordPress community.
After all, it's not a standalone program that you can simply use on your PC or laptop, and it can only work as an extension of your WordPress.
However, there's a lot of merit to this type of design, as WordPress can be used to both power and host, or optimize individual pages to rank better on Google, particularly orphan content pages.
The fact that Link Whisper is a plugin means that it offers you flexibility – you can use it in synergy with your preferred WP plugins, optimize fragments of your website that require updating, or execute full-blown link-building strategies.
After purchasing your Link Whisper license from the brand's official website, all you need to do is install the Link Whisper plugin and use the license key to activate it.
Pros of Link Whisper
WordPress Plugin
I use Link Whisper on two of my websites. Here are some of the pros:
Easy to use and highly intuitive
Instant link suggestions
It's easy to install (any WordPress user can do it)
Relevant link suggestions
Powerful and rich reporting & analytics
It's compatible with most themes and editors
It saves a lot of time with AI internal linking
Cons of Link Whisper
WordPress Plugin
While Link Whisper is arguably the best WordPress plugin for internal linking that money can buy, it's not perfect.
Here are some of the cons:
It doesn't suggest external links that are relevant to the post/article you're currently working on.
Some features (such as ignoring links and URL changer) could be daunting for beginners to understand
It only works on WordPress. Joomla, Wix, Squarespace, and other site builders are not supported.
No free trial. Most software products offer a 14 or 30-day free trial to test the products first before upgrading. Link Whisper doesn't offer that.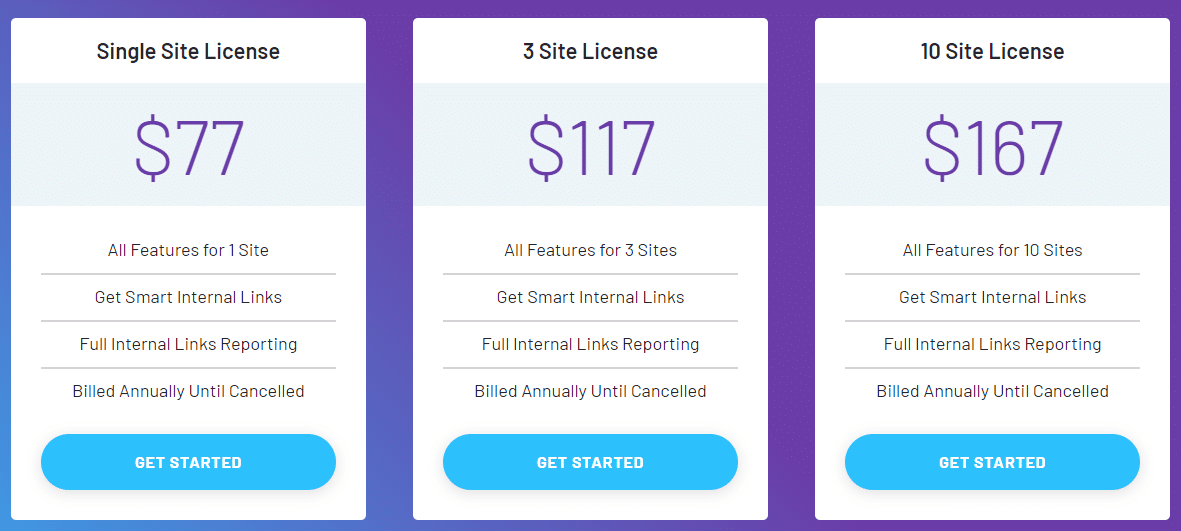 Link Whisper is a licensed WordPress plugin, which means that you'll need to purchase a license key, download the program from the brand's official website, and then enter the key to activate the product. Link Whisper has 3 straightforward plans and pricing options to choose from:
Single Site License ($77/year): Get all the features (listed above) for 1 site, including Smart Internal Links, and full internal links reporting.
3 Site License ($117/year): All the features in the Single Site License passed onto 3 sites.
10 Site License ($167/year): Everything feature accessible in 3 Site Licensed, but now can be used in 10 sites.
Link Whisper Alternatives:
Comparison
This table shows how Link Whisper compares to alternative WordPress tools.
[wptb id="14902" not found ]
As can be seen in the table above, Link Whisper is quite affordable when compared to similar products or the competition that charges hundreds of dollars per hour, or the few that charge as much monthly.
The reason for such a huge gap in terms of pricing is that not many companies offer specialist internal linking services.
You'll usually receive such perks in a comprehensive SEO package, which can cost incomparably more.
If you already have a team working on your SEO and want to spice up your interlinking performance, using Link Whisper will get you far.
Is Link Whisper
Worth It?
Link Whisper is worth considering if you're tired of manually adding internal links and want to automate the process.
Keep in mind that Link Whisper uses Artificial Intelligence (AI) to find internal link-building opportunities based on how many pages and how much content you have published on your website or blog.
Therefore, to get the most out of Link Whisper, you have to create more relevant, useful, and keyword-rich content.
This strategy can help you empower the Link Whisper tool to find more orphaned pages, suggest links, and help you improve your ranking through on-page link building.
Photo Credit: Unsplash