Tried of doing local SEO and getting undesirable results?
Chances are your local website pages are buried on page 2 and beyond of organic search results.
You need to resuscitate them ASAP, and here's why:
According to HubSpot, only 25% of Google searches will advance past the first page.
Another study by Sistrix found that the number of Google users that click on the first page of organic results reduces to an abysmal 2.5% for the 10th result.
That means content on page 2 of search engines receives far fewer organic clicks.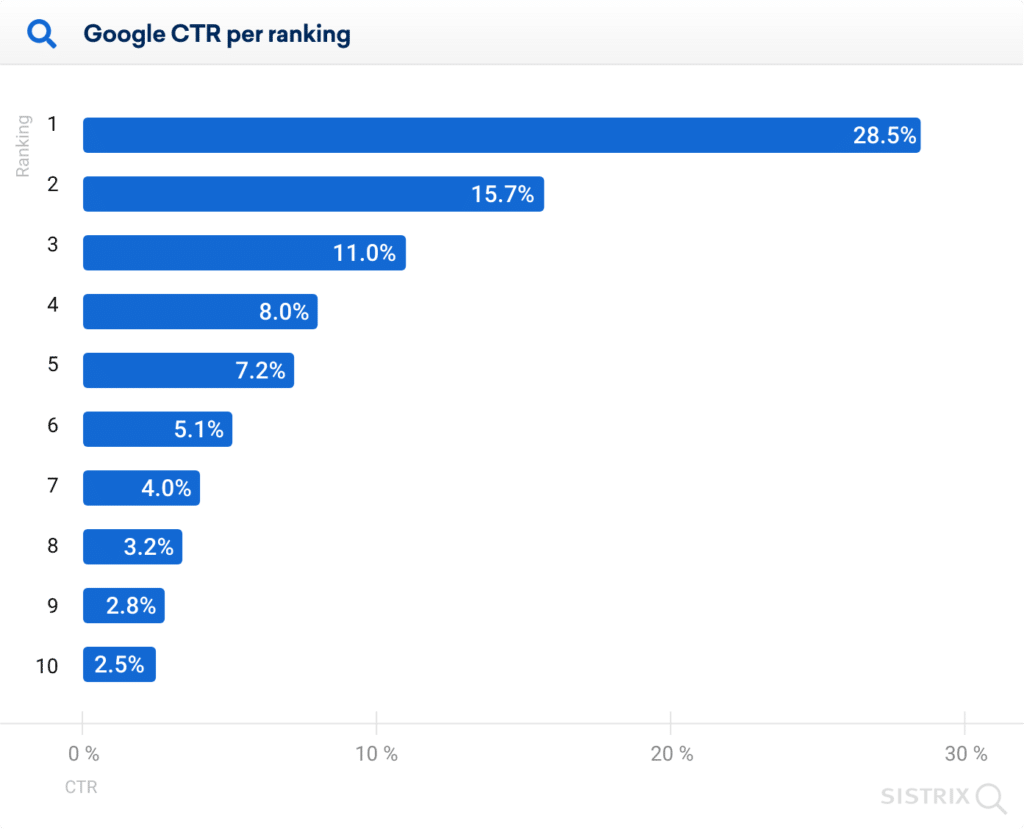 Fewer clicks translate into fewer clients for your business.
You don't want that.
So what can you do?
You perform a local SEO audit.
Conducting a detailed local SEO audit helps you diagnose all the issues that make you miss out on potential clients who use local search queries like:
Doctor near me
Dental clinic near me
Medspa in "your city"
Orthodontists around "your city" … and so on.
In this guide, we explain how you can do a comprehensive local SEO audit. You'll also gain insights from experts who contributed their local SEO expertise to this post.
Let's get started.
What is a Local
SEO Audit?
A local SEO audit examines your website to find SEO gaps that can boost your local search results.
Why Local SEO Audit is
Important?
Picture this:
You're driving to the hospital. Suddenly, your car makes a screeching sound and stops. Thankfully, you see an auto repair shop on the corner. So what do you do? You walk to the shop, state your problem, they fix your car, and you are on your way. Simple.
It's the same with local SEO. Anyone that uses local search queries has a high commercial search intent. They have a pressing need, and they'll transact with your business to solve their challenge immediately. However, if they can't find your website quickly like the auto repair shop, they'll look elsewhere. This is what an audit prevents.
A local SEO audit helps you spot loopholes that prevent your website pages from showing up before your potential clients. Local SEO audits also aim to remove any friction that hampers the conversion of prospects into clients.
With that said, we'll dive into the approach we use in conducting local SEO audits so you can model it for your healthcare business.
10 Steps for Performing a Local
SEO Audit
1. Local SEO Keyword
Audit
Targeting the right keywords ensures prospects find your business on search engines. That's why we treat keyword audit as the first thing for our clients. When doing a keyword audit, you need to identify the essential pages on your website.
These pages include your homepage, service pages, location pages, and your blog posts. All of these pages need to rank for keywords related to your business and your region of operation.
You can review the keywords you rank for with tools like Moz's Keyword Explorer or Ahrefs. At Omnicore, we prefer Ahrefs because it is versatile.
For instance, with Ahrefs, you can tell that the keyword "med spa New York" is highly relevant. Why? Lots of local businesses rank for it, and it drives excellent traffic.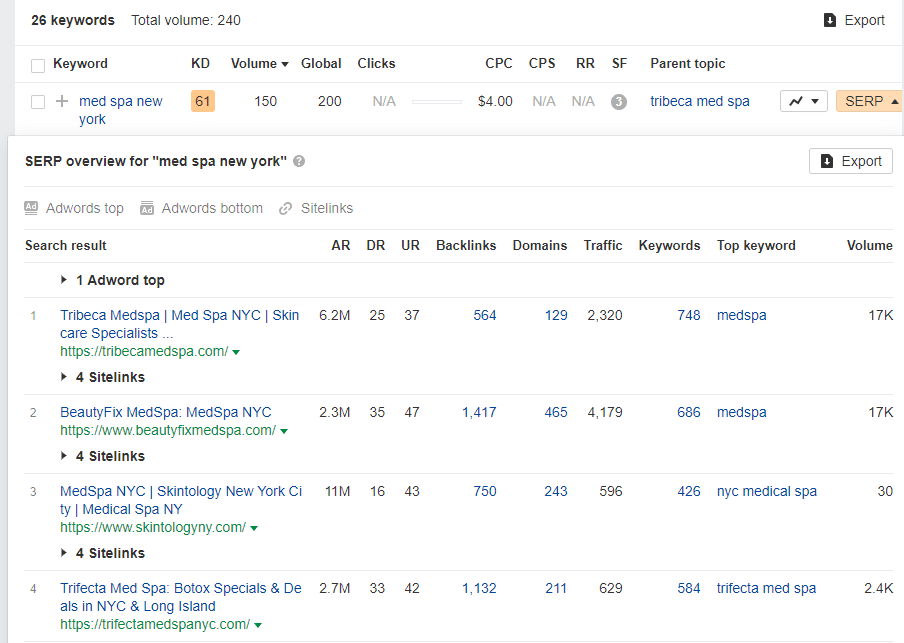 So if you operate a medspa in New York and you haven't ranked for this keyword, you've unlocked a keyword that can bring massive traffic to your website.
Your next step is to use the new keyword in your title tag, meta tags, heading tags, and the body of your post or pages.
In addition, you can do a site audit to uncover optimization opportunities for the keywords you rank for.
Precious Oboidhe of Content Estate recommends a keyword audit tool like Ahrefs. But if you're on a budget, he says, a free tool like Ubersuggest does a decent job.
For instance, after auditing beautyfixmedspa.com with UberSuggest, we found the following keyword optimization opportunities.
154 pages with duplicate meta descriptions
Two pages with a low word count
Two pages with duplicate title tags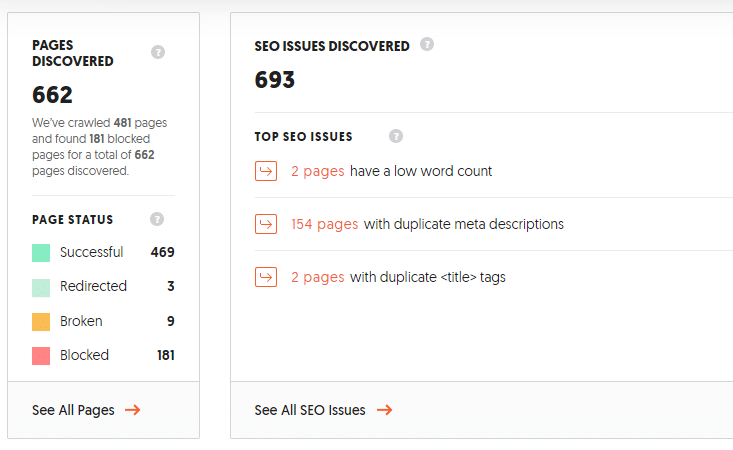 The next step is to find and fix the pages with these SEO issues.
Often, some businesses do not rank high on local search because they are up against fierce competitors. Does this mean you can't beat your competitors on local search? Of course not.
Rejoice Ojiaku, SEO Manager at Incubeta and Co-founder of B-DigitalUK, says, "The first step in a competitive analysis is to find your primary competitors."
You can find 3-5 of your primary competitors from the local snack pack.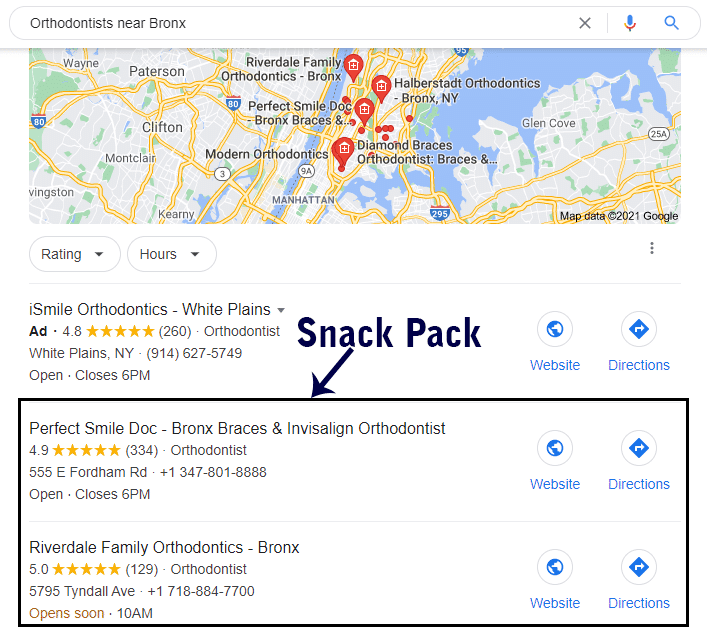 After identifying your competitors, Rejoice recommends that you check out each competitor's Google My Business (GMB) relevance, DA (domain authority), number of ranking keywords, and backlinks.
Backlinks are a measure of authority in search engines. As website backlinks increase, domain authority rises. This makes the competitor tougher to beat on local search.
However, all backlinks aren't equal. That's why Rejoice says, "Backlinks aren't always about the quantity, but the quality, so I investigate topic relevance too. This helps in improving my backlink strategy and possibly the idea of introducing Digital PR."
Philip Rozek, the founder of Local Visibility System, agrees on the topic of link relevance. When conducting a local SEO audit, he checks if the competitor has links from industry-related sites and other locally relevant sites.
You should also check your competitors' GMB profiles and find out if they engage in GMB spam. Furthermore, Rejoice says, "Look at the ratings and reviews in the local snack pack. This helps you see the percentage of your competitors with better, more, or bad reviews on GMB.
On the number of a competitor's ranking keywords, here's what Philip says:
Service pages: Do they have a detailed page on all specific services they offer, and would my client benefit from having those same pages?
Homepage: If the competitor ranks well for a range of terms my client cares about, does the competitor's homepage have a little content on each of those services, with internal links to relevant subpages? The homepage should not be a generic catch-all page: usually, it's got a better chance of ranking than our subpages do and for a wider variety of terms.
Knowing all this information gives you a blueprint of what the competition is doing and how you can outrank them.
3. Google My
Business Audit
Google My Business is the foundation of a successful local SEO strategy. Why?
Because Google has a 92.1% share in the search engine market. While optimizing your local business on other search engines is an excellent practice, Google should be your #1 priority.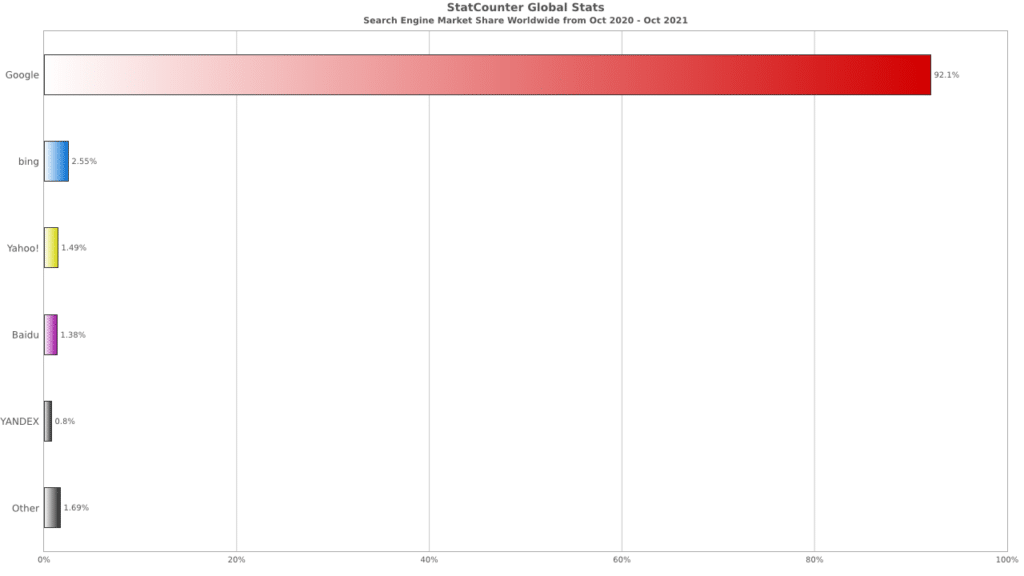 Precious Oboidhe of Content Estate says, "The first step in a GMB audit is for the business owner to claim their profile on Google."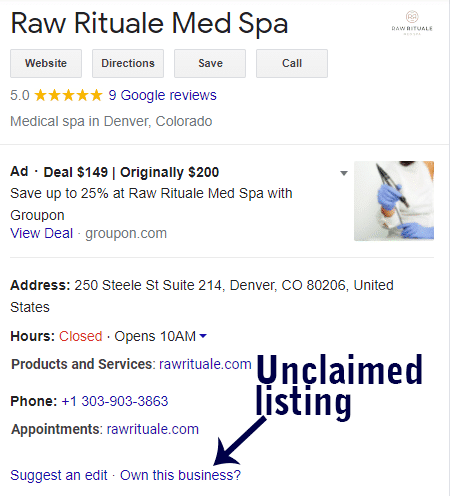 Claiming your GMB profile helps you to edit every piece of info about your business on Google.
Asides from claiming your profile, you need to check the correctness of every business information on Google. This includes your working hours, business categories, and address. Having a correct business address doesn't only benefit you on search engines, but it impacts your revenue. Incorrect business addresses could make you lose customers who search for your business.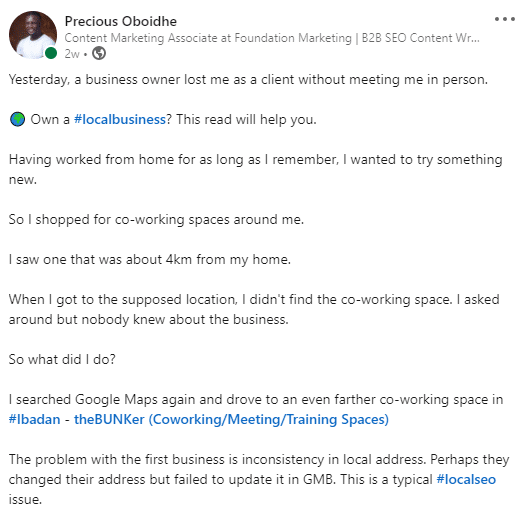 Other things we look out for when doing local SEO audit on GMB profiles are:
The number of reviews: If our client has lower GMB reviews compared to the competition, we'd need to work on getting more reviews.
Business images: Does the client have photos of the business? This is non-negotiable, and it's an essential factor for building trust and helping potential clients recognize your business location when they visit.
GMB posts: Google My Business posts is an underused tactic by local businesses for getting clients. We highly recommend that our clients post up to 200 words of GMB posts daily.
NAP citations are essential for every local SEO business. The founder of Whitespark, Darren Shaw, makes an excellent comparison of how a business with zero online presence climbed the local search rankings because of citations.
So how do you perform a citation audit? What tools do you need? What do you need to know when performing this local SEO audit?
Rejoice Ojiaku says, "I use Moz Local to do citation crawl because it's straightforward and it has an excellent reporting interface." Asides from Moz, we use tools like Bright Local and Whitespark to perform citation audits.
When doing a citation audit, you need to audit your site and your competitors' websites. Auditing the websites of the competition unveils directories that haven't listed your business. After finding these new directories, the next step is to list your business on these websites. One critical aspect of NAP citations is the consistency of your business details. Inconsistent business details are a no-no in the eyes of search engine crawlers. So you must correct any inconsistency with:
Your business name
Business address
Phone number
Email
Website
5. Reputation Management
Audit
As much as 93% of consumers say reviews influence their buying decisions. Search engines know the importance of these reviews, and that's why they are present on the local snack pack.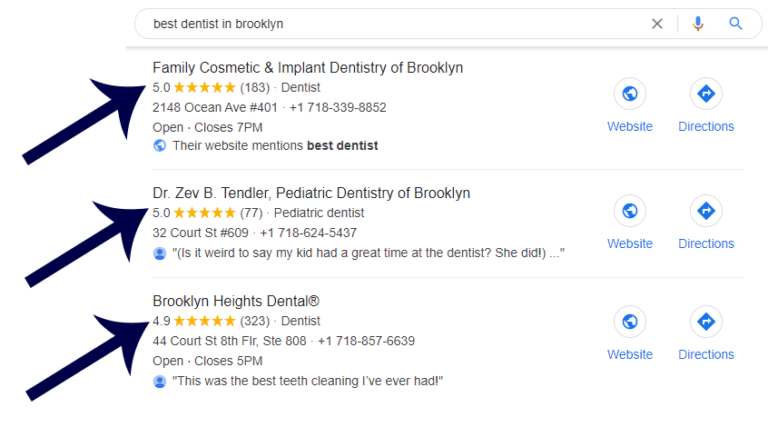 Now ask yourself, would you work with a local dentist that has 77 reviews or a dentist with 183 reviews? Most likely, you picked the higher review count, which is why reputation management audit is vital.
When doing an audit, we like to check the number of reviews. Does our client have fewer reviews than the competition? If it's a "yes," then a review collection and optimization strategy is set in motion. Philip Rozek, the founder of Local Visibility System, agrees with this line of thought.
He says, "It's important that I help my clients to get more happy customers to speak up." Here are a few of the many ways he approaches this:
Ask clients to focus on fewer review sites: Don't get reviews on eight sites at once. Focus on Google Maps and one backup review site. That backup site could be Facebook or an industry-specific site like HealthGrades, Avvo, Houzz, TripAdvisor, GreatSchools, etc. Most Yelp reviews are likely filtered. So, in general, I tell my clients not to bother encouraging Yelp reviews, at least for a while.
Ask clients to have ONE person that collects customer reviews: This person's job is to ask happy customers, "how did we do?" If review encouragement is everyone's responsibility, it's nobody's responsibility, and it never gets done.
Provide an email template to the person collecting customer reviews: An email template or one-page printout allows customers to understand the business owner's request and walk them through writing a review. The person in charge of reviews should ask customers at least twice, preferably once in person, and then follow up by email. Or by phone and then by email. Or even with two emails. The point is: don't ask just once. The customer may want to write a review, but you just asked at the wrong time, which is why a follow-up is essential.
Adding schema markup to your web pages makes it easy for search engine crawlers to understand the data on every page of your website.
The deputy editor of Search Engine Watch, Rebecca Sentance, says, "Less than one-third of websites use schema markup." This means that local businesses that use schema markup could be at an advantage.
But implementing schema markup isn't easy for non-tech people, especially if you are using a site that isn't on WordPress.
This is why Rejoice Ojiaku uses two simple schema markup tools when communicating with clients. The first is the Merkle Schema Generator (MSC).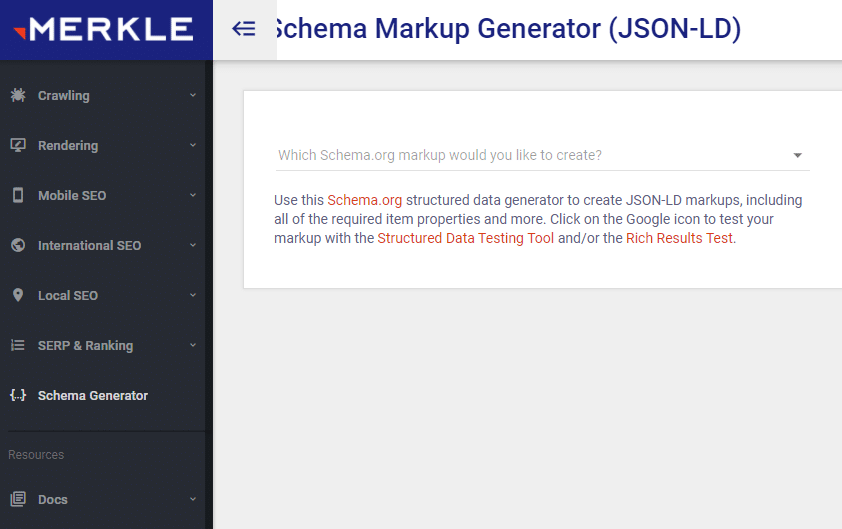 MSC helps non-tech people to understand and see an example of how a schema markup looks. The second is the RankRanger Schema Generator. This tool enables you to validate and test the generated code.
How many times have you waited for a website to load for many seconds?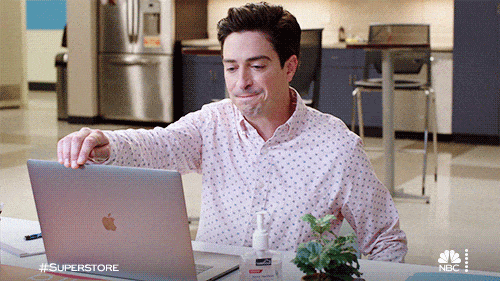 I feel you.
Many consumers do not like it as well. And Google research proves it. According to Google/SOASTA Research, the bounce rate probability of a website user increases by 32% as page load time goes from 1 second to 3 seconds.
So what can we do?
We identify the issues that can cause this with local SEO tools like Google PageSpeed Insights, Pingdom, and GT Metrix.
Each of these tools helps us identify why your web pages load slowly and the next steps we can take.
8. Local SEO
Content Audit
Years ago, when Google had fewer websites, a local business could build SEO citations and call it a day. It's a different world today as there is no SEO without content in the mix.
Precious Oboidhe of Content Estate notes that the first step in a content audit is to do what's called "validated SEO."
So how does it work?
First, you identify your competitors producing the most content
Next, you run the competitors' websites in a local SEO tool like Ahrefs or Ubersuggest
Afterward, you identify the "top pages" driving the most traffic to the websites


Once you've identified these pages, create content to rank for them because they can drive quality traffic to your website. You also need to consider the number of backlinks every post has. If the competitor has a high number of backlinks, you should have a backlink building strategy to rank high for the target keyword.
9. Social Engagement
Audit
Engagements on social media platforms do not directly influence your local SEO rankings. However, they indirectly impact your local SEO performance.
Precious Oboidhe says promoting content like blog posts on social media can help you amplify your content reach. In turn, this gets more eyeballs to your content and increases the chance of someone giving you a free backlink. As your backlinks increase, this impacts your website's ability to show up on the local snack pack.
But that's not all.
Distributing your content in the right social media channels can also help you attract revenue opportunities because you will be building awareness of your brand.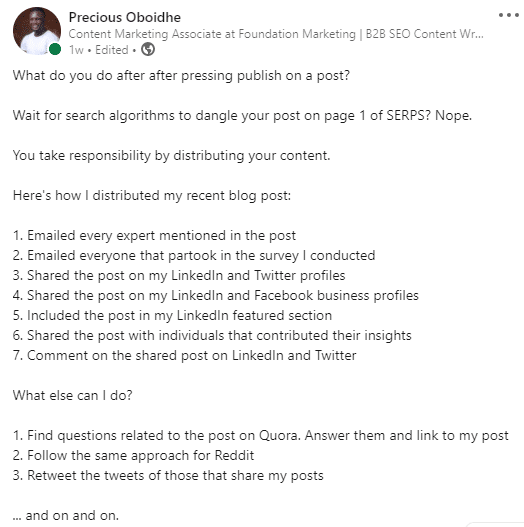 The question is, how do you identify the right social media channel?
You can check the websites of your top competitors to find their social media channels. Also, use a tool like Buzzsumo to find a competitor's most shared social media content. Doing this allows you to know the social media channels that are working.
10. Local SEO
Ad Strategy
You're in business to increase your revenue.
Well, Google is also in the business of making money.
Before now, Google reserved the local snack pack for local businesses. But times have changed. Today, Google creeps into the snack pack results and loads them with ads (like the iSmile Orthodontics ad below).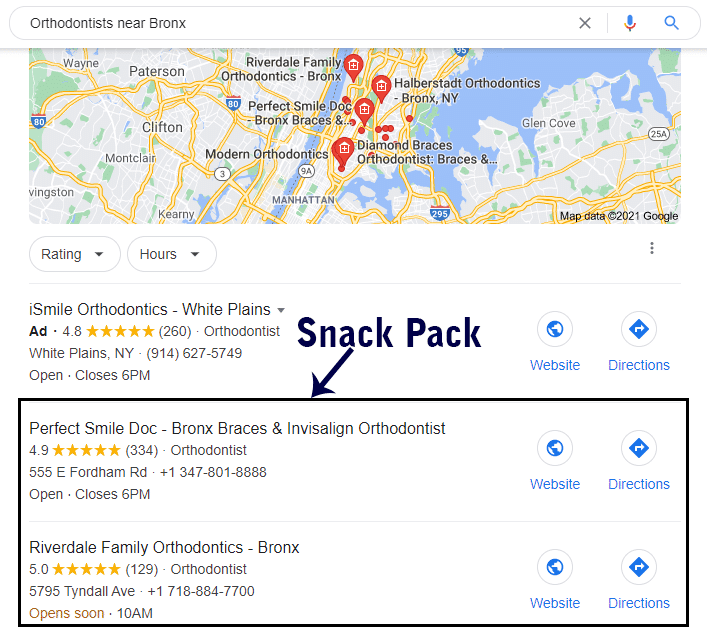 In other words, search engines like Google are trying to make businesses spend more on ads compared to creating organic content.
Here's what Rejoice Ojiaku says about this:
"In general, I don't think it's best practice to rely only on organic traffic. Although organic traffic offers many benefits, using paid search also to drive traffic is recommended. Now that Google includes ad results in the local snack pack, clients should leverage that and synergize organic with paid search.
In this ever-changing climate of search marketing, businesses that rely solely on organic traffic could miss out. Some geo terms can be low in search volume and difficult to rank for through organic means. But using paid search alongside organic gives your business a better chance and lets you cover more grounds with keywords that are difficult to rank organically."
What would this look like in your strategy? What keywords can you go for or use in your ads? Check out what the competition does, and you'll get an idea. Start with paid search tools like SpyFu.
So there you have it.
Local SEO isn't difficult when done right.
These 10 steps for doing a local SEO audit will set you up for success in 2021 and beyond.
I know that implementing all of these steps at once could be difficult. So if you're doing your local SEO audit yourself, follow the steps one at a time.
One crucial point to remember is to have consistent NAP citations and claim your GMB listing.
If you'd like some help with implementing a local SEO audit, then get in touch with Omnicore. We help healthcare professionals to improve their local SEO and attract qualified traffic.
Photo Credit: Unsplash