Looking for the cheapest and most profitable way to earn more revenue for your business? You've found it.
With local SEO, customers will flood your physical store/office, and your phone will buzz all day from orders and inquiries. If you think this is some bogus claim, then check out these local SEO statistics:
While these stats are interesting, for search engines like Google, local SEO isn't for everyone. It's sad but true. Local SEO is for businesses that serve their customers from a physical location or deliver products and services to customers in a specific region. Businesses like large enterprises, online-only eCommerce shops, and private online sellers that do not target a  particular geographical region aren't eligible for local SEO.
Now that you have an idea of the general concept of local SEO and the primary Google eligibility criteria, let's explore local SEO in detail.
Local SEO or "local search engine optimization" involves all processes that improve the organic search visibility of your business within your geographical region. These searches are associated with a user's geo qualifiers like service area, city, state, zip code, etc.
Before we discuss how local SEO works, we need to understand the goal of search engines. Search engines aim to provide the most relevant and prominent search results to every user. For a business that targets a global or national audience, "relevance and prominence" is enough.
However, for local SEO, relevance and prominence is only a starting point. Proximity plays a key role. When search engines know a user's location, they provide relevant and prominent results within the user's proximity. This is why some local search queries have become incredibly popular. Examples of local search queries are:
Lawyers near me, doctors near me, hotels near me
Dental SEO agency in "city"
3D printing shop in "city"
Med Spa in "city"
Best gym in "city"
Orthodontists near me
Men Clinic in "city"
Restaurant near me
Best restaurant in "city," and so on.
Here's a real-world scenario of how local SEO works:
Assuming you're an orthodontist in Wicker Park, Chicago, you will like to show up on search results when someone in your area has challenges with their teeth. This means you have to rank organically for keywords like "orthodontist". But you see, if you try to rank for the whole of Chicago, as in "orthodontist in Chicago", it could be a fruitless endeavor.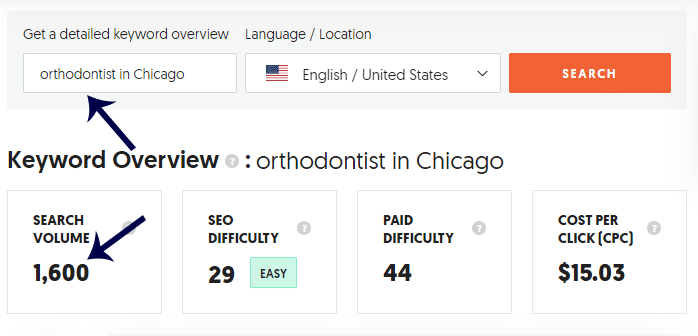 While over 1,600 people search for this keyword, there's a good chance that many of them won't be around Wicker Park, but scattered all over Chicago. In other words, this keyword doesn't capture your ideal audience that's within your locality.
What about a keyword like "Wicker Park orthodontist?" This keyword is less broad, has about 590 monthly searches, and it's specific to the Wicker Park region.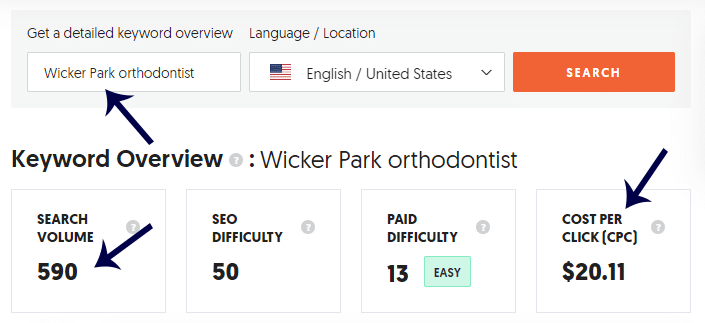 With this keyword, you have a better chance of capturing your audience and increasing your revenue. I also want you to note the Cost Per Click (CPC). Did you notice that the CPC for Wicker Park is higher than Chicago? This means that the "Wicker Park orthodontist" keyword is highly competitive and it's the reason you should rank for it. I'll discuss more on this later.
Local SEO isn't only about using SEO keywords. Search engines use other local SEO ranking signals to deliver local search results to users. Some local SEO ranking signals are:
Number of online reviews (including the review quality)
Consistency in NAP citations
The user's location
Presence of Google My Business listing
Google maps star rating
Number of social media shares, and so on.
What's the Local Snack
Pack?
The local snack pack is the #1 place you want your business to appear. According to a Moz study, 33% of organic clicks go to businesses in the snack pack. Most times, you'll find ads or sponsored results above the snack pack. That shouldn't bother you because organic searches get more clicks compared to paid searches. Here's how an ad looks when it's above the local snack pack: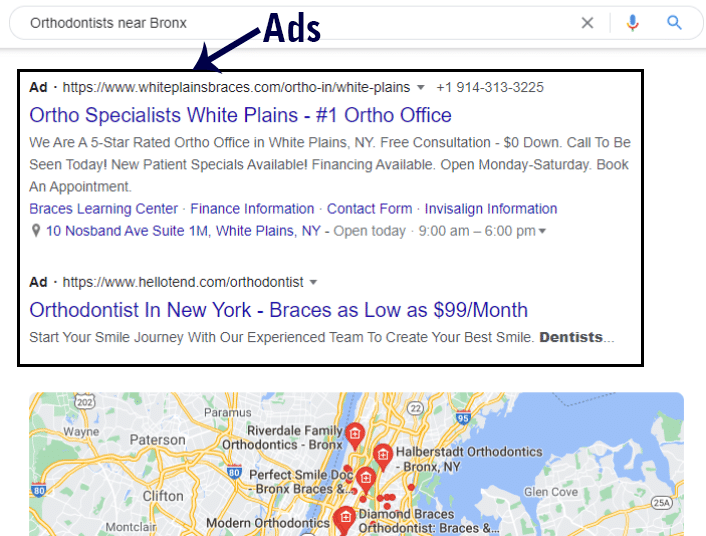 After the ad, you'll see the local snack pack results. These results are in a box showing the top 3 businesses for the user's query. There are 2 points to note about the local snack pack results:
The local snack pack result is always between the organic search results and Google Map listings. This implies that your business gets more visibility by ranking on the snack pack.
All local searches do not contain ads or sponsored results. This means your business will get lots of clicks once it makes its way to the snack pack.
Here's how the local snack pack looks: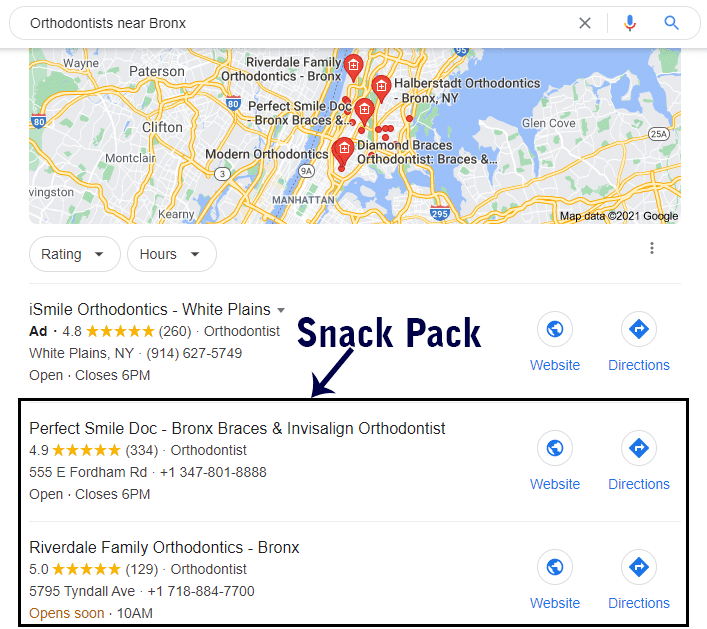 What are the Benefits of
 Local SEO?
1. Local SEO Gets Qualified Traffic and More Conversions
According to Brian Dean of Backlinko.com, the first three organic search results get 75.1% of all user clicks.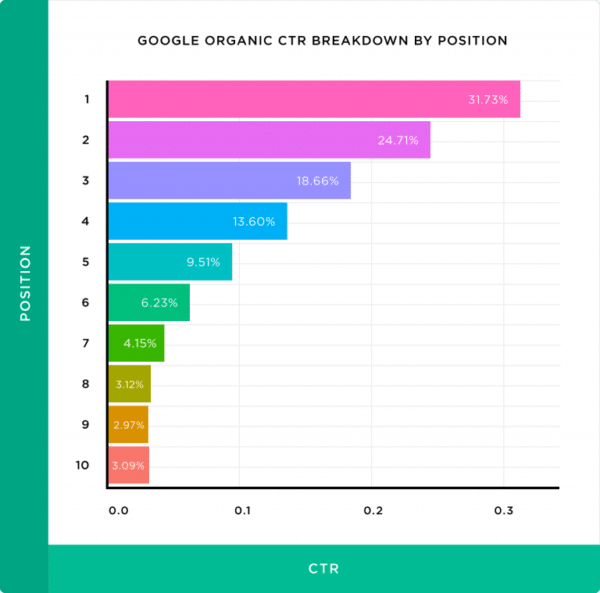 These aren't the same as the local snack pack results. The organic results are below the local snack pack.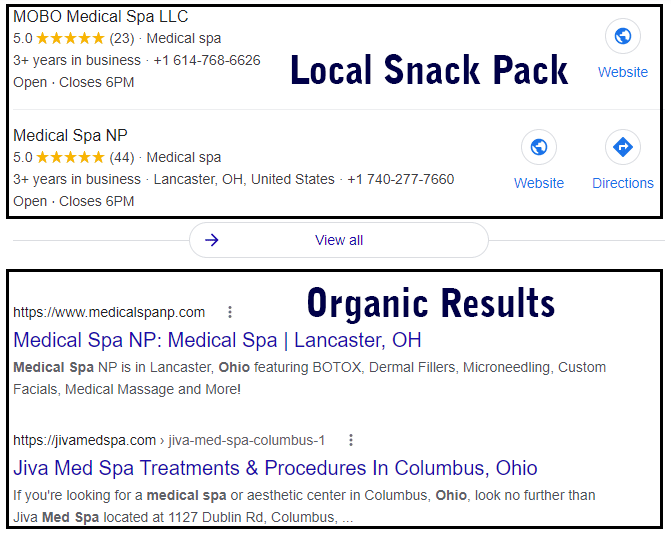 Now imagine your local business website ranking for both the snack pack results and organic results…that'll get you tons of clicks.
But it gets better.
How?
These clicks are from "ready-to-buy" customers because local search queries have high commercial intent. For instance, someone searching for "restaurant near me" is certainly hungry. How about the person searching for "doctor near me"? There's possibly an emergency. Using the local SEO techniques that I'll outline in this guide, you'll quickly get into the top three organic results and skyrocket your conversion rates.
2. Local SEO Reduces Your Customer Acquisition Cost
If your entire business focuses on pay-per-click ads, local SEO can help you reduce that cost, especially as a specialized professional. For instance, a small business owner that owns a restaurant could save $2.98 for every user click (depending on the keyword). This doesn't look like much. But imagine receiving 50 clicks per month from local SEO; in a year, that's a savings of $1,788 from just one keyword.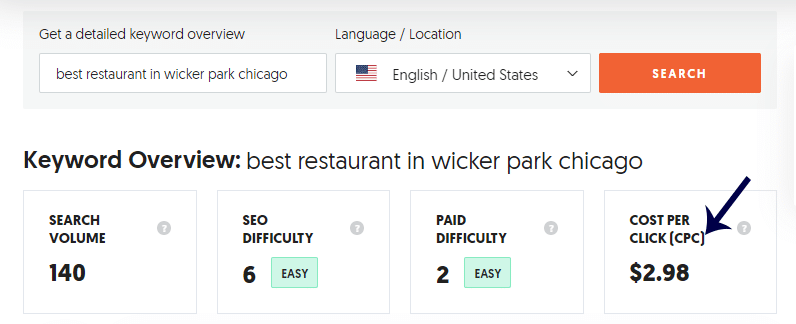 However, for practitioners that offer specialized services like doctors and lawyers, the CPC savings are even higher. Plus, the gains from local search engine optimization are permanent. Whereas with ads, you've got to spend continuously, and ad costs are rising.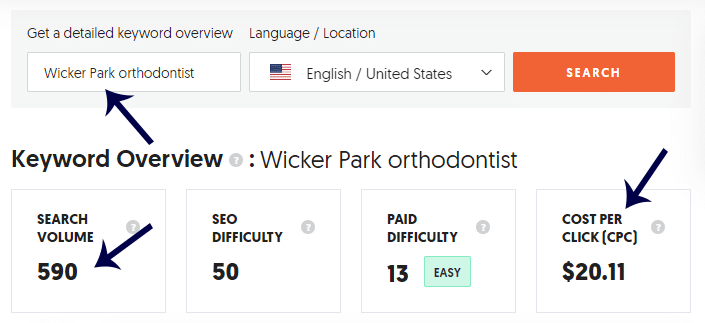 3. Local SEO Eliminates Buyer Objections
What's the best way to convince a customer or client that you offer the best product/service? It is reviews. With local SEO, these reviews get in the face of your prospects, thereby eliminating objections about your offering.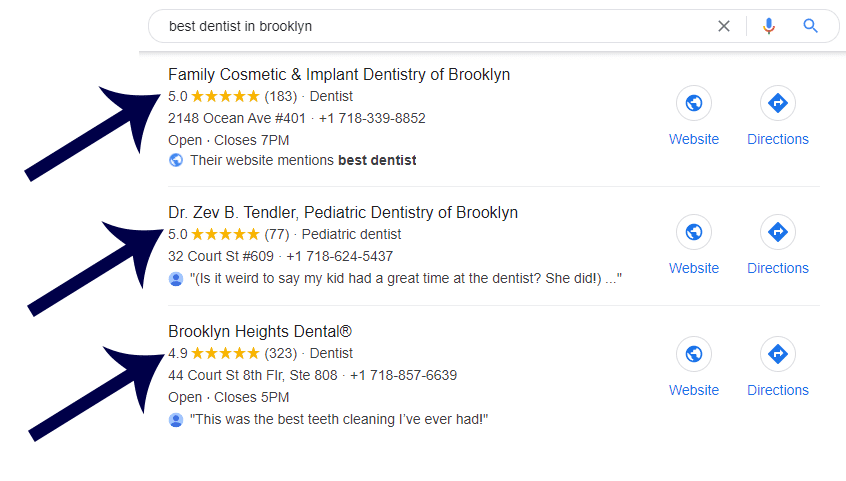 And Google isn't the only platform where these reviews count. You can also get clients to scramble for your product or service after they've read stunning reviews on platforms like Yelp, Trip Advisor, Angi, UrbanSpoon, and so on.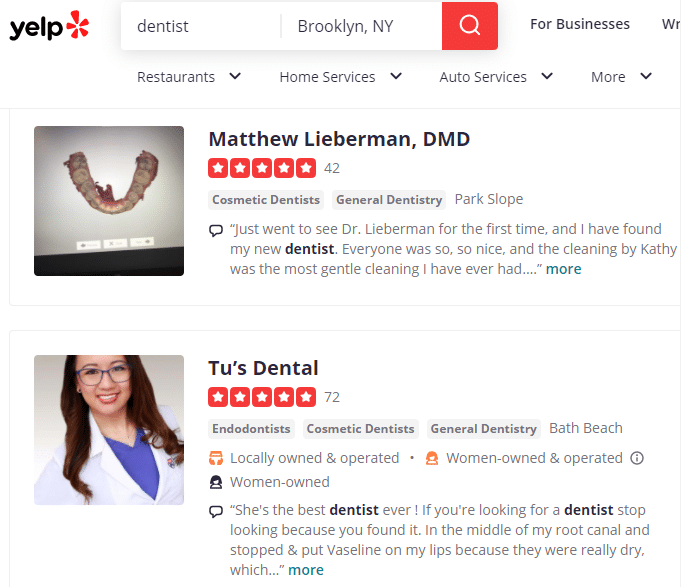 4. Local SEO Content Increases Your Relevance to Search Engines
If you look within your local area, you'll find at least two businesses that offer similar services to yours. These businesses also want a spot on page 1 of search results to get more customers. So how do you devise a local SEO strategy that allows you to compete favorably and remain relevant? You find blog post ideas, create lots of content and build backlinks.
What Steps Can I Use to Rank on Local
Search?
Step 1: Do Local SEO Keyword Research
Doing local SEO keyword research is vital because that's how your customers will find you. For a med spa business owner in Ohio, prospective customers could use search queries like:
Med spa columbus Ohio
Med spa Dayton Ohio
Med spa cleveland ohio
Med spa canton ohio…
…the list is endless.
To get a detailed list of local SEO keywords, you need to use keyword research tools like Ahrefs or Ubersuggest. These tools will also help you evaluate keywords' usefulness.
When using Ahrefs, enter one of the keywords like "Med spa Ohio" into the keywords explorer.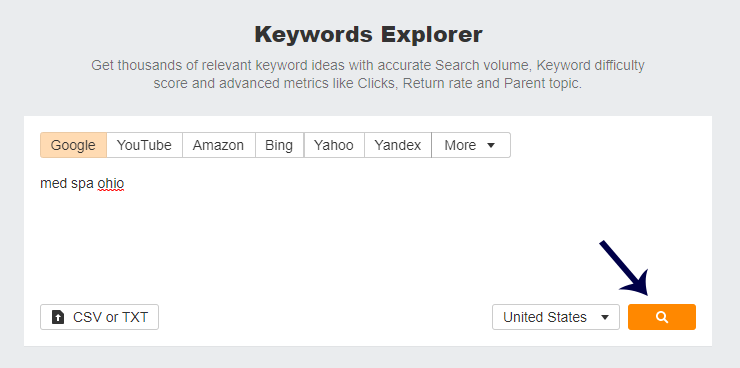 After hitting search, click "matching terms" in the left pane. You'll get a list of keywords with data like monthly search volume and CPC (the amount you'll save per click from paid search). You can also use the "terms" feature to further narrow down on the keywords to target.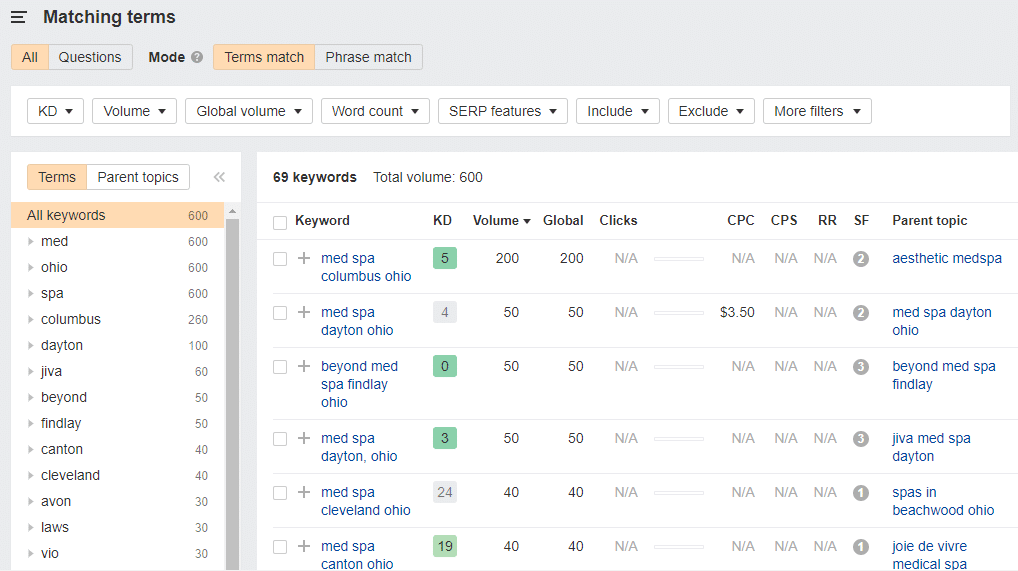 It's a similar process for Ubersuggest. After opening your Ubersuggest dashboard, navigate to keyword analyzer, then keyword overview. Enter your keyword and hit search.
Scroll down to find a list of keywords and content ideas.
Identify Local SEO Keywords on Quora
Quora is a goldmine for finding local SEO keywords. Once you enter your keyword in the  "Search Quora" box, the magic begins to unfold. For instance, when I searched for "fertility clinic Ohio," some interesting long-tail keywords suitable for blog posts popped up.
Are fertility clinics unethical
Are fertility clinics a scam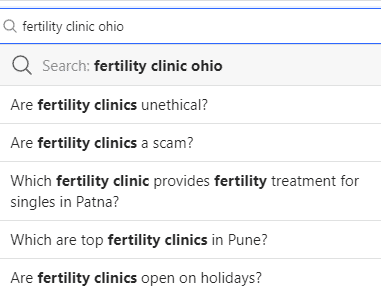 Depending on your country, Quora might not be the best forum for finding local SEO keywords. You may need to find where citizens of your country usually hang out. For instance, UK businesses could try Gumtree.
Find Local SEO Keywords with Google Autocomplete and Related Search
 You can use Google Autocomplete and Google Related Search to identify keyword opportunities missed by Quora and your keyword research tool. To do this, enter your keyword into Google to find autocomplete suggestions.
For example, if you enter "men clinic San Antonio" into Google, you'll find exceptional keyword opportunities like:
Men's clinic San Antonio
Male clinic San Antonio
Men's health clinic San Antonio
Universal men's clinic San Antonio, Texas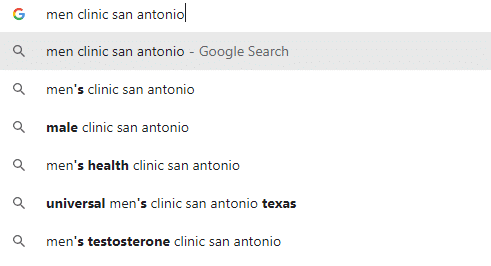 And that's not all. When you scroll down the search results, you'll find a list of Google-related searches you can use as keywords for your local SEO strategy.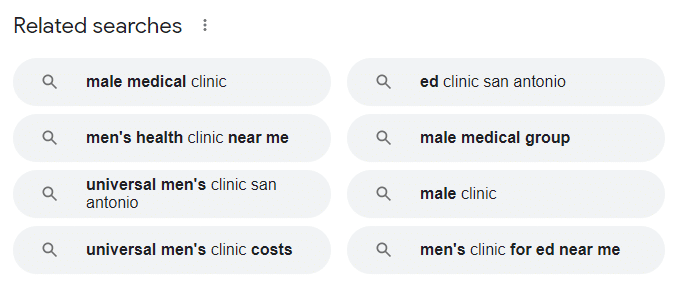 I'm sure you're asking yourself an important question right now…
How Can I Use These Local SEO Keywords?
Good question.
These keywords can perform several functions. For instance, you can use them to write your local blog content and website content.
A keyword like "Universal men's clinic San Antonio, Texas" is suitable for creating blog content. Shorter keywords like "Male clinic San Antonio" are ideal as title tags in your website copy (for example, your homepage). I'll discuss more on this later.
Step 2: Create Your Google My Business Profile
In a 2018 study, Moz found that your Google My Business Profile is the #1 ranking factor for gaining a spot on the local snack pack. Considering that 56% of business owners haven't claimed their GMB listing, claiming and updating yours will significantly boost your business.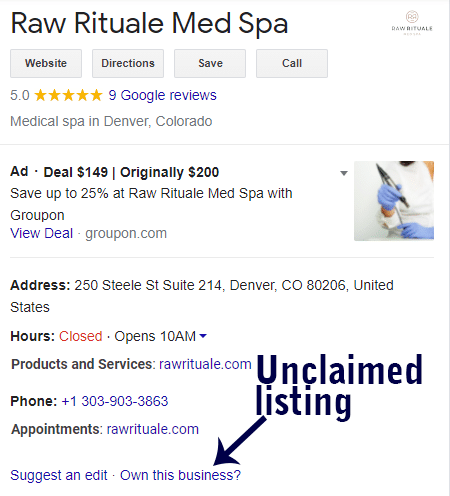 If you have an existing GMB listing, claim it as the owner of the business. If you don't, you can use the steps below to create one and update it. Before that, you'll need to keep these details in a sheet to ensure consistency (very crucial) across all your online listings:
Your business name
Your business phone number
Your business website
Your business address
Your business email
Have you done that? Now let's proceed with your GMB profile.
Enter Your Business Name and Category
Go here and click "get started".
Next, type your business name. If it exists on Google, it'll display. If it doesn't, enter your business name and proceed to the next step.
Pro tip: Do not stuff your business name with keywords. That goes against Google's guidelines. Your business name should appear the way it'll be on a flyer, a book, and other marketing resources.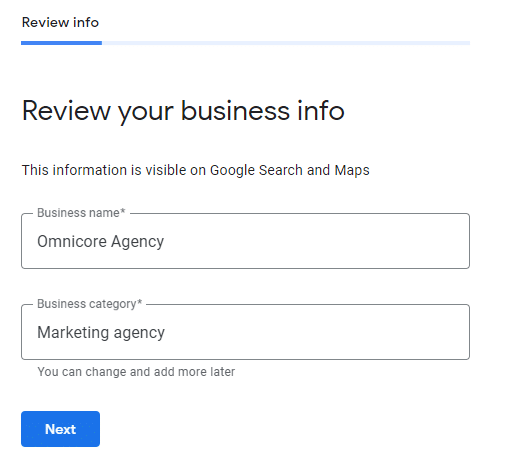 Your category section should also adhere to the pro tip. If you're not sure of your business category, check the categories guide by Google or spy on your competitors. Let's say you operate a digital marketing agency, open Google Maps, and search for a keyword related to your service. In this case, I could use "marketing agency or digital marketing agency". This result will show you the category your competitors' use.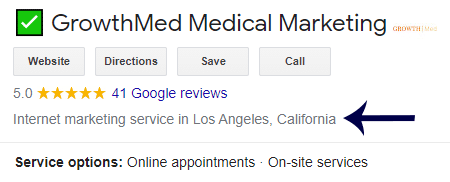 If you claimed an existing listing, ensure the category and other details are correct. Update any incorrect information.
Enter Your Location
If you have a business location, click "Yes" to add it. If otherwise, click "No" and then "Next".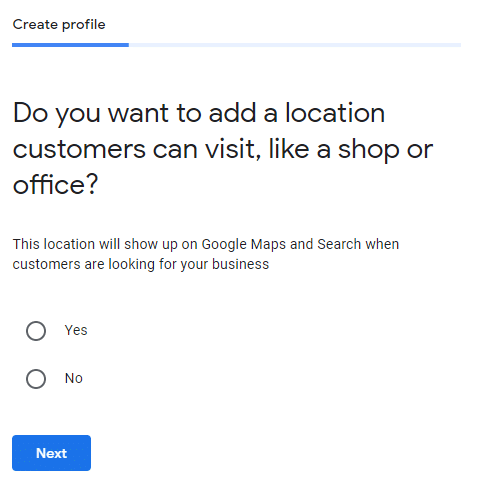 If you clicked "No," add the areas where you serve. You can add multiple locations, and they will display.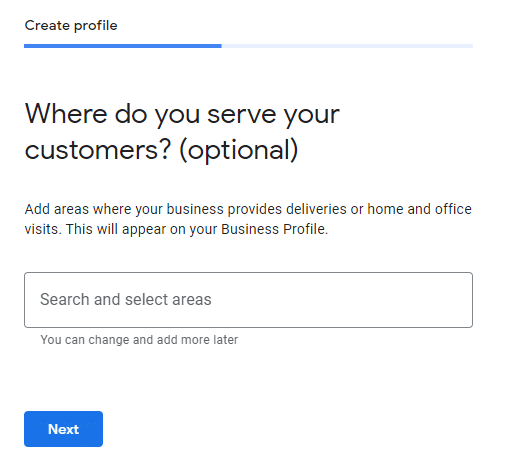 Add Your Contact Details
Enter the contact details of your business, like your phone number and website.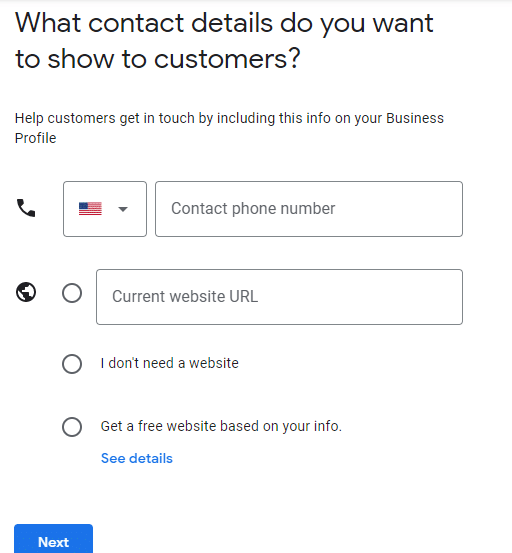 Get Google Updates
Next up, you could decline or accept Google updates. But I recommend that you accept them by clicking "Yes". After all, any suggestion from Google will grow your business.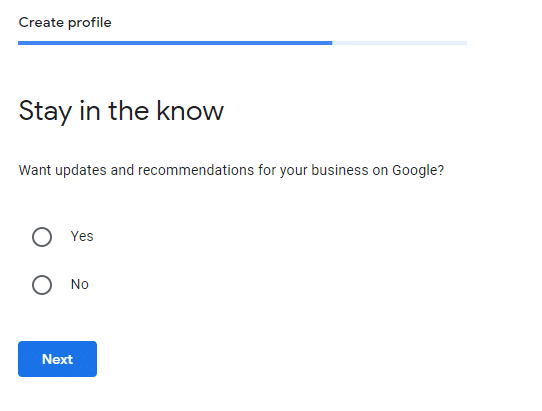 Verify Your Listing
This is the final step before your listing starts appearing on Google. Follow the instructions, and that's it! Before I tell you congrats on starting your local SEO engine, I highly recommend a bonus step.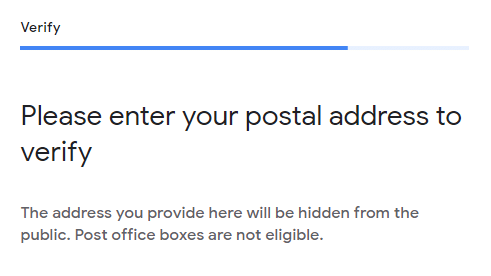 Bonus Step
Your Google My Business listing isn't fully optimized yet. Here's how to further optimize your listing and improve your relevance to Google:
Add extra Google My Business categories.
Use your phone or camera to snap and upload photos of your business premises.
List your business opening days and hours.
Add any additional phone numbers, and so on.
And that's it about your Google My Business profile.
You can use the same process to create your listing on Bing and Apple Maps. Here's where you can get started with Bing and Apple Maps:
Onward…
Step 3: Build NAP Citations
Before diving into NAP citations, we need to know what they are.
What are NAP Citations?

NAP (Name, Address, and Phone number) citations are online mentions of your business on internet directories. If you live in the US, your Google My Business profile is one out of 150+ local SEO citation sources in the USA. Live somewhere else? Then check for local SEO citation sources in your country.
Why Are NAP Citations Important for Local SEO?
Building NAP citations is vital for the following reasons:
1. NAP Citations Improve your Backlink Profile
Like regular SEO, getting Dofollow or Nofollow local backlinks from other websites will boost your local SEO ranking. This is even more valuable when the backlinks are from local sources.
2. NAP Citations Increases Local Snack Pack and Local Organic Ranking
According to Moz, building NAP citations helps you rank on Google's local snack pack results and local organic search results. But one element makes this happen – NAP consistency. Having a consistent NAP citation across the internet helps search engines like Google to confirm that you are a reputable business. This is why I mentioned that you kept the following handy when we discussed Google My Business:
Your business name
Your business phone number
Your business website
Your business address
Your business email
Now that you know how NAP citations help and why you need matching NAP citations, the next step is to audit, track, and build more NAP citations.
How to Audit and Track Your NAP Citation
You can do an SEO audit and track your NAP citations with a local SEO tool like Moz.
Moz checks the accuracy of your local citations across online directories in your country. Here's an example of an inconsistent NAP citation from Moz: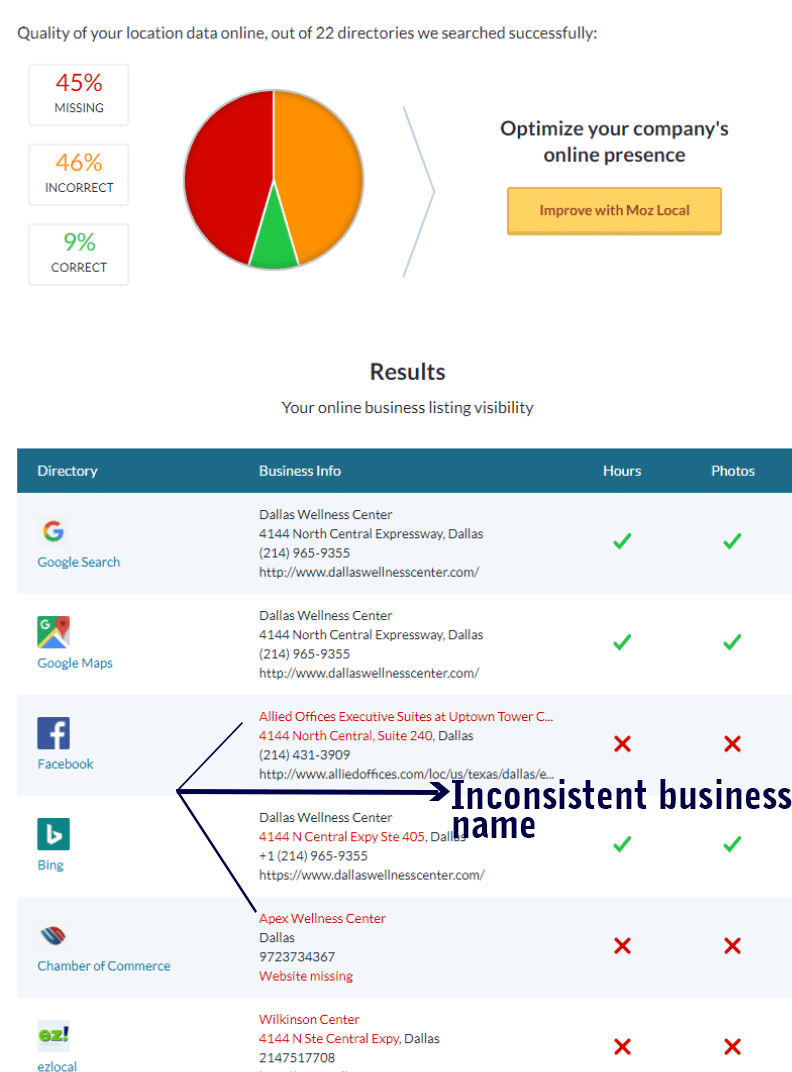 As you can see, there are several problems with the local listing of this business:
The business name is inconsistent.
There are missed local SEO opportunities because of absent listings in some directories.
The local business address is inconsistent.
The phone number is inconsistent.
The website is missing in some directories.
But you can fix all of these inconsistencies with local SEO tools like Bright Local and Yext.
Step 4: On-Page SEO
Remember the Local SEO keywords you created in Step 1? It's time to use some of them. These keywords will serve three purposes:
Local SEO optimization of your location-based landing pages
Homepage content optimization
Local SEO blog content optimization
Regardless of the purpose for using a keyword, you'll need to adhere to basic SEO best practices, like:
Using short URLs
Adding your primary keyword to your URL
Placing your primary keyword in your title tag
Using your primary keyword in your meta description
Using your primary keyword (including variations) in a page/post.
Let's see how all these apply on a live local business website.
Local SEO Optimization of Location-based Landing Pages
If you serve your customers in multiple locations within your city, you need different location-based landing pages. Why? You want to show up for every local SEO keyword that customers or prospects use on search engines.
For instance, this fertility clinic website is optimized for 4 locations: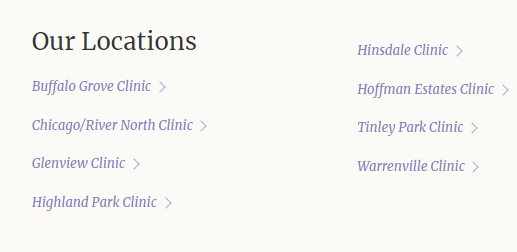 Take note of how they applied the SEO best practices we highlighted:
The URL contains the focus keyword for the primary location (Buffalo): https://www.fcionline.com/buffalo-grove-clinic/.
The target keyword is on the page.
The target keyword is in the title and meta tag: Buffalo Grove Clinic – Fertility Centers of Illinois.

As you implement this on your website, you must avoid "duplicate content". Having different landing pages with the same or closely similar content will prevent your target keyword from ranking. Here's an example: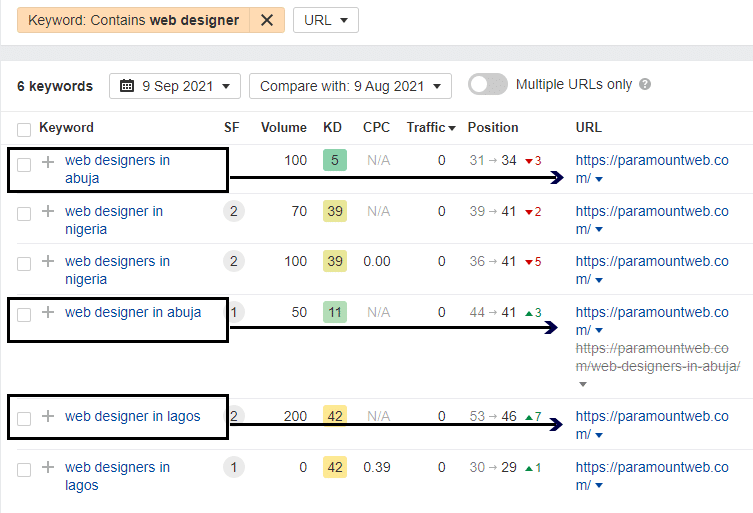 This website has two pages that target these keywords:
Web designers in Lagos: https://paramountweb.com/web-designers-in-lagos/.
Web designers in Abuja: https://paramountweb.com/web-designers-in-abuja/.
However, as shown in the Ahrefs report above, neither of these pages rank for their target terms. Instead, they rank on the homepage. The reason? You guessed it – duplicate content. Instead of using this black hat SEO tactic that search engines frown at, create unique content for every landing page.
Pro tip: You can use the same landing page optimization process for your local SEO blog posts.
Homepage Content Optimization
Similar to your landing pages, optimize your homepage for your primary keyword and location. If you don't, you'll be wasting valuable SEO real estate. Here's an example of a medical spa website that does it well: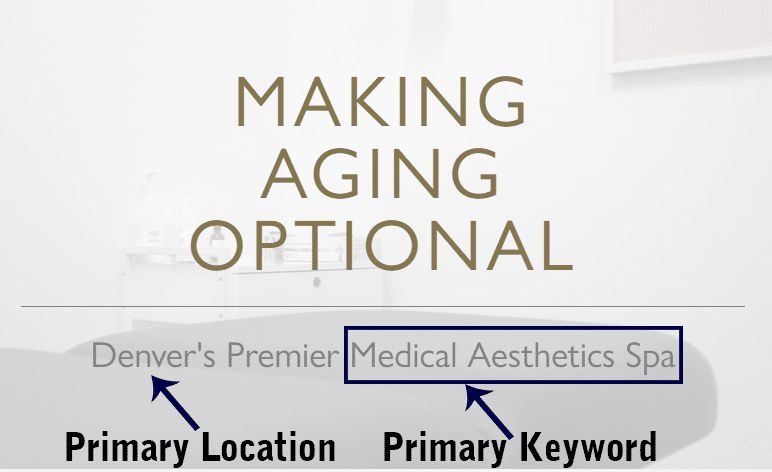 As shown, the homepage is optimized to rank for "Best Med Spa in Colorado".
So what's the implication of ranking for just "med spa" or "best med spa?" – Reduction in local visibility of the homepage. And when local search visibility drops, revenue drops. You won't like that.
It's also helpful to add internal links to your homepage. These links allow search engine crawlers to understand your website better and increase your rankings.
Step 5: Local SEO Link Building
You need backlinks to rank your local website effectively. However, these links shouldn't come from random sites that are far away or unrelated to your business. Getting links from local sources shows search engines that you run a prominent business in your area.
So how can you get local backlinks?
1. Write Guest Posts for Local Blogs
Writing guest posts for local websites is an excellent way to get exposure for your business.
And doing this isn't hard. First, you can start your blogger outreach by emailing the owners of local websites you know.
Getting them to agree to feature your content with a link to your site could be a piece of cake.
Once you're done, you can build more links by contacting local websites that accept guest posts. Here are search operators you can use for finding these websites:
[wptb id="13404" not found ]
You can also find guest post opportunities with local SEO tools like Ahrefs and Ubersuggest.
Here's how Ubersuggest works:
Open your Ubersuggest dashboard
Navigate to "Backlink Opportunity" in the left pane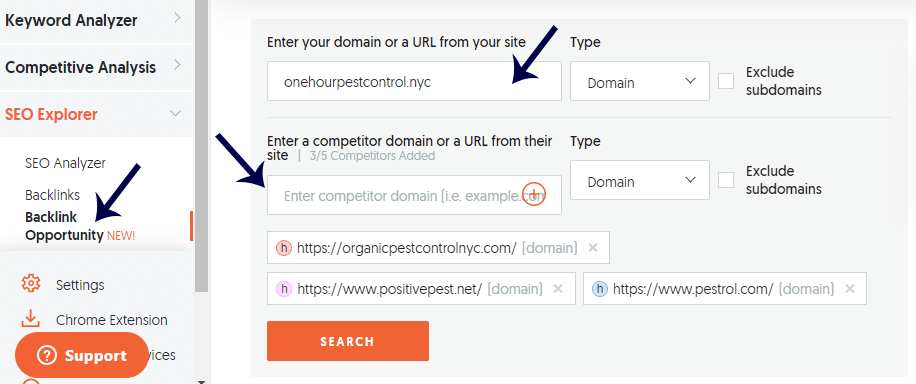 Input your website in the first search box
Insert up to 5 competitor websites in the second search box
Now search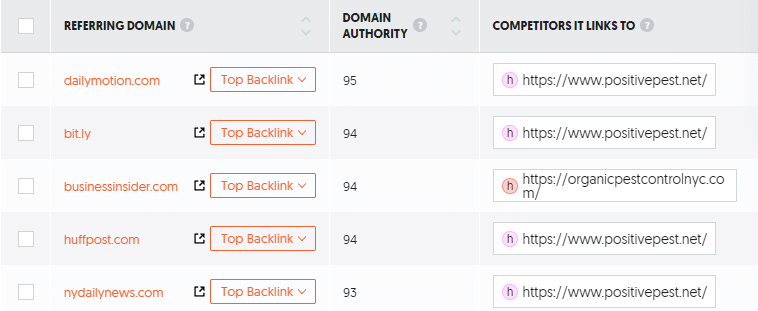 Pro tip: These results will also contain links to your competitors' NAP citations. So as you find guest post opportunities, you can also find online directories.
2. Create a Linkable Asset
Linkable assets are valuable contents that your local audience finds useful. You can also use these assets as lead magnets to build your email list. After creating your linkable content, send emails to local business owners to link to it.
Step 6: Make Your Website Mobile-friendly
In September 2020, Google implemented mobile-first indexing. What does this imply for your local business? Simply put, this means Google will use the experience of mobile users to rank your website on all devices. And the reason for the mobile-first approach makes sense. Here's why:
Internet traffic from mobile devices increases year on year
Out of about 335 million American residents, over 298 million use a smartphone
80% of shoppers used a mobile phone inside of a physical store to either look up product reviews, compare prices or find alternative store locations
Now the question is – how can you make your local website mobile-friendly? Here's how:
Improve Your Site Speed
You've possibly visited a website that takes forever to load a page. What was your reaction? Use the back button and find another website. As more people do this, search engines will know that the website has loading problems. The result? They get slapped with a lower local SEO ranking.
Here's a quick correlation between bounce rate and page load time according to studies:
[wptb id="13411" not found ]
The good news is, local SEO tools like Google's PageSpeed Insights and Mobile-Friendly Test assess your web speed and helps to reduce your bounce rate.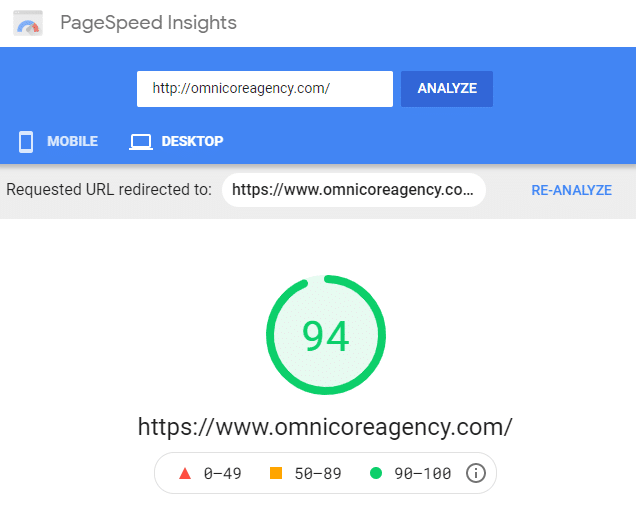 If the results from Google PageSpeed Insights don't look good, don't panic. WordPress users can use a plugin like WPRocket to fix some issues like:
Browser caching
Deferred JavaScript
Minification
Server response time
GZip compression
LazyLoading of images
Use a Reliable Web Host
One of the reasons for slow site speed is unreliable web hosting. When selecting a web host, it is crucial to use one that offers the resources and speed you need. Doing this guarantees your site doesn't load poorly or experience downtime.
Web hosts offer different hosting plans. While you may start with a shared hosting plan, it is better that you quickly upgrade to the next plan (depending on your web host) or a VPS plan. A VPS plan is a great starting point for getting a mobile-friendly website with minimal downtime.
Step 7: Optimize Your Local Website for Voice Search
According to Pew Research, 1 in 4 Americans (25%) own a smart speaker. And this percentage isn't about to slow down. Research suggests that the number of U.S. adults owning a smart speaker could increase to 55%. All these imply that you need to include voice search optimization in your local SEO strategy.
Here are some additional voice search stats:
There were about 1 billion voice searches per month as of January 2018.
1 in 4 shoppers used voice assistants in their holiday shopping during the 2017 season.
72% of people who own voice-activated speakers say that their devices are used as part of their daily routines.
Mobile voice-related searches are 3X more likely to be local-based than text-related searches.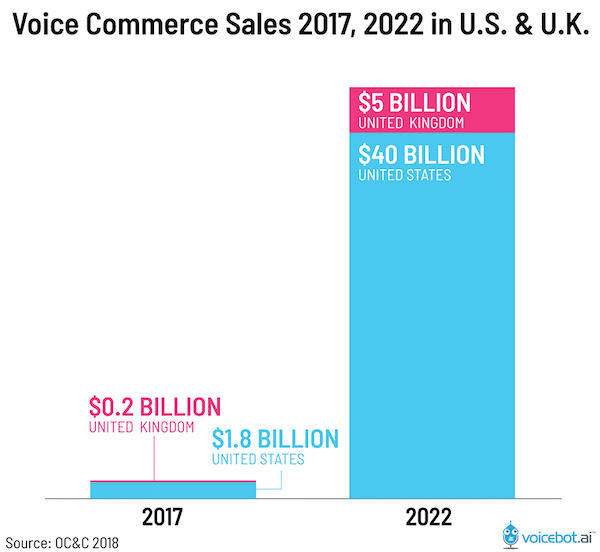 To optimize your website for voice search, you need to frame your local SEO keywords as questions. For instance, a local-based text searcher might search for "best Spa in Denver".
But someone using voice search might search for "Where is the best Spa in Denver?"
Did you notice that the voice search keyword is longer? Most times, they are lengthier, and they are called long-tail keywords. A long-tail keyword consists of at least three words in a search query. In addition to the strategies I've mentioned for doing local SEO keyword research, here are three more ways of finding long-tail keywords:
Use Answer the Public
Answer the Public is a keyword research tool for finding numerous long-tail keywords. The best part? It's free to use. Answer the Public works by showing you all possible question-based keywords that a local user might use on search engines.
Here's how to use it:
Visit Answer the Public
Enter your keyword in the search bar. Example – massage therapist London
Click search
Answer the Public returned 105 alphabeticals that you could frame into questions.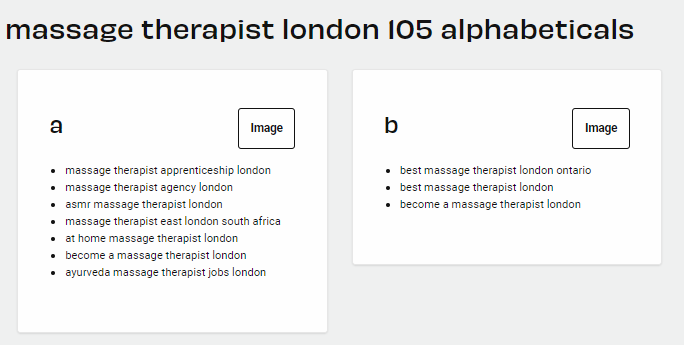 Pro tip: All of the keywords might not be helpful. For instance, "massage therapist east London South Africa" isn't in line.
Use Your Existing Website Analytics
If you've integrated Google Analytics and Google Search Console, you can use them to find keywords that you aren't ranking. Log in to Google Analytics, and move to Acquisition > Search Console > Queries.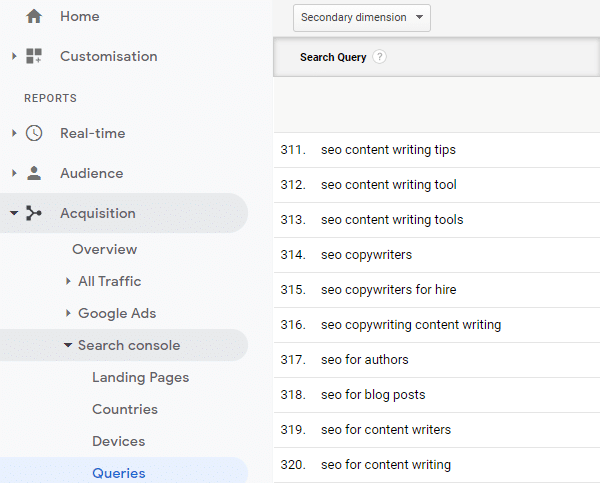 On the other hand, if your Google Analytics and Google Search Console aren't integrated, you can use only the Search Console. Log in to Google Search Console, and move to Performance > Queries.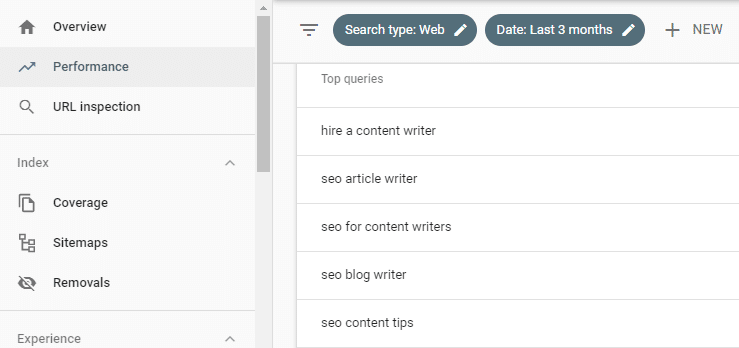 Use Ahrefs Site Explorer
Ahrefs Site Explorer is another option for finding long-tail keywords. However, Ahrefs isn't free. Ahrefs pricing starts at $99.
Here's how to use Ahrefs:
Log in to "Ahrefs Site Explorer"
Enter the domain of one of your top competitors into the search bar.
Click on "organic keywords report" located in the left sidebar.
Use the "Keyword Filter" to adjust the search volume to less than 1,000. The lower the search volume, the longer the keyword
Step 8: Online Reputation Management
You wouldn't want all of the optimizations you've done from Step 1 to Step 7 to go to dust, right? That's why you should take your online reputation management seriously. Everyone likes to be sure of the product or service they buy. The same applies to your customers and prospects. And the best way for customers to know the value of what you offer is through reviews. Whether you receive reviews on Google, Yelp, and so on, you should respond to all of them.
Responding to a positive review shows you appreciate your customers. This could spur them to write more reviews for your local business.
And negative reviews? You have to respond to them.
According to Miriam Ellis, review management is critical to influencing both on-and-offline consumer behavior. Searchers dwell for minutes (hours?) at a time on both positive and negative reviews. They click on them. They even share them socially. They definitely utilize reviews to inform their buyer's journey.
Now, you might not know how much negative reviews influence your buyers' decisions. So let's digress and check out one Amazon product review: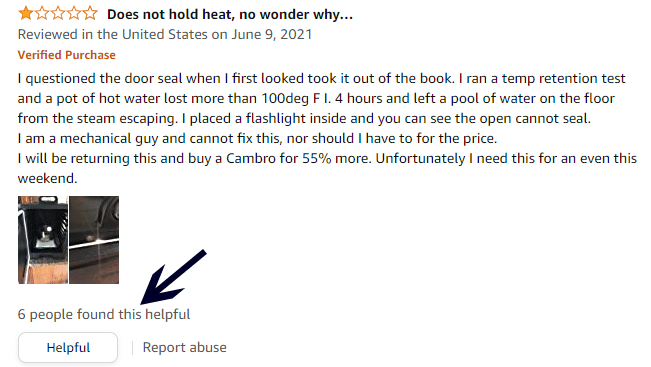 Did you see that? 6 people found the negative review helpful. This means they'll pass on the product. But for reviews that affect your local business, you have control because you can respond. Hence, it helps to check your GMB and other listings like Yelp to respond to reviews.
However, if you don't want to monitor your reviews manually, you could automate some of the processes with brand mention tools.
Ahrefs
I've mentioned Ahrefs many times in this post. That's because it's an excellent local SEO tool. But you can also use it to monitor brand mentions of your local business. Here's how to do it:
Log in to Ahrefs
Click Alerts
Click mentions
Add alert
Input your brand term(s)
You can use the OR search operator to add many of your brand queries at once. Once you're done, set an interval on how many alerts you'd like to receive. I suggest you receive your alerts in real-time so that bad press is quickly nipped in the bud. This also helps you to amplify your excellent reviews rapidly.
Besides the use as a brand monitoring tool, these alerts also help you monitor unlinked brand mentions. For instance, I could mention a local business called "Omnicore Agency" in my blog post. If the local business set up alerts, they could reach out to get a link on the anchor text mentioning their brand. You can use a similar strategy to build a ton of local SEO backlinks.
Google Alerts
Google Alerts is another tool you can use for monitoring brand mentions. It's not as sophisticated as Ahrefs, but it is a cheaper and 100% free alternative. You can use it in the same way you use Ahrefs.
Log in to Google Alerts
Add the term you want to create an alert about
That's it.
Google will automatically send you alerts to the Gmail address you used.
Pro tip: Always use different variations of your brand name when creating alerts. For example, if our website was a local business, we could use the following variations:
Omnicore agency
Omnicore digital marketing agency
Omnicore healthcare digital marketing agency
Omnicore marketing agency
Omnicore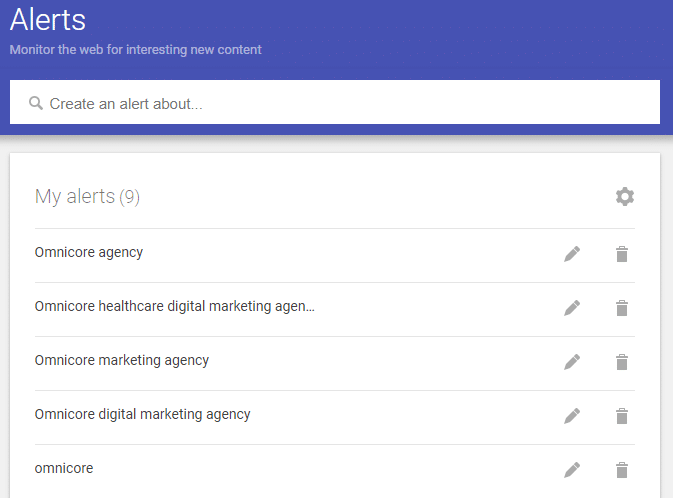 These variations ensure that every bad or good review never slips through your fingers.
And that's it about Local SEO.
We. Are. Done.
Leveling Up Your Local
SEO Strategy
I'll be lying to say the local SEO process isn't overwhelming, especially for business owners new to SEO. As intimidating as these processes look, they're your best chance of getting into the local snack pack and improving your local organic rankings.
It's also essential to monitor your local SEO results like call tracking. This helps you to know what's working and what to improve.
Finally, if you can't execute your local SEO strategy, we're here to help. Send us a message, and we'll help you get measurable results from local SEO.
What happens if I fail to claim my Google My Business listing?
If you don't claim your listing, you will be exposing your business to negative reviews. For instance, one of your competitors' could claim your listing and send lots of negative reviews to your business.
Can I create different Google My Business listings if I operate in multiple locations?
Yes, you can. However, you must remember to keep everything consistent as I said.
Since Google is the primary search engine used globally, should I concern myself with search engines like Bing and Yahoo?
Yes, you should. While Google is the #1 search engine globally, you can't tell if a sizeable number of your customers use other search engines. Optimizing your listing on other search engines ensures you are everywhere your customer tries to find you.
Should I create a separate Gmail account for setting up my Google My Business listing?
If you're confident that you can handle the local SEO process without extra help, then you could use your current Gmail address. However, if you'll need the help of a Local SEO agency like ours, it is better to create a separate Gmail address for your GMB listing.
Can I remove negative reviews from my GMB and other listings?
Unfortunately, you can't. However, you can respond to negative reviews as a form of damage control. You could also flag them if you think they are spam. The rest is up to search engines like Google.
Must I have a website to rank on the Local Snack Pack?
This depends on the number of competitors that provide similar products or services in your locality. If lots of them have a website, Google will rank them above someone without a website. Also doing local SEO without a website puts you at the mercy of every search engine. How? Search engines regularly update their algorithm.
Sometimes, this results in lower rankings, and businesses without a website will take the first hit.
Photo Credit: Unsplash