What We Like About SamCart?
It supports popular payment platforms like Paypal and Stripe. This makes it easy to get paid for your product into your account.
It has a sandbox mode. This allows you to test your setup before going live. You can also do this without charging your credit card.
It supports integrations with email marketing software platforms. You can integrate it with email providers like Seva, ActiveCampaign, and Drip. This helps you follow up with your customers through email. It also integrates with Zapier which gives you even more integrations.
It provides subscription saver and affiliate center features. Sometimes, the credit card used to register for your subscription-based service may expire. SamCart sends a link to your subscribers to update their card details so that they can continue paying for your services. The affiliate center allows you to have affiliates for your products.
It offers a 14-day free trial and a 45-day money-back guarantee.
What We Don't Like?
The subscription saver and affiliate center are only available on the premium plan. And you have to pay $199 a month for it.
Features like one-click upsells and split testing are only available for the Pro and Premium plans and absent on the basic plan. If you're on the basic plan, you'll be without many features that you need.
Ready to get serious? Try SamCart today and get the advanced tools you need to start making serious money selling online.
Introduction
There are a ton of tools out there designed to help digital marketers sell their products (for most of them, you might even need a software developer to manage them.
Note: This will incur extra cost and if you're inexperienced, you might have to do a lot of testing with the features to find out what works, this will be more work for your developer and will of course, cost you more).
It could be pretty overwhelming to choose from the wealth of marketing tools out there, especially if you're a beginner. Sometimes, it happens to professionals, too.
But the truth is, to run an effective online business, you've got to get the right tools. But what exactly are the "right tools"?
You'll agree with me that in most cases, the right tool is that tool that helps you make profit, right?
Of course, that's one of the main reasons you're in business — to make profit, right?
A tool that is easy to use and takes away too much technicalities to allow you focus on your business growth is the tool you want to sign up for, isn't it?
You're brilliant.
Recent study shows that only about 22% of businesses are satisfied with their conversion rates.
This doesn't sound like good news, though. But that's where a tool such as SamCart comes in handy.
SamCart isn't just another random internet marketing tool out there. It was created by a successful internet marketer, Brian Moran, who already knows the importance of having a checkout page for your business that converts so well.
Your ecommerce checkout process is the most important part of your sales process. In fact, recent study shows that 68% of customers abandon their shopping cart.
Think about it. From this research, for every customer that visits your checkout page, 2 out of 3 will abandon their cart that's ridiculous — and most likely a waste of marketing dollars.
There are a lot of reasons they abandon their shopping carts, however — which are of course, valid. For example, here are some of the reasons prospects abandon their shopping carts: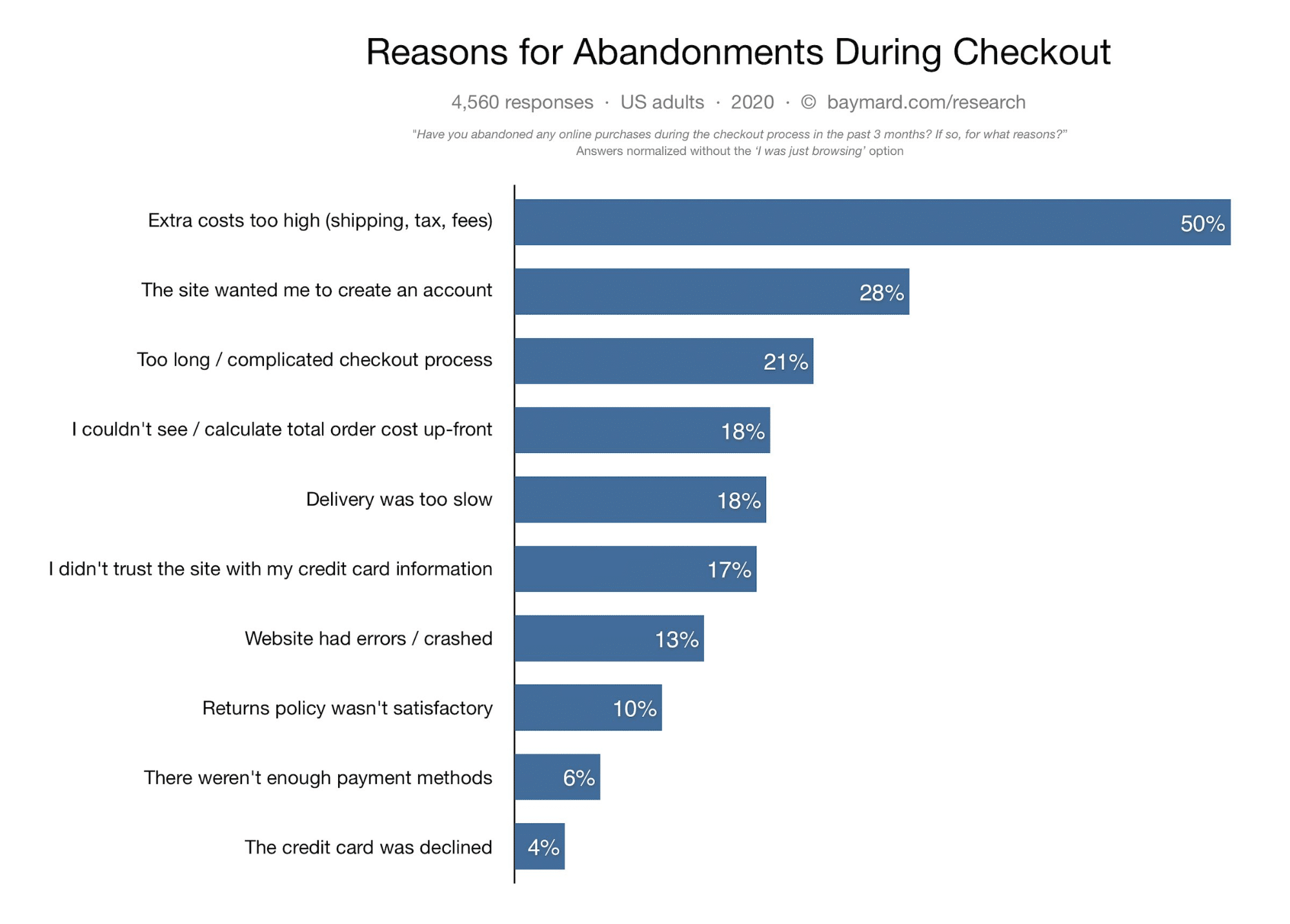 Well, Samcart allows you to seamlessly remove those hitches and create outstanding checkout process that will not only encourage customers to buy once but also help you upsell and cross sell them.
🙋 What is SmartCart
actually?
According to SamCart:
"SamCart is a web-based check out platform that features conversion-optimized checkout templates along with 1-click upsell, order bump, subscription and payment plan capabilities that are designed to maximize profits from every sale."
Simply put, SamCart is a web-based shopping cart builder built for business owners and startup entrepreneurs who are looking for a great tool that allows them to sell their products online easily.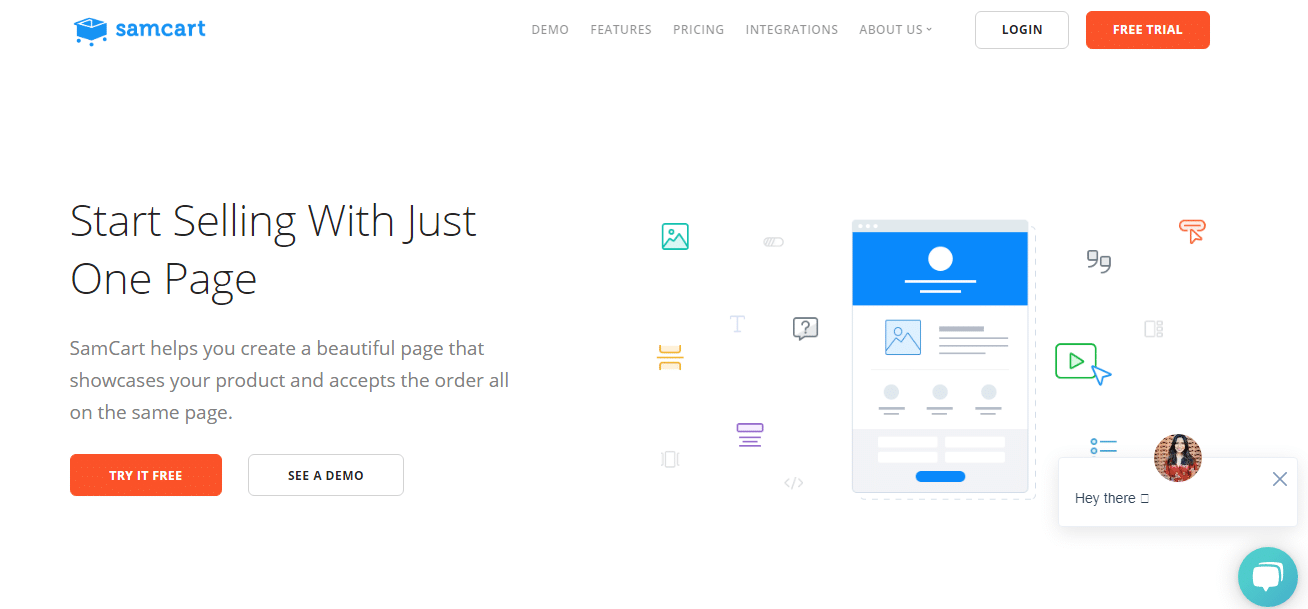 It is built basically for the non-tech savvy entrepreneur. You don't have to write a single line of code to implement anything at all. Everything is done for you. All you have to do is to plug and play, basically.
Besides, they have got a bunch of templates to help you kickstart your ecommerce business without the stress that comes with using other platforms like Clickfunnels and a ton of other products out there.
The truth is if you can use Microsoft Word, you can use this software to create amazing ecommerce checkout pages.
I'm sure I won't be biased if I say even a ten (10) year old can use this tool to build a world-class shopping cart that converts. That's how easy it's to use.
To start Using SamCart there are just a few steps involved:
Create an Account
Edit settings
Connect with payment processor
And create product page
Let's go a little deep on how to get it all set up:
1). Create an account
Creating a SamCart account is pretty easy. Log into the website SamCart.com and click on the obvious 'TRY IT FREE' button.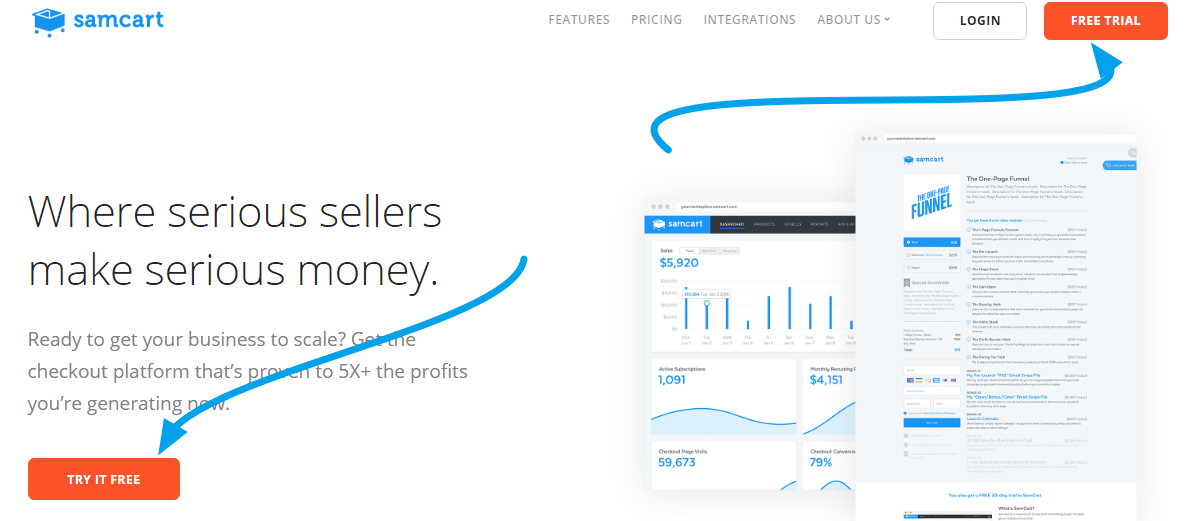 You'll be redirected to the pricing page where you can choose the plan you want to try.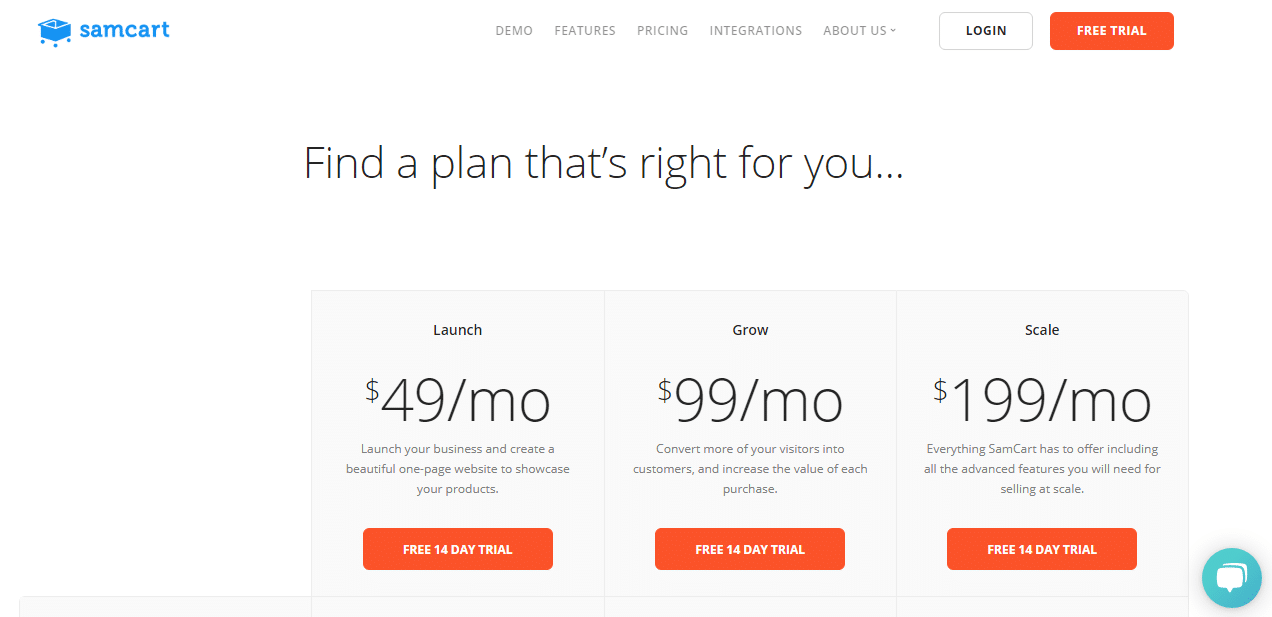 You're not required to make any initial payment before trying it out. Once you click on any of the plans, you'll be taken to the checkout page.
You won't be charged for using the product during the 14-day trial period. And note that you can cancel your subscription within the 14-day of trial.
Once you complete the order you'll be taken to a signup page.
And then you'll have to create your marketplace. You'll see a form like the one below.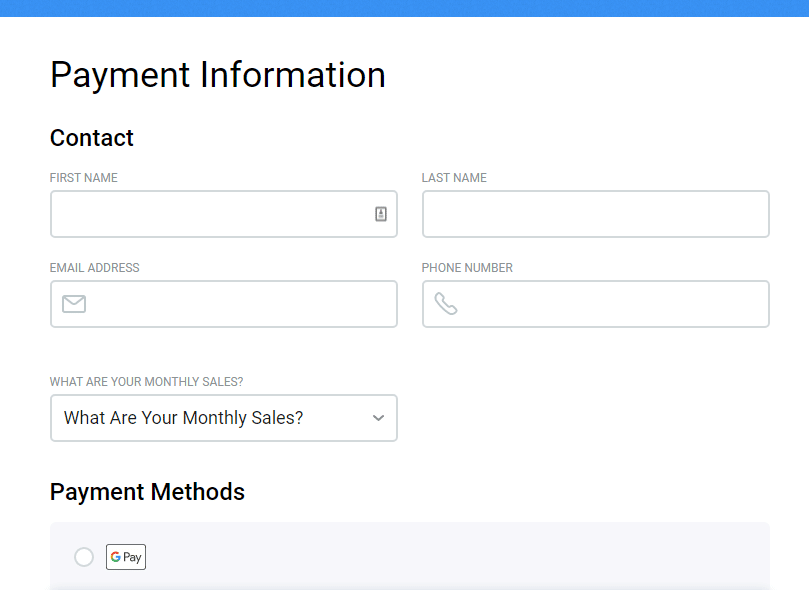 Fill out the form and once you're done, click "Create Marketplace" to get started.
Now you're fully registered and can start using SamCart.
Next step is to create a checkout page. By the way, here is how your SamCart dashboard will look like: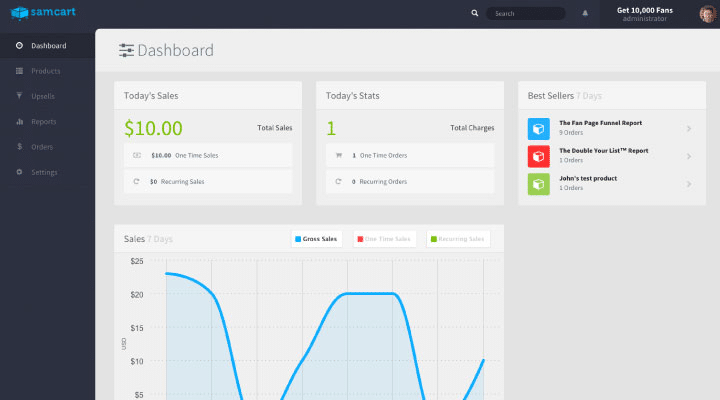 You can see that only in 3 steps, you should be done with creating your checkout page.
2). Creating your page
Step 1: Edit Settings
Click on the Edit Settings button and the page to edit will appear in a new tab. Don't worry, you'll be taken to that page automatically.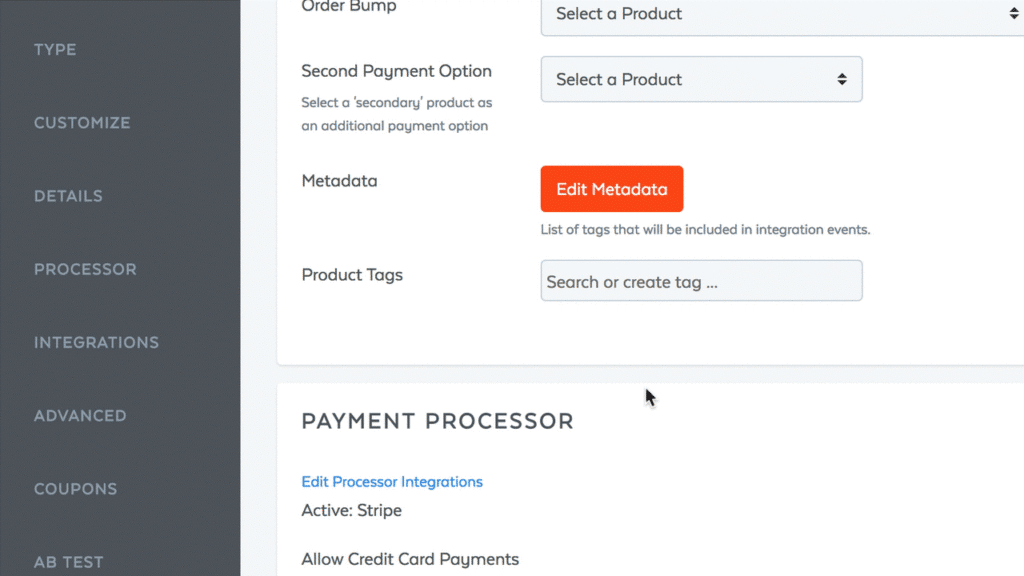 Let's take it step by step.
The Edit page is divided into 5 sections. In the General tab, you can edit quite a wide range of options from your cart logo to your content URL parameters.
Let's see what you can edit in this fields:
i). Marketplace Name: The Marketplace name is something you can always change, remember you added it in your signup process, right?
You can still edit it if you think that wasn't accurate.
Then you can select a country to show as the default on your checkout page, and of course, your customers can always change it to whatever country they are in.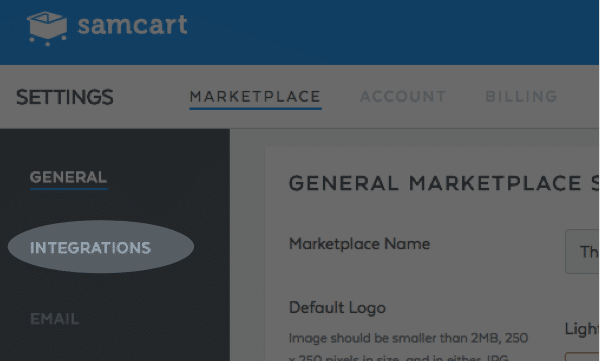 ii). Time Zone: You can now select the Time Zone your cart will be working with.
This is important because if you add a product expiry date, your date and time will be counting based on the time zone you specified and you can let your customers know the time zone you're using.
iii). Support Contact: In this field, you want to add your support contact email. Add an email customers can contact you with easily.
You can add any email of your choice. However, it's better to add a business email address, for example, support@yourdomain.com.
iv). Currency: It's also important to note that you won't be able to change your currency after you set it during registration. So at this point, you can't change your currency.
However, if you want to change it, you should be able to do that by contacting the SamCart support team.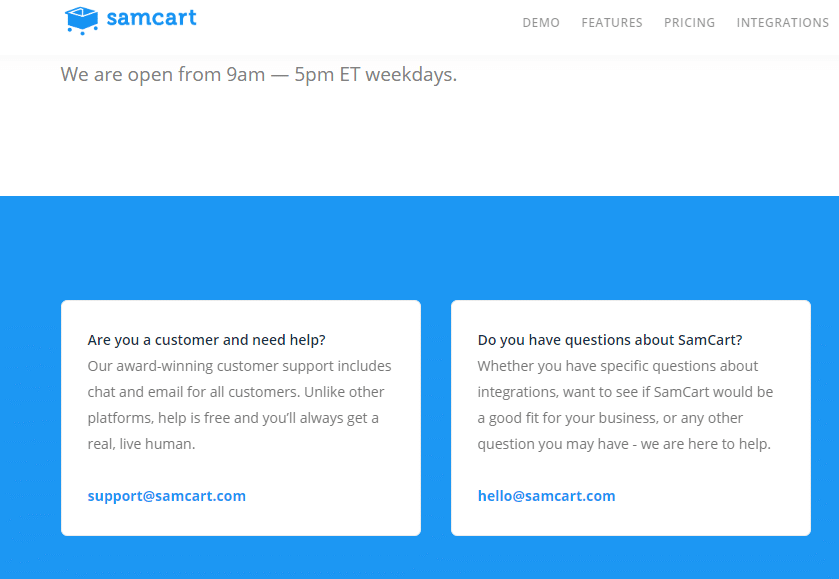 v). Embed HTML/Scripts field: If you are a little tech-savvy and want to add any HTML or JavaScript code to your checkout page, you can add your code in the Embed HTML/Scripts field.
You don't need any other settings for that to work. It should just work out of the box.
vi). Purchase completion: In this field, you want to select where your users will be taken to after making a purchase. Do you want them to redirect to the original redirect URL or you want to display a summary page with redirect links — It's up to you.
And the Redirect Link Button Text allows you to show your customers what they should do next with a call to action button.
For example, you can allow them to gain access to the product, allow them to download the digital product they just paid for, join your membership site premium area, etc.
Once you've done this, you should be okay and ready to go. However, If you want to configure your marketing analytics at once, you can go do so as well.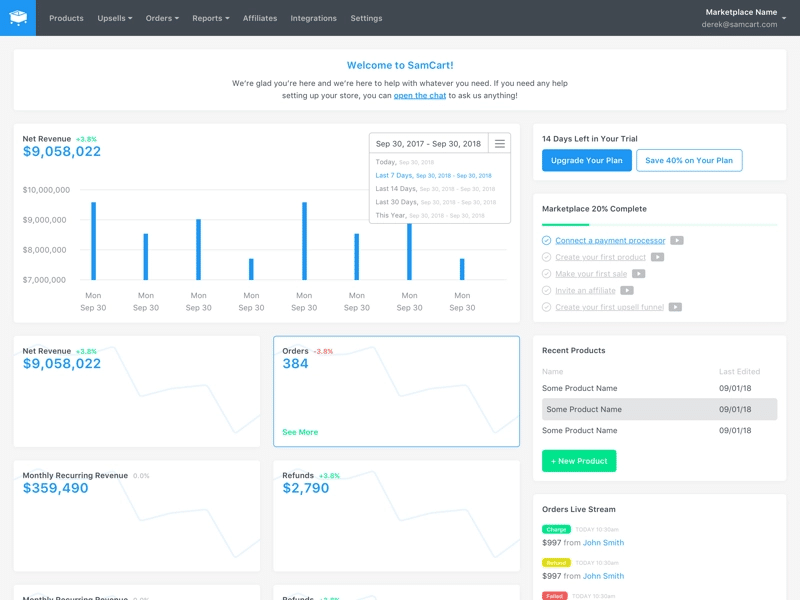 You can leave the settings the way they are, you don't have to bother yourself. But if you want a customized setting you can go ahead and change the values in the fields with any name you desire following the example above.
Once you're done editing these settings, please save the settings. The Save button is at the top right corner of the page.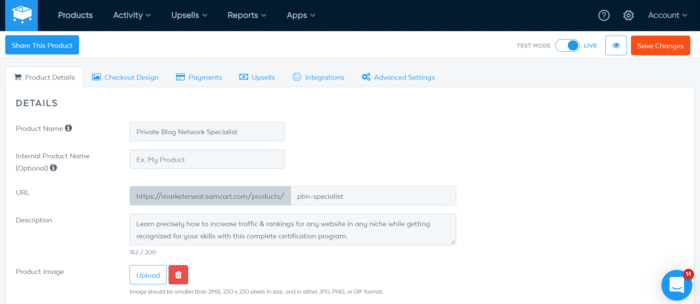 Next, you can move to the Integration menu tab: There are a bunch of integrations options there.
It's important that you set up the integration now so you don't have to create it each time you want to sell a new product.
Let's start with integrating our email autoresponder software. Click on the + Add New button to add an email service.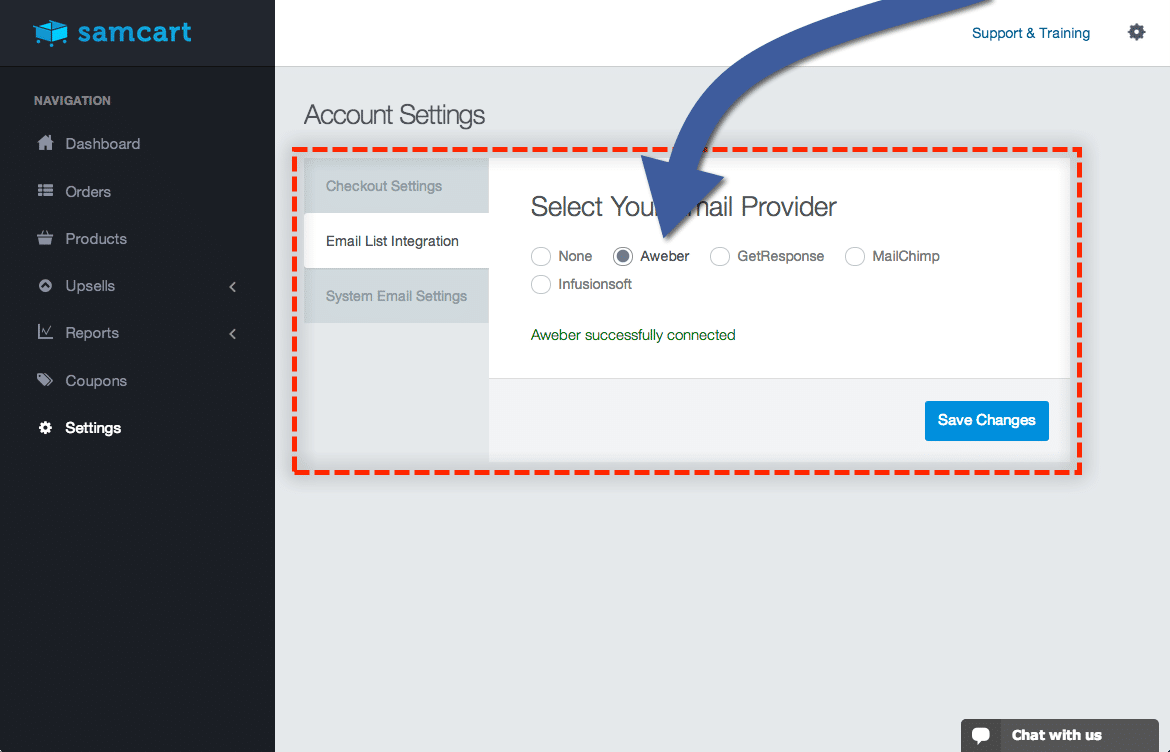 Choose the one that applies to you. If you've signed up with AWeberor MailChimp, you can click on it and follow the instructions for integration.
Let's assume that MailChimp is your autoresponder of choice for this example.
If you choose MailChimp from the drop-down menu, edit the integration details. Add the integration label and input your API key.
You can enter any name you desire for your label. That's what you'll use to identify this integration in case you want to use it. So name it something that'll be a bit descriptitive. I'll name mine MailChimp Integration.
Then log into your MailChimp account to get your API key. Go to Mailchimp.com and log in with your username and password.
Once you login successfully into your MailChimp account navigate to the Extras menu and you'll find API keys in the drop-down list.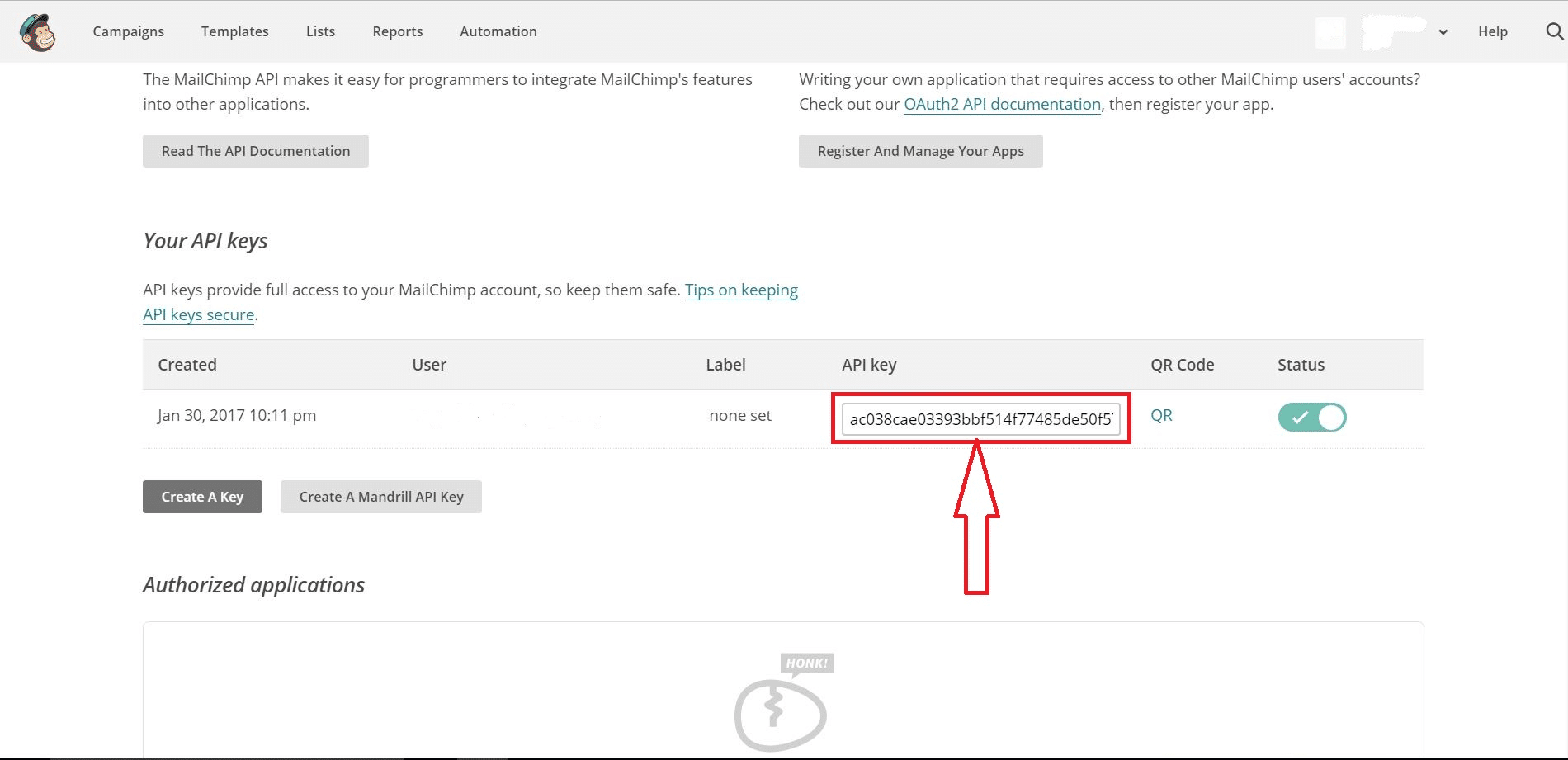 Click on the Create a Key button and the API key will be generated for you automatically. You don't have to do anything else.



Copy it and paste into your SamCart integration setup.
And that's all there is to it.
If you also want to integrate another platform, the process might be a bit different.
For example, to integrate with Aweber, you don't have to go get your API key from your dashboard manually, the system just allows you to login and it completes the integration.
Here is an example: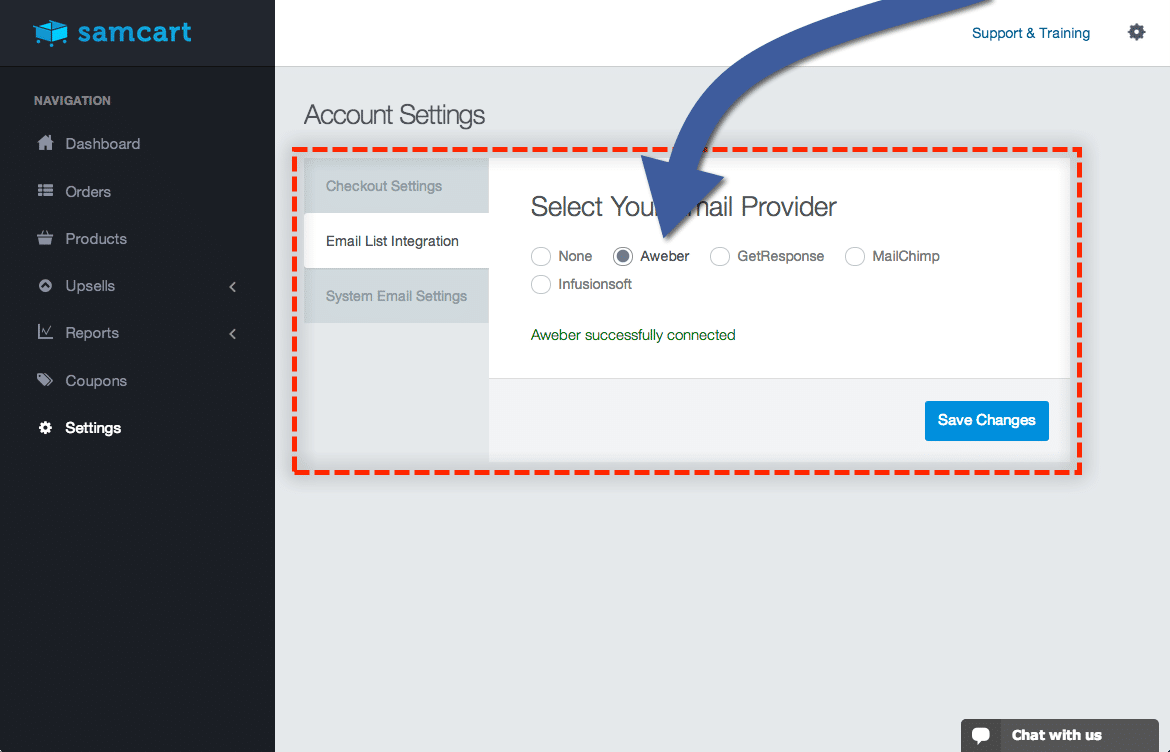 Log in here and you're good to go.
That's all.
These are usually the two ways the integration processes always work, in many cases.
But if your product is a membership site, you might also want to integrate with a membership platform.
Scroll down the integration page until you find the Membership link.
Click on the + Add New button.
And this page will show up: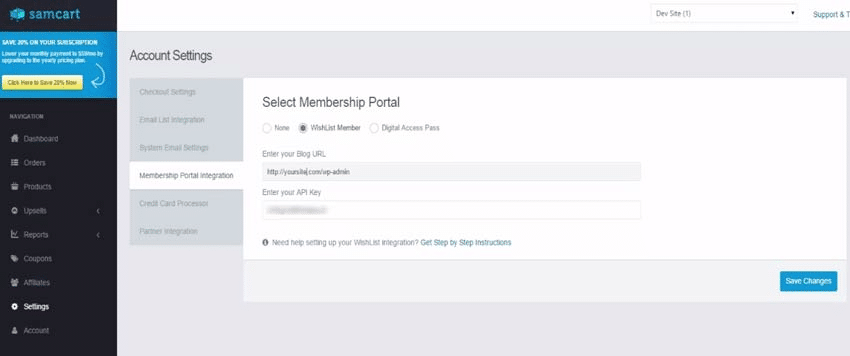 Select the membership platform you want to use for your product and click on Add Integration.
I can go ahead and input the necessary information and click on the integration button.
All the required information is in your dashboard. Log into your OptimizeMember dashboard to get them.
Next, you can now customize your email settings. To access this functionality click on the Email tab.
Some of the settings you can edit include:
a). Email Footer: Here you can edit the footer details that will appear in every email you send from your dashboard, either automatically or manually.
Once you click it, a popup box will show up for you to edit.
Next, you need to create emails that will always remain the same for every customer for certain events.
For example, when a customer order is refunded.
b). Customizable Emails:
Click on the Edit button and edit it.
What about when processes fail? Here is where you set the emails sent to customers when processes fail they are called Dunning Emails.
c). Dunning Emails:
When you are done editing your emails, you can go ahead to add some custom fields if you like. In case you want to add some customized fields to your checkout page, here is where to do it — in the CUSTOM FIELDS tab.
Custom Fields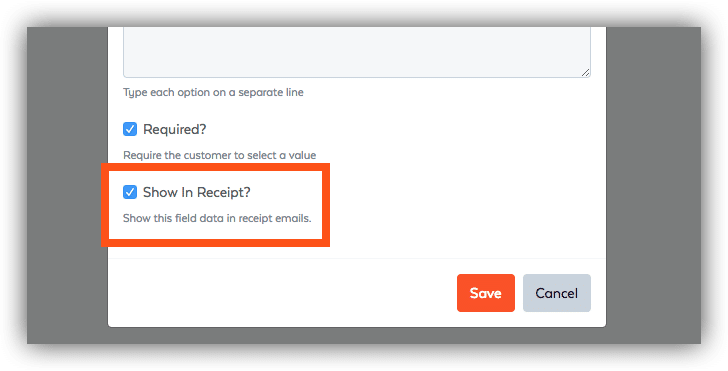 Click on the + Create New button to add a field.
A pop up will show up.
Enter the name of the fields you want to add, the internal field name won't be seen by your customer but the check out page label will be shown to the customer as the field name.
A list of items that appear when you click on the field. Understand that for a drop-down list, the customer can only choose one item.
A checkbox will contain several items that a user can choose from. The customer can decide to choose all of them or choose just one out of all of them.
This is a single item checkbox though.
Once you are done, click on Save.
You can add as many as possible. But let me warn you, customers hate long forms. Don't make your form too long.
They'll likely abandon it. Like I stated earlier, 2 out of 3 customers will abandon their shopping cart.
Don't add another reason for them to leave. As one of the reasons 27% of customers in the research say they leave a shopping cart is because it's too long and complicated.
Please, keep it simple.
Just enter their email address in the Enter email field and click on Add New. They'll receive an email to accept your request. Once they do, they should be able to login as an administrator, too.
You are done with Step one in the setup process. Next, let's move to Step 2:
Step 2: Connect a Processor
Go back to the previous tab if you've been following this tutorial. At this point, you want to connect a payment processor to enable you to receive payments. Click on the Add Payment Processor button.
You'll be taken to the Settings once again and in the integration tab. Where you can find the payment integration option.
To add a payment processor, click on the  big ADD NEW button or the +Add New Button by the top right corner of the page.
As of the time of this writing, SamCart integrates with two payment processors — Paypal and Stripe.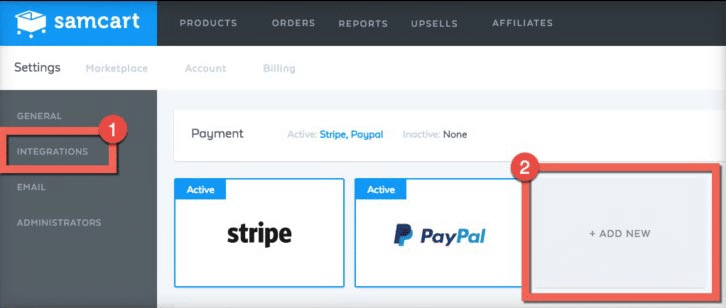 Once you click on the Create New button, a page will pop up showing this: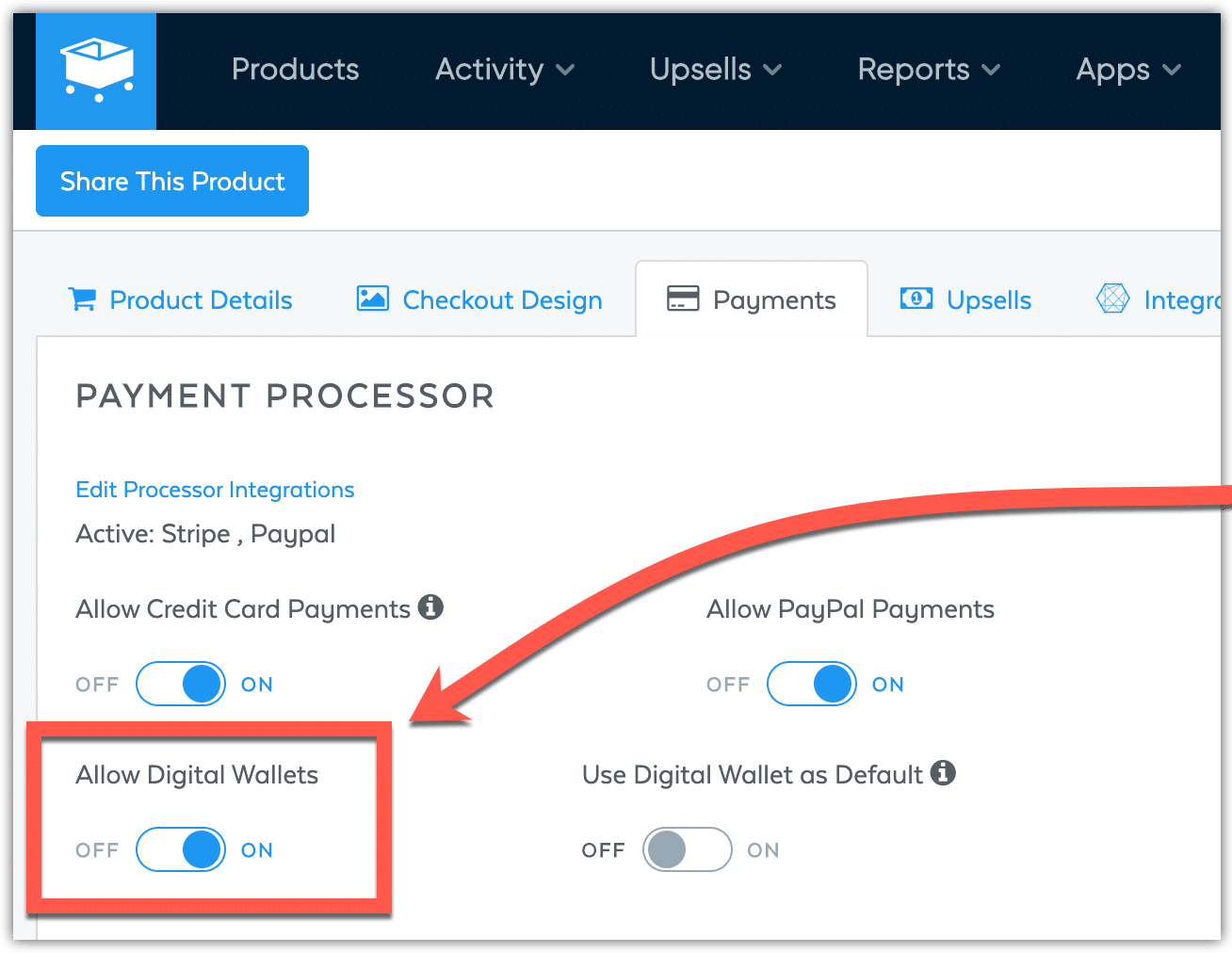 Click on either Paypal or Stripe. If you click on Stripe, this page will show up for you to login your credentials.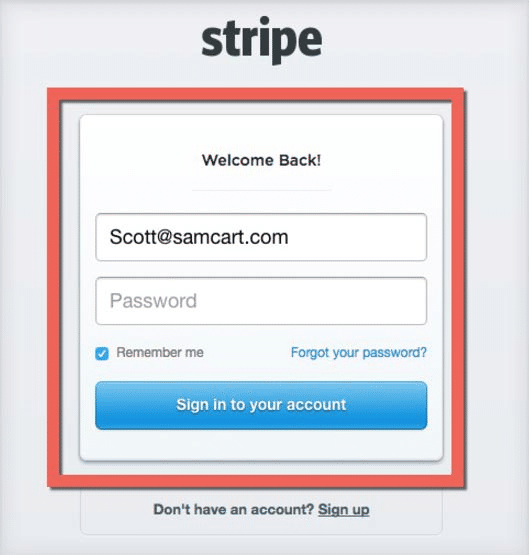 Don't know where to get the credentials?
Fill in the form and you should be ready to go. Make sure your country is the list of countries that accept Stripe payments.
If you decide to add the two payment options for your customers, that'll be nice.
Customers can choose their preferred payment payment processor.
Next, let's move to the next step:
Step 3: Create A Product
Now return to your dashboard. From where you were redirected to the Payment processor page. Click on the Add First Product Button — this is the interesting part.
Once you click on that button, you should see the following page: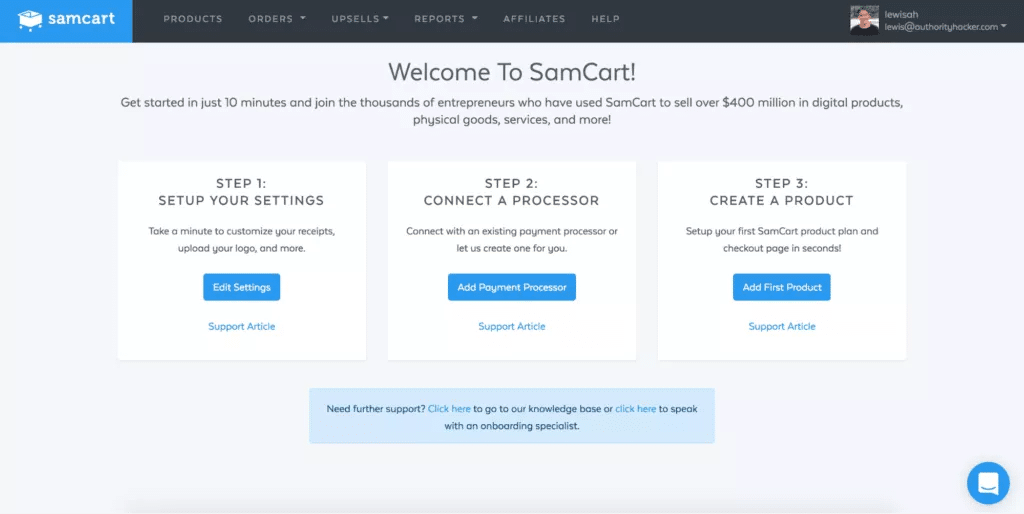 Click on the +New Product button.
This page will show up for you to add new product information. Enter the product name, price, and description.
And also choose if it's going to be a one time payment or recurring payment.
A product like an ebook will most likely be a one time payment type of product, however, a product such as a membership or an online course will most likely require a recurring payment option.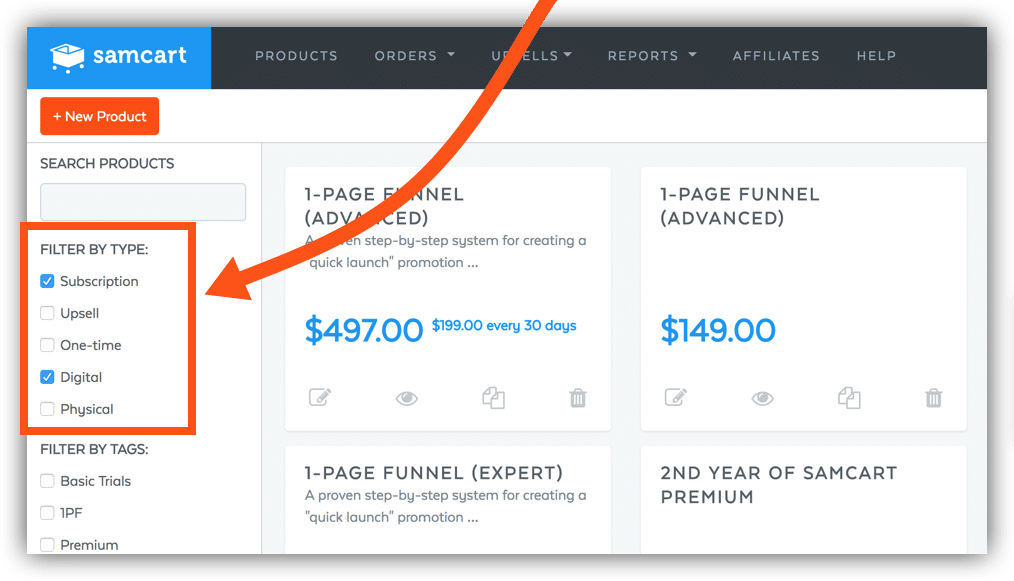 Once you add the product information, you might need to add more information in the next page that'll show up.
You can see that at the top menu, they're other settings you can make to complete your check out.
Let's start from the product image. Upload your product image. The image that will show up like this one one SamCart checkout page: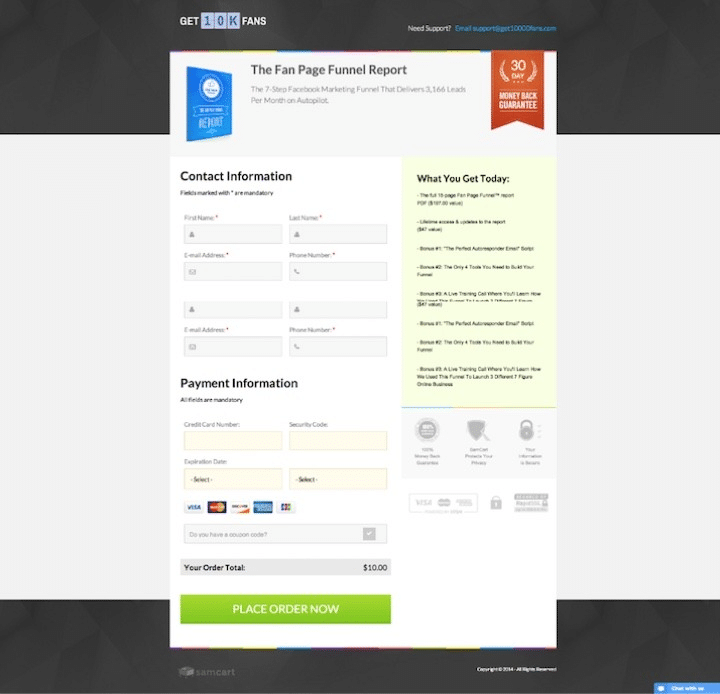 Enter a webpage address your customers will be taken to when they complete their purchase on your checkout page. Most people will have a page like yourdomain.com/thankyou.html.
Next enter the product type — are you selling a digital product or physical product?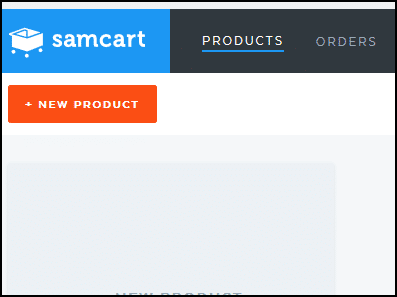 If it's a digital product, you have the option to upload it immediately. However, if it's not a digital product, you can ignore that option.
Finally, for this stage, if you're going to use coupons for marketing, you can enable the coupon code option.
Once you enable it, you'll be able to add coupons people can use to buy your product at a discounted price.
Click on the Add New Coupon button, a pop up will show up with the following information: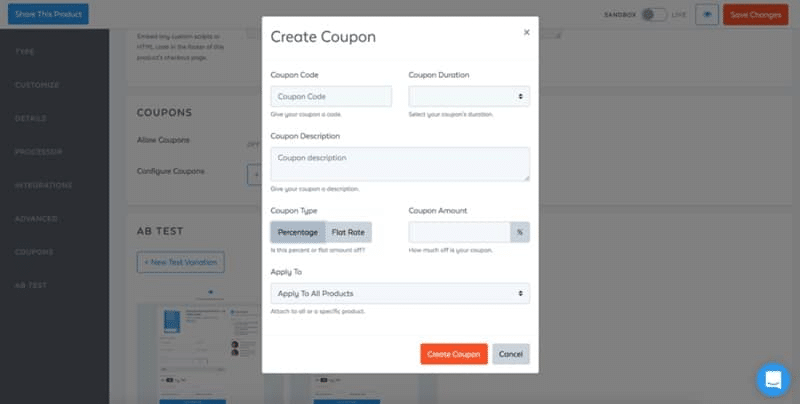 Using coupon codes is a great way to generate more customers for your business.
Customers love discounts, just think about it, some customers can buy stuff they don't even need just because it's discounted.
They'll say, maybe, it might become extremely expensive in the future when they might need it and might not have the cash to buy at that time.
So they'll likely want to buy. Coupon code marketing is a great strategy.
Complete the coupon code setup: Choose a code for your coupon code, set the duration — will it be a one-time coupon or a recurring coupon code? Choose the option that best describes what you want to offer your customers.
Note that adding a coupon is completely optional.
Now let's move to the checkout page design:
Click on the Checkout Design tab, then choose from over 18 templates as of the time of this writing. You can choose any one of them that suits your brand.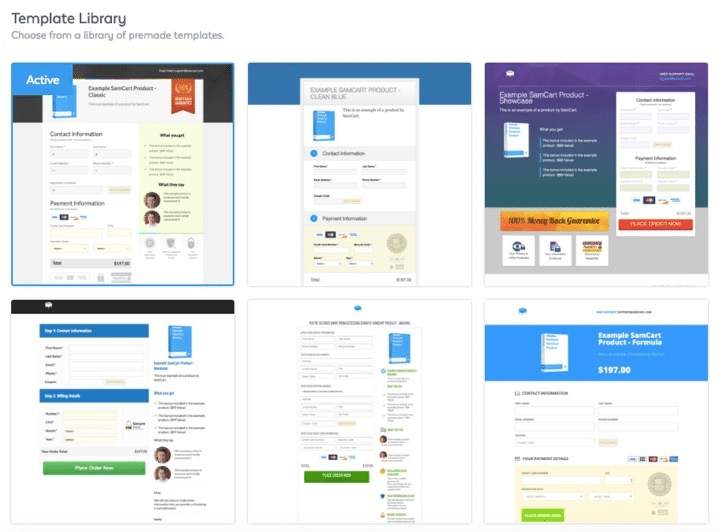 To customize the design, scroll down. You'll find a bunch of settings you can edit to match your brand's voice.
Start by customizing the colors.
You can choose the predefined color codes or create your own colors. The best part is that it has a color picker, you can use this color picker to select the color you want without bothering about the color codes.
You can change the color of the header, footer, background, headline, and your buttons color.
Next, you want to add some fields including your custom fields — remember the "school" field we created previously, we can also add it here to your product page.
Check all the fields you want to be active on your checkout page.
You can move on to the next settings — your product's guarantee settings. What guarantee are you giving your customers? Are you offering a 30 days money back guarantee?
You can add that setting here. Like I told you initially, SamCart is developed with conversion in mind. All of these features are features that encourage conversion.
You can use the +Add Bullet button to add more points as bullet points to your Checkout page.
Once you set that up completely, you can now move to adding your terms and conditions. Turn in on.
In the case where you turn it on, a customer must agree to your terms and conditions before they'll be able to buy your product.
Have in mind that you'll provide a URL where your terms and condition content is hosted.
The link will be at the bottom of the page with the hyperlink "Terms and Condition."


Next, you want to add the payment processor for your checkout page. Don't worry, you won't need to go through the steps you went through in step two again.
Just click on the Payments tab and turn the Payment options that are active on. In my case, only PayPal is active because I've only integrated PayPal for this review.
But if you've integrated Stripe, you'll find it active and you can turn it on as well.
You can add a secondary payment processor as well.
This is specifically for those merchants who want to add an alternative secondary product. Click on the drop-down menu to select an item.
You want to add an upsell product. Click on the Upsell tab to edit the upsell option.
Here is an example of how your upsell product will look like: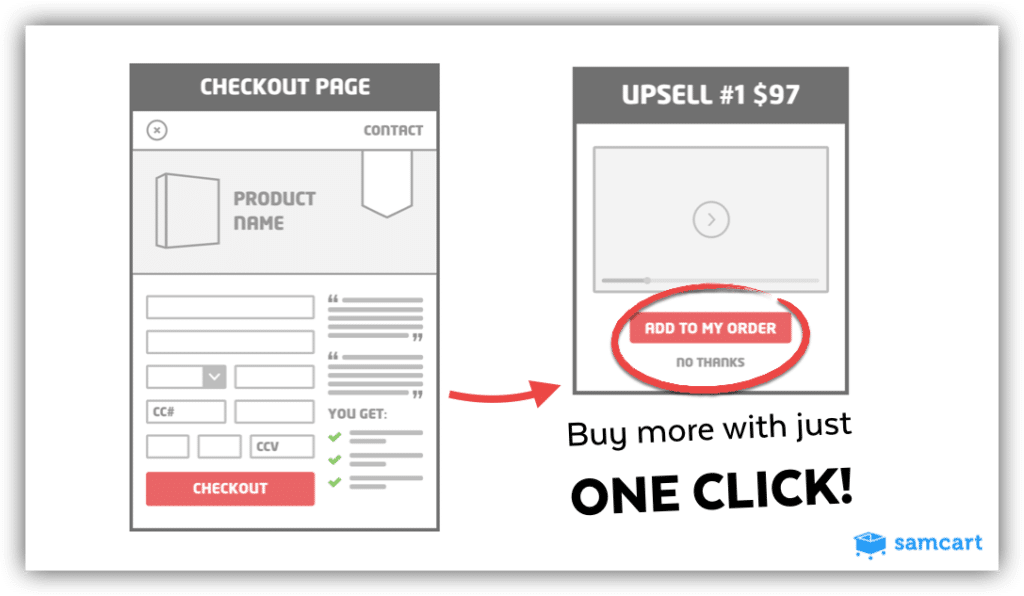 It should be an item your customers can add to their shopping cart to compliment the product they've bought.
To edit your Upsells, click on the UpSells tab and edit it. Add a product, note you should have created the product, just like we created the belly fat product. So you just need to click and add it.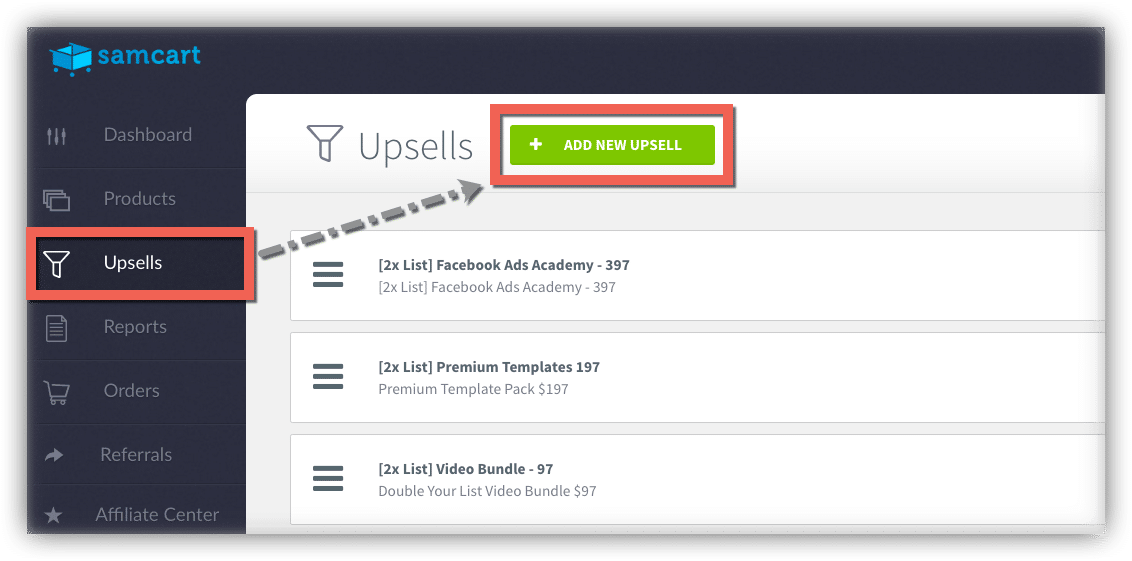 If you've created an upsell funnel, you can add it here too. We'll talk more on upsell funnel later in this article.
Next, let's take a look at the next step in the process of creating our product checkout page and that's integration.
Click on the Integration tab: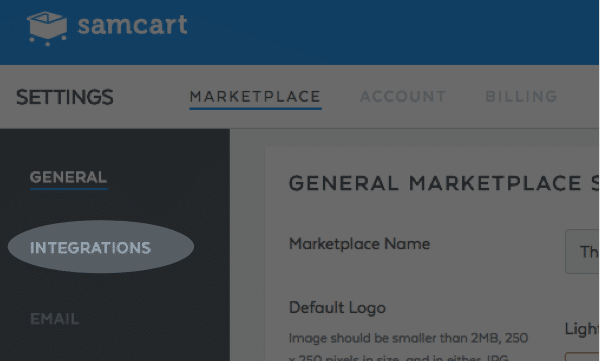 You'll notice that our MailChimp integration is showing up with our list in the drop-down list.
You can choose from the drop-down menu which list you want to add customers to after a purchase or  refund and to remove them from after purchase or refund.
This will help you segment your list to do better marketing — send emails to the right customers at the right time.
You'll also notice that there is no membership integration, Yes, it's completely optional.
However, if your product requires membership, it's important that you integrate your membership portal using the method we discussed earlier in this article.
The last section is the Advanced section: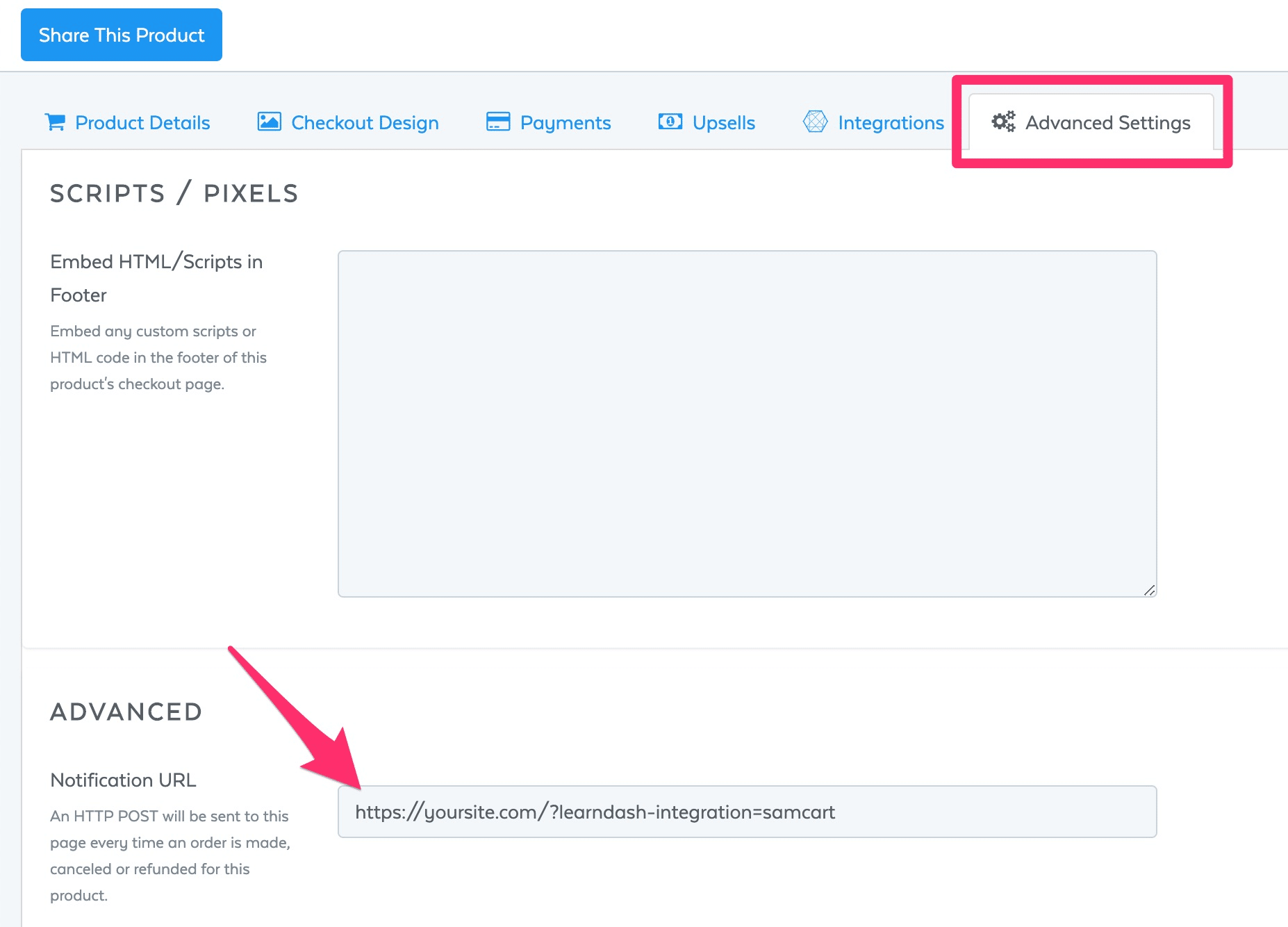 If you think you're a rockstar and want to add some custom script to customize your checkout page further, here is where to do it. You can script or HTML codes to your checkout page header or footer.
One important script you could add here in Facebook pixel script or your Google Analytics script to help you acquire more data to do better marketing.
Then finally, here is one of the best features of SamCart — A/B testing, even the best marketers out there, test, test, and keep testing. That's what makes them great.
You can create a test variation by clicking on the +New Test Variation button.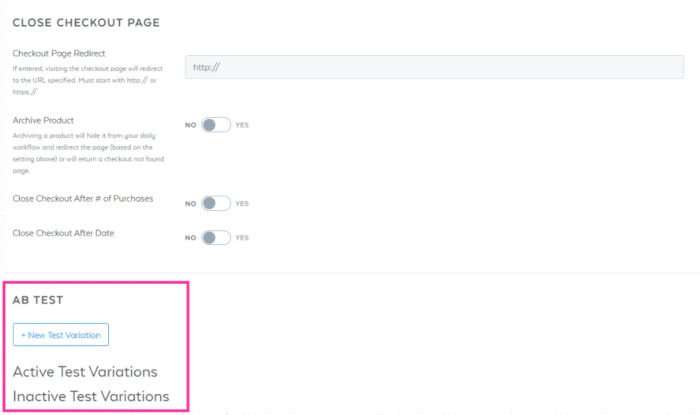 Once you click on the button, this page will show up: Enter your test variable name, create and save.
Congratulations you've completed your Checkout page setup.
❓ Who should use
SamCart?
SamCart is for entrepreneurs who aren't ready to build a full fleshed ecommerce website but want to be able to sell their digital or physical products without going through the stress of building your own application from scratch.
SamCart makes it easy for you to start selling in minutes.
Once you're familiar with the steps, you'll agree with me that within 30 minutes, you should have your store all setup if you have all the necessary resources, such as your logo, thank you page, product copy etc.
You should be ready to start selling quickly.
It's a great tool to help you sell anything. But if you ask me, I'll say it's best to sell digital products and services.
Especially digital courses and ebooks.
And interestingly, you don't have to break the bank before you start using the tool. You're given a 14-day free trial and it costs $14/ month.
Next, let's take a deep down look at the features of SamCart.
☑️ SamCart features and how to
use them
1). 1-Click Upsells
1-click upsell is a great hack that can help you to double or even triple your sales rapidly.
First of all, what is upselling?
And how can you use it? To boost your sales?
According to Neil Patel, "upselling accomplishes three very good things:
Deepens relationships. 
Raises the value that the customer receives.
Increases the customer's customer lifetime value (CLV).
Upselling is a win-win.
Customers get better stuff. You get more cash. And here's the kicker: The customer is going to stay around longer."
And I quite agree with him. Since It's 68% more expensive to acquire $1 from a new customer than it is to upsell current customers.
So if a customer already loves your brand, it's a lot easier to sell to them than to a customer who doesn't know you at all.
In fact, in a different study, it's been proven that the probability of selling to an existing prospect is 60% compared to a new customer.



It goes without saying that an upsell is a great way to persuade your customers to spend more money than they've committed to spend.
For example, adding bacon to that cheeseburger you ordered — usually a great decision, right? But most times, you didn't plan to add them.
Here is another good example for an upsell.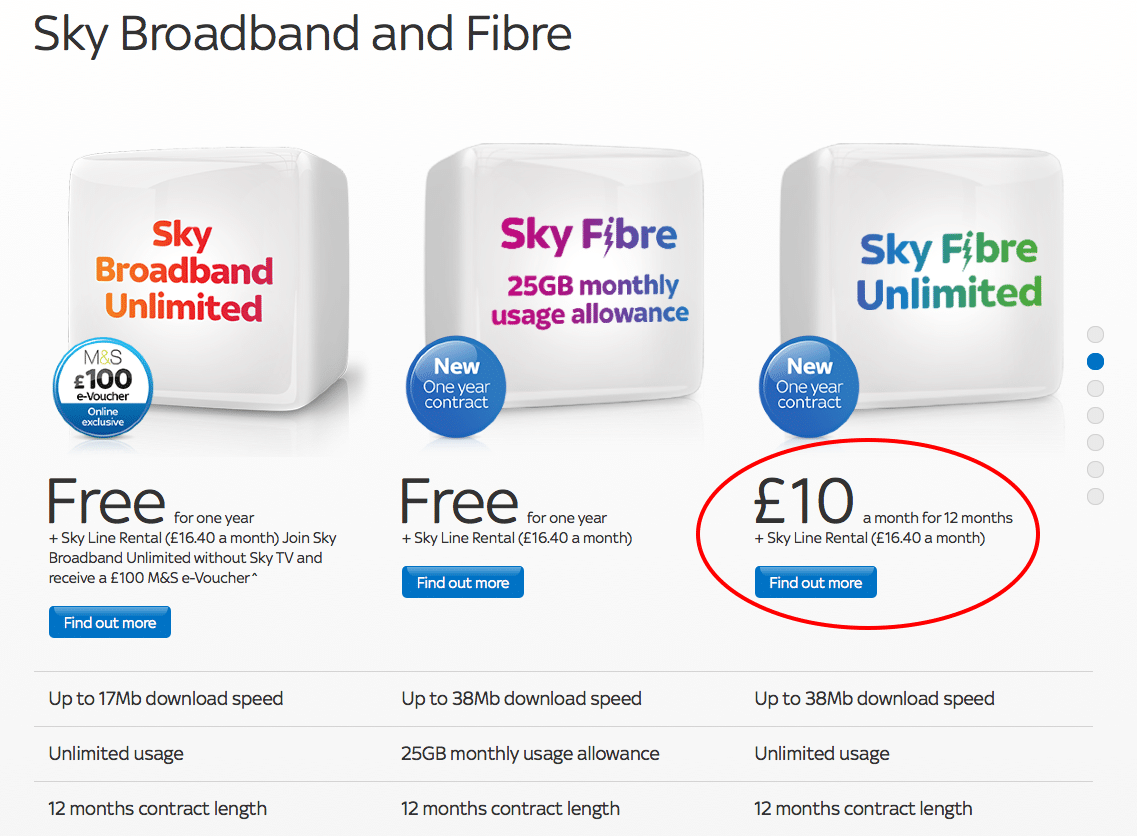 And another example from Amazon:



Then what is 1-click upsell?
One click upsell is persuading customers to buy more before they checkout or after they checkout just by clicking one button and paying for the entire product at once.
One very simple example is the SamCart checkout page: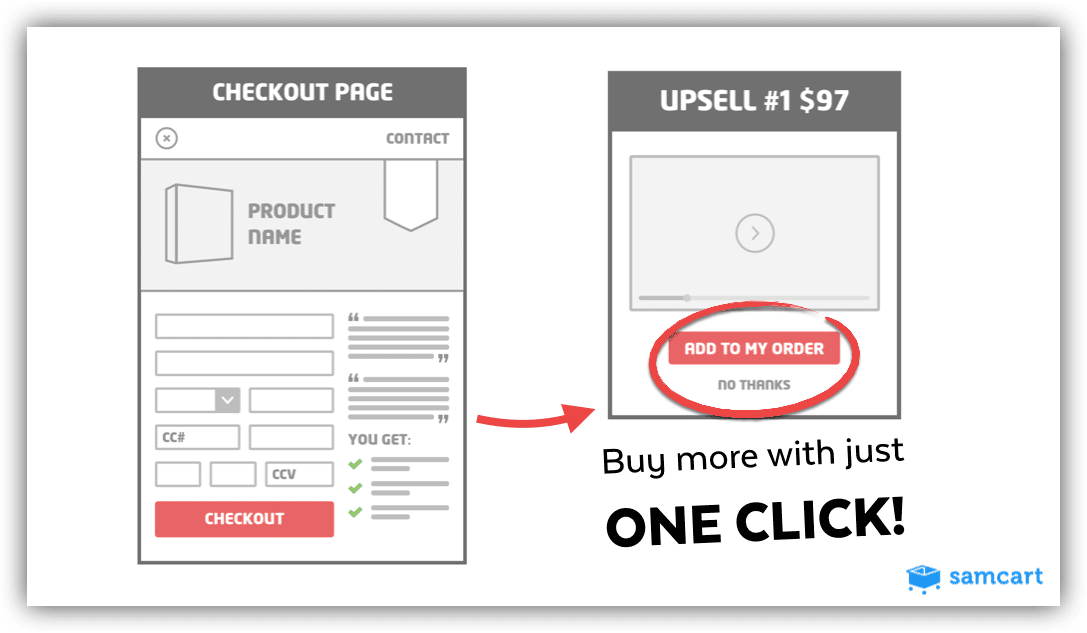 A customer can easily add that product to their cart quickly and make the payments instantly.
Creating an upsell is easy with SamCart. Here is how:
Log onto your SamCart dashboard and click on the upsell drop-down menu and choose UPSELLS.
Now you'll be taken to an upsell page.
Click on +ADD NEW UPSELL to get started creating your upsell.
A pop up will show up to allow fill in your upsell details: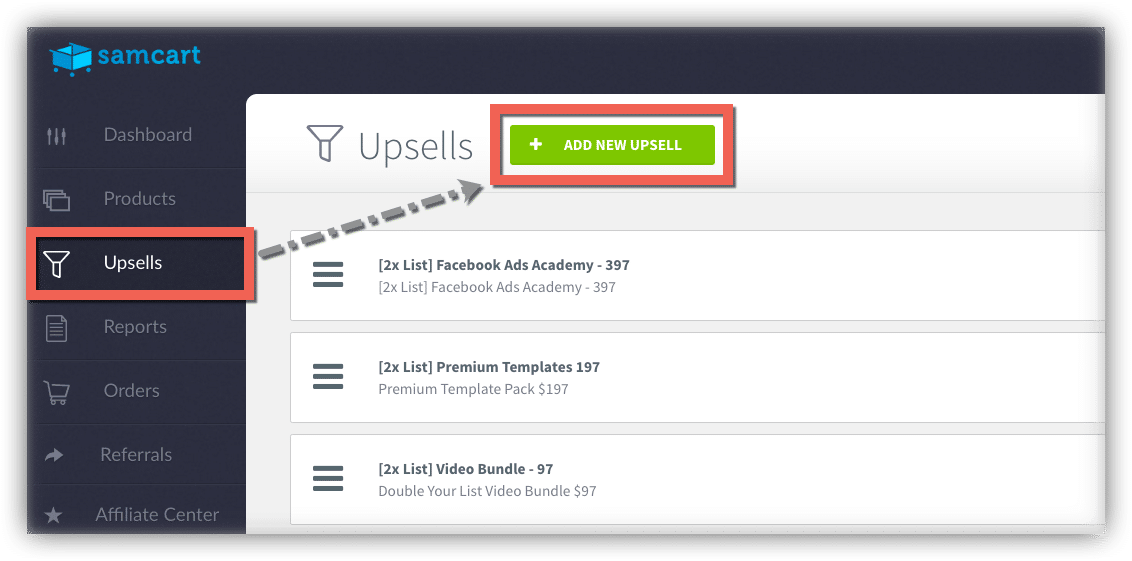 Enter the product you want to upsell to your customers and the details. Once you're done, click on the Create Upsell button. Then you'll be taken to a page to further customize your upsell details.
At this point, you can add a video to increase conversion and there are a lot of other settings you can customize here to increase your chances of upselling your customers effectively.
Once you're done filling out the form, enable and save the settings.
And that's it, your upsell has been created. Each time you want to create a new product you can easily add it to your product.
2). A/B Split Testing
A/B split testing is a very powerful marketing tool. If you want to get ahead in marketing, you need to be good at testing, testing, and never stop testing.
A/B split testing allows you to take guesswork out of the way and focus on results.
In a nutshell, A/B testing (sometimes called split testing) is comparing two versions of a web page to see which one performs better. [source]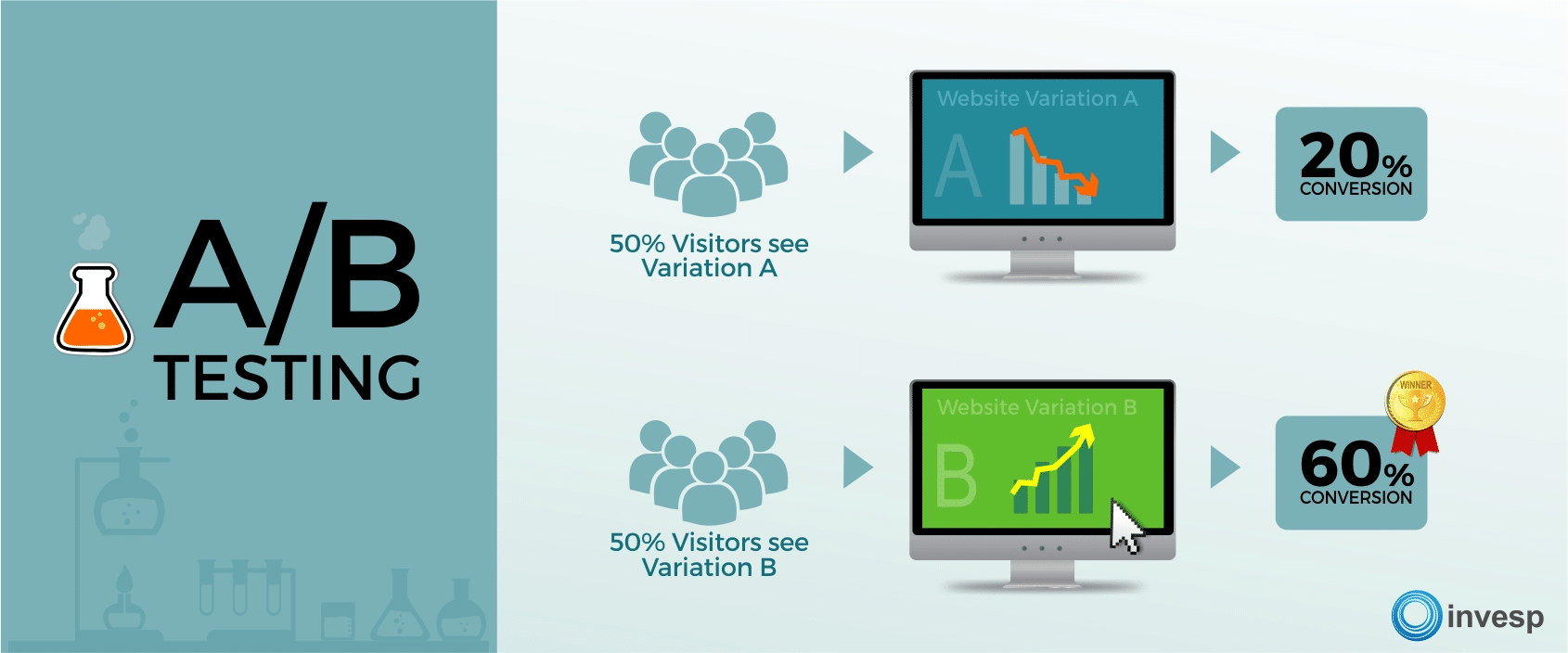 You compare two web pages by showing the two variants (let's call them A and B) to similar visitors at the same time. The one that gives a better conversion rate, wins.
You want to test all your checkout page elements to know what's working and what's not working.
SamCart makes it a lot easy to test your checkout page elements. Here is how to setup  a/b testing for your checkout page on SamCart:
Here is how to set up your first split test:
Step 1: Go to your PRODUCTS tab.
Open up any product.
Click on the "AB Test" section in the left-hand sidebar like so:
Next, click the "+ New Test Variation" button.
Then give your new variation a name.
And finally click "Save"
Hover over the variation and click on the pencil icon to edit the variation.
Now you can edit the variation setting as you desire and ensure you save the settings.
Tracking your A/B test result is also easy. And the good thing is that everything works on one URL. you only need to send your normal url to your customers or send your customers to your usual URL and SamCart will handle the rest for you:
You can check your test statistics by navigating to your a/b test section in the product's settings area to see how your variation is doing.
Happy testing.
3). Priority Support
If you're looking for a solution that helps you fix your challenges when they come without you waiting for days, you might want to consider this one.
SamCart has a very active support team that responds to customers' queries timely. On several occasions when I needed to contact them for enquiry, I wasn't disappointed at all.
To get to their support simply login to SamCart website and check the right-hand side of the bottom of the website and you'll see a chat icon — click on it:
You can actually find that from any part of the website.
4). The Full Template Library
SamCart has a bunch of beautiful checkout page templates you can choose from. You only need to customize it and start using it right away.
Changing your design is as simple as choosing another template and customizing it to match your brand. All your content will still remain the same. It won't be wiped away.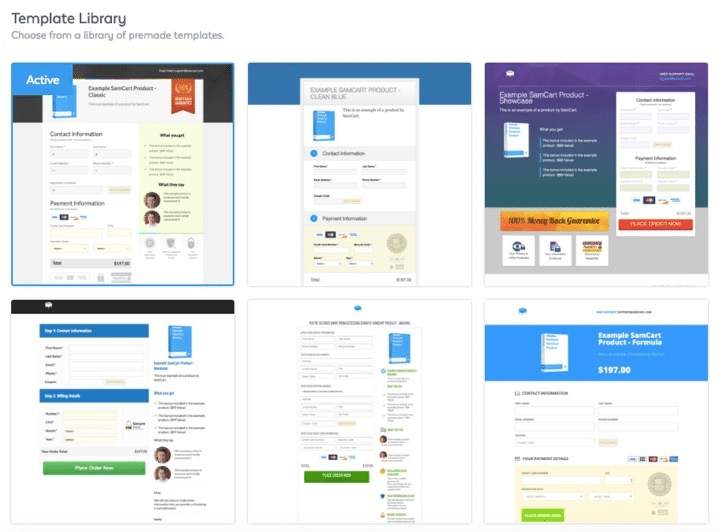 One good thing about the SamCart templates is that they are carefully created with conversion in mind.
So whether you are an expert marketer or a newbie, you can get started and start profiting from your checkout page.
5). The Profit-Center Dashboard
SamCart's dashboard is so simple and intuitive and best of all allows you to see what's happening with your sales at a glance.
Once you login to your dashboard, you'll be welcomed with a bunch of analytic data on how your checkout is doing. If you have multiple products, you can see analytics for individual products.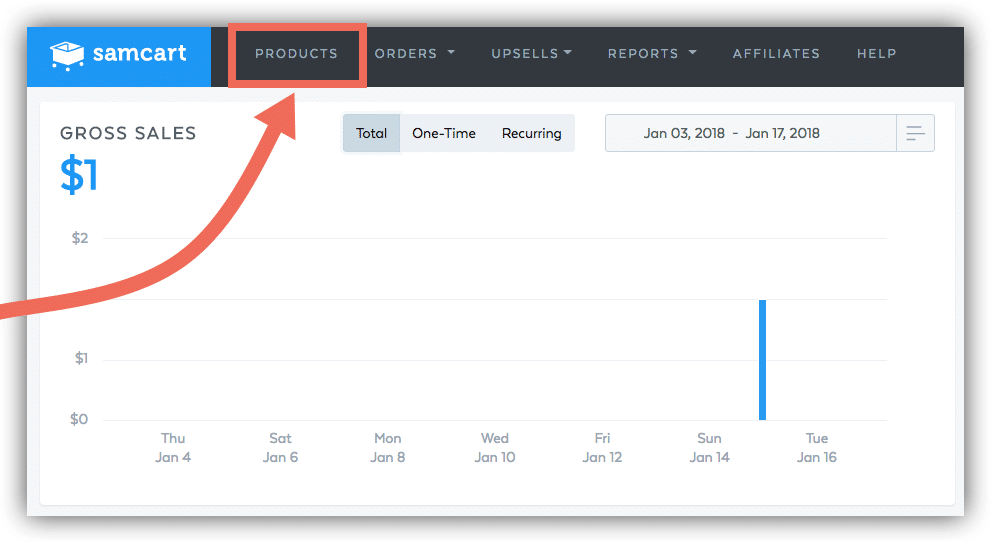 Imagine you just slept and woke up the next morning and logged in to your dashboard. Surprise, surprise, you're welcomed with a pleasant surprise — several hundreds of sales.
That will sure make you super pumped for the day.
However, if you have poor sales data, it can also cause you to improve your sales and marketing strategy to help you acquire more customers for your product.
So you don't have to go looking for your sales data — it's just right in front of you after logging in and also motivates you as well. It's arranged in cards and presented in tables, charts, and regular figures.
6). Increase Backend Sales Using Any Card On File
Filling forms is one of customers biggest challenges, customers don't want to fill forms because it's stressful, especially, long forms.
But how about you taking the stress away from them by helping them add a product to their profile without having them fill out any form?
A customer can quickly use your contact form to request that you add a product to them using their existing credit/debit card attached to their account.
This is an approach that has proven to boost sales by 81.50%.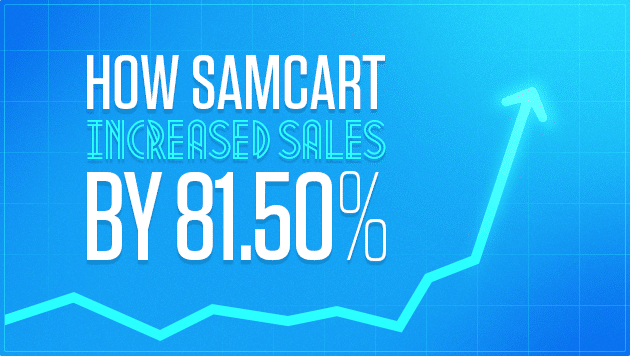 Beautiful, you no longer have to tell them to go on and fill out forms, you can easily add the product to their profile from your backend and get them charged quickly — a great way to increase conversion, right?
7). Multiple Payment Options Increase Conversions
Not every customer loves to checkout with Paypal. In fact, Paypal doesn't support some countries. Are you going to let them go?
Remember, if you have 10 customers and you add an additional 1 customer, it's a 10% increase in conversion.
That's a lot and you don't want to lose that one customer.
SamCart allows you to use multiple payment options like PayPal and Stripe on your checkout page, so that customers can choose the payment method they wish to checkout with.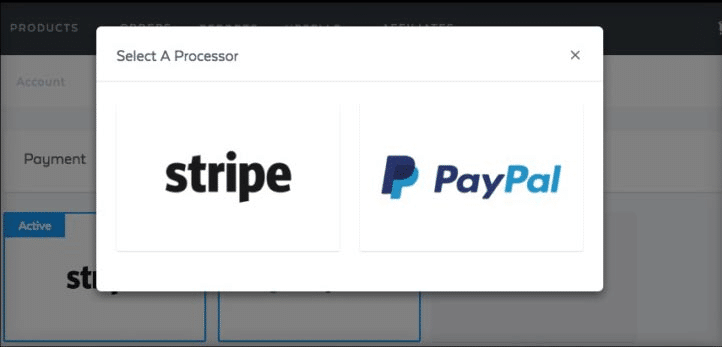 Adding a payment processor is easy and we've covered it earlier in this article. You can reference it.
However, if you want to add multiple payment options to your checkout page while creating a product, log into your SamCart dashboard and click on the product link in the menu bar:
Select the product from the list of products: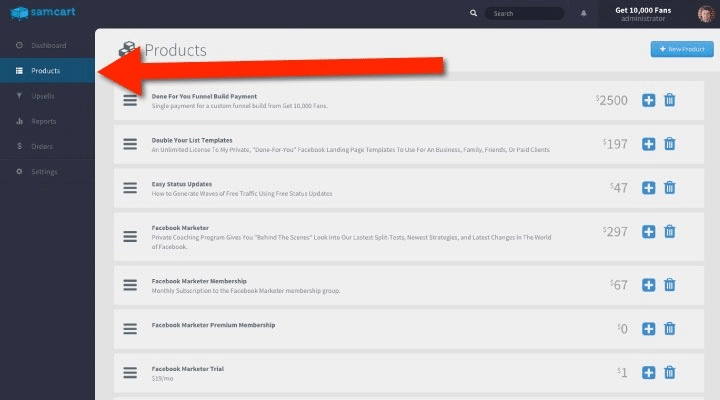 Once you click on that, a page will show up. On that page click on the Payments tab and then select then turn on the payment options you've integrated.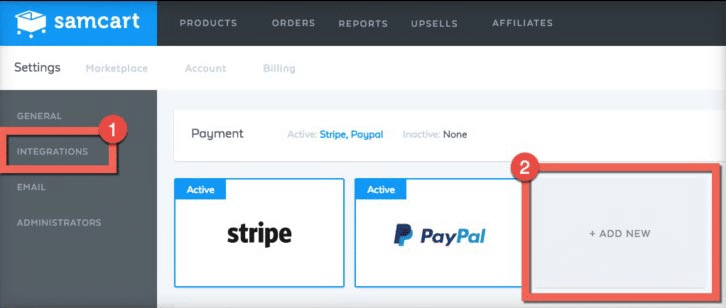 Note: if you're confused about how to integrate  the payment processors, you might want to scroll a little up this tutorial to see where I explained how you can do that — step by step.
8). Subscription Saver Protects Your Recurring Sales
One of the challenges merchants who offer recurring services face is customer's credit or debit card update.
Well, your customers have a whole lot to think about, you don't expect them to remember just about everything at all times.
To prevent your customers recurring payment from failing, you should remind them when their credit card expires.
SamCart's Subscription Saver allows you to automatically send emails to your customers to update their credit card details when they expire.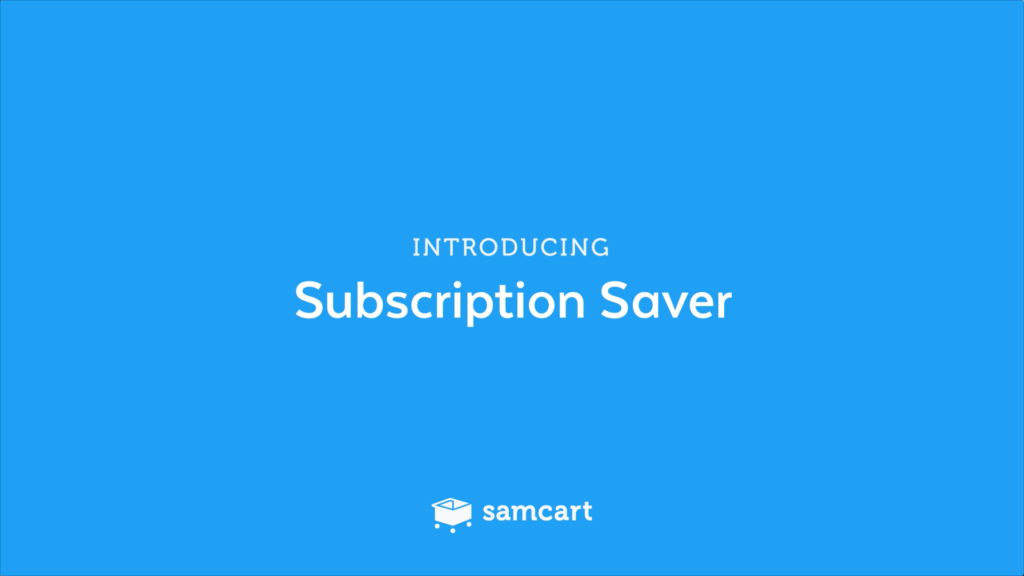 According to a SamCart's study, Subscription Saver has helped customers recover $50,000 in recurring income and $40,413.92 In Subscriptions.
You don't have to do anything for this functionality to work. But if you don't want this feature and want to disable it, it's okay.
9). Zapier, Taxamo, and Kajabi integration
Zapier is an outstanding form generating platform for non-tech savvy entrepreneurs.
If you want to automate anything even if you're not a developer, you might want to consider Zapier.
Good news is that you can also connect your Zapier account with SamCart.
You can use Zapier to complete your process automation after a customer purchases a product from you.
The integration is pretty simple. Log in to your dashboard and navigate to marketplace settings. Then to INTEGRATIONS, you'll see this page: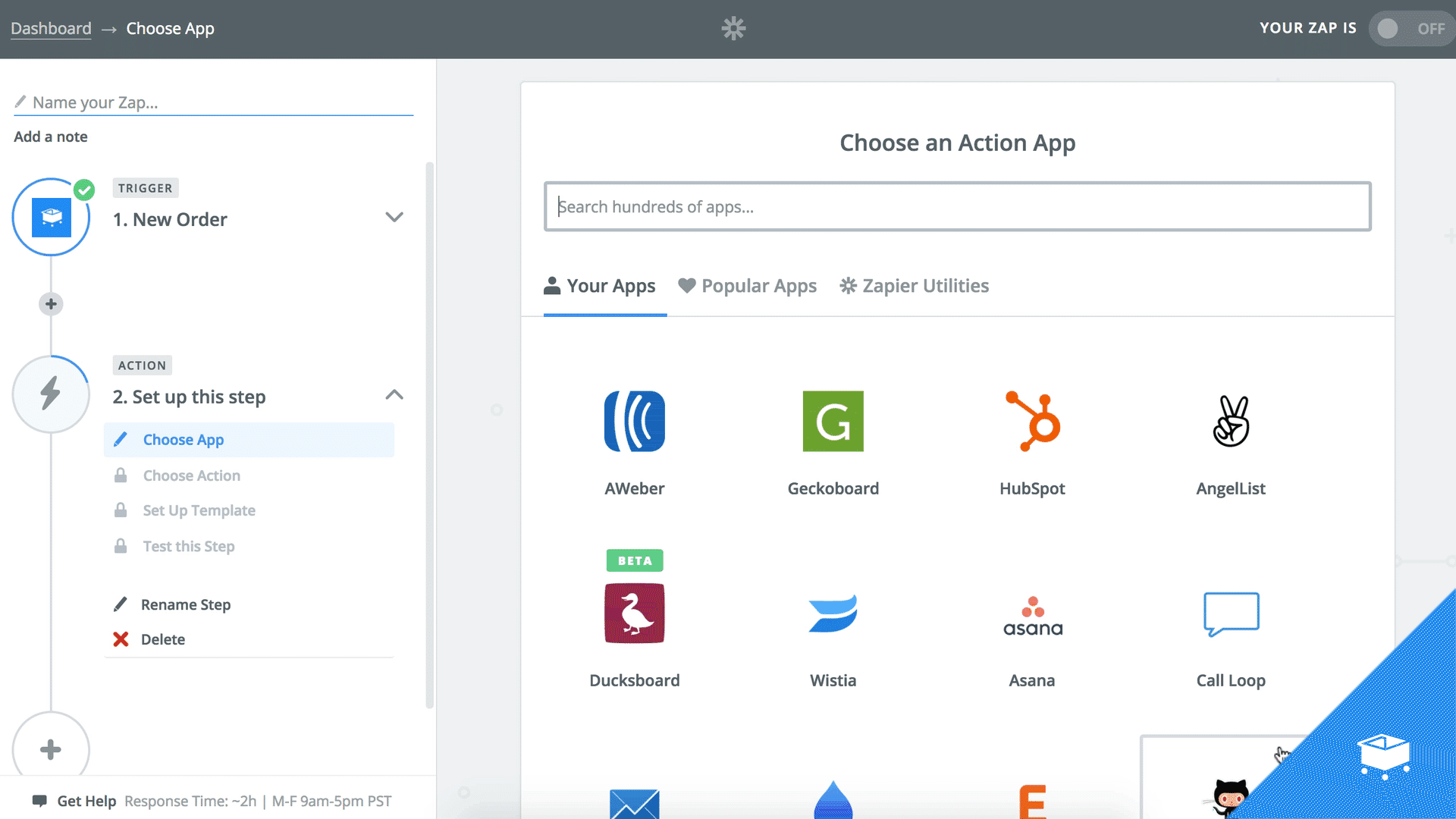 Click on Zapier and complete the integration process. It's a bit different from other integrations we've done.
In essence, we have to complete the integration on the Zapier website.
To do this, log into your Zapier account.
Navigate to Connected Accounts, and select SamCart.
Then you'll be redirected to this page: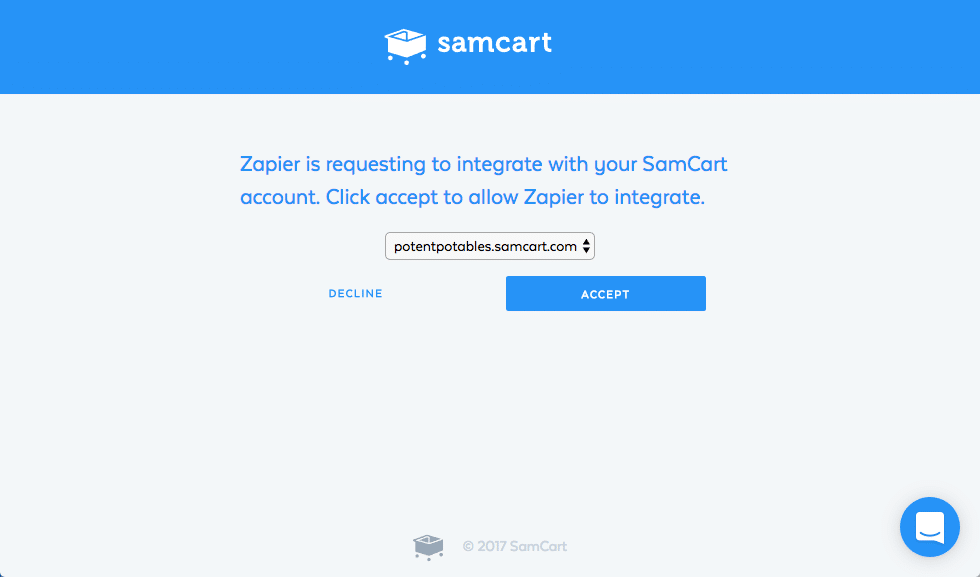 Accept the request and that's all you basically need to do to integrate with Zapier.
And the steps to integrate Taxamo and Kajabi are similar to Zapier click on it and follow the instructions.
10). Knowledge base For Quick Answers
The platform is simple enough to use, however, the team at SamCart think you might still have questions, so they've created a ton of content to help you answer your questions.
They've put in a lot of work in making the platform easy to use by anyone at any time.
You sure won't get stuck in a problem, you can contact the support team or quickly find the answers to your questions quickly by yourself from their knowledge base center.
11). One Account, Multiple Logos
With SamCart, you don't have to use one company logo for all your products if you have more than one company.
You can add different logos to your different checkout pages.
That means, even if you're using SamCart to create checkout pages for clients, you can also add their different logos to each of your client's checkout pages.
That gives you even more control over what you can do with your checkout pages.
Interestingly, changing logos is really simple:
step by step to change logos
12). The Library & Bonus Training
SamCart doesn't leave their customer's in the dark. They provide effective training materials that can help entrepreneurs and business owners grow their business.
They've got eBooks, videos, webinars and also some paid content for pro members.
You can quickly find the materials by logging into your dashboard and navigating to the library menu like by clicking on your profile:


The SamCart team keeps updating the content on this page to keep them up to date and relevant.
13). Physical Product Support
While SamCart helps digital marketers and entrepreneurs get up to speed and launch their products quickly and of course, start making money, business owners who sell physical products are not left out.
Unlike other platforms that only allow you to sell only digital product's, SamCart allows you to sell just about any product at all.
Setting this up isn't rocket science. It's the same process as setting up a digital product.
You only need to toggle it to a physical product from a digital product which is usually the default setting.
14). Simple Shipping & Handling
If you opt-in to use the physical product option, you might also want to be able to communicate to your customer how you'll fulfill the offer when they purchase.
SamCart now allows you to calculate the customers location and charge them the appropriate shipping and handling cost based on where your customers are located.
You can however, charge a flat rate fee if your audience is located in your country or your geographical location.
You can make the fee the same for every customer. It's just up to you. So you can set a rate for your customers living in the United State, Canada, European Union, etc.
This is a great feature of SamCart that can help you run your business effectively.
So once you click on the product page and navigate scroll down the page, you'll find the shipping setting. You can add the shipping fee for the various countries or add more locations.
It's that simple.
Once you add a shipping address, the cost of shipping will be added to the order summary amount quickly.
So you don't have to bother about calculating it manually.
Here is how your customer's order summary will look like: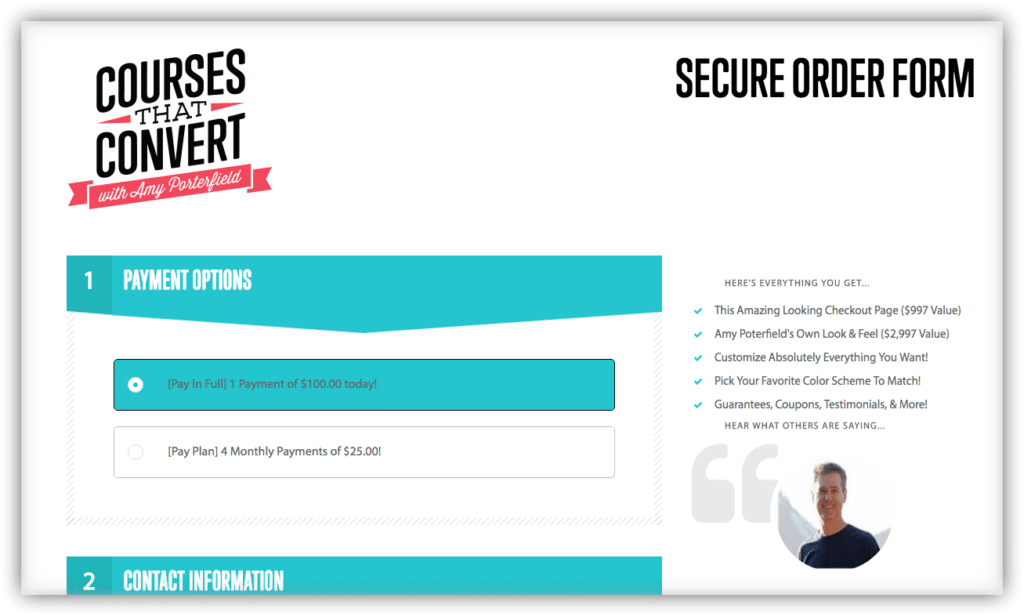 15). Higher Volume With Quantities At Checkout
Are you a producer or have a way you get more quantities of what you sell to resell?
You might want to allow your customers to be able to buy more of what you sell.
For example, if you sell a huddy, and you've got a lot of it available, your customers should be able to specify the quantity they want before they check out.
This is apparently a new feature of SamCart and it allows you to boost your conversion.
So how can you add this feature to your checkout page?
16). Uncover Your True Conversion Stats: Robust reporting system
The SamCart's report system is one of my most loved features. It looks amazingly beautiful, plus it does what it's meant to do perfectly.
If you want to know how your checkout page is converting, the right place to goto is your report section in your SamCart dashboard.
In your report dashboard, you can see charts, and figures that illustrate what is going on on your checkout page including how your customers are choosing to pay.
Every forward-thinking brand knows the importance of data driven marketing and will take advantage of this feature by SamCart. So you can take the guesswork out of your marketing.
In your report system you should be able to track how your recent changes to your testing variables have increased or killed your conversion.
It's not so difficult to find this feature on your dashboard, follow these instructions:
Log into your dashboard and click on the REPORTS menu and a drop down menu will pop up with several reports you might want to see — your sales report, sales by product, refunded products, subscriptions, dunning, upsell funnels, prospects and failed charges.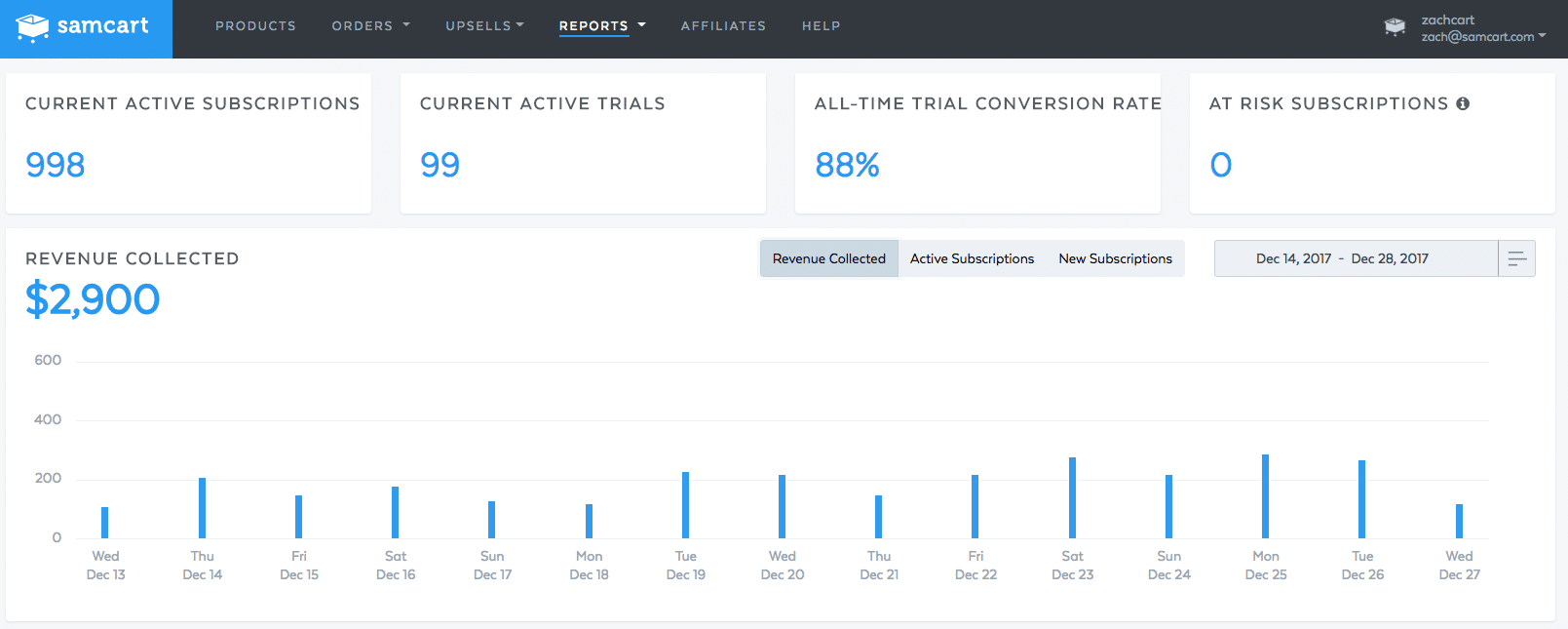 And by the way, you get the summary on your dashboard home.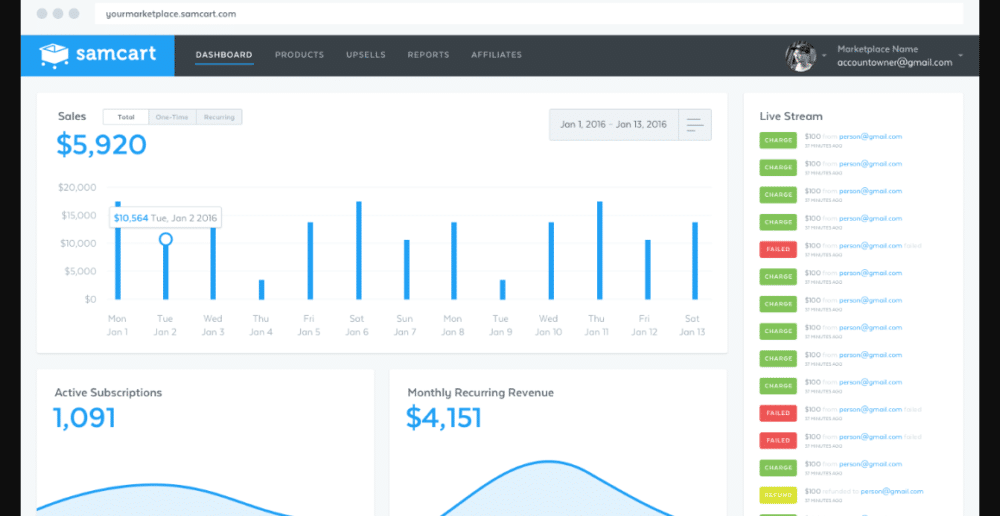 17). Understand ROI With Subscription "Stick Rate"
If you want to know how long customers stay active to your subscription, SamCart provides you with this data to give you an overview of how valuable your customer is and to reveal the true value of each customer's subscription.
This will help you do better marketing and to improve your conversion path for profitability.
18). Credit Your Affiliates With Higher EPCs
Did you know that in 2016, U.S. retailers spent $4.7 billion on affiliate marketing alone?
Studies show that by 2020, U.S. affiliate marketing spend is expected to rise to $6.8 billion.
And it's very popular for its effectiveness as it allows businesses to share their profits with their customers (affiliates) who decide to promote their products.
In simple terms, affiliate marketing is the process of earning a commission by promoting other people's (or company's) products.
It's one of the best forms of online marketing. In this scenario, you are the owner of the product and SamCart gives you the platform to get people to receive a commission when they refer people to your checkout page and the referrals buy your product through their affiliate links.
It all happens in the SamCart affiliate center. And, before your affiliates can start promoting your products, they must first of all, sign up for your affiliate program.
As a SamCart customer, you already have an affiliate signup page where people can sign-up to become your affiliates.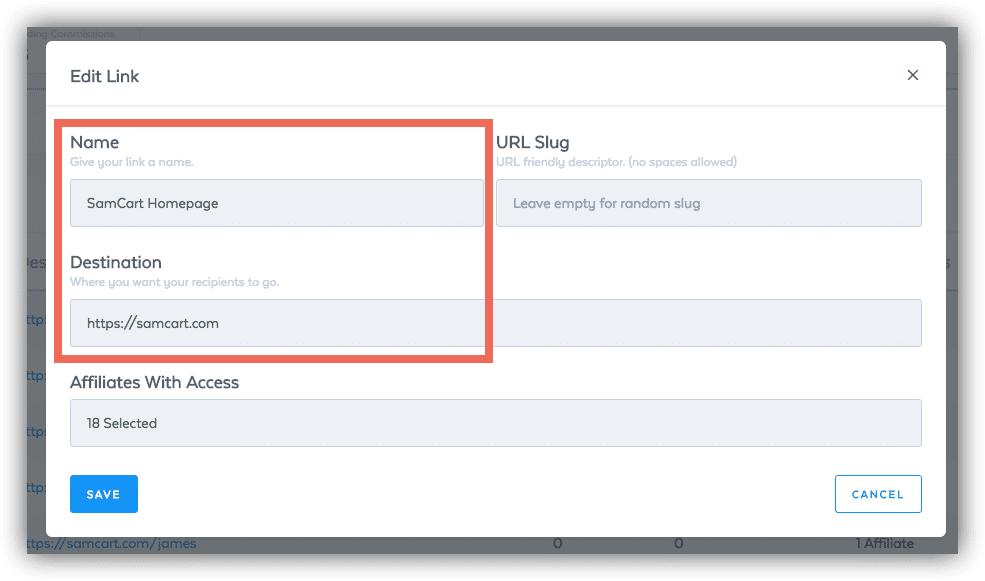 To access this page, you need to log in to your dashboard and navigate to the AFFILIATES tab in the menu bar.
And once the page is fully loaded, scroll down the page until you find the fields where your affiliates will login and a place where they'll sign up.
If you post the signup page link in the browser, you'll see something similar to this but with your product name:
Affiliates can register with that link to start promoting your products. Once your affiliates creates an account, they'll be notified of a successful registration and that their application is pending approval.
From your affiliate dashboard, you can manually approve or decline the application.
Once approved, they'll be sent their login details — Email, password, login URL where they can access their accounts and everything they require to start promoting your products.
However, if you don't want to keep them pending, you can activate automatic approval in your Affiliate dashboard.
To edit this settings, scroll down to the bottom of your affiliate dashboard and you'll find a slide named Auto Approval you can toggle on or off: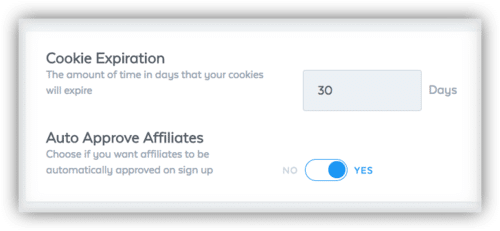 So instead of receiving email notifications that they're application is pending approval, they'll automatically be approved. Their login details will be sent to them immediately and they'll be logged in automatically to their dashboard.
Here is how your affiliates dashboards will look like when they login: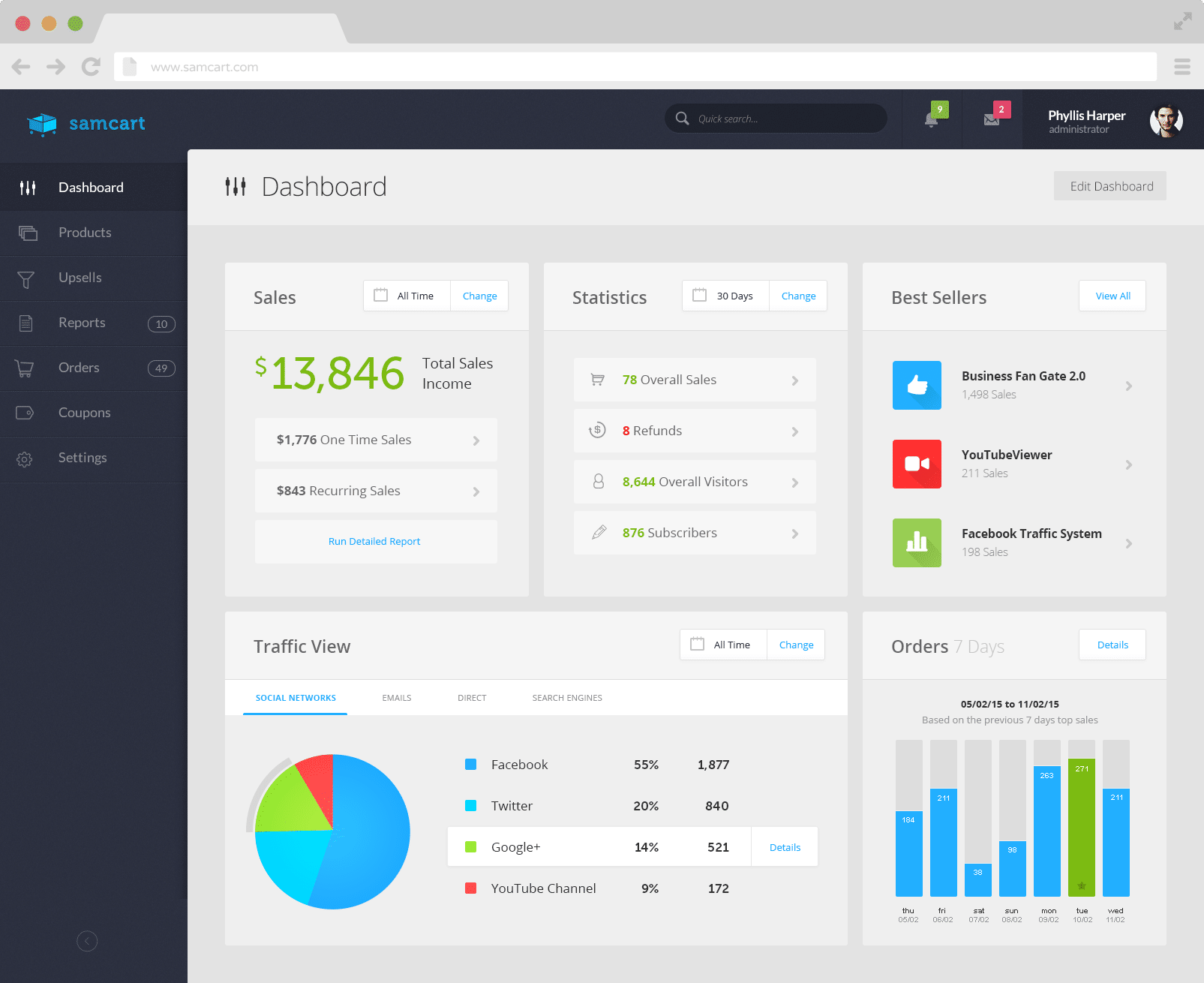 How long will you like someone who clicked on your affiliate links without purchasing the first time to be regarded as the affiliate referral when they eventually register?
For example, if I click on your affiliate link and return to your checkout page after 30 days and make a purchase, will I still be regarded as your referral?
You can add that settings here also:
In your affiliate dashboard, scroll down to the point where you'll find the Cookie Expiration option. Enter the number of days you want it to last.
In the example below, after someone clicks on an affiliate link and the person buys your product anytime within 30 days, it'll be recorded for your affiliates.
The good thing is that SamCart allows you to pay your affiliates any amount you desire.
A lot of affiliates have recorded high commissions which of course, proves that people love the product or the copy promoted by the affiliate marketers are awesome.
19). Clarity Through Pixel Tracking
Pixel tracking — heard of that phrase before?
Involves some coding to integrate your analytics software with your checkout page,  right?
So that you can effectively track which email, which link, or which ad is creating the most impact for your business.
Okay, I get, you're likely not a web developer and that's fine, playing around with code can be a little challenging.
With SamCart, you don't need a developer to do this. You just copy your pixel tracking code to your product page advance section and post it there.
Here is how:
Login into your SamCart dashboard and click on PRODUCTS: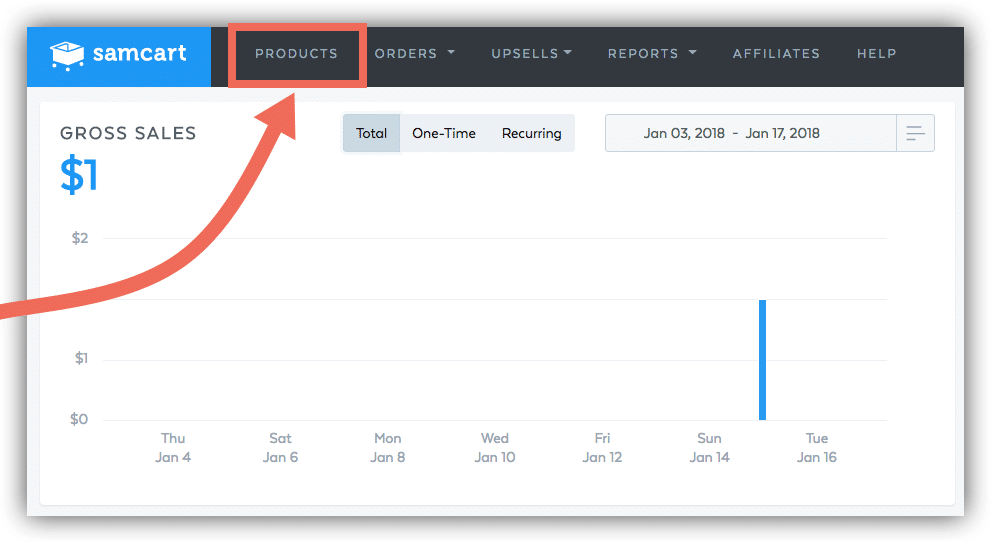 Click on the Advanced Settings and you'll be provided with a box to paste your analytics code.
Log into your Google Analytics account or your facebook pixel account, copy your code and paste it in any of the boxes.
And that's all you need to do, no programming is required. SamCart will do the rest for you.
This will help you measure your marketing and sales efforts.
20).  Multi-Language Support
One of the interesting features of the SamCart platform is it's support for multiple languages.
That means you can sell to anyone in any part of the world. Your customers can quickly translate the checkout page to a language they are comfortable with.
Whether your customers understand English or not, you're not going to leave them out.
So how do you set that up?
Pretty simple, login into your dashboard navigate to your product section. Then to the Checkout Design tab: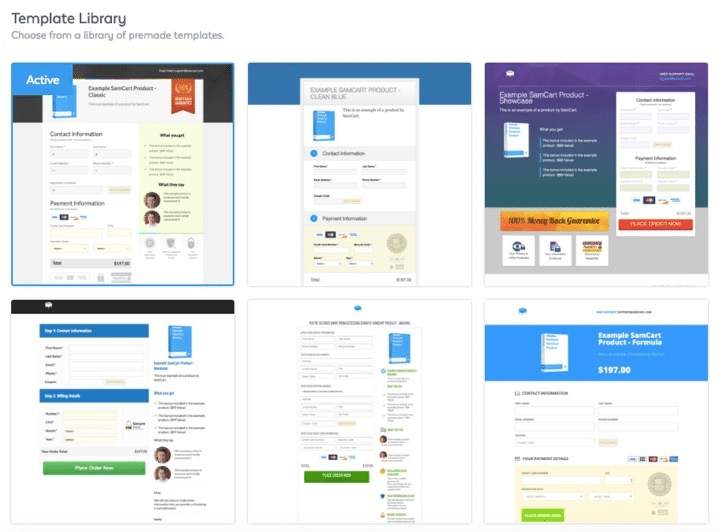 At this time, the templates that support multi-languages are the "World Wide" or "One-Page Funnel" template.
Choose any of them from the template library:
i). World Wide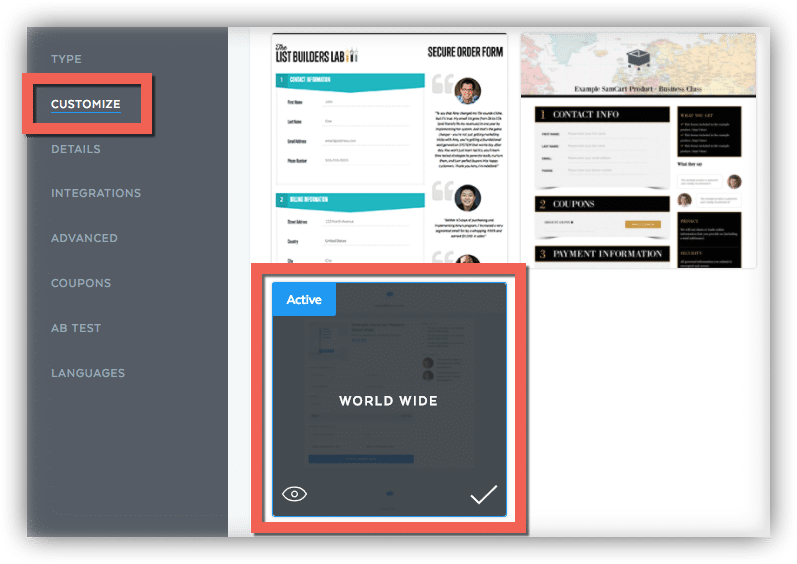 ii). One-Page Funnel
Then scroll down the page to edit the settings.
Choose from the prefilled languages and once you've selected your preferred language, click on the Save button.
That's all there is to it.
21). Trial Offers
Advance subscription is a powerful way to radically increase your conversion rates and allows your users to try your product for a couple of days.
Unless you have a bad product, after having your customers for a couple of weeks of trial, you'll likely convert them to customers if you have a good product + sales and marketing strategy.
There are different ways to handle subscriptions and trials. If your product is a hundred dollars, you can make your customers pay it once or you can split it up for them to pay three times.
So there is free trial and there is a paid trial setting like you can see in the above illustrations.
So, how do you set it up?
It's also easy to set up.
Login into your SamCart dashboard and navigate to your product page. Then click on the + Add Product button.
Remember to add important details from the tab: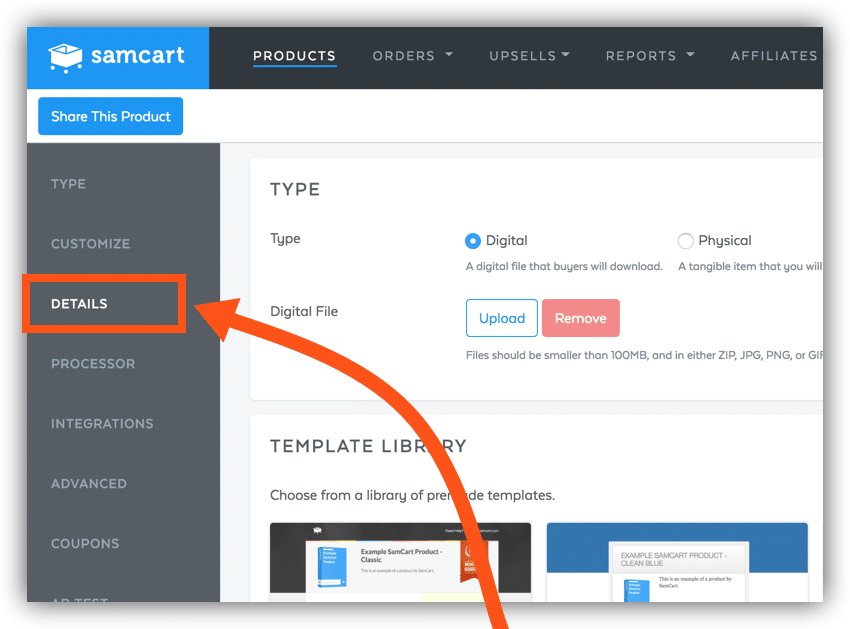 In the Product Payment Frequency, choose how often your customers will be paying for your product. Weekly, Monthly, Quarterly, Yearly, or you can even choose the frequency other than the predefined frequency.
Once you choose the frequency, you should be able to set it as a free trial or paid trial. It all depends on your strategy. Here is a little explanation of some of the fields.
22). Fast Set Up
One great thing about SamCart is that it's super fast to set up.
If you understand how it's been used and you have all the source files like images, copy, a product and a strategy, etc., you should be able to set your checkout page up within 30 minutes.
And best of all, you don't have to write code — that's why it's easy to set up in the first place.
To set up your account, you just have to do it in 3 steps:
Step 1: Edit settings
Step 2: Connect payment processor
Step 3: Add your product
We've talked about these steps earlier in this article.
23). Custom Closers
Custom closers are high-impact conversion elements that can boost your conversions a great deal by easily adding product photos, benefit bullets, trust-building testimonials and guarantees.
Recent studies show that 92% of consumers read online reviews and testimonials when considering a purchase.
And a whopping 88% of consumers trust online reviews as much as personal recommendations. 72% of them say positive reviews and testimonials make them trust a business more.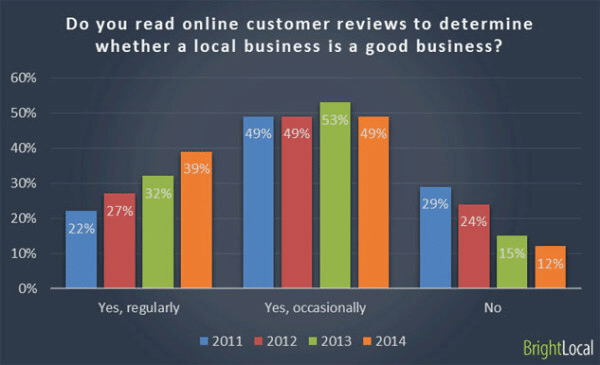 If you want to increase your conversion rate, it's important to include conversion boosters like testimonials and guarantees to your checkout page.
You can see that these testimonials are really outstanding. And they are from prominent people in the industry.
You can also add some guarantees like 30 days money back guarantee, etc. it's a great way to grow your business fast.
24). Checkout Popups
Don't want to redirect your users to a checkout page? No problem, SamCart allows you to make your users pay on your product page through a popup.
So Dan is done shopping on your ecommerce website and he's on your product page and wants to checkout.
He clicks on the checkout button and he gets a popup that allows him to pay for his order — Amazing stuff it is, isn't it?
So your customers don't have to leave your website.
So how do you set this up?
It's pretty simple, and especially, you don't have to write any code.
From your Products tab, open any product. Then you should find yourself in the customize tab.
On the CUSTOMIZE tab, activate the "Sales Letter Popup" template.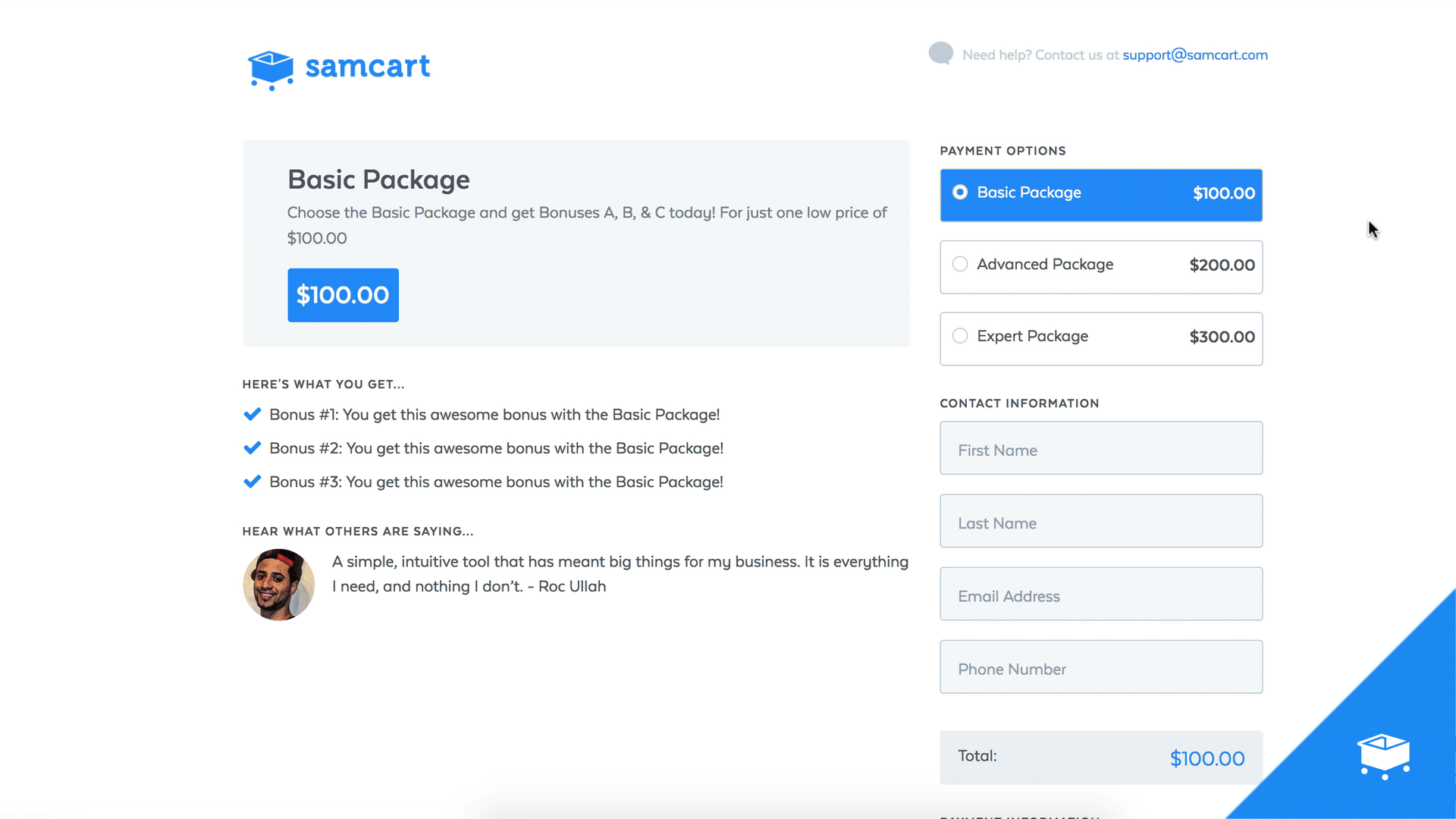 Remember to save the settings after selecting the Sales Letter Popup template.
Then scroll down further and edit the settings for the Sales Letter Popup template.
Once you have that all set up, click on the share button at the top left corner of your dashboard to grab the code you'll add to your website.
There you have it. The code you should take to your website will look like this:
Take this code and place it in your product page. So that when someone clicks on the button, a popup will show up.
25). Free SSL Certificate
The importance of having an SSL certificate installed on your checkout page can't be overemphasized. In fact, most shoppers won't buy from your website if you don't have an SSL certificate installed.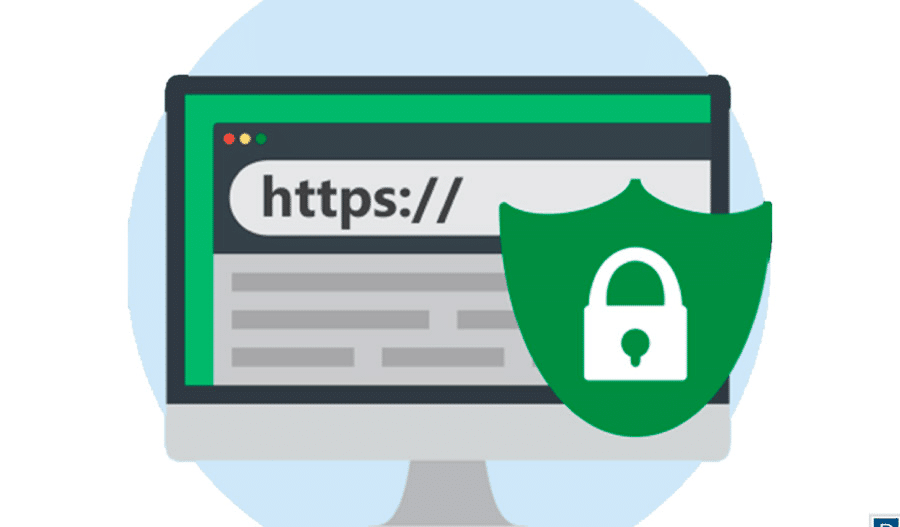 By the way, what's an SSL certificate?
According to Securion, SSL is an encryption method for online security which is used to secure data that is being transferred from the customers to the website.
SSL certificates give immediate security and ensure the customers that their data is kept safe at all times. This is done by displaying a green address bar or a padlock.
It doesn't just protect your customers alone, it also protects your website and builds your reputation online.
One great feature of SSL protection is its ability to make all transactions provided you get the certificate from a reputable security company, it does the same thing — encrypt and protect data such as personal information, debit or credit card numbers, login details, etc that your customers enter on your website.
It adds random digits to the information and that makes it impossible for anyone to determine the important details.
26). Need For Speed
No matter how large the data on your report or any part of your dashboard is, it's pretty easy to navigate to any part of the page as it works almost like a desktop application.
Creating your checkout page doesn't have to be a pain.
You don't have to wait for several minutes for a page to open, it opens up immediately when you click on the button, link, menu element, and any item that's clickable.
That also reduces the time it takes for you to set up your checkout page. But honestly, it was a bit slow when they just started, but I'm sure they've optimized the application. It works so great nowadays.
27). Mobile Conversions
SamCart introduced mobile responsive checkout pages back in 2014 and they've been improving the mobile checkout experience since then.
More people are on mobile nowadays. According to Marketing Land, mobile now represents 65 percent of digital media time, while the desktop is becoming a "secondary touch point" for an increasing number of digital users.
It goes without saying that every forward thinking brand must make their solution mobile ready.
SamCart is helping you do that. You don't have to worry about that. Just create your checkout pages and deploy them. By default, all SamCart checkout pages are mobile-friendly.
This has a lot of benefits from making your website user-friendly.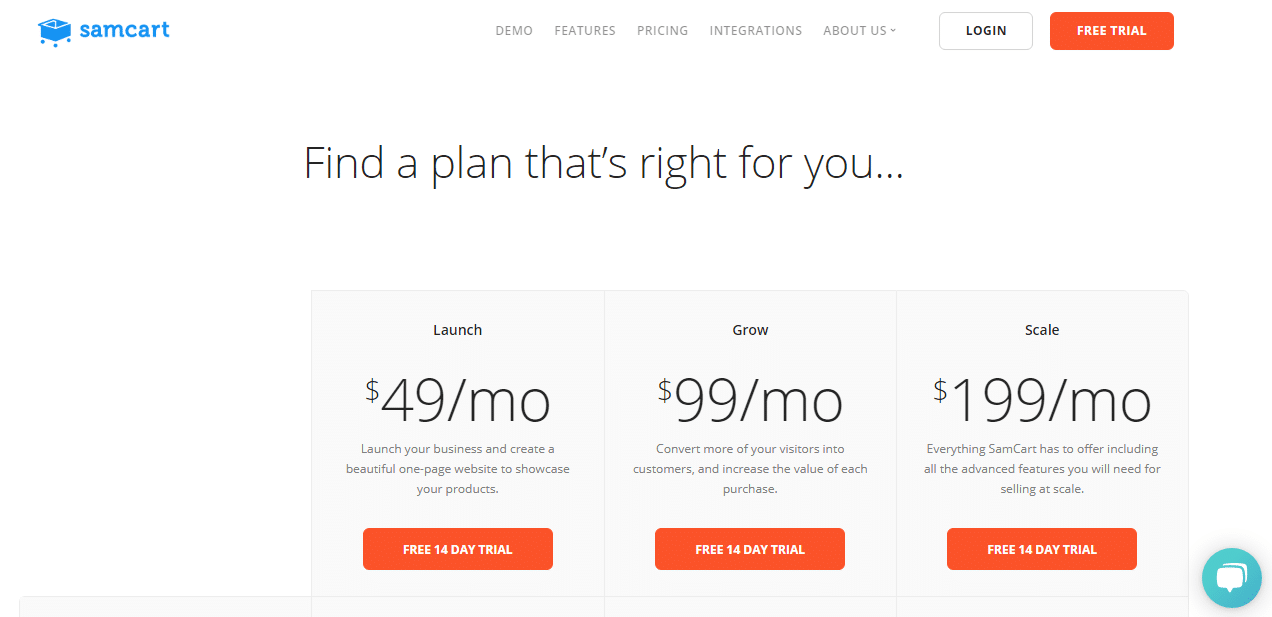 SamCart has competitive pricing compared to other brands. They have three subscription plans; the Launch, Grow, and Scale plans.
The Launch costs $48/month, the Grow plan costs $99/month, while the Scale plan is $199/month.
Photo Credit: Unsplash