What We Like About SEMRush?
SEMRush offers users the most detailed and advanced digital and SEO marketing metrics.
Reports that can be sent directly to clients or for future reference can easily be generated — these reports can be downloaded in PDF format, and branded White Label reports can also be created.
Complete SEO reports which are perfect for clients, marketing agencies, large organizations, and individual digital marketers can be generated.
SEMRush seamlessly integrates with Google Search Console and Google Analytics allowing you to proficiently track your website performance.
The business subscription lets you generate up to 10,000 reports a day and you can have multiple logins. The other subscription plans let you generate 3,000 and 5,000 reports per day respectively
SEMRush comes with fantastic customer support, a large community of users, and a good knowledge base available to every subscriber.
The SEMRush team is continuously enhancing and adding more features to improve its performance.
It contains lots of SEO tools in one suite and can be accessed on every subscription plan. However, the difference lies in the total number of reports you can generate.
What We Don't Like?
The monthly subscription is quite costly for businesses and marketers who are on a tight budget.
A handful of users have reported that SEMRush has some discrepancies in their data.
Introduction
From building a professional website to guest blogging to hanging out with the best people on digital marketing events, we've found that competitor analysis is the most powerful way to outsmart your competitors and gain massive organic search visibility.
Once you've mastered competitor analysis and you implement the insights you get from spying on your top competitors, you'll drive traffic to your website and boost your sales. It's that simple.
Targeted traffic is still the lifeblood of your online business.
The end product of keyword research, link building, social media engagement, and influencer marketing is to drive the right people to your website. Why?
Because when you succeed at it, you'll smile to the bank.As you can imagine, most businesses and website owners are trying to spy on their competitors manually. Of course, the manual has its place.
But it's time-consuming and boring.
On the flip side, smart online marketers use SEMRush. Essentially, we aim to make this post the most comprehensive review of SEMRush. We hope you find it useful and resourceful.
SEMRush is a robust all-in-one search engine optimization, competitor analysis, and marketing suite that consists of numerous tools which are very useful for digital marketing experts.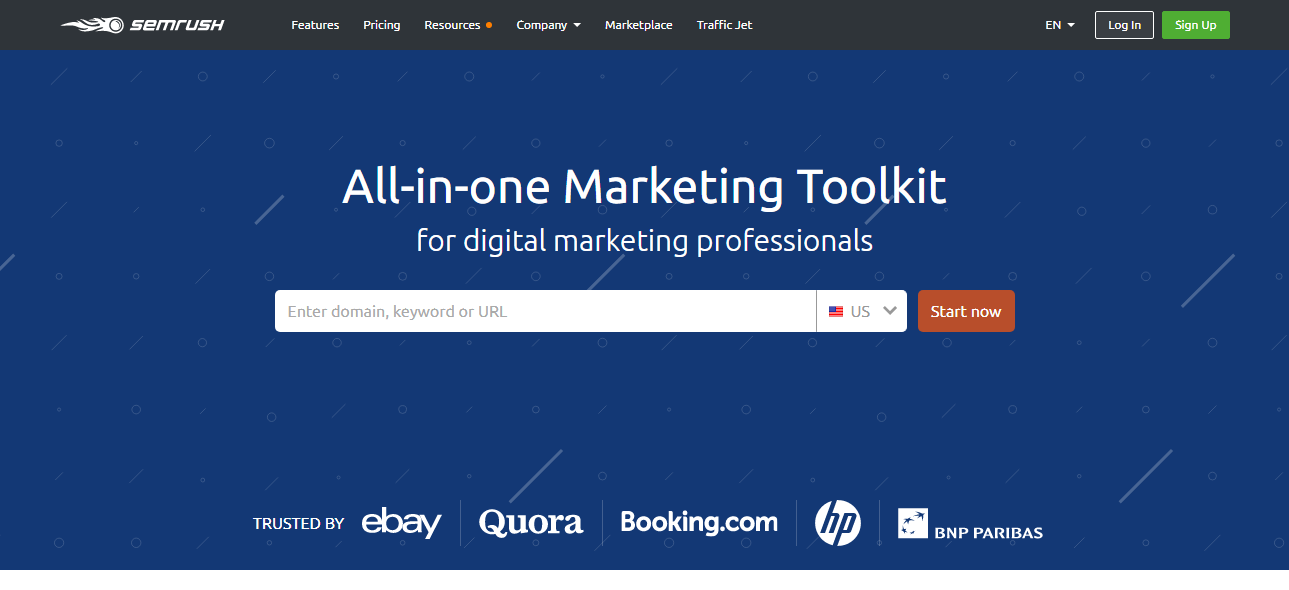 SEMRush can be used to tackle several tasks such as:
Position Tracking
Keyword Research
Backlink Analysis
Website Audit
PPC Research
Content Planning
Social Media Monitoring
Furthermore, SEMRush is the most extensive SEO competition intelligence solution you will ever find on the internet.
There are lots of other SEO tools out there that perform similar tasks, but SEMRush is leading the pack.
In this SEMRush review, we will cover in details, all the features of SEMRush, and equally guide you on how to use these features to carry out specific tasks.
Is SEMRush Ideal for You?
Regardless of whether you're operating a small niche website, an authoritative website or a corporate website, ranking high in the search engine results pages (SERPs) is the greatest goal of every webmaster.
As a result, SEMRush perfectly resonates with the SEO requirements of every website owner regardless of the niche or size of the website.
Basically, you will find SEMRush very helpful in producing content marketing ideas and refining your brand presence online.
Before we delve into specific details of how each tool on SEMRush functions, here is a brief summary of its features and why you should make it your daily digital marketing needs.
☑️ SEMRush Features That Make It an Incredible
SEO Tool
Let's look at the core features that set SEMRush apart and onto the limelight.
1. Competition Analysis: SEMRush enables you to quickly find your competitors and conduct a thorough analysis of their SEO strength (and weakness) and use this information to strategically compete with them. We'll discuss this in detail.
2. Effective Link Building: You'll never find link building easier than when you use SEMRush — because you'll see all the backlinks that your competitors have, where they got each link, and when they got it.
Rather than guessing your competitor's strength, you can access their backlink data and leverage it to knock them off the organic listing.
This backlink data will not just save you lots of time and efforts, it'll guarantee your success, too.
3. Advanced Keyword Research: SEMRush keyword research tool is insanely comprehensive, unlike most other keyword research tools out there.
With SEMRush, you're not only able to perform basic keyword research, you'll equally be able to figure out which keywords your competitors are ranking high for and their overall strength.
That's not all, you can also use the "Related Keywords" feature to identify new keywords in your niche that you never knew existed.
4. Complete Website Audit: SEMRush lets you to effectively perform an SEO audit of your website and easily figure out where improvements are required.
5. Social Media Marketing: For your information, social media can be a treasure-trove and you can boost your social media traffic when you use SEMRush to calculate your social media reach and compare it to your competitors'.
6. Strategic Organic Research: You can use SEMRush to easily generate an in-depth organic research report based on a domain or keyword phrase.
This organic research contains all the needed parameters to build a tactical search engine marketing plan.
7. PPC Advertising Insight: PPC advertising can be very challenging, annoying, and frustrating. Especially when you're not targeting the right keywords.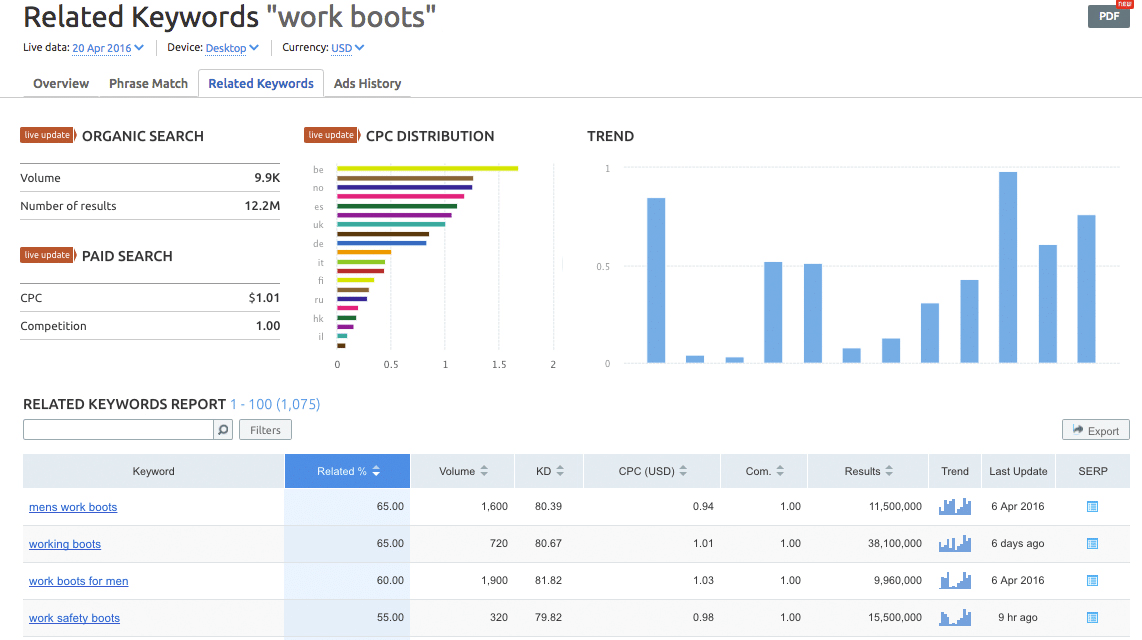 Worse case scenario, you could waste thousands of dollars on your pay per click campaigns.
The good news is that SEMRush lets you look into your competitor's campaign with respect to paid keywords and leverage this useful data to your advantage.
📋 SEMRush Review |
Getting Started
The best way to fully understand and benefit from this step-by-step review of SEMRush is to get an account.
So go ahead and visit the website — and if you want to have access to all the features that we will talk about here, you can also register for a free 30-days trial.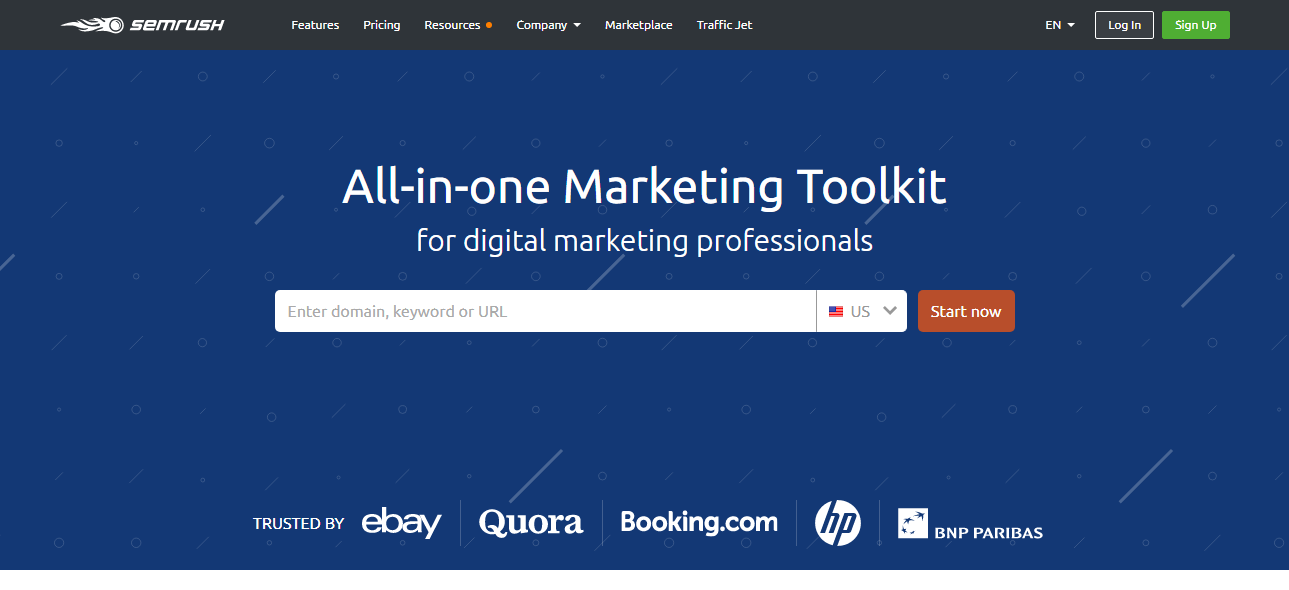 With that out of the way, let's quickly get started.
Essentially, the primary objective is to take a behind-the-scenes look at our competition and see exactly what they're doing and what they're missing out on.
This priceless information will help us to know what's working and what's not working well for them to enable us to piggyback on their successful marketing strategies and use it to our advantage.
This approach indeed makes the difference between blindly guessing what's going to work for your marketing campaign and actually knowing that your campaign will inevitably generate results.
SEMRush Dashboard
Once you visit SEMRush, the first thing you want to do is enter the keyword or domain name you want to analyze into the main search box. Then click on the "Start now" button.



This will give you an overview of the website you're analyzing.
However, before checking out your competitor's website, you want to first start with your own website so you have a better idea of where you are at the moment so you can better compare your website to the competition.
That being said, here's what I got when I entered "socialmediaexaminer.com" into the search bar: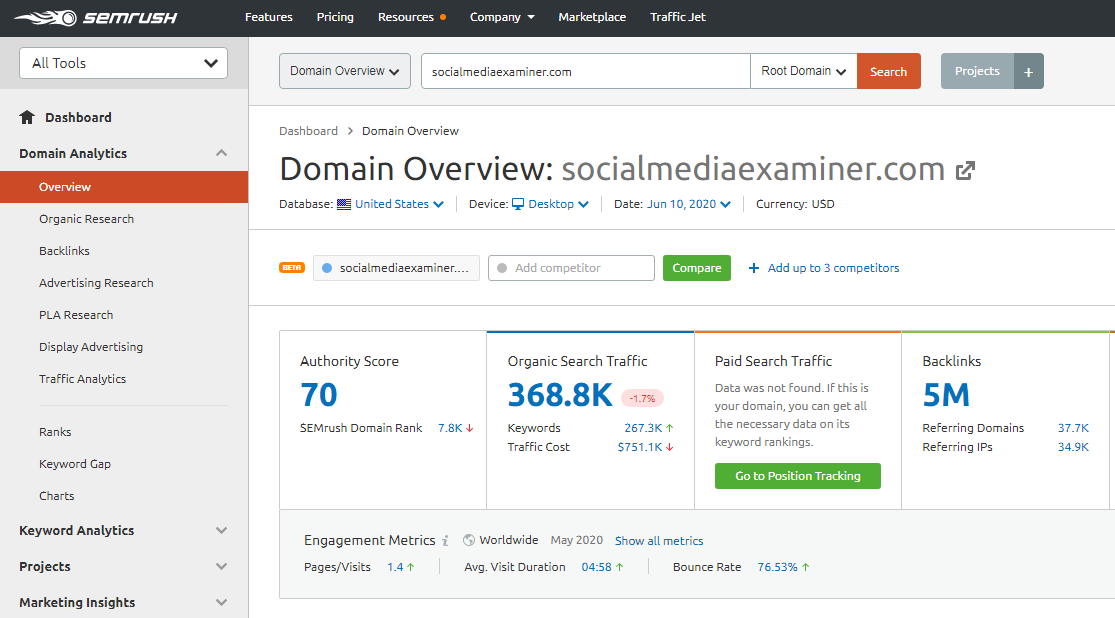 As you've probably guessed, this will provide you a good overview of the essential data for this specific domain.
Here you will see:
The organic search traffic numbers
The top-performing organic keywords
The paid search traffic numbers
The backlinks pointed to your website
Key competitors
A competitive positioning map (more about this in a bit)
The most used anchor texts
Now, if you're required to go to "Domain Analytics," and click on "Organic Research," from the top-left side, you'll be able to see a chart view of the keywords the website is ranking for including extra information like search volume, search positions, cost per click, by traffic, pages, etc. So you have too many options here.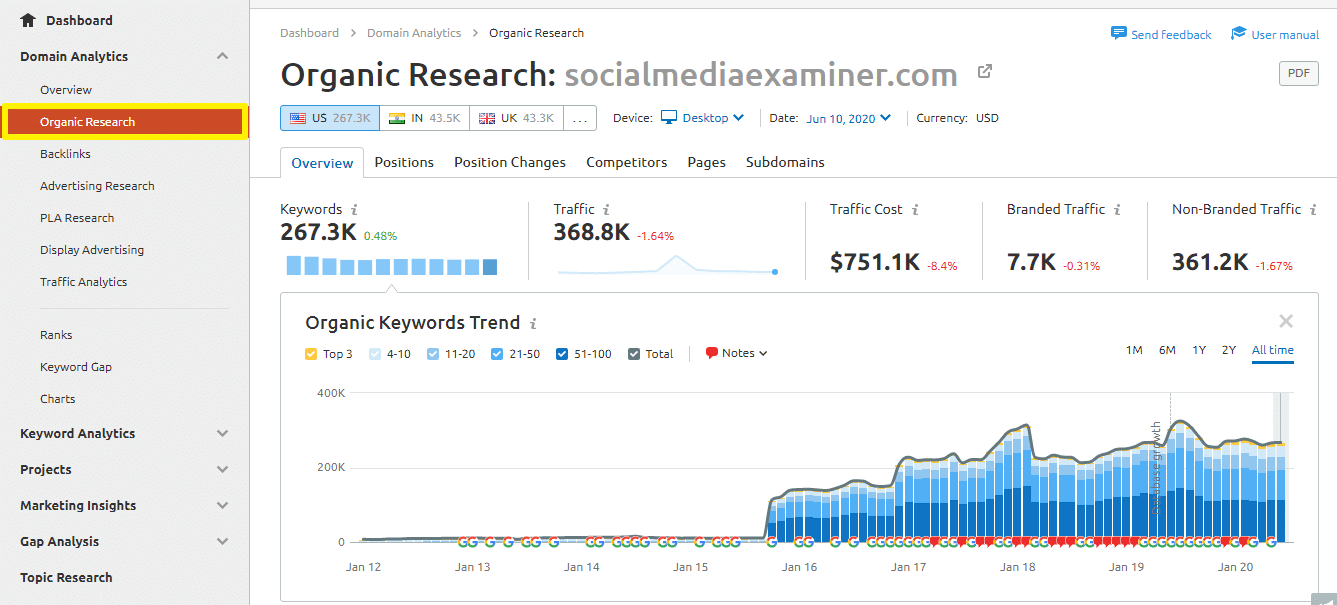 You can also search for specific keywords. That way, you'll see the amount of organic and paid traffic the website is getting, how many keywords are occupying the top positions in Google, and the total number of backlinks pointing to the website.
As you can see, with this useful data, you're already off to a great start!
Now, going back to the domain overview screen section, you will soon realize that when you inspect certain sections such as top organic keywords, you can easily click on "view for report" just beneath the list to be taken to a complete list of keywords.
If you also wish to download this information as a report, simply click on the "PDF button" located at the top of the report.
The report will be sent to you via email or schedule it to be sent later. You can even brand it if you'll be sending it to a client.
How to Find Your Competitor's Keywords
Who are you competing with organically? Which websites are your competitors in the search engine results pages?
This tool makes finding these competitors simple.
To achieve this, simply head over to the Domain Analytics section on your dashboard and click on the Competitors tab located beneath the Organic Research section tab.
It's even a lot easier with the newly designed Domain Tool.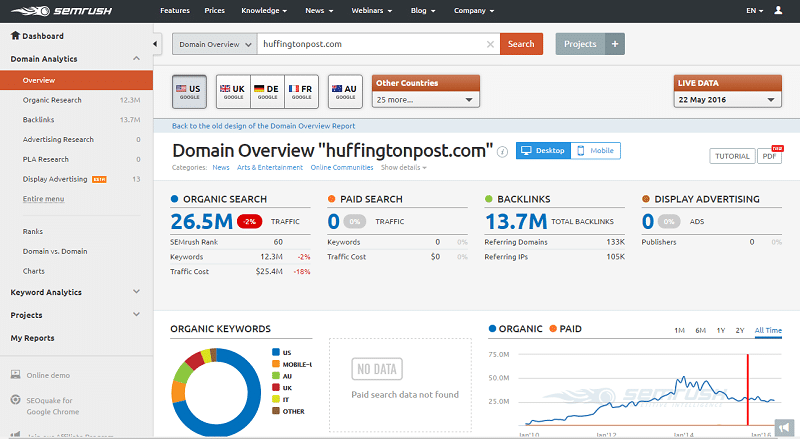 In this section, we will see the competitor positioning map which you saw in the main overview screen already discussed above.
This graph will help you visualize where you rank compared to your competitor with respect to the number of top ranking keywords and the total amount of traffic that this website actually generates.
Essentially, this will help you to figure out who your main competitors are — hover any of the circles to view more information such as a broad overview of the keywords as well as traffic numbers.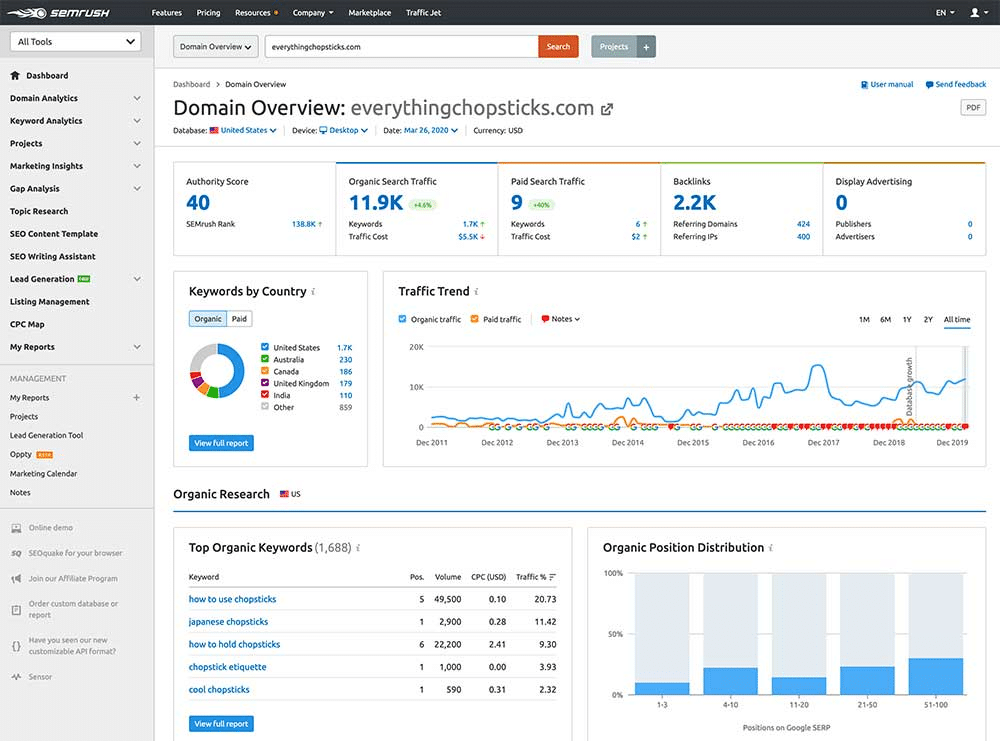 Moreover, clicking on the actual circle gives us more detailed information about this specific competitor.
Once this is done, you'll be taken back to the Domain overview section where you can get an in-depth idea of the organic search traffic numbers, keywords, backlink numbers, paid search, among many other metrics.
However, we'll have to return back to the last page as there is lots of useful data here under the map.



Under the chart, you will find a complete list of all your organic competitors. So for this particular website, it's well over 46,000 organic competitors.
Even if you are working with a smaller website and you still pulled a list of 50 competitors or even 100 competitors, it'll still save you an ample amount of time compared to having to pull all of these numbers manually.
Here, there are a few things I usually like to pay attention to. I like to look at the first few columns which include:
Common Keywords: This is typically the total number of keywords you have in common with this specific competitor.
Competition Level: This is judged based on the total number of keywords the website ranks for and a combination of how many keywords you have in common with that competitor.
SE Keywords: This signifies the number of keywords that send traffic to the website from the search engine.
These are all based on the top one hundred search results rankings. But in order to give you a good idea of who your top competitors are, you'll have to focus on the common keywords column.
This is highly recommended because those competitors that have the highest number of keywords are actually targeting the same keywords that you want to rank for.
Having generated a complete list of your top competitors, you'll have to dive in a little deeper to gather more information that will enable you to effectively compete and outperform your competitors.
Next, click on the number beneath the "common keywords column" for your top competitor.
Here, you'll see a domain by domain comparison. This makes it a lot easier to take a closer look at all the rankings for specific keywords as well as your ranking position compared to the competitor.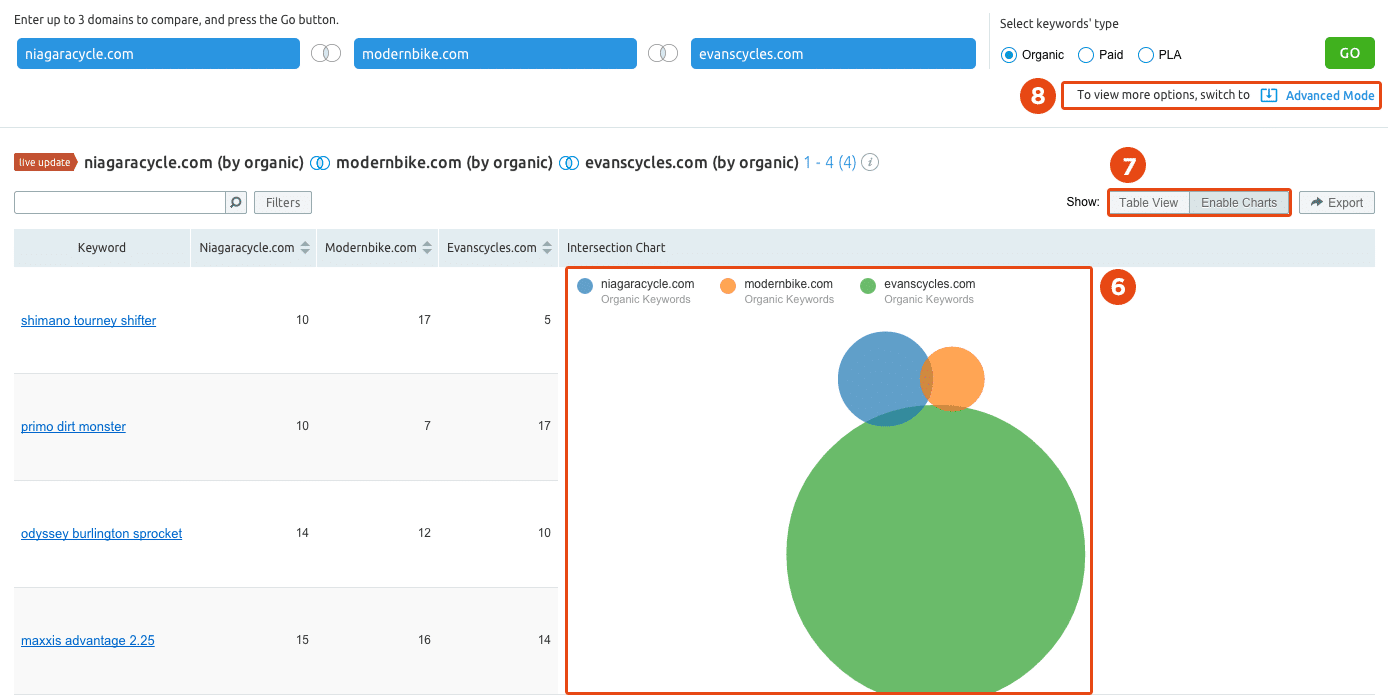 This piece of information is really handy as you can examine all of their top rankings.
But that's not all, you can also see where you beat the competitor in ranking and where the competitor is performing better than you so you can further determine which keywords you want to go after.
Pro Tip: The best way to get the most out of spying on your competitors is to first figure out who they are, what strengths they have as well as their weaknesses.
You can use a tool like SimilarWeb to find your strongest competitors or simply do it the manual way — by searching for your primary keyword in Google. The top 10 organic results are probably your main competitors in the search engines.
Analyzing The Competition
Now that we already know who we're competing with, the next step is to properly analyze their strategies, figuring out which keywords they are targeting and the processes they're employing.
We'll begin by inputting the URL of the top competitor we found in the common keywords section into the search box at the top of the page.
Going back to the "Domain Analytics" section above Organic Research on the top-left side, we want to check out the positions report to have an idea of where our competitor is ranking for specific keywords.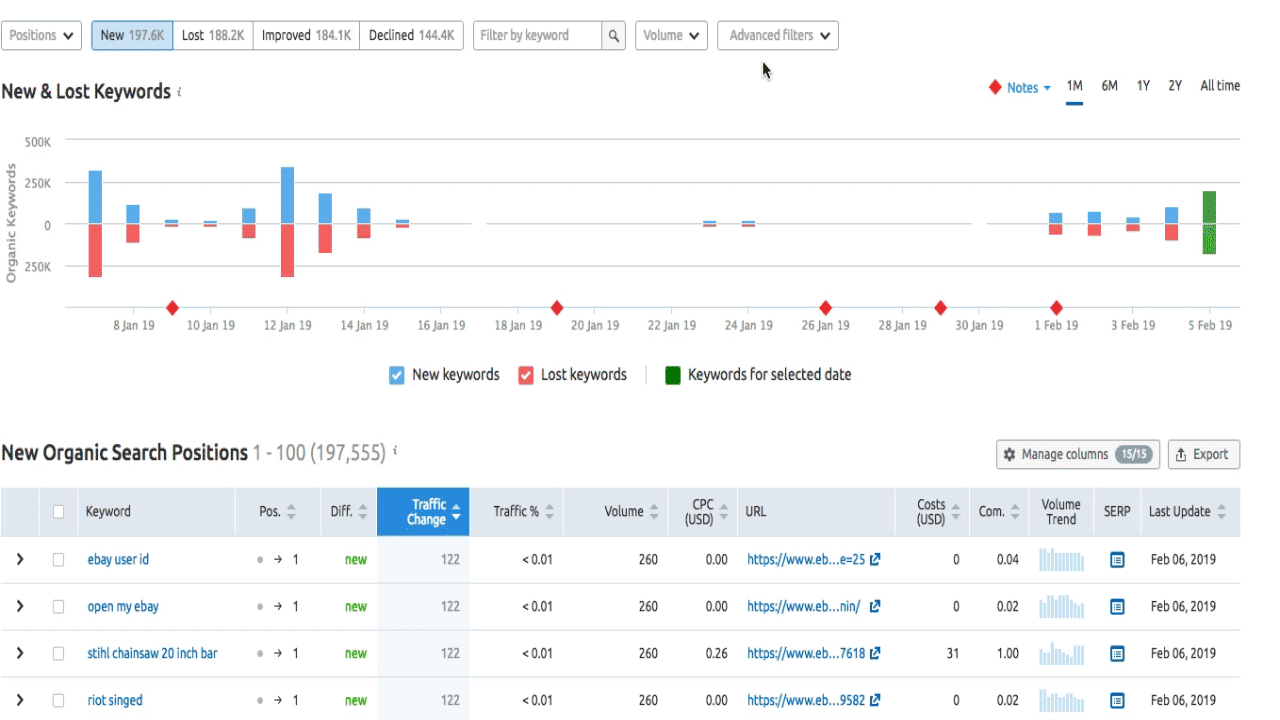 This will give us an excellent overview of the competitor's search performance, the total number of traffic the website generates, as well as the value of their traffic if they're using paid ads.
The graph below will reveal to you whether they're seeing an increase in traffic or a decrease so that you can find out if they have any ongoing successful campaign.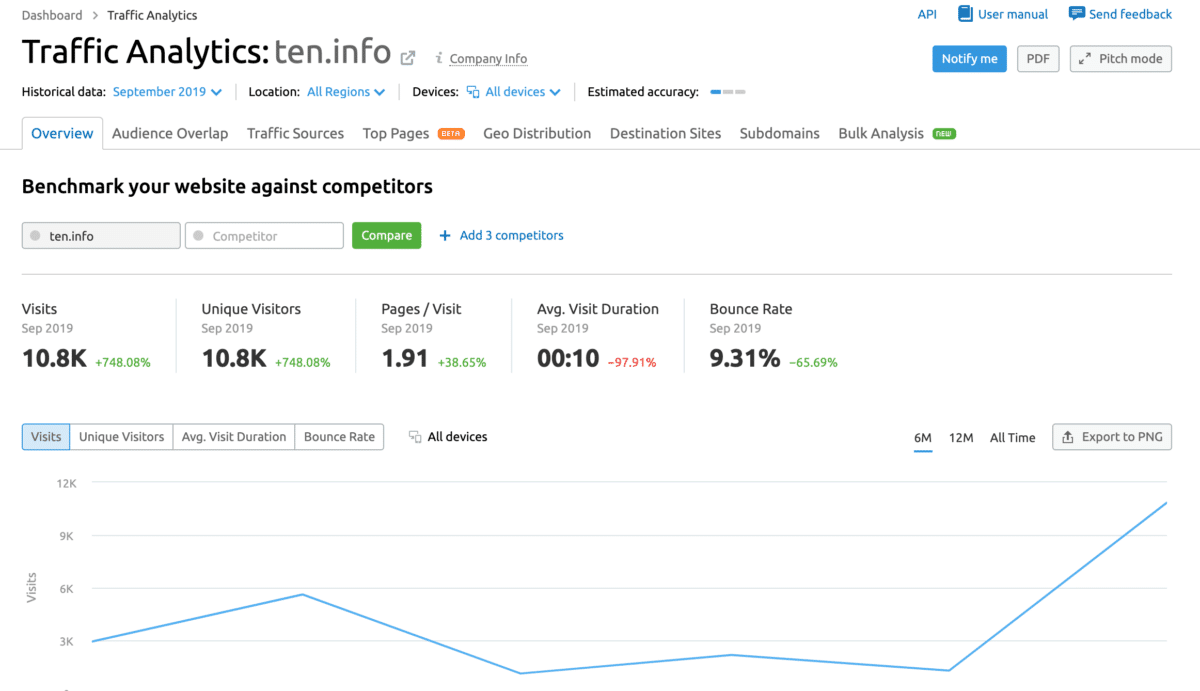 Let's quickly get to the exciting part. We want to find out which keywords generated the most traffic for them. Moving down to the Organic search positions list, you'll see a full list of their top ranking keywords.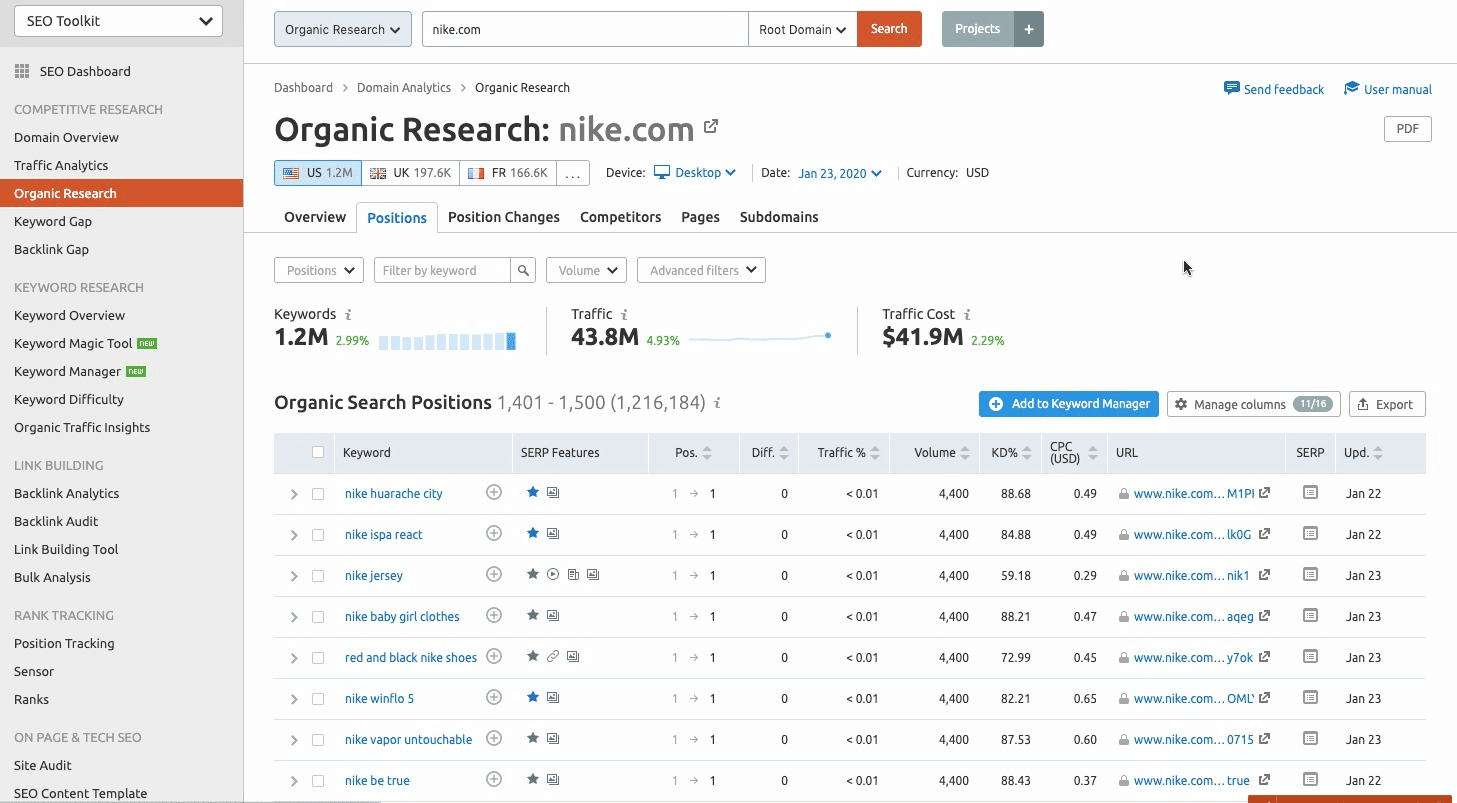 Here, there are basically two big columns you really need to pay more attention to. They are:
Keyword Competition (Com): The keyword competition (Com) is based on a scale of 0 to 1, with 1 being the most difficult. This will help you to determine if this keyword is actually worth going after or not.
Percentage of Traffic/Traffic %: This denotes how much website's traffic is driven by this single keyword. Therefore, in this case, you can easily see almost 9% of the website's traffic is driven by the specific keyword in this first column.
From this chart, you can examine all the keywords and see if there's any of them you think will work well well for your website.
Then once you've figured out those, you can further examine other keywords to determine how your competitor is actually ranking for them.
Good enough, there's an easier way of doing this, and that involves downloading the list by simply clicking on the export button found on top of the chart.
Use this list to discover all the keywords your competitors are ranking for in the SERPs — which you can even go after.
When you've filtered the list down, sort by the keywords with the highest search volume and from there, dig deeper into the keywords.
This will finally provide you a basis for finding potential keywords that are worth targeting on your website.
Analyzing the Competitor's Content
The next step is to figure out how our competitor is actually ranking and the perfect way to achieve that is to discover which pieces of blog posts are giving them the most results.
Now, let's move back to "Domain Analytics" section and click on pages located under "organic research."
You probably already know the importance of content in ranking high in the search engine — so you really have to spend adequate time delving into which particular pages your competitor is ranking.
On the page list, we will see which pages are ranking in the top 100 Google search results. This gives us a good idea of how much traffic the page gets per month.
Then, we can also see which keywords the pages are ranking for so we can get lots of useful data to work with.
Clicking on any of the links will give us an overview of this exact web page rather than the entire website. On the overview screen, you'll be able to see:
The number of backlinks pointing to it
Total number of organic search traffic the site generates
Exactly which keywords this specific webpage is ranking for
All the ranking positions.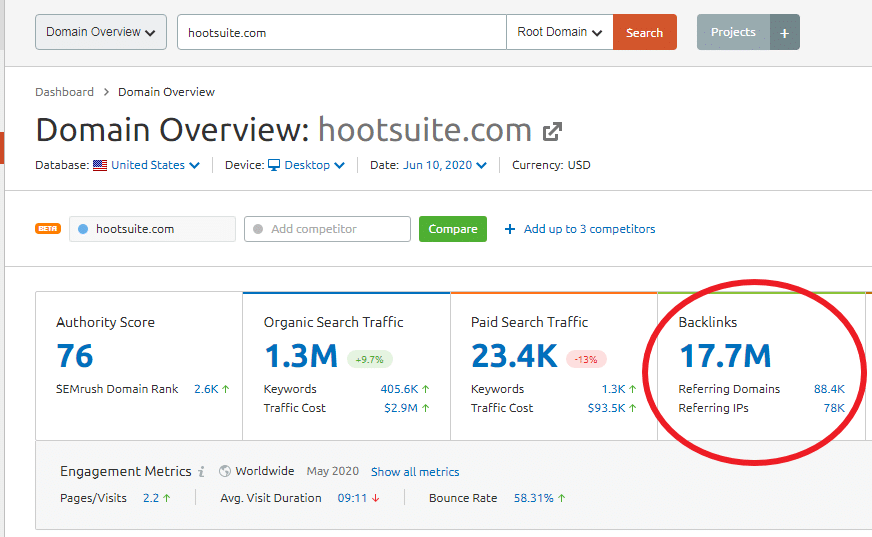 From here, click on "get a full report" which you can see on the top of "organic keywords section."
Next, we'll have to export this list and sift through it to select any long-tail keyword(s) that shows up — this is a good way to discover some extra keywords which your competitor may not really be actively targeting for which you can leverage.
Another thing you could do with this chart is to check out the keyword difficulty column.
This will give you an idea on a scale of 0 to 100, exactly how competitive it will be to organically rank for this specific keyword.
Also, you'll get to see the actual Google search results page by clicking on the SERP button in the last column.
You'll uncover where the competitor is ranking but most importantly, it lets you see all the top results for that specific keyword. So this is where you can begin some of your keyword research processes.
You'll be able to see who else is ranking, why they're ranking, and this will give you a good idea of what keywords to really pursue, what type of content to produce, exactly how competitive the keyword is, and what you will/should have to do to beat the competition.
Ideally, go after a competitor that is similar to your own website, in terms of size, Domain Authority, and Page Authority.
Especially if your website is relatively new with little or no traction — avoid tackling some of those bigger authority websites out there.
It will really take your website some time to build up to that trust, page and domain authority, and to be able to generate some good traffic to the site. It's good to start small and build your way up.
Finally, it's necessary to go back to the list of web pages and tap on the arrow icon next to the left of each link.
This will take you to the live web page — what this does is to let you examine what type of content the website is actually using.
What type of blog post is it? Is it a 'how to' article or a 'list post'.
Do they add any slides, a video, or an infographic to their post?
What type of images (screenshots, graphs, charts, illustrations) do they use?
Typically, this will help you identify what type of content you need to be producing because you ultimately want to create an awesome piece of content that will kick-ass.
In other words, you want to create the type of content that will really go above and beyond what the competitor has already published.
This will eventually help your rankings.
Coming back to the pages list, tap on the number located in the "keywords column" for the link you are exploring currently. Also, you want to export this list, find similar keywords, and group them together.
This will help you when you go to create your content as you'll already have a list of keyword variations that you can make use of within your content. Amazing!
At this stage, you hopefully have lots of new keywords as well as some new topics and content you can also integrate into your website.
Pro Tip: Once you have analyzed your competitor's top pages, you can equally use Buzzsumo to determine their most popular posts and how well those posts performed on social media. Ideally, you can piggyback on their most-shared content on social media for your own content.
Using Advanced Filters on SEMRush
With SEMRush, you can easily use Advanced filters to find the right keywords. This, in my own opinion, is one of the hallmarks of keyword research.
Being able to get keywords that are specific and targeted to your business or your client's and optimizing your pages for these search terms is key to improving your organic ranking.
To get started, open the Filters tab that appears at the top of the page: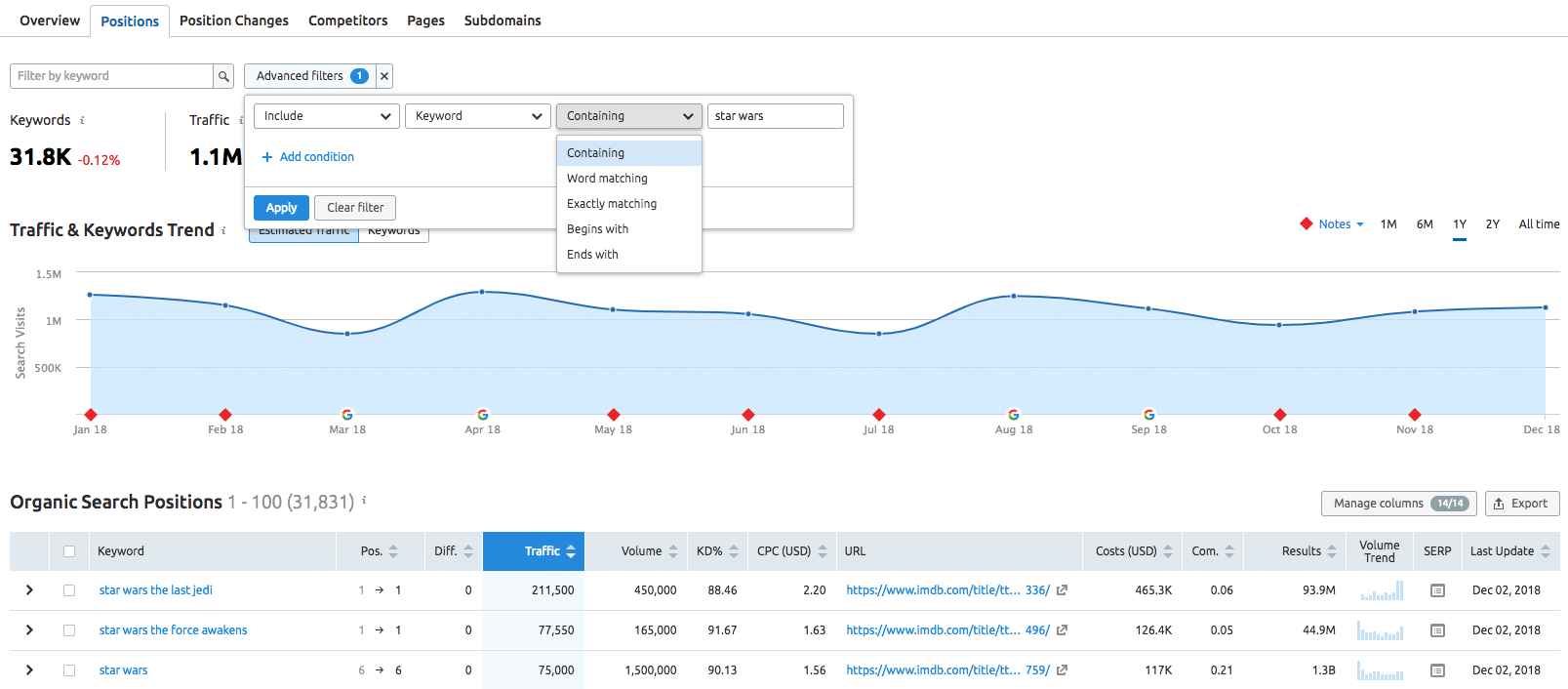 If you have opened the Filters Tab, let's see some of the things, in terms of keyword research.
1. Find Keywords with a specific amount of search results
Most people don't do this when they're conducting keyword research with SEMRush.
But it's crucial because it shows you the direction to approach your content from, so that you don't end up competing against the top brands in the SERPs.
Go ahead and set the number to whatever you want. Regardless of the project that you're working on right now, this can really be helpful.
2. Get Keywords that contains Specific Word
This is the sweet spot. You can use the tool to find only keyword phrases that contain a specific word of your choice (e.g., cost).
Here's the combination you can use to filter it: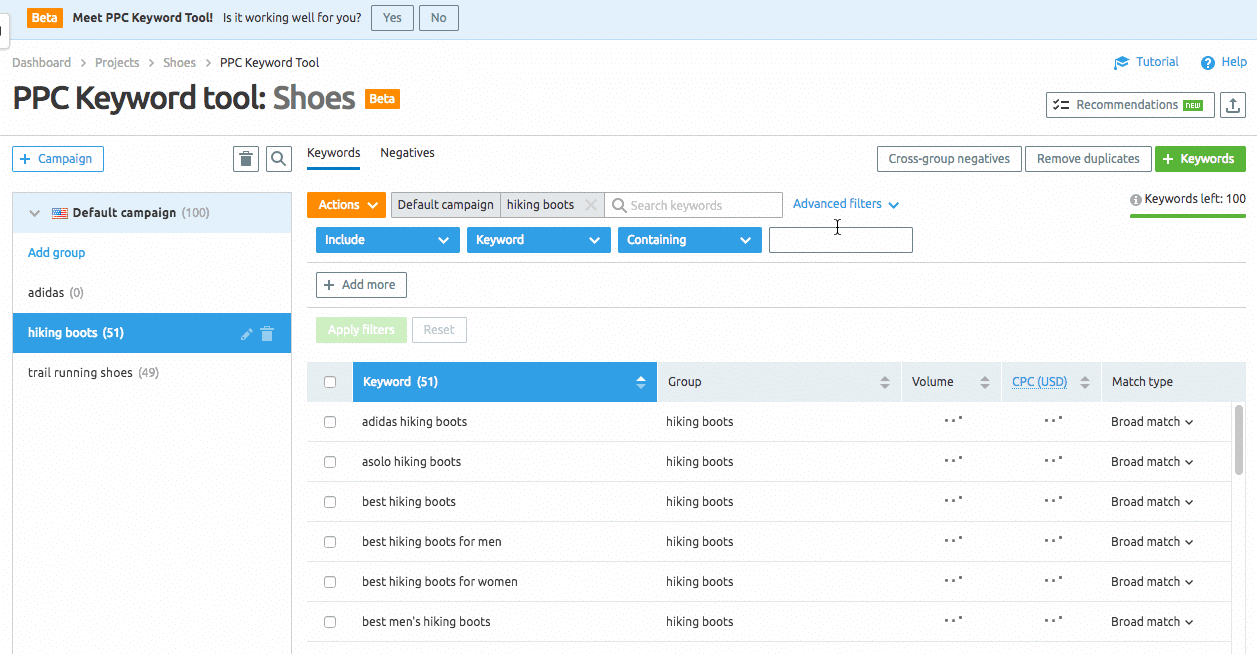 3. Get Keywords Excluding A Specific Word
You might want to exclude a specific word from your keyword list. This is useful if you're targeting commercial keywords and don't want people searching for "free" to see your organic listing (hopefully). You can also filter by volume.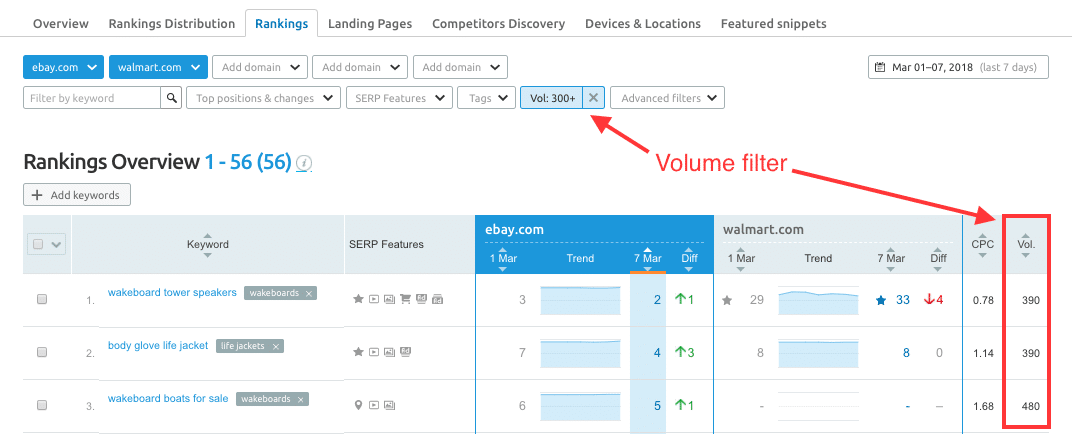 4. Find specific words in Beginnings And Endings
You can choose to find keywords that contain a specific word either in the beginner or ending or both. Here's the combination that works with the "filter" tab: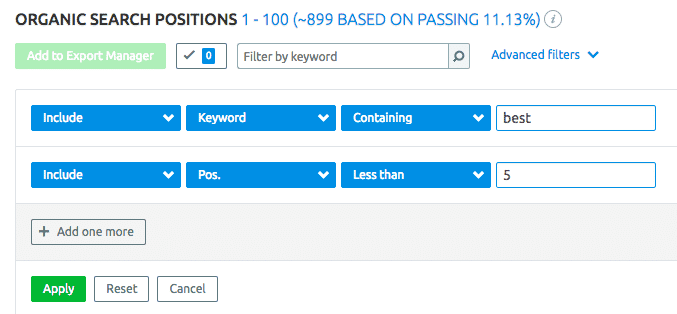 Use this combination to find the specific word at the end:
Alternatively, if you choose to exclude specific words in the beginnings and endings of your keywords, you can do it this way. Then check the Estimated traffic and Average positions: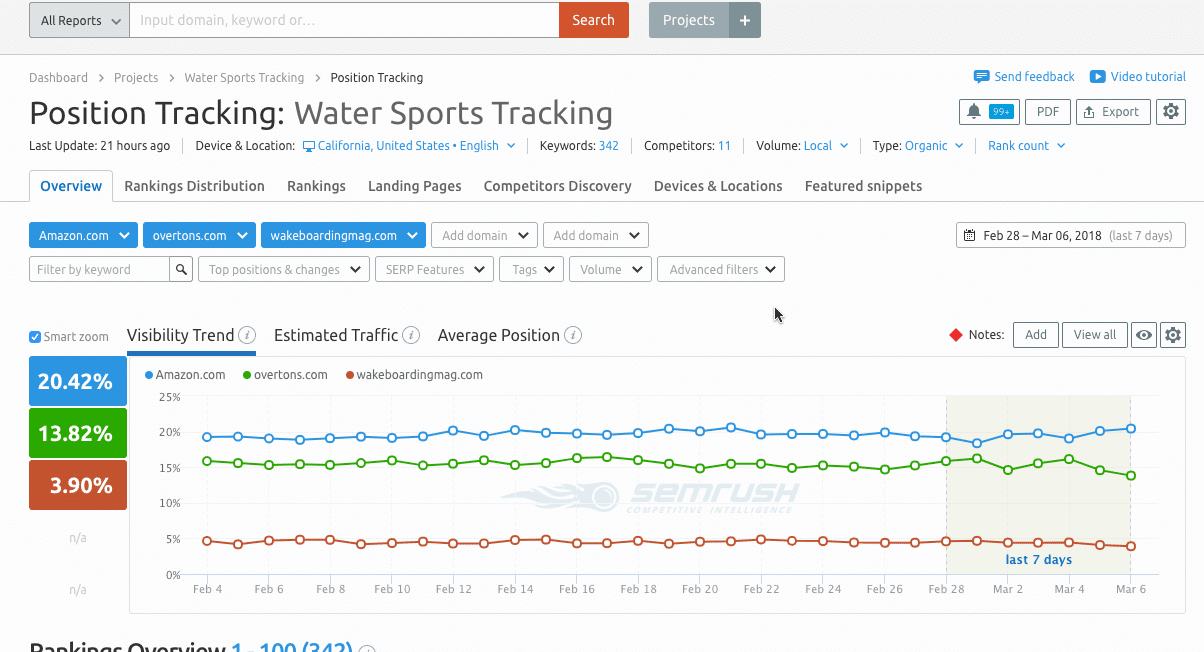 5. Get Keywords with a specified Monthly search volume
If you're looking for keywords with at least 1,000 monthly search volume or lower, there's a filter for that as well.
Here's how to set it up for a greater, less than or equal search volume: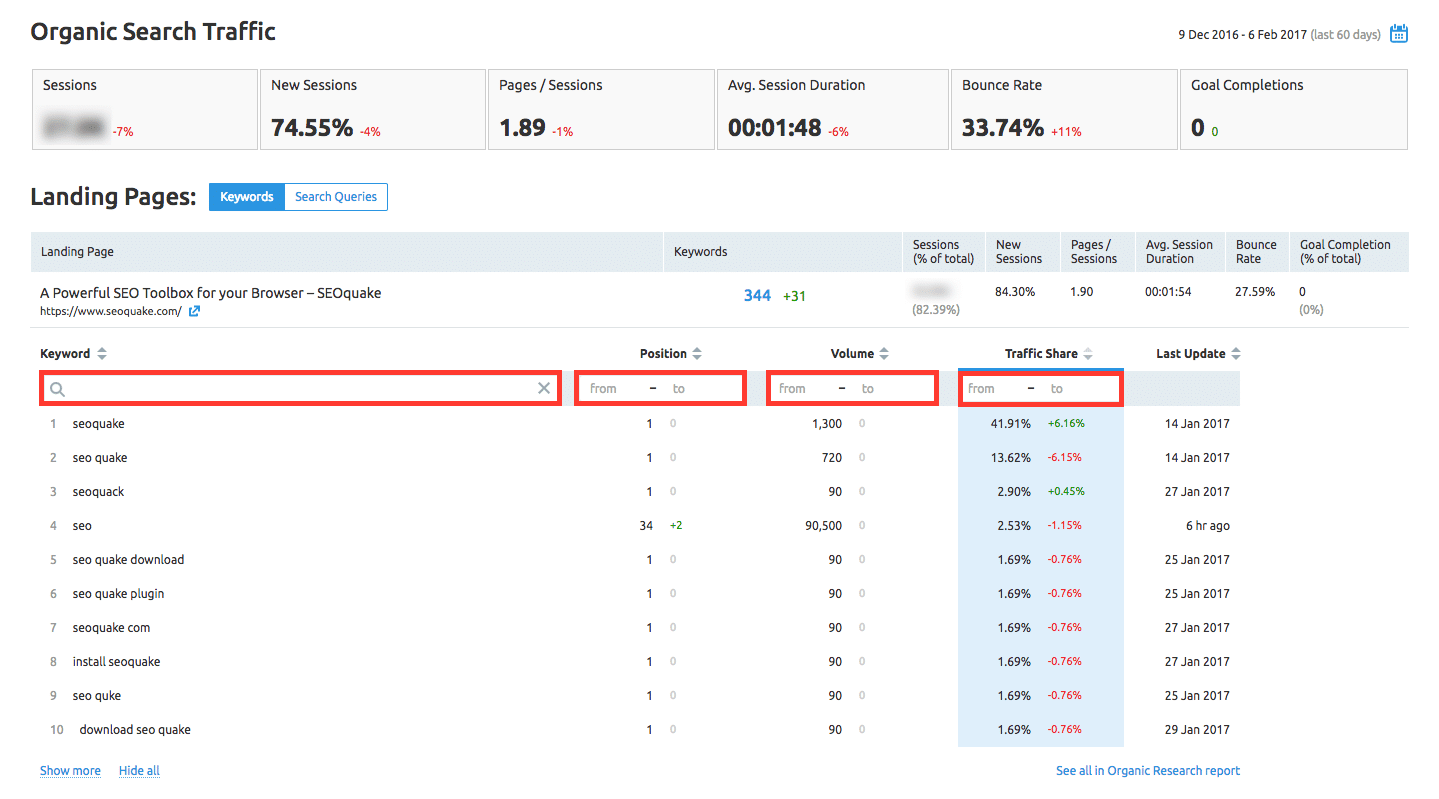 Using SEMRush to Find Long-tail Keywords
We've already talked a little about long-tail keywords, but let's go into how you can quickly discover lots of long-tail keywords which you can use to easily rank your web pages in the organic SERPs.
We love going after long-tail keywords (e.g., best workout snack for pregnant women) because they often have lower competition.
Hence, it's pretty easy to rank for keywords that will convert organic clicks into customers, and you can get organic visibility faster as compared to optimizing your page for Head keywords (e.g., workout snacks).
In order to gather these keywords, let's quickly go back to the left-hand menu and click on the overview tab beneath "Keyword Analytics" section.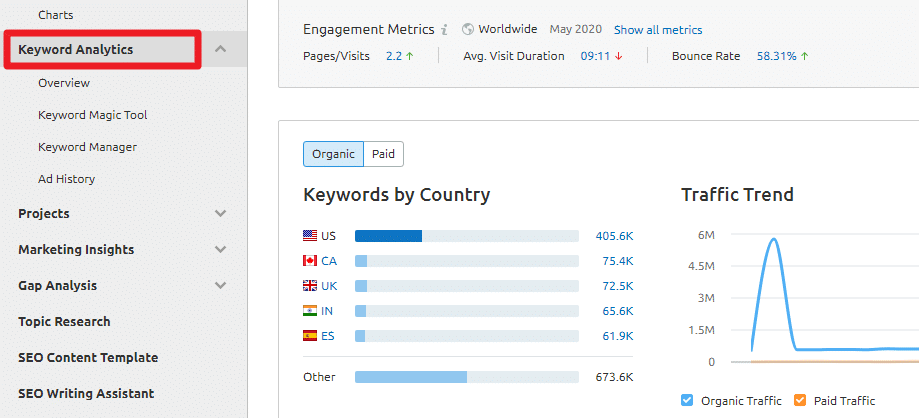 The first step here is input a keyword you want to properly examine. So let's begin with a generic keyword (known as our seed or primary keyword).
After inputting the keyword in the search box, you'll be presented with the organic and paid search volume, as well as the competition and search trends.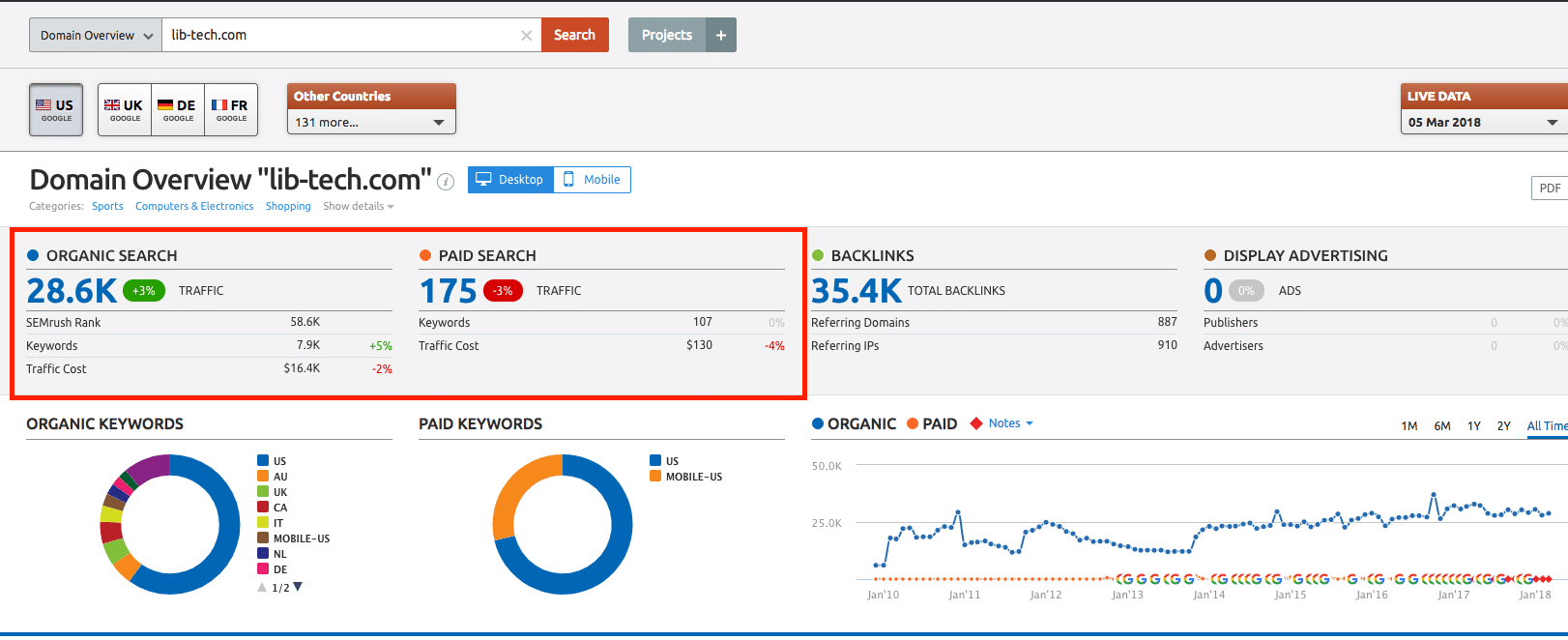 However, what we really want to do is scroll down a bit, and look at the "phrase match" and "related keywords" sections.
This is where we'll get a bunch of keyword ideas. For example, here's a list of related keywords for "work boots."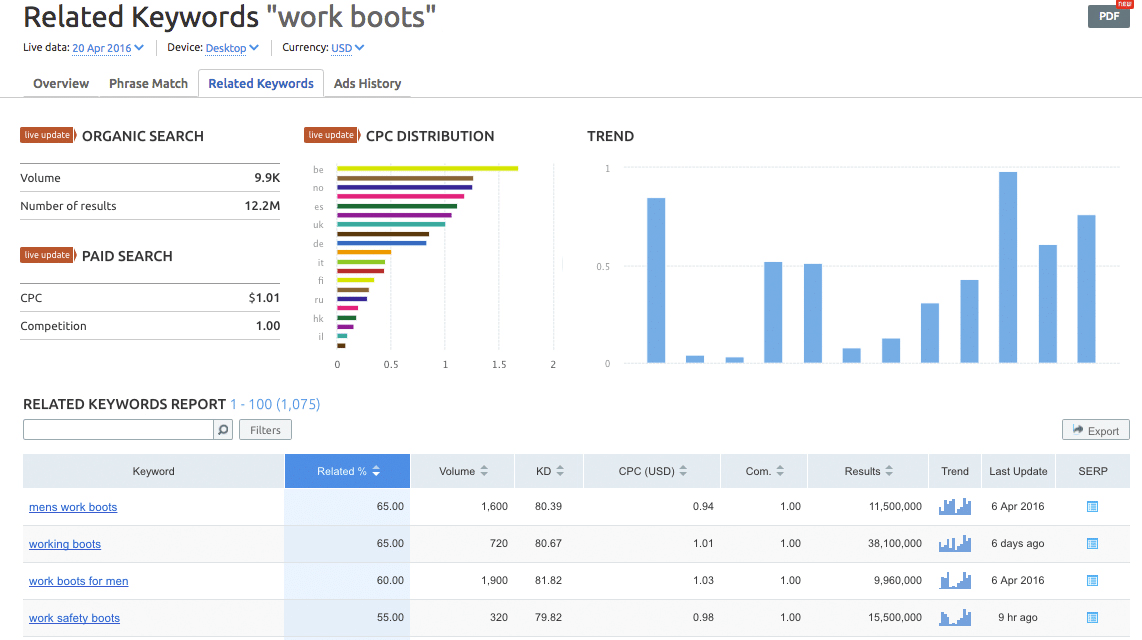 On the PHRASE MATCH KEYWORDS section, you can find lots of long-tail keyword ideas that actually contain your seed or primary keyword. Then click on the "view full report" tab located at the bottom of the list.
Moving on, once you're on the full phrase match keyword list, scroll down a little to the phrase match report and you'll see a chart which will give you a collection of different keywords.
Additionally, at the top of the list, you will see exactly how many keywords they are offering in the report.
You'll equally notice that some of these keywords are long tail keywords, which are excellent to target.
For example, while carrying out a search for the keyword "baby strollers," I immediately found the keywords: "baby strollers with car seat," "baby trend double stroller," and "baby doll stroller."
That's not all, you will equally see not just the search volume for each of the keywords, but also, the keyword difficulty of each search term — and this will eventually tell us how difficult it will be to rank for these specific keywords.
One hundred is the highest, therefore, the lower the keyword difficulty (KD), the better. Most times, anything that is around the 30s range or below is fine. You can compete!
However, it starts to get a little harder after that point. Don't even dare 70 and above!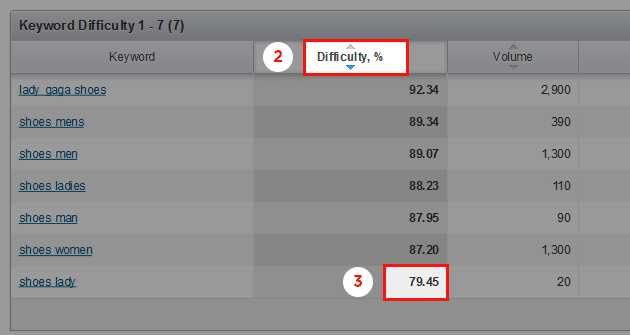 Again, you want to export this list and sift through it getting rid of any keyword(s) you don't want to use, don't have buyer intent, or are totally irrelevant.
You can equally filter out any keywords whose keyword difficulty score is so high so that you can focus more on some of the better keywords.
Furthermore, you can equally find keywords variations that you can group together so you can use them in a single piece of content.
This will help give you a list of good subtopics, headings, and keywords ideas to include in the article because as you might already have known, using different variations of your primary keyword within your blog post, will ultimately help you rank for that primary keyword as well.
But we will not stop here though. The next step is to click on any long tail keyword you'd like to target in your content.
After that, scroll down to the phrase match keywords list once again and click on "view full report."
You now have a full list of longer tail keywords you may be able to go after and/or add to your list of keyword variations as we discussed earlier.
This is really invaluable information when brainstorming on not only a topic to write about but what to add to the content.
Next, let's quickly go back to the main Keyword dashboard and focus more on the "Related Keywords" list.
Interestingly, the related keywords will pull up extra keywords which are closely-related to our primary keyword but may not necessarily include those exact words.
Here, you want to click on the "view full report," tab, and this will provide you with another full list of keywords to properly examine.
Similar to the phrase match keywords we earlier talked about, clicking on these keywords will unearth to you the related keywords for each particular search term.
At the top here, you can also export these ideas — you can filter your keyword out and ensure to group your related keywords list so that you can use the variations of your primary keyword in your content to aid your rankings.
Pro Tip: If you're a local business or you're serving your locality, then make sure you find long-tail keywords that are located-based. For example, "Plumbing company near me", "professional accountant in Orange County."​
Stealing Your Competitor's Keywords With SEMRush
You want to unearth some keywords your competitors are ranking for which you are not. This can easily be achieved going to the "Gap Analytics" section and clicking on the "Keyword Gap" tab.
Essentially, this will help you to compare up to 3 domains side-by-side. So let's compare two websites in the same industry and focus more on the organic search results.
When you're done inputting the domains (e.g., Niagaracycle.com and modembike.com and evancycles.com) you'd like to compare, click the GO button:



You'll be redirected to a chart which contains all the various keywords both websites are ranking for and it equally shows the ranking position for each website.
Next, you're required to click on the "Enable Charts" button located on the top right-hand corner of the report.
This will give you an overall idea of how many keywords that particular competitor is ranking for which you aren't.
When you hover over the circle, you'll see the number of keywords the websites are ranking for as well as how much of those keywords are very common between the two websites.
This will finally help you to see how many keywords that competitor is ranking for which you are not. Goldmine, right?
Returning to the Table View, you can easily have a clear view of which keywords you are ranking for compared to which one(s) your competitors are ranking for.
You can sort by either your website or by the competitor's website to know where you might be able to rank or outrank them. To get started, we can examine where the competitor is ranking high in the top Google spot.
We can also see where we are relatively competitive with regards to rank position and where the competition is far ahead of us.
This will reveal to us some potential keywords we could target which we're already ranking for in the top 100 search results in Google but that could require a little boost to help us compete fiercely with this specific competitor.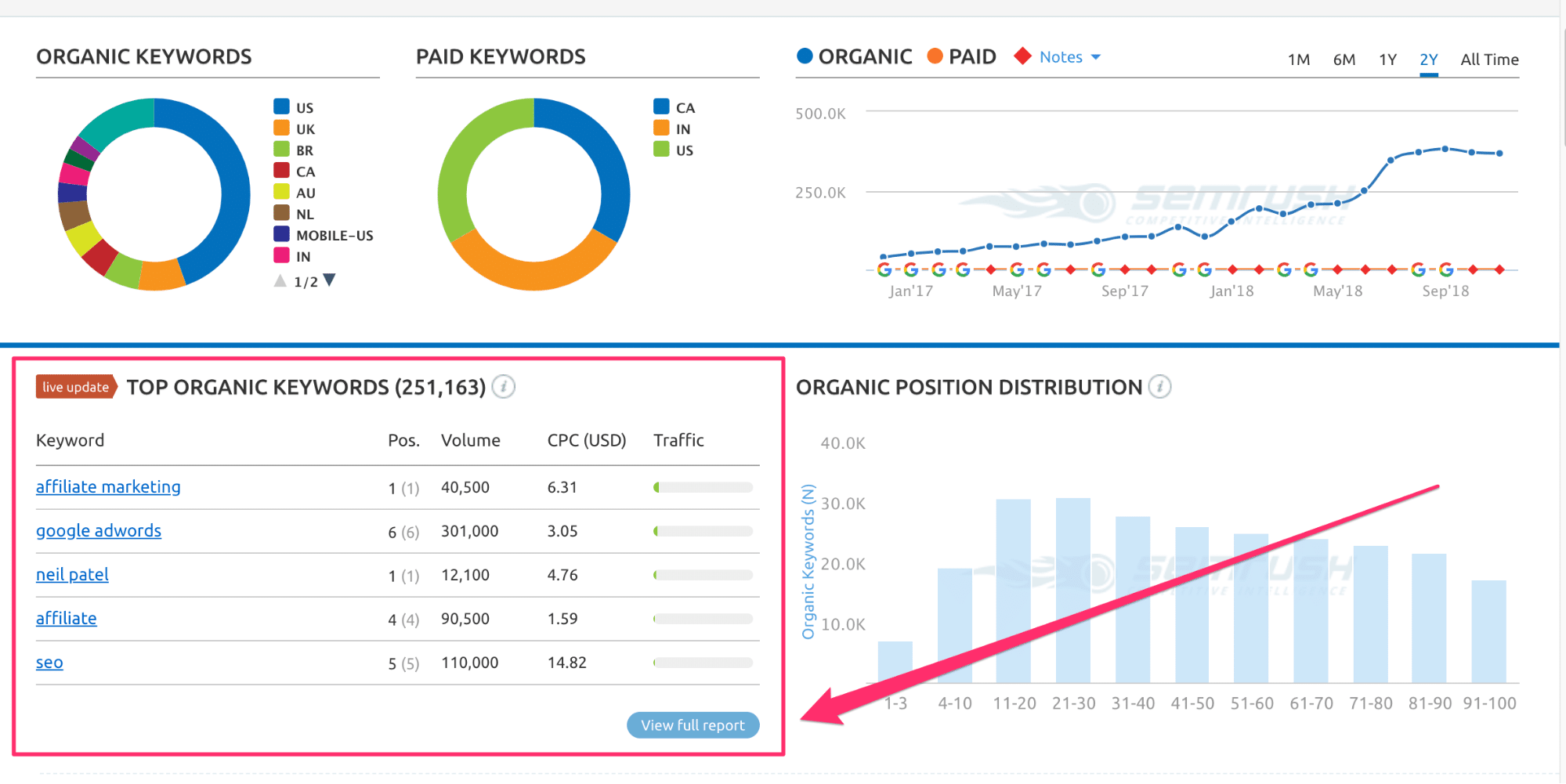 Similarly, you can also sort by your own website, check out where you have poor rankings and also compare it to that of the competitor's.
This will eventually help you to easily spot some keywords that are worth targeting which the competition is already ranking for and then carry out this process one more time where we figure out the reason they're ranking for those keywords and carry on with your research.
Using 'Keyword Magic' to Discover New Keywords
Just below the 'Keyword Analytics' section, there are a few other options you'll find to be truly helpful. Let's begin with "SEO Keyword Magic" which is basically a new feature that was recently introduced by SEMRush.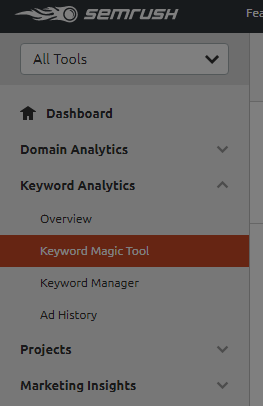 This feature can help you to develop a big list of potential and target worthy keywords. You'll be able to group those keywords in specific niches and further evaluate them. Let's quickly have a look.
Once you're done entering your keyword into the search bar, you will be given a list of the various related words.
Here, you can include or exclude specific keywords based on what you want.
For instance, if I carry out a search for the keyword "baby strollers" but I don't need any keywords with the words helmet, it will take that out automatically and you'll see the keyword search volume number decrease on top of the chart.
Next, we can narrow down the search based on search volume. So let's assume I want to check out a search volume from one hundred to one thousand (100 to 1,000). This will also narrow down the results.
Furthermore, if you want to target keywords that have a smaller Keyword Difficulty (KD) score, simply set your desired range in the "KD % boxes."
Once this is done, you'll instantly notice that the number of keywords available to you has reduced but still meets your criteria.
This is a tremendous way to really narrow keywords down especially when you want to group keywords together and you're trying to gather similar keyword variations.
The SEMRush SEO Keyword Magic tool really makes that quick and easy.
Determine Keyword Difficulty

Next, let's take a look at the "keyword difficulty" feature which you can find under the "Keyword Analytics" section.
Once you've got your keyword list, you can simply copy and paste it in the space provided. This new feature will help you to compare, side-by-side, all the different keywords on your list.
After inputting your keyword list, you'll see the "difficulty score" for each of the keywords, the number of search results, and the search volume. After this, you can sort the keywords by the different columns.
In this case, I can begin by sorting the "keyword difficulty" column to discover the easy-to-rank keywords.
This simple exercise will further help you to find a starting point and aid you in figuring out some keywords that may be too hard to target.
SEMRush makes it insanely easy to monitor and track the changes in keyword ranking from month to month.
In the Organic Research section beneath the Position Changes, we can check out new keywords, the pages the keywords are ranking for, as well as any lost rankings.
Then we can also check for which keywords have improved or dropped in rankings.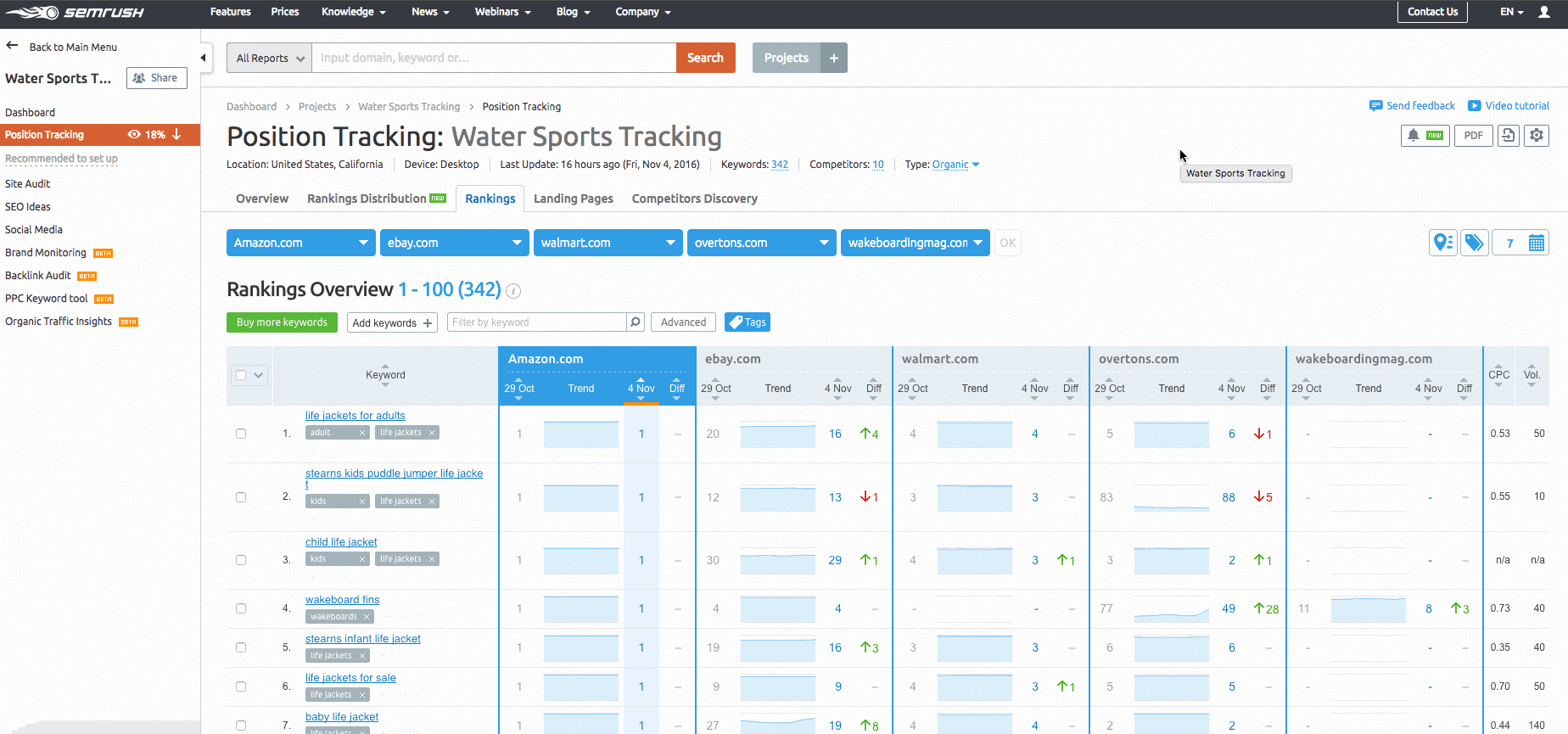 To begin with, the chart will allow us to look at one month, six months, one year, and even all-time view, as the case may be.
You can also find a list of the new keywords the website is now ranking for within the past 30 days under the chart.
In this section, we can easily see all the rankings in the first position, their search volume, and the percentage of the website's traffic is coming from each specific keyword.
That's not all, we can equally look at our lost traffic, as well as our improved and declined rankings.
Now, let's take a deeper look at our list of improved rankings. This will show us our current ranking along with the number of positions we've improved.
Apart from that, you can equally sort this to see which specific keywords have the biggest position difference within the past 30-days. This is going to give you a perfect idea of what is happening with specific keywords.
Similarly, you can check out the list of keywords that are declined.
This is very helpful information as it could help you to properly identify which keywords need some push and which ones you should be paying more attention to so that you can maintain your ranking positions and hopefully help regain your top rankings.
Going further with the declined list of keywords, we can equally sort by position difference and carefully observe the keywords that have taken the greatest hit.
This will enable us to really go deeper into these specific keywords, study the particular page, the backlinks pointing to the exact page, and also help us determine exactly what's happening so we can fix the problem.
Using SEMRush to Find Link Building Opportunities
We've so far looked intensely into keyword research and also identified who our competitors are.
The next step now is to focus on link building. As you already know, links are important ranking factors, if not the most essential.
We want to identify some great link building opportunities and the best way to go about it is to spot good sources of backlinks by properly analyzing the backlink profiles of our competitors.
To achieve this, look under the "Domain Analytics" section and click on backlinks.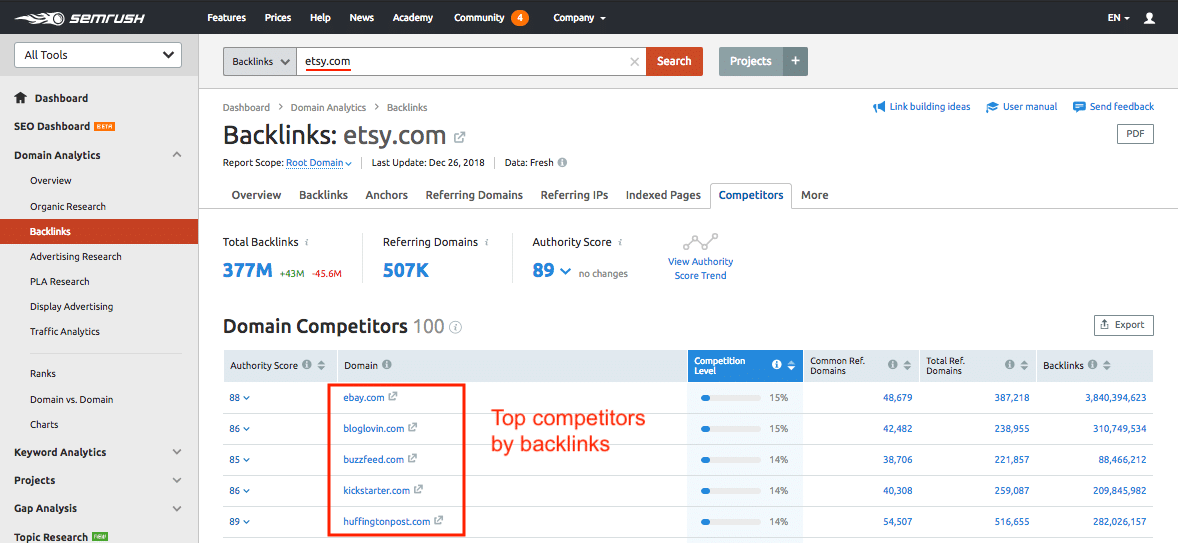 You want to enter your competitors' URLs into the search box. The overview screen will give us some useful data such as:
The total number of backlinks the website has at the moment
The total number of referring domains
Which of the backlinks are dofollow versus nofollow
And so on.
Looking at referring domains will tell us just how diverse the backlink profile of our competitor is.
In the screenshot above, we found there are 4.4 million backlinks, however, those links only came from over 33,000 different domains.
For instance, if you're working with a very small website and you're analyzing a low competition industry, let's assume the competition only has about ten referring domains but they have a total of 300 backlinks.
What this means is that lots of those backlinks are not holding as much weight due to the fact that they're getting a lot from the same source. Therefore, diversity is key when it comes to link building.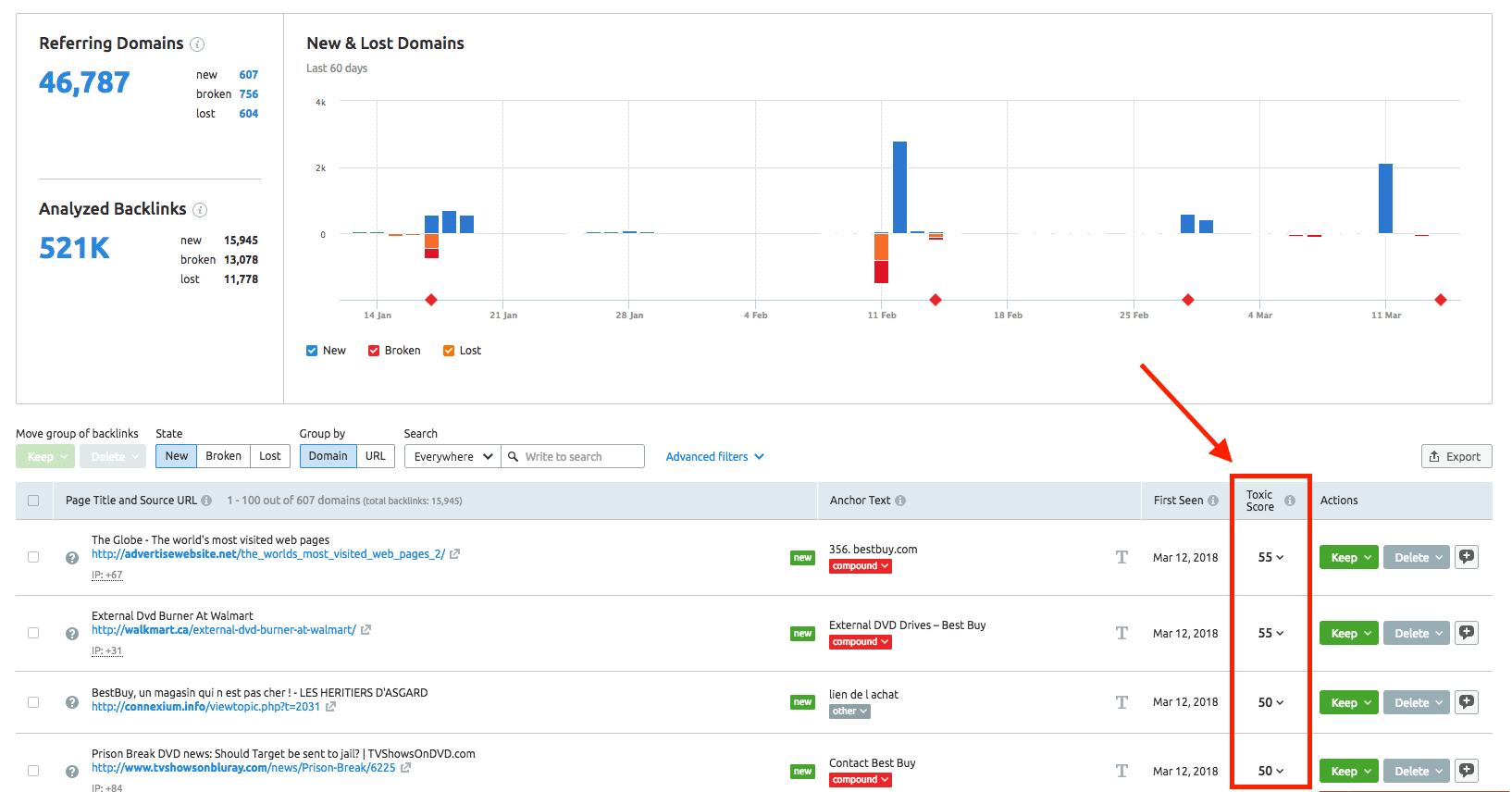 Furthermore, we can analyze the type of domain TLD their backlinks are coming from by scrolling down a bit. So for instance, are they .edu, .gov, .com, .org, .net, and so on.
This is a very useful information to have as the .gov, and .edu domains typically hold a little more value than the other TLDs.
In other words, they can offer a little more boost to your search rankings more than the other Top Level Domains extensions.
There's even more, we can see where these domains come from by country, but we actually want to take a deeper look into the referring domains. Here, we will be able to see the actual sources of the backlinks.



Clicking on "Referring Domains" in the menu or on the actual number of referring domains will bring us to a complete list of referring domains for the site. What do we want to see here?
We want to look out for the relevant sources related to the niche or industry we're in. We can look for online communities, forums, guest post opportunities, directories, social links, or any other thing that will give us a good idea of what we could target in the future.
By having this list, you'll be able to have potential backlinks sources to go after later, and also have an idea of how your competitor secured the backlinks.
Moving forward, the very first column in the chart is the "domain score" and this is calculated based on a scale of 0 to 100.
Ideally, the higher the number, the higher the quality of the website you're working with.
Aside from that, you can see the actual websites that linked to the website in question, alongside the total number of backlinks from the website pointing to your own site.
Again, clicking on the link in the "Root Domain" column will offer you an overview of the website's details — similarly, clicking on the number in the "Backlinks" column will give you specific details on the backlinks such as:
The specific source of the backlinks and the target URLs
Anchor text used
The number of external and internal backlinks
Backlink type (nofollow or dofollow)
Exactly when the backlink was discovered
However, the 'Filters Action' will sometimes become your best friend while performing these tasks, especially when you're working on bigger websites and you will certainly have a lot of data to sift through.
Here, you can either add or remove different options, so assuming that we're only looking for websites that have a .edu domain extension so we can confirm whether the competitor has gotten any .edu backlinks that we may be able to get too.
With the filters, we can add the .edu zone and check what shows up. And if we see some results that are not relevant to us, we can just add another filter and remove specific sites, anchor text or backlink type.
This action will help us to narrow it down to some of the best available backlinks sources.
That's not all, we can see how many backlinks each particular source has pointing to that web page, together with the anchor text that was used to link to the website.
Here we can see how diversified their anchor texts are.
In other words, we'll be able to figure out if they're using branded anchor text like using the company name, the website URL, a domain keyword for specific pages, and another variation of other keywords that are not the actual primary keyword or brand.
For your own website, it's advisable to have a diversified anchor text so that it looks natural to Google.
In this case, we're checking to find out how well the competitor has done that.
The primary goal of this list is to know which of these backlinks are of high-quality which you can also target in your own link building campaign.
Most people assume that search engine optimization is rocket science.
While this might be true to some extent, the fact is that if you have access to the right tools, it'll certainly make the entire process much easier for you.
SEMRush is undeniably the ultimate SEO tool that will help you to easily spy on your competitors' keywords as well as analyze their backlinks.
Leverage this tool to your advantage to boost your overall search engine visibility.
If you found this SEMrush review interesting, please spread the word by sharing it with your friends and fans on social media.
Photo Credit: Unsplash