Exceptional PPC strategies for exceptional ROI

Designed to work hand-in-hand with SEO, social media, and other online visibility tactics, pay-per-click marketing (PPC) is a cornerstone in your digital marketing strategy. At Omnicore, we can help your brand get the exposure it needs on the search engine results pages while maximizing your return on investment so you can get the qualified, converting traffic you need to make your business succeed.
Our team is highly skilled in PPC management and optimization, which we back with our education as well as our expertise. We are:
Google Adwords Certified
Google Analytics Certified
Certified Practitioners by MarketMotive
PPC Certified through the Digital Marketing Institute of Ireland
…just to name a few of our strong points. We are knowledgeable, we are driven, and we're eager to get you the best possible return on investment.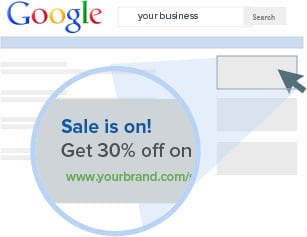 Able to work with budgets of all sizes and types our PPC team will help you design a creative PPC campaign that will attract users. We write our ads not just to be seen – but to convince and convert. Our PPC team works diligently to monitor your account, taking a hands-on approach to management. We don't just set and forget your campaigns once they're build. We take great care in reporting and ongoing optimization to ensure your returns are as robust as your campaign size.
When we say we offer PPC services, we don't just mean setting up an Adwords account. Here's what we can do to maximize your bottom line:
Keyword targeted pay-per-click text ads that drive fast, meaningful traffic and conversions.
Image ads targeted by contextual search and content match to boost awareness.
Keyword testing, to give you a complete and well-rounded PPC strategy.
Cross-channel integration and tracking so you know your results.
Maximizing ROI with device-specific bidding strategies.
Mobile and video PPC Campaign design and implementation for maximum visibility.
Dynamic Remarketing and Behavioral targeting to reach the right audience.
Call Tracking for Local Businesses, keeping tap on results.
Local and regional targeting to match the needs of your business.
Conversion Optimization Tests of Ad Copy and Landing pages to increase campaign performance
Exploring and Implementing New Technologies to help our clients stay on top and ahead of competitors.
To put it simply, PPC gives you fast, targeted results that other marketing channels do not. PPC isn't just an option for your digital marketing strategy – it's a must.
Want to know more about our PPC services? Visit each service page to learn what we can do for your business.
Let's get started.