Disclosure:  This article contains affiliate links, by clicking on links on this page and by making a purchase, we will earn an affiliate income at no cost to you. We have been a customer of all these services reviewed below and our recommendations come from our years of testing the product and service. We are independently owned and the opinions expressed here are our own.
Finding a great hosting provider for your WordPress site can be a daunting task. There are simply too many options to choose from. Luckily, at Omnicore Agency, we want to take some of the guesswork out of finding the right hosting provider for your site.
We've taken a look and done a comparison of two popular hosting providers: SiteGround and Bluehost. We want to see which one comes out on top for offering the best value, best support, and best performance for a WordPress site.
Here's our rundown. 
SiteGround Hosting

Billed as carefully tailored to meet your needs, SiteGround hosting showcases several packages for web hosting, 24/7 technical support, free domain names, and boasts 99.9% uptime. Data centers are well-secured and are located throughout the world strategically to give the best support.
Getting started with SiteGround is easy. They use an automatic account activation system to start managing your hosting immediately, which means you can get working on getting your website up fast.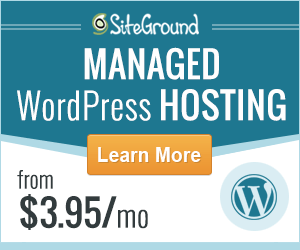 They also showcase 1-click account setup where you can publish a new website or request a free existing website migration in what they note as "less than 3 minutes." Live setup assistance is also available, should you need it.
SiteGround also uses a set of uniquely crafted tools just for Joomla and WordPress to make getting your site live even easier. These features include:
An autoinstaller for getting your CMS up and running quickly
An auto updater for keeping your CMS secure and up to date
Dynamic caching for faster site speeds
Staging and git, for those who want more advanced development options
All SiteGround sites are managed on a unique user area where you can access your domain, billing information, and support tickets. a cPanel is integrated into this area also, where you get one-stop management of your site using a very intuitive and easy-to-use interface. There's also an Enhanced cPanel option that has a ton of extra features and functionality built into it.
SiteGround offers several plans to meet your website hosting needs, starting at $3.95 per month.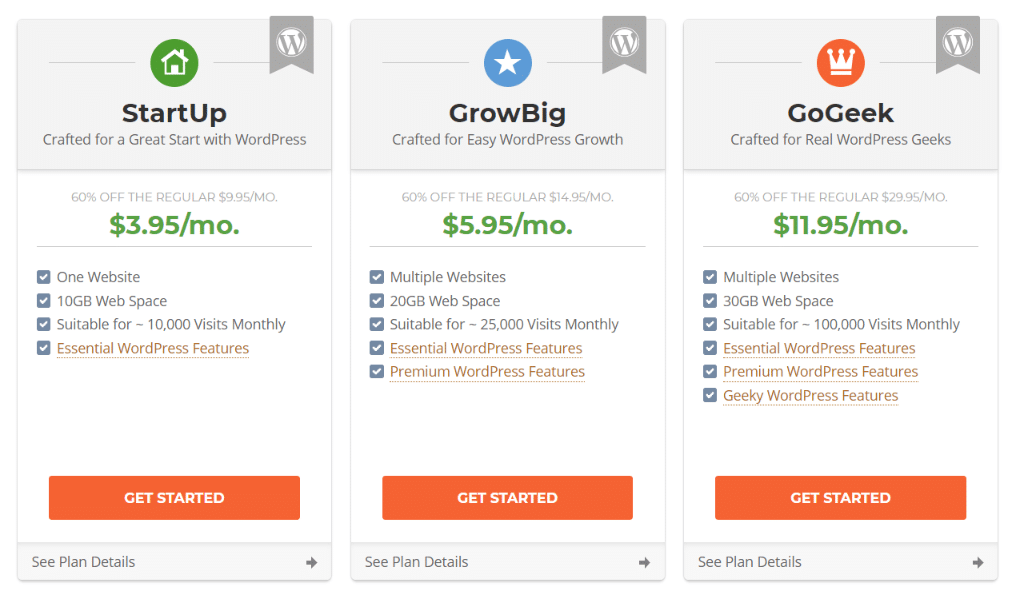 Below are the details of their hosting plans: 
The StartUp Plan
Ideal for websites that are just getting started or average-sized websites, the StartUp plan can work for a wide variety of applications, such as a personal blog or even a smaller online store. This is, however, not a good fit for anyone receiving more than 10,000 unique visits per month on a regular basis. It includes:
Hosting for one site
10 GB web space
Free domain name
Free domain setup and transfer
Unlimited traffic, emails, and DBs
cPanel and SSH access
Free daily backup
Free CloudFlare CDN
30-day money back guarantee
GrowBig
At the next level up from the StartUp plan, you receive all of the same features as the StartUp plan, but with added benefits that can give you additional resources, making it a great fit for more heavily-trafficked sites or even multiple sites. It's ideal for under 25,000 visitors per month. If you like hosting multiple sites under one account, this is a great plan for you – and it's only $5.95 per month. Besides StartUp plan features, you'll receive:
20 GB web space
Premium support, where your tickets are answered with priority
Premium speed via SuperCacher
Premium security, with 30 backup copies of your website
Unlimited add-on domains to host multiple sites
Premium e-commerce capabilities with 1 year free SSL certificate
Premium Joomla and WordPress apps for faster, more robust CMS
GoGeek
If you want something truly robust for $11.95 per month, you can upgrade to the GoGeek plan, which is built specifically for super high traffic sites or resource-intensive sites. If you have a large ecommerce store inventory, this is the package for you, as it can handle the volume. With more control over your server infrastructure, you can take advantage of more powerful machines and fewer users. All in all, a great plan for anyone getting 100,000 visits monthly. This level includes all of the StartUp and GrowBig plan features, plus:
Special server setup for more power
30 GB web space
Staging tools for WordPress and Joomla, plus pre-installed Git
PCI compliance for ecommerce stores to meet safety regulations
If you're looking to do development projects, support a large organization's data infrastructure, or require more complex hosting needs, there are also multiple plans available for cloud storage, dedicated servers, or even reseller hosting.
The one-click installation of Joomla and WordPress, plus the support for auto updates and backups make this hosting a great option for anyone who has built their site or blog on these CMS systems. The price at all package levels is pretty competitive and overall the interface is easy-to-use. The support and uptime are also industry standard as well. But, let's see how it measures up to Bluehost.
Bluehost Hosting

Billed as "optimized hosting for WordPress", Bluehost is regarded as a favorite for anyone who has a WordPress site – and it doesn't hurt that they have been recommended for WordPress hosting by the CMS system itself.
Bluehost powers more than 2 million websites worldwide and offers 24/7 support plus a robust help center complete with guides, video tutorials, and other educational resources. They also offer a money back guarantee on all plans, Google Apps integration, and in advertising offers from Google, Bing, and Facebook to help promote your site.
Like SiteGround, they have an enchanced cPanel option to manage your website, emails, files, and more from one location, plus an easy-to-use interface. They automatically create daily, weekly, and monthly backups of your entire account and you can restore your information with a single click. The PRO backup service (optional) can also be used to restore specific files and databases.
As for email support, there are advanced features available including forwarding rules, account filters, secure POP3 and IMPA support, third-party client compatibility, spam protection, and unique user account controls.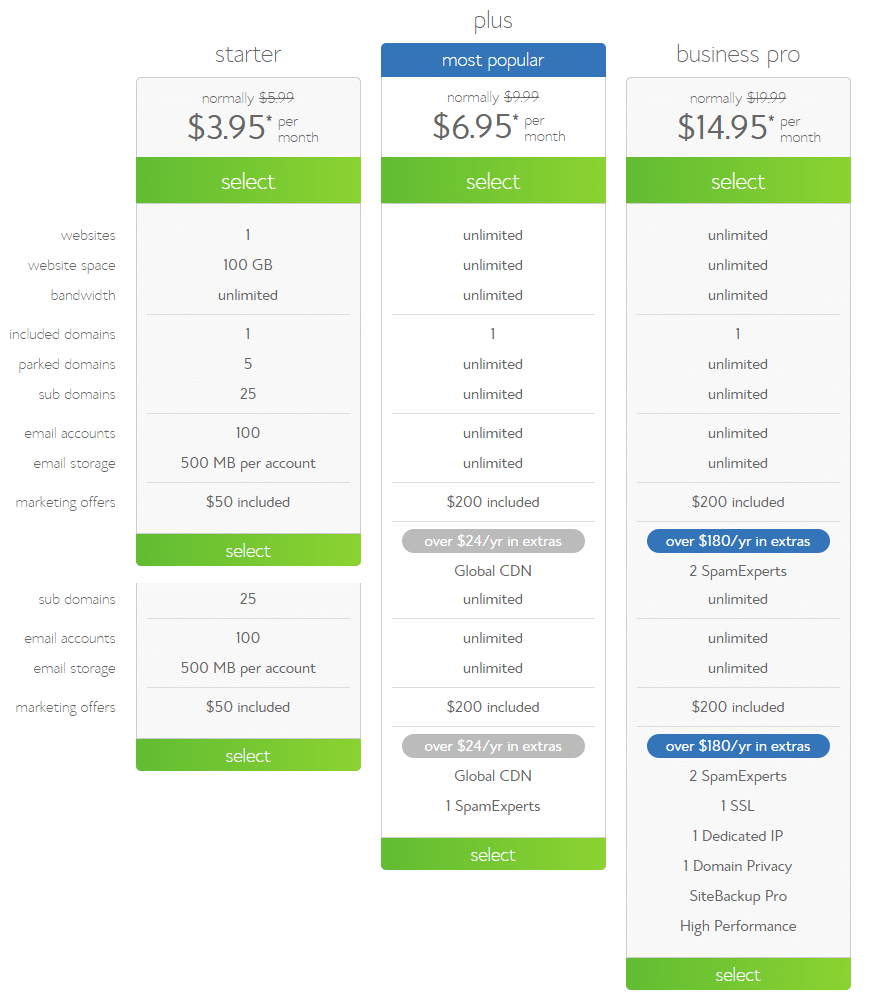 On the shared hosting side, they offer three plans to support your website needs:
Starter
Priced at $3.95 per month for the first term, $5.99 per month after that, this starter plan is ideal for single websites. It includes:
1 free domain
Up to 5 parked domains
Up to 25 subdomains
Up to 100 email accounts
Unlimited bandwidth
100 GB of web space
500 MB of email storage per account
$50 in marketing offers
Plus
An upgrade – and the most popular plan – is the Plus, which clocks in at $6.95 per month for the first term, $9.99 per month after that. This is ideal for multiple sites, as it includes:
Unlimited bandwidth
Unlimited sites
Unlimted website space
1 free domain
Unlimited parked domains
Unlimitd subdomains
Unlimited email accounts
Unlimited email storage
$200 in marketing offers
Global CDN
1 SpamExperts add-on
Business Pro
For those looking for a more robust business solution, Bluehost offers a Business Pro plan that includes all of the same features of the Plus package, but with several additional features. It comes in at $14.95 per month for the first term, $19.99 per month after that. Expect all of the Plus benefits plus:
2 SpamExperts
1 SSL certificate
1 dedicated IP address
1 domain privacy add-on
SiteBackup Pro
Premium performance
Migrating a site to Bluehost is easy, but is can cost extra. There's a migration service for $99.99 to have Bluehost migrate everything into a new account for you. You can also use the Quickstart service to get your site up and running with 1-on-1 training from a Bluehost expert for $29.99 per 45-minute session. This service can be used for website builder questions, content advice, theme and plugin assistance, page creation, and more.
Other storage options include vps hosting and dedicated server hosting.
Now, if you're exclusively on WordPress and want WordPress-specific hosting, this is Bluehost's forte. They offer several packages to support WordPress sites.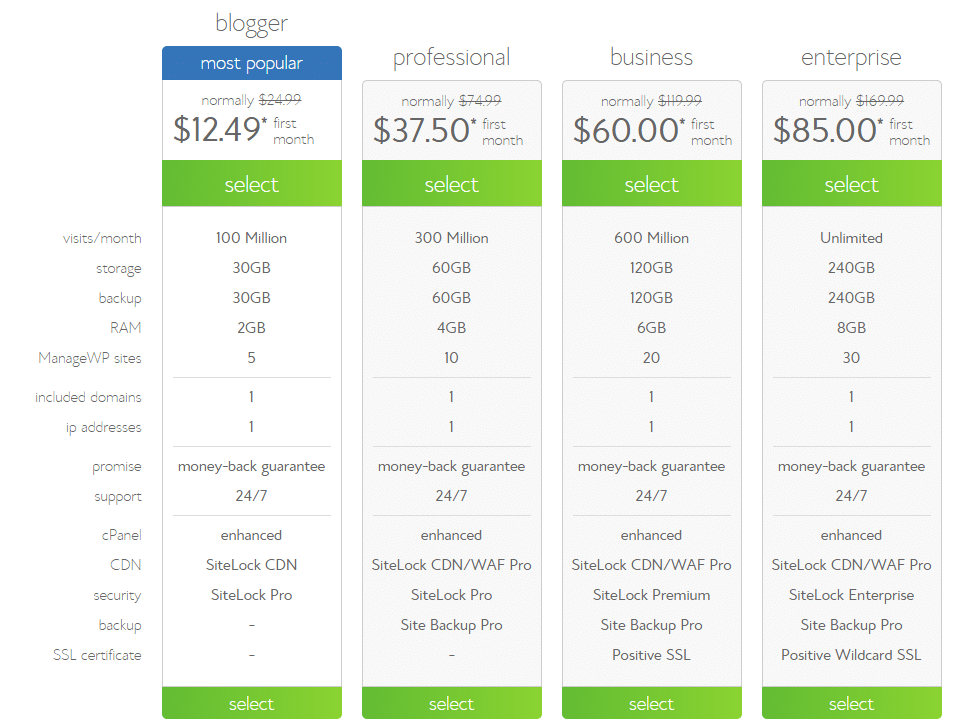 Blogger
Priced at $12.46 for the first month and $24.99 monthly after that, this is a great fit for any blogger who gets under 100 million hits per month. It includes 30 GB of storage, 30 GB of backup, 2 GB of RAM, up to 5 ManageWP sites, 1 included domain, 1 IP address, enhanced cPanel, SiteLock CDN, and SiteLock Pro security.
Professional
A step up from blogger, this plan is priced at $37.50 for the first month and goes up to $74.99 per month after that. It can support up to 300 million visits per month, has 60 GB of storage, 60 GB of backup, 4 GB of ram, 10 ManageWP sites, plus the same features as the Blogger level. You also get Site Backup Pro as an add-on and SiteLock CDN/WAF Pro.
Business
Double the GB of storage and backup, double the support for traffic, 6 GB of ram, and up to 20 ManageWP Sites makes this a great package for anyone getting under 600 million visits per month. It showcases all of the features included with Professional, plus SiteLock Premium and Positive SSL. It's priced at $60 for the first month and $119.99 monthly after that.
Enterprise
For unlimited visits, 240 GB of storage and backup, 8 GB of RAM, 30 ManageWP sites, and all the features of the Business level package, including upgraded SiteLock Enterprise and Positive Wildcard SSL, you'll pay $85.00 for the first month and $169.99 monthly after that. This is a great fit for any serious online business that demands priority hosting and support but is powered by WordPress.
All of these WordPress-specific hosing package are engineered specifically for delivering fast WordPress performance. There's integration of many WordPress features, including MOJO Marketplace to find plugins and enhancements for your site, ManageWP to migrate and manage multiple sites easily, and WordPress-centric controls. Plus, it's recommended by WordPress.org since 2005.
Their pricing structure can be confusing and irritating, especially if you're not paying attention to the fine print. Overall, when you compare their hosting options with others that can offer similar features, they usually come out on the pricier end of things, which may be a deterrent for some users.
The Verdict
Both Bluehost and SiteGround has a huge customer base and their support system is second to none. Bluehost is great for beginners, we feel SiteGround is a preferred choice for websites that are looking to scale. Both Bluehost and  SiteGround offer 30 days refund policy.
If we had to pick any one of these two provides, we'll go with SiteGround as offers more for the price and from the site speed to customer support, they are a great team to work with.