Disclosure:  This article contains affiliate links, by clicking on links on this page and by making a purchase, we will earn an affiliate income at no cost to you. We have been a customer of all these services reviewed below and our recommendations come from our years of testing the product and service. We are independently owned and the opinions expressed here are our own.
Web hosting is probably one of the most underrated topic in the online community and definitely the most neglected one.
We work with a number of small businesses who come to us with similar complaints, either their website is not ranking high and generating traffic, or, the traffic not converting and most of the time the culprit of poor performance is due to their choice of hosting company.
By now we know Google is placing a huge importance on user experience and part of their policy is to rank those sites on the search results that load quickly and place the relevant content directly to the search users.
A poor performing web hosting can not only directly impact your rankings and revenue but also leave you vulnerable to security breaches and attacks and that is where top of the line hosting companies will keep you secured with strong protection and regular backups.
We've had a chance to work with a lot of hosting companies over the past few years and found that SiteGround provides the best bang for your buck for small to medium traffic websites. We've compared it with WPEngine, Bluehost, and Hostgator in the past and today we'll put SiteGround to test against InMotion Hosting.
InMotion vs SiteGround

InMotion is a top rated hosting company 14 years and running and has been among the leading hosting companies with A+ Rating on BBB.org.
Over the years they've improved their infrastructure e.g. they offer Max Speed Zones for faster performance and allow over 300 software to use for building website including WordPress, Joomla and Magento.

SiteGround started its operations in 2004 and have a dedicated approach when it comes to sites they host.
They only support programs like WordPress, Joomla and Magento with hosting plans tailor-made for these websites which allows them to focus on providing better services to their customers.
Being slightly younger than InMotion, SiteGround has made good ground and has a client base of over 250,00.
Comparable Uptime Numbers
Both SiteGround and InMotion hosting offers 99.9% guaranteed uptime though InMotion offers their Max Speed Zone option to Business Class and higher plans.
SiteGround, on the other hand, has been more reliable and didn't have any downtime due to their alert system that finds potential bottlenecks and fixes them automatically.
Here is an uptime report of SiteGround that shows that they've been handling their servers very well.

Hosting Speed
As mentioned earlier, SiteGround has made a distinction by focusing on three leading software scripts i.e. WordPress, Joomla, and Magento, which has allowed them to focus on superior performance. They've created a custom cache program called SuperCacher that maximizes the performance of the site.
InMotion is also good when it comes to site speed. They use a signature Max Speed Zone technology that allows them to provide better connectivity through their datacenters located at East and West Coast.
Below is a screenshot of both SiteGround and InMotion hosting and SiteGround is a clear winner here.
Server Response Times
InMotion has built their data centers in US located at West Cost and East Coast.
SiteGround on the other hand has servers on three continents, located in Amsterdam, Chicago and Singapore.
The geographical proximity results in reliable website server response throughout.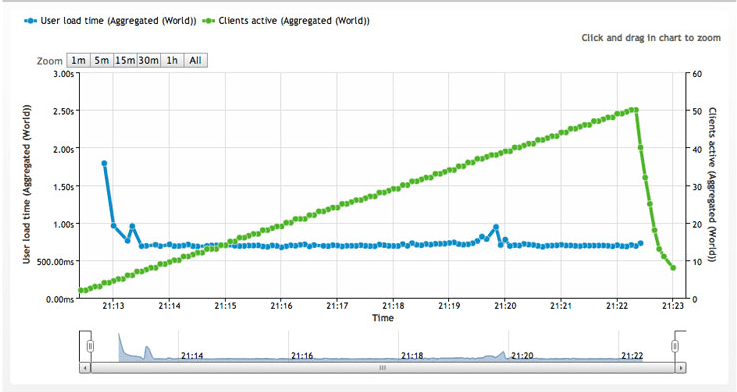 SiteGround offers an average response time at ~700ms all the way to 50 concurrent users with no real hiccups but InMotion has better at average response time at ~600ms.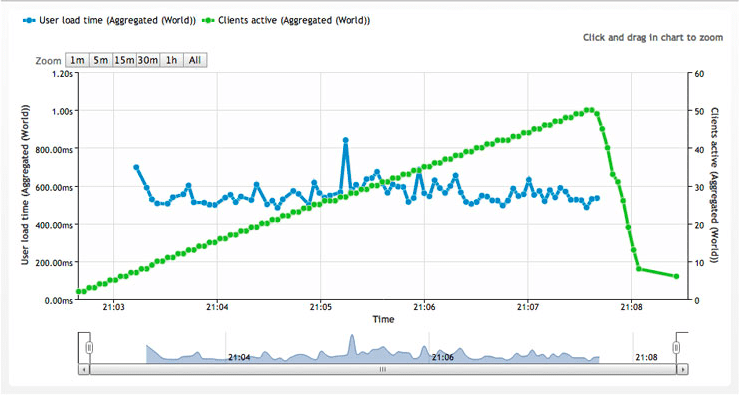 The server response time was shown for users located in US but as SiteGround has their data centers in three different continents. It is more likely to perform better in real-time situation where traffic comes from all across the globe.
Pricing
InMotion offers three plans in their basic Business Hosting, which starts from $5.99 per month.

If you have a large website with a lot of traffic they've covered you with the following plans:
Reseller Hosting – $13.99 per month
VPS Hosting – $22.99 per month
Dedicated Hosting – $119.99 per month
Like InMotion, SiteGround also has three shared web hosting plans that can be upgraded if need be. These have a monthly limit of 100,000 visits though which is perfect for bloggers and marketers.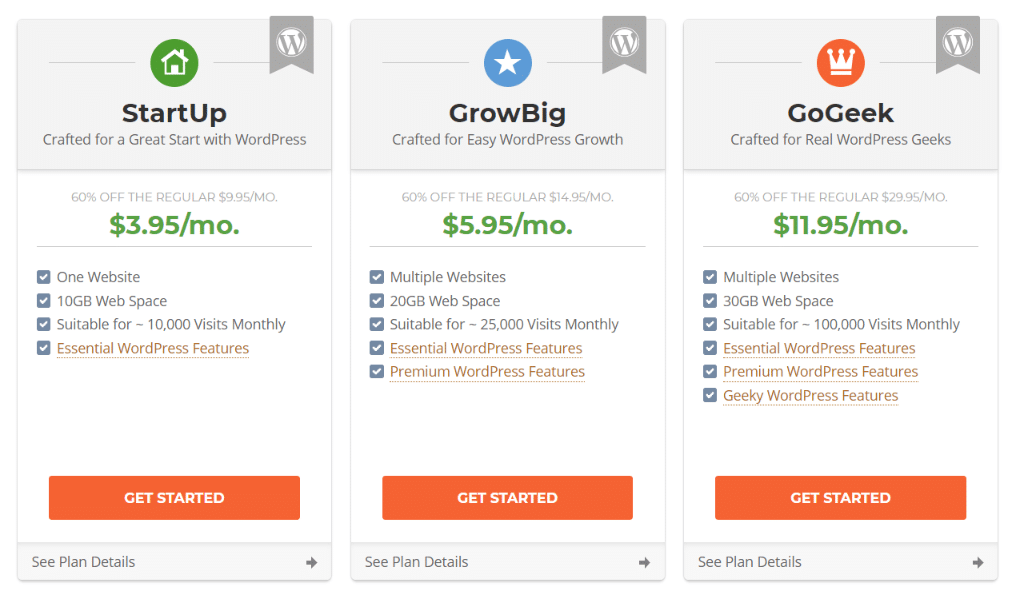 Here are the prices of the three different types of web hosting services provided:
Web Hosting – $3.95 per month
Cloud Hosting – $54.00 per month
Dedicated Hosting – $217.50 per month
While there isn't a clear winner when it comes to pricing, SiteGround offers more features like SuperCacher and Staging with their 3 continent data centers making them an ideal choice for sure.
Technical Support
Customer support is one of the key components of any hosting plan and it is something we rate very highly.
There are other hosting companies, which lack in this department but we found both InMotion and SiteGround to be top notch in this department.
InMotion provides Premier Support that offers supports to its client through live chat, e-mail ticketing, and over the phone. They also have a huge repository of online tutorials and FAQ supported by the community, which is appreciable.
SiteGround has consistently offered a thorough system of online chat, e-mail access, and telephone support and has been a lifesaver for us.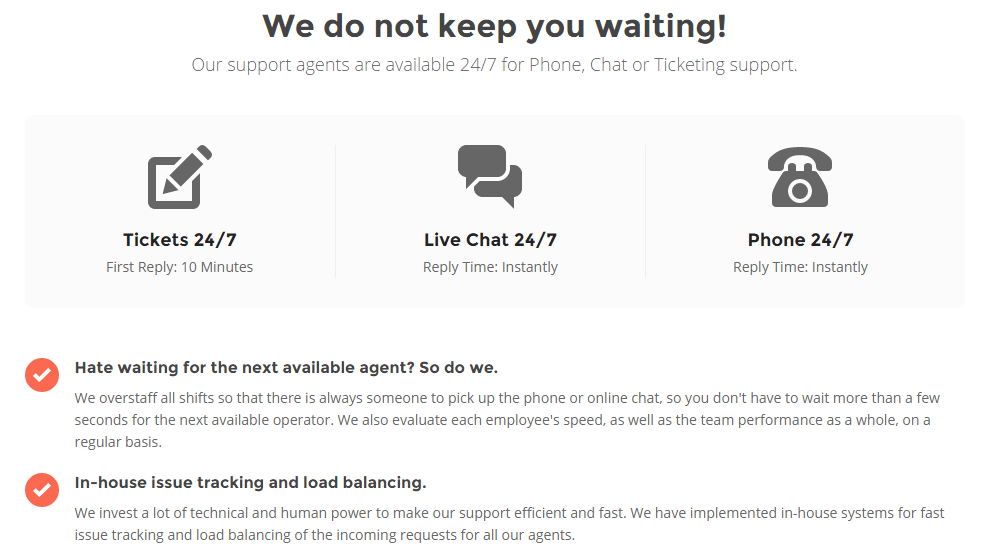 They are set up to answer the majority of tickets within 10 minutes and their live chat responds with 10 seconds, which is the fastest. They have best customer support in the entire web hosting industry.
Verdict
Both InMotion and SiteGround has a huge customer base and their support system is second to none. They have fast servers, excellent features and money back guarantee. InMotion offers 90 days whereas SiteGround offers 30 days refund policy.
If we had to pick any one between these two, we'll go with SiteGround as offers more for the price and from the site speed to customer support, they are a great team to work with.