If you've been active on social media for a while, or you just made your accounts, you'll realize that when it comes social media, visual content and social media go together like French fries and dip sauce, and all comes down to the last pixel.
Social networks are constantly adding up more features, visual elements, and it seems like every day when you wake up, you see a new element or iteration being made to the social networks you are active, making you go back and figure out the right size of cover images, post images and align your campaign according to the latest set of changes.
It has become extremely difficult for businesses to stay on top of all of these changes, and we see a lot of people asking, what should be the size of my Twitter Header? Can I post the same picture on Twitter which I shared on my Facebook feed? Can I add call to action on my cover?
Anytime you want to make a new visual piece you have to search on Google for dimensions of different social networks. Lucky for you, we've made this Infographic, which will be your cheat sheet when you are designing timeline or header covers or Facebook ads or a LinkedIn Company header.
You'll get a detailed guide on the image specs and size on the seven most popular social networks,  all in one place just below this guide.

If you are on Facebook, you'd be anticipating the new Facebook page design to be rolled out for your page very soon.
A lot of pages have already been switched to the new design, and Facebook has prompted businesses to make the switch now, and they plan on make this change applicable to all pages on 5thJune, 2014.
We suggest looking at the latest round of changes and prepare to adapt your brand page to the latest set of changes.
1)  Cover Photo

The main cover photo size remained the same in this update, which is 851px x 315px. However, it is recommending uploading  an image 2x the size so it doesn't lose quality when compressed. The main change in this update is that the elements have been moved inside as you can see in the above image.
At first, it won't look prominent, but If you go back and compare your old page to any new page you'll see that the new elements affect the cover design and any text or graphic that you might have in that area will have to be redesigned.
Below is an overview of the revised Timeline Cover section:
The name of your Facebook Page is next to the Profile Picture/Logo inside the cover.
The "Category" of your Facebook Page is also inside the Cover, making it a lot prominent. Make sure to review if you've selected the right category.
The "Like" and "Following" buttons, that used to be right below the Cover, are also inside, and the "Message" button has been added, as well as the dropdown for Report Page, Share and Create a Page.
The Profile image displays at 160x160px but the recommended upload is 180x180px.
2) Post Images
As the Facebook pages had two columns before the individual width of each column was a bit small as you can see the old image post is 377px wide.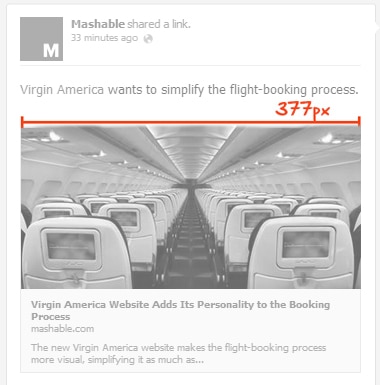 The new layout consists of a single streamlined column feed, so they've increased the size by a little more than 100px making it 484px.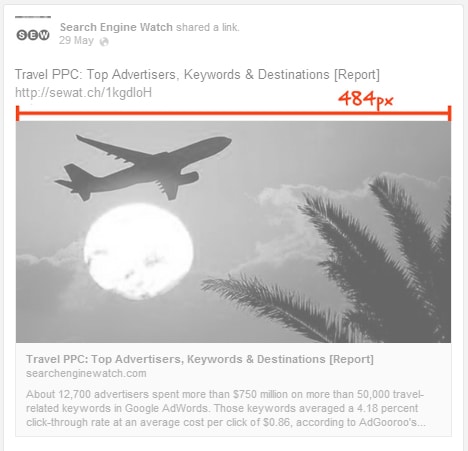 Here are the new dimensions for each type of content:
Link post: 484x252px – Recommended upload remains the same 1200x600px
Image post: 504px wide – Recommended upload: 1200x1200px
Video: 504x283px
3) Tab Thumbnails
The Tab thumbnails, as we all know them, have been relocated to the sidebar. The dimensions are still the same 111x74px.
Google+ is a really powerful social network and has really powerful communities just like Facebook and LinkedIn Groups. Google+ has rolled out multiple changes to their design elements and the most recent one has been stable, and we've covered it in our Infographic below.
Here is a rundown of the elements:
1)  Photo
The profile picture is displayed in a circular frame. The recommended size is 270 x 270. However, if the logo doesn't turn out well you can try uploading a larger size image so that the edges will be cut off and fit in the circle.
2) Cover Photo
Google+ Cover photo is the largest of all the social networks that offer the cover images for profile. The cover photo size is 2120px x 1192px.
The image must be uploaded at 16 : 9 ratio otherwise you can crop it. As the cover image gets cropped on mobile and smaller screens so the most important information such as logo, tagline or call to action should be in the top middle next to logo in the center so it doesn't get cropped.
3) Status Update
You have up to 100,000 characters & hashtags when updating your status on Google+.
4) Shared Link
Sharing a link on Google+ will generate a square thumbnail measuring 150 x 150 pixels.
5) Shared Image
A shared image on Google+ will be displayed at 497 x 279 pixels. The image can be uploaded and viewed up to 2048 x 2048 pixels.
6) Shared Video
Uploading a video on your Google+ profile will measure 497 x 279 pixels.
Twitter rolled out new design for profiles, which is available for all profiles now. Again, the cover photo size has increased, and we are seeing this a lot as all social networks are focusing on large visuals.
1) Profile Photo
The new profile photo size is 400px x 400px, try uploading a picture with 2x size so that it doesn't lose the quality. Also when the profile picture is clicked, it pops up in a window with size close to or more than 450x450px.
2) Header Image
The header image is one of the most prominent features in the latest design and a great way to use call to action on the profile page instead of the small header cards that were available in the previous design.
The recommended dimension of header image is 1500px × 500px, maximum file size of 5MB. You can update your header image from the top drop-down menu.
3) Shared Image
When twitter first launched it was just 160 characters that one could use, however, as the network evolved, they've introduced visual elements.
Now users can upload images with their tweets, which help in higher click through rate. The ideal size of the shared image with tweet is 590px x 295px.
Instagram photos are uploaded through mobile application. However, we've featured the hack that allows uploading Instagram photos from desktop.
1) Profile Photo
The new profile photo size is 110px x 110px; this is uploaded from smartphone itself.
2) Instagram Upload Image
The header collage section shows two sizes of images. The small thumbnail size is 205px x 205px, and the large thumbnail size is 410px x 410px.
The lightbox preview is 612px x 612px. The max resolution is 2048px x 2048px which varies by the device.
Pinterest is the mother of visual social media marketing for me. As It is purely and solely built on imagery. While Instagram is built on photos too, but Pinterest is more public and suitable for businesses as you can curate and upload all kinds of images.
1) Profile Photo
Pinterest profile photo size is 160px x 165px; you can upload either logos or headshot here.
2) Pinterest Boards Thumbnail
Pinterest boards have small cover photo, which is 225px x 150px in size. You need to upload few pins before you get the option to upload a cover so don't panic. If you've just made a Pinterest profile and want to add covers.
3) Enlarged Pin
Individual Pinterest pins are unique as they offer indefinite length; the image size is 500px x indefinite px.
LinkedIn is a place where professionals hangout and as professional yourself, you need to showcase your products or service in the best manner. Below is the cheat sheet of company page.
1) Logo
There are two types of logos, the horizontal logo dimensions are 100px x 60px; the square logo is 50px x 50px.
2) Banner Image
The company page has banner image or cover image under the logo which is 646px x 220px.
3) Careers Page
The company page has a job section to post job openings. The cover photo size of careers section is 974px x 238px.
4) Products & Services Page
The products and services' tab on the company page has covered photo size i.e 646px x 220px.
Youtube channel pages allow artwork, which is quite tricky as the image resizes a lot. Here are the
1) Cover Photo
The cover art size is 2560px x1440px. However, this size is for the TV, on the desktop the visible section is 2560px x 423px, and it goes down on smaller screen sizes.
Social Media Design Sizing Cheat Sheet
Total Length of Apps bar (including gaps)

Photos must be uploaded at minimum 1200×717 px

Highlighted Post or Milestone

Highlighted Video Post or Milestone

News feed profile picture

Up to 5 lines of text before Facebook truncates & appends 'See More' at the first break after the fifth

News Feed Sponsored Story Profile Picture

News Feed Sponsored Story Image

Shared Facebook Video Preview

Shared Video Link Preview

Varies based on Thumbnail & Title Size
Page Post Ad Profile Picture

First 90 characters of selected post

First 120 characters if post is text-only

Page Post Ad Video Preview

Page Post Ad Link Thumbnail

Sponsored Story Fan Picture

Sponsored Story Profile Picture

Premium Page Post Ad Profile Picture

Premium Page Post Ad Video Preview

Premium Page Post Ad Image
90% of visitors see first 78 px of the background

Shared Media Tweet Length

140 characters, including link

Must be at least 60×60 px

First 70 characters of twitter:title tag

First 200 characters of twitter:description tag

Video Title and first 160 characters of video description
Horizontal Profile and cover photo gap

Can be uploaded and viewed up to 2048 x 2048 px
Can map links off of YouTube

YouTube Brand Channel Background Size

90% of users see 8 px on either side of the content container

Hidden, can be found in page source under "meta:keywords"

Recommended Playlist Details

Recommended Playlist Large Thumbnail

Recommeded Playlist Small Thumbnail

Recommended Video Details

Video Title, Author, and Views

Recommended Video Thumbnail
Shared Link Title and up to 230 characters of description. The description is editable.

Products and Services Banner Image

100 character title and 2000 character description
Photo Credit: Unsplash