You have probably noticed that podcasts are virtually everywhere these days.
Becoming a podcast host is much easier than scoring an on-air gig at a radio station, and you don't need very expensive gear to start.
If you've ever had a great podcasting idea, now is probably the best time to get started.
However, the process is not as simple as uploading a phone recording to SoundCloud or your YouTube channel and just waiting for hits and downloads to miraculously start piling up.
You will need a good hosting service, distributors to make your podcast available to the masses, as well as special tools to embed your podcasts on websites and pages to expand your reach.
If you want to know how well your podcasts are doing, you'll need detailed analytics to crunch the numbers accurately.
That's where Transistor comes into play – one of the most reputable podcast hosting platforms on the current market, which checks all the boxes we've just mentioned.
In this Transistor podcast hosting review, we wanted to share with you all the reasons why we deem Transistor to be the best podcast hosting service around.
So without any further ado, let's take a quick glance at what you should expect:
Related Post: GoHighLevel Review 2023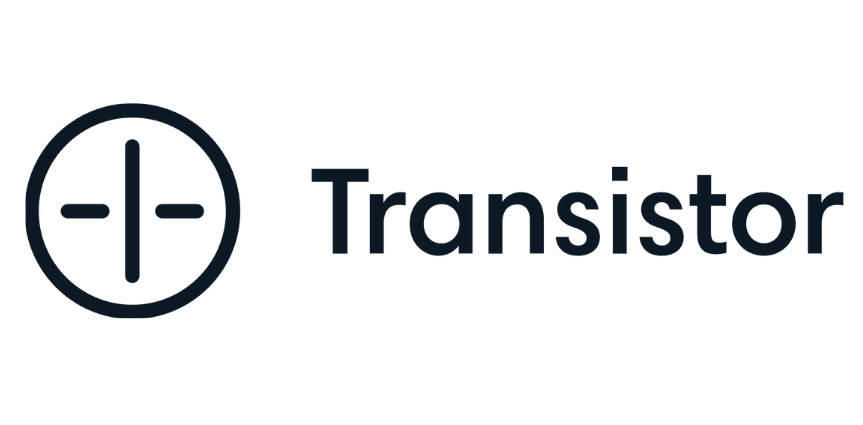 Transistor is a top-rated podcasting platform and offers a broad range of unique features designed to help its clients make their podcasts easy to find and easy to manage.
Although some would argue Transistor's benefits are better suited for beginners, this platform offers a variety of advantages to an experienced podcaster as well. At a glance, Transistor allows customers to:
Easily set up a single account on which you can host as many podcasts as you want
Create a dedicated website for your podcast by choosing from one of the templates
Automatically send emails to newsletters and social media platforms whenever new episodes or podcasts become available
Submit podcasts to reputable podcast players with a single click
Embed episodes or entire podcasts on websites
Transistor's versatility is one of the main reasons why it's widely acclaimed as one of the best podcast hosting platforms online. To keep it approachable for beginner podcast hosts, all of the features are very easy to use and require minimal technical experience to properly utilize.
Should you have any questions about Transistor's features, interface, or podcast hosting in general, there's a wealth of learning resources available on the platform's Blog section.
Unlimited Podcasts on One Account
In my opinion, the fact that you can host as many podcasts as you want from a single account is this service's strongest selling point. It provides a beginner user room for future growth while enabling veteran podcast owners to import and host as many episodes from as many podcasts as they want.
There are no extra or hidden fees whatsoever, even if you were to add dozens of podcasts to your account. The importance of this feature really comes through when comparing Transistor to other reputable podcast hosting services, such as Buzzsprout, Simplecast, or Podbean, all of which charge extra for accounts that support ten or more podcasts.
Built-in Website Builder
This is one of the newest features of Transistor that was introduced earlier this year, and it's safe to say that it's among the most valuable tools this platform has to offer. The Podcast Website Builder allows you to create a dedicated website for all of your podcasts; what's even better is that this is a browser-based feature that doesn't require installation or any additional subscriptions.
Transistor's new podcast website builder is highly intuitive, but fear not, they have a great tutorial to ensure you can make the most of this feature.
If this sounds too good to be true, we should note that these new websites are fairly basic. They feature the core website elements, such as a homepage, dedicated landing pages for all episodes, a brief introduction of each podcast, and a 'Subscribe' page. All of these websites can be accessed from both PCs and smartphones. Furthermore, Transistor offers several fully-customizable templates from which you can choose.
To top it all, these websites are automated and will update whenever new episodes are introduced to the series.
Newsletter Integrations
Spreading the word that a new episode has aired or that a new podcast has been launched is paramount to its growth. Usually, podcast owners share the news on their social media pages and web-scrape for contacts of previous visitors before emailing them.
Transistor makes this job remarkably easier, as it offers integrations with various newsletter companies, such as HubSpot or MailChimp.
The process is fairly simple, but it requires an active account on supported newsletters. For MailChimp specifically, you should start a new automated email campaign and tap 'share blog post updates'; after that, simply enter the URL of your podcast's RSS feed.
Transistor has made a simple info tutorial that breaks down the MailChimp integration process in a few simple steps, which you can check below:
How to embed your podcast in MailChimp – automatically email new episodes
Streamlined Podcast Distribution
Transistor allows podcast owners to submit their audio shows to a network of major podcast sites such as Google Podcasts and with the click of a button. Were it not for this feature, you would have to visit all of the websites you want to submit your podcast to, find the submission form, verify the email they've sent you, and basically waste hours of your time.
With Transistor, the podcast distribution process is streamlined. After logging into your Transistor account, navigate to the 'Distribution' panel on the dashboard, and simply click the 'Submit' box for the podcast player you wish to send your podcast to.
For more information, you can check out the 'The quick way to submit your podcast to Spotify, Apple Podcasts, and Google' tutorial Transistor's team has made.
Set Up Admin Privileges to Delegate Podcast Management
Well-established podcasts are typically powered by teams of employees that have different jobs and tasks. Content creation, distribution, website management, and various other activities are something that needs to be performed daily for the machine to run smoothly.
However, it's not hard to imagine that some podcast owners are doing the bulk of the work themselves. If you are using Transistor, you can easily delegate some of the managerial tasks by inviting other administrators.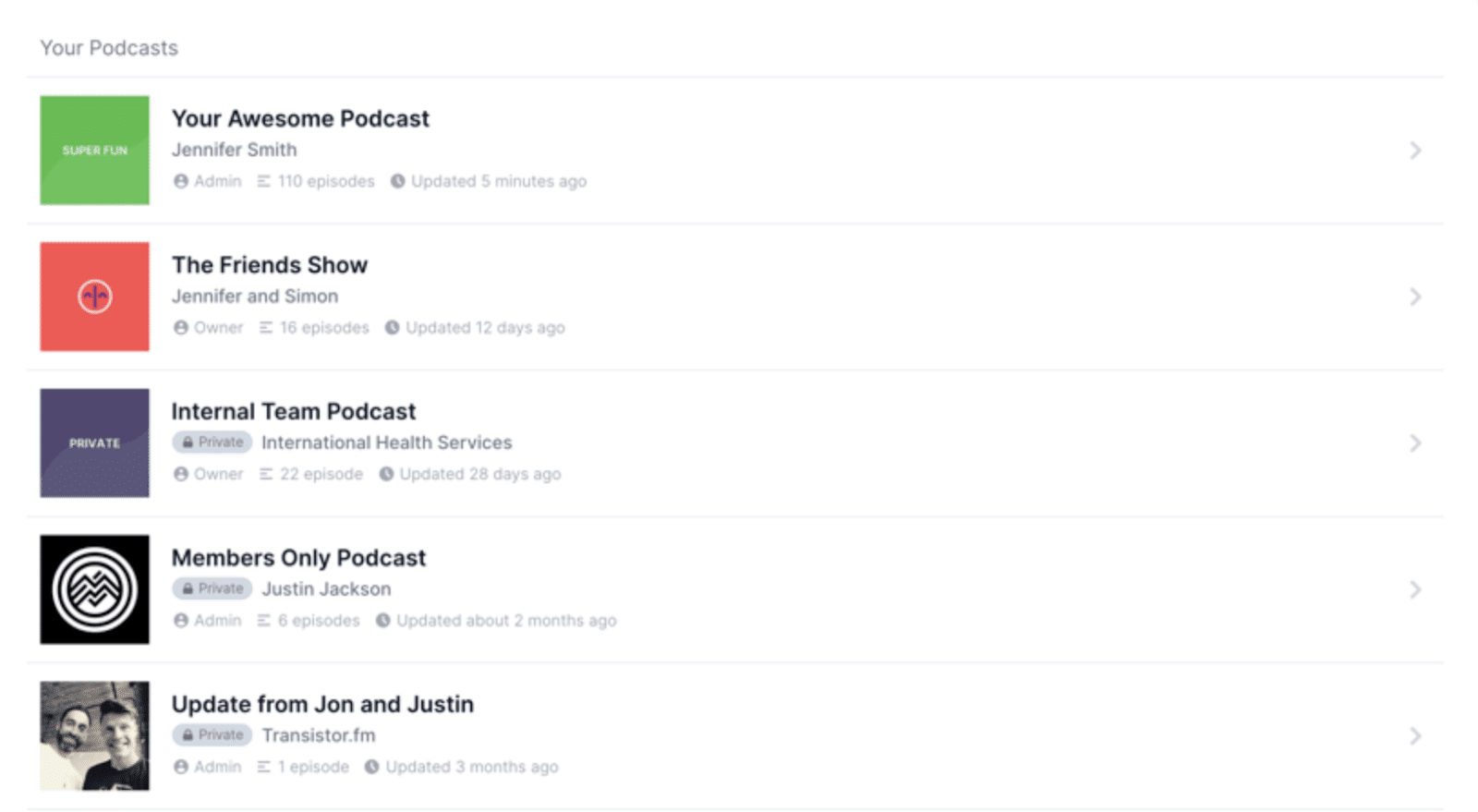 Embeddable Players
The embeddable player feature was meant to help you pin your podcast's episodes on your website, but you aren't limited to embedding snippets or single episodes – you can embed a player with a list of episodes, as well as the auto-updating player with the most recent episodes in addition to single episodes of your choosing.
This is, however, the only feature that requires some technical knowledge in terms of coding. Fortunately, you can find detailed instructions and examples on Transistor's Embeddable Podcast Player page.
Podcast Analytics
Stats can tell you the fields where your podcast is excelling, as well as the fields where maybe there is some room for improvement. Although you could scrape this data with third-party programs, you don't have to, as Transistor allows you to keep track of the most important metrics from the Analytics page.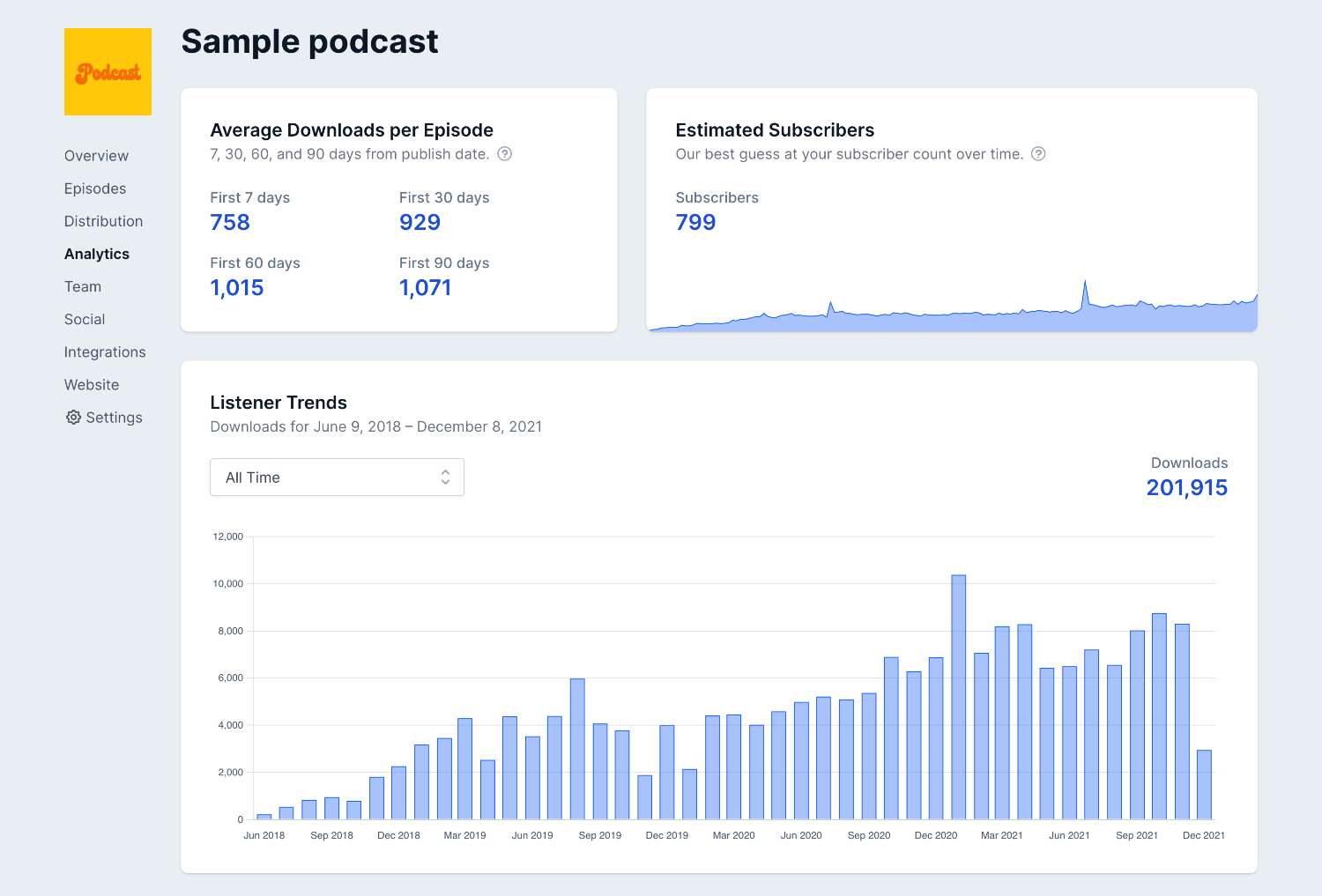 Some of the most important insights that you will be able to see on this page include the subscriber count illustrated with a graph chart, the number of average downloads per episode, and a detailed download history that you can split in time increments of years, months, or days.
Additionally, the Episode Breakdown Table provides powerful stats about each episode. You can even compare statistics between episodes, or see which apps your viewers have used to enjoy your show.
Finally, one of the most powerful features of the Transistor Analytics system is the Podcast Listener Map. With it, you can check details about the locations your listeners have accessed the podcast from.
The vast majority of users praise Transistor's simplicity and say it's the best podcast hosting tool because anyone can use it. It wouldn't be fair to dub it a 'beginner-exclusive' podcast hosting platform, as the benefits it provides are also perfect for big names with dozens of shows, as well as for professional businesses.
We have derived the benefits Transistor offers from an objective standpoint; regardless of whether you've just set your feet in this industry or have spent decades entertaining the masses, regardless of your niche or target audience, these are the advantages you will potentially be able to reap by using Transistor:
Enter the Podcast Scene in Record Time
The setup required to become even remotely visible in the podcast world can take months. That time could instead be spent on creating more content, airing new episodes, and reaching broader audiences.
That's why the main benefit of using Transistor is that it allows you to set up your show within a few hours at most. Granted, you'll need to create your own content, but this platform takes care of pretty much everything else.
No Limit on Podcasts
What separates Transistor from its competitors is that this company doesn't charge you extra depending on how many podcast shows you are running. As we have established earlier on, most podcast hosting services set a limit to how many podcasts can be supported on one account, charging extra monthly fees if the limit is exceeded.
This isn't just a benefit for people that own multiple podcasts. It's not hard to imagine that your show kicks off so well that you'd be tempted to launch another one, two, or five. Knowing that you won't have to pay extra will encourage your show's growth, regardless of how many sequels or totally unrelated podcasts you want to launch in the future.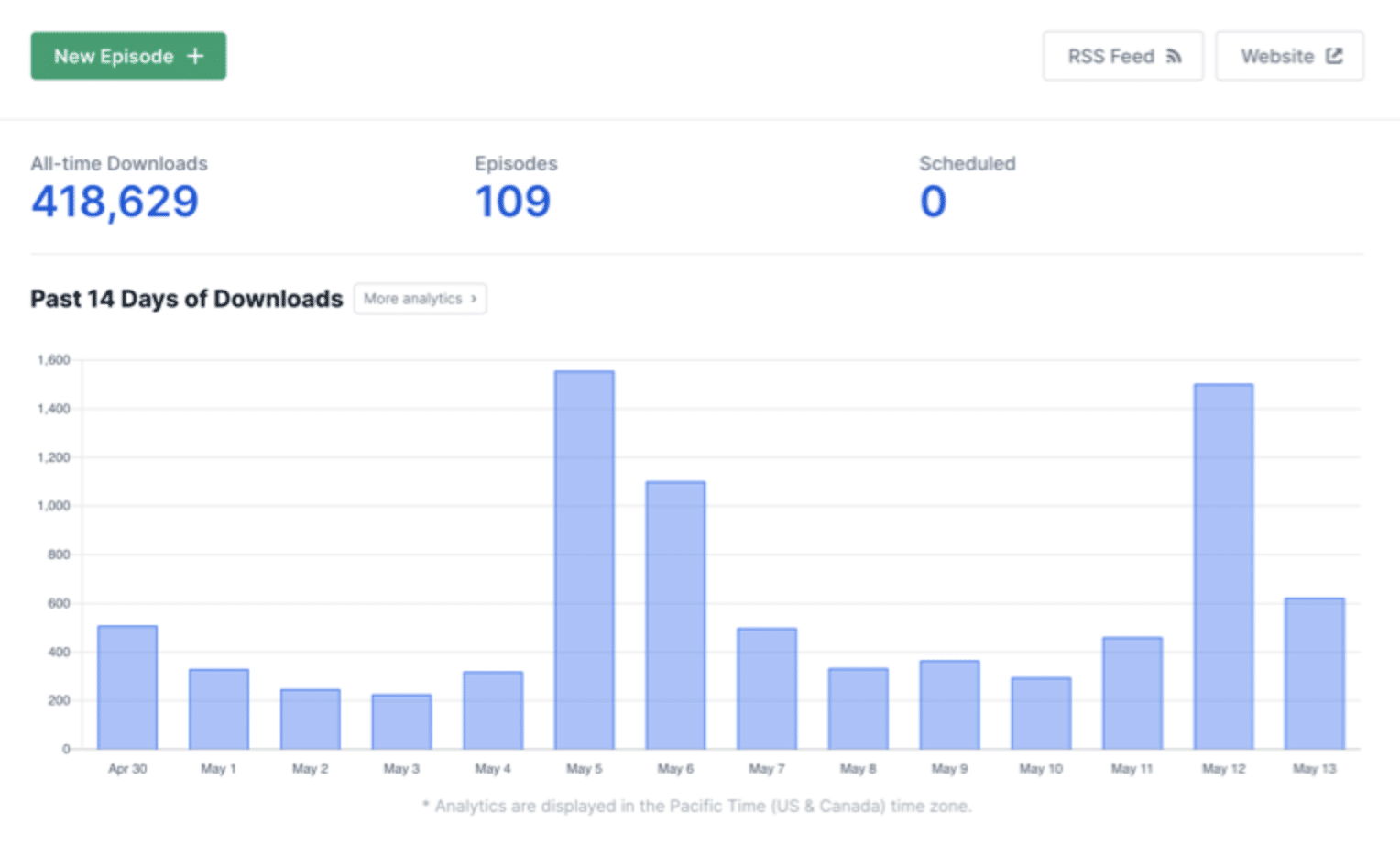 No-cost Website Builder
Many podcast owners already have their websites, but what if you could have a unique site for your show? Transistor provides this benefit for free. On top of that, you can create websites for all podcasts that you host and manage on Transistor.
Again, this benefit is of even greater importance when you own several podcasts, as you'll have a special website dedicated to them. This website builder and editor is browser-based and boasts a remarkably shallow learning curve.
You will get to pick from a couple of templates offering full customization, although it's worth noting that these websites are quite basic in terms of aesthetics.
Simple to Use
Aside from the fact that all Transistor features can be utilized with ease, you can find more about how each feature works by checking Transistor's learning material, tutorials, or by visiting the company's blog.
As I've said, it's not a platform built just for the most immediate newcomers, but it's abundantly clear that beginners won't have any problems setting up and managing their posts on this platform.
Detailed Analytics
From the basic stats and overall feedback of individual episodes, to a full map of global listeners and viewers, the analytics tools that Transistor offers are insanely good for the price.
You can compare the performance of your podcast episodes with one another, check which devices your listeners are using, take note of listener trends, and take a look at the world map with highlighted areas where your listeners are most concentrated. For certain countries, you will also be able to check the stats of individual states and provinces. You can view analytics like never before.
Transistor offers highly flexible subscription-based pricing plans, allowing you to choose between monthly and yearly billing and three pricing packages, including Starter, Professional, and Business.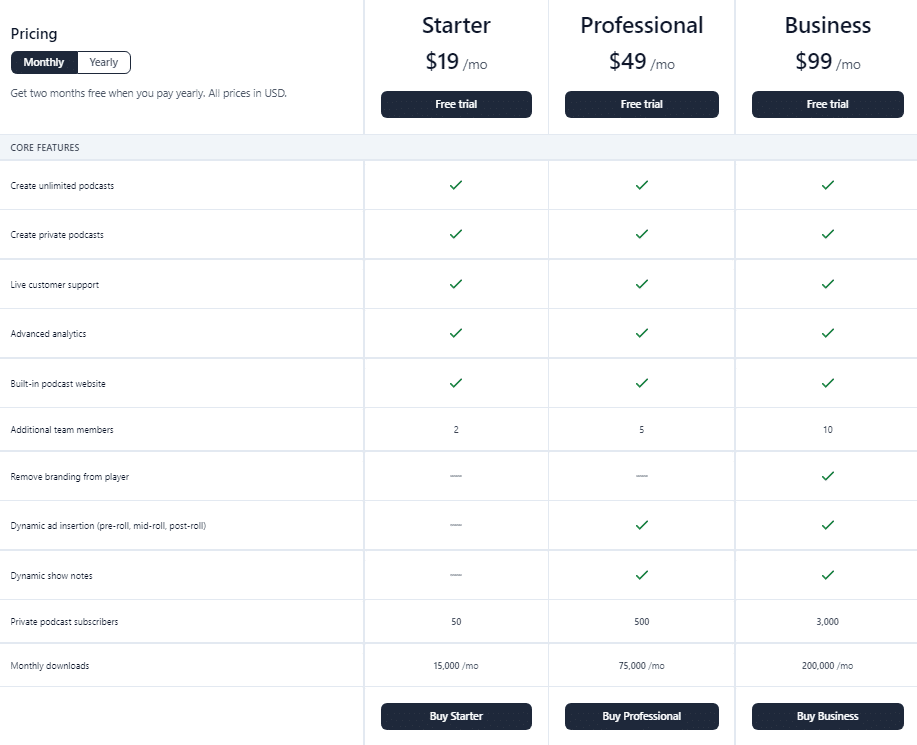 Each package unlocks the core features, but you will get extra benefits with more expensive plans. Additionally, should you opt for annual billing, you will receive a two month Transistor trial free of charge, making annual payments the better deal. Let's look at a quick breakdown of the pricing options this platform offers:
Starter
This plan level provides all the basic features, including unlimited podcasts on one account, the ability to create private podcasts, live customer support, analytics, and access to the Website Builder. You can also assign up to 2 additional team members to manage your podcasts as admins.
There are a few limitations, though. Your private podcasts can only have up to 50 subscribers, and this plan supports up to 15,000 monthly downloads on public podcasts. The price of the Starter package is $19,00 per month or $190,00 per year.
Professional
The Professional plan offers all of the core features and is different from the Starter plan in terms of the supported admin (additional team members) count, dynamic ads, private podcast subscriber count, and monthly download count.
This plan supports up to 75,000 downloads per month, 500 subscribers per private podcast, and allows you to use the Dynamic Ad Insertion feature. this package comes with a fee of $49,00 per month, or $490,00 per year.
Business
The Business plan is the ultimate Transistor offering, presenting you with the ability to remove the company logo and branding from players while allowing you to have up to 3,000 subscribers on private podcasts and up to 200,000 monthly downloads. It costs $99,00 per month, or $990,00 per year.
Transistor Compared
to Alternatives
Transistor is a paid subscription-based podcast hosting platform that boasts simplicity and affordability. There are cheaper options, but I wouldn't dub them 'solutions', as it is safe to say that not many companies can match the benefits of unlimited podcasts, website-building features, and thorough analytics.
Basically, this means that for $19,00 per month you will be able to launch as many shows on a single account as you want, build a basic website for each, and collect valuable data to improve their performance.
With more expensive subscriptions, you can delegate podcast management tasks more flexibly, start generating even more revenue with dynamic ads and enter bigger leagues with a higher download count. Let's see how much you'd have to pay for that with other programs and services:
| | | | |
| --- | --- | --- | --- |
| | | | |
| | | | $12 per month for up to 3-hour uploads |
| | | | $5 per month for 50 MB of monthly storage |
| | | Beginners and Intermediates | $9 per month, limited publishing features for basic accounts |
| | | Beginners and Intermediates | $12 per month, 100 MB of storage monthly limit |
As we can see, Transistor is not the cheapest podcast hosting option out there, but it doesn't impose critical limitations to its users in terms of available storage space, publishing submissions, and podcast size, making the decision a no-brainer. Not to mention the fact that the vast majority of podcast hosting companies do not offer website building services or analytics tools as versatile as Transistor's all in one place.
Even though there's a plethora of similar platforms and companies, Transistor towers above its competition with remarkably powerful and well-rounded features.
As a one-stop shop for all podcasters, it allows podcast founders to easily enter the industry with minimal prep work and minimal costs. Furthermore, its potential for scaling your shows is phenomenal, given that you can continue adding as many quality shows to your account as you want.
We hope that this review helped you understand what Transistor can offer you, and why it's well worth the money.
Photo Credit: Unsplash
Transistor.fm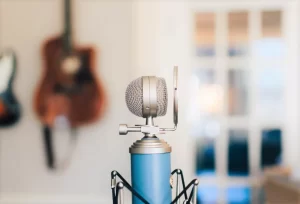 Transistor.fm is the best podcast hosting tool that distributes your podcast to Spotify, Apple, Google Podcasts, and many other podcast players.
Price: 19 to 99
Price Currency: USD
Application Category: Business Application