What is that one office asset that is indispensable, a piece of furniture without which an office setting is unimaginable?
If you thought of a chair, then we're on the same page. Chairs receive little to no acknowledgement, despite their considerable impact on one's productivity and body posture.
There is an unending list of trendy or conventional office chairs that could work for you, depending on the needs of your workplace. Here, we will discuss some of the common types of office chairs to help you decide what best fits your needs.
Different Types of
Office Chairs
1. Executive Chair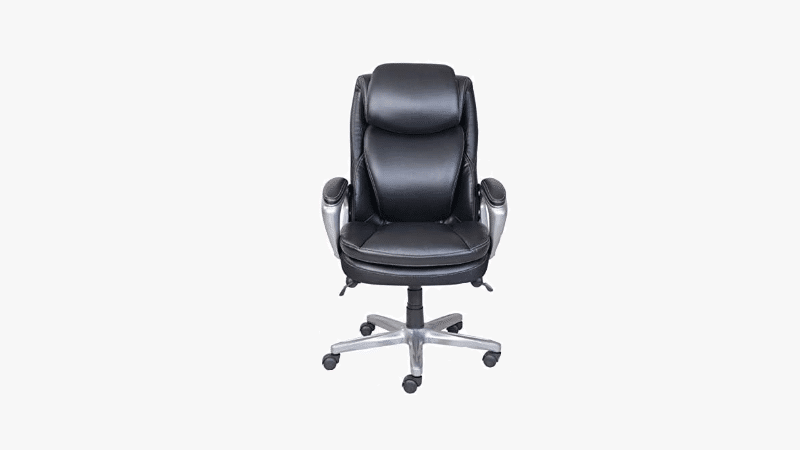 Executive chairs, as their name implies, are premium office chairs. They are mostly used by higher-ups, reflecting their seniority in an organization. Their sleek and high, elegant backs, thickly cushioned armrests, headrests, and premium build quality make them no less than a modern-day throne. In short, they are all about showing power and authority.
So far, we have only discussed executive chairs' posh appearances, but we must not underestimate the comfort guaranteed by the expensive wood or metal and the plush, upholstered leather seats. As a bonus, these chairs rarely need replacement as a good quality executive chair can survive up to 10 years.
With their forward and back tilt customization, these chairs can enhance circulation and facilitate breathing. With adjustable options, you can alter the back height and chair height to cater to your needs. All the extra padding helps improve posture to avoid back pains and body aches.
Some executive chairs also come with recline features and massage heads.
Some of the best-selling executive chairs are:
So, if you are a company executive looking for a stylish and comfortable chair, an executive chair is what you need.
2. Task Chair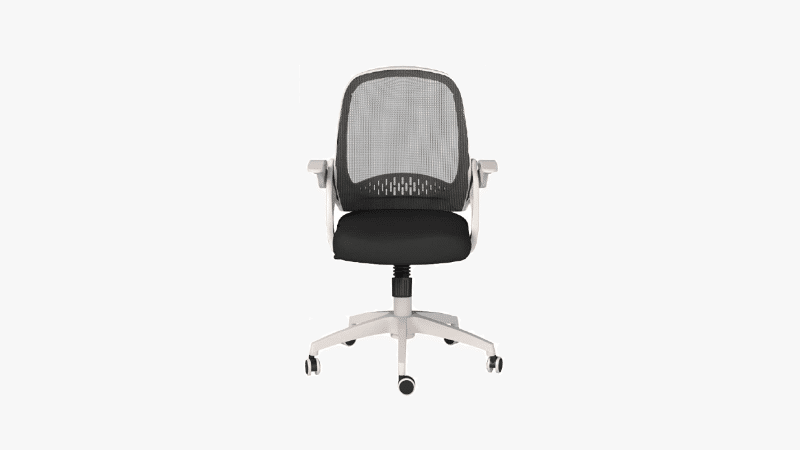 The most common chairs used in offices are operator or task chairs. Despite their basic look, they are comfortable for short spells of work. They are very affordable and are a good option for the general staff of an organization.
These chairs have some basic adjustments and a five-star wheelbase that gets the job done. If your work requires only a few hours of sitting, operator chairs are the best fit for you. Unlike executive and ergonomic chairs that provide comfortable seating for up to 6-8 hours, task chairs are not to be used for more than four consecutive hours.
Task chairs also come with armless models that make them a good choice for small office spaces. They fit under desks and allow you to get close to your workspace. As they lack armrests, the desk is used to rest the arms, ensuring a neutral position of arms, hands, and wrists. These chairs are best for jobs involving typing because they keep the back upright and increase typing speed.
Some popular task chairs include:
Therefore, operator chairs are perfect for small cubicles and short work hours.
3. Heavy-Duty Office Chair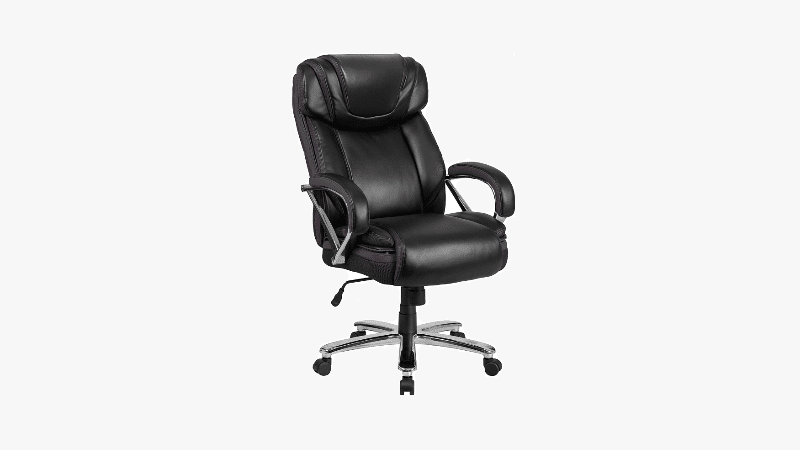 If you have long shifts at work or have employees working all night, a heavy-duty chair is all you need. Specifically designed for extensive use, it has robust features and well-built mechanisms.
Best for jobs with long office hours, such as hospitals and call centers, these chairs come with features like armrests, lumbar support, and adjustable height. Since offices with 24-hour shifts mostly require employees to be highly focused, it is essential to have comfortable chairs.
As an ergonomic chair that caters to all the specific needs of a long shift and is designed for durability, a heavy-duty chair is sure to deliver.
Specific design features in these chairs help prevent back pain and hunched posture. This can prevent employees from getting tired too early at work.
Heavy duty chairs are easily adjustable and designed to hold heavier weights. They have a tilting backrest, puffy headrest, foldable cushioned armrests, air cushions proving lumbar support, and the standard seat height, making them a perfect choice for a comfortable all-nighter at work.
Some of the best heavy-duty chairs are:
4. Ergonomic Chair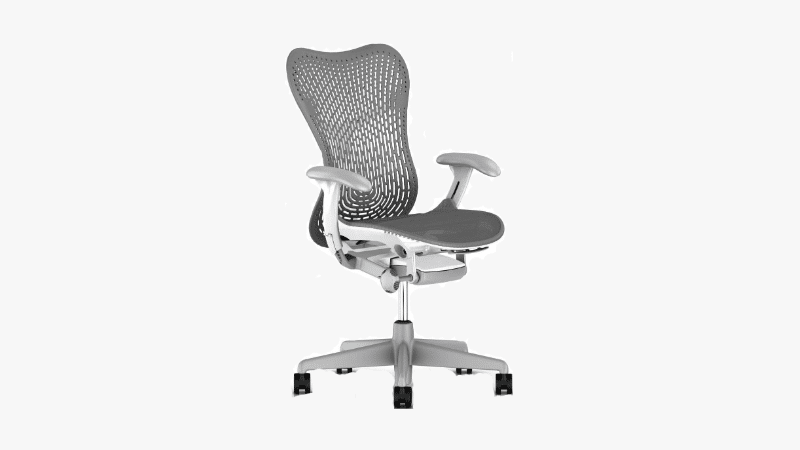 The modern-day office chair that has gained a lot of popularity in recent years is the ergonomic chair. These chairs come with so many trendy, sought-after benefits. It has the combined perks of all the chairs discussed so far, as well as being designed specifically to mitigate the serious health implications of prolonged sitting by providing comfort and improving posture.
First designed in 1976 by Bill Stumpf, a designer at Herman Miller, the ergonomic chair has evolved over time and stands undefeated in providing comfort and support. Office going individuals sit for most of their day. Sitting, seemingly less tiring than walking, running, or standing, puts a lot of strain on one's lower back. Therefore, it is very important to have a chair that encourages a neutral posture to relieve the stress on the joints and muscles. The countless features that set an ergonomic chair apart from other chairs include:
Adjustable seat height allowing you to place your feet on the ground
Seat tilt allowing you to position your pelvis correctly
Lumbar support preventing slumping and relieving stress on the spine and pelvis
Swivel improving user maneuverability and making moving around easy
Proper seat depth and width to remove undue pressure from your knees
Armrests for allowing your shoulders to relax
Adjustable backrest for supporting natural spine position
Headrest for supporting head and neck
Breathable mesh and fabric to avoid sweating
Some good ergonomic chairs commercially available are:
So, if you work for long hours and are looking for a chair that can help prevent back pains and muscle strains, you should definitely opt for an ergonomic chair.
5. Drafting Chair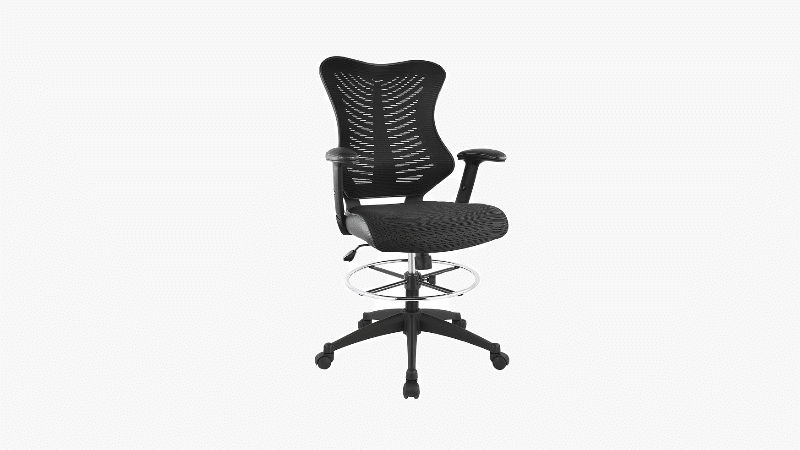 Are you an architect or an artist who works at a standing desk? Or do you work in a laboratory with a high desk? If yes, a drafting chair is all you need. Specifically designed to be paired with a drafting desk or a counter height table, a drafting chair comes with all the features of a normal office chair.
The added height of the chair allows you to sit and relax while working rather than standing and draining your energy in no time. An adjustable footrest, often made of steel or plastic, provides support for your feet, while the height of the chair allows a swift transition between sitting and standing positions.
These chairs have pneumatic height control and the height can be adjusted to use with conventional desks as well. The inclusion of other features depend on the quality and price of the chair. Most drafting chairs have a breathable mesh backrest and lumbar curve to support a natural spine position.
With the popularity that standing desks have gained in recent years, drafting chairs are gaining momentum in the markets now too. Quite surprisingly, the benefits of drafting chairs make for quite a long list. They are comfortable, relieve a lot of pressure from your legs, improve your posture by providing adequate support, and strengthen your core muscles.
Some popular drafting chairs that you can find are:
If you, too, are a fan of standing tables, drafting chairs will complete your set.
6. Mesh Chair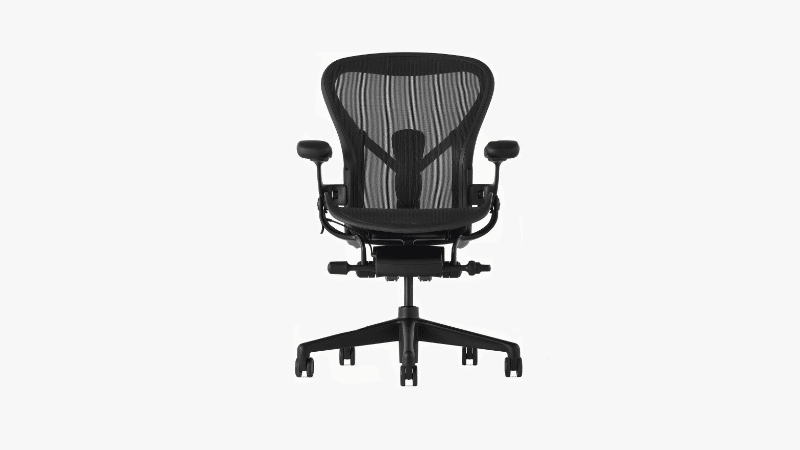 Does sitting for long summer hours on a leather chair make you sweat and feel uncomfortable? If so, then a mesh chair can ease your suffering.
With their breathable, net-like fabric, mesh chairs are both comfortable and have great ergonomics for lumbar support. Their waterfall edges also ensure better blood circulation. The breathable material allows for a free flow of air to prevent sweating, while their lightweight design makes them easy to move around the office.
The ergonomic qualities of the mesh chairs are one of their biggest attractions.
Considering their great look, breathable and durable design, and lumbar and posture support, these chairs are very affordable, making them must-have office furniture.
Mesh chairs are suitable for people working for long hours as the chair conforms to your body shape and maintains the natural curve of the spine.
Some of the best mesh chairs available are:
To conclude, mesh chairs are all-rounders, as they gain points for having a great ergonomic design, unmatched breathability, and a modern and contemporary look.
7. Kneeling Chair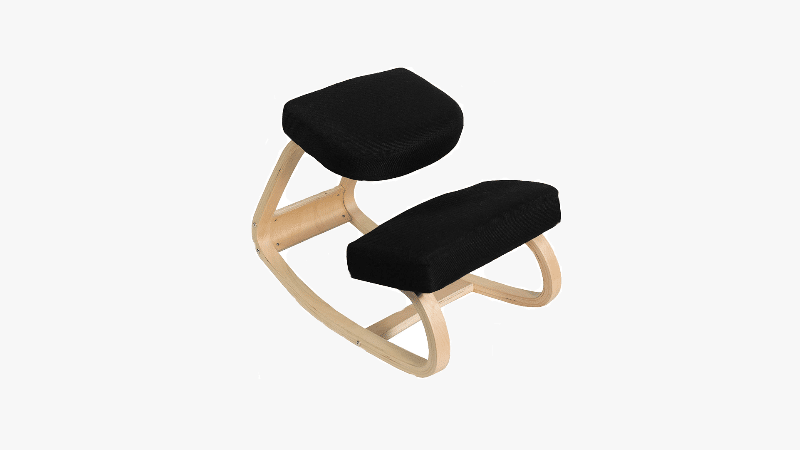 A kneeling chair is a uniquely designed office chair made for sitting with the thighs dropped to an angle of 60 to 70 degrees from vertical. These chairs divide the body's weight between the knees and buttocks. Sitting in the same posture for prolonged intervals causes back pain, but a kneeling chair can help deal with these negative implications in the following ways:
It reduces lumber lordosis and thus relieves back pain
It supports the back by nourishing the psoas and core muscles
It helps avoid spinal compression and back strain
It controls the pressure on the shins by adjusting the height of the seat and the angle of the side
However, the excessive use of kneeling chairs also has some disadvantages, such as:
It limits the circulation of blood to the legs
The movement of legs is restricted with prolonged use
It is difficult to get up and sit down on the chair
One misconception about kneeling chairs is that someone with weak knees cannot use them as the knees have to carry the weight of the body. This, however, is not true as most of the weight is on the buttocks and some of the weight remains on the shins, so the knees do not bear any weight.
The first kneeling chair was made of wood, but nowadays, metal-framed kneeling chairs are more common. Kneeling chairs have a caster for easy movement and an x-shaped metal frame with a foam seat, while some chairs also come with a backrest. There are many kneeling chairs available on the market, but the most common ones are:
Generally, orthopedic specialists do not recommend using kneeling chairs, especially when you have knee or hip problems.
8. Conference Chair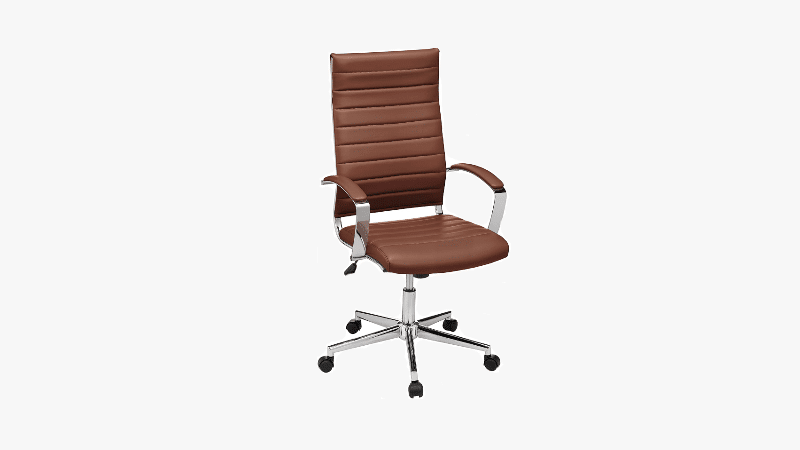 Conference chairs are used in conference rooms or private offices. Conference chairs, like executive chairs, are a symbol of authority or supervision.
As a conference room is a place where people come up with new ideas, make plans, and make decisions with their teams, conference chairs are designed with a mid or low backrest to ensure that no participants are hidden from view. This type of chair has a unique feature of forward-leaning posture, which all the other types of chairs lack. This posture helps people remain attentive in meetings and thus encourages them to participate.
Conference chairs benefit you by preventing injuries caused by bad posture and by providing comfort. These chairs have armrests that help to keep the elbows bent at 90 degrees. Moreover, conference chairs also help support the lower back lumbar. These chairs are designed to comfortably take notes, place your hands on the table, and easily type on a keyboard.
The materials commonly used for conference chairs are fabric and leather, which help you work comfortably, even during prolonged use. The base materials are commonly aluminum and chromium, while the casters are made of nylon. If you work excessively on the computer or usually have to sit in a conference room attending long presentations, then conference chairs are the best chairs for you to consider.
Some good conference chair choices are:
9. Armless Chair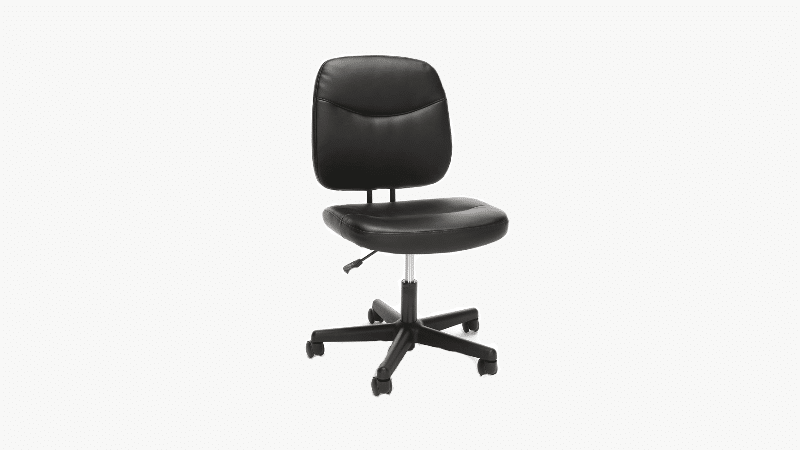 Armless chairs, as can be guessed from their names, don't have armrests. If your work includes working closer to your desk, or you need open space for typing or playing instruments like the guitar, you need an armless chair to improve your work setup.
Finding the best armless chair is a hefty task, but with the help of the details provided here, you can easily select the best chair for you.
Armless chairs come in many varieties like simple, plush, swivel, stately, height-adjustable, etc.
The Low-Back Computer Office Desk Chair is one of the best and most commonly used armless chairs. It comes with adjustable height and a low back and can fit into small areas effortlessly. It has thick seat padding and mesh back support.
There are also other types of armless chairs that help you move your chair around swiftly or take notes while placing your hands on the table, such as:
10. Leather Chair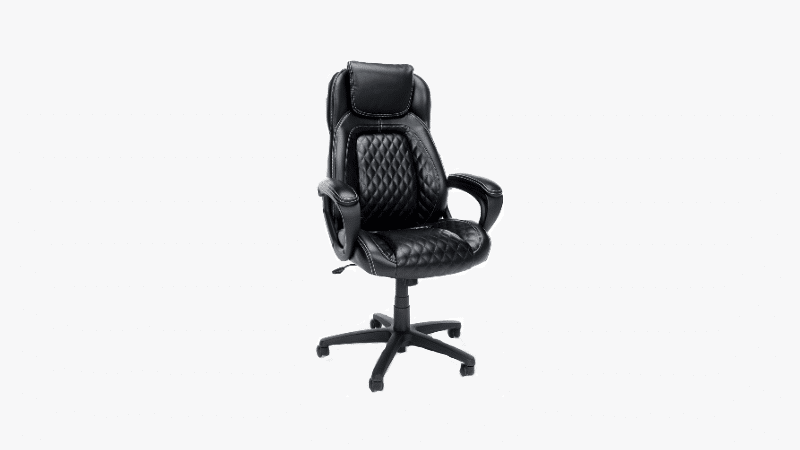 Leather chairs, as their name implies, are chairs upholstered with leather. These chairs are more expensive than others designed using mesh, fabric, and vinyl. Due to the difference in price and the unique material, these chairs are usually used by people in higher positions.
Leather chairs come in various options, such as polyurethane (PU) leather, bonded leather, and genuine leather. Each type requires a proper cleaning method to prevent it from wearing out. Among these, genuine leather chairs are the best in terms of comfort, durability, reliability, and aesthetics. However, they are very expensive and hard to maintain.
If you are one of the executives in an organization and sit in an air-conditioned room, then leather chairs are the best option for you. But why only an air-conditioned room? Because there is a drawback with leather chairs. Despite being expensive, leather chairs are not suitable in the hot seasons as they become sticky and make you uncomfortable.
Leather chairs are suitable for any body type because of their flexibility.
A few common leather chairs include:
11. Gaming Chair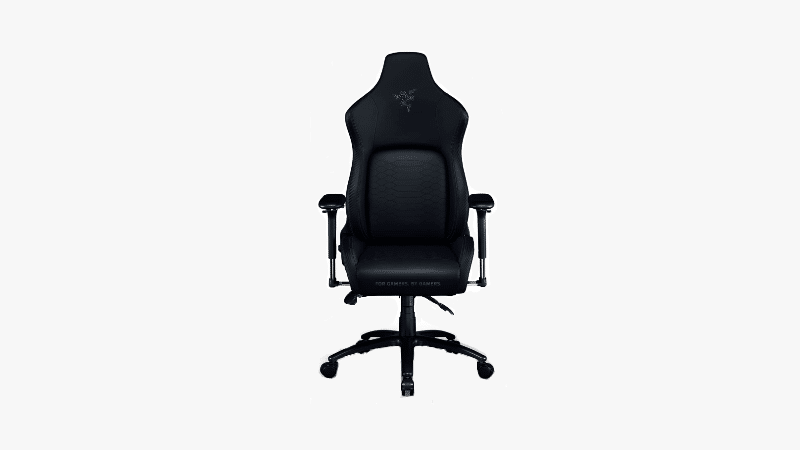 Gaming chairs, as the name indicates, are for professional gamers. These chairs are designed to be stylish and comfortable to ensure smooth and enjoyable gaming sessions. Gaming chairs are very distinctive in appearance. These have high backs so that gamers can lean onto them while having their backs, necks, and heads firmly supported, avoiding pain and discomfort.
Gaming chairs are customizable in terms of armrests, lumbar support, back, and headrests. All these features can be adjusted to suit the user's individual needs. If you enjoy playing games for many hours a day or you work for some online game streaming websites, then a gaming chair is what you're looking for.
Most gaming chairs are made of PU leather, which is durable and less expensive than genuine leather, but people tend to not like a leather material and instead prefer fabric gaming chairs that have a soft feel. Some popular brands for the best gaming chairs include:
12. Saddle Chair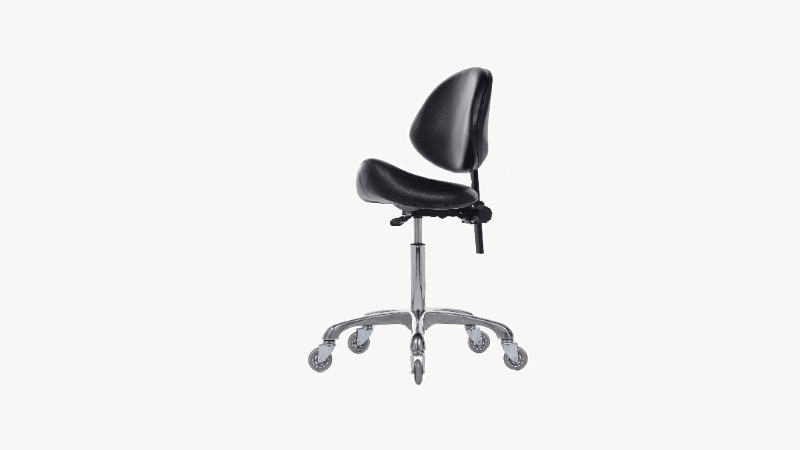 Saddle chairs are named after equestrian saddles. They are designed to be higher than other conventional chairs to support a riding-like sitting position by inclining the thighs at a 135 degree angle for muscle relaxation. These chairs are often used with high desks.
There are two types of saddle chairs – solid and divided. These chairs have a height adjustment feature and tilt mechanism. If you are working in an office and most of your work is done at a desk, and you want to retain the natural shape of your spine and develop muscles, then a saddle chair is the best choice as there are no downsides to it.
A saddle chair is a forward slanted chair that prevents back pain, musculoskeletal problems, and enhances muscle strength. If you have back problems, then saddle chairs can help you alleviate the aches caused by bad posture. Some of the best ergonomic saddle chairs on the market are:
13. Leaning Stand Chair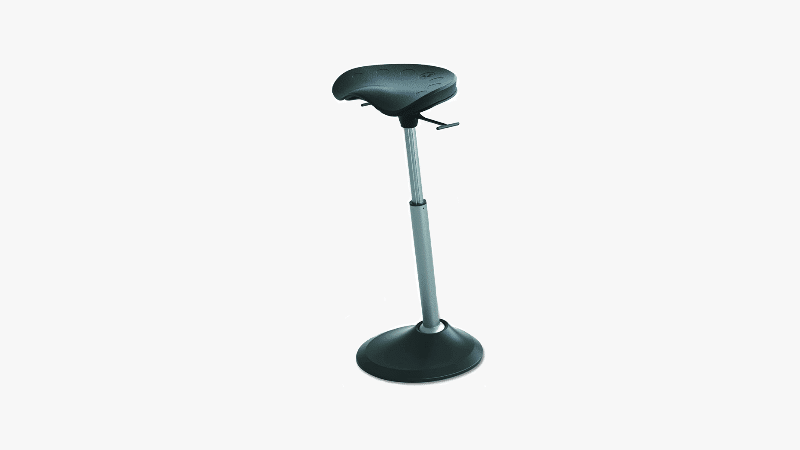 Leaning stand chairs are used with standing desks. If your work involves long hours of standing, then leaning stand chairs are best for you. They have a height adjustment function so that you can also sit down for short periods. Leaning stand chairs help you take short breaks by carrying your weight as you lean backward.
According to The European Journal, working in a standing position increases your energy and even burns fat. The American Journal found, however, that it is unhealthy for the human body to remain in a standing position for a prolonged period as it can lead to a heart attack. Thus, standing and sitting are both unhealthy if done for an extended period of time. Therefore, a good alternative is the leaning stand chair. You can quickly switch your position between leaning, sitting, and standing using this chair.
If you work in a bank, lab, art studio, or retail store, then the leaning stand chairs are best choice for you. They facilitate different postures and hence ensure optimal health. The seat of the leaning  stand chair is made of fabric, vinyl, or leather, and the base is usually made of steel. The popular brands for these types of chairs are:
14. Active Chair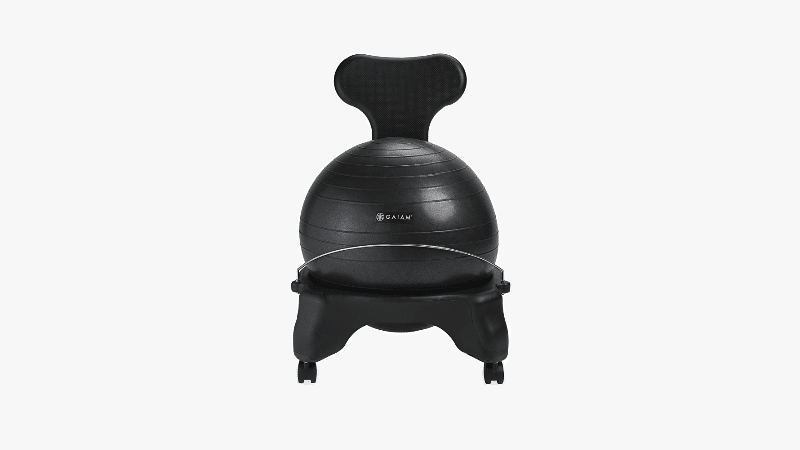 According to the American Heart Association, prolonged hours of sitting can put people at a higher risk of heart disease. Research has linked prolonged sitting to abdominal and core weakness, hunched posture, neck pain, and weaker muscles and bones. Therefore, there is an immediate need to address these health issues. That is why active chairs have gained popularity in recent years.
Active chairs, more commonly known as dynamic chairs, are designed to engage back, abdominal, or leg muscles while sitting in a chair. They allow you to have more movement than other office chairs. Thus, active chairs contribute to burning calories, improving blood circulation and concentration, increasing core strength, improving posture, and overall increased physical movement.
Today, many chairs promote active sitting and the right one for you depends on body type, budget, and work setup. Some commonly available active chairs are kneeling chairs, leaning stools, perching stools, saddle chairs, wobble chairs, and balance balls. Some of these chairs allow for active movement while in a standing position (e.g., leaning stool), seated position (e.g., balance balls), or both (e.g., perching stools).
The Gaiam Classic Balance Ball Chair is one of the bestselling ergonomic active chairs for offices that is affordable and strengthens your core muscles to improve your posture. The ball provides a cushioned seat, and the chair frame offers back support. Some other options for active chairs are:
With all the research backing up the benefits of active chairs, it's impossible not to try these chairs and experience their wonders.
Conclusion
There is a long list of different types of office chairs, all suited for different needs. Before deciding which chair to buy, make sure you are aware of your budget, your office setting, your work hours, the level of comfort you require, your health concerns, and your body type. Once you've decided, refer to the information above and get yourself the perfect chair.
Photo Credit: Unsplash