Voice recorders have come a long way since their invention in the late 1800s. Packed with dozens of interesting features, equipped with the hardware needed to reproduce premium-quality sound, and most importantly, designed to be portable and practical in all scenarios, the digital voice recorders of today truly are a blessing of the technological era.
If you've done any research on your own, you've probably come across dozens of Zoom and Olympus recorders. These are the two biggest brands in the industry, and I've been more than eager to join the debate of 'which one is better?'
To answer this question, I've decided to arrange a small battleground in which the best Zoom recorders will be pitted against the best Olympus recorder models. Without any further ado, let's dive into the companies that sport these models as their own.
Zoom is the go-to company many professional musicians turn to when they need a premium quality amplifier, effects pedal, or an advanced studio voice recorder.
Founded in 1983 in Tokyo, Japan, Zoom is quite a bit younger than Olympus, but the two have been sharing the pedestal of the best producers of electronic audio devices for decades.
The Zoom Company has had a range of flagship products, ranging from the popular GFX-8 guitar effects processor, to the FIRE series of guitar amplifiers and TAC audio interfaces, to Handy and Field recorders.
Nowadays, thousands of professionals use Zoom's H5 4-track portable recorder and praise its practicality and ease of use. Even though it was released in early 2014, it's still regarded as one of the best digital voice recorders ever to be made.
Olympus is also a Japanese company, although it's much older than Zoom and has a far more eclectic catalog of products. On its menu, you can find a host of cameras and audio equipment, a variety of medical and surgical gear, as well as both scientific and industrial equipment, such as microscopes, videoscopes, high-speed video cameras, flaw detectors, transducers, scanners, probes, and more.
In terms of digital recorders, Olympus has released 26 different models so far, although I should point out that Olympus LS-5 was released for European consumers exclusively.
The company broke the ice with the Olympus V90 in 1999. Ever since, Olympus has graced the markets with a range of top-tier recorders, from VN-240, to VN8500 PC, to the latest Olympus LS-5 and LS100.
Olympus WS-852 and Zoom H1N are the representatives of quality, budget digital recorders for their respective brands. Although the latter costs nearly three times as much as the former, both can be considered pretty cheap in comparison to WS-400 and H5.
The price difference between the WS-852 recorder and H1N is just about big enough for a casual user on a cash-strapped budget to opt for Olympus.
There are quite a few differences in terms of dimensions between WS 852 and H1N. The Olympus WS-852's dimensions measure 4.4 by 0.71 by 1.5 inches while Zoom's H1N measures 5.4 by 1 by 6.4 inches. Obviously, the Olympus model is more compact, but they could both fit inside a pocket pretty easily. On the grounds of portability, WS-852 and H1N stand as equals.
If aesthetics matter to you, Zoom's H1N looks far more modern and elegant. The Olympus WS 852 looks like a small cinder block in comparison to it.
As far as raw specs are of concern, Olympus's WS-852 offers roughly 110 hours of total battery life and has enough space to store around 4 GB of audio files. Zoom's H1N offers 10 continuous hours; its batteries aren't rechargeable, but it offers USB connectivity and 32 GB of internal storage to compensate for it.
The WS-852 is equipped with simplistic controls, including stop, record, erase, folder index, calendar, and menu navigational keys. The H1N, on another hand, offers stereo overdubbing features, several controls governing playback speed, a filter for voice emphasizing, as well as streamlined menu controls.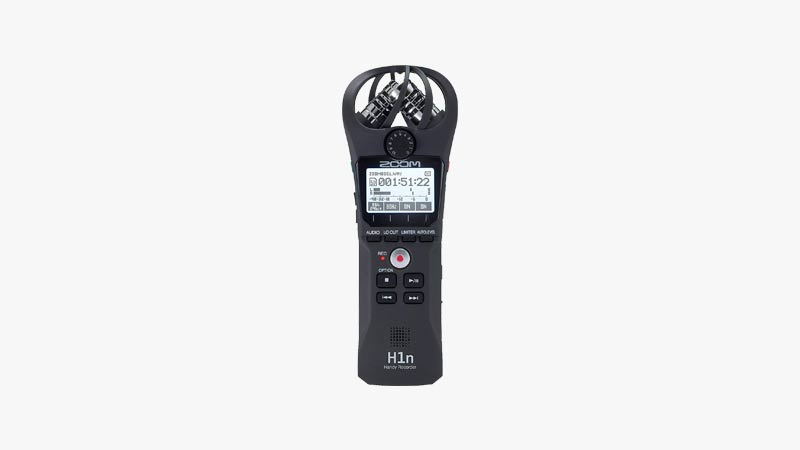 Deciding the victor was all but easy. There are so many things I liked about Olympus WS-852, but ultimately, I found it too basic. The looks, capabilities, and powerful functions of Zoom's H1N are among the main reasons why I think it's better value for money.
Both Olympus WS-853 and Zoom H2N aren't to be treated as younger siblings of the models I've just reviewed. Although they're only a number apart in name, these digital voice recorders are more advanced while retaining the practicality and versatility of their predecessors.
Let's start with Olympus WS-853. I believe the company wanted to work on the WS-852's lowest points and create a better-rounded recorder. In my humble opinion, Olympus certainly succeeded in this.
The WS-853 is as light, sleek, and portable as WS-852, with dimensions that measure 4.4 by 0.71 by 1.5 inches. It's probably even the same casing, although the hardware is what the brand changed considerably.
More advanced playback control functions were added, and the internal memory was doubled to 8 GB. With a black plastic construction, the sleek design looks even more elegant now.
I purposefully left Zoom's H2N out of the back-to-back comparison because it's substantially different from H1N. The UI is now on the bottom side while the top is basically a microphone; one of the five aboard, actually.
This hard-left turn in terms of design is an improvement in terms of practicality, but it's a downgrade as far as aesthetics are of concern. Where H1N offered 10 hours, H2N offers 20 hours of continuous operation. I'm sure many people appreciated the effort, but Olympus's WS-852 still offers more than a hundred.
Again, H2N brings a range of interesting features; this time around, users will be able to enjoy a built-in metronome, an integrated tuner, pre-recording and auto-recording, as well as low-cut filter functions. Here we can see that Zoom prioritized musicians above all else.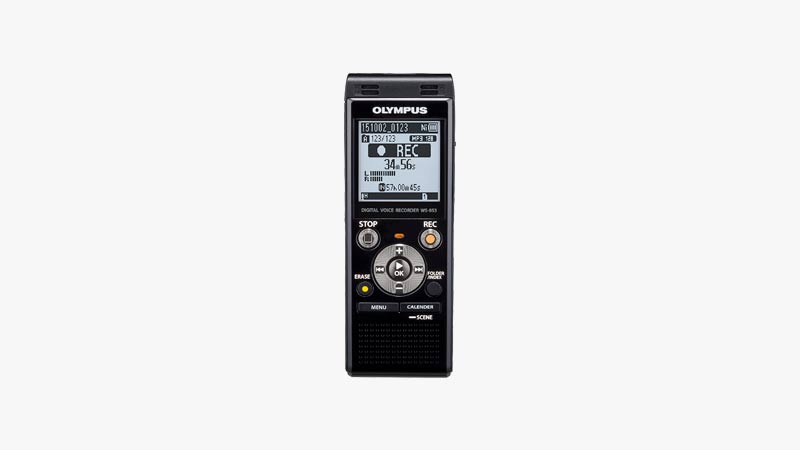 The main reason why I chose Olympus WS-853 over Zoom H2N is that I think the brand did an amazing job with improving its then-flagship digital voice recorder. While Zoom's H1N had a bit of an advantage over WS 852, I don't think the same can be said for this round.
Before we begin the third round, let me point out a pattern here. Olympus continues to build its flagship, improving the strongest points of WS digital voice recorders while Zoom continues to innovate, adorning the H-series recorders with new features and functionalities.
The WS-822 looks more up-to-date and could stand on even ground with Zoom recorders in terms of aesthetics.
As far as dimensions are concerned, the WS-822 measures 4 by 1.6 by 0.6 inches. It's slimmer and a tad wider than its predecessors, but it's also just a bit lighter. For a pocket digital voice recorder, this is synonymous with 'superb portability' in my book.
For the sake of comparison, the H4N Pro measures 6.25 by 1.5 by 2.75 inches. It is wider and taller, but both could easily fit in an average-sized pocket.
The transcription mode is easily the most important new addition to WS-series recorders. By enabling it, you can instantly erase 'dead air' from your files, which reduces the amount of editing required for further use.
Another improvement is the Voice Balancer, which automatically equalizes the volume parameters of speakers, allowing the user to discern each voice. Other features were left more or less the same, especially battery lifetime and internal memory.
Switching over to Zoom's H4N, we're looking at the first multi-track digital voice recorder today. Featuring four separate channels, its versatility is drastically superior to all of the voice recorders I have mentioned in this article.
This recorder is outfitted with integrated stereo microphones that can capture sounds up to approximately 140 decibels. One of the most prominent innovations brought to this model is the new set of preamps. They efficiently process the signal before it's written on the audio files, leaving you with excellent-sounding files to work with.
The H4N is also compatible with the RC4 remote controller, although it's a bit clunky to use due to being wired. Another important thing that I need to mention about this digital voice recorder is that it can be customized with a range of attachments and accessories, including the windscreen, a splitter cable, the AD-14 adapter, and more. All of these accessories need to be purchased separately, though.
There is just one drawback to Olympus WS-822 I couldn't look past. Namely, whenever you stop the audio, you can't pick up where you left off. The device will instantly create a new audio file whenever you press the 'stop' button. This was a standard for older models, so I didn't want to label it as a 'flaw' before, but WS-822 is considered among newer, more modern recorders.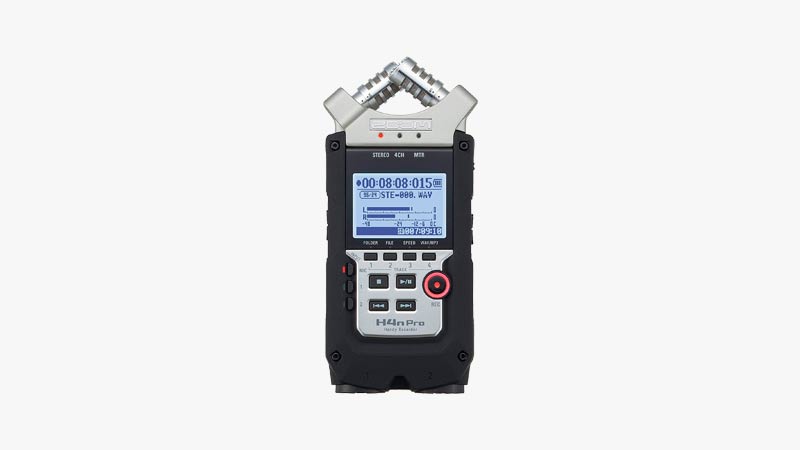 As a 4-track digital recorder, Zoom's H4N Pro is better-rounded than Olympus WS-822 from the start. On top of that, its customizability is astounding, but that didn't affect the outcome too much, as the parts aren't part of the bundle. The superior recording quality and automatic features of this recorder ultimately won the round.
The last pair in this match features WS-400 by Olympus and H5 by Zoom. Both are outstanding pieces of voice recording equipment, and both are true representatives of their respective manufacturers.
The Olympus WS-400 features a full gigabyte of internal memory and rocks an advanced built-in stereo microphone. Aside from recording MP3 audio files, the WS-400 is among the newer models that support WMA as well.
The battery lifetime of WS-400 is inferior to its predecessors (approximately 21 hours per battery), but they're rechargeable, so this isn't that much of a drawback.
In terms of dimensions, the Olympus WS-400 measures 3.7 by 1.5 by 0.4 inches while weighing 1.6 ounces. This makes it the smallest, most portable digital voice recorder of the eight models I've covered. You'll probably recognize some of the features it's supplied with, such as the 'erase' button, or the 'list'.
The navigation keys are a bit smaller than usual, but they're still pretty easy to use. I would say that the expanded internal memory is the strongest new feature of the WS-400, and I'd put it right next to the voice activation feature.
The Zoom H5 is, just like the H4 Pro, a four-track recorder equipped with a variety of highly advanced features and functions. Supplied with interchangeable inputs, a detachable XYH-5 capsule, and both XLR and TRS connectors, this digital voice recorder is the pinnacle of versatility when it comes to connectivity.
It features two microphones and strong preamps that can handle super-low and super-high frequencies, as well as the ability to record directly to your SD or SDHC cards. Its limit is 32 GB, as opposed to most recorders in its price range that supports cards up to 64 GB.

This round revolved around the convenience and simplicity of the Olympus WS-400 and the versatility of Zoom H5. At the end of the day, I think that H5 isn't that hard to use either, although its learning curve is a bit steeper than that of WS-400. Its customizability, four channels, and robust audio quality helped it take home the win.
Both Olympus and Zoom have released dozens of superb digital voice recorders. The models that I've covered in this article have the best ratings and most reviews and are deserving of their 'flagship' status.
You can find more information about these digital voice recorders, as well as additional reviews of models by Sony, Tascam, and other reputable brands in my review of the 16 Best Digital Voice Recorders, so make sure to check them out as well.
Photo Credit: Unsplash