3D Printers are fascinating, it intrigues both young and old and you'll agree when I say, everyone wants to try this at least once.
While they're becoming common in school labs and a lot of hobbyists are using them to make action figures, printing out replacement parts from valves to screws and nuts. The thing is that its utility goes far beyond printing out smartphone holders and fidget spinners. People have used 3D printers to make fully functional prosthetic arms.
For people with engineering backgrounds and CAD skills, 3D printers can help accelerate the process of building new prototypes and might as well be your ticket to Shark Tank. With it, you're in full control of the production process from the beginning to the finished product.
Moreover, you can save time and money by printing out what you want. You don't have to go to search for the people who will make it and thus get what you need at a fraction of the price and waste no time while you're at it.
Picking out the right 3D printer is not necessarily an easy task. There are a wide number of options available, which can be overwhelming if you're not sure what to look for. This guide has isolated some of the best printers available, which will go a long way towards helping you find the right printer for your needs.
Before you go ahead to buy your first (or your second or third) 3D printer, there are a few things to consider. You won't need this information in case you already know the specs of your next printer, but make sure to check them out if you're a first-time buyer of 3D printers.
1. Printer Type
First, see what type of printer you're checking out. There are three most common types, and each is suitable for users with different levels of experience. For example, hobbyists prefer to use the Fused Deposition Modeling (FDM) printer, which heats and extrudes plastic.
This type is the cheapest one out of the three and the models on this list are FDM models. The second type is Stereolithography, where the printer uses ultraviolet light and photosensitive liquid to harden a model. The third type is called Selective Laser Sintering (SLS) and it uses lasers that melt the powder to make the print.
2. Resolution
Resolution is the level of detail you'll get in the print. The smaller the resolution, the more details the printer can print out. The high-quality printers can print out up to 50 or 70 microns.
3. Materials Supported
The most common printing materials in 3D printers are PLA (Poly Lactic Acid) and ABS (Acrylonitrile Butadiene Styrene) which are thermoplastics and come as spools of filament that you have to replace when the printer runs out of it. Higher-end models support more materials, such as TPU, TPE, HIPS, PC, NYLON, ASA, PP, PETG, PVA, Glass Fiber Infused, Carbon Fiber Infused, Metal Fill, or even Wood Fill.
4. Print Bed
Another thing to consider is the print bed. It can be heated and non-heated. The ABS filament requires a heated bed, while you can use the PLA with a non-heated bed. The bed depends on the materials you'll use but it can also be useful to know if the bed is pliable, so you don't damage the finished product.
5. Safety
When the 3D printer is in use, it works with heated plastics. Those plastics can burn your skin. The extruders and the bed can also get hot, so watch out for that. What's more, the fumes that the heated plastic produces are potentially dangerous. Make sure to have the printer in a well-ventilated area when it's working.
The Best 3D Printers For 2023
| Product | Printer Model | Layer Resolution | Build Area | Price |
| --- | --- | --- | --- | --- |
| | Formlabs Form 1+ | 25 microns | 4.9 x 4.9 x 6.5 in | |
| | MakerBot Replicator | 100 microns | 11.6 x.7 x 6.5 in | |
| | Ultimaker 2 Extended | 20 microns | 9.1 x 8.8 x 8.1 in | |
| | Monoprice Select Mini | 100 microns | 4.7 x 4.7 x 4.7 in | |
| | XYZprinting Da Vinci 1.0 | 100 microns | 7.8 x 7.8 x 7.8 in | |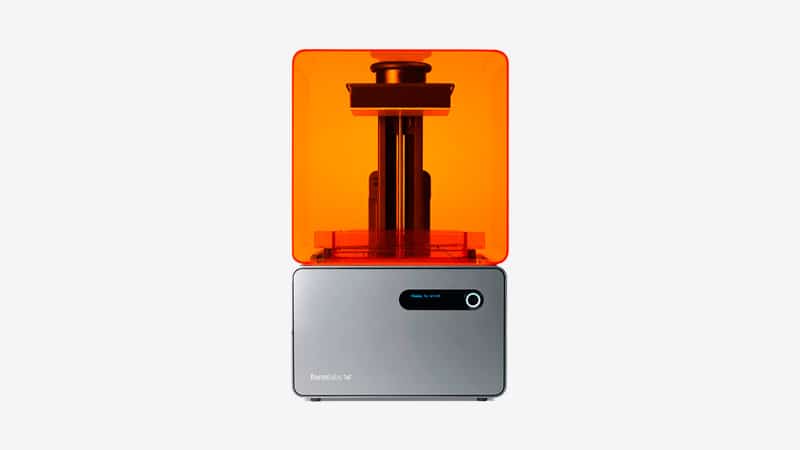 If you are in the market looking for a 3D printer, why not get the very best? The Form 1+ by Formlabs is the latest model by the manufacturer whose Form 1 was one of the most funded 3D Printer on Kickstarter made for professional creators. It was developed by graduates of MIT and is quite different from other types of printers as it uses stereolithography to produce 3D prints using liquid resin.
The Form1+ is just as beautifully designed a machine that has improved a lot in terms of reliability. PreForm, their prosperity software provides an excellent working environment to stay within their ecosystem.

With Form 1+, you are able to get faster, easier, and more detailed 3D prints which you are unable to do with low-end consumer printers, you don't need to perform any calibration and can get going in as little as 15 minutes. Due to its professional grade output, we recommend it to professionals, designers, and architects.
If you are looking for a 3D Printer that will fit in your budget, here are our picks for the 10 best 3D Printers.
Best 3D Printer Under $250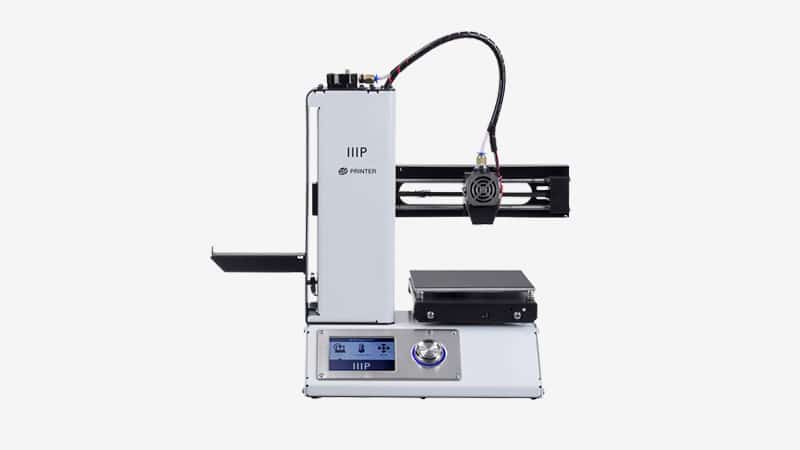 The Monoprice Select is probably the cheapest 3D printer on the market. Although it lacks the advanced properties of more expensive 3D printers, it is an ideal model for anyone just getting into 3D printing. Thanks in part to its low cost, the Monoprice Select is currently the best-selling 3D printer on Amazon.
One of the things that stood out about this printer is its versatility. The printer supports any type of filament, from ABS to conductive PLA and composite wood and metal.
The printer is compact enough to fit on a standard office desk and ships fully assembled, so you can print from this device right out of the package. The printer comes with a sample filament for use, as well as a few pre-installed models for testing.
The printer is compatible with both Apple and PC products. It works with both MicroSD and MicroUSB. A bed scraper and leveling hex wrench are also included. This printer is not going to cut it for professional use, but if you are a beginner or a student, this is a great 3D printer to learn on.
Features
Maximum Build Volume: 4.7W X 4.7H x 4.7D
Resolution: Fine0.1 mm (100 microns) – 0.3 mm (300 microns)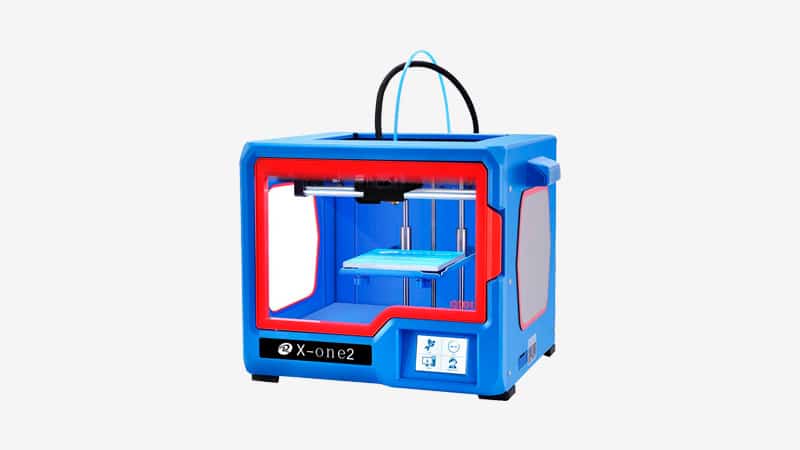 Like the Dremel Idea, this X-One 3D Printer is a good choice for a mid-level 3D printer. Constructed from durable double-thick metal and supported by an aluminum platform build, the printer uses a standard 1.75 mm filament to power your printing.
Compatible with both Windows and Apple OS, and printing available through USB or micoSD, there are a lot of ways to use this printer. It comes with a 3.5-inch touch-screen, which makes it easier to operate the printer software for your printing needs.
The printer ships with a 1-kilogram roll of PLA filament to get your printing started.
The printer supports both ABS and PLA filaments. The printer is intuitive and easy to use and is a great choice for artists and hobbyists. The X-One is not really powerful enough for professional use, but it is a great printer for simpler needs.
Features
Maximum Build Volume: 140L X 140W X 140 H mm
Resolution: Fine 0.1 mm (100 microns) – 0.5 mm (500 microns)
Best 3D Printer Under $500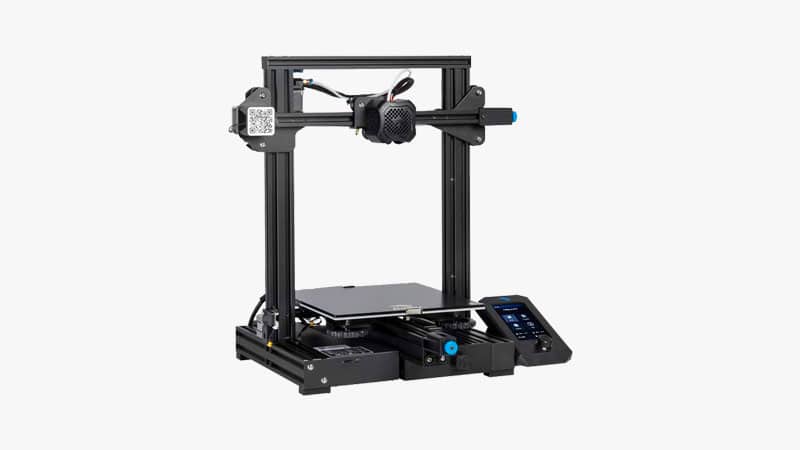 The Ender 3 V2 3D Printer is a perfect entry-level printer for anyone who wants to have their first taste of 3D printing and that too without breaking the bank. What's best about this model is its clear and simple user interface, as well as a 4.3-inch color screen.
It is a plug-and-play, easy to use 3D Printer that you can use right out of the box, just install the filament cartridges and you are ready to go. It has a carborundum glass platform that enables the hotbed to heat up quickly. The filament process is easy, with a rotary knob on the outside.
The fully-enclosed design makes it very safe for beginners and hobbyists as it protects the users from the high temperatures required to print and ensures that no external filament movement occurs. The price point, simplicity, and safety make it a really great choice for an entry-level 3D Printer.
Features
Maximum Build Volume: 

8.6

W x

8.6

H x

9

.8D inch

Resolution:

Fine 0.1 mm (100 microns) – Ultra Fast 0.4 mm (400 microns)
Best 3D Printer Under $1000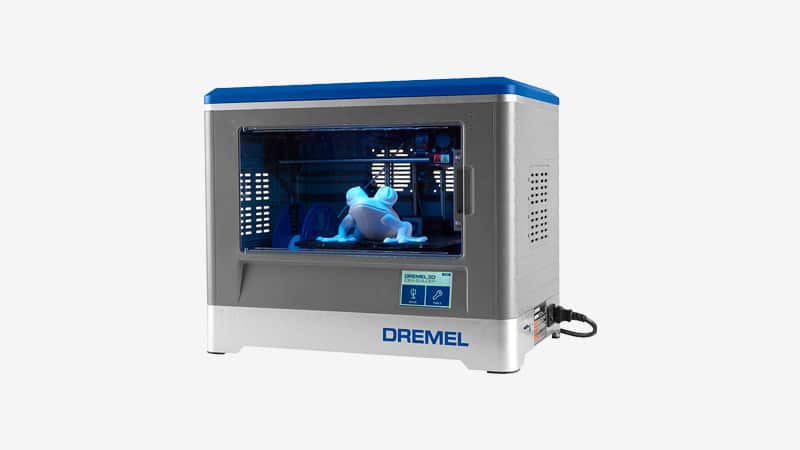 The Dremel Idea 3D Printer recently struck a partnership with HP and has become a printer of choice for their latest Sprout Computer which is the world's first fully integrated desktop 3D scanner.
This shows that the Dremel is definitely a printer to buy if you want to build something functional or for fun. It comes with a pre-installed extruder which means you can start using it right out of the box.
The software allows for customization of 3D models and the best part is that using the onboard software, you can use it as a standalone printer, simply insert the SD Card, and use the on-screen touch panel to select the model file and start the build.

Dremel works with its own filaments that are specifically engineered to optimize printing in the Idea Builder. The community is great and has an open system that lets you download free, print-ready models from dremel3d.com.
Overall It is a well rounded machine and well suited for hobbyists, students, and educators alike, and with partnership with HP, it certainly is a must-have 3D printer for students.
Features
Maximum Build Volume: 9W x 5.9H x 5.5D inch
Resolution: Fine 0.1 mm (100 microns) - Ultra Fast 0.4 mm (400 microns)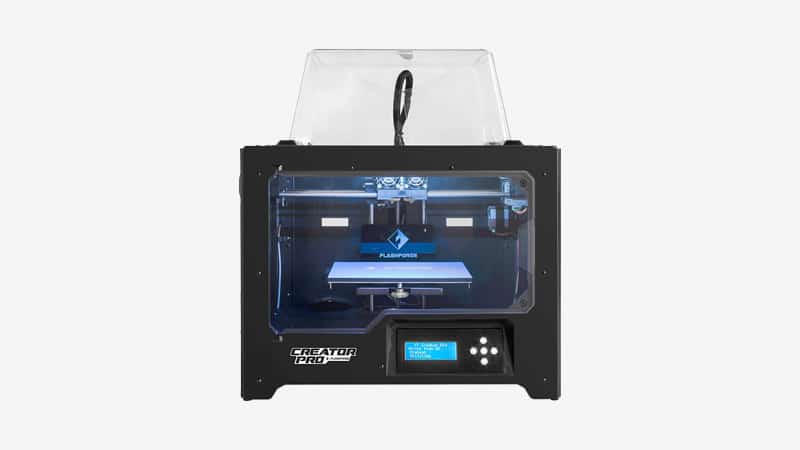 The Creator Pro by FlashForge is one of a kind open source 3D printers that is a setup up from the original wooden framed 3D printer. It has a solid design with a sturdy metal frame and an all-new build platform that is redesigned to provide stable vertical movements and better quality prints as the platform can now withstand high temperatures.
The Creator Pro is more stable, uses a dual extruder, and provides up to 60% increase in print speed compared to its predecessor. It prints using ABS, PLA, nylon, dissolvable filament, and even composite materials such as wood and metal.
It offers the best value for money compared with other 3D printers at higher price points and offers a balance between ease of use and complexity to be able to build professional level prints.
It is considered a very reliable and consistent printer with good precision and countless possibilities as it is an open source printer that continuously upgrades with the help of Maker Community so you evolve with it.
Features
Maximum Build Volume: 9W x 5.7H x 6D inch
Resolution: 0.1 mm (100 microns) - 0.3 mm (300 microns)
Best 3D Printer Under $1500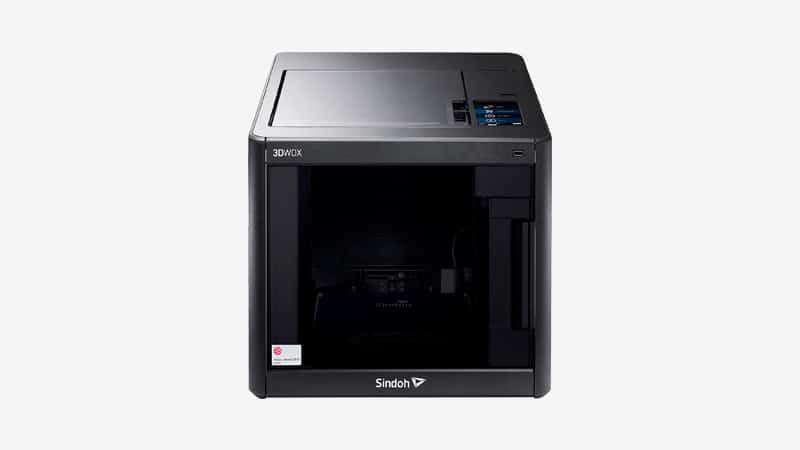 Sindoh's DP200 is a pretty powerful mid-range 3D Printer with many awesome features. Unlike many 3D printers that have complicated filament changes, the 3DWOX has an extremely easy process. Just like swapping out ink cartridges in a traditional printer, all you have to do is remove the old cartridge and insert the new one.
The 3DWOX makes it easier to print with their assisted bed leveling, which makes it easier to keep your bed level so your prints turn out right. Remote monitoring on a mobile smartphone app makes it easy to keep track of all your printing work, so you don't have to remain by the printer the entire time.
Powerful and intuitive desktop software makes it easier to design amazing models for expert results. The software also guides you in the printing process, helping you to achieve better results while simultaneously guiding you and improving your abilities.
Sindoh's have 50 years of printer experience and they bring that experience to the fore with the 3DWOX, helping you to take your art to a new level. This printer provides everything an artist needs to learn the ways of 3D printing, and it is also a good entry-level choice for professionals.
Features
Maximum Build Volume: 8.3L X 7.9W X 7.7H inches
Resolution: 0.05 mm (50 microns) – 0.4 mm (400 microns)
Best 3D Printer Under $2000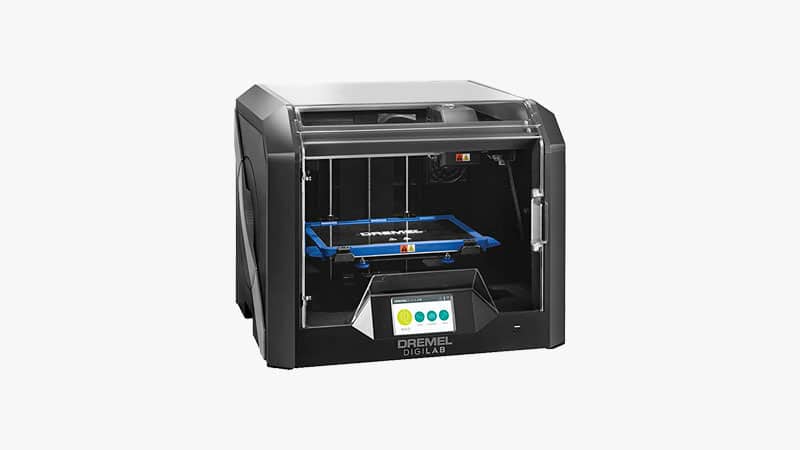 The Dremel DigiLab 3D45 3D Printer is a 50-micron-layer printer compatible with any OS. It has Wi-Fi, Ethernet, and USB connectivity and has been rewarded with the PC Mag Editors' Choice Award from 2016 to 2020.
It is a dream machine for the university-goers and professionals as the machine gives you the freedom to adapt and modify the printer e.g. it has a modular tool head design so you can interchange different print heads to work with a range of printing filaments like PLA, PETG, ECO-ABS, and Nylon filaments.
Some of these material options are not available with other 3D Printers which makes it a great option for people who are passionate about using this printer for their craft and play with different materials. It has an automated 9-point leveling system that detects discrepancies and helps to deliver better printing quality. The built-in camera allows you to monitor your prints with your Cloud software.
Features
Maximum Build Volume:

10

.0

W x

6.0

H x

6.7

D inch

Resolution:

up to

0.05 mm (50 microns)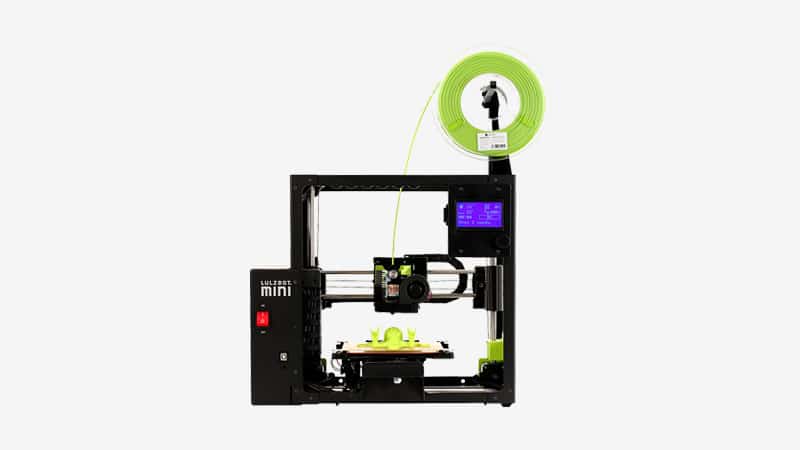 The LulzBot Mini 2 is an upgrade to the LulzBot Mini 3D printer. It is extremely reliable, versatile, easy to use, and a high-performance desktop 3D printer. It is made to deliver premium results and features many upgrades over the previous model.
Every print is enhanced with self-cleaning and self-leveling that ensures a clean and perfectly level foundation for the prints. It features the E3D titan aero tool head with a 55mm nozzle and it is compatible with a variety of both rigid and flexible materials.
The LulzBot Mini 2 works silently, meaning it won't disturb your workshop or classroom activities while printing. Its print surface made of reversible borosilicate glass/PEI can withstand a maximum temperature of 248°F, while the tool head withstands up to 554°F.
This LulzBot product uses Cura LulzBot Edition software to make printing extremely easy. The software offers preconfigured profiles for over 30 materials. You only have to load your 3D model file and print it.
The printer comes with a 1-year warranty and 7 days/week phone and email technical support.
Features
Maximum Build Volume: 6.3W x 6.3H x 7.08D inch
Resolution: 0.05 mm (50 microns) – 0.5 mm (500 microns)

The MakerGear M2 is the 3rd generation 3D printer produced by MakerGear and one of the highest-rated and most reliable printers we've come across during our research.
It is built on a solid and rigid Steel Frame, making it very sturdy which is very useful for printing things quickly. It is very modular and open designed so you can tweak the machine with interchangeable nozzles and parts.
There are no Proprietary Filament Cartridges to be used with MakerGear M2 so you can pick any type of PLA or ABS material and use it with this 3D printer.
While it is not the quietest of all, the overall build volume definitely gives you more room to play. The high-precision rails and quality components in a well-calibrated machine will produce high-quality prints right out of the box and will be a lot of fun to use.
Having said that, it is not one of the easiest printers to use but even if you have minimal experience working with 3D Printers, this printer will be a setup for you and we recommend it to professionals who have intermediate to advanced experience.
Features
Maximum Build Volume: 8W x10H x 8D inch
Resolution: 0.01 mm (10 microns) - 0.3 mm (300 microns)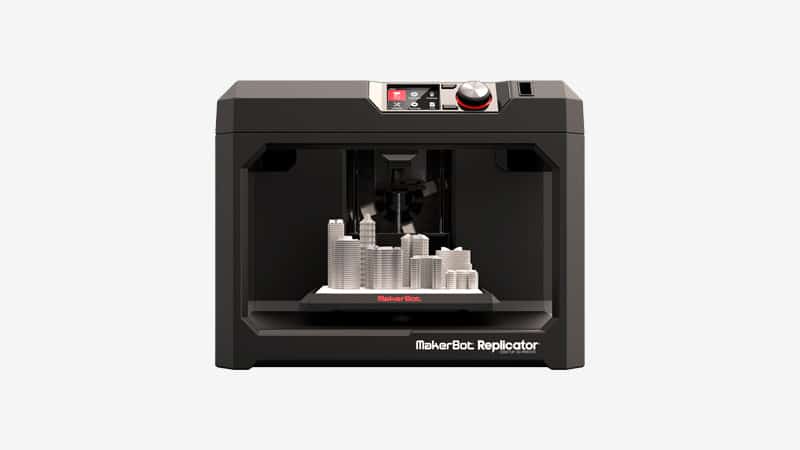 MakerBot has been a pioneer in the 3D Printing space with their Replicator 3D Printer already in its 5th generation. MakerBot was launched in 2009 following the early progress of the RepRap Project.
Winner of "reddot design award" MarketBot Replicator offers ease of use and connectivity for all your 3D printing needs in 2015, which means you can connect to the printer with your smartphone, tablet, or desktop computer. It has a full-color 3.5 LCD Display with an intuitive control dial for a rich user experience.
It has an onboard camera inside the printer so once you initiate the printing process, you can go anywhere and remotely monitor the progress using the MakerBot mobile app available for both Android and iOS.

In terms of print quality, the quality is unmatched thanks MakerBot Replicator 3D Printing Platform. It uses a custom MakerBot PLA Filament and makes a very consumer friendly 3D Printer. We recommend this to everyone, especially professionals and tech geeks who will appreciate the extra features packed within this printer and its reliability.
Features
Maximum Build Volume: 9.9W x7.8H x 5.9D inch
Resolution: 0.1 mm (100 microns)
Best 3D Printer Under $3500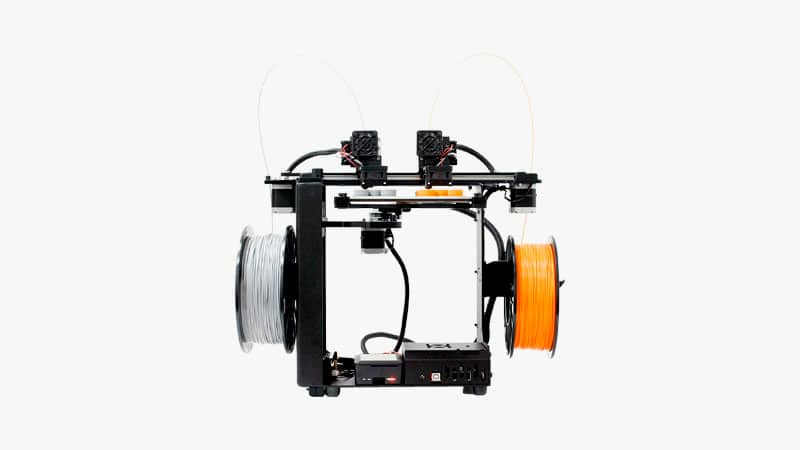 The MakerGear M3-ID Desktop 3D Printer tops the chart when it comes to a well-built reliable 3D Printer under $3500. If you are paying that much for a printer, you need something that not only performs well but lasts longer too.
This model operates on two fronts: it supports duplication printing. In other words, you can print two things from different materials at once. It is made of a rigid structure with features like True-Leveling and Dimensional Precision to provide precise calibration and printing.
The M3-ID is Wi-Fi enabled, which means that you can control it from any remote device connected to it. Also, it supports a variety of materials, such as ABS, HIPS, Nylon, PET-G, PET-T, PLA, Polycarbonate, and Polypropylene.
The onboard computer offers 10 GB of storage, while the USB port enables you to print anything from your external devices. It's compatible with macOS, Windows, Linux, iOS, and Android.
Features
Maximum Build Volume:

3.9

W x10H x

7.9

D inc

h
Resolution:

up to 0.05 mm (50 microns)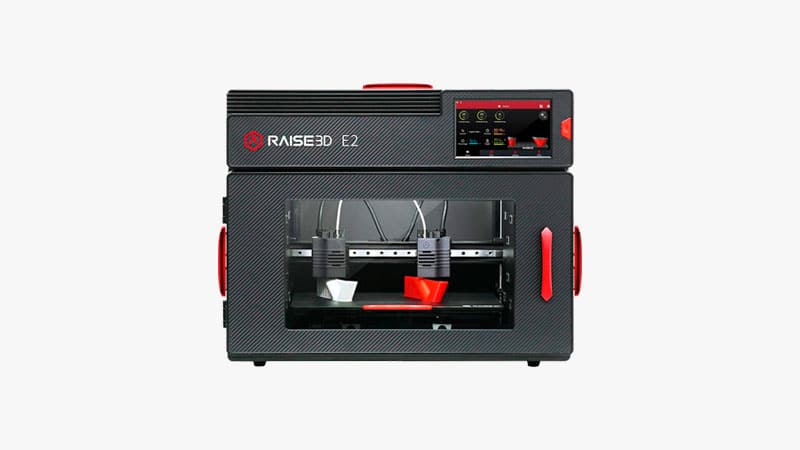 The Raise3D E2 Desktop 3D Printer is a beast of a machine, a true professional 3D Printer for a fraction of the cost compared to other commercial printers costing anywhere from $10K – $100K. Folks who are looking for a multi-functional and robust desktop 3D printer, the E2 is the right product for you.
As they say on the website, their "focus is to inspire industry-level change by designing and building 3D printers that extend the limits of what is possible for designers and manufacturers." With Raise3D E2's auto bed leveling technology and a video-assisted offset calibration system, you can go through geometrical alignment easily.
The printing will pause when the door is opened or when you run out of filament material. The flexible build plate minimizes the print damage when removing the object after printing has finished.
Its intuitive visual interface with print progress and the 7-inch visual touchscreen, as well as the on-screen assistance when printing helps you to set your printing preferences quickly.
The biggest plus of this model is the number of filaments you can use with it, including PLA, ABS, HIPS, PC, TPU, TPE, NYLON, PETG, ASA, PP, PVA, Glass Fiber Infused, Carbon Fiber Infused, Metal Fill, and Wood Fill.
Features
Maximum Build Volume: 13W x9.4H x 9.4D inch
Resolution: 0.07 mm (70 microns) – 0.7 mm (700 microns)
If you are looking to invest in a 3D Printer, the Formlabs Form 1+ stands apart from the rest with its innovative approach to 3D printing. Obviously, not everyone is looking for such an expensive model, which is why we have included so many other choices for you for all price ranges and needs.
The important thing is to consider what you hope to accomplish with the printer and which one will best suit your needs.
Do share in the comments below and let us know which 3D Printer you liked the most. As always, your feedback is greatly appreciated.
Photo Credit: Unsplash