Computer speakers are a valuable commodity to have not just for the home but for the workplace as well. They obviously have a critical application in various media industries, such as television, music and news media. They can also be important for reviewing audio information in a variety of professions, such as attorneys at law.
There is also an important application for computer speakers in many offices. Conference calls over the internet, whether with a manager or an overseas client, can be very important, and good computer speakers enable you to hear the call more clearly. They are also useful in meetings where videos or other media are played.
There are many professional applications for professional grade computer speakers. There are just as many styles and models of computer speakers, perfect for meeting any variety of professional needs. From small, low-powered speakers for a personal office to large bookshelf speakers suited for a conference room, you are sure to find the speaker you need in this guide.
The Best Computer Speakers for 2021
Things to Consider
Whether you want speakers for home use or the office, for listening to music while you cook or for routing a conference call to a room full of executives, the requirements for a good set of speakers do not change. Here are five important qualities you should look for in any speaker.
1. Volume Control
This may sound obvious, but a good speaker system will be able to cover a wide range of decibels. This is one way in which dedicated speakers are superior to headphones, as many headphones have poor volume control, being either too loud or too quiet.
2. Sound Quality
Another obvious but critical feature, and one that is surprisingly easy to overlook. This is especially important when you need speakers to project loudly, perhaps for a conference call in a large room. You don't want your speakers to distort the sound or crackle when the volume is turned up too high.
3. Tweeter and Subwoofer
A tweeter is essential for capturing high-pitched sounds, and a woofer is needed to accurately capture low notes. How important these different pitches are will depend from person to person, but it's a good idea to have speakers that let you control these levels.
4. Stereo or Surround
This is a big decision for a lot of people, and a lot of it depends on what you need to use your speakers for. If you're just working in an office, you'll be fine with stereo sound, but surround sound will improve audio quality in larger areas.
5. Size
The size of your speakers is important. Some speakers can be quite large, and if you don't have lot of room, you may want to opt for a smaller set. Larger speakers are more appropriate for a conference room or any other large area.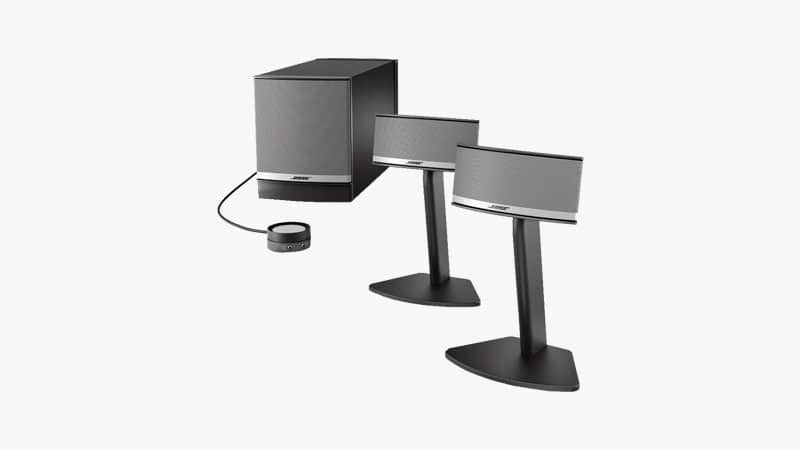 Chances are that you want a quality speaker system with clear highs and lows and high-quality driver transducers. At the same time, most people don't need (or want) to spend $2000 for a pair of speakers.
Our recommendation for a professional grade speaker that doesn't sacrifice quality for affordability is the Bose Companion 5 Multimedia Speaker System. It's sleek design is compact, making it a great fit for almost any situation.
Speaker system includes two drivers and a subwoofer
Speakers are assembled on stands to minimize space
Control pod allows easy volume control and offers media connection jacks
Compression circuitry improves the sound of your speakers
Check Price on Amazon Directly Add to Cart on Amazon
---
Best Computer Speakers Under $50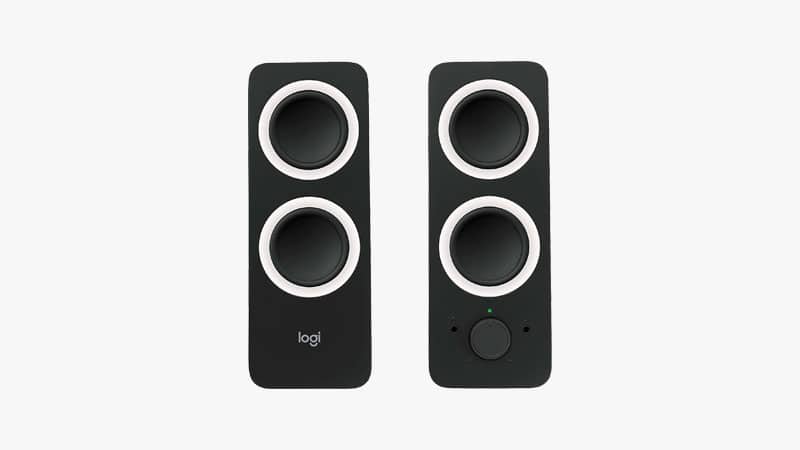 If you're looking for a compact, inexpensive set of speakers with good sound quality, the Logitech Z200 is a good place to start. Measuring 4.9 x 3.5 x 9.5 inches, The Z200 speakers are compact and don't take up a lot of space. Each speaker uses just 10 watts of power, so they aren't terribly demanding on power. And they have two different audio line-ins, so you can set them up to use with multiple devices.
Each speaker is equipped with two 2.5 inch drivers, and the system offers a rich stereo sound. You can control the volume on your computer or you can adjust the volume with a simple knob on the front of the speakers. Also included is a convenient headphone jack, so you can slip your headphones on quickly if you have need for privacy. The speakers also come with a tonal bass control wheel, allowing you to decide how much bass to allow. The Z200 speakers are compatible with all smart phones, tablets and computer sound cards.
Check Price on Amazon Directly Add to Cart on Amazon
---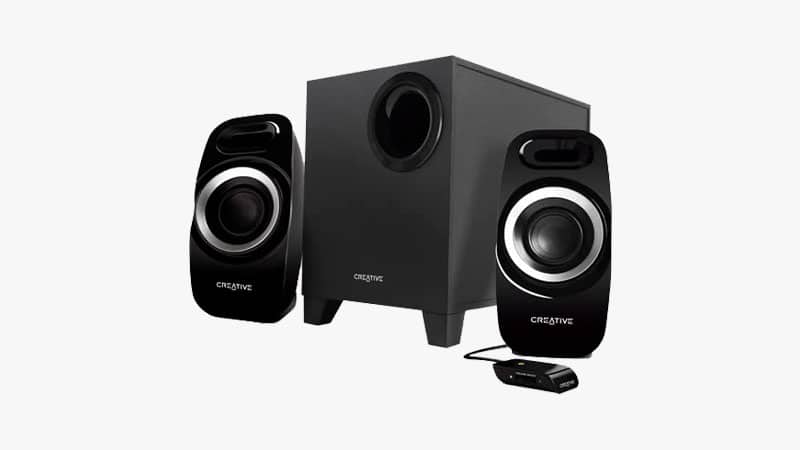 If you want a computer speaker system with a little beefier sound that the Z200 can provide, the Creative Inspire T3300 may be the solution. The T3300 is a 25 watt 2.1 stereo sound speaker system with two drivers and one larger, more powerful woofer.
Drivers aren't really designed to handle deep bass notes. While it's certainly possible for them to produce lower-spectrum sounds, they tend to lack the resonance, clarity and realism of a good subwoofer. When the bass tones are set at a reasonable level and volume, adding a subwoofer can make stereo playback sound far more realistic than drivers can by themselves.
There is a downside to subwoofers, of course. They're moderately heavy and quite bulky, and in a business setting it may be difficult to find a place to keep them. If you use these speakers in an office, you'll likely have to keep the subwoofer below the desk. The quality is worth it, though. The Z3300 speakers.
Check Price on Amazon Directly Add to Cart on Amazon
---
Best Computer Speakers Under $100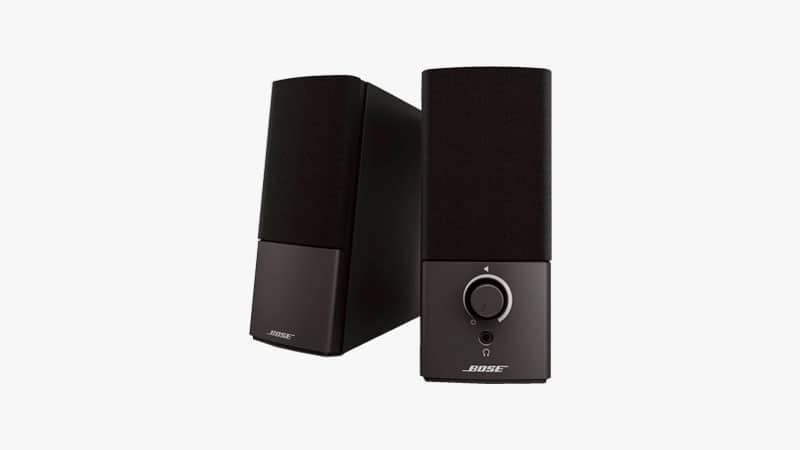 Bose has been a leader in audio technology for over 50 years. Their Companion 2 Series III is an excellent low-cost, compact stereo speaker system, perfect for use with a computer or any audio line-in device.
At just 7.5 inches tall, the Companion 2 don't take up a lot of space on your desk, so you'll have plenty of room for all of your essentials. The high-quality digital stereo sound is larger than life, propelled by powerful drivers inside each speaker. Volume control is convenient with a simple knob on the right speaker, and a handy headphone jack makes it easy to plug in your earbuds if you need some privacy.
The Companion 2 Series is also designed to work with iPhones, tablets and other electronic devices. Even better, you can have your tablet and laptop plugged in at the same time for convenience. These speakers are compact, affordable and offer excellent sound quality, and are a great choice for those who don't have a lot of extra desk space.
Check Price on Amazon Directly Add to Cart on Amazon
---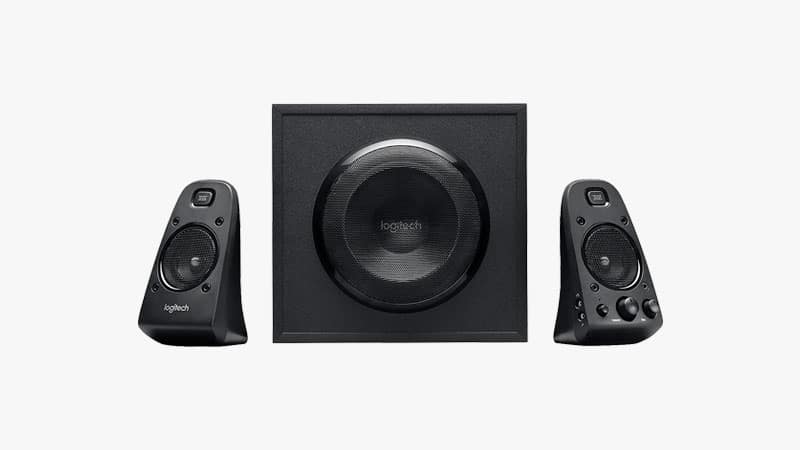 The Logitech Z623 is a home stereo system that offers beautiful 2.1 surround sound and packs an incredible amount of power. Two drivers and one massive woofer combine for 200 standard watts of power that peak at an incredible 400 watts for a sound experience you won't soon forget.
The Logitech Z623 is marketed as a home speaker system, and this marketing makes a lot of sense. Various audio inputs, including 3.5 mm and RCA cables, allow the speakers to be plugged into three different devices simultaneously, meaning one could use the speakers to provide sound for a television and an iPhone without switching connections.
One speaker has two knobs for easy volume and bass control, and the system is covered by a two-year warranty. There is enough power and volume to fill a large room, making this a good affordable choice for businesses who want volume without paying an arm and a leg for it.
Check Price on Amazon Directly Add to Cart on Amazon
---
Best Computer Speakers Under $150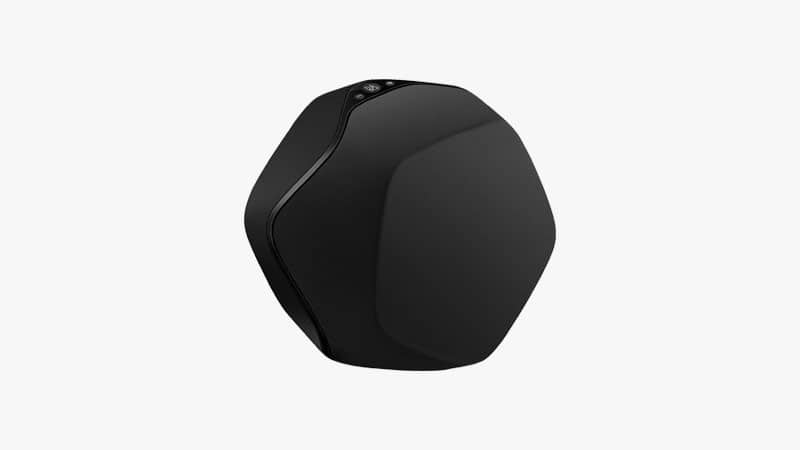 The Beoplay S3 represents a markedly different take on computer speaker design. It is also the first computer speaker on the list to use Bluetooth technology. Neither of these facts are coincidences. Bluetooth-capable speakers are not tied off with audio cables and or AC power and are thus able to be made in compact, innovative designs.
The Beoplay S3 is designed to give you the ability to customize the speaker's appearance. It is made with a rigid polymer that improves its acoustic qualities, and Bluetooth 4.0 aptX ensures high quality audio streaming and configuration.
The speaker measures 7 x 6 x 5 inches, making it compact enough for almost any room. Although it isn't necessary, you can purchase a second S3 speaker to transform your audio experience into stunning stereo sound.
Check Price on Amazon Directly Add to Cart on Amazon
---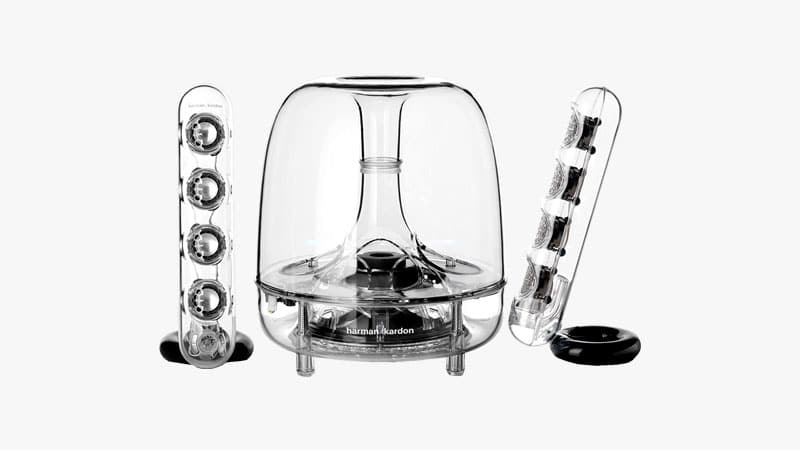 Harmon Kardon Soundsticks is one of the most beautiful speaker systems I have ever seen. Featuring an innovative and intricate design that is actually included in the permanent collection of New York City's Museum of Modern Art, this is a perfect stereo system for music producers, artists or any CEO or executive who wants to impress potential clients.
Of course, a beautiful design is meaningless without performance, and Harmon Kardon does not disappoint. The stereo operates two channels each of four 1" transducers, as well as a 6" low-frequency transducer functioning as a subwoofer. The stereo system runs on 40 watts, providing plenty of decibels without blowing the roof off.
The satellite speakers can be angled in any way, giving you freedom over how you direct the sound. The subwoofer is angled down, reducing unwanted room vibrations for a cleaner, crisper bass. High-quality audio cables, and energy efficient design and easy access touch controls are a few more reasons to the Harmon Kardon Soundsticks a try.
Check Price on Amazon Directly Add to Cart on Amazon
---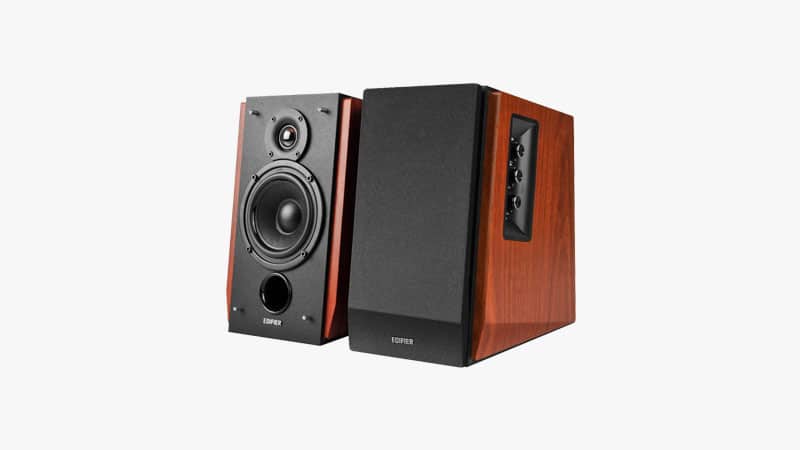 The Edifier R1700BT Bluetooth Bookshelf Speakers are designed to provide optimal audio fidelity and plenty of power without taking up too much shelf space. In addition to several manual control knobs granting you control over the volume and tone, the R1700BT comes with a remote control that allows you to adjust the settings from afar, making this an excellent choice for a conference room or other environment where you may not have immediate physical access to the speakers or computer.
The TR1700BT is powered with 66 watts, and each speaker is outfitted with both a 19 millimeter tweeter and a four inch bass driver for improved quality in both your highs and lows. Treble and bass adjustment of 6db to +6db allow you to customize the sound and tone to different rooms and situations, and a classic wood finish provides a more natural, authentic tone to the sound. The speakers feature two 3.5 millimeter audio ports and is Bluetooth-enabled, allowing for compatibility with all major computers and tablet operating systems.
Thanks to their large size and wooden construction, the Edifier R 1700BT enjoys exceptional sound quality, provides easy and convenient tonal and volume adjustments and comes with a two-year warranty. Considering the low price of these speakers, this is a fantastic bargain.
Check Price on Amazon Directly Add to Cart on Amazon
---
Best Computer Speakers Under $200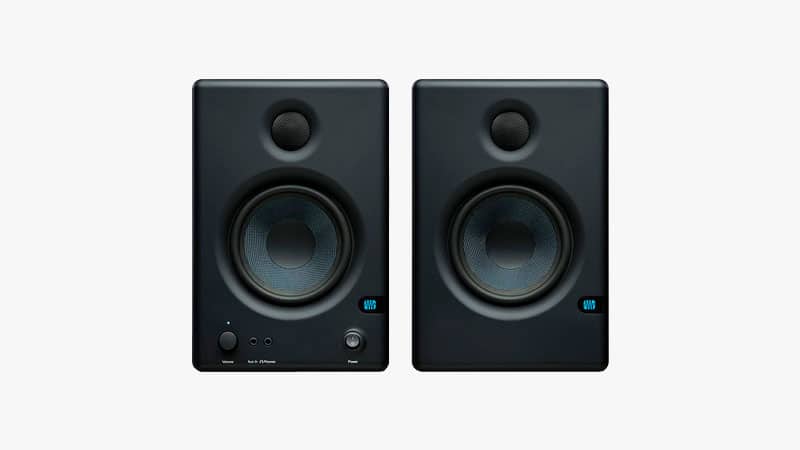 The PreSonus E4.5-4.5″ Studio Monitors are strong pieces of equipment for professional mixing, although they're pretty small. This set has a variety of acoustic tuning controls and can connect to any line-level source, giving you an extremely accurate frequency response and the possibility to adjust it with your room's acoustics.
Moreover, the amplifier power is 25W per monitor. Both of the monitors feature a 4.5 inches Kevlar low-frequency transducer, along with 1-inch ultra-low mass silk dome high-frequency transducer which makes your sound neutral.
These two monitors measure 6 x 7 x 9 inches, making them extremely compact in size for any room. PreSonus' monitors have an average cabinet build but they make a great buy in this price range.
Check Price on Amazon Directly Add to Cart on Amazon
---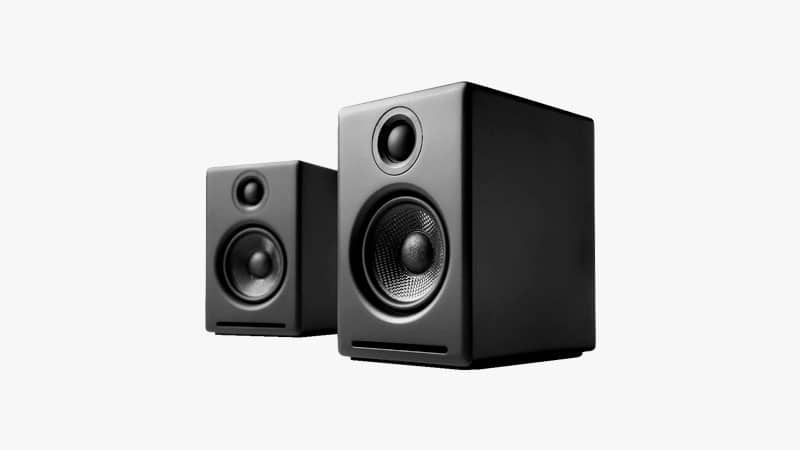 Don't let the compact size of the Audioengine A2+ speakers fool you. They might measure a mere 4.33 x 5.51 x 6.3 inches each, but each speaker weighs nearly four pounds and pack quite a bit of a punch.
Each speaker is outfitted with a tweeter as well as a low frequency subwoofer transducer. These sleek looking speakers offer an impressive amount of volume, and their small size and attractive design make them an excellent and unobtrusive fit for the workplace.
In addition to its Bluetooth support, it also features both traditional audio-in and USB digital audio inputs, giving you more ways to connect your devices and power whatever media you need. These are not the best speakers on the market, but they are definitely a solid investment.
Check Price on Amazon Directly Add to Cart on Amazon
---
Best Computer Speakers Under $300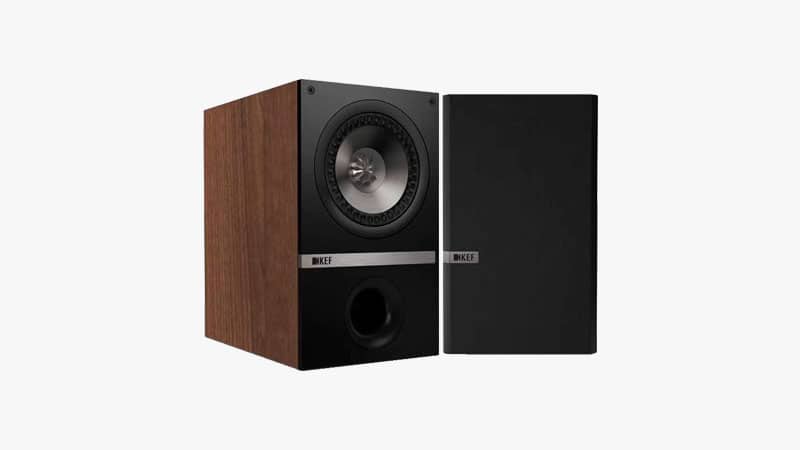 The KEF Q100 Bookshelf Loudspeakers are easily the largest computer speakers we've discussed so far. Measuring 11.8 x 7.1 x 10.7 inches, these speakers provide enough power output for a home theater system or for an office film room for showcasing HR videos, conference calls or whatever else is needed.
The construction and design of the Q100 loudspeakers is of premium quality. Both the 5.25 inch driver and the 1 inch tweeter are built with a magnesium allot cone, improving both the durability and the sound quality. Genuine black oak sides improves the acoustic quality, generating a rich, warm authentic sound difficult to reproduce by purely digital speakers.
With a wattage of up to 100 watts and a maximum decibel output of 107 dB, these speakers provide all the power you need for an exceptional listening experience.
Check Price on Amazon Directly Add to Cart on Amazon
---
Best Computer Speakers Under $400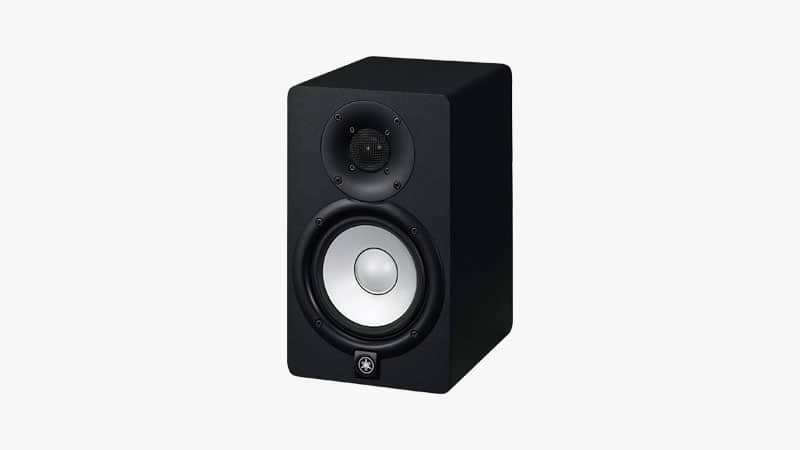 First, a caveat: the Yamaha HS5 W is not a computer speaker. Rather, it's a studio monitor, and it is intended for professional musicians, producers and Youtubers. If you need a set of computer speakers, this isn't going to help you. But if you record audio and need equipment to take your work to the next level, the Yamaha HS5 powered studio monitor can help you achieve the results you need.
This studio monitor is designed with a number of exciting features for improved sound quality and performance. Brand new transducer technology improves the accuracy of the audio signals, spurred on in part by a larger tweeter that helps to produce a greater frequency of sounds. A high-performance amp balances power between the tweeter, driver and subwoofer for improved sound quality. Advanced noise reduction technology helps to reduce unwanted noise by as much as six decibels, allowing for a more natural, richer sound.
The studio monitor also comes with a vast array of controls, giving you complete freedom and control over tone, volume, frequency and more. The controls work especially well in conjunction with mixing boards and other sound quality tools. If you want to take better control over your sound for multimedia productions, the Yamaha HS5 W can be a valuable asset.
Check Price on Amazon Directly Add to Cart on Amazon
---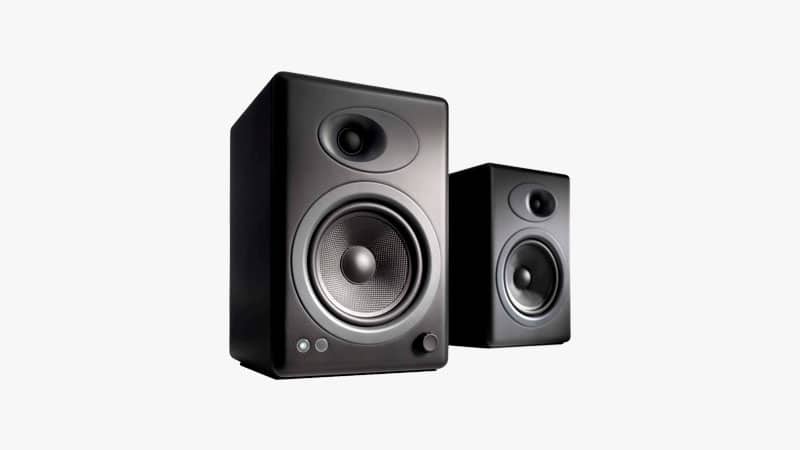 The Audioengine A5+ offers significant improvements over the cheaper A2+ models. Each speaker features a built in power amplifier, and each channel has an individual power output of 50 watts. As a result, these premium speakers are quite a bit larger than the A2+ and combine to weigh 25 pounds.
The A5+ is made with high quality, premium materials. The tweeters are made out of silk for a subtle texture to the higher frequencies, while Kevlar woofers protect them from the vibrations of the lower frequencies, preventing damage. The custom materials present significantly improve the audio quality of these speakers, and an improved thermal management design prevents them from overheating.
There are also a number of methods for connecting these speakers to various audio sources. 1/8 inch, RCA, USB power and variable line inputs are all available, and the necessary chords are all included. In addition, the A5+ comes with a remote controller, allowing you to monitor and change the volume and tonal settings from across the room. This is one of the best speaker systems on the market, and an excellent fit for any business.
Check Price on Amazon Directly Add to Cart on Amazon
---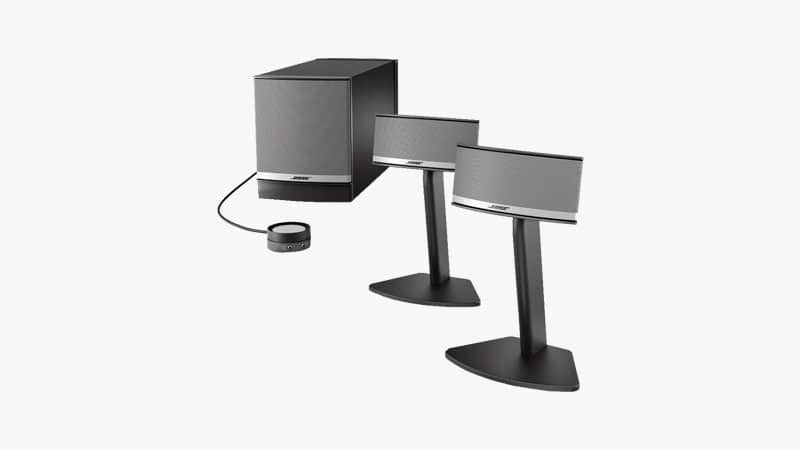 The Bose Companion 5 Multimedia Speaker System represents the ultimate in sleek, sophisticated 2.1 channel stereo sound computer speaker technology.
The drivers are the first thing that stand out. Rather than the usual bulky design that always seems to take up too much space on your desktop, the Bose Companion 5 mounts the drivers on space-saving stands which double for efficiency and a slick, modern look. A larger subwoofer is designed to sit on the floor beneath your desk, out of the way and out of sight.
One of the features of the Bose Companion 5 is the control pod, which gives you quick and easy access to volume control and muting, as well as convenient connections to mp3 players and head jacks. Sophisticated compression circuitry provides improved sound performance, giving you the crisp, clear audio you need.
Check Price on Amazon Directly Add to Cart on Amazon
---
Best Computer Speakers Under $500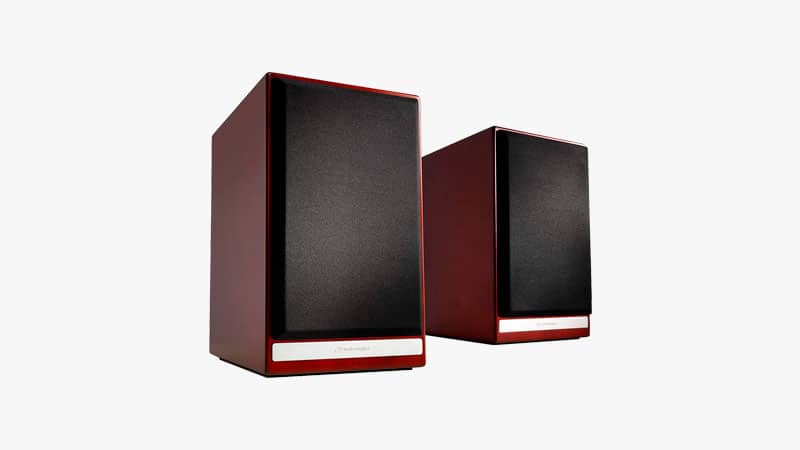 Audioengine is no stranger to producing durable, high quality speakers, and the Audioengine HDP6 is no exception to the rule. The HDP6 lacks the sleek, modern design of the A2+ and A5+, opting instead for a simple design built for one purpose only: high-fidelity audio and raw power.
5.5-inch woofers are built on a solid aluminum foundation and reinforced with Kevlar cones and rubber surrounds for the ultimate ins strength and performance. Silk dome tweeters are powered with neodymium magnets that help them to hold up with high power usage and produce smooth, sweeter tones.
These furniture-grade hardwood speakers have aluminum trim accents and magnetically attached grills to protect the inner workings of the speakers from damage. These speakers are expertly crafted and designed, and make a perfect choice for any venue where you need sound to carry over a large distance.
Check Price on Amazon Directly Add to Cart on Amazon
---
Best Computer Speakers Under $2500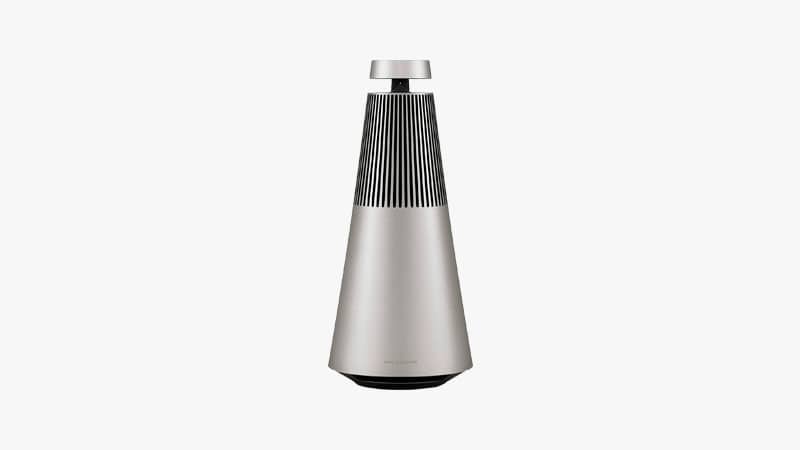 Yet another revolutionary stereo design, the Bang & Olufsen BeoSound 2 represents a fundamental change in the style and approach of speaker technology. It is not for everyone, however. With a price tag of $2500, you'll want to think long and hard whether your business needs a speaker of this caliber.
That said, if you want a powerful, high-quality speaker that doesn't take up a lot of space and doesn't have to be tied in with a computer, television or projector, then the BeoSound 2 may be the option you need after all.
The BeoSound 2 offers a variety of streaming formats, such as Bluetooth Audio Streaming, Google Cast, Apple Airplay, and Spotify Connect. It's Bluetooth connection means you can place it anywhere in the room. The innovative conical body projects audio in a 360-degree radius, filling the whole room with sound.
With a wide variety of connection options, including Bluetooth, integrated music access to Spotify and other services and Multiroom technology that lets you connect with other devices to project audio in multiple rooms simultaneously, the BeoSound 2 is a powerful device that could revolutionize the way you listen to media.
Check Price on Amazon Directly Add to Cart on Amazon
---
Conclusion
The selection of computer and Bluetooth speakers listed here is just a drop in the bucket compared to the entire sum of the speaker market. That is why a guide such as this is so valuable. By presenting you with the best options to suit a wide variety of business and professional needs, you save valuable time that allows you to spend less time shopping and more time doing the things that really matter: running a business.
Disclosure: The product recommendations are not sponsored and are chosen by our editorial staff. We may earn an affiliate commission when you purchase an item through our links.
Photo Credit: Unsplash