It's been a crazy last 15 months. And, the thing is, nobody is really sure when the craziness will end. If you're like many people, you were forced to work from home during some — if not all — of this time.
Maybe you liked it. Perhaps you're even working from home full-time now instead of going back to the physical office. Wherever you're working from these days, you need a chair that's able to support you through a long workday.
You might think it's okay to grab a chair from the dinner table, or maybe the physical office has a hand-me-down chair from the person that worked there before you. It might seem like no big deal, but it is. Poorly designed chairs will lead to posture problems, and posture problems lead to a sore back and neck.
A sore spine will affect everything else you do throughout the day, which means you may seek out medical attention, spring for massages, head to a chiropractor, and look for any kind of relief available. Maybe you find relief, but at what cost?
Constantly going to a professional for adjustments or massages adds up quickly.
Instead, you're much better off investing in yourself and in your home office by purchasing one of the best ergonomic office chairs available. But with so many chairs out there, which is right for you?
The National Institute of Health recommends choosing a chair with all of the necessary adjustments to support proper posture, including:
casters and a five-point base
a seat pan with dense seat cushion, small-cell foam padding or coils
a backrest that is either curved or small enough to fit the small of the back
soft armrests with an adjustable height and width
a hydraulic seat heat adjustability feature
tilt adjustment to transfer some bodyweight to the chair's backrest
We've combed through hundreds of chairs and pinpointed several we can highly recommend, with options at varying price points. So, before you accept the fact that you'll be going to the chiropractor for the rest of your life, treat yourself with an improved office chair.
The Best Ergonomic Office Chairs for 2022
---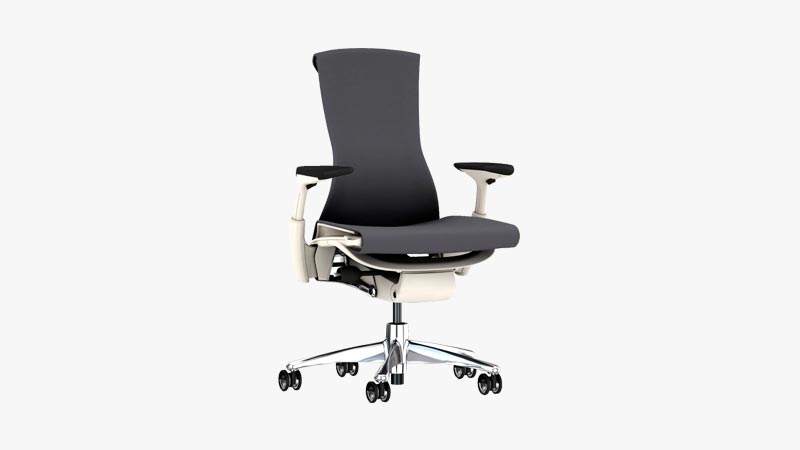 If you're not working with a budget, why not get the very best? Comfort is the key when shopping for an office chair. After all, you're probably sitting in it longer than you spend time on any other piece of furniture.
Well, when it comes to the ultimate in office chair quality, the
Embody Chair by Herman Miller
is the first chair you should consider. It was designed by Bill Stumpf, who created the original Aeron chair, and Jeff Weber to support healthy circulation and make sitting for hours a day easier on the back and spine.
The chair's back moves with you throughout the day, keeping your spine in alignment and supporting the lower back, all without any adjustments on your part.
What does all of that mean for you? You can kick back and neck pain to the curb and stop leaving work hobbled and hunched over. Your chiropractor will miss your hefty payments for visits, but that's just more money back in your pocket.
If you are looking for an ergonomic chair that will fit your budget, here are our picks for the ten best ergonomic office chairs for your workspace to counteract neck and lower back pain and help you stay comfortable and productive.
Best Ergonomic Office Chairs for Lower Back Pain
An ergonomic office chair can do wonders to alleviate lower back pain that can affect you long after you leave work for the day. If you already suffer from back pain, it's important to understand that long hours in a chair compress the discs in your lower back, which eventually begin to wear down and cause sharp or chronic pain.
This pain can be severe enough to affect your mobility for the rest of your life. The good news? It's never too late to treat the problem and give your aching back the support it needs.
The following chairs are the highest-rated options for every budget to free you from long days of an aching back and help you concentrate on work — then forget about the day at the office when it's time to go home.
---
Best Ergonomic Office Chair under $1500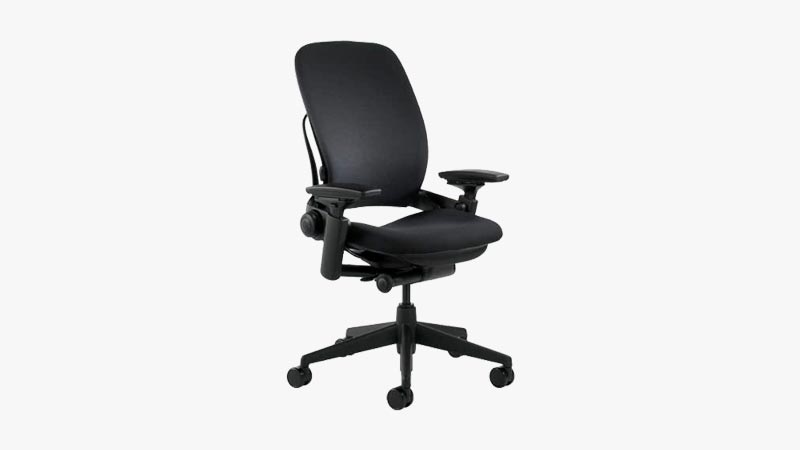 When you kick back in an office chair, do you find it leaves much to be desired? After all, who said your work chair had to be uncomfortable? By ditching back pain and neck issues, you'll get more done, which means you'll be even more productive with a comfortable chair. Enter the Leap Fabric Chair. This is a best-selling chair that uses a patented technology they call LiveBack.
Digging through the weeds, you'll discover LiveBack will comfort your body. Many of the top mattresses on the market now do this, so why shouldn't your office chair? It doesn't matter if you are sitting, reclining, working on the computer, or reading a book, it will always shift to meet the needs of your body (if only everything else in life could do that).
Not only does the Leap Chair conform to your body and move with you in ways no other chair does, but it is also sustainably produced. No less than 30% of the chair is made from recycled materials, and over 90% of the chair is recyclable — meaning that when this chair does finally give out, the materials can be reused, providing minimal environmental fallout.
---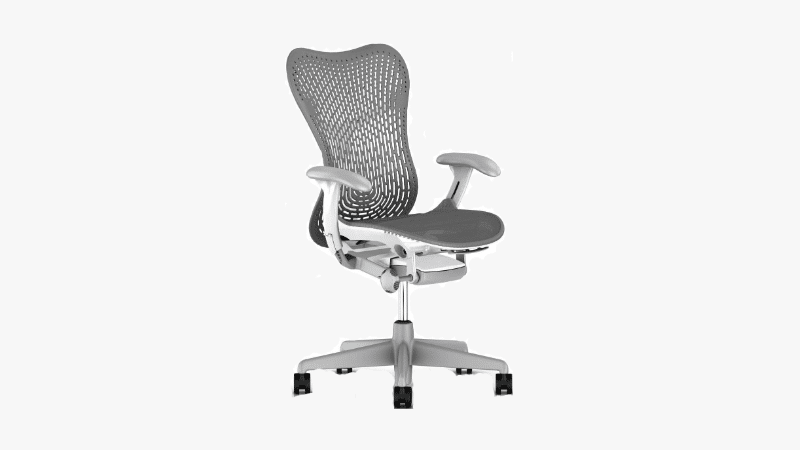 Herman Miller doesn't joke around when it comes to comfortable chairs that help improve posture. If you are dealing with any kind of back or neck pain (who isn't these days?), you need to target how you're sitting. One of the best ways to do this is with this beautiful Herman Miller Mirra 2 chair.
The chair comes in space-age graphite color, making it look like it would be right at home on a space station or futuristic sci-fi movie. Utilizing Fog Adjustable Arms that can be controlled based on your personal preference, as well as the AireWeave 2 Adjustable Suspension Seat, there's a buoyancy in this chair that makes it feel like you're sitting on air (or at the very least, a water bed).
The breathable back of the chair isn't just a simple mesh. Instead, it's constructed from a special recycled material designed to offer support without the limitations of a stretched mesh.
---
Best Ergonomic Office Chair under $1000
A budget range of $1000 should be able to give you a decent ergonomic chair in exchange. Investing a thousand bucks in a piece of furniture is no small deal, so make sure you make the most of your money.
As you set about looking for the right ergonomic office chair for yourself, make sure you prioritize the health and comfort features over the aesthetics. But hey, if you can find both then why not!
Here are some of the most popular ergonomic chairs that will cost you less than a thousand dollars.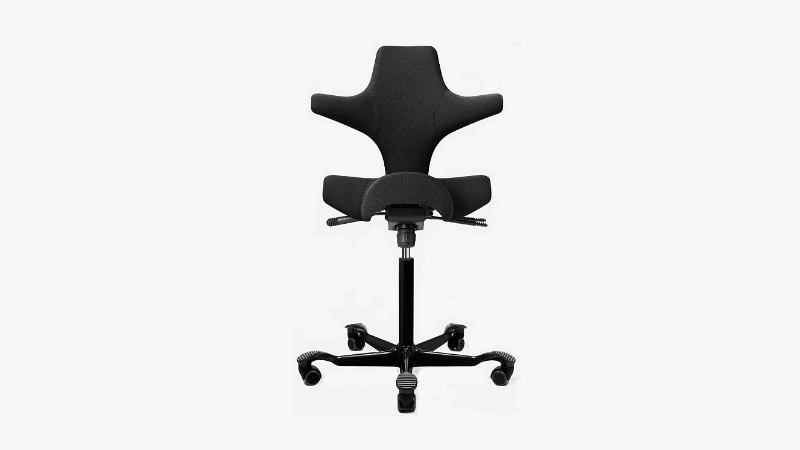 The first time you saw a standing desk, you probably thought it was nuts. Stand, at work? Why? Well, after giving it a try, you're probably now a true believer. These desks provide all kinds of health benefits, and sometimes it's just nice to stand and stretch the legs. The problem is most office chairs are not made for this.
Most aren't. This one is. The HAG Capisco Adjustable Standing Desk Chair is designed just for this use case. With the bulk of other chairs stripped away, the streamlined design makes this chair easy to sit in different positions. It's comfortable to sit forward, backward, and sideways, and it encourages movement throughout the day. While it is recommended for standing desk users (because of its height), it can also be used with a conventional desk. It will help avoid sitting in the same position and save your poor back.
It comes in a number of colors, like traditional black and gray and less-than-traditional pink, baby blue, green, and navy. Few chairs will let you go from seated to standing in one swift motion like the HAG chair.
---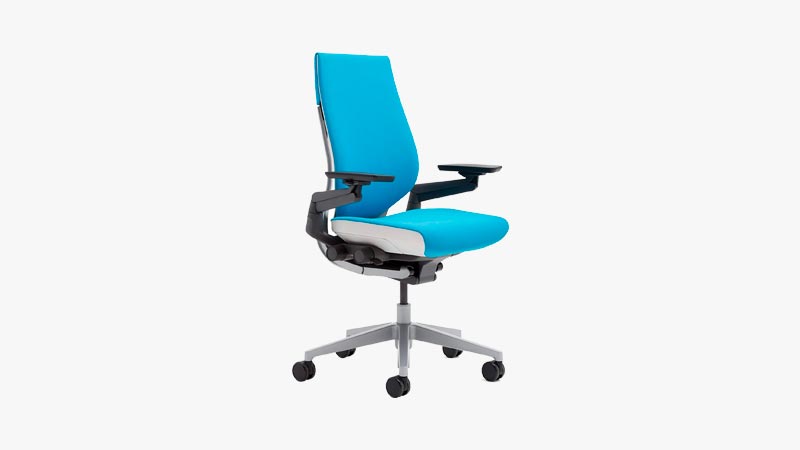 The award-winning Gesture chair from Steelcase is one of the finest ergonomic chairs money will buy, and that's saying something because Steelcase has some solid chair options and is our Editor's pick.
This revolutionary new office chair is designed to accommodate various natural body positions and sizes, all while supporting and protecting the back and neck.
Gesture uses exclusive LiveBack technology that automatically adjusts to your body, mimicking the natural movement of your spine and neck.
Struggle with certain chairs because the armrests box you in? That won't be a problem with this chair, as you can easily manipulate how the rests are positioned. Nobody wants to feel pinched in their chair. The arms can also swivel with 360 degrees of motion, literally supporting your arms in any possible position.
This design has a slightly taller seat height option. It can raise up to 21 inches, which should be fine for most individuals, even if you are over six feet (although once you push 6'6 you might be too tall for the chair). Most office chairs stop at 20 inches, so this extra inch might be exactly what you need.
Gesture won the Neocon Gold award in 2013 and is available in eight different colors, so you can always feel good about how your chair looks as well as how it functions.
---
Best Ergonomic Office Chair under $700
So you might be a little more strapped for cash but the thought of comprising comfort and health is distressful. Right? Don't worry because we have you covered.
Here is a list of some of the best ergonomic chairs that cost just below the $700 mark. What's even better, they'll give you the bang for your buck and more. These chairs give you the ultimate mix of quality and value.
So you can bag yourself some beautiful-looking ergonomic office furniture and kiss your body pains goodbye at the same time.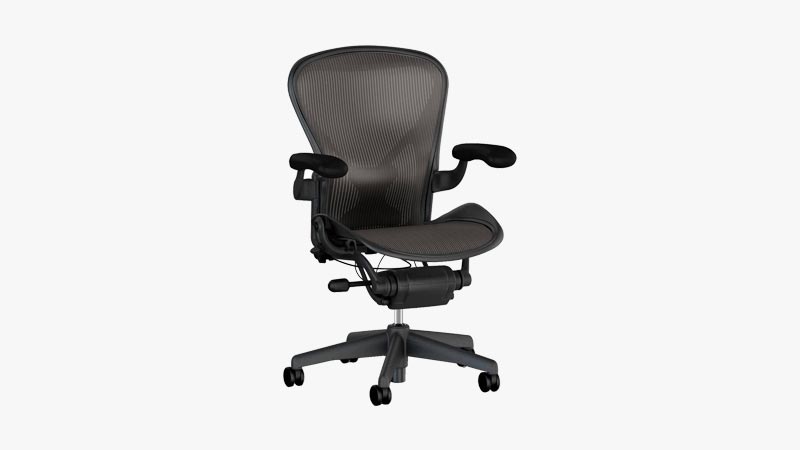 The Herman Miller Aeron Chair has developed quite a following over the years as the chair that started the ergonomic craze. The chair was designed for Herman Miller by Don Chadwick and Bill Stumpf, and it was the very first to feature a woven seat and back without foam cushions.
The Aeron is based on the biomorphic principles of the body for ultimate comfort and comes in varying size options, which means you can pick out the height for you. Because let's face it, nobody has the same body type. Whether you're tall, short, somewhere in between, or you have other chair requirements, one-size-fits-most chairs might not do it for you.
If you run hot, and leather or foam seats don't cut it for you, then Aeron is the best mesh-back chair you can get for hot working conditions. Not only is this chair made from a breathable material, but it is also designed specifically for back support. Having been in the market since 1994, we are confident in this recommendation as the chair is known to be quite durable, lasting a decade or more for most users.
---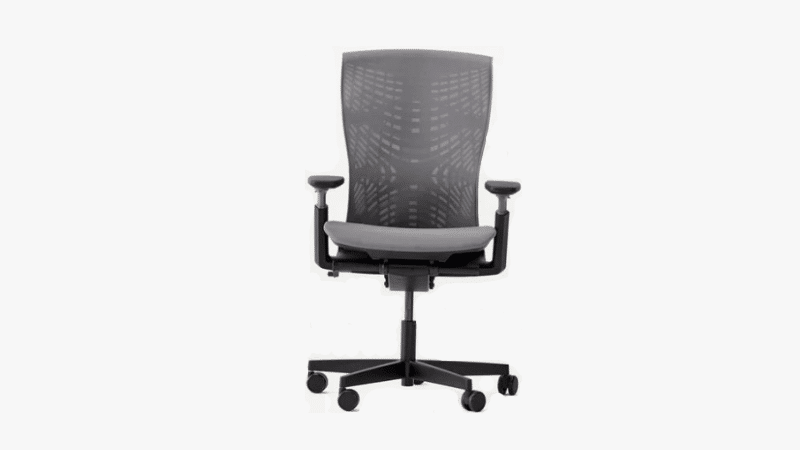 The ErgoChair Pro+ from Autonomous looks like your regular office chair on steroids. Sure, it has the basic mesh backing, but the entire rear of the chair comes with a structural support design that looks more industrial than anything else. But that's the point. It's designed to withstand wear and tear and give you exceptional comfort that won't buckle or wear down over the years.
You'll notice its glorious TPE skeleton supports your posture and promotes your back health designed by magnetic fields. The frameless design and pliable upper back enable you to move freely to the right and left, while the pliable headrest protects your neck and shoulders.
The chair features a rubberized material in the seat, which allows you to target problem areas like the lower back and make the chair conform to your body and straighten your posture. Customers share that the material doesn't trap heat and stays much cooler than traditional office chairs — a plus if you run hot.
This chair gets high praise for its posture support that helps you maintain correct spinal alignment. It is certified by BIFMA — the Business and Institutional Furniture Manufacturers' Association.
While the chair's main selling features are the ergonomic posture support and frameless design, you also have the standard chair adjustments. This includes adjusting back tilt and tension, armrest, and seat height.
---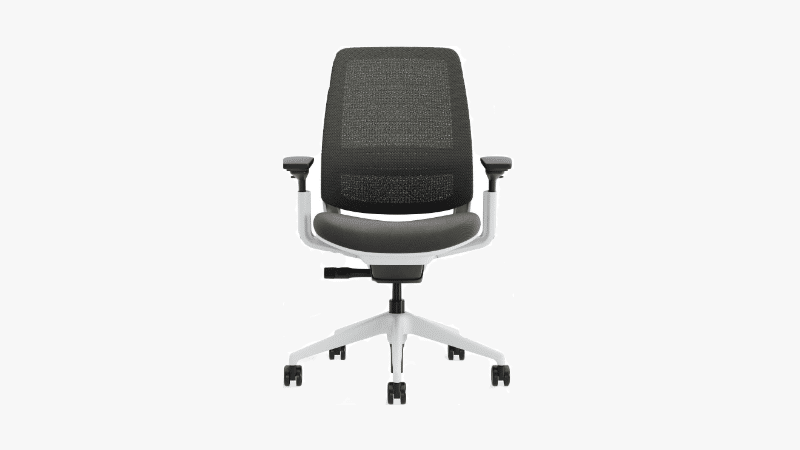 The Steelcase Series 2 Office Chair comes with all the bells and whistles of the Series 1 chair (see below), but with a few tweaks and upgrades. With this chair, you can opt for one that's built for carpet or built for hard floors. You can move about to either surface with either chair, but the wheel locks will be slightly different, which gives you more control.
It's a beautiful chair if you're on the taller side. With a max seating height of 21.5 inches, it's one of the tallest chairs available (without special orders, which can get real expensive real quick). However, the lowest seat height is 16.5, so if you're 5 feet or under, you might have trouble reaching the ground with this chair.
The double-padded mesh seat allows you to stay cool even in the hottest office situations, and the lumbar support keeps you upright and comfortable. So no more slouching and back pain with this chair at your disposal.
This is also a chair built to last. Nothing is more frustrating than buying furniture and having it wear out after just a few months. Well, this chair comes with a 12-year manufacturer warranty, so no need to worry.
---
Best Ergonomic Office Chair under $500
Contrary to what you may expect, there are some worthy and inexpensive alternatives to pricier ergonomic office chairs.
Below we have culled some of the best alternatives to expensive ergonomic chairs, so you don't have to stress if you find yourself too strapped for cash.
These chairs may miss out on some features, but they get the primary job done of alleviating discomfort and back pain. Here's what else you can expect in exchange for paying up a little below $500.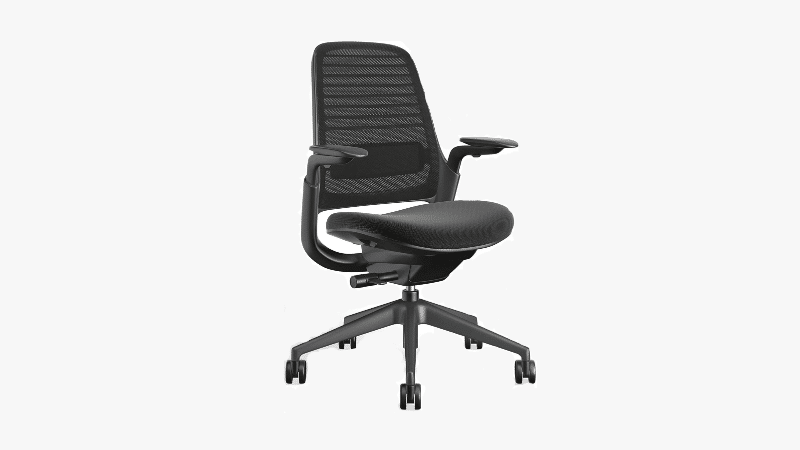 Are you tired of the bland color options of office chairs? Do you wish there was something more than white, black, and a fancy name for "gray"? If that sounds like you, the Steelcase Series 1 Work Office Chair will be right up your alley.
This chair comes in almost a dozen color options, ranging from licorice (black) to concord, wasabi, and blue jay (just to name a few).
The chair also rocks for anyone taller than 6 feet. Thanks to the 21.5 inch max seat height, you'll feel much more at home with this chair.
This Amazon's Choice chair is 100% polyester, so it's light and easy to move about the office. With wheels designed specifically for carpeting and an adjustable back, arms, lumbar support, and seat height, you can customize your office chair to perfectly fit your needs. After all, when sitting in your chair for hours at a time, you'll want a comfortable chair. This one checks off most of your boxes.
---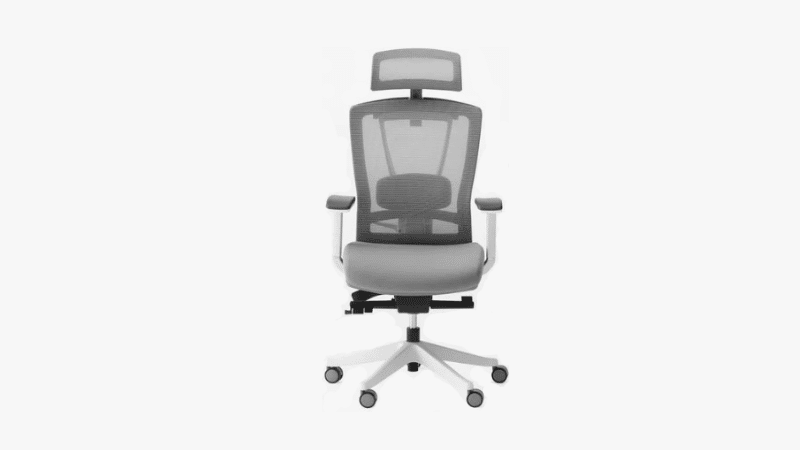 If you have been balking at the prices of the fancy brands, the ErgoChair Pro might be a more comfortable fit for your body as well as your pocket.
The brand Autonomous is well known for producing excellent standing desks at reasonable prices by selling directly through their website — no middle man required. They have taken the same approach with the ErgoChair Pro, offering a comfortable, supportive chair for a reasonable price.
They are so keen to show customers what work goes into the chairs that they provide a full breakdown of the cost of components etc.
Just about everything you might want is adjustable, including the backrest, armrest, height, and even the seat tilt. There's no cheap plastic used in this chair. It's made of earth-friendly materials, including the woven mesh for improved airflow.
The Ergochair Pro is extremely robust and can accommodate people up to 350 pounds, very impressive for its price point. It also offers a plethora of options for adjustment.
All in all, the Ergochair Pro is a very impressive piece that won't break the bank. If you're looking for an all-day ergonomic office chair under $400, have a good look at the Ergochair Pro.
---
Best Ergonomic Office Chair under $400
Okay, so we're slowly getting to the less expensive range on the price spectrum. Fortunately, there are still some great alternatives that'll give you a great amount of value for what you pay.
You will notice that these chairs come with an appreciable range of aesthetics without compromising quality and comfort.
While you might miss out on some of the more fancy features, it shouldn't be a deal-breaker so long as you're getting through the day without catching any mortifying back pain.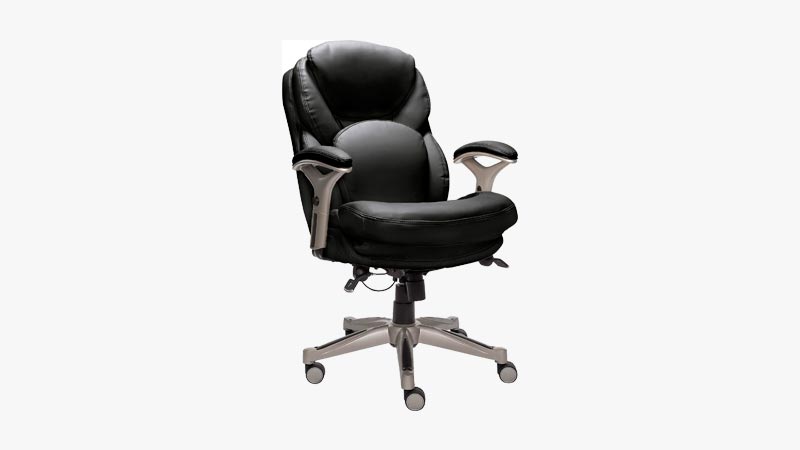 Serta knows a thing or two about comfortable task chairs. Heck, they specialize in mattresses and pillows, so you better believe they know what they are doing when it comes to chairs. The Serta Back in Motion Health and Wellness office chair takes the perks of a Serta mattress while utilizing a posture-friendly chair design. It even has a special ergo pillow included, maximizing your comfort.
The chair is made from eco-friendly bonded leather with a BIM Active lumbar that pivots as you move for continuous lumbar support. Adjust the height of the padded armrests with the push of a button, and use the convenient cable actuated levers to control the lift and lock-out features.
The Serta Back in Motion chair also offers unique posture-correcting tilt technology that actually tilts your pelvis forward when you lean. This keeps your back in a neutral position to avoid pressure on your discs and promote spinal movement and breathability. After a few days, you'll start to feel the benefits of a comfortable and supportive seat that can get you through your long workday.
---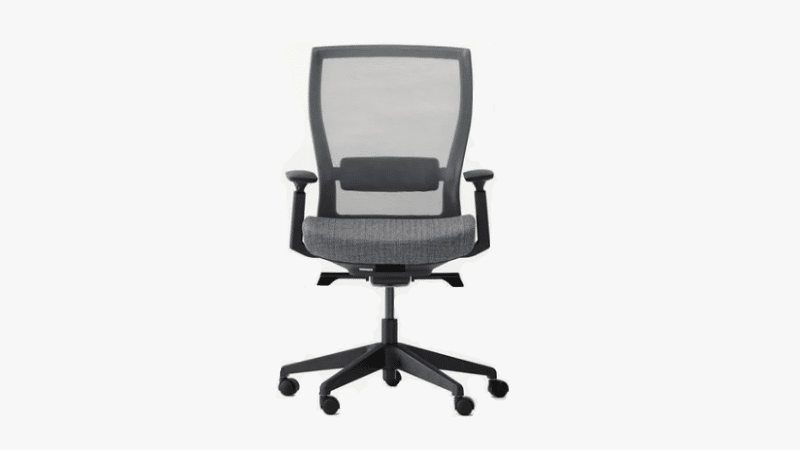 Comfort doesn't need to be boring. An office chair doesn't need to look ugly or be a means to an end. You want your chair to be as stylish as anything else in the office. But you also want comfort. With the ErgoChair Core, you get both. This chair is elegant, sleek, and perfect for the at-home office. The tilt seat will help make sure you're always at just the right angle, and the flip-up leg rest option lets you stretch your legs and just enjoy life.
Do you get a little hot while sitting? Do you hate getting up with that damp back stain? Nothing like waving to the world, "Hey, I just sweat through my shirt!" Well, that damp shirt will be a thing of the past with the mesh back. Toss in the lumbar support, and both your shirt and your spine will be able to breathe easier with next-level comfort.
On the taller side? Not a problem there either. The chair can raise and lower for any height requirement, and toss on the neck support to help add in that additional comfort feature.
The seat itself is four feet tall (including the headrest). If you know your height, measure from your knees to your hips. Then subtract that from your height. Is it less than four feet? If so, that's perfect, and you'll fit comfortably onto this chair.
---
Best Ergonomic Office Chair under $200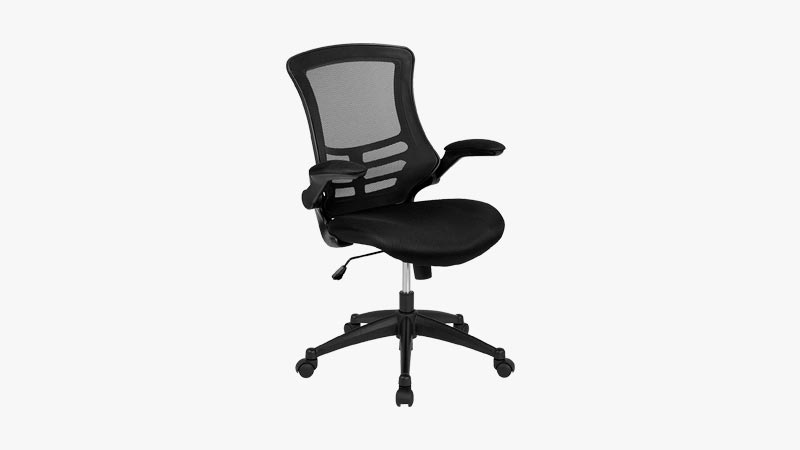 The Flash Furniture Mid-Back Mesh Chair is a rare find: a well-reviewed, comfortable chair that fits any budget. This chair features a sturdy five-wheel base with an ergonomically contoured mesh back that gives you the support you need to get through a full day of work. One of the most surprising things about this chair is that it's sized well for larger people taller than six feet, which is a rare find in an office chair priced under $200.
---
Best Ergonomic Office Chairs for Neck Pain
Chronic neck pain is a common complaint among people who spend hours a day in a chair, either bent over paperwork or working in front of a monitor. The right ergonomic chair can help correct poor posture by supporting spine health. The best office chair for neck pain offers support for the spine and, most importantly, adjustable height and tilt to avoid craning your neck to see a computer screen.
---
Best Ergonomic Office Chair under $1000
Other than back pain, there are ergonomic chairs to help relieve neck pains. These come with incredible orthopedic features, tilt tensions, and, and mesh designs to give you the right mix of quality with comfort.
Here are some quality ergonomic chairs you may find below $1000.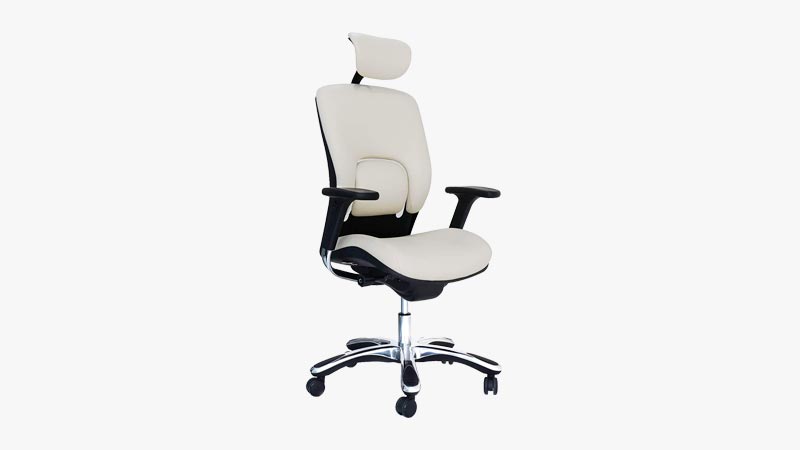 The White Ergonomic Leather Office chair has a unique style that quickly sets it apart from the pack. Combining the ergonomics with luxurious genuine leather makes it the right pick for your office.
It is fully adjustable with features like seat slide adjustment, tilt tension, headrest height and angle adjustment for those suffering neck pain.
The 3D armrest also has adjustable height and can be moved forward or backward to suit your sitting style.
The distinctive design offers support for your back with a unique lumbar support system and your neck with a height-adjustable backrest.
---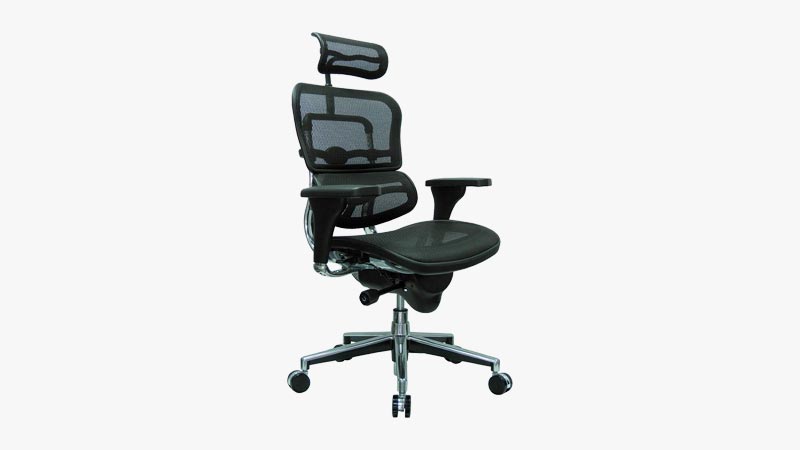 Another great option is the Ergohuman chair by Eurotech Seating. Right away, you'll notice the unique design of this chair, which features eight ergonomic adjustments to keep your neck and back aligned all day long.
The Ergohuman has breathable mesh to promote circulation with the ability to adjust the back angle and height, tilt lock, tilt tension control, synchro tilt, arm height, and seat depth and height adjustments. The headrest adjusts up and down so you can position it to hit your neck perfectly, with a curvature that supports your head and neck when you lean back.
---
Best Ergonomic Office Chair under $300
Below, we have picked the best ergonomic office chair that costs below $300.  The Ticova is a valuable proposition for anyone looking for the best mix of quality and value.
Here's why investing in Ticova may be the most sensible choice to make for office as well as bodily comfort.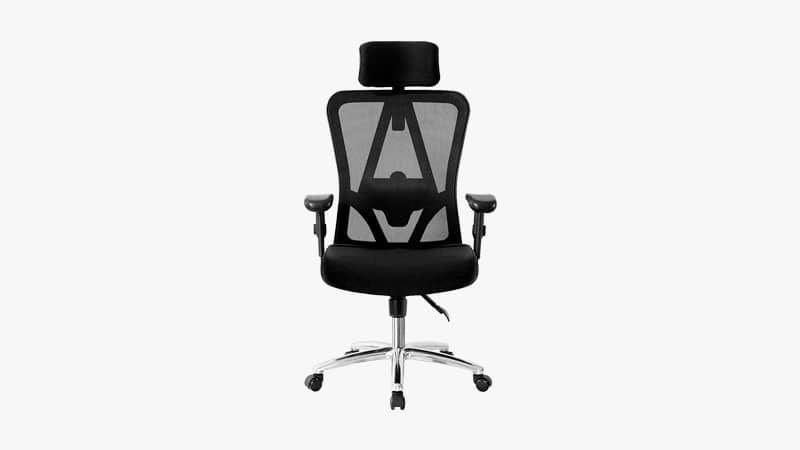 The Ticova Ergonomic Office Chair is the perfect blend of features and price. The chair has an ergonomic mesh back that avoids excessive heat and moisture build-up, along with pneumatic height adjustment. The headrest is fully adjustable, so you can periodically lean back to rest your head and neck as you work.
This model has a soft adjustable PU armrest, and it can recline up to 140 degrees. The three-inch high-density thick foam on the seat and W-shaped waterfall-edge design ensure you're always in a comfortable position when sitting. It has a weight limit of 280 pounds.
---
Best Ergonomic Office Chair under $200
Below, we've pulled the best ergonomic chair for your office that would not cost you more than $200. It might be on the more extreme end of inexpensive ergonomic chairs featuring today, but the BERLMAN Ergonomic Mid Back Mesh makes it to our list for several undeniable features.
Here's why you should consider BERLMAN if $200 is what you'll top out at.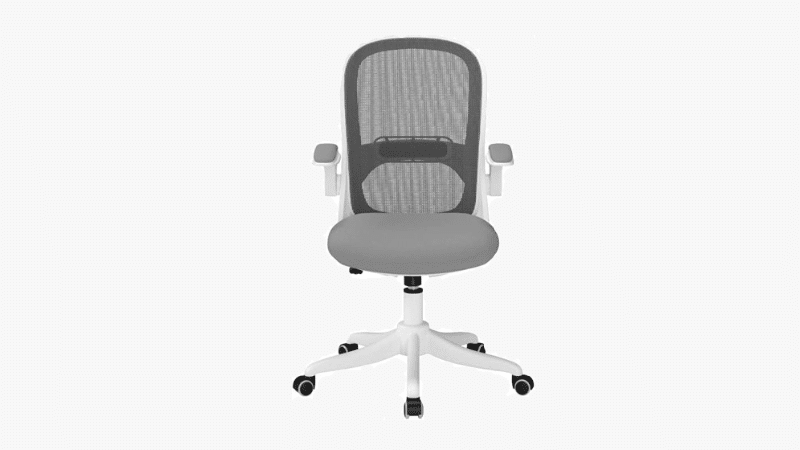 This Berlman entry offers a comfortable chair at a price that's difficult to beat. The mesh backing makes it perfect for those warmer days or when you just want some more airflow to keep cool, and the six-point roller base offers support, so you can ditch that wobbling feeling inferior chairs often feature.
The chair doesn't have any neck support, so it's not as tall as some other chair options. It does have a seating capacity of 250 pounds, and it's easy to adjust the armrests to better fit your sitting height.
And are you tired of seats that box you in for one reason or another? Not a problem there, as the armrests can flip up and out of the way.
---
Best Ergonomic Office Chair under $100
We have finally arrived at the cheapest end of the price spectrum and, fortunately, there's still an ergonomic office chair for your back comfort.
If you are extremely strapped for cash and not in a position to spend more than 100 bucks over a piece of office furniture, do not be disappointed.
Check out the cool and affordable AmazonBasics and why this can be a smart exchange for a hundred dollars.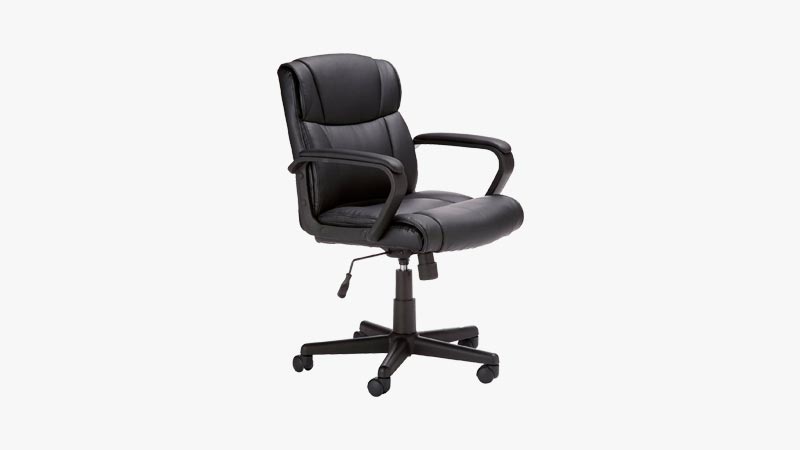 Shopping for an office chair on a budget does not mean you need to sacrifice comfort and health.
The AmazonBasics Mid-Back Office Chair features adjustable seat height that's combined with an upholstered in black bonded leather and padded seat and back for all-day comfort. It has dual-wheel casters for easy movement and it is the best office chair you can get for under $100 by Amazon itself.
---
FAQ About the Best Ergonomic Office Chairs
While we appreciate the best ergonomic chairs, here's a list of some common queries that will put you on the fast track of identifying the right chairs for your back pain.
What are the best brands for ergonomic office chairs?
Some of the best brands for ergonomic office chairs are AmazonBasics, ErgoChair, and Herman Miller.
What is the most comfortable ergonomic chair?
The most comfortable ergonomic office chair may be on the higher end of the price spectrum, but that does not mean less expensive chairs are a bad bargain. In our opinion, the Serta Mid-Back Office Chairs is one of the most comfortable ergonomic chairs available around. However, the Embody Chair by Herman Miller, Herman Miller Aeron Chair, the HAG Capisco Adjustable Standing Desk Chair, and many more follow close behind.
What is the best office chair for sitting long hours?
The best office chairs for sitting long hours should come with key features of adjustable seat arms and height and a design that mimics the curves of your body. This article features some of the best ergonomic office chairs for your back.
Which chair is the best for your back?
Ergonomic office chairs with adjustable arms and height and a curvy back that aligns with your spine are the best chairs for your back.
What are the best ergonomic office chairs for back pain?
The Serta Mid-Back Office Chairs, the Embody Chair by Herman Miller, Herman Miller Aeron Chair, and the HAG Capisco Adjustable Standing Desk Chair are some of the most comfortable ergonomic chairs for your back.
What is the best Orthopaedic office chair?
The Serta Mid-Back Office Chair, Herman Miller Aeron Chair, HAG Capisco Adjustable Standing Desk Chair, and Steelcase Leap Fabric Chair are some of the best orthopedic office chairs.
What is the best high-back ergonomic office chair?
The Steelcase gesture chair,  Steelcase Series 2 Office Chair,  and the Herman Miller chairs are designed to support various body sizes. They provide both low and high back positions, making them a winner for most people.
---
Conclusion
If you work on a computer, you definitely need to invest in a good ergonomic chair. As discussed above, Herman Miller Chairs are top-notch and backed by years of research and testing (see here). If any are out of your price range, we've covered a whole lot of others, so make sure to keep this guide handy when making a purchase.
Do share in the comments below and let us know which chair you like the most. As always, your feedback is greatly appreciated.
Disclosure: The product recommendations are not sponsored and are chosen by our editorial staff. We may earn an affiliate commission when you purchase an item through our links.
Photo Credit: Unsplash