Poorly designed chairs can lead to posture problems, and posture problems can lead to a sore back and neck and an unpleasant office experience.
A sore spine will affect everything else you do throughout the day, which means you may seek medical attention, opt for massages, head to a chiropractor, and look for any kind of relief available. Maybe you find relief, but at what cost?
Instead, you're much better off investing in yourself and in your home office by purchasing one of the best ergonomic office chairs available. But with so many chairs out there, which is right for you?
We've combed through hundreds of chairs and pinpointed several I can highly recommend, with options at varying price points. So, before you accept the fact that you'll be going to the chiropractor for the rest of your life, treat yourself with an office chair designed with your comfort in mind.
What Makes the Best Ergonomic Office Chair?
An ergonomic chair is, by definition, one that was engineered to provide optimal support for our bodies, catering to our posture, support, health, as well as comfort. In my experience, not all chairs that have the label 'ergonomic' fit the description. That's why I wanted to dissect the matter a bit further, finding that ergonomic chairs with the following elements are the best in this category:
1. Adjustability
Of all the things that make a good ergonomic chair, adjustable features take the cake. While the materials of a chair may be comfortable, many people, including myself, don't find them as such if the rests (armrest, headrest, largest, and such) are in a fixed position. This also applies to the back of the chair, its base, and any detachable features that may be supplied.
However, adjustability can be rated in degrees. If only the base can be tweaked, you're still stuck with a rigid chair – just one that can tilt up or down. Are the armrests detachable? Can you change the position of the headrest? If so, you've bought a good chair. The best ergonomic chairs, in my opinion, are fully adjustable and capable of catering to your individual needs, no matter how specific they may be.
2. Quality of Material
This is another fairly deep topic, especially given that advancements in technology now allow brands to manufacture sci-fi proprietary materials and things characterized by through-the-roof sturdiness, with triple or quadruple layers consisting of special sponges, fabrics, and soft, but robust wood.
Starting from the bottom upward, I recommend chairs with a firm, durable base made of metal. A plastic base is a common characteristic of a cheap, flimsy office chair. Ideally, shoot for stainless steel.
Certain parts will probably be made of plastic, but again, even this material comes in different forms. For the lower section of the chair, armrests, and back, ABS, PPSU, as well as polypropylene are all good choices.
3. Flexibility & Non-restricted Movements
It's nearly impossible for a person to sit perfectly still for several hours. That's why non-restricted movements are such a big factor when determining the comfort and value of any chair. There are a few things to be said about this issue, as it is largely subjective.
First and foremost, let's start with the movement of your legs. If the base of your chair is too stiff, you'll need to hop over the wheels every time you want to find a better position, which is bound to break your focus and affect your concentration.
Secondly, the movements of your arms, or better said, the positions your arms take while you're typing are largely dictated by the position (and adjustability) of the armrests. If these features are uncomfortable, you may be better off not using them at all, but you'll eventually experience fatigue.
Let's not forget full-body movements; the moments where you simply don't feel comfortable in a particular position so you instinctively move everything and begin searching for a new sweet spot. A flexible office chair will cater to those occasions.
4. Comfort Level
It's important to make a distinction between short and long-term comfort. Since we're talking about office chairs and things that you'll probably use for at least five to six hours on workdays, let's focus on long-term comfort.
In my experience, leather is great, but far from the best. It is flexible enough to support the chair's ergonomics, and it's typically sturdier than fabric (and in many cases superior to mesh). However, leather heats up quickly, and chairs featuring this material are nearly unbearable during the summertime.
Mesh offers great ventilation, it's simple to clean, and it's relatively close to leather in terms of ergonomic support. In my research, I've found that mesh materials can retain their original shape solidly, but they're not as durable, or comfortable, as leather. Fabric-covered chairs are softer; however, fabrics are normally thin and provide minimal support.
5. Support
The first thing we all want from ergonomic chairs is support for our bodies. In simple terms, I think it's important to consider both quantity and quality of said support, meaning the number of supportive features (rests), and their efficiency. The best ergonomic chairs are equipped with comfortable armrests and headrests, as well as lumbar support pillows.
The Best Ergonomic Office Chairs for 2022
---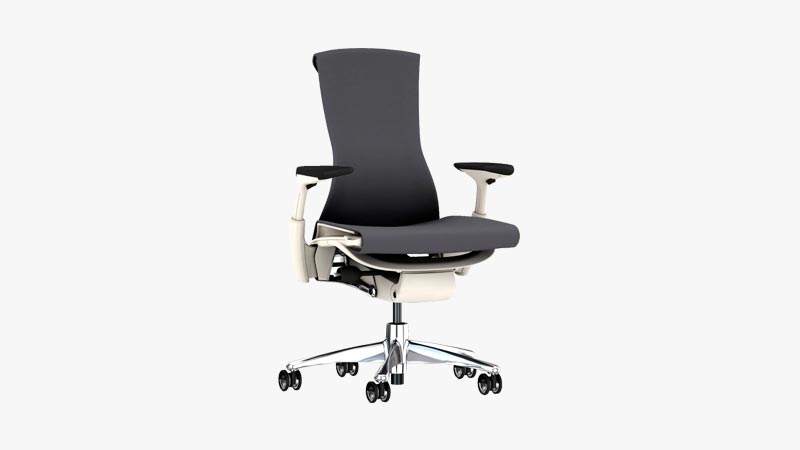 If you're not working with a budget, why not get the very best? Comfort is the key when shopping for an office chair. After all, you probably spend more time on your office chair than any other piece of furniture.
Well, when it comes to the ultimate office chair quality, the
Embody Chair by Herman Miller
is the first chair you should consider. It was designed by Bill Stumpf, who created the original Aeron chair, and Jeff Weber to support healthy circulation and make sitting for hours a day easier on the back and spine.
The chair's back moves with you throughout the day, keeping your spine in alignment and supporting the lower back, all without any adjustments on your part.
What does all of that mean for you? You can kick neck and back pain to the curb and stop leaving work hobbled and hunched over. Your chiropractor will miss your hefty payments for visits, but that's just more money back in your pocket.
If you are looking for an ergonomic chair that will fit your budget, here are our picks for the best ergonomic office chairs for your workspace to counteract neck and lower back pain and help you stay comfortable and productive.
Best Ergonomic Office Chairs for Lower Back Pain
An ergonomic office chair can do wonders to alleviate lower back pain that can affect you long after you leave work for the day. If you already suffer from back pain, it's important to understand that long hours in a chair compress the discs in your lower back, which eventually begin to wear down and cause sharp or chronic pain.
This pain can be severe enough to affect your mobility for the rest of your life. The good news? It's never too late to treat the problem and give your aching back the support it needs.
The following chairs are the highest-rated options for every budget to free you from long days of an aching back and help you concentrate on work — then forget about the day at the office when it's time to go home.
---
Best Ergonomic Office Chair under $1500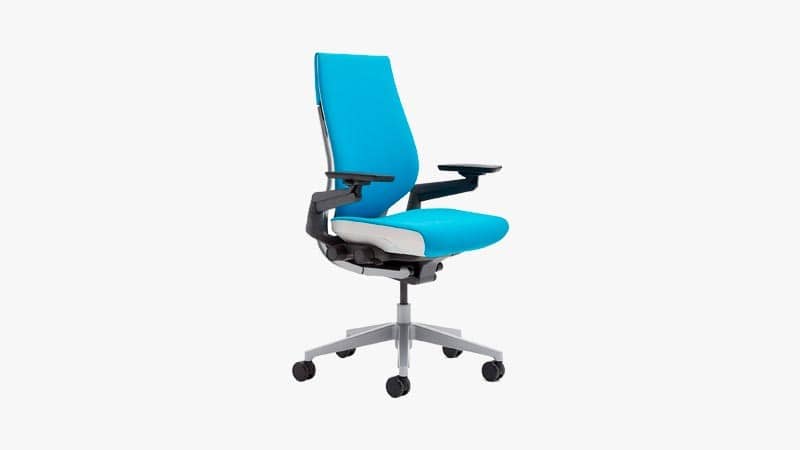 The award-winning Gesture chair from Steelcase is one of the finest ergonomic chairs money will buy, and that's saying something because Steelcase has some solid chair options and is our Editor's pick.
This revolutionary new office chair is designed to accommodate various natural body positions and sizes, all while supporting and protecting the back and neck.
Gesture uses exclusive LiveBack technology that automatically adjusts to your body, mimicking the natural movement of your spine and neck.
Struggle with certain chairs because the armrests box you in? That won't be a problem with this chair, as you can easily manipulate how the rests are positioned. Nobody wants to feel pinched in their chair. The arms can also swivel with 360 degrees of motion, literally supporting your arms in any possible position.
This design has a slightly taller seat height option. It can raise up to 21 inches, which should be fine for most individuals, even if you are over six feet (although once you push 6'6 you might be too tall for the chair). Most office chairs stop at 20 inches, so this extra inch might be exactly what you need.
Gesture won the Neocon Gold award in 2013 and is available in eight different colors, so you can always feel good about how your chair looks as well as how it functions.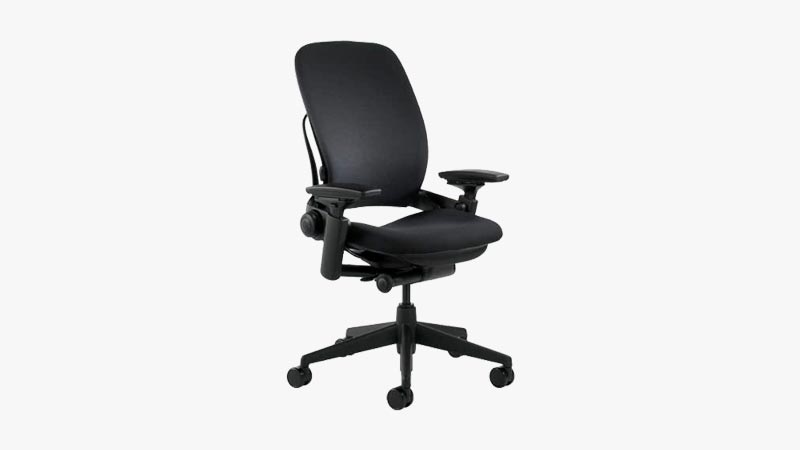 With full adjustability, top-tier materials, and being specifically engineered to provide maximum comfort, this is, in my humble opinion, the best ergonomic office chair available on the current market.
Digging through the weeds, you'll discover this chair's LiveBack technology will bring you a level of office comfort you've never experienced before. It doesn't matter if you are sitting, reclining, working on the computer, or reading a book, it will always shift to meet the needs of your body (if only everything else in life could do that).
Not only does the Leap Chair conform to your body and move with you in ways no other chair does, but it is also sustainably produced. No less than 30% of the chair is made from recycled materials, and over 90% of the chair is recyclable — meaning that when this chair does finally give out, the materials can be reused, providing minimal environmental fallout.
---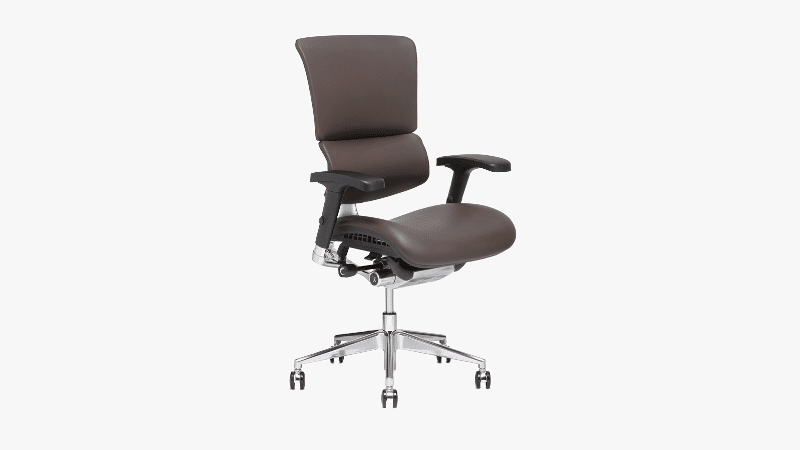 While ratings may mean little to some, I find it hard to believe that thousands of Amazon shoppers have had nothing but words of praise for X4 if it's not actually an exceptional product. This encouraged me to cover the features, potential benefits, and the reasons why it's one of the top-selling chairs out there.
Featuring an exquisite brown leather finish and utilizing an array of unique technologies, most of my questions were answered quickly. This chair rocks SciFLoat Infinite Recline technology, which is essentially a next-generation system that provides superb flexibility, allowing you to find an ideal position quickly.
Full adjustability? Check. Its seat, back, arms, and headrest are all depth and height adjustable. Even though you can't adjust its lumbar support, the DVL (Dynamic Variable Lumbar support) technology ensures you'll stay comfy for hours on end.
In terms of aesthetics, this chair is quite a looker and is available in a variety of different colors. There are a few things I thought could be improved regarding X-4, though.
First and most notably, it may be pretty hard to properly assemble it if you don't have some basic DIY skills. Although the process is straightforward, there are a few features that you'll probably see for the first time, which may puzzle an inexperienced builder a bit.
Secondly, the X4 Ergonomic Office Chair is a pricey chair. With a couple of hundred dollars extra, you could probably afford a Steelcase one. Even so, its aesthetics, unique floating reclining system, and excellent performance overall make it a valuable choice.
---
Best Ergonomic Office Chair under $1000
A budget range of $1000 should be able to give you a decent ergonomic chair in exchange. Investing a thousand bucks in a piece of furniture is no small deal, so make sure you make the most of your money.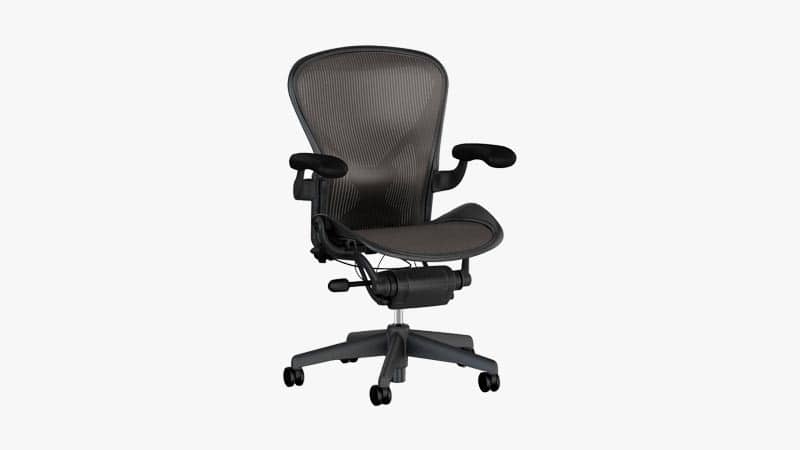 The Herman Miller Aeron Chair has developed quite a following over the years as the chair that started the ergonomic craze. The chair was designed for Herman Miller by Don Chadwick and Bill Stumpf, and it was the very first to feature a woven seat and back without foam cushions.
The Aeron is based on the biomorphic principles of the body for ultimate comfort and comes in varying size options, which means you can pick out the height for you. Because let's face it, nobody has the same body type. Whether you're tall, short, somewhere in between, or you have other chair requirements, one-size-fits-most chairs might not do it for you.
If you run hot, and leather or foam seats don't cut it for you, then Aeron is the best mesh-back chair you can get for hot working conditions. Not only is this chair made from a breathable material, but it is also designed specifically for back support. Having been in the market since 1994, we are confident in this recommendation as the chair is known to be quite durable, lasting a decade or more for most users.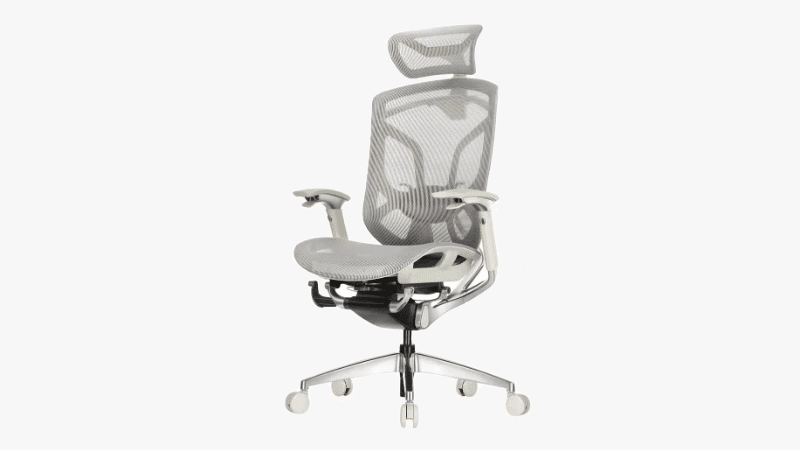 Ergroup's ergonomic office chair is the first mesh chair on the list, as well as one of the sturdiest, best-looking chairs in its price range.
Sporting a metal base and aluminum construction, I'm under the impression that this chair will be able to survive at least a decade of use. Furthermore, it can support up to 550 pounds, which is something not many mesh ergonomic chairs can boast about.
Speaking of mesh, this chair is made of a material that is highly resistant to wear. According to the brand that made it, Ergroup's ergonomic office chair went through thousands of resistance tests before hitting the market.
All of its features are fully adjustable, including the armrests, headrest, and lumbar support, but I want to touch base on its rolling caster wheels. They are unique in that they are outfitted with special foot mufflers that reduce the sound they make when grinding against the floor. Each wheel is covered with PU material, boasting an impeccable level of sturdiness without sacrificing mobility and flexibility.
The only downside to this chair is that it does not appear to be made for taller people. Namely, even though you can adjust the headrest, you can't really extend it too far upward, which makes this feature relatively useless for the taller among us.
---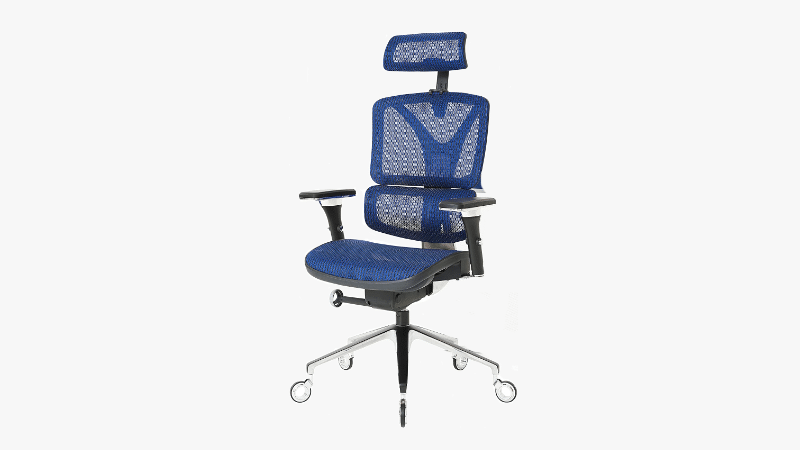 The ErgoPro chair is a lighter alternative to Ergroup's model, offering a relatively similar set of features and benefits at a shallower price tag. Although there are a couple of distinct differences that set them apart, NouHaus's ErgoPro is still an excellent choice for anyone searching for customized comfort, regardless of budget.
I was pleasantly surprised with its SWS technology, which is essentially a weight-sensing mechanism that disperses the user's weight in optimal proportion, regardless of how strong the force pressuring it is. On the downside, it can only support 275 pounds of weight, which is still fairly good.
In terms of durability, its base is made of high-quality aluminum while the back is made of breathable mesh fabric. More specifically speaking, NouHaus's proprietary ElastoMesh forms this chair's back, offering excellent sweat-resistance, elasticity, and comfort.
Unlike ordinary ergonomic chairs, this model features proprietary Pro Wheels, which are super-silent and offer a comfortable sitting experience.
Four-dimensional armrests, the headrest, and dynamic lumbar support are all fully adjustable. However, I found that the armrests are a bit too petite for my taste. Be that as it may, this is a wonderful chair that's worth the buck, despite its minor imperfections.
---
Best Ergonomic Office Chair under $700
So you might be a little more strapped for cash but the thought of comprising comfort and health is distressful. Right? Don't worry because we have you covered.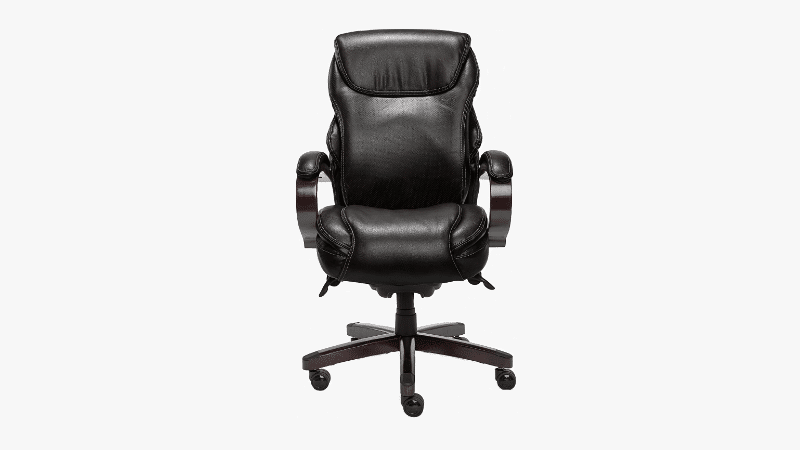 Leaning a bit more towards the aesthetics of traditional office chairs, La-Z-Boy's Hyland is a classy chair for classy people. In addition to being a stylish addition to your home office or workspace, it's also exquisitely comfortable, highly adjustable, and offers deep memory foam cushioning.
The Hyland office chair is made of exceptionally sturdy materials and rocks black-bonded upholstery made of sturdy, but comfortable leather. The memory foam adapts to the body, providing natural support in the form of posture correction and spine support.
Furthermore, it packs built-in lumbar support that, even though it can't be adjusted, does the job phenomenally well. Hyland's base is also outstandingly strong while its roller wheels are both silent and durable.
In my opinion, the cushioned armrests are the main reasons why this is one of the leading ergonomic office chairs on the current market. That and its stunning looks are enough to validate its price tag, although it's not nearly as expensive as some of the models in this guide.
---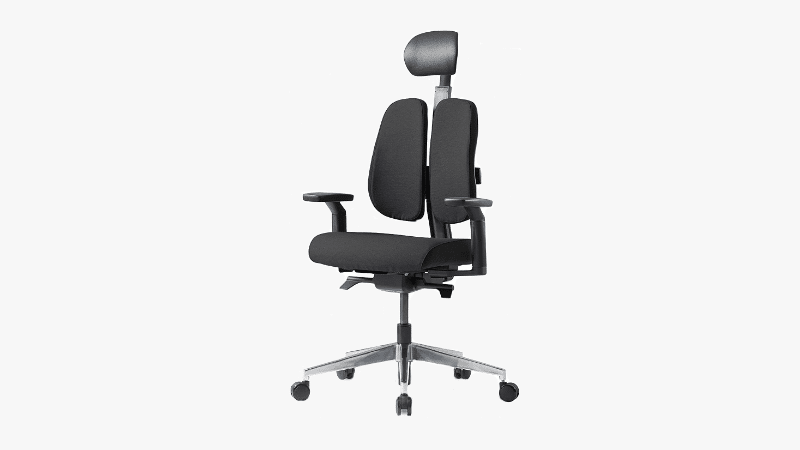 Duorest is famous for several pioneering technologies, most notably the 'Duo Rest' back design which is used in all their latest chairs. With nearly three decades of service, this brand has graced the market with dozens of innovations, and in my humble opinion, D2A is among their finest releases.
As the brand's name implies, the main feature of D2A is the Duo Rest design, which is essentially a fragmented back design, providing angled support when you're moving, and fixed back support when you're sitting relatively still.
This promotes the support of natural spine positions, alleviating any stress from your backbone, regardless of whether the chair is reclined or not. Speaking of which, its reclining mechanism is advanced – you can practically sleep on Duorest's D2A if you use its full reclining range.
The backrest is completely adjustable, allowing you to find the right depth or height with minimal hassle. This feature reinforces the Duo Rest design, ensuring your back is free of stress and pain at all times; this, in turn, grants a huge level of long-term comfort. Material-wise, it's made of hard plastic and durable latex materials. Although I'm generally not a
fan of plastic-made office chairs, D2A is an exception, as it's actually much more robust than most of its similarly priced counterparts made of the same materials.
In terms of aesthetics, I'm sure there are better-looking ergonomic office chairs, but I wouldn't discredit Duorest's D2A just yet. Due to its smaller back, it appears tiny, or even unfinished, but it also looks very modern, and more importantly, unique.
---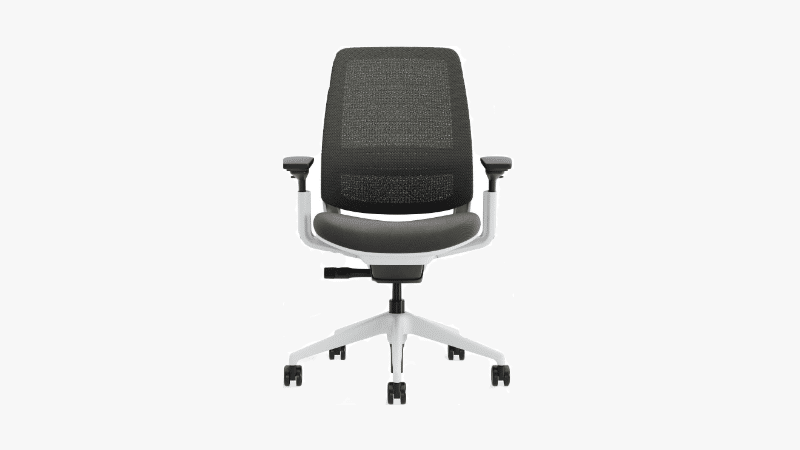 The Steelcase Series 2 Office Chair comes with all the bells and whistles of the Series 1 chair (see below), but with a few tweaks and upgrades. With this chair, you can opt for one that's built for carpet or built for hard floors. You can move about to either surface with either chair, but the wheel locks will be slightly different, which gives you more control.
Unlike most, this is a beautiful chair if you're on the taller side. With a max seating height of 21.5 inches, it's one of the tallest chairs available (without special orders, which can get really expensive really quickly). However, the lowest seat height is 16.5, so if you're 5 feet or under, you might have trouble reaching the ground with this chair.
The double-padded mesh seat allows you to stay cool even in the hottest office situations, and the foam-filled lumbar support keeps you upright and comfortable. So no more slouching and back pain with this chair at your disposal.
This is also a chair built to last. Nothing is more frustrating than buying furniture and having it wear out after just a few months. Well, this chair comes with a 12-year manufacturer warranty, so no need to worry.
---
Best Ergonomic Office Chair under $500
Contrary to what you may expect, there are some worthy and inexpensive alternatives to pricier ergonomic office chairs.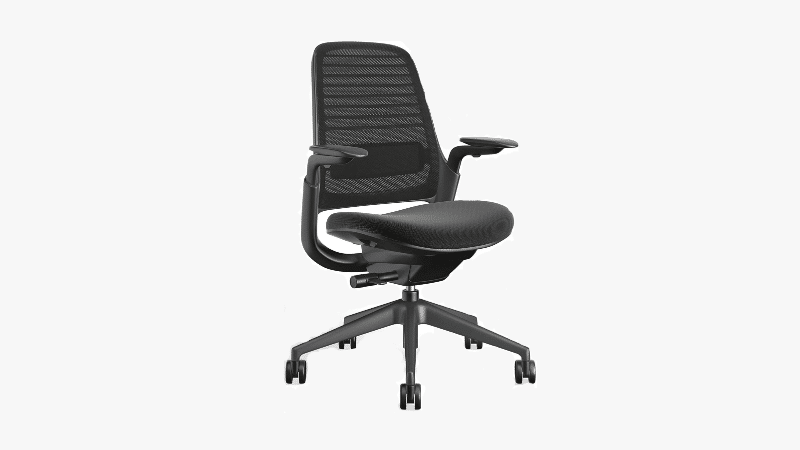 Are you tired of the bland color options available on the home office chair market? Do you wish there was something more than white, black, and a fancy name for "gray"? If that sounds like you, the Steelcase Series 1 Work Office Chair will be right up your alley.
This chair comes in almost a dozen color options, including a variety of shades from licorice (black) to concord, wasabi, and blue jay (just to name a few).
The chair also rocks for anyone taller than 6 feet. Thanks to the 21.5-inch max seat height, you'll feel much more at home in this chair than most you've come across.
This Amazon's Choice chair is 100% polyester, so it's light and easy to move about the office. With wheels designed specifically for carpeting and an adjustable back, arms, lumbar support, and seat height, you can customize your home office chair to perfectly fit your needs. After all, when sitting in your desk chair for hours at a time, you'll want a comfortable chair. This one checks most of your boxes.
---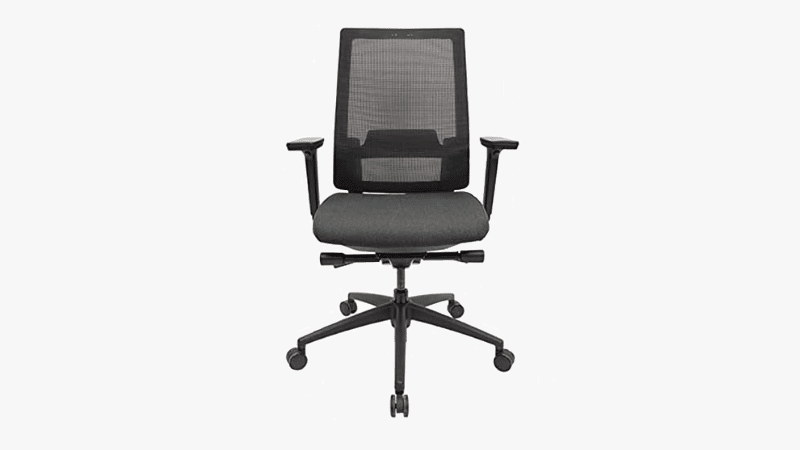 Icon Office Environments made the Q2 Ergonomic mesh back chair for people who don't want to overpay for style, quality, and comfort.
This model features a sturdy mesh construction and, in my opinion, it's among the most comfortable ergonomic chairs in this guide. Furthermore, it offers excellent adjustability and is made of robust materials that require very little maintenance.
Speaking of adjustability, the armrests, back, and seat can be height and depth-adjusted quickly and conveniently.
Unlike most mesh-made chairs in the price range of $500, Icon's Q2 features padded armrests that are highly resistant to wear and tear. In terms of size, Q2 has a relatively small footprint, but offers ample room, making it an excellent choice for people of pretty much any size.
This ergonomic chair can support up to 275 pounds, as it features remarkably durable materials. Overall, I think it's an excellent mid-price option in terms of aesthetics, comfort, sturdiness, and value.
---
Best Ergonomic Office Chair under $400
Okay, so we're slowly getting to the less expensive range on the price spectrum. Fortunately, there are still some great alternatives that'll give you a great amount of value for what you pay.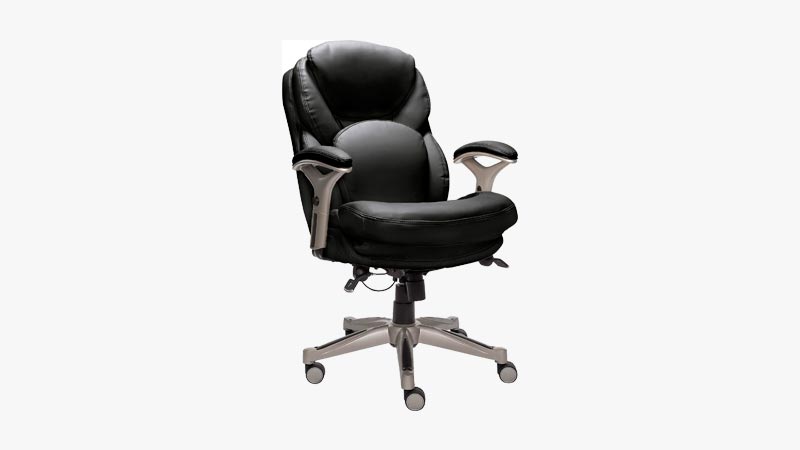 Serta knows a thing or two about comfortable task chairs. Heck, they specialize in mattresses and pillows, so you better believe they know what they are doing when it comes to comfortable chairs. The Serta Back in Motion Health and Wellness office chair takes the perks of a Serta mattress while utilizing a posture-friendly chair design. It even has a special ergo pillow included, maximizing your comfort.
The chair is made from eco-friendly bonded leather with a BIM Active lumbar that pivots as you move for continuous lumbar support. Adjust the height of the padded armrests with the push of a button and use the convenient cable actuated levers to control the lift and lock-out features.
The Serta Back in Motion chair also offers unique posture-correcting tilt technology that actually tilts your pelvis forward when you lean. This keeps your back in a neutral position to avoid pressure on your discs and promote spinal movement and breathability. After a few days, you'll start to feel the benefits of a comfortable and supportive seat that can get you through your long workday.
---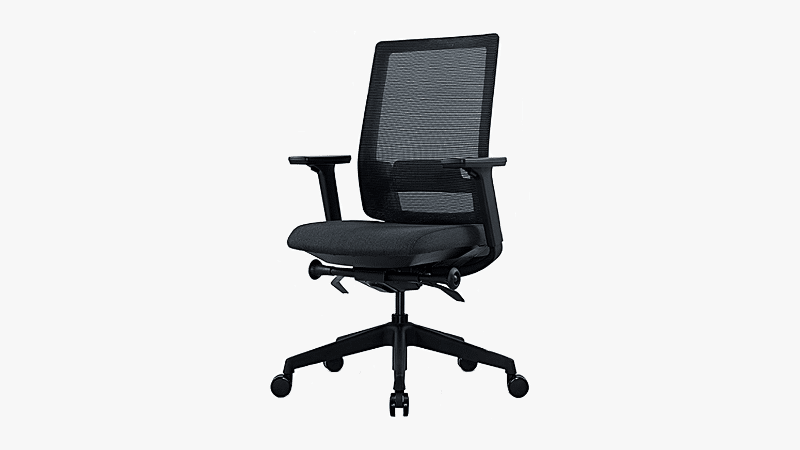 Finding a high-quality chair with ergonomic attributes under $400 isn't that hard, but many models look and feel pretty dated. Magnus's Tudu Office Chair is a prime example of a chair that possesses the qualities of boutique models at a much more approachable price tag.
The features I liked the most are the foam-filled, padded and adjustable armrests, and its minimalistic aesthetic. Although most mesh chairs look more or less modern, they kind of look the same; Tudu ergonomic desk chair broke the mold, even though it doesn't necessarily come supplied with any special features at first glance.
Its black roller wheels, black frame, as well as black armrests and seat exude elegance while you get to choose from a wide variety of colors regarding the rest of the chair. The available color variations include green, red, two shades of blue, violet, and orange.
Magnus's Tudu rocks a construction made of alloy steel, which provides it with an enviable level of sturdiness and wear resistance. On the downside, certain parts are made of nylon and require a bit more maintenance. With exceptional supportive capacity, Magnus Tudu can endure up to 300 pounds with ease.
All things considered, this model is best characterized by a highly comfortable seat, fully adjustable features, and interesting aesthetics.
---
Best Ergonomic Office Chair under $200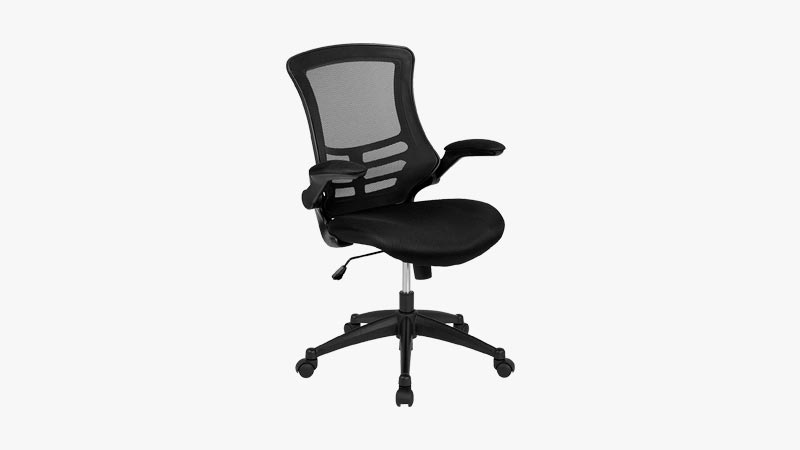 The Flash Furniture Mid-Back Mesh Chair is a rare find: a well-reviewed, comfortable desk chair that fits any budget.
This chair features a sturdy five-wheel base with an ergonomically contoured mesh back that gives you the support you need to get through a full day of work.
One of the most surprising things about this chair is that it's sized well for larger people taller than six feet, which is a rare find in a home office chair priced under $200.
---
Best Ergonomic Office Chairs for Neck Pain
Chronic neck pain is a common complaint among people who spend hours a day in a chair, either bent over paperwork or working in front of a monitor. The right ergonomic chair can help correct poor posture by supporting spine health. The best office chair for neck pain offers support for the spine and, most importantly, adjustable height and tilt to avoid craning your neck to see a computer screen.
---
Best Ergonomic Office Chair under $1000
Other than back pain and issues with posture, there are ergonomic chairs to help relieve neck pains. These come with incredible orthopedic features, tilt tensions, and mesh designs to give you the right mix of quality with comfort.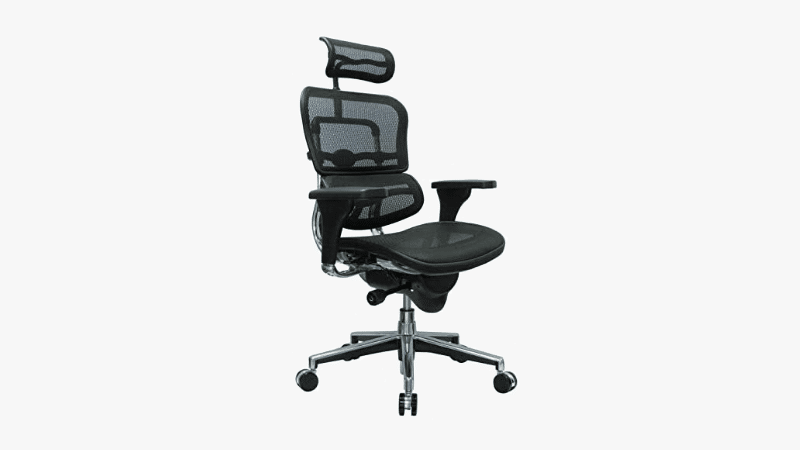 One way to combat posture-related problems is to invest in a better office chair – a model that will support everything, from your legs, to your arms, to your body, to your head. Fortunately, GM Seating's ergonomic mesh executive chair has everything you need to wave goodbye to chiropractor fees, expensive massages, and anything else you may be paying to rid yourself of pain.
Sporting a mix of polyurethane plastic and aluminum in terms of construction, GM Seating's model is light as a feather, with the durability of a robust metal chair. The way it was built allows you to easily transport it, although the reduced weight also helps with both installation and maintenance processes.
Its lumbar support is positioned at a very specific angle, providing optimal support without restricting your movements. Furthermore, its level of adjustability is great; nearly everything on this chair can be moved, tweaked, or adjusted with minimal effort.
Furthermore, its wheels are silent and suitable for any kind of floor.
---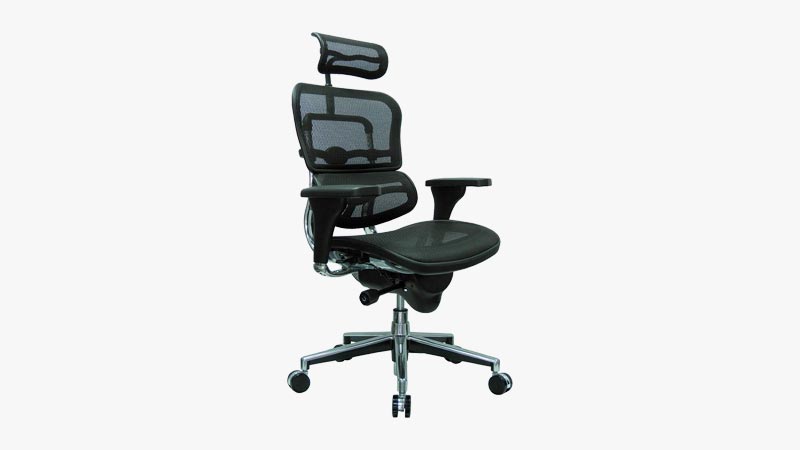 Another great option is the Ergohuman chair by Eurotech Seating. Right away, you'll notice the unique design of this chair, which features eight ergonomic adjustments to keep your neck and back aligned all day long.
The Ergohuman has breathable mesh to promote circulation with the ability to adjust the back angle and height, tilt lock, tilt tension control, synchro tilt, arm height, and seat depth and height. The headrest adjusts up and down so you can position it to hit your neck perfectly, with a curvature that supports your head and neck when you lean back.
---
Best Ergonomic Office Chair under $300
Below, our experts have picked the best ergonomic office chair that costs below $300. This chair is a valuable proposition for anyone looking for the best mix of quality and value.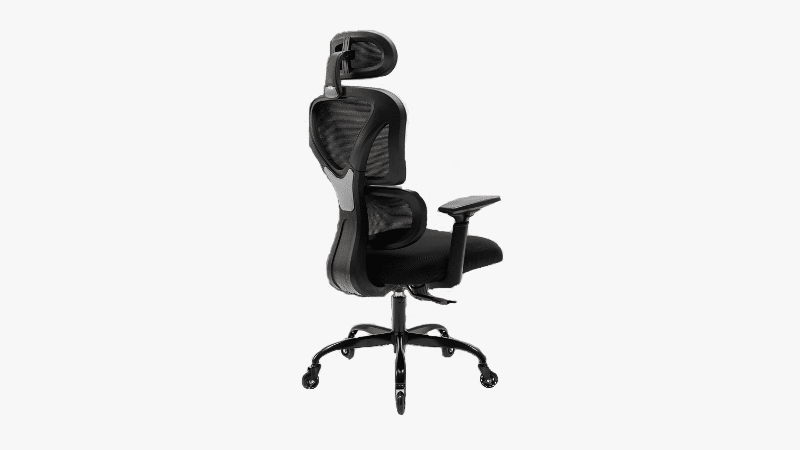 Although buying a budget office chair won't solve everything, a good one will get you a step closer to a healthier posture and spine. Kerdom's Ergonomic office chair is one of the finest representatives of the low-end section in this guide, offering freedom of movement, an outstanding level of durability (for the price), and lots of cool things in terms of adjustments.
With four support marks, encompassing head, legs, hands, and back support, Kerdom's chair is among the more versatile models you can find in this price range. Making adjustments to said features is a breeze, although you may need some time to put everything into place correctly.
The silent wheels are a huge bonus, as they can go over any kind of floor without making a ruckus; this is not something that is too common for budget office chairs.
As far as materials are concerned, Kerdom's ergonomic home office chair sports a soft seat that is highly resistant to wear and abrasion. Furthermore, this chair offers high elasticity and breathability, making it perfectly comfortable to use year-round.
---
Best Ergonomic Office Chair under $200
Below, we've provided the best ergonomic desk chair for your office that would not cost you more than $200. It might be on the more extreme end of inexpensive ergonomic chairs featured today, but the Boliss Ergonomic Office Computer Desk Chair makes it to our list for several undeniable features.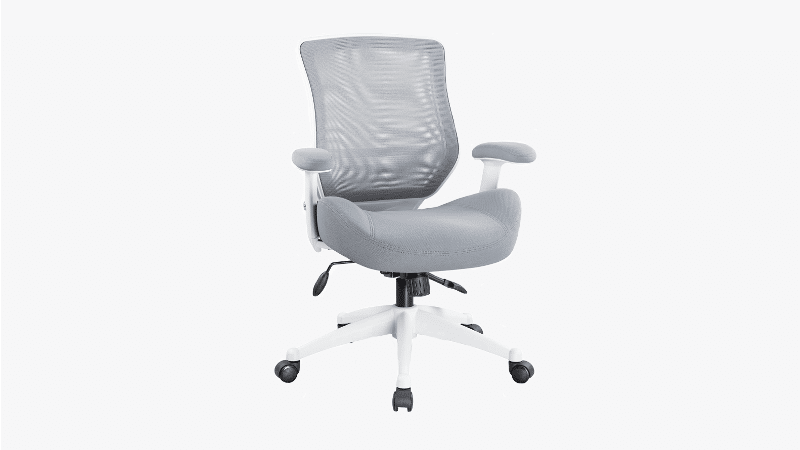 The fact that a chair is affordable doesn't tell us everything, and in certain cases, it doesn't necessarily imply that the model is poorly made and comprised of flimsy materials. In fact, Boliss's Ergonomic office computer desk chair is something that never belonged to this price range as far as value and quality are concerned.
With a ventilated back and excellent support to the lumbar area, neck, and arms, the only thing this chair lacks is dedicated support for the legs to make it as competitive as boutique models.
In my research, I've found that the average supportive capacity of a $200 office chair is roughly 175 pounds. Needless to say, the fact that this one can support persons weighing up to 400 pounds speaks volumes about its durability.
---
Best Ergonomic Office Chair under $100
We have finally arrived at the cheapest end of the price spectrum and, fortunately, there's still an ergonomic office chair for your back comfort.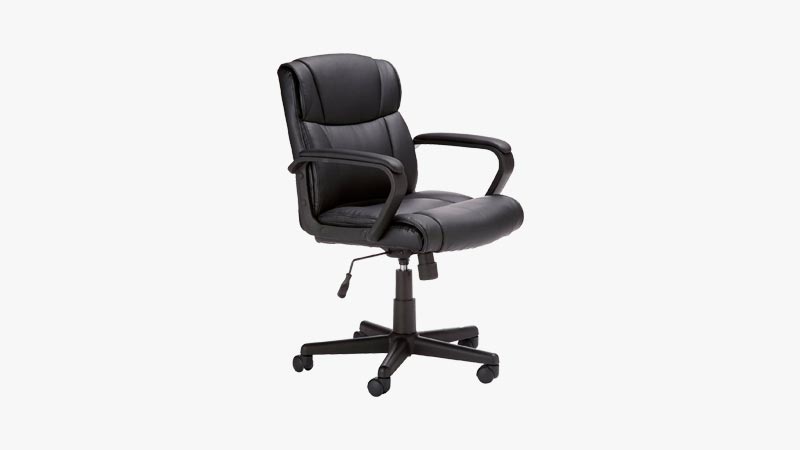 Shopping for an office chair on a budget does not mean you need to sacrifice comfort and health.
The AmazonBasics Mid-Back Office Chair features adjustable seat height that's combined with an upholstered black bonded leather and padded seat and back for all-day comfort.
This chair has dual-wheel casters for easy movement and it is the best office chair you can get for under $100 by the one and only Amazon itself.
---
FAQ About the Best Ergonomic Office Chairs
Below is a list of some common queries that will put you on the fast track to identifying the right chairs for your back pain.
What are the best brands for ergonomic office chairs?
Some of the best brands for ergonomic office chairs are AmazonBasics and Herman Miller. This does not mean that an off-brand chair won't serve you well, but these brands have plenty of reviews and hefty warranties backing up their quality.
What is the most comfortable ergonomic chair?
The most comfortable ergonomic home office chair may be on the higher end of the price spectrum, but that does not mean less expensive chairs are a bad bargain. In our opinion, the Serta Mid-Back Office Chairs is one of the most comfortable ergonomic chairs available around. However, the Embody Chair by Herman Miller and many more follow close behind.
What is the best office chair for sitting for long hours?
The best office chairs for sitting long hours should come with key features of adjustable seat arms and height and a design that mimics the curves of your body. This article features some of the best ergonomic office chairs for your back.
Which chair is the best for your back?
Ergonomic office chairs with adjustable arms and seat height and a curvy back that aligns with your spine are the best chairs for your back. Adjustable lumbar support also acts as a guarantee of pain-free working days to come.
What are the best ergonomic office chairs for back pain?
The Serta Mid-Back Office Chairs and the Embody Chair by Herman Miller are some of the most comfortable ergonomic chairs for your back.
What is the best Orthopedic office chair?
The Serta Mid-Back Office Chair and Steelcase Leap Fabric Chair are some of the best orthopedic office chairs.
What is the best high-back ergonomic office chair?
The Steelcase gesture chair, Steelcase Series 2 Office Chair, and the Herman Miller chairs are designed to support a wide variety of body sizes. They provide both low and high back positions, making them a winner for most people.
---
Conclusion
If you work at a desk day in and day out, you definitely need to invest in a good ergonomic chair for the sake of your health and comfort.
As discussed above, Herman Miller chairs are top-notch and backed by years of research and testing (see here). If these are out of your price range, we've covered a whole lot of others, so make sure to keep this guide on hand when making a purchase.
Do share in the comments below and let us know which chair you like the most. As always, your feedback is greatly appreciated.
Disclosure: The product recommendations are not sponsored and are chosen by our editorial staff. We may earn an affiliate commission when you purchase an item through our links.
Photo Credit: Unsplash